Royal Standard Poodle-Brown Falcon

RETIRED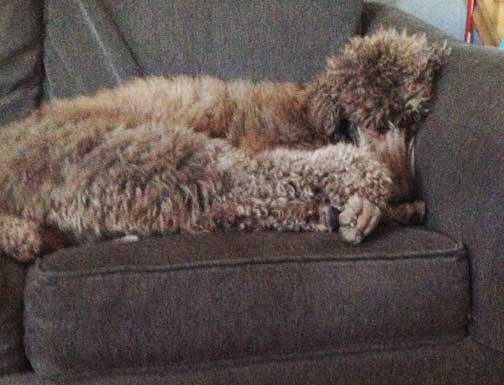 Above and below are pictures of beloved Falcon at her new home in Elk River, MN. To see more picture click link below.
https://www.royalstandardpoodles.com/largestandardpoodleblackparis.html
click to see EXAMPLE 2012 litter
click to see EXAMPLE 2013 litter
Large Royal Standard Poodle-brown Falcon is going on 3 years old in the above shot. Her dark brown coat is held onto instead of fading a lot due to her dark brown/black skin. This gene is excellent to hold onto color in their coats. Her pups will potentially carry this gene to help hold their coat color. Yet, their is always going to be fading.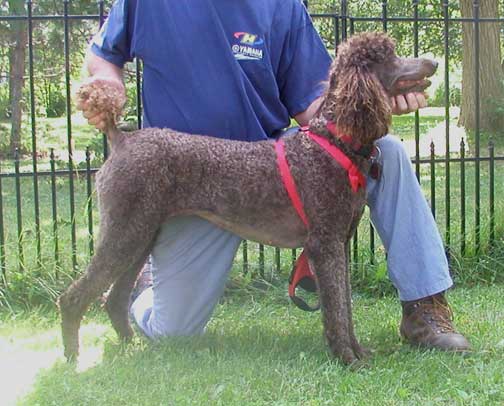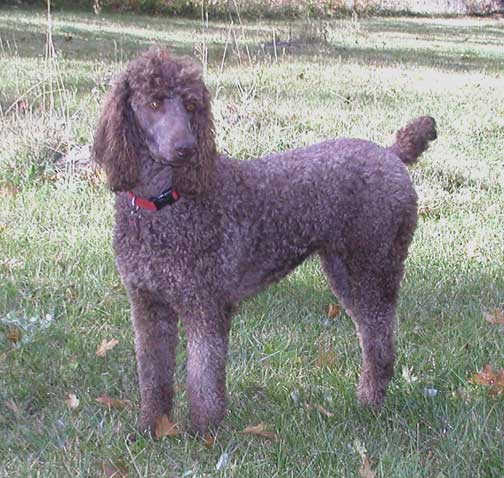 We are "Tracking" Royal Standard Poodle-Brown Falcon, a large Royal Standard Poodle, to show potential buyers and customers the typical growth of one of our pups.
Tracking "Falcon"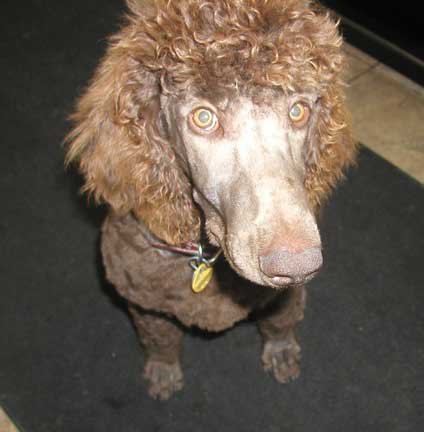 Brown Falcon was named after the personality of Falcon from my Fantasy Novel "A Perfect World - Tatriel." www.fantasybookaperfectworld.com She's from the Universal Tribune ship who greets new travelers into the universe - Welcome to Falcon's web page :-)
On occassion some pups get kinked tails in the womb at which they must then be docked at that joint. Falcon was one of these pups, thus her shorter tail. Also, I trim their "boots" up higher on the feet than show dogs as this keeps the dirt, mud, and snow from tracking into our home a lot less. You will see this on all of our kids. I am working on a longer length :-)
So we track Royal Standard Poodle-Brown Falcon AKC, dark chocolat':
Stats:
AKC registered
Canine Health Information Center (CHIC) completed 1/16/13, this shares all the required tests for standard poodles has been completed plus more
Half sister to Cleopatra
1/8/13 CERF (eyes) free of observable inherited eye disease
test 3/28/2012 no evidence of Sebacious Adenitis (SA) found
test 3/28/2012 Neonatal Encephalopathy w/Seizures (NEwS) - DNA test - gene found Normal
test 3/28/12 Degenerative Myelopathy (DM) - DNA test - not affected
4/13/11 testing for thyroid - Normal
4/13/11 testing for patellar luxation - Normal
4/13/11 testing for cardiac disease - Normal
COI (Coefficient of Inbreeding) 10 generations .73%, very low!
2 years: OFFA hips "Good", 68 pounds (watching their diet :-) She has her mother's desire to dance :-); no phenotypic evidence of Legg-Calve-Perthes disease recognized - Normal
16 months old: 75 pounds, height 26.5" at whithers (shoulders)
13 months old: 70 pounds

Baseline tests done, everything normal.
12 months old: Stable weight. Always wanting to stay close and by my side, though playing with Ciwa as her best friend :-)
11 months old: 70 pounds Absolutely a sweet temperament! Her Royal Standard Poodle size is showing
9 months old: 67 pounds 26" at shoulder
8 months old: 63 pounds 25" at shoulder
6 months old: 60 pounds 23" at shoulder
5 months old: 50 pounds 22" at shoulder
16 weeks (4 months old): 37 pounds
12 week checkup: Rabies shot given, 27.4 pounds, height 16 inches at shoulder, healthy, outgoing, loving, welcoming toward strangers by initiating checking them out. When alone with me on our road walks without a leash, she continually stays at my side without running off.
10 weeks: Second set of followup vaccinations given, monthly Heartgard against heartworm, ascarid worms and hookworm started.
8 weeks: Deworming is done several days before pups fly to your homes with Nemex-2
Note: If you receive your pup from us in MN at 7 weeks of age, assure you follow up with some type of deworming with your vet. Pups pick up worms easily and can be passed onto young children just as easily.
7 week VWD test results: 121% in the healthy reference range of 70-180
6 week vet checkup: 8.9 pounds, healthy, first set of vaccinations given - Note: Zain has had pups over 10 pounds at this age. Some of Zain's runts have grown to be 80 pound offspring.
2 weeks of age: Deworming of Falcon and pup mates begin with liquid Nemex-2 by Pfizer. Generally done every 2 weeks thereafter. Adults done at same time.
Birth: 1 pound, solid brown, healthy
Parents Zain of A Perfect World and Kodi of A Perfect World

Royal Standard Poodles, brown Falcon

Falcon below is the older pup with Ciwa, groomed for keeping cool in the hot summer. They love the doggy doors to go in and out as they please :-)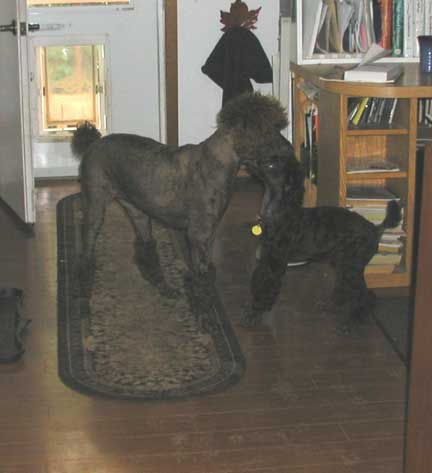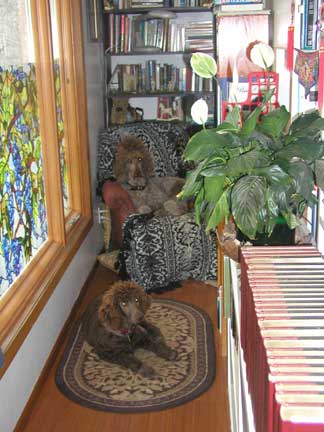 Falcon in the library with her dad Kodi.
*
Falcon showing her size at 5 months old to her mom Zain.
she's already squirrel hunting...at least her stuffed toy...un-stuffed now :-))
*
Tracking Royal Standard Poodle-Brown Falcon at 4 months of age.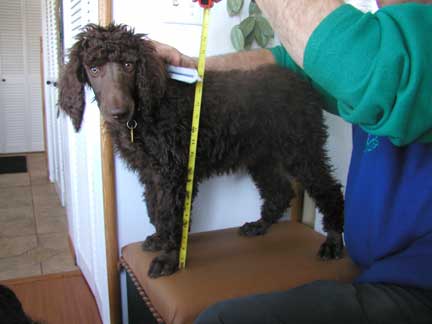 Puppies for Sale like Royal Standard Poodle-Brown Falcon