Pukka's Promise
$20.00 Free Shipping 
From the bestselling author who offers "the most utterly compelling translation of dog to human I have ever seen" (Jeffrey Masson), a joyful chronicle of a dog that is also a groundbreaking answer to the question: How can we give our dogs the happiest, healthiest lives?
When Ted Kerasote was ready for a new dog after losing his beloved Merle — who died too soon, as all our dogs do — he knew that he would want to give his puppy Pukka the longest life possible. But how to do that? So much has changed in the way we feed, vaccinate, train, and live with our dogs from even a decade ago.
In an adventure that echoes The Omnivore's Dilemma with a canine spin, Kerasote tackles all those subjects, questioning our conventional wisdom and emerging with vital new information that will surprise even the most knowledgeable dog lovers. Can a purebred be as healthy as a mixed-breed? How many vaccines are too many? Should we rethink spaying and neutering? Is raw food really healthier than kibble, and should your dog be chewing more bones? Traveling the world and interviewing breeders, veterinarians, and leaders of the animal-welfare movement, Kerasote pulls together the latest research to help us rethink the everyday choices we make for our companions. And as he did inMerle's Door, Kerasote interweaves fascinating science with the charming stories of raising Pukka among his many dog friends in their small Wyoming village.
Funny, revelatory, and full of the delights of falling in love with a dog, Pukka's Promise will help redefine the potential of our animal partners.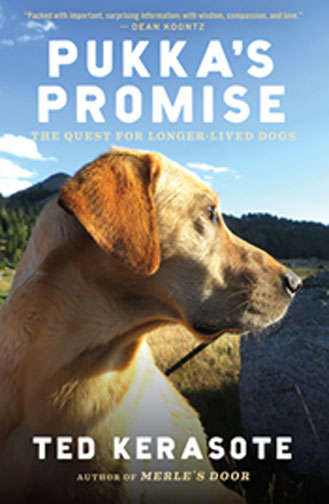 Reviews:
"This might be the most important book about dogs written in a decade. Pukka means 'first class' in Hindi, and first class is a perfect description of Pukka's Promise. It's a brilliant integration of speculation, cutting-edge science and story. Every dog lover needs to read this book."
—Patricia B. McConnell, author of The Other End of the Leash
"Ted Kerasote gently and intelligently questions our fixed notions about living with dogs. Anyone who reads Pukka's Promise can't help but become a better dog person. I'd like it to be compulsory reading for all practicing vets and veterinary students." 
—Bruce Fogle, DVM, author of The Dog's Mind
"With his trademark attention to detail and masterful descriptive abilities, Kerasote delves into the crucial factors affecting a dog's life. At once encyclopedic and intimate—a tour de force."
—Kirkus Reviews
"Ted Kerasote, a born storyteller, writes about dogs with singular brilliance."
—Dean Koontz, author of A Big Little Life: A Memoir of a Joyful Dog
"Pukka's Promise is without question the most intelligent, most comprehensive book ever written about extending the lifetimes of dogs. Not only that, but it's riveting. Kerasote has produced a masterpiece." 
—Elizabeth Marshall Thomas, author of The Hidden Life of Dogs