Falcon 13 Fall Standard Poodle Puppies


SOLD OUT
This is an example of past puppies and how I set up their web page to show customers of their pups growing. Always start at the bottom of a page and watch them grow up :o)
Watching Falcon 13 Fall Royal Standard Poodle Puppies grow. Start at the bottom of the page and move upward as pictures are added to the top every two weeks as they grow! (some pictures are dropped off)
12 of us -Watching over from above :0))
*
Enjoy the new picture updates below...remember start at the bottom and work upward...some pictures drop off as new are added...
Next picture set 7 wk picture update September 9, 2013. Pups may be picked up weekend of September 14th, flight date is September 16...
Read your checklist and mark off with the above dates as we move forward together :0)
Tracking Falcon's Fall litter 2013 stats:
9/8/13 puppies first haircut and washed then sprayed with cedar oil
9/4/13 fresh bones added to help start weaning from Momma (Momma can't get the bones ;0)
9/1/13 dewormed and nails clipped
6 wk vet appt for first vaccination 8/30/13 > parvovirus & Coronavirus, customer please set up second vaccination for Distemper + any other for your region; water bath and cedar spray done t
4.5 wks old we had our first bath, dewormed again, sprayed with cedar oil to protect us from the local bugs. Toe nails clipped again too. Eating dry dog food now.
4.5 wks old, one male has developed an umbilical hernia, other may/may not. They grow so fast the umbilical area does not get time to heal fast enough. This is not uncommon. I will offer early pediatric spay/neuter for 1/2 the price in being done here before going home to you if you so choose...otherwise they can be repaired later on in your loving care...no discount then.
14 days: first deworming, toenails clipped
Day 7: toenails clipped
Day 3: dew claws removed and tails docked 1/3 from tip at the vet's - the AKC breed standard
12 puppies born July 21, 2013: 8 males, 4 females - 4 males have white abstracts on their chest, some very little, nothing huge. None of the females have white that I can see. 1 male is smaller then all the others...yet that doesn't mean he'll stay small :0)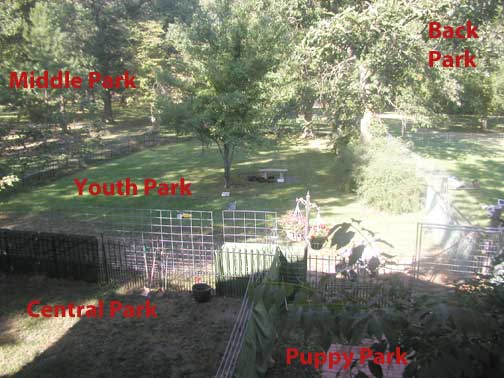 Down Payment List
1. Paid "Hoss" M - Royal Brown - HW > Browerville, MN
2. Paid "Cedric" M - Royal Brown - NB > Chattahoochee Hills, GA
3. Paid M "Rufus" - size open Brown - JM > Boone, IA
4. Down Payment "Isis" F - Royal Brown - KK > Billings, MT
5. Paid "Sophie" F - Royal Brown - CA > Lemon Grove, CA
6. Down Payment "Monkey" M - Open to size Brown - MZ > Hong Kong
7. Paid  "Leo" M - Standard brown - JC > Kimball, MN
8. Paid "Ginger"  F - Standard brown - JC > Kimball, MN 
9. Paid "Harry" M - either size brown - JS > Sioux Falls, SD
10. Down Payment M "Rolo" - either size brown - MB > South Orange, NJ
11. Paid "Ddelilah" F - Royal/Standard Brown - JC > Mound, MN
12. Paid M "Jules" - Royal Brown - EL > Jasper, TX
Woo Hoo!! Thank You for coming Saturday 8/31/13 and choosing each of us for your next pet!!!
We're the 8 Males with our new owners :0)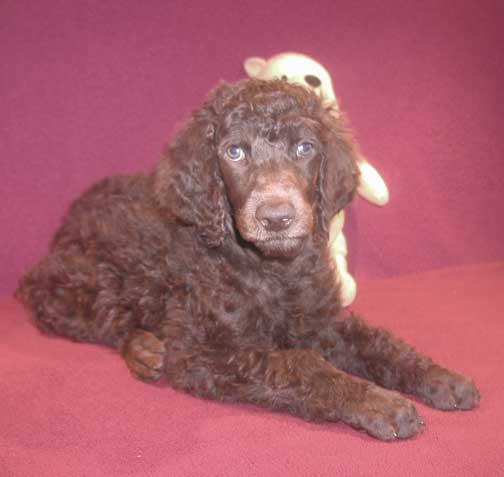 "Rufus" 7 wk 9.2#, mc8389, JM > Boone, IA...oh so loving ;0)
*
"Cedric" 7 wk 7.6#, mc6805, NB > Chattahoochee Hills, GA - I've a teeny tiny white on my chest, that won't keep me from being a big boy!
"Harry" 7 wk 8#, mc6313, JS > Sioux Falls, SD - I'm not afraid of this thing...you should've seen me biting it!
*
"Jules" 7 wk 11#, mc1720, EL > Jasper, TX - I am one of the other boys that has more white on his chest...and VERY BIG as well!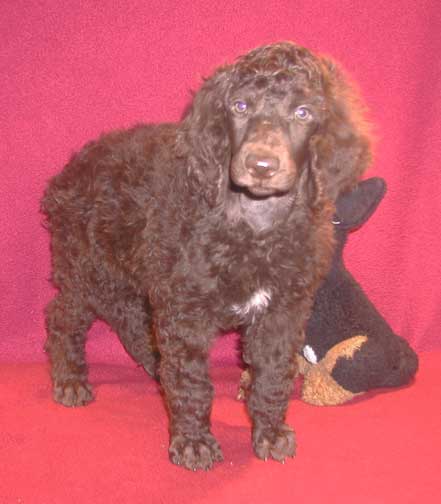 "Leo" 7 wk 5.4#, mc5738, JC > Kimball, MN - you bet I'm Magic ;0)
*
"Hoss" 7 wk 11.2## , mc3982, I'm the new puppy of HW > Browerville, MN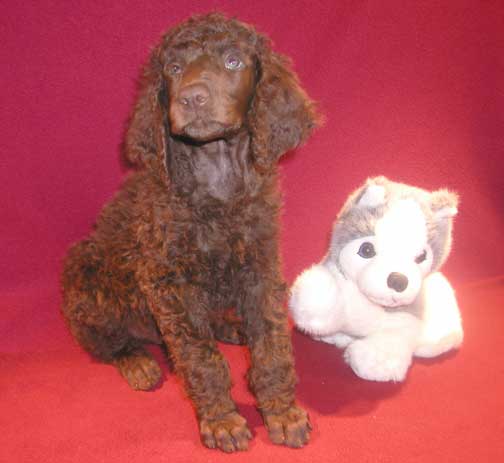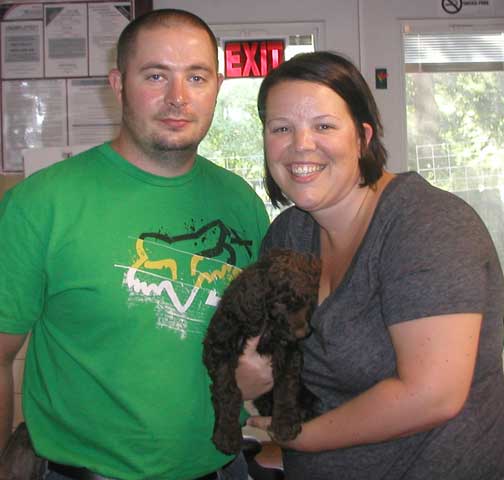 "Hoss" - it's so hard to wait now another 5 days!!!
*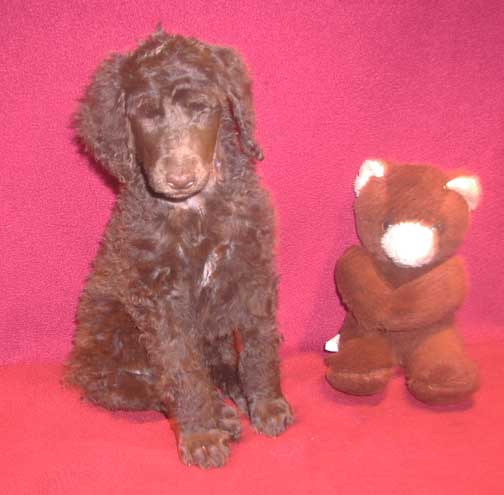 "Rolo" 7 wk 7.2#, mc3940, MB > South Orange, NJ - I'm so ready to go back to that hibernation thing...zzz...I have a teeny tiny white on my chest.
*
"Monkey" 7 wk 7.2#, mc1618, MZ > Hong Kong - you can spot me among the others, I'm just oh so polite.
We're the 4 Females to choose from :0))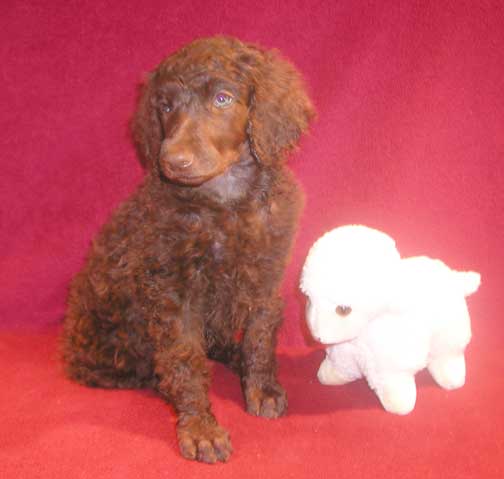 "Ginger" 7 wk 7.2#, mc2267, JC > Kimball, MN - you'll enjoy snuggling with me - Tes sure does!
*
"Isis" 7 wk 9.8#, mc8463, - KK > Billings, MT - I'm ready for a ride to my new owner :0)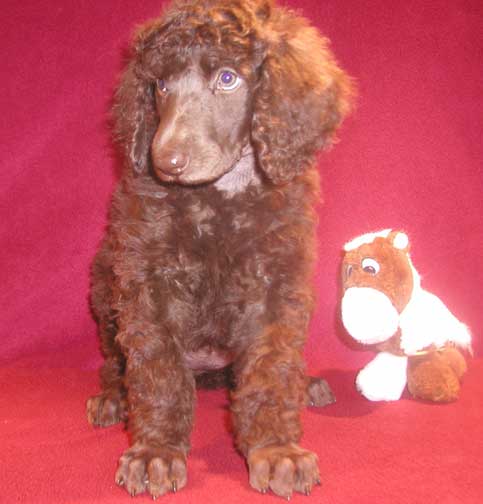 "Sophie" 7 wk 9.6#, mc1413, CA > Lemon Grove, CA - I go running outside when it's time to play :0)
*
"Delilah" 7 wk 7#, mc0213, JC > Mound, MN - I'm a cutey that enjoys moving around to find who I can play with...which isn't hard with 12 of us.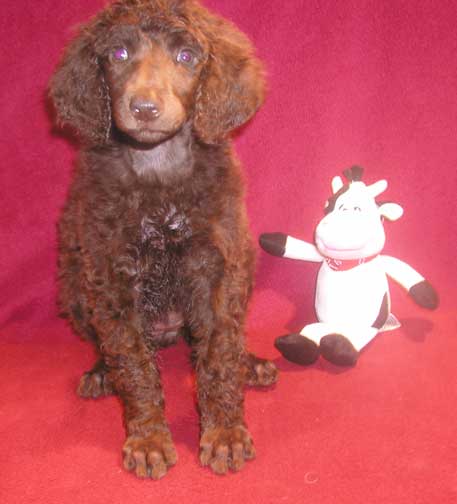 Enjoy our individual pictures above. MC is for the last 4 digits of our microchip. It is impossible at this age to share any personality accept to share we love playing, eating, and sleeping :0) Tes takes these pictures at night while we try to sleep so we're not too squirly for her...though she now thinks this is to lethargic...
*
We've all found the youth park to be adventurous and room to grow in...soon to grow out of...to our new homes!!!!
*
It's bones! Mmmm mmmm good!! Chew for these baby teeth :0))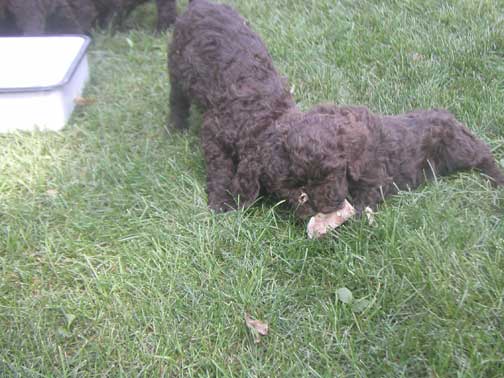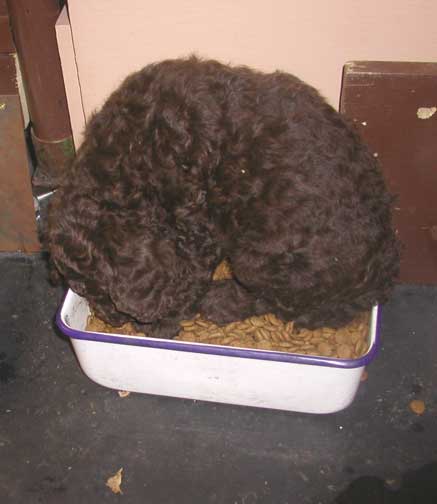 I like Dick Van Pattens Ultra Premium dog food! MINE!!!
*
Tes has added the crates for us to travel in to get lots of smells and we can become comfortable in going into them...the family room is REALLY full ;0)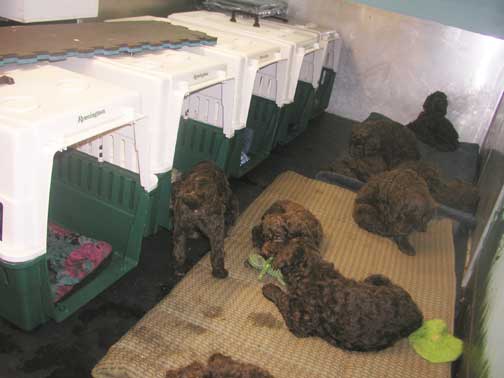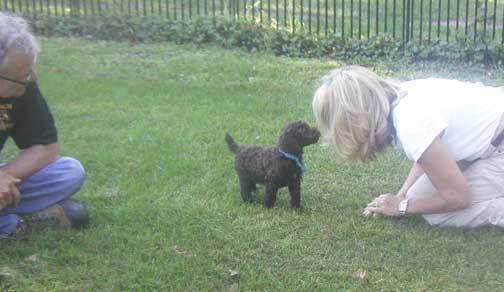 Take time to kiss the puppies :0) We really loved the owners coming to pick us out :0))))
*
We've figured out the doggy door to go Potty Outside whenever we can now!!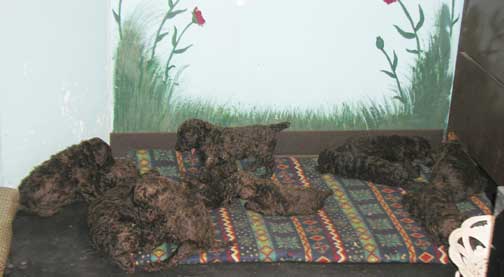 Customers are purchasing our Royal Pet beds, and we're starting to get them nice and smelly, although they will have been washed once before coming to you. Did you want to purchase one for us on the products tab?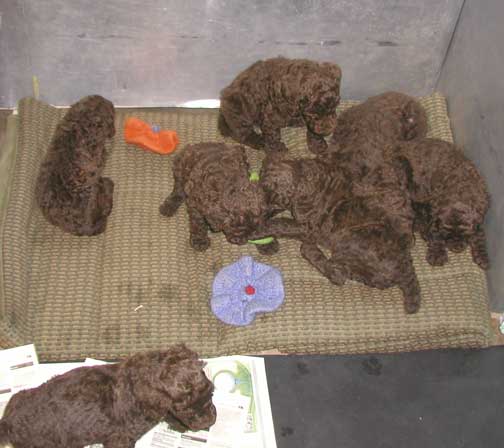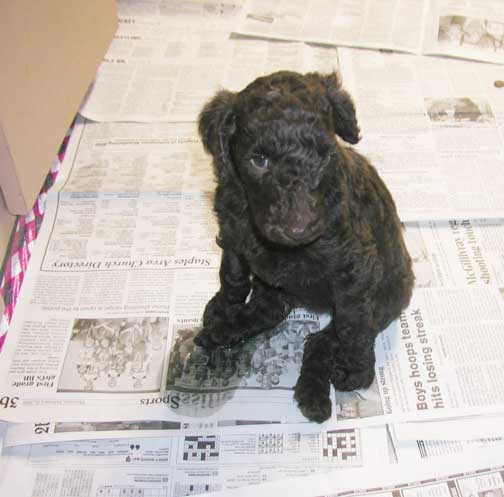 Honestly, I did try to make it Potty Outside :0( Tes will start taking away the newspapers and we learn to only go outside...this is what she calls REALLY pushing paperwork!!!
*
Here are some comparative sizes for you to see where we are now...and even though small here - we still get BIG!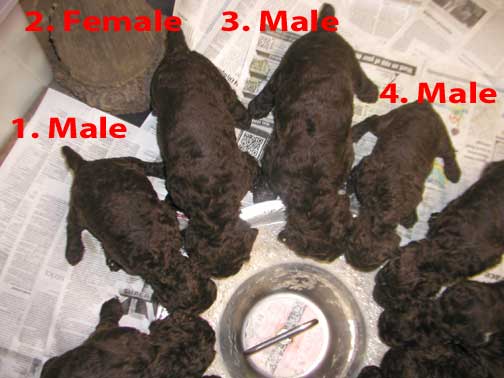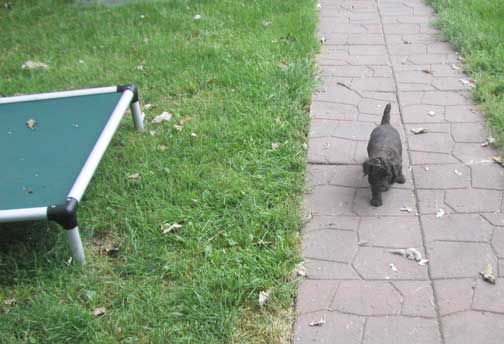 Here I come...
*
We've got logs and things to play on...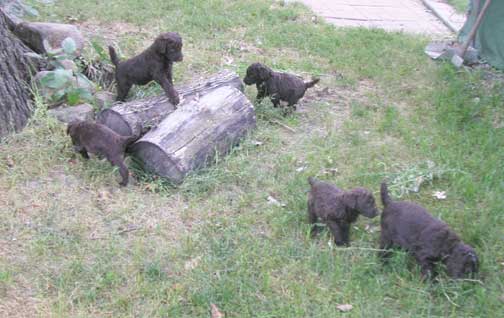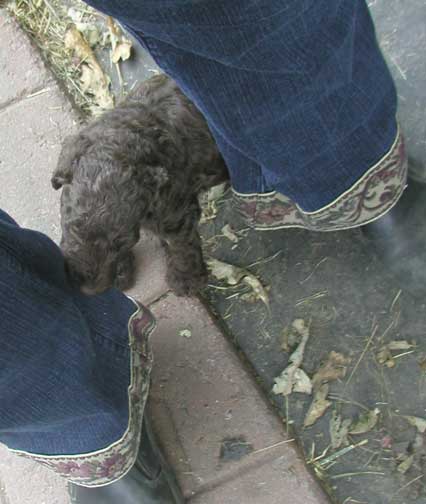 Here's one reason why Tes wants customers to come wearing pants and shoes...we LOVE to try to chew on pants and toes ;0))
*
...Stretchhhh....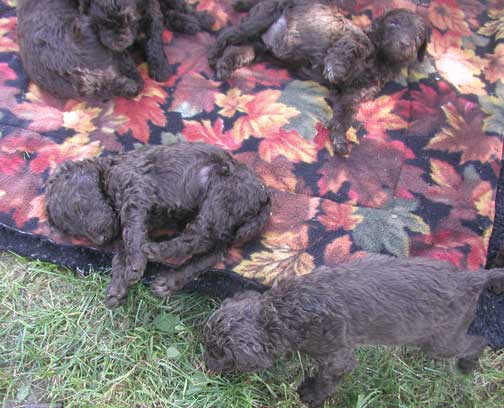 Eat and sleep...zzz...that's what we do best at this age...zzz...
*
This is one way to do it ;0)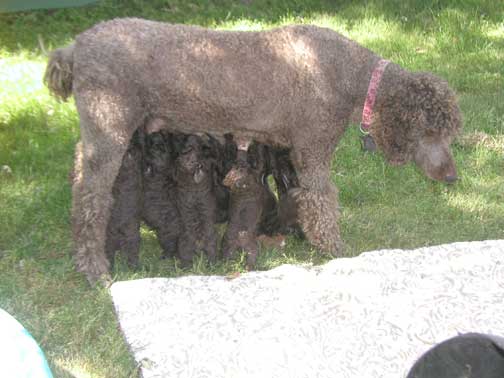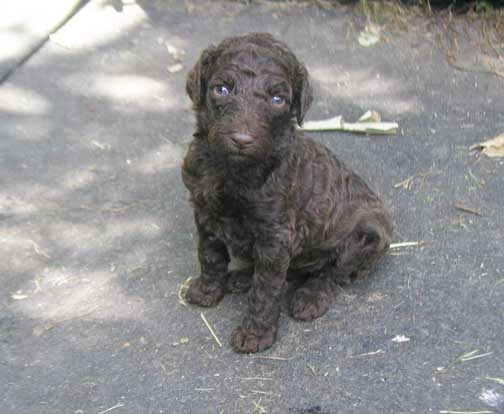 We're Waiting :0)))) 
*
Ahh, zzz, waking up is so hard to do...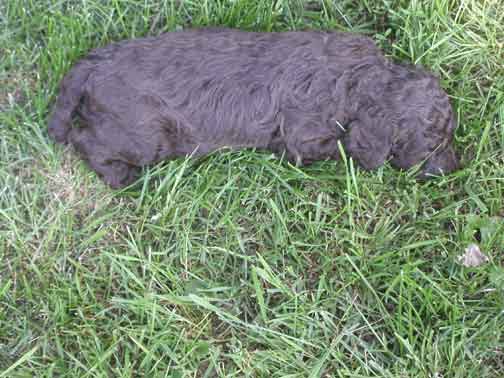 ...yet grass works too...
*
It's so green out here, and a cozy pet bed to cozy into ...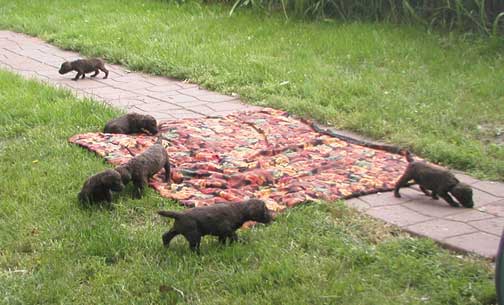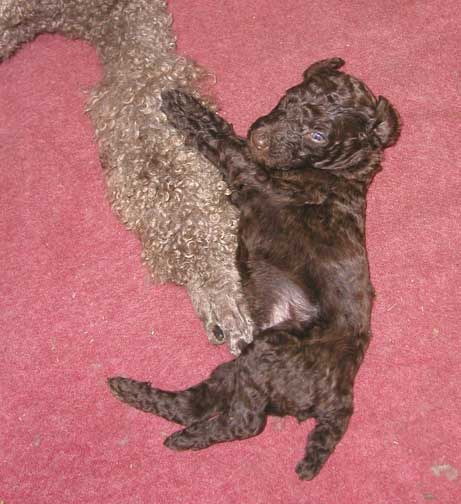 Huh, i'm suppose to go Potty Outside...oh, okay...
*
Mom, Mom, are you still there?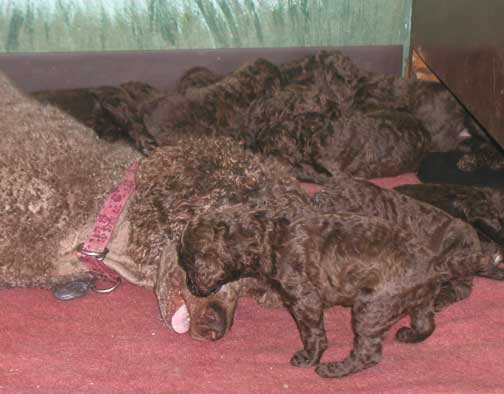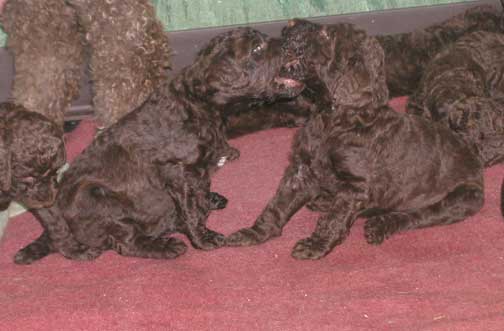 We're learning to play with each other.
*
The spinners are added to help us play and get smells for going home with you ;0)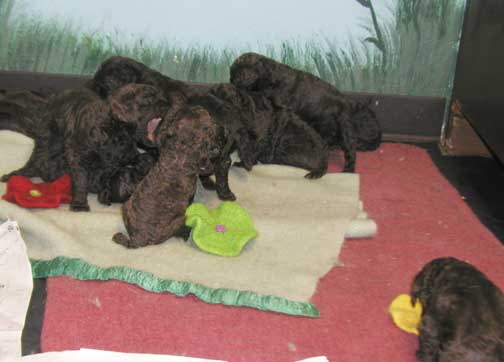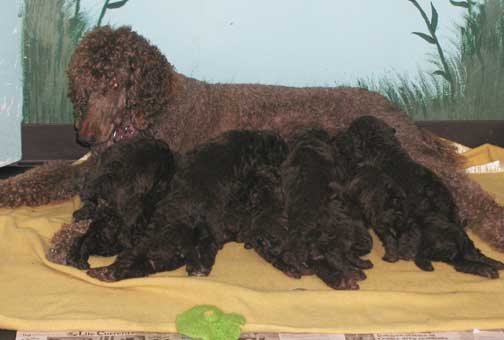 COMPARE at 4 wks to 5 wks!!!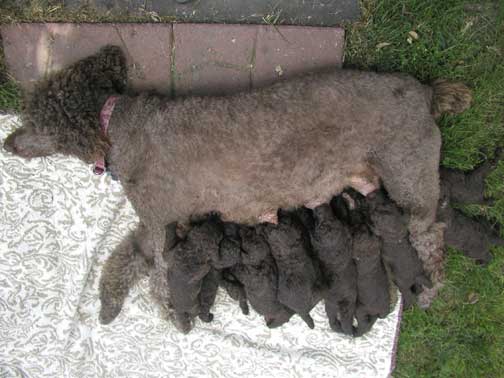 We're enjoying our time outside, one of the Royal Pet beds to make us feel we have a place to snuggle on...a tube to explore...our noses to use to check the world out :0)
*
Tes is here giving us pats on our chest...although she doesn't want to lick us off like Momma does ;0)
AND - this is why we need a bath by 5 wks old!
*
Here's how Tes teaches us to go "Potty Outside"...she prepares our food and takes it outside calling "Potty Outside"...Wallah, later we just head outside when she calls "Potty Outside!" Works Great :0))
As we are now growing, we're starting to definitely make noise!
*
With our eyes open, we can see to climb onto Momma and play with her.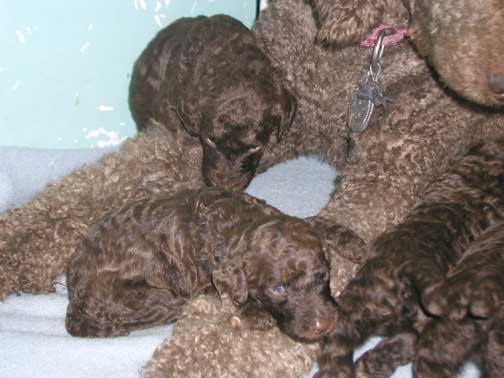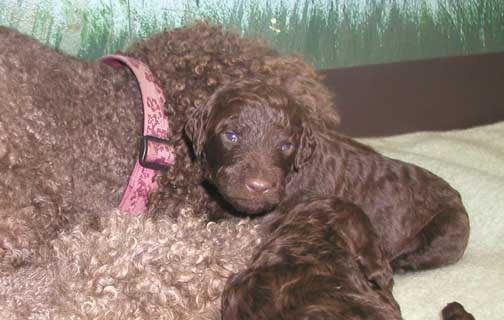 HI!!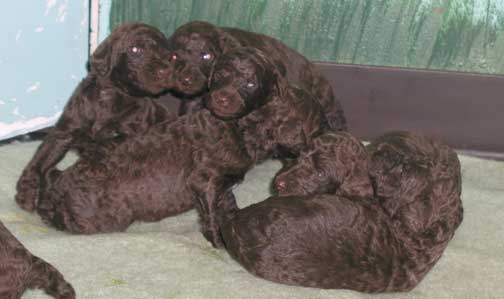 Our eyes are just starting to open at 14 days old...
*
The wool toy spinners made by a customer have been added for us to play with and get lots of smells for going home with us and our new owners :0)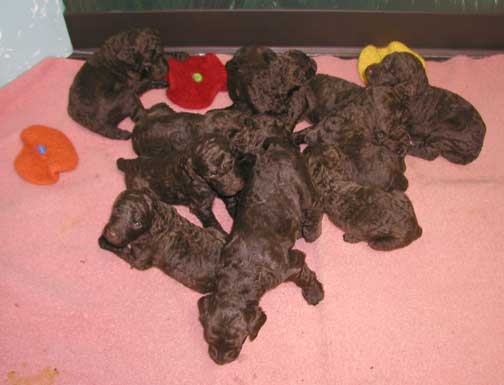 The difference of us a few days old to 3 wks old...Hi :0)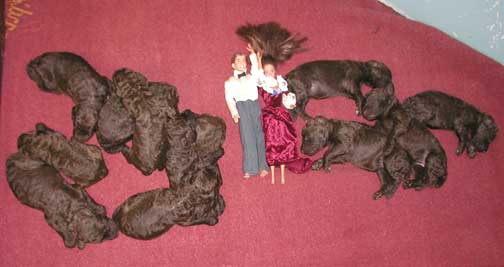 We're just becoming scooters, a little wobbly yet we're getting up and about :0) Pulllll, I can do this!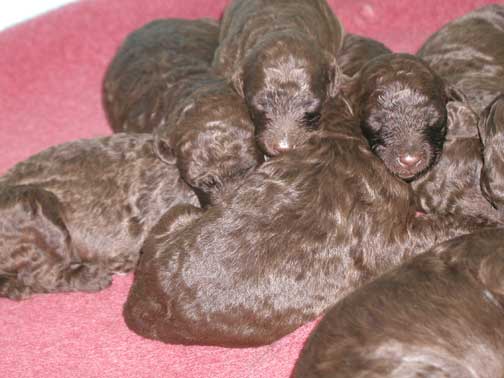 zzzz...what we do best as we grow...zzzz...
*
zzzz's become a chain link phenomena ;0)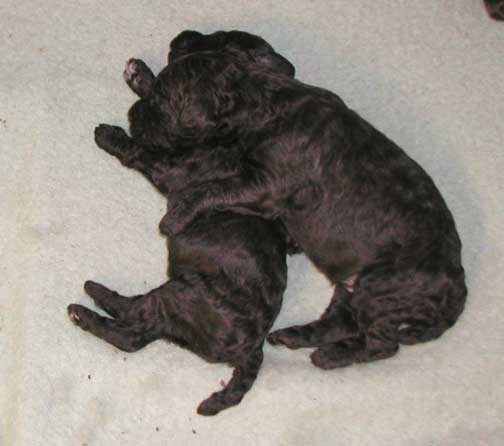 He's my brother...*
*
She's my sister...zzzz...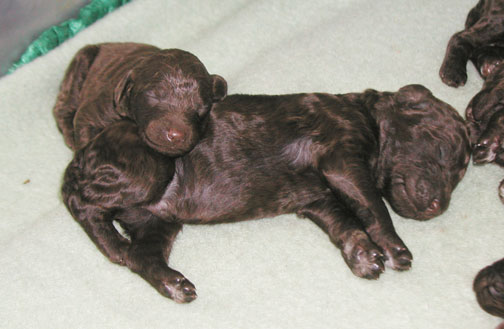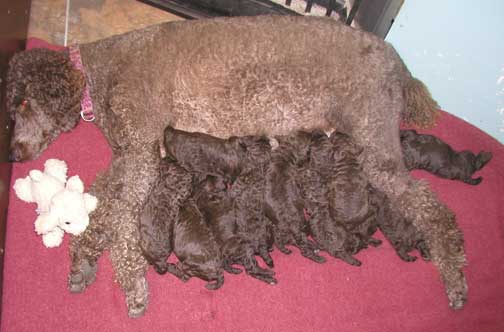 WOW - we all try to get in there for that milk! Momma Falcon has A LOT right now that when one gets done there's still lots for the next one of us - Nummy :0)
*
The last puppy has so very little white I couldn't get it in a picture to make any visual difference.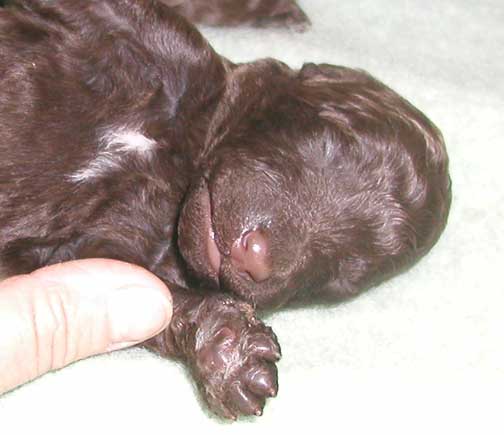 Here are 3 boys with definite white on their chest, small to a little bit more.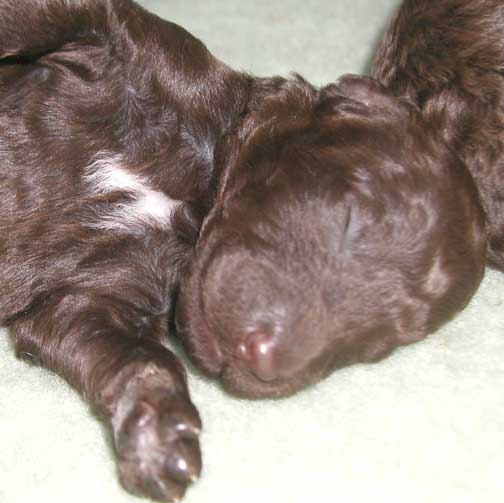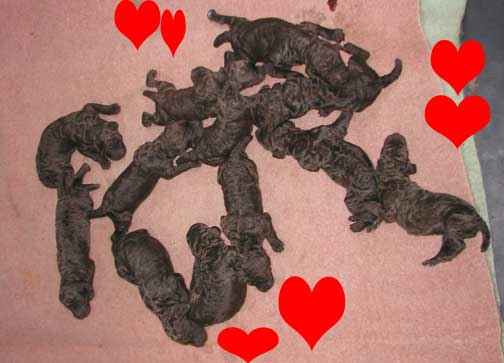 Here we all are - going to grow into a big pack!
*
Cool picture huh?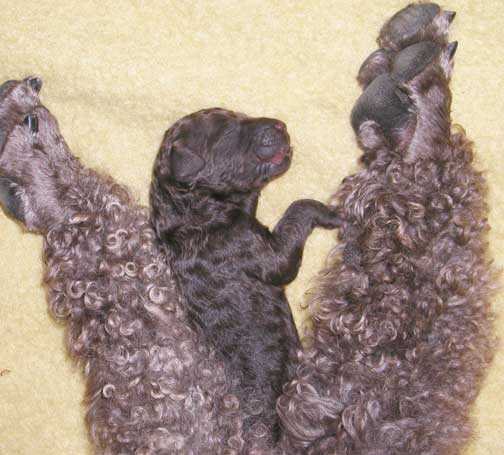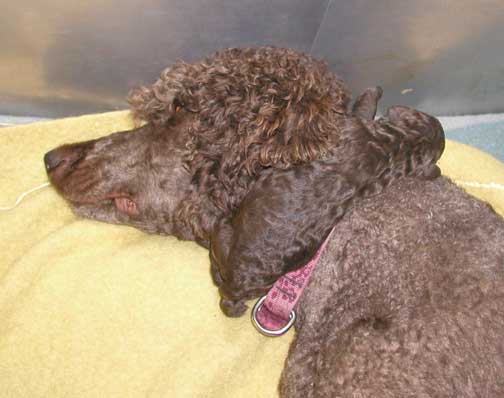 Uhuh - Thanks Mom for giving me life :0)))
*
Momma has LOTS of milk for us!! Tes has even had to express some to help relieve her as we can't drink it fast enough yet. Some of us sleep while others nurse so there's always nursing time. We've turned 4 days old.
3 days old: this is the pet bed in our box to go to the vet to get our tails docked and dew claws removed...I'm a girl if you didn't know what to look for ;0)
*
A 4 legs up picture :0)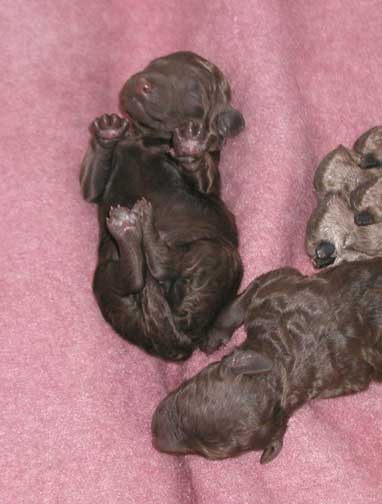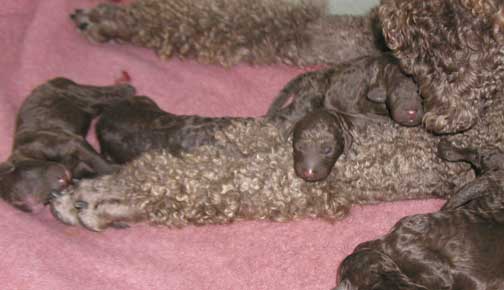 It's an arm thing...we all like to crawl up on the arms for snuggling.
*
At 2 days old I'm still curling in the fetal position staying warm in the temperature controlled room and heating pad underneath to keep me comfortable. We are not able to regulate our body temperature yet. The humidity must be kept around 55-60 percent so our skin doesn't dry out.
I fit snuggly in the palm of Tes's hand :0))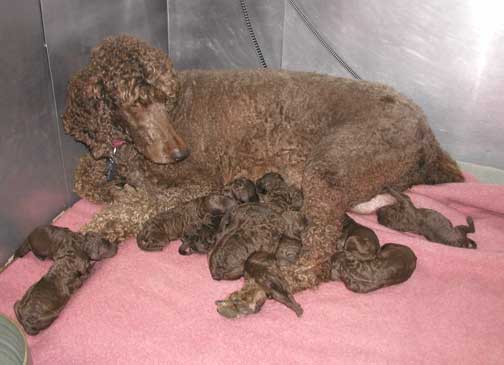 Above, puppies are 1 day old. Falcon is tired yet loving her pups. We all 12 came from her tummy just yesterday!!!
*
Falcon had 12 Puppies! Wooo Weee!!!!!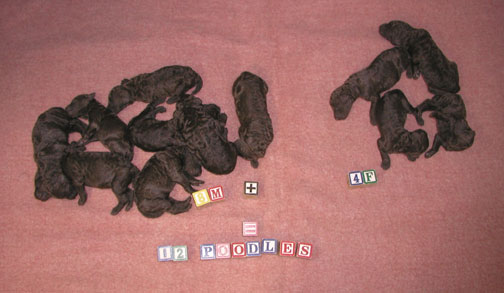 Falcon 13 Fall Standard Poodle Puppies - see one of her past litters here!