Royal Standard Poodles - Brown Bruno
Royal Standard Poodles - Brown Bruno 
Our strong stud foundation in producing charm, size and brown
Bruno was named by his former breeder. In purchasing him at 8 months old, I kept this qualifying name for his already 70 pound, 27.5 inch shoulder high guy. It fits perfectly to who he is and has become. Hunting is something he loves to go out into the woods to do, chasing up pheasants, squirrels, and more. Remember, over time browns fade out. I just can't believe how that tail can stand so straight like that :-)
last update 2/27/17 (TI)
*
3/5/15 - I have developed our new logo for "A Perfect World" Royal Standard Poodles!
Thank You Bruno!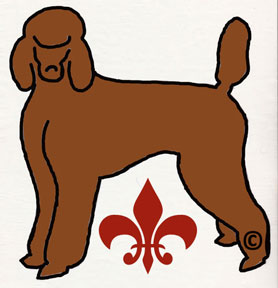 Tracking - Brown Bruno
8 yrs old 80 lbs
Osteochondrodysplasia (OCD) Clear > For more information Click Here
Canine Health Information Center (CHIC) completed 1/16/13, this shares all the required tests for standard poodles has been completed plus more
1/21/13 DM normal/clear (degenerative myelopathy)
1/8/13 CERF (eyes) free of observable inherited eye disease
test 3/28/2012 no evidence of Sebacious Adenitis (SA) found
Neonatal Encephalopathy w/Seizures (NEwS) - Normal, no DNA gene found in either parent thus clear by parents
AKC & UKC registered
COI (Coefficient of Inbreeding) 10 generations 1.12%, very low!
2 years: OFA - Excellent; Thyroid - Normal; No phenotypic evidence of Legg-Calve-Perthes disease recognized - Normal; no evidence of patellar luxation recognized - Normal; no evidence of congenital cardiac disease recognized - Normal
13 months: 78 pounds and I've nicknamed him "Go Go Bruno" he's so active :-)
11 months old: 75 pounds 28" at the shoulders - Absolutely a big kid and sweet temperament!
08/23/09 CERF (eyes) Good
9 months old: 72 pounds - Huge puppy that goes everywhere he can possibly go with the available doggy doors and 3 enclosed acres of squirrels.
8 months old: 70 pounds 27.5" at shoulder. Lymes vaccination and update shots given. - Bruno loves to be close and totally enjoys being around my husband for attention.
VWD Clear
Both parents hips "Good"
Here's an opportunity to see Bruno at 8 months old with his former breeder in Canada: https://www.youtube.com/watch?v=sJOqx7n3kAg&feature=player_embedded
Both Java and Hershey (parents) are "clear" of NEwS - Neonatal Encephalopathy with Seizures so that means both Bruno and Ciwa are Clear via parentage
Dark chocolat' - beautiful gold brown eyes - a wink to "Play with me!"
Dad K-Lar's Hershey Wins Again - UKC Show Champion 11/14/08*This has become Bruno's favorite position in the office...head back with shoulders stretched high in a regal position for a good petting :-)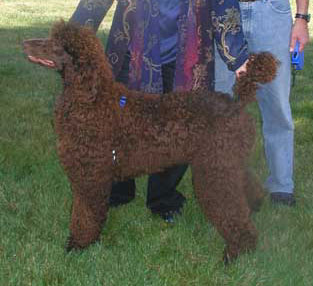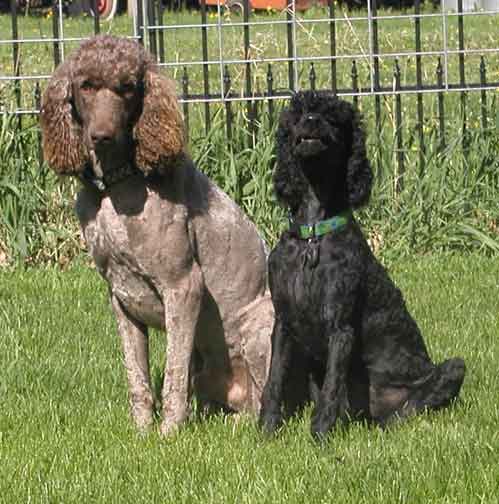 Bruno, with young Zeddy staying cool in our humid MN Summer. You can see when shaved down how Bruno's lighter fading shows up. Shaving the spoos down allows me to watch for wood ticks in the MN area. We fog and spray the parks with cedar oil every Summer to help the critters die off or Exodus.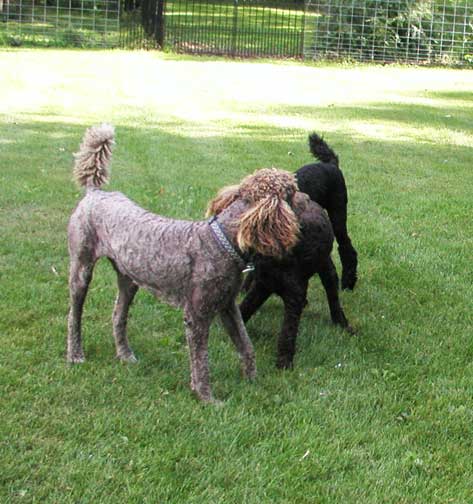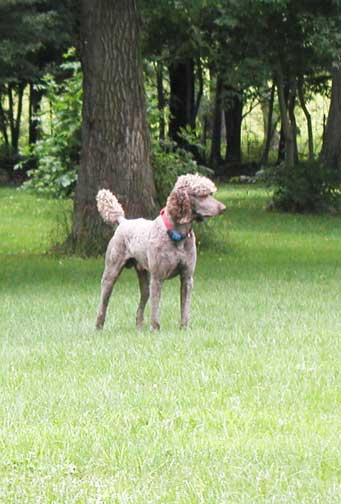 Uh huh! Look at me!!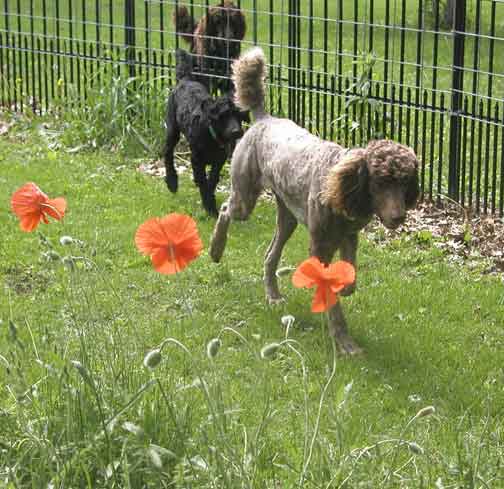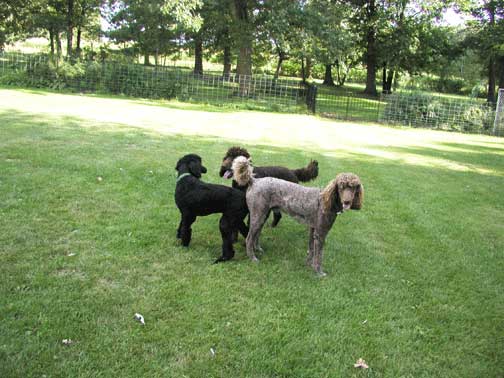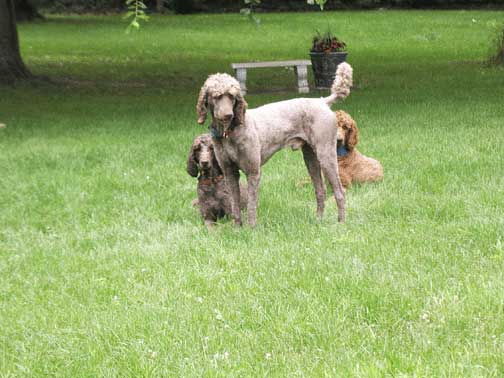 In shaving the spoos down I am able to watch them run or walk to observe their structure...very important to know if they need their chiropractic care in specific areas...or have slowed down which may have come from a picked up Lymes disease or anaplasmosis, both from tick parasites. If you ever wonder about your pet having one of these, call me to ask questions of what to look for, what results might happen from medication, etc. 218-414-0023 Tes.
In 2014 Bruno had anaplasmosis and a month on the antibiotics left his gut depleted of flora causing his ears ulcerous head shaking pain. Check out the Blue Power Ear Treatment that helped started them healing in 3 days! Change of dog food REALLY helped too!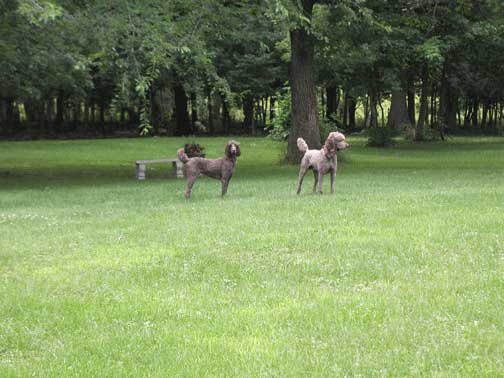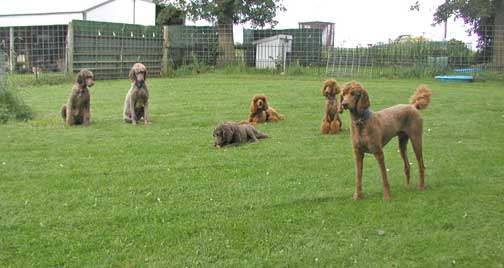 The pack lounging watching me mow the parks :o)
*
Merry Christmas 2013!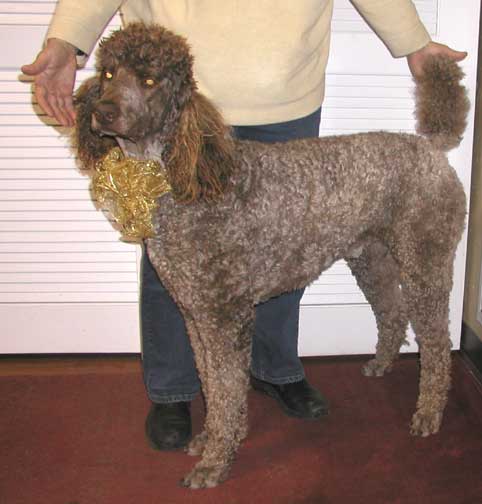 Bruno loved my husband Gene who passed away from cancer April 21, 2014 Easter Sunday. In memory of you my love of 42 yrs :o) Thank You spoos for keeping me focused and loved afterwards!!
"Whoever's in the office visiting gets my regal position for petting :-))"
*
Here's smiling at you ;-)
"2012 snow is hardly enough to have much fun in :-("
*
Yet - these nice coats keep us warm in the MN -30 degree weather!!!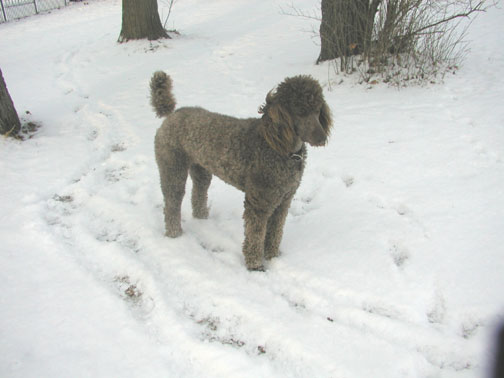 "Do you see me in the leaves ;-)"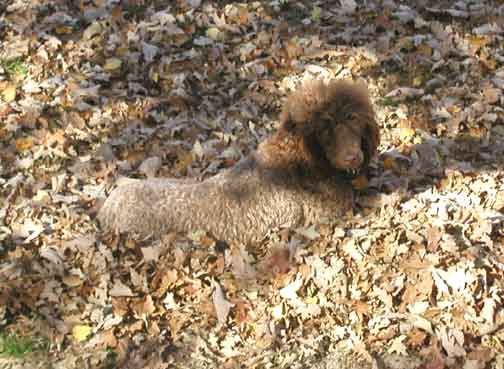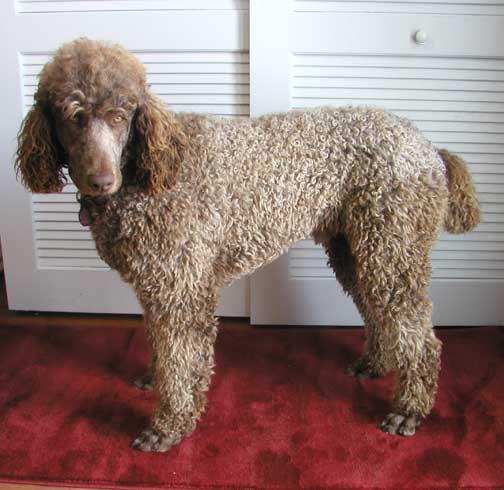 "Keeping a nice warm coat in the winter of 2010.
*
...and then I have to snooze with my blanky..."
2 years old and has what is called a "Chaps" haircut.
*
Below, on our trip back from NY in picking up Bruno, we stopped to see Kodi II in Woodstock, IL. They absolutely had a blast together
Traveling to New york to get our new boy Bruno was a great opportunity to get many writing ideas...besides enjoying Niagara Falls while there.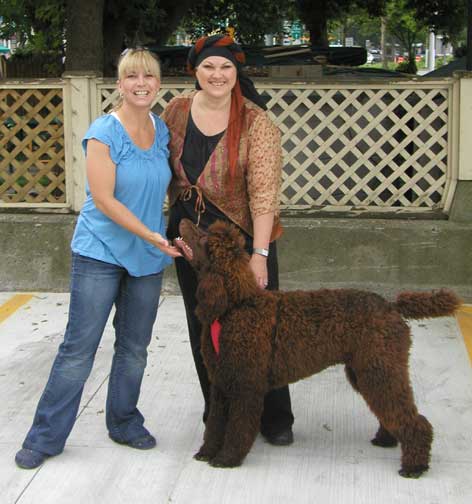 Bruno's breeder really knows how to take the "show" shots! 7 months old
Here already a large Royal Standard Poodles-Brown Bruno, he won best of males and other 1st and 2nd ribbons at a UKC show.