Giant Standard Poodle Puppies For Sale
SOLD OUT




Remember to start at the bottom and watch us grow up onto the page...
* UH = Umbilical Hernia
SOLD - "Astro" Black/Red phantom 8.5 wks 16 lbs - Woo Hoo! mc 4644 - adult wt 80+ lbs I'm going to be one giant poodle :o) I've gone off to Canada! Tes has left my harness off, washed and cut me down so you can see my coloring. No UH. You'll hit a home run in bringing me home! That's me kissing Momma...I LOVE my momma ;o) And next to bro Maverick chewing on a fresh bone.
---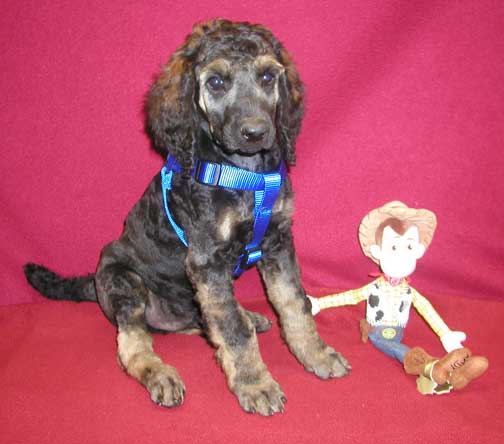 SOLD - "Maverick" 7 wks 12.4 lbs mc 6901 > BP - Lumberton, NJ Tes has cut me down to show I am going to be a Silver Phantom - SURPRISE! Here Tes is showing you the best she can what color I am underneath after the black hair was cut off...the picture below is a side view of the silver growing underneath and my red top head. There are different definitions to Maverick; a lone dissenter who takes an independent stand apart from his or her associates. Cowboys are certainly Mavericks. Choosing me certainly shows one stands apart from the usual standard poodle coloring. I have a lot of red on the top of my head as you see in the pictures below. I have a slight UH right now, there was none at 2 wks old.
| | |
| --- | --- |
| | Silver hair underneath shaved off black...surprise, surprise!!! |
---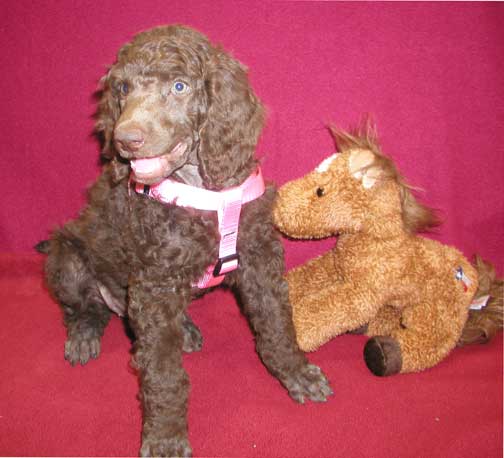 SOLD - "Mocha" 7 wks 11.6 lbs mc 7095 ... My UH is repaired 5/17/18, I'll ride into the sunset with lots of fun and adventure for my new owner :o)
Parents
Magic giant standard poodle puppies for sale! Pups born 3/28/18, ready for homes 8 wks later. Set your calendar! Main Fly out date from preferred airport Austin, TX set to be 5/23/18. Try to find direct flights where possible. 
Picture updates: next 7 wks old 5/16/18... stay tuned ...
She had 1 Brown Female + 1 Brown Male, 2 Red/Apricot Males, 3 Black/Red Phantom Males, 1 Brown Agouti Male > 1F + 7M = 8 giant standard poodle puppies for sale! 
Remember to go to the bottom of this page and watch  giant standard poodle puppies for sale grow up as pictures added to the top with each update. In this being my first litter in TX, I'm celebrating by a story board theme with props and names common in Texas...Enjoy, Enjoy ;o))
Customer down payment list:
1. 6/14/17 PAID M - Royal Apr/Crm "Hagrid" - SG > Winter Haven, FL ($ 200 discount returning customer)
2. 8/10/17 down pymt M - Royal Brown "Jabar" - MD > Succasunna, NJ