Standard Poodle-Black Cleopatra
RETIRED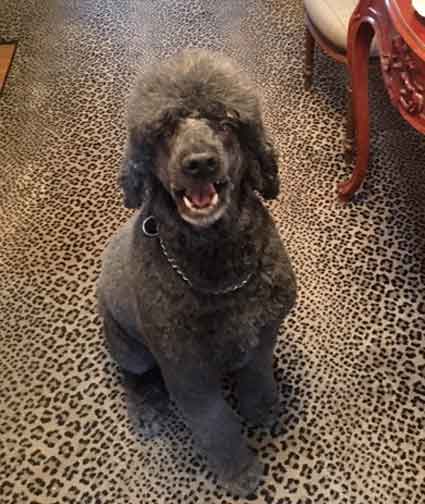 She has silvered creating a beautiful signature look, retired in Minneapolis, Mn with LG :o) She's ALWAYS been a smiler, enjoying life where ever she goes :o)))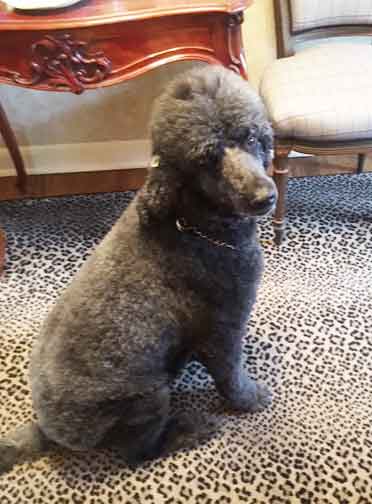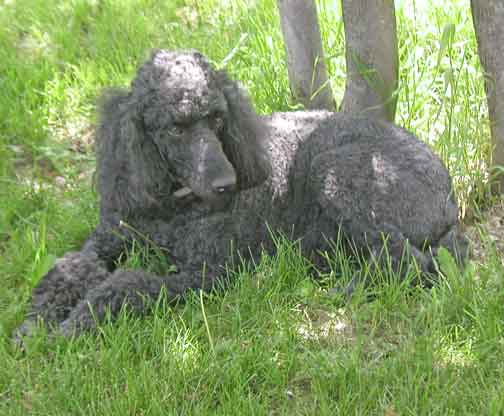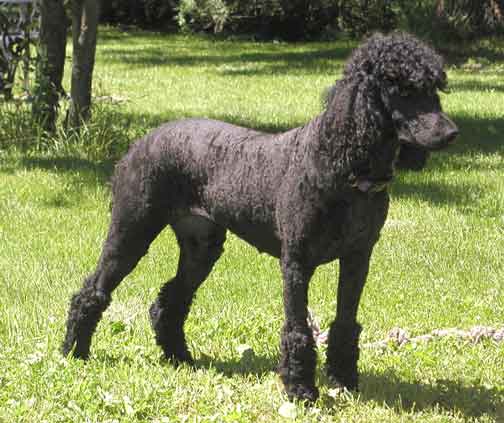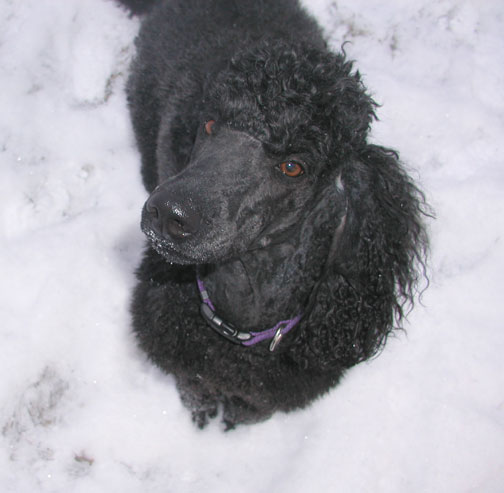 Our Standard Poodle-Black Cleopatra II
Egypt's Cleopatra, her personality matches, a flash memory in my Fantasy Novel "A Perfect World - Azza," the upcoming second book of the trilogy www.fantasybookaperfectworld.com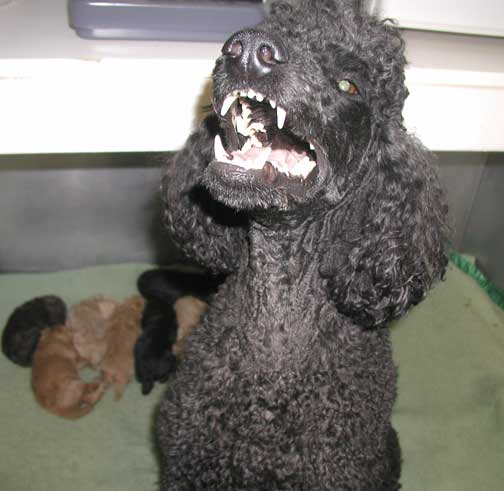 Tracking AKC Cleopatra:
Click to see EXAMPLE of her 2012 litter
Click to see EXAMPLE of her 2014 litter
Canine Health Information Center (CHIC) completed 1/16/13, this shares all the required tests for standard poodles has been completed plus more
Half sister to Falcon
1/8/13 CERF (eyes) free of observable inherited eye disease
test 4/23/2012 Neonatal Encephalopathy w/Seizures (NEwS) - DNA test - Normal (not a carrier)
test 4/18/12 Degenerative Myelopathy (DM) - DNA test - Normal (not a carrier)
5/31/11 OFA "GOOD" evaluation evidence results no hip dysplasia
5/20/11 2 yrs old 57 pounds (summer)
4/13/11 testing for thyroid - Normal
4/13/11 testing for patellar luxation - Normal
4/13/11 testing for cardiac disease - Normal
COI (Coefficient of Inbreeding) 10 generation .35%, VERY low!
1 year 8 months 65 pounds (winter) 25" at shoulder
9 months: 61 pounds 24" at shoulder
7 months old: 55 pounds 23" at shoulder
6 months old: 49 pounds 21" at shoulder
5 months old: 40 pounds 20" at shoulder
4 months: CERF eye test done - good
4 months old: 30 pounds
3 months old: DNA done, parents Zain & Jupiter
12 week checkup: Rabies shot given, 25 pounds, height 15 inches at shoulder, healthy, loving, welcoming toward strangers by initiating checking them out. She is outgoing on our road walks by wanting to check out the neighbor dogs.
10 weeks: Second set of followup vaccinations given, monthly Heartgard against heartworm, ascarid worms and hookworm started.
8 weeks: Deworming is done several days before pups fly to your homes with Vedco
Note: If you receive your pup from us in MN at 7 weeks of age, assure you follow up with some type of deworming with your vet. Pups pick up worms easily and can be passed onto young children just as easily.
7 week VWD test results: 129% in the healthy reference range of 70-180
6 week vet checkup: 8.8 pounds, healthy, first set of vaccinations given - Note: Zain has had pups over 10 pounds at this age. Some of Zain's runts have grown to be 80 pound offspring.
6 weeks: micro chipped, I micro-chip all our litters before they go home to you
2 weeks of age: Deworming of Cleopatra and pup mates begin with liquid Vedco. Generally done every 2 weeks thereafter. Adults done at same time.
Birth: 1 pound, solid black, healthy
Parents Zain of A Perfect World and Jupiter Fenning of A Perfect World * Cleopatra needs to stop and smell the flowers!
Cleopatra is one of our more colorful character spoos, a smile when she knows she should please me from something she is getting away with, brown eyes showing her character instead of the usual black, and her definite hunting character compared to others.
*
She always tries to be in her best profile ;-)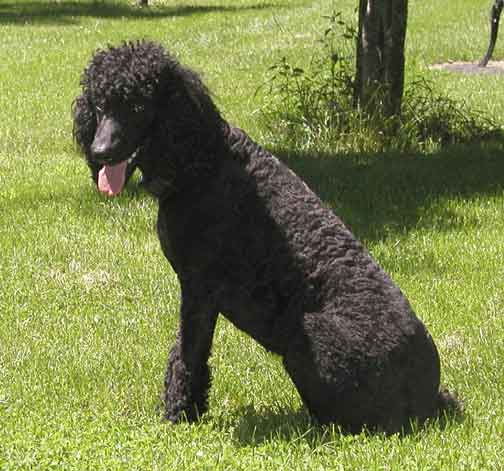 2 yrs old Standard Poodle-Black Cleopatra is confident and loving without question!
*
1yr old she's growing into a beautiful young lady :-)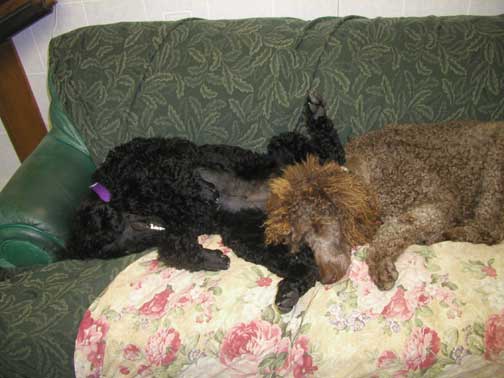 1 year old Cleopatra sleeping with half sister Falcon.
*
11 months old Cleopatra loves being big sister to all the puppies.
7 months old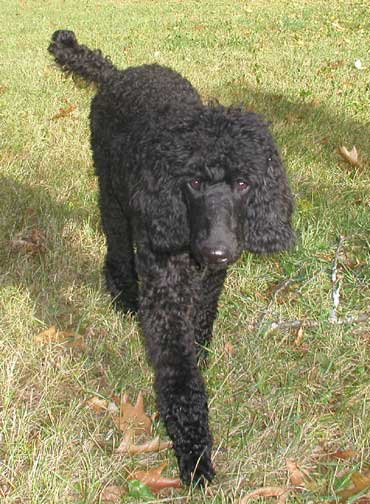 5 months old
Here she is with her newest best friend Vikire Amp - Vik.
Royal Standard Poodle-Black Cleopatra Parents:
Mom "Zain" x dad "Jupiter"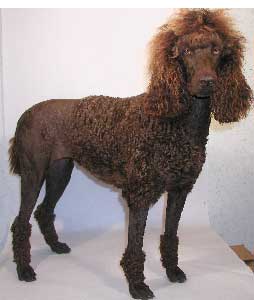 puppies for sale like Royal Standard Poodle-Black Cleopatra