CB Summer 2014 Puppies


SOLD OUT
This is an example of past puppies and how I set up their web page to show customers of their pups growing. Always start at the bottom of a page and watch them grow up :o)
Cleopatra x Bruno puppies arrived 4/8/14! Sold Out - here you'll watch them grow in the coming weeks. 
Ready to fly on Tuesday 6/3/14; area customers can come the weekend of 5/31 - 6/1.
Watch their story and stats here as they grow in our home awaiting your loving arms. Youngest puppy pictures start at the bottom with new puppy ages added to the top. Do start at the bottom and watch them grow upward...Enjoy :0))
Tracking Cleopatra's puppy stats:
7 wks old dewormed for Giardia
6 wk vaccinations completed with health check over by vet for Part B of the MN Pet Lemon Law, to be signed by you, vet records handed over upon receipt of your puppy, nails clipped
4 wks old dewormed and nails clipped
2 wks old dewormed
7 days toenails clipped, starting to try to crawl
2 days Due claws and Tails done
Born Tuesday 4/8/14
M/F $1,450 Hotter states, keep in mind any heat embargo's that one would need to take puppy as carry-on...plan accordingly > Click here to learn "Traveling" for your pet
We are excited to start the research of the pups upcoming size in your loving arms! Thank You for wanting one of their pups :0))
1. Tes Black/Blue F "Yarrow" for breeding for Daniel's future
2. Paid M - Royal/Standard Brown "Pitti" - JR > Woodbury, MN (definite Cleopatra this litter)
3. Down Payment M "Marley" - Royal Black/Blue - AH > Berlin, WI (definite Cleopatra)
4. Paid F Standard Brown - JL > San Antonio, TX
5.  Paid F - Royal dark Brown - MB > Jacksonville, FL
6. Paid M - Royal Brown "Max" - DM > Sartell, MN 
****
Here are our 7 wk old individual pictures for you. We've got our Harness Gift from Tes to us on now...for our owners to grab keeping our necks in alignment by not having a collar on until around 3 months old...we'll grow fast into these so adjust them weekly for us please. 
3 Females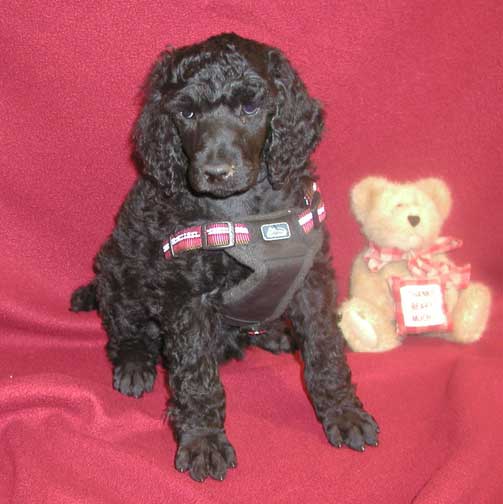 "Yarrow" is for Tes, Daniel's future Black/Blue girl. 7 wks old > microchip (mc) 8829 - wt 7.2 lbs
*
"Coco Chanel" 7 wks old > Brown Female mc 7367 - MB > Jacksonville, FL - wt 7.4 lbs has a white abstract on her chest...ready to be honeyed up by you ;0) Let me go back to my nap please...zzz...
"Kona" 7 wks old > Brown Female mc 7648 - JL > San Antonio, TX - wt 8.2 lbs...ready to be transported into your arms!
We're the 3 Males waiting for your arms
"Marley" 7 wks old > Black/Blue Male mc 0102 - wt 8.8 lbs > AH - Berlin, WI...I'll make magic in your arms :0) Small white abstract on chest.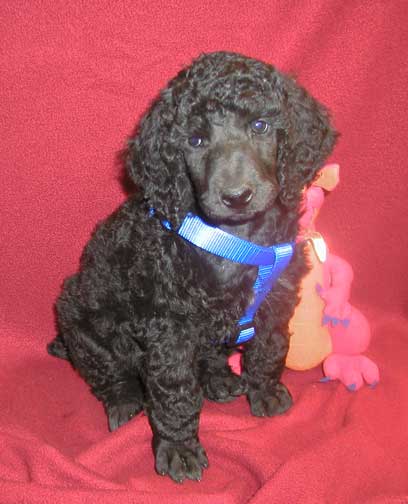 "Max" 7 wks old > Brown Male mc 7138 - wt 8.4 lbs...DM > Sartell, MN - I'll give you lots of bear hug as I grow with these BIG paws! 
*
"Pitti" (Peety) 7 wks old > Brown Male mc 4536 - wt 6.8 lbs...JR > Woodbury, MN - Okay, I'm ready to fly into your arms! I've got a mustache for Tes to tell me apart from the others.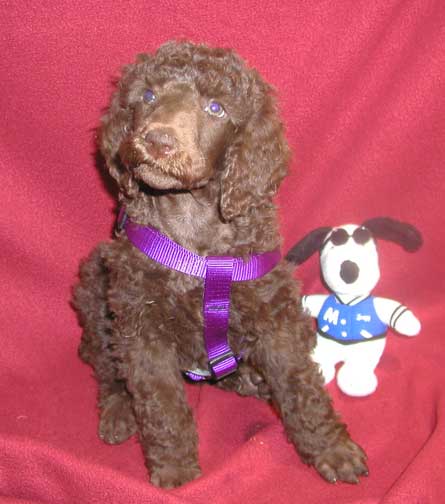 "Pitti" really gave me some funny pics and had to share them with everyone ;0) I put some canned dog food on a treat and really got them to give me their attention better for the pics.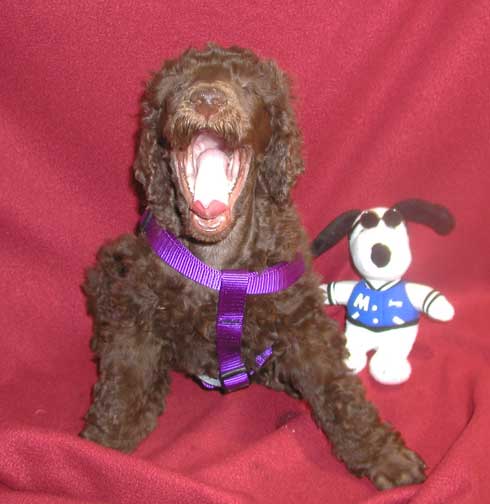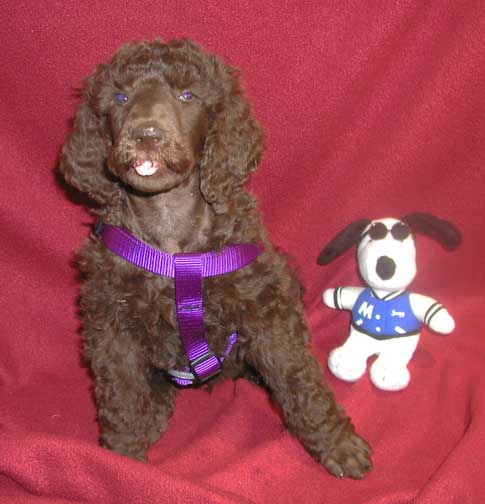 Thanks Pitti for the entertainment ;0)
*****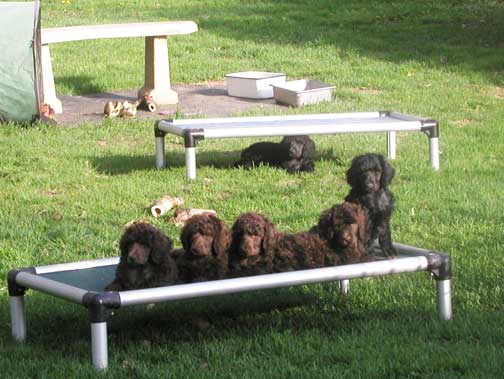 ...and lounge on the Kuranda outdoor pet cots...as we all pile on...and lounge under the bed cots...depends on the sun, the play time, and who takes up too much room ;0)
*
Ahhh, safe in the Youth Park, ready to play...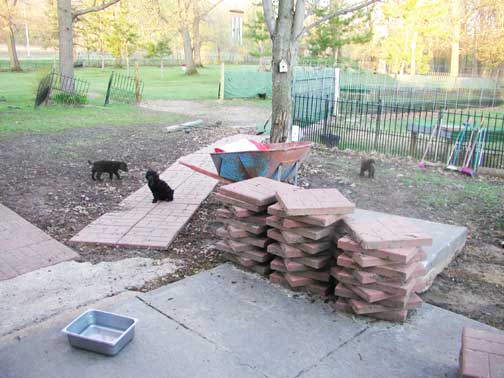 How are we getting into the Youth Park Tes?
*
More help is here for you Tes!!!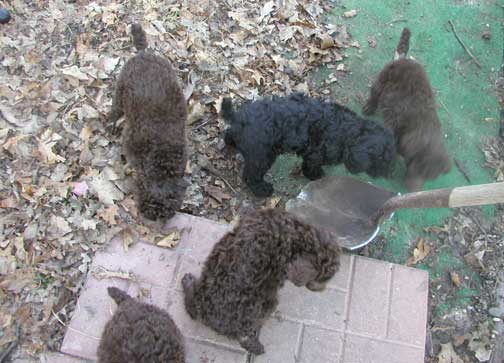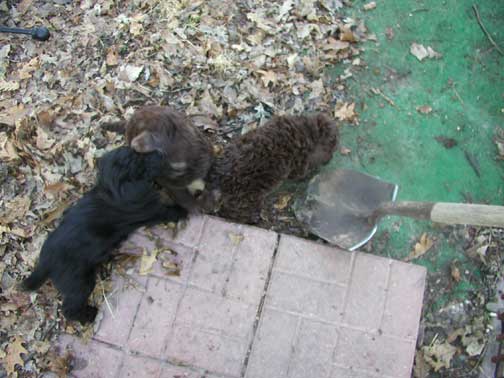 We'll help you build - HEY - don't get in my way there Yarrow!
*
Look closely at the ground to see the cedar chips...well maybe you can't see it so well here...
Tes is placing the cedar chips in the Youth Park for protecting us from the parasitic critters that want to feast on us...works great! She'll be fogging the parks soon that doubly cuts the bugs away! We'll help her! 
*
Now that they have no doggy door through the family room, from the office I call out "Time to come in, Come in" and in they come...most the time ;0) Learn those commands new owners... :0))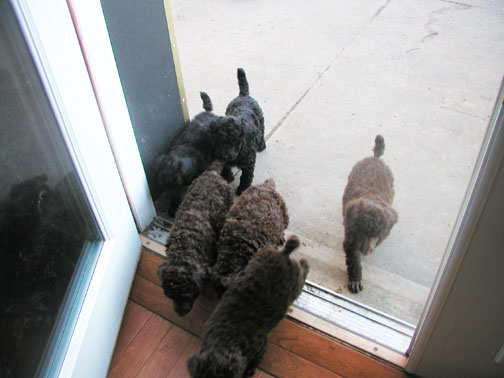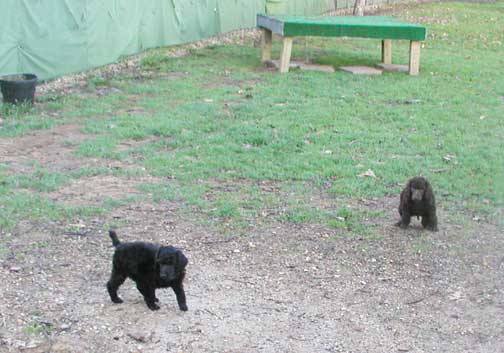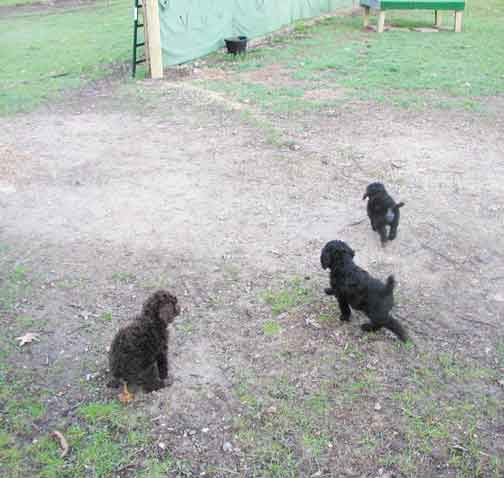 Watch them Potty Outside on command ;0) They run out, spin circles to land their poop...pretty curiously funny :0))
*
From the office they go into the "Middle Park" to get to the "Youth Park" as Tes says "Potty Outside, Potty Outside" the whole time. The Middle Park is being enlarged as well.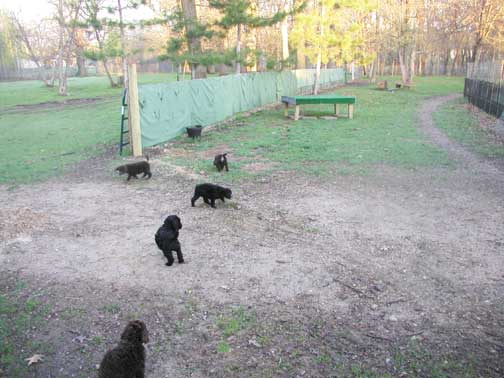 The work has begun for the new garage to be able to breed year around. It will be their place to learn to potty outside during our cold winters and have lots of room to play in the sub zero days. Here the "Puppy Park" has been demolished where the new garage is going...the kiddos are now learning to go from the family room where they mostly sleep and through the office to the youth park...sooooo smart!!!
*
Pet beds are being added...it's  pretty hilarious as when a new pet bed is added they tear into like some new friend being welcome for rolling on to get it smelly...then snuggle in totally ignoring the other pet beds :0)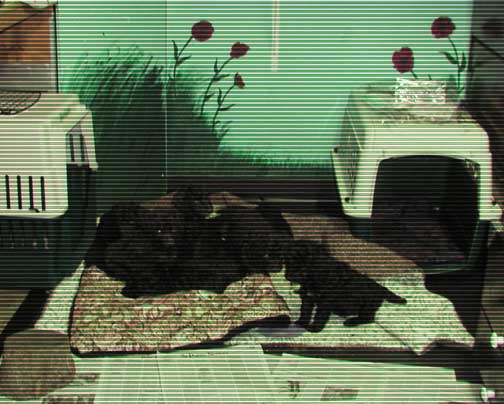 Tes was bummed as the camera card went bad...lots of pics like this so I only will add a few here. I have two Olympus cameras and have ordered a new card for the one, did my best to take lots more pics before the 7 wk update...Crates have been added to get lots of smells for flying comfort.
*
Tes's "Yarrow" says hi!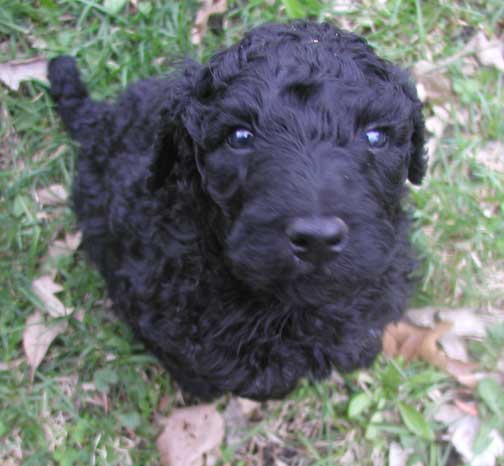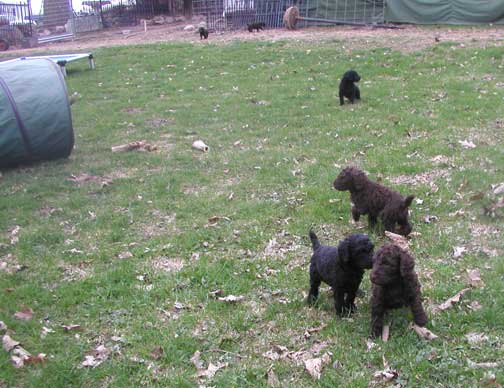 Look at us outside :0) Things are being torn up in our puppy park for the addition of an attached heated garage that Tes can have litters in the Winter for you.
*
Tes likes the Kuranda bed for us outdoors to play on. You can find their link on the Books & Links tab under "C".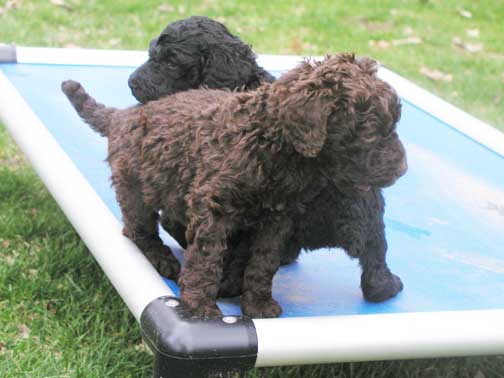 Peek a boo...I'm learning to go in and out the doggy door to "Potty Outside!" which makes Tes SUPER HAPPY - HAPPY ;0)
*
I'm the black male with the white abstract on my chest.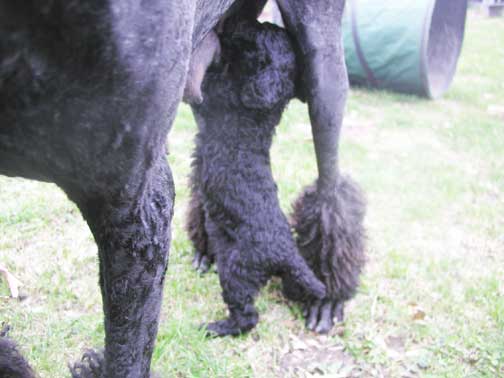 REACH! Snack time!!!
*
Aren't I cute ;0)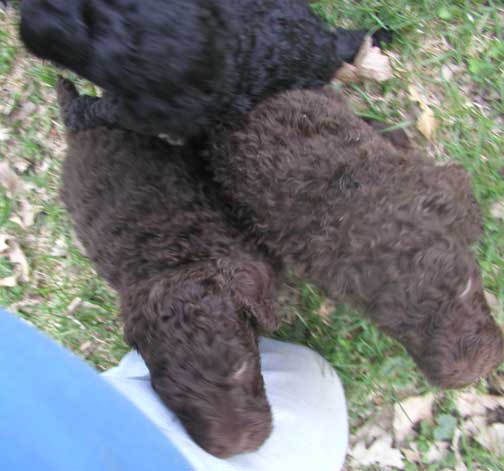 Thanks for getting us outside with the warmer weather!
*
...and bones are GREAT with incoming teeth...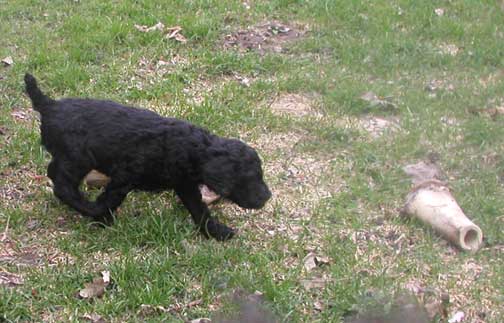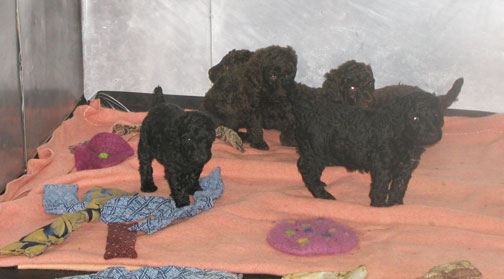 Toys with squeakies are added to get smells to go to our new homes with us.
*
Lots of playing lulls us to sleep...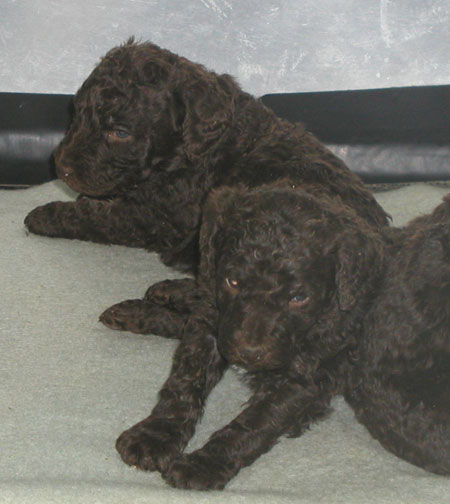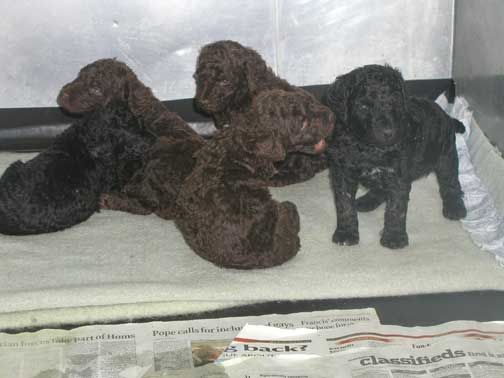 Hey! Play with me ;0))
*
Each week as we grow, Tes adds more room for us to have space for pottying and playing. Water is added as we eat more solid food.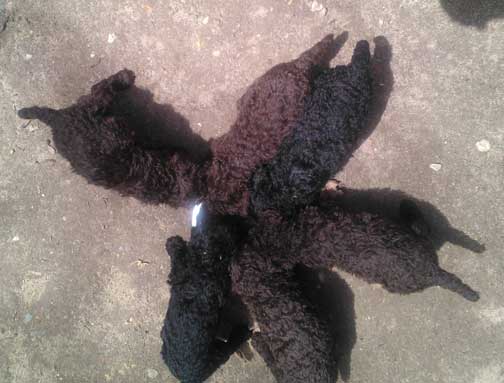 ...and growing...
*
The circle of life keeps on growing us...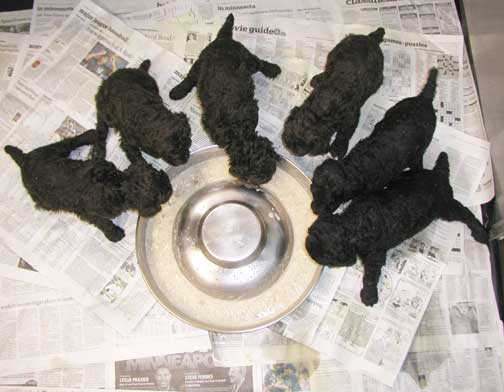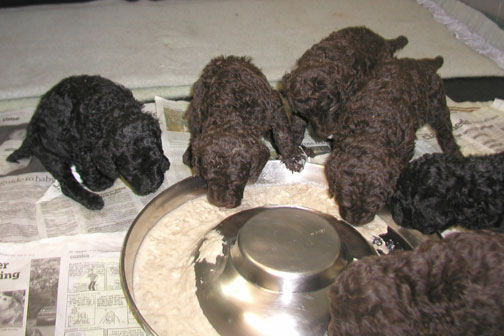 Thicker the slurry gets, we start to quit drinking mummies milk more and more.
*
More slurry, let me lick it off of your cheek.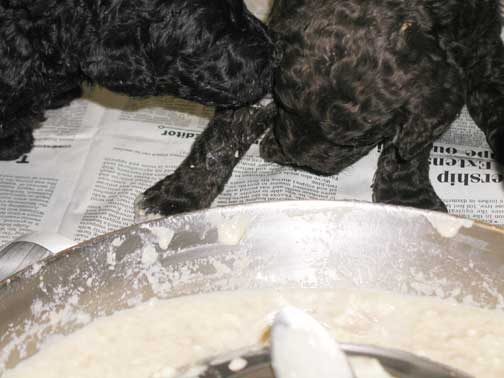 Hey - Tae Kwon Do picture...Tes use to take Tae Kwon Do :0)
*
Starting to play with each other more and more as we see each other and can walk over to chew on our bros and sisters.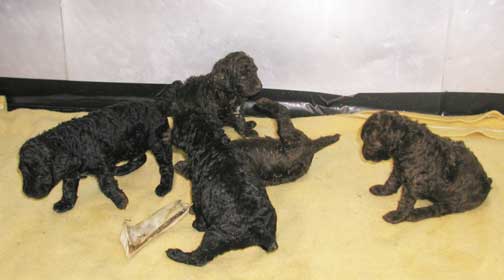 Bones help our baby teeth come through...kick up our legs - Woo Hoo!!
*
Sister Terry is visiting from San Francisco...amazed at ALL that has to be done 24/7 with raising puppies :0) Terry manages a Cole Hann store in downtown San Francisco.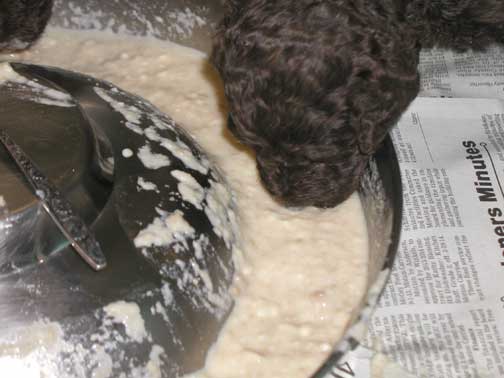 4 wks old and growing...slurry is getting thicker as our tummies adjust to solid foods.
*
Piling on for the good stuff :0))) 3 wks old
It's time for solid food now that we're 3 wks along...we get pretty messy with being fed at first with a spoon, then learn to lick it up in time...slurry is made with baby rice cereal, a little buttermilk, and a nummy meat mousse that makes it oh so tasty :0)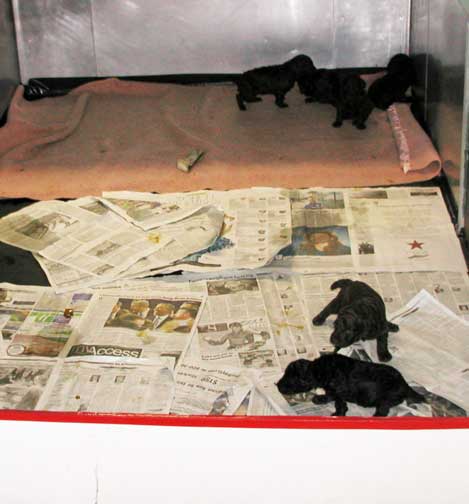 Tes has expanded our space again...we really don't want to potty on our bed...
*
Hi there, I'm seeing you now as my eyes open more and more.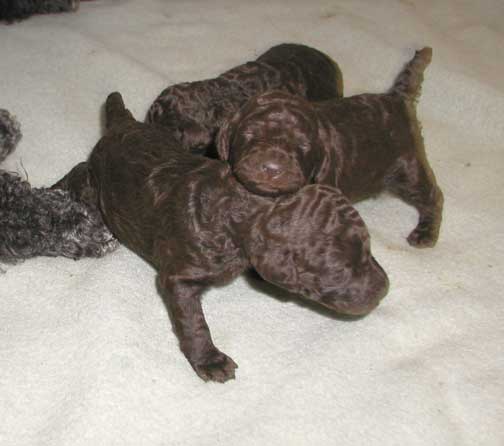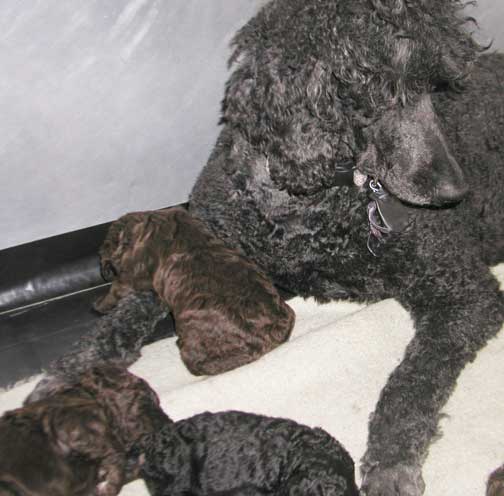 Snuggling into mom's arms are a part of all that love coming our way. She's gotten a haircut too :0)
*
Our eyes are opening more and we are finding our legs as well...that we want to potty off of the wool blankets...so instinctive of us ;0)
Ahhh, you can almost here us grow as we nurse and drink and zzzz....
*
Look at how big we are getting!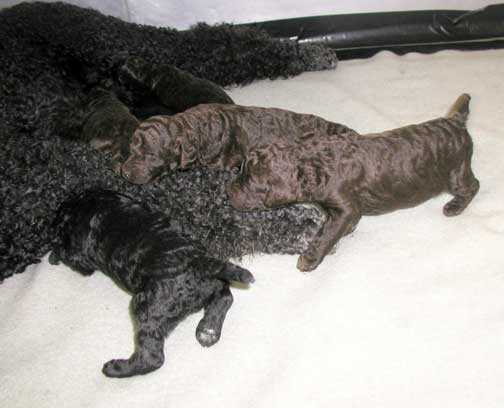 HEY - It's milk time!!!
*
Mommy licks us to help us potty as we don't have it as a natural thing...her tongue stimulates us to go...
Hey there, meal time is over and we're just enjoying mom's company.
*
Ahhh, here's an arm to snuggle, warmth and love :0)
The nice warmth keeps us comfortable to have a 4 legs up moment ;0)
*
Never know what position we'll end up in when she wants to take a picture :0))
A part of growing is finding our legs...at least our front legs are getting stronger to pull us up and around.
*
Push, pull, push, pull, GET THAT MILK!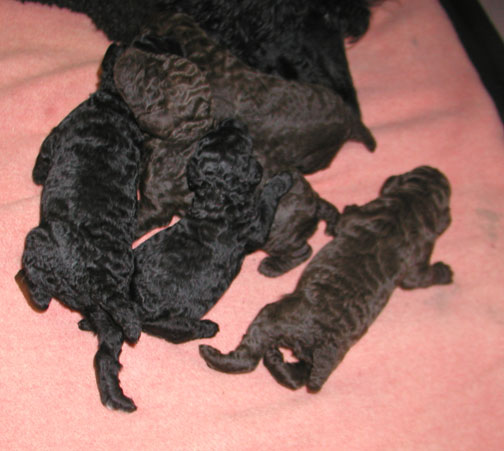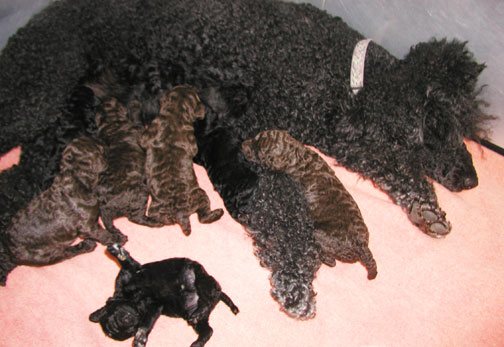 Rolly polly, look at these tummies get big. We can eat and hold more then people can as our systems need to sometimes hold our food longer then you humans ;0)
*
We're a black male and Tes is keeping the black female she's named "Yarrow" after a sister ship that has its own spirit, the sister ship to Zedereza ;0)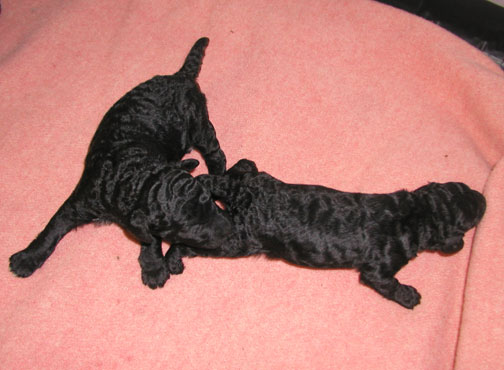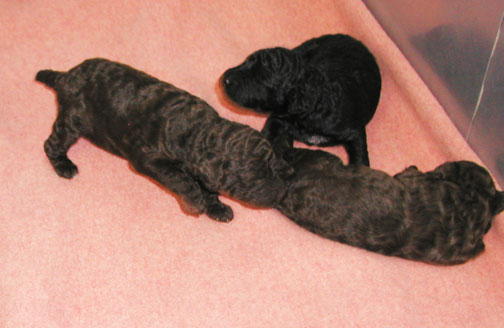 The colorful wool blankets help show us off...
*
...stretching out, finding our space...

As we find our legs, we really start making music...where's MOMMA!!! Give me some milk!!!!
*
Weee, do the 4 legs up for comfort and warmth :0)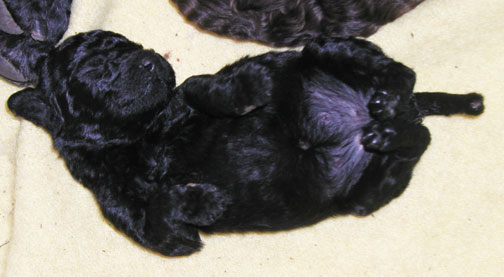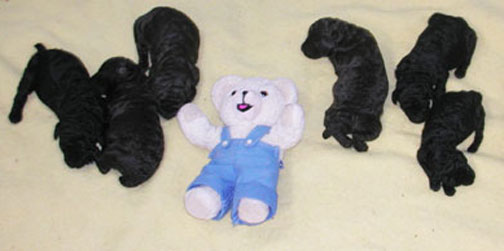 Here we are...3 females and 3 males for you.
*
The camera doesn't catch the correct colors all the time...yet you should get a good idea to see us.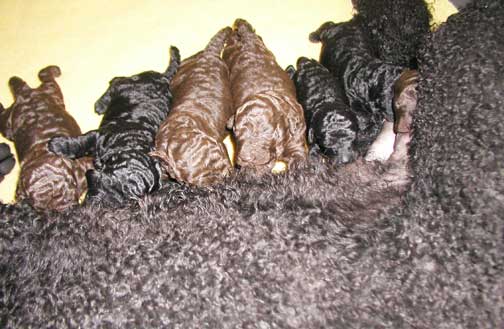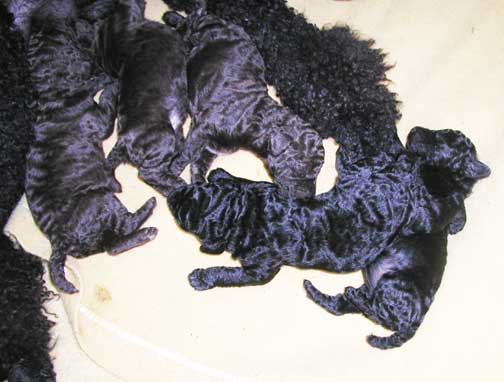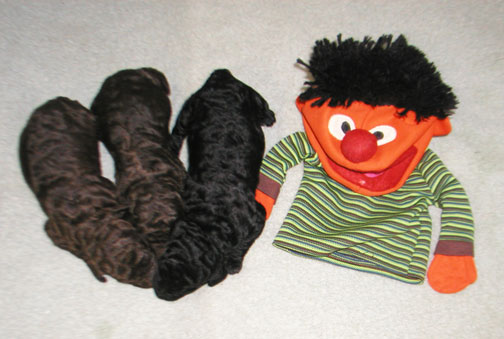 Hey there, we're the 3 boys growing fast!
*
We're the 3 girls getting pretty big too!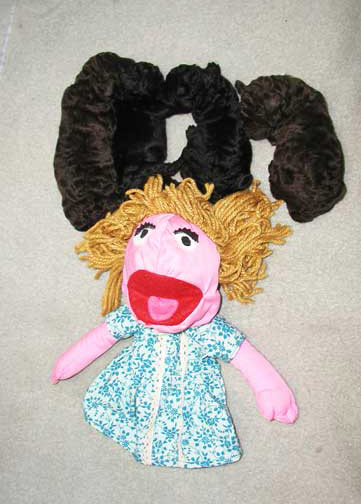 Hey Momma, are you ready for a haircut...Tes says soon to keep you cool in this very warm room.
*
Buddha bellies filled with nummy milk :0))) We're into 2 wks old now, growing fast!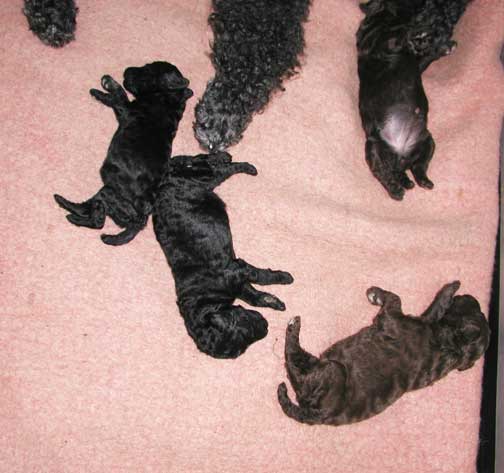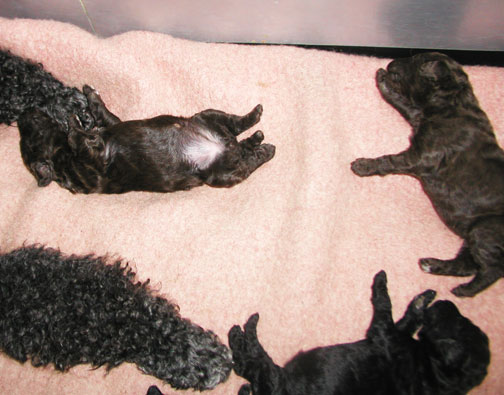 Getting legs beneath us...soon our eyes will open to become scooters ;0)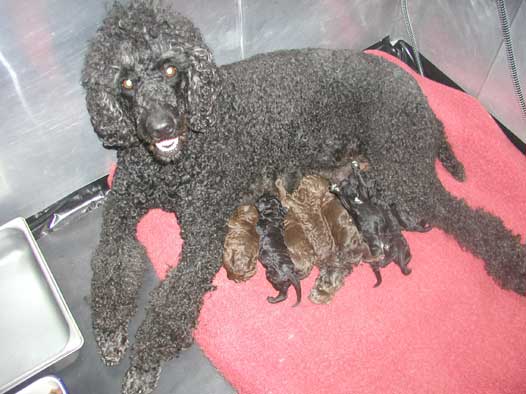 Here we are! Momma Cleopatra presents a great smile and some of us grow up having it :0)
*
Several of us have white chest mismarks/abstracts. Tes thinks I'm the big BL male.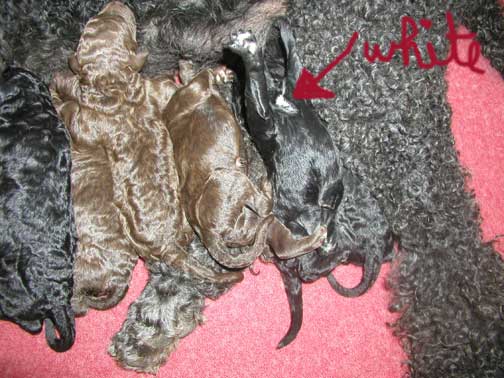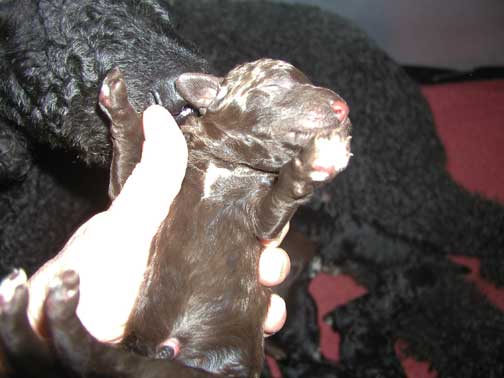 Of course here is a favorite four legs up shot showing my white abstract/mismark. Many of us have one.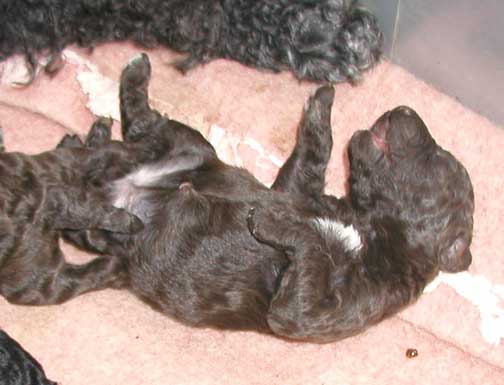 Strrretching after a good nap...finding our legs we're starting to be little scooters too :0))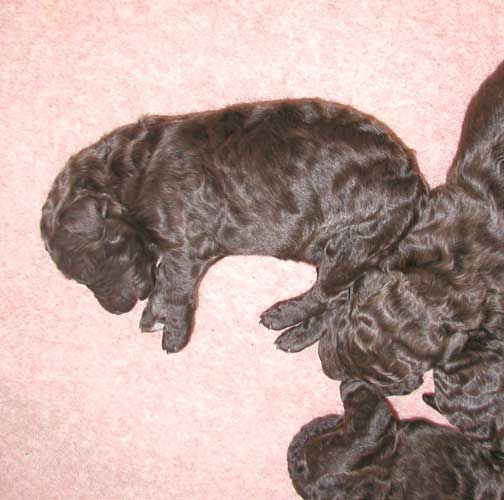 We do a lot of the zzzzz's...after we get some full tummies :0)
We're the three Black/Blue (BL) females, and one BL male helping keep each other warm.
*
Hello there :0) We're growing for you...our tails have been docked and dew claws removed.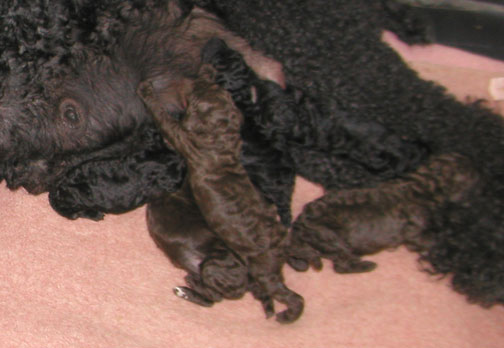 What we do a lot of right now...sleep, zzz, eat, nummy, sleep, zzz, mmm mmm good mommy ;0)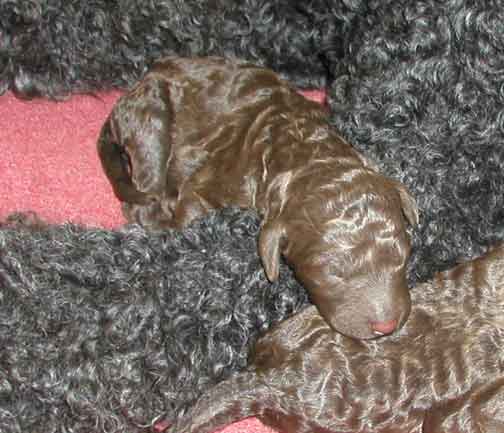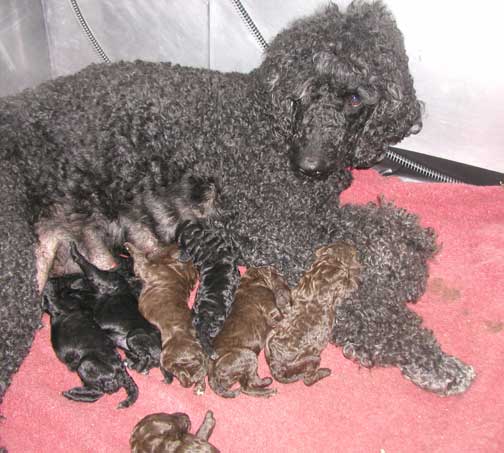 Wool blankets help wick away moisture and help keep the warmth around our bodies, besides bringing you some color to your world ;0) There are temperature controlled pet heating pads underneath the wool blankets to keep us warm underneath too.
Snuggling in for milk and warmth...the room is kept at 78+ degrees and humidity of 55+ as we cannot create our own heat and moisture for a couple of weeks.
*
A few days old, we still have our tails, sleeping lots.