Standard Poodle Puppies 2012 - Cleopatra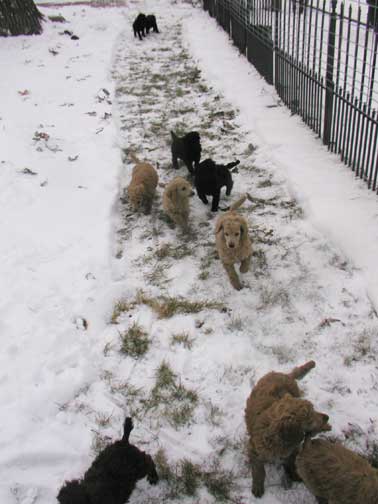 We've got snow! This picture was taken 11/24/12 Saturday morning as this is the first time they are all feeling comfortable in staying out in the snow to "Potty Outside" :0)))
*
Hi!! Don't forget to start at the bottom and scroll up to see us grow.
Ahhh, the joy of raising Royal & Standard Poodle Puppies Fall 2012 of Cleopatra and Daniel.
Picture updates every 2 weeks - Oct. 26th, Nov. 9th, & Nov. 23rd when they turn 7 wks old and have their first grooming. Enjoy the pictures as they grow :0) Always more recent will be added to the top with some pictures dropping off.
Flying date set for pups is Friday Nov 30, 2012 (please note flying date correction - 8 wks old)...see the Traveling Pets tab for your pets trip home.
*
Tracking Cleopatra's Fall litter 2012 stats:
5 wks old de-wormed, micro-chipped, nails clipped, 2 girls for breeding decision blood drawn for VWD test
3 wks old first de-worming, nails clipped
8 days old toe nails clipped
Day 1, due claws removed and tails docked 1/3 from tip - AKC regulation
10 puppies born Oct. 5, 2012: 6 males, 4 females - Colors: 3 Black/Blue males, 2 Red/Apricot males (both have white abstracts on chest), 1 Apricot/Cream male; 1 Brown female, 1 Red/Apricot female, 1 Apricot/Cream female, 1 Black/Blue female. These pups will certainly be Royals.
Customer Puppy List
1. Paid Breeding F - Royal Red/Apricot - CS > St. Louis, MO
2. Paid M - Royal Red/Apricot - KB > Penncock, MN
3. Paid M - Royal Red/Apricot - SA > Thunder Bay, Ontario, Canada
4. Paid F - Royal Apricot/Cream - MA > Shalimar, FL
5. Down Payment M - Open to size Apricot/Cream - RN > Bemidji, MN
6. Down Payment F - Royal Brown - HR > Hereford, AZ
7. Paid F - Standard Black/Blue - MD > Ellendale, ND
8. Paid M - Royal Black/Blue - AD > Baton Rouge, LA
9. Paid M - Royal Black/Blue - ES > Finland, MN (returning customer :0)
10. Paid M - Royal Black/Blue - AC > Sharon, CT
** A little juggling may take effect - all puppies DO/Will have owners!
*
We're the 4 girls

Tes awoke us at midnight again to take these pictures...then we're quiet and calm and not feisty ;0) So if some of us look tired that's why!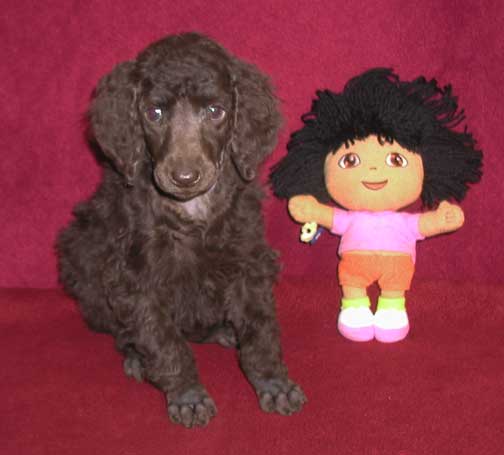 "Cutey" here, my microchip (mc)-6100. SOLD to Hereford, AZ - At 7 wks old I weigh 5.4 lbs. My first wash and clip leave me adorable :0)
*
"Lady Myralyn" here, my mc-0173. SOLD to Shalimar, FL - I'm the apricot girl. At 7 wks old I weigh 7.8 lbs. I've been outgrown by a few ounces by one of the black/blues boys!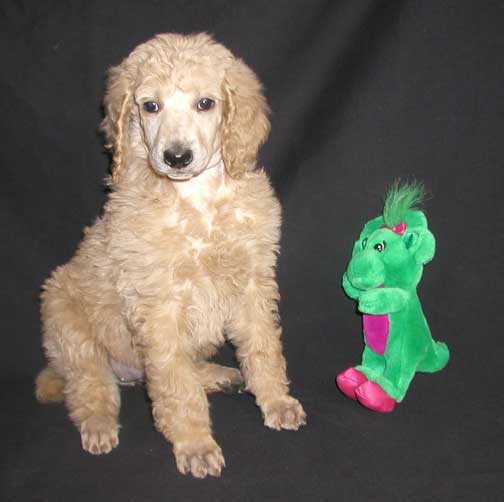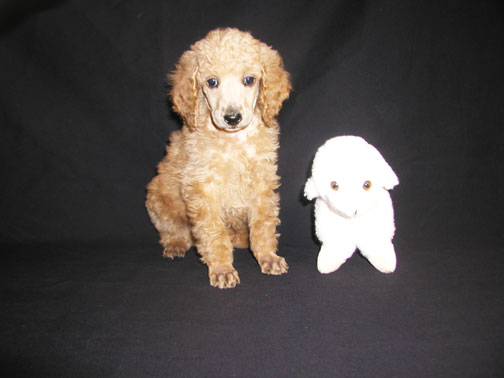 "Stella" here, mc-2320 I'm the red girl. SOLD to St. Louis, MO - At 7 wks old I weigh 5.4 lbs. We were all adjusted last Friday and I will be a future breeding spoo from :0)
*
"Tessa" here, mc-5967. Sold to Ellendale, ND - I'm the black/blue girl. At 7 wks old I weigh 5 lbs. I'm just sooooo huggable ;0)
---
We're the 6 boys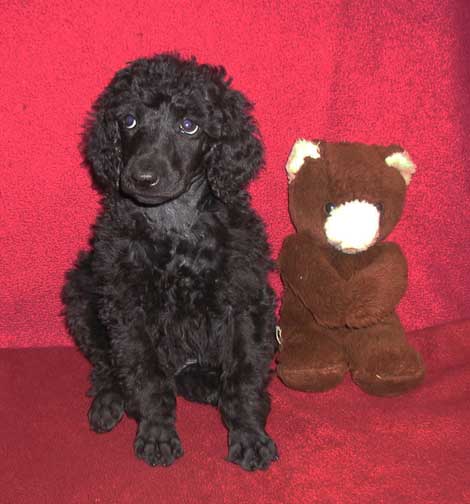 "Berry" here, mc-2911. Sold to Finland, MN - I'm one of 3 black/blue boys. At 7 wks old I weigh 6 lbs. Why do you wake us sooo late at night!
*
"Tauren" here, mc-8002. Sold to Sharon, CT - I'm a black/blue boy. At 7 wks old I weigh 8 lbs. Look at me - I've outgrown Lady Myralyn by several ounces. See my mustache to easily see who I am from the other black boys ;0)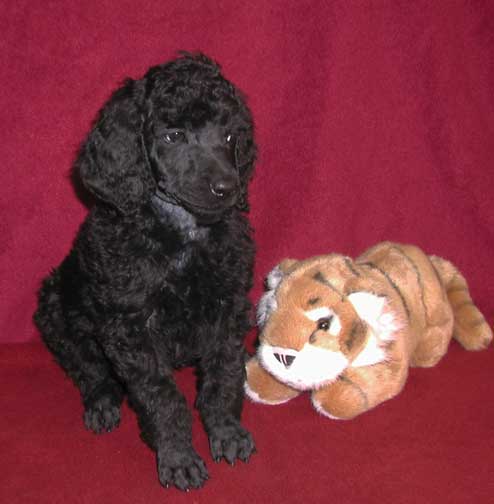 "Rebel" here, mc-8192. SOLD to Baton Rouge, LA - I'm another black/blue boy. At 7 wks old I weigh 6.8 lbs. I didn't want to wake up! see my go-tee, that's part of being a rebel...and makes it easy for Tes to tell us apart ;0)
*
"Smiley" here, mc-8139. SOLD to Bemidji, MN - I'm the apricot boy. At 7 wks old I weigh 6 lbs. Tes washed all the food off of us and fluffed us up for these pictures.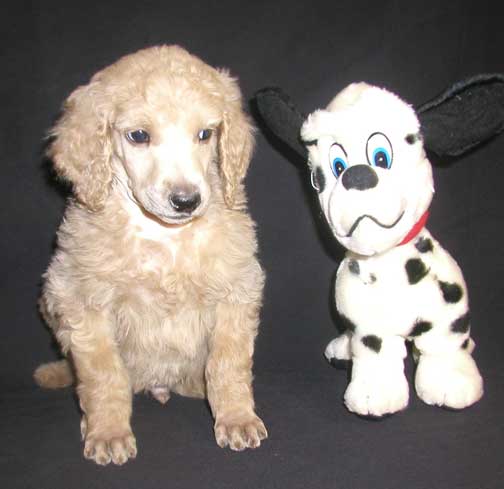 "Husky" here, mc-3484. Sold to Thunder Bay, Ontario - I'm one of the red boys. At 7 wks old I weigh 7.2 lbs. I'm growing fast as you can see here.
*
"Koda" here, mc-9775. Sold to Pencock, MN - I'm the other red boy. At 7 wks old I weigh 6.8 lbs. My new owner came last Sunday to pick me out and life is WONDERFUL :0)))
It's our first full bath to get ready for our first hair clipping...the neighbor girl is helping now and things go faster.
*
The snow has been shoveled that we can run around the puppy park...the older spoos want to join us :0)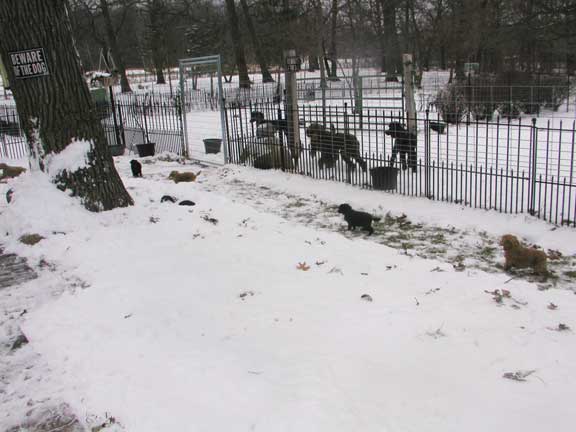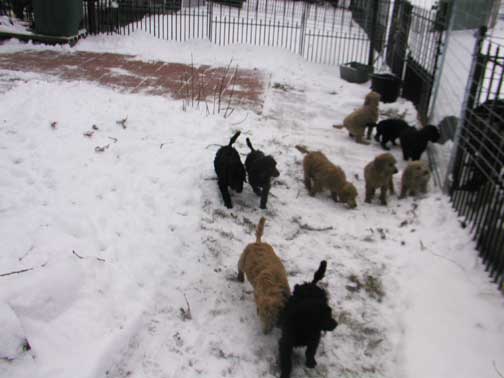 Here's some grass to potty on!
*
The crates have been added to get smelly for us to travel in...pet beds are being added and sewn to join us when we're in our new homes.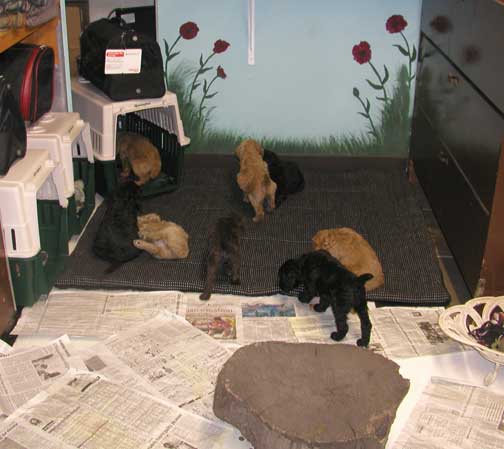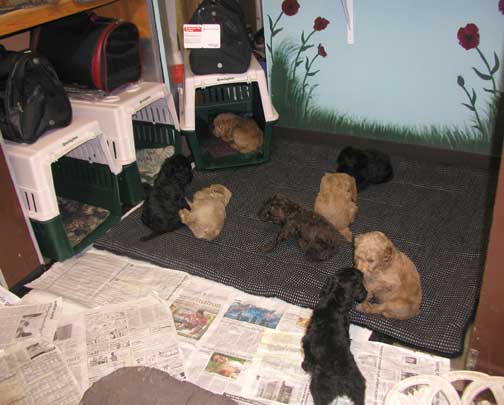 Carry-on bags are on top of the crates too, getting home smells :0)
*
Check us out, apricots compared to reds...we just love to play right now, enjoying the weather as long as we can.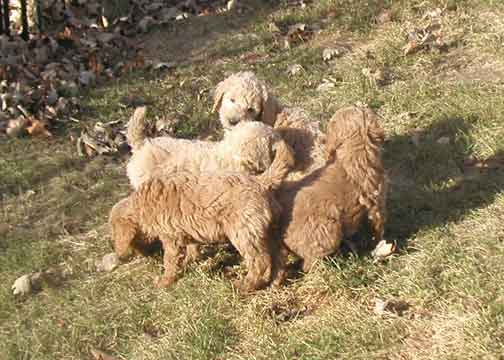 Playing, we're learning the tracking instincts and slowing the game down is important ;0)
*
Figuring out steps...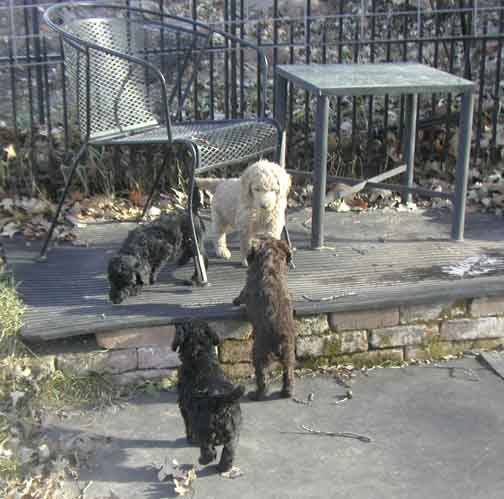 Tes has thrown bones in to keep us busy while it's super cold outside.
*
Toys are keeping us busy, wish we were home with you ;0)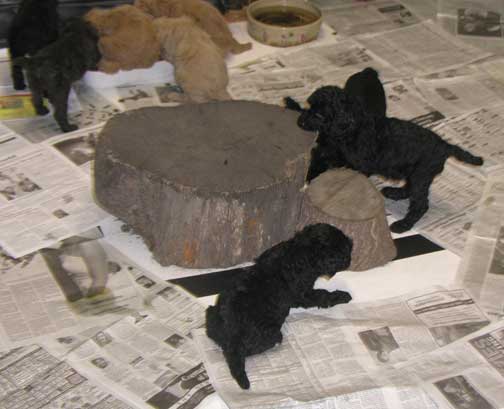 Tes has added stumps for us to play on while we're in from the cold.
*
THIS is how we nurse now as Mom doesn't want to sit for us anymore :0(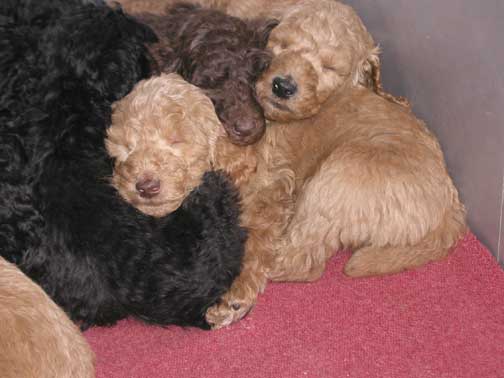 The 6-7 wk old pictures start here and are added up...zzzz...looking toooo adorable ;0)
*
I see the light! And...just this morning, 11/09/12 7 am, the brown girl came through the real doggy door FIRST! Tes didn't have the camera to get it - soon though :0)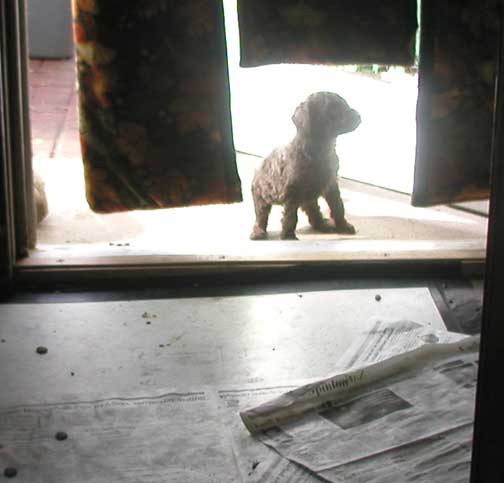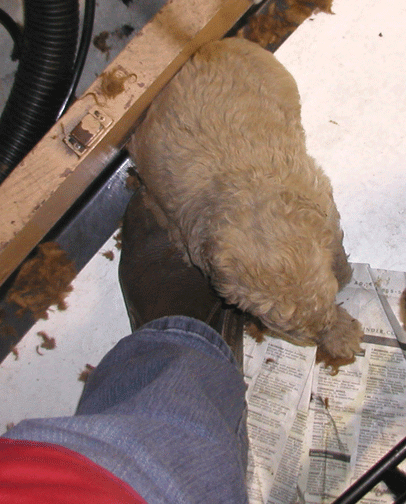 Tes is grooming spoos, this is the start of a calming thing...
*
Yeah, let's sleep on this and dream of bones :0)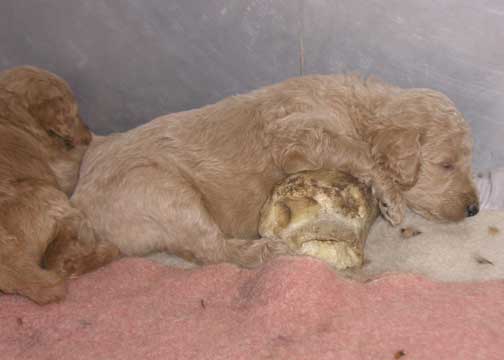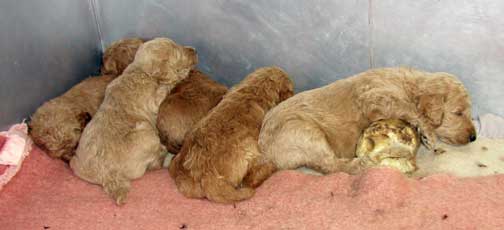 No...let's sleep on this...
*
We're a couple of the Black/Blues - WAKE UP ;0)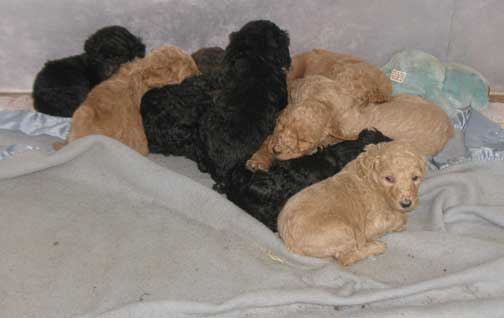 ahhh...then it's time to snuggle and warm up - DOG PILE!
*
Seeeeee! The nose works to get us further outside to check out the neighborhood park.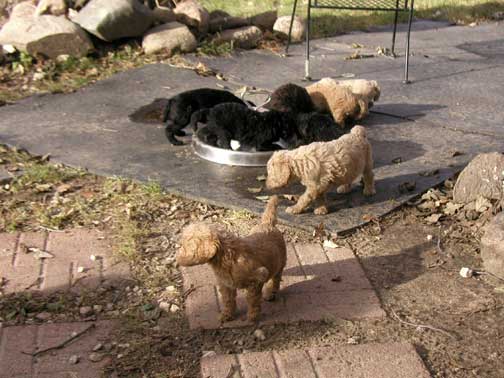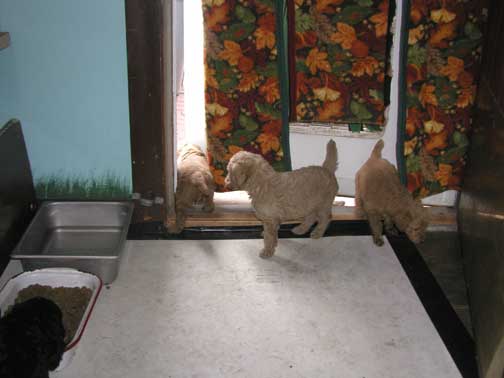 The dry food was placed close to the door to entice us to go outdoors and become interested on our own...it's working...smell, nose, eyes...
*
Oh, yeah, falling asleep in the newly added dry food, that's what I was doing?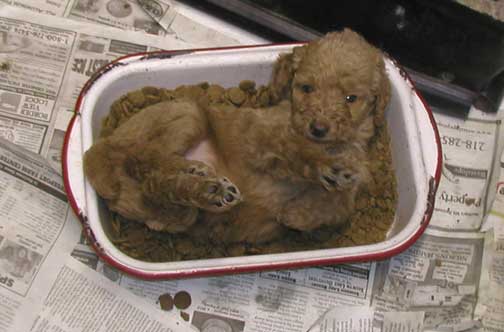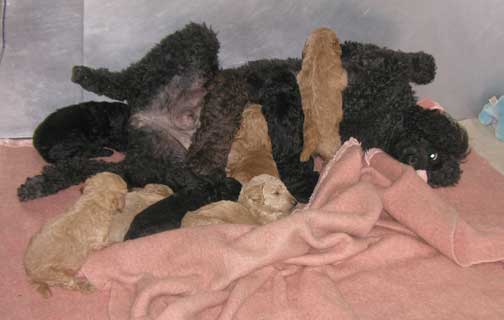 ...and nursing can be tricky when mommy gets in her positions :0)
*
Calmer, quieter, zzzzzz!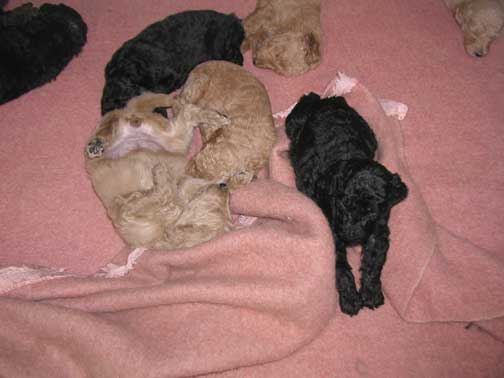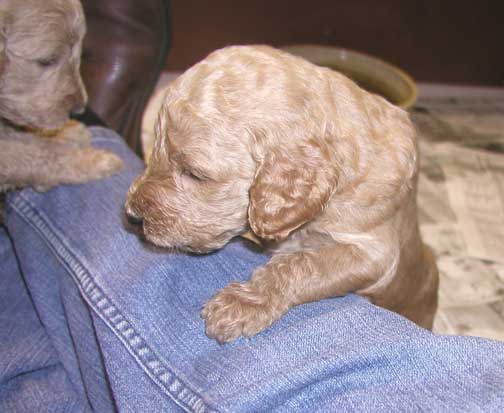 We're definitely smelling Tes and she's working with us to be calm and quiet :0)
*
It worked, we're calmly learning to be outside...with food ;0)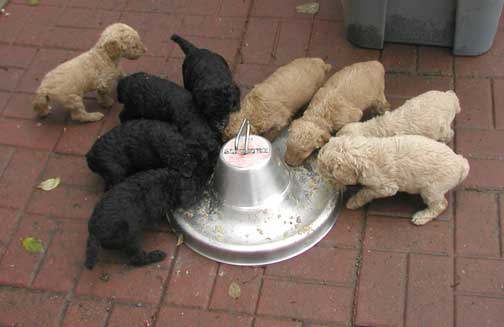 Okay, she gave us more room in order to entice us to go outside in this cool MN Fall weather...
*
Our space has been added onto again, and we all want MORE!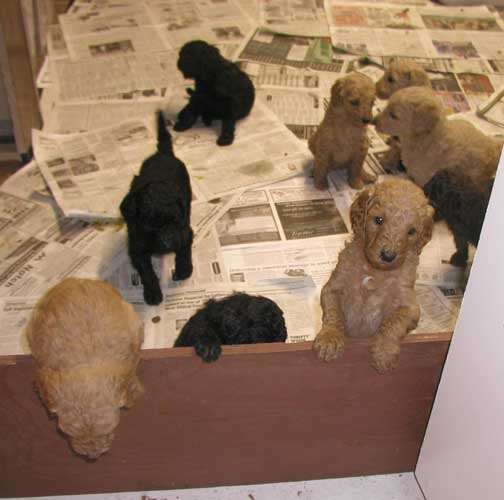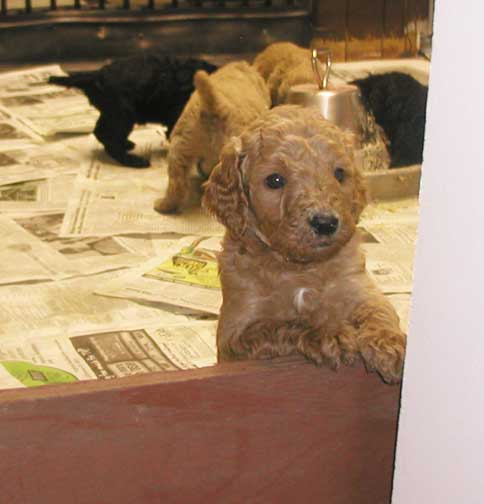 I'm one of the red boys with a small white spot on my chest.
*
Hi, I'm the red girl, I'll be chosen between the black female. Pictures are hard to determine true color, so please be aware of color variables.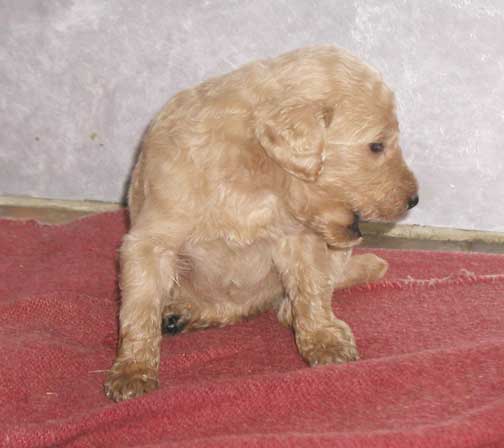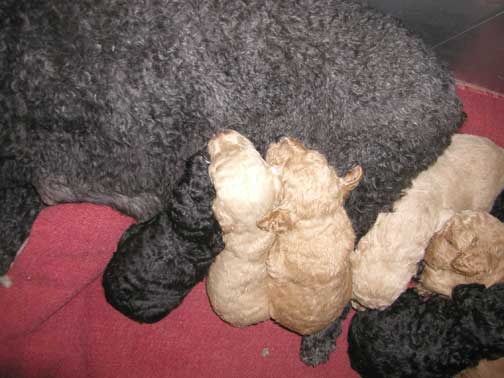 ...and after eating we all love to fall asleep...wherever we fall ;0)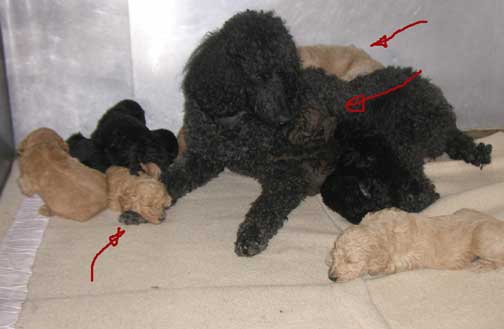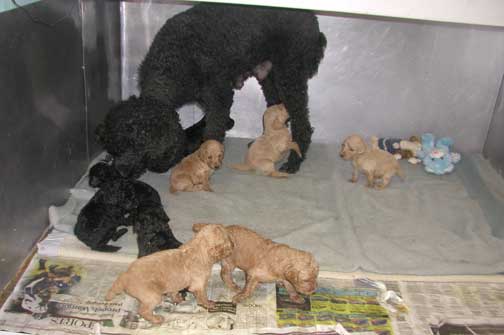 And mom finishes licking us off...
*
Lick, Lick, Lick ;0)
Lick, Lick! Stretch!!
*
Lick!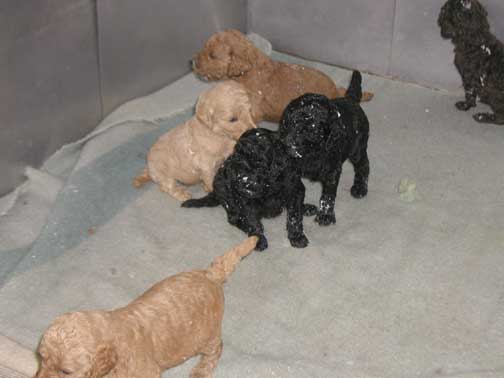 Canned DVP dog food is now blended into our slurry - NUMMY!
*
It's our Circle of Life :0)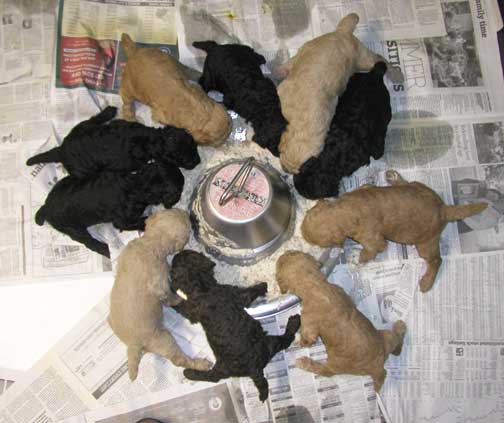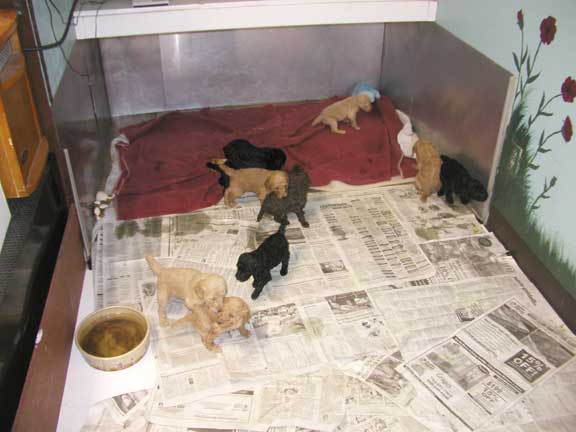 Water is added as we now eat food now. The faster we grow the faster the space is added...luckily the furniture is on wheels!
*
Here Tes is joining us so we can start to smell her, then she picks us up when we're calm and we get loved :0) She learned that from Cesar Millan the dog whisperer.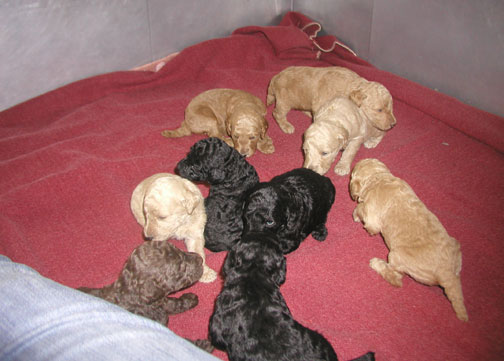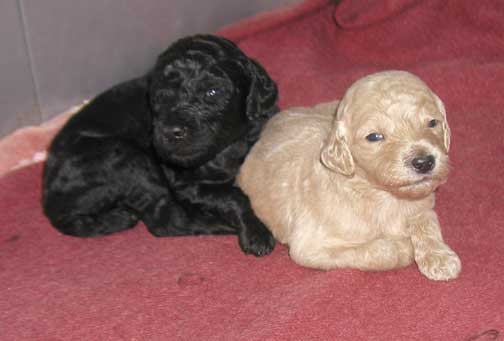 Hey there, we're anxious to be in your loving arms :0)
*
Mommy gets to lick the bowl...and us :0))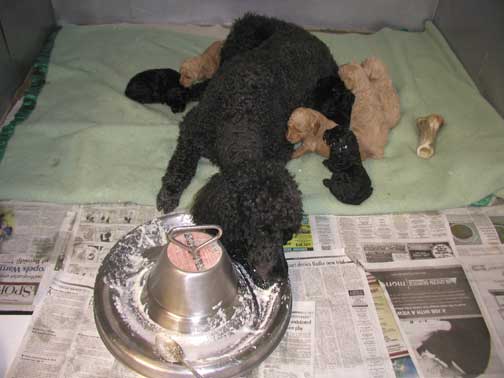 Tes has expanded our space as we now see we want to potty on paper, not our wool blankies.
*
Food? Nummy, gulp, gulp, tasty - MORE!
LISTEN - what's that noise! Our ears are opening up to sound going on 3 wks old!
*
Definitely starting to play!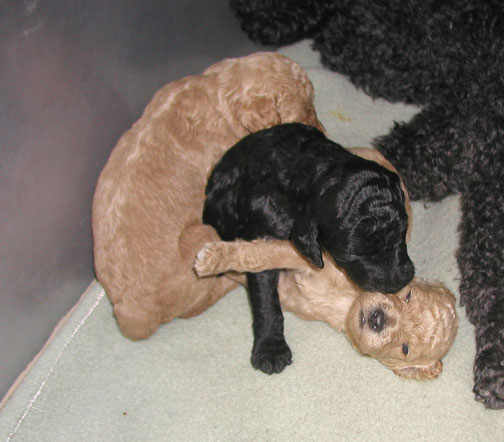 Our eyes are open now and we can see who to climb on top of now!
*
I'm a red boy with a bit of white on my chest...zzzz...oh, the 4 legs up thing ...zzzz...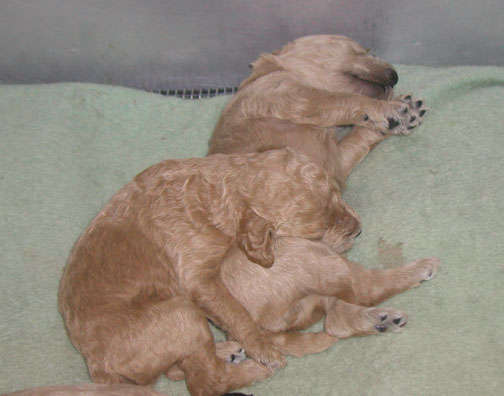 Thanks mom for loving us...zzzzz...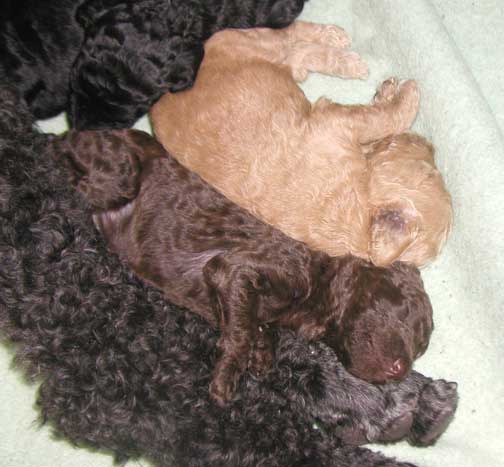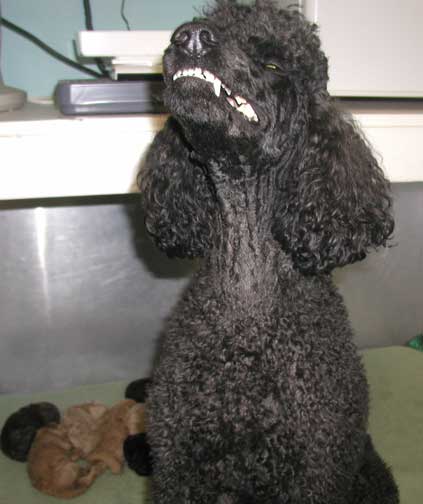 Cleopatra just has to give us that great smile :0))) She got that from her mom Zain...loves to do it for us when she can get attention...and of course puppies show her that extra love and attention :0)))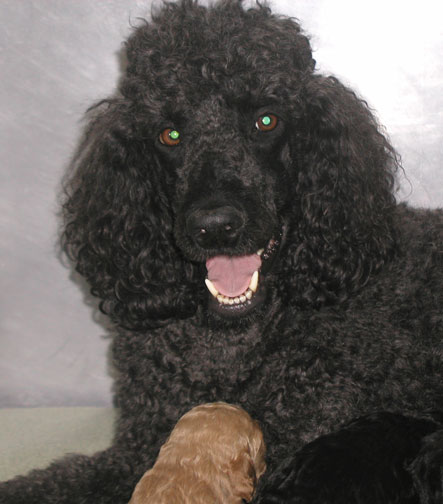 Ahhhh, there she is.
*
And with scooting we make lots of noise...WHERE'S MOMMA!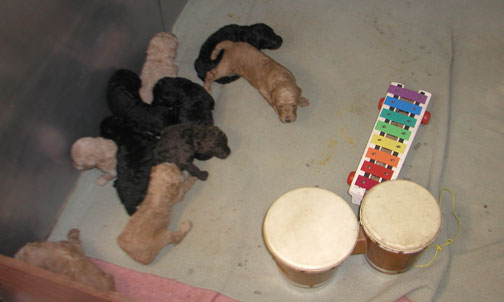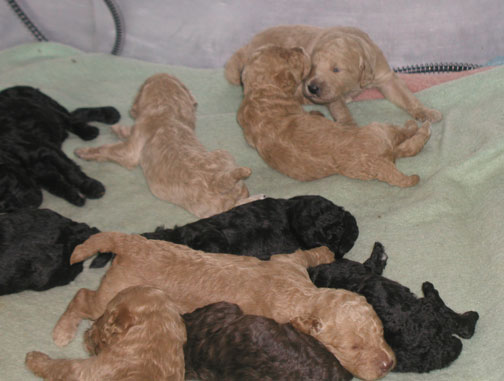 With eyes and legs starting to work, we're getting around and get called scooters now ;0)
*
Wow, first smell then sight...what a bit to get use to...brothers and sisters! I see them!! Is that you Tes I've been smelling?
Look! our eyes are opening ;0)
*
I'm the two females to be chosen between for a breeding female at 7.5 wks old, red and black. We're going on several weeks old.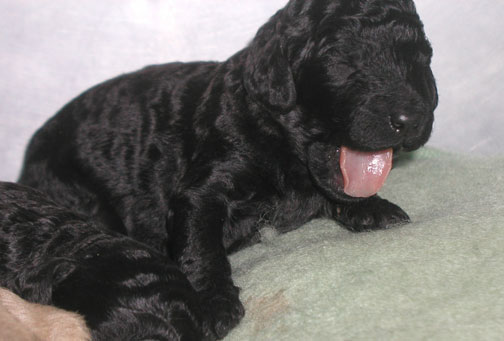 Our eyes are going to be open soon...Yawwwwn :0)
*
I'm the brown female and apricot girl...I'm REALLY getting big!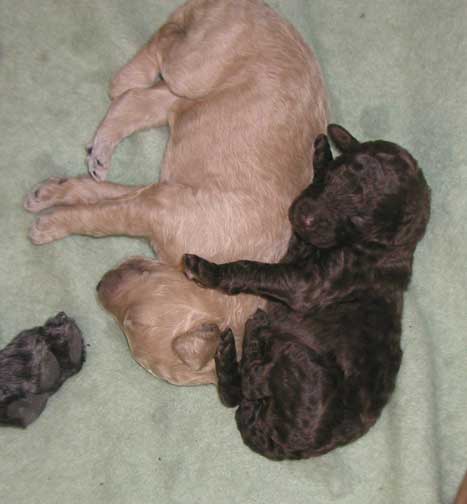 Our young life is nurse and sleep, nurse and sleep, one more time, nurse and sleep...growing and running out of room :0)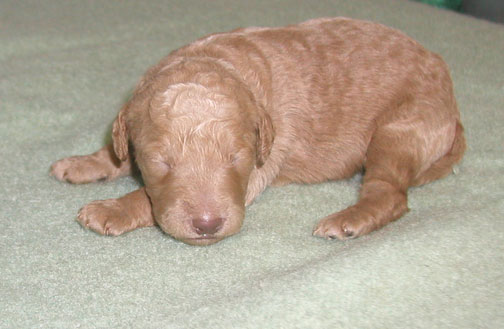 At 7 days I'm trying to get my balance, hold my head up, down it goes ;0)
*
Compare at several days old to 2 wks old with Barbie and Ken - Hi everybody :0)))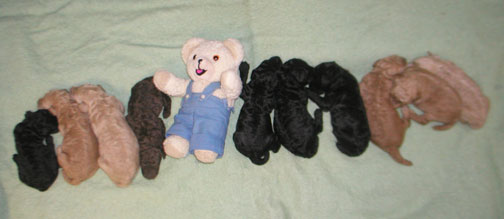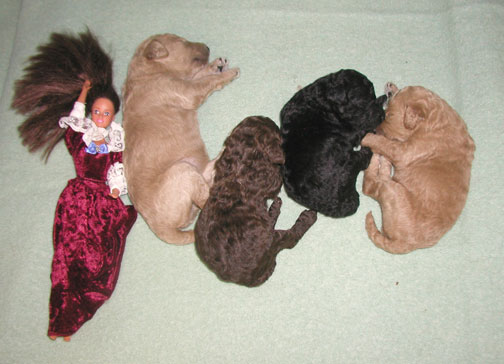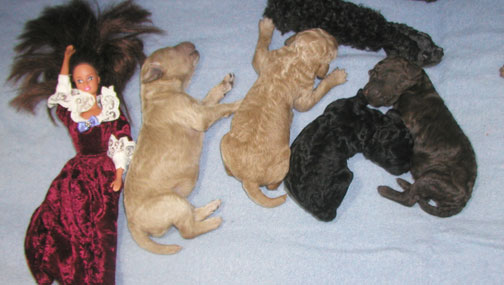 Compare our size from several days old to 2 wks old...We are the 4 females, Hi!
*
and the 6 boys :0)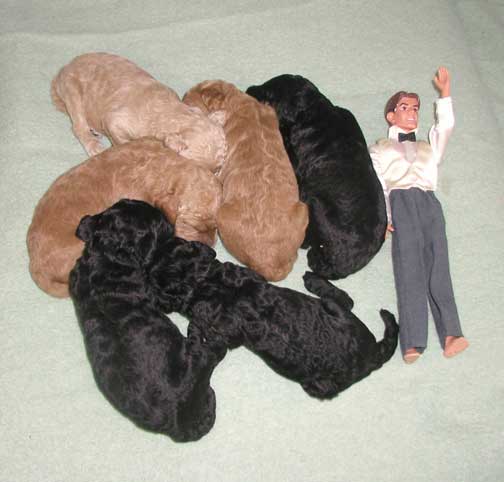 Hmmm, smells like momma's foot...First comes smell, Second comes sight around 2 wks old, third the ears open up around 3 wks old.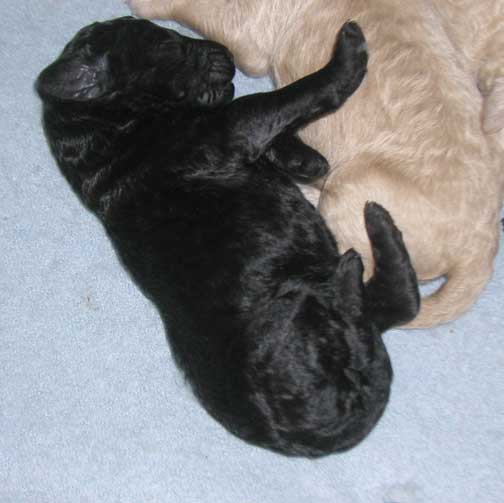 Ahhh, Stretccchhhh :0)))
*
Here we are at 3 days old, snuggling to stay warm. Very important so momma lays around us that we can find her to nurse.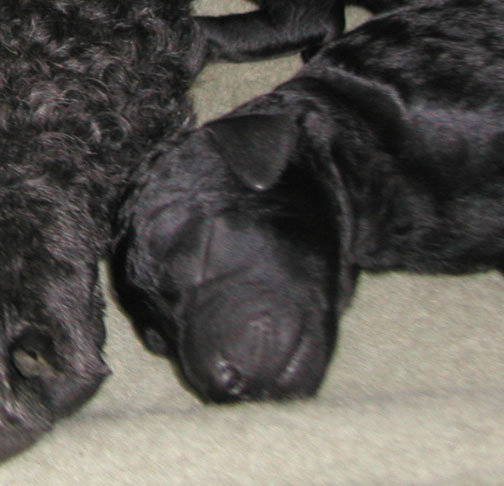 Maybe you can't be here to see us pups at this young age, so hope you can enjoy the pictures as much ;0)
*
It's an arm thing, we just love to rest on them :0))