Royal Standard Poodle Care & Tips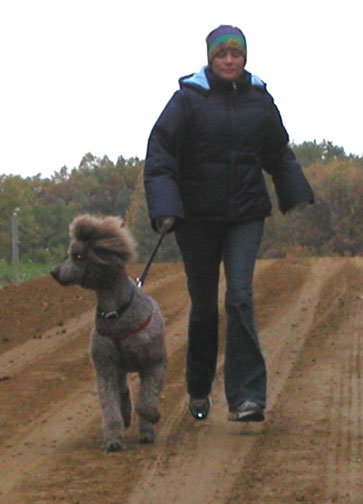 Royal Standard Poodle Care & Tips GETTING MOVED TO The ABC's page!
As pictures and data disappear off of this page, go to         The ABC's new tab. 
Last worked on 9/9/2019
*
A. MOVED...Commands & Care
B. MOVED...Weekly Basics and Grooming
C. Royal & Standard Poodle Supplies Used
D. MOVED...Timid Puppies
E. MOVED... Home & Yard ideas
F. MOVED...Educating Tes on raising and breeding canines -> Symposiums, classes, and training
*

Give me a call any time with your Standard Poodle Care questions - See the FAQ web pg (thanks to the many who have helped develop this page with their questions and tips)

*
Royal Standard Poodle Care & Tips
C. Royal & Standard Poodle Supplies Used
This is the harness I like to walk the poodles with so not to choke or throw their atlas out which causes eye running problems. Chiropractic care for dogs will help put the atlas back in place which ALWAYS stops the draining eyes in a week with Dr. Mark LaVallie; caring for their over all body as well.
*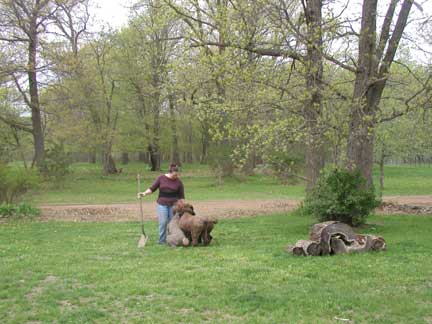 Above: Back Park
I spray our home and Royal Standard Poodles park every month during the Summer with natural cedar to combat the bothersome critters (Mosquitoes carry heart-worm; Some woodticks are Lyme and Antiplasmosis carriers). Finally after 5 years of this, the Summer of 2012 I had NO woodticks sucking ANY of my spoos! Help your pet if you have such situations by contacting an Organics Application expert for your Standard Poodle Care...or you can purchase a mist sprayer off of Amazon.com and purchase cedar on ebay. Ask me any questions you'd like on this!
*
Below: Combined Parks (today there are fences dividing this wide open area with gates to open for everyone to travel through when appropriate) ...pictures to come for Central Park, Middle Park, Puppy Park, Youth Park and new Back Park...

This area is gone once the new heated garage was built, pea rock is placed for the new Central Park, the new Puppy Park is behind the fencing...new picture to come summer of 2015 when I complete them...stay tuned...
*
Puppy Park (now gone July 2014 to make way for the new heated garage)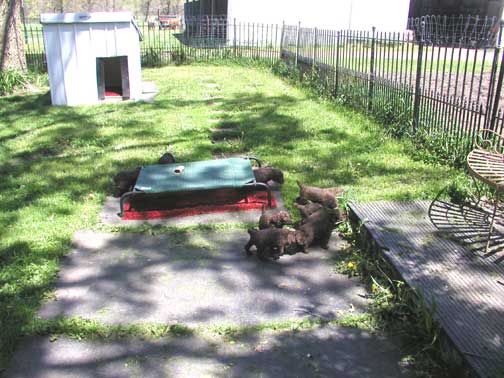 :-) :-) :-) :-) :-) :-)
We ring the bells so we don't have to yell for the Royal Standard Poodles to come in. It's a good Standard Poodle Care tip ;-)