Large Standard Poodle Red Ranger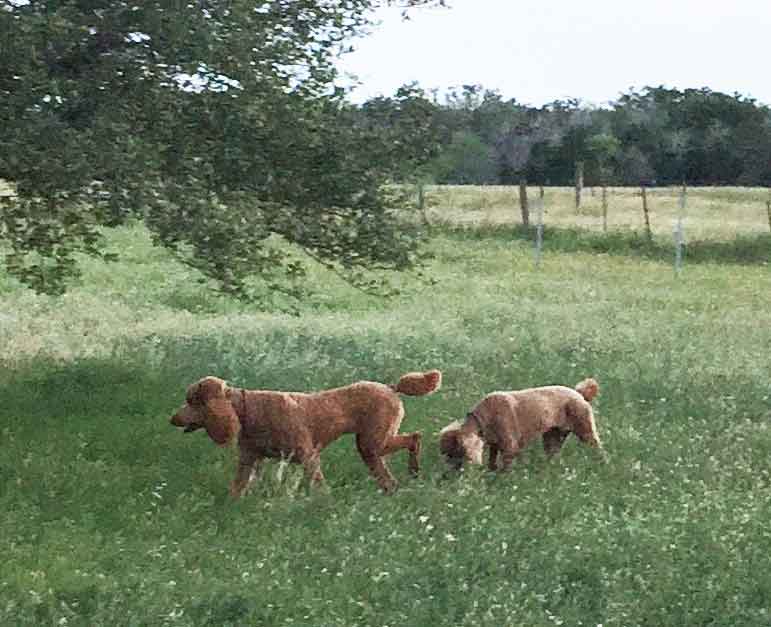 Last updated 5/22/21 Large Standard Poodle Red Ranger at home in Flatonia, TX. Parents Red Fire (now TJ) x Red Daniel born 06/29/14. Pictures above: Mother "TJ/Fire"  (right) and Son Ranger (left) Outing & Life in Texas! :0) Now Black Rascal and Red Sky have joined the pack!

Here's how many spoos we have :o)))
Red Ranger - Tes breeder
Red TJ - Tes breeder
Black Rascal - Tes Breeder
Apricot Big Sky - Tes Breeder
Black Bogey - other breeder (born with no tail)
Phantom Louise - other breeder (now passed)
NOTE: we'll be adding all their spoos to this page
His owner shares, Large Standard Poodle Red Ranger is unbelievable in terms of being a blend of cuddly and daring. He loves being here and we love him. He sleeps through the night and is 98 percent potty trained!
Tes, we absolutely love this dog. He is unbelievable. You have to breed Fire and Daniel again (in spite of entropian eye, healed BEAUTIFULLY). Ranger is fantastic. He is a really special guy, as special as his breeder ;o). He fits right in (among 2 other spoos), although he was surprised at the heat.
After Fire had her litter with Bruno in 2015 We decided to retire her early. She's now named TJ with us. This customer decided to get her for their son in college!  TJ lives with her spoo pup son Ranger and could not be happier!
This is the link to Fire/TJ's web page,
https://www.royalstandardpoodles.com/redstandardpoodlefire.html
Tracking Large Standard Poodle Red Ranger:
1 yr. 2 mo. 80 #, 30 inches
1 yr. 78 #, 28.75 inches
10 mo. 72 #, 28.25 inches
9 mo. 65 #, 27 inches

7 mo. 57 #, 26 inches

5.5 mo. 50 #, 24 inches
4 mo. 32 #, 21 inches
14.5 wks. 28.8 #, 18.8 inches
10 wks. 18.8 #
8 wks. 16.9#
7 wks. 15 #
How does TJ bark? Squeak, Squeak, Squeak :o)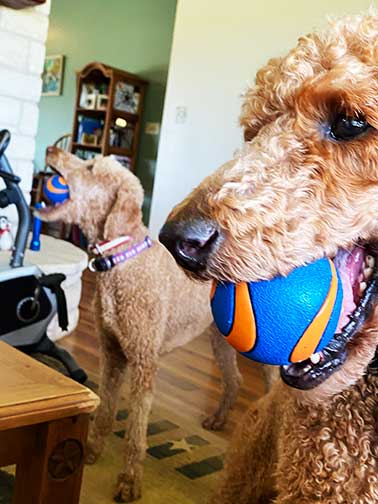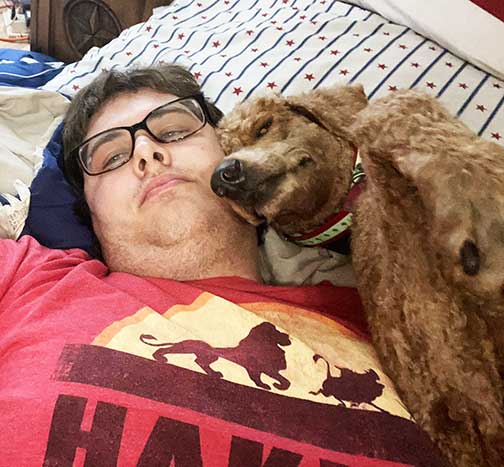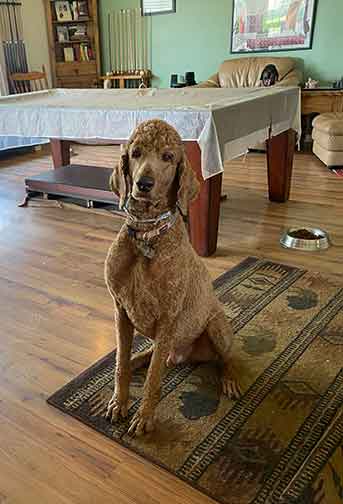 Life at D'Antonio's is full of love for all of us spoos :o) Ranger above, Rascal and Sky below...zzzz...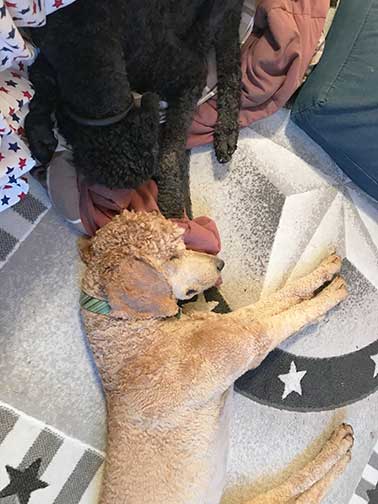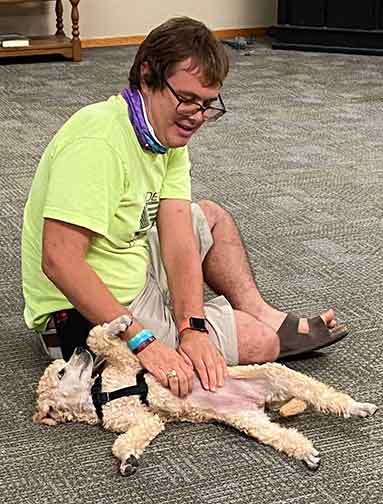 Bobby's dream job, helping puppies grow up!
*
Love between Man and his Spoo :o)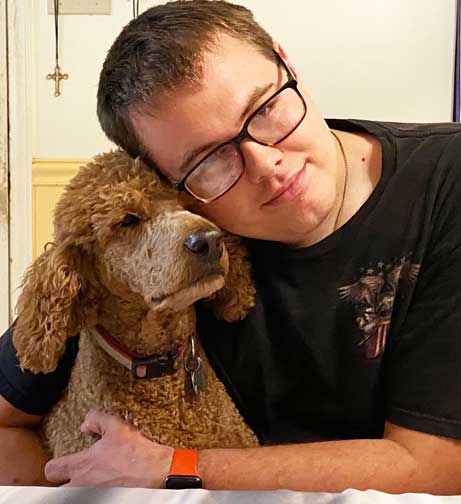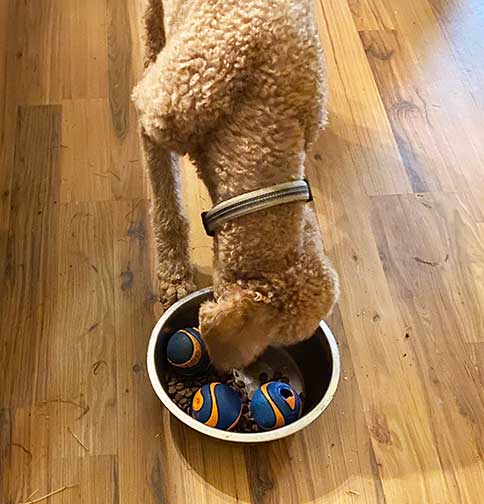 TJ says, "My balls!"
*
Here is Father and Son with Mother and son spoos.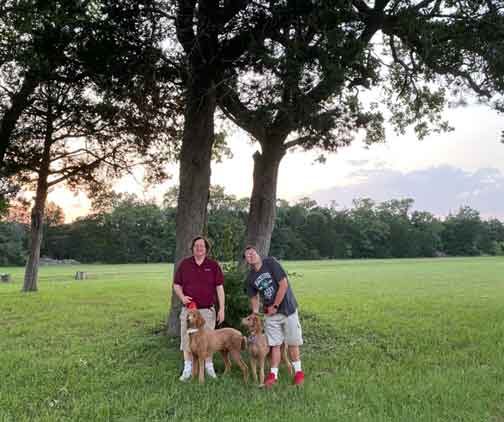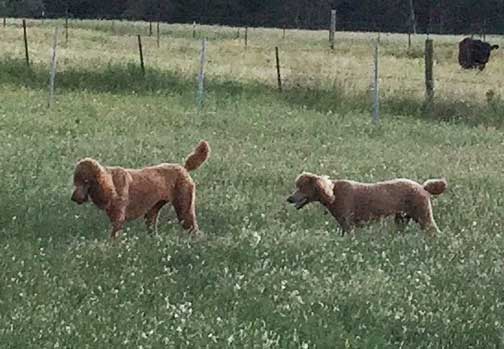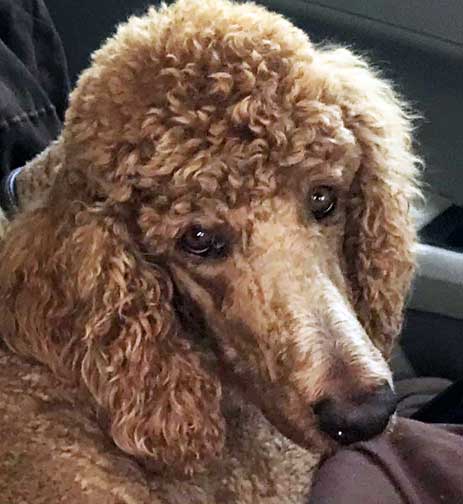 Ranger has turned 5 yrs old, handsomer then ever ;o) I'm as Perfect as Perfect can be compared to my dad Red Daniel :o)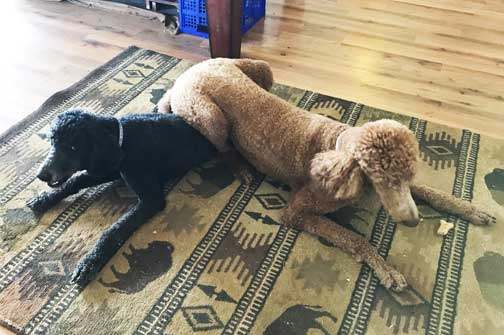 Nummy! Red Ranger and Black Bogey enjoy their milk bones...yet, hey! What? I don't even realize he's on me!?!?!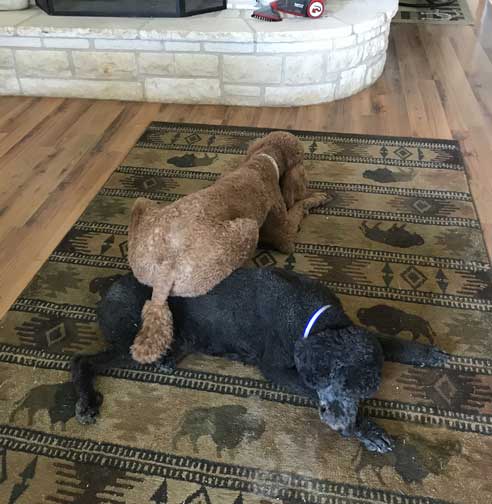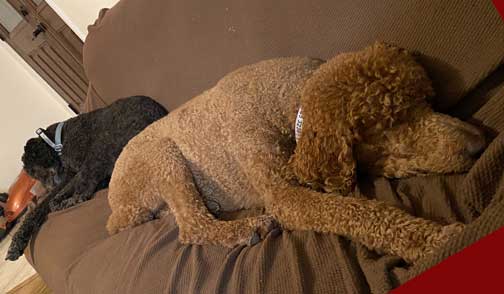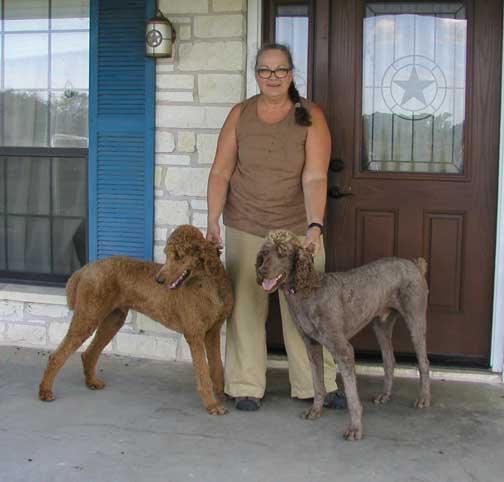 Showing comparison of Royal Red Ranger at 80 lbs to Royal Brown Bruno 80 lbs...some mighty Royal spoos ;o)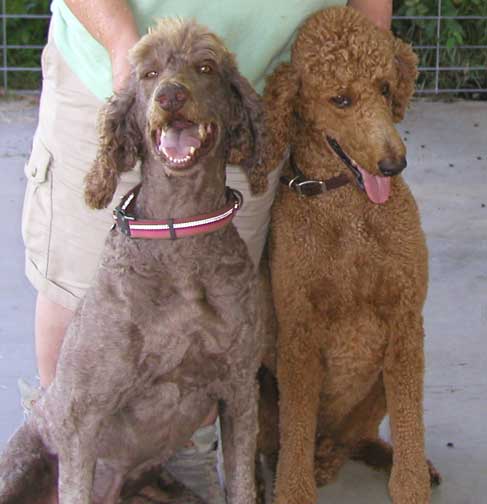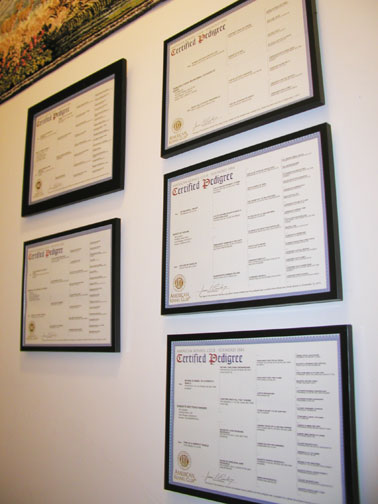 We've got pedigrees!
*
Red Ranger had entropian eye when young. This means both parents were carriers. There is no DNA test that can show this in parents. As it is a cosmetic issue, Tes sees any come on around 5 wks of age now, where she then has repaired and are healed by 7 wks of age before coming home to customer. In Ranger's repair since youth he's not had any issues and lives a wonderful happy life :o) Sue shares "The BEST Poodle EVER!"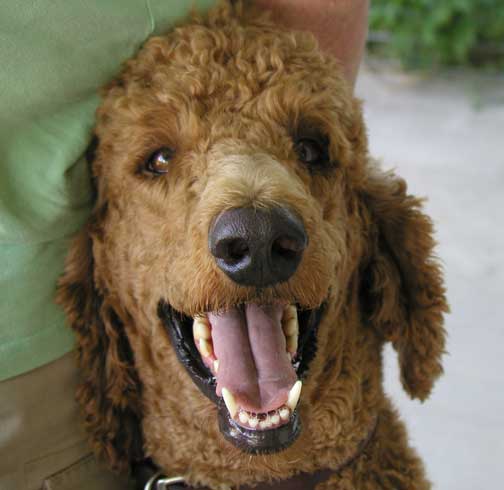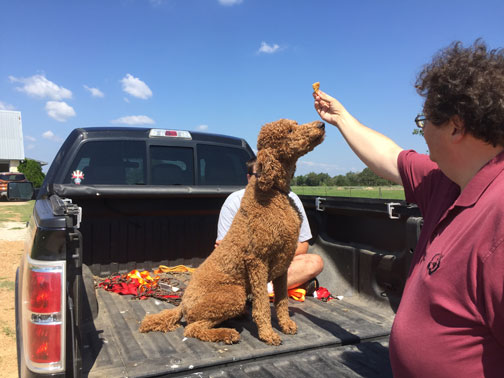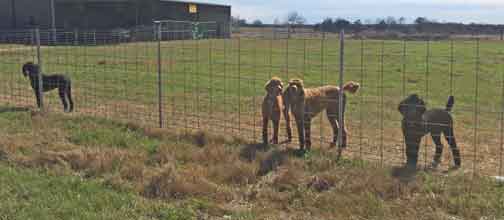 2 black spoos [Bogie and Rascal (TI)] + 2 red spoos [Ranger and TJ (both TI)] + 1 parti (Louise) = 5 Spoos! Tes feels right at home until her spoos can come down :o))
*
Spoo snuggles, a TJ love!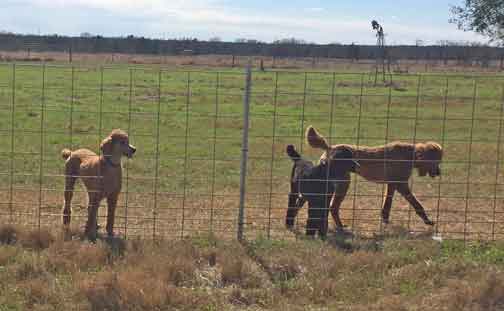 Tes is in TX with us here until her house can be built...of course the farm girl she is, she has now built our park "Spootopia" that we won't run the country side - boo hoo for us, YEAY with a HUGE sigh of relief for our owners (and Tes :o).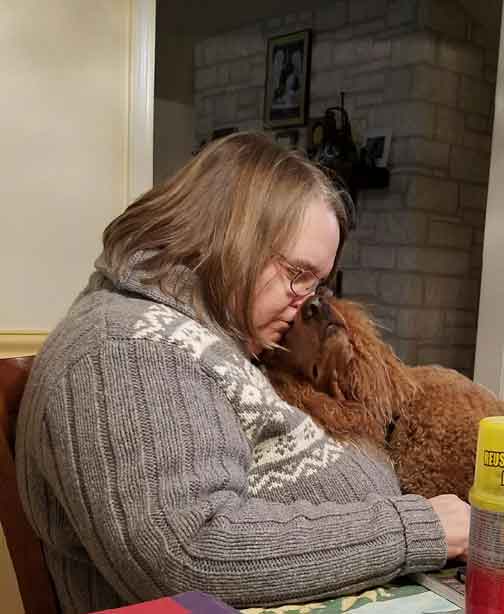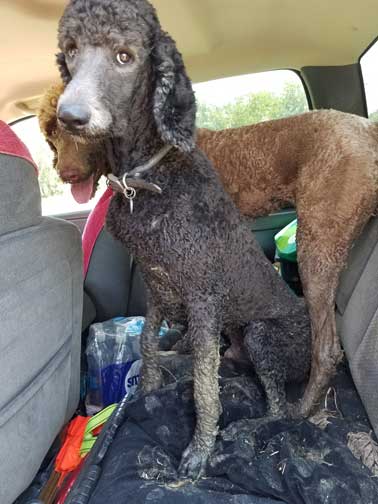 Oh that Rascal!!! Out MUDDING it!!!

*
Oh that RASCAL!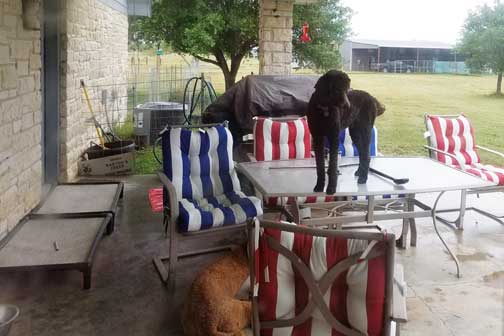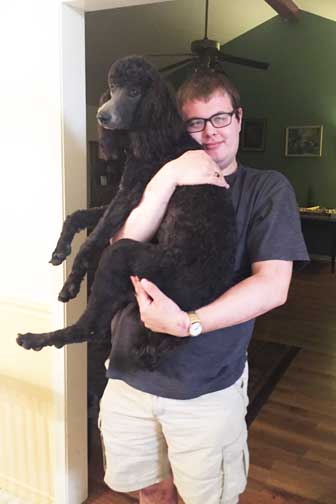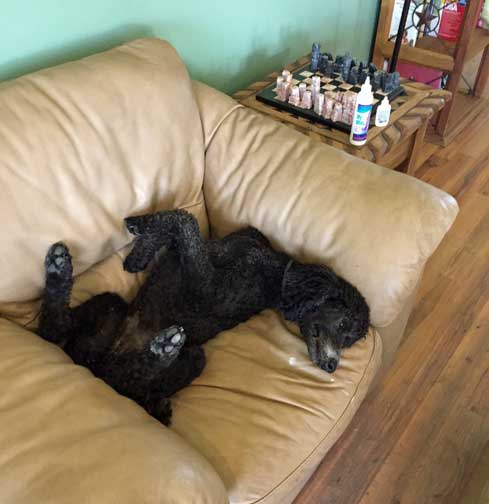 Ahhhh that Black Rascal upside and lazing about.
*
Red Ranger and Phantom Louise sharing? a bed.... Yes, there is another whole empty bed off to the right, and hey, what's better than two Large Standard Poodles curling up together?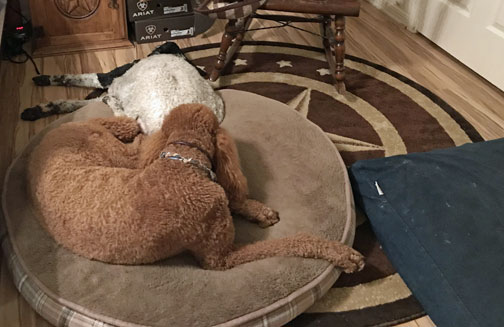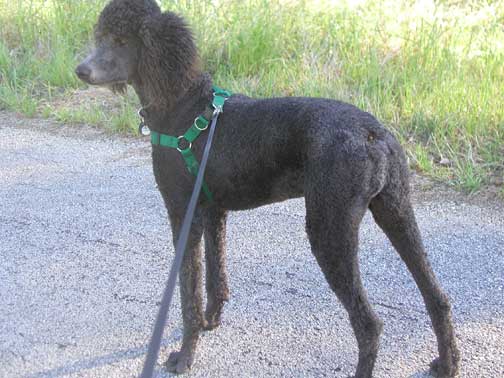 Black Bogey one of the family of Large Standard Poodles.
*
Ahhhh, more fresh bones! Oh those DELICIOUS bones!!! Thank You Tes for bringing over fresh treats with your visit ;o)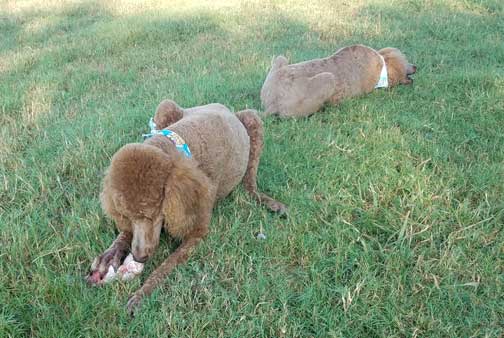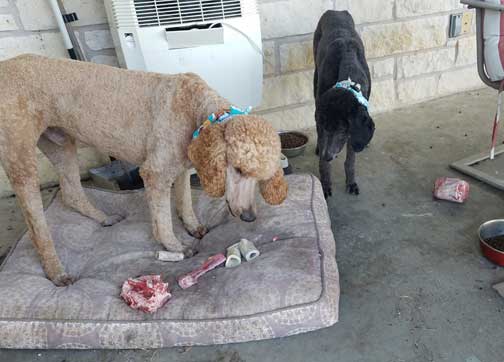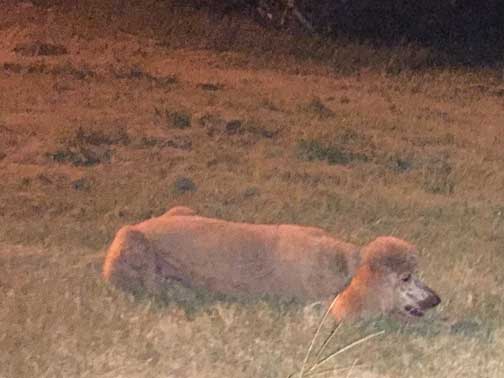 More New bones Woo Hoo!!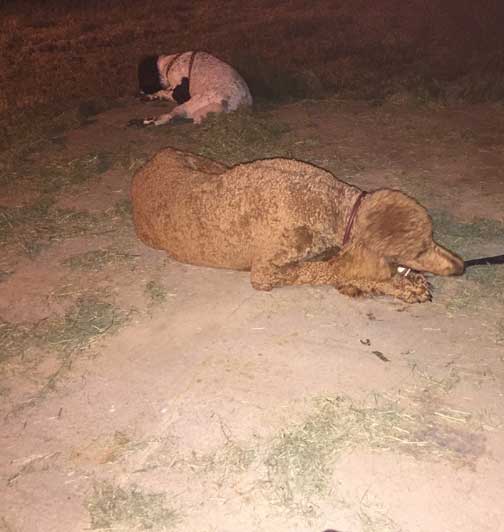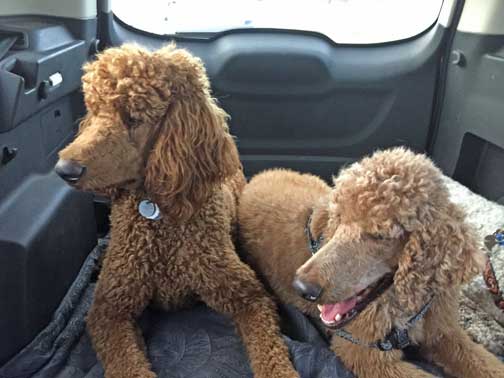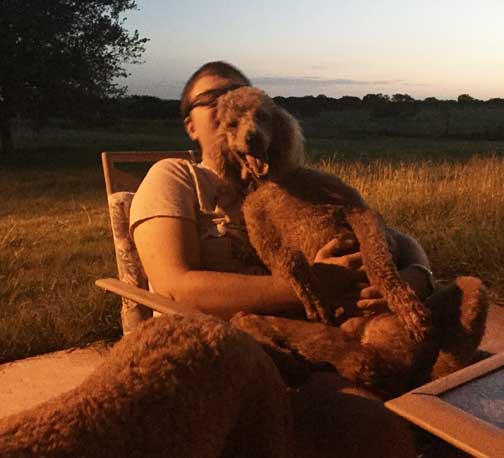 TJ (formerly Red breeding dam "Fire" with Tes) was meant to be loved in red TX with her son Ranger and family son who loves her beyond the sunset ;o) Some things are just meant to be :o))))
*
Double the Royal Red Standard Poodle love ;o)))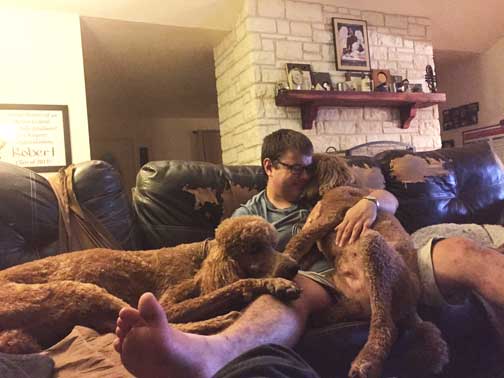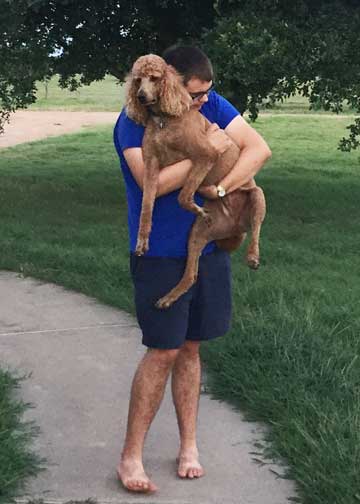 My love - TJ!  A guy and love for his poodle :o)
*
Ranger - Do I have to get up? Really?!?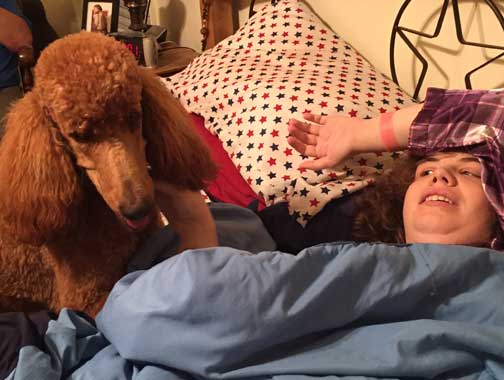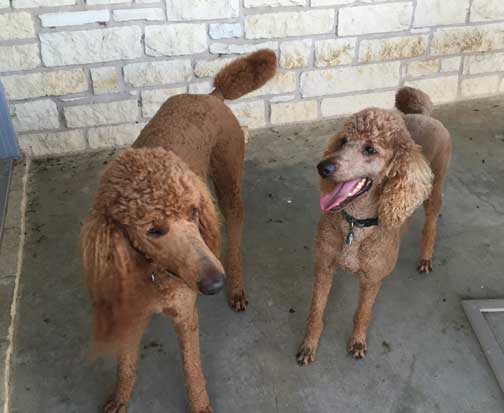 Tes Here! I have to say 5/10/16 after visiting TX and meeting Ranger, seeing his size, listening to the commendations of master on his personality, that I will plan to breed Zeddy's last litter to Daniel that I may get and keep another red stud for future breeding :o)) He's gorgeously handsome a Royal spoo!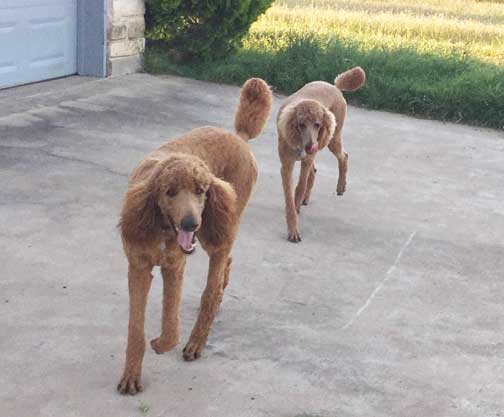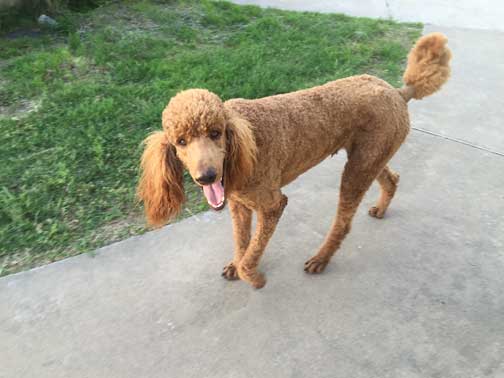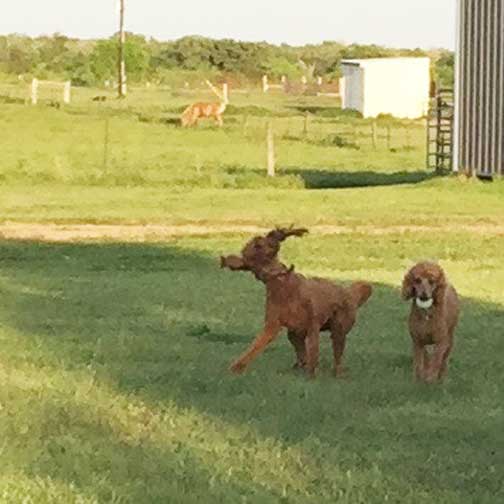 TJ clinging to her ball no matter what! Ranger - Where's Bogi?! (the black spoo)
*
The red red spoos of Texas :o)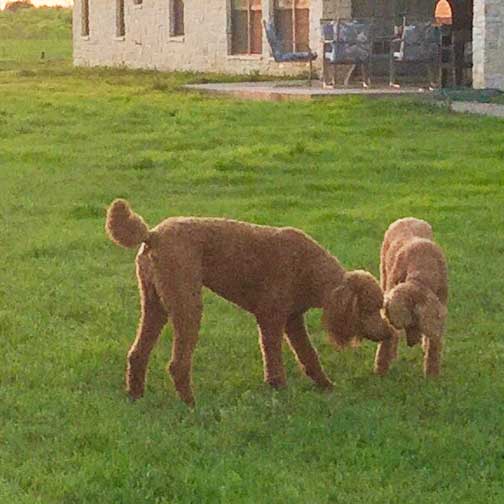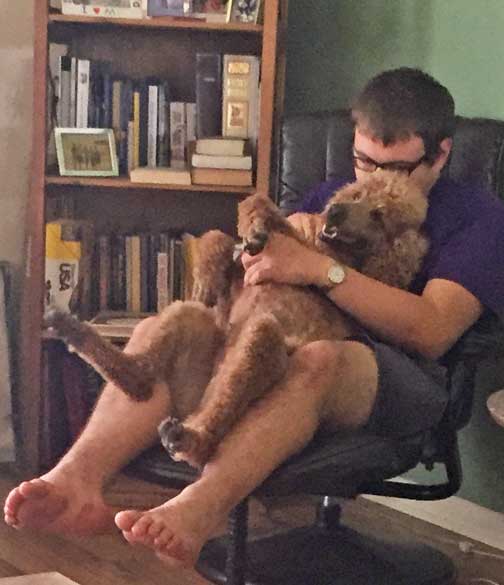 Belly rubs make for a happy happy spoo!
*
Ranger says: "I am so happy I am smiling!" :0)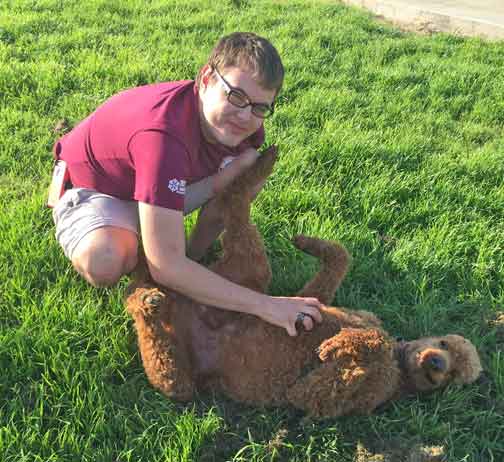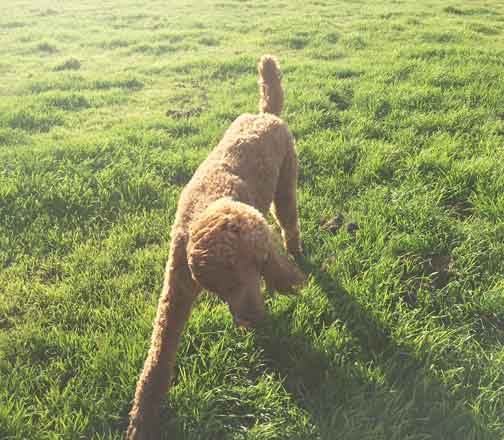 "Some happy spoos enjoying the beautiful weather in TX!" :0)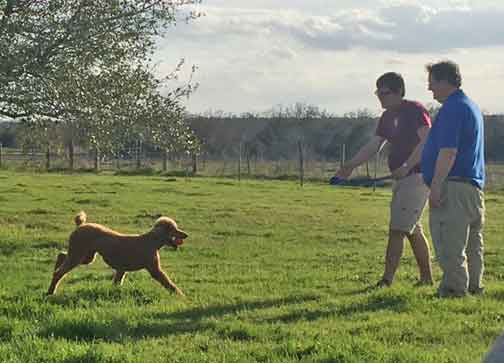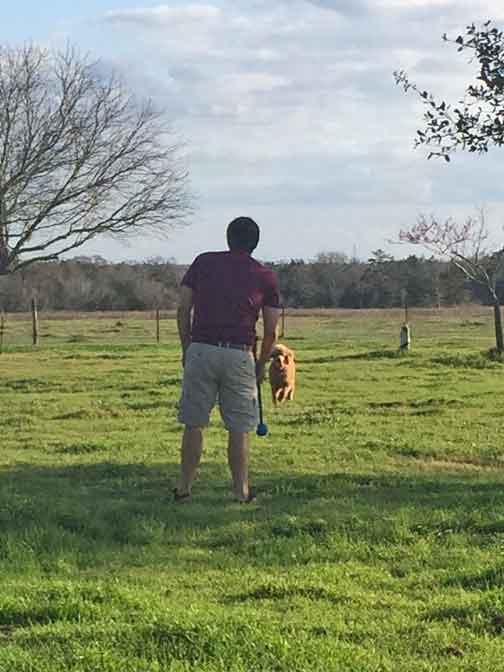 TJ says: " I was not born in Texas but I got here as soon as I could!"
*
"Spoos enjoying the Texas life!"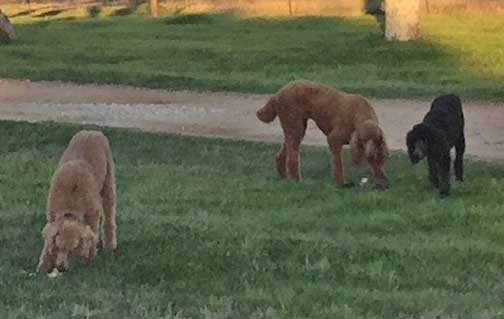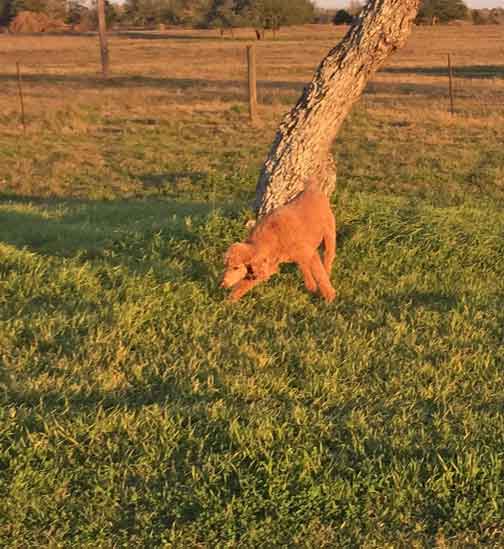 TJ says: There is no snow and it's green in January! How cool is this!" :0) 
*
Ranger says: "What's snow?"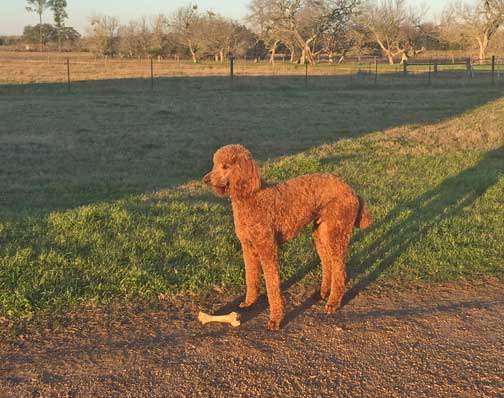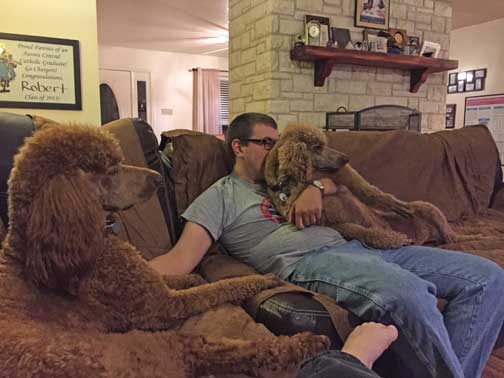 The poodles are not pleased with the play off games!
*
Ranger, Bob, and TJ with a ball :0)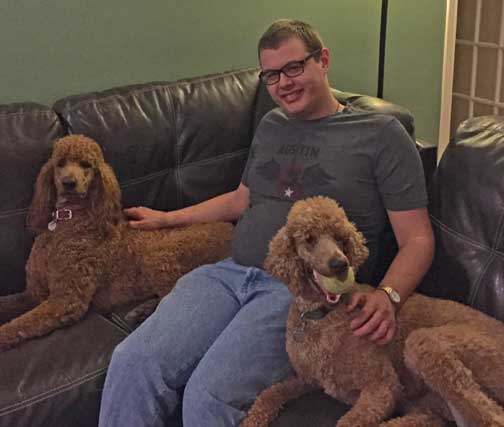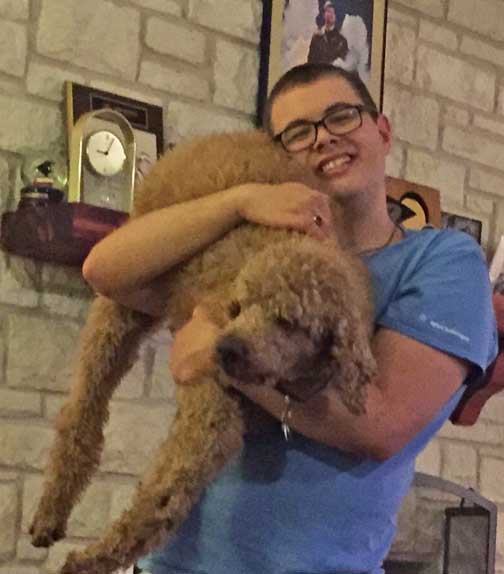 TJ says: " This is MY boy!!" :0)
*
TJ says: " I love you!" :0)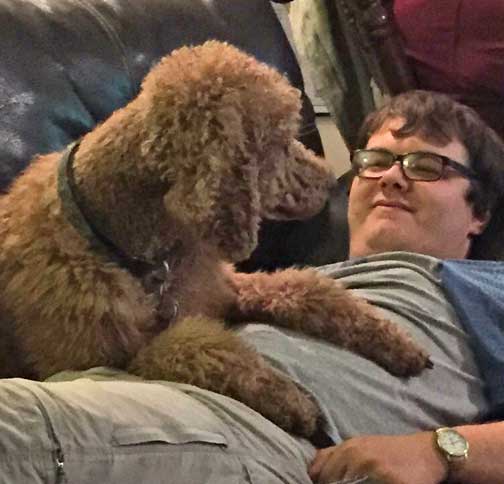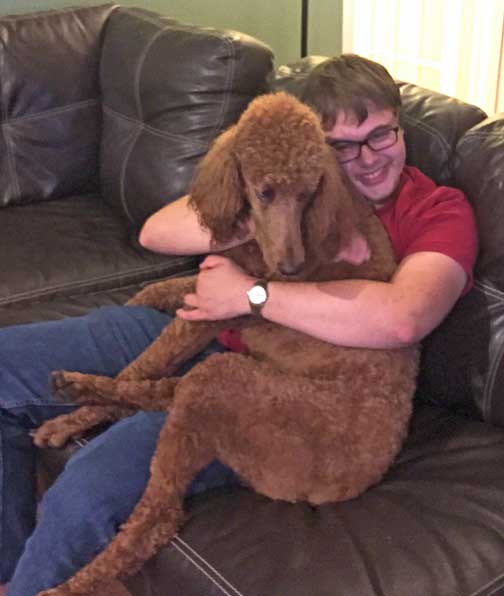 "I don't think Ranger likes to cuddle as much as TJ!"
*
TJ says: "Keep scratching that belly, ahhh!" :0)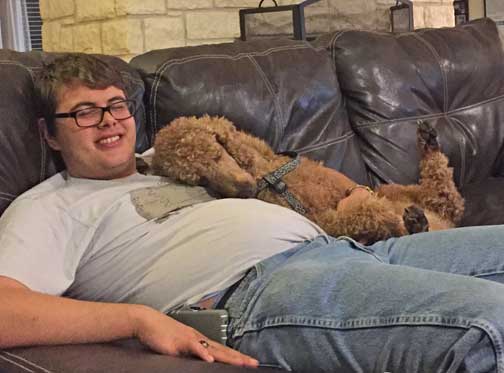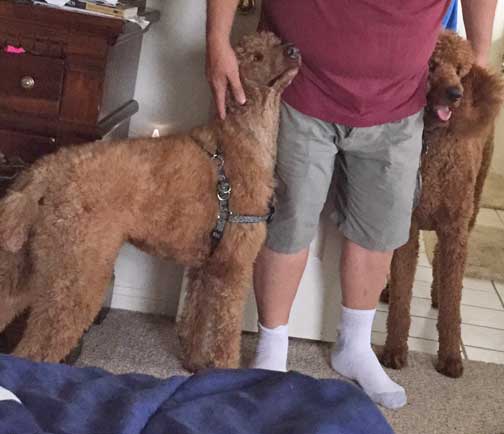 Above - "This picture should show a relative height between TJ and Ranger! He is so big an so sweet!"
*
"TJ says: " I am taking this ball everywhere!"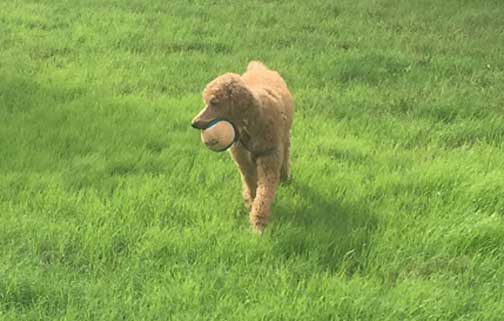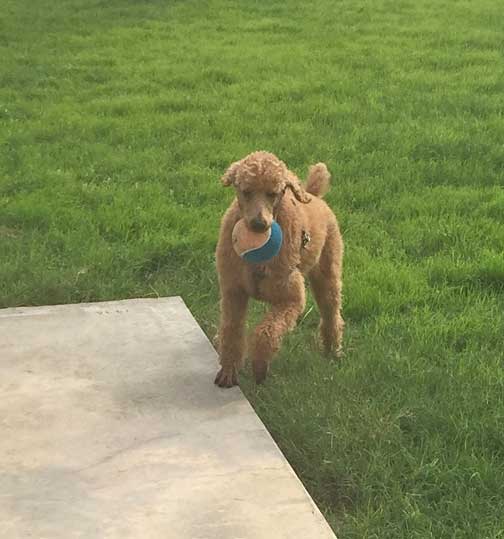 TJ: "Look at this HUGE ball that I play fetch with, Woo Hoo, Throw it again!" :0)
*
TJ says: "Retirement makes me happy, happy!"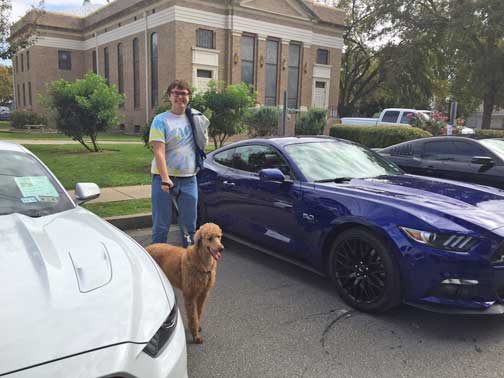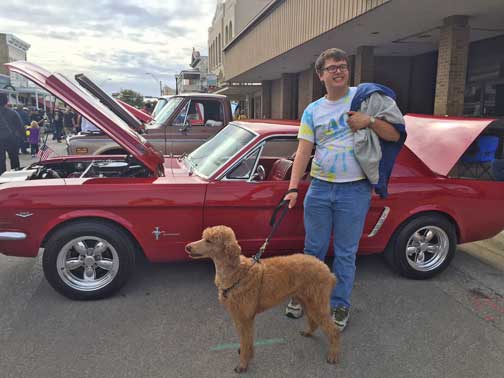 "Red TJ and her owner at the car show!"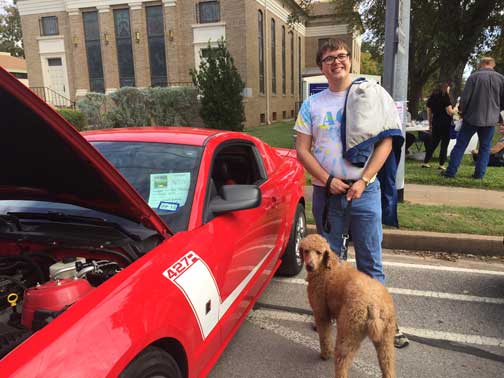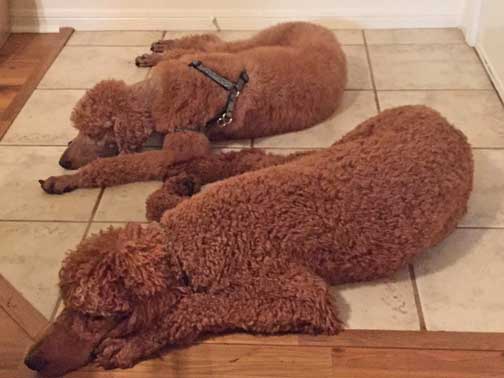 Red TJ (Fire) in the back with her son red Ranger in the front!
*
TJ says: "This is MY boy!"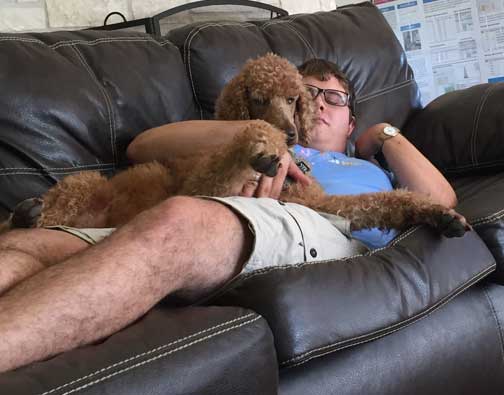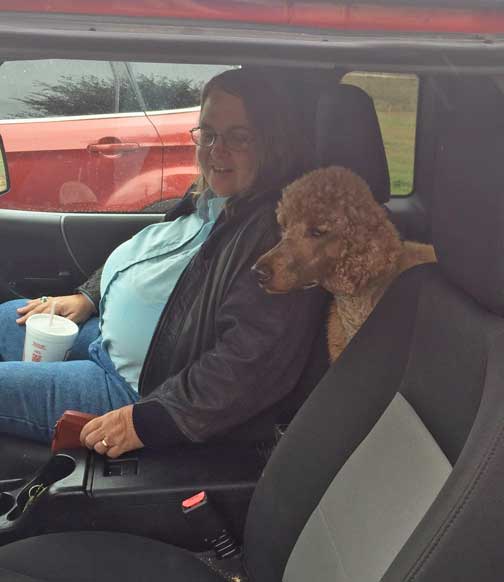 TJ (Fire) retired after her 2015 litter with Bruno, she went to live with her red son Ranger.  She is loving life and all the attention that she is getting!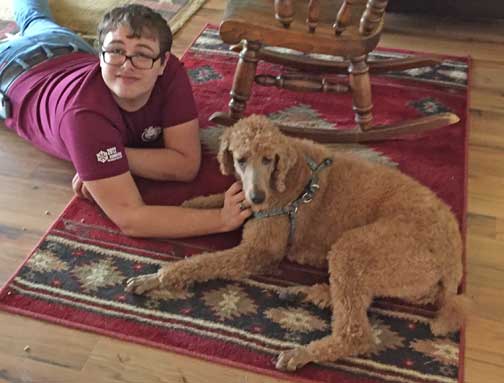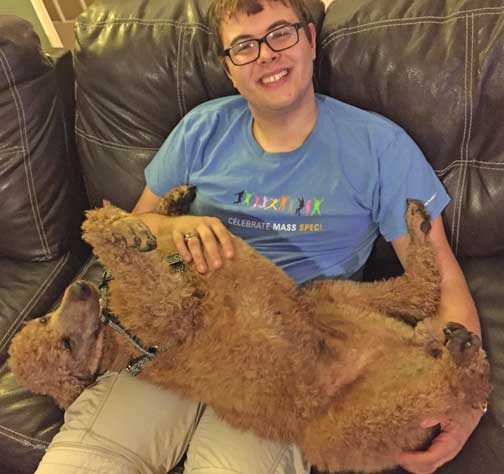 TJ (Fire) says: "Please don't stop rubbing my belly!"
*
Ranger is no longer just a standard he's a GIANT!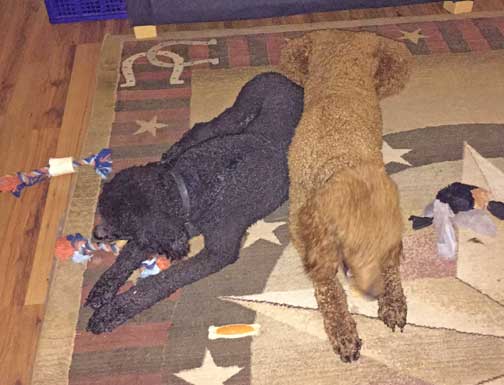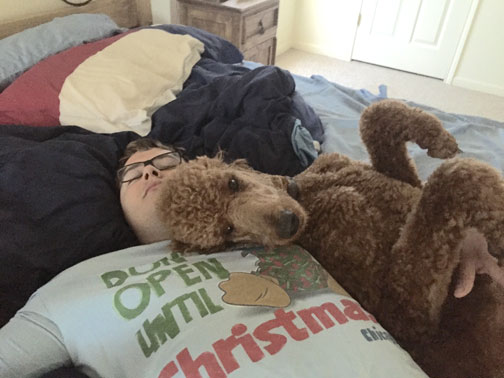 "Nap time with 4 paws up!"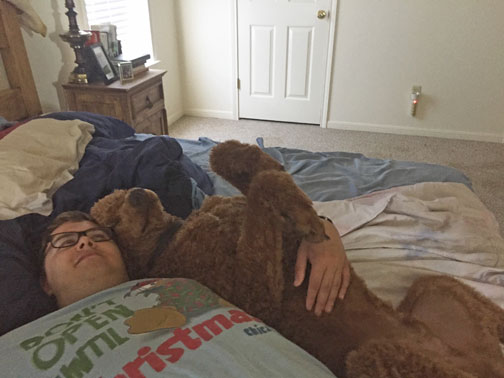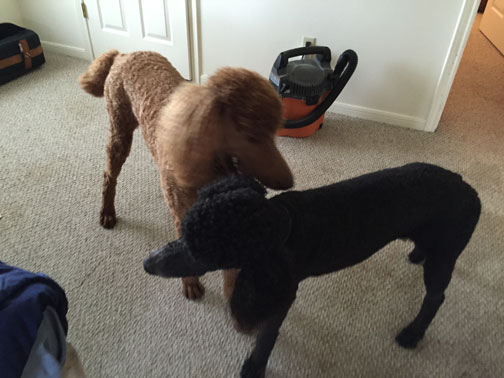 "I have taken Tes and Dani by surprise, I have turned out bigger than they thought, I am even bigger than my daddy Daniel!" :0)
*
"This is how we big spoos take a nap! MY couch!!"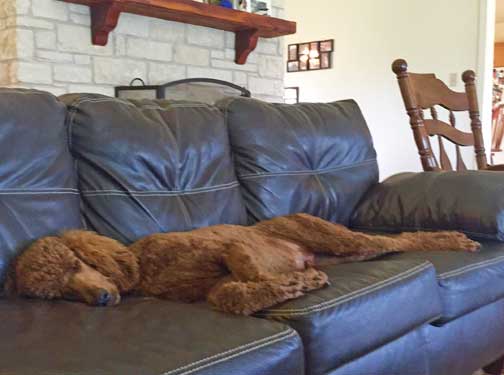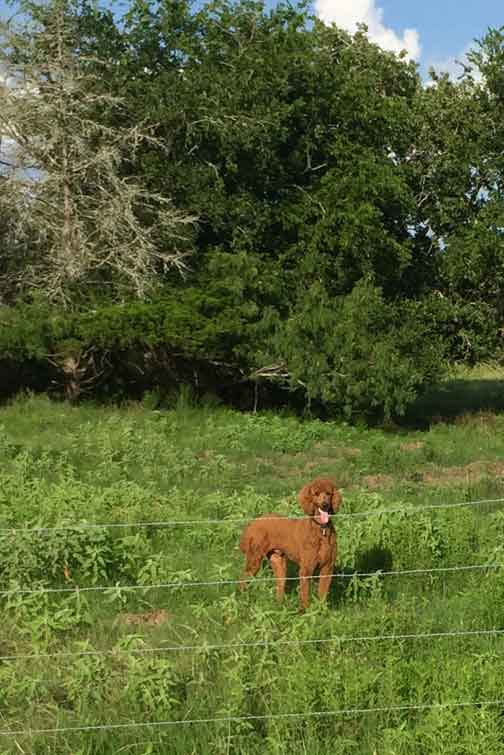 "Happy Boy!" :0)
*
"Is it time to go in already?" :0)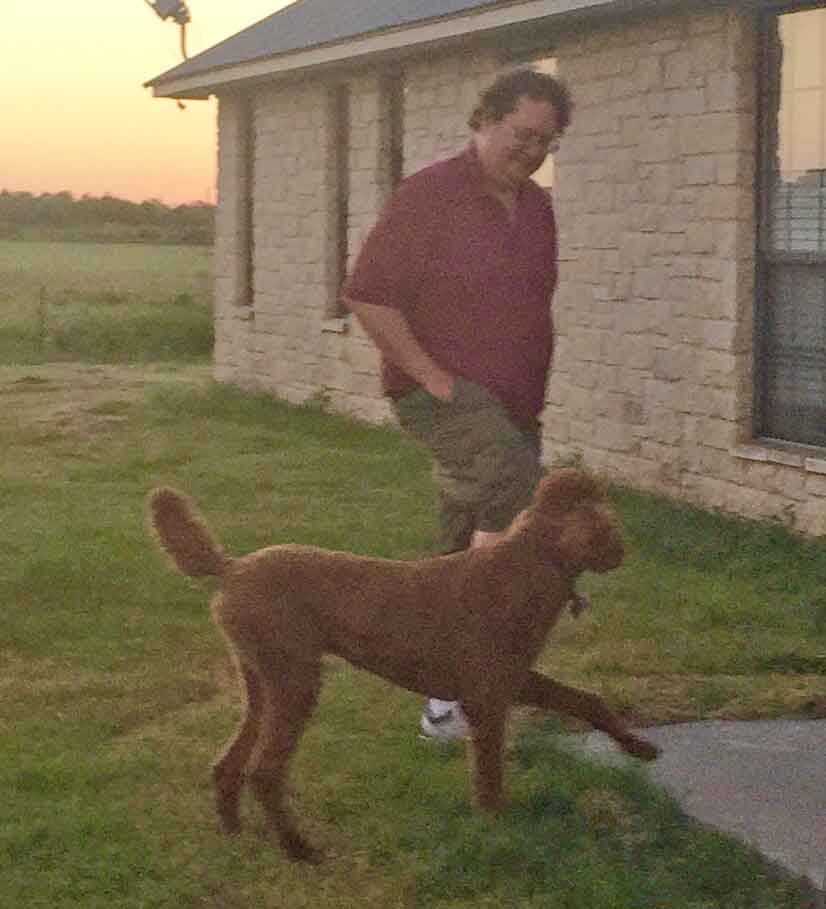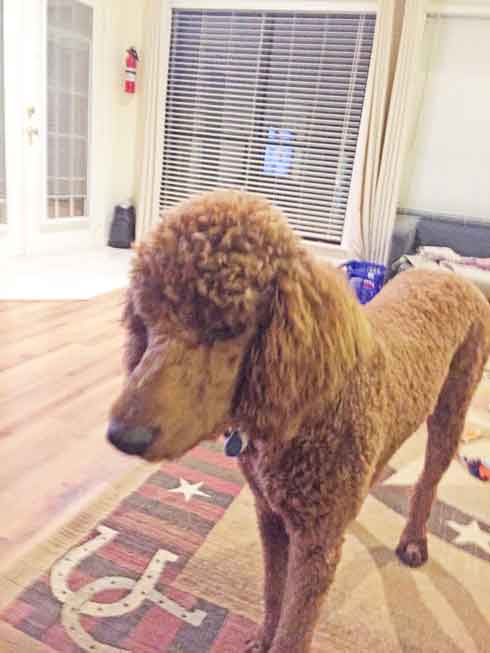 "I am a gentle giant for sure!" :0)
*
"Play time for the spoos, Woo Hoo!"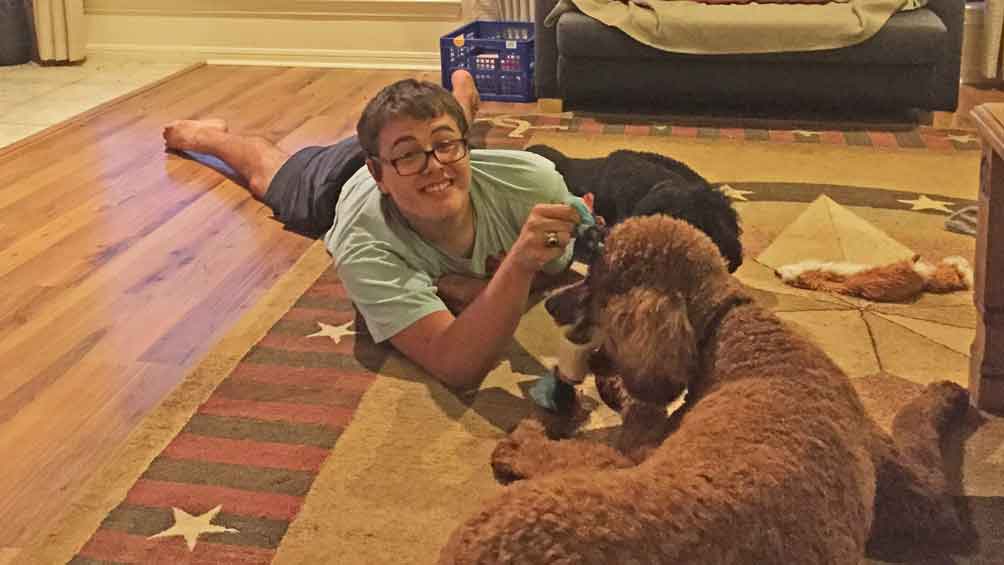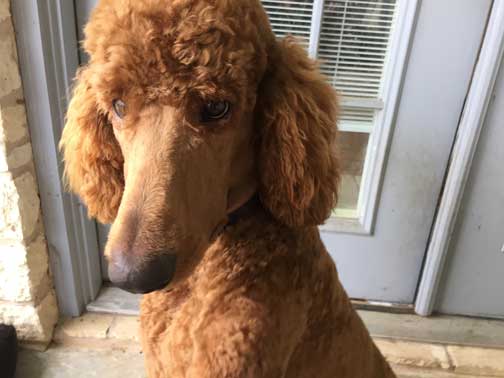 "I look just like my Daddy (Daniel) such a handsome boy! :0)
*
"Come on Bogie scoot over I want some of the bed too!" :0)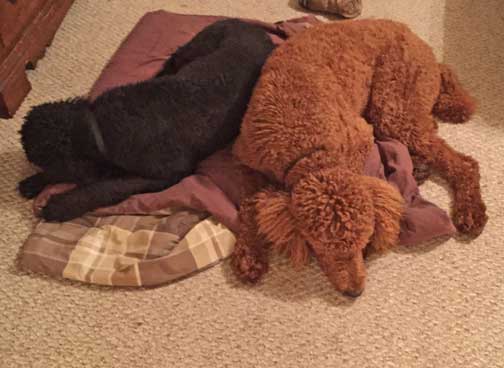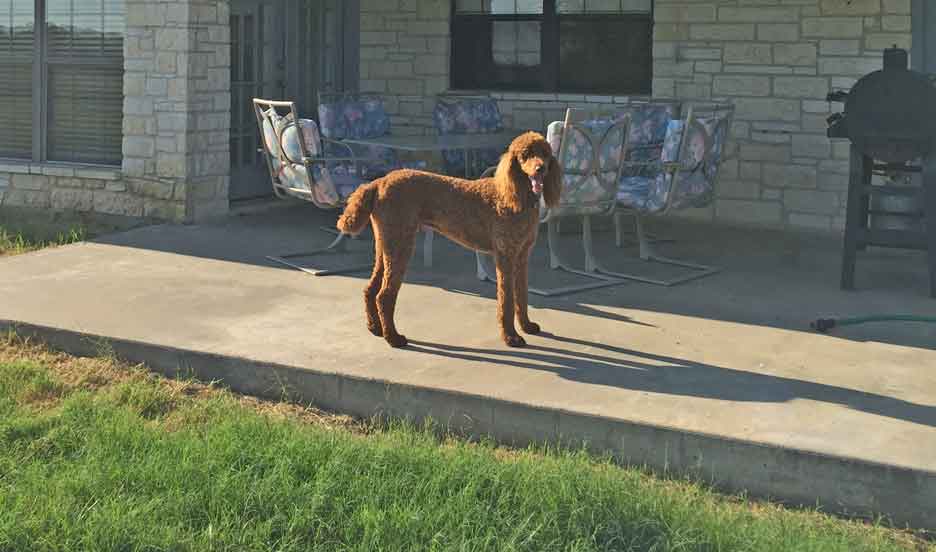 "Such a handsome boy and going to be 1 soon, Woo Hoo!" :0)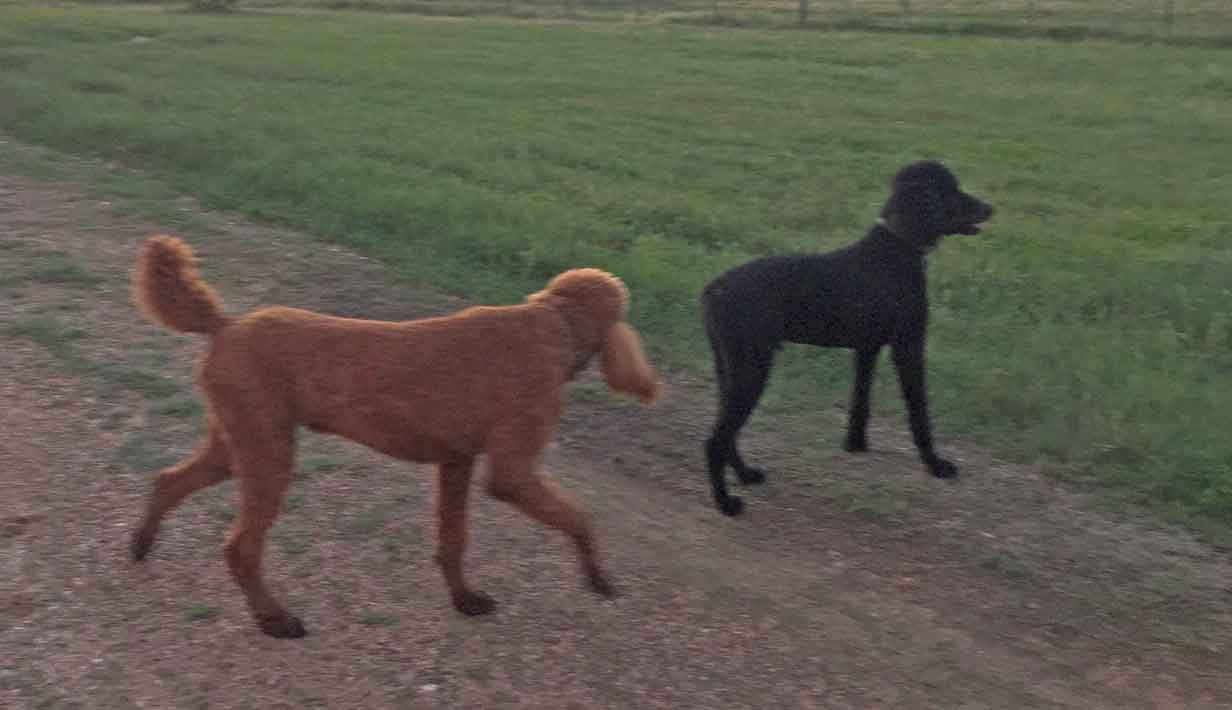 His owners share: "He is so sweet and lovable. Yet he runs like the wind. He is the best dog!" :0)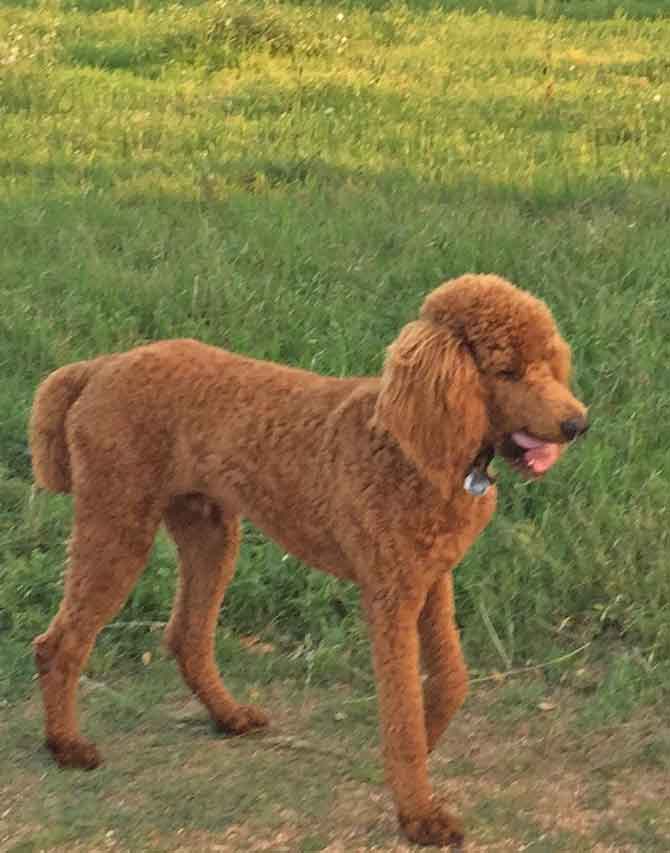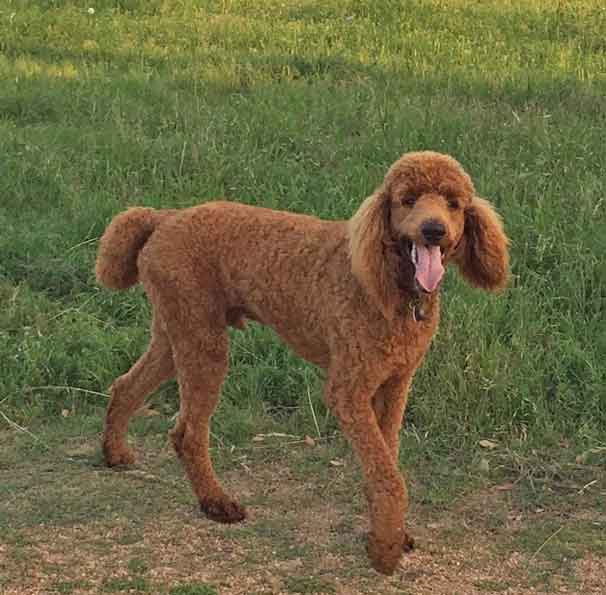 "This is how the Spoos spend their Sunday morning!" :0)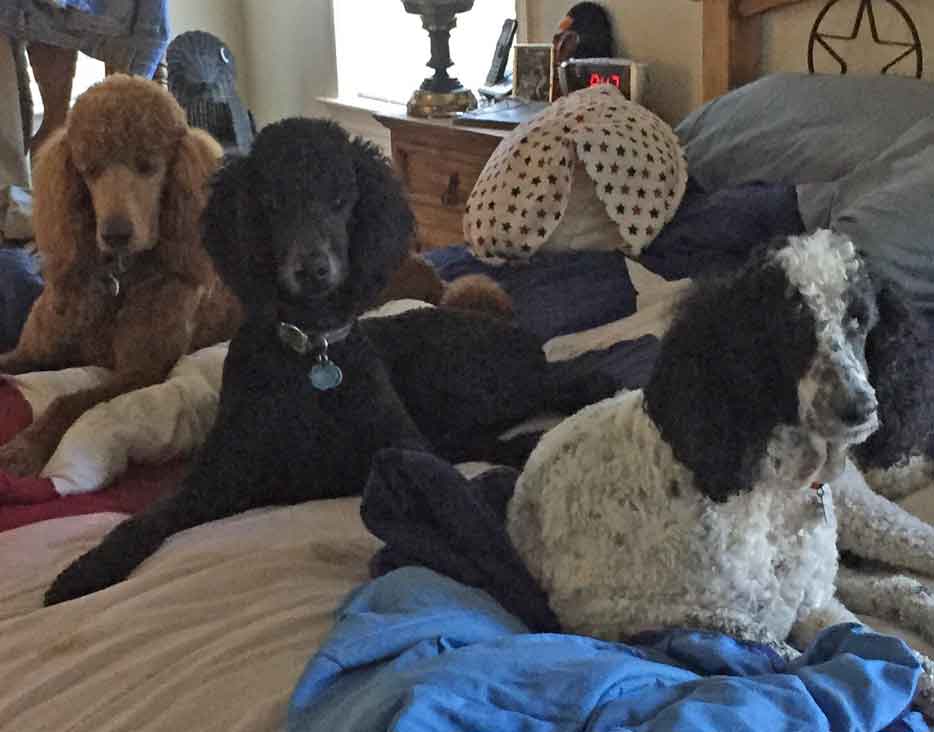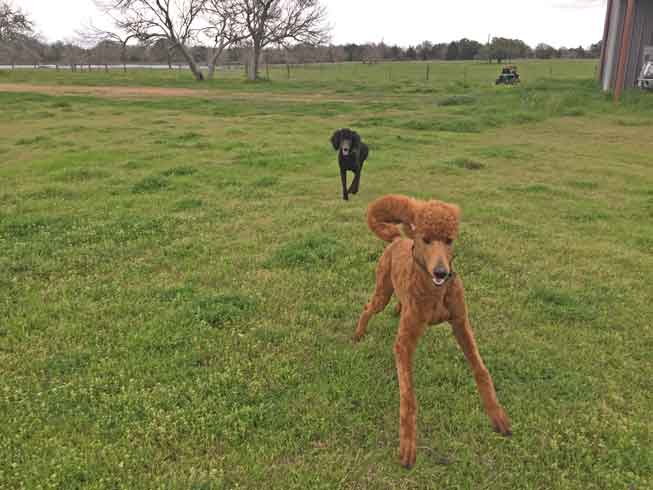 "Look at me go, Woo Hoo!" :0)
*
"We love to play outside!"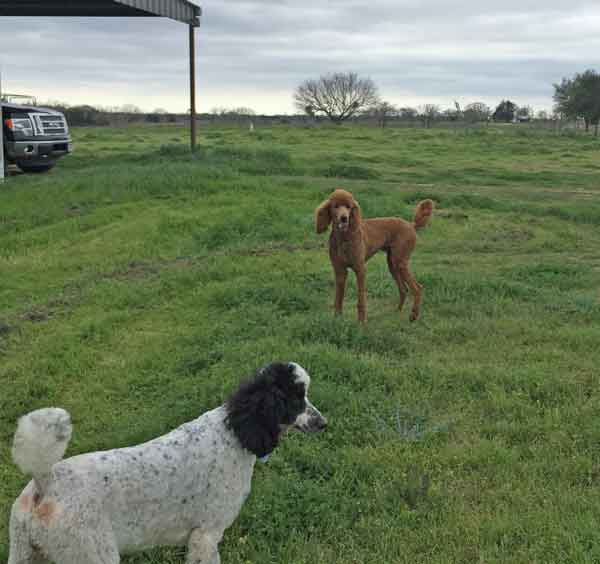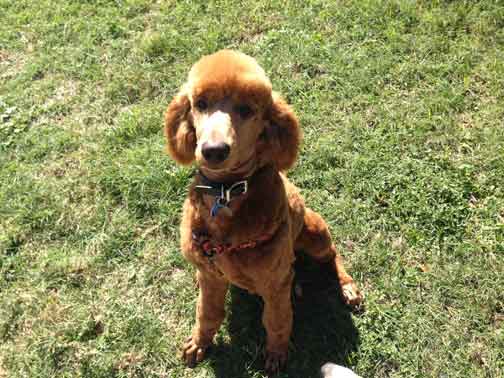 Fresh haircut - Such a handsome spoo!

*

"We wore ourselves out with all that running, nap time....zzzz...." :0)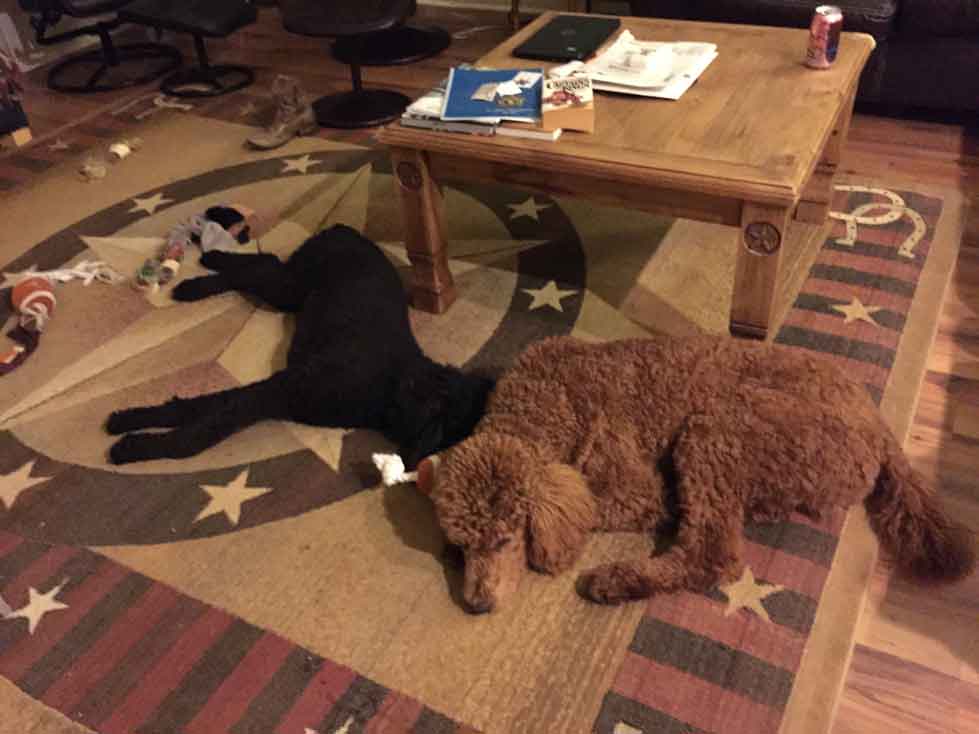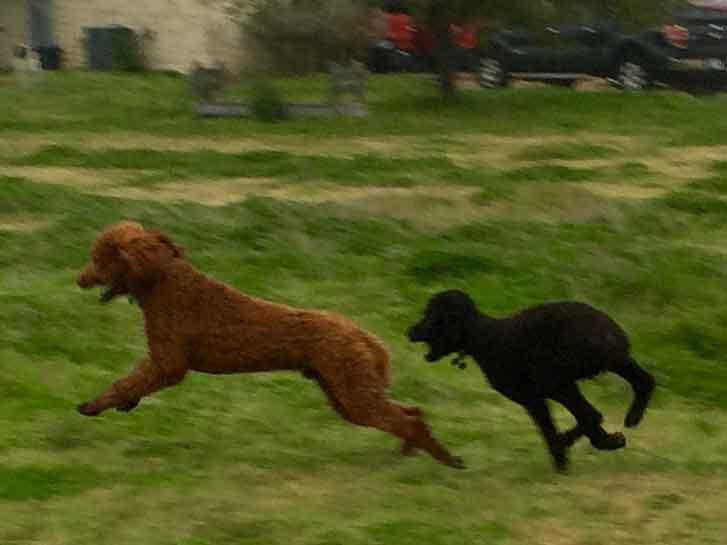 "Bogie tries to keep up, but I am just to fast!"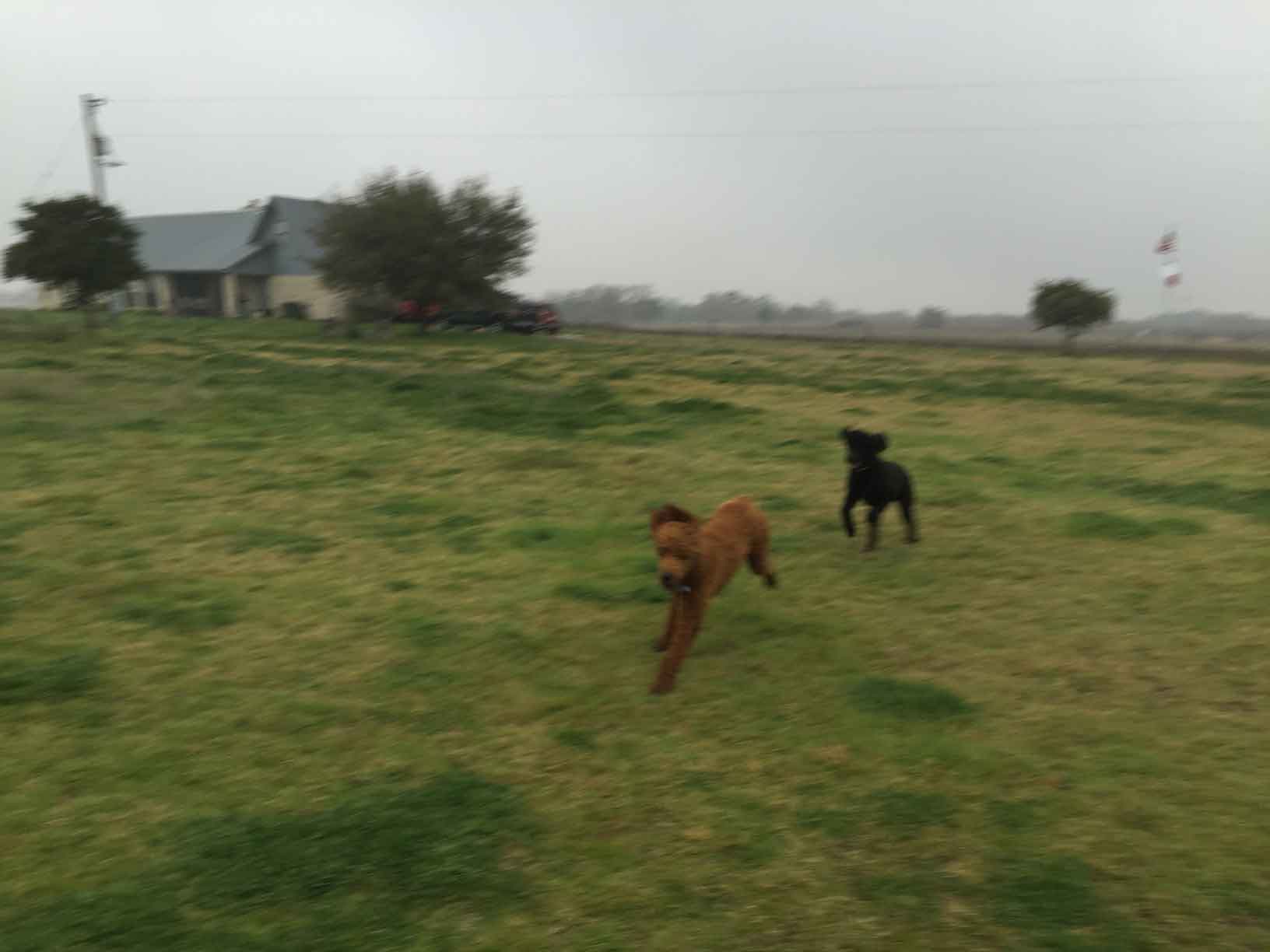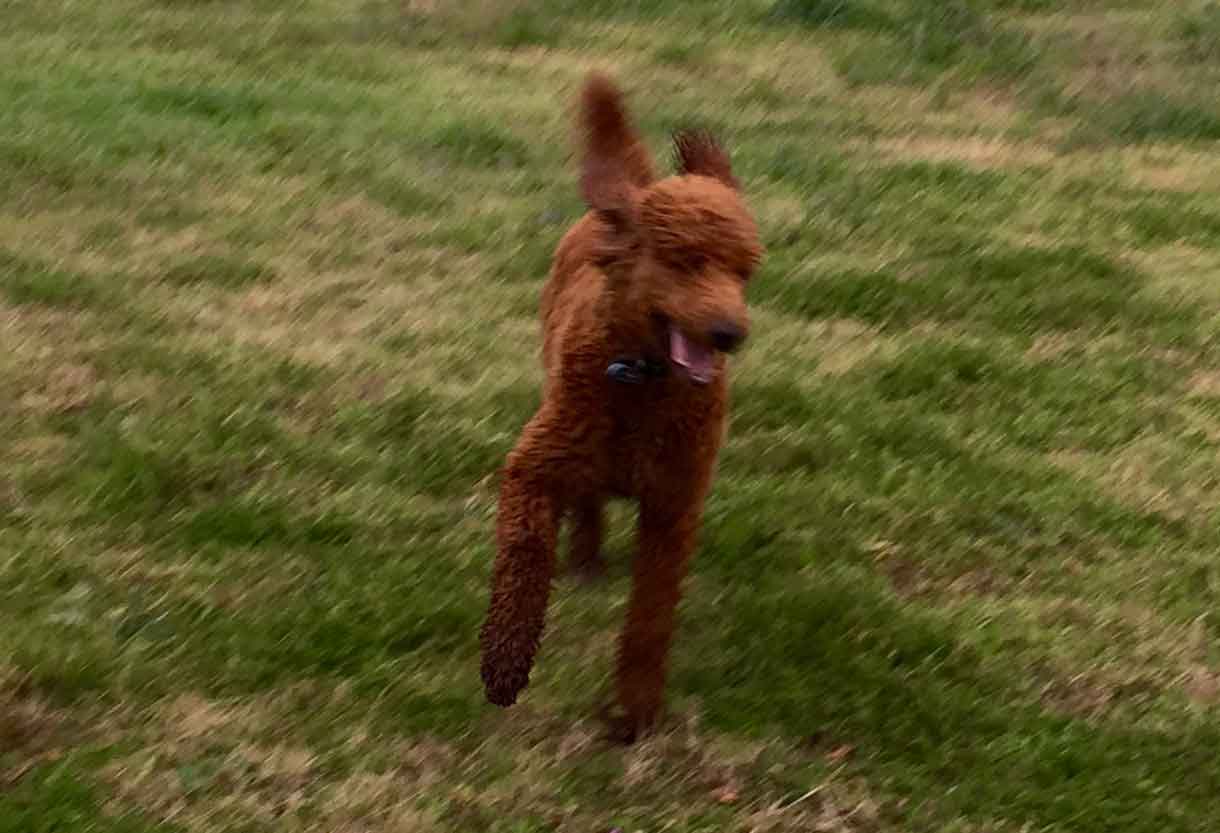 "I run so fast that they can't get a clear picture!" :0)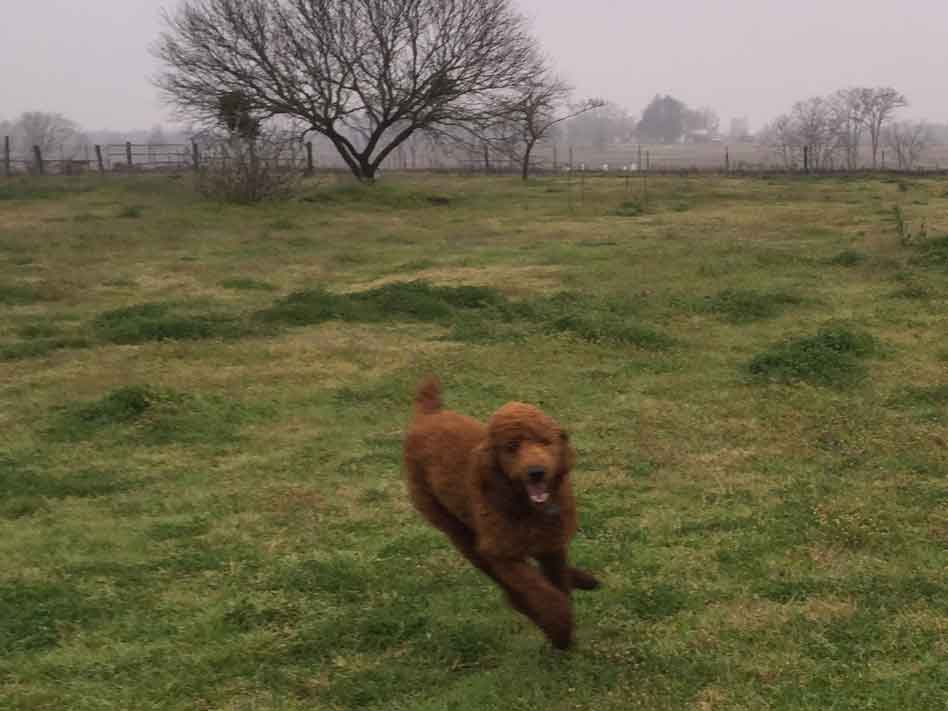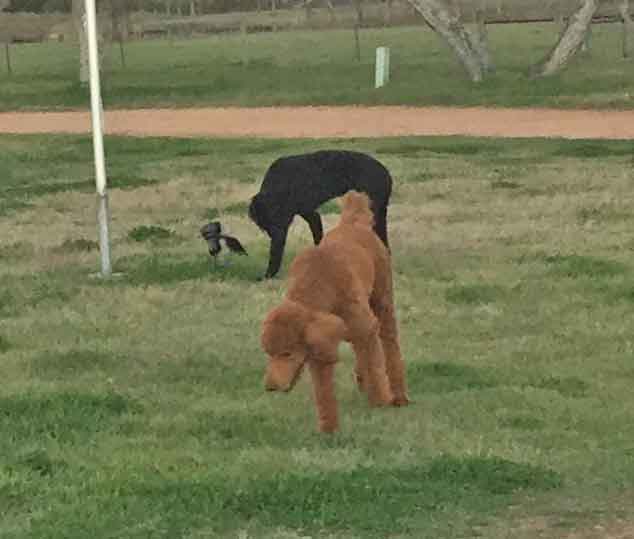 "I just keep getting bigger and bigger!" :0)
*
"Look at me go! Woo Hoo!!"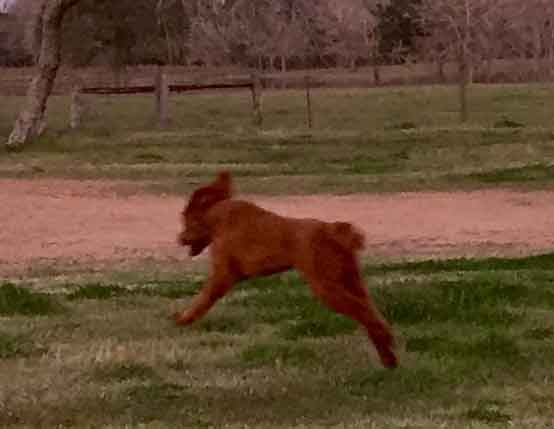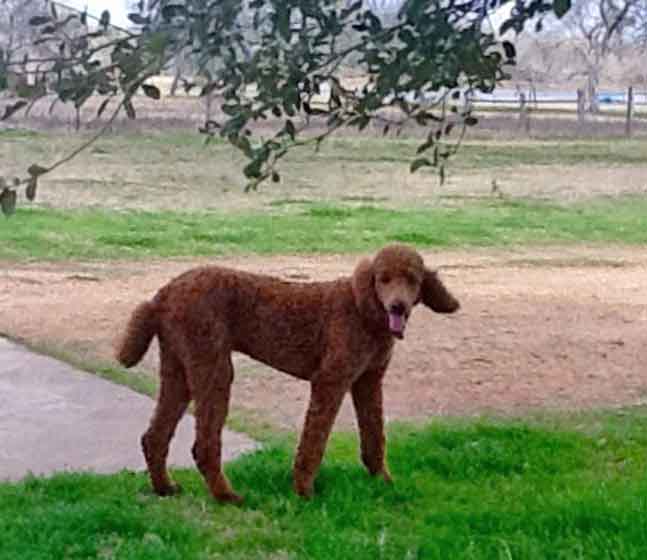 "I could be a "Poodle Model", look how the wind ever so gently blows my ear!"  :0)

*

"Hmm, I think I smell something coming from that direction...."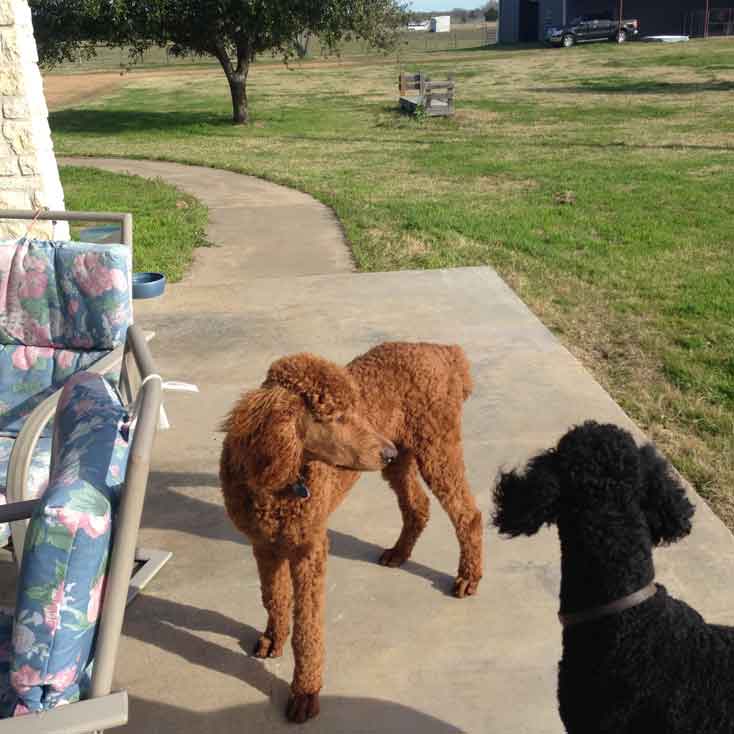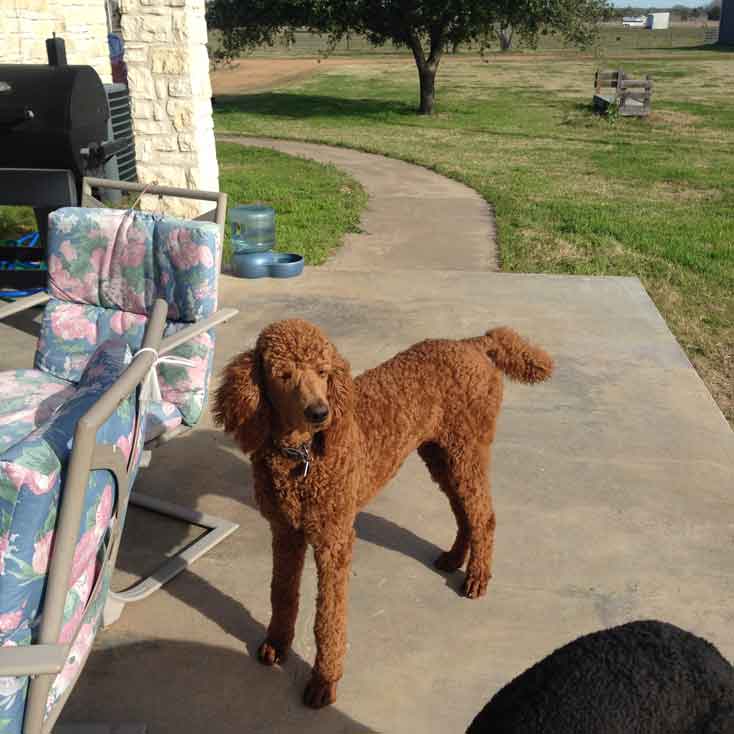 "Can I go check it out, please mom, please??" :0)
*
"Well something was here.....I can smell it!" :0)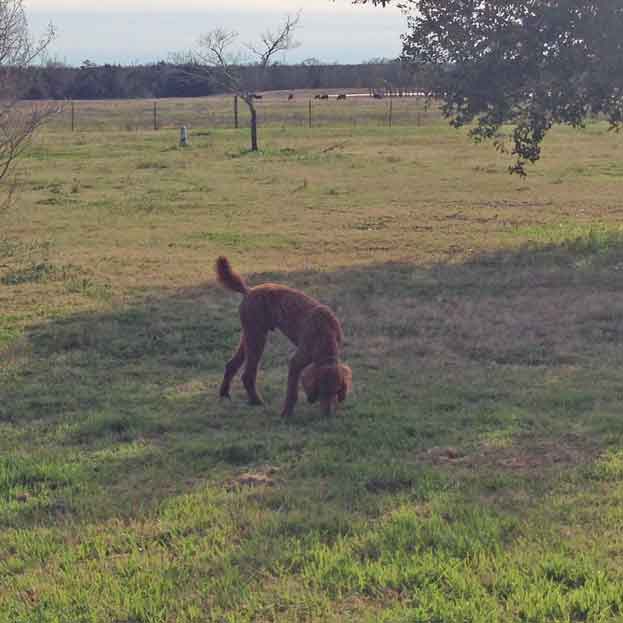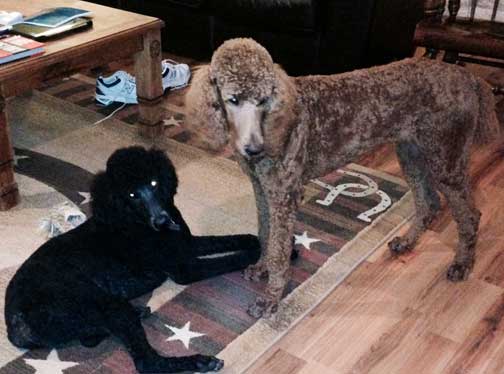 Ranger's owner shares: "Can you believe him? Look at his build, he is fantastic. Super smart. Ranger is terrific. He has great muscle  and really can run and swim."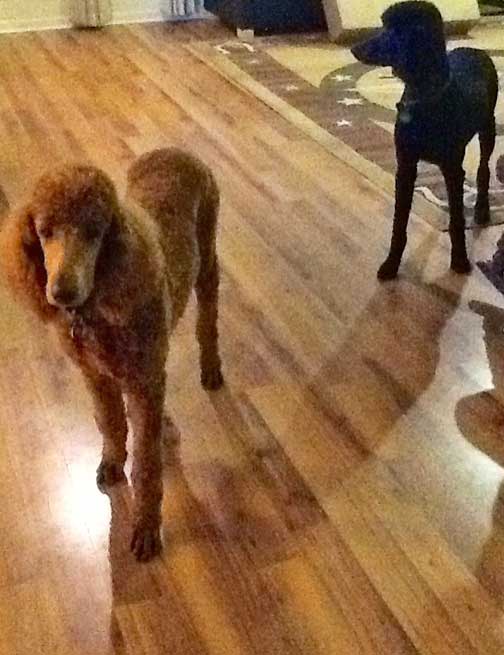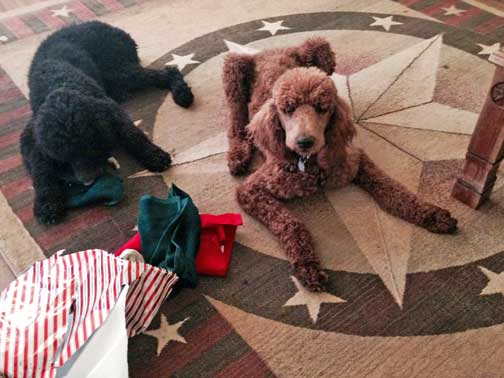 "Look how long my legs are!"
*
"We can still fit together on the couch, wonder if that will last?" :0)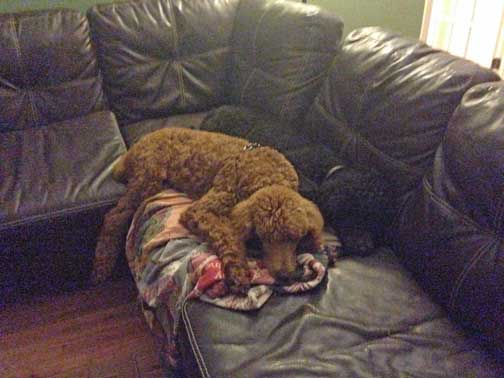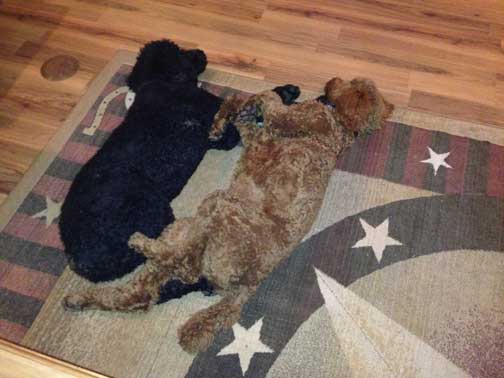 "Watch out Bogey if I grow anymore I will be bigger than you!" :0)
*
"Look how well I am listening, my training is really coming along!" :0)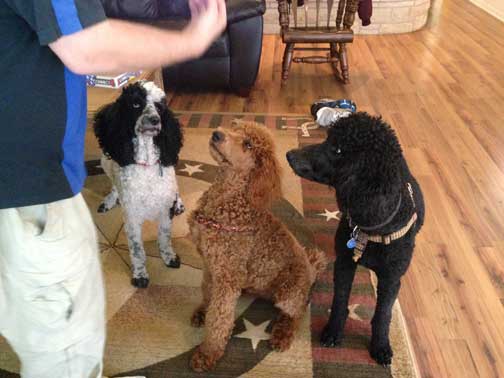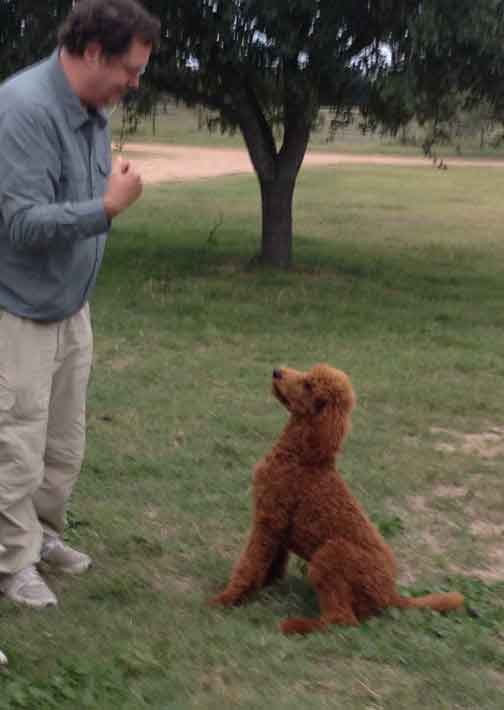 "I'm sitting, can I have a treat now, please, please, please!! :0)
*
"Look at my beautiful red coat, I am a handsome guy!"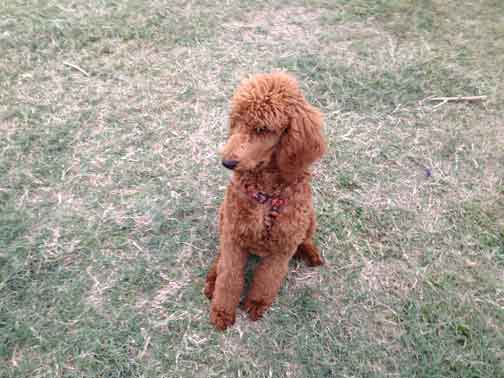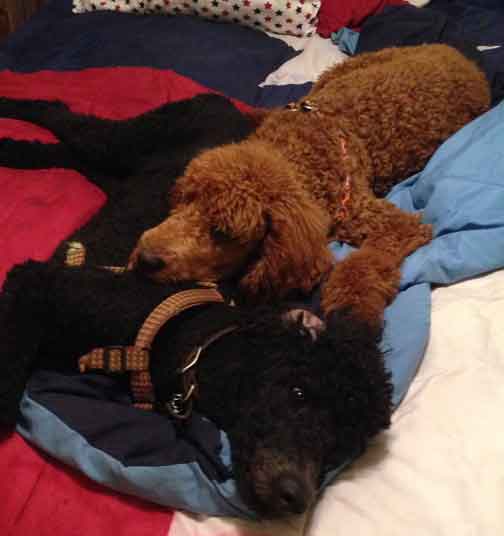 "Bogey makes a great pillow for me!" :0)
*
"My siblings!" :0)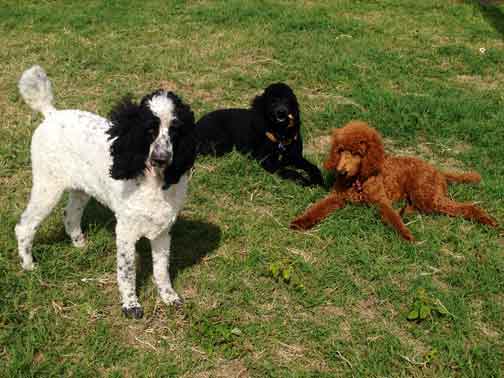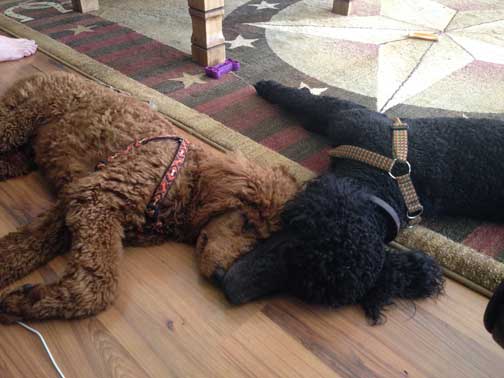 "Bogey and I love to cuddle together too, and we have new harnesses. 
*
"Bogey and I love to sit and watch TV together, it's a good way to unwind." :0)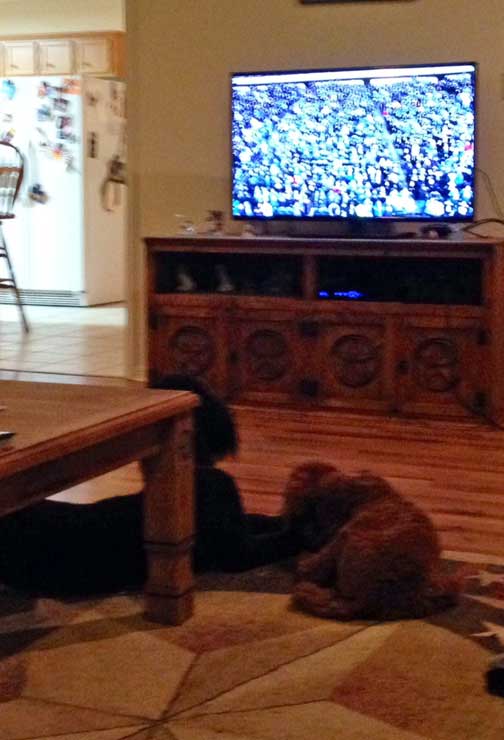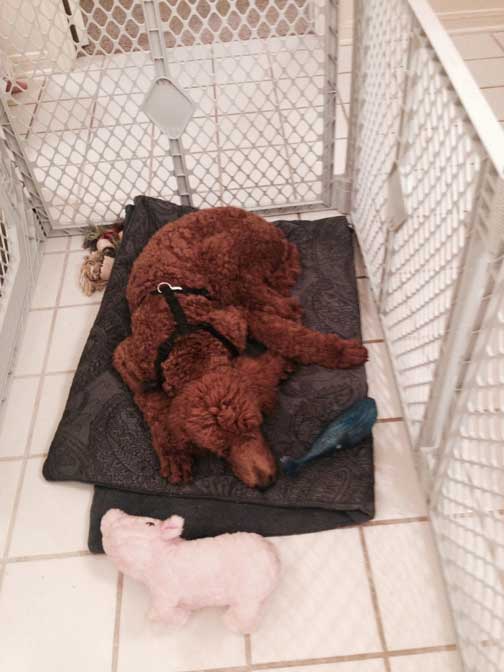 "I have my pet bed, my toys, what more could a guy ask for. Just don't forget my pig!" :0)
*
His owner shares, "He is finishing Puppy 1 training and starting Puppy 2! He is really smart!"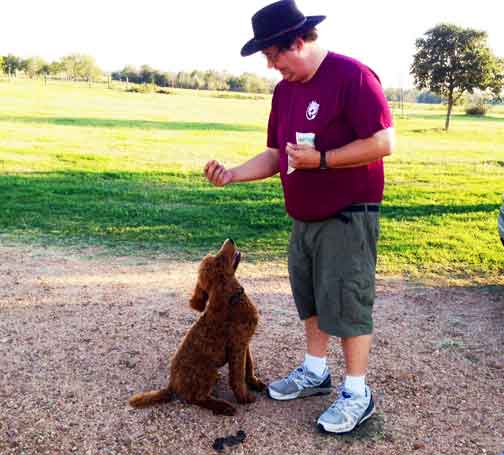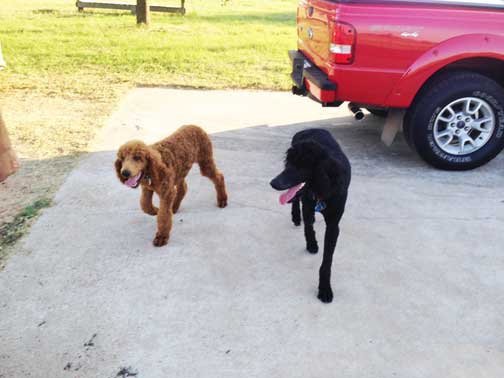 "Bogey and I are great friends and look how I am catching up in size!"
*
"In no time at all I will be bigger!!" :0)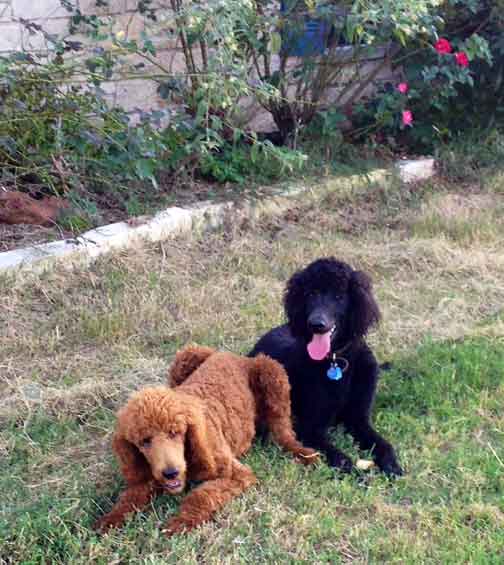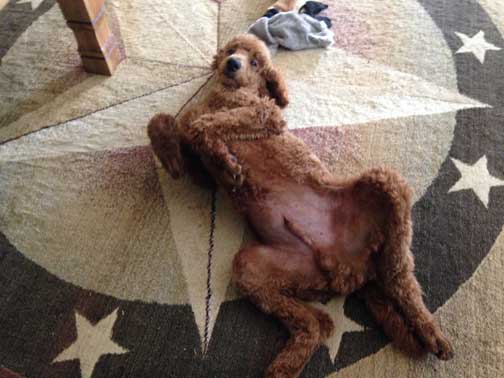 Ah, nap time in the famous poodle position, 4 paws up! :0)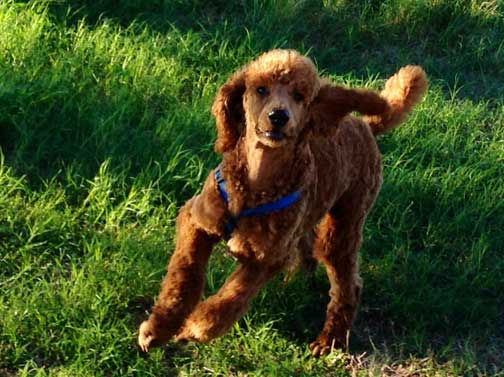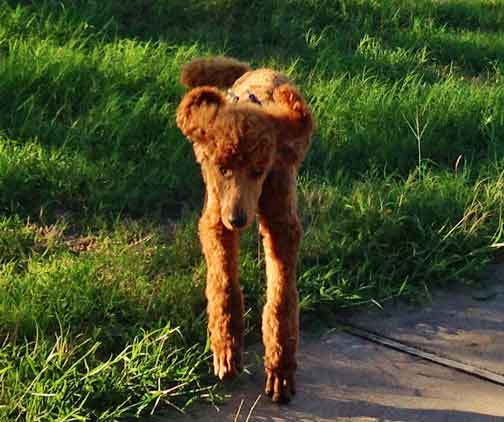 "The above to pictures are of me (Ranger) running......:
*
"The below picture is of my dad (Daniel), I think we look alike don't you?" :0)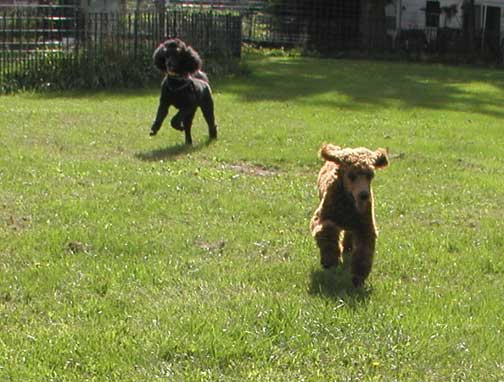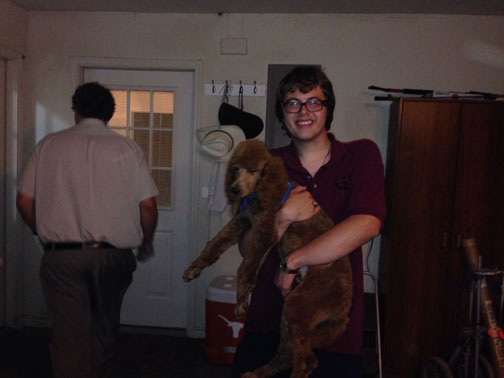 "My first Texas haircut, don't I look good?"
*
"Woo Hoo, look at me go!!!"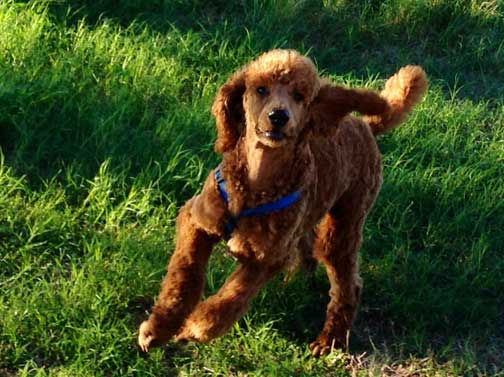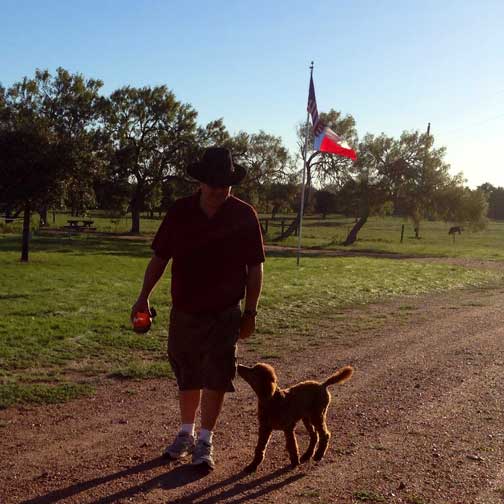 "Will you please throw it for me, please, please, please?" :0)
*
 "I love my little piggy toy, so much fun!!" :0)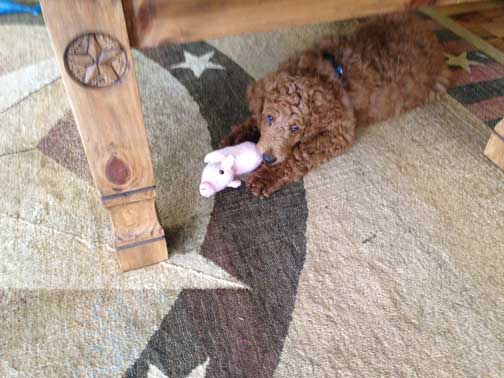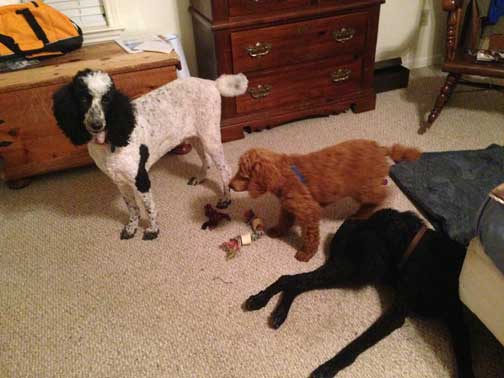 Louise (white and black) is a great adopted mother to him and he and Bogey play together really well.
*
"Smile!" :0)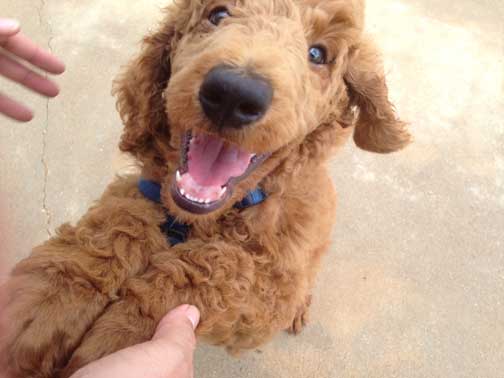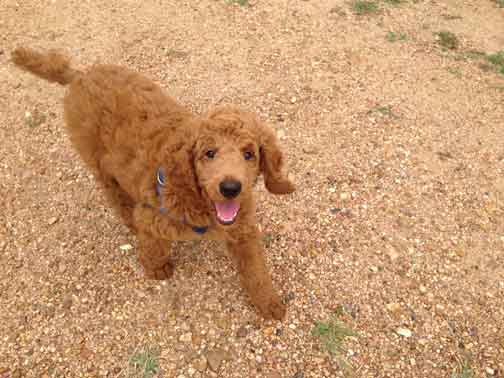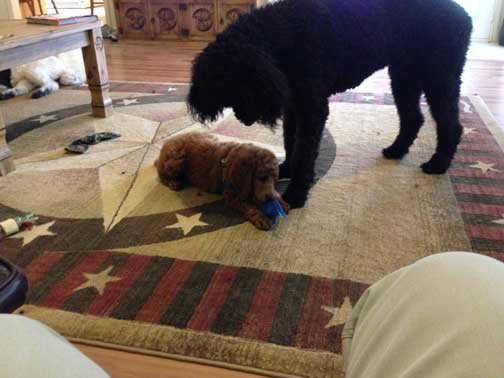 "Bogey is really protective of him but loves to play with him."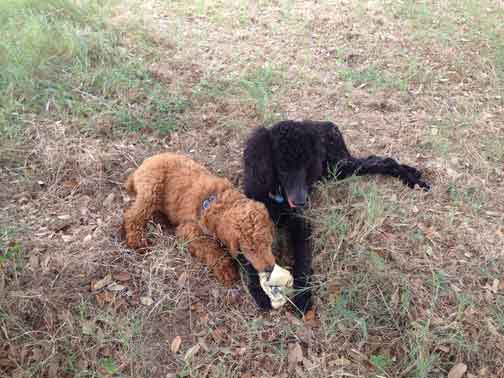 Ranger and Bogey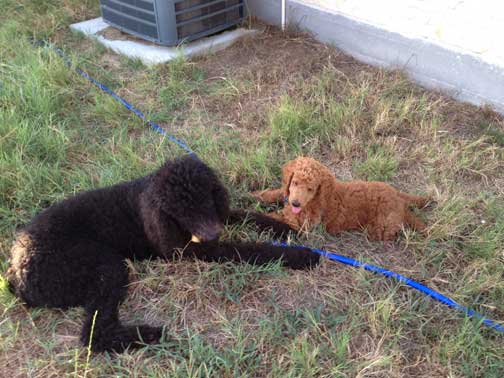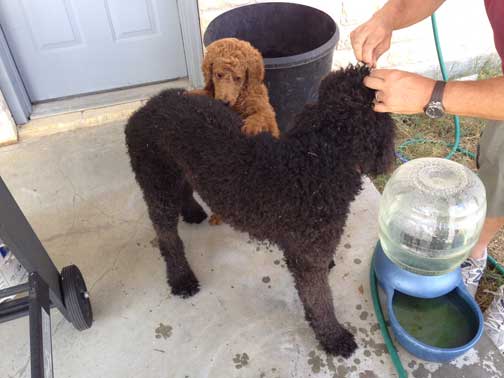 "He is helping pull burrs off of Bogey!"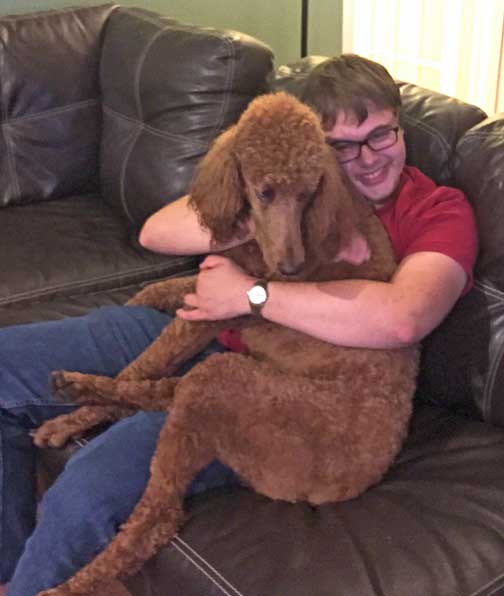 "Our son Bob is home for the weekend! He and Ranger have bonded."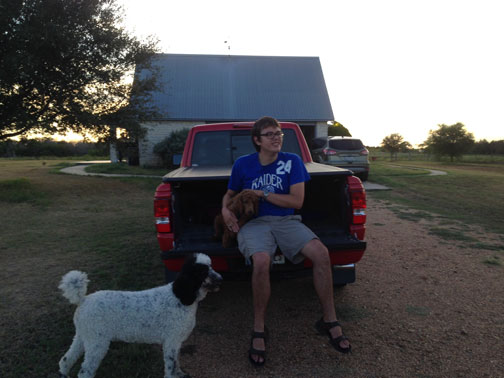 "Everyone loves to snuggle me!" :0)
*
"So sleepy......" :0)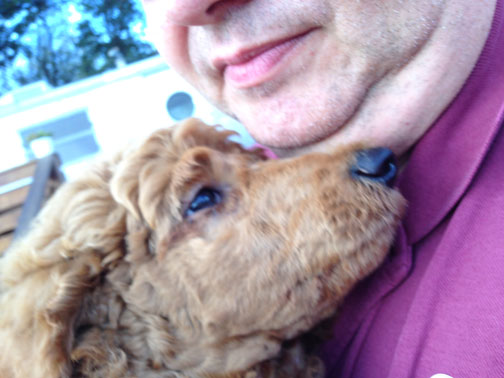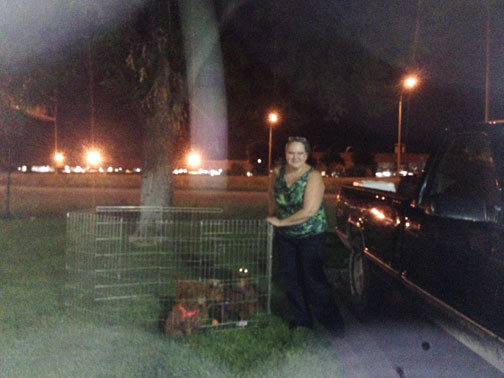 "Here Tes is bringing me to my new owners, what an adventure!"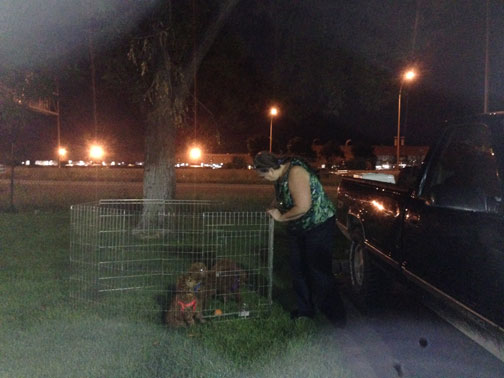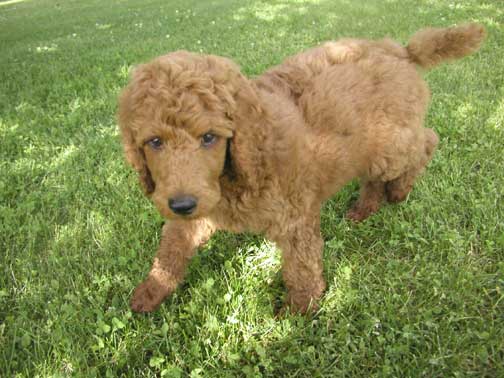 "I think I look like a mini version of my dad (Daniel), wonder if I will get as big as him?" :0)
*
"My first mug shot, before my owners named me I was known as Magic."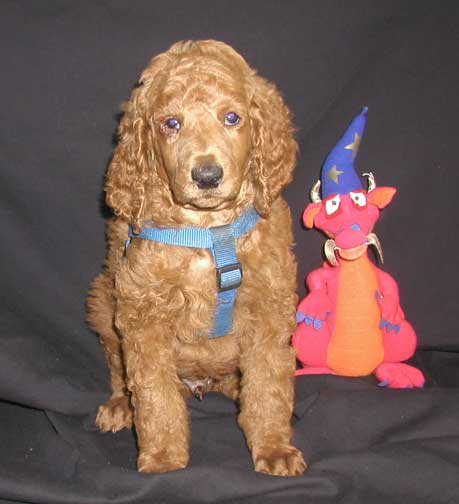 Large Standard Poodle Red Ranger