Cleopatra Fall 2014 Royal Standard Poodles
Cleopatra Fall 2014 Royal Standard Poodles - M/F $1,450 
Cleopatra x Bruno x Daniel? puppies arrived 9/18/14! AKC DNA to begin wk of 10/6/14? then takes 2-3 wks in time for 6 wk decisions of puppy pick. 3 Brown M, 1 Black/Blue with white star on chest (BL) M, 1 BL F, 2 Brown F, very healthy stable pups...stay tuned. 
Ready to fly on Thursday 11/13/14; area customers can come Wednesday morning, Friday or the weekend. Keep in mind any cold weather embargo's that one would need to take puppy as carry-on...plan accordingly > Click here to learn "Traveling" for your pet ...I will be adding additional information here over the weekend for customers to know about for this litter...stay tuned.
Watch their story and stats here as they grow in our home awaiting your loving arms. Youngest puppy pictures start at the bottom with new puppy ages added to the top. Do start at the bottom and watch them grow upward...Enjoy :0)) Next picture update 5 wks old 10/23/14, then 7 wks old 11/06/14.
Tracking Cleopatra puppy stats:
2 wks old micro-chipped and DNA swabs sent in
1 wk old toenails clipped
5 days Due claws and Tails done
Born Tuesday 9/18/14
Click here to Cleopatra stats & pictures
Click here to Bruno stats & pictures
Ready for homes Thursday November 13th, this is the set flying date. DNA testing to be completed on entire litter to show definite dad...MIGHTY sure all are Bruno's.
Keep in mind any cold embargo's that one would need to take puppy as carry-on...plan accordingly > Click here to learn "Traveling" for your pet
1a. Down Payment Breeding (must be Daniel DNA) F - BL (Structure) - DB > Middleton, MA 
or, if not Daniel DNA...
1b. Down Payment F "Quisp" - size open - Black/Blue (no abstract) - DW > Brandon, SD
2. Paid M "Zed" mc 3547 - Royal Brown - CS > Indianapolis, IN  
3. Paid M "Ole" mc 5978 - BL (white abstract) - TA > Lutsen, MN
4. Paid M -  "Sir Royal Briggs" mc 0078 Royal Brown - JS > North Port, FL 
****
Watch them grow in the coming weeks below...start at the bottom and watch upward...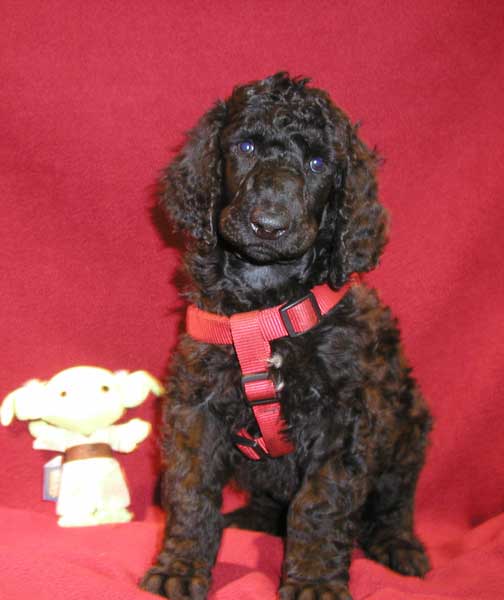 SOLD > "Ole' " mc 5978, weight 9 lbs 8 oz, Male 7wks old > Black/Blue with bit of white on chest - TA > Lutsen, MN - DNA Parents Cleopatra x ?(still waiting, Bruno or Daniel)
*
SOLD > "Princess" mc 6947, weight 5 lbs 4 oz, BL Female 7 wks old > potential breeding if Daniel's DNA (parents: ? x ?) > could be #1 - DB brdg if Daniel DNA; #2 if Bruno DNA - MJ - St. Cloud, MN or #3 - DW - Brandon, SD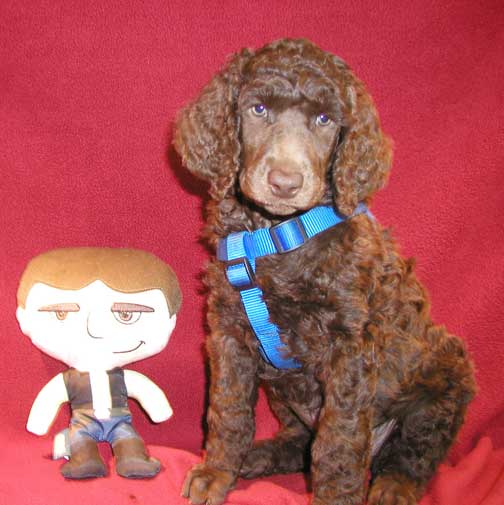 SOLD > "Briggs" mc 0078, weight 13 lbs, brown Male 7 wks old > JS - North Port, FL (parents: ? x ?)
*
SOLD > "Zed" mc 3547, weight 11 lbs 2 oz, brown Male 7 wks old > CS - Indianapolis, IN (parents: ? x ?)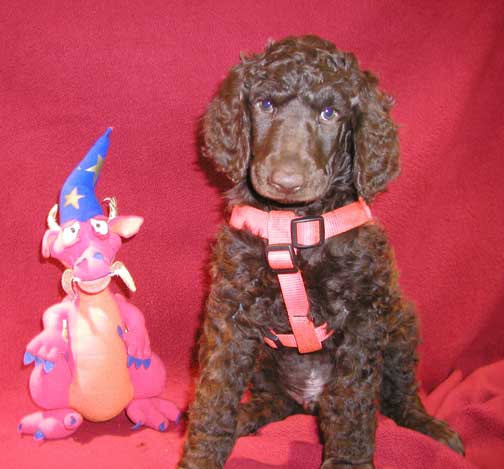 Below-That face just melts your heart! :0)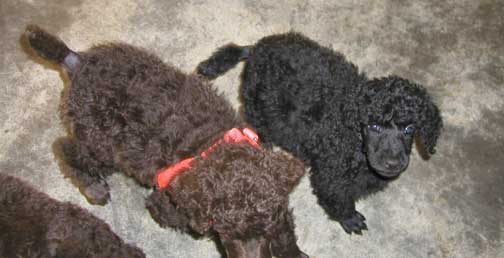 We like to follow staff member Dani, hopefully she will come and play with us!
*
Playing on the pet bed that Tes added, this way we get lots of yummy smells for when we go to our new homes! :0)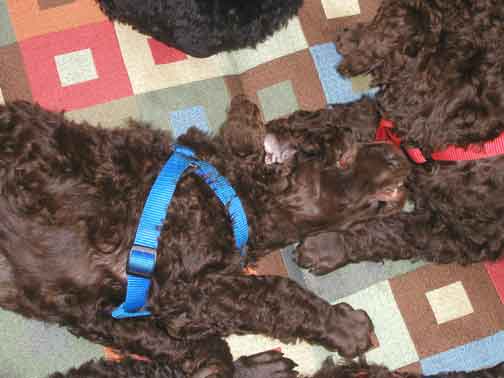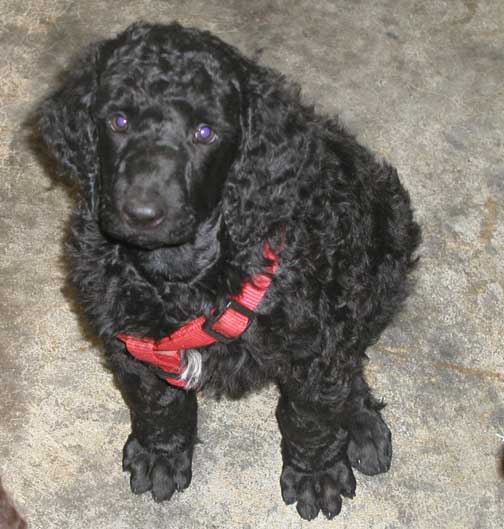 Please, Please, Please let me out, I want to play!
*
Its Princess, guess the name suits her!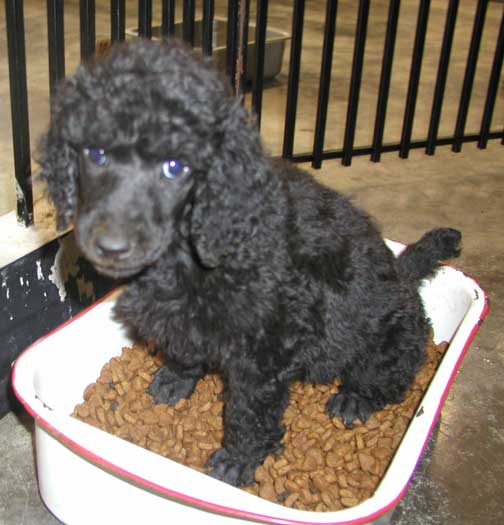 Nummy Nummy Nummy, all this food to myself! Wonder who you could be? :0)
*
What a handsome boy!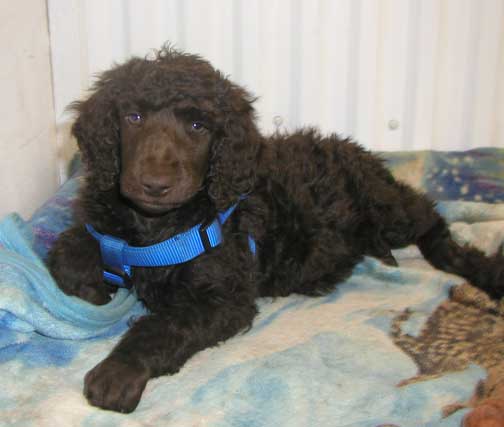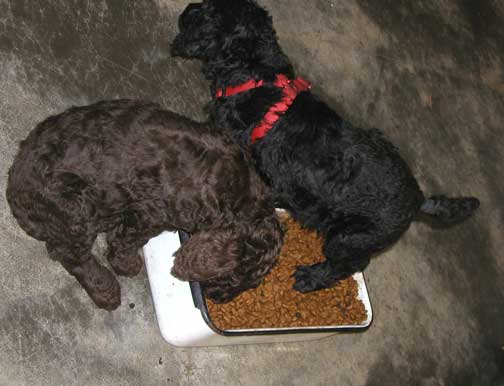 I think you need to turn around, that's the wrong end! :0)
*
Princess figured out how to escape the pen, sneaky girl! :0)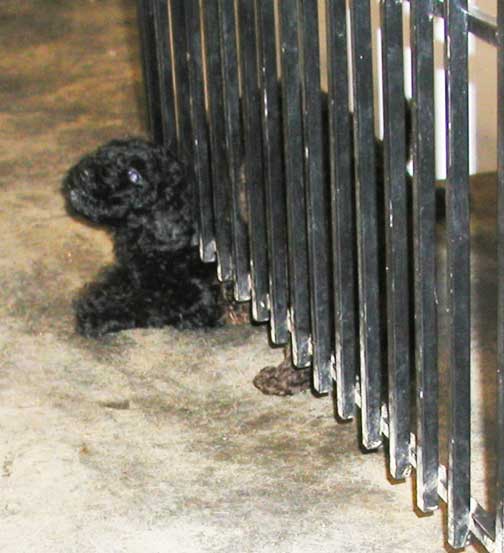 We love to cuddle with momma Cleopatra, she is such a nice mommy! :0)
*
Tes added the crates so we become familiar with them, they make the perfect dog house!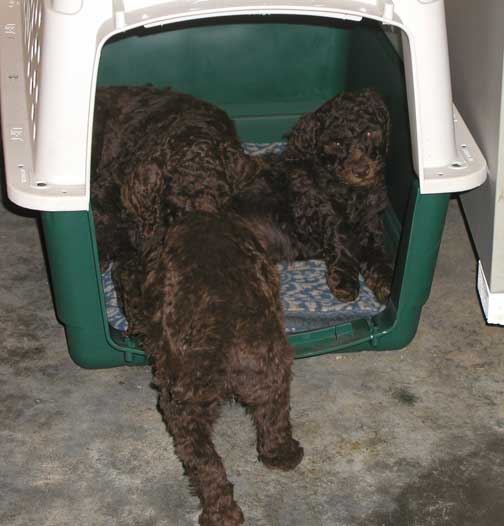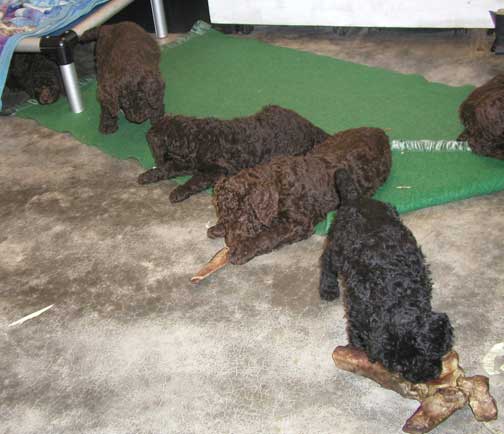 Tes has moved us out into her new heated garage, we have much  more space to play now!
*
This looks like a good spot to sleep, can you find me? :0)
Momma Cleopatra helps us feel comfortable when we go outside, lets play!
*
We love you Tes!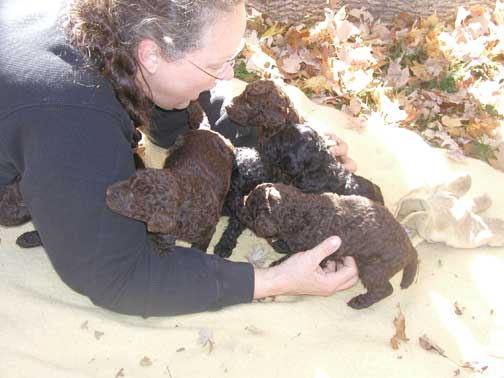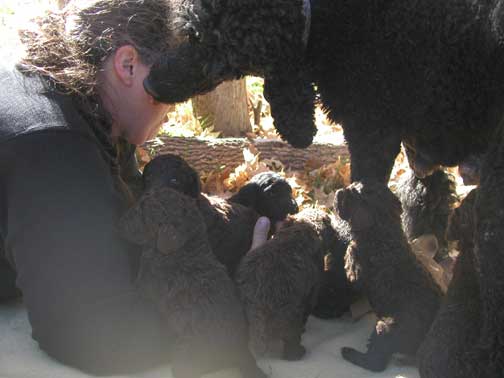 Tes comes over and gives us lots of cuddles, and momma Cleopatra gives her a nice kiss too! :0)
*
Do we dare get off the blanket?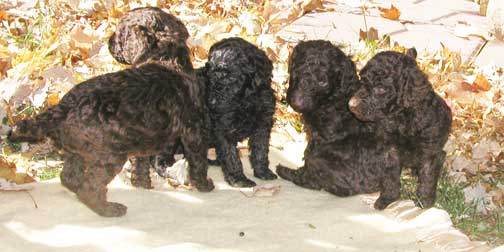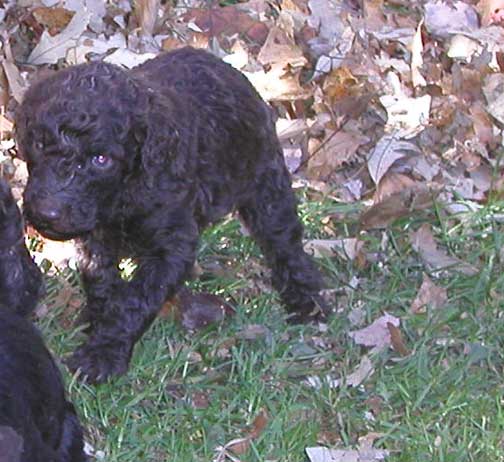 We are enjoying the nice weather and playing in the leaves!
*
HELP HELP!!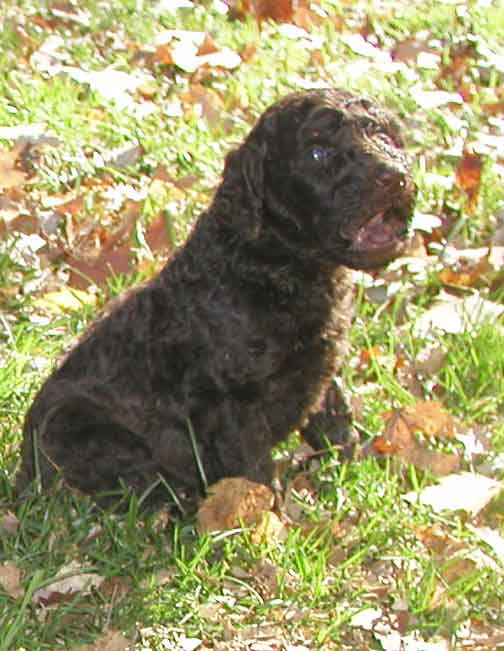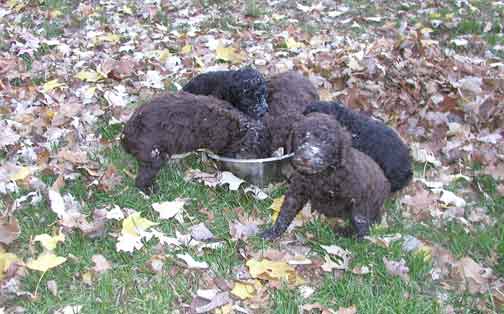 Tes uses the slurry to get us to go outside, Is there something on my face?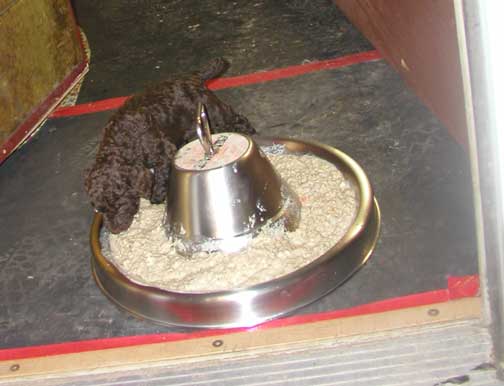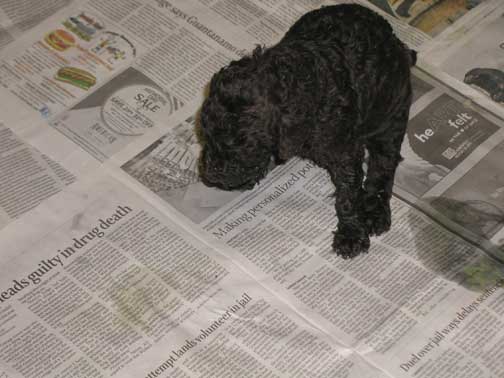 We are doing really well at going to the bathroom on the paper soon we will learn to "potty outside", then we will really have room to play!
*
Patiently waiting for staff member Dani to get the deworming medication ready.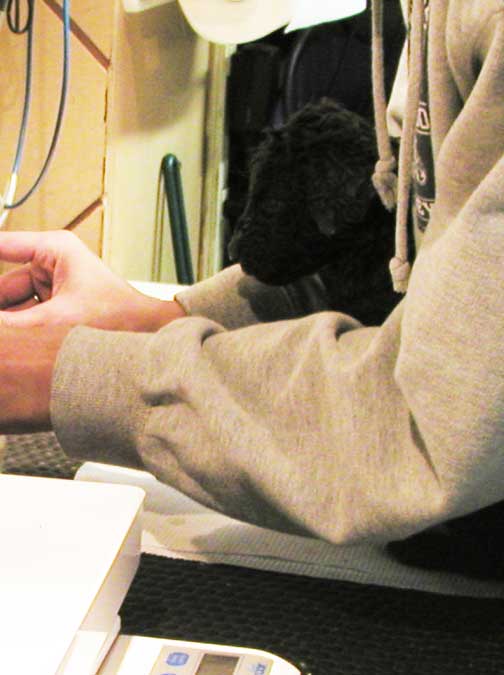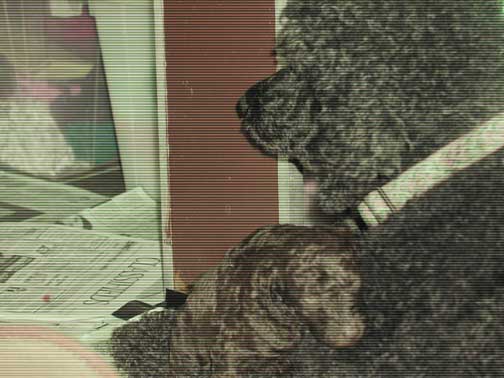 Momma Cleopatra I Love You
*
Do I smell slurry on you? :0)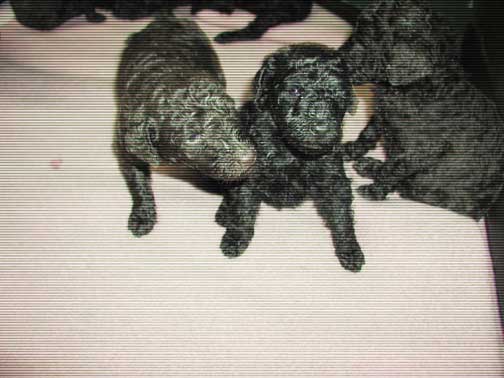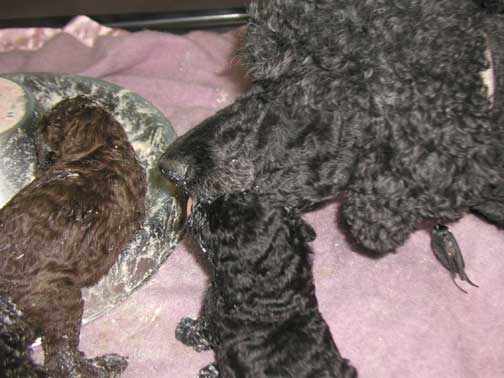 Momma Cleopatra does a wonderful job cleaning us up when we are done with the slurry..... come on mom I'm not done eating!
*
Hey guys let me get in there, I want more!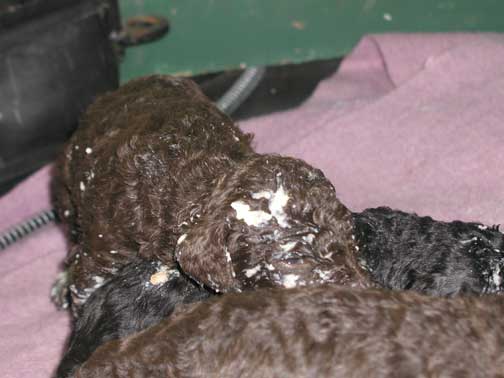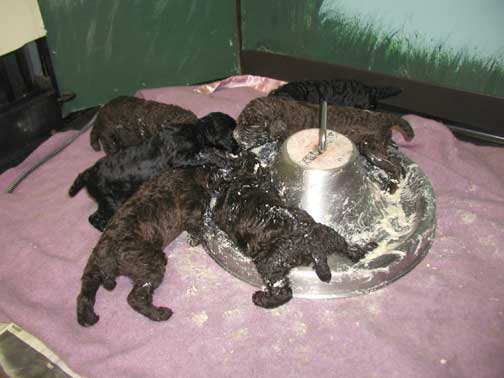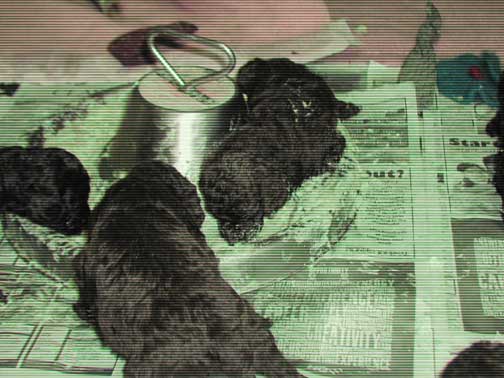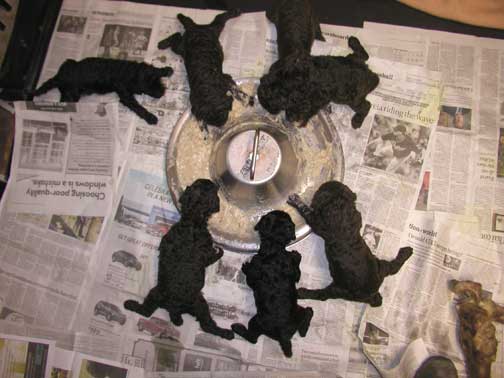 It's time for solid food now that we're 3 wks along...we get pretty messy with being fed at first with a spoon, then learn to lick it up in time...slurry is made with baby rice cereal, a little buttermilk, and a nummy meat mousse that makes it oh so tasty :0)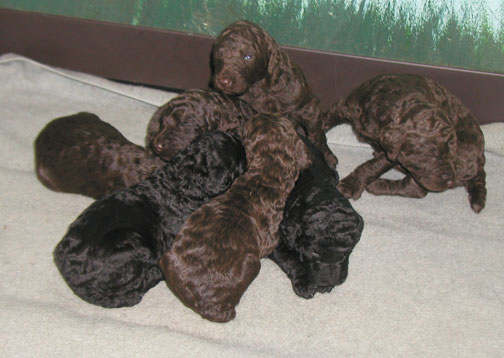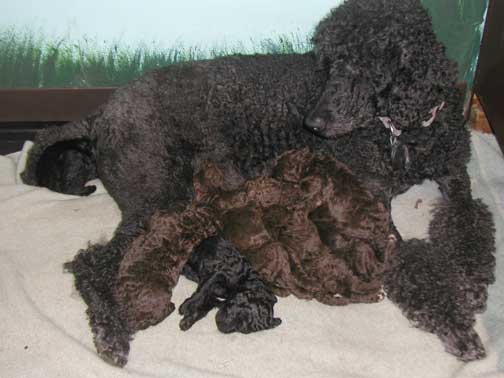 Our eyes are open, even though you can't tell since I am sleeping!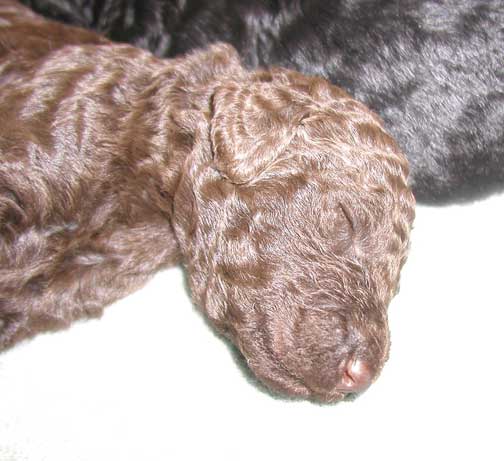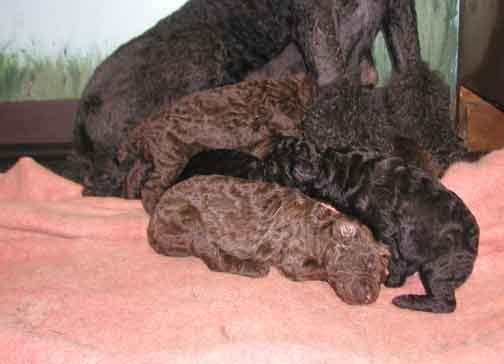 "I think I can get in there I just need to climb over this sister! We're GROWING!!!"
*
"zzzz.....food.....zzzz.....nummies.....zzzz" :0)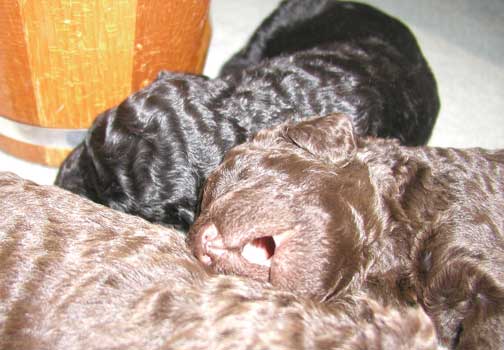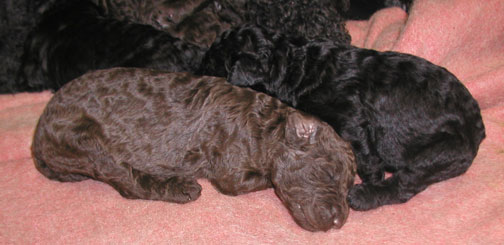 Aren't we sweet? That's why Tes keeps kissing us :0)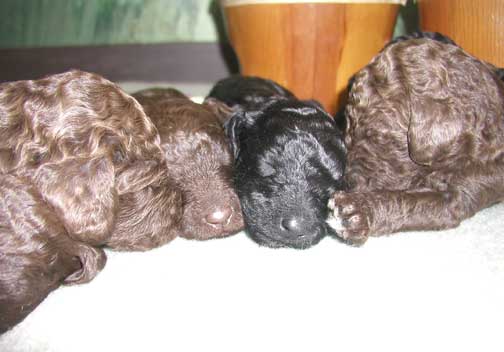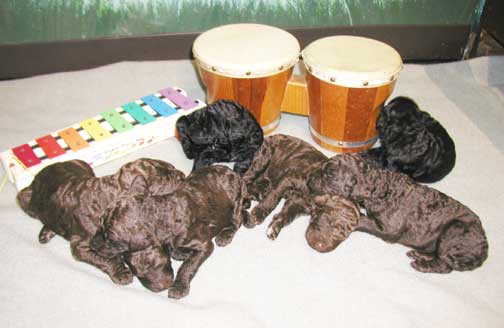 Look how much we have grown!  We are noise makers now! :0)
*
Momma Cleopatra still helps us go to the bathroom occasionally, Thanks momma! (yeah, and she eats it, bleh, bleh :0(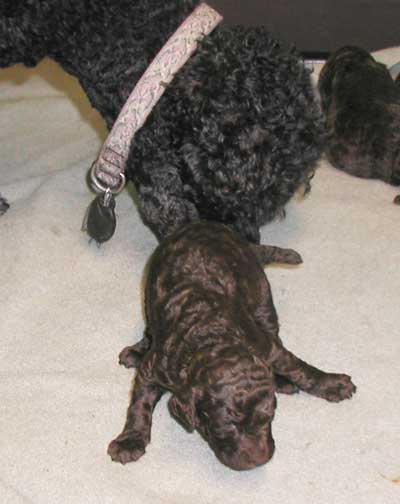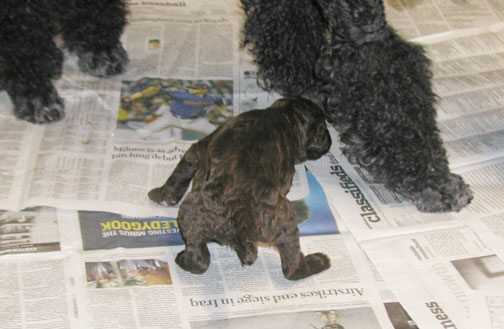 We are learning to potty on the newspaper, this way we can keep our bed clean - Woo Hoo!
*
"Hey guys, look I am standing!! There wobbly, yet look at me :0)"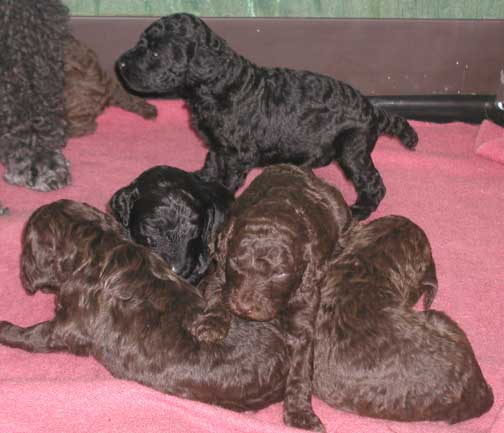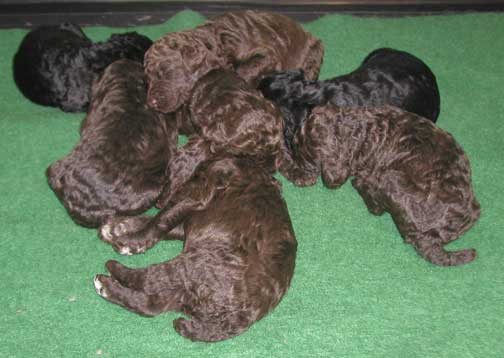 We love our puppy piles, they keep us warm and are so comfortable! Tes has slowly turned the heat down from 78 degrees to 70 now as our bodies acclimate to creating their own heat.
The above pictures show us growing during the 2-3 wk time period since the 1 wk pictures...Tes thinks we're waaaay toooo snuggly that she kisses us all the time :o)
*
Momma Cleopatra is such a good momma!  Quick guys it's time to eat!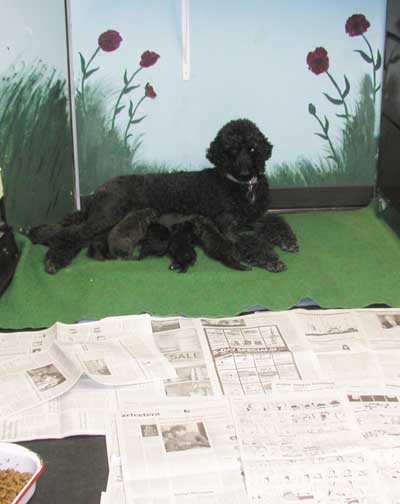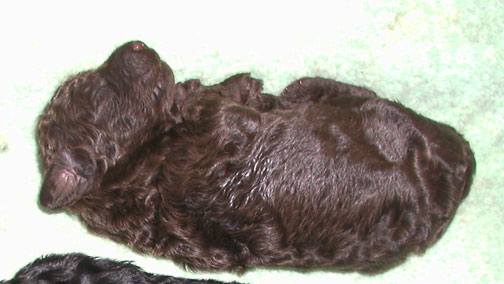 You can see we're looking gooood ;o) Big tummies getting filled with goood milk :o))) zzzz afterwards...and a curl always works for warmth...
*
Hmmm, Puppy Pile!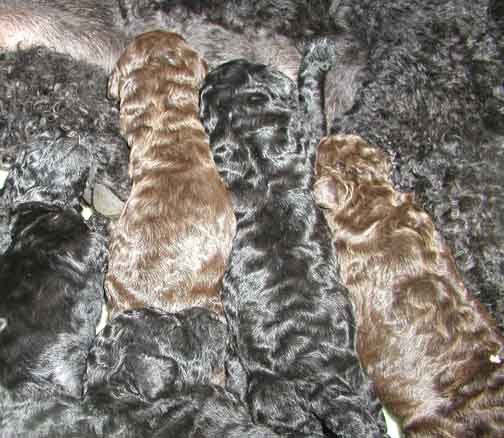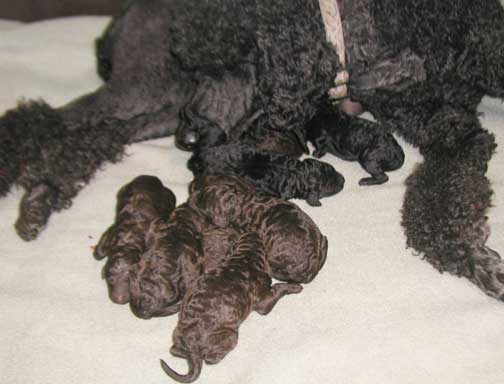 Mommy Cleopatra, aren't you loving :o)) She's really licking us to get us to have our movements as we can't do them yet on our own...it's her mositure and licking that triggers us to go while we're young
*
Is that a nipple I smell? There are warming heating pads underneath the wool blankets to keep any chill off from the floor...maybe that's what mommy's milk is warm from ;o)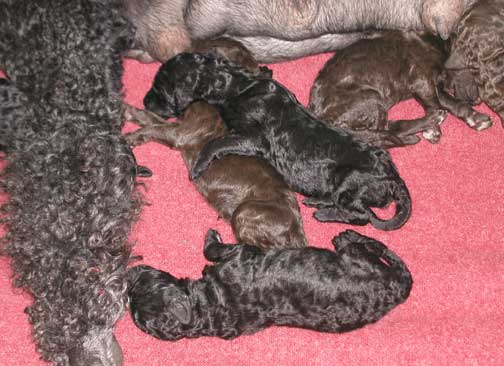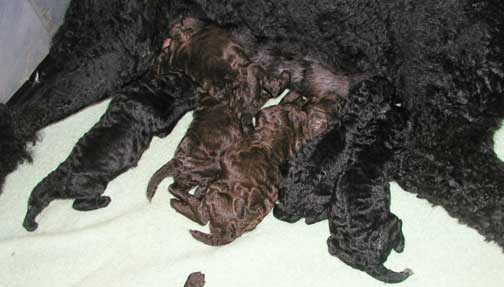 MMmmm, what we do best as we grow...NUMMY! The wool blankets gives our toenails something to grip and allows us to push into nursing :o)
*
 Our tails will be docked and due claws done soon. Tes waits until we're doing well with some ounces gained.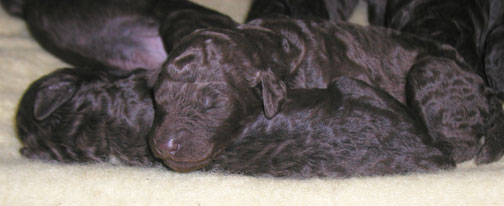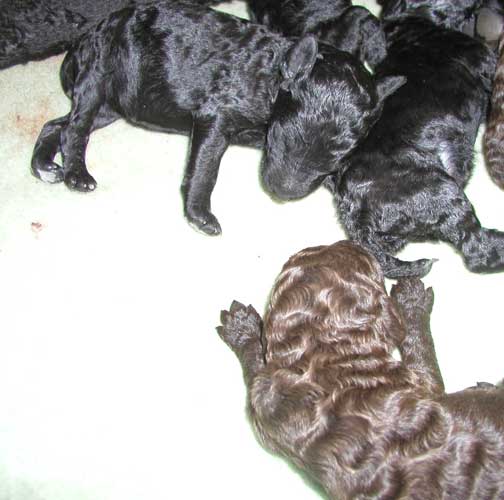 Mm hmm...Nummy Zzzz, Nummy Zzzz, all as we grow to get big and strong to come home to you :o)
Mommy is doing well, taking care of us so lovingly. Tes uses colorful wool blankets to absorb moisture over the coming weeks. It wicks moisture away, yet keeps us warm...and a colorful viewing hopefully for you ;o)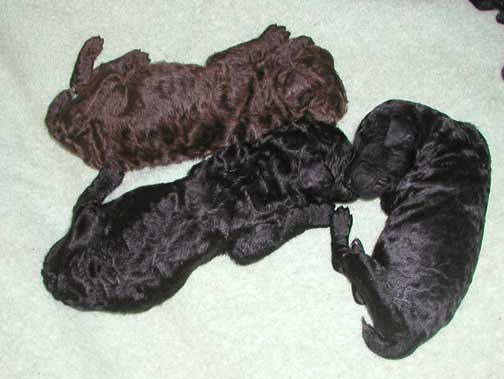 We're excited to come home to you! :o) Tes keeps the special family room around 78 degrees as we can't develop our own body heat for a good week. Humidity must be an average 55 % humidity.