Royal Standard Poodles - GxV
Royal Standard Poodles - GxV
2018 - SOLD OUT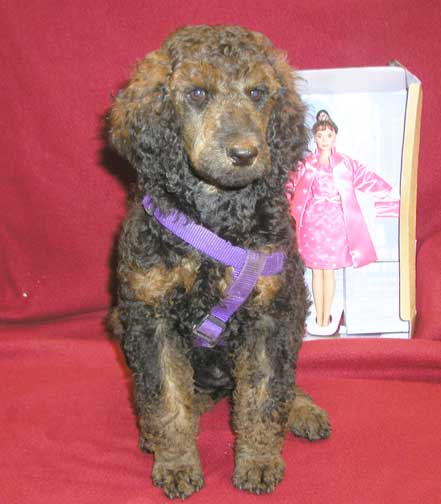 SOLD - "Tiffany" 9 wks old 12 lbs, I am a Black and Red Phantom. I'll be your star when you bring me home - pick me :o) Audrey Hepburn was a standard poodle owner and a white standard is in the movie Breakfast at Tiffany's. 
*
SOLD - "Jeannie" 9 wks old 13 lbs - will you pick me? I Dream of Jeannie's Barbara Eden is a poodle lover and she's going strong at 86 years old. Genie is going to be a light Apricot/Cream girl. So ready to bring magic into your life.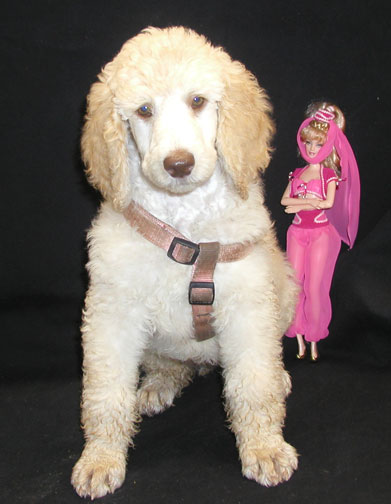 Geo x Vyke Royal Standard Poodles - GxV - Pups born 7/28/18, ready for homes now. *Travel Plans - Try to find direct flights where possible.
Geo had 6 Females + 2 Males = 8  Lots of Colors
Remember to go to the bottom of this page and watch Royal Standard Poodles - GxV puppies for sale grow up as pictures added to the top with each update. Enjoy, Enjoy ;o))
Tracking Geo Puppies: 
7 wks groomed with paws and face clip
6 wk deworming with Pyrantel, toe nails clipped
4 wk deworming with Pyrantel, toe nails clipped
2 wk deworming with Pyrantel, toe nails clipped
Toenails clipped
Full Tails and due claws :o)
Born 7/28/18
*Royal Standard Poodles - G x V puppies for sale*
Remember, start at the bottom and scroll up as they grow up onto the page in the coming weeks :o)
Theme: Standard Poodles with Famous Owners. Geo is named after my Hollywood producer customers who have two of my poodles, Seven and Sunday. Her name is Geovanni and husband Jeff with Black and White Productions. I loved her name and asked if I could use it for Geo, thus Standard Poodles with Famous Owners was a fun theme...as I hope you enjoy their growing up page :o)
Royal Standard Poodles-GxV 

SOLD OUT
Geo x Vyke Customer down payment list:
- Several Females still AVAILABLE FOR SALE -
1. 6/4/18 paid M - Royal Brown Phantom "Ducky" (Ken) - LG > Lakeland, FL
2. 7/17/18 paid, M Royal Brown "Boon" (Elvis) - KK > Rochester, MN (returning customer, $200 discount)
3. 7/17/18 paid, F Royal BL phantom "Truffle" (Jackie) - MS > Liberty Hill, TX
4. 8/22/18 paid, F Royal BL "Artemis" (Angel) - KL > Richwood, TX
5. 8/14/18 paid, F Brown Phantom "Beauty" (Barbie) - AB > Houston, TX

6. 9/7/18 paid, F Royal "Winnie" - LK > Houston, TX

7. 10/18 paid, F size, Jeannie, JT > MN ($200 discount returning customer)
8. 10/18 paid, F size, Tiffany, VW> Vero Beach, FL
Everyone else has gone home, Tiffany and Jeannie are the only two left for sale in Geovanni's litter. Now we socialize with the other spoos at home. Enya is VERY interested in us as we are in her :o) Sorry, one of the cameras seems to be going bad :o(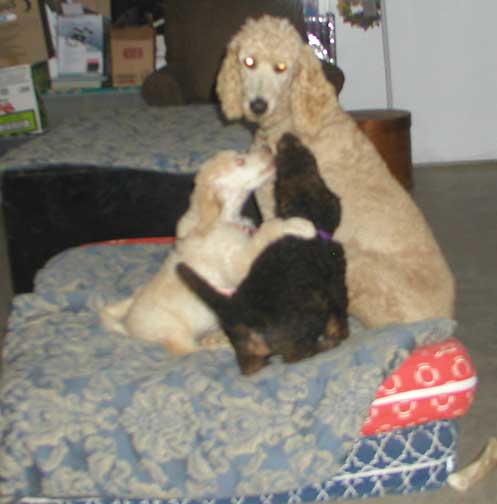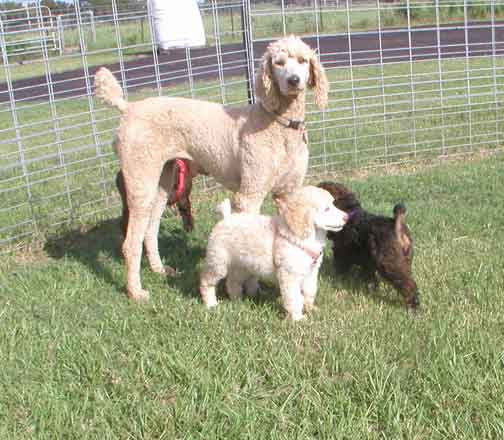 Tes has opened up the gate to Blue Bonnet Park where we can reach even more, curiosity in learning has taken us to learn even more :o) The brown pup is Tes's new pup Teayah for future dam :o)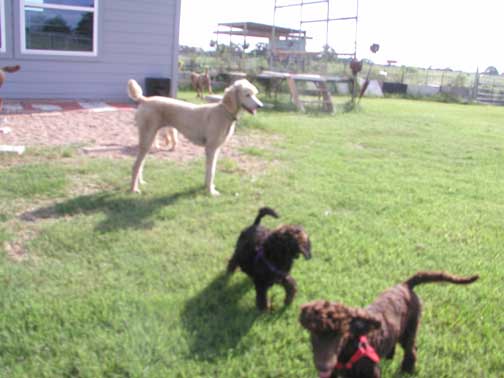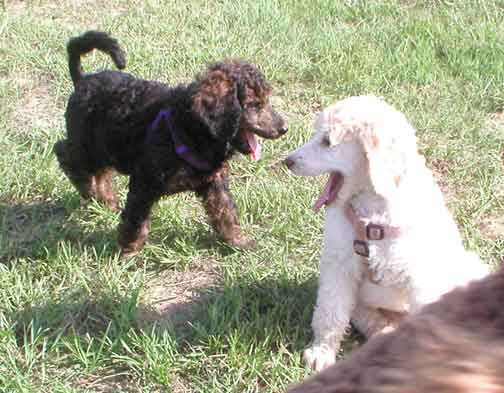 We're getting big, and in the house there's a whole lot of new smells and things to learn about :o)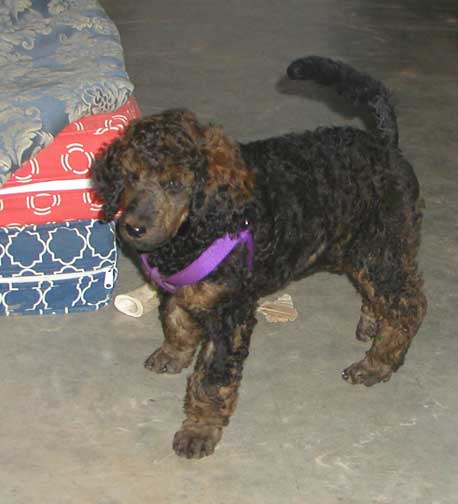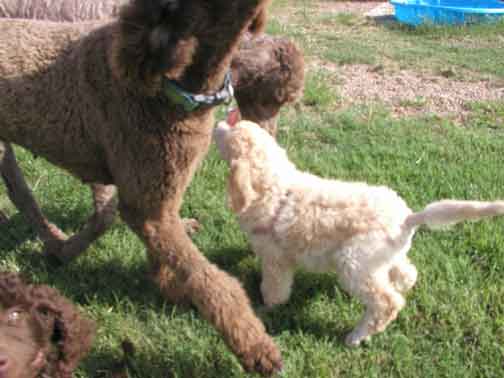 We're learning from the other spoos too, like the way to socialize.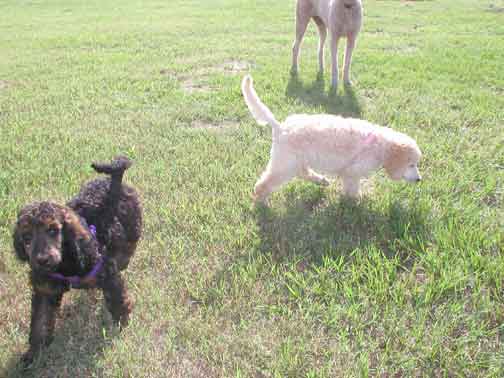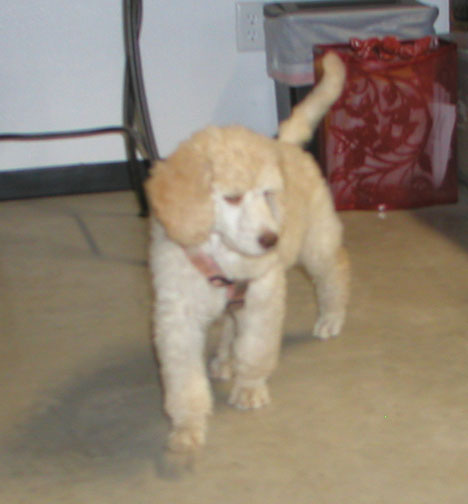 Jeannie is a beauty! Enjoys her curiosity and being in the pool checking out the water :o)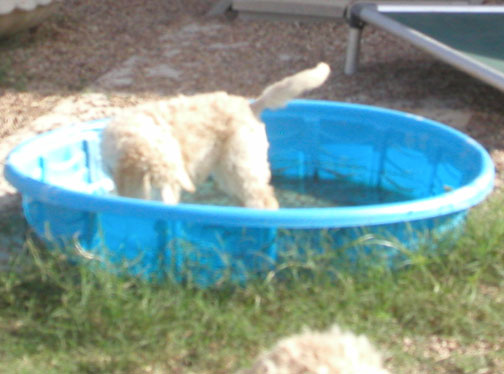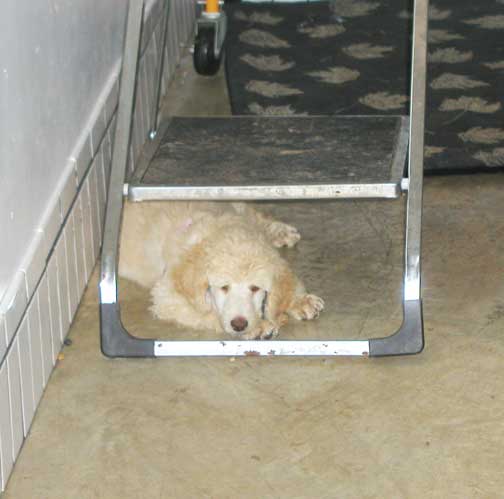 Cream Jeannie hasn't figured out the steps like Teayah has, a good "sleep on it" may help figure it out ;o) Black/Red Phantom Tiffany is looking for adventure...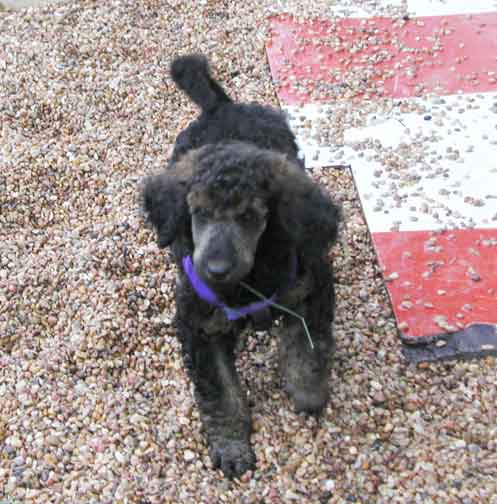 Good zzzz's help us grow :o)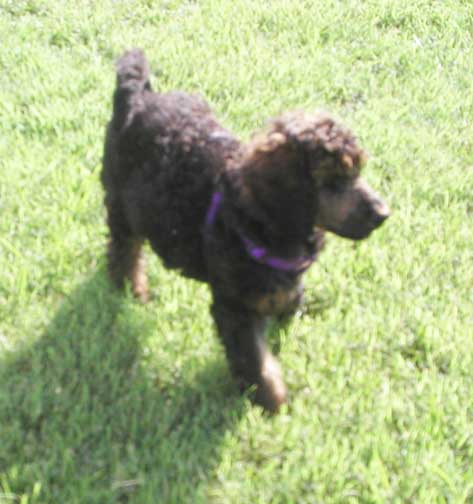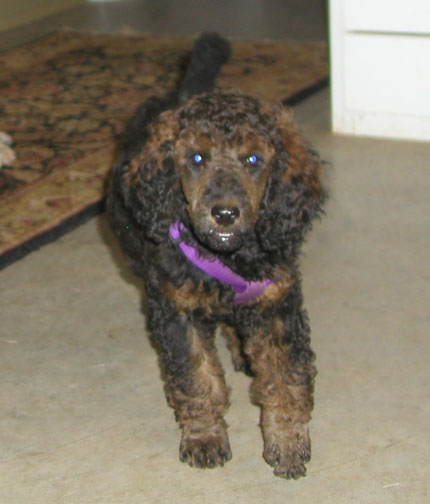 The above pictures are of Jeannie and Tiffany growing from 8 wks old to 9 wks old...Looking for your love...who will bring us home?
---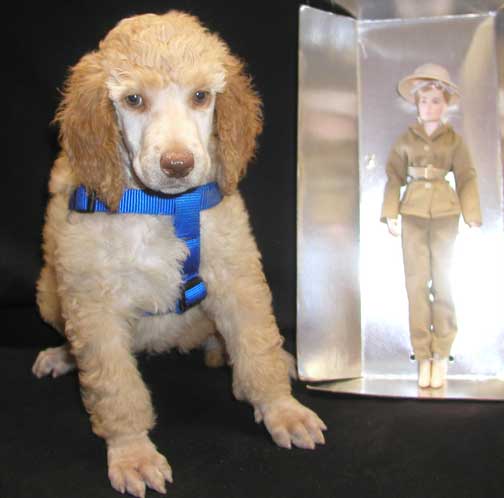 SOLD - "Winnie" (Grace) 7 wks old 10 lbs - I get to go home to LK and family > Houston, TX. Actress and Queen Grace Kelly was a standard poodle lover and enjoyed her standards in life. Who will grace me into their life to love?

*
SOLD - "Beauty" (Barbie) 7 wks old 8 lbs she's a brown phantom - AB > Houston, TX will be taking me home to play and love. Of course the famous Barbie Doll has her standard poodle to play with ;o) Many a child has their poodle toy to keep them company and enjoy (Tes has 3 sitting on her desk).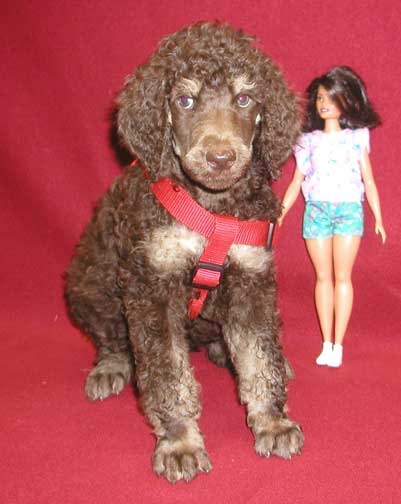 ---
SOLD - "Truffle" (Jackie) 7 wks old 10.8 lbs Jackie Onassis Kennedy had her own phantom standard poodle :o) She is going home to new owners - MS > Liberty Hill, TX and find lots of love there :o))

*
SOLD - "Artemis - call name Arte" (Angel) 7 wks old 9.8 lbs - KL > Richwood, TX will be bringing me home :o) Charlie's Angels Kate Jackson truly was a standard poodle lover having several at the same time (like Tes ;o) Tes writes about Angels in her novel "A Perfect World - Tatriel" creating the acronym A New Generated Energy Level - ANGEL.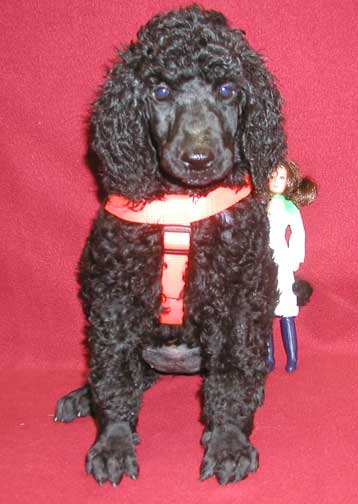 ---
Males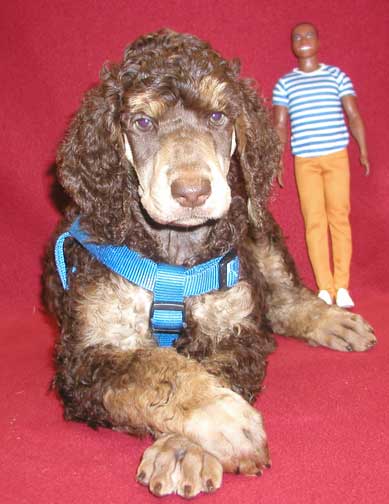 SOLD - "Ducky" (Ken) 7 wks old 12.4 lbs - LG > Lakeland, FL is taking me home to play with giant Hagrid, a spoo pup from Magic's last litter and we're going to be best of friends as he mentors me...we'll see if I get as big as him ;o) 

*
SOLD - "Boon" (Elvis) 7 wks old 10 lbs - KK > Rochester, MN is bringing me home "Sing It Out!" Elvis loved his standard poodle :o)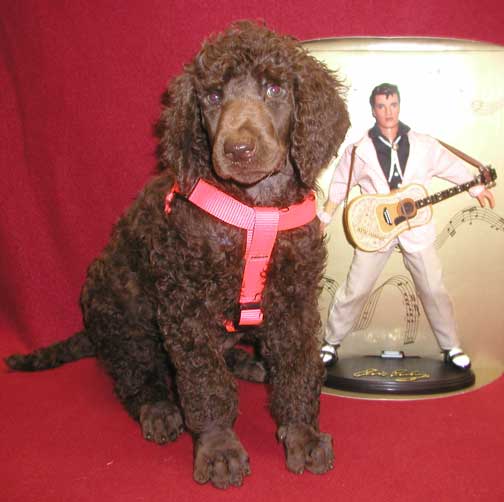 ---
Night life in Texas is good, cooler...we're oh so looking forward to coming home to you :o)))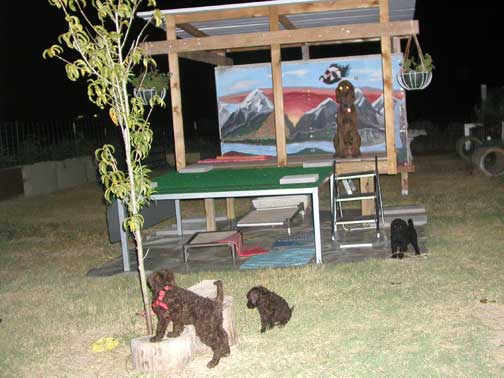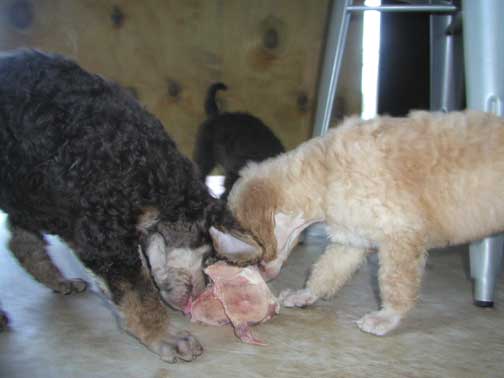 THIS IS AWESOME! Tes brought us fresh bones again!! We learn to share...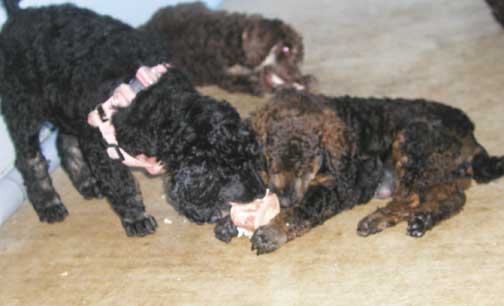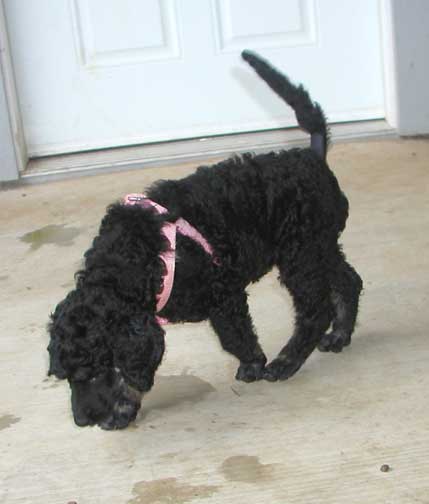 Truffle here, where's that bite of kibble? I saw it roll over here...
*
Tes says WOO - HOO - we didn't poo poo all week of our 6th week of growth in the puppy wing in us definitely figuring out the doggy door :o)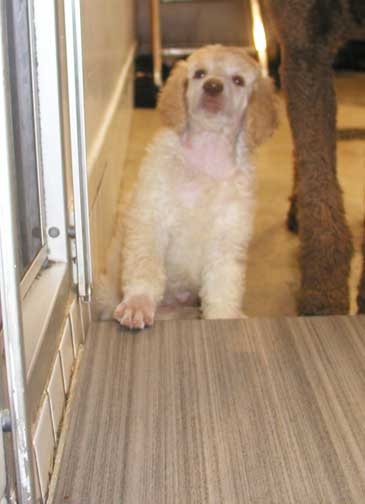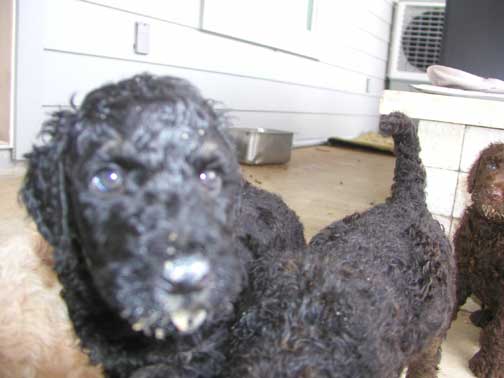 Here's lookin' at you at 6 + weeks old.
*
Hey you guys! Tes is here to snuggle us...BACK OFF, it's my turn!!!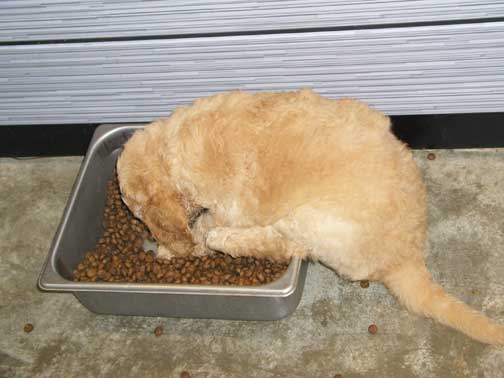 Winnie shares...let's dig into this dish of dog food...hanging in here...
*
Beauty here...here I come :o))))))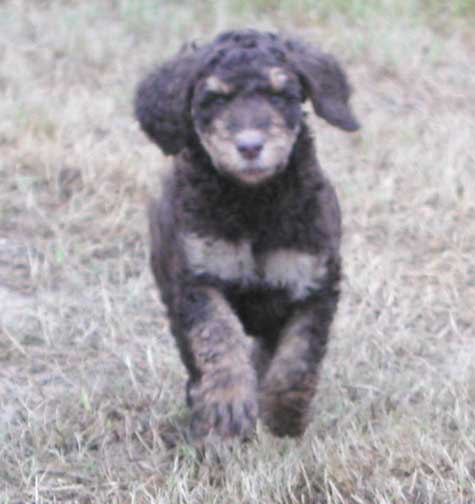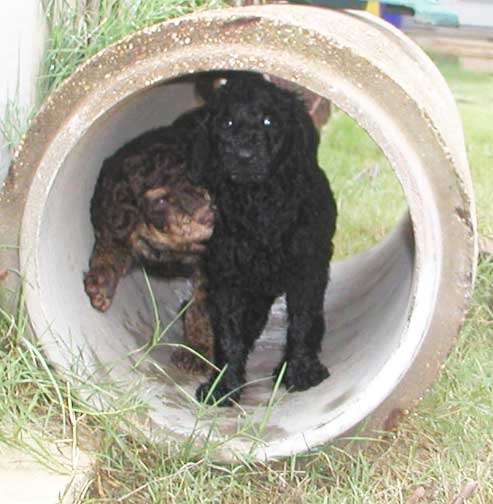 Hey, look what we found! Cement tunnels to play in toward the back of the park. This is so neat!!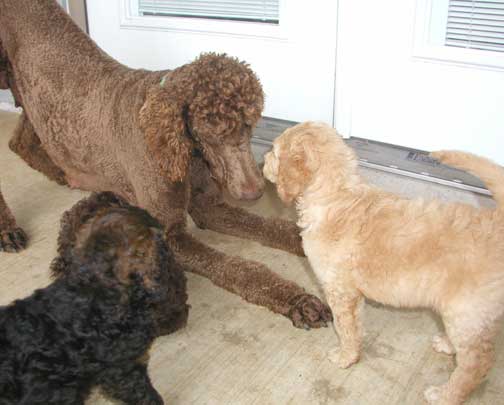 I know your my puppy, there's lots of smells and good food to lick off of you...then it's time for us to play :o)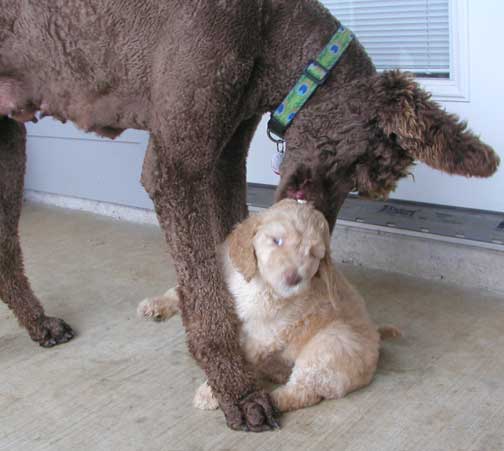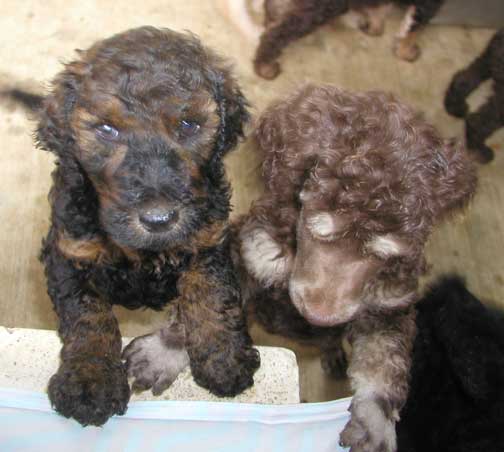 Tiffany on your left and Beauty is on your right...pick us up Tes - Pleeeaaase! She's starting to clip us down for our 7 week picture update.
*
Hey Momma Geo, love ya, kissy kissy :o)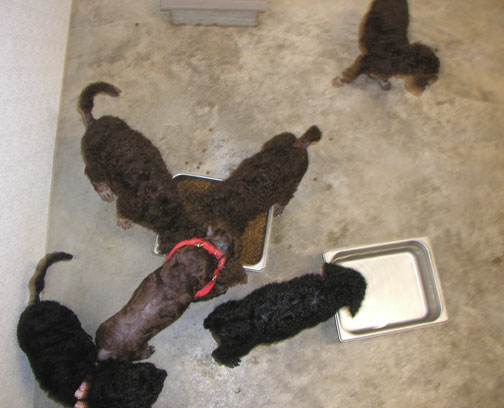 Watching over from above :o) The girl in the red harness is 3 weeks older then us. Her name is Teayah and will be an up and coming girl for Tes.
*
Tes loves looking out and watching us reach...and feels cooled down whenever she sees her mural.
In eating food, we definitely drink water now...and being momma is kicking us off of her, a LOT more water is going down :o)
*
Okay, how do I tackle this stepper? Reeeaacchh, challenge, Tes is always providing us challenges.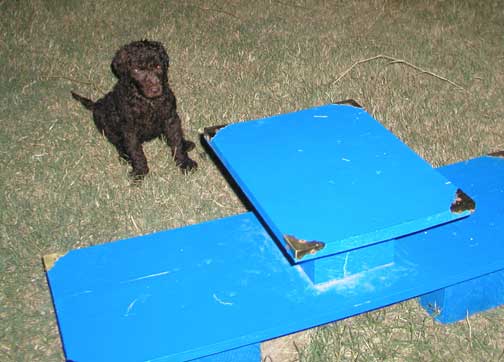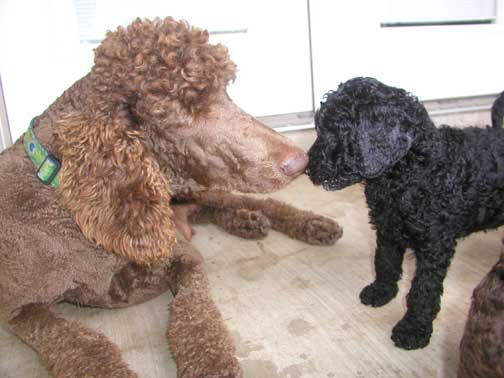 Look momma - I've got food you can lick off :o))
*
Wooow...look at me sit on my but ;o)
Hey, Winnie here...Tes is teaching us to reeeaaaach...we're going to get out into that park more and more as we grow...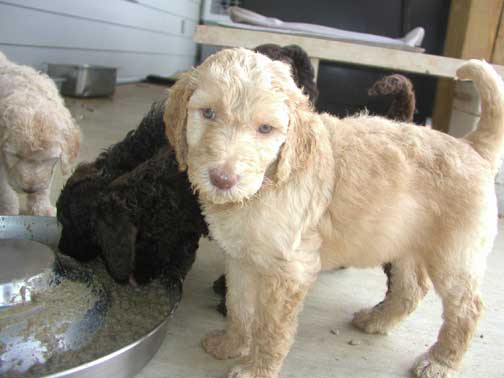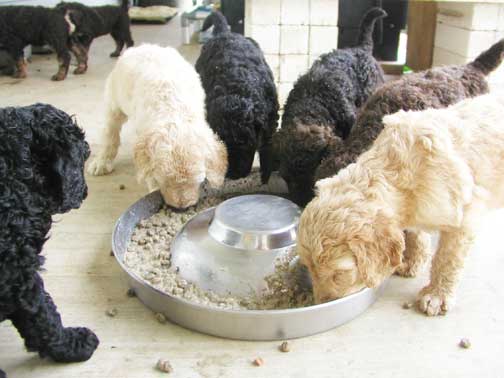 The puppy slurry is disappearing as dry dog food is wetted, teaching us to eat regular food. Tes adds powdered Nuvet vitamins and probiotics...as momma weans us, bone supplement is added all to blend to be Nummy!
Black and Cream Phantom Truffle is ready to play, reaching out into the park more and more.
*
Woo Hoo - FRESH BEEF BONES to help us with our teeth growing in...and that's why momma wants to wean us - Oweee she cries :o(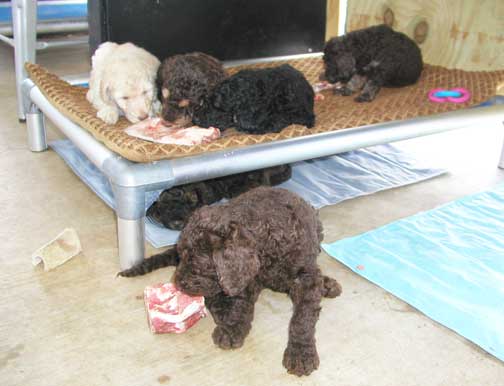 It's a puppy pile! Pet bed, Kuranda beds...Ducky - they all make a good zzzzzz....
Above we're going on 6 to 7 weeks old...watch us grow!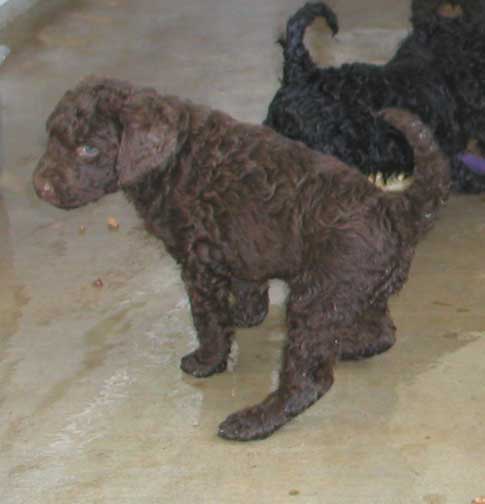 Hey, THANK YOU for our FULL Tails and due claws!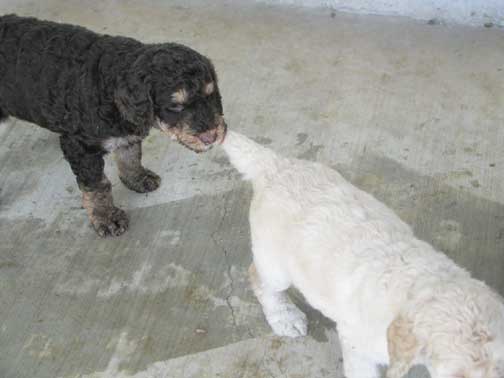 Lucky us, momma keeps smiling, smiling as she slowly weans us :o))))
*
Okay...now Tes washes down the patio and we like to be sprinkled underneath the warmth of the hose water...Woo Wee ;o)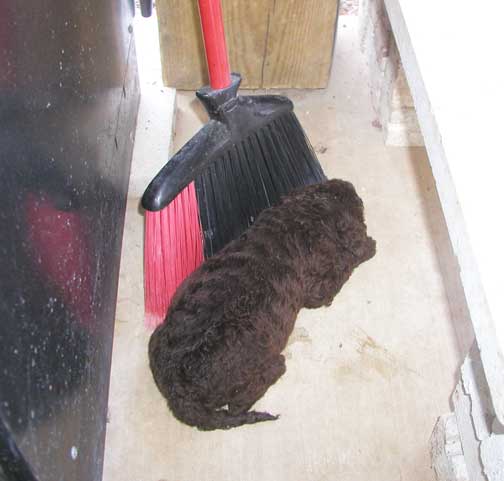 We're puppy piling onto momma now...then zzzzing out on the patio...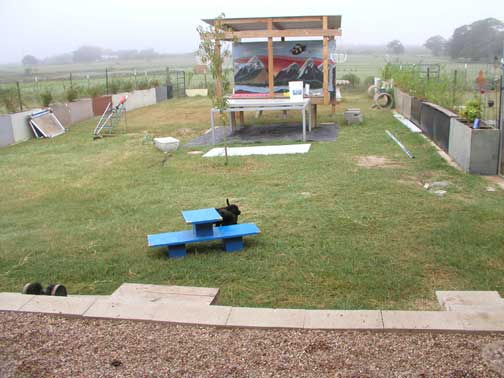 Tes is working on the flooring for under the awning, Angel wants to help out...she brought her mural of a scene from her fantasy Novel "A Perfect World - Tatriel" on the garage door from MN and building the awning with it for shade...every time she looks out now she feels cooled down from the TX heat. The pups will be reaching out into the park more and more and will have shade to rest and cool down under.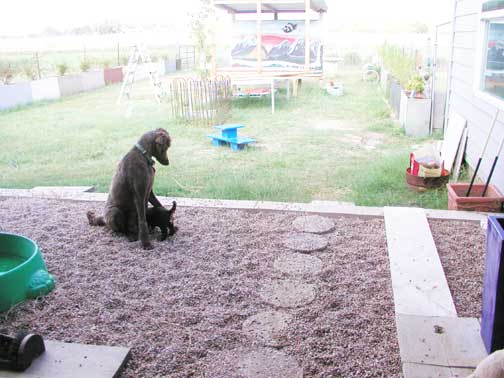 The wool is down and now we've been pushing through the doors on our own. OF course Ducky's so big that he can push through easier then the others...where we pile onto each other to push through, team work :o)
*
Tes purchased the swamp cooler at the Houston dog show this year and it's working to keep us cooled down with the West sun here in TX...what she invests in is always thinking and working for our comfort :o)
Now we've learned to reach to the park outside! and soooo much more space to reach into in the coming weeks. The night is so much cooler and we're becoming more reaching with the sun set :o)
*
Ducky (Ken) is the first to reach beyond the patio onto the gravel where they now are pottying so much more. Momma Geo is encouraging me...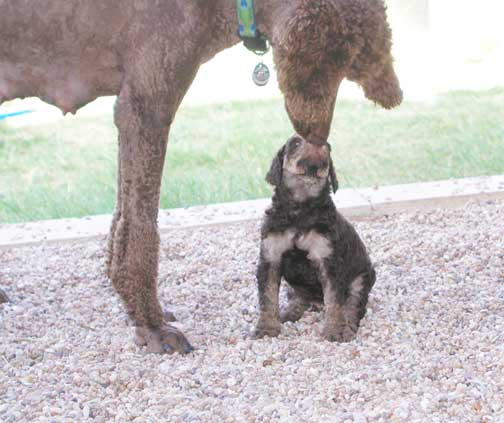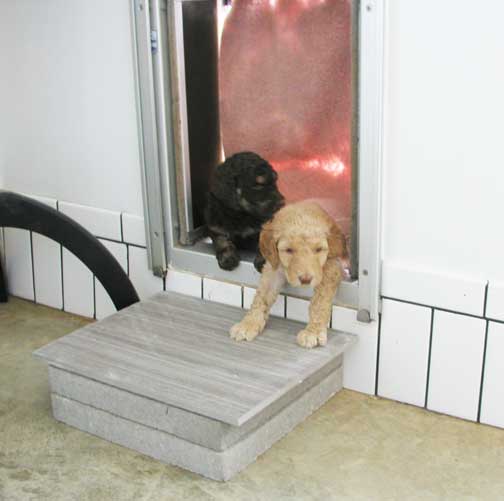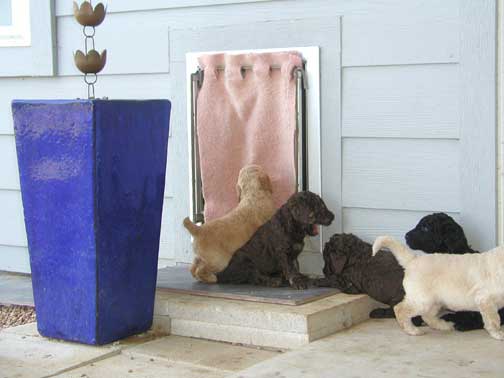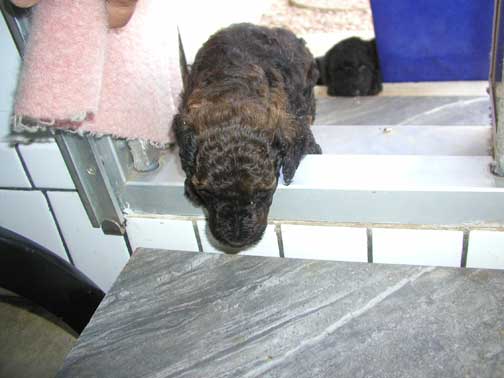 It's all a gradient...Tes devised a wool cover for us to go through the door easier until we're stronger to push open the hinged doors ourselves. This is where the step learning came in handy.
*
We're definitely reaching the fullness of the wing, and ready to check out the doggy door to learn to do that "Potty Outside" Tes keeps dinging about on the food pan...
Tes has given us a LOT of toys now to play with, chew on...instead of each other :o)
*
Momma likes to get away from us too...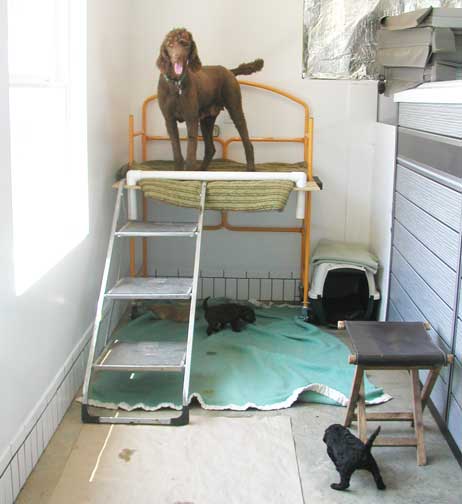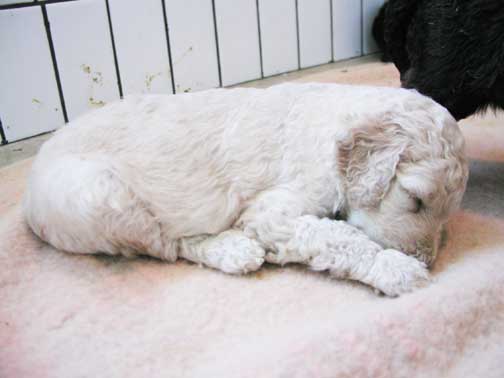 The many ways we can zzzzz....
*
Then...yawwwnnn, it's getting time for some zzzz's...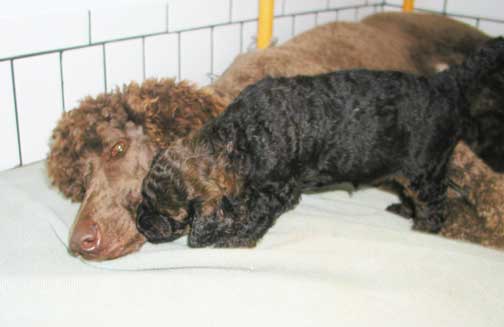 Ahhh momma, you're so good to us ;o)
*
Yeah, and here's how we nurse as we get bigger...nummy, nummy....
With starting to eat, we now start to drink water. Dry dog food is for Momma Geo, and we are trying it out when we get hungry beyond her nursing us :o)
*
Tes built several steppers for us to learn to climb on, one for inside, the other is outside. This way we start to learn steps for when we get outside and to new homes we'll have a little experience :o)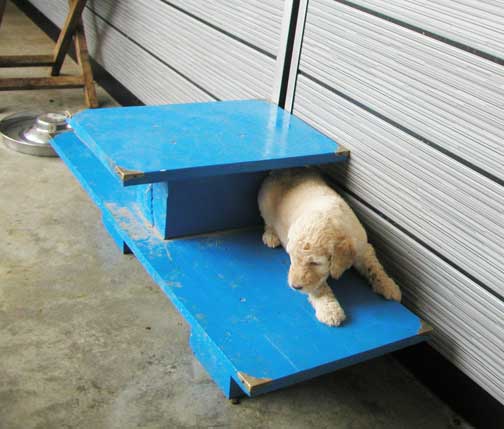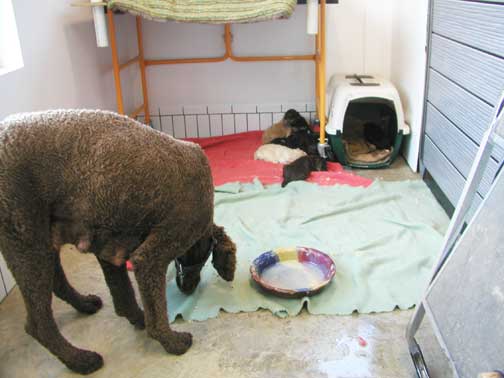 Mom always cleans up after us ;o)

*
Tes calls this our circle of life :o)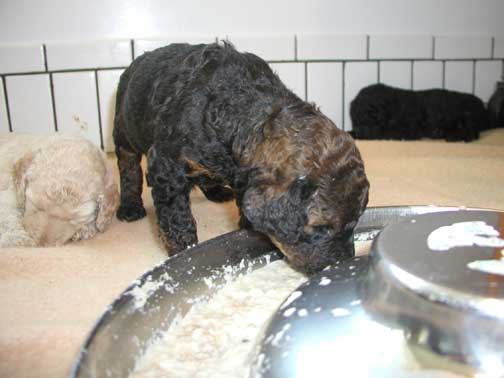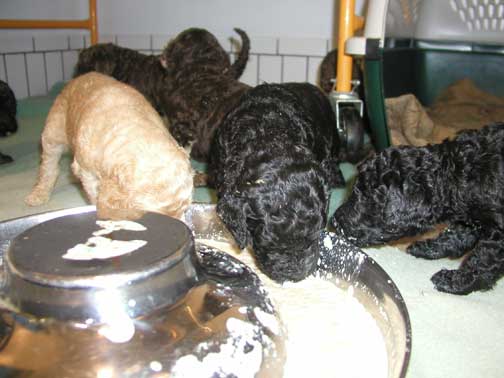 Now that we have our legs beneath us, our voices to say "I'm HUNGRY", and our ears to hear Tes ting the bowl to start learning "Potty Outside" she begins to feed us slurry which is a blend of baby rice cereal, buttermilk, and in the coming week she'll add wet canned dog food to it, then wetted dry dog food are introduced gradiently to our diet.
---
The 5 week picture update on September 1st will show us learning to eat slurry, figuring out the doggy door, and venturing into Royal Introduction Park. There we'll learn to reach more and more into the park as we become curiouser and curiouser...stay tuned...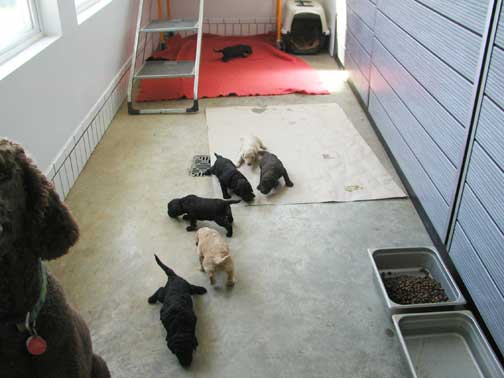 Soooo, with eyes open, legs beneath us, and ears hearing, it's time to move us to the puppy wing of the house where we now have room to reach with our legs...to learn to potty on paper and soon to learn the doggy door to go potty outside :o) Tes will start feeding us slurry on Saturday afternoon for the first time. Slurry is a blend Tes has found works best for us of baby rice cereal, buttermilk that keeps us from getting diarrhea, and Royal Canin's puppy mousse all mixed together in a semi thick soup, and that's slurry...gentle on the tummies to help us develop as momma slowly feeds us less and less as her milk becomes more watery ;o) We'll drink over a gallon of milk in a day, so Tes tries to pump Geo up with lots of goodies and fresh water ;o) Dry dog food and water are in the room for momma Geo and we can learn to smell and go to it in time.
*
With our paws beneath us, our eyes open, our ears are also opening up now into the 3rd week. With that, we're starting to make music ;o)
y...yep, yep, bek, bek, yip, yip...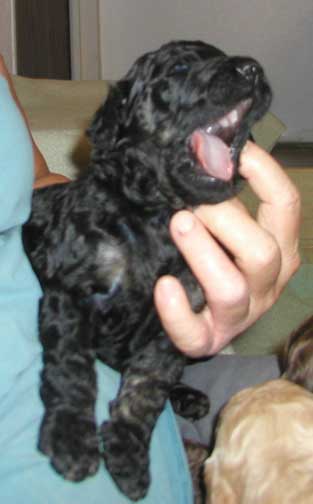 Here's a trick we've learned to get them to yawn, rub their chin, or behind/near their ear...yawwwnnnnnn...
*
I see you ;o) Our eyes are opening more and more...
Thanks for the kiss :o)))
*
Hey Momma, we're coming to get you, we're learning to play with each other, at least by trying to maul each other with no teeth yet...but they're squeaking through now too, Tes feels them.
Hey! Look at me, Grace!! All four legs under me now - Woo Hoo!
a...and get pee'd on...I see you...some of their eyes are open, some part way...it's into week 3 now...it all takes time...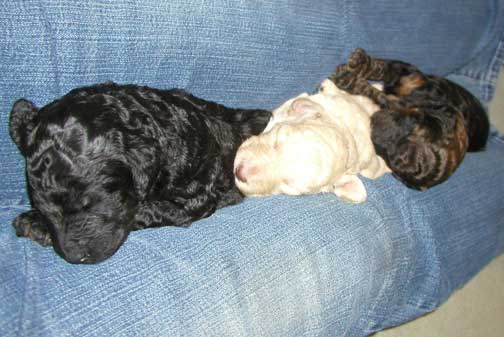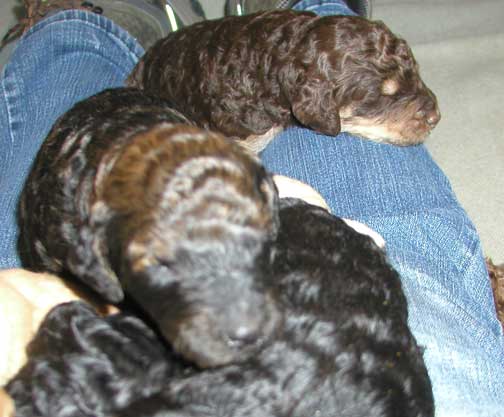 Their eyes are squeaking open, thus I start climbing in allowing them to crawl on me, smell me, see me the best they can. I provide a calm vibration for them to sense and fall asleep on.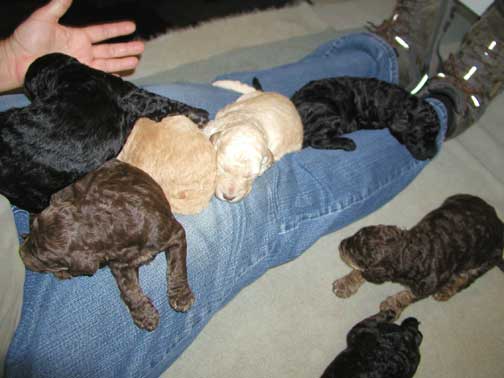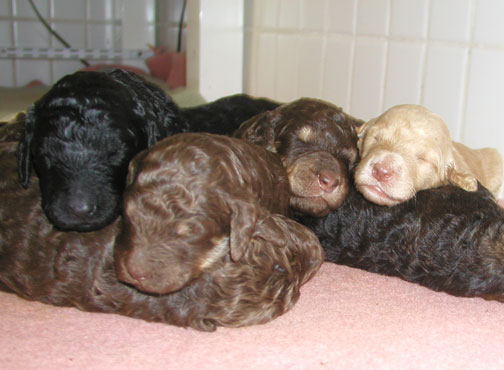 We use each other to get a heads up - SMILE :o)
*
Grace and Genie, we like to stay on top of things!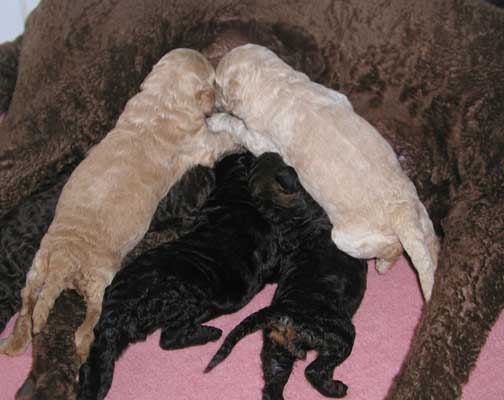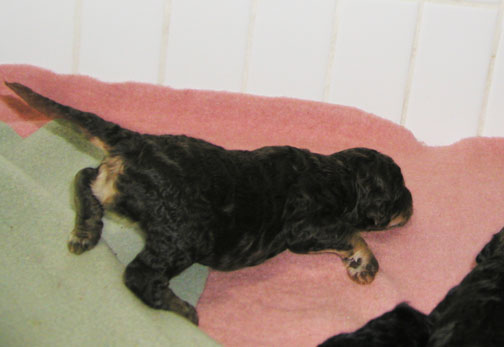 Our legs are getting under us...oops, at least the back ones are right now. They're under us, we're wobbly, eyes on some of us squeaking open...hard to get around when you can't see yet ;o)
*
The temps are coming down in the bedroom as they develop their body regulators.
Ken's a little chunker!
Genie is sleeping in her bottle ;o)
*
Our eyes still aren't open, we're zzzzing a lot...
Elvis is singing "Hey Mom! Let me up!!!"
*
Grace is getting to be a little tubby as are all of them :o) Here are some 4 legs up!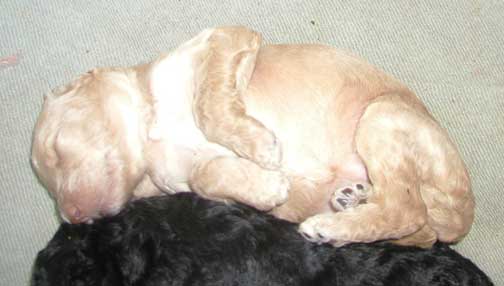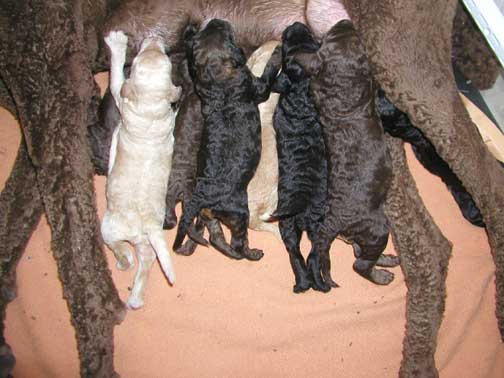 ---
Next is the 3 wk update Saturday 8/18/18 where eyes will be opened, and ears opening up more...stay tuned...
*
The temp is dropped to 78 degrees and the heating pad now removed to keep them in their puppy pile so momma can curl around them ;o) Getting to be little tubbies as you can see :o))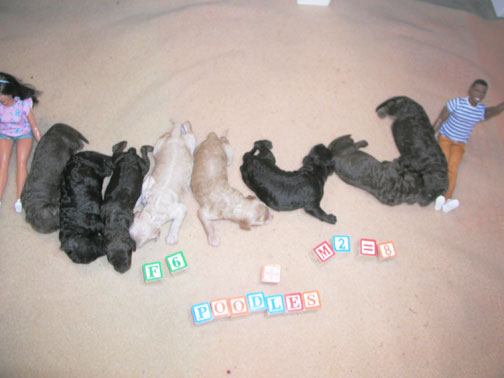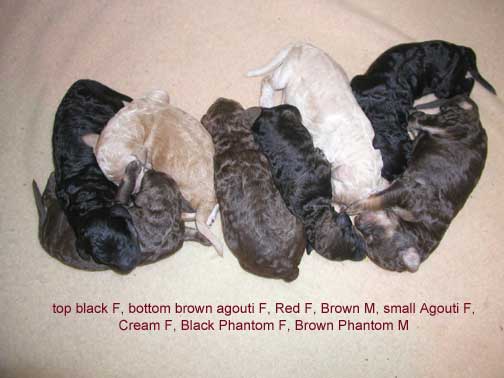 Agouti very black with brown under color and red markings Phantom Female "Tiffany."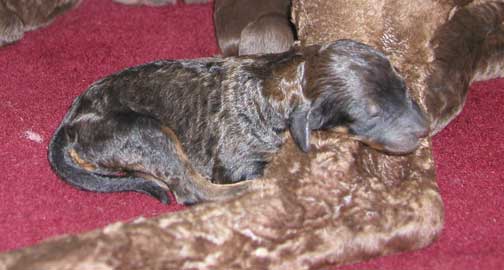 Mostly Black Female pups: Bottom Phantom with little markings is "Jackie", top left all Black Female is "Angel", right "Tiffany"
*
Agouti brown Male "Ken"
So, among the browns we have from Left to right: Female Brown Phantom "Barbie", Male Brown Phantom "Ken", and Solid Brown Male "Elvis" who loved his poodles :o)
*
Left is "Genie", right is "Grace"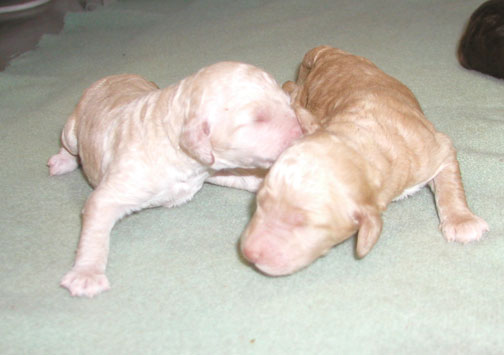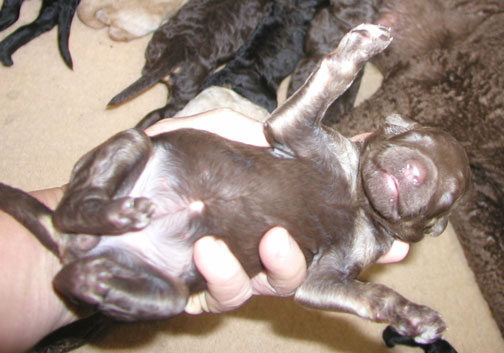 The Brown Phantom Female below could turn out Agouti as well. Her name for now is "Barbie" ;o) Nice markings for those looking for color variation.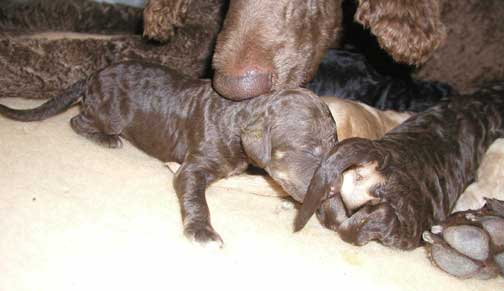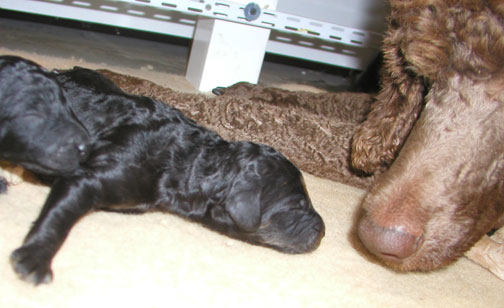 There's always time to nurse nummy nummy and time to zzzz....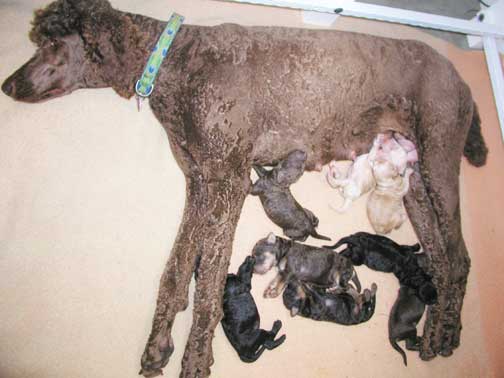 Size comparison: Top pup is the Agouti brown Phantom Male, largest right now of all the pups. His name for now is "Ken" as I'm using dolls for their props, the famous Barbie and Ken dolls have their standard poodles ;o) Bottom small Agouti black/brown Phantom Female will be named "Tiffany" after Audrey Hepburn's famous movie Breakfast at Tiffany's. I estimate the female to become 55 lbs as an adult? Smallest of all the pups.

*
2 females, cream/apricot I'll be calling "Genie" for Barbara Eden who owned a poodle and red/apricot "Grace" for Grace Kelly ... ....zzzzzzz.....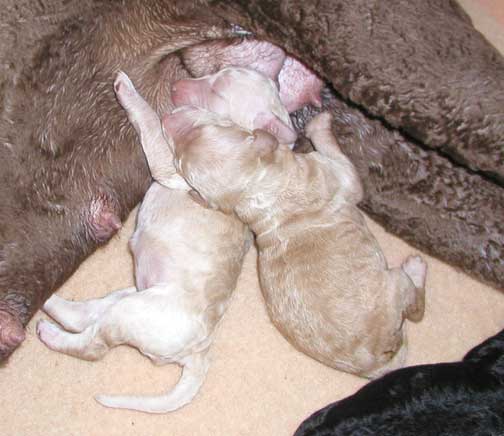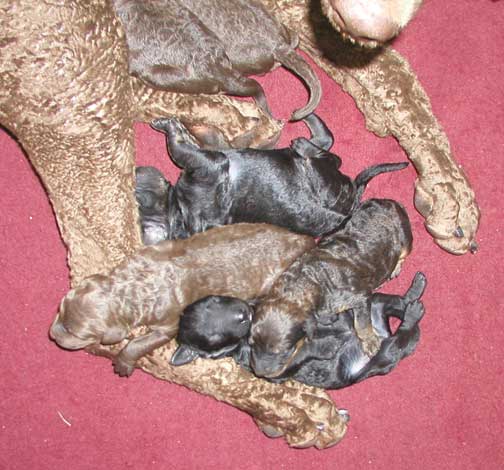 It's a puppy pile! One wants to keep the temps just right that they aren't too hot spreading all over that momma Geo can circle around them to lay down and let them nurse :o) With the warmth here in TX, it's nothing like my concern in MN where I thought 80 degrees was hot....I've become use to it now and think by looking at the pups below, it's a bit cool for them...LOL, how my life has changed ;o)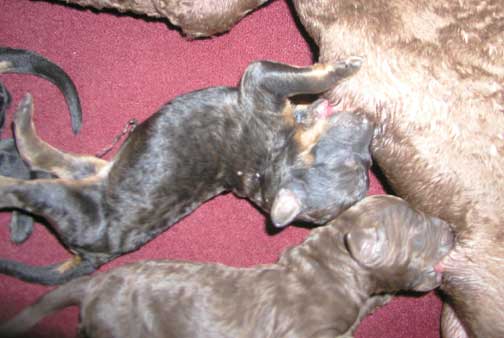 ALWAYS time to snuggle in and zzzzz....what puppies do best...zzzzz...and nummy nummy nurse ;o) Their first sense is smell. They come out ready to smell for the nipple and start nursing. In 11-14 days the next sense is the opening of their eyes, then around 3 wks old their ears open up to start hearing sounds...at which THEY start VOICING sounds to let me know things aren't as they use to be...Quiet...
Take a look at some of the pictures with their ear leathers back, one can see they're closed down tight.
What they do sense, are vibrations, thus I do everything I can to keep life relaxed and calm for them :o))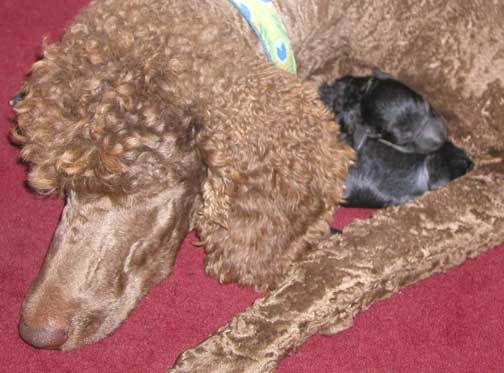 Solid Black female born will get the name "Angel" from Charlie's Angel actress Jaclyn Smith who owned standards.
*
Black Female born with barely red Phantom markings, mostly black. Her name will take on the name "Jackie" as Jackie Kennedy Onassis had a phantom standard poodle :o)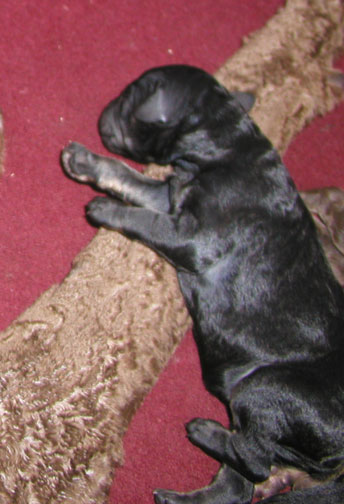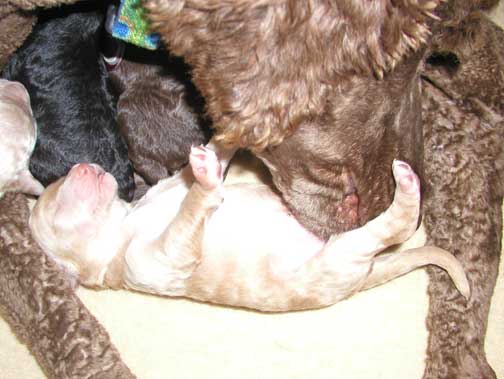 As pups cannot pass their bodily fluids yet, it's momma Geo's responsibility to lick them, warming them, creating their passing of fluids until it becomes a pup's natural excretion.
*
I'm soooo happy I did not dock tails or remove dew claws, usually done at 2-3 days old. Why? The past 14 years, it was not uncommon that I would lose a pup from the stress on having it done (and other variables)...that's why I always wait one Week Through The woods of Mother Nature to let people know numbers. And especially being born early due to 90-100 degree temps this July in TX, it causes animals to go into labor early as humans do too. That would be like being born 1 month early to a human in comparison. This gave pups the opportunity to not have stress and keep focused on their nourishing milk to help them recoup - and they're ALL doing GREAT:o)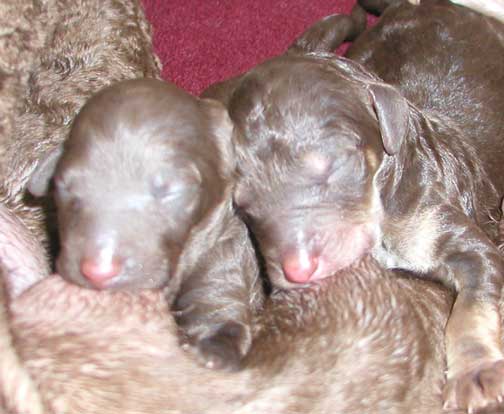 Momma Geo is doing great and has good milk for them. When I occasionally need to pull a pup off from nursing, the milk pours out of their mouth, thus I see she's doing great as are they...and I am always checking teets to assure they're all being taken down so mastitis doesn't occur. This is the brown male and possible agouti brown male...why possible...as I won't know for sure until his hair grows out more to see black tips, yet am believing this is the case, an agouti brown male :o)
*
It's vital that pups begin nursing within the first hour to get their colostrum to help their immune system. The picture below, the motion and nuzzling of the pups starting to nurse help bring the other pups forward to be born...and, I of course, can see their doing well in just having been born :o)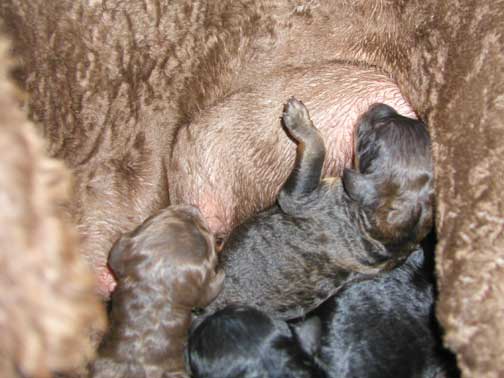 In raising Royal Standard Poodles, I hope to share a bit of what I do to bring you your next pet :o) The room must be heated to 80 degrees as pups just come from the womb and they have no way to monitor their bodies being just born, especially the first week Through the Woods of Mother Nature. Wool blankets are used to wick away moisture and keep them dry and warm. I have a variety of colors, to make this a colorful page for you ;o)

*
If you're interested in one of my pups, please fill in the form below. I would look forward to hearing from you :o) See my Customer page to observe how many have grown with their loving families.
Your first paragraph ...