JxB Royal Standard Poodles Fall litter 2016
SOLD - "Gemma" Brown Female, with white on toes and abstract on chest - 7 wks old 10# mc 8955 Come on a sleigh ride with me!  BW > Lake Crystal, MN will be loving me :o)))
*
2 Females + 2 Males = 4 Brown Jewels x Bruno!
Born 11/14/16 - these will be some beautiful Royals with nice structure and size!
That allows puppies to fly out on Monday January 9th - please mark your calendars and plan accordingly > Traveling Notes 
Please scroll down to the bottom to watch puppies grow up onto the page as they are added for your enjoyment. Next picture web pg update 7 wks 1/2/17 - please read your checklist :o)
Brown Jewels x Brown Bruno
1.  9/19/16 PAID M - Royal "Sequoia" - DR > Ames, IA
2. 12/4/16 PAID M - Royal "Jonah" - GP > Regina, Saskatchewan Canada 
3. 12/9/16 PAID F - Royal "Star" - AW > Rochester, MN
4. 12/21/16 down payment F - Royal "Gemma" - BW > Lake Crystal, MN 
*
Tracking J x B puppies:
7 wks old second bath, first hair cut, nails clipped, anal glands expressed
6 wks old pyrantel deworming
5 wks old first bath, nails clipped, anal glands expressed
4 wks old pyrantel deworming
2 wks old Pyrantel deworming (every 2 wks now with Momma)
1 wk old nails clipped
2 days old tails and due claws done. We have our due claws done and tails 1/3 from the tip per AKC standards.
born 11/14/16
Click here to Bruno stats & pictures
Click here to Jewels stats & pictures
2 Females
SOLD - "Dinah" Brown Female with very small white on the chin and chest - 7 wks old 8.8# mc 2816 Let me light up your life! AW > Rochester, MN
2 Males
SOLD - "Sequoia" Brown Male - 7 wks old 11.4# mc 2837 I will make your heart grow with love! DR > Ames, IA
*
SOLD - "Jonah" Brown Male - 7 wks old 10.6# mc 9923 I will warm you up with love! GP > Regina, Saskatchewan Canada
---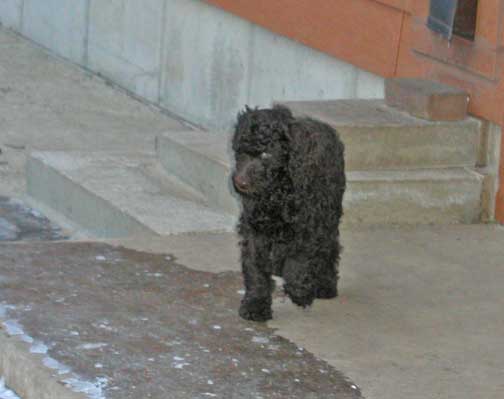 Off to play! :0)
We really are reaching, we now explore our entire park...Woo Hoo!!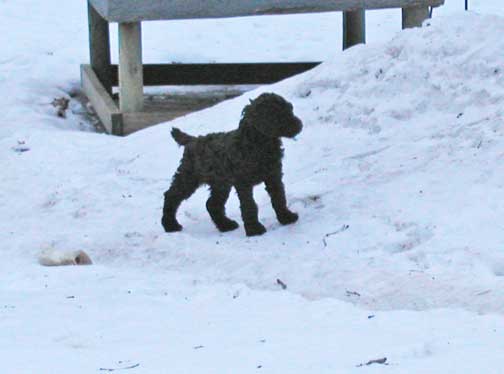 We are coming over to the fence now to check out the big dogs, but Momma Jewels and Dani are always watching to be sure we are safe!
*
What is this pokey thing....should we bite it??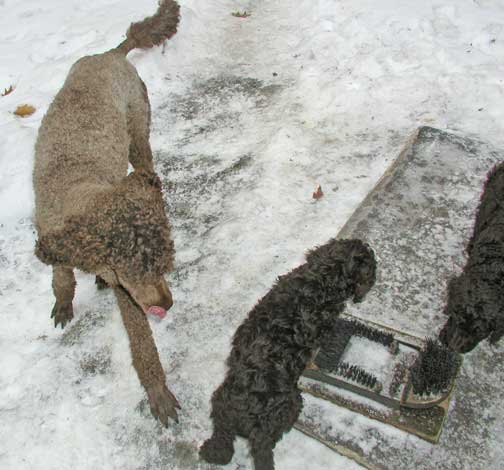 Come on Dani, let's play in the snow!
*
Sooooo Sleepy....zzzz....ZZZZ....zzzz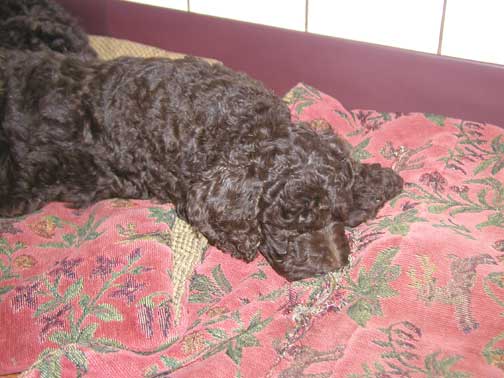 Customers came today and boy are we tired, but we all have names and owners now...Woo Hoo!
*
Dani Still feeds us outside as long as the temperatures stay decent.  We no longer eat slurry now it is Life's Abundance Grain Free dog food! YUM!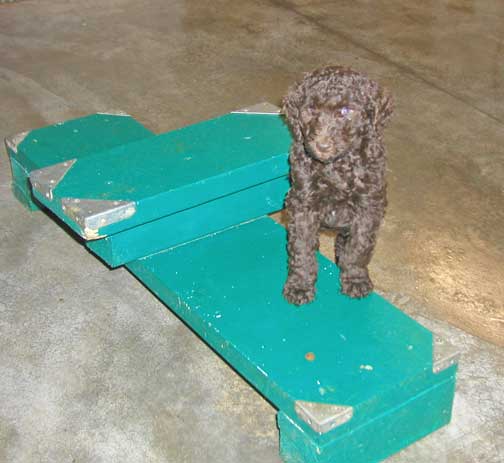 We love the stepper to play on....Hey who is going to play with me....:0)
*
Momma Jewels sleeps up top always watching us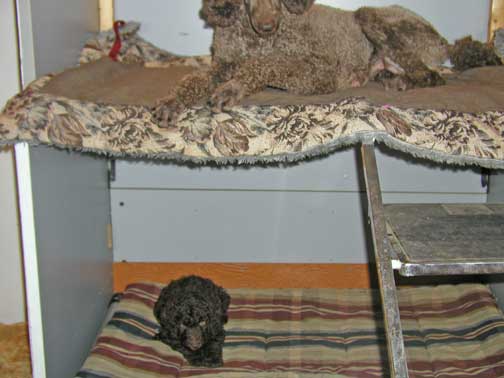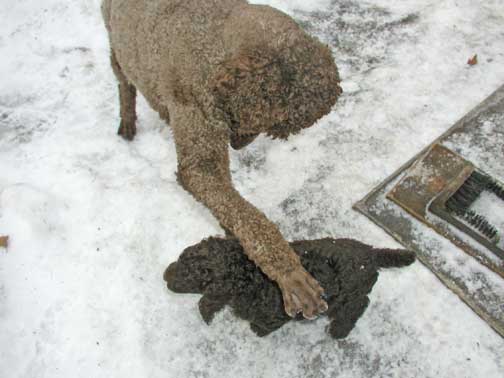 Momma Jewels comes out in the snow to play with us too!
*
We really like this white stuff....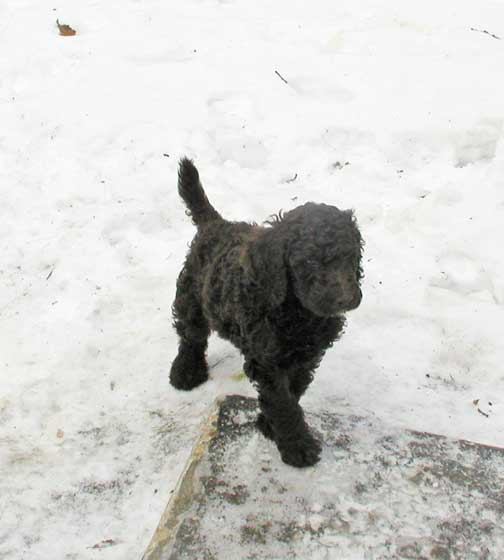 We have mastered the doggy door and now go out all by ourselves!!  Dani says Woo Hoo!! :0)
The above pictures are us at 5 & 6 weeks of age, we are learning so much in this time frame!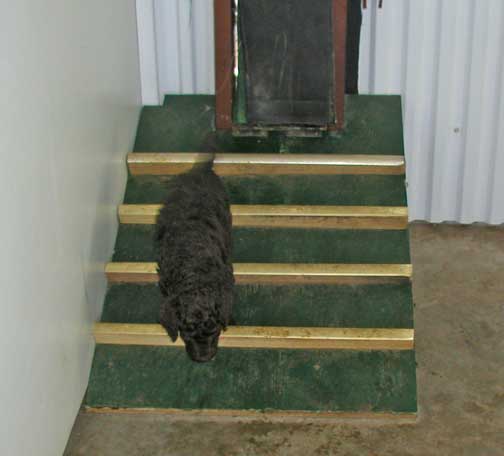 Dani doesn't want us out too long so it is time to come in....we can't wait to go out again! :0)
Sun and snow...Woo Hoo!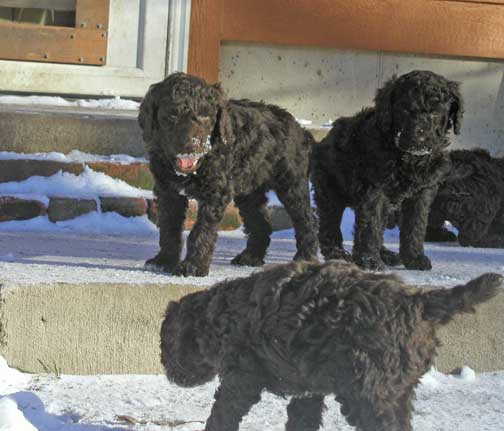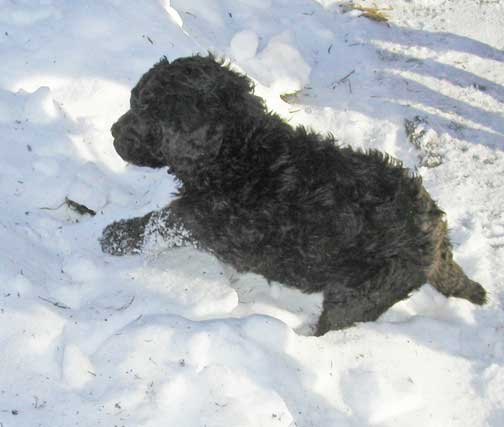 Star is going off the path....what a curious little girl!
*
Wow there are so many smells out here!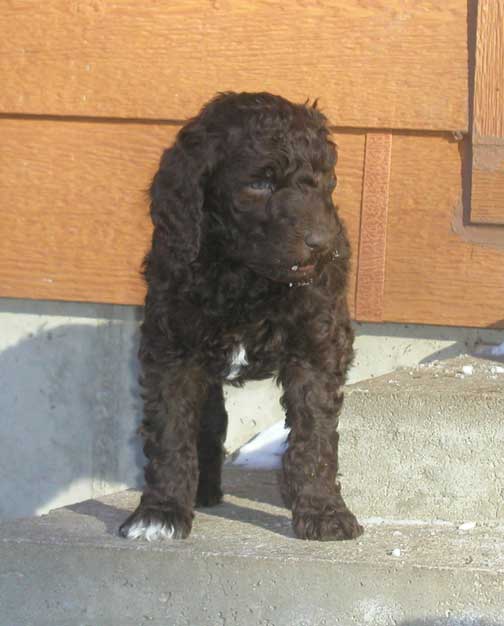 What is all of this white stuff??
*
It's our first time outside, it is a little cold but we are curious about this white stuff, should we eat it or play in it....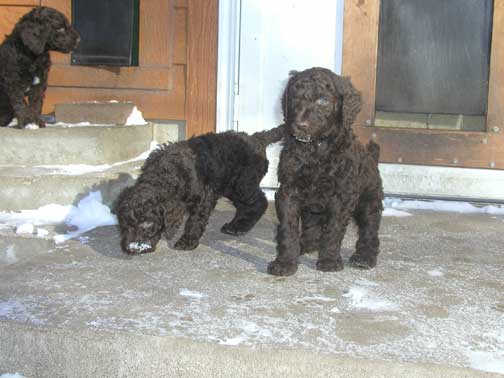 Because of the cold Minnesota weather we have not been able to go outside.  Dani has been watching the weather and looks like today it will finally be above 10 degrees!  Woo Hoo!  As long as it stays above 10 she will take us out this afternoon and add snow pictures for you all to view!  We are ready, she has been practicing with us to get us ready to use the doggy door....
I think you have something on your face....let me help you...:0)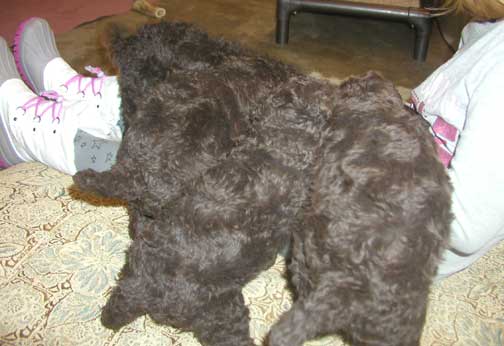 Who will get on her lap first!
*
Puppy love!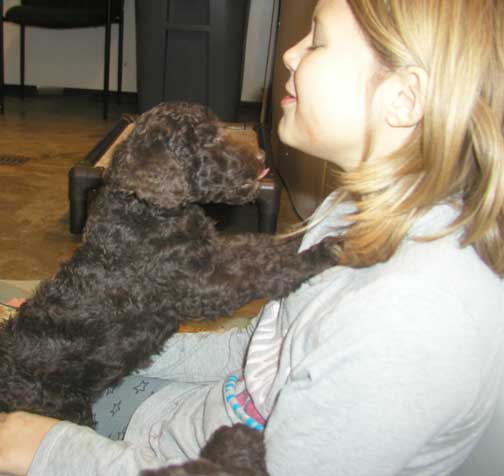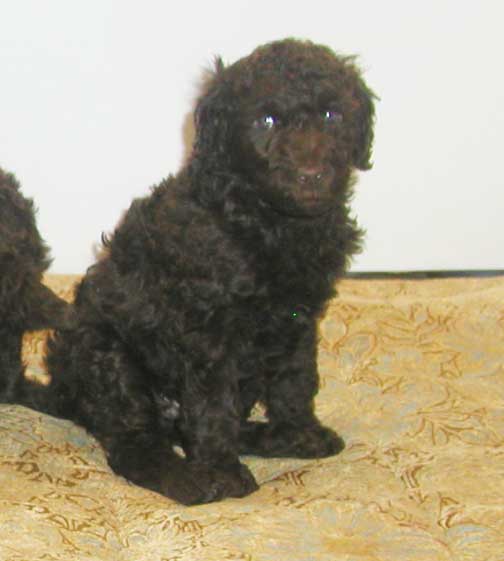 We love the pet beds, they are so comfy and make us feel safe when we go to our new homes....have you ordered yours yet? 
*
Dani's kids come in and socialize and play with us....what is she doing? :0)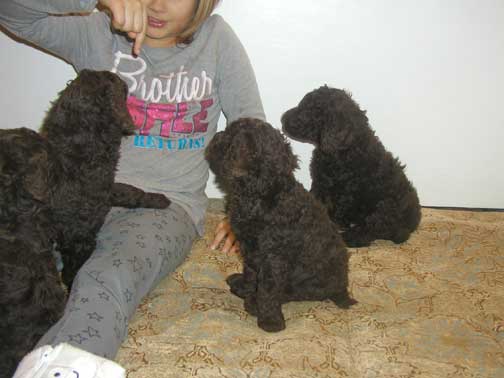 Momma Jewels shows us how to get up and down on the Kuranda beds....with a pet bed on top we are so comfortable!
HI ;o) We're growing oh so fast just for you!!! And Thank You for buying the washable pet bed for me to bring home smells to help me transition into my new home :o)))
*
Why did she take the slurry away....I wasn't done.... :0)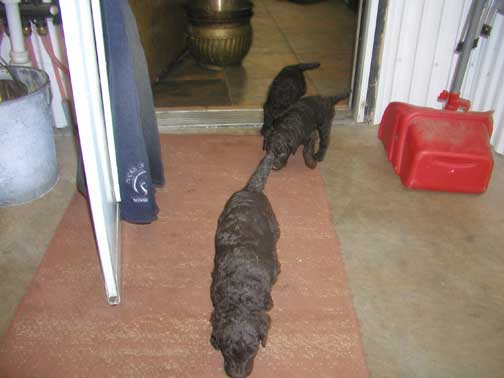 We are moving to the heated garage now, Dani is leading us with slurry saying "potty outside",  Momma Jewels is helping too
*
What is on your toe?? :0)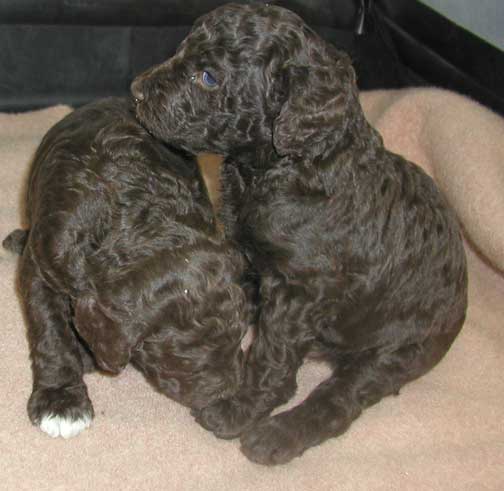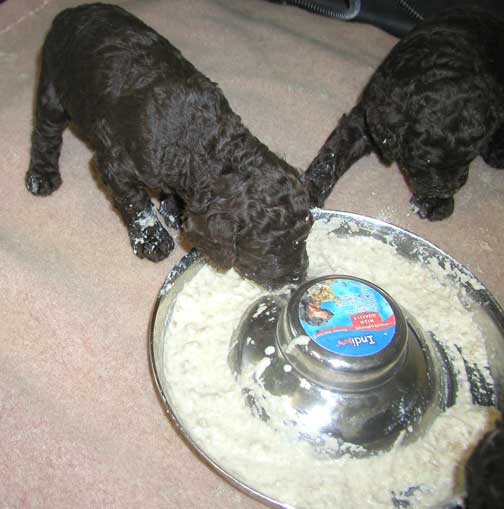 We are getting messy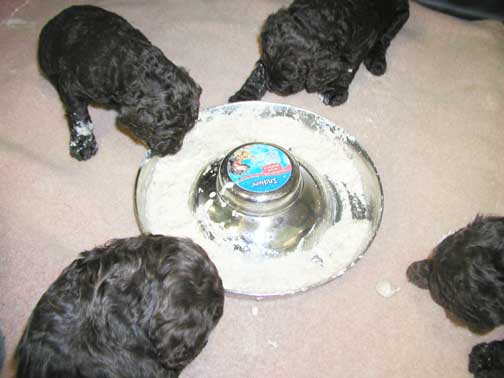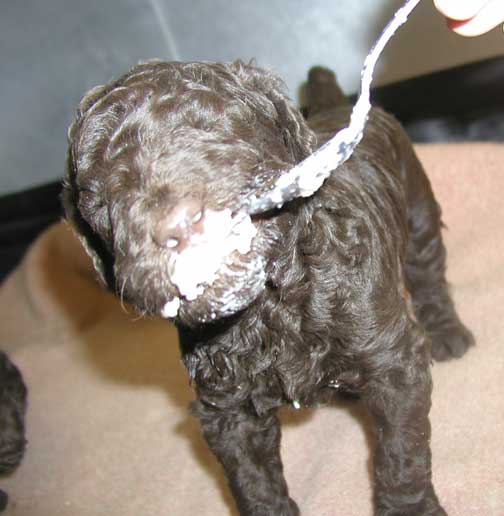 Dani only had to spoon feed us each one time, after that we found the bowl and eat on our own, YUM we can't get enough of this nummy stuff!
*
..starting to eat slurry...our circle of life as we grow to be a big loving spoo for you :o) Mmmm, that's not bad stuff on you ;o)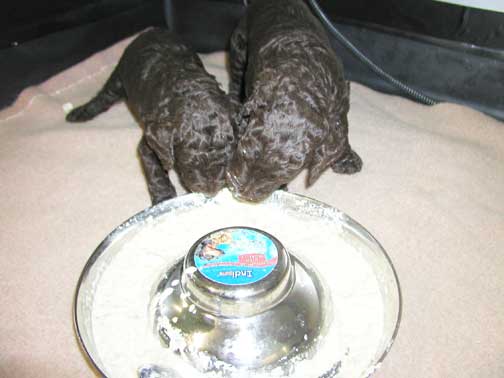 What is this thing, she says a toe, let me bite it to see if it wiggles!
*
Dani comes in and sits with us, we love to smell her....hmm....what is that I smell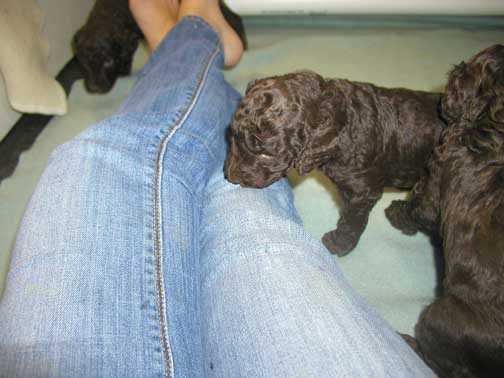 The above pictures we are 4 weeks going on 5.  
*
zzzz...zzzz....zzzz...
*
What do I smell, is that Dani.... :0)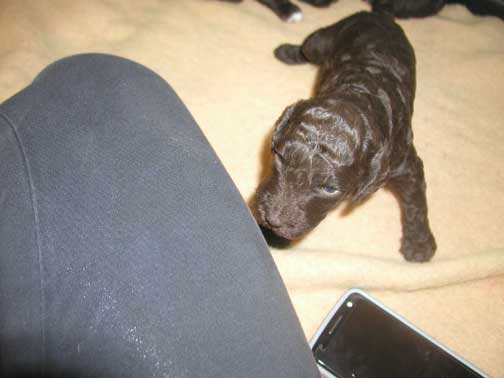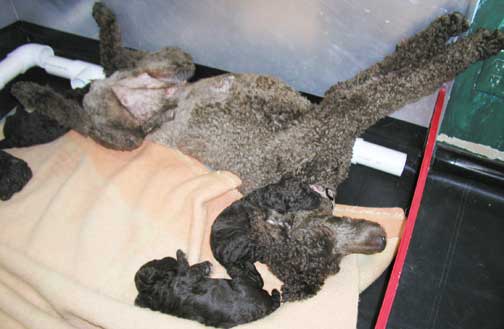 Momma Jewels is teaching us how to sleep when we are hot....:0)
*
Nummy Nummy milk....look at us grow! Aaaah, LOTS of LOVE ;o)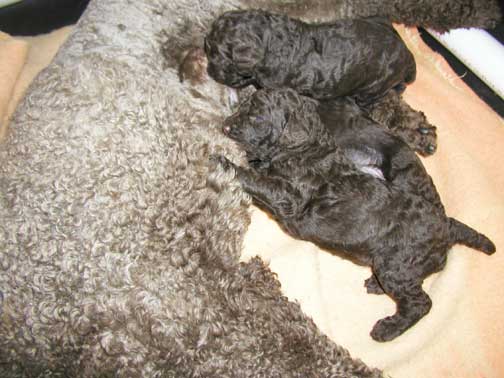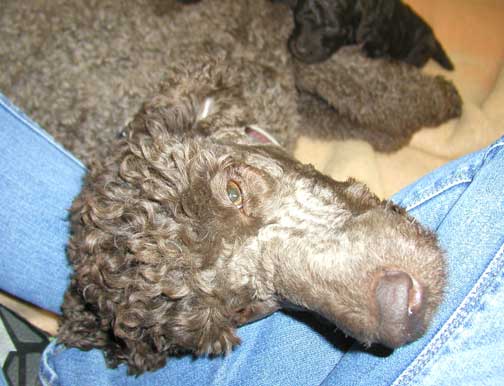 We are just a cute bunch don't you think? :0)
*
I see you......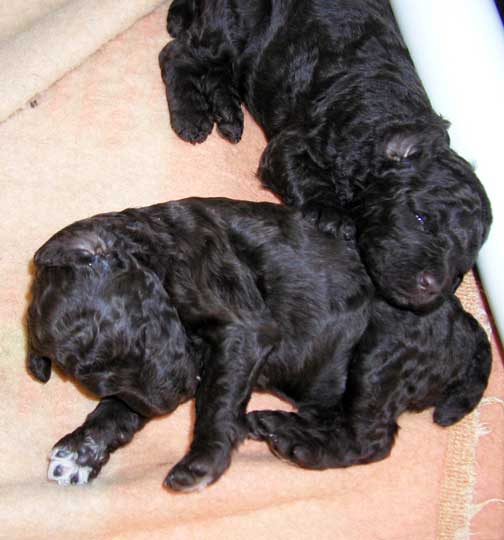 For some reason we look black in this picture but we are brown, I am the little girl with white toes and a white abstract on my chest!
*
And....there is the yawn that makes Dani laugh!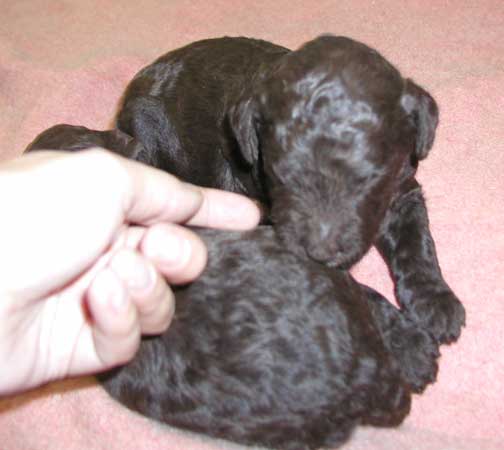 Get ready.......
*
Our eyes are squeaking open, pretty soon we will be able to see what is going on around us! :0)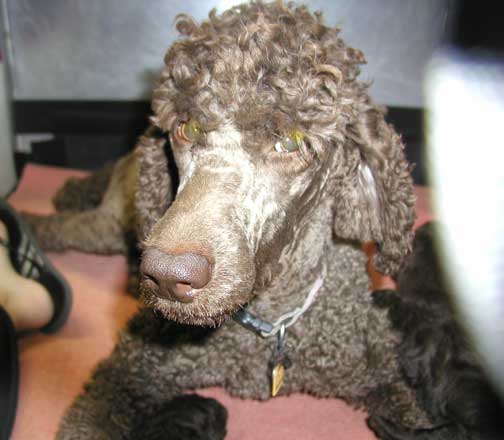 Dani sits with us, getting us used to her smells and touch, but of course Momma Jewels needs some attention too!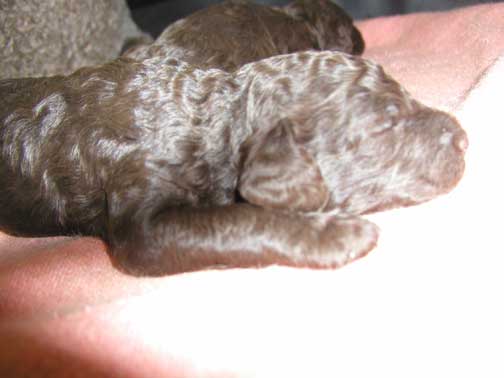 Dani has moved us to the nursery for more space...and since we are little scooters we will enjoy it! :0) Temps in the room are slowly lowered as we develop our own body temperature gauge.
*
AND - we're starting to get our legs under our bodies :o))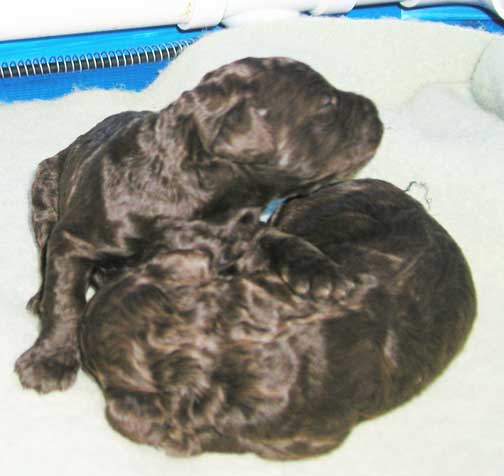 OKAY! Our eyes are squeaking open...
*
Such a good Mamma Jewels is!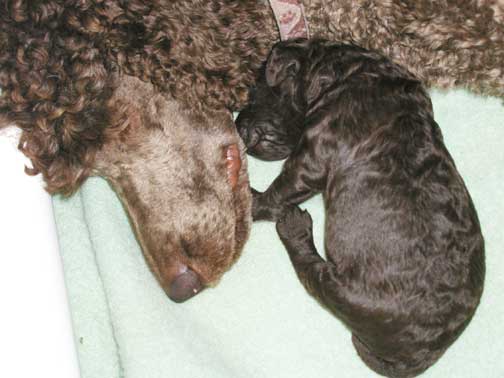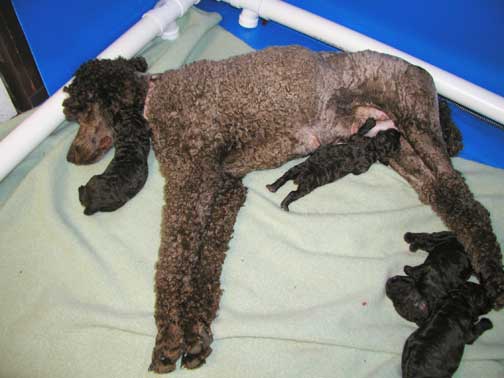 Above pictures we're going on 2 wks then 3 wks as our eyes open and we start to get our legs underneath us. Some of us sleep while others eat :0)
*
I am one of the brown girls, I have white on the tip of my right foot and a white abstract on my chest.  That is a trait that my daddy Bruno passes on!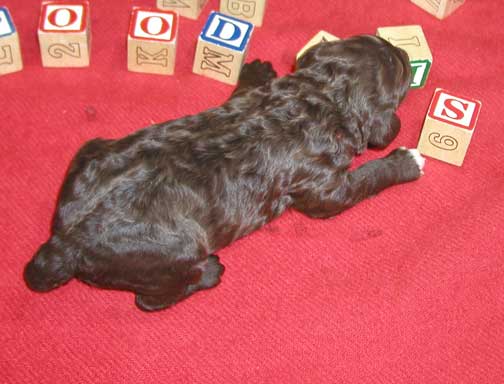 where we fall, we zzz...zzzz...
*
4 paws up!....:0)
The 1st and foremost gift to their life is smell. That is how they find everything in life...then comes their site around 2 wks old and then their ears open to hear.
*
We are becoming little scooters, climbing on momma Zeddy for new spots to sleep :0)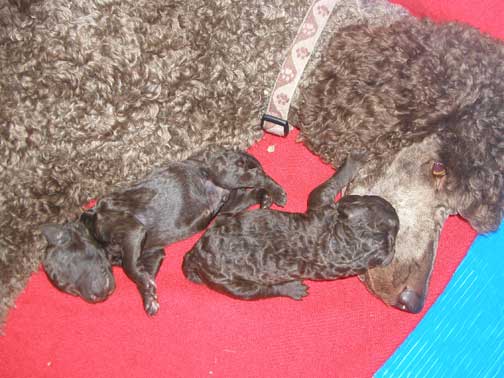 Sibling love...:0)
*
a...ahhh...stretchhhh... ;o)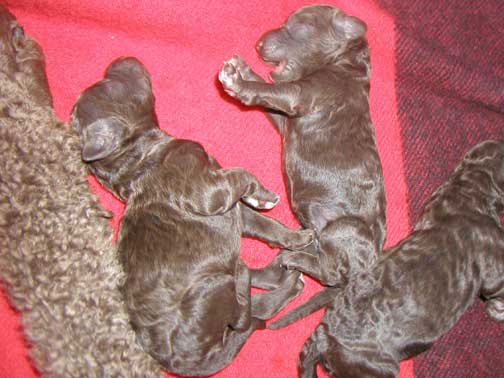 We're growing, still crawling onto Momma is a part of becoming scooters...I think it's just somewhere to go when you can't see where we're going yet ;0)
*
We love you Momma Jewels...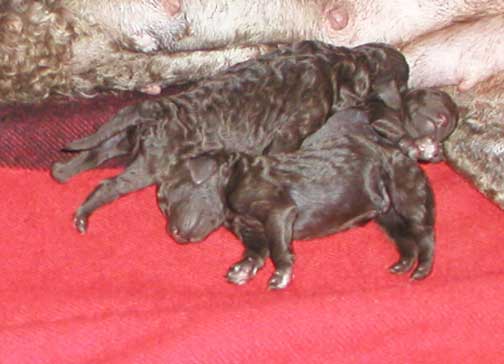 Nummy, nummy, we can all nurse at the same time, can you count all 7 of us? :0) Momma has lots of milk for us to grow, and with 7 of us Tes supplies good "Nuvet" supplements and a mousse for blending with the "Holistic Organic Vets Choice Life Extension" dry dog food we'll be eating when we grow old enough...
 ...we're getting bigger FAST ... see our tummies getting tubby :0))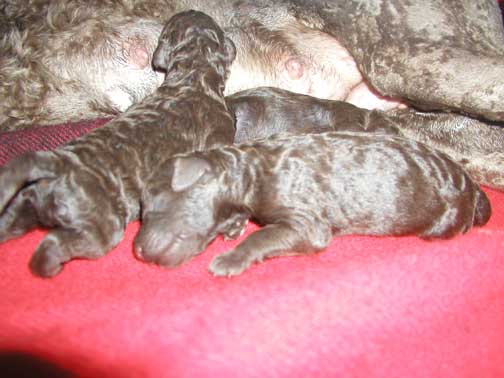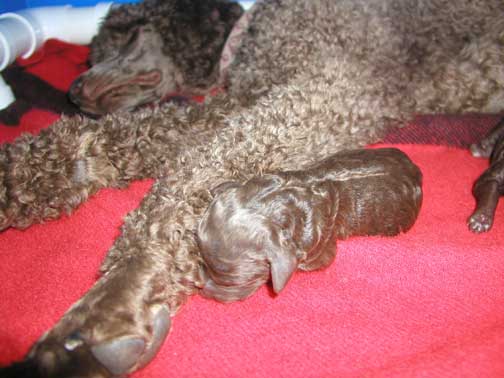 While some eat, some sleep with a smaller litter we don't have to fight to get our milk, which means we are getting nice tubby bellies! :o)
*
At 3 days old we're keeping warm in Tes's bedroom she has warmed up to 78 degrees as we don't have any body regulation yet, a temperature controlled heating pad is underneath a wool blanket. Wool blankets wick away any moisture that come from us, keeping us dry and warm. Tes/Dani will change them to show different colors in viewing your colorful pups in the coming weeks :o)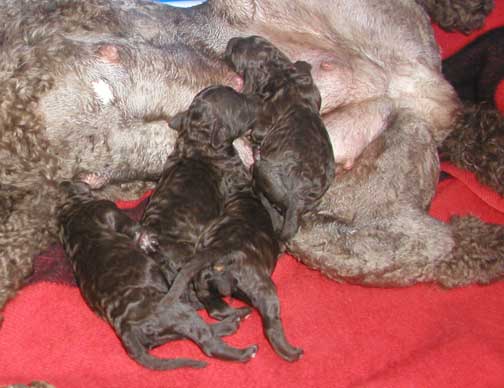 ...And nummy, nummy...they already want to climb onto Momma Jewels's back...it's been amusing to watch, though a bit stressing to keep pulling them off so they don't fall behind her...searching searching for that nummy, nummy...
*
Here's what we do best...zzzzz.....zzzzz..nummy nummy...zzzz...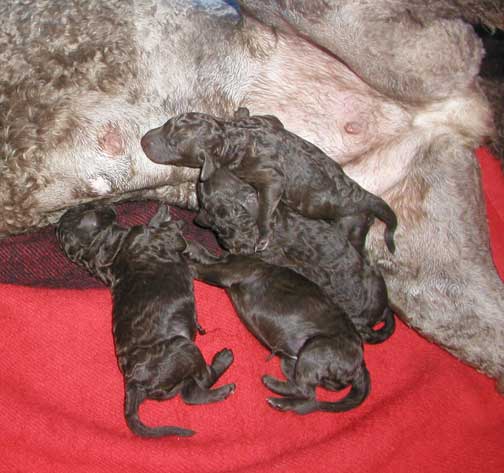 Jewels's puppies are a day old, still have their tails, and she is being very loving by being the instinctive Momma by licking them as they can't potty normally on their own without licking to stimulate the function.
*
What the customers miss out on, I hope to bring to you in pictures and story boards...the quiet atmosphere I try to provide provides a hopeful calmer loving pet for you :0)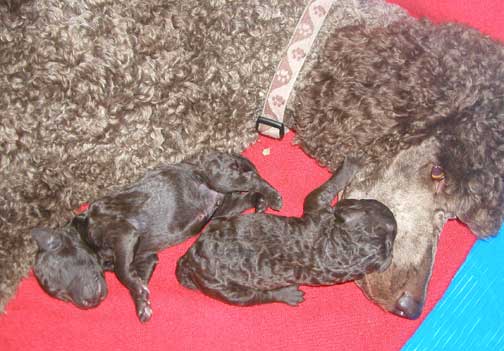 Woo Hool! Here we come!!!! Tes helps us right away by taking the sack off that we can start breathing, she weighs us, checks to see if we are a male or female and all the other considerations to assure we're healthy to start out our life :o)