Royal Standard Poodles Brown Jewels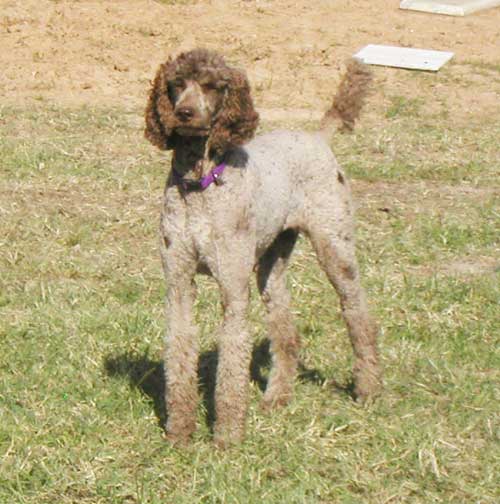 Jewels is Retiring - FREE - PET ONLY customer spays. Located in TX with Tes Contact 737-932-5030
if flying $450 crate price + $450? flight price - figure $1,000 to get Jewels by flying
Tracking Jewels' stats:
Osteochondrodysplasia (OCD) Clear > For more information Click Here
COI 10 generations .61%

1 yr 5 mo 51#, 25.2"

12/18/15 CERF (eyes) free of observable inherited eye disease
1 year 50# 4oz, 20.25"  - I'm tall and lean
9 mo 44# 4oz
9 months PennHip - Great! Top 90 percentile
test 6/22/1 Neonatal Encephalopathy w/Seizures (NEwS) - DNA test - Normal
test 6/12/15 Degenerative Myelopathy (DM) - DNA test - Normal
6 mo 39#
5 mo 31# 4oz

4 mo 24# 8oz, 18 1/4" withers

3 mo 27#

Parents are Hillsides Chocolate Diamond Latte x Osea Quest, breeder Hillside Standard Poodles.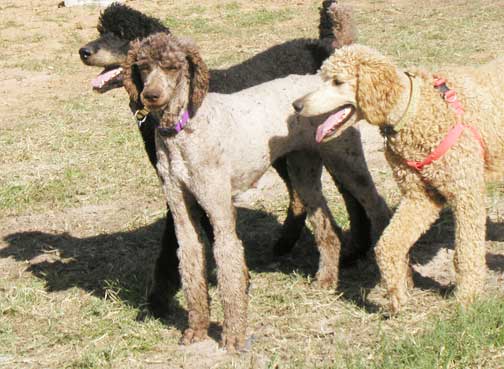 Here you can see how tall and lanky Jewels is compared to Enya and Vyke I brought to TX. She has a very loving, give me attention PLEASE personality :o)
*
Trying to get a close up shows how she's faded and has brown spots throughout her coat, like a brindle color almost...almost...I believe it was from stress in MN and now she's turning more solid brown again. She did feel she was queen bitch and got into a fight ending her up with a droopy right eye :o( but not too noticeable unless looking for it.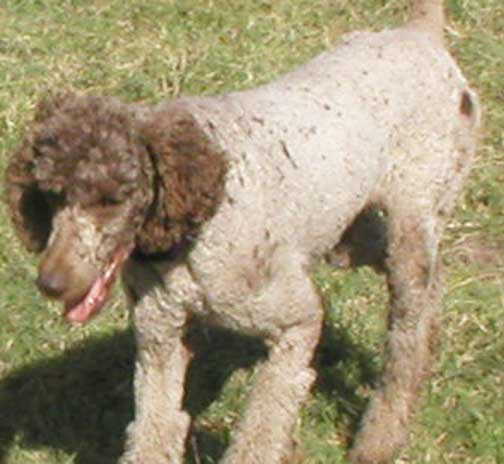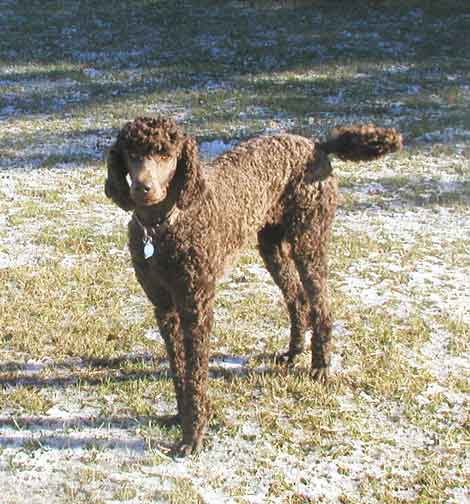 Jewels is a tall girl, full of life and love for her puppies. She's a great mom :o) She's no longer the brown in the top picture, now more cafe' au lait in milk in brown.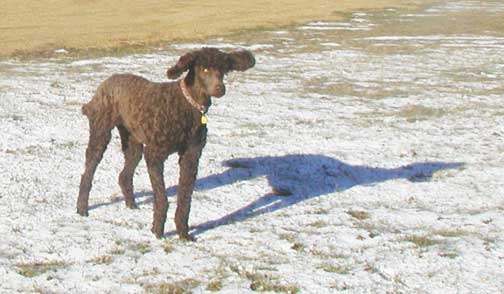 Growing up I have lightened in my brown color...What's in there?!?!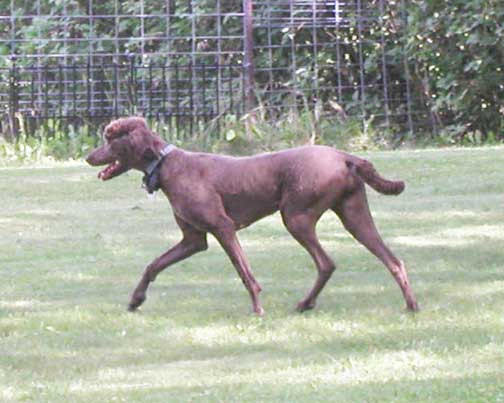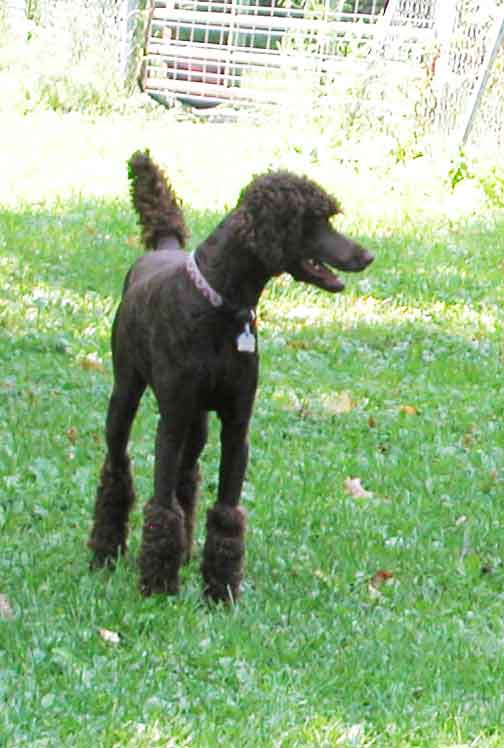 Jewels has grown into a beautiful young lady, ready to be a mom in 2016 with Bruno :o)
*
I soooo love the parks to exercise and enjoy Mother Nature at her finest, a downed tree to play on, leap over, all providing great curiosity and exercise.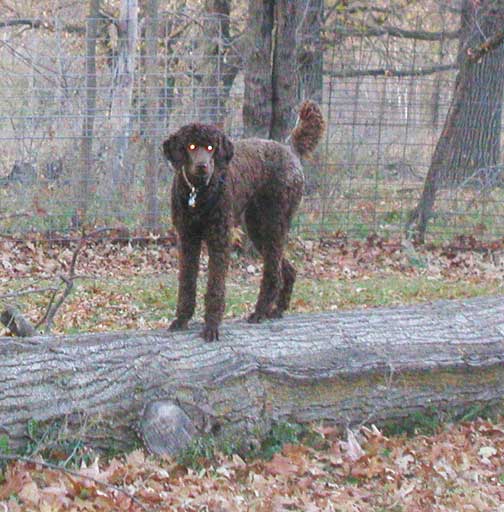 There's 4 legs up time...
*
...and play time...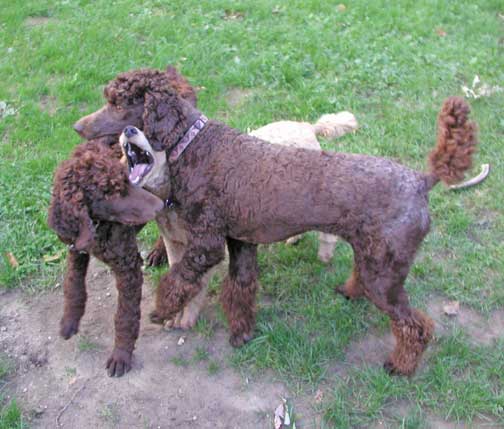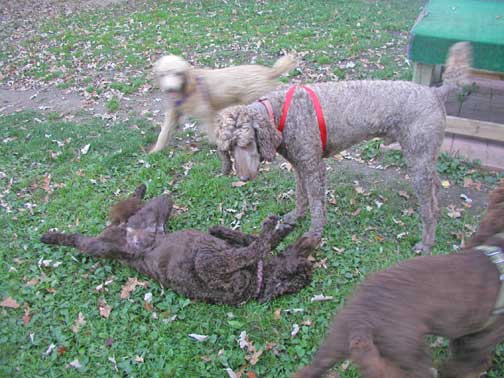 Hey Bruno...you STUD ;o)
Don't we look handsome together? We'll make a GREAT couple for your Royal Standard Poodle pups :o)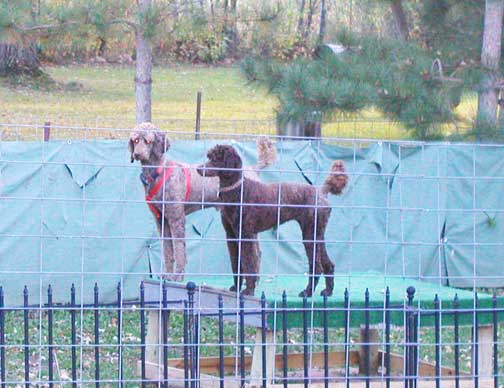 Ohhhh, you know those flipped ears happens to all of us ;o)
*
Happy Happy :o))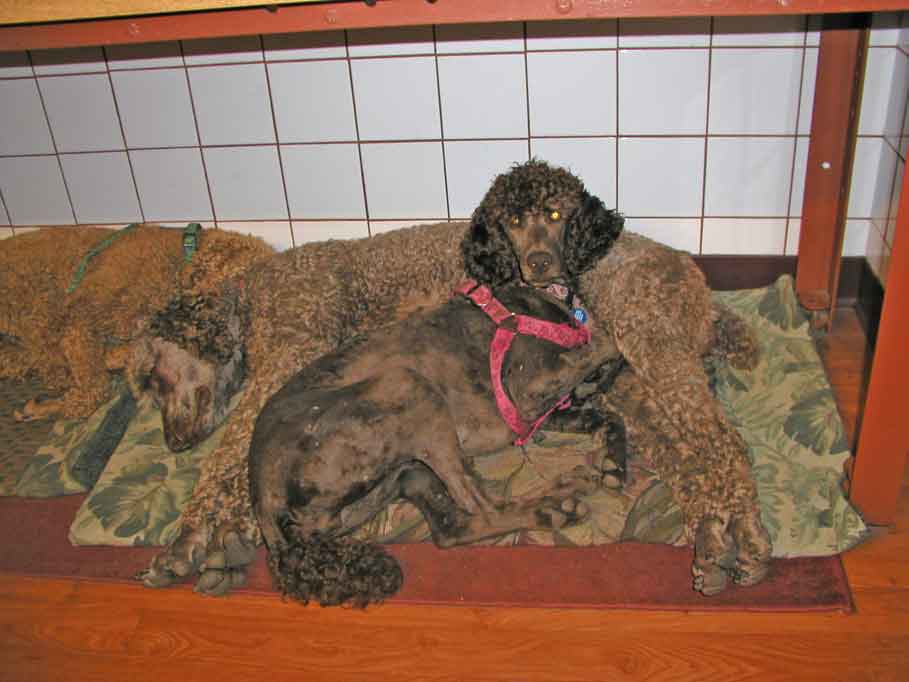 "Bruno makes a wonderful pillow....(Yawn)"
*
"I like to play with Max, I will be sad when he leaves to go to Australia...he sure is growing..." 
"Checking out the brick walkway that Tes just laid, yep they are sturdy!"
*
"Sometimes Tes has to help us reach the very top raspberries, Yummy!" :0)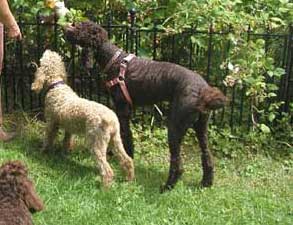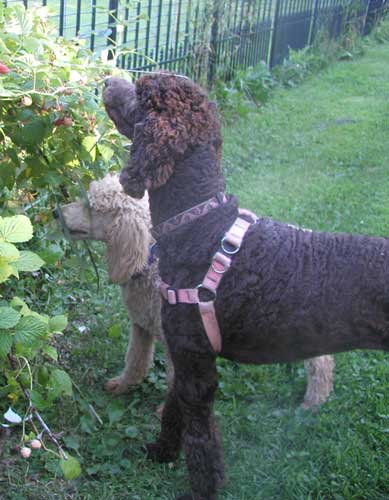 "Neopi and I taking a break and eating some raspberries! She tells Dani to stop and eat the berries with us :o)"
*
"I am growing up to be a beautiful Spoo!"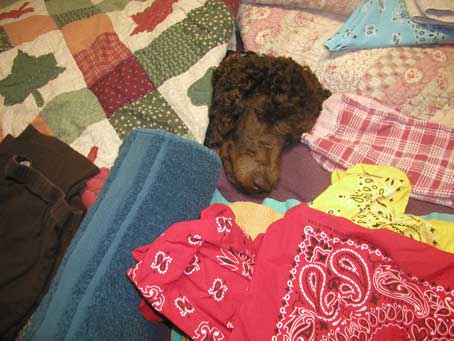 "Tes, let me help you with the laundry!"
*
"Hmmm......not sure that this position is any better..." :0)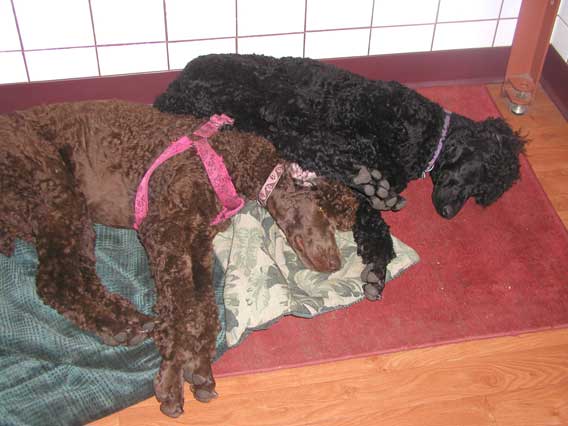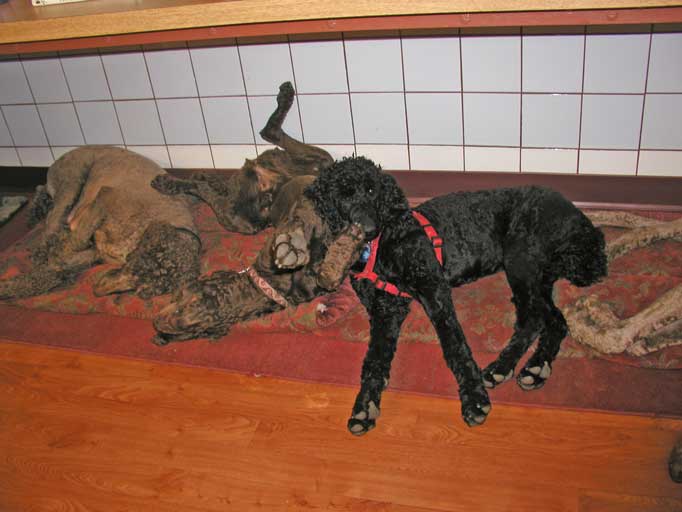 "Just trying to get comfortable next to Beaut and Jasper..."
*
"Dani thinks it's funny to clip my toe nails, I'm pretty flexible! They LOL with the stunts we're up to :o)"
"Let me have some stick Beaut!!"
*
"No, I can walk myself Tes! Do I have to learn to walk with a leash?"
"Zeddy and I like to play, but she can't catch me!!"
*
"Tes took Beaut and I on a walk, what fun!"
"Dani throw the stick, please?" :0)
*
"I am one happy happy spoo!"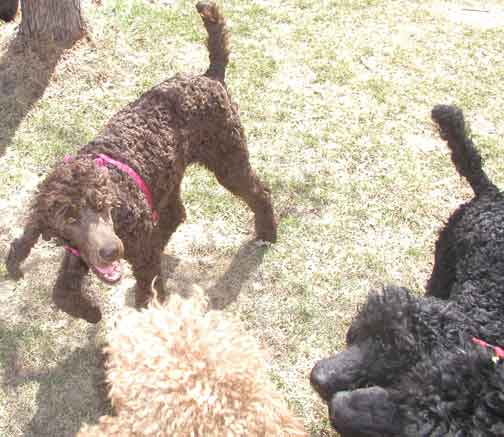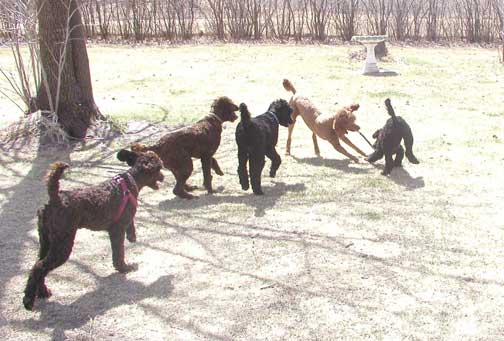 "Dani threw a stick for us, of course Daniel got it.......but not for long!"
*

"I like to prance around the parks, look at my long legs!"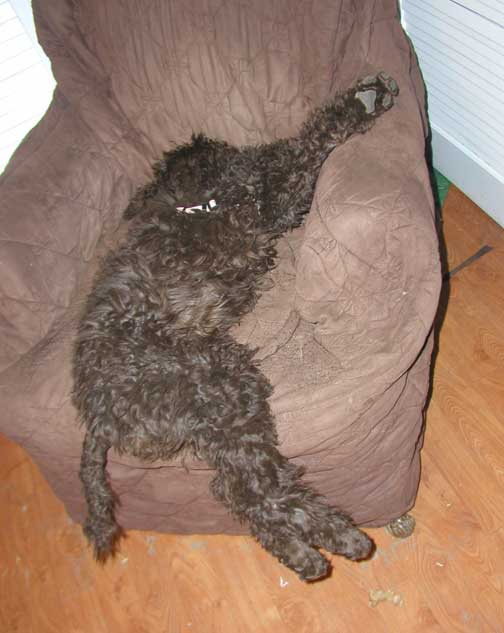 "Hanging in there!"
*
"We don't always sleep together."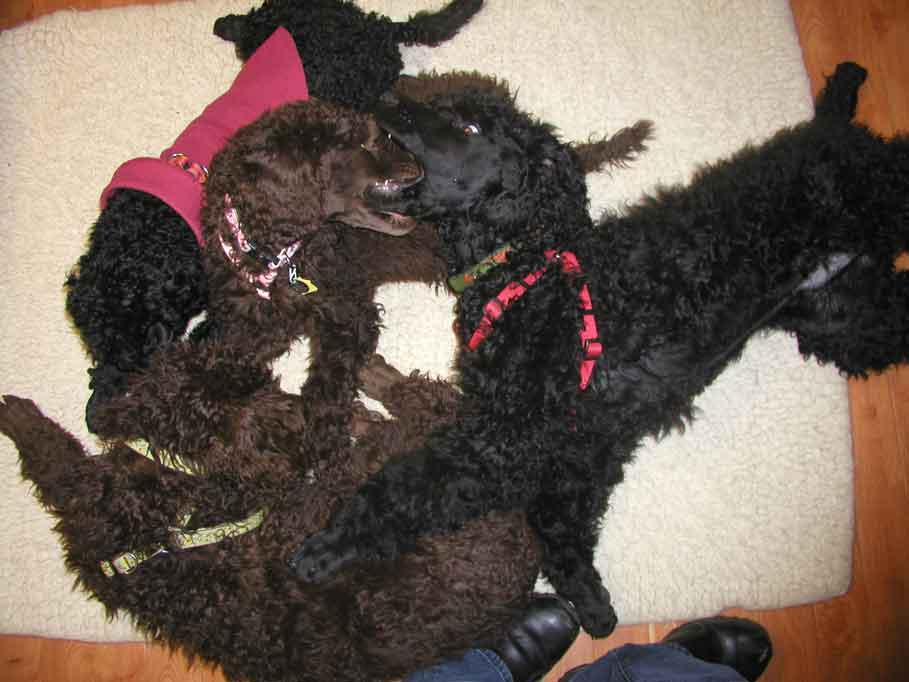 "That is Spartacus and I cuddling, we all love Spartacus."
*
"Come on, lets play! Woo Hoo!" Winter 2014/15
"I love playing in the snow with the other spoos!"
*
"Puppy Pile, Dani don't move your chair!!" :0)
"Look at this puppy face, aren't I cute?!" :0)
*
"We 3 girls get along great!"