International
Royal Standard Poodles
See Customer Pictures Under Each Country Below
*
Australia Jan 2015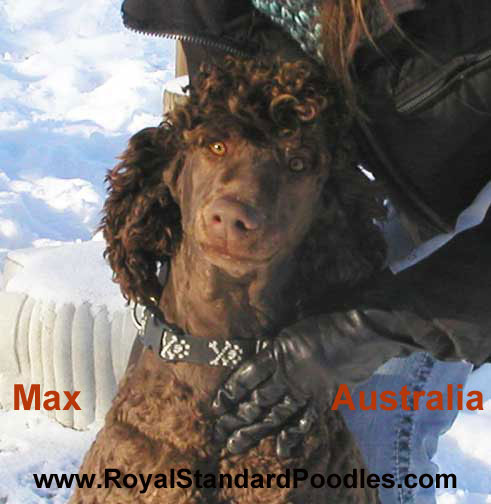 Click here to see Max grow as he works through quarantine in the USA to go to Australia in early 2016.
Last updated 2/19/16
International
Royal Standard Poodles
Information on purchasing a pet to travel overseas
Tes will sell one or two a year to overseas/international customers. It is focused time and work to maintain extra growing spoos so this is not something wanting to do often.  
Puppy cost is minimum $4,000 for International sales Not fixed (can fix in price) + $1,000-$7,000 vaccinations, grooming, months of USA hold time here with me, bigger crate + $5,000 (or more) for an IPATA licensed agent relocation price which includes flight cost (their heightened terrorism fears)..."Puppy FINAL price" for the buyer may range from $10,000 - $25,000 (Australia)...final price is depending on country, airline, quarantines...sometimes having to stay with me until 9 months old or more. 
Tes Ingebritson does most agent work in getting your pup from MN to the air port leaving USA where a licensed IPATA agent must take over to your country - Hong Kong, Australia or most parts of the World, with your information provided. Tes is willing to fly to your country with the pet to assure its safe arrival to you! That is an additional cost for flight.
Included:
All that is received in the "regular" pet price.
A much larger kennel appropriate to age and size to travel overseas ($300+).
Spay/neuter of pet before leaving, unless a breeder able to show testing available in their country the pet can come intact.
All required vaccinations for importing. This includes lots of coordination, miles, and time at the vet's ($300+)
Months of grooming, heartworming, deworming, flea and tick care, food and training ($600+)
A sale is dependent on TI's home timing of litters and life. I have one Winter litter a year which makes this a good time to quarantine a pup, not as much going on in the home that time of year and can be given to a growing puppy for training.
Tes coordinates with her USDA licensed vet, and your good communication. Request a discussion of availability at time of an interview. For an additional fee, she will fly with the pet to your country if requested. 
All USDA requirements met
All paperwork prepared and sent accordingly
Crate for transporting with lots of home smells
IPATA Agency price may vary depending on location $5,000 - $6,000?
Good communication to assure transaction moves forward smoothly
*
---
Hong Kong December 2013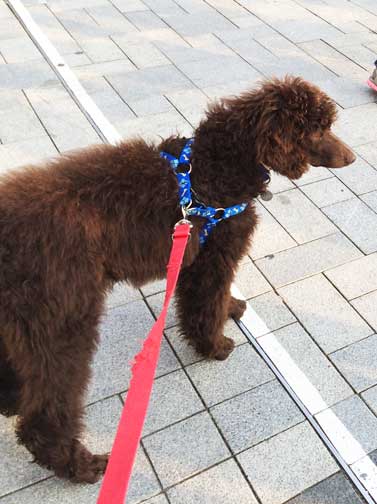 Click here to see "Monkey" - Hong Kong
---
Australia 2012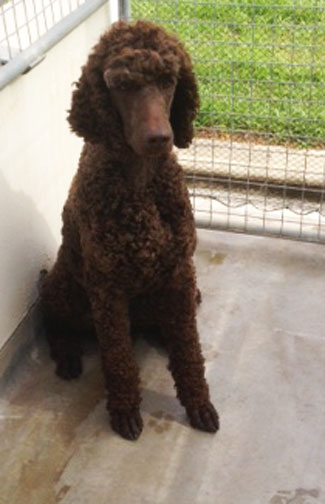 Click here to see "Rosco" - Australia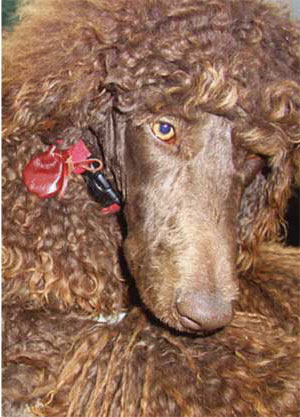 Click here to see "Ciwa" - Australia 2011
check out Ciwa on Gift Cards for Sale
---
Asia 2011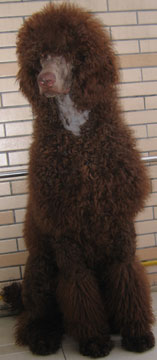 Click here to see "Mr. Brown" - Asia
---
Philippines 2010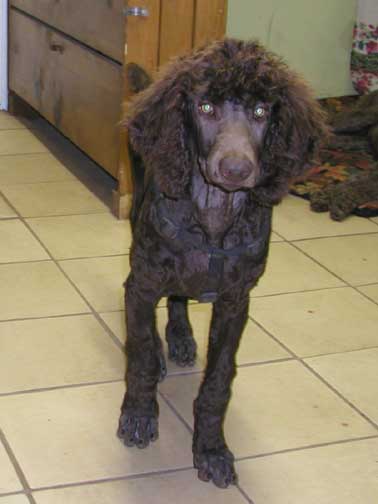 Click here to see "B-B" - Philippines