Royal Standard Poodle Contact Form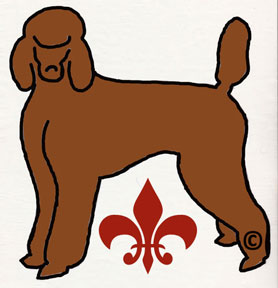 Royal Standard Poodle Contact Form -
Interested in Purchasing a Pup from Tes in TX
This form is sent to Tes Ingebritson for your start of communication.
* Stars are required input in the form below. Due to scammers ALL stars must be filled in please. Thank You for your understanding.
Contact Tes at 737-932-5030 > cell phone (no land line)
People with blocked numbers leaving a message: I cannot get back to you :o( Please leave your contact number in the message. If you don't hear back from me shortly - CALL AGAIN PLEASE - You ARE IMPORTANT :o) 
...Or you called and we have a bad connection and I say I will call you right back - OOPS you have a blocked number I can't get back to you! PLEASE call me back in an hour as I always respectfully respond within minutes. You ARE IMPORTANT :o) 
So many variables like these have come up - You ARE IMPORTANT. 

Do call back please.
Thank You for your interest in
A Perfect World Royal Standard Poodles! 
NOTE: as of 7/28/18 I no longer dock tails or do due claw removal. Your pup comes with FULL Tail and due claws for a healthier structural balance. 
NOTE: The form DOES NOT work on cell phones or ipads, sorry!

---