Royal Standard Poodles-Brown Ciwa - Now at home in Australia!
For upcoming litters contact Darry McCutcheon Jindabyne, Australia
tele 614-174-40093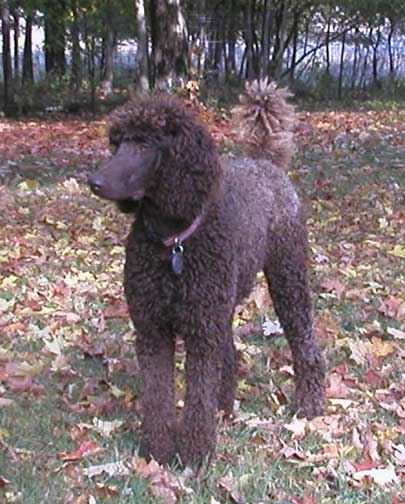 Royal Standard Poodles-Brown Ciwa (See-Wa), our largest female is now FOR SALE. As a breeding female $5,000 proven girl with 3 litters, 10 pups each litter. $1,300 for a pet only which she would be spayed (included in price) before leaving to her new home.
Call 218-894-1434 for an interview.
In diversifying by bringing a red non-fading pair of standard poodles into our family, I must decide to let a pair go. Ciwa is so laid back, Royal size and loving she would be a plus for any home.
Ciwa came into the family with the following story:
In looking to bring in a new line, I had been in communication with a new friend and breeder from Canada. A customer of mine who loves to research the internet on standards, believed it would be wonderful to bring in one of her pups into our line. Communication took a new turn and we brought in our new Royal Standard Poodle brown "Ciwa".
She was named after the clairvoyant female character from my Fantasy Novel "A Perfect World-Tatriel" www.fantasybookaperfectworld.com . She will eventually be sporting a long side braid (if I can maintain it :-)
Tracking our AKC very large Royal Standard Poodles-Brown Ciwa:
4/13/11 testing for thyroid - Normal
4/13/11 testing for patellar luxation - Normal
4/13/11 testing for cardiac disease - Normal
COI (Coefficient of Inbreeding) 10 generations 1.12%, very low!
2 yrs: OFA - Good; no phenotypic evidence of Legg-Calve-Perthes disease recognized - Normal
2010 CERF - Clear
1 1/2 yrs; 2009 CERF test good
1 year; 72#, height 27 1/4" at whithers
2009 CERF - Clear
9 months; 71#, what a jump, which she can do in getting the apples off the apple tree for herself :-)
8 months; 63# and now taller than Falcon! 26.5" at whithers.

Baseline testing done, everything normal
7 months; 61# she is a strong willed playful girl making her mark in the pack. Truly coming into her own lovable mischievous ways (as most alpha puppies do)!
5 months; 52#
11 weeks (3 months); 20#
8 weeks; 10#
AKC #PR11546907
AKC DNA profile #V528545. This is done for any dog brought into USA from out of the country
2008 - CERF test Good
VWD test Clear
Both Java and Hershey (parents) are "clear" of NEwS - Neonatal Encephalopathy with Seizures this leaves offspring clear.
Golden eyes, brown nose and paws
Her antics will live with her until she's old! Loves to jump up and grab things from super high places-like apples off our apple tree.
Pups with PET contract only

*

Here she is with brother Bruno below (different litters), enjoying their cool summer hair cuts.
*

They're enjoying their winter coats and being watched over from above ;-)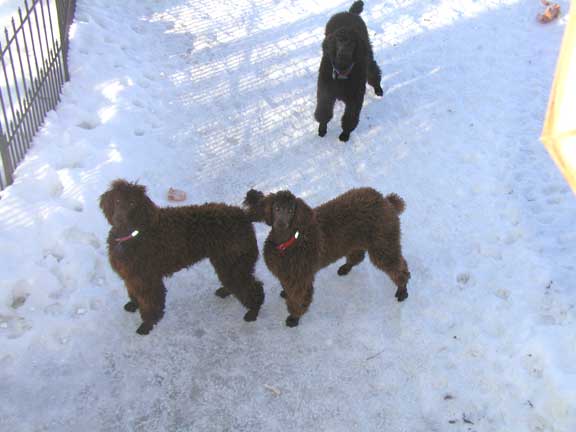 10 weeks old enjoying our brass cat as a pillow :-)
Royal Standard Poodles-Brown Ciwa
*
8 weeks old enjoying the parks.