Australia
Royal Standard Poodle
Max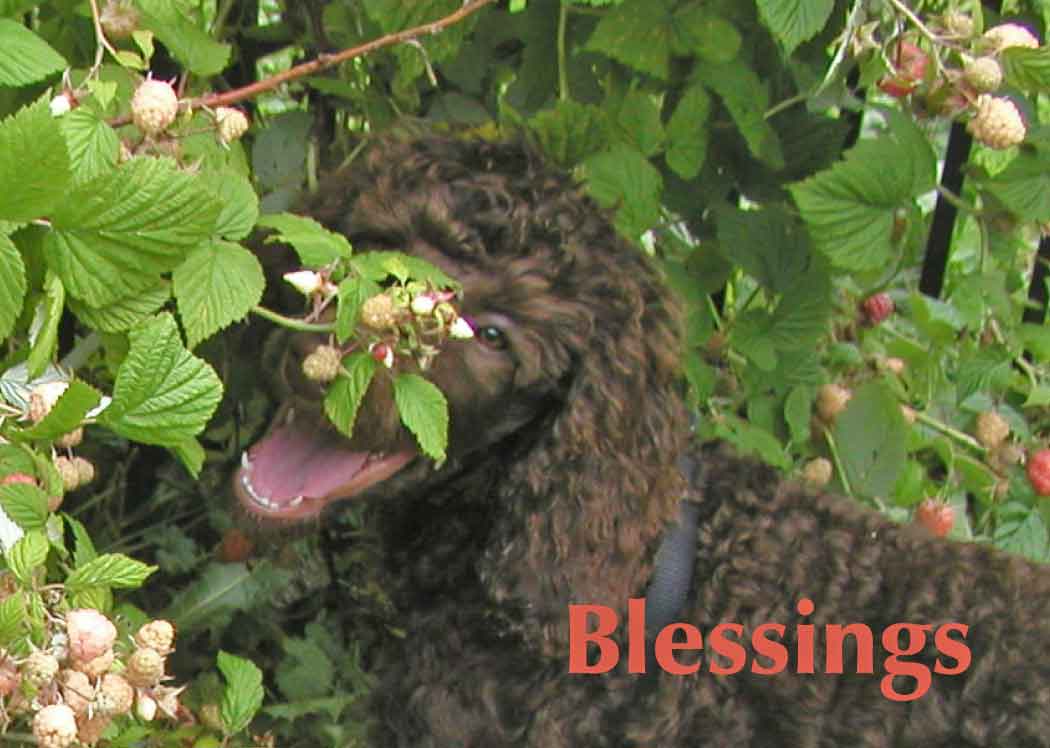 Enjoy the 9 months of Max pictures below during his stay in the USA until all testing completed per Australian Import Regulations.
The above picture of Max is for sale as a Gift Card click to link
last updated 1/25/16
*
Max is on his way to Australia 1/25/16, "Can hardly wait to meet my new best friend!"
This very nice Delta cargo man helped me feel comfortable for my long trip ahead.
*
Do start at the bottom of a puppy page to watch them grow-up :o)
Tracking Australia Max stats:
9 months 72 lbs
8 months, 66 lbs
7 months, 60 lbs
6 months, 53 lbs
22 wks, 42 lbs
16 wks old haircut and bath, 23 lbs
12 wks old rabies vaccination, haircut for the hot humid MN summer months
6/26/15 third vaccination and 2nd booster lymes vacc.
6/5/15 second vaccination & lymes 
6/3/15 first chiropractic adjustment
7 wks old 6.8 lbs 
5/22/15 - 6 wks old first vaccination, dewormed
5/14/15 5 wks old 4 lbs, ISO micro-chip inserted 956000003093728
5/7/15 - 4 wks old 3.4 lbs, dewormed
2 wks old dewormed
Born 4/9/15, 14 oz
We received an email from Max's owner on 2/1716, he shares: "From the first day MAX arrived, I could not believe how amazing he behaved. He never made mess inside the house. His gentle behavior surprises other people when I take him out for walk in the park or at the street. He has never showed any signs of aggressiveness or tried to pull me while we on walk. He is very loving, showed a lot of happiness, always ready to please and got to understand commands very quickly.
 Thank you for the amazing dog. I have received much more that I have expected."
"All right dad, let's go for our walk!" :0)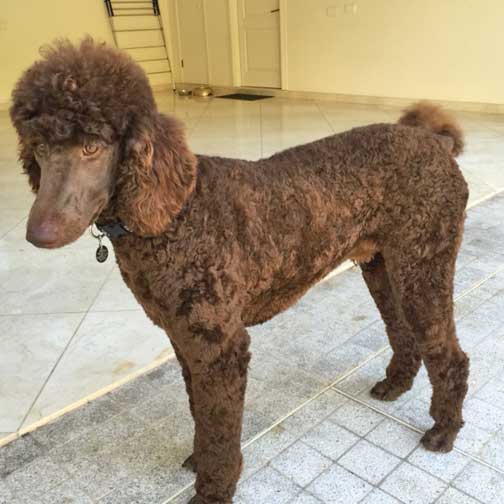 "I love my new home, I get all the attention Woo Hoo!!"
*
"Check out my stance, yup Royal for sure!"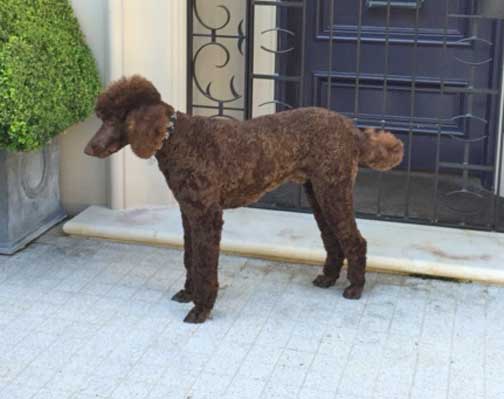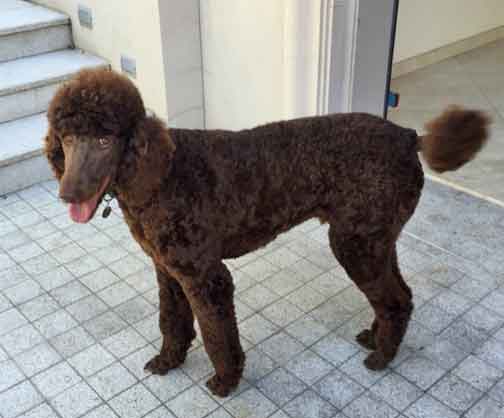 "Check out my hair cut, I am so handsome!" :0)
*
"Yep we make a great team!"
"My owner and I have become best buds, he likes to show me off!"
*
"Finally at my forever home!!"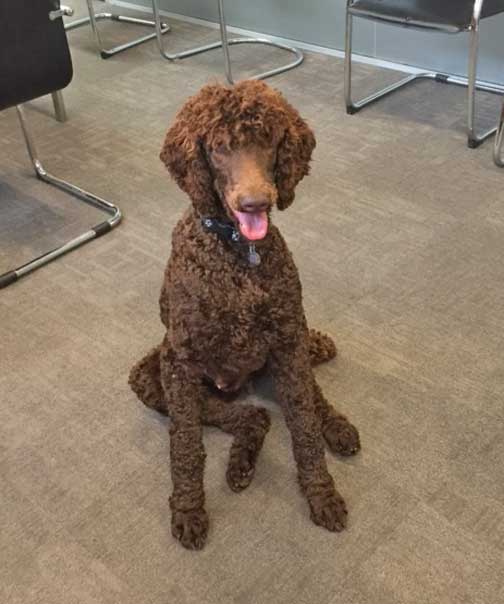 It's finally time to fly from Minneapolis/St. Paul (MSP), MN airport to LAX where I'll meet up with the pet agency working with Tes, who then connects me to another flight that will take me 16 hours to fly to Melbourne Australia...where then I will be in quarantine for only 10 days! (use to be a minimum of 30 days!!!)
*
I'm patiently waiting for Tes to complete the flight paperwork :o)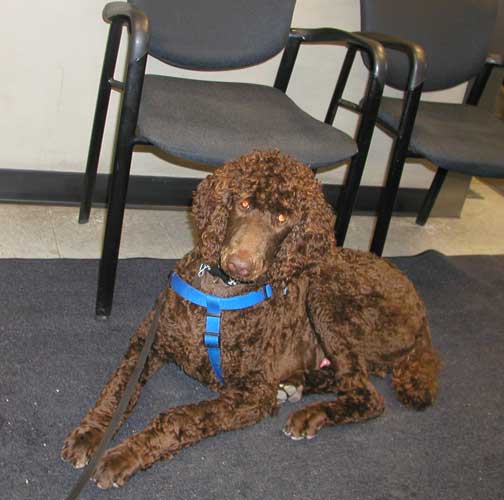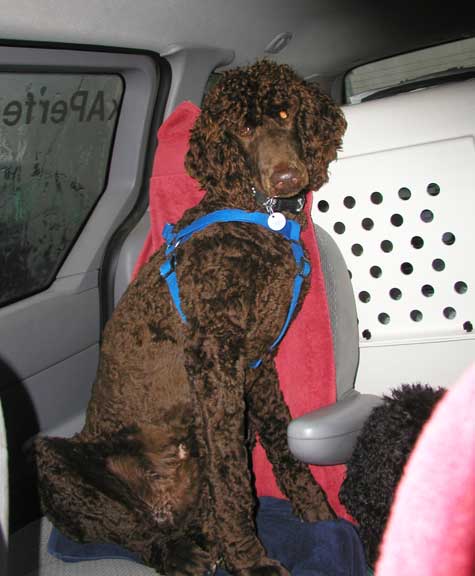 It's FINALLY time to travel to Australia!!! Tes leaves her home at 5am to travel 3 hrs to the International airport so I can fly to my new home. I'll first travel from MN to CA, then from CA to Melbourne. She has taken me on this trip to Minneapolis several times that I could get use to traveling and being alone. The crate was in her home where I could go in and out to get lots of smells for my trip. My pet bed has been shipped ahead of me that once I get into my new home, they'll pull it out for me to have all the wonderful smells of my cousins at Tes's...helping me adjust so much better.
*
Happy, Happy, Happy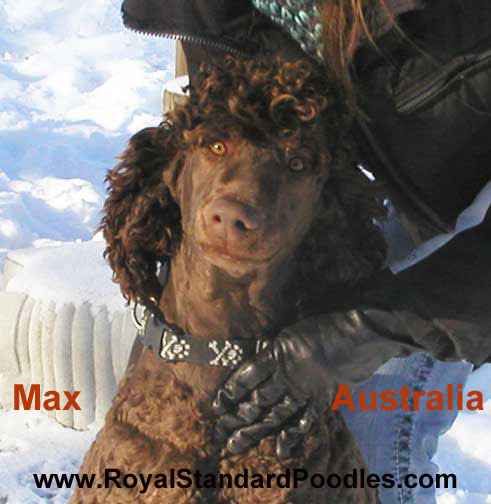 Dani wants a spoo kiss!
Tes is still doing a lot of landscaping after the new heated garage was built last year...which you'll see work being done in the pictures :o)
*
Running in the snow, we love it!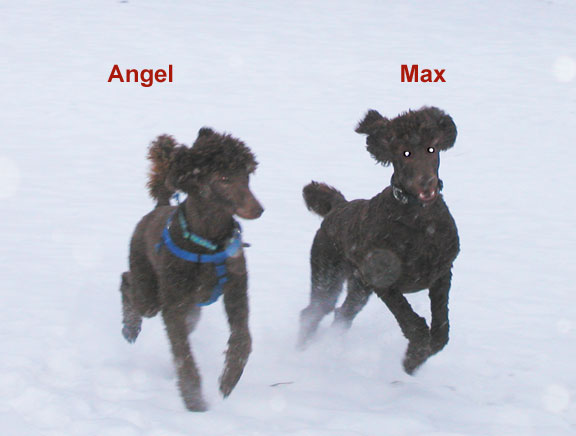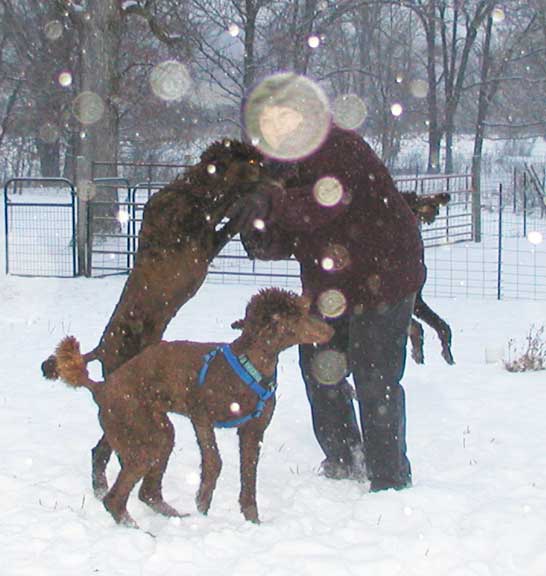 "It's snowing outside, come on Tes lets play!"
One of those RARE captured pics, snow flake perfectly falling with picture timing to capture Tes in it :o) COOL!
*
"I love you Tes!"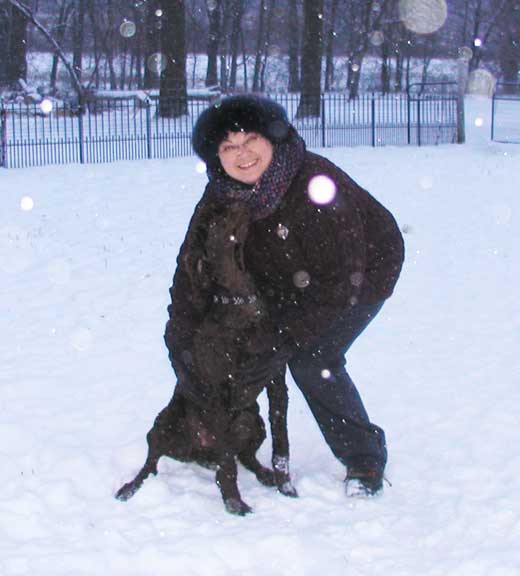 "After playing in the below zero temperatures it is nice to come in and warm up!"
*
"Wait is that a bug crawling there, should I eat it, kill it, or foot it?"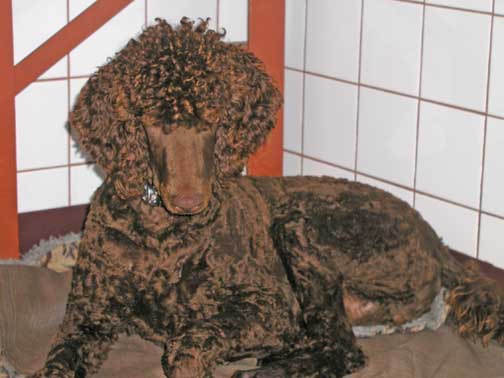 LOOK!
We got snow! And I got an octo toy to play with!!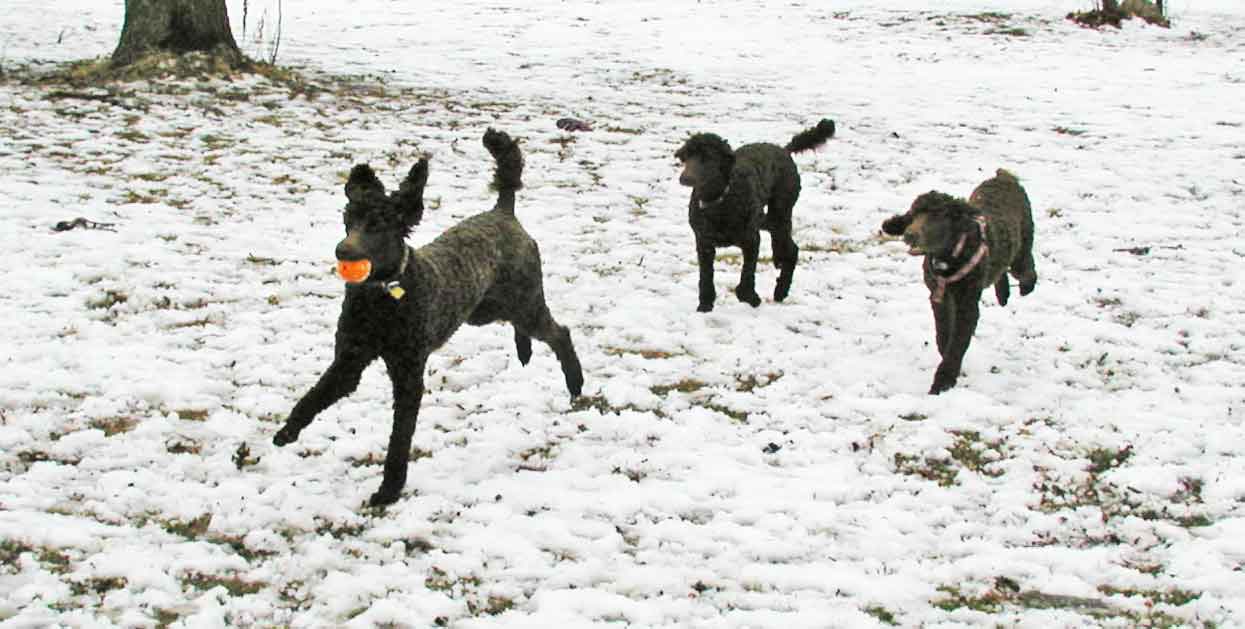 It's playing ball time with Dani! I got it!! You got it?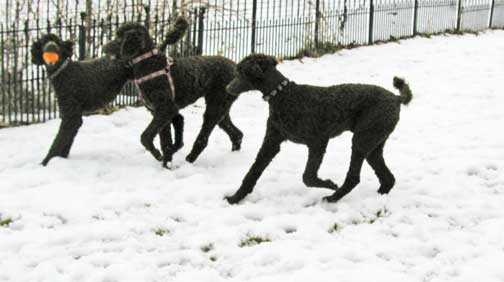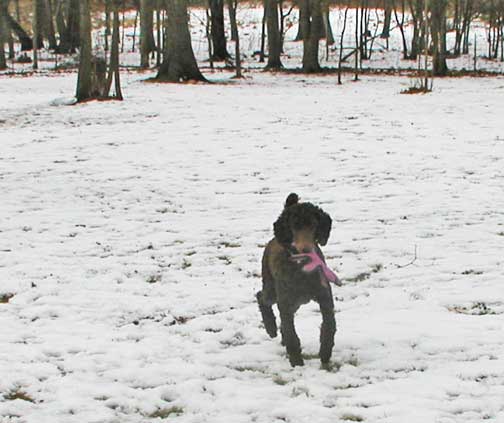 Well I got the octo toy :o)) You want me to "leave it"? Training? Why???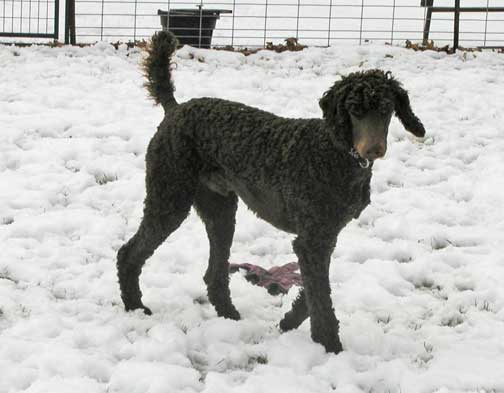 Okay...NEXT!
My turn! I got the ball :o)) I like to foot them...I don't know why, I just like to foot the toys ;o))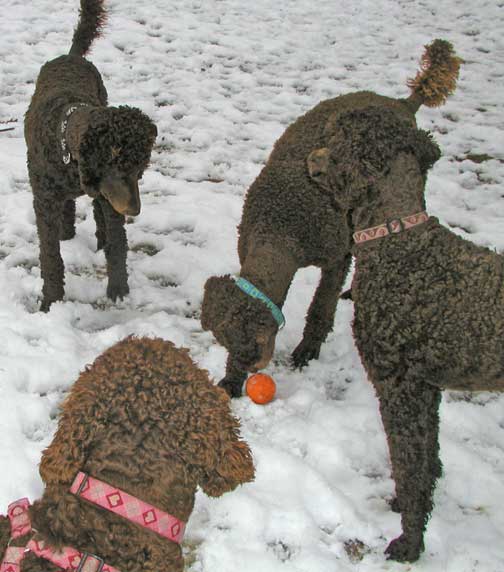 Oh, you want it...we're playing soccer? You're on my team then :o)
*
Where are they taking it? Dani's the goal post??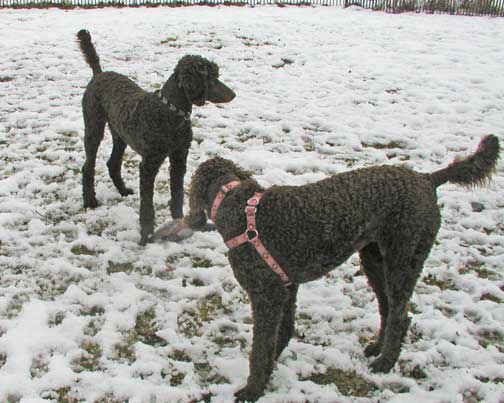 I'll keep you on hold here, you can't get it Magic!
*
Yeay!!! Let's play some more :o)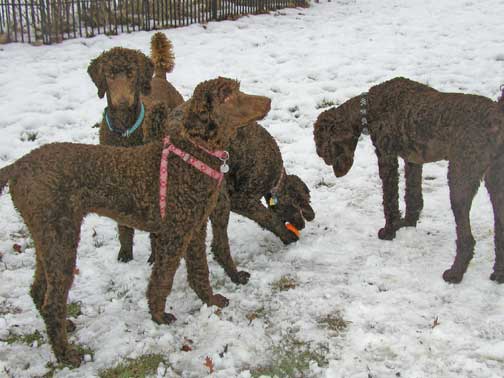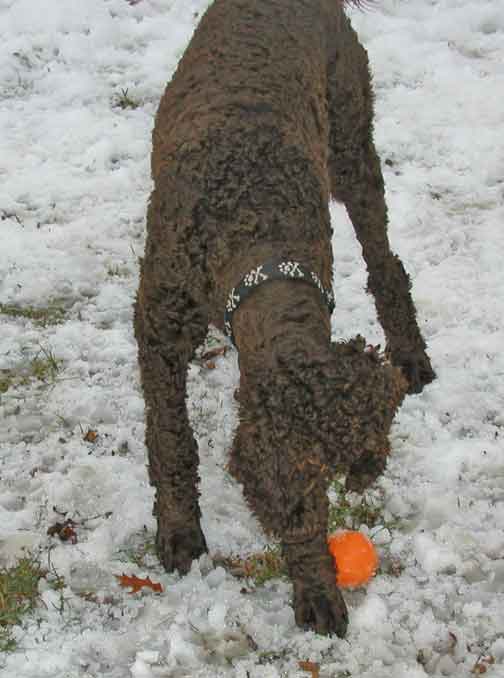 One more time, foot, foot...
*
foot...Angel! Help me!!!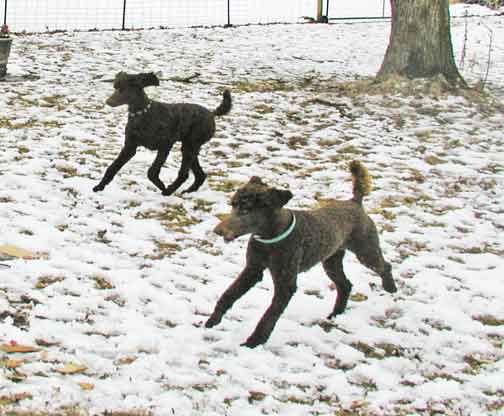 NEXT! What's NEXT Angel!? Life isn't holding still for us...this is Tes's youth pack of upcoming breeding girls...blue collar Angel over a yr old is Zxb daughter, my sister from a yr ago, for Daniel 2016, Jewels is the same age for Bruno from NY, then there's me Max with the black collar, and Magic with the pink harness is from JxD now 7 months old. She's got the octo toy :o)
We're having soooo much fun growing up together :o)))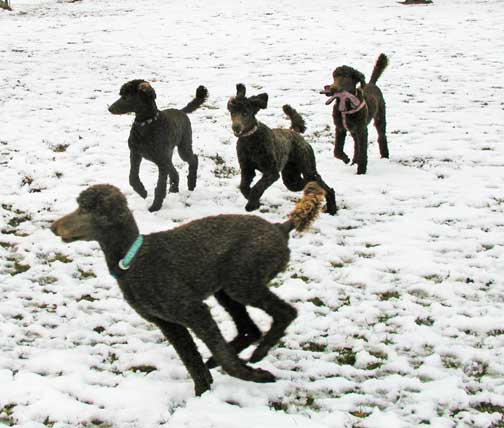 Dani's hand says "I Love You" :o) Where's the ball??? and this is snow? COOL stuff ;o))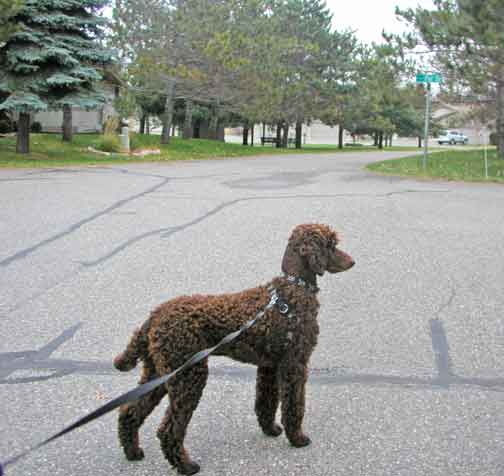 Australia Royal Standard Poodle Max is living with Tes until it's time to head home in 2 months, here going on 8 months old, learning to walk in suburbia with cars and people around and now fresh MN snow.
*
Pickles enjoys snuggling with me in the office after a good play...she's my half sister from dad Bruno and mom Fire.
*
Hmmmm, something in there for me Jewels?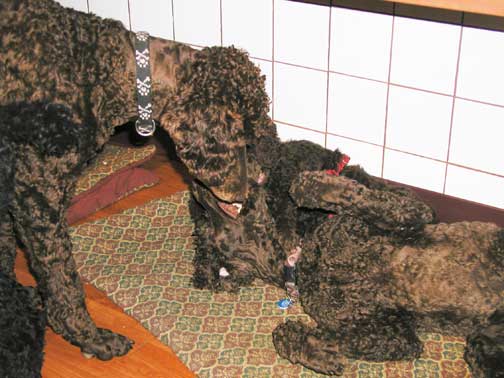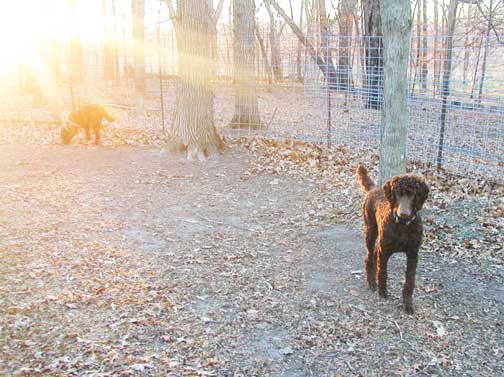 I am going on 8 months old now...Fall is arriving here in MN, the leaves are all down, the squirrels are gathering the nuts...and we can't get to them sometimes...beautiful sunset on the day :o) snow soon???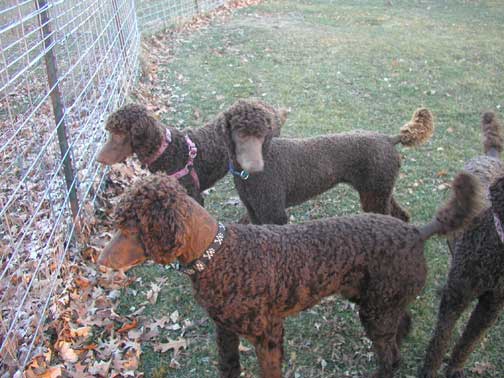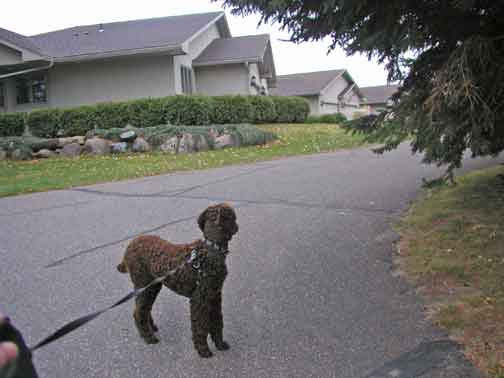 Tes is taking me out and about to socialize me...the mini van had to go in and be looked over...this man really liked me ;o)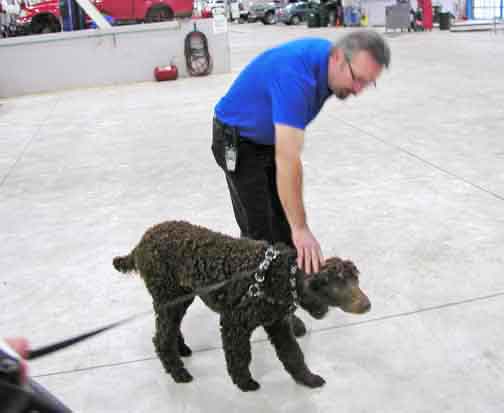 Tes took me out for a walk in the city here and when we came back to get the van, the man had to come and see me again...he really thought I was so well behaved..."Only 7 months old?!?!"
*
We walked around the Ford parking lot to look at vehicles...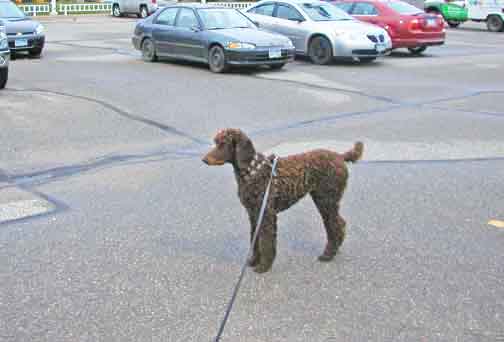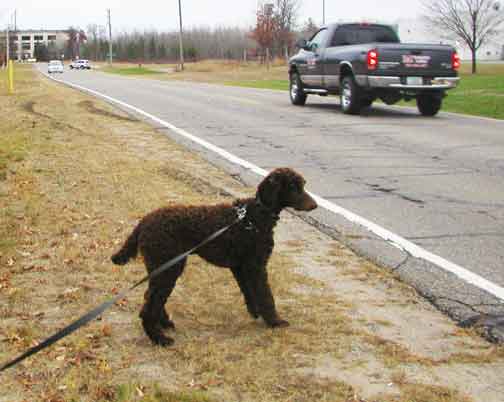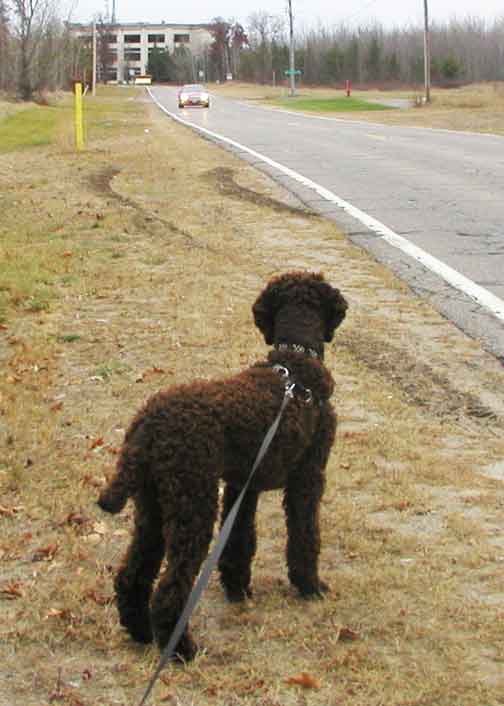 t...then Tes walked me by a highway to get use to cars driving by...
*
...walking in a busy store parking lot with cars and people...one took our picture for you :o)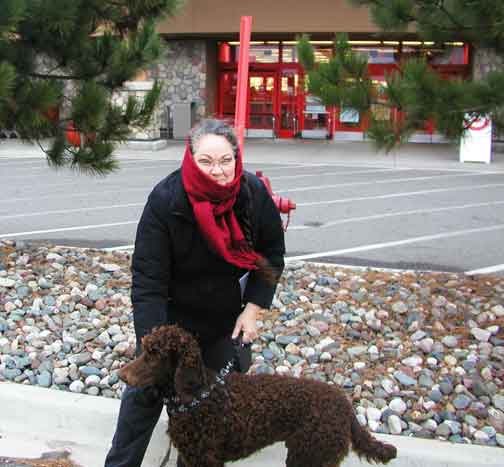 It's early morning here, a new store is being built, lots of asphalt...no dirt around here :o(
*
This is Tes's chiropractic office...they think I'm soooo well behaved for a 7 month old puppy :o)))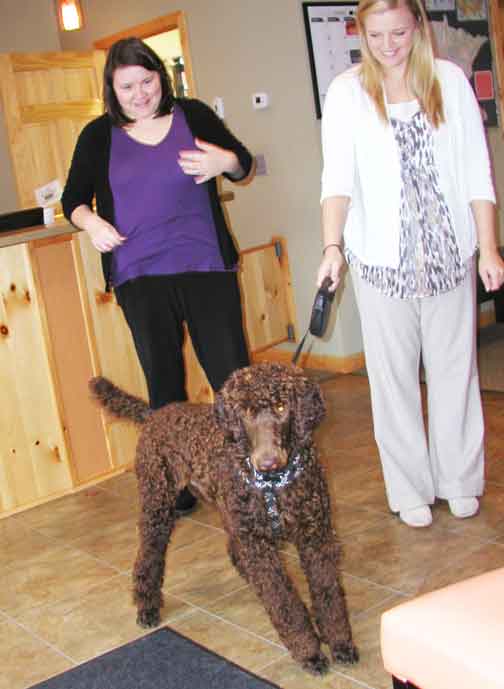 What's this? 
...
nothing I can't live without...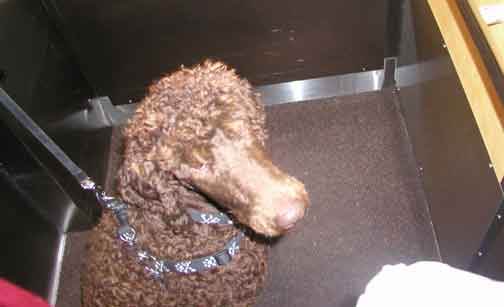 Whoa!!!! An elevator?!? I'm sure getting a whole bunch of experience to this big world :o)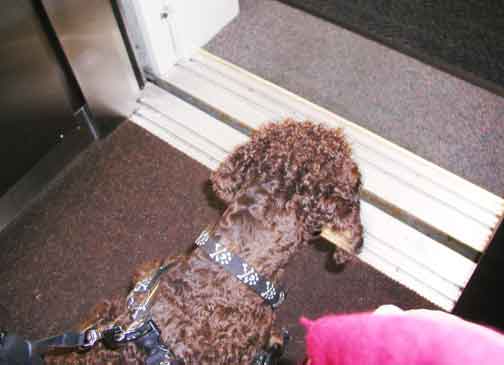 Visiting the elderly is also on Tes's list for me to meet :o) Although this man doesn't act too elderly, having just chipped a bone out of his elbow from doing some work with running his business...that's Tes's dad...never sitting still for too long...even with a broken elbow :o)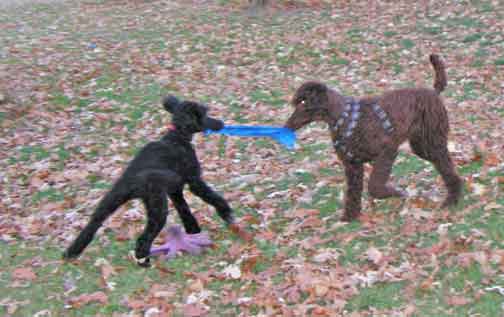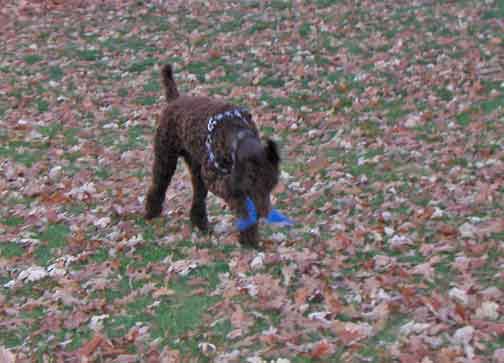 Woo Hoo! I got it from you Kherty!!!
*
What's next?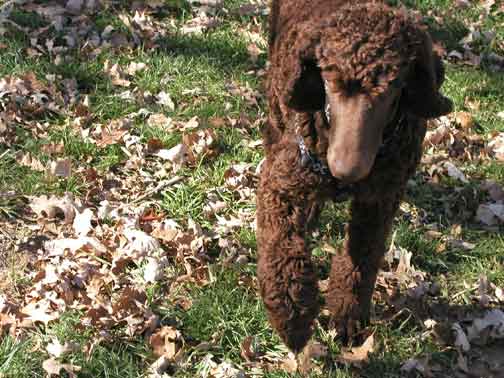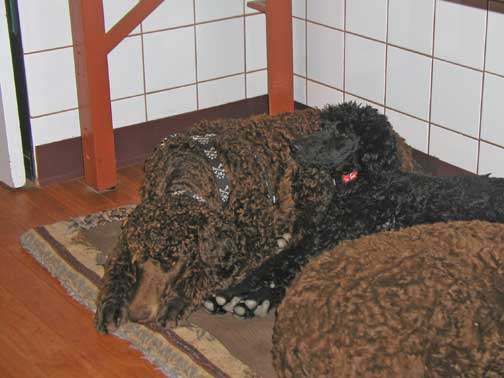 What's next? Napping with Kherty of course ;o)
*
Talk to me Tes - Hi Fred :o)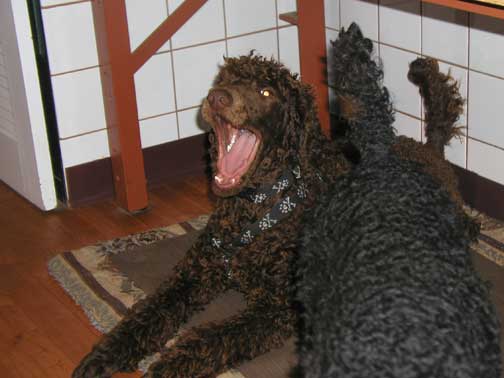 And here's Momma Zeddy, good momma :o) My cousin Magic has her arm around me.
*
It's a spoo sleep over!!!! I'm in there at the back with 4 legs up...Red Fire retired to Texas 11/5/15...have fun with your new forever family :o)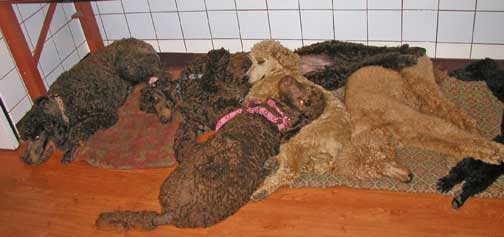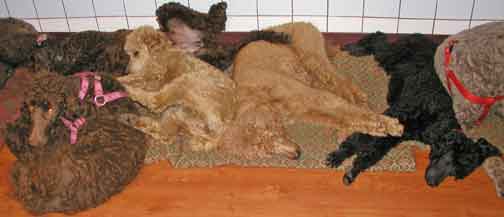 I have claimed my most favorite spot at night in the office when Dani is gone...underneath her desk space...Tes works pretty late to keep up for everyone :o) But I'm growing out of it fast and it's hard to squeeze in here when the chair is put away :o( Remember the picture earlier as I was growing?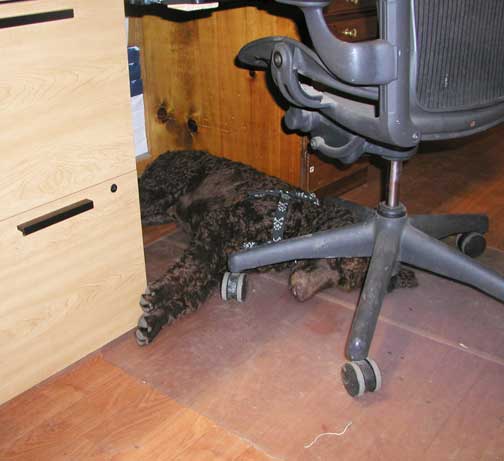 5 month old Jasper has almost caught up to my height (Jasper x Daniel female)...but I am darker brown then her ;o)
*
Sniff, sniff, Tes...what do you have in there for me?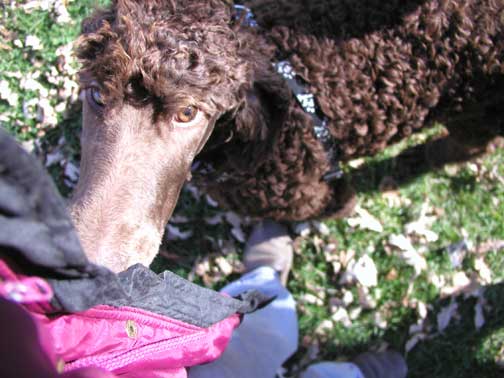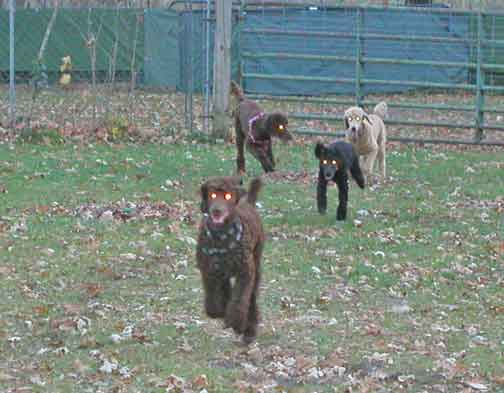 Woo Hoo! Getting in some great play time before the MN winter arrives; come on Magic (brown), Niki (apricot), Kherty (black)!
This is a Kong ball I'm chewing on...GOOD and durable! Good for my teeth and gums. Wait, don't move, I'll be back :o)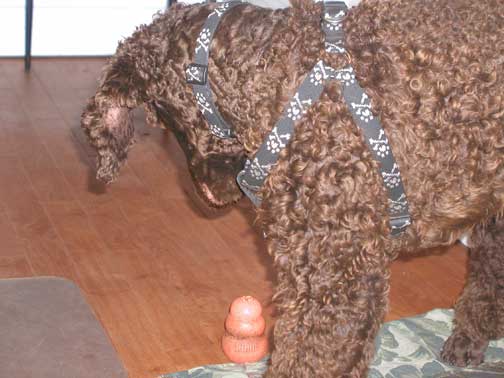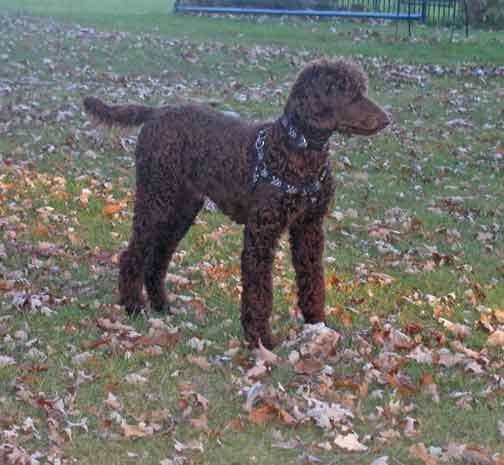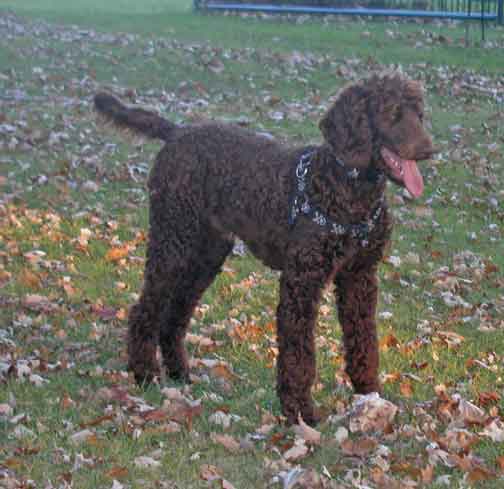 Don't I look good ;o)
*
Ooftah! We can really go at it in playing...Tes says Thank Goodness animal chiropractor Dr. Mark is coming this weekend :o))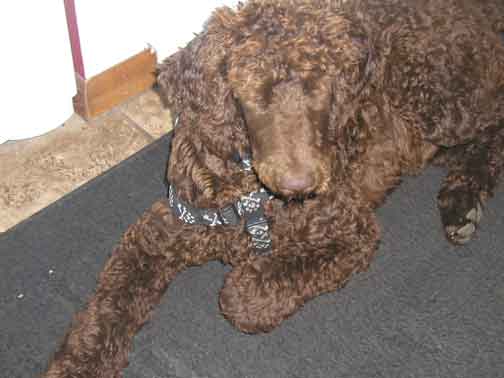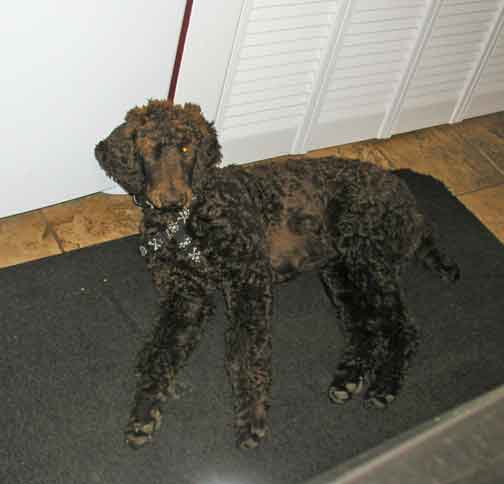 Then there's always time to lay back and relax until the next cooking meal :o)))
* 
Being in the kitchen during cooking time is quite a treat...raw carrots, apples, popcorn all great treats for us spoos :o))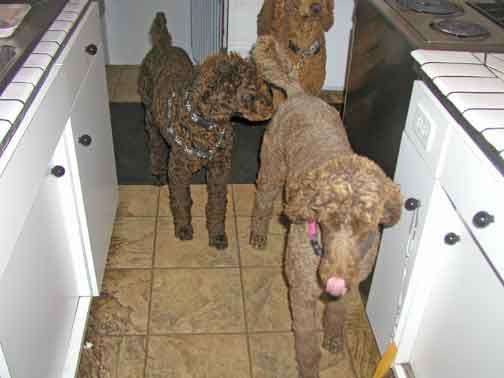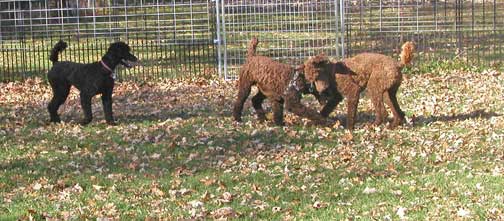 Tustling, playing, rolling, ahhh being a growing puppy going to Australia at Tes Ingebritson's south of Staples, MN, pretty nice until it's time for me to go at the end of January 2016.
*
BEAUT - PLEASE!!!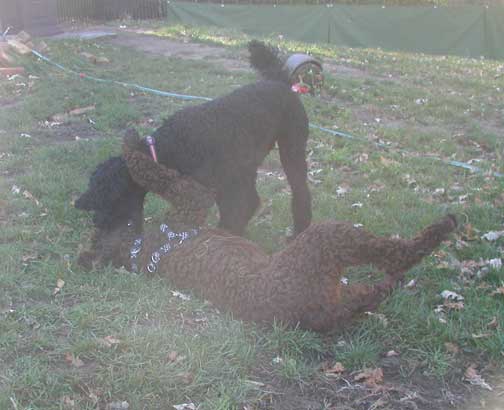 Woo Hoo - lots of space to run and play!!
*
Now I've been moved to Youth Park, here I play with Magic, Beaut and Jewels.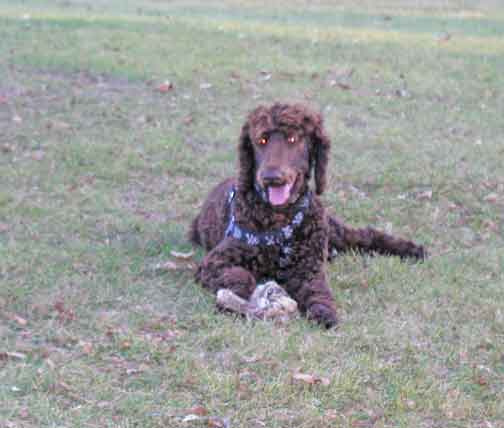 Mmmmm, nummy, a great beef shank to chew on!
*
The leaves are coming down...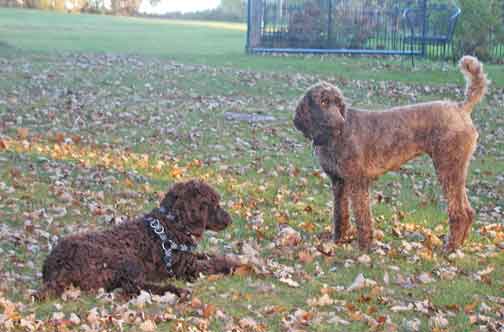 I'm being rotated around the parks with different spoos at Tes's...here I'm in Front Park with Jasper, Daniel and Angel.
*
Hey there, my hairs getting long again...haircut soon?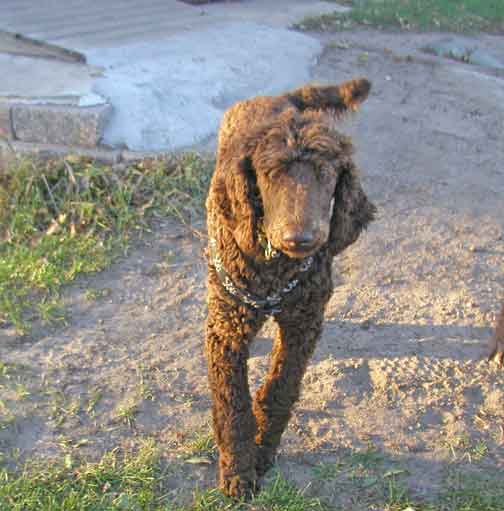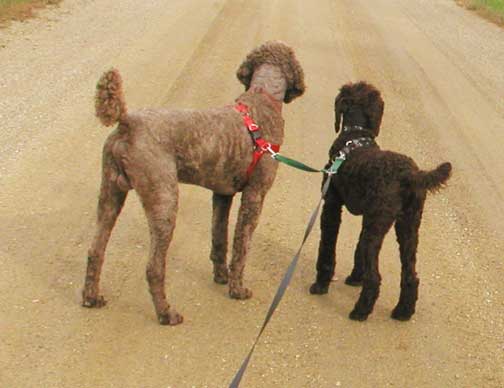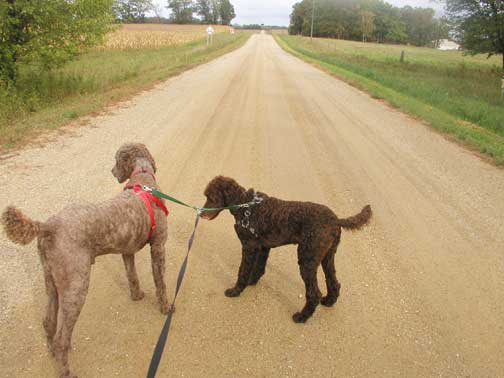 It's time for a walk daddy Bruno :o))
*
I have found my space under Dani's chair to be a perfect fit...until they kick me out when she has to sit down :o(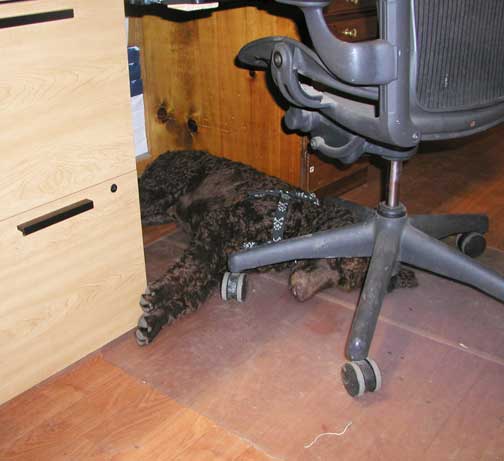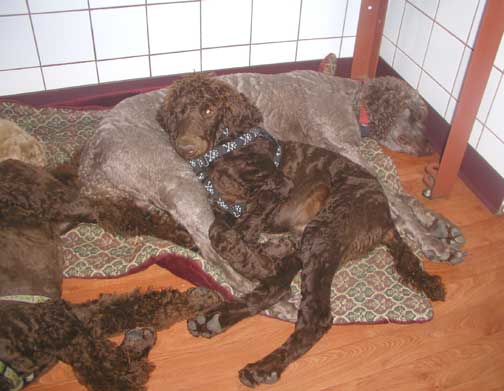 Ahhhhh, scratch a little higher Dani, ahhhhh....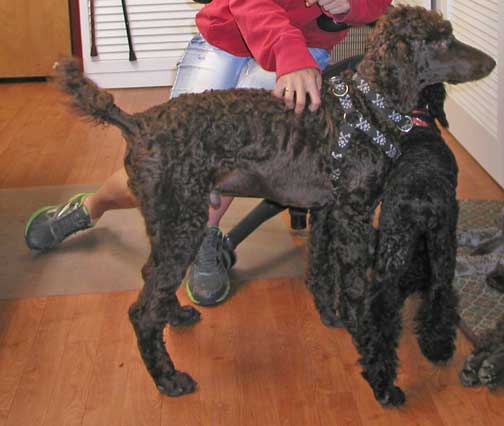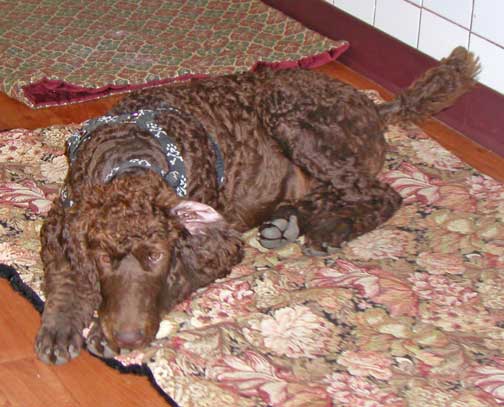 Well here's another ear back picture :o)
*
Magic is growing HUGE! She's a month younger than I and she's caught up to my height! She's going to be a great addition to Tes's Royal family.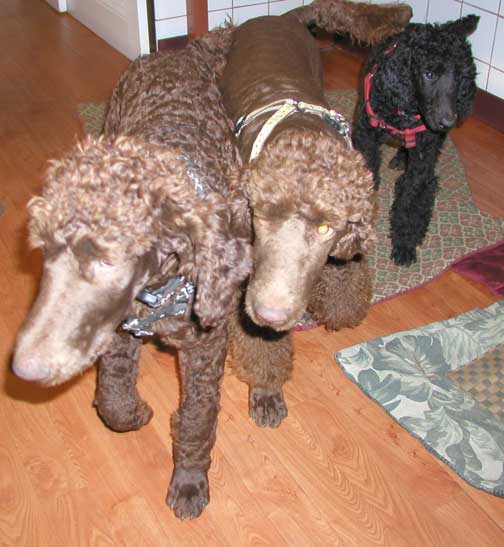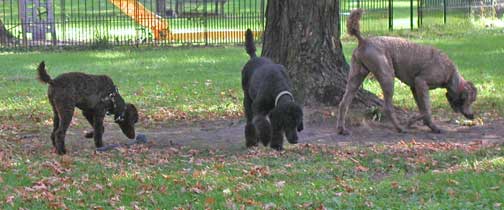 Mom & Dad...we're looking for bugs and goodies to eat :o)
*
Playing with Kherty and Dad, off we go...
Are we done playing Kherty? 
*
What are you doing over there Magic...I want to play with you!!!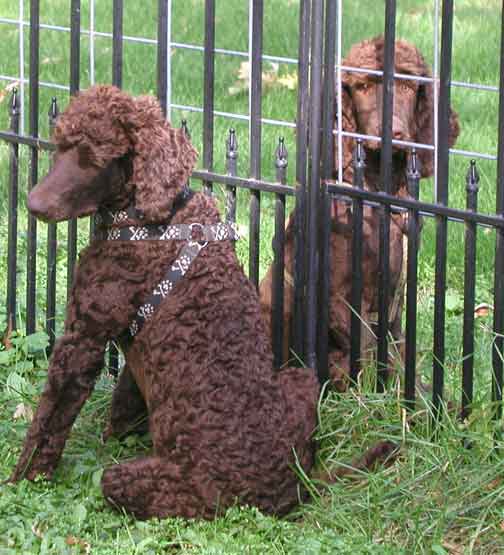 Some of the others are getting it figured out.
*
I'm going to get big enough to get up on this deck pretty soon, I am, I am!!!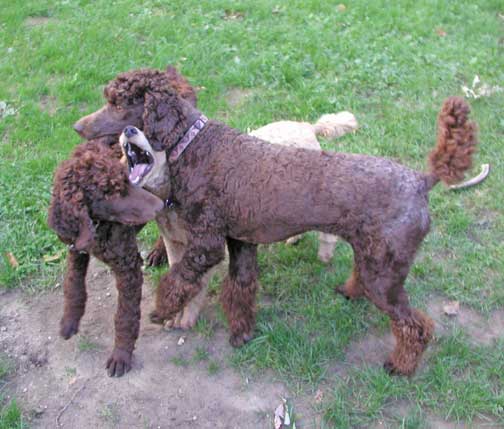 Jewels is quite a bit older by 5 or 6 months, and we really like playing with her :o))
*
Oh, okay, I'll come out from behind the tree...I'm a little excited...and that's what happens when I get excited, it just happens, so master you need to know that ;o)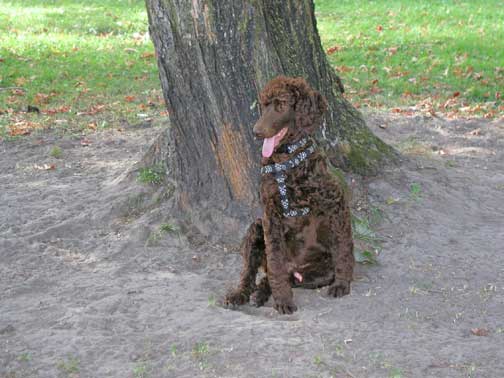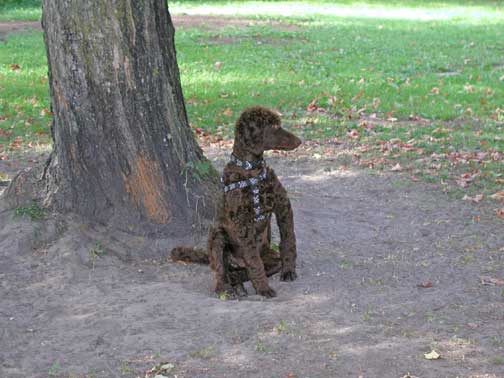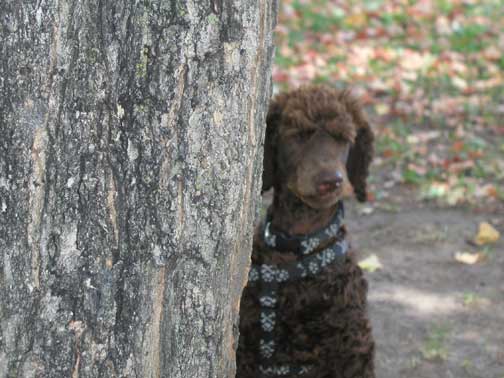 What?!?! You see me?!?!
*
Tes has the beds in several parks...she should get more for the other parks too!! She's preparing to lay cement behind me...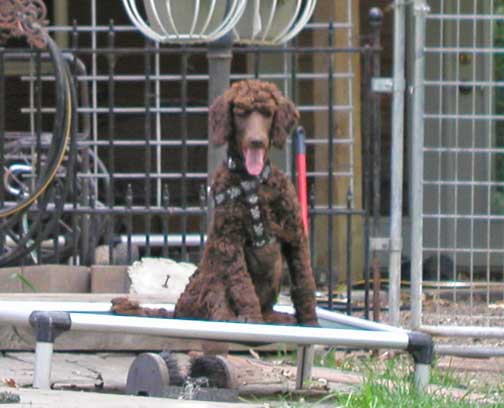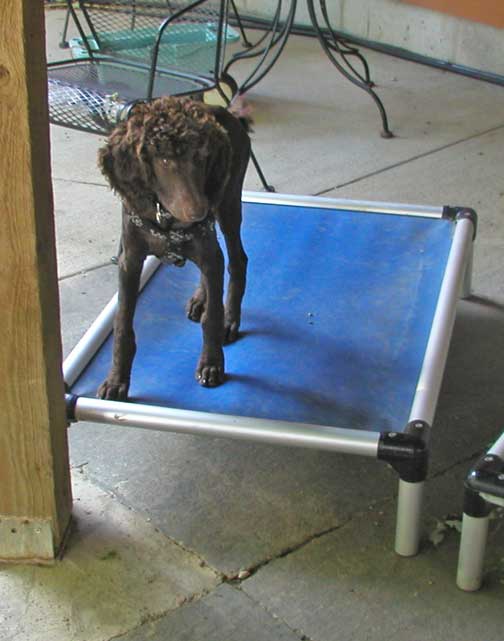 Really Really like these Kuranda beds for resting on outside. Great weather resistant and durable compared to the other styles Tes has had in the past...these REALLY LAST! There's a link to their website on the books and links tab.
*
Sometimes Tes is able to catch some great pictures that she uses on her "Fun" web page...this one with Max and Neopi triggered her view of Day and Night. She was filling a hill with dirt in the puppy park to a better grade, then seeding, landscape fabrics...and you'll see the grass grow in pictures to come.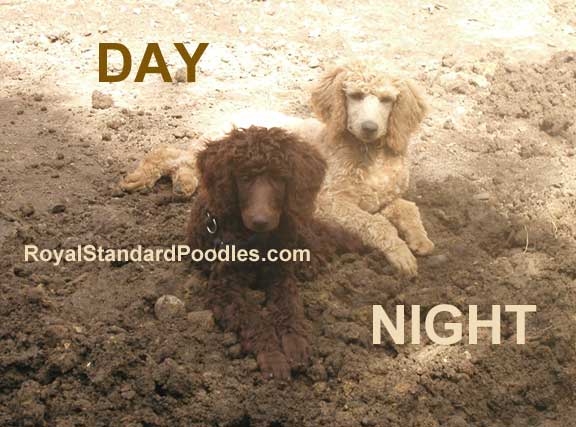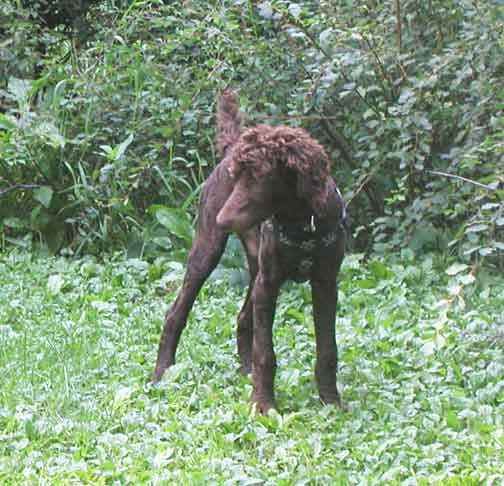 He has his new Bling Bonz harness and collar on after a fresh haircut and bath for the steamy hot summer months in MN. Tes really sees him bulking out compared to the thinner growing body a month ago. 
*
Grow, grow, grow...that's what I'm doing best in the coming months :o)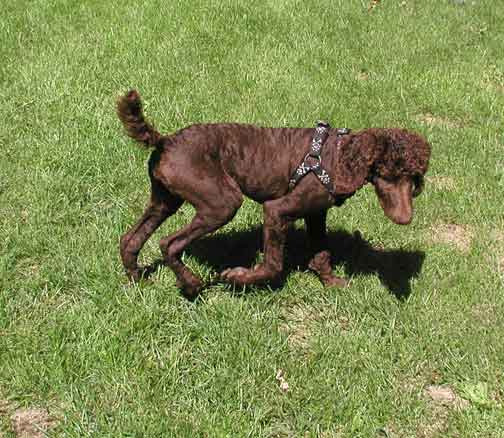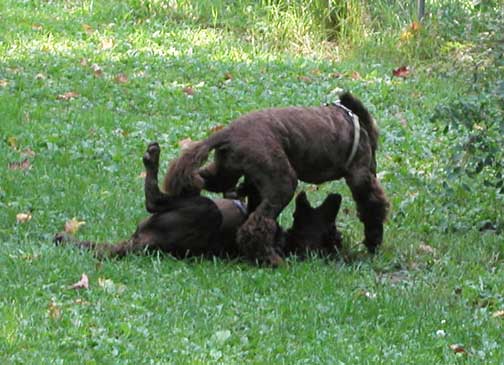 Play, play, play...is another thing I do great with Magic and the others my age...Magic is on top of me...she's STRONG for a girl ;o)
*
We are watched over by Tes to assure we don't overwhelm each other with our playing...Jewels is the big 9 month old girl in the background to show size difference...and she plays wonderful with us :o))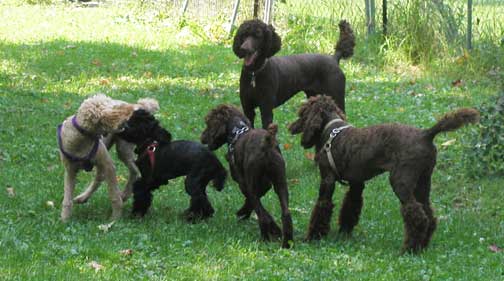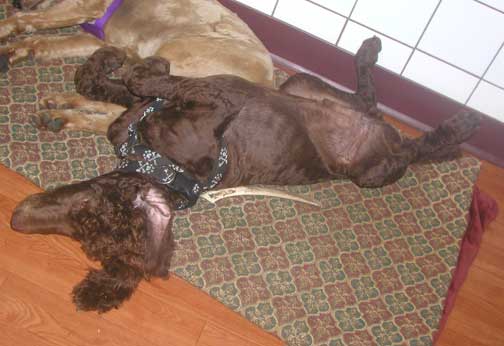 Tes has to always try to get a 4 legs up picture...ahhh, it's cozy warm in the office, thus the 4 legs up to allow our bellies to cool us down.
*
Okay Jewels...you can play with me ;o)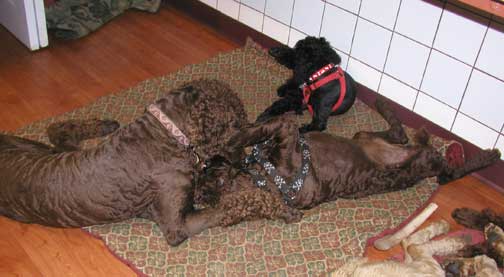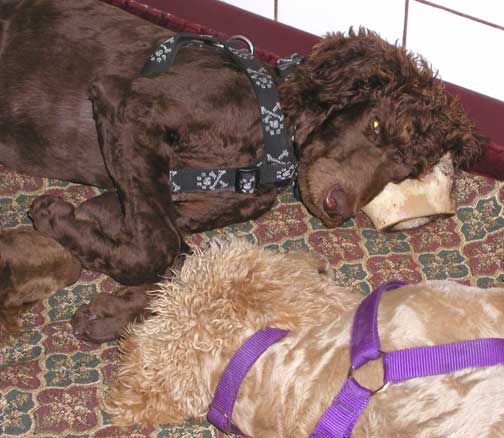 Time for a nap with Neopi...ahhh, great pillow...and chew bone as my baby teeth start to get pushed out with my adult coming in. Ah yes...MINE!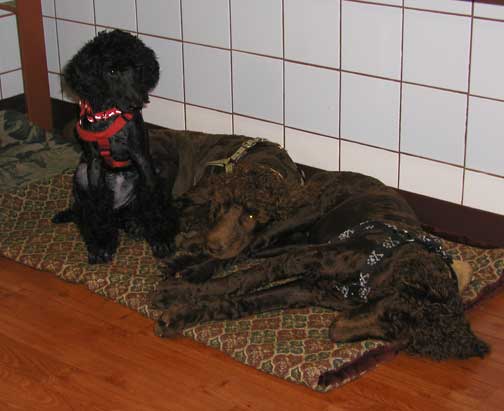 This is something we do best...zzzzzzz...cuddle...zzzzz...cuddle....
*
PUPPY PILE!!!!! Pappa Bruno is very patient with us...but always bunches up our pet beds :o)
Hi!
*
Mmmm, running water is sooo much more tantalizing to drink than the standing water.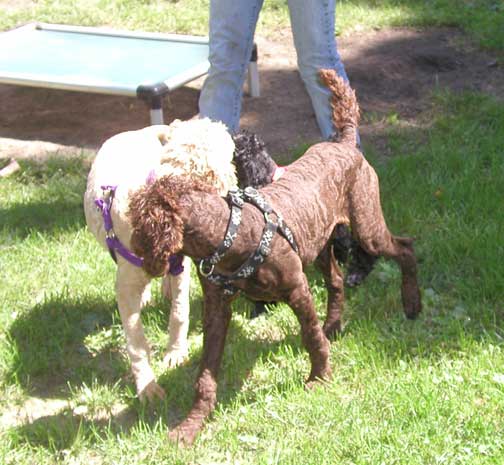 Interacting, socializing, all a part of growing up under Tes and Dani's watchful eyes :o)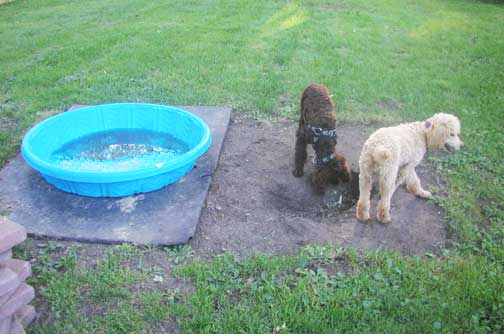 Hey, we've dug our new swimming hole, let's add the water from the pool over there ;o))
*
HEY! Let's help Tes set up the play set!! Lots of things to play and have fun around the parks...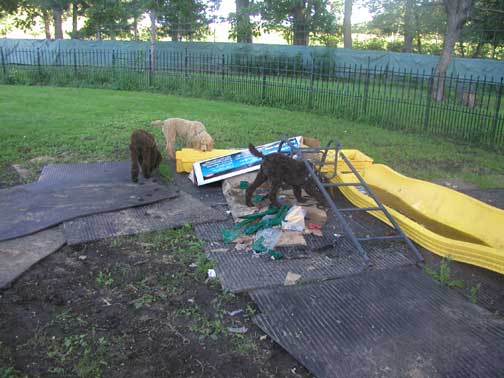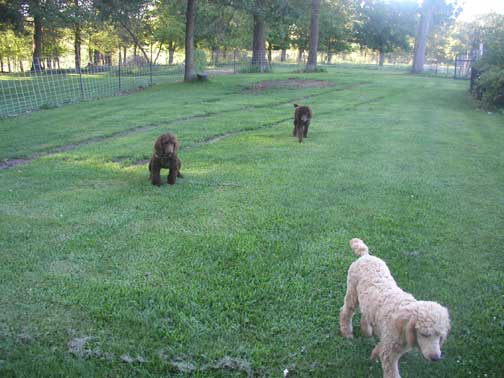 Here three parks are opened up for us to play and circle around...Puppy Park opens to Momma Park and Youth Park...and we chase around through the gates to have fun :o) Tes is planting dirt to fill holes, cover rocks and boulders and fill in tire ruts...around we go ;o) Apricot Neopi is in the foreground, then Magic, then I, Max is coming up the rear.
*
Woo Hoo!! Wow! This is the Back Park where the big spoos romp!! Wow, sooo much space to run in...at least until Tes gathers me back to the Youth Park area ;o))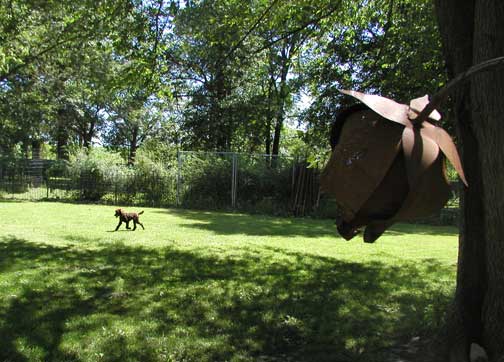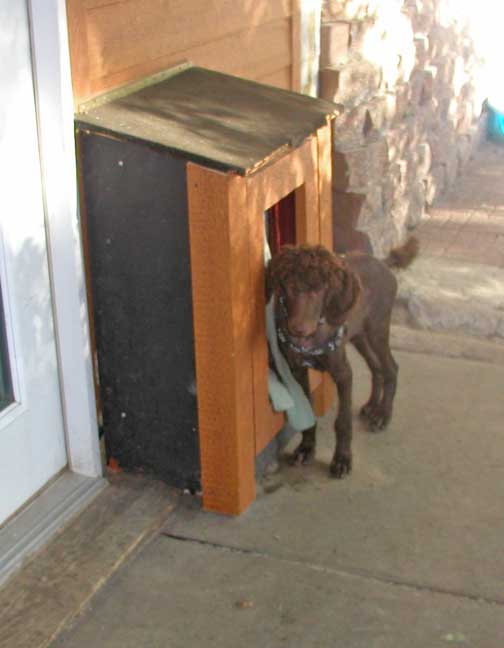 Dani gave us all a haircut, bath, and added our new collars and harnesses.....I am one handsome boy! Tes buys wall doors for us and then ALWAYS ends up doing more because of the MN COLD! She adds layers of wool that can be washed and scented with cedar oil. Layering for the winter cold has made a HUGE difference!!
*
I get to hang out in Central Park with my mom (Zeddy) and dad (Bruno)! These are the great outdoor Kuranda beds you can link to and purchase in the books and links tab. The office is through those double doors. She had this overhang built between the new garage and office to keep the snow off in the winter...it's been GREAT she shares :o)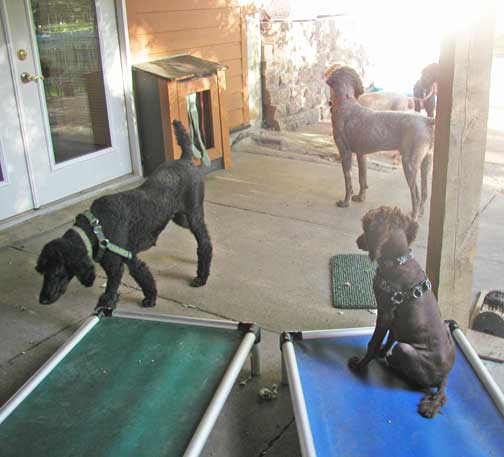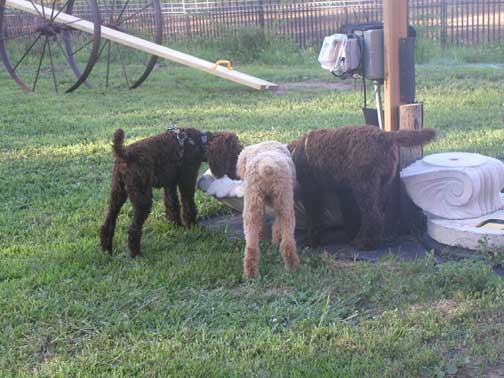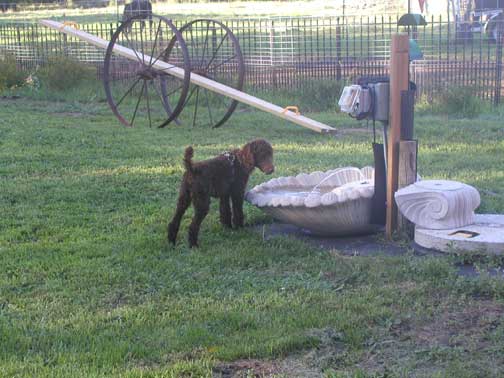 Tes added an outside fountain to our Youth Park!  We love to drink running water so much more then just standing water....maybe we can learn to walk across the teeter totter :o)))
*
Then there's these great decks Tes came up with for us. Wonder how I can get up there??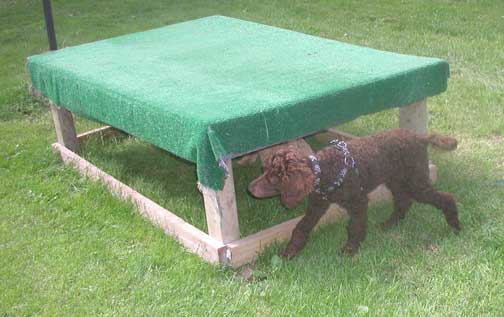 I'm almost big enough to ... oh so soon!
*
There is that ear flip again!!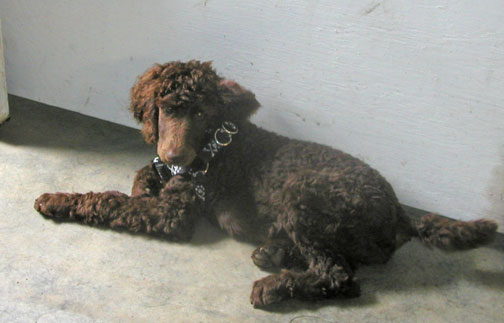 Exploring all this new space and interesting smells!
*
Tes is transitioning us to the office to learn to potty outside as we get older and moving in to be with her...socializing more and more with the older spoos.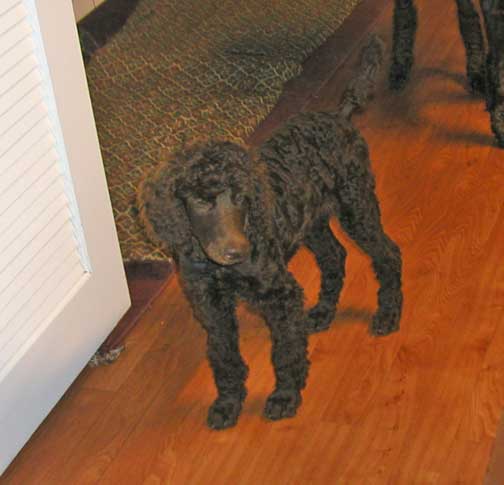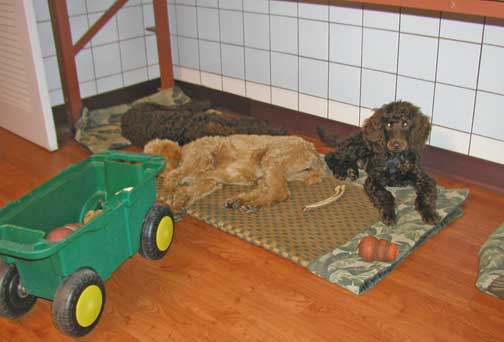 We had to check out all the toys in the office....but now it's nap time
*
Of course once we get in the office we get lots of cuddles!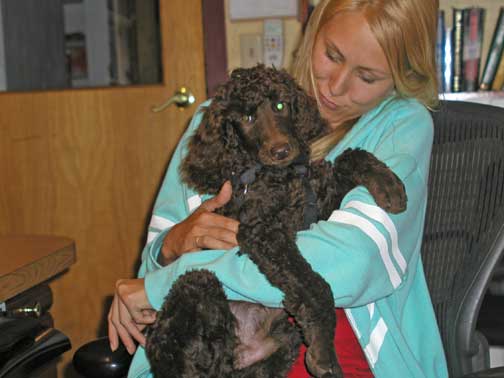 We've figured out how to go in and out of the wall doggy door waaaay faster then Tes could've imagined compared to previous puppies. We LOVE exploring the office space now.
*
There's the ear flip that Dani loves to laugh about! Tes is planting old railroad house bricks from the demolished round house 30 yrs ago, they bought them for the front of the house and have had lots left over for years and now she's figured out where to place them...all around the base of the garage as a walkway, to keep the spoos from digging up the dirt, and keeping it from washing out.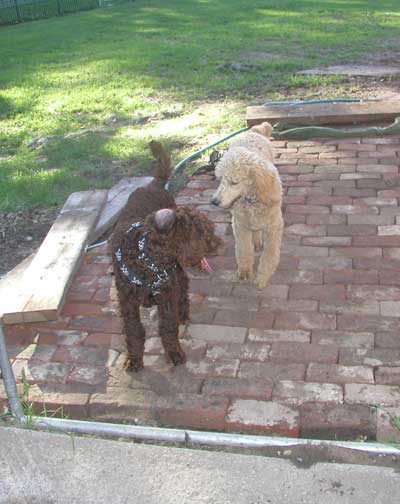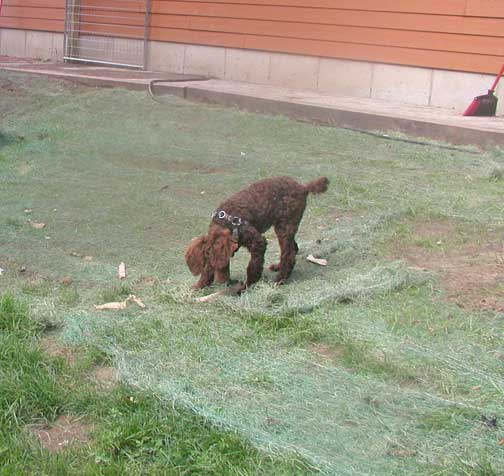 Always exploring everything Tes is doing.....I wonder why she would want to have grass instead of this wonderful dirt? :0) Let's dig a new hole over here Magic!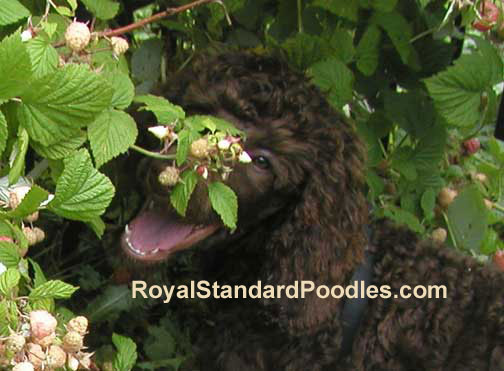 We enjoy the berries just as much as Tes and Dani! Tes found the hybrid Raspberry Blackberry bush at Landsberg Nursery in Baxter, MN. The berries are JUST RIGHT! NOT to sour tart like plain raspberries...super sweet and WE LOVE picking them! SO WHAT if there are prickles!!!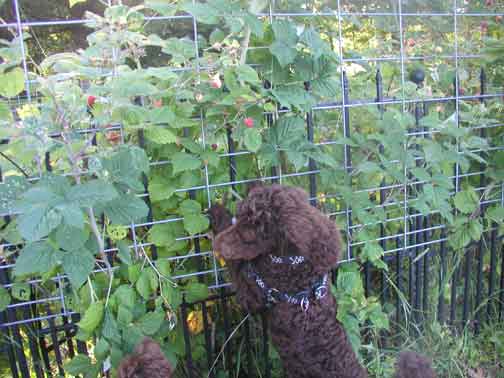 Can someone help me reach it.....soooo close!
*
I think I found a ripe one....yummy.....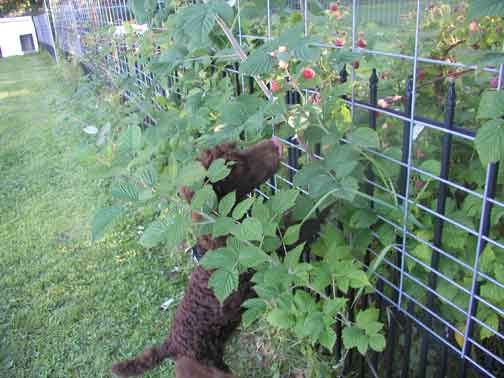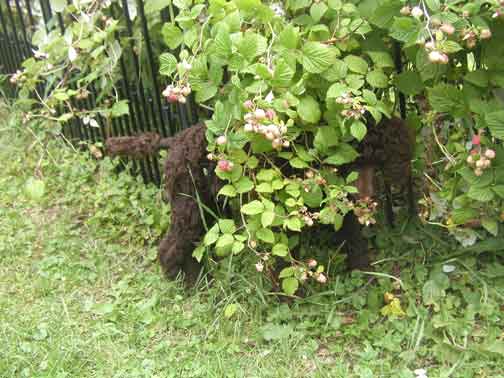 hmmm....what do I smell.....MORE berries?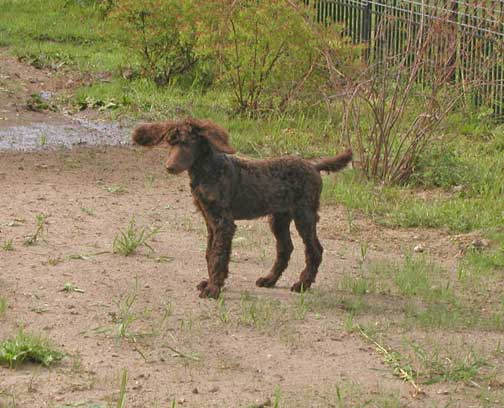 It appears he's like the flying nun above and wants to fly to Australia NOW! ;o)
Here are new spirea bushes being watered in the new "Youth Park" that Tes has finally gotten fully fenced that the spoo youth can come in and play while she works :o) Seeded with oats and grass, it's coming up finally after being washed away TWICE with heavy rains :o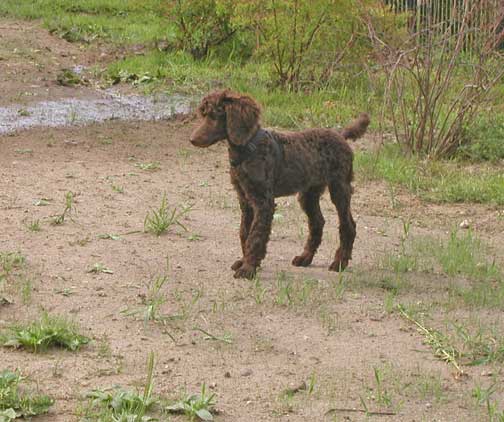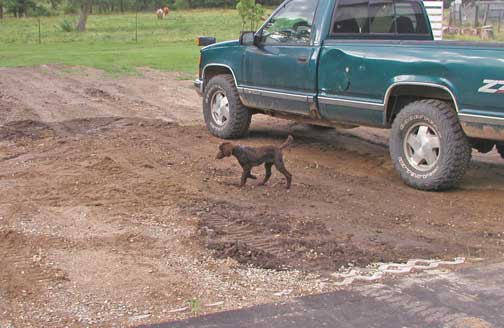 Wow, it's break out time again! Tes has had half of the driveway tarred so it'll be easier in the winter...she has to smooth out a lot of dirt yet...all as I keep on growing to go to Australia :o))) I'm going to be a tall lean boy :o))))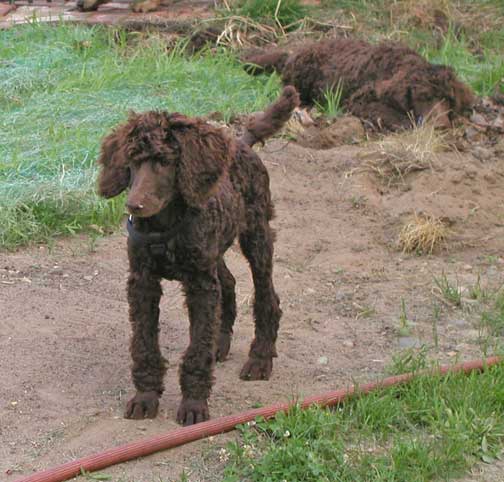 h...hmm, smell this...a pile of dirt to dig in, smell...let's help Tes...dig here!!!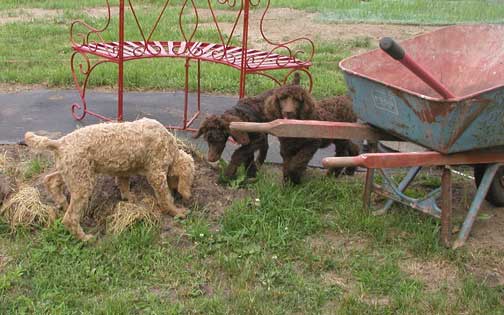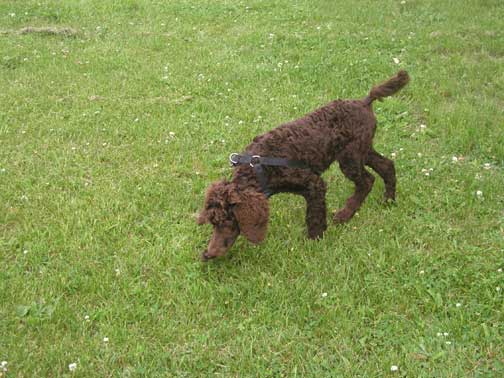 Frogs, toads, bugs, smells...hmmm...baby rabbit!
*
I've gotten a haircut to stay cool in the humid summer here in MN. Tes is continually doing this and that to prepare the details of the finishing of the parks. Here she's getting ready to lay bricks for a sidewalk around the base garage wall so we don't keep digging up the dirt, or the rain washing it away.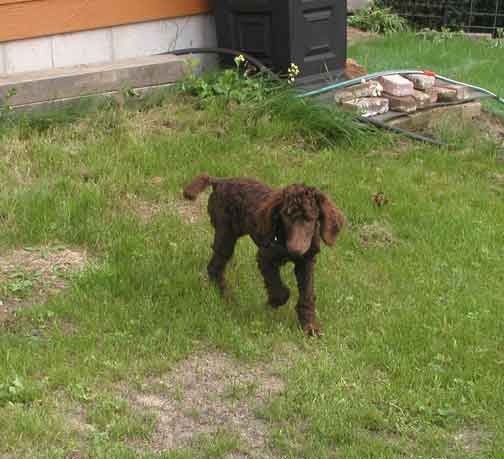 Here's the length of the youth park for us to be curious and run and have fun. The rains keep washing away the grass see. There's a hybrid raspberry/blackberry row of bushes along the park that we can make sure Tes and Dani stop and enjoy the fruits of their labor when they're ripe ;o)
*
Cool - what's this! Tes is using Ms. Moover (Dani named it) to water the newly seeded park...Woo Hooooo :o)) She's planted poppies on this end so the theme is poppies in the youth park.
Woo Hoo - look at all the space to run in the new park!
*
Tes made the teeter totter from an old old farming equipment, the farmer would ride singly on this and plow with the horse. Dani's kids, and others, will hopefully give it a try...or we'll teach the spoos how to walk across it ;o)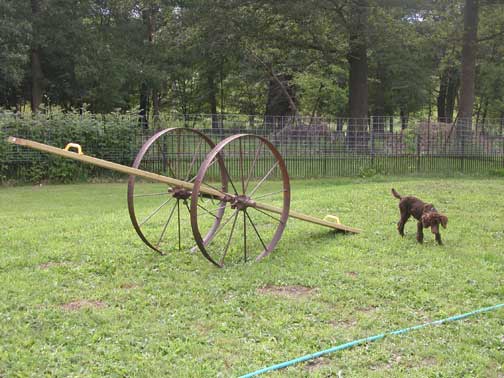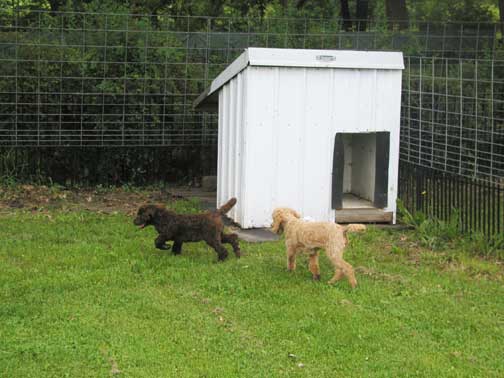 Woo Hoo! We're in!! Youth park has lots of new smells and things to check out :o)
*
Hey Max, let's break out of momma park into the new youth park! Tes - come on - let us in!!!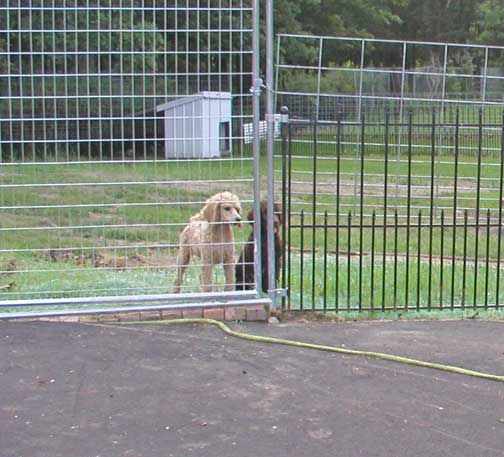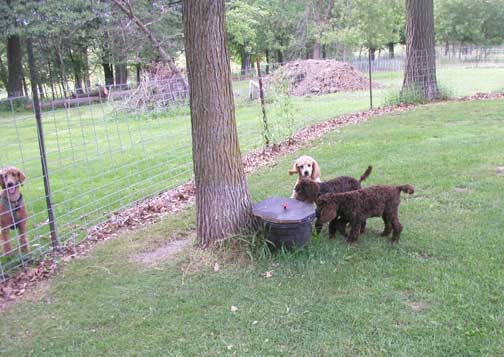 Well, we've broke out of puppy park...into momma park...I smell the dead mouse Tes threw in there! She's after us to leaaave it!! That's a pile of dirt behind us to help fill in holes in the new acre of park added. We've been watching the big spoos climb and play on it having a jolly good time!!!
*
...ready for me to move into the upcoming weeks above ;o)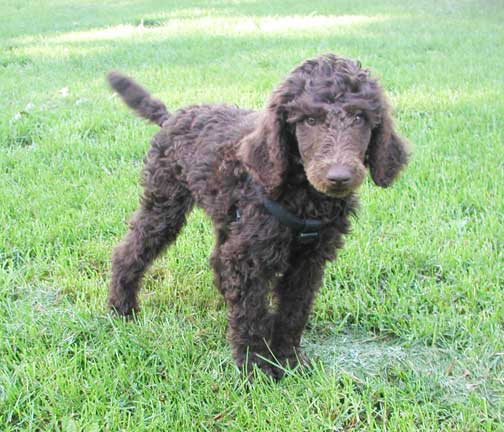 Hey there! Let me up there with you!! I want more hugs and kisses and petting and loving ;o)))
*
Okay, here's a paw for you, now lift me up :o)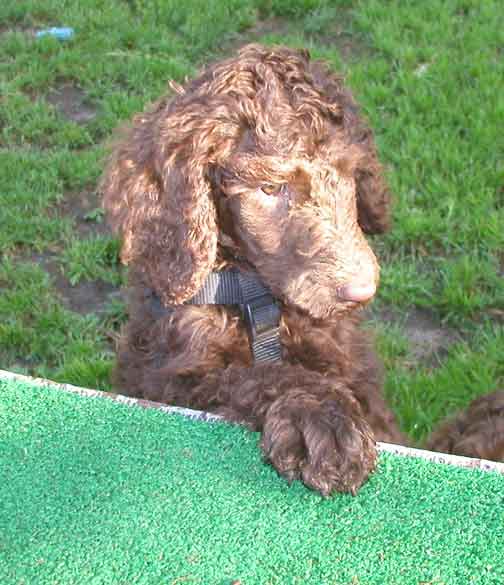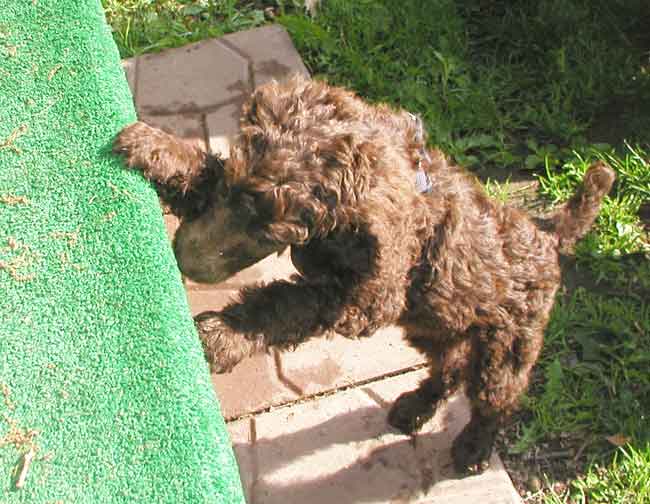 Wait, what's under here? Toys?? Well, I still want up here with you!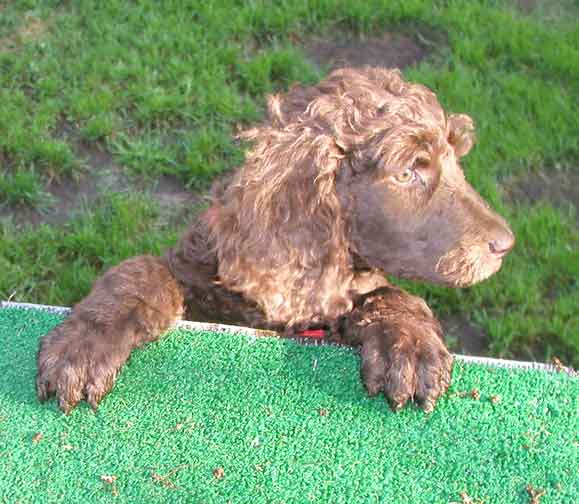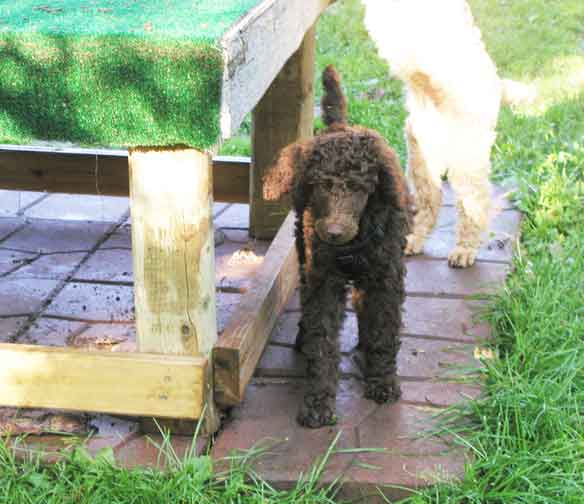 Oh, I'll come to you over there now :o)) 
*
Ahh Max, you're such a VERY NICE boy. Sooo loving and cuddly...it's all so worthwhile to keep you here and watch you grow until you have to go to Australia.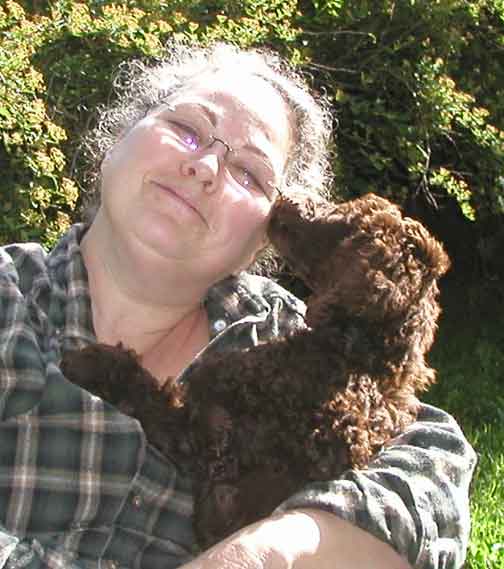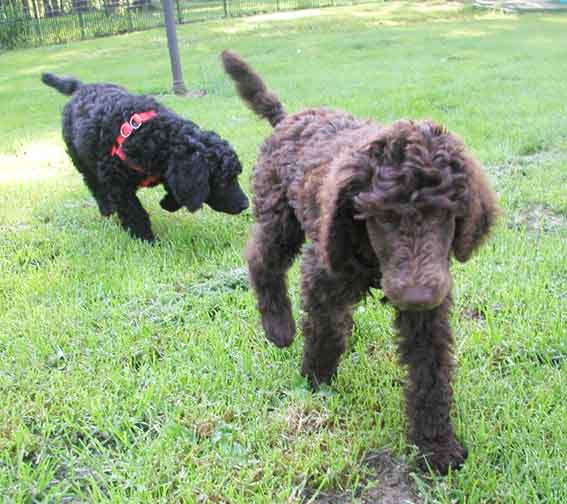 Montana is here awaiting his owner to come and get him...and I also have Magic and Neopi to play with as Tes is keeping them for future breeding....I'm a lanky lean boy groooowing...stay tuned...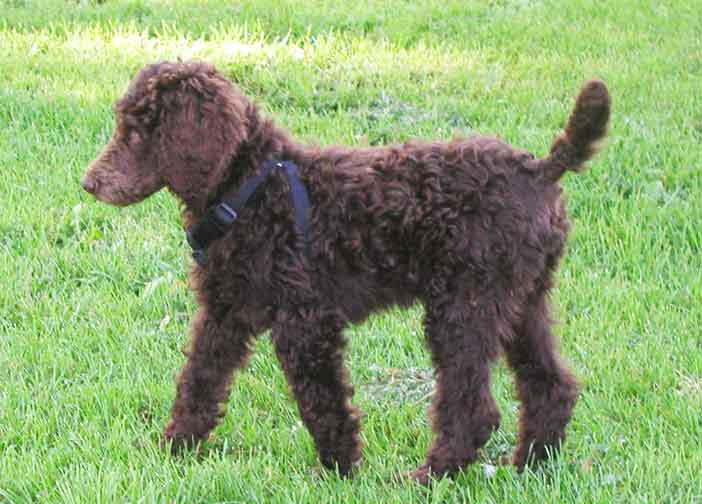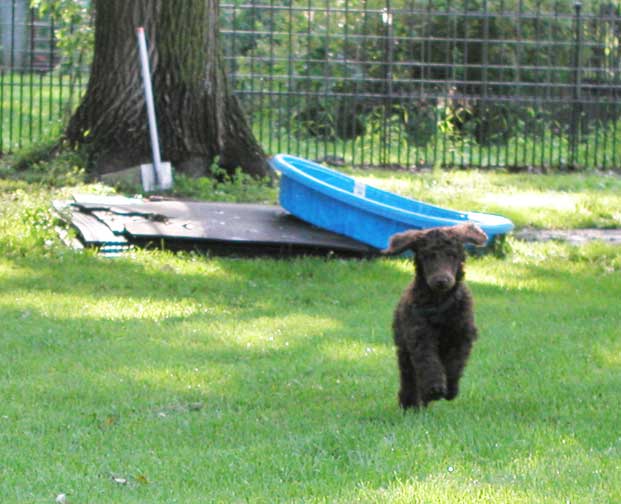 Tes is getting ready to build a gym play set for kids when they come, mostly Dani's kids when they come over :o) There'll be a slide into a swimming pool, rubber mats to play on, climbing stuff for up the tree and FUN!! Look at me - having fuuuunnn :o)))
*
Tes just built the door for us to learn to go in and out of...it'll get painted to match everything...she's always building figuring a better way for us...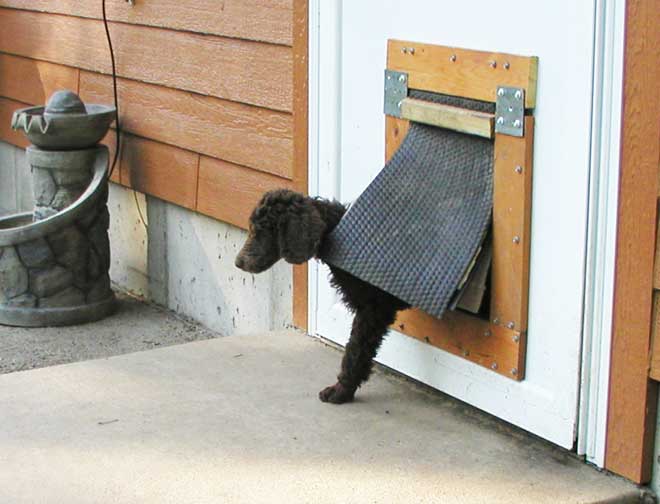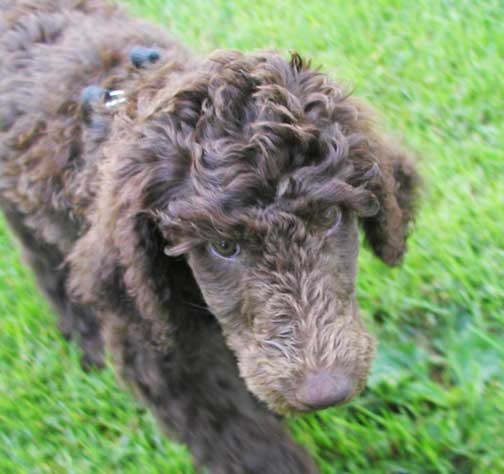 Here's lookin' at ya...I'm 11 wks old now, soon to get another hair cut for the hot humid MN weather...so next picture updates you'll see me with a shorter hair cut.
*
9 wks old I'm growing into this Lupine harness.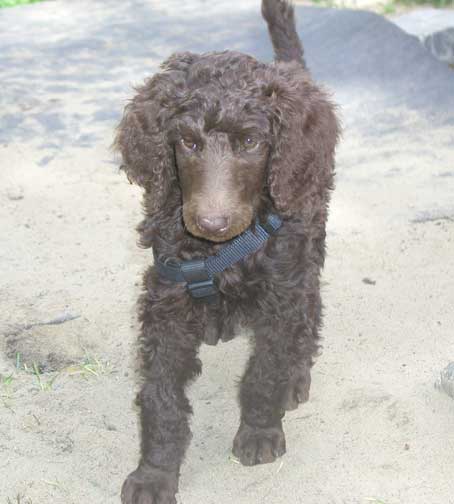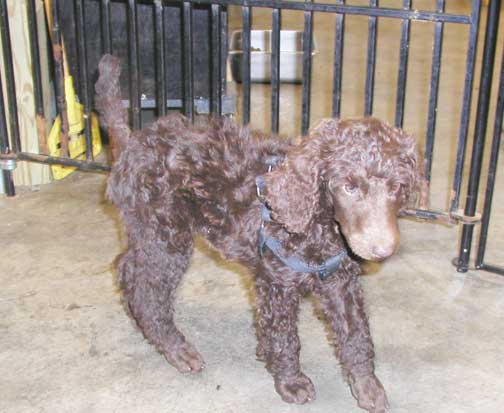 This is the new "Family Room" where we stay and learn to go potty outside.
*
I had a purple harness on when Dr. Mark chiropractically adjusted me and the others...ahhh feels good.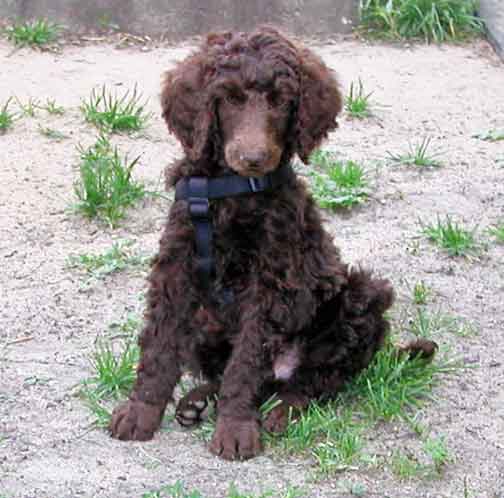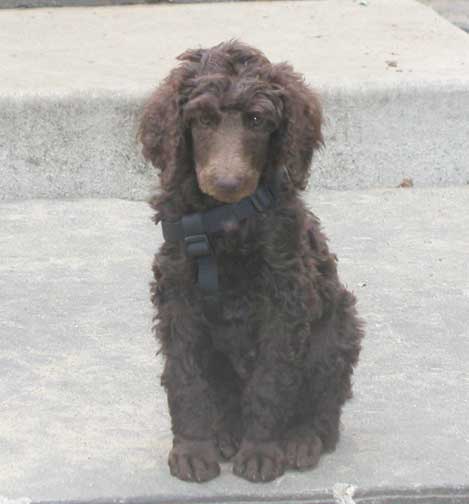 Learning steps is a part of our training at Tes's home...she just got done putting in a doggy door in the screen door, so now we have a new learning challenge, which only took less then 15 minutes! Tes calls us "Potty Outside" and we all come a runnin'! And, of course, potty outside :o)) I'm growing and becoming a tall lean boy already...looking to become that Royal Standard Poodle from Zeddy x Bruno.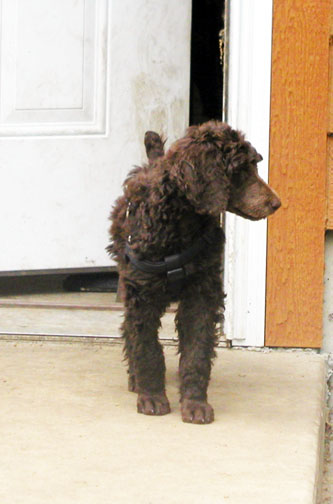 Mmmmm, time to snuggle into a zzzz here on the Kuranda bed.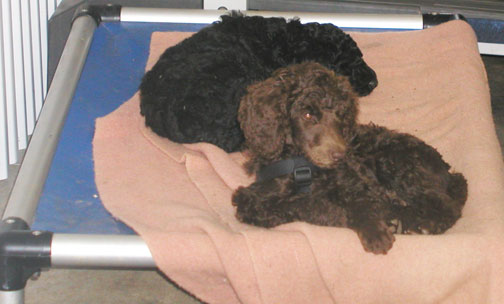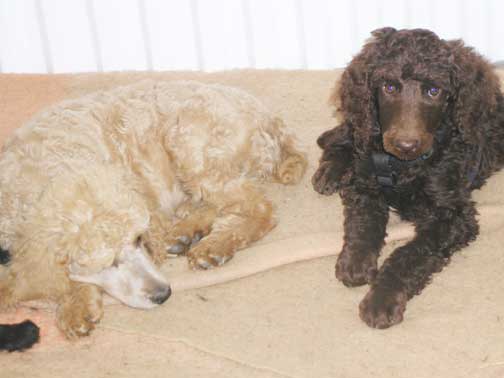 Neopi & Max here taking a break on one of the wool blankets Tes likes because they keep us warm and wash up so easily.
*
Hey, it's a mug shot, Tes really likes to show us to you close up :o)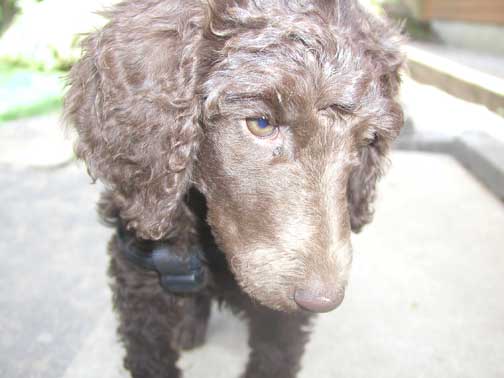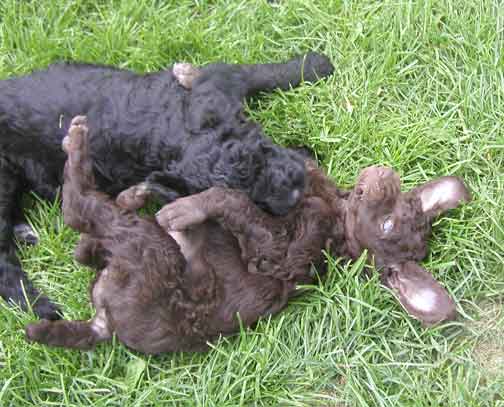 Woo Hoo! It's play time in the park with all my buds...the apricot girl Neopi will keep me company until I go to Australia. Tes is keeping her for breeding to Bruno :o)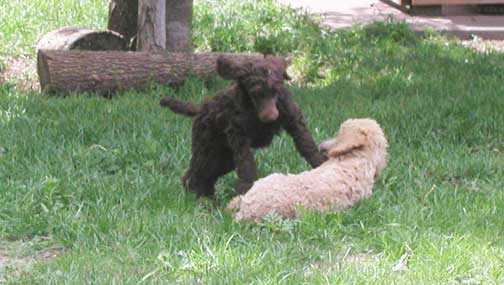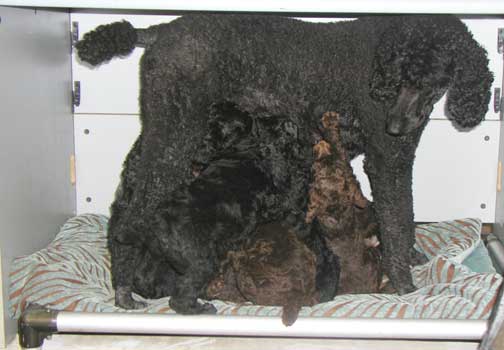 Here I am with my family...Momma Zeddy has to stand with 10 of us growing puppies...we're starting to get our 7 wk haircuts, some are done, some of us waiting :o))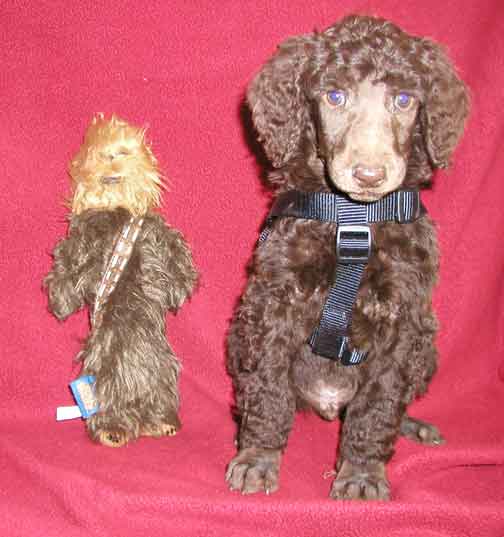 Max here! Above I turned 7 wks old with my first hair cut.
*
Below I've my first bath at 5 wks old :o)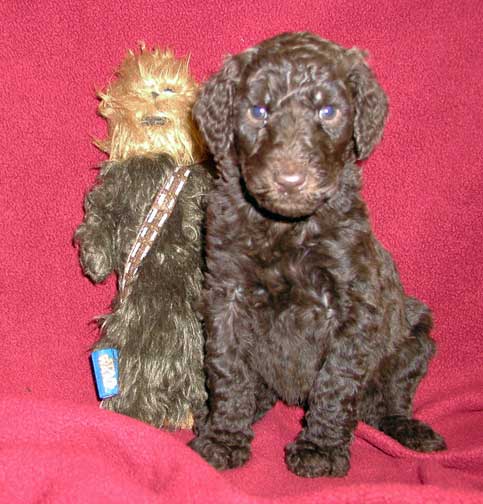 Growing up in the nursery with lots of love and attention helps me to be a happy happy puppy :o)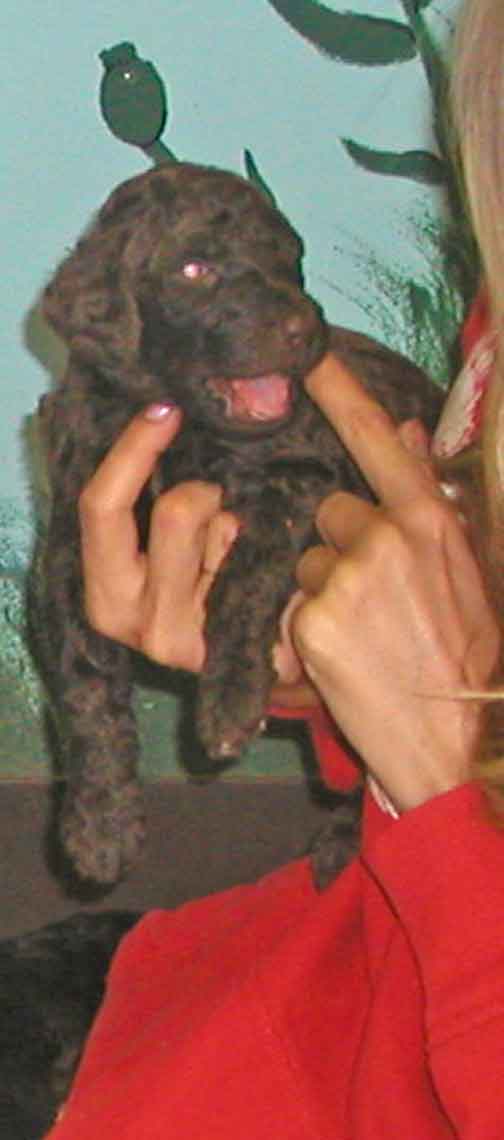 With my family, I learn how to eat slurry that I can get onto dry grain free adult dog food :o) That big beef bone there helps my teeth get through the gums.