Royal Standard Poodles Black Zeddy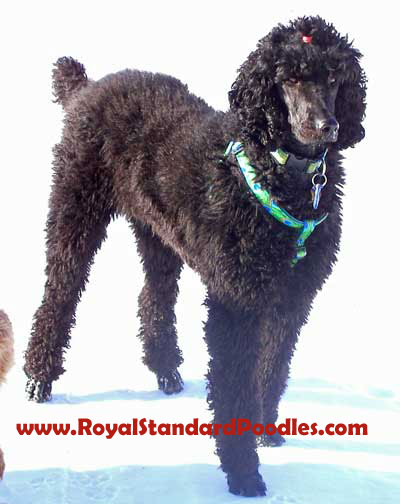 Royal Standard Poodles Black Zeddy Winter 12/13 above, is given her name from the space ship Zedereza - Zedereza of A Perfect World - who has her own spirit in my fantasy novel book 1 "A Perfect World - Tatriel".
Zeddy is a "non-fading" Black, VERY tall, and has a great loving spirit that I look forward to developing into the wonderful dam she will be as a mom for your future standard poodles.
last update 12/14/16
Tracking Zedereza's stats:
Osteochondrodysplasia (OCD) Clear > For more information Click Here
COI 10 generations .46% - Very Low
1/31/13 no evidence of thyroid disease - normal
1/15/13 Congenital Cardiac disease - normal
1/8/13 CERF (eyes) free of observable inherited eye disease
1 yr old 65 lbs and 27" at the whithers
8 months old 60 lbs and the same height as her mom Falcon - 26.5"
PennHip results - 90th percentile - EXCELLENT hip results!
test 5/23/12 Neonatal Encephalopathy w/Seizures (NEwS) - DNA test - Normal
test 5/23/12 Degenerative Myelopathy (DM) - DNA test - not affected
VWD Clear; clear by parentage, both tested clear
5.5 months old 45# - whew getting close to her mom Falcon's height already! 24" at the shoulders.
3 mo. old 20#
Brown Falcon and Black Ike are Zeddy's parents
http://images.akc.org/breederwebbanners/image_701.jpg
Zeddy just turned 3 years old in January, we have started to notice that she is starting to fade.  It did take awhile considering it usually happens at about a year of age.  Zeddy is a wonderful girl with a great personality.  She will sit for hours waiting for the squirrels to come out just like she is in the picture below!
Zeddy is such a wonderful mom cuddling with the babies.
*
Poodle pose!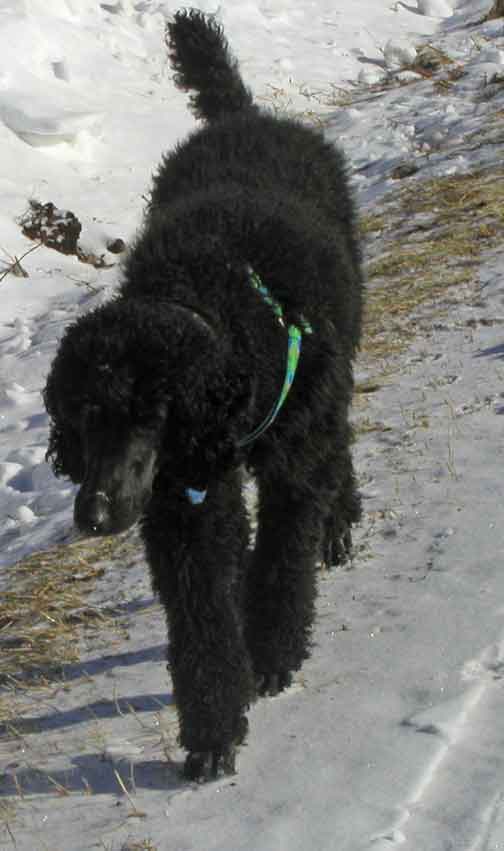 Watching the snow to see if there is any movement going on!
*
We like our Greenies, they help keep our teeth clean.  Look how black I still am.
Dr. Mark is our chiropractor, he visits once a month to be sure we are in the best shape possible!
*
Momma Zeddy cuddling with Monkey before he leaves for Hong Kong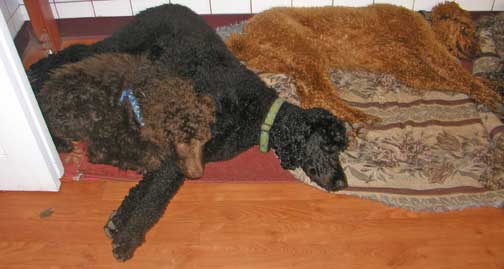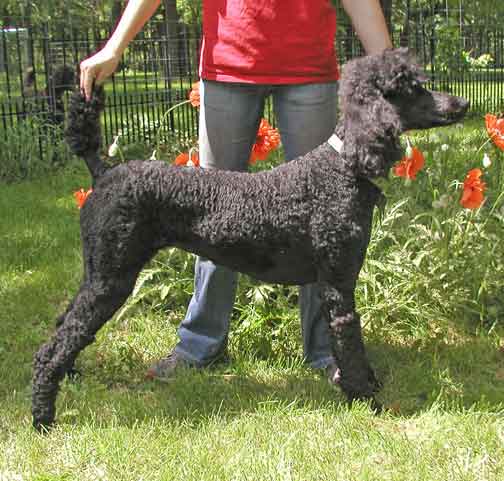 *
Observing to find any squirrel motion! We killed two in that the squirrels couldn't get through the deep snow fast enough to another tree!!!
*
Another 4 legs up shot with my spoo family relaxing in the office next to Tes...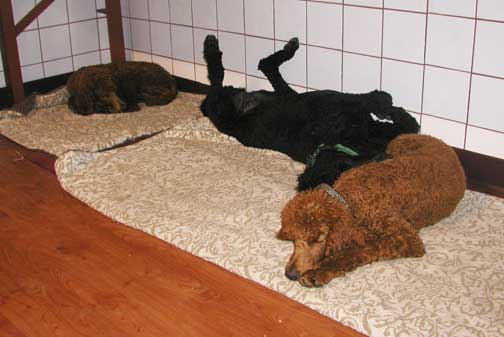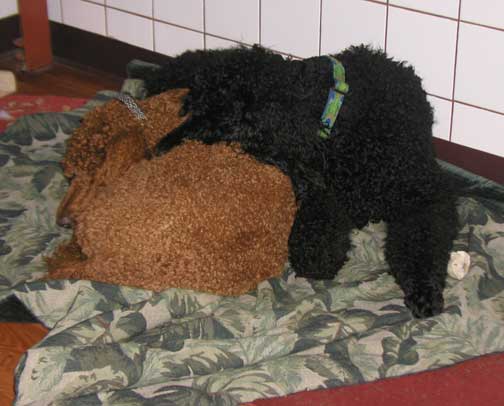 Always more time to snuggle with the others!
*
A beautiful natural structural stance!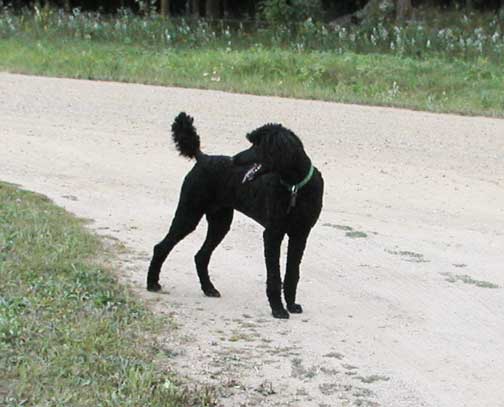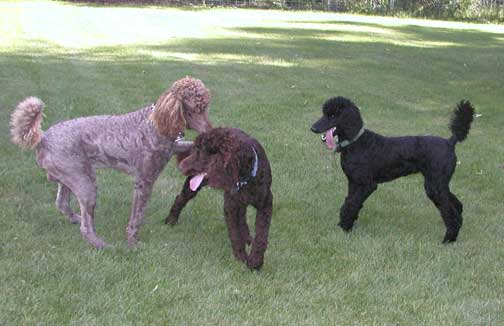 Here I'm 7 months old playing with the guys...
*
"Spinners" - that's what we're calling our new organic wool toys that we won't be able to de-stuff...they're fun and we can play and tug and run with them :0)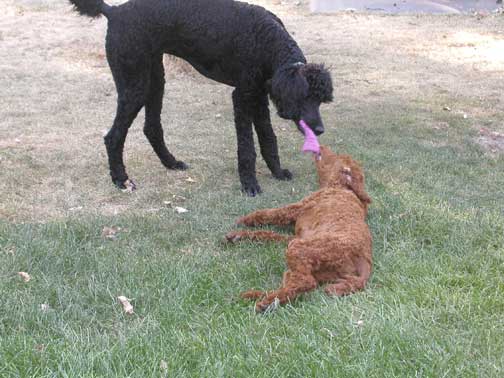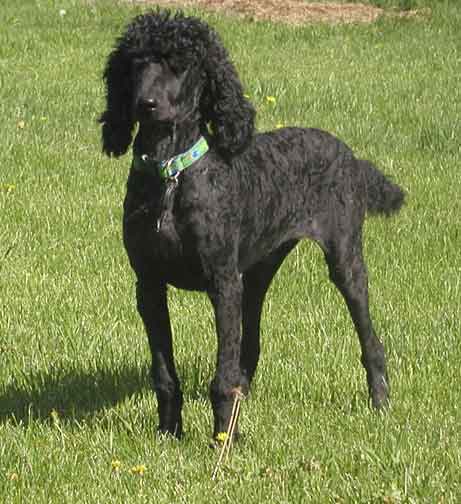 I'm 5 months old here...
See, I want to fly away with my ears ;0)))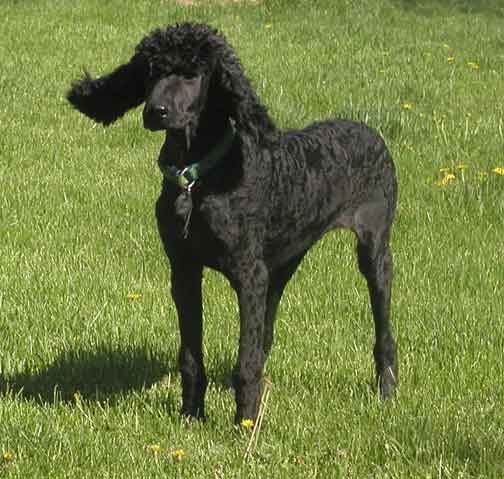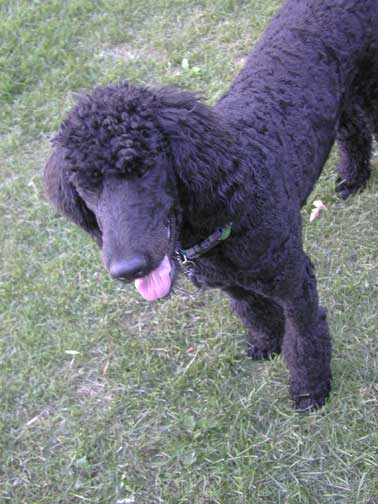 And then there is the mug shot ;0)
*
At 8 months old I can't get enough playing in with Rosco...at it all the time!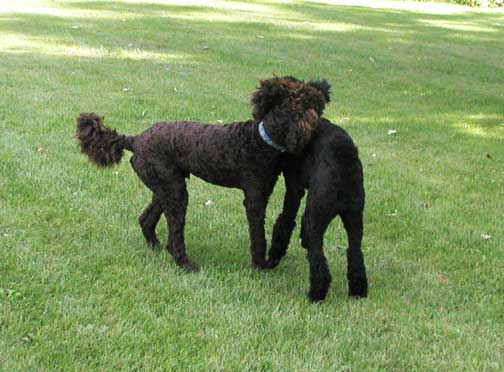 It's the summer Poppies blooming...let's play in them!
*
Here's my 4 legs up shot ;0)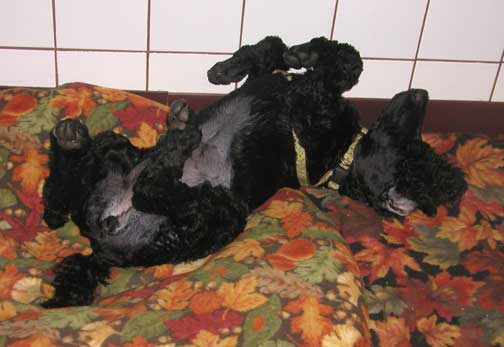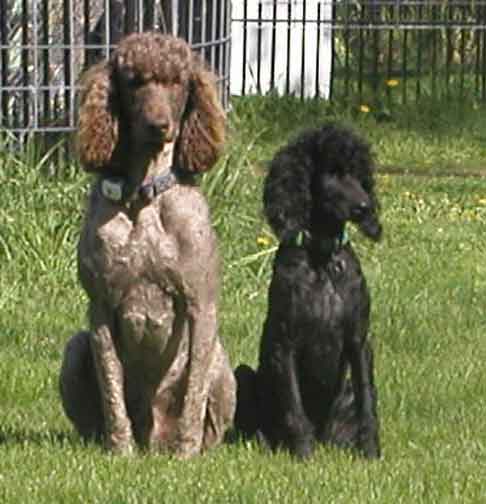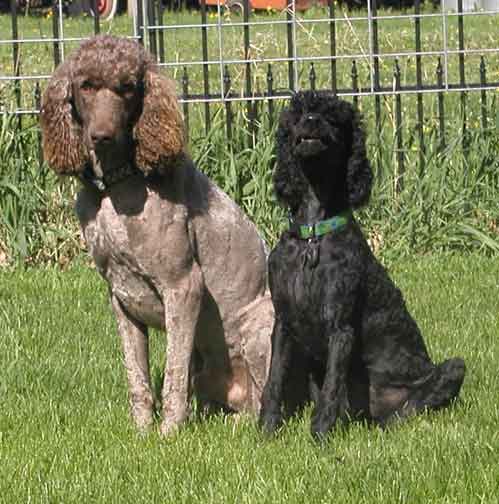 Compare me to Bruno at 4 months old, I'm going to be a Royal girl!
*
Zeddy 4 months old enjoying other puppy mates.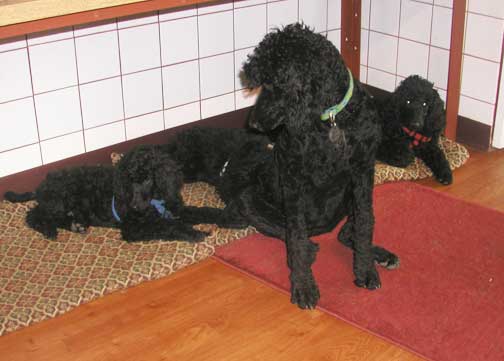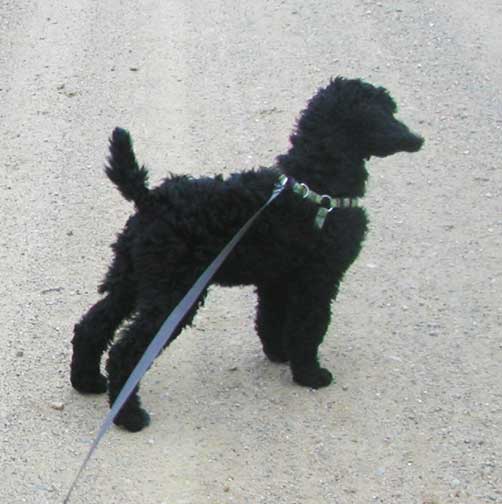 What a fabulous stand at 2 months old - Extremely promising structure for our next breeding female for Bruno.
*
Zeddy is 7 wks old with her first haircut. Named after Zedereza, the first spaceship with its own spirit in my fantasy novel "A Perfect World-Tatriel"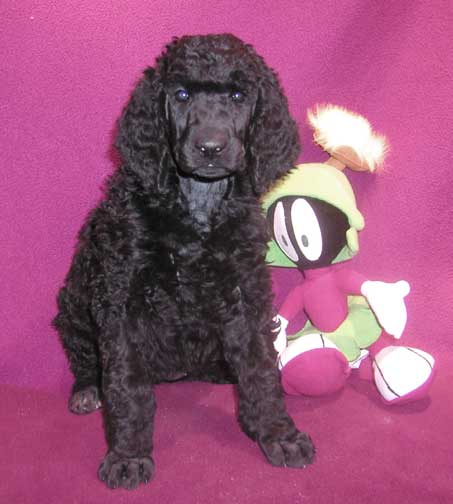 Royal Standard Poodles - Black Zeddy, check out puppies for sale like her...