Royal Standard Poodles - Jasper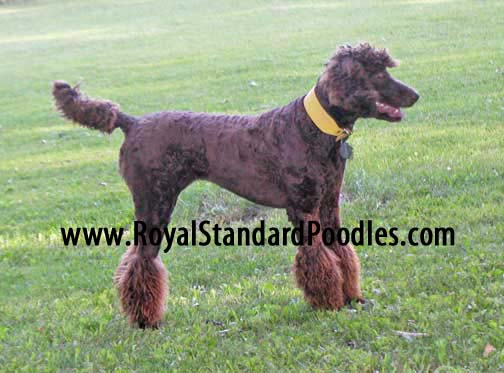 Royal Standard Poodles - Jasper, parents Brown Falcon x Bruno.
Click to see EXAMPLE 2015 litter
Click to see EXAMPLE 2016 litter

Tracking stats of Jasper:
Osteochondrodysplasia (OCD) Clear > For more information Click Here
COI 10 generations .58%
2 yr 65#, 25 3/4 inches

3/20/14 PennHip > Laxity Profile Ranking 90th percentile (Vet shared best hips she'd ever x-rayed! :0)) No Degenerative Joint Disease.
1/23/14 Canine Eye Certification Registry Foundation (CERF) - found free of observable inherited eye disease, this is done on an annual basis as much as possible due to it being done by an animal eye specialist 3 hrs away. I pile all the spoos into the mini van and away we go for the day...OMG! 
1 yr & 1 mo. 65#
9 months old 62#
4 months old 40#
3 months old 24#
8 wks old 17#
7 wks old 11# 8 oz
2/7/13 Degenerative Myelopathy (DM) - DNA test - not affected
Neonatal Encephalopathy w/Seizures (NEwS) - both parents, Falcon x Bruno, DNA tested clear/normal
VWD tested clear: as well as both parents Falcon x Bruno tested clear
Parent hips; Falcon OFA Good, Bruno OFA Excellent, will OFA Jasper at 2 yrs old, with chiropractic care there should be very positive results
Born 1/1/13, parents Falcon x Bruno
Don't we make a great pair? :0)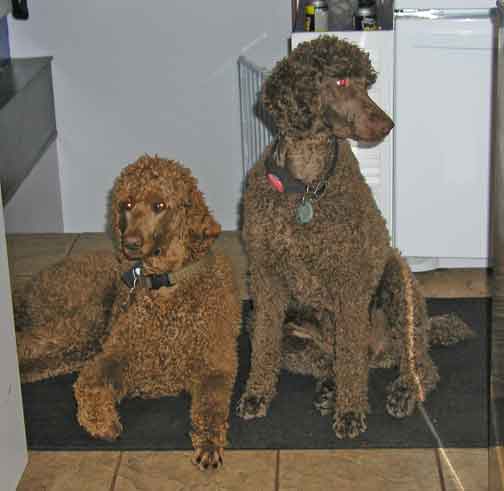 All snuggled in next to Yarrow
*
Look at my huge beef bone nummy!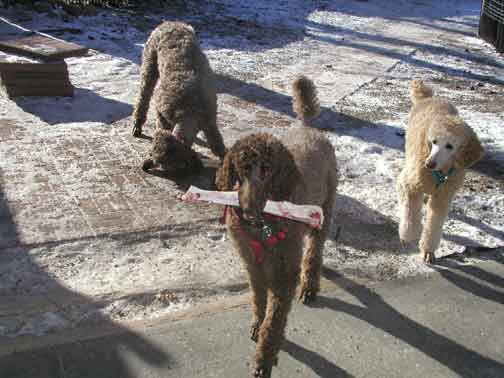 So much fun in the fall lets find some leaves to jump in!
*
I dare you to move....:0)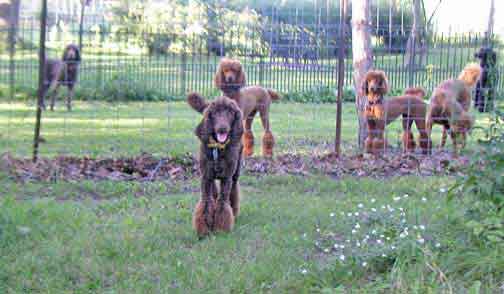 Hey how come Jasper gets to be over there?
*
Growing up with Black Zeddy (front) and Blue Cleopatra (back)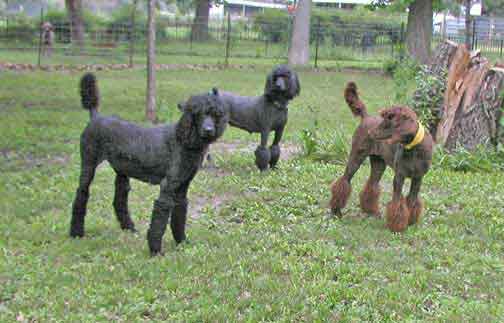 These bones are all MINE!! :0)
*
Spoo family photo!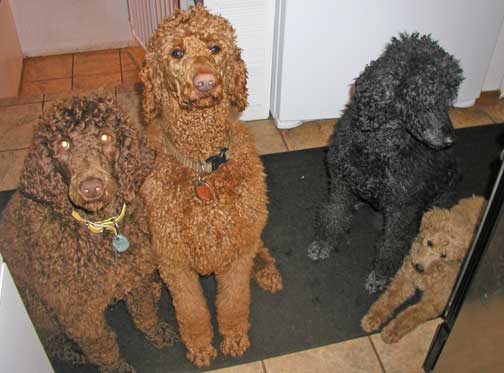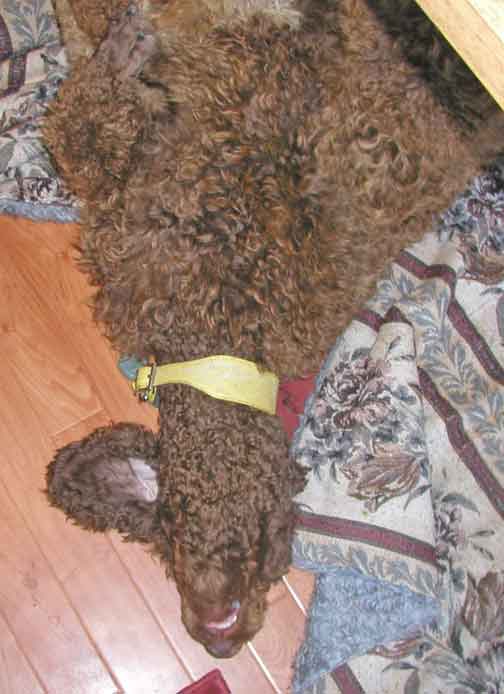 Dreaming of some wonderful beef bones! :0)
*
Such a beautiful girl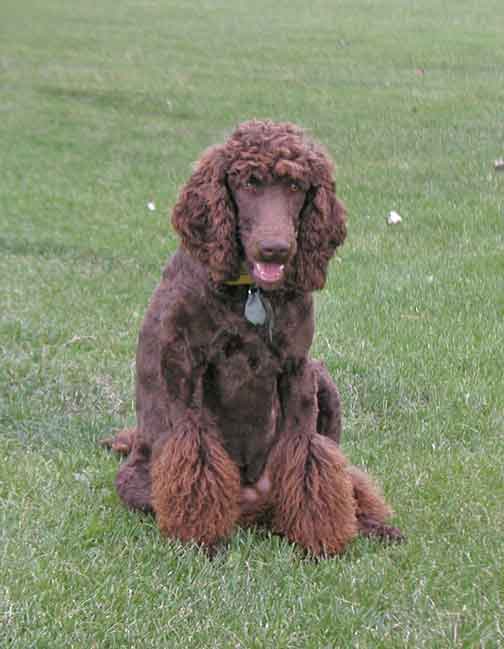 "Happy Happy"
*
Another picture really??
She's got those poodle hunting skills :0)
*
"Dr. Mark adjusting my body - we just MELT in his arms - keeps me in GREAT shape!"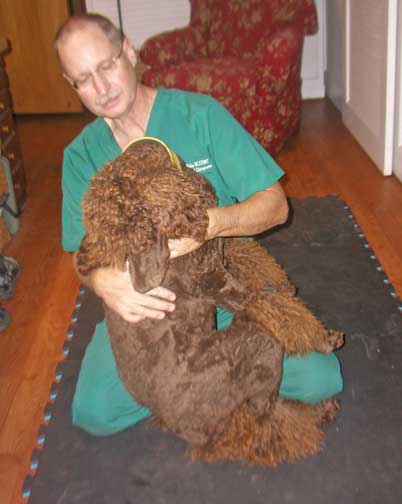 We're eyeing you Tes, Daniel, Cleopatra, Valentine, and me (Jasper) are waiting for our yummy treat...is it apple, carrots, popcorn?
*
"I love showing off my Pom-Pom's!"
Learning early! 7 months old in the Summer 2013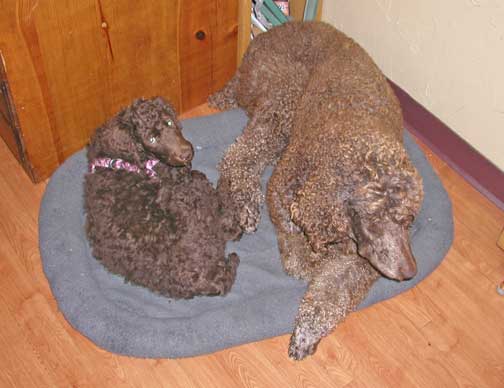 Cuddling with momma Falcon :0) 
*
Tearin' up the snow! Winter/Spring 2013 snow piles so high the spoos were easily jumping over the park fences. Jasper loves to play Queen of the hill!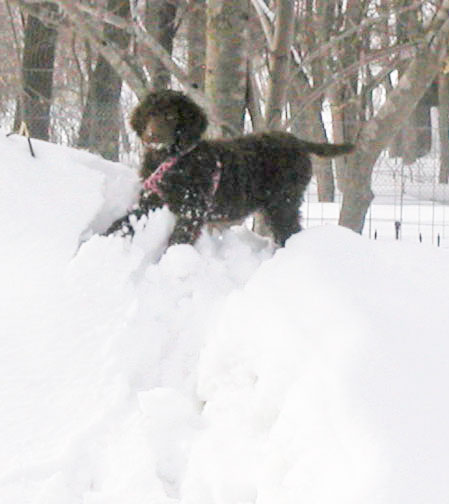 Jasper showing her great structure evaluation. 3 months old now.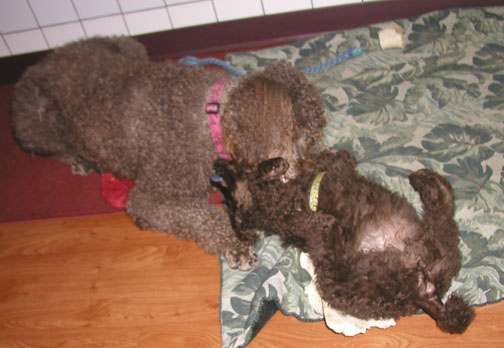 Jasper loves playing with momma Falcon....and momma loves playing with daughter Jasper :0)))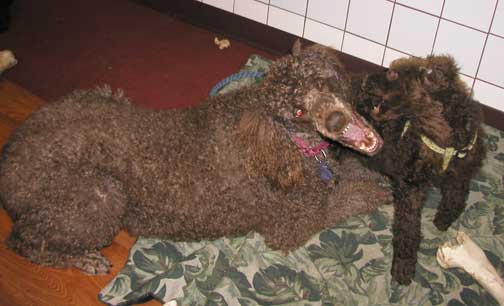 And there's always time for cuddling and sleeping with whoever you can snuggle into ;0)...Momma...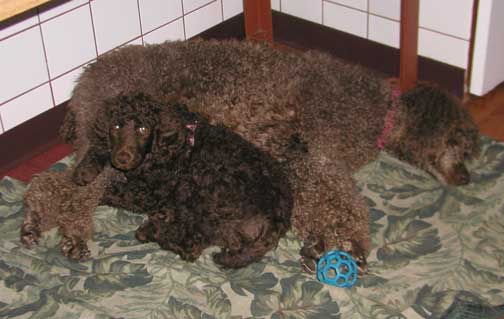 Jasper has turned 7 wks old. She weighed in 11# 8 oz...she was not the biggest girl yet now she is :0)
*
Jasper at 5 wks old is gaining fast in size...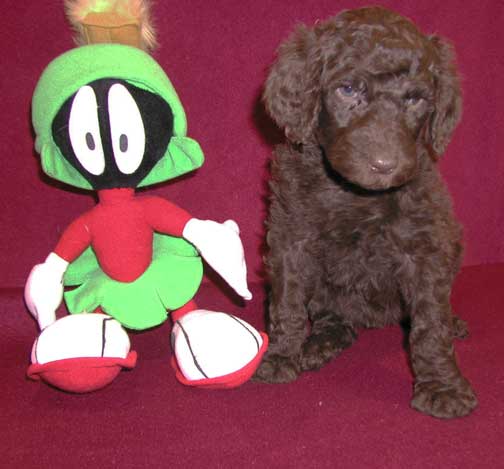 Join "A Perfect World" club and send in your puppy's photos to start a page :0)
Puppies for Sale like Royal Standard Poodles - Jasper