2015 JxD Royal Standard Poodle Puppies

SOLD OUT


Happy Happy :o)

This is an example of past puppies and how I set up their web page to show customers of their pups growing. Always start at the bottom of a page and watch them grow up :o)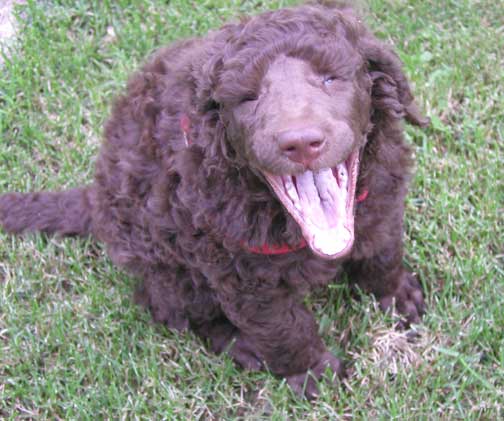 Royal Standard Poodle Puppies with Brown Jasper Spring/Summer 2015 litter has arrived! 7 wks old; 2 Black Males, 4 Females (2 Brown & 2 Blacks) = 6 pups M/F $1,650 - 6 puppies doing very well :o)))
AKC Jasper x Daniel puppies arrived 4/27/15
Ready to fly on Monday 6/22/15; area customers can come the weekend 5/20/15. Keep in mind any hot weather embargo's that one would need to take puppy as carry-on...plan accordingly > Click here to learn "Traveling" for your pet 
Watch their story and stats here as they grow in our home awaiting your loving arms. Youngest puppy pictures start at the bottom with new puppy ages added to the top as they grow up-wards...Enjoy :0)) 
Tracking Jasper puppy stats:
7 wks old first hair cut, starting giardia deworming
6 wks old first vaccination, 3rd deworming
5 wks old micro-chipped, first bath :o)
4 wks nails clipped, dewormed
2 wks nails clipped, dewormed
1 wk old toenails clipped
2 days old Due claws and Tails done
Born Monday April 27, 2015
Here we are - Our 7 wk old individual pictures with our first hair cut.
4 Females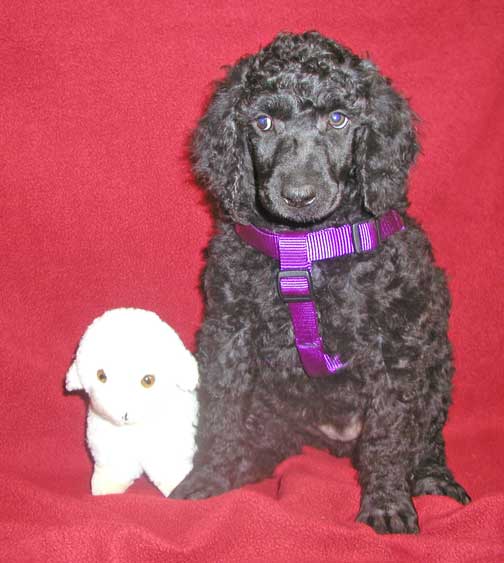 SOLD I'm going to be "Luna" with loving owners MDH > Palatine, IL. mc 5966...ready to be snuggled away ;o) I'm weighing in at 7 wks old 10 lbs. Lammy's ready to be cuddled by you :o)
*
SOLD "Elsa" I'm the second BL F with new owners YM > Los Alamitos, CA - MC 7529 weighing in at 7 wks old 11.4 lbs. I want to fill your life with puppy hugs and kisses!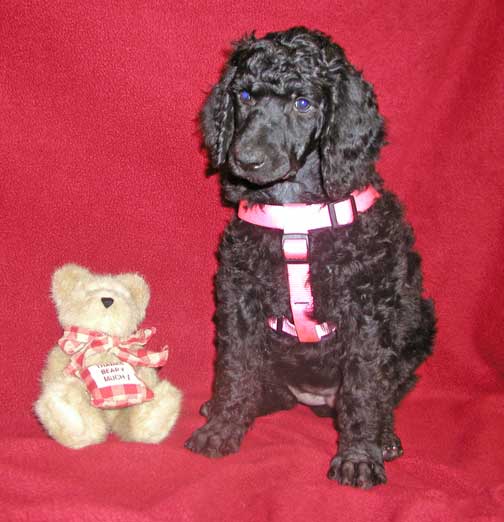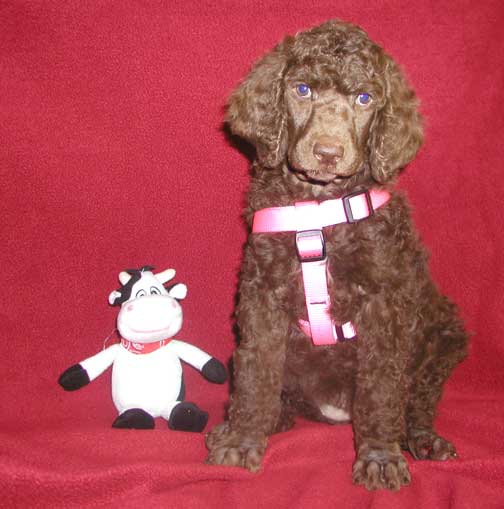 SOLD I'm going to be "Jasmine". I have a very small white mismark on my chest. One of the two Brown F going home to LT > Anchorage, AK. I'm weighing in at 7 wks old 10.8 lbs mc 6899. I'm ready to be smoooooched by you ;o)
*
"Magic" I'll be an upcoming breeding girl for Tes. I'm the second Brown F. MC 4939  weighing in at 7 wks old 12.8 lbs, STILL larger then all my litter mates. I will hopefully fill your life with Royal puppies in the years to come - stay tuned...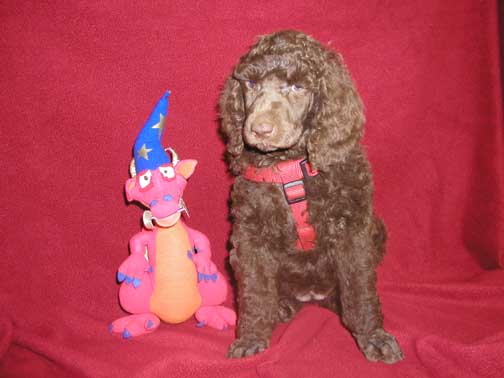 ____________________________

2 Black Males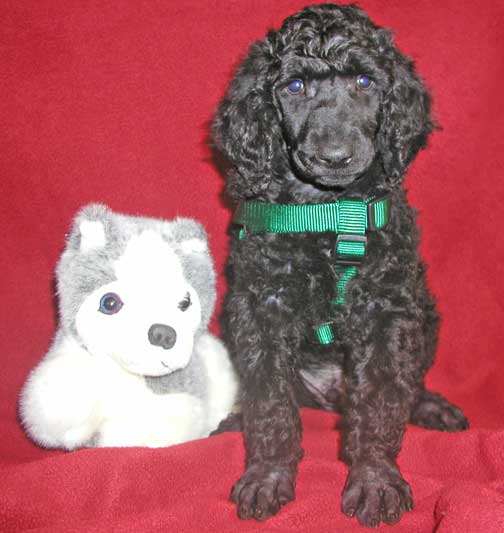 SOLD I'm going to be "Coal" for now until my owner names me. TS > Livingston, NJ - BL M - mc 1951...oh so ready to be wolfed up by your love! I'm weighing in at 7 wks old 10.6 lbs. 
*
SOLD "Montana" is my name, going home to JPG > Denver, CO. I'm a BL M - MC 8042 weighing in at 7 wks old 12.4 lbs. I want to fill your life with roaring love and laughter :o)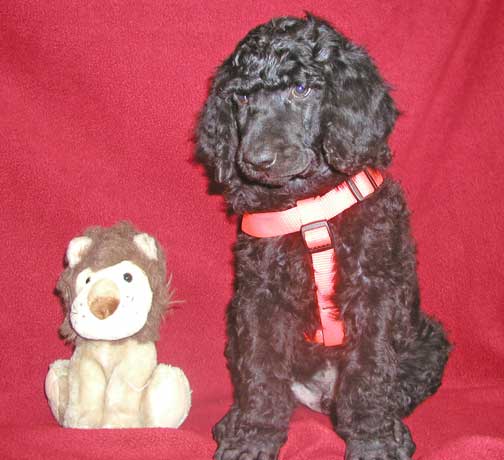 Our 7 wk individual pictures above :o) Harnesses are on now, getting use to them is another play story...
*
Ahh, the four legs up picture we all enjoy :o))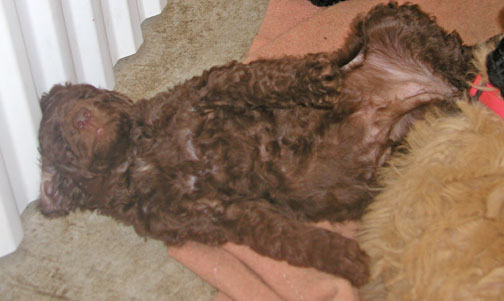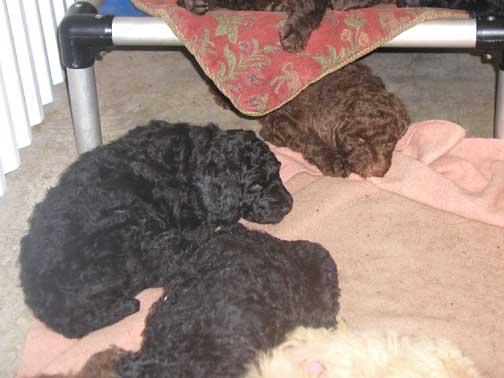 Time for some zzzzz's...pet beds are being purchased and added for smells for us to come home with...mmmm, smells soooo good...zzzz
*
Mmmphh...mhmmm, mmphhhmm, goodllle, good..nummy ;o)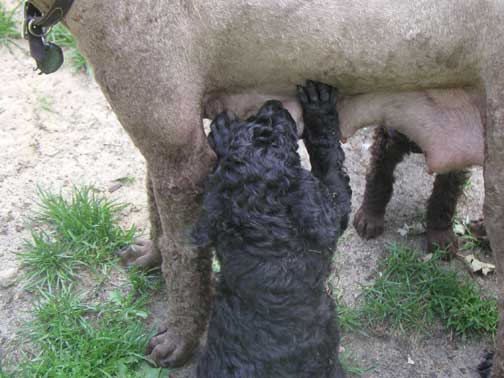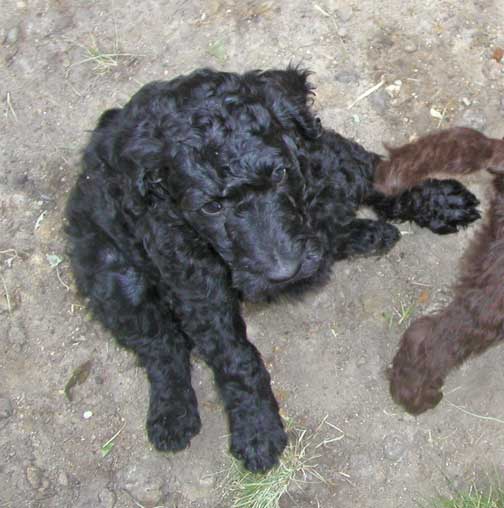 It's a tail? Mine is here somewhere...
*
We've definitely got steps figured out :o)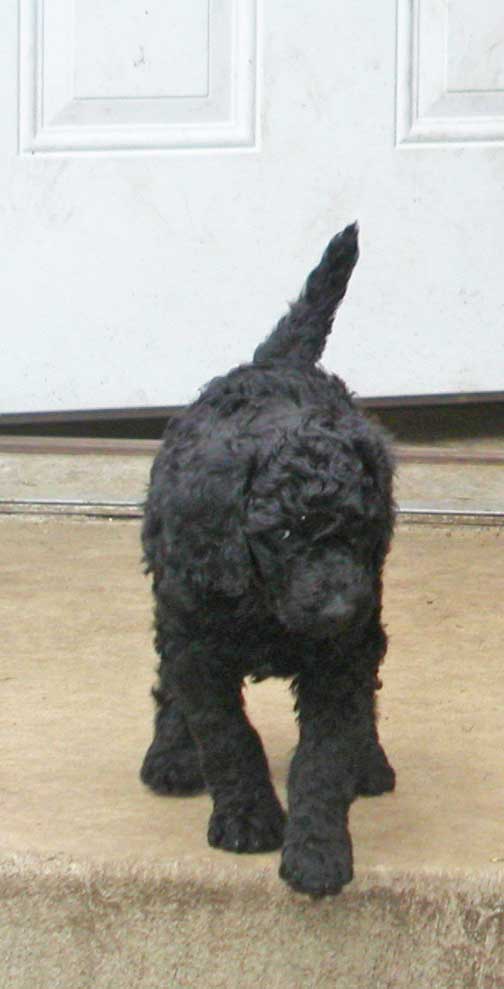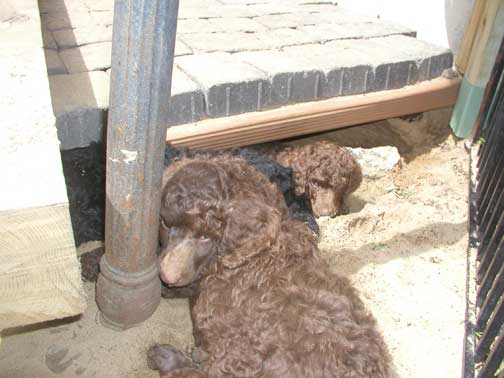 Tes will be preparing this to be cemented instead...
*
Well, what puppies can do best...dig! Dig under stuff to stay cool...Tes is going to change this fast!!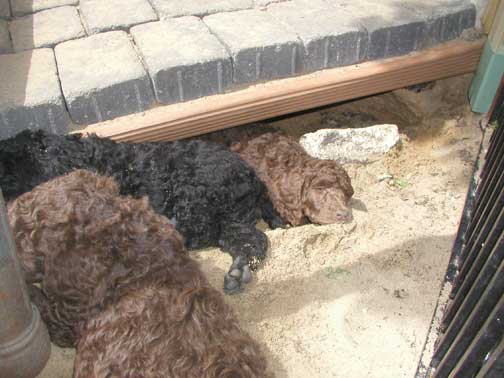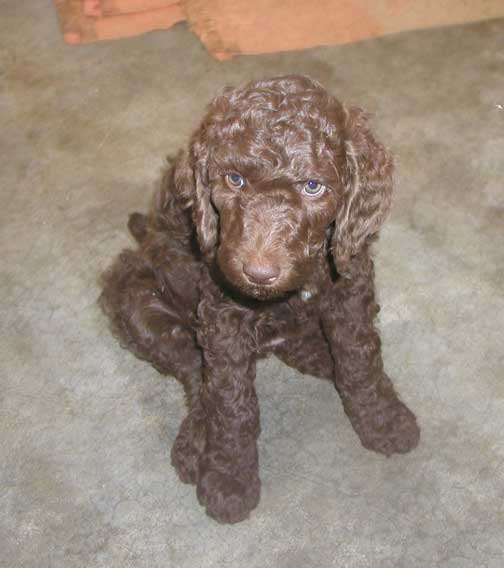 Hey there, I'm Jasmine with a little white on my chest...okay, I'm ready, ready to come to you :o))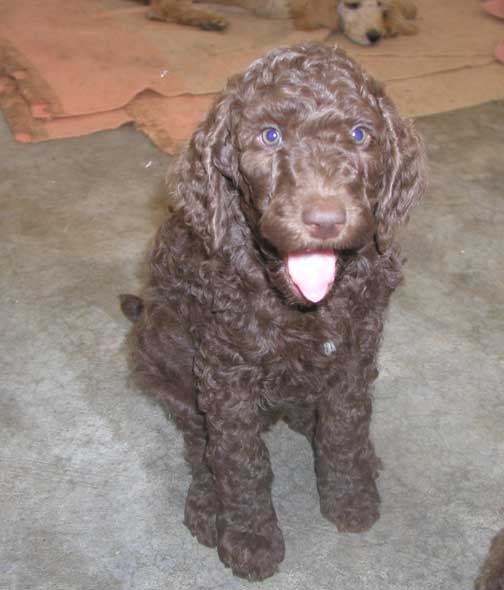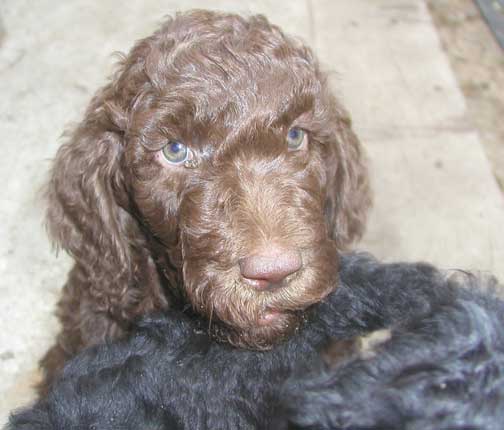 I think this picture is of Magic...Hi!
* 
Ah, the cooler cement floor feels good :o)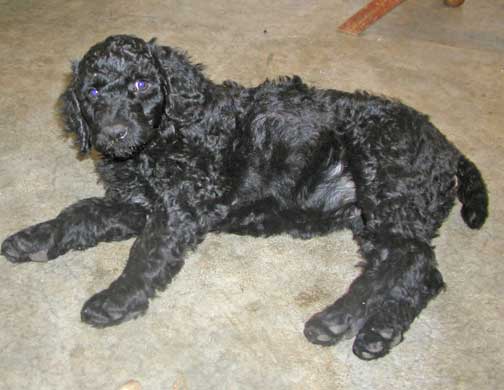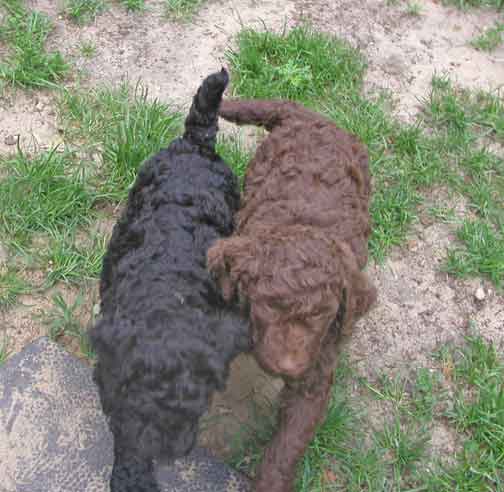 Hey, Tes is here! Grab her pants ;o)))
*
HI!! Do I stand out among these black brothers and sisters?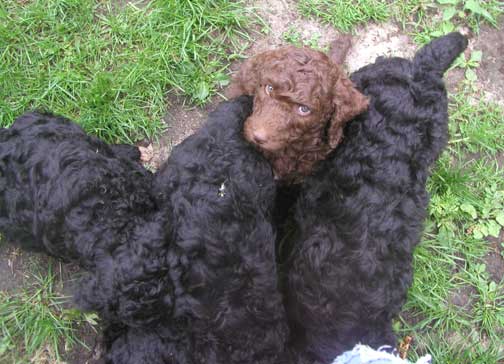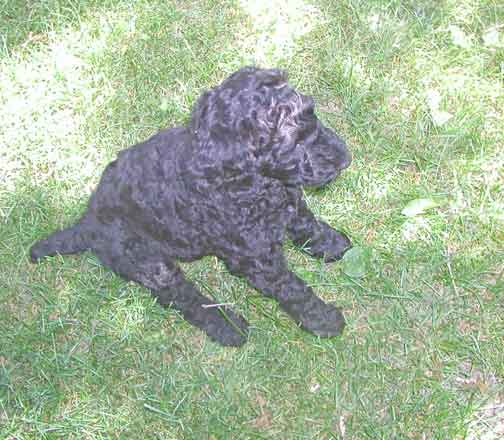 a...and then outdoors we go to play again :o)
*
Dr. Mark LaVallie has arrived and is adjusting everyone for that "Well Adjusted Puppy"!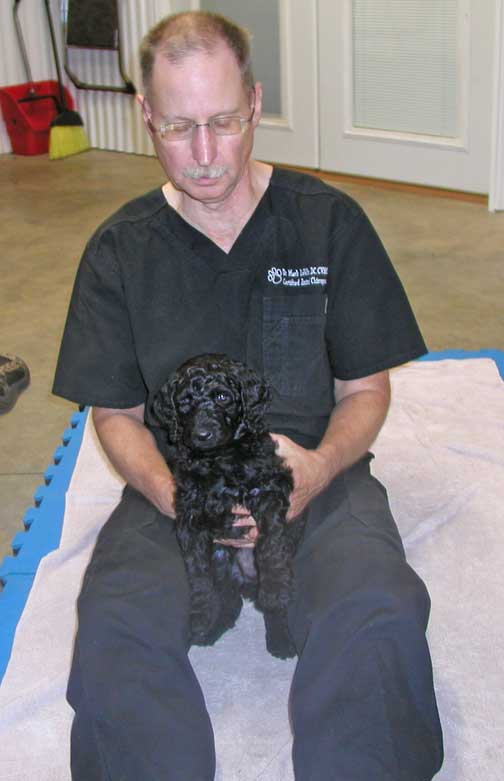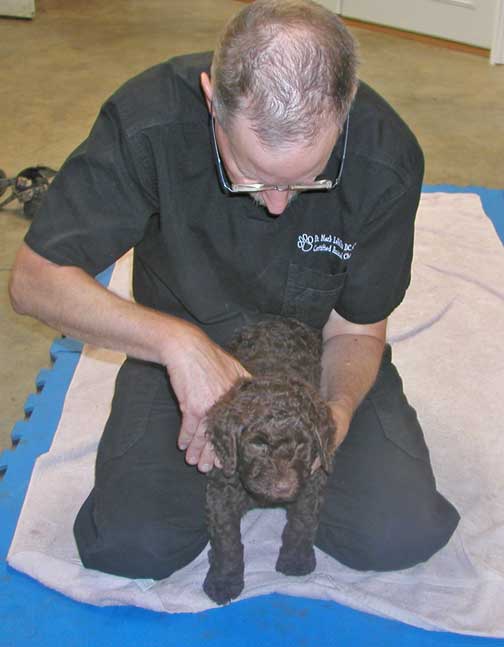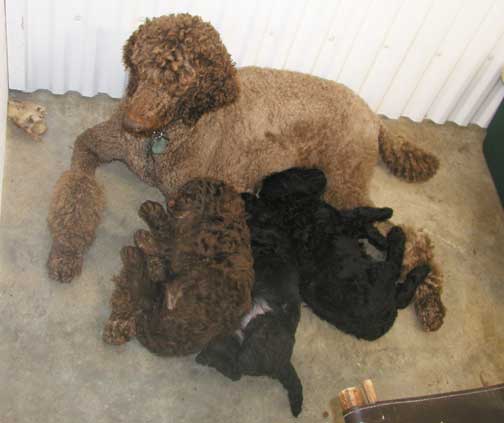 And finally with the MN temps warming up, the cooler heated flooring feels good to momma instead of the blankets...so here we are...zzz...nummy, growing...zzz...
*
Tes has placed crates in for getting lots of smells for several of us to fly to our new homes in several wks...zzz...we're enjoying snuggling up in them for now ;o)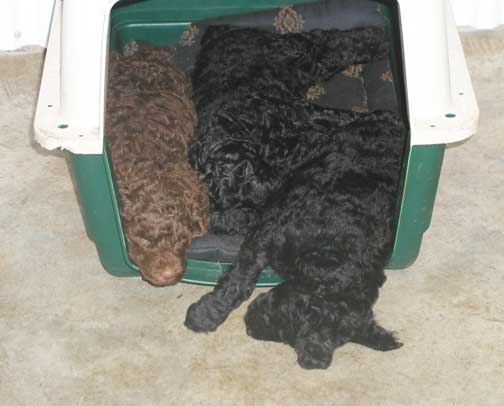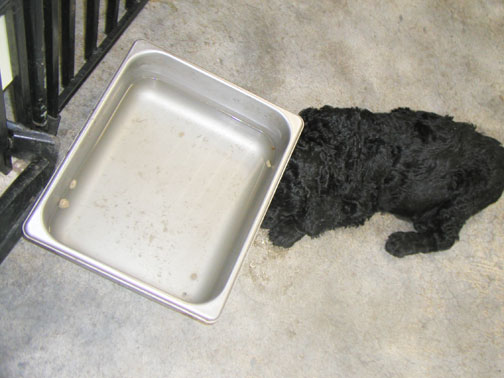 Drinking water...zzz...that's what I was doing...when you're tired, from playing out in the fresh air...zzz...you sleep where you drop...zzz...
*
uuuuhhh, umph...I can do this...the stepper taught me...ohhhh...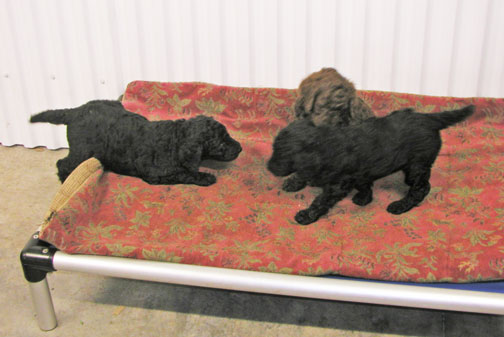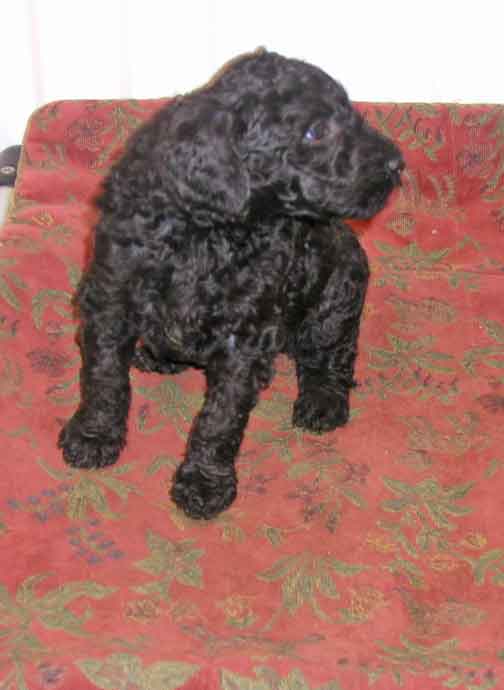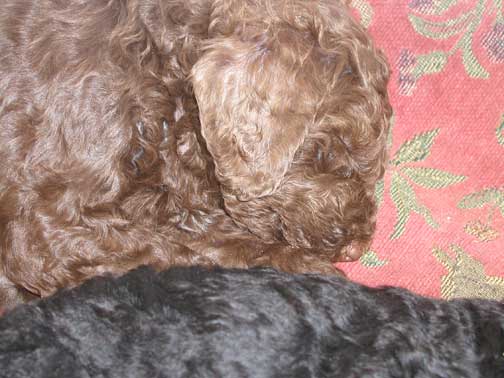 Aren't we just toooo cute?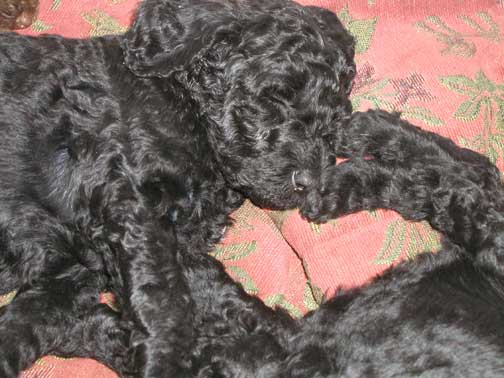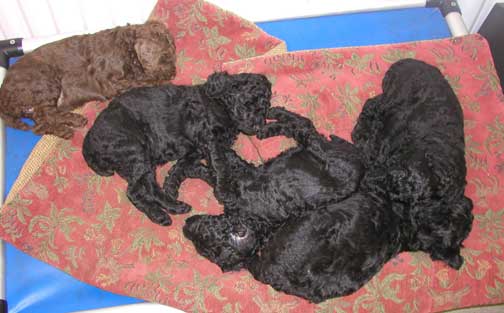 Catchin' up with some zzzz's...we keep growing right through it al ;o)
*
Hi, I'm going to be a breeding girl for Tes. She's named me Magic :o)) I actually weigh more then everyone in the litter! Big Girl for some future ROYAL puppies :o)))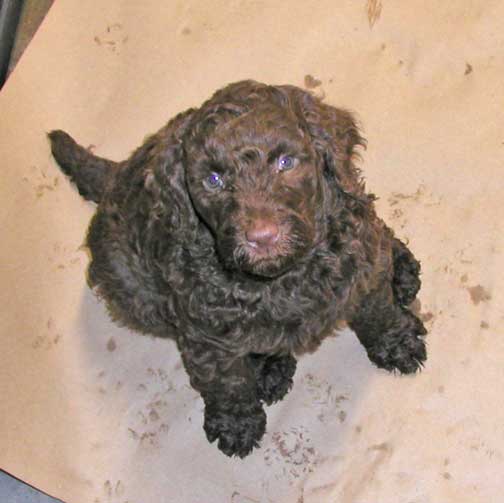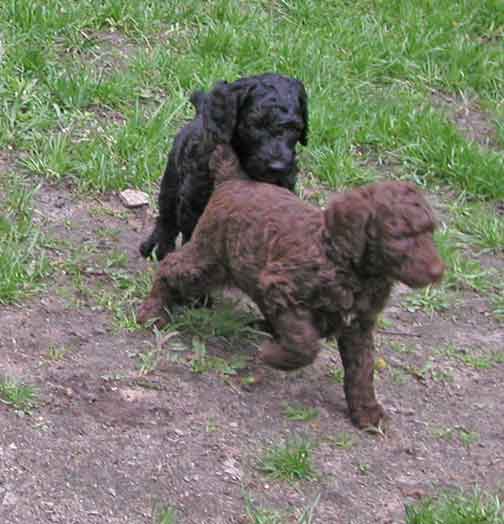 Playing tag with my litter mate, come and catch me :o))
*
I'm one of the brown girls with a white patch on my chest...I'll be heading to Alaska, my name is Jasmine :o))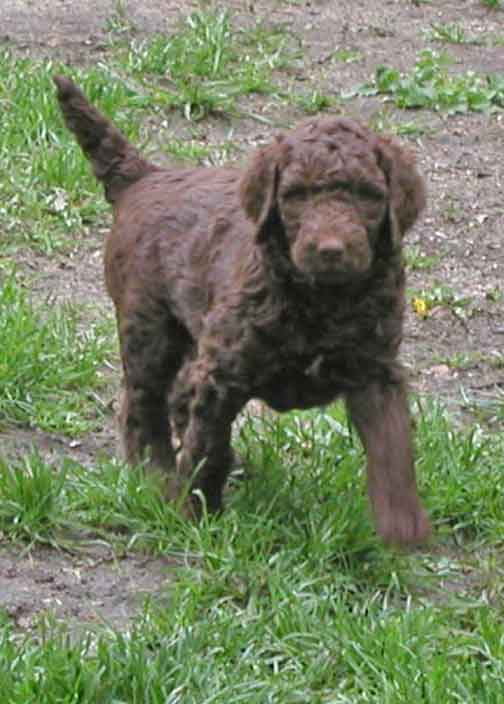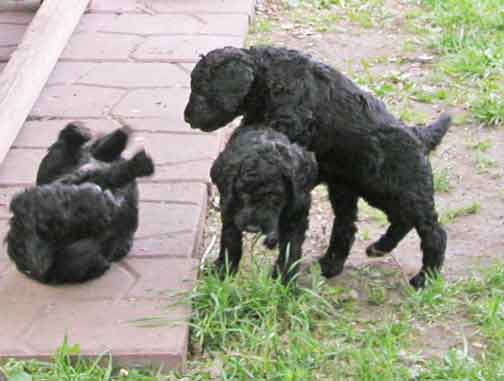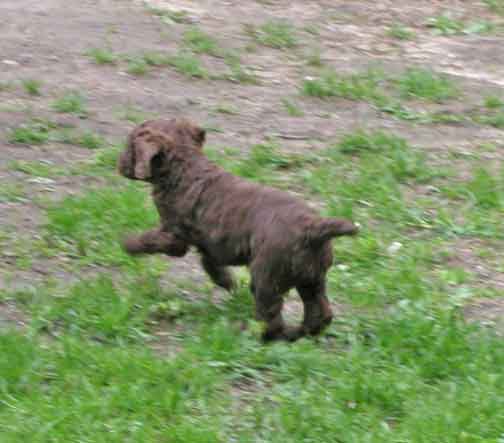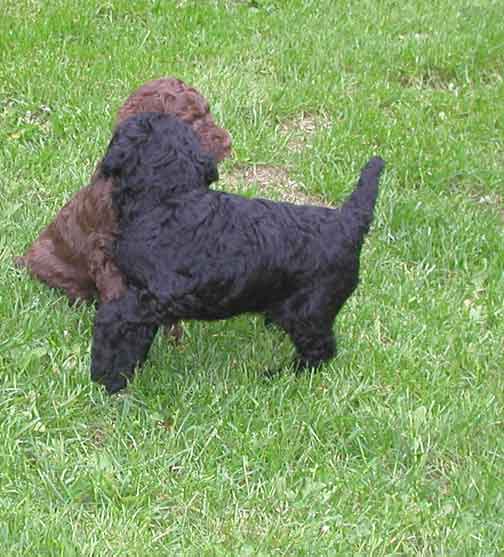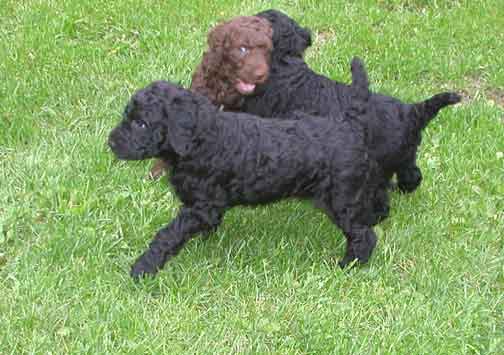 Play, play, play...Happy, Happy :o))
*
Thanks for the kiss momma!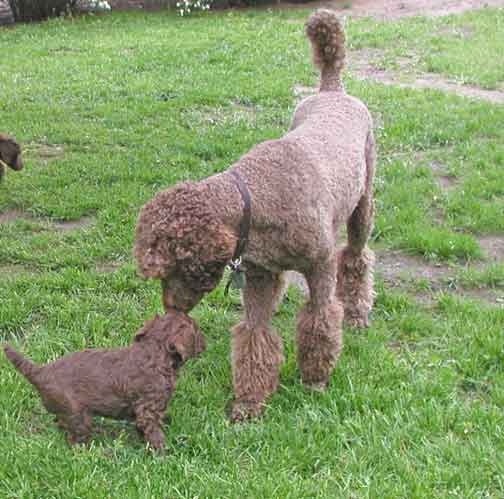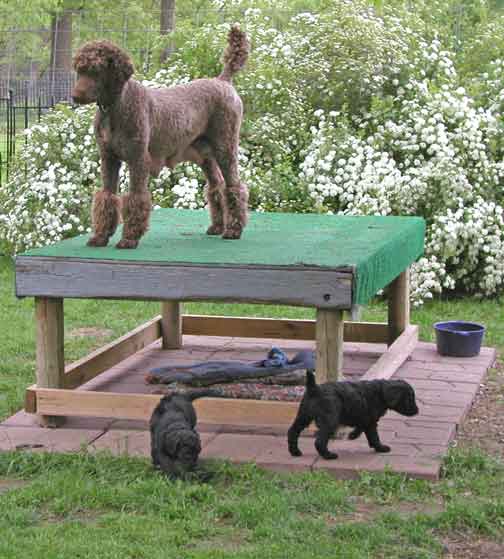 Woo Hoo - OUTDOORS!!! And Tes is enjoying the blooming spirea bushes too ;o) We LOVE playing in and out of them chasing each other, playing...and this is one way momma gets a break from us :o)
*
OKAY! Tes IS REALLY giving us space now!!!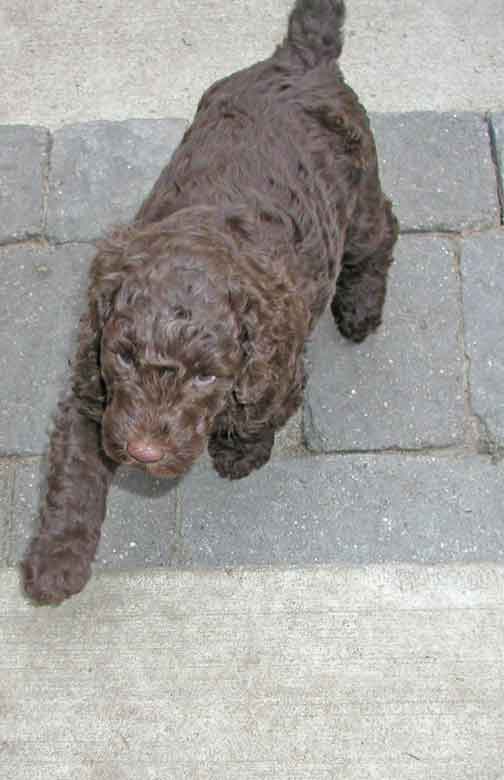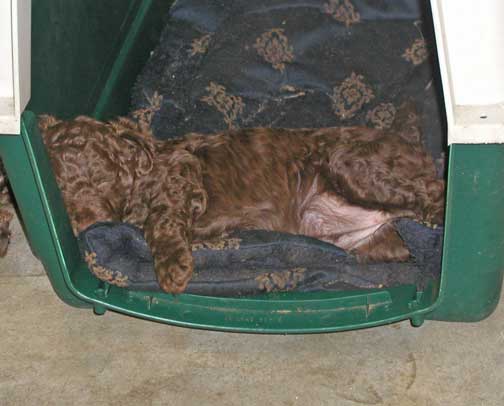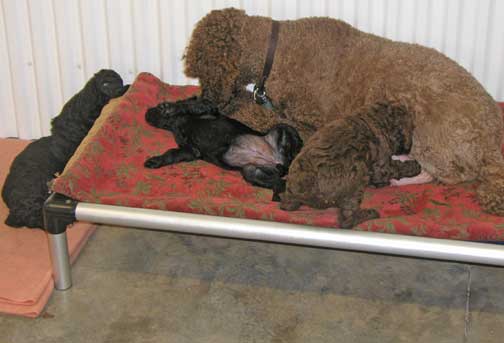 Hee, hee, hee...enough momma, enough ;o)
*
Hey momma Jasper, what's that? A smile for the customers ;o))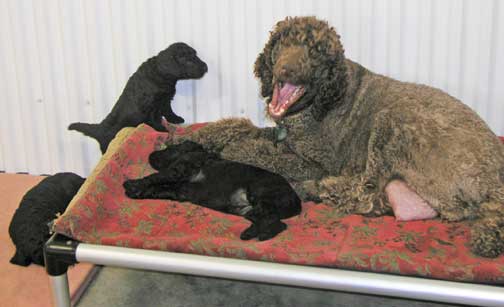 Aahhh, cozying in ;o)
*
Oh wow, we've now been moved from the nursery to the family room (heated garage :o). And here we get to work with what we learned...stepping up onto the Kuranda bed!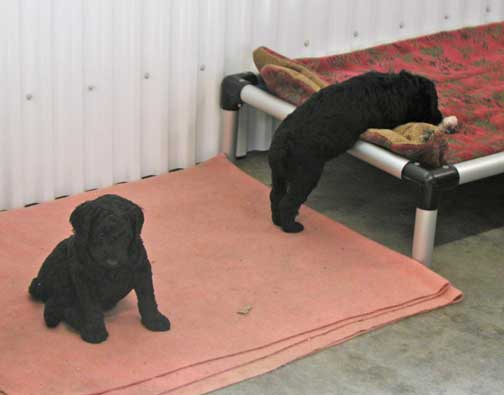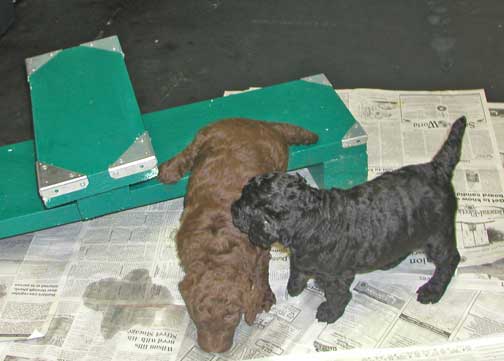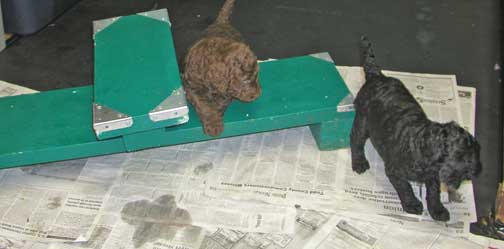 a...and now even more room with the stepper added. It helps us learn to go up...and down...
*
Wow, Tes has given us more room with newspapers to go potty on...it's instinctive of us to go off our resting place. We're 4 wks old now and growing-up :o)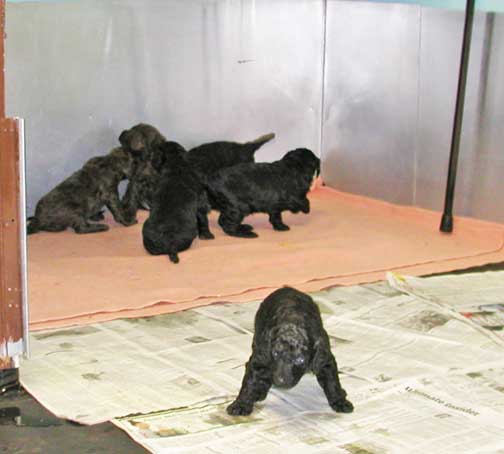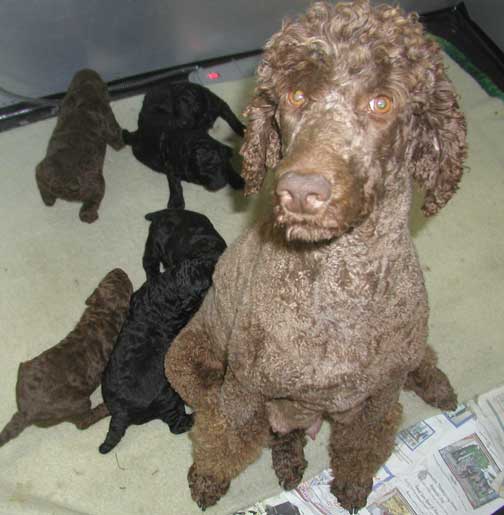 Hi, my pups with Daniel are HUGE :o))
*
Hey Dani, do you want to here us zzzz, or sing?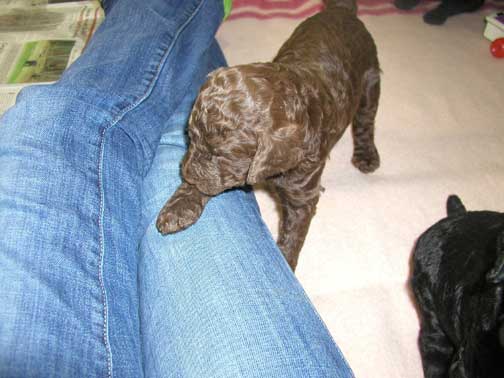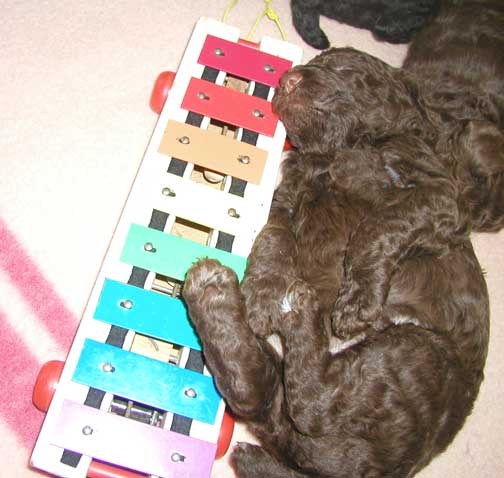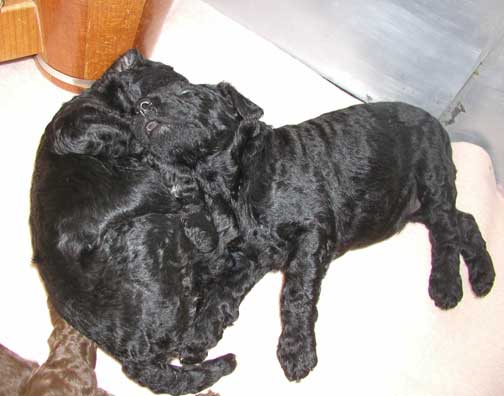 Uh, we're getting a bit sidetracked here...zzz...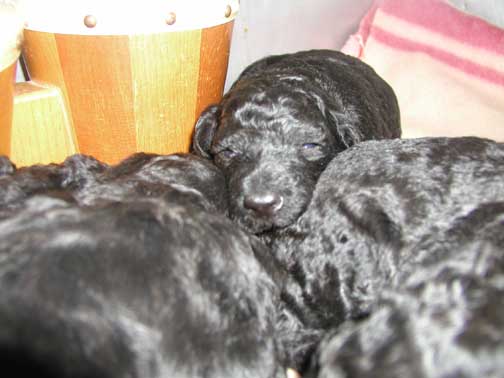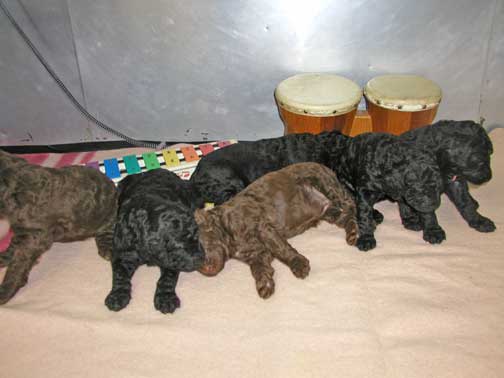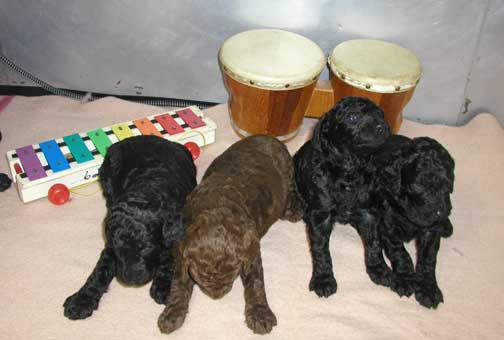 You say we should line up? Here, we'll get started...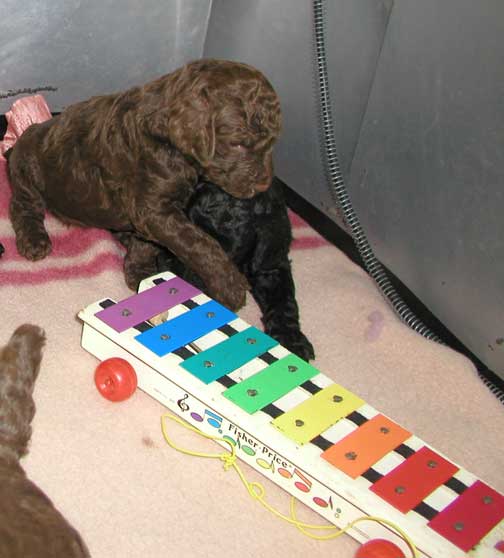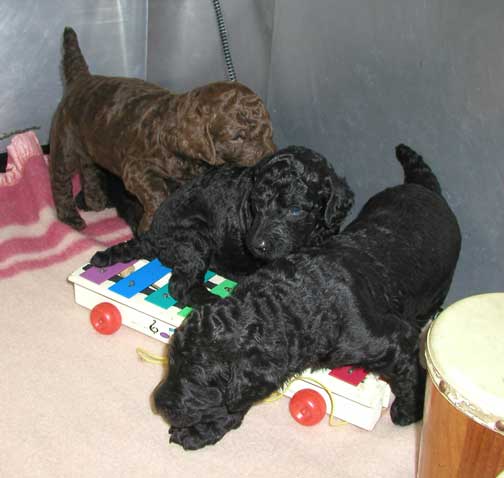 Hey, we can really make music together! Come on!! All together!!!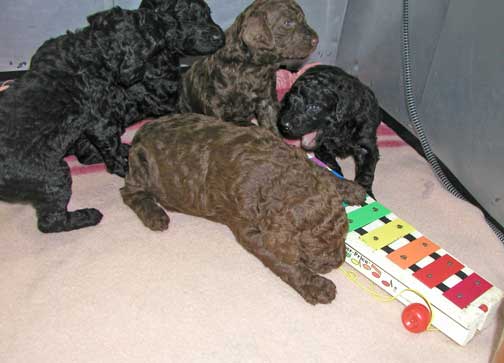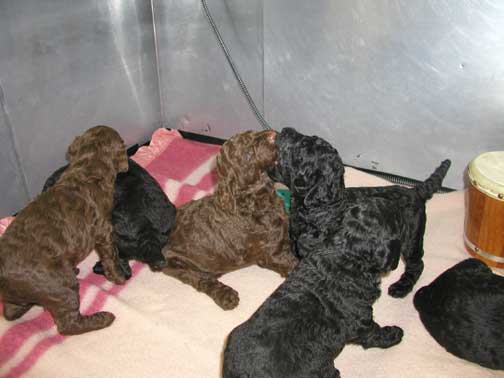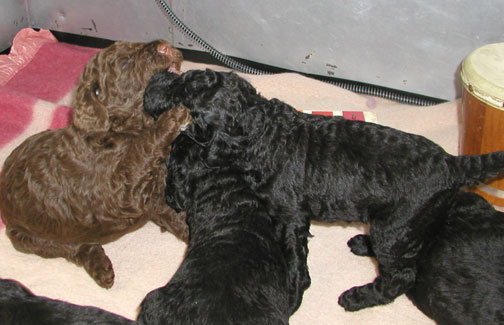 So now with our eyes, our legs, comes our great music! Come on, use those lips, come on :o)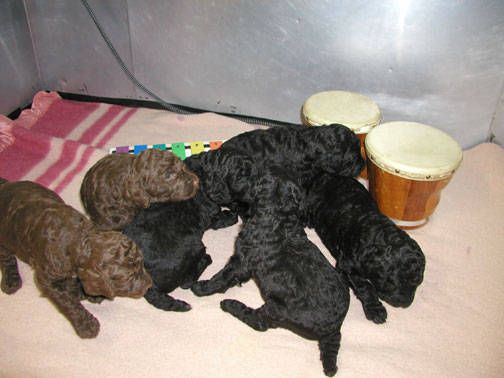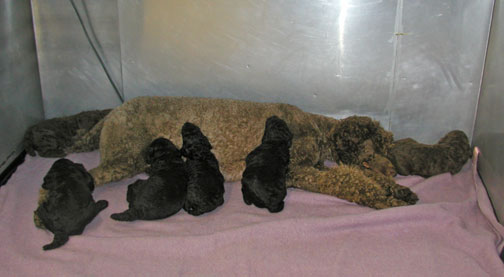 ahhh, are you tired momma? I guess we still have you recovering :o)))
*
Hey momma, love you lovin' me :o)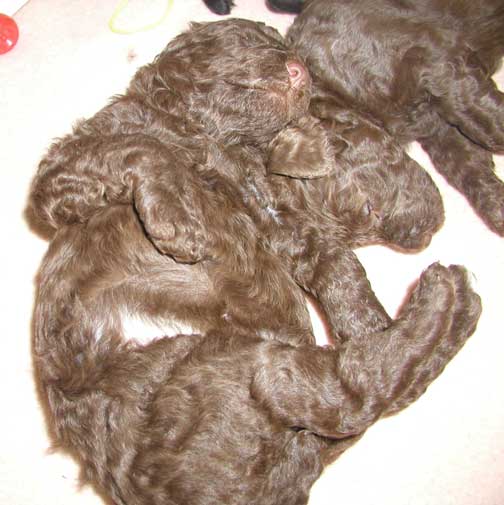 That's enough talking, time for some zzz's...sis :o)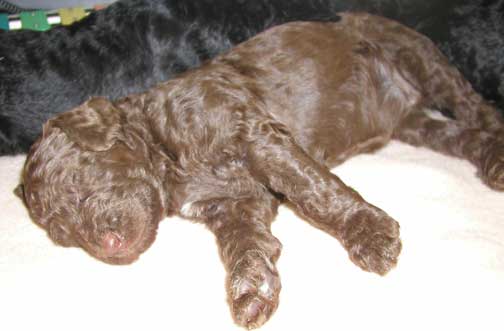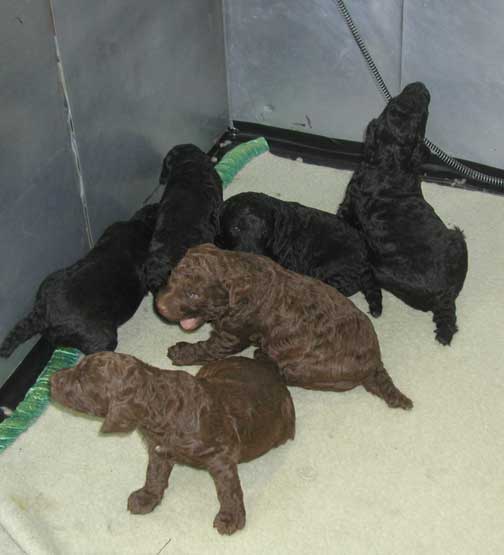 Hey, let's talk to the wall...it's stainless steel and there's a shadow there, I think, or is there something behind there? Talk to me.
*
See, you can see our eyes are really focusing that we can shape things into view..."What's that? A wall? You're Tes?"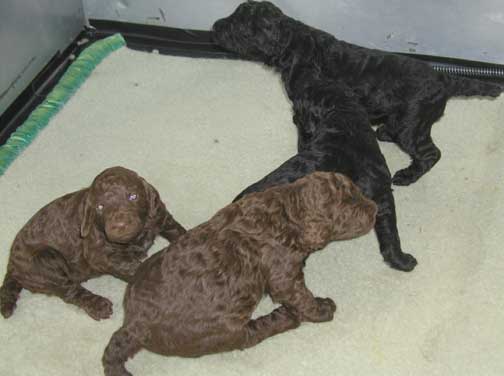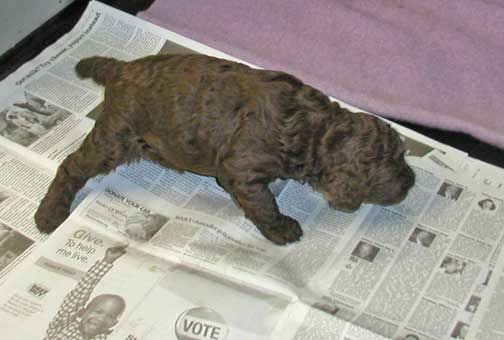 With our eyes opening we're starting to move around a lot more...one thing you should help them with when in there new home is if you feel you might not be around, put some newspaper down...they will do their best to try to go on it from learning here.
*
The room is shriiinnkkking!! Tes has added papers that we can get off the blanket and potty on them as our eyes sneak open...seeee...I see you now ;o)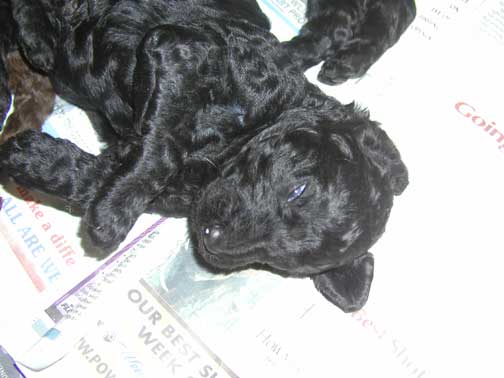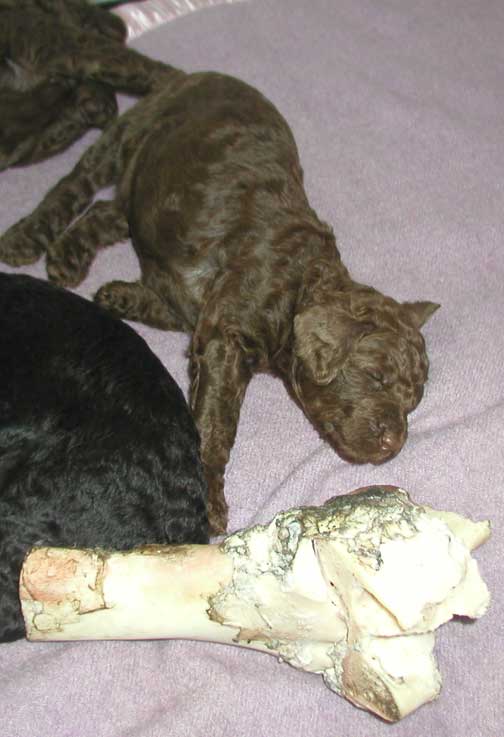 Tes has added a bone for momma to have something to enjoy. We're smelling it and will soon be chewing on it as our teeth grow in...we're starting to chew on Tes's fingers so she can feel them coming through.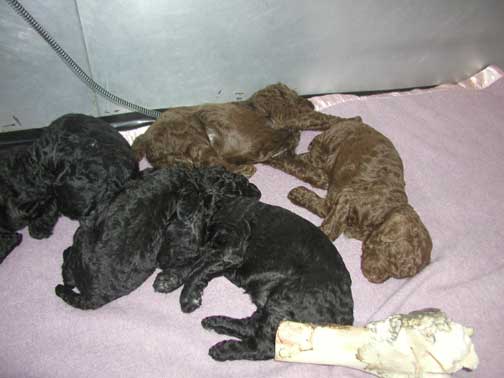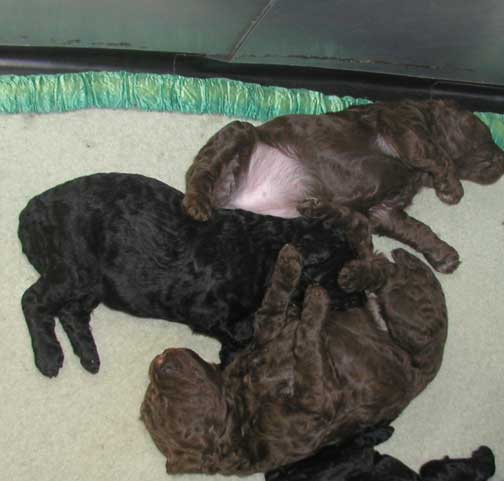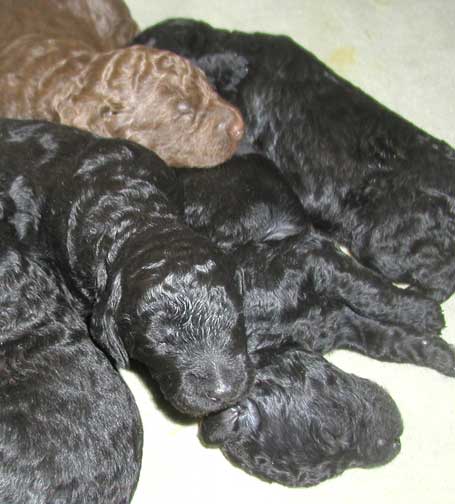 A LOT of nursing and zzzzzing going on as we grow stronger and stronger, soon to pull our bodies up with our legs strengthening...zzzz...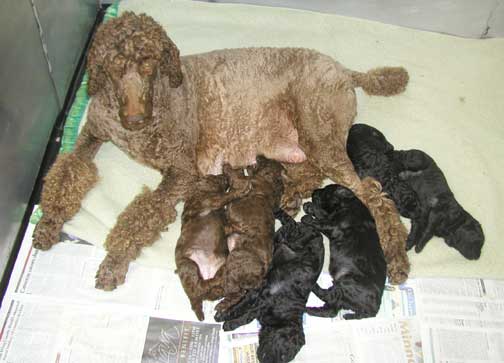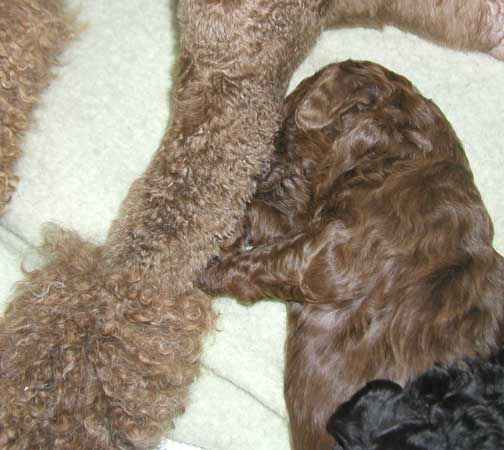 Hangin' in there...zzzzzzz...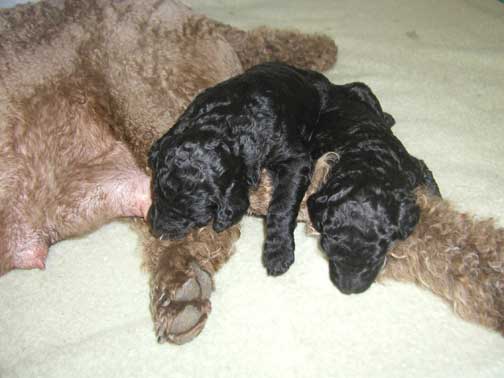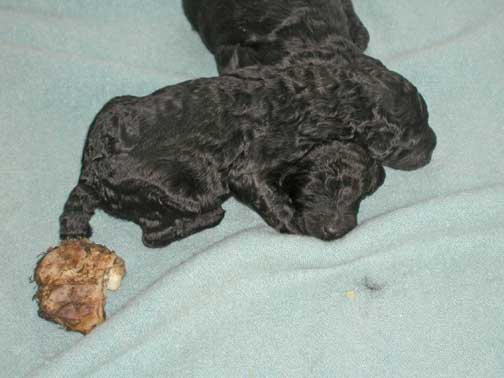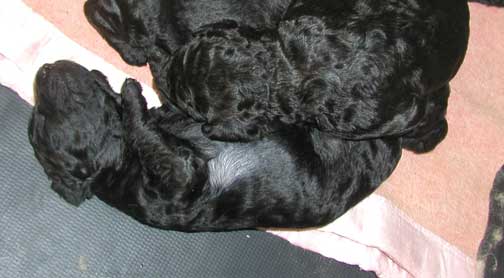 Soooo snuggly...
*
Look at us grow, momma's so full of the good stuff ;o)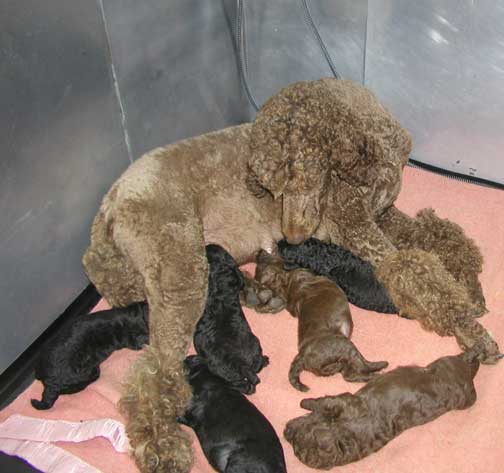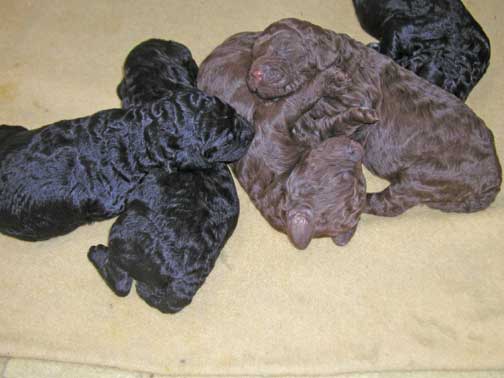 Above we're going on two and three weeks old...our eyes will be opening soon. They open within two wks, then our ears open up in three wks :o)
*
We're one week old now, really pushing the blanket out to get a good push into Momma Jasper, grow, nummy, zzzz....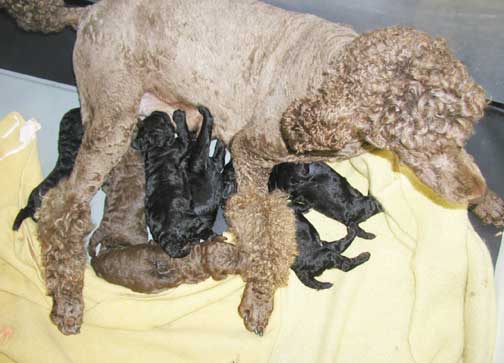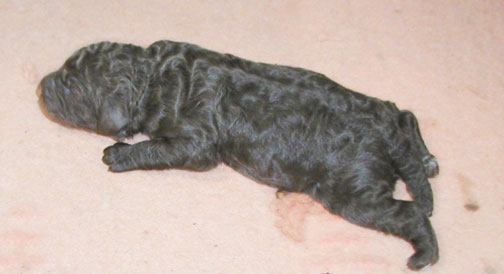 LOOK! We're starting to scoot around as we get strength under our weight.
*
Tes keeps saying how we look like little tubbies ;o)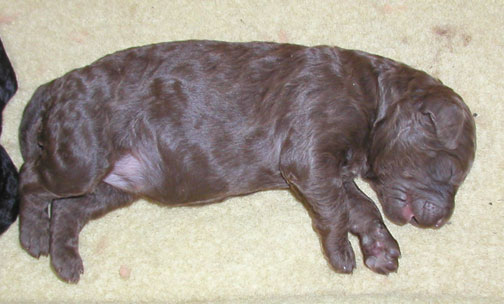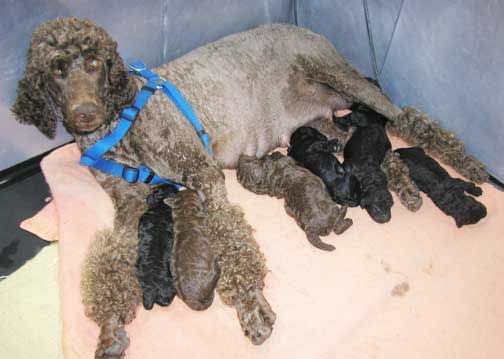 The wool blankets gives our toenails something to grip and allows us to push into nursing :o) Our tails are docked and due claws done now. Tes waits until we're doing well with some ounces gained.
*
Around we go...sniff...hmmm, that's not right!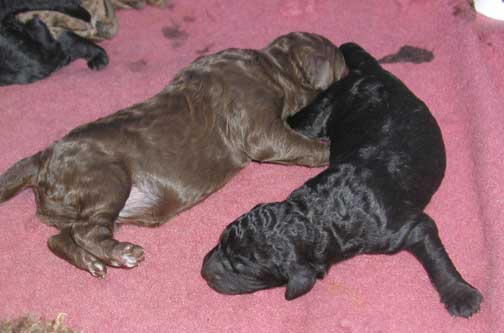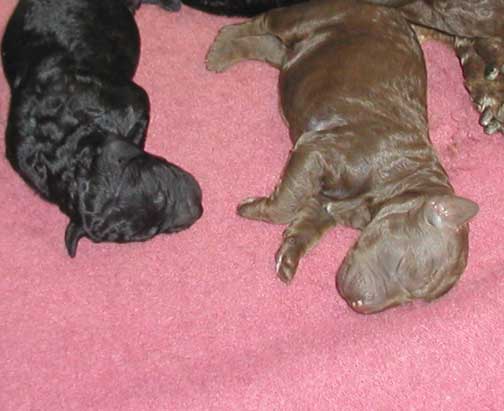 You can see we're looking gooood ;o) Smell is the first sense we have so we can find mommy's teets to nurse from...Big tummies getting filled with goood milk :o))) zzzz afterwards...and a snuggle always works for warmth...
*
Hmmm, Puppy Pile!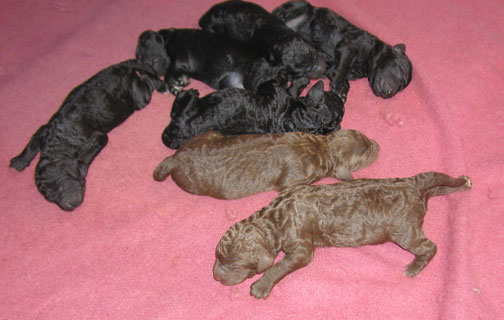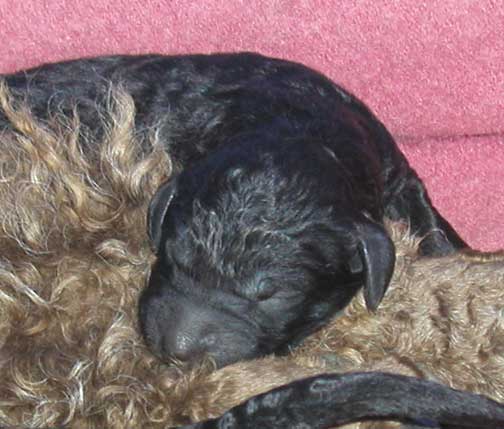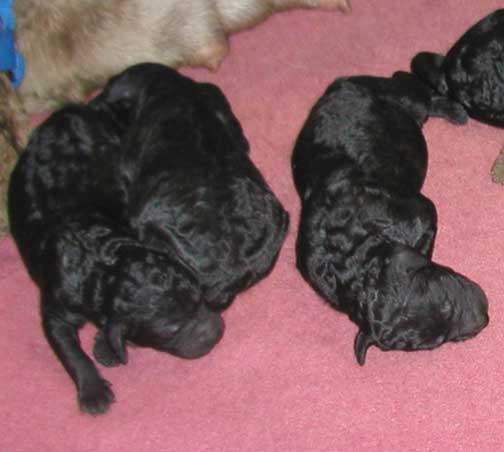 We snuggle into each other for warmth, and the heating pad underneath sure helps :o)
*
Mommy Jasper, aren't you loving :o)) Licking us all the time to go to the bathroom as we can't do it on our own for awhile. Licking stimulates us to go.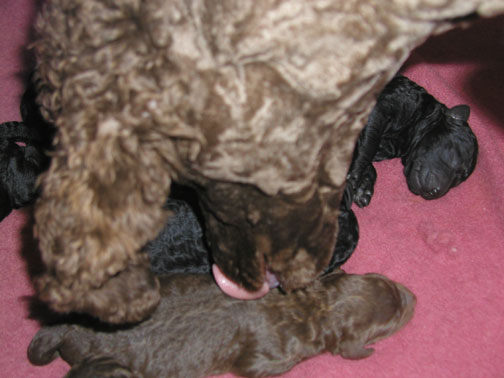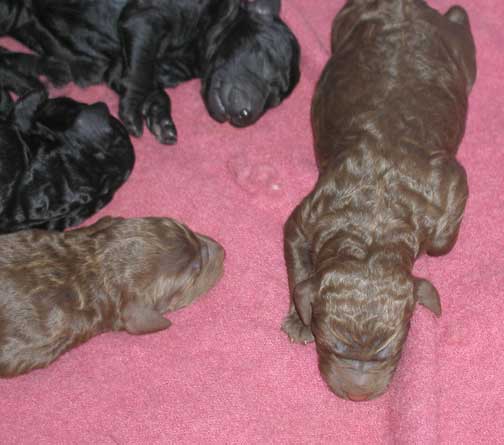 MMMMmmmm, what we do best as we grow...NUMMY...Zzzz!
*
Is that a toe I smell? There are warming heating pads underneath the wool blankets to keep any chill off from the floor...maybe that's what mommy's toes are sweating from - heat ;o)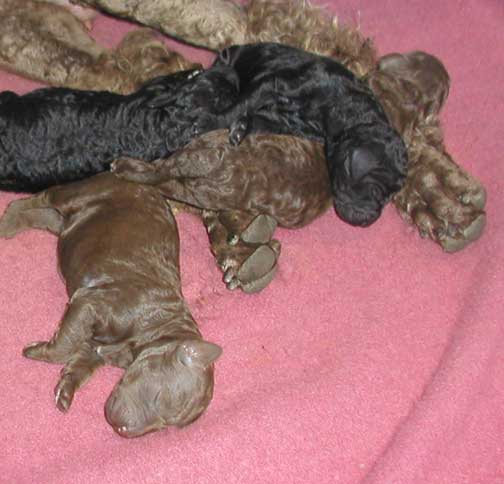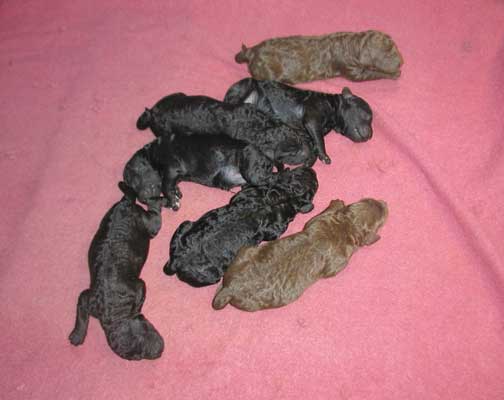 Mm hmm...Nummy Zzzz, Nummy Zzzz, all as we grow to get big and strong to come home to you :o)
*
Mommy is doing well, taking care of us so lovingly. Tes uses colorful wool blankets to absorb moisture over the coming weeks. It wicks moisture away, yet keeps us warm...and a colorful viewing hopefully for you ;o)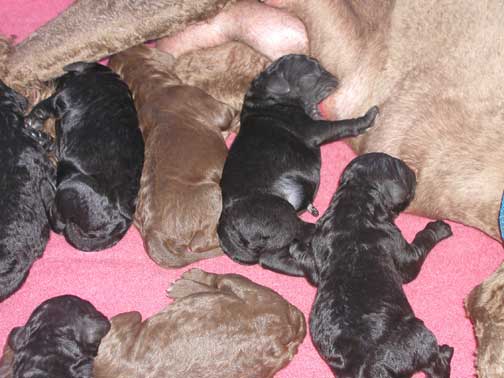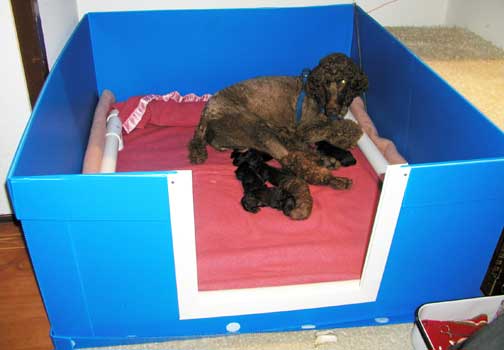 We're excited to come home to you :o) Tes keeps the room around 78 degrees as we can't develop our own body heat for a good week. Humidity must be an average 55 % humidity so with MN cool Spring she's not minding it.
*
Jasper's first pup has arrived! We've purchased a new whelping box that I, Tes, can sleep in my bedroom and not on the couch in the family room to help them arrive as I am able to be more comfortable to help them throughout a night and morning. I definitely cut my chiropractic visit in half for the month :o) The pups will get their first adjustment around 5 wks old. The whelping boxes are made by my Canadian mentor Laura with Bijou poodles. It fit PERFECT under the dresser section by my bed.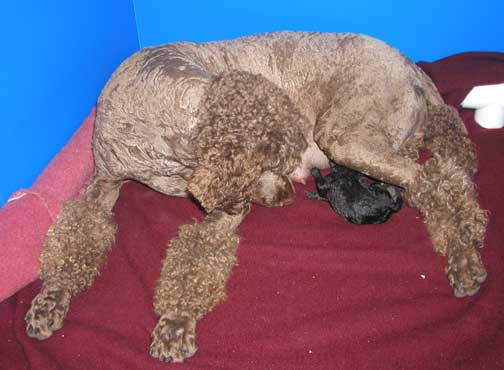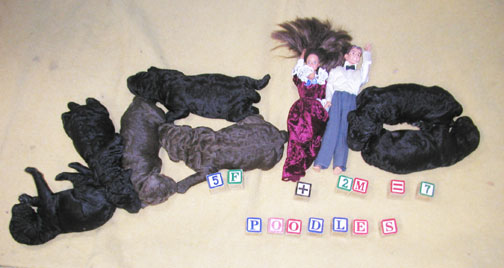 Hi there, we're now 6 that Mother Nature has assured life to :o)
If you're interested in the last brown female puppy - contact Tes using the form below.
Your first paragraph ...