Royal Standard Poodle Puppies Jasper 
Royal Standard Poodle Puppies Jasper Fall/Winter 2014 litter has arrived! 2 days old above picture M/F $1,450
Jasper x Daniel puppies arrived 9/26/14! AKC DNA rturned, now will send back to AKC to get each registration papers for you (2 wk turnaround?). 
Ready to fly on Friday 11/21/14; area customers can come the weekend 11/22/14. Keep in mind any cold weather embargo's that one would need to take puppy as carry-on...plan accordingly > Click here to learn "Traveling" for your pet 
Watch their story and stats here as they grow in our home awaiting your loving arms. Youngest puppy pictures start at the bottom with new puppy ages added to the top. Do start at the bottom and watch them grow upward...Enjoy :0)) Next picture update 3 wks old 10/17/14, then 5 wks old 10/31/14, then 7 wks old 11/14/14.
Tracking Jasper puppy stats:
7 wk old individual puppy pictures taken
6.5 wks first shampoo and haircuts with  ears cleaned
6 wks old dewormed, toenails clipped
4 wks old dewormed, toenails clipped
2 wks old dewormed 
1 wk old micro-chipped, toenails clipped
3 days Due claws and Tails done
Born Tuesday 9/26/14
- Customers -
1.  JXD - M - Black Tes breeding - Spartacus
2. Paid M - Royal Brown - GM > Denver, CO 
3. Paid F - Royal Brown - LF > Gig Harbor, WA (either dad)
4.Paid M - Royal #1 Brown #2 Black/Blue "Bruno" - JBK > Austin, TX (definite this litter)
5. Paid  M - Royal Brown - RH > Stockton, CA 
6. Paid  F - Royal Brown - ECB > Fargo, ND
7. Paid F - Royal Brown - TJ > Rockland, ID
8. Paid M - Black with white "Pirate" - WG > Long Prairie, MN
Watch them grow in the coming weeks below... 
Tes for future stud - "Spartacus" mc 1490, weight 12lbs 4oz Black Male 7 wks old - Tes breeding if DNA is Baron - otherwise back for sale as pet only!
*
SOLD "Azariah" mc 4528, weight 10lbs 8oz Black with white star Male 7 wks old - WG > Long Prairie, MN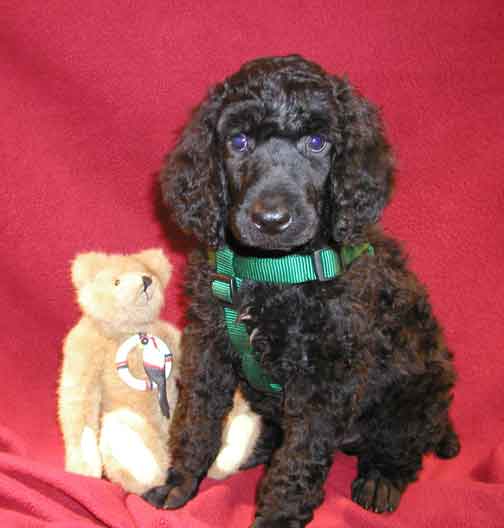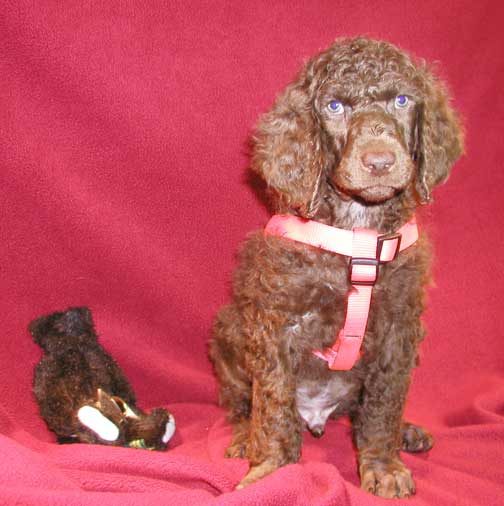 SOLD "Bruno" mc 1357, weight 13lbs Brown Male 7 wks old - JBK > Austin, TX 
*
SOLD "Sargeant" mc 3941, weight 11lbs 8oz 7 wks old - GM > Denver, CO 
SOLD "Atom" mc 6027, weight 11lbs 4oz Brown Male 7 wks old - RH > Stockton, CA 
*
SOLD "Cameo" mc 7634, weight 12lbs 2oz Brown Female 7 wks old - LF > Gig Harbor, WA (either dad)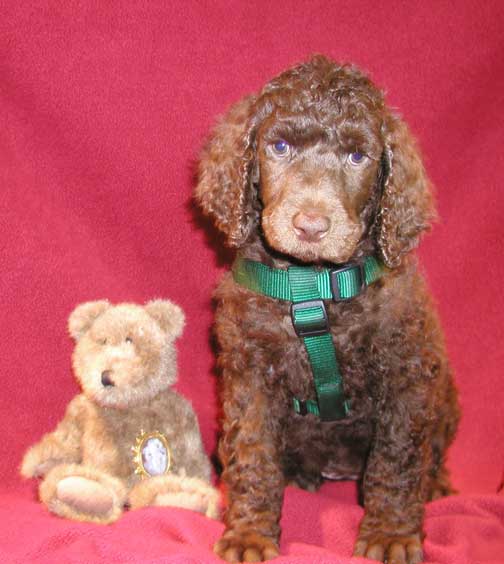 SOLD "Heidi/Star?" mc 7380, weight 10lbs 2oz Brown with white abstract Female 7 wks old  - TJ > Rockland, ID
*
SOLD "Daisy" mc 1647, weight 10lbs 6oz Brown Female 7wks old - ECB > Fargo, ND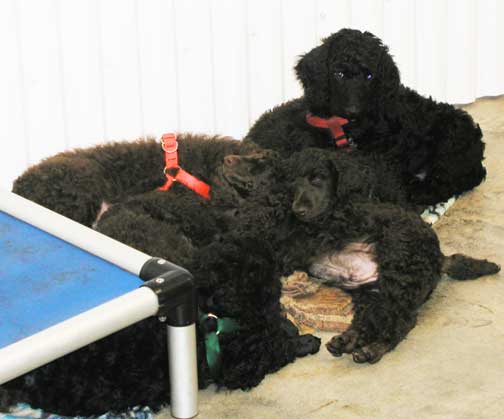 After playing outside now it is time for us all to take a nap zzzz......
*
Where should we sleep Pirate (black)??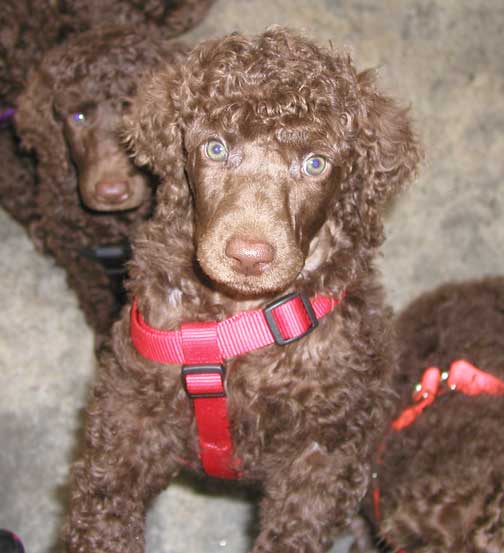 Please come and play with me!! :0)
*
We are now moved into Tes's new heated garage and so far we love it!  There is so much more room for us to play!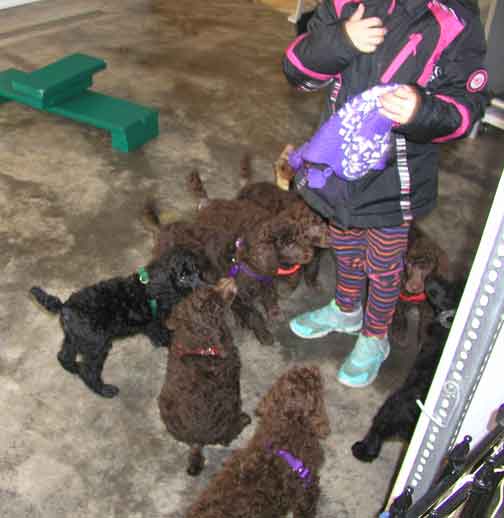 We are patiently waiting for her to take off her winter jacket so we can continue to play with her!!
*
Wait!!! You almost forgot me guys!  :0)
Hey look she stopped lets get those shoe laces!! :0)
*
Follow the leader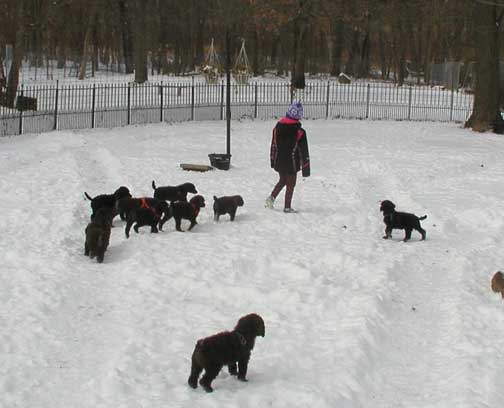 This snow won't stop us!  Hey guys wait for me!!!
*
Lets follow the leader, we wonder where she will go..... :0)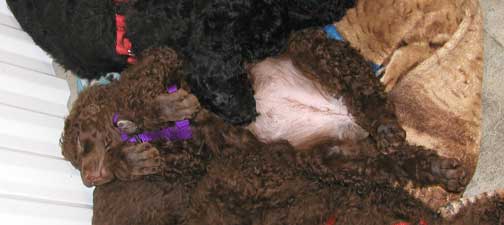 I have the four paws up position down! :0)
*
What is the best way to spend a sick day home from school?  With PUPPIES, of course! :0)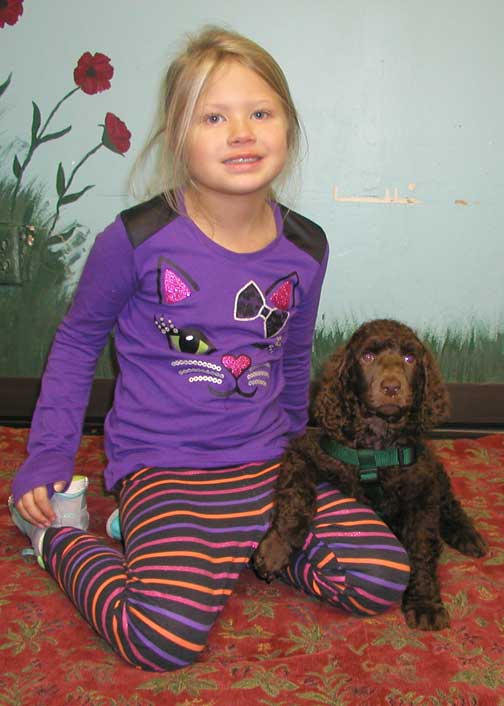 Puppy love at its finest! 
*
Our new favorite spot to sleep, on top of staff member Dani's shoes while she is grooming, zzzzz....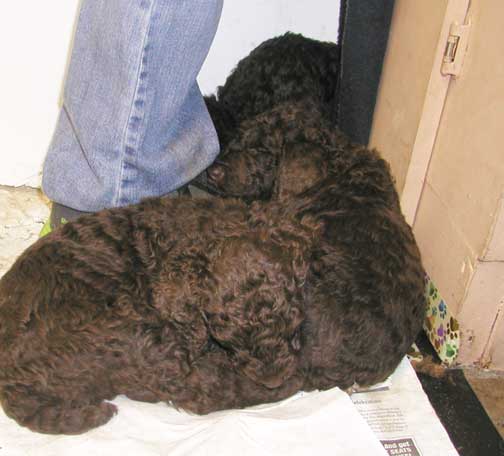 Sleeping in the food dish about to fall into the water, looks pretty comfortable! :0)
*
Tes gave us some yummy bones to chew on, they help with our teething, yum yum! :0)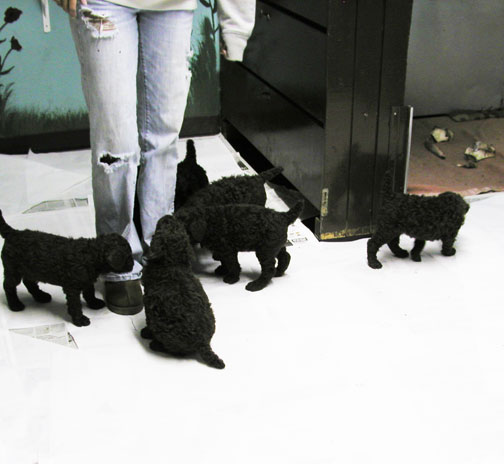 We use "time to come in" to get them to come into the house, and of course they love pants and shoes so that helps too! :0)
*
Much better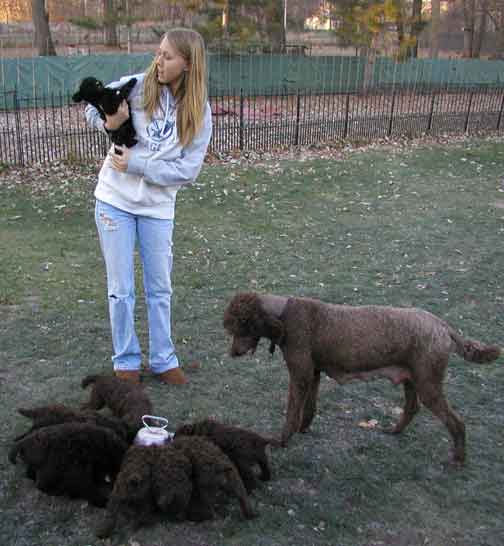 You were caught Princess!  Time to go back to Momma Cleopatra! :0)
*
This puppy does not belong here, what a stinker! :0)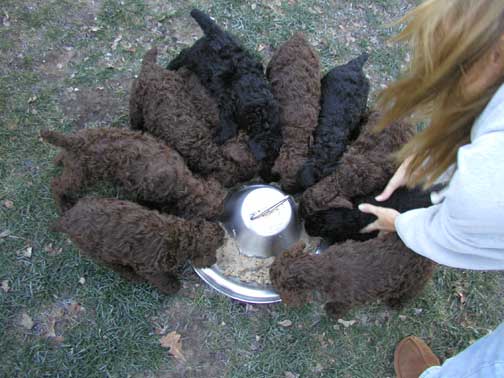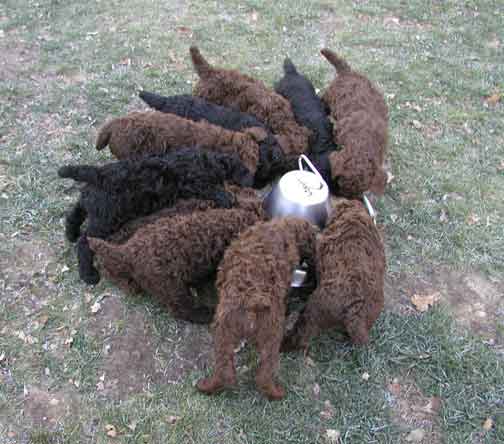 Something is not right here, one, two,three.....how many do you see?
*
They are doing really well with "potty outside" look at them run off those steps!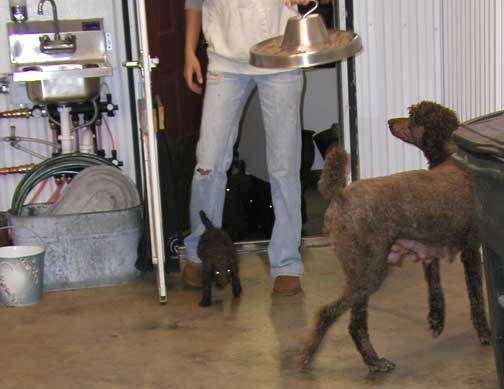 We encourage them to "Potty outside with some yummy food that they like.
*
We smell that food....LET US OUT!!!

So relaxed, zzzzzz (notice my crossed back legs :0)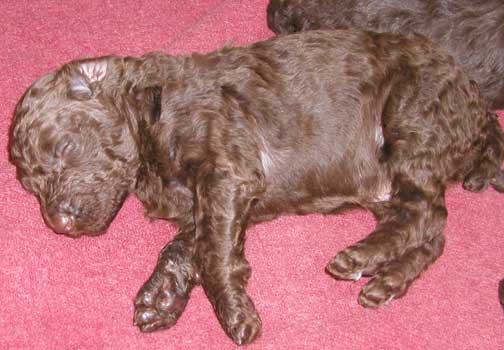 Look how much we have grown already! Tes calls us little tubbies... First our smell is always there searching, then our eyes open around 2 wks, and then our ears open up after that.
*
SMILE! Happy, Happy :o))
Ah, warm cuddly leg! Just like you see human kids hang onto parent legs ;o) 
*
Momma Jasper's milk is really making us grow - and I've got a gooood grip!!! See the foot motion ;o)
I made it! zzzzz where one lands :0)
*
There you guys are, let me just squeeze in here.....
Our eyes have opened! We're going on 3 wks old now...Hey where did everybody go?
*
Tes moved us out of the pool, we are getting too big that we just didn't fit in there any longer! :0)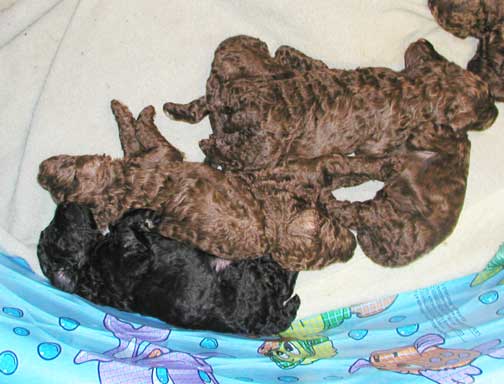 This is what we call a chain reaction, so sleepy after eating all that nourishment :0) We're definitely starting to squirm around, finding our legs underneath us.
*
Momma Jasper is so good, and she has some nummy milk that will make us grow bigger!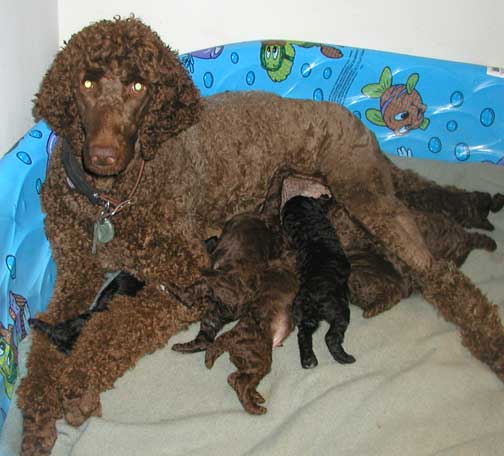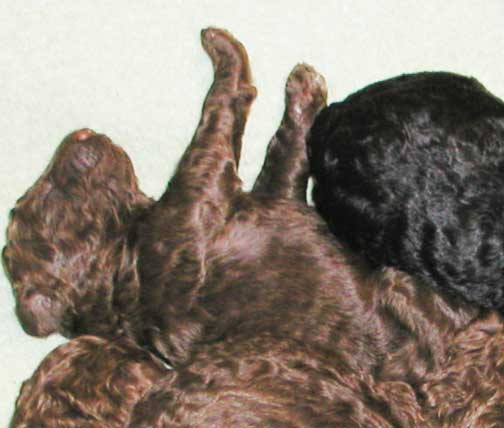 I can almost reach it...this is actually practice on pushing milk glands to stimulate more to come out :o))
*
Sleeping with a smile, dreaming of mommy's yummy, yummy milk...stretch.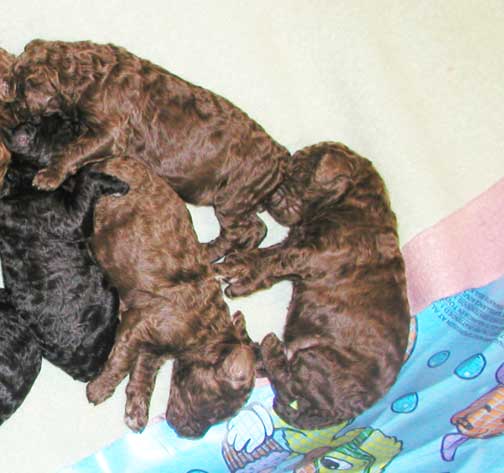 Butt-face!! The swimming pool is shrinking so we're getting crowded...as soon as Zeddy and Cleopatra's litter get older and moved into the new heated garage, we'll be moved into the family room until we're old enough to move into the garage in time :o)
*
We're going on two wks old now...and I am already doing the four legs up pose :0)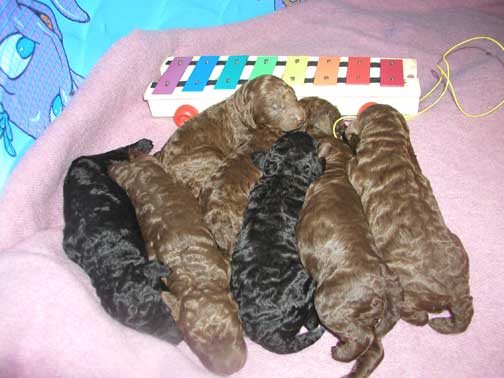 We're already making music to Tes...she's a light sleeper and jumps when she hears us sing at night :o)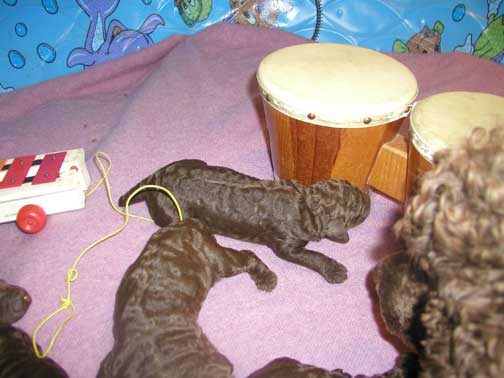 You can see we're looking gooood ;o) Big tummies getting filled with goood milk :o))) zzzz afterwards...and a snuggle always works for warmth...
*
Hmmm, Puppy Pile!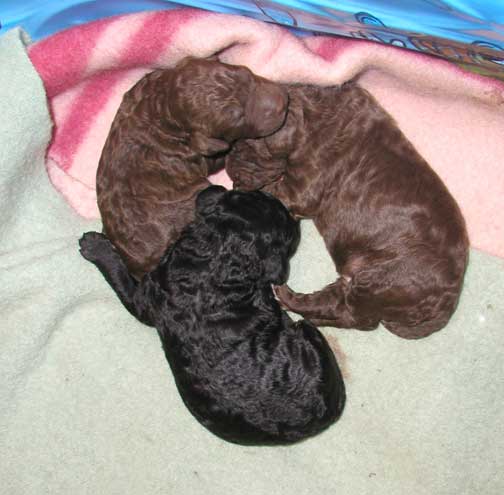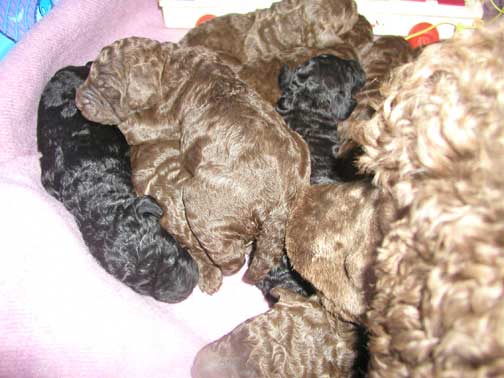 Mommy Jasper, aren't you loving :o)) Licking us all the time to go to the bathroom as we can't do it on our own for awhile. Licking stimulates us to go.
*
Is that a toe I smell? There are warming heating pads underneath the wool blankets to keep any chill off from the floor...maybe that's what mommy's toes are sweating from - heat ;o)
Careful Momma!!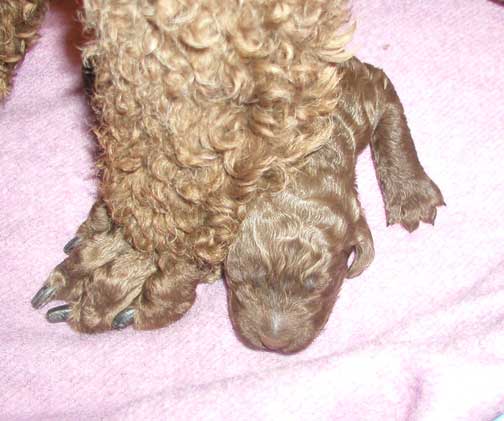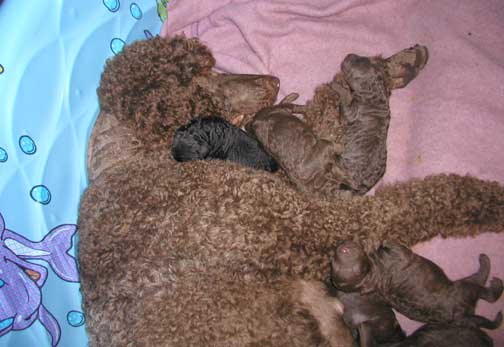 MMMMmmmm, what we do best as we grow...NUMMY...Zzzz!
*
The wool blankets gives our toenails something to grip and allows us to push into nursing :o) Our tails are docked and due claws done now. Tes waits until we're doing well with some ounces gained.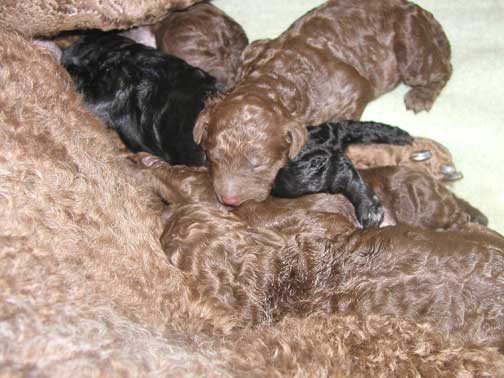 Mm hmm...Nummy Zzzz, Nummy Zzzz, all as we grow to get big and strong to come home to you :o)
*
Mommy is doing well, taking care of us so lovingly. We're in a very large swimming pool and Tes uses colorful wool blankets to absorb moisture over the coming weeks. It wicks moisture away, yet keeps us warm...and a colorful viewing hopefully for you ;o)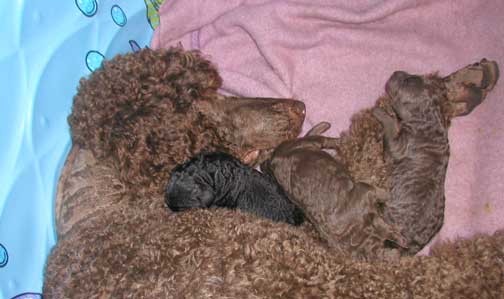 We're excited to come home to you! :o) This is Tes's third litter at one wk later then Cleopatra and Zeddy, Tes did 3 litters 6 yrs ago by herself but now she has part time staff to help her. Us puppies are in Tes's bedroom as the family room is booked up for several wks ;o) She keeps the room around 78 degrees as we can't develop our own body heat for a good week. Humidity must be an average 55 % humidity so with MN colder weather she's not minding it.