Royal Standard Poodle
Health and Welfare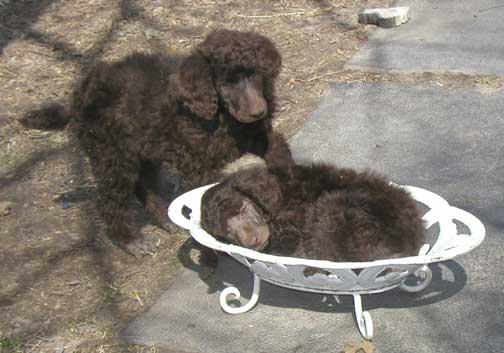 last updated 9/18/19 - This Web page will eventually be incorporated in to my web page "Standard Poodle ABC's." Please check there for alphabetical listing of items as they move off of this page...
Royal Standard Poodle Health and Welfare: by Tes Ingebritson. What is "A Perfect World" in buying your next pet "to your viewpoint?" What can you accept, or not, in health for your Royal Standard Poodles? I do my best to raise and breed a healthy lineage to the knowledge and research I have at the time. It is my goal to help you have a positive outlook on your next pet, not to be "looking" for problems, only know that the information and sites here are for reference to help provide awareness--you decide from there. And remember, a good breeder does their best to test the parents for the future offspring, yet Mother Nature always has the last say.
NOTE: Please have your dictionary at hand (or online dictionary) to help with definitions to words you may not understand. Or, give me a call to simplify if you'd like help; Tes 737-932-5030.
Thank You to those who have contributed to the research and input of this page!
Royal Standard Poodle Health and Welfare
Royal Standard Poodle Health and Welfare