Royal Standard Poodle Black Spartacus & Phantom Hannibal
Royal Standard Poodle Black Spartacus at home in Richmond, TX. Parents Black Zeddy x Brown Bruno born 03/09/14 -Spartacus was the largest Male in the litter. 
Updated 2/2/2017
Tracking Spartacus:
2 yrs 8 months old 82 #, 30" at withers
2 yrs 1 month old, 29" at withers, 82.6 lbs

1yr 9 mo. 85#
1yr 4mo. 84#, 30"
1yr 86#, 29"
9mo. 76#, 26"
4mo. 42#, 23.5"
3mo. 30#, 19.5"
11wk. 22#
6wk. 12#
Royal Standard Poodle Phantom Hannibal.  Parents Brown Angel x Red Daniel Born 06/28/16 - Hannibal was also the largest in the litter.
Tracking Hannibal:
5 mo 46 #, 22"

3.5 mo 38 #

7wk. 12.2 #
Bottom Row: Hannibal, Kolby, Spartacus
Top Row: Carmen, Tes, Vanessa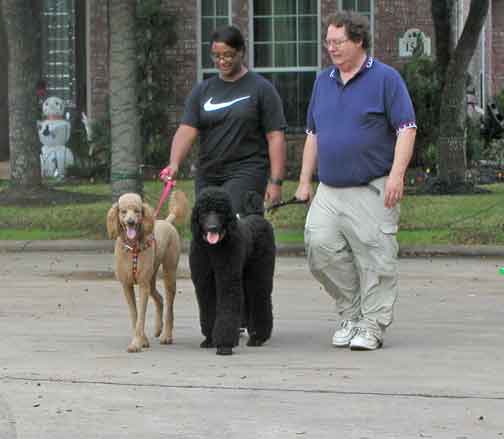 Out for a walk, Don't we look elegant? :0)
Look at us go! Woo Hoo, so much fun!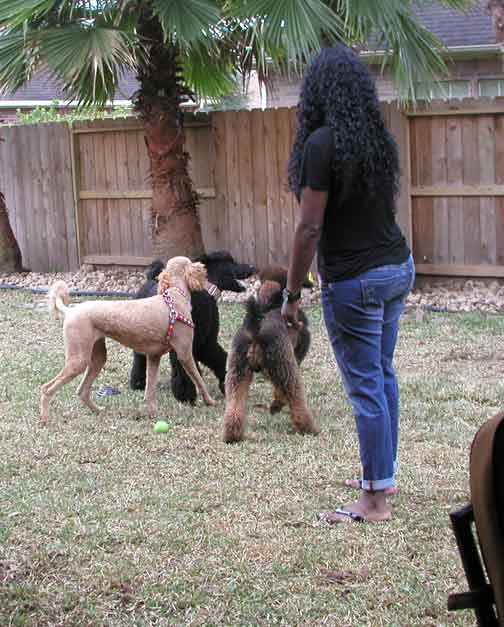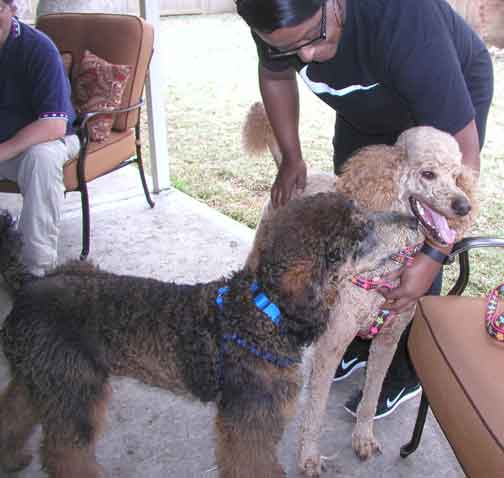 Woo Hoo Kolby and her owner came over. It's a Spoo Play Date!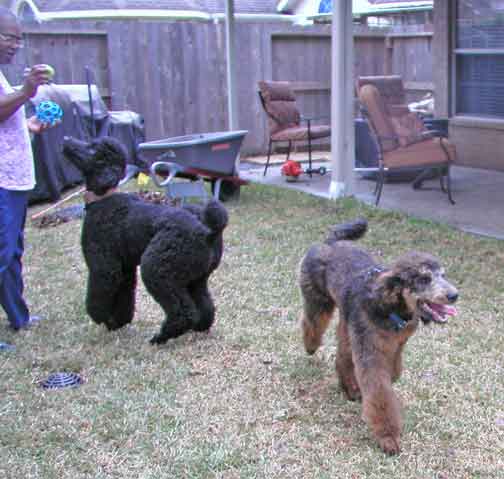 Spartacus again caught the ball....I think I will find something else to do now.....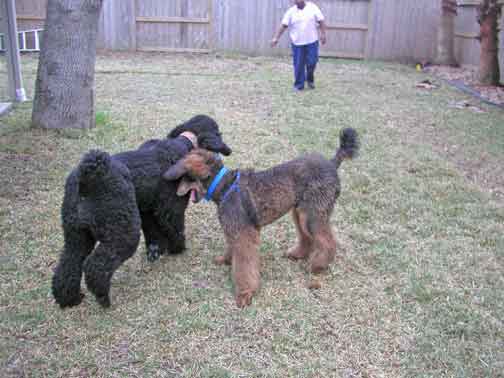 GO!!!
*
Ready, Set.....
Spartacus caught the ball, here maybe he will let go if I grab his ear... :0)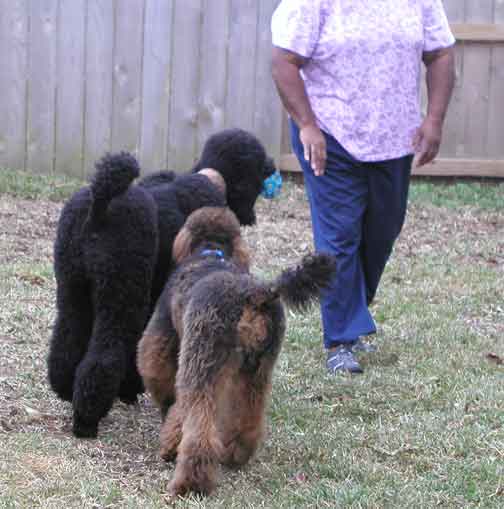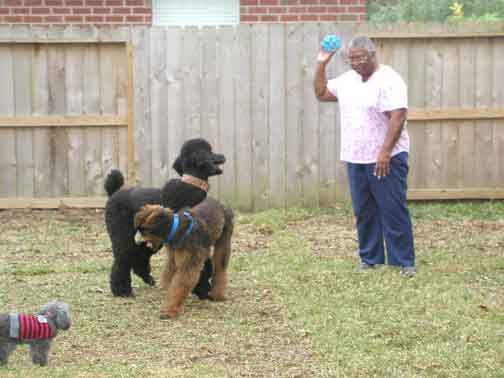 YES!! She's going to throw the ball!!
*
Hmm....will you throw the ball for me? :0)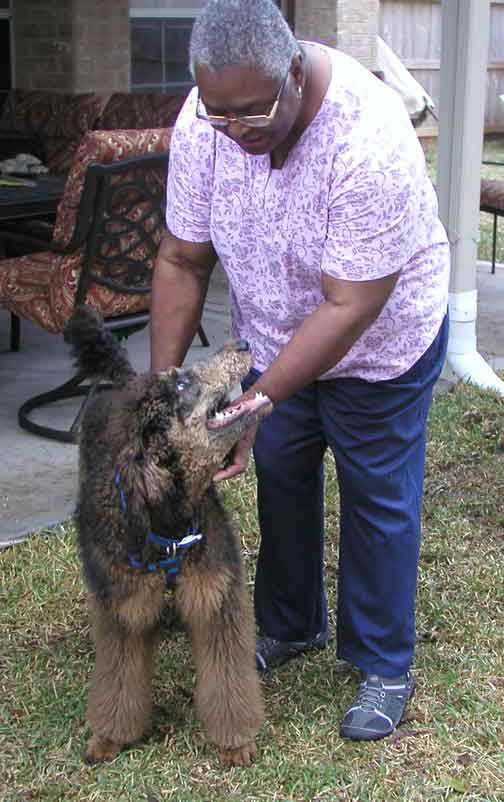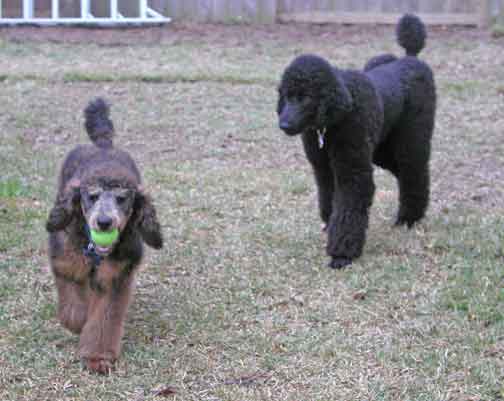 I got the ball, now who will throw it for me? :0)
*
What a HANDSOME boy!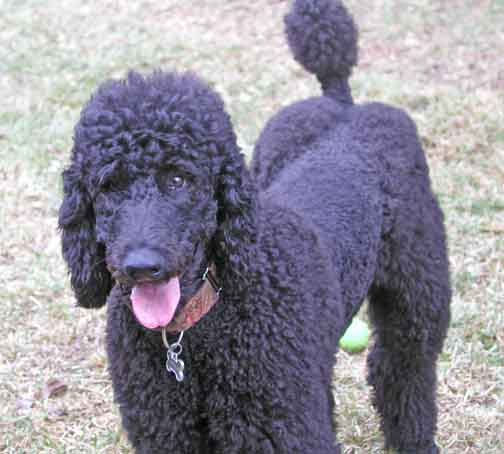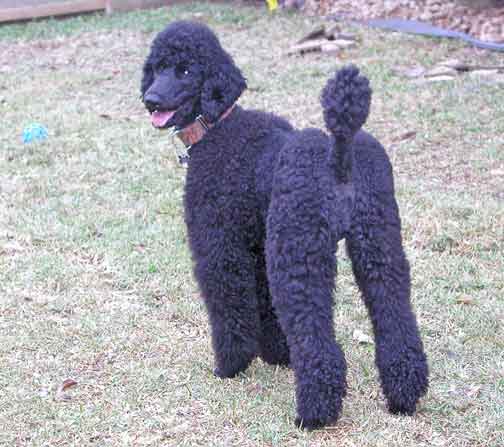 Now that is a Royal Spoo For sure! :0)
*
Look how unique my coloring is!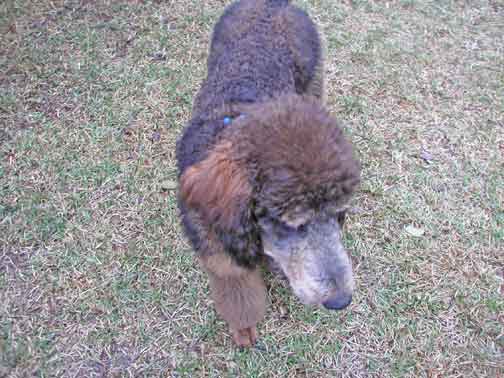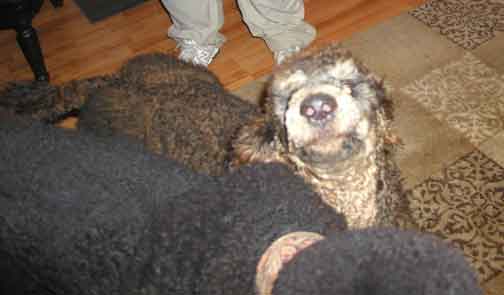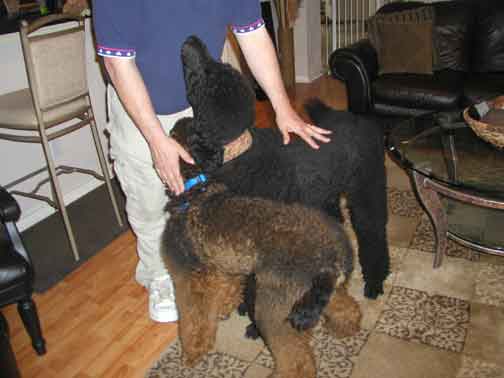 Scoot over Hannibal it's my turn to get petted!
*
Family Photo! :0)
Lean on me!
*
I love you Momma!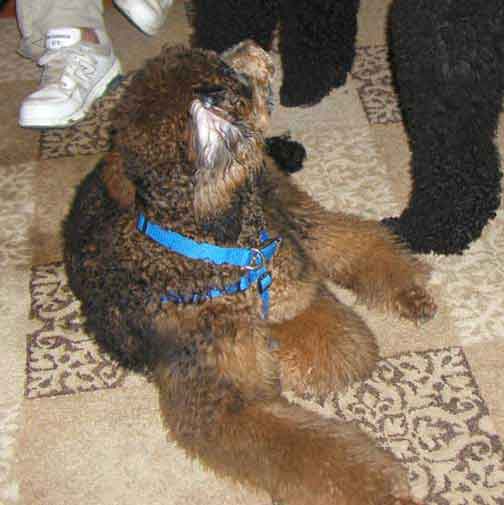 It's the "Ear Flip" that makes Dani laugh! :0)
*
Say Cheese!
Look at Hannibal go!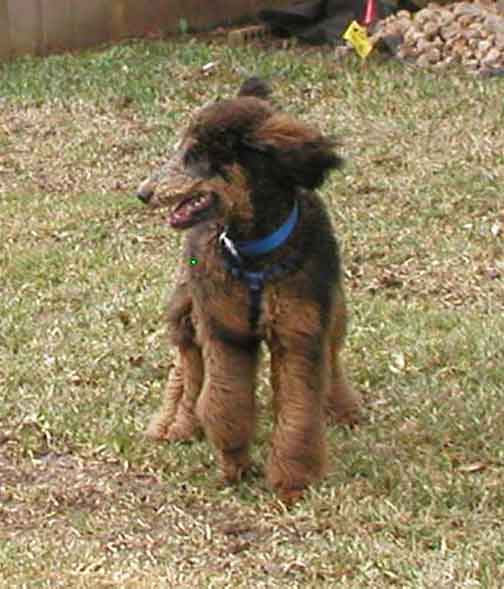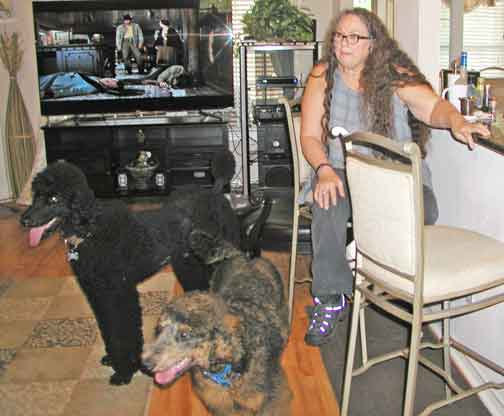 Tes came to visit us, we are going to show her how Royal we really are! ;0)
*
Treat....please....:0)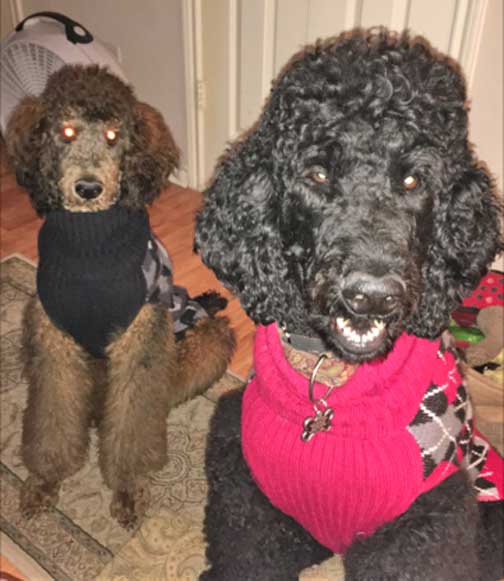 Aren't we looking good in our sweaters!
*
I have gotten my very first poodle cut....ya I am pretty handsome! :0)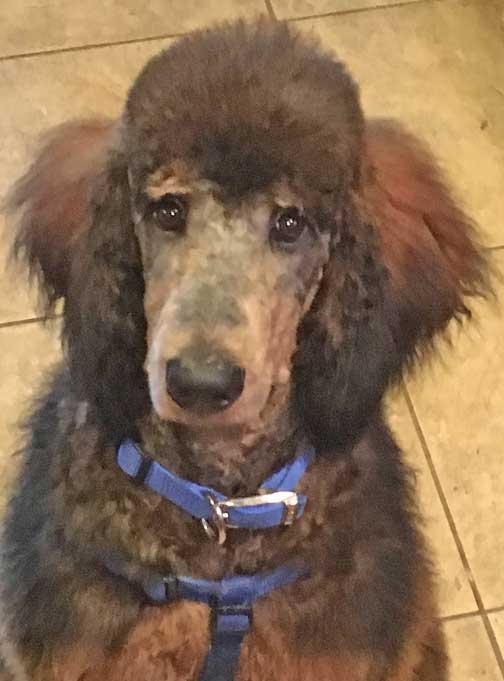 How could you ever say no to those eyes! :0)
*
Such awesome colors!
I'm getting to be a big boy, I wonder if I will be bigger than Spartacus....stay tuned :0)
*
Puppy nap time :0)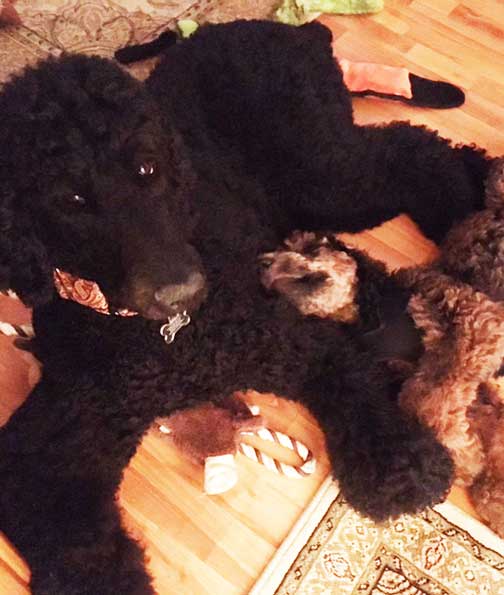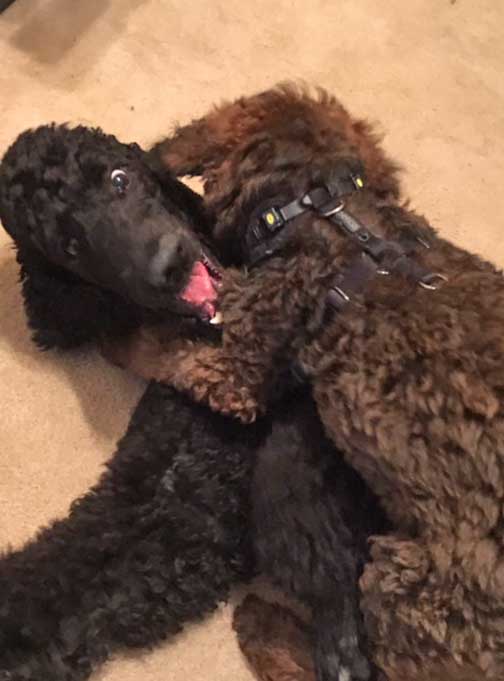 MOM HELP ME!! :0)
*
We are best buds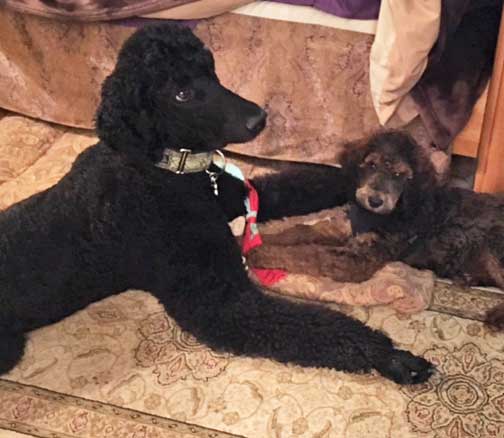 I think I will rest before playing with Spartacus again
*
Watch out Spartacus, Hannibal is going to be a big boy too! :0)
Happy happy!
*
Play time again!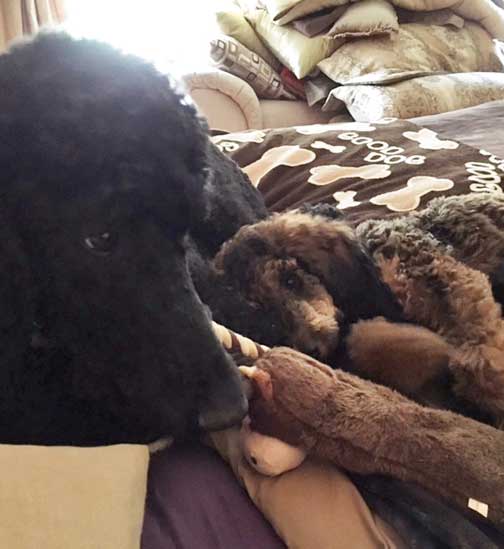 We have become good buddies, we play together, eat together, and nap together! :0)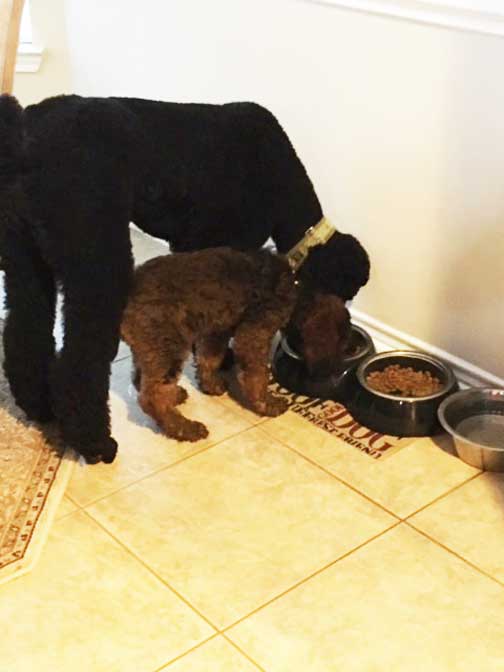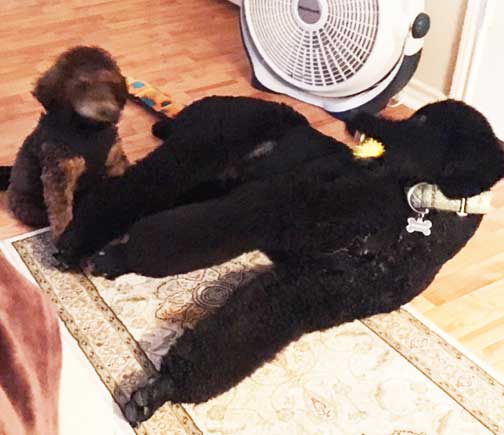 Hey Spartacus, I want the ball...if you're not going to give me the ball I'll have to play with your tail...come on...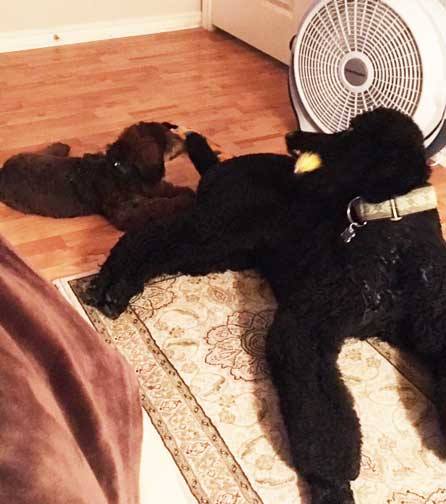 MOMMA! The ball!! PLEASE help us :o))
*
Talan is walking me before I have to catch my flight...look how proud I am already :o)
Huh, you're bringing a new puppy home! Hannibal, Hannibal the great warrior...well he's going to be my playmate, no fighting...I won't allow it ;o)
*
Hey Dad, are you looking at Mom calling us?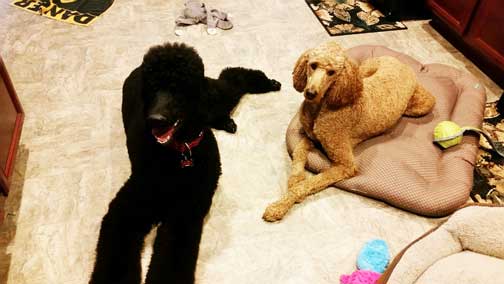 It's a play date with Kolby! Kolby is Fire x Daniel's girl...who my owner's sister loves, and we get together to play when we can :o)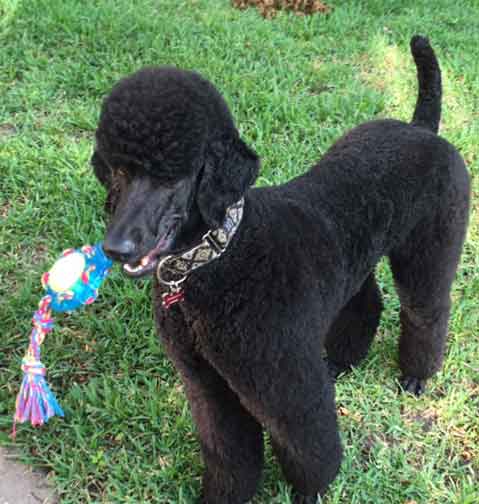 We're working on my new German cut...getting ready for the show ring in showing me off ;o)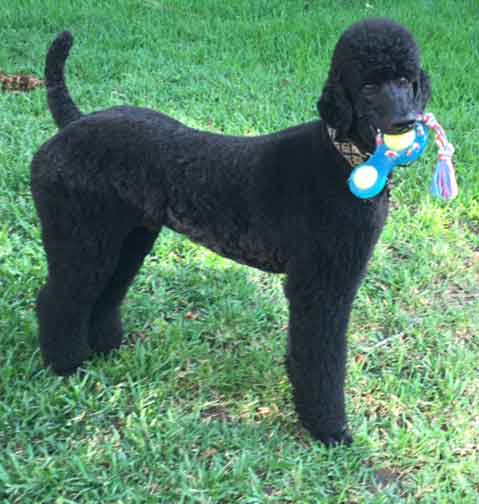 Picture Below: "Look at my structure, Now that is a ROYAL spoo!"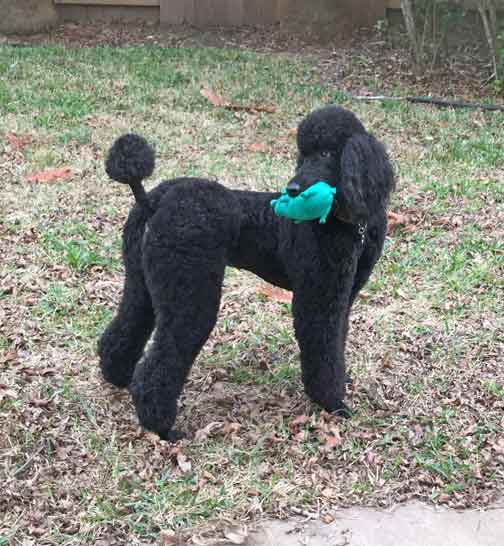 "Come on mom, let's play!"
*
"Look at what a beautiful boy I have turned into!"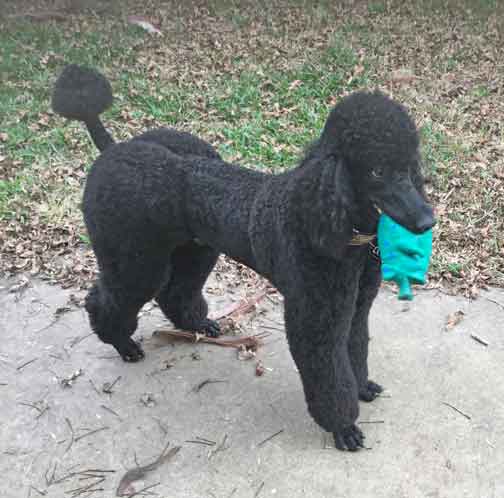 His owner shares: "Spartacus and my toy poodle (Jinx) finally bonding after all this time. They have never slept together like this. I think it's a good sign they have accepted each other finally." :0)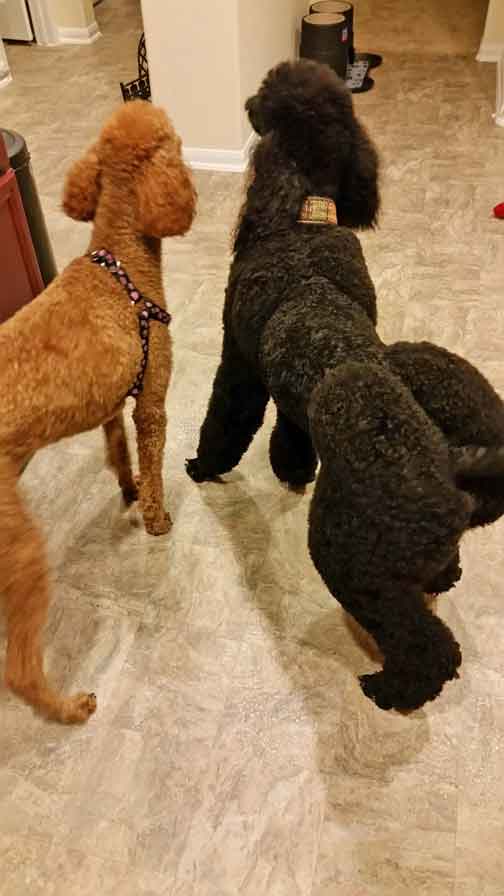 "I love playing with red Kolby, she is so much fun!"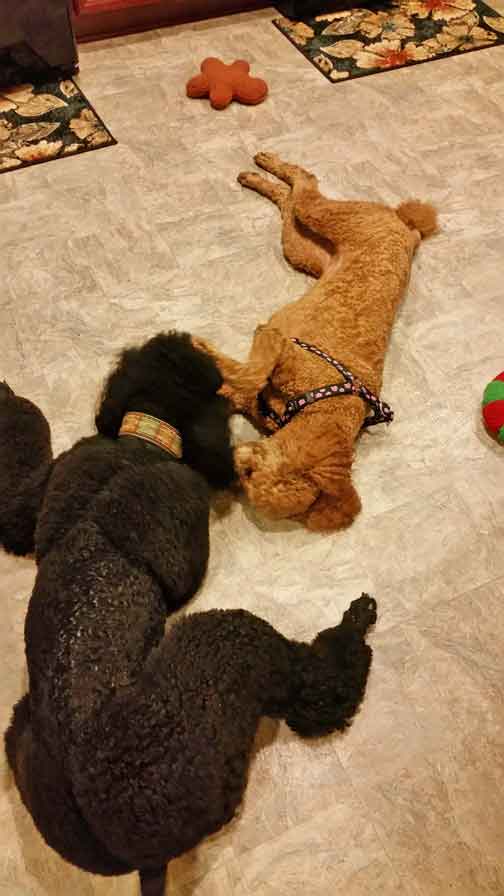 "Out for a ride in the convertible and all buckled in, WOO HOO!!" :0)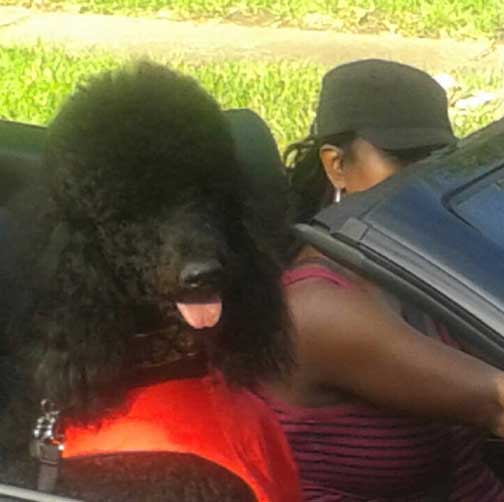 "Mug shot!"
"This is a picture of the back of my paw, guess I am not totally black after all!" :0)
*
"Don't I look like a giant poodle?" :0)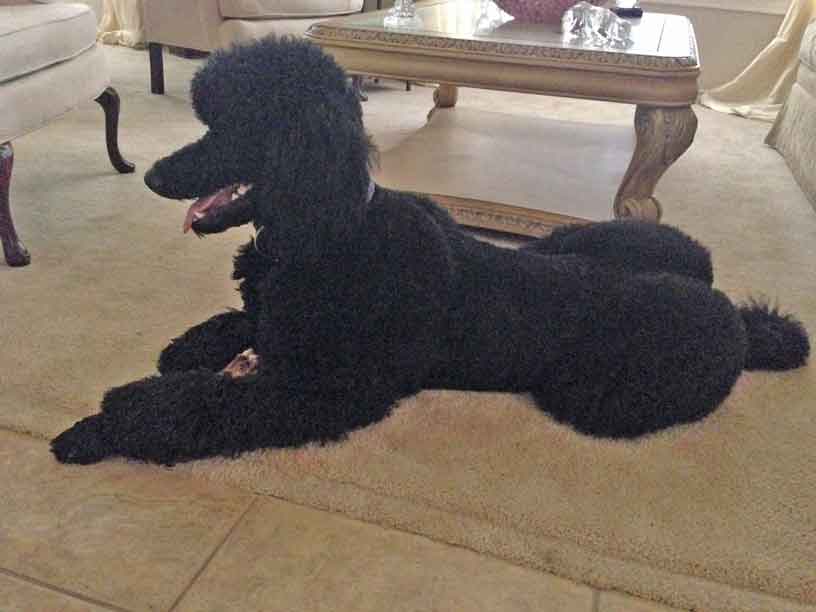 "Look how nice I sit, I am such a good boy!"
*
"Love my bones, nummy!!"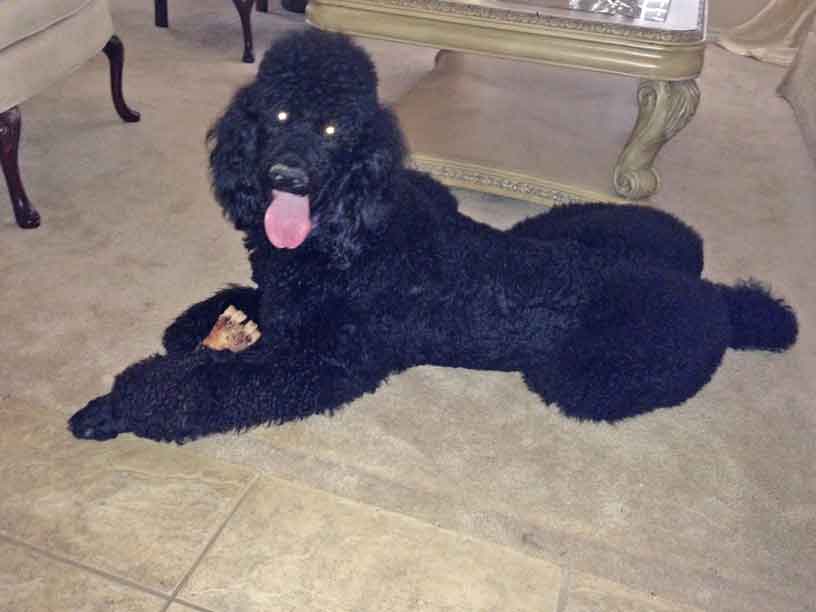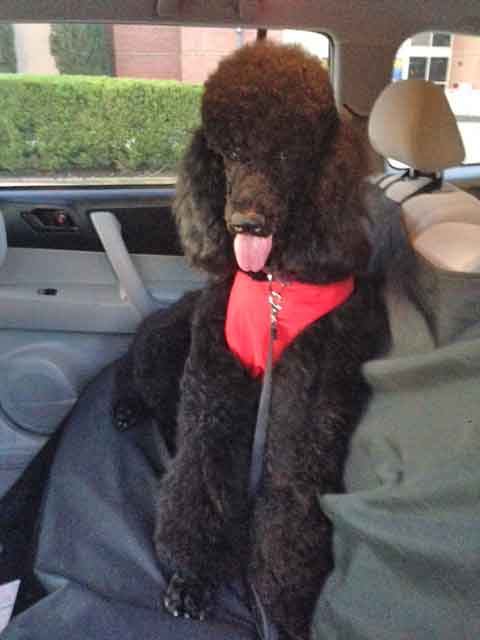 "Just coming back from being groomed and doggy day camp where I got to play all day with the other pups! Woo Hoo!!" :0)
*
"This is my mom's favorite cut on me. It's nice and cool for this Texas heat!" :0)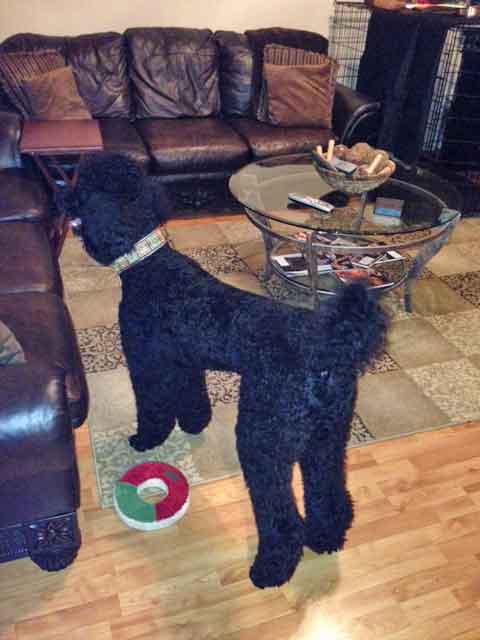 "In this picture I am 9 months old and weigh 76 pounds, I am one BIG boy!!" :0)
*
"This is my 4 month old mug shot, look how much I have grown!" :0)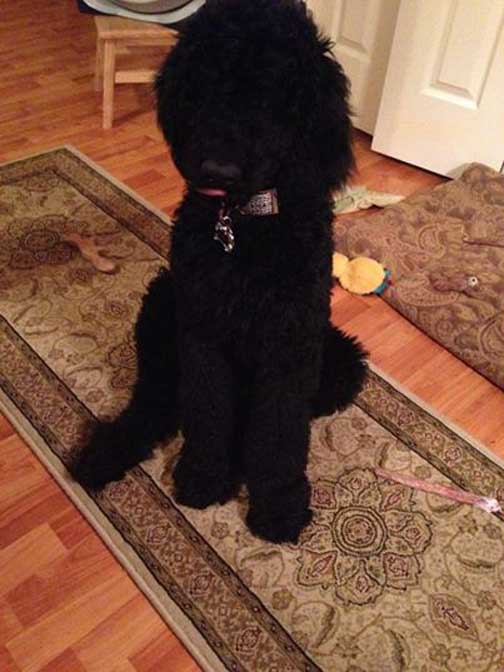 "Spartacus just hanging out and playing with his many toys. I am one spoiled pooch,and notice I am lying on my pet bed made by Tes!" :0)
*
"I am all tuckered out after playing frisbee with mom. This Texas heat is no joke. Time to go inside where it's cooler and rest."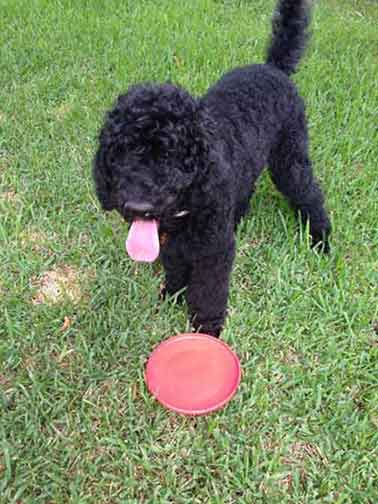 "Mom says Tes will want to see me standing up and having fun with my frisbee so she can really see how big and beautiful I am becoming!"
*
"VET!! My mom looks as apprehensive as I feel getting my vaccinations!"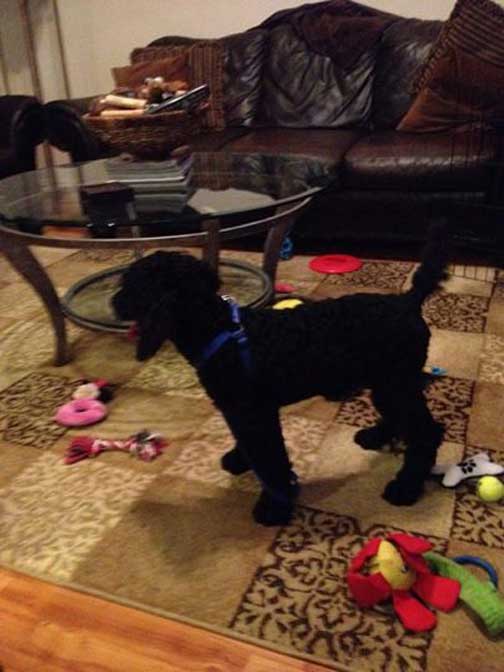 "Look at all my toys, I am never bored!"
*
"This is my favorite spot under the coffee table. Good thing it's nice thick glass so mom doesn't worry I may hurt myself. I don't realize yet that in a few more months I won't be able to fit under here."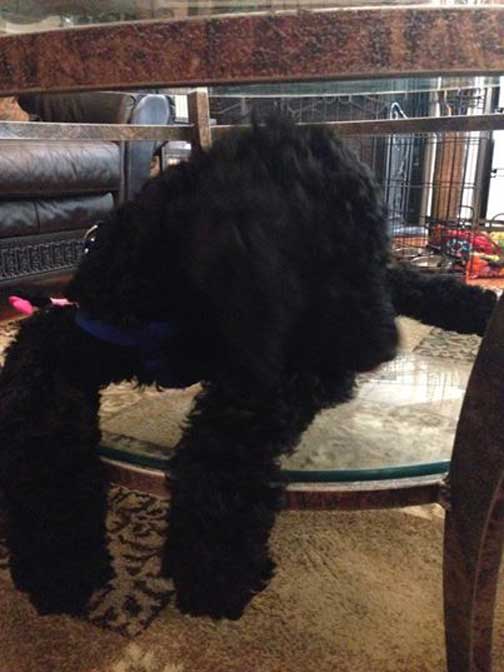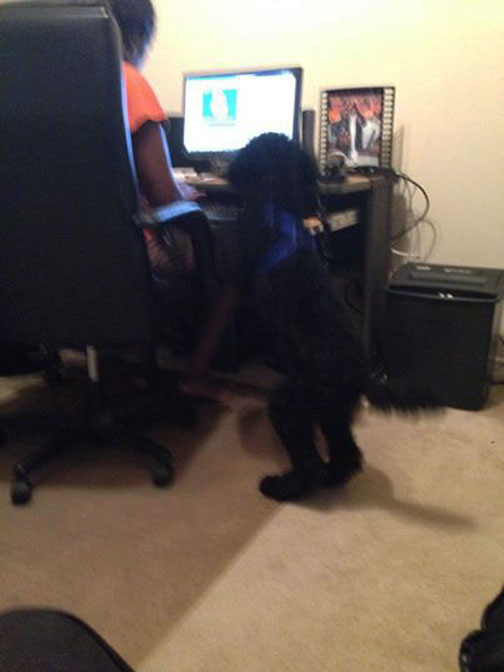 "I am GOING to help you!" :0)
*
"Can I help you on the computer?  Please, please let me help you."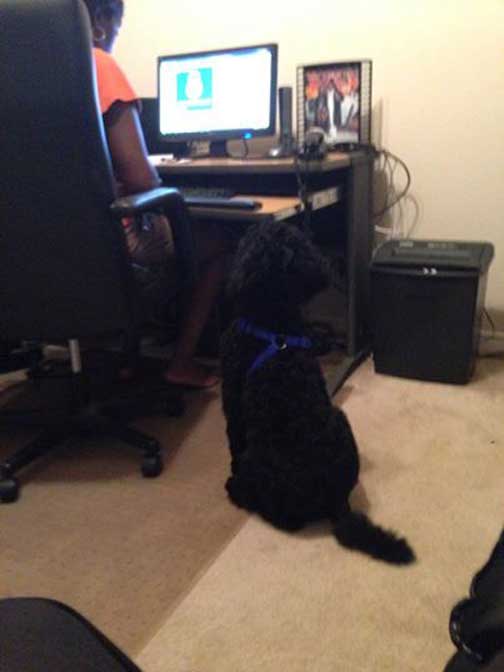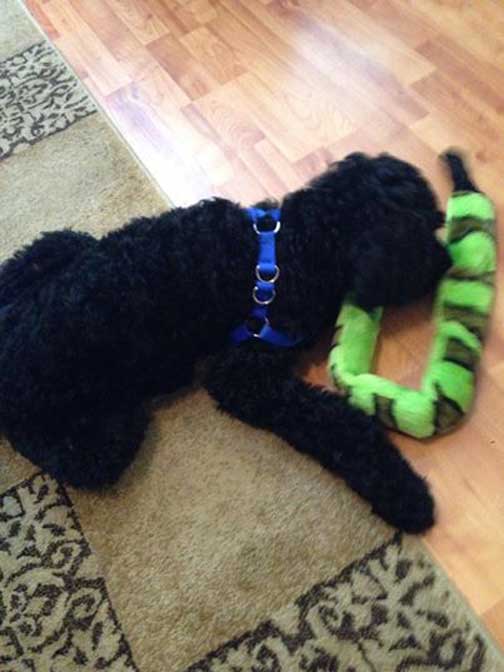 "I got my rabies shot today and I was so good at the vet mom went and bought me a new toy!" :0)
*
"This ball is so much fun to play with!"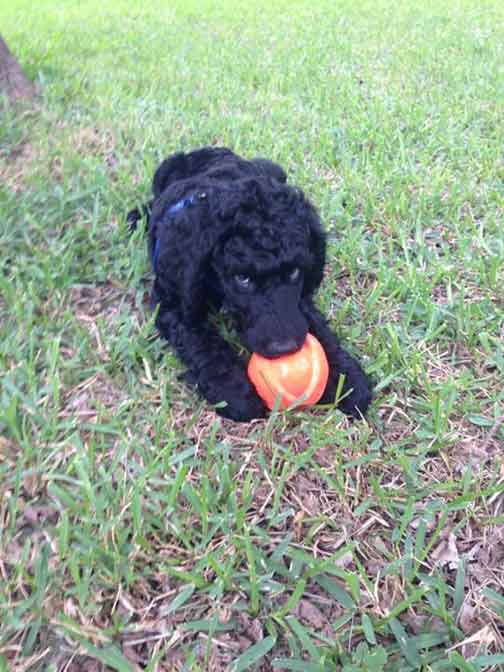 "Grass is so much fun to roll around in!"
*
"Getting ready to leave and go to my new home...so exciting!"
"I am meeting my new mom for the first time, they came to Tes's place just for me!"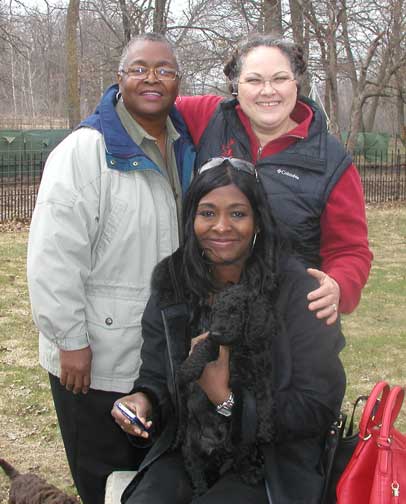 *
"This is my 6.5 wk old first hair cut picture that Tes gives us, paws, face, tail and underbelly areas.....don't I look cute?" :0)