Royal Red Standard Poodle Daniel
Now retired with son Baron in Lakemont, GA
last updated 12/30/21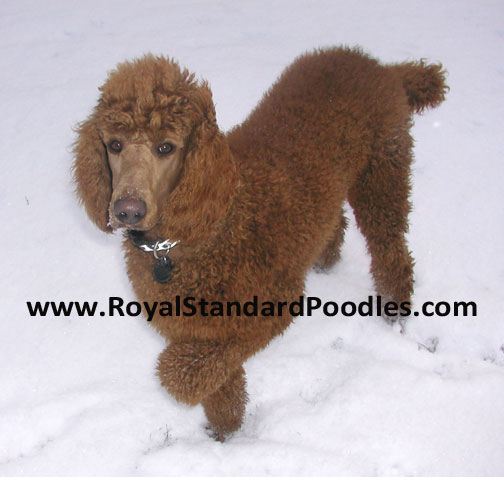 Royal Red Standard Poodle Daniel and son Red Baron: Tes here...My mentor friend encouraged me for 3 years to diversify with reds and I have took the journey by adding Mithril's Daniel to my home. Daniel comes from a non-fading gene father Sheldon, who at 11 years old, was a darker red then when he was a pup...Daniel - he certainly followed after his footsteps :0) Baron above, is following their paw steps, looking just as red!
Daniel's name comes from the character "Dan~el" in my fantasy novel "A Perfect World - Tatriel." Dan~el is the father to Tatriel who owns E-space, a company that builds spaceships. AKC wouldn't let me use the ~ (called a tilde which in other languages gives the roll of the "n" on the tongue) so we will use the English spelling for a nice strong name for him.
Now we get to enjoy watching his son Baron grow with him in retirement.

Tracking Daniel:
In Memoriam
Red Daniel
12-23-2021

The most magnificent dog we have ever had the privilege to own.
Gentle
Kind
Patient
The Soldier
Thoughtful
Respectful
The Gentleman
The Best Ever

We will hold you in our hearts forever and care for your beautiful son, Red Baron.

Rest In Peace, our Beautiful Boy. You were one of a kind.

10.5 yrs old passed away from Kidney cancer
6 yrs old 75 lbs
8/2016 Osteochondrodysplasia (OCD) Clear
6/1/14 - 70# 3 yrs old
10/14/13 CHIC registration #92844, this means all testing completed plus others.
10/3/13 AKC OFA Good - no evidence of hip dysplasia :0) This is also in ratio to the PennHip x-rays done at 6 months old
COI 10 generations 11.61%
1/15/13 Congenital Cardiac disease - normal
1/8/13 CERF (eyes) free of observable inherited eye disease
test 11/28/12 OFA Thyroid - Normal
test 5/23/12 Neonatal Encephalopathy w/Seizures (NEwS) - DNA test - Normal
test 5/23/12 Degenerative Myelopathy (DM) - DNA test - Normal
1 yr old 64 lbs, 27" at the shoulder - Gorgeous Red!
9 months old 67 lbs
8 months old 66 lbs! Exquisitely Handsome & Loveable!!!
6 months PennHip - Great! Top 80 percentile, 56 lbs
VWD 11/28/11 - Clear
5 months old 47 lbs, on his way to be a nice sized boy :-)
4 months old 38 lbs, 20.5" at shoulder - truly has made me laugh more then any of the others as a puppy!
10 wks old 15 lbs - stands out without being shy, appears to know what he wants, and that includes attention from everyone :-)
8 wks old 12 lbs * Here's my mug shot for the winter of 2012 :0) My dark brown summer nose is lightening up to be what they call a Winter nose. Here I am 1 yr 6 months old.
Daniel here, isn't this a great profile shot ;o)
*
A wonderful snuggling evening :o)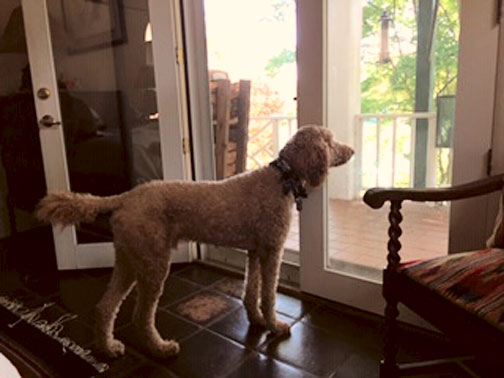 Baron here: if that squirrel gets any closer!!!!!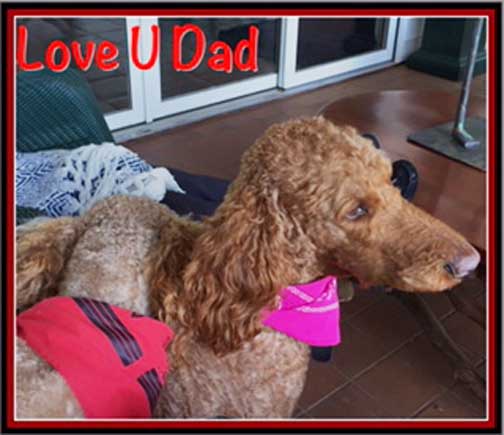 Staying warm by the fire.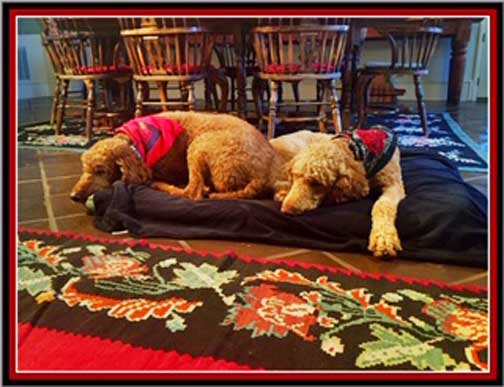 My son Baron turned 2 yrs old! Happy Happy Birthday :o)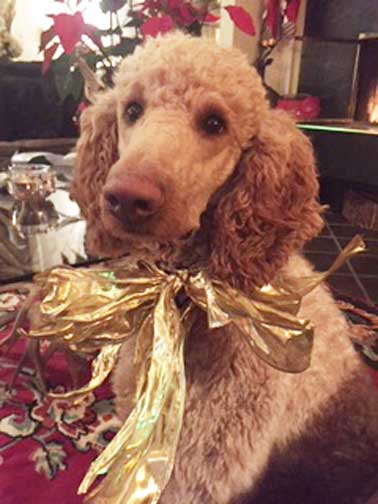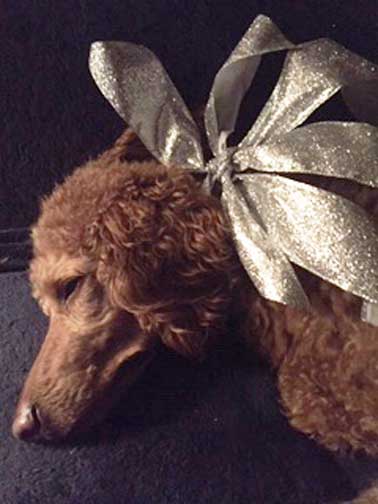 I get to wear a ribbon too :o) Loving life with my son...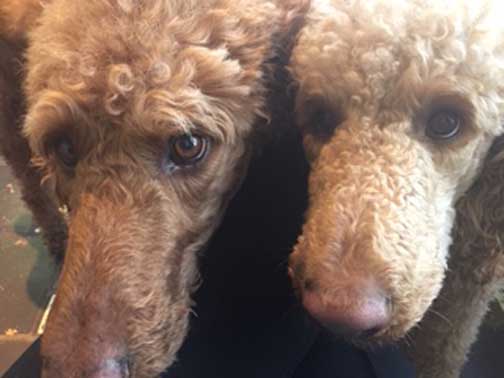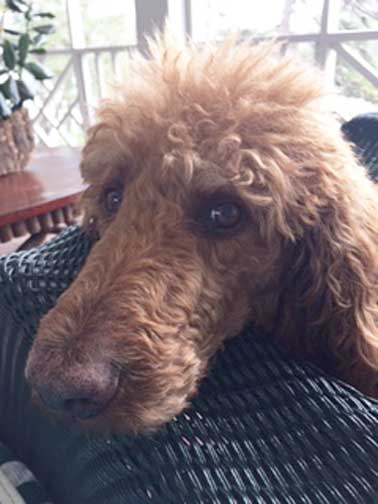 Ahhhh a spoos life...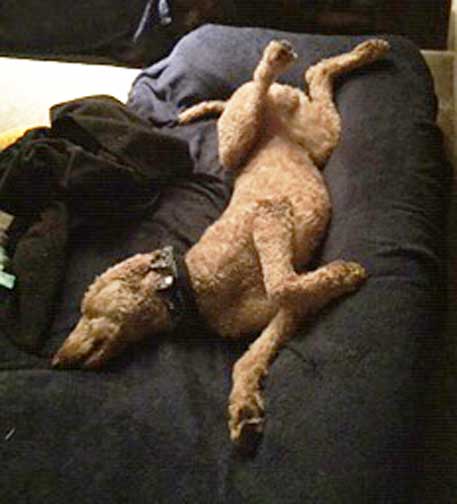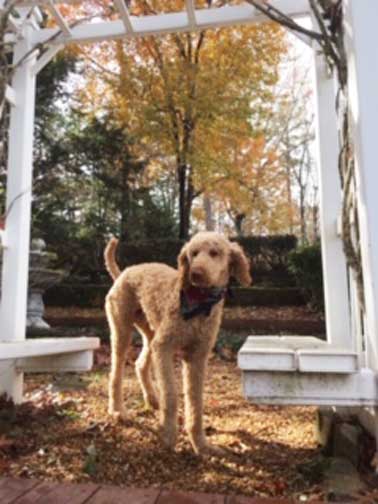 We got our summer buzz to stay nice and cool 2019 :o)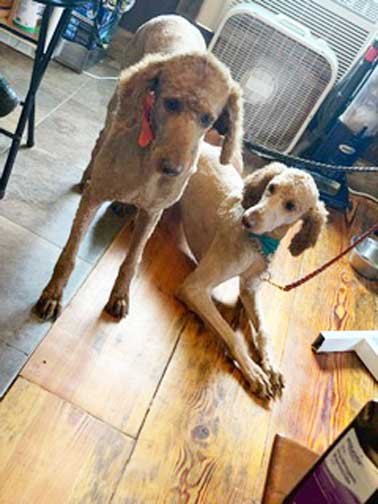 Baron shares, "This orange thing doesn't talk or move or squeak. But I like orange so I'll just carry it around for a while and shake it. Maybe it's asleep."

*
"Got your back!" Nothing wrong with snuggling to stay warm ;o)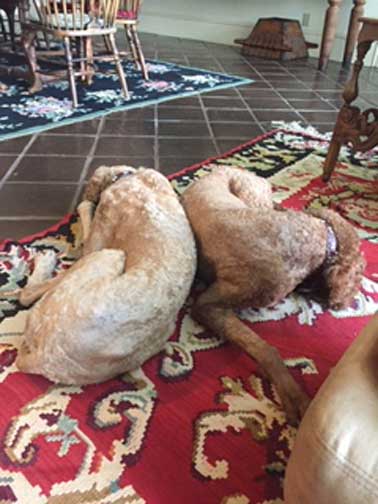 Yeay! A Boat ride, Life is Good - LG!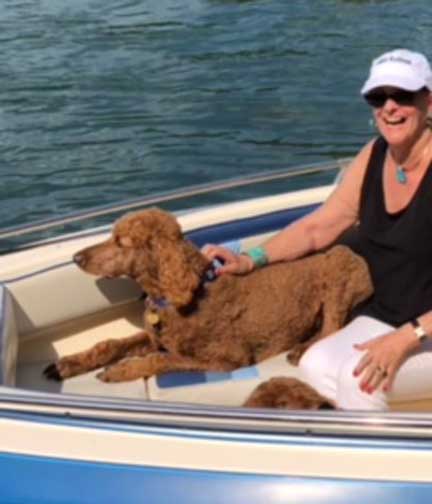 Enjoying Life, it's a spoo life for sure ;o)
*
Somebody got an owee :o(
The night was dark
The moon was yellow
Sweet dreams for all
Abed.

When all at once
The world exploded
With howling wolves
Unfed.

I grabbed my robe
And fled expecting
Bears and beasts
Ahead.

My flashlight beamed
Two poodles straining
At Mr. Possum's
Head .

White eyes glowing,
Dogs are roaring.
The possum froze in
Dread.

"Come! " I yell
To no avail.
My light konks
Baron's head.

Possum crazed,
I drag two Poodles
Back inside to
bed.

The possum smiled
White Eyes aglow
"I fooled them
Playing dead."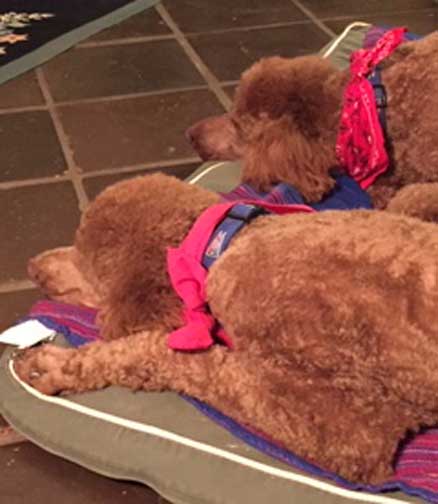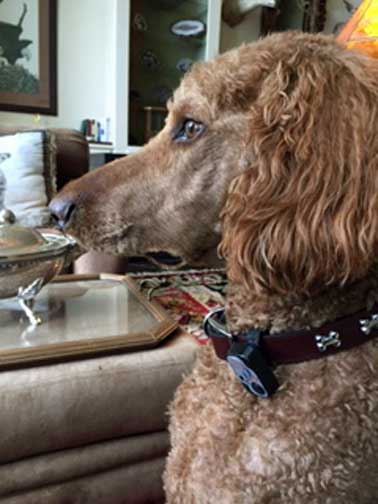 It's early August 2019; here's a pic of my dad, Daniel.  His profile sure supports his Sober Senator title ;o)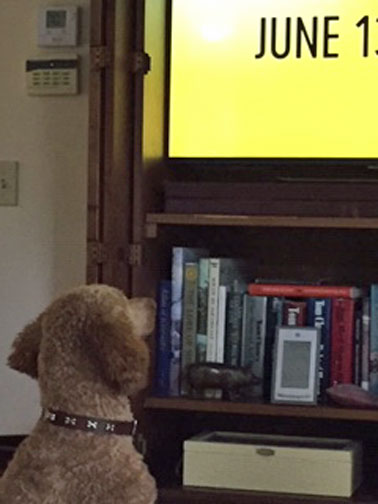 I see the screen and wonder why humans look at it, nothing is moving..
Woooo, got my #10 buzz cut for summer 2019..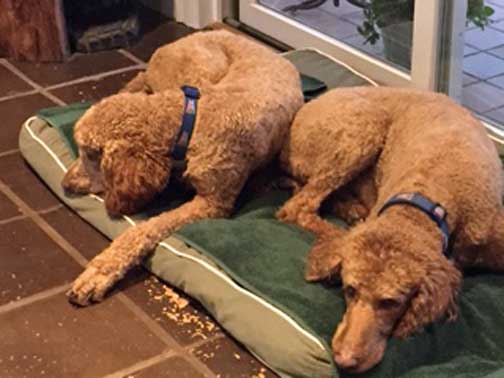 It's June and the you-know-what, (yup, Dog Days ;-o ), of summer are upon us all.  Dad Daniel and I are cooling our heels on our patio pet bed.
Oh!, my human mom gave me a glowing review to one of our fave other human people, she wrote, "Baron is fabulous, funny, smart and sooo handsome." Also that I am a "complete character", [does that mean I have good ethics, hygiene and morals?]       And yes, mom did include Daniel in her discourse; saying we are wonderful together, inseparable and a million smiles a minute!  She described him as the sober Senator and me as wild and playful, hmmmm....  ;-)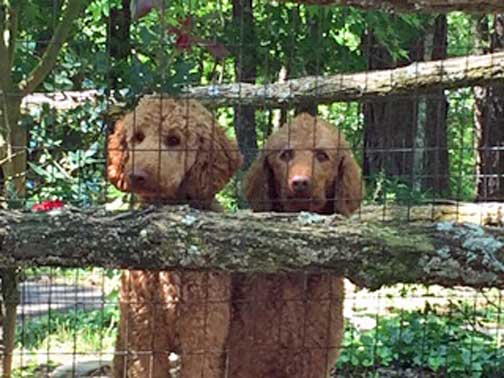 Happy Spring, everyone.  It's already May 2019 and Pops Daniel and I are enjoying a beautiful day outside.  As you saw in an earlier photo I outgrew my dad in size.  We're really great friends ;0) - we stand shoulder-to-shoulder through thick and thin. 
This is how we celebrate 2019 Easter....actually this is our human's idea of how cute we'd look with rabbit ears....seriously....we're hunting dogs...if we truly wanted bunny ears Daniel Dad and I could go to the woods and scare up our own lagamorphs...humans - what goes on in their heads ;-)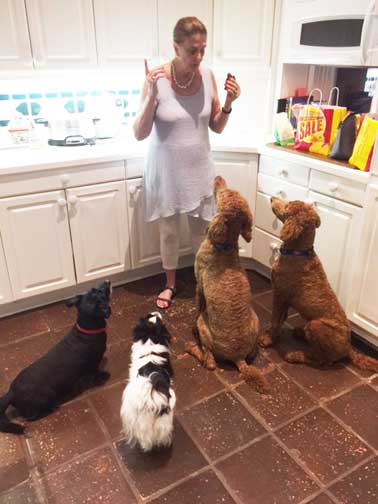 Sit? Duck cookie treats - SURE!!! See how smart they make us ;o)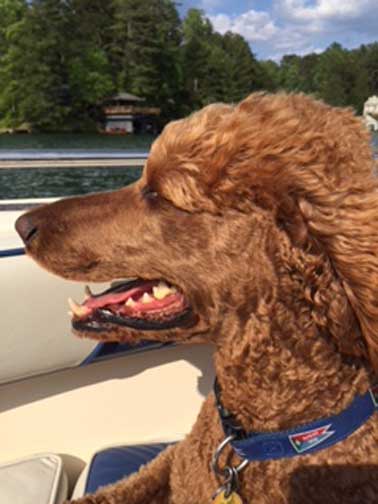 Tracking Baron:
 @ 10/28/18 10 months old 70#
7.5 months old 62.8 lbs!
7 months old 58 lbs now the same height as Daniel and only a bandana lets me know them apart right now. 7/19/18 

The boys got their first lesson in a shared lead yesterday. Daniel was Perfect and Baron was perfectly WILD ! It's hard to be the leader when you are shackled to your old man!!!

6 months old is 50.6 lbs this am and is the funniest dog we have ever had!
Dani doing great and very patient with his wild son!

4 months old 35 lbs I bought him a hedgehog toy at Walmart yesterday and he barely will take it out of his mouth to eat!
What a clown!
3 months old 25 lbs and SO SMART ;o)
He is at 22lbs and just fabulous! Knows heel, sit, come (sometimes!),
And is learning to shake. Crate training now and he should be good in 2 weeks. Vet said he is a "Magnificent Specimen"!! His dad hunted a red standard and he went Bonkers for Baron.

Big fence being built now. We LOVE this dog, and he and Charlie are rough housing, running, and already inseparable. Beef bones in the freezer make crate training soooo much easier!!!! Put him in there with a fresh bone and he forgets about the crate totally. (I hope none of my neighbors catch me out in Gary's Robe at 6:00 am when Baron squeaks to go out!! Scary! )

9 wks old 17 lbs - He is doing super! A big talker and Just heeling like crazy!!
DOB 12/22/17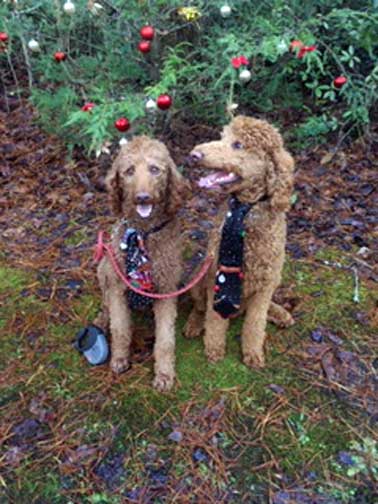 Daniel and son Baron all dressed up and ready to take a walkabout for Christmas 2018.   Absolutely love these neck ties!!!
Daniel and the Christmas bone.  Look at that huge smile!
Royal Red Standard Poodle - Daniel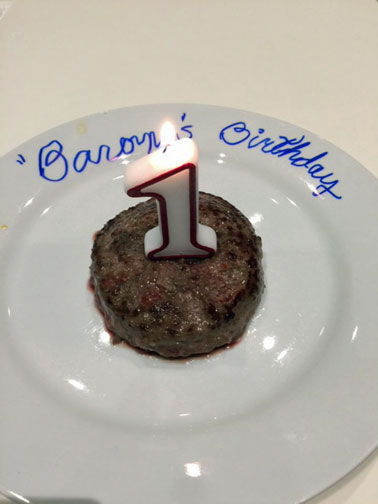 Oh boy, it's my 1 year birthday burger.  yum!!! and thank you all!!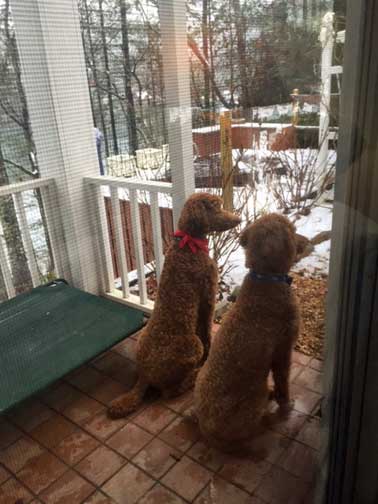 Hey Dad, what's this white stuff?
*
Aha, a 'toy poodle"  I totally get it ;0)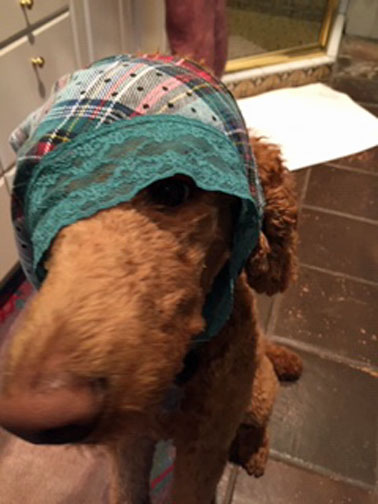 While Dad is thoughtfully watching Mother Nature do her fall thing, I on the other hand have taken it upon myself to investigate our guest's suitcase.  Security is foremost on my mind, I'm just uncertain exactly what I have gotten myself into however.
*
Daniel, the mature paternal figure here, watching the autumn leaves.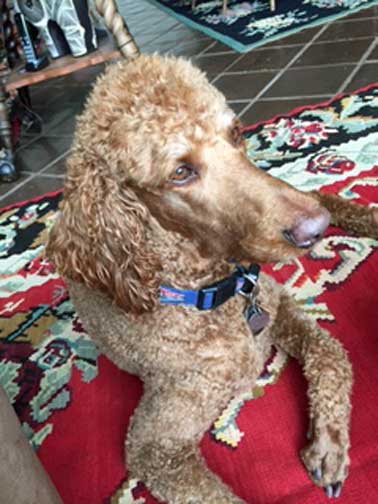 It is Halloween 2018 and we are headed out Trick or Treating, yay! 
My bear friend is shrinking in size.  What?  I just keep growing?
*
My dad, Daniel is at the top of this photo; looks like I have gotten larger than him. Wow!  Check out them lengthy legs!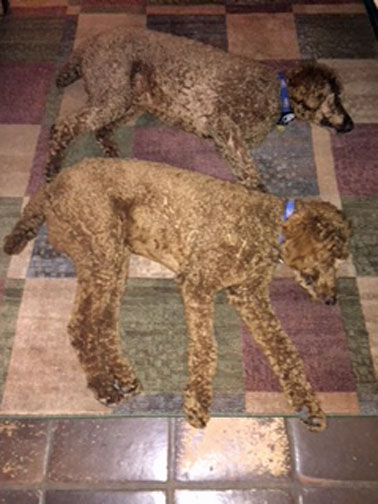 This is my official 'mug shot'.  Once again, I have been accused of a major crime.  This time, it's a canvas tote.  Personally, since I see no photographic evidence, I believe I should make bail.   And I object to my prior couch conviction being brought into court.
*
What, who me?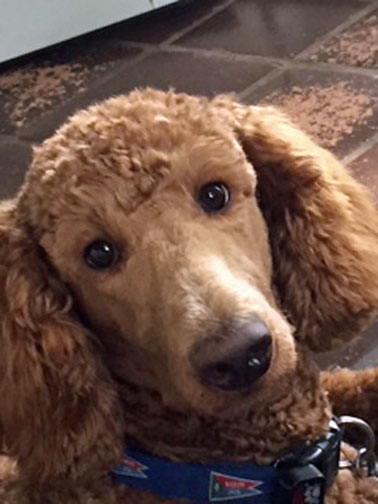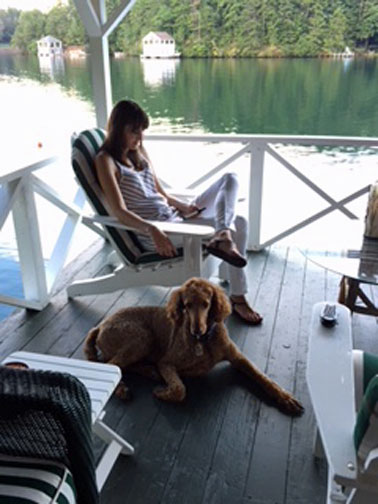 Daniel and Baron, facing the morning together
*
"Yes, Your Honor, the statement by the plaintiff that I literally 'ate the couch' is accurate.  The skirt was just hanging at the bottom tempting me to see if I could remove all four sides in one piece...kinda like peeling an apple skin...you must understand!"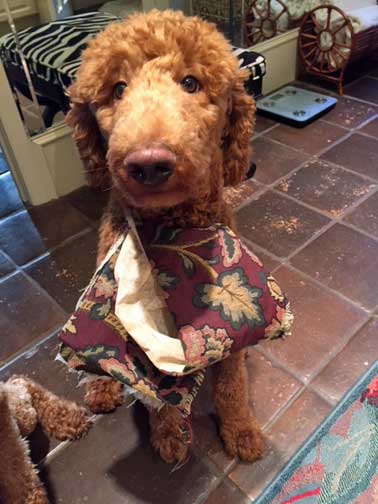 Whether it's the trip enroute to the park or going boating, we Royal Red Standard Poodles sure like hanging out together and with our humans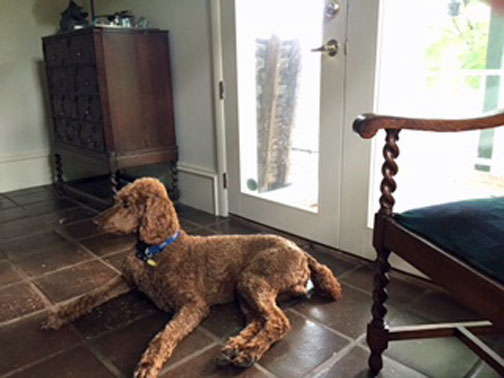 Daniel has gone off to watch TV on his own...
*
Since everyone has labeled me an official "bed hog"  hrrumpf
Well, why not, I will simply have ALL my toys share space.
*
And my rabbit....
Being the fair-minded Royal Red Standard Poodle I am, I must share my play time with the frog
*
My friend, a very substantial size black bear makes a suitable substitute for Daniel on which to nap.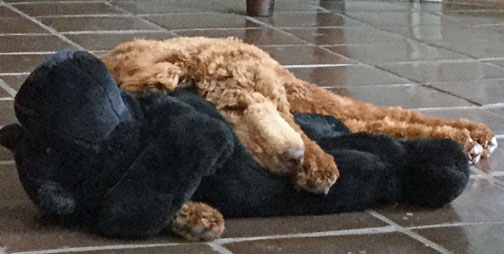 Look at this! It wasn't here before!!!
*
My bear! zzzz....
Daniel says, "Wake up Mom!"
*
They always say we look like our pets ;o)))
Daniel says "Life is GREAT...getting to walk with my new mom is SUPER!
*
Daniel doing great. Not one mark.
Wary but doing super.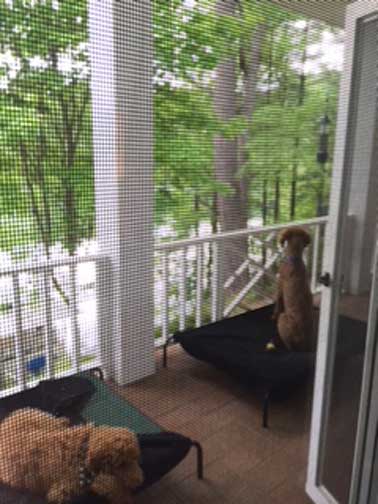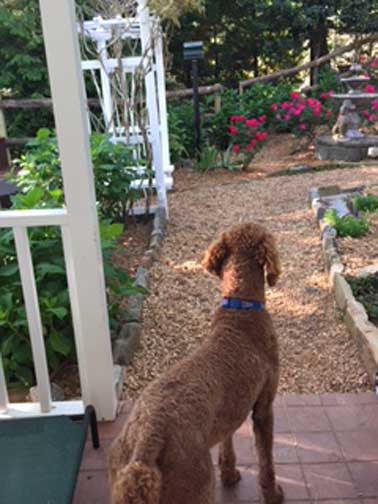 Baron contemplating the boats on the lake ... No lack of confidence in this rascal!!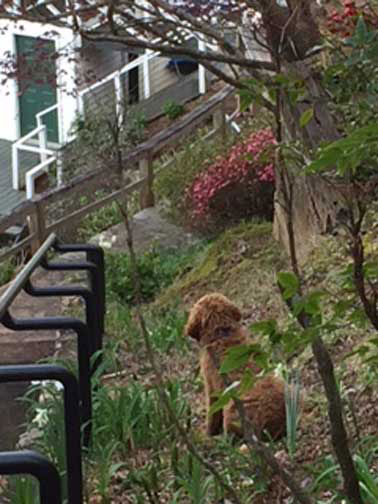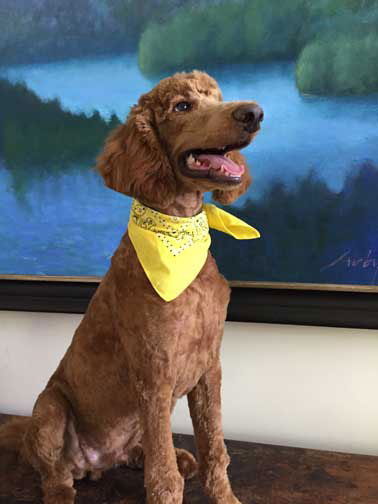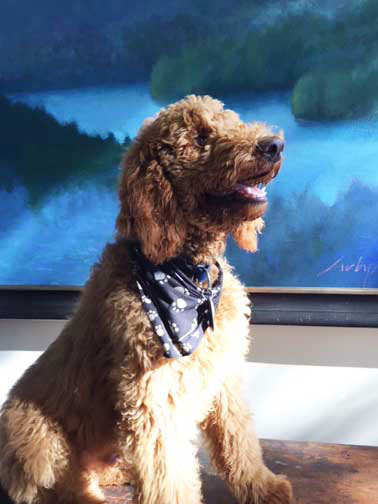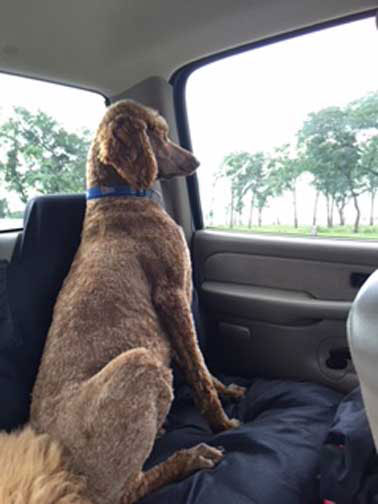 Baron is definitely bonded to Daniel. Face kisses, snuggling. Daniel smiled at me this morning, Which is soooo cute!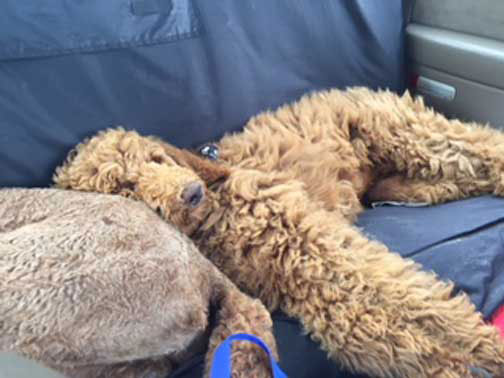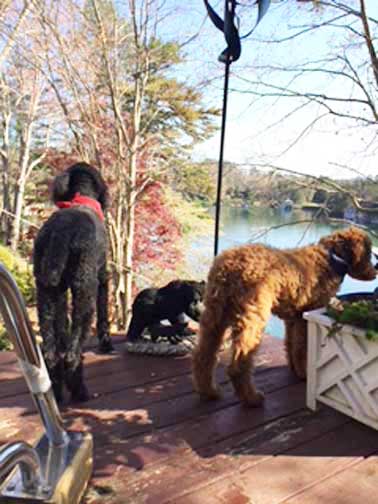 4 months old, checking out the boats from the hot tub deck with Charlie.
*
These north GA snakes are really fun to play with! Just like my dad,
Red Daniel, snakes are just plain fun!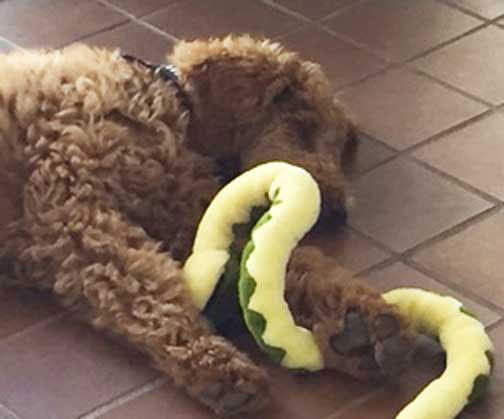 Great! Baron sends big kisses. He is In love with his big rawhide and responds well to the TSssssT !! Has decided he likes to be under our bed and watches tv. He better enjoy it now or we'll have to buy a Henry VIII bed!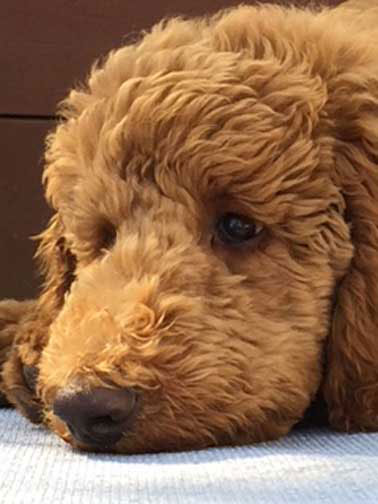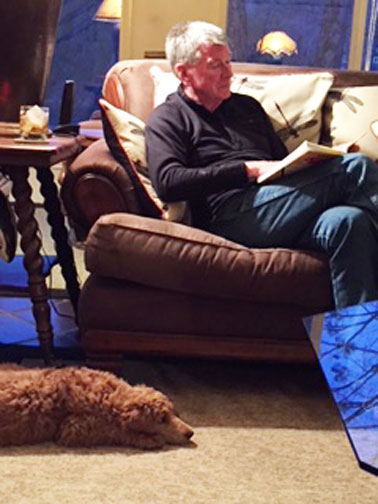 Last night he retrieved a toy to Gary about 6 times. Doing well on pee
pads and potty outside. Starting to resist "come" so we are working on that one as priority. May consider a week (later on ) at dog training with a friend who trains and shows labs/ foxhounds. Baron is sooo much fun and so smart!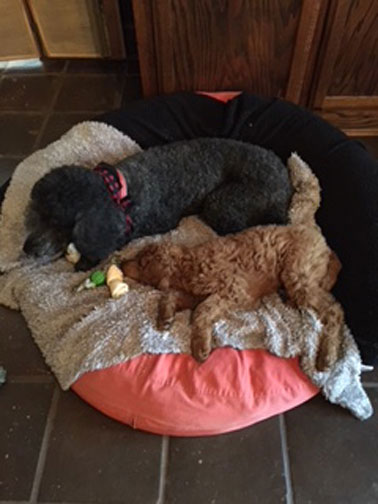 Baron pottying outside, heeling, following Charlie, eating well. He's tired today so we are chilling. What a wonderful Boy! Gary took him for a good walk this morning. He's quite the talker and is doing superbly. 
He walks like a star on the leash after 3 short walks!! (My friend who Puppy Walks Foxhounds could not believe her eyes!)

Hi Tes! I weigh 30 lbs now and I am sooo Smart! I know come, sit, down, and leave it. My mom gave me my first leash training today and I did my best but that nylon necklace was soooo much fun to carry in my mouth. I'll be glad when all these baby teeth are gone— I get flat rawhide Chewies and a fresh beef bone when I have to be alone. My new fence is awesome! (The man in the Butcher store cuts them just for me— Charlie got the trots when he ate Too many but I don't !)

Thank you for everything you did to help me prosper and find a great
Home! 

*
Ok, here are the rules in this house Charlie.
I'll just pin you down and review them briefly.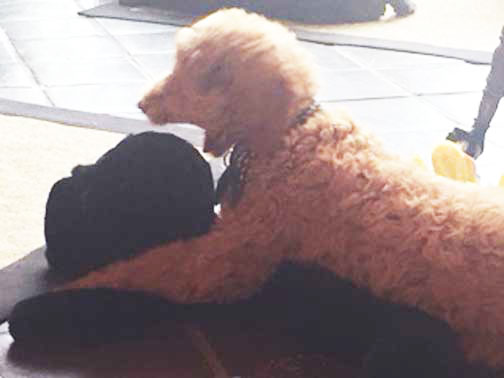 In loving memory of Baron's friend Charlie in Georgia.

*
Below we have new mom Penny and Tes with Baron, Daniel and Bruno.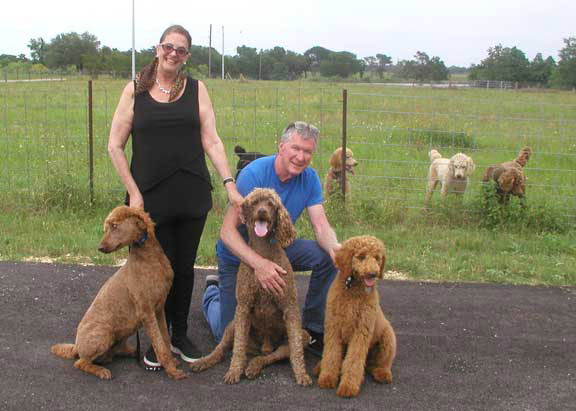 From here on up will be Baron included in the growing up onto the page pictures with Daniel, Baron's Dad; Bruno is Baron's grandfather from mom Pickles...so we have all in the family ... and everyone else in the background watching from Spootopia park of 7 acres :o))
*
Daniel is his gorgeous red and personality to absolutely love for ;o)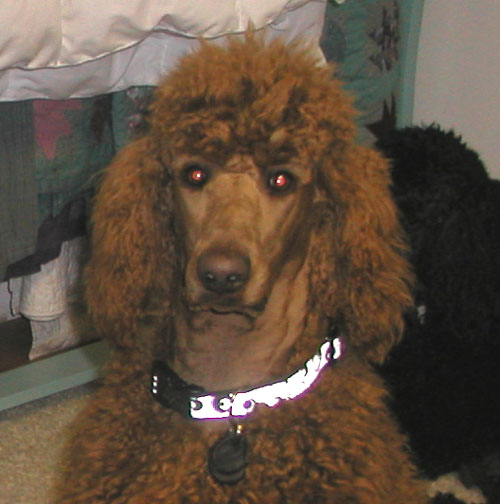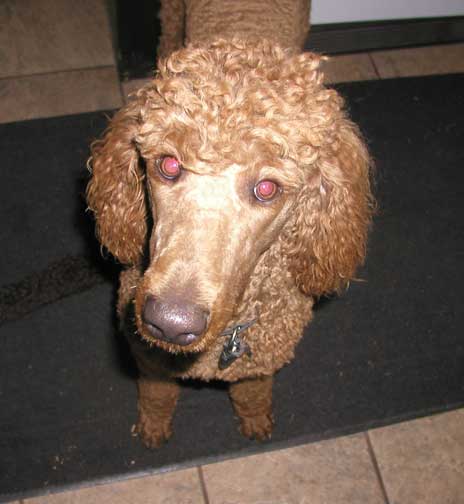 Daniel here...my Summer nose at 1 yr 2 months old.
*
Out playing in the parks...she missed my butt here!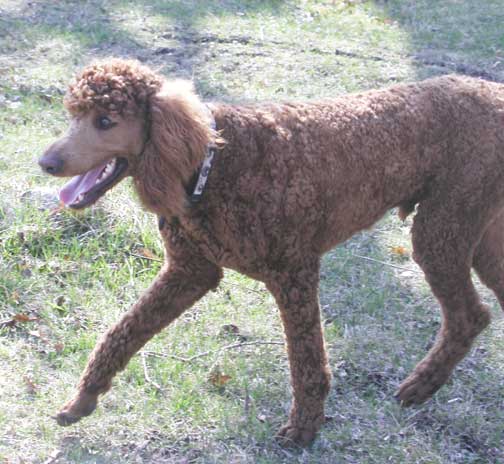 Tes has to get a rear view shot for some reason...breeders will know :0)
*
Daniel's letting one of the red girls snuggle in with him :0)
People ask if we are raised around cats...here's a favorite sneaking up on me...we call her Brassy :0) Reeowrrr!
*
Hey there, I'm really filling out over the Summer! Tes and Gene share I'm one loving boy, absolutely the best temperament, loving, and great with people.
Here's my Christmas profile 2011 :0)
*
It's "The Chair!!!"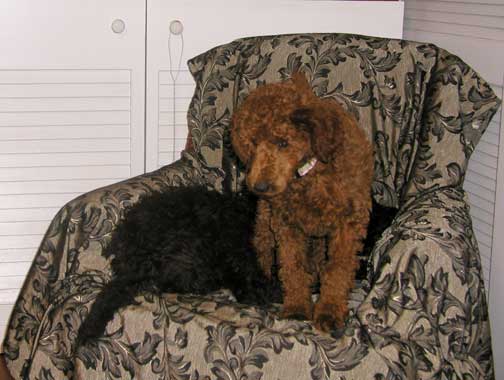 Izzy is great in playing with me :0))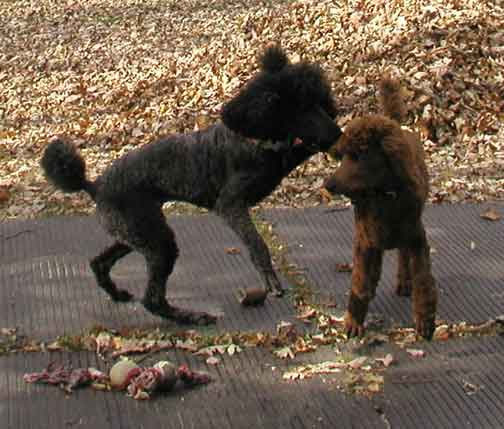 Guess what time of year it is! We absolutely have to let Tes know these are our piles to play in - Thank You!
I'm in here...bet you can't find me...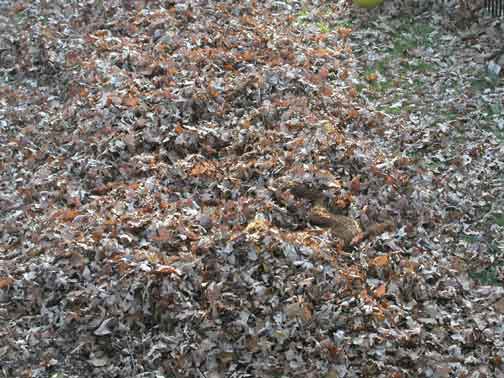 We're off and running, fun, fun, fun :0))))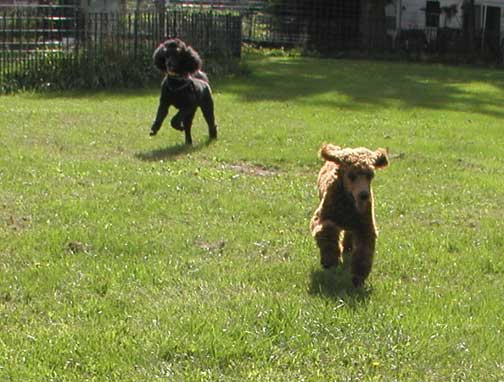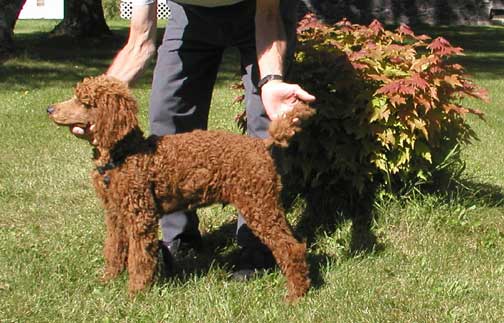 Profile is looking good :0)
*
Here's my first mug shot :-)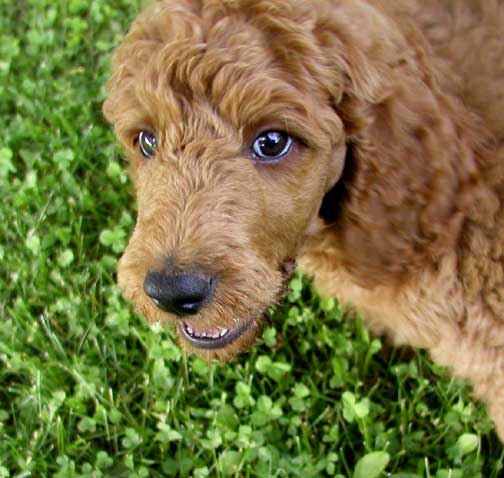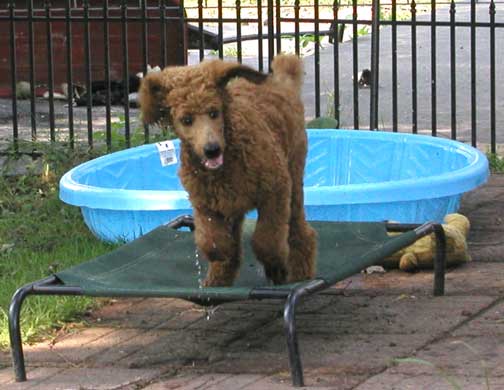 I Daniel have made Tes laugh so much this summer with me in and out of the several swimming pools constantly! I love them to cool down in...and of course then track water into the house ;-)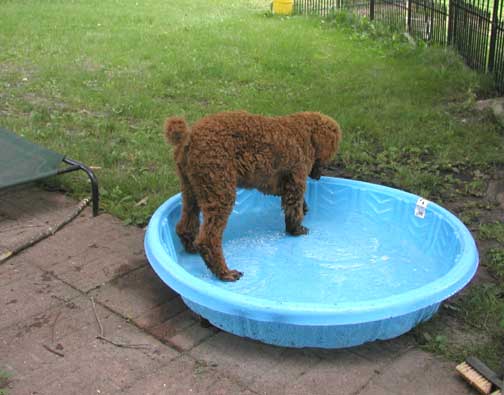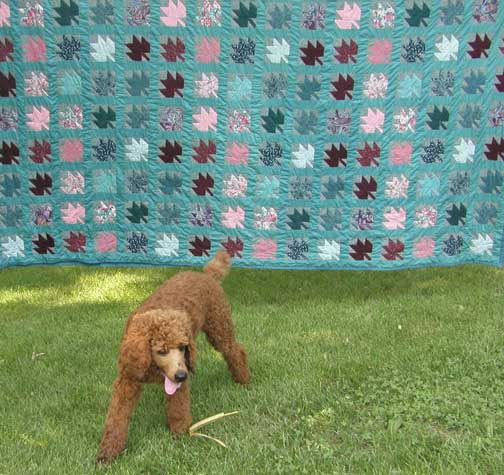 ...and then there is the quilt of many colors...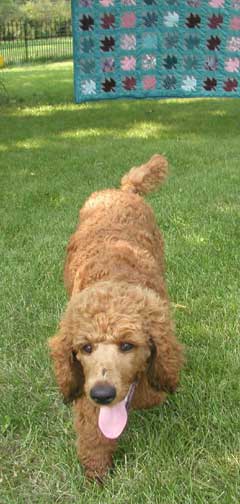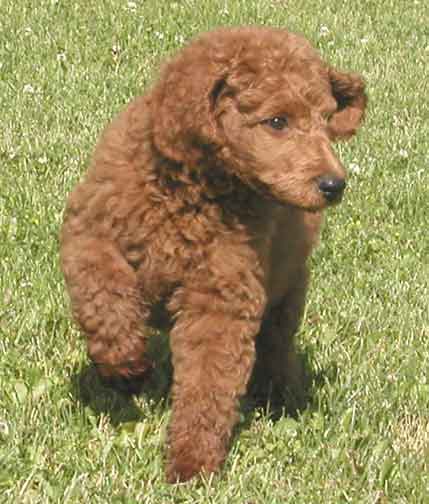 ...and here's my first overall haircut to stay cool in the hot summer.
*
What a lot of parks to have fun in!!!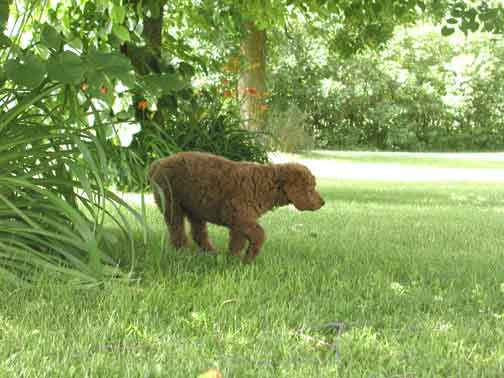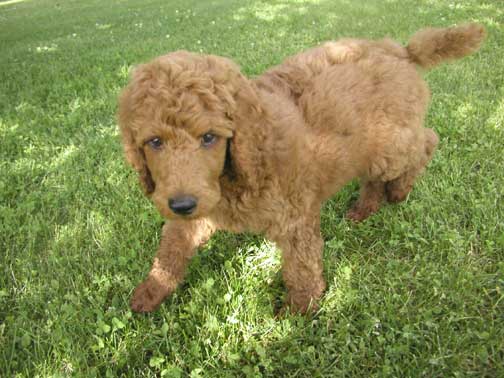 Now I get to figure out the doggy door...
*
...to more parks!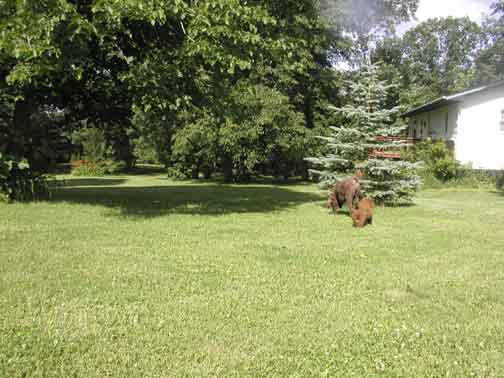 Cleopatra lets me snuggle with her...for now :0)
*
...and of course I love the parks ;-)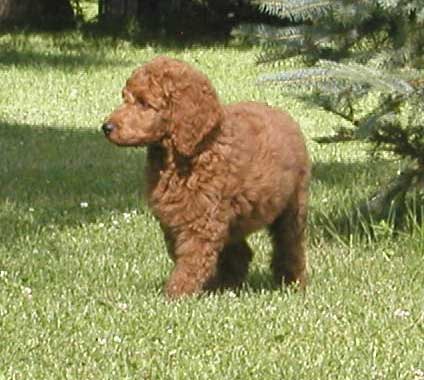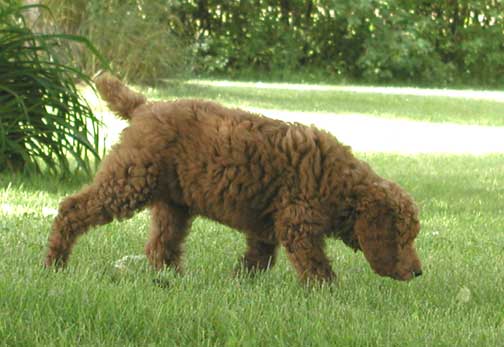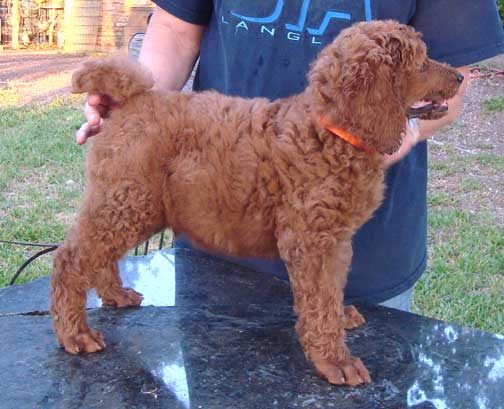 Check out this profile at 7 wks old...
*
I'm coming to you soon Tes :-)
Royal Red Standard Poodle