Red Standard Poodle Puppies Fire x Daniel

SOLD OUT
This is an example of past puppies and how I set up their web page to show customers of their pups growing. Always start at the bottom of a page and watch them grow up :o)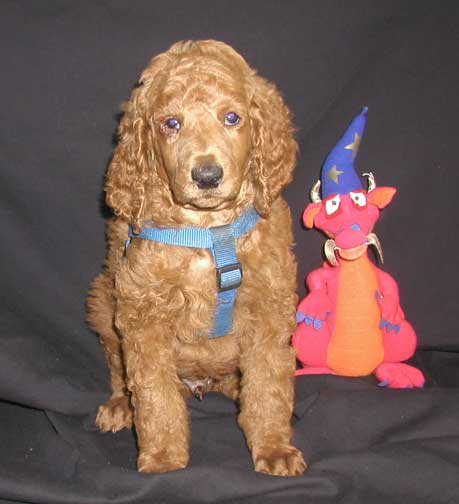 SOLD - Hi, I'm "Rohan"! mc 8666 - 15# (WOW!) 7 wks old - Rohan is  Galeic for  red haired. I'll be going home to SD > Flatonia, TX. I'll bring magic into your life ;0)
1 Male
mc = microchip
Red Standard Poodle Puppies Fire x Daniel 2014 litter - 1 Male + 5 Females = 6 red puppies! 
$1,650 Fall litter - SOLD OUT! 6/29/14 Fire had her puppies!!! That allows puppies to fly out on Monday August 25th - please mark your calendars and plan accordingly.
These will be "Standard" Holding Red Puppies! Please scroll down to the bottom to watch puppies grow up onto the page as they are added for your enjoyment.
Customer list:
1. Paid F - Red "Mabel" mc 8600 - BB > Coon Rapids, MN 
2. Paid F - Red "Estelle" - PK > Lakeville, MN 
3. Paid F - Red "Nina Seraphina" - AD > Germantown Hills, IL 
4. Paid M - Red "Rohan" - SD > Flatonia, TX
5. Paid F Red "Ruby" - TS > Livingston, NJ 
6. Paid - F Red "Kolby" - VJ > Houston, TX 
Tracking F x D puppies:
5 Females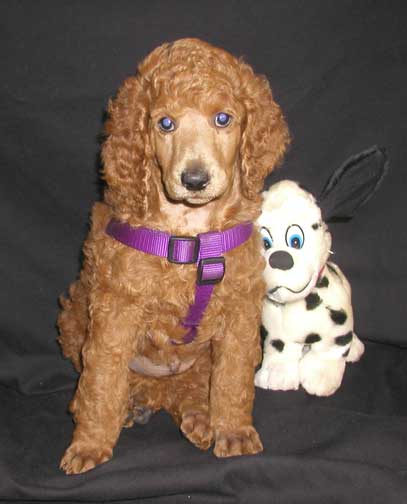 SOLD - my name is "Kolby" mc 4943 - 12# 7 wks old - I'll be heading home to VJ > Houston, TX. I'm going to be a big girl and I'll dot her life with smiles :0)))
*
SOLD - "Estelle" is my name...mc 9894 - 12# 7 wks old - Heading home to PK > Lakeville, MN. I'm going to be your soft and cuddly teddy bear ;0)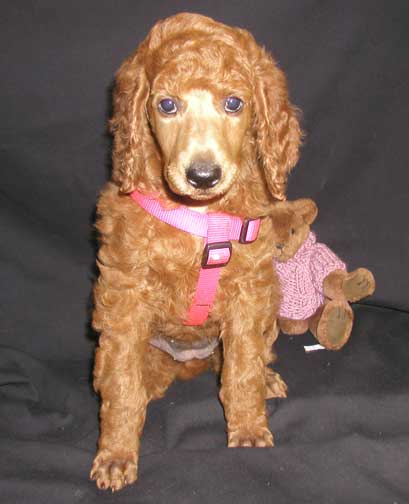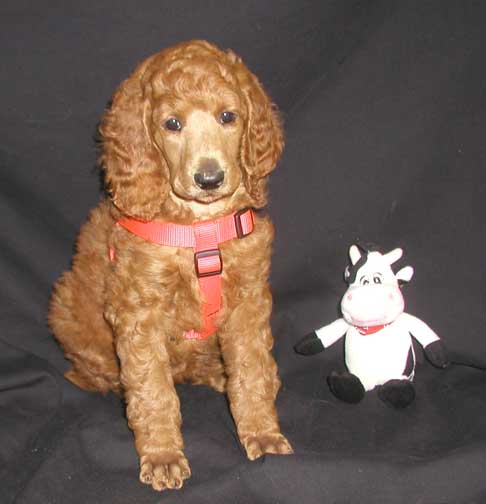 SOLD - "Ruby" here ;0) mc 7163 -11.6# 7 wks old - My new owners are TS > Livingston, NJ.  I'm ready to mooove in with you!
*
SOLD - And I'm "Nina Seraphina" mc 6314 - 11# 7 wks old - Heading home to AD > Germantown Hills, IL.  All ready to honey up to you :0) 
SOLD - "Hey there! "Mabel" here!!" mc 8600 - 11.8# 7 wks old - I'm going home to BB > Coon Rapids, MN - I'll be the rose in their life, such a beauty ;0)
***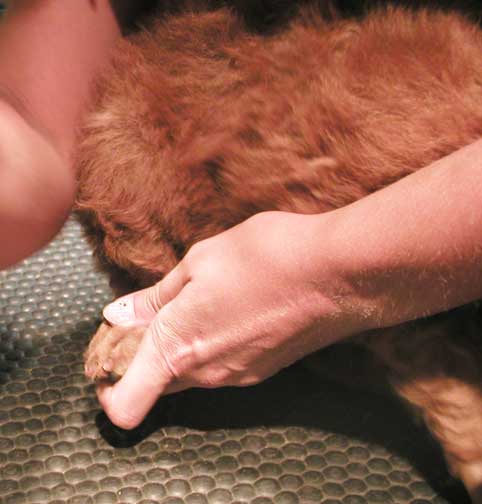 Can you see how short they are, keep them that way every two weeks ;0)
*
Getting our toenails done every two weeks - make sure you take care of our ears every two weeks too :0) It'll keep our feet and ears healthy!
There's only 6 of us this time Dani...wait until there's 3 litters this Fall/Winter!!!
*
Blow drying...clipping...oh boy...Dani, be careful back there...please ;0)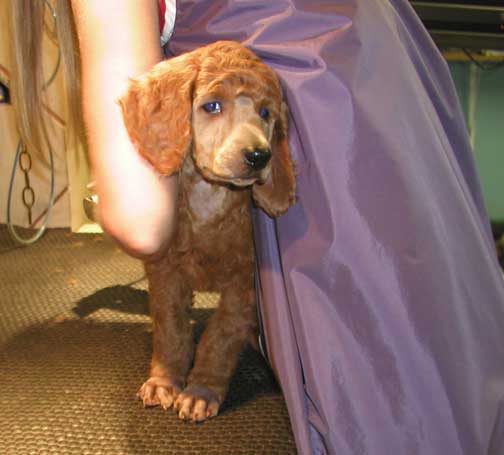 Let me outta here - Please?!
*
Woah! This is another bath I have to get use to every month?!?!?!
More great outdoor weather as the grass starts growing around the new garage, lots of pottying outside learning, and Tes watching over us :0))
*
...and crates are added to get lots of smells too...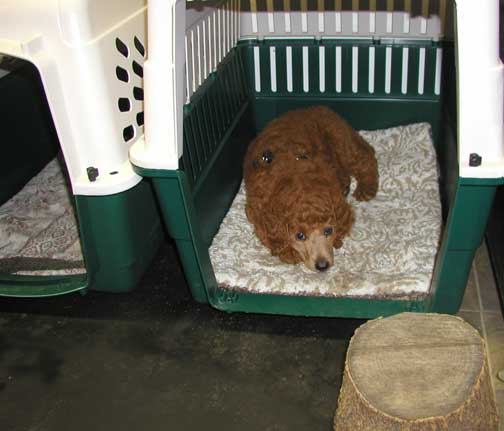 Very washable! They've already been washed several times!!
*
Tes is adding pet beds to the family room for us to get lots of smells for going home to you :0)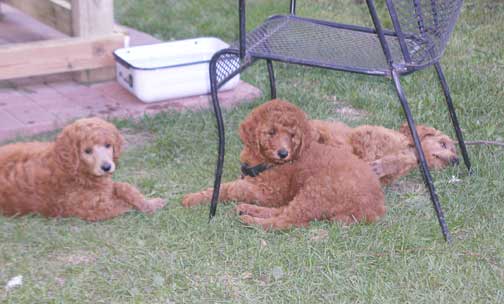 Guess what?! We're starting to get groomed and our harnesses being put on :0) None-the-less - WE LOVE being outdoors in this great weather!
*
Mommy Dani, can we go play with the big ones now? Oh, puppies can't come?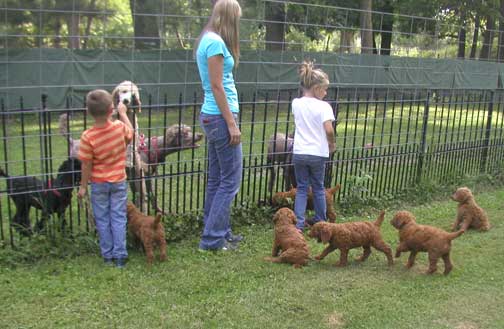 I think that we're being watched from those spoos in Middle Park!
*
Yeah, he's got a squeaky toy that will be coming home with each of us...unless they won't let it in the crate :0(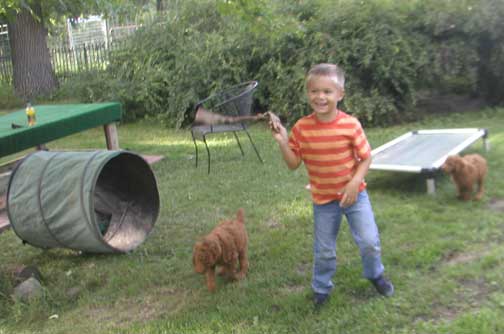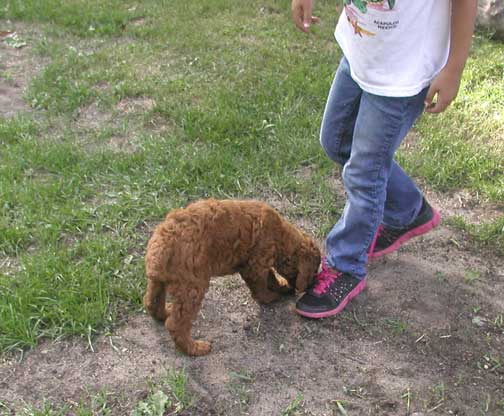 Dani, staff member, brings her children over to socialize with us. We love shoe strings, playing, and cuddling for sure :0))
*
Hey you - bigger spoos then us! They're checking us out!! That's up and coming Black/Blue Yarrow on the left and Cream Niki on the right. They're pretty good best friends in playing together.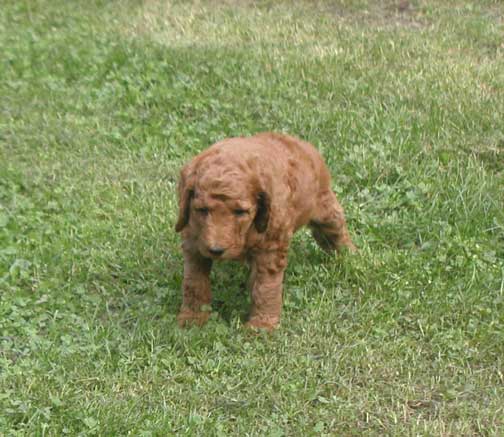 ...and after a drink we all have to "Go Potty Outside!" Tes is doing her best in training us...
*
NOW Momma has really shrunk as we grow!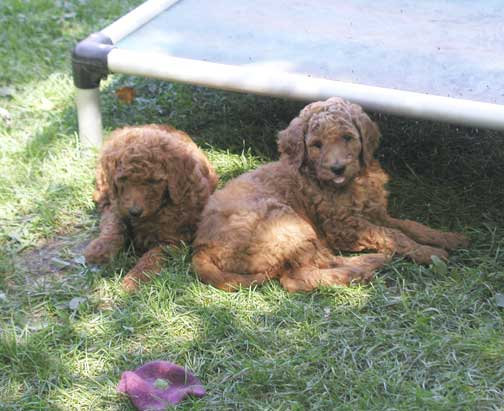 Aahhh, time to wake up? It is what we do best at this young age...
*
Here's our opportunity, NUMMY!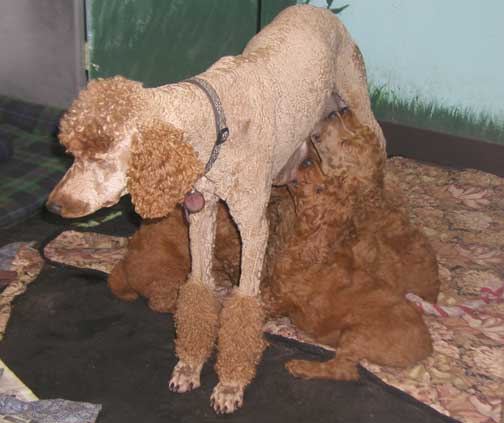 We're in the new garage, hmmm, this Kuranda bed is okaaayyy!
*
Hmmm, water, water, this tastes already cause mom isn't letting us drink so much.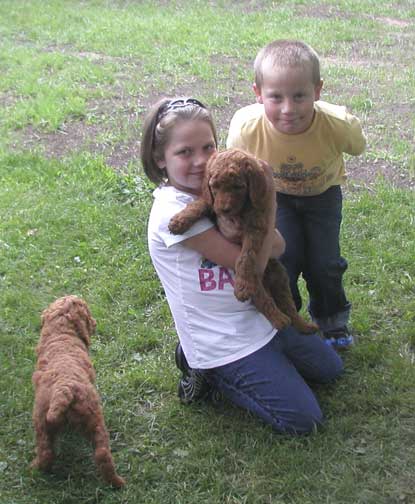 At 6 weeks old, our owners are coming and picking us out - Woo Hoo!
*
We've all been drinking water with Momma, this is a great spot to learn from ;0) Fire's been clipped down and that always makes us look lighter haired, see her booties are darker red.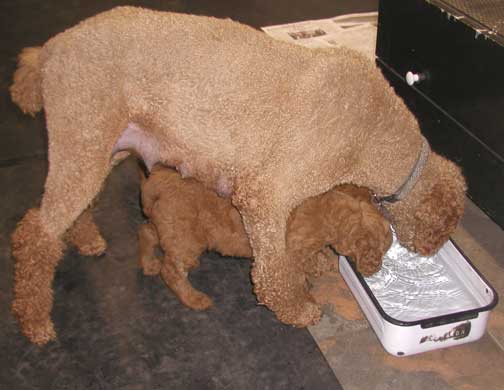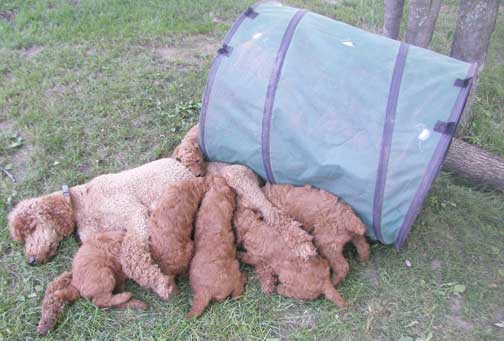 Momma Fire's shrinking!!!!
*
Below we tried to get a pic of all 5 girls together for you to see shades.
"Aren't we the cutest girls that you have ever seen?" 
*
"SMILE!!" :0))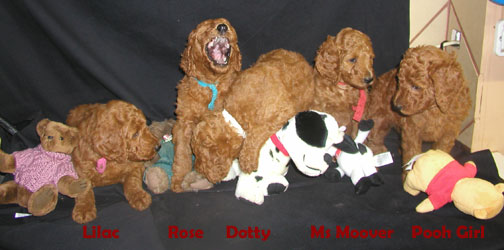 Trying to take a picture of the 5 girls can be a challenge, hey girls look over here!
*
"Dog pile on mom is our favorite!" ;0)
And here Dani gave us our first bath, curling up and on Momma Fire, awaiting our pictures to be taken for the above shots.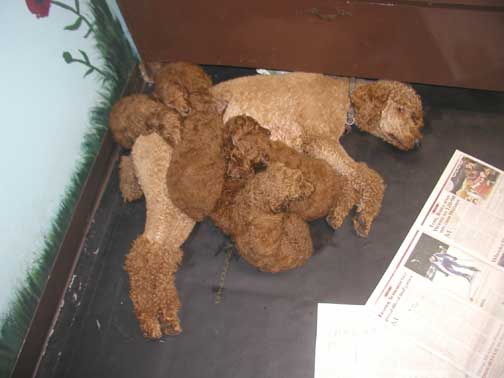 Here's the new view off the office, Central Park, then Youth Park.
*
Here's the back view of the new garage for you. A doggy door will be added when Tes has a minute.
or stretch and play with Tes :0))
*
or sleep next to a log...zzz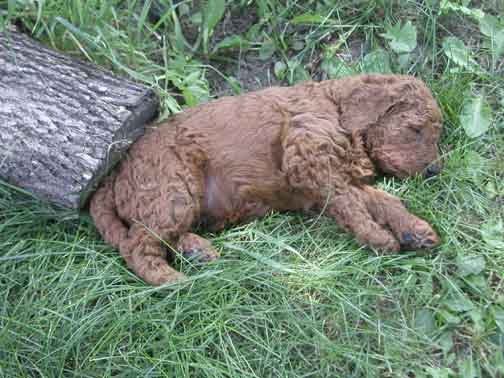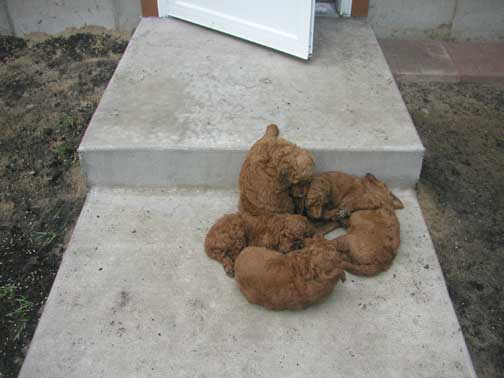 And when we don't want to go in, these steps are just as easy to zzzz on...
*
She uses the same technique to bring us in, "Time to come in."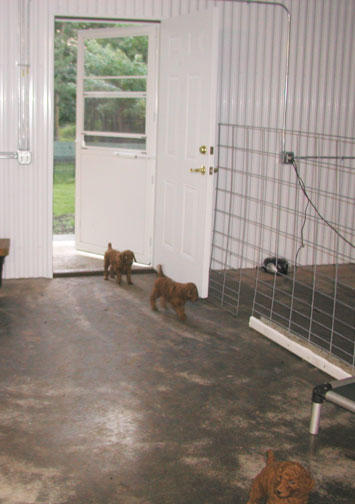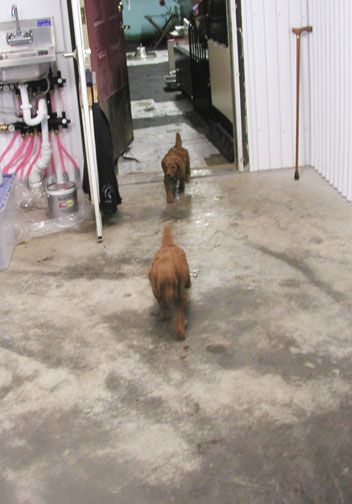 Here's us learning to go through the new garage...Tes uses the slurry food to entice us outside...and train us - "Potty Outside!" ;0)
*
Well Tes now adds dry dog food to our slurry mix...our growing teeth love chewing on this.
Wow, what a day...our first outing...zzz...
*
This is the youth park, with new dirt to the new garage growing new grass. Lots of things to help us learn here...Tes Loves to get us to reach for new space...she feels it makes us more curious and friendly...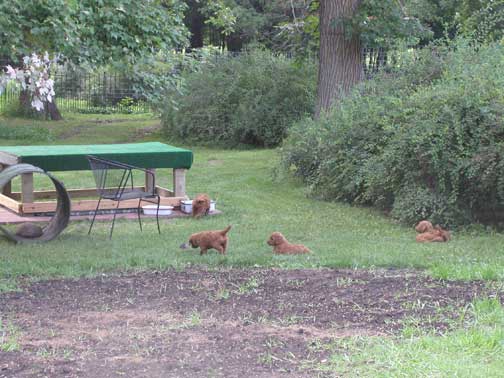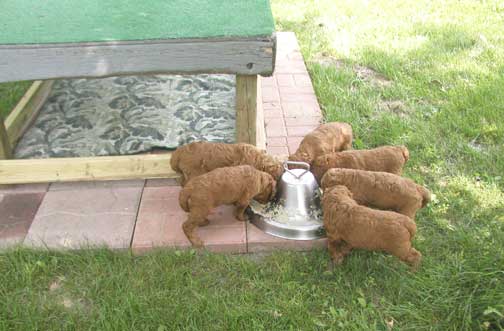 Here's somthing Tes entices us to do things with...FOOODDD!!!
*
Yeah, I can do this!!!
I'm gonna do it, I'm gonna do it, I'm gonna do it.....
*
You get to enjoy the pictures but what you don't hear is us all screaming and crying to get out of this protection...big world here we come!!!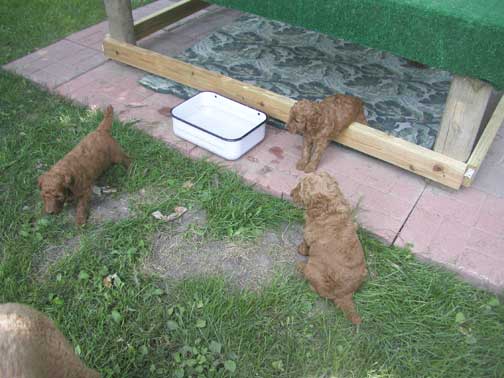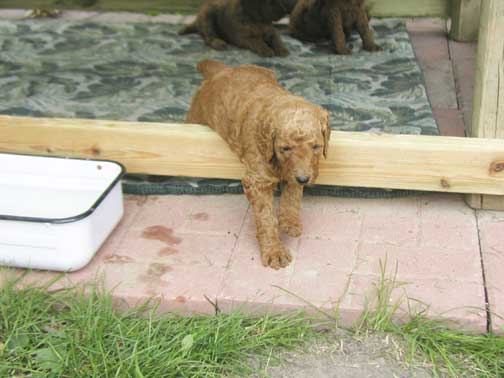 Here we come big world...
*
We're going to learn how to maneuver bars cause it looks like a big world out there!!
and we get our first day outside!
*
Tes is giving us lots of room as we grow...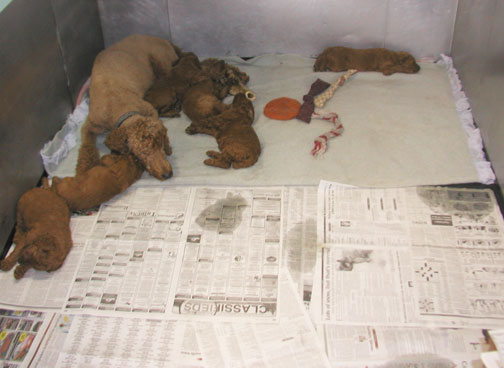 Learning to potty on paper, play with toys added, and zzz with mommy...zzz...
*
Time to dream of nummy bones ;0)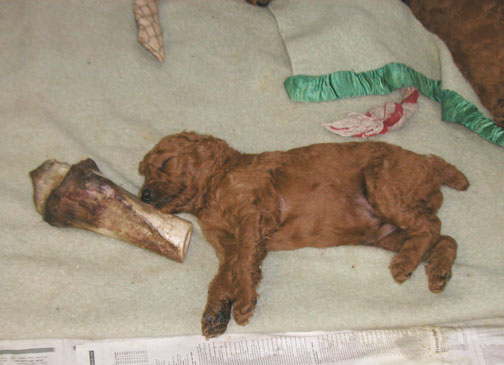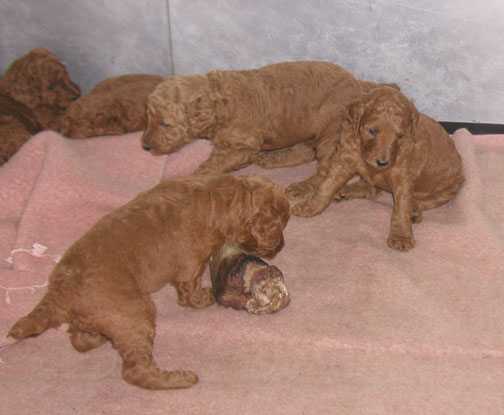 Well, if not, we'll keep enjoying the bone ;0)
*
Hi, can you reach through cyber space and give us a pet?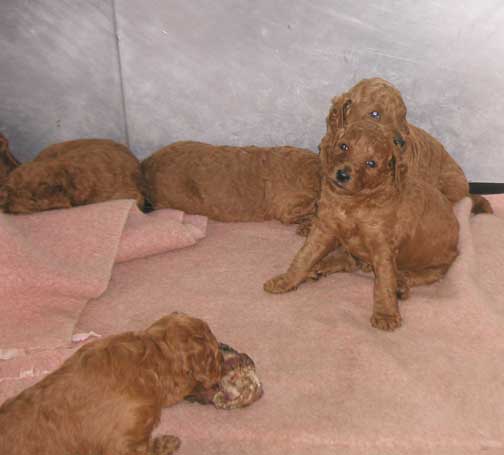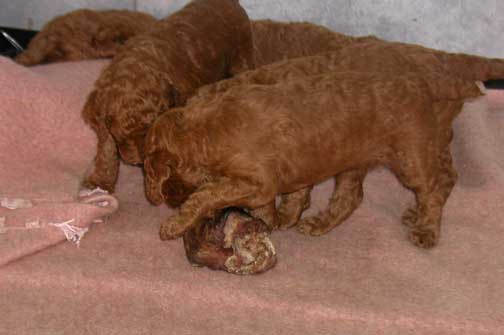 WE'VE GOT A BONE to help with our teeth coming in!
*
We're really getting our legs...and it's time for Momma to stretch and see that we all go potty.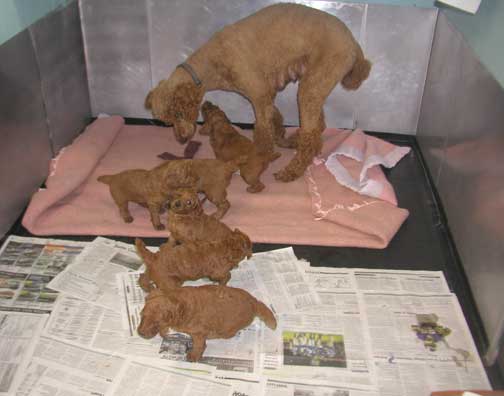 Aren't we grwoing...and still climbing to get where we want :0))
*
Good Momma hangin' out with us ;0)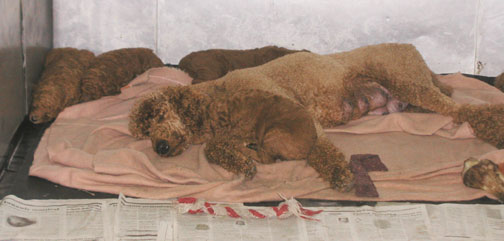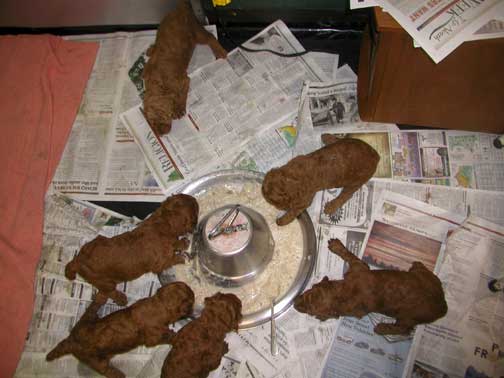 Come on, look! The slurries been put in a round thing, Tes calls this the circle of life :0)
*
Who made you Queen of Everything!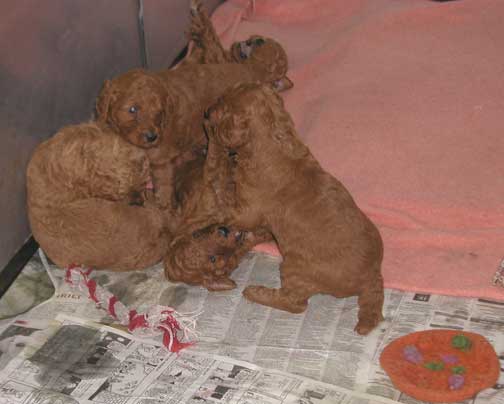 Is it time to wake up, really?
*
It's a good thing we get lots of zzz's for growing time...zzz...however, where ever we drop...zzz...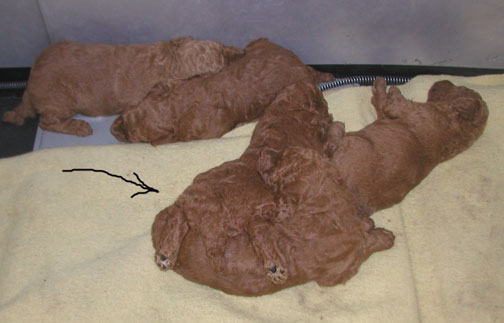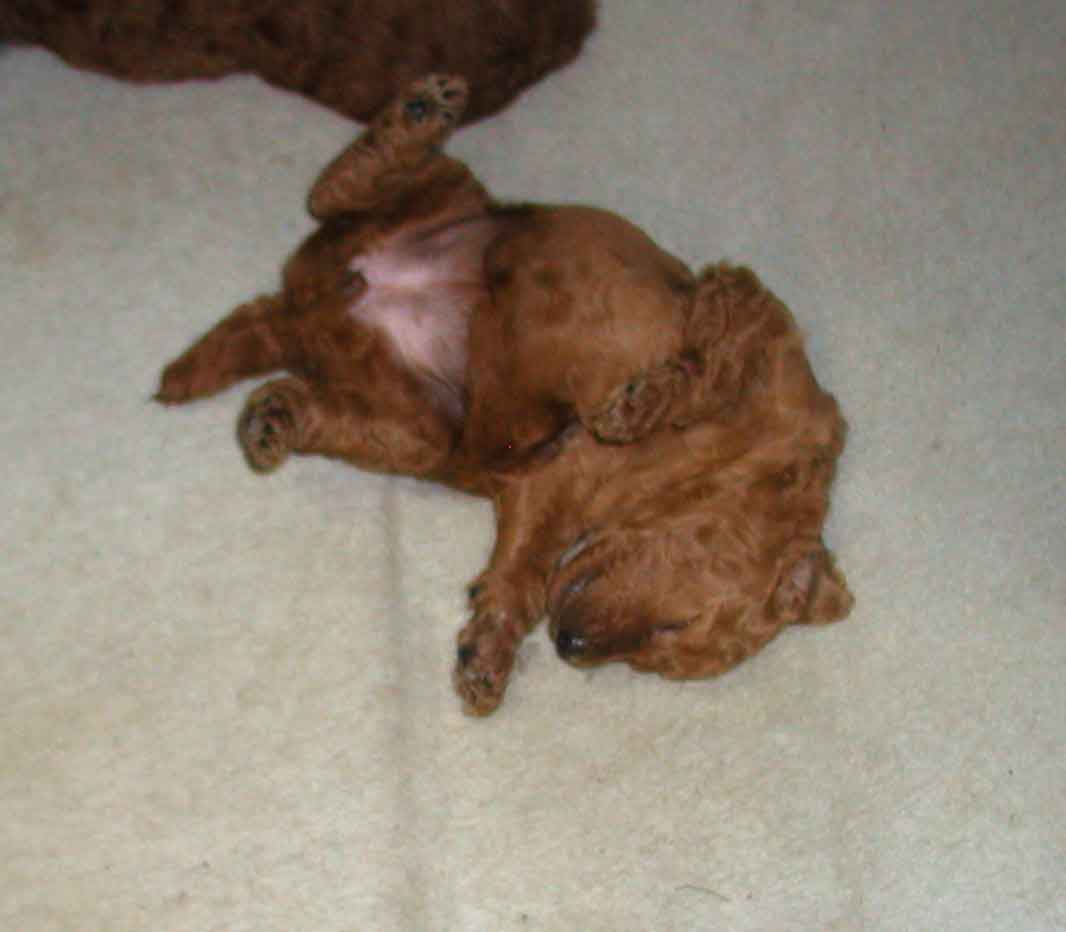 After a good meal, time to do what we do best at this age, play and...zzz...4 legs up...zzzz....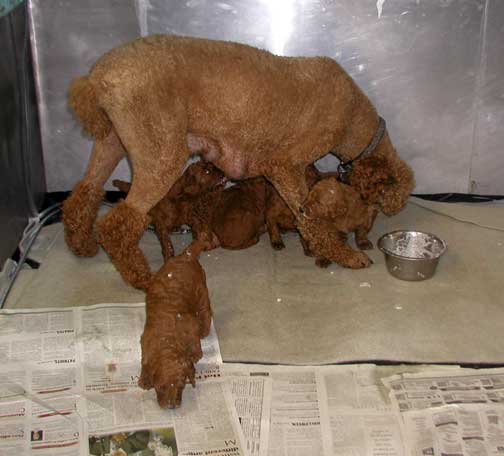 OHHH, Momma gets to lick us clean...and the bowl :0))
*
Staff member Dani's first time in teaching us...this works, lick from her hand everybody...Nummy!
Well, we went from 3 wks old to going on 4 wks now...and we get to learn how to eat slurry! Oh what fun...at least we think so. Slurry is made up of baby rice cereal, a bit of buttermilk to cut the loose stools and a can of Royal Canin Mousse for our tender tummies learning how to digest solids.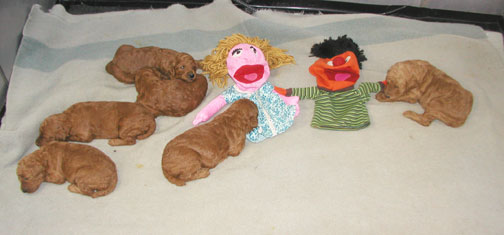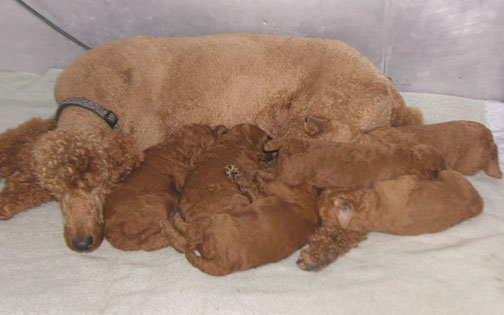 Can you compare us to our 1st wk of growth by now? We're doing great at 3 wks old!!!
*
Thank You Momma! Momma's wondering what she can read in the newspaper?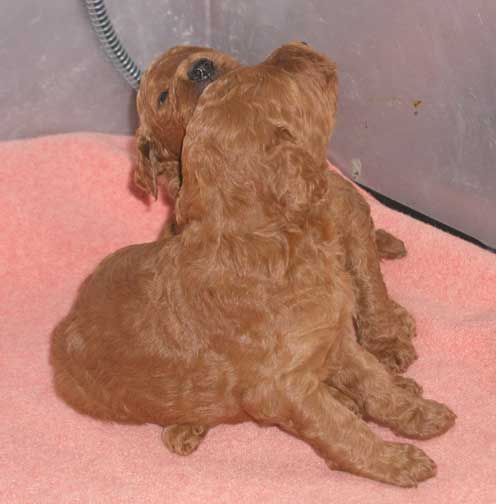 We're definitely able to play and make our own music...Momma! Come and feed us!!!
*
Let's see, where's the stick that beats this thing that we can chew on...as long as we're playing...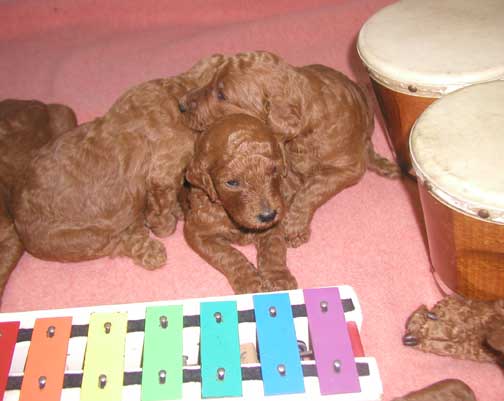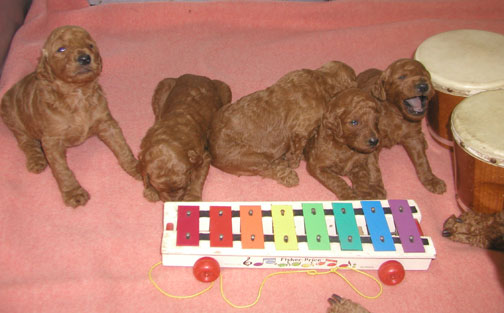 Hmmm, can we all join in?
*
What's next - we're starting to make our own music, learning how to get attention, for sure ;0)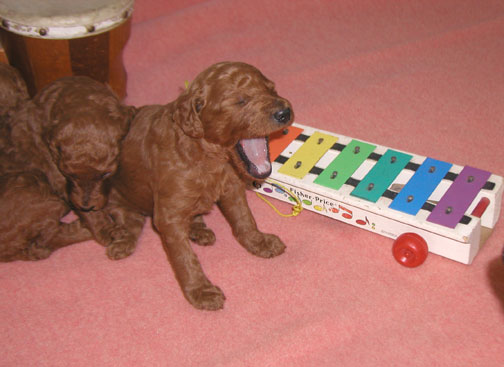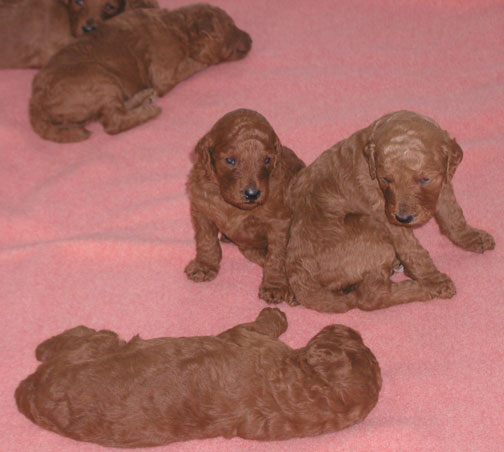 Come on! Wake up and join in the fun!!
*
LOOK - LOOK - NOW I'm STANDING!!! What's next???
Let's climb up again...yeah, yeah!
*
Tes comes in and sits with us to help us learn of her smells and love...and climb some more...yet right now we're enjoying the cuddling in her lap :0)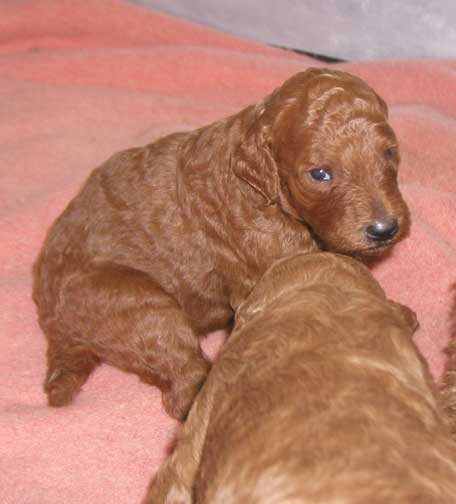 Hey there, definitely checking you out ;0)
*
Mmmm, hangin' onto momma's warm arm.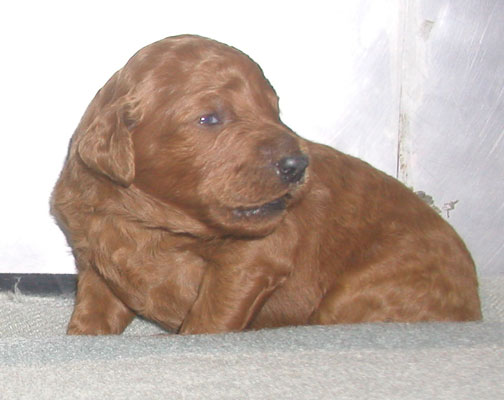 HI!! Yes, you do get to miss out on this cuddly loving age of growth, yet before you know it we'll be ready for you :0))
*
Uh huh, uh huh, a good position to have a picture...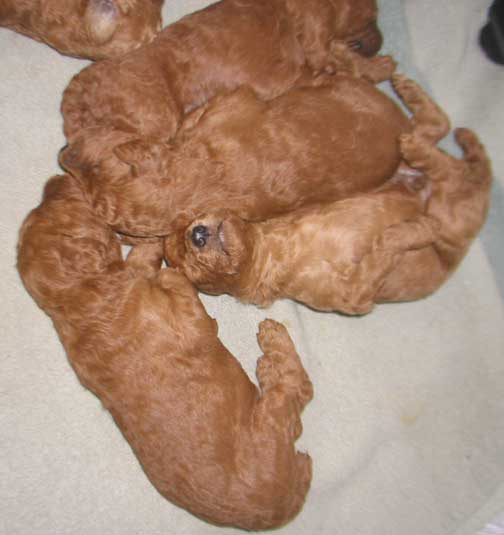 We're truly climbers...and momma's still cleaning us...
*
Okay momma, what's the deal? Can't you scoot over for us to nurse??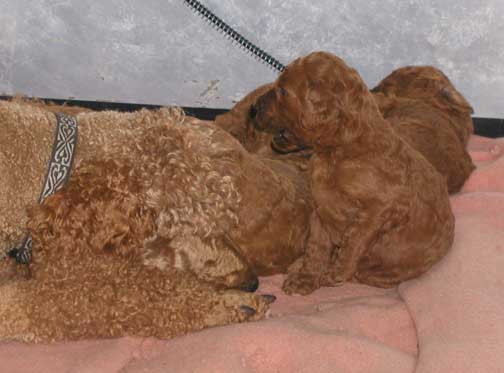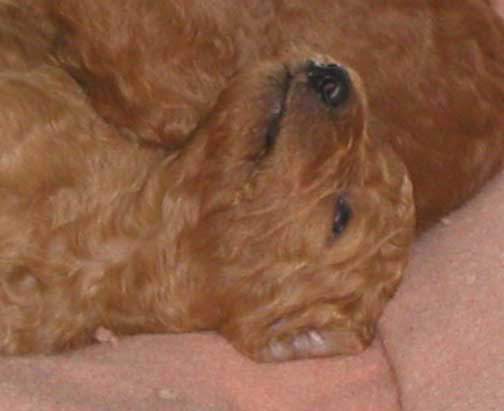 And now our eyes are really open to see life around us ;0)
*
And here we're starting into our 3rd wk of growing...see, I'm a little girl with 4 legs up...why do we do that, to cool off. Tes is slowly turning the temps down as we acclimate our bodies to take care of them naturally.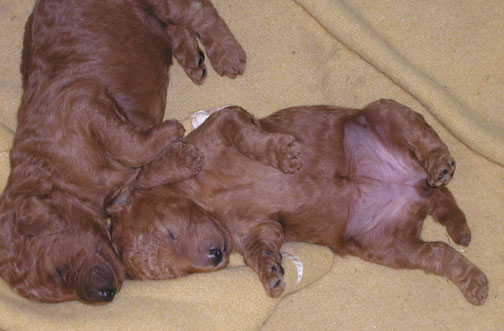 and I'm the one boy...a bit lighter then the others.
*
Growing oh so fast, we're the 5 girls...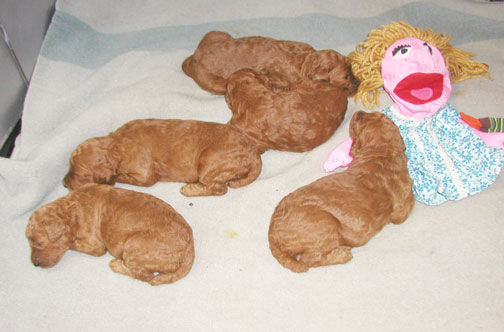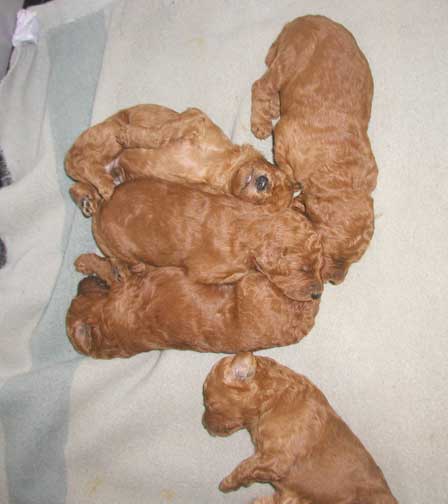 Okay, I'll join everyone with one of our favorite pass time...zzz...
*
LOOK - LOOK, I'm sitting! Hey you guys - LOOK!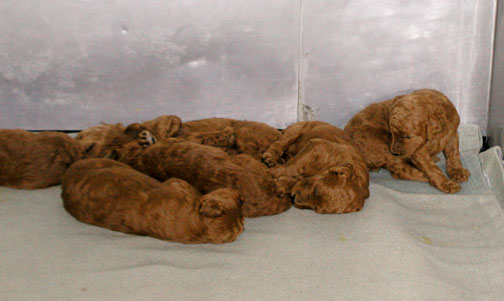 With starting to move around, Tes has now added to our space and added newspapers for us to start to learn to potty on...we instinctively want to go off of our bedding.
*
You can see our eyes getting more and more open as we start to hold our bodies up more and more.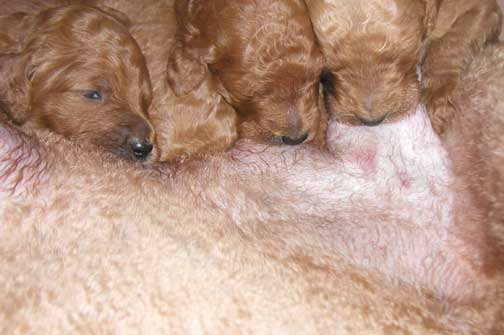 Back and forth...zzz...nummy...Tes keeps our nails clipped as they can be like cats and have shredded mommy tummies in the past...so she starts at 1 wk old to protect mommy from them.
*
We're working on the 4 legs up pictures.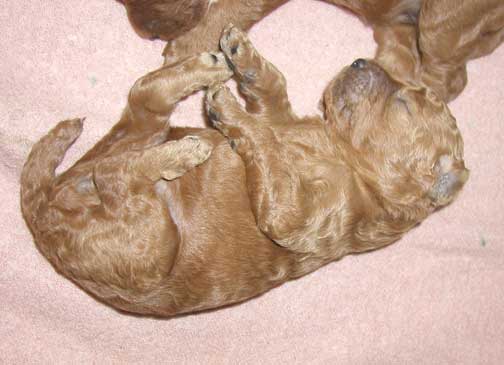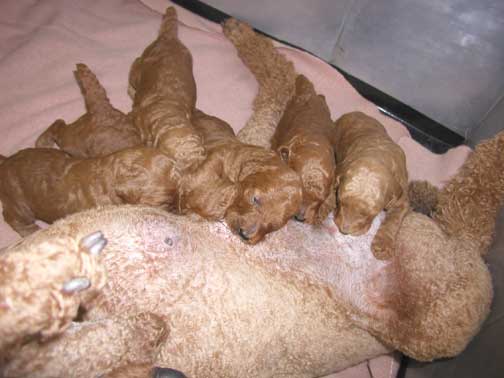 LOTS of milk to go around...nummy, nummy...
*
and then more zzzzz's...that's what we do best as puppies ;0)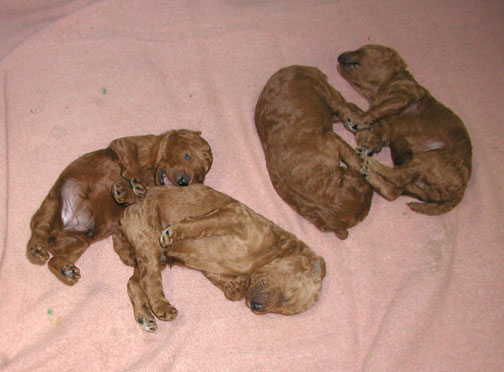 Our eyes are now just squeaking open...let's see, I can bite a butt?
*
No camera or computer is going to give you the right color of what is true, yet enough pictures, different colored blankets, and time will give you a good idea.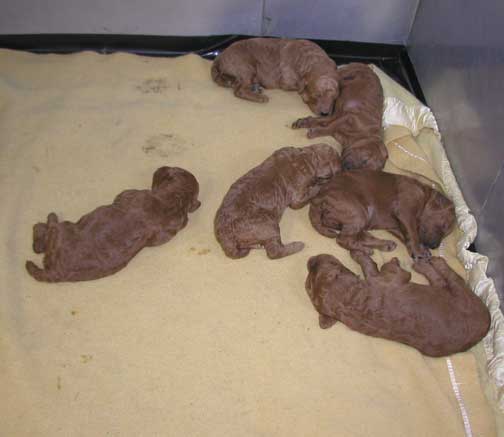 Here we go again ;0))
*
Momma's taking care of us...ALL the TIME!!! Don't we look like little tubbies ;0) LOTS of milk to drink!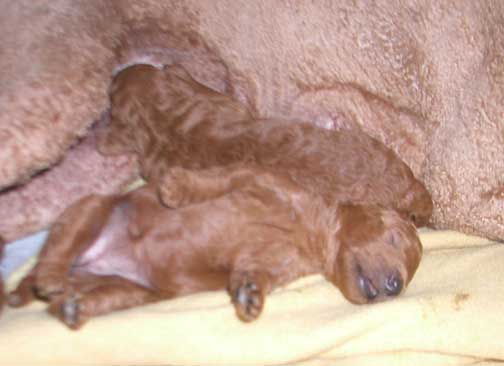 ...ahhh...and another thing we do well as puppies...zzzzz...zzzzz....
*
...and here's one of the things we do best as puppies...drink...nummy...wool blankets help us grip with our back paws to push us into that good stuff!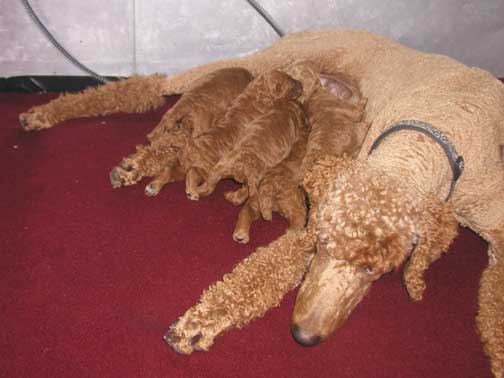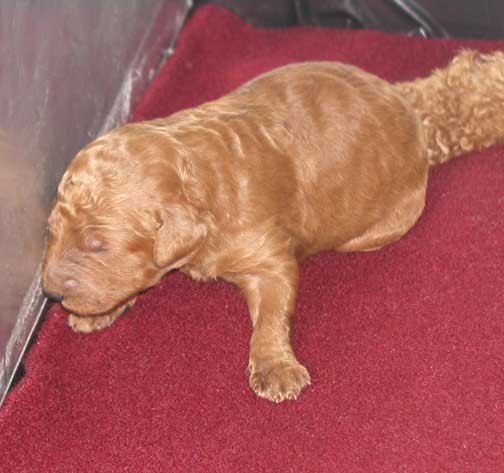 We're getting our legs beneath us more and more...going on 2 weeks old our eyes will start to open...1st we smell, then our eyes, then our ears will open...watch us grow...
*
Now we're going on 2 weeks old, trying to become scooters to get to that nummy milk...Momma Fire circles her head as always.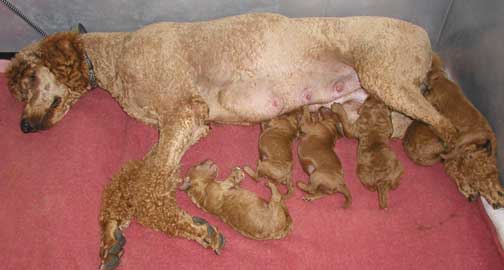 Ahhh, Momma, I love you :0) Our new owners love you too for bringing us to them :0))) Their first 1 week old pictures below...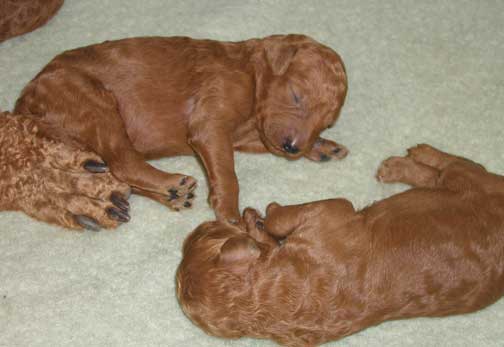 and these wool blankets transmit warm heat from the heated pad underneath, keeping us dry and warm. Thank You Tes for thinking of them...and the various colors provides a unique fun eye change as we grow from one picture to the next for you :0)
*
and we're very snuggly with each other for warmth right now...one of us has been named Mabel already :0)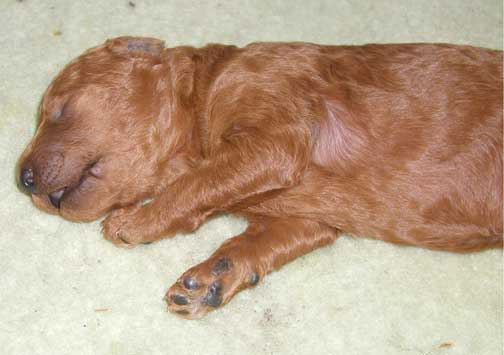 zzz....zzzzz....zzzzz...lots of us females have dark noses....
*
Can you see how we're growing in one week? Look at our gorgeous color :0)
l...lick, lick...lots of milk, lots of momma licking...
*
Momma circles her love ;0)
In another week our eyes will open and we can see where we're going. For now I'll rest on my sister's neck.
*
We're definitely becoming scooters, hmmm, smelll, Momma was here! All we are born with is our smell to start with, that helps us find those nummy nipples to suckle :0) 
Mmmm, look at our little bellies get bigger...
*
We're growing, still crawling onto Momma is a part of becoming scooters...I think it's just somewhere to go when you can't see where we're going yet ;0)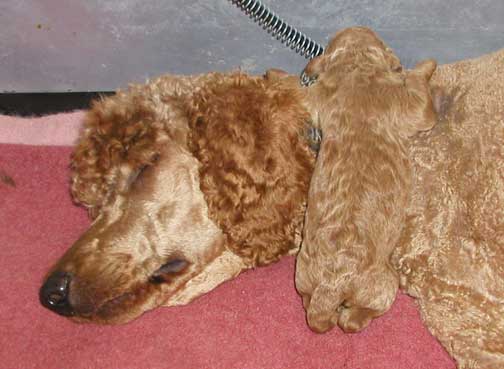 We do like Momma's arms to lean on...hmm, feel that warmth and heartbeat of love ;0)
*
Tes keeps the family room around 78 degrees the first week as we can't develop our own heat yet. She slowly drops it down as we gain our own body control.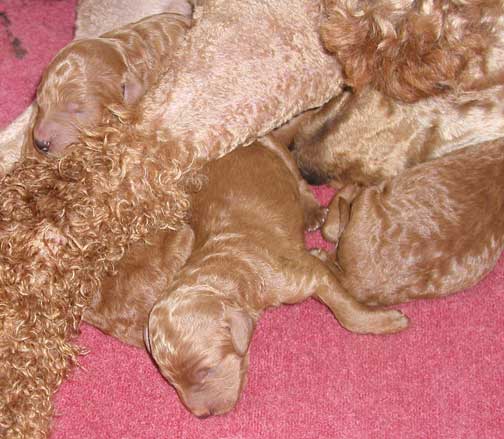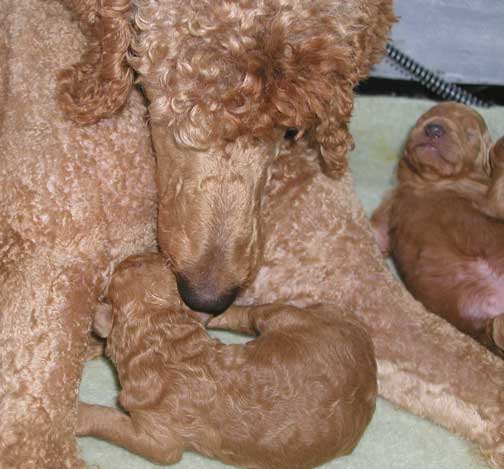 Fire licks, licks, and curls around us to protect us...Tes has never seen another momma curl around us like Fire does.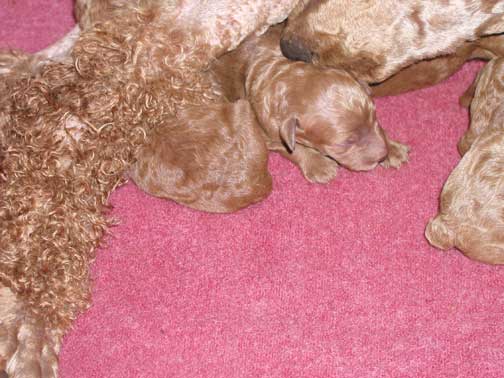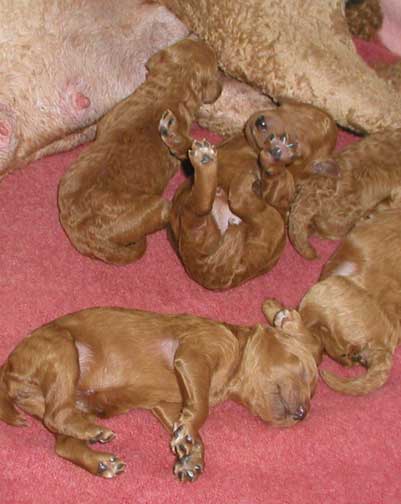 I'll get right side here, umph, I'll get there...
*
Ahhhh, that was sooo good! Yawwwnnnn, stretchhhh, zzzzz....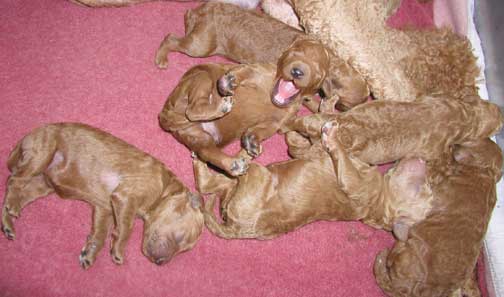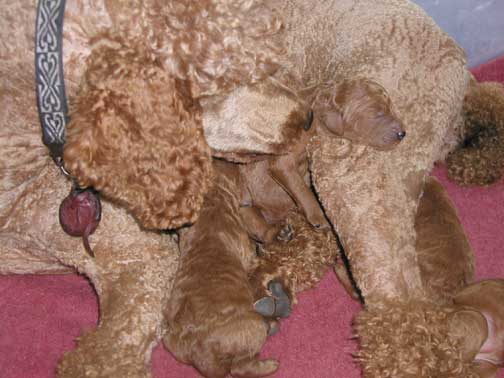 ... and nurse, nummy, nummy :0) Momma has lots of milk for us to grow with only 6 of us...we're getting to be little tubbies :0)))
*
Here's what we do best...zzzzz.....zzzzz....zzzz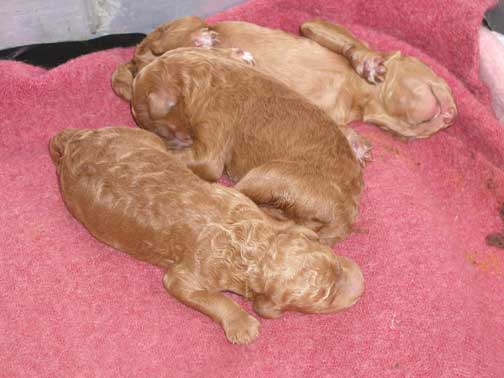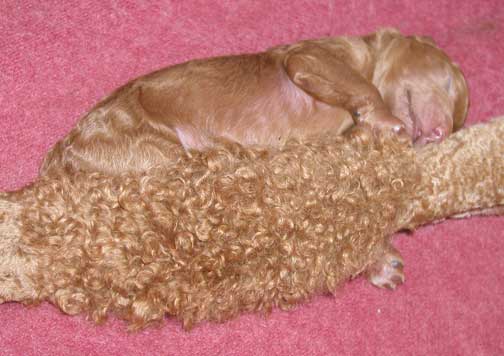 What the customers miss out on, I hope to bring to you in pictures and story boards...the quiet atmosphere I try to provide provides a hopeful more loving pet for you :0)
*
The one male just wants to keep climbing onto Momma Fire's back...it's been amusing to watch, though a bit stressing to keep pulling him from behind her.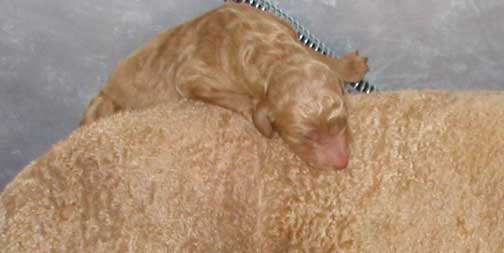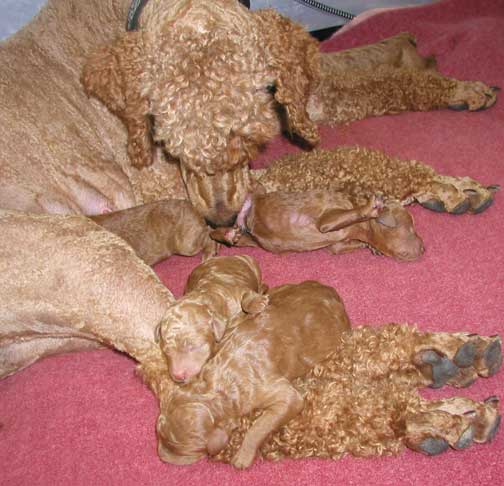 Momma! Your constantly licking me!!! ;0)
*
Fire's puppies are a day old, still have their tails, and she is being very loving by being the instinctive Momma by licking them as they can't potty normally on their own without licking to stimulate the function.