Juno Brown Royal Standard Poodle TX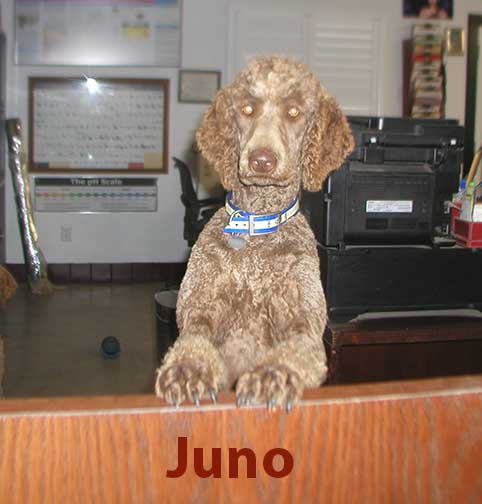 Last updated 7/20/23
Juno Brown Royal Standard Poodle TX

Tracking Juno stats growing up in TX:
4/15/22 CERF (eyes) done every 1-2 yrs, free of observable inherited eye disease, cert provided 4/15/22

27.5" at whithers

1 yr stabilized 65 - 70 lbs up and down :o)

1 yr Cardiac - Normal No evidence of congenital or acquired heart disease noted

1 yr Thyroid - Normal

8/24/21  NeWS Clear, VWD Clear, DM Carrier (not affected)

8 mo 66 lbs

7 mo old 60 lbs

6 mo PennHip on the line of Low Risk to Mild Risk

6 mo old 53 lbs

4.5 mo old 44 lbs

3.5 mo old 33 lbs

8 wks old 14 lbs

Born from Enya x Bruno
---
Parents
| | |
| --- | --- |
| Mom Enya | Dad Bruno |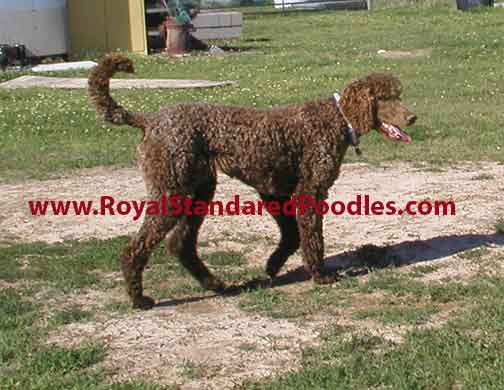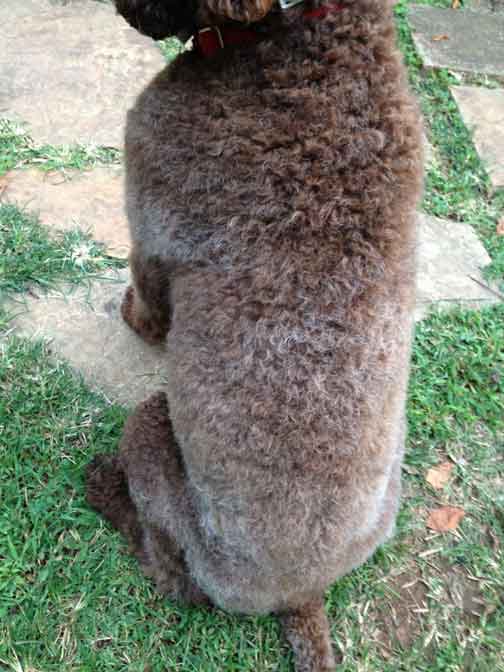 Like Dad Bruno, Juno has grown white hairs among her brown. Some call it a fading brown, others now know it's a Roan coloring. Fading is defined as one solid color lightening to another. I guess one could say the brown hairs turned white. Thus that did fade. Yet one can see the coloring of a "Roan" horse also defines their coloring. I was walking Juno with a friend and she said "What a beautiful coloring." Certainly gave me a new viewpoint from another :o) Sister Cairo has the same coloring even though mom was a holding brown, as was grandma Magic. Cairo certainly took after dad Bruno. 
Juno Brown Royal Standard Poodle TX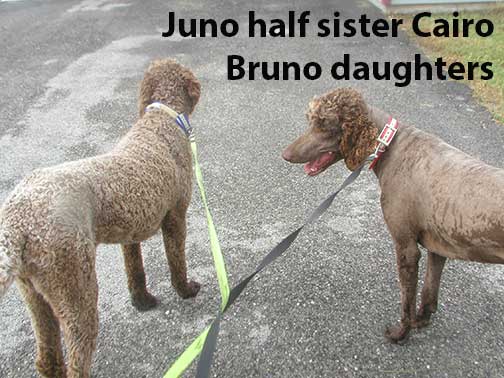 In step for you! We're looking to bring some loving puppies down the road. Health tests are completed and we're so happy happy to follow our parents foot steps to bring joy to the world with loving healthy puppies.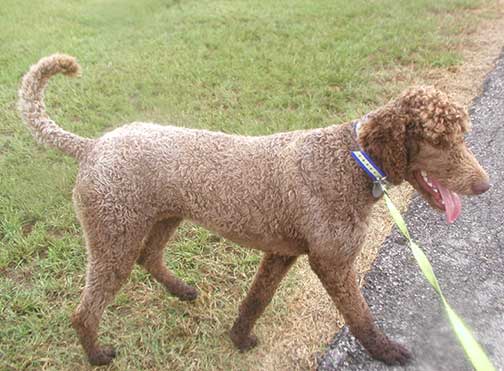 Ah, a Pet Bed on top of a Kuranda Bed to get the 4 legs up picture :o)
Juno Brown Royal Standard Poodle TX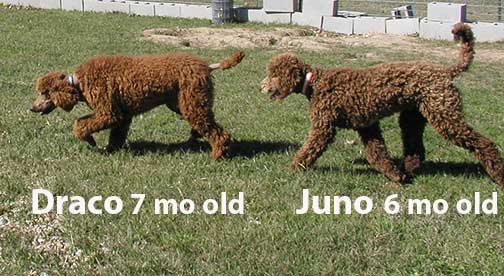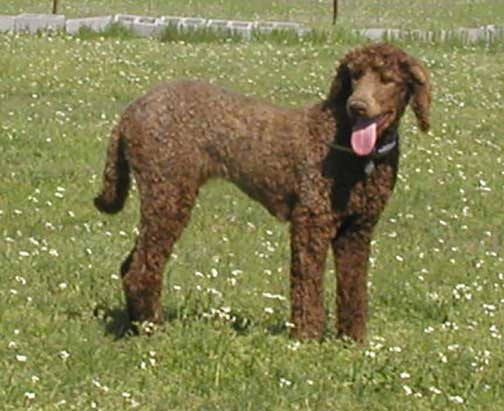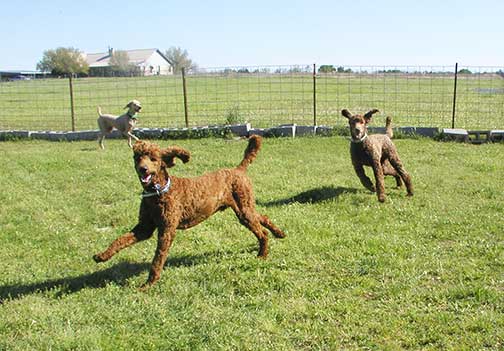 Juno and Drake/Draco growing up together, running, playing, enjoying life in the wonderful state of Texas.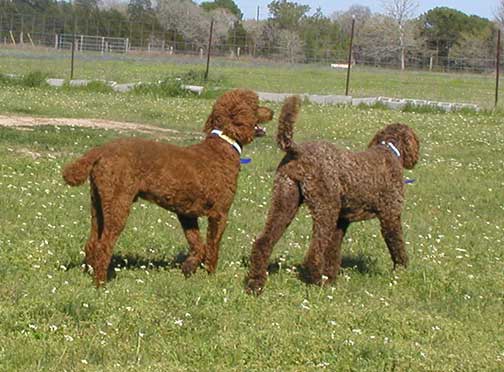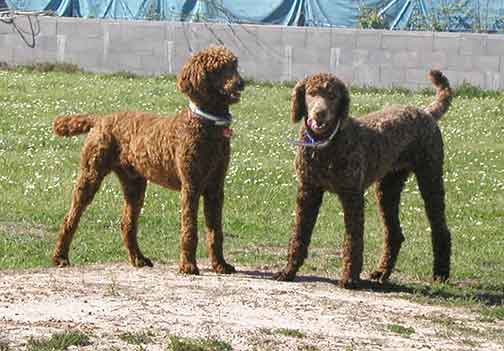 Juno will have her first litter with Draco.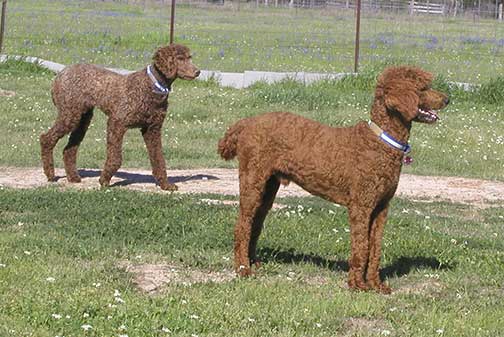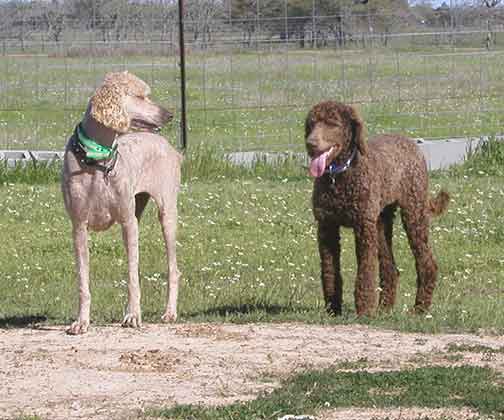 Momma Enya, I love you ;o) What's that?! Deer?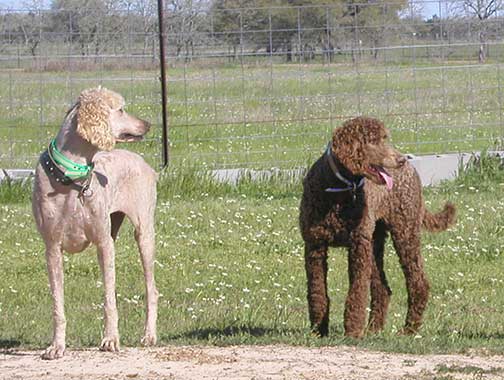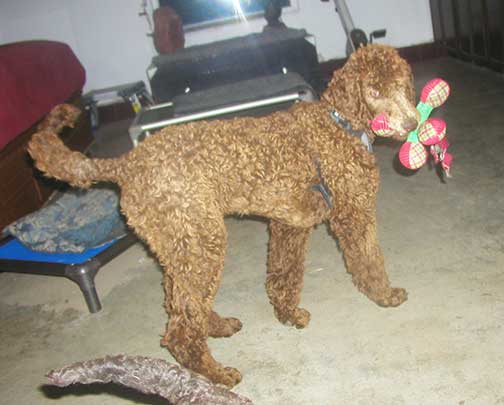 We love this toy with squeakies in every arm. As I grow, many a toy gets played with, many a monthly hair cut to keep cool in the TX summer, and keeping long hair in the winter months :o)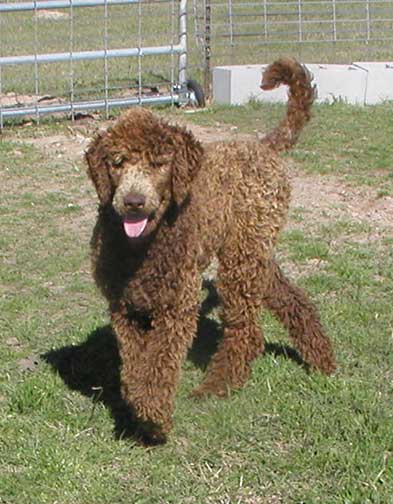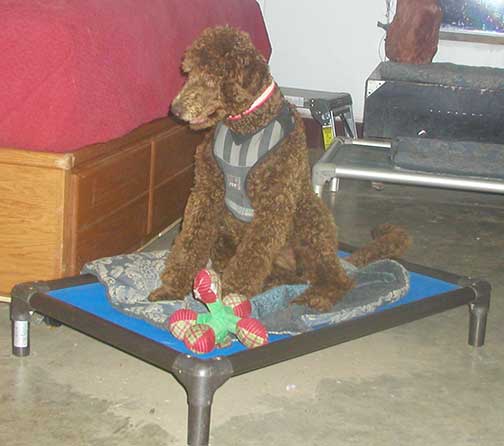 Hey Draco, growing up with you is GREAT! Let's go play!!!
LOT's of spoos and bones to keep us happy, entertained and busy.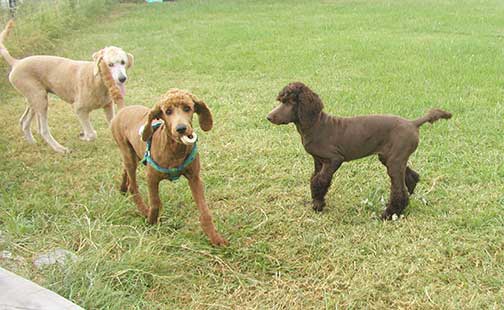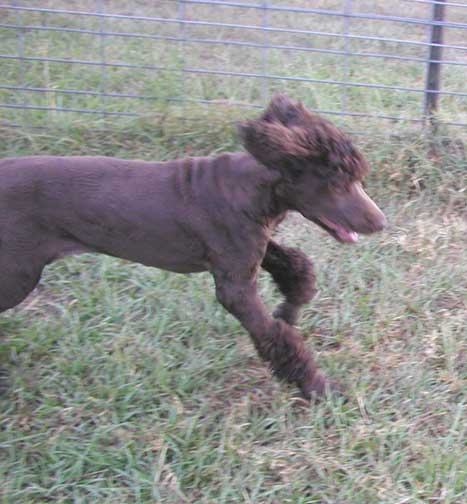 WooHoo! Running is great exercise :o)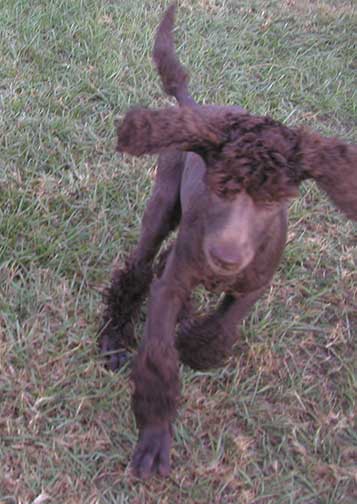 Sleeping under Tes's desk is a part of growing up here. Tes has to laugh as I, Juno, am the ONLY adult to continue this practice after I've grown up. She warms her feet under us when she can ;o)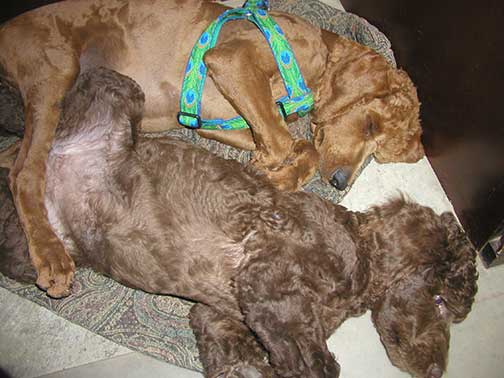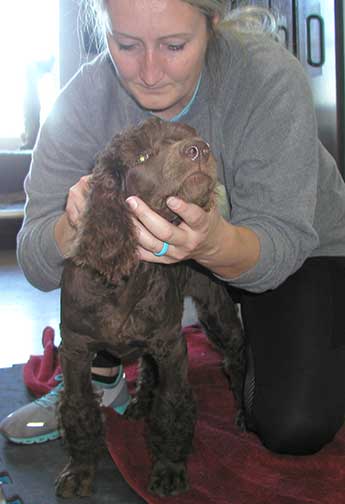 Pet Chiropractor Dr. Angela takes care of all of us breeding and potential breeding spoos every month. Keeping us structurally healthy for life.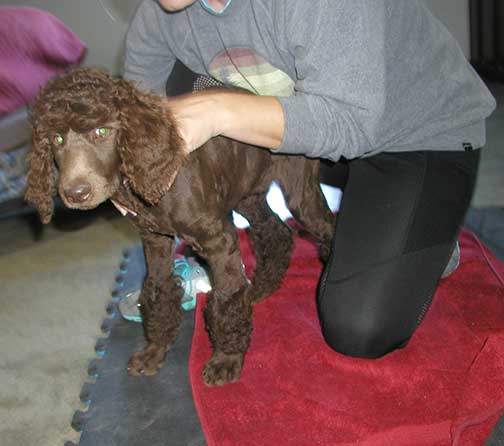 Momma! There's NOTHING there!!!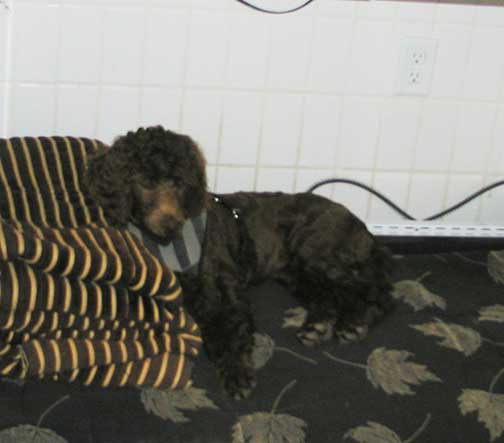 In the bedroom, Tes always has pet beds for us to sleep on...if we're not old enough to jump on the bed with her ;o)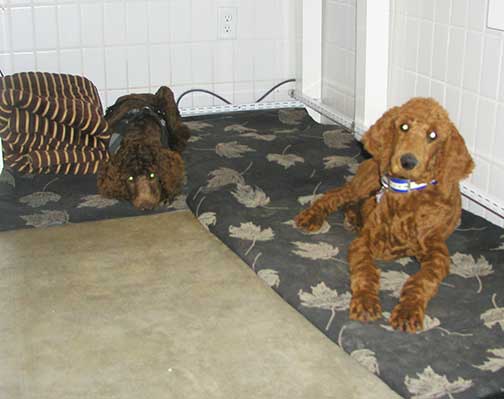 Life is good! LIG!!!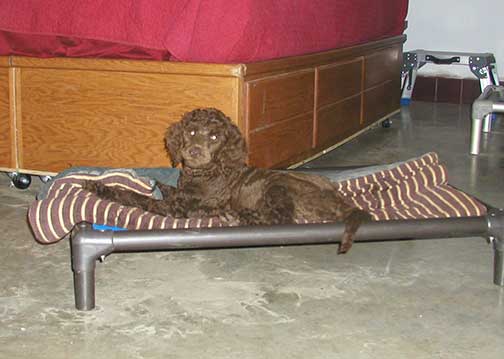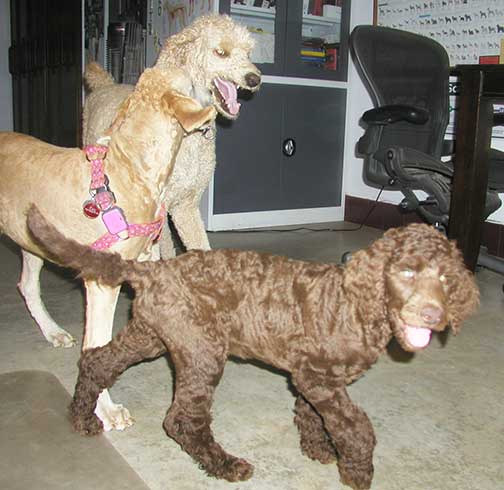 Momma, Destiny and me in the great room...LOTS of room in the great room to play around ;o)
*Juno Brown Royal Standard Poodle TX*
Here's my 7 wk update theme picture.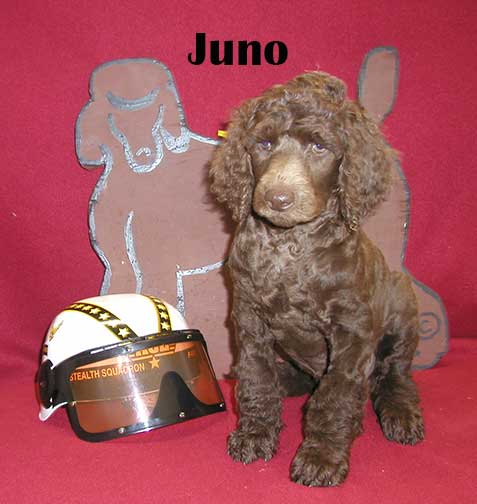 Juno Brown Royal Standard Poodle TX