Giant Standard Poodles Roscoe
I've a fresh haircut - let's go home - Zzzz.
*
Giant Standard Poodles Roscoe is at home in St. Paul, MN. My owner writes: Roscoe enjoys his treats. Again thank you for such a wonderful dog. I am looking into doing therapy work with him because he has such a good temperament. He's also very handsome. He's using his big boy bark when he hears the door so I think he will make a great protector as well. He's huge!
Tracking Roscoe:
8 months old weighs 78#...top of his head is well above my hip bone.
6.5 months old weighs 70#...top of his head is to my hip.
4 months old weighs 42#
11 weeks old 26.6 lbs. His owners share he has the "Perfect temperament! We start puppy class and grooming next week."
Born 4/20/10 - weighed 1#+
My owner wants to share: People had warned me of the difficulty of a new puppy getting used to their new home. We have had no problems at all! He goes in the car wonderfully and loves just being with us. He's very sociable with other dogs as well. Sorry to keep babbling but this is the best experience I have ever had with a dog. Again thank you for working with the puppies and caring so much for them. He was pretty much potty trained when we picked him up! I only have wonderful things to say about you and your dogs! Thanks again!
*
Playing hide-n-seek isn't easy for me anymore - I'm getting too BIG!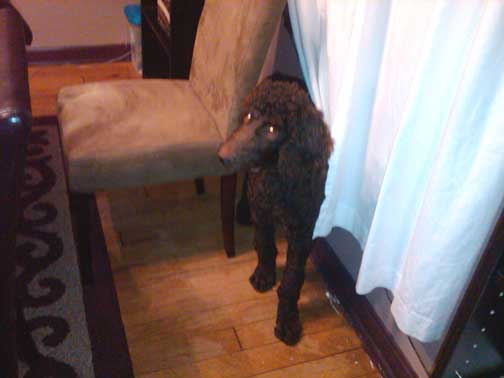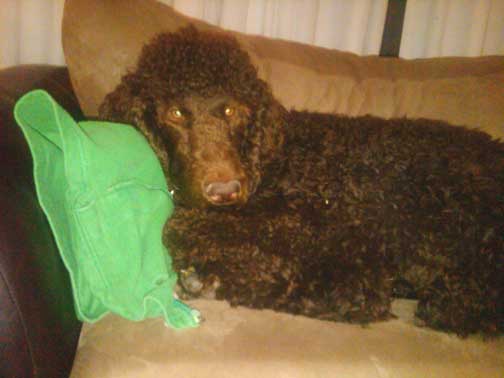 Lucky they've got this over-sized chair for me ;-)
*
On the ride home Roscoe fell in love with one of his new owners ;-)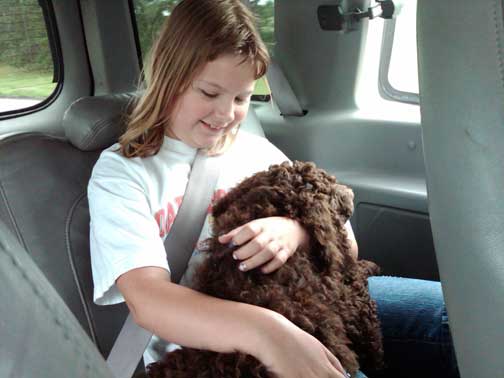 *
I've got new toys...and they do include the human kind ;-)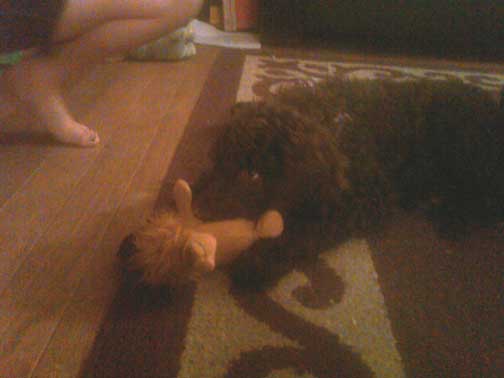 Trying to sleep here!
This is the "4 legs up" picture that Royal standard poodle Kodi II started Tes into thinking she needs to add on each page as it appears all poodles are alike in this one way ;-)
*
See if there are other puppies available like Giant Standard Poodles Roscoe Send us your weight and height updates in the form below. I'll respond with an email that you can attach your .jpg files to and I'll update your page that others can enjoy. Thank you!