Zeddy Fall 2015 Royal Standard Poodles


SOLD OUT
This is an example of past puppies and how I set up their web page to show customers of their pups growing. Always start at the bottom of a page and watch them grow up :o)
Zeddy x Bruno Royal and Standard Poodle pups, Jack's story:
updated 12/2/15
Jack got his name from the Fall seasons story board further below, where he was placed next to a pumpkin Jack O'lantern. I consider JAck the pre-me of the litter and at 5 wks old with his first bath and learning to eat, inhaled some of his food up his nostril (vet found), then with his bath came down with a MAJOR sinus infection that kept him quite unable to keep up in nursing with the others, thus while we provided him with vet care and lots of love, he was only 3 lbs to their 7 lbs, and thus it went for his weeks of nursing and felt I would not sell him until all was much better.
Jack is DEFINITELY MUCH healthier now and ready to find a forever home. He's able to hang in there with the big spoos, letting them know when he's had enough, getting on top of them when he desires warmth, and full of gumption now!
Below are some pictures of this last week in the office 11/23/15: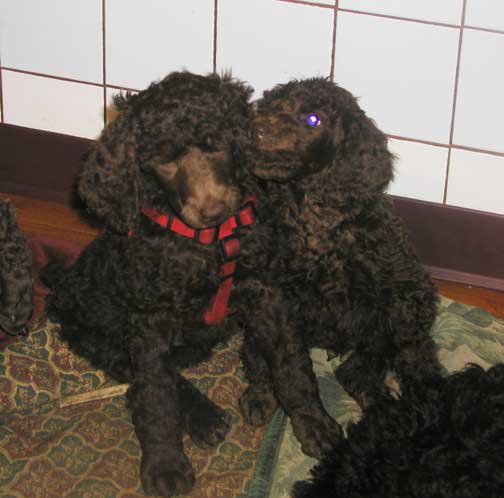 Jack is picking on sister Falcon in the red harness. Falcon is being kept for a mate for Daniel.
*
Hangin' out with the big kids ;o)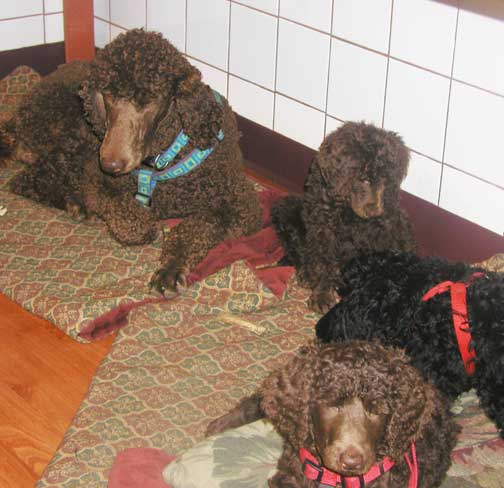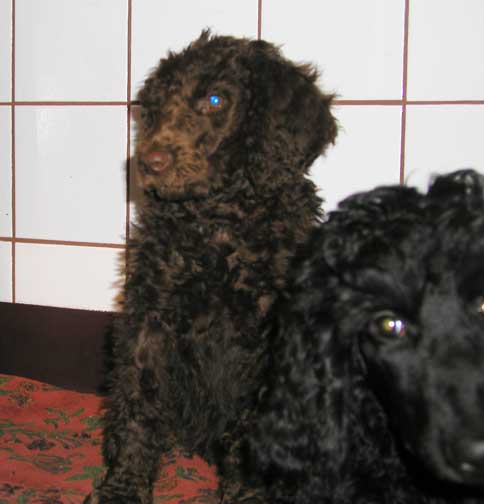 I may not be a Royal, maybe grow to 55 lbs? maybe not? Yet I am full of life and ready to come home to you :o)
*
I'm finding lots of things in the office to get into trouble with, pulling files out of the drawer when Tes has it open, pull on her pant leg for petting...and ohhh all that comes with being a puppy ;o)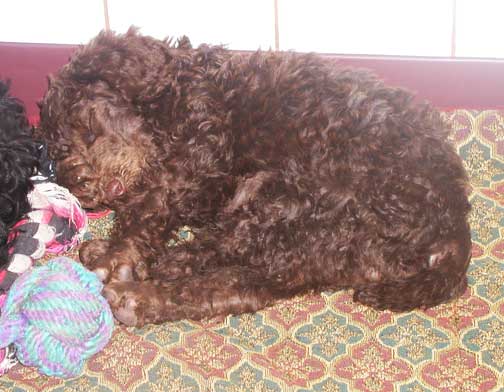 Tes provides lots of toys and bones for us, then there's always time to sleep and grow in between :o)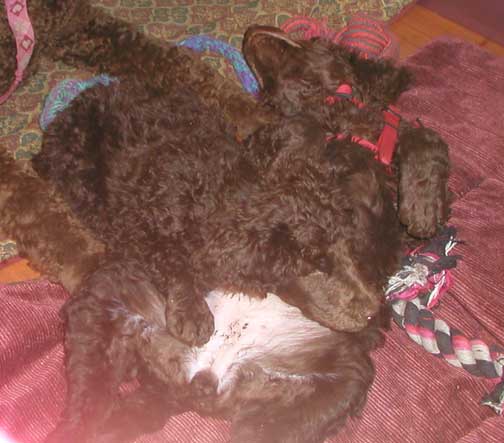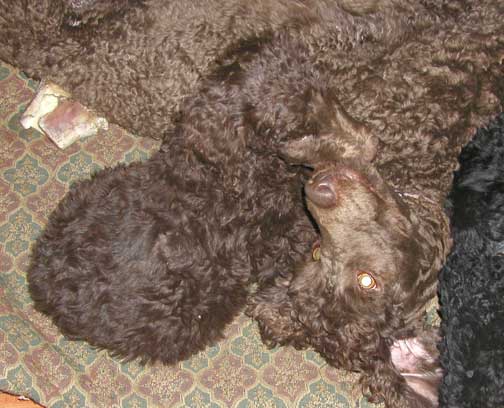 Jewels has a nice neck to snuggle into :o))
*
10 AKC puppies Black/Blue and Brown
1 Brown Female + 9 Males > 2 brown and 7 BLs
Born 9/22/15 and most will be some beautiful Royals with nice structure and size! That allows puppies to fly out on Tuesday November 17, 2015 - please mark your calendars and plan accordingly. 
Scroll down to the bottom to watch puppies grow up onto the page as they are added for your enjoyment.
Tracking Z x B puppies:
7 wks deworming for giardia, first hair cuts
6 wks dewormed
5 wks old microchipped, nails clipped, bath
4 wks dewormed 
3 wks old nails clipped
2 wks dewormed
1 wk old nails clipped
3 days old tails and due claws done. We have our due claws done and tails 1/3 from the tip per AKC standards.
born 9/22/15
10 Royal & Standard Poodle Puppies
*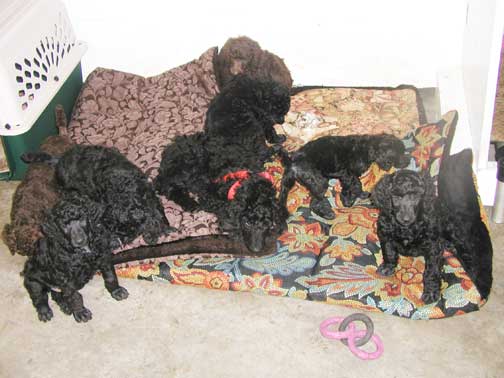 It's a Pet Bed party!
*
It is generally very difficult to know a lot about personality at such a young age unless they really stand out for it, or color, or markings. Thus I write a themed story board with their individual pictures for you to enjoy...here I have gone with Fall and all that comes into play with it...enjoy :o)
*
1 Female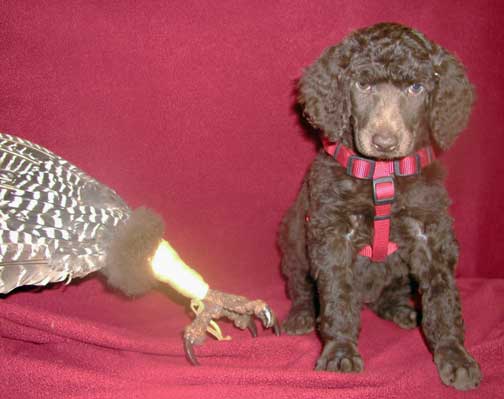 "Falcon II" solid brown female, mc 2861, 7 wks - 9.4 lb. She grabs at our hearts with her sweet nature.  She is named after her grandmother Falcon. Tes is keeping her for breeding to Daniel :o))
9 Males
SOLD "Hunter" solid brown male, mc 9361, 7 wks - 10.2 lb. I will sniff you out to get my kisses and hugs. I'll be going home to MS > Orinda, CA. I can hardly wait for you to "Take me home!"
*
HOLD "Jack" solid brown male, mc 7577, 7 wks - 4.4 lb.  I will light up your life just like a Jack-o-lantern!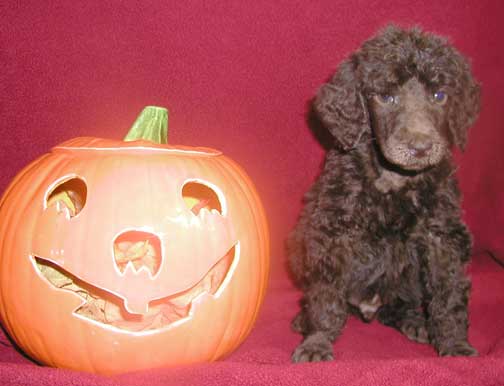 SOLD "Stanley" (Laife) black with white on chest, mc 4142, 7 wks - 13 lb. KS > S. Salem, NY - I will fall into your heart and shout "Come Play With Me!"
*
SOLD "Sherlock" (Frankie) solid black male, mc 0323, 7 wks 10.4 lb. I will be a monster in size when I get big for JBL - Vancouver, BC
 !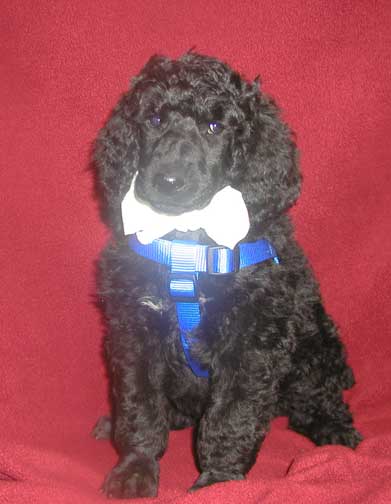 SOLD "Helmut" (after famous mens wear designer - previously Bow Tie...how interesting is that ;o) black male with white on the chest, mc 8020, 7 wks - 11.2 lb. Tes and Dani have been calling me this since I was born. My white spot looks like a bow tie!  I will tie up your heart with love!
*
SOLD "Beau" (Casper) black male with a tiny white dot on the chest that is barely visible, mc 7368, 7 wks - 12.4 lb.  Don't be afraid, I am a very friendly puuuuppy!  Woo Hoooo - I've been picked by SC > Rockville, MD!!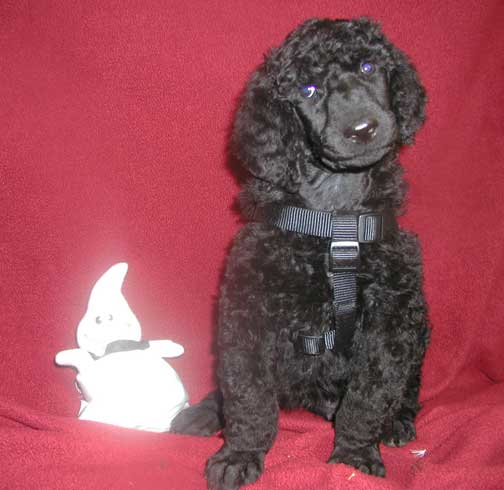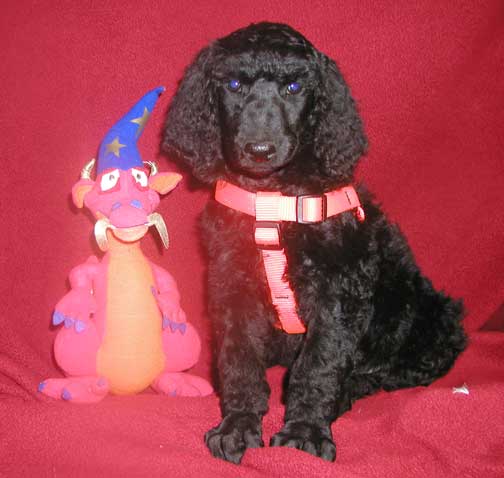 SOLD "Wizard" black male with tiny white on chest, mc 8776, 7 wks - 11.6 lb. I will work my magic on my new family KF > Excelsior, MN!
*
SOLD "Zeus" (Harvest) is a black male with white on the tip of his back right foot, mc 8142, 7 wks - 5.4 lb. I'll come and harvest your love JK > Lakewood, CO!!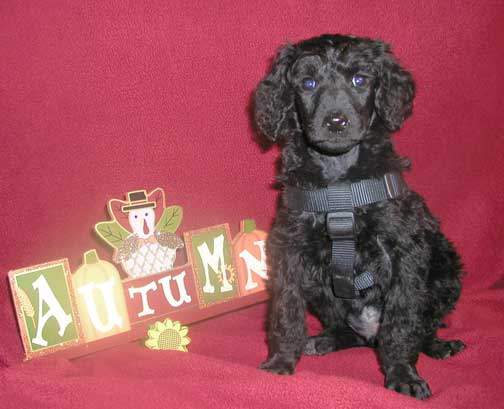 SOLD "Rack" (Hooter) is a solid black male, mc 2378, 7 wks - 10.2 lb.  I will "Hoot Hoot" for joy now that JHyde > Mount Juliet, TN has picked me!
---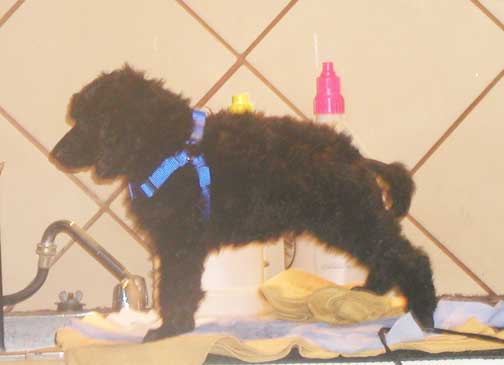 Getting washed, blow dried, harnesses, and pictures.....wow look at that stance!!
*
Almost ready to head to our new homes! Giving these pet beds lots of good smelling memories :o))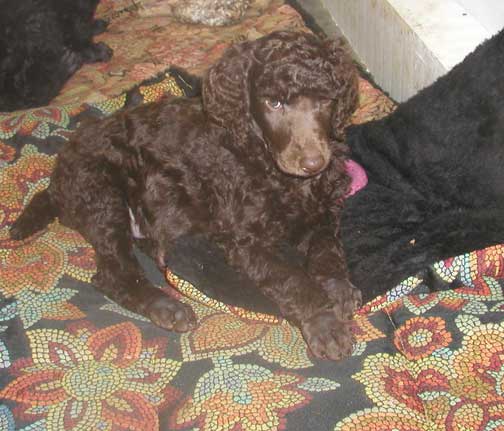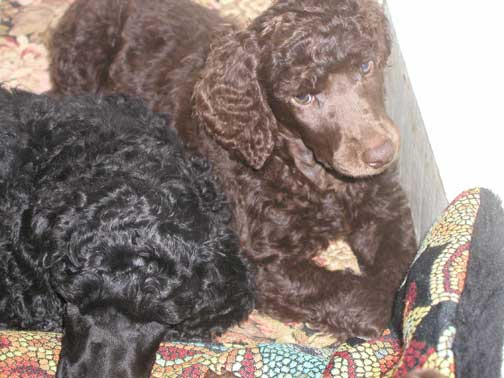 Pet bed puppy party...we love when she brings in a freshly made pet bed, we climb all over them!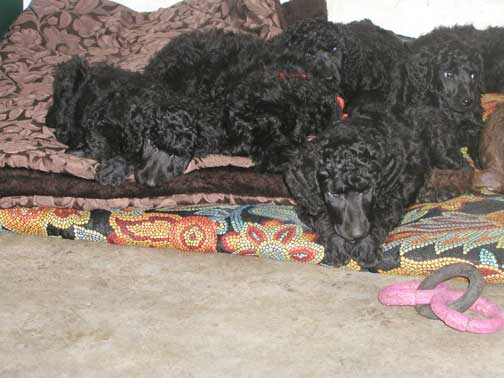 We love the pet beds that Tes makes, they make us feel safe when we go to our new homes! All machine washable :o)
*
Full tummies, nice cozy pet bed......ahhh life is good! :0)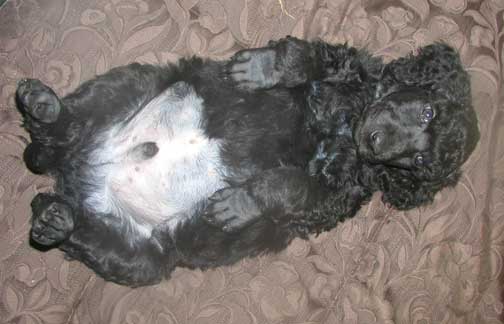 Nummy nummy water!
*
Jack says, "Here let me help you get that thing off!"
Jack says: "This food is all mine!" :0)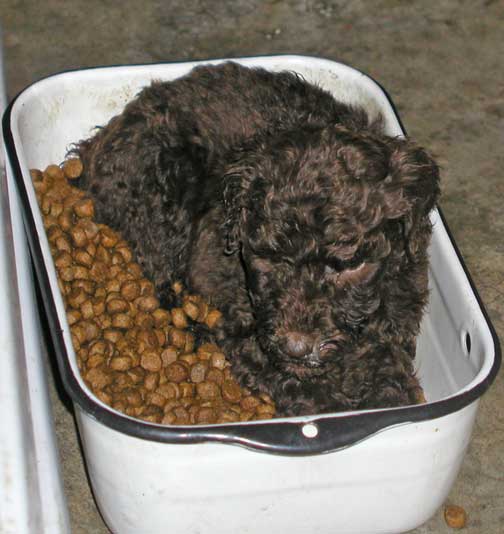 Play, play, play :0)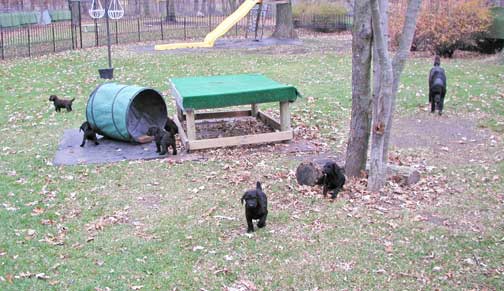 Thank goodness it hasn't gotten too cold here, we love playing outside!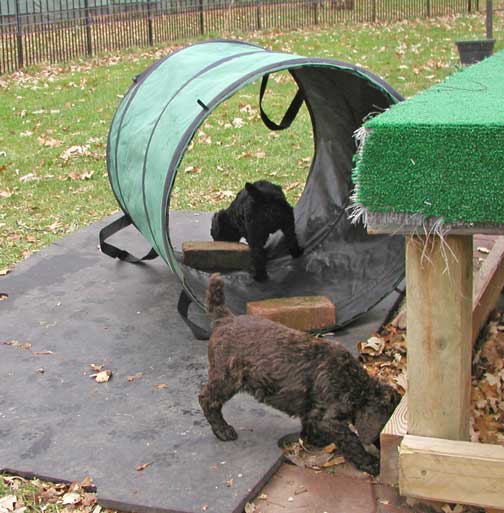 Why are you guys over there?
*
Grrr.....I'm going to get you....grrr....
We have figured out how much fun the tunnel is that Tes gives us!  She has to put bricks in it though, otherwise it will blow away!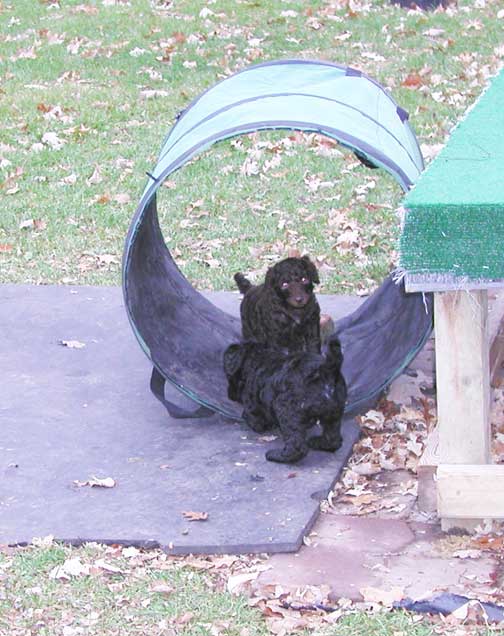 I wonder if this thing tastes good?
*
Such beautiful babies!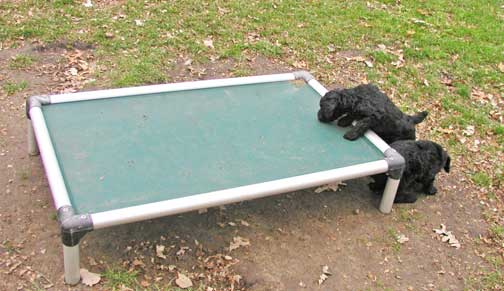 This has some interesting smells on it!
*
Come play with us Tes.....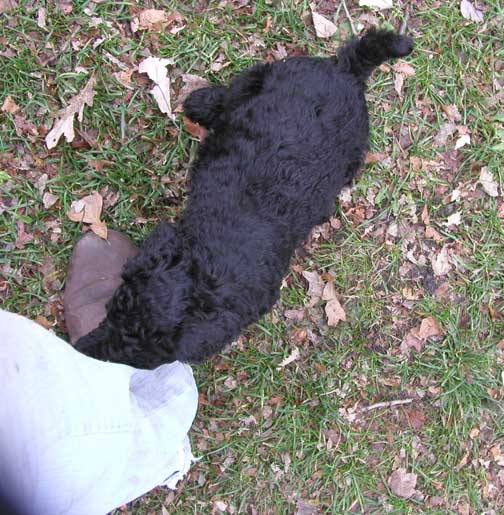 Here let me grab your pants and show you where to play!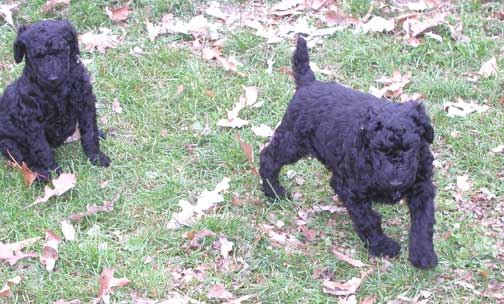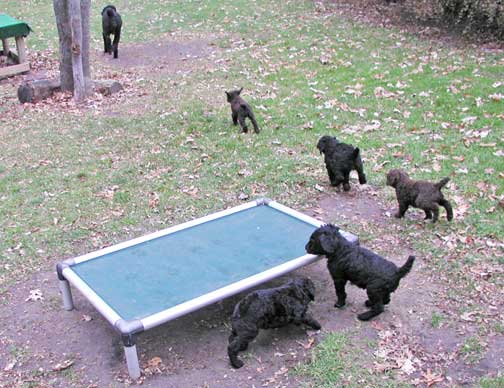 Wait for me Momma Zeddy.......
*
Were much bigger now and can finally get up on the dog bed! Woo Hoo!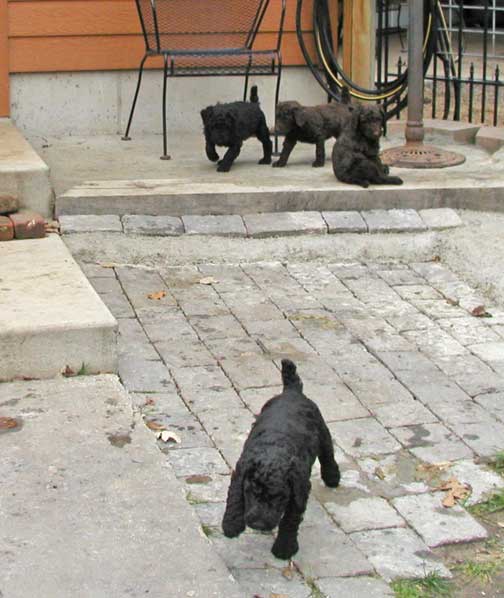 Tes has built the doggy door in the garage wall on a double pulley system (trim to be completed soon), but that's used by the 1 month older pups from Fire's litter, so she shuts it for now to keep them away until we're a bit older and they go to their new homes. We get to learn how to Potty Outside with the door's doggy door, here we come! Potty Outside!" Note: Tes has made it so we have very small gradient steps to learn on...SURE IS NICE for our small bodies to figure out!!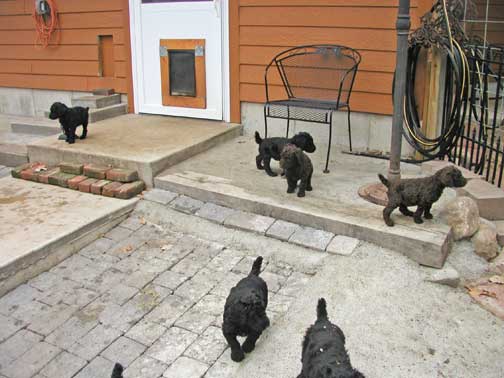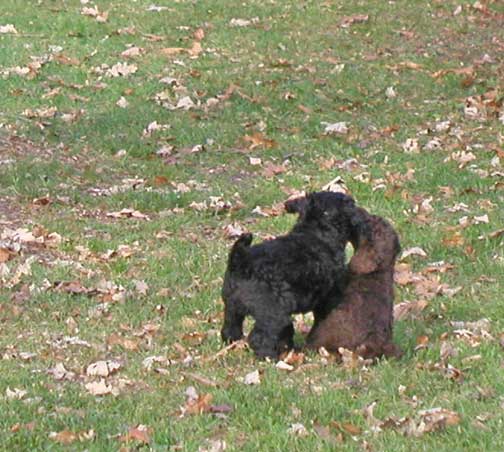 The MN weather is holding out for us to learn to potty outside, and with that there's sooooo much room for us to play and be curious here in Puppy Park.
*
Crates are added to begin getting smells for us to fly in, coming home to some of you :o) Tes doesn't place doors on, we freely go in and out...chewing on their corners sometimes 'cause it's just what we do sometimes...even though lots of bones for us to chew with our sharp little teeth coming in.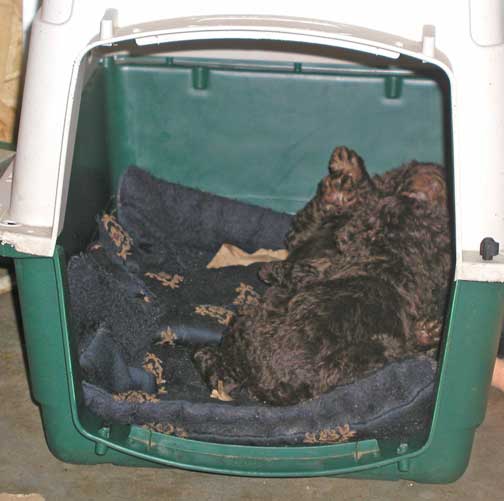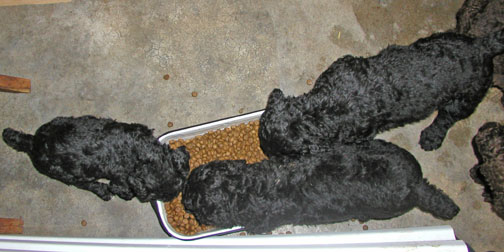 Above we're going on 6 wks old...definitely eating the adult Vets Choice Health Extension "original" dry dog food, no slurry now. This dog food is found mostly on the east coast. Tes has to buy it by the pallet to get it here in central MN. Read about dog foods and making your decision on what to feed your pup under the 1. "MUST READ" tab. 
*
There are so many new smells out here that we are learning to play, Potty outside and reach with curiosity...stay tuned...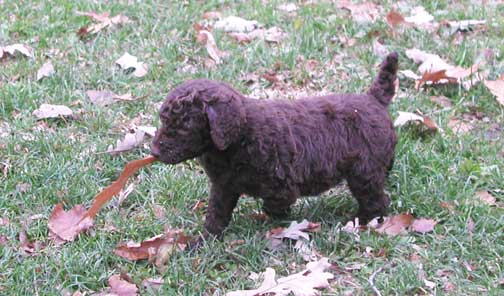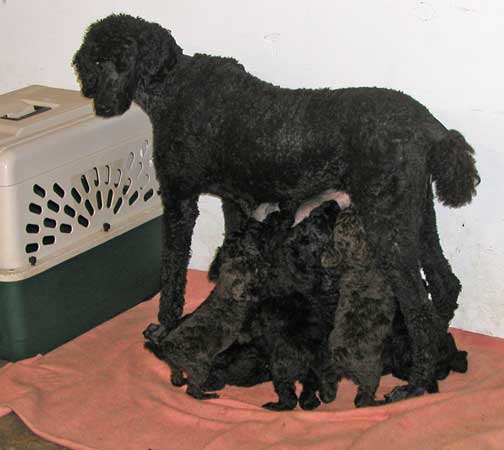 Now going on 5 wks above, Tes has now moved us into the family room.  Tes and Dani are teaching us to Potty outside by teasing us with the dish of food "Potty Outside!" We definitely have it figured out, but now to work on the doggy door...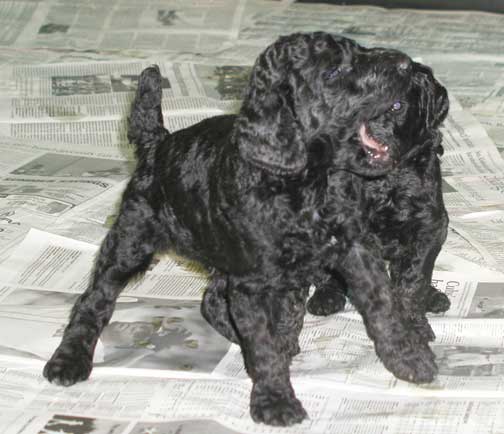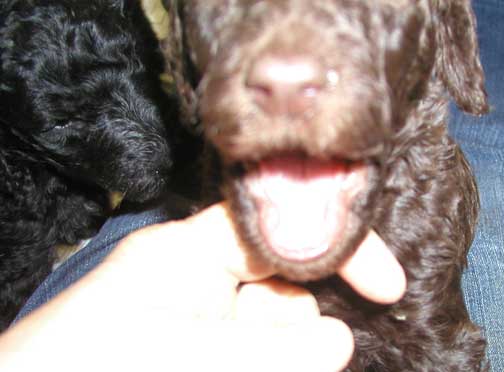 Look my teeth are coming in!! :o)
*
Time to eat....nummy....nummy...nummy - puppy pile!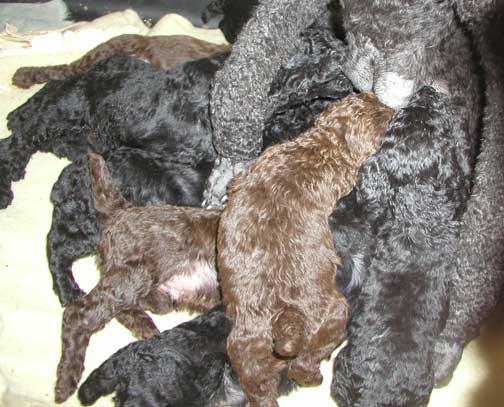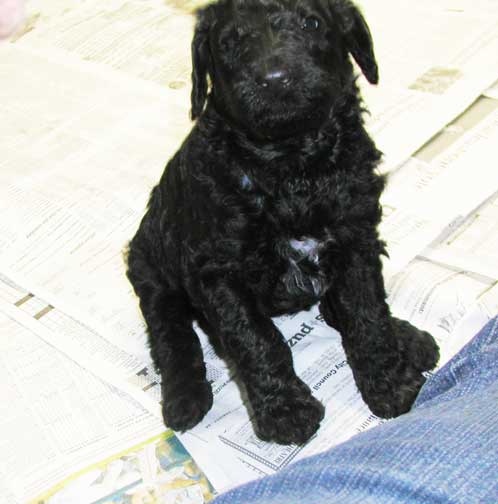 Tes, won't you cuddle me?? PLEEEEAASE :o)
*
sniff....sniff....what is that smell....Its Tes!! bite...chew...bite...I got her :o)
Tes and Dani start to sit in here with us to get use to humans..use to human smells, feeling human touch and cuddles, feeling their love that we can be loved by you :o)) a...and of course they come in with other doggy smells too to learn from :o))) With our eyes open we can start to see who has been loving us and get comfortable with BIG things.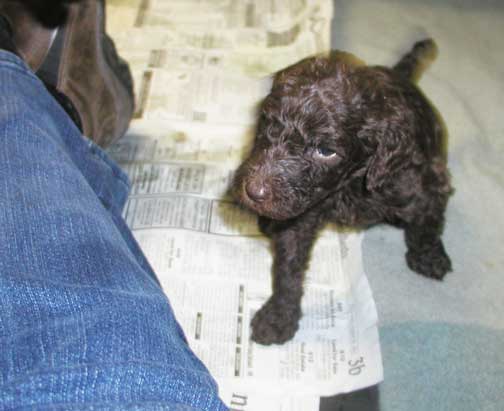 Our space has been expanded and we are so happy that we have more room to play...and learn to potty on :o))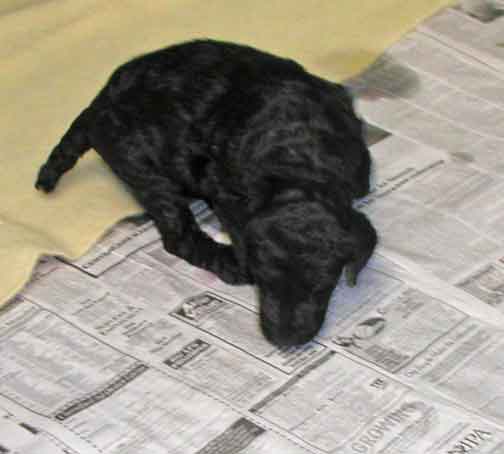 Smelling the newspaper that Tes and Dani put down for us to learn to potty on.....
*
Can I squeeze in there please........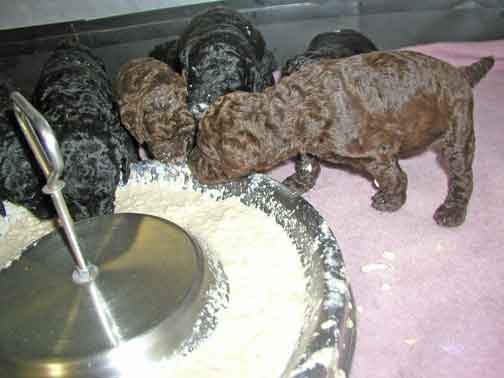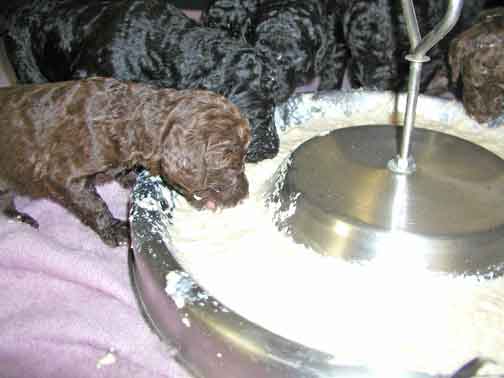 ...and soon you'll see why we have to be washed in another several weeks :o))
*
I think you have some on your face.....here I will get it for you! :o)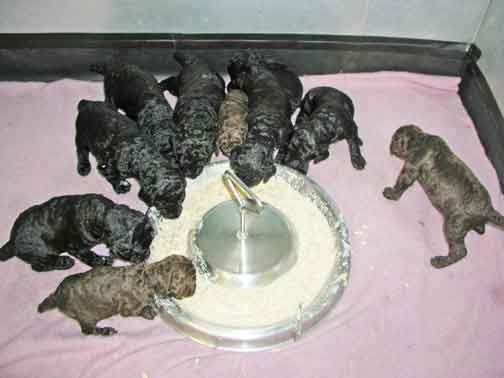 Dani and Tes are feeding us slurry - WE TOOK RIGHT TO IT! See us eat...see what your missing ;o)  ;o)) growing oh so fast...circle of life...stay tuned...
Tes and Dani call me "Twinkle Toes" because of the white on the tip of my foot!
*
Your face makes a great pillow!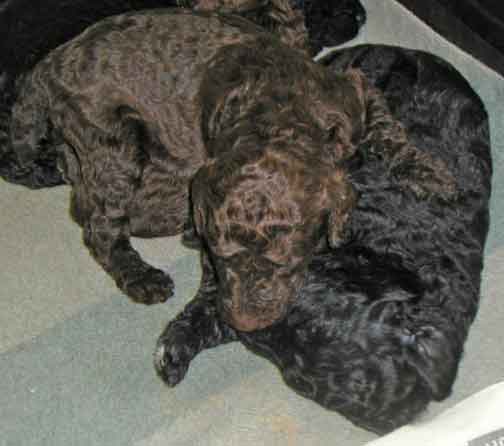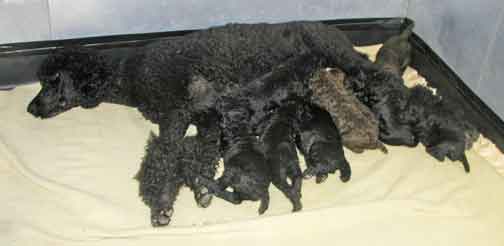 Nummy, nummy...... Momma Zeddy is always making sure we have full tummies! 
*
Definitely learning to play with others..."Be nice!" we hear Tes call out as our ears are open now ;o)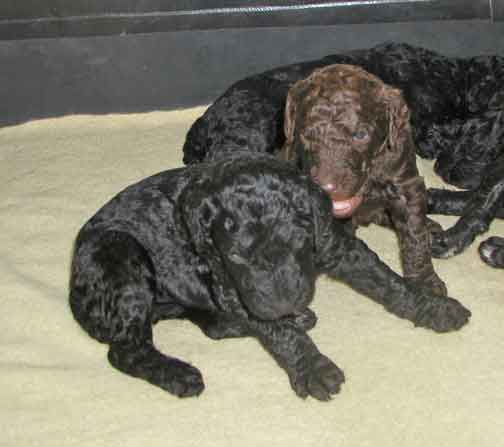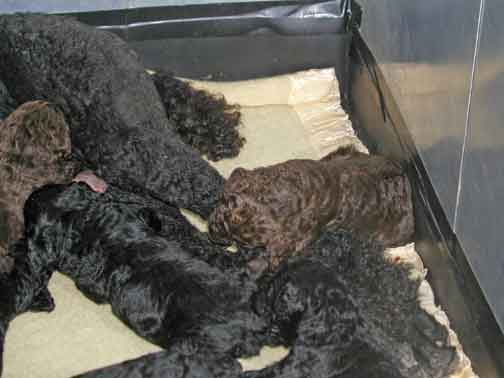 Momma Zeddy's leg makes a wonderful toy as we start to learn to play...bite...chew...rrrr...mine!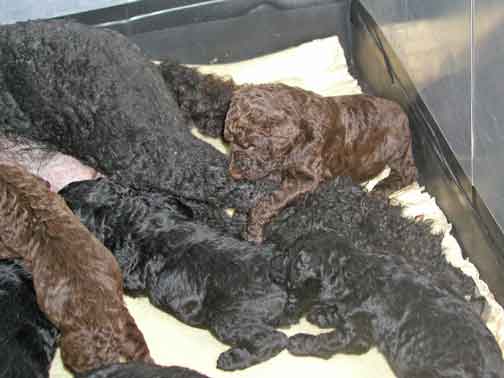 In the photos above we are going on 4 weeks old.  We are now playing with each other, learning to potty on the paper, and eating nummy nummy slurry!  Look how big the black boy is compared to the browns!
*
At 3 wks old our eyes are open...you see them as blue until months go by and they start to transition to brown or their intended colors...now our ears are JUST starting to open to hear the sounds around us...and hear what the world is about :o)) We look forward to growing for you...stayed tuned ;o)))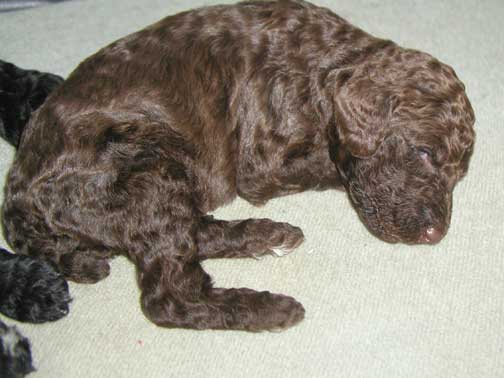 zzz...zzz...what you don't see in still pictures are our tiny feet moving even now at this young age as we learn to run in our sleep :o))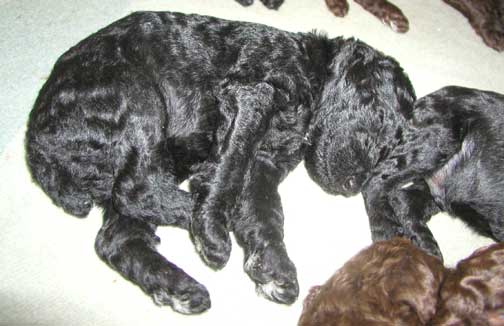 The above shows the smaller brown male compared to a very large black male...Mother Nature is oh so interesting among a litter of 10. 
*
As we drag ourself off from nursing...we drop and zzz wherever we land...see my back legs on top of momma's leg ;o)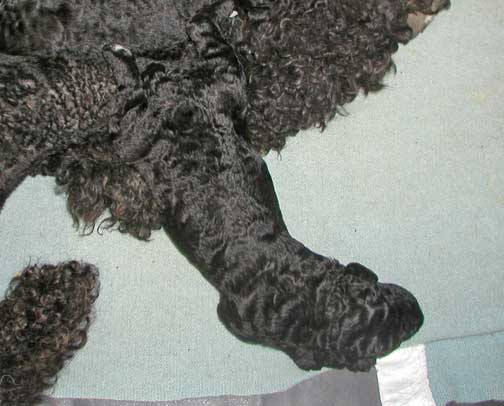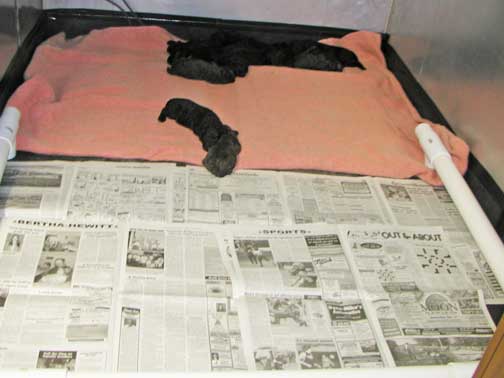 Life is good...learning to see, use our legs, starting to potty without momma's help...so Tes has now added more space with newspaper that we instinctively move off of the blankets to potty on...oh so interesting...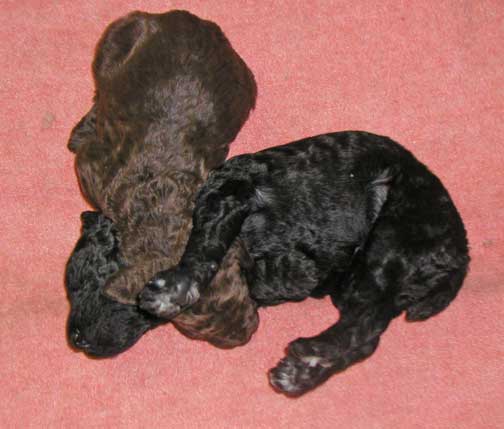 Snuggling is all a part of staying warm, sweet dreams we can join in on together :o))
*
Here's Twinkle Toes and a large black male...zzzing away...zzz...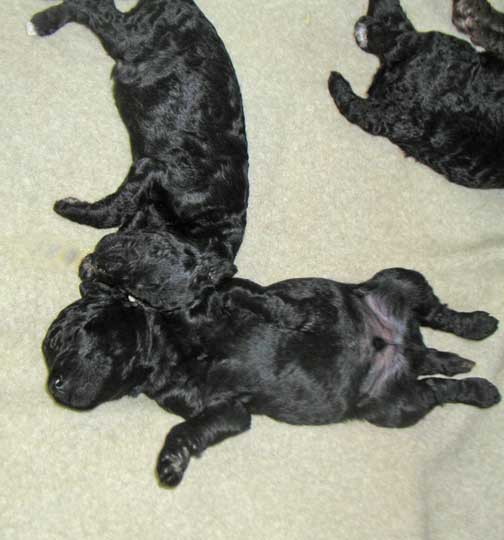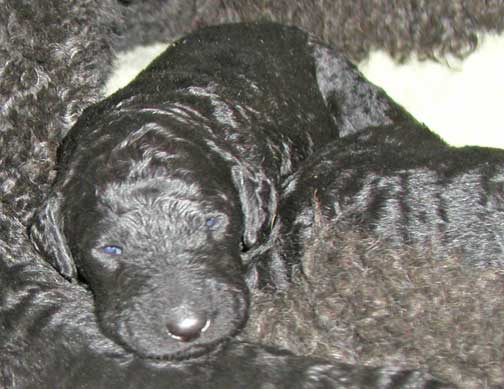 Aaahhh see our eyes squeaking open ;o)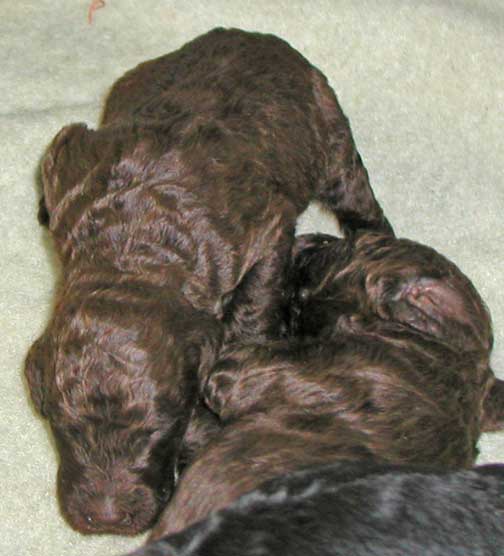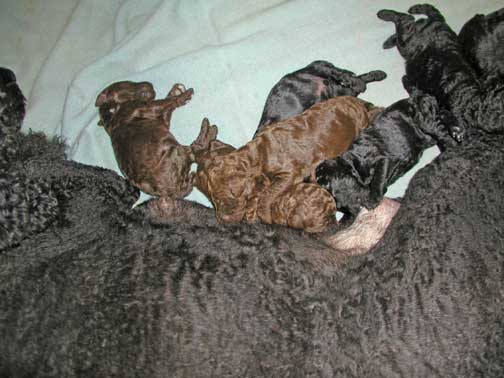 Momma Zeddy has lots of milk for us to grow...it's known mommas can produce up to a gallon of milk in a day for growing pups.
*
Hi there! We're getting our legs under us, strengthening them every day for our growing bodies.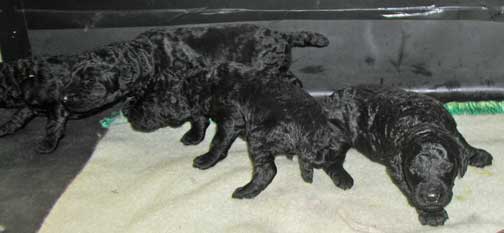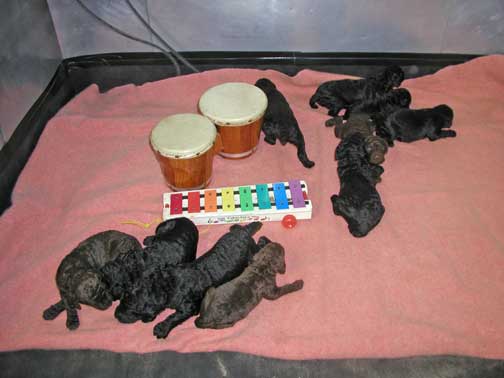 As we grow going on 2 wks old above, we become scooters and music makers, starting to make tunes to let Tes & Dani know we're enjoying life, looking and becoming curious with our eyes opening, checking things out.
*
1 week old - Zeddy Fall 2015 Royal Standard Poodles Puppies for Sale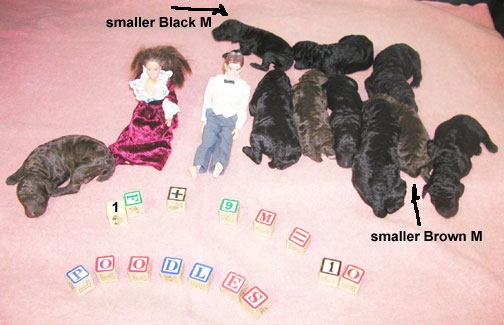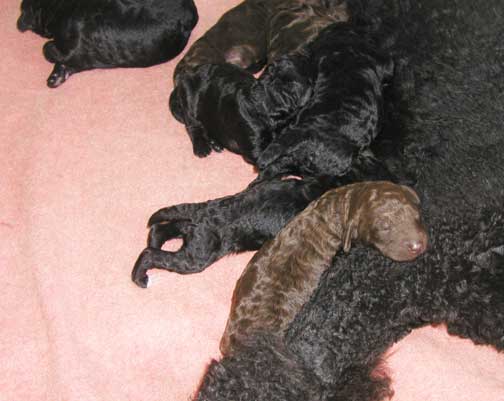 a...aahhh, a warm leg to lean on...Thank You momma :o))
*
Here is a smaller black male to a larger one.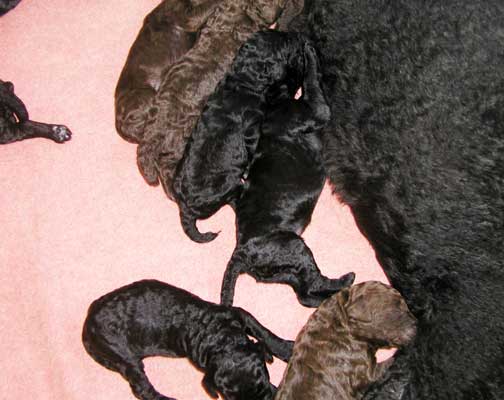 3. ...see the larger brown male compared to the smaller brown male...
*
We're a week old now and Tes has moved us from her bedroom to the nursery where she expands our space every other week. Colored wool blankets help show the days as they go by, and hopefully provide color to the updates for you ;o) ...always wicking moisture away as mommy licks us as we can't excrete on our own for awhile...her warm tongue stimulates us to release these from our bodies.
2. 
*
Let us count the ways to zzz...1. 4 legs up...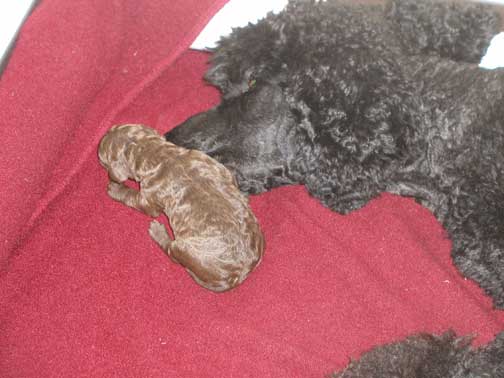 We're growing, still crawling onto Momma is a part of becoming scooters...I think it's just somewhere to go when you can't see where we're going yet ;o) She's tired and sleeping lots, good for her :o))
*
Mmmm, look at our little bellies get bigger...let us count the ways to zzzzzzzzzzzzz....as we growwwww :o) Our tails are now docked, and due claws removed.
Nummy, nummy, some of us nurse, some of us sleep, and some of us smaller ones get rotated into nursing more often by Tes so that the bigger ones don't push us out all the time :0) Momma has lots of milk for us to grow, and with 10 of us Tes supplies good "Nuvet" supplements and a mousse for blending with the "Holistic Organic Vets Choice Life Extension" dry dog food we'll be eating when we grow old enough...Mommy REALLY eats it up to provide up to an eventual gallon of milk in a day as we get big...
 ...we're gaining ounces FAST :0)))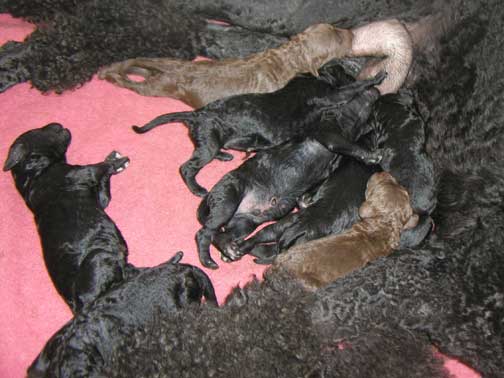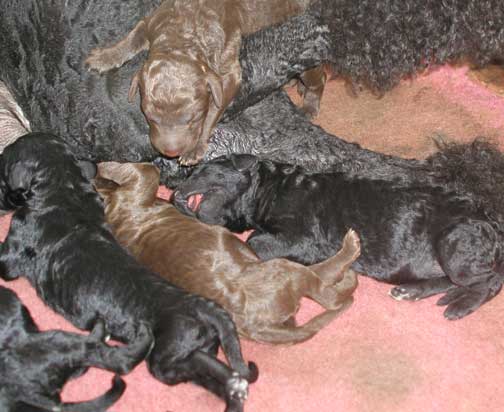 ...And nummy, nummy...they already want to climb onto Momma Zeddy's back...it's been amusing to watch, though a bit stressing to keep pulling them off so they don't fall behind her...searching searching for that nummy, nummy...zzzz...
*
Here's what we do best...zzzzz.....zzzzz....zzzz...nummy...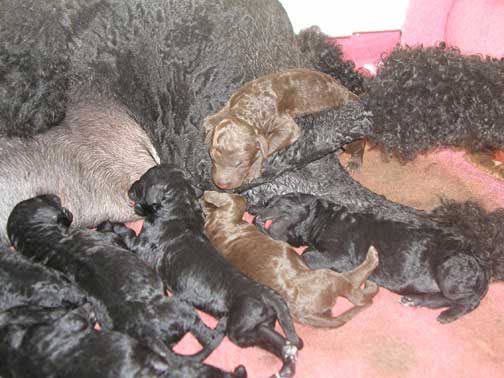 Already gaining strength in legs they crawl over momma, always scooting to find her with their noses.
*
One male has a white abstract/mismark on his chest...zzz...while some of us nurse, some of us zzz with 4 legs up...
One male, smaller male, has white on his back right foot...tails not docked until 2-3 days, they have gained ounces to be stronger.
*
ooohhh, so adorable...tiny white on chin...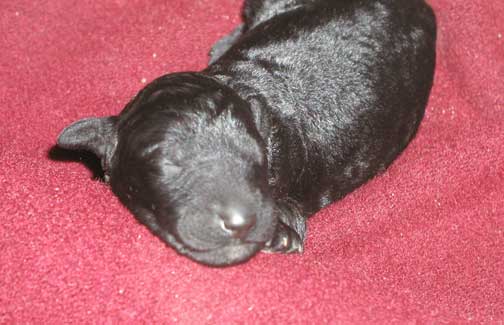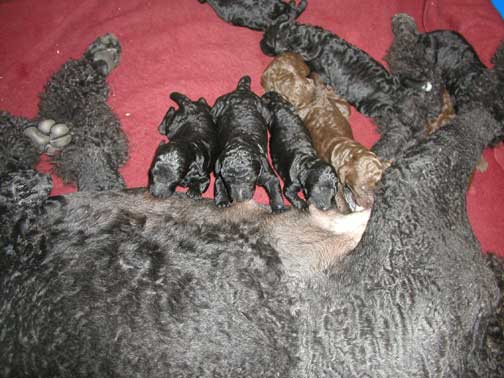 Puppies instinctively head to suckle a nipple. Their first sense, and strongest, is smell. This nuzzling helps milk drop down to provide the essential cholesterol so needed right away.
*
Tired momma rests her chin on the pvc bumper to help protect puppies from being slept on.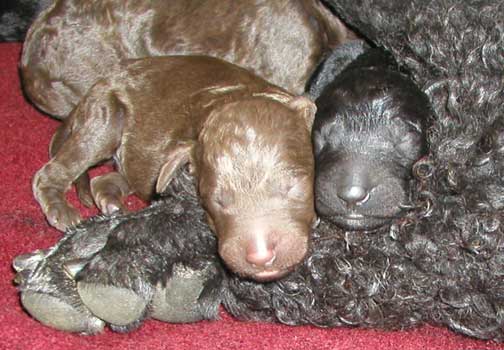 What the customers miss out on, I hope to bring to you in pictures and story boards...the quiet atmosphere I try to provide provides a hopeful more loving pet for you :0)
*
Zeddy's puppies are being born! The barometer dropped as we got rain early in the week which is not uncommon to lead pregnant women and animals to go into labor...sometimes sooner then their due date. We start out in my bedroom where I can oversee them throughout the night/day...at least in my own bed and I can warm the room up to a good 78 degrees as puppies are not able to have their own body heat for some days to come. A heating pad is also underneath to help them stay warm as the wool absorbs liquids from the birthing.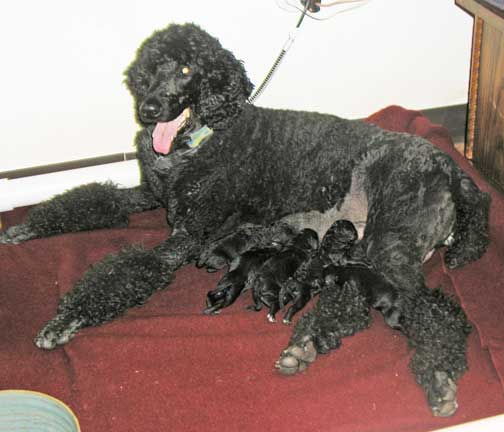 Your first paragraph ...