Royal Standard Poodles MxE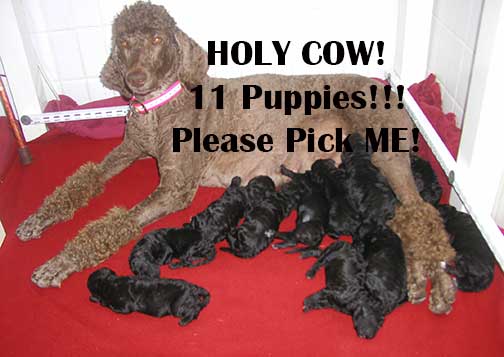 Royal Standard Poodles MxE: if you're interested in one of my pups, please fill in the form on the left side tab and send for an interview. I would look forward to hearing from you :o)
SOLD OUT!
Magic puppies arrived - WooHoo! Even though both sides carry Phantoms, sorry to share, no Phantoms were born to my disappointment. YET! They are all healthy and doing well :o)
Puppies born 11/21/20. Ready for homes 8 weeks later, January 16, 2021. Plan accordingly for travel home. Next picture update > 7 wk update 1/9/21. Their 6 wk visit will begin after their 1pm vaccination on 12/31/20. Customers please call to set an appt according to your down payment placement on the list. 

Every litter has their theme, Magic x Eli puppy names will be Mythology centered.
1. breeding, Tes F - "Venus"
2.  5/18/20 paid, Royal M Bl/Blue "Billy Boy", DS > Corpus Christi, TX ($ 200 military discount)
3.  6/2/20 paid, Size open M Bl/Blue "Levi", AW > Carmel, IN ($200 discount returning customer, 2021 Winter/Spring, desire Magic x Eli)
4. 10/09/20 paid, Royal F Black "Sister", JH  > Decatur, TX 
5. 12/7/20 paid, Size open F Black "Tatum", DV > Satellite Beach, FL (returning customer) 
6. 12/16/20 paid, Size F/M Black "Annie", KG > Austin, TX 
7. 12/19/20 paid, size open F Black "Kelli", EH > Cypress, TX 
8. 12/25/20 paid, Size open F Black/open, SV > Galveston, TX
9. 1/1/21 paid, Size F Black "Iris", SD > Wallis, TX
10. 6/2/20 paid, Size M Black "Eddie", AW > Carmel, IN
11. 1/2/21 paid, Size open F Black "Cleo", AO > Lafayette, CA
updated 1/9/21
Tracking stats for Royal Standard Poodles MxE puppies:



6 wks old Pyrantel deworming
5 wks toe nails clipped, first bath and clipping, anal glands expressed
4 wks old Pyrantel deworming
2 wks old Pyrantel deworming, toenails clipped
5 days old Toenails clipped 
DOB 11/21/20
Remember to start at the bottom of the web page and scroll up to watch us Royal Standard Poodles MxE puppies for sale grow up onto the page, as pictures are added upward every two weeks :o) Tes does her best to share what is done as a breeder in growing us up for you. Having 11 is a huge litter so Tes wants to assure all stay healthy as well as keeping momma Magic fit for caring for us.
Order your Nuvet supplements to keep us pups growing healthy and staying nutritionally balanced, especially our first year with you.
NuVet Plus​ Natural Dog Vitamin Supplements
Click Here To Order NuVetPlus Or Call 800-474-7044
#89093
8 Females
SOLD OUT!
Happy Holidays to all of you!
mc = microchip # (use last 4 digits)
UO = umbilical opening
| | |
| --- | --- |
| "Rhea" - 3 wks old mc 7042; 3 lbs 3 oz.  | "Rhea" - 5 wks old (uo should close on own) mc 7042; 6 lbs 1 oz. |
SOLD - "Rhea now Cleo" - 8 wks old (should close on own) mc 7042; 11 lbs . Black, tiny white on chin; My wonderful loving owners will be AO > Lafayette, CA. Rhea translates to "flowing stream" and was the name of the earth mother of all gods in Greek mythology.
---
| | |
| --- | --- |
| "Athena" - 3 wks old mc 7417; 3 lbs 3 oz.  | "Athena/Kelli" - 5 wks old mc 7417; 6 lbs 4 oz.  |
SOLD - "Athena now Kelli" - Black 8 wks old mc 7417; 12 lbs. I'm so happy to be chosen by loving owners EH > Cypress, TX! Athena was the Greek goddess of wisdom, courage, civilization, and law and justice. She's one of the most influential figures in Greek mythology. The name is also closely related to the modern-day Greek capital, Athens.
 *Royal Standard Poodles MxE*

SOLD - "Demi now Sister" - Black  8 wks old mc 0679; 12.12lbs. My new loving home will be with  JH  > Decatur, TX - Thank You! Demeter was the goddess of agriculture, growth, harvest, grain, and nourishment (thus the cornucopia :o). She was Zeus's sister.
| | |
| --- | --- |
| "Demi" - 3 wks old mc 0679; 4 lbs 1 oz. | "Demi/Sister" - 5 wks old mc 0679; 7 lbs |
---
| | |
| --- | --- |
| "Diana" -  3 wks old mc 0214; 2 lbs 7 oz. | "Diana" - 5 wks old mc 0214; 5 lbs 4 oz |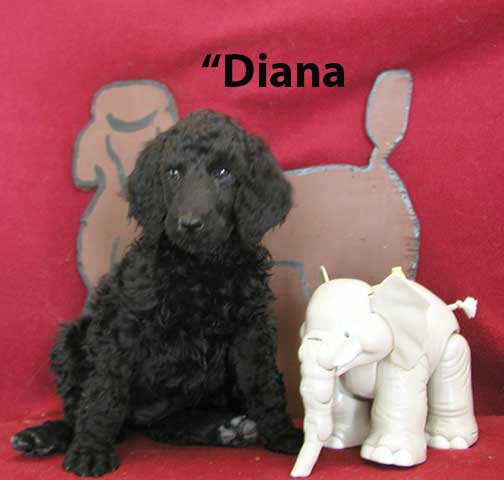 SOLD - "Diana" - 8 wks old mc 0214; 10lbs 15oz. Black with white on back toes; sooooo look forward to going home to my new owners  SV > Galveston, TX .  Diana, in Roman religion, goddess of wild animals and the hunt, identified with the Greek goddess Artemis. Her name is akin to the Latin words dium ("sky") and dius ("daylight"). Like her Greek counterpart, she was also a goddess of domestic animals.
 *Royal Standard Poodles MxE*

SOLD - "Eden now Annie" - 8 wks old mc 7843; 11.15lbs. Black with large white diamond on chest, white on toes and chin, she may have a tiny amount of brindle coloring, so hard to tell;  KG > Austin, TX will be my new loving owners.   The Mythology of Eden, analyzes the biblical Garden of Eden story from the perspective of the story's natural genre, that of myth. 
| | |
| --- | --- |
| "Eden" - 3 wks old mc 0214; 3 lbs 8 oz. | "Annie" - 5 wks old mc 7843; 6 lbs 6 oz |
---
| | |
| --- | --- |
| "Iris" -  3 wks old mc 7887; 3 lbs 4 oz. |  "Iris" - 5 wks old mc 7887; 6 lbs |
SOLD - "Iris/Athena (may be new name?)" - 8 wks old mc 7887; 12 lbs. Black with white abstract on chest chin and on back toes AND Tail Tip, upon shaving her at 5 wks old I found she'll have a brindle coloring as well (google brindle color in standard poodles image);  Tiny UO has closed by 5 wks. My new loving owner is SW> Dostal, TX.   Iris was the goddess of rainbows, which is also what the name translates to. In addition to being a goddess, she was the messenger of Hera and Zeus, riding the rainbow between Olympus and Earth. (Rainbow Care Bear;o)
 *Royal Standard Poodles MxE*

SOLD - "Nike now Tatum" - 8 wks old mc 7195; 13 lbs 5 oz. Black with white abstract on chest, chin and on back toes, upon clipping at 5 wks I found brindle in the coloring (google brindle color in standard poodles image);  DV > Satellite Beach, FL are my loving new owners. Nike, the winged goddess of victory, represents strength, speed, and triumph. She flew around battlefields in a chariot, rewarding the victors with glory and fame represented, by a laurel wreath. She is often depicted on Greek coins, and shares her name to a popular line of athletic shoes; she can also be seen in the hood ornament on a Rolls-Royce. If you like to win fame and glory at Agility Trials or Flyball Tournaments, name your girl Nike.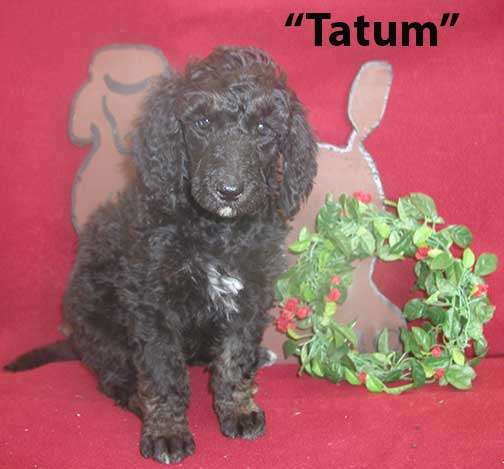 | | |
| --- | --- |
| "Nike" -  3 wks old mc 7195; 2 lbs 12 oz.   | "Nike/Tatum" - 5 wks old mc 7195; 6 lbs 8 oz.  |
---
 *Royal Standard Poodles MxE*

Breeding Tes - "Venus" - 8 wks old mc 7747, 14lbs 14oz. All Black;  Venus in Roman mythology Venus was the goddess of love, sex, beauty, and fertility. She was the Roman counterpart to the Greek Aphrodite.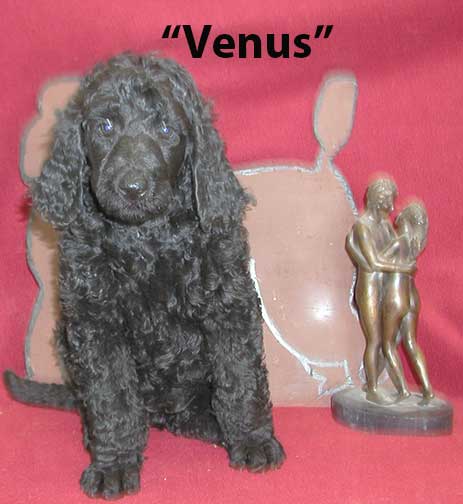 | | |
| --- | --- |
| "Venus" - 3 wks old mc 7747; 5 lbs 4 oz. | "Venus" - 5 wks old mc 7747 - 8 lbs 12 oz. |
---
3 Males Sold Out




Happy Holidays to all of you!
| | |
| --- | --- |
| "Cupid" -  3 wks old mc 7588; 1 lbs 14 oz.  | "Cupid" - 5 wks old mc 7588; 5 lbs. |
SOLD - "Levi (Cupid)" - 8 wks old mc 7588; 11 lbs 6 oz. Black with small white abstract on chest, chins and toes; my loving new owners are taking me home... AW > Carmel, IN. Cupid in classical mythology, meaning "passionate desire" is the god of desire, erotic love, attraction and affection. He is often portrayed as the son of the love goddess Venus and the god of war Mars. 
 *Royal Standard Poodles MxE*

SOLD - "Apollo now Eddie" - Black 8 wks old mc 2057; 6 lbs 8 oz.  WooHoo! I get to go home with my brother Levi!!! Apollo was checked out by the vet with his family and she said he was good to go. Week 6 he went blind in his right eye that was turning bluish grey :o( Later the customer's vet evaluated to share Eddie had a reaction to his 6 wk vaccination, where over time the eye did come back to partial site. He's certainly not grown like the others yet he's a feisty young boy. Just a preemie trying to catch up ;o). Apollo was the name of the son of Zeus and Leto and twin brother of Artemis. He was the god of music, the sun, medicine, and poetry, amongst others.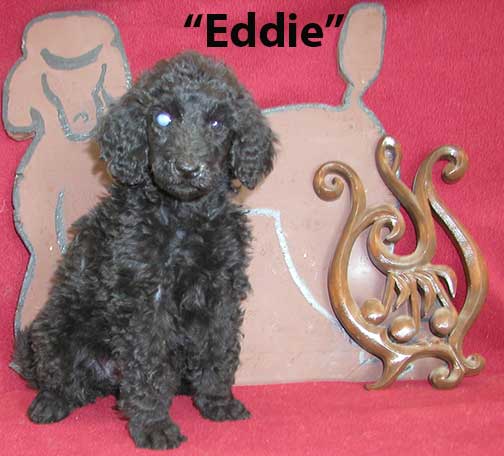 | | |
| --- | --- |
| "Apollo" -  3 wks old mc 2057; 1 lbs 15 oz. | "Apollo/Eddie" - Black;  5 wks old mc 2057; 2 lbs 14 oz |
---
| | |
| --- | --- |
| "Zeus" -  3 wks old mc 7097; 3 lbs 4 oz. |  "Billy Boy (Zeus)" - 5 wks old mc 7097; 7 lbs |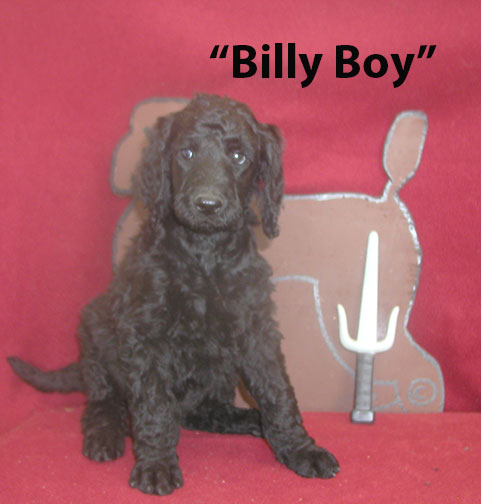 SOLD - "Billy Boy (Zeus)" - Black; 8 wks old mc 7097; 15 lbs. WooHoo! Heading home to DS > Corpus Christi, TX.  Zeus was the sovereign god in Olympus. He was responsible for the sky, lightning, thunder, and fate, among many other things.
---
 *Royal Standard Poodles MxE*
Coming home to you, oh so soon...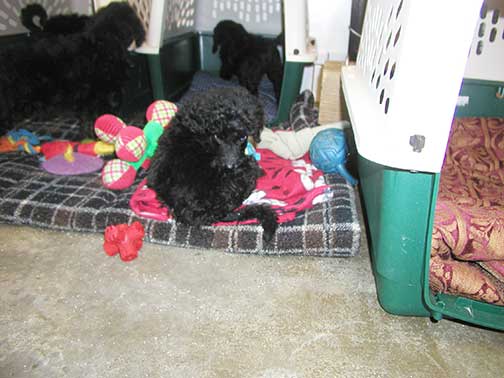 Tes shares "Thank You to everyone who purchased their pet a pet bed. This has been the most pet beds sold in any one litter!" We LOVE them! They'll get washed several times, then left for smells before getting to you...and there are LOTS of toys to play with :o)
*
Crates are provided to help pups get use to them if flying or being used in their new homes.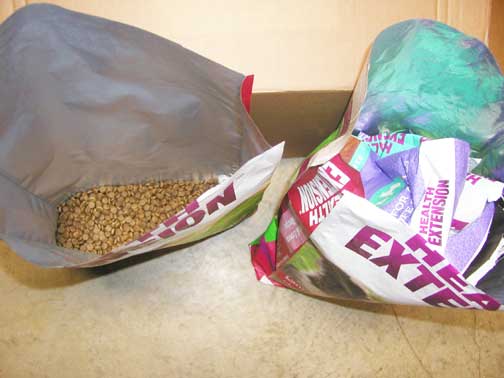 What comes out of the bag, goes into our tummies...what goes in must come out...then Tes recycles the bag to put the scoops into...what a great idea :o)
*
And every day, there's the scoops that 11 puppies leave behind several times a day.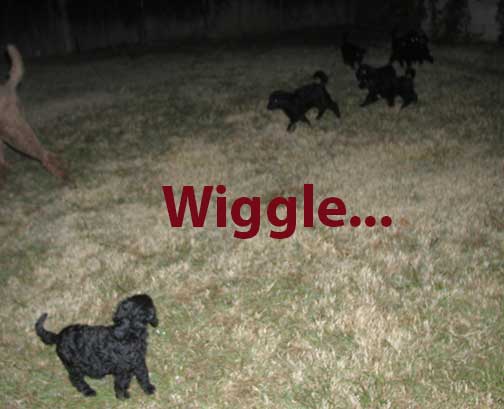 After 17 years of breeding Tes has come up with a new phrase as she's observed us...Waddle, wiggle, spin, poop. It's a technique we've got..but you can't see us actually spinning ;o) She counts off to see how many of us go poop before going back in for the night.
*
So, Tes takes us potty outside around 10:30 pm and then gets up around 4am right now to teach us "Potty Outside!" Momma helps :o)
This has become one of our favorite toys, lots of arms to play tug with the others and it has these squeaky things in each end.
*
Running...Wow, legs beneath me are cool! Come on!!!
Hey you! Come and get us soon!!!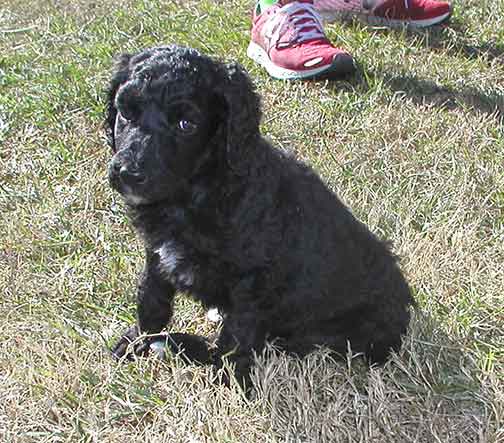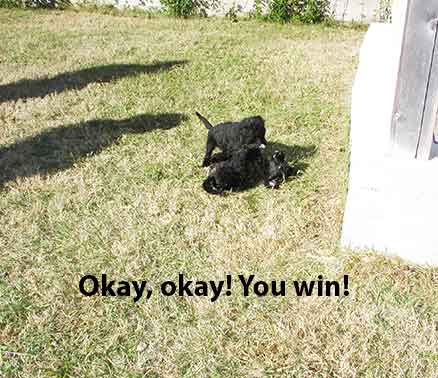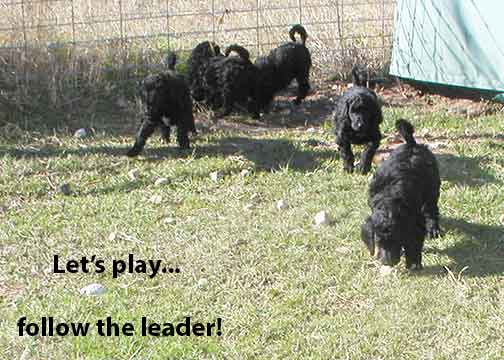 We're reaching, learning steps, tunnels, playing and still zzz'ing a lot ...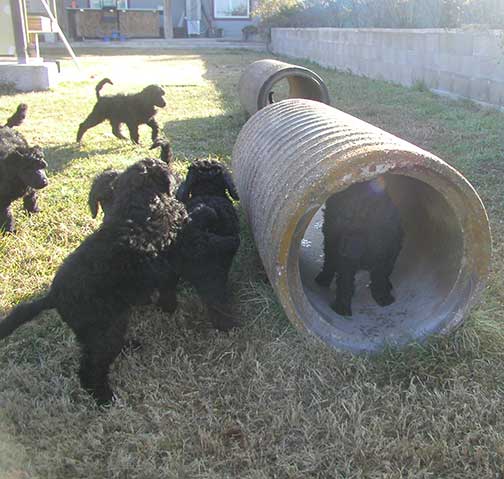 HEY LOOK! We've reached to the back of the Puppy Park!!! Tes has her mural she painted of a scene from her fantasy book, first of a trilogy, "A Perfect World" . She painted it on her garage door in MN and brought it to TX. It's a great canopy for us to stay cool from the hot TX sun in the summer. She names her spoo parents from characters in the book and some customer names will be in the upcoming trilogy as characters...having fun with life and all that she brings to you :o)
*
Buy your Kuranda bed by clicking here :o)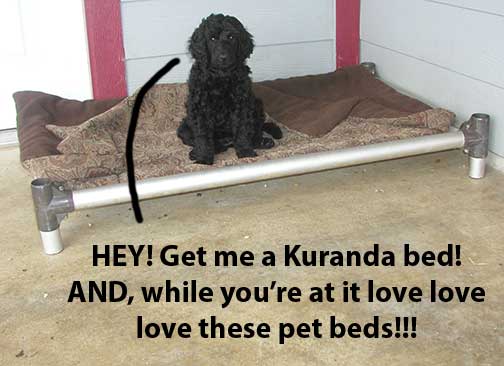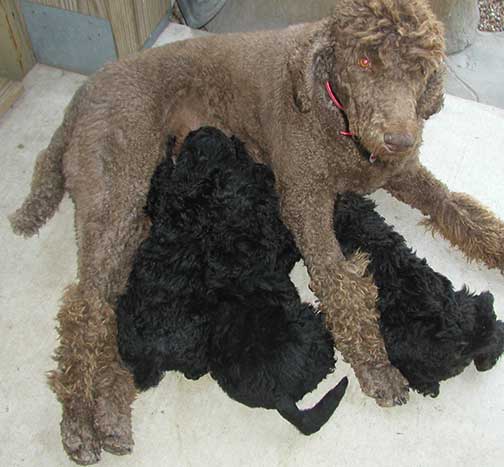 Hey Momma, come on, pleeeease! What do you mean this is the last time?!?!?!?!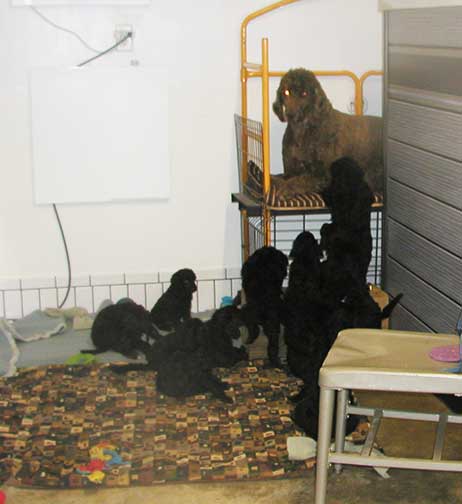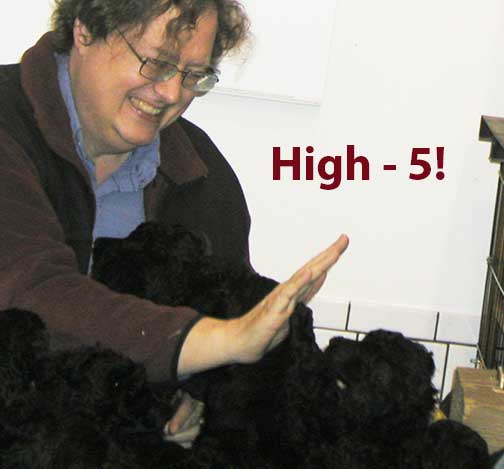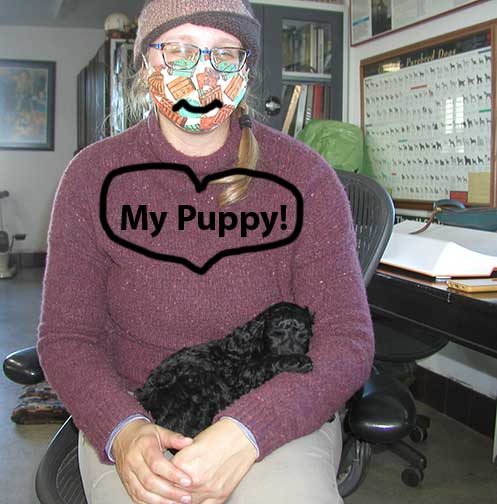 Woo Hoo! We've got our new owners!!!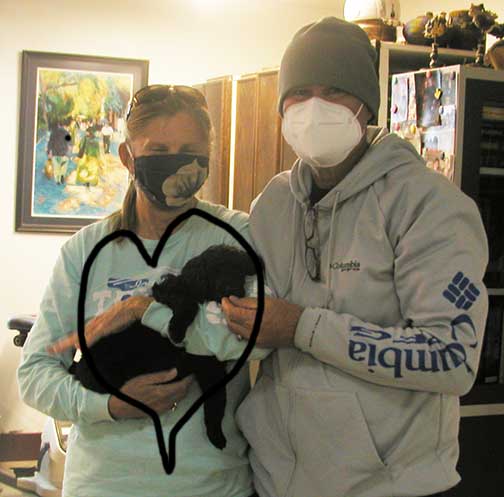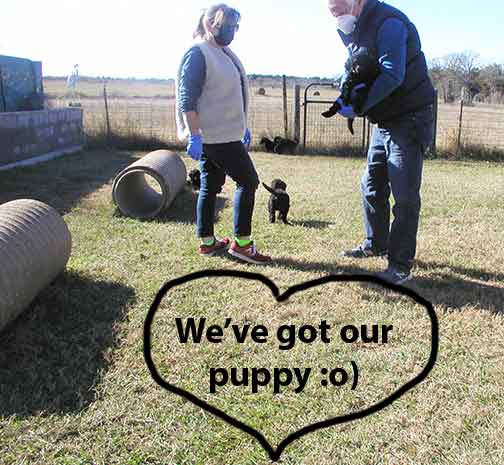 Our new owners are coming to choose which of us will go home with each of them..."Oh so hard to decide" they say...then we help them decide :o)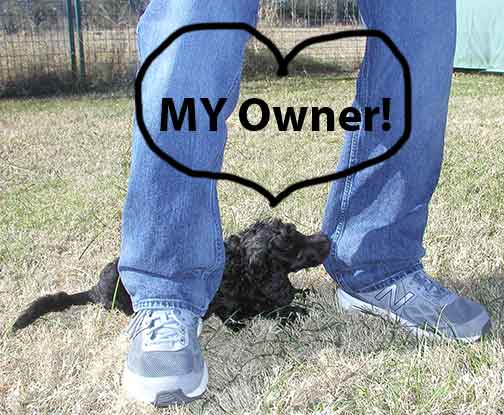 Lots of toys - Woo Hoo! Which one should I play with?
*
High - 5 on that one Tes!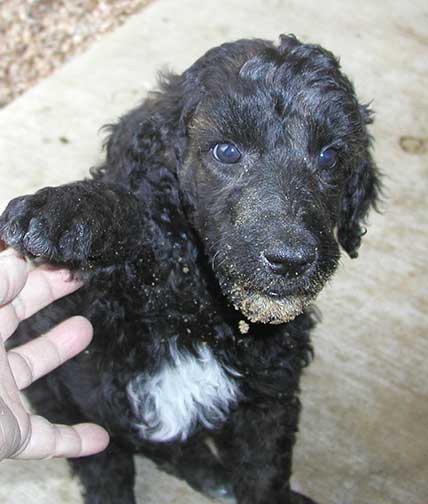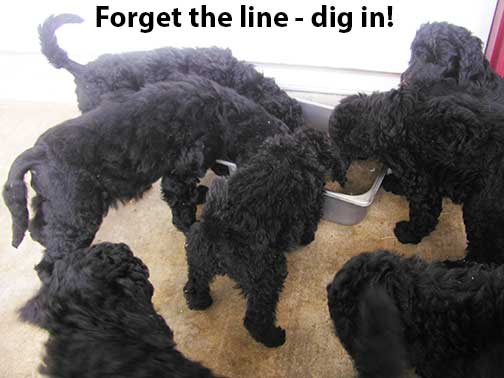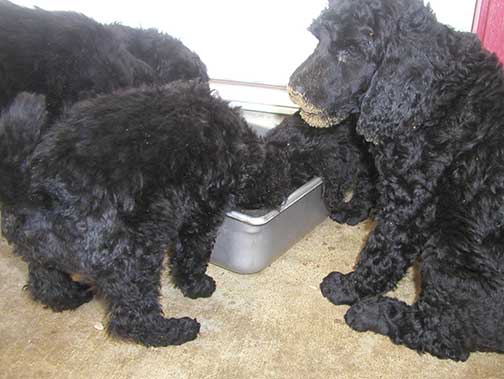 Okay, Tes stopped the canned dog food. She added the ground up remaining dog food to the pan and WE REALLY LIKED THAT!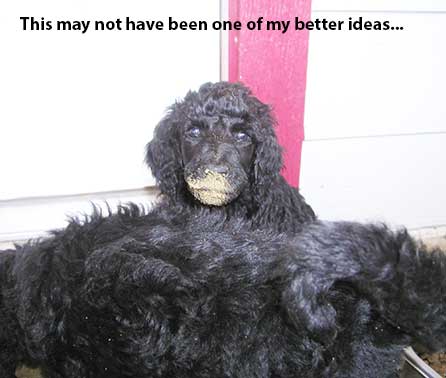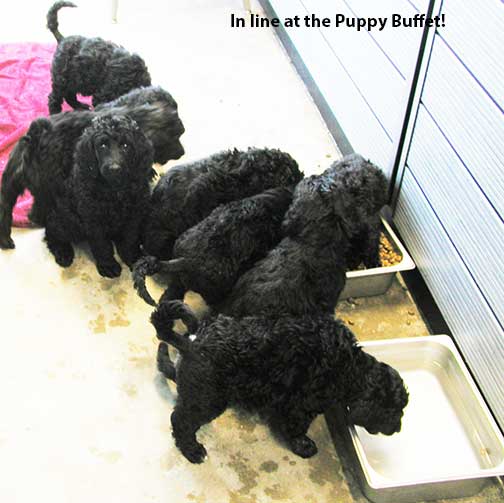 Now we're eating dry dog food 90% of the time, and with that drinking a lot of water, keeping us hydrated :o)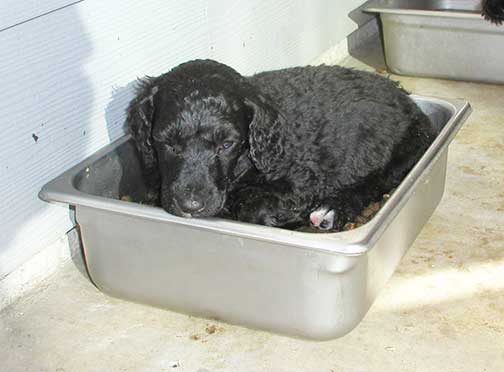 Tes is making the slurry thicker, and has switched to regular canned lamb dog food. Ground dry dog food is added to keep our stools more solid.
---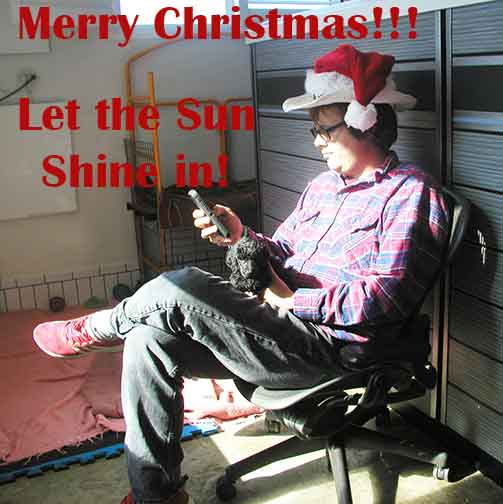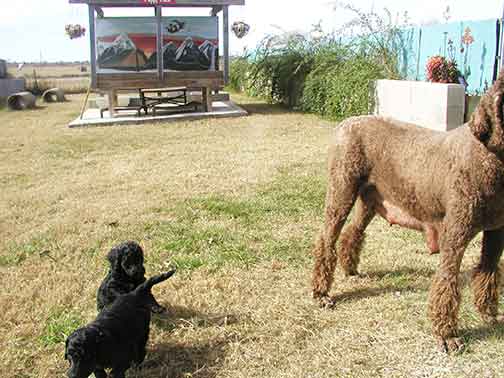 We're finally reaching into the pea rock to potty, and reaching out a little into Puppy Park where momma is. The 7 week picture updates will show us reaching all the way back to the fence :o) The mural Tes painted in MN on her garage door and brought it to TX for the canopy to shade us. It's a scene from her sci fi/fantasy novel trilogy "A Perfect World"...where our poodle line name comes from.
Here's how to teach us...how Tes does it...she takes the spoon and bangs on the pans loudly saying "Potty Outside!" And it gets us use to loud noises!! Well we sure like that food, and out we go to Potty Outside!!! Now all she has to do, without food, is say the words  to teach us :o) The same goes for "Come in." Banging on the food tray to bring us in :o))) For some reason she likes to bang and make loud noises around us!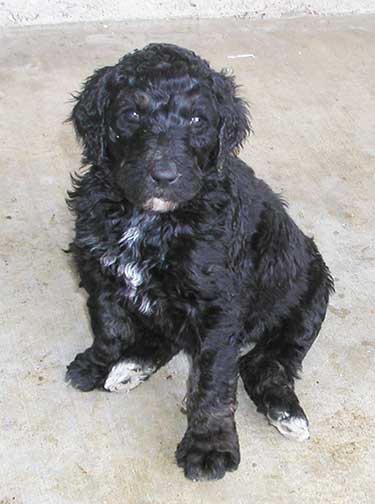 Look! A nice sunny day and we're going to learn about reaching outside to potty!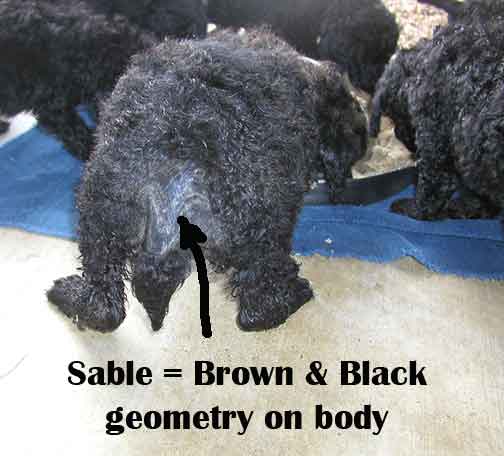 In getting groomed, Tes found that several of us have Sable markings and will grow to have this coloring.
 *Royal Standard Poodles MxE*

And Momma is Soooo patient with us!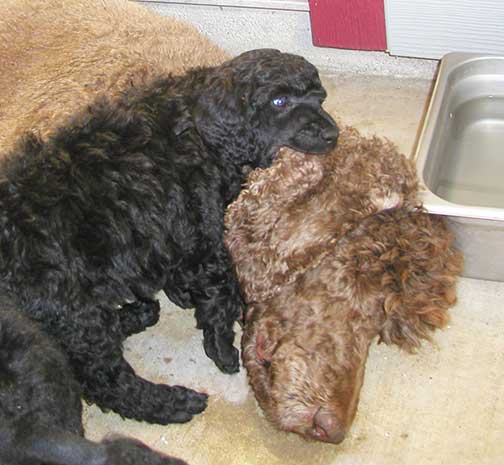 We're loving the affection and playing more and more with each other.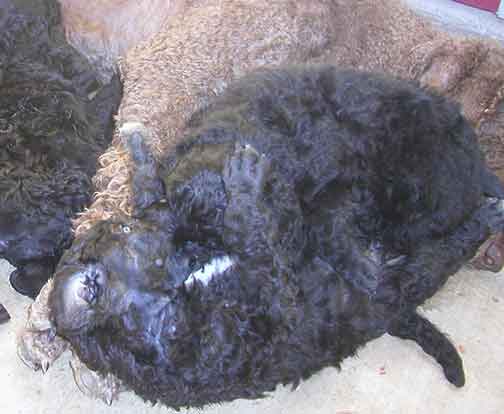 Getting cuddled and loved is essential for their growth :o)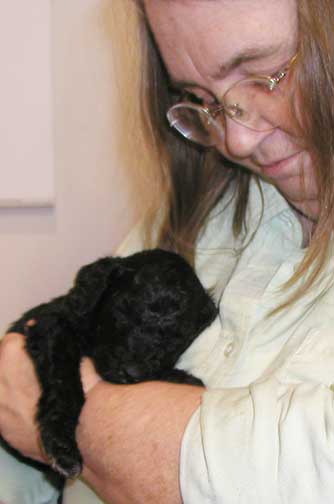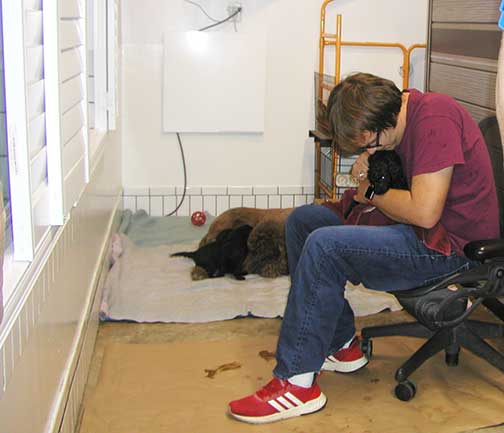 Okay, so Tes shares now several months ago she was training some of the younger spoos walking by her side, healing. She generally always takes two at a time. Well one day they jetted ahead, criss crossed in front of her and down she went on her knees, landing solidly on them. At the same time a new vehicle came into the picture that started to twist her knee to get in and out of. Then one day excruciating pain. The knee meniscus became torn. This link explains nicely what it is, yet I use an electro magnetic wrap to get the blood flowing again.
It will take many months for the meniscus to heal yet her great wonderful friends, the D'Antonios, have come to the rescue. Getting up in the early morning hours to help feed (3 times a day), get down on the blankets to socialize, and help with all the work that has to get done in a litter. They're certainly learning a lot too ;o) All that goes into being a breeder. These are important weeks that I help them become social and thus you'll see them in some of the pictures helping out.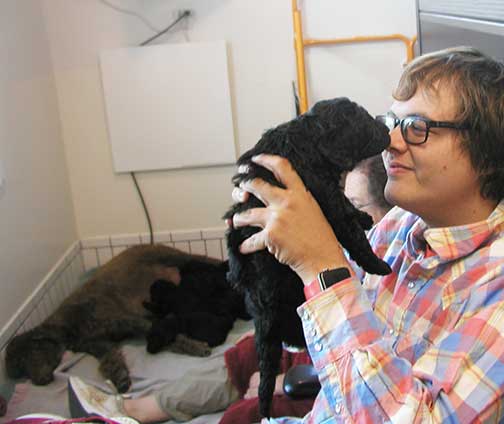 See! NICE stool, potty on paper :o)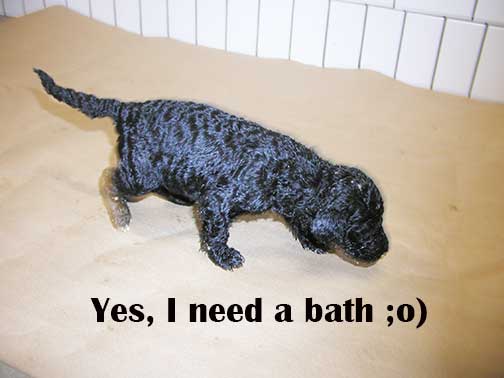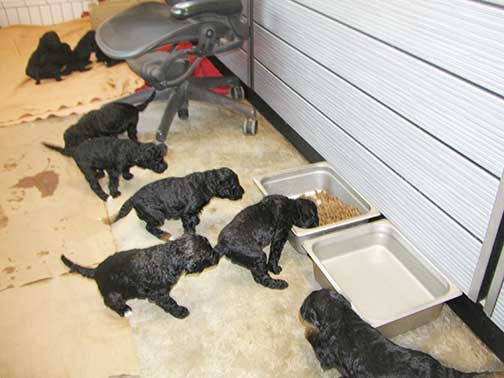 We certainly are growing into the Wing section, reaching to fill it that we've learned to potty on paper instead of our bedding...still happens, yet less and less. Tes says it's been way too cold here in TX for us to be out a lot, until we get bigger and bigger and she starts us reaching outside to learn...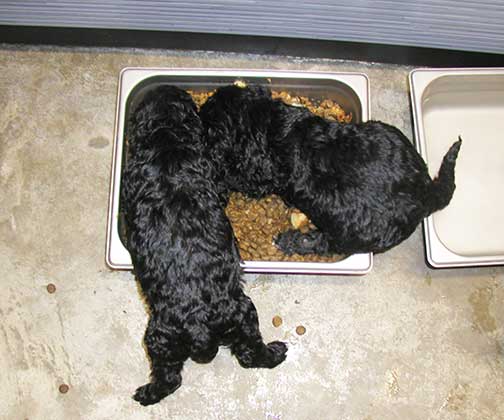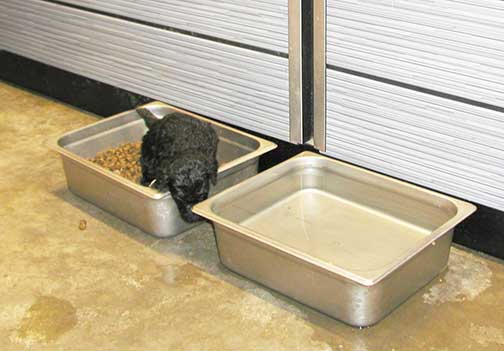 A...and now we're starting to eat the dry kibble that's always available for momma and drink this stuff called water...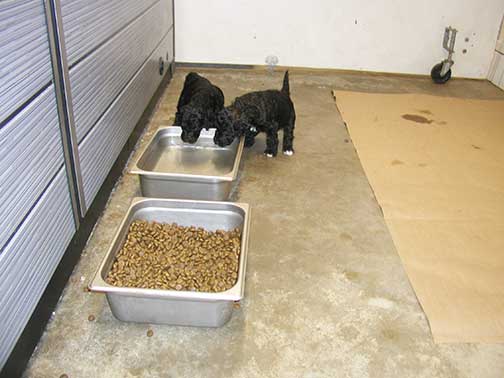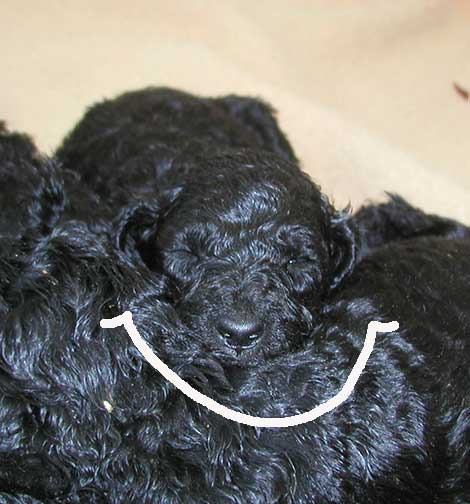 We continue to zzzzz, and nurse a lot...zzzz...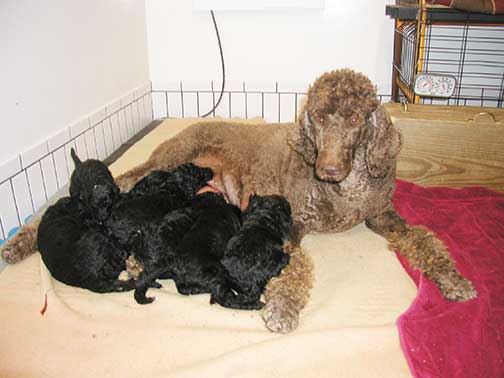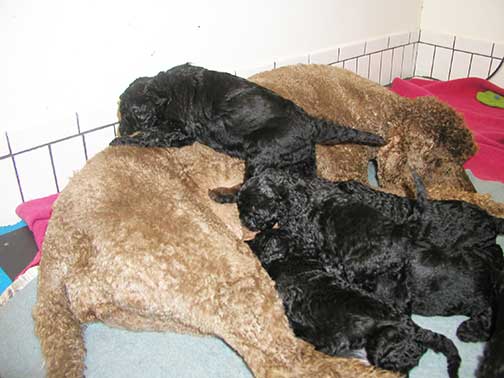 As we get older, we want to play, and check things out, reaching to learn more and more...and momma Magic puts up with us ;o)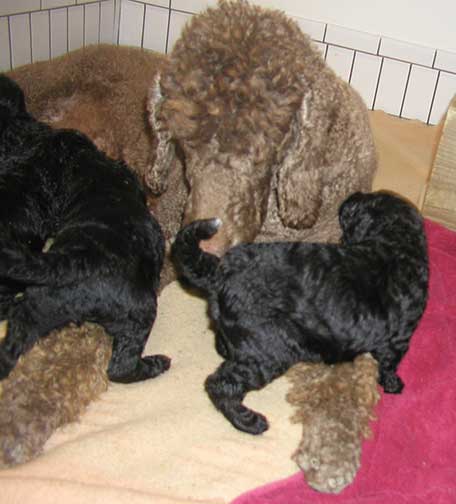 Toys are being added every week with different textures to play with and momma has a new feeding position for us :o)
See, Momma has Soooo much milk for us! Tes shares this has been SUCH a quiet litter until week 4 where we are REALLY wanting more solids in our tummy.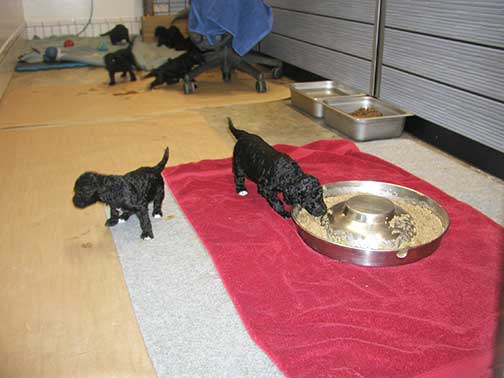 Tes has to wash wool blankets and towels everyday to keep us all clean, dry and healthy. These are the largest on the market for homes and Tes can get 3 of her Royal size pet beds in a single wash!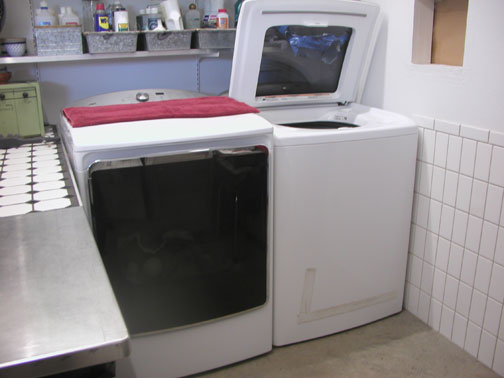 a...and more, and more....
a...and now Tes has to add two bowls to keep us full!
LOVE licking the bowl ;o)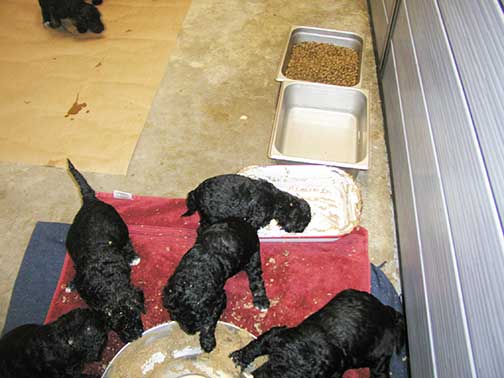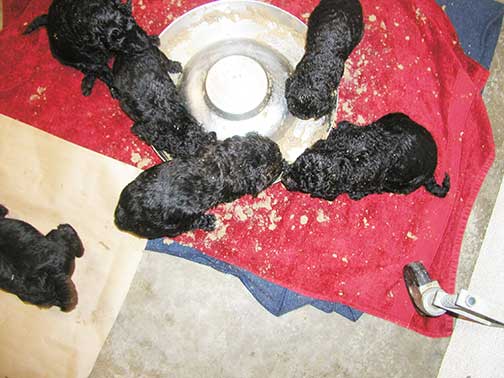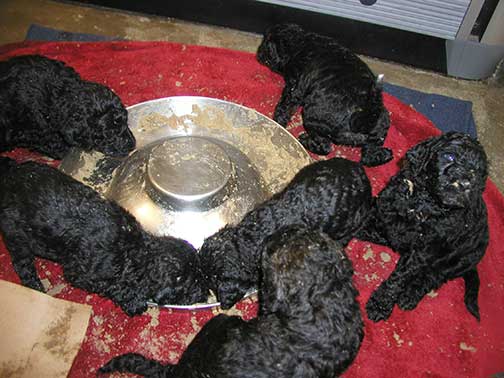 a...and more, and more....
As we grow so fast, we're starting to get hungrier and needing more nutrients to not drain momma. Tes makes us up a slurry made from Purina puppy Mousse, thins it out with water and adds dried ground lamb dog food. She likes Health Extension Lamb kibble to get our sensitive tummies going. Over 16 yrs of breeding, this has become the protocol to avoid diarrhea from just the canned mousse (ALWAYS had diarrhea with only canned) then in adding the dried grounded kibble it made their stools nice that they no longer have swollen sensitive anal areas from the loose stools irritating them. SOOOO MUCH healthier!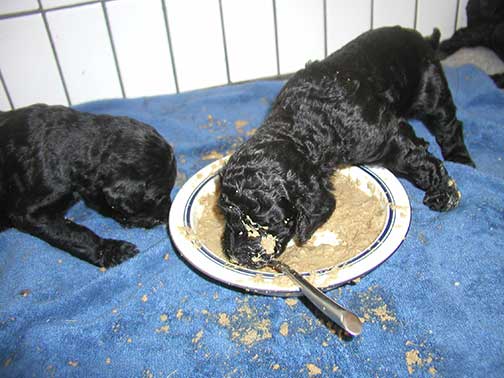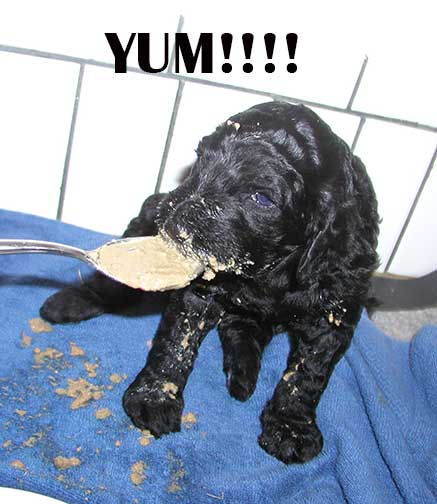 YUP, YUM! Momma's milk is getting thinner like water. Momma has soooo much milk that we really haven't been hungry for more solid food yet, but at 3.5 wks Tes wants to get us started to relieve her...there's just sooo many of us draining her. One spoonful at a time we get more interested in reaching for more :o)
 *Royal Standard Poodles MxE*

You'll see us eating slurry, learning and reaching through the doggy door to potty outside and so much more in the next 5 wk updates above. Stay tuned as Tes takes pictures during their growth the next two weeks.
 *Royal Standard Poodles MxE*

Momma Magic is catching up on her rest...we will drink over a gallon of milk in a day, so you can imagine how much water she goes through to keep up. She has LOTS of milk to go around :o)))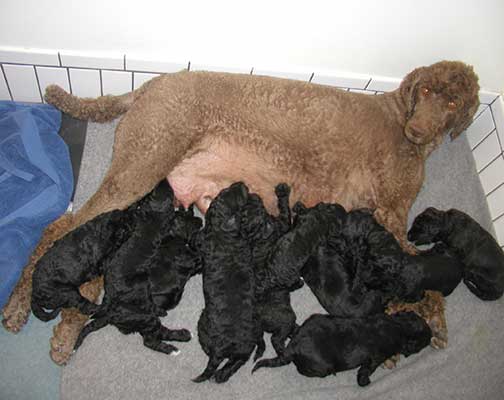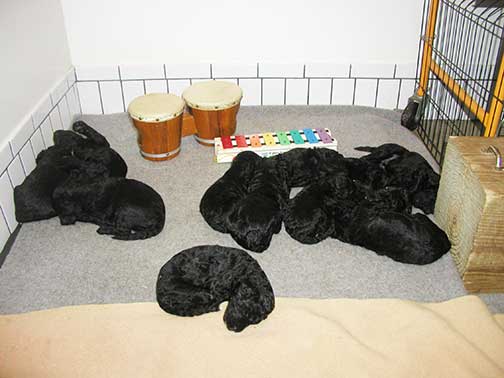 The above picture...well I always take a picture of them making music with their eyes and ears open...well, this is such a calm quiet litter they just want to sleep and be happy :o) One of the calmest quietest litters I've ever had!
 *Royal Standard Poodles MxE*

Do you see the brown on the back of my sister and my front legs? Tes understands that to be an Agouti coloring (brown with black tipping, and of course we can see they're black ;o)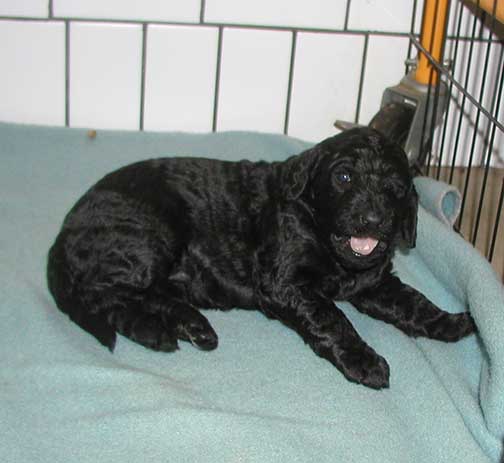 Life is good, lots of milk, lots of room, warmth and love...homes to come to when we're old enough...our eyes have opened and will appear blue for quite some time until we grow into fully developed sight and we could have black or brown eyes for you...all in time...thanks Tes for sitting in with us and snuggling us for love :o)
There's a trick, Tes takes her finger behind our ears to make us yawn...such a smile for her...and hopefully for you :o)
Tes climbs in with us, socializing us where we can climb over her, learn texture cuddling, petting, and of course her many kisses AND momma Magic needs some petting and affection too :o)
 *Royal Standard Poodles MxE*

WOW! Tes moved us to the Wing early due to so many of us and with our eyes open now, and moving around she wants us to start getting lots of sunlight which the Wing definitely has!! AND LOTS of room to start Reaching into, to learn to potty on the paper and eventually find the doggy door to learn to go outside and potty. AND lots of room for momma to lay around us to nurse :o)
It's a loving snuggle while we all rest and LOOK! Our eyes are sneaking open to better see you with :o) And, AND our legs are getting stronger beneath us!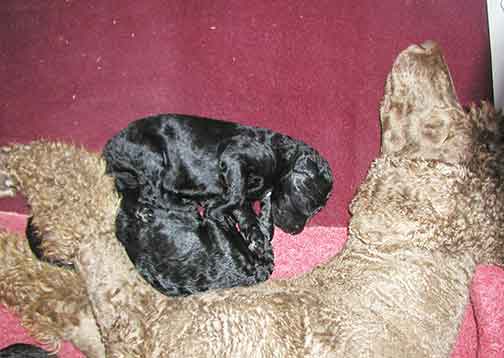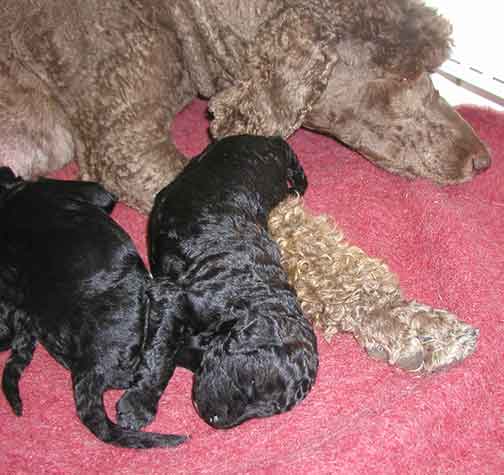 It's an arm thing...above is the second female with brown Agouti colors on her neck and back and parts of her body. A beautiful white diamond chest, with white on her chin.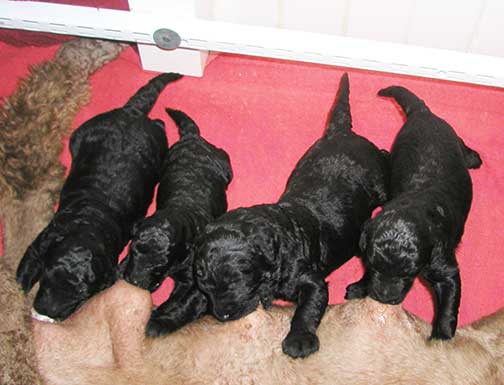 There's little Cupid and Giant Venus in the middle :o)
 *Royal Standard Poodles MxE*

We'll get it any way we can ;o)))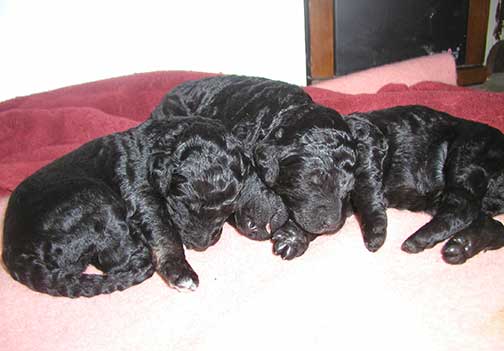 Here we have a small puppy pile...zzzzzz....see the puppy on the left...that female has brown around her legs and would be what I understand to be an Agouti colored pup, brown with black tipping, there are two of us as you'll see Tes point out.
 *Royal Standard Poodles MxE*

Tes assures momma Magic has lots of room to move around us and lay down for us to nurse as we grow and take up more and more room...especially with 11 of us!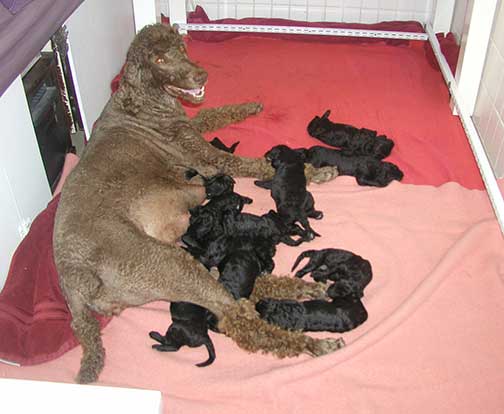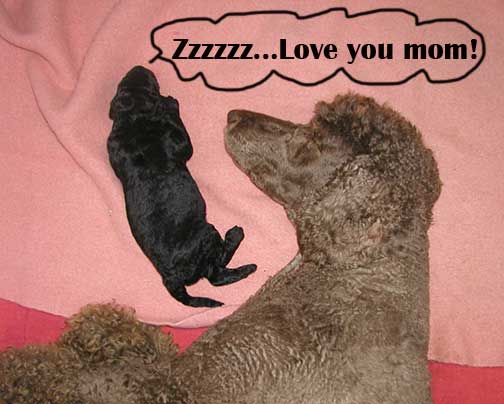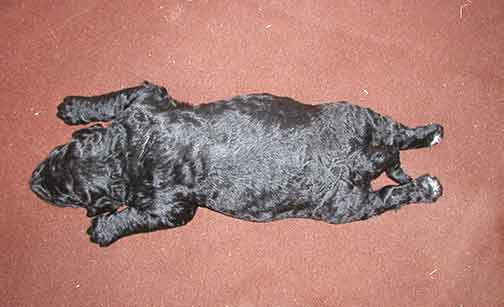 See what little tubbies we are :o) 4 legs up, or down, we're keeping nice and warm with full tummies. Some of us are black with white in our toe pads and some of us have white abstracts on our chest, on our toes, and on our chins.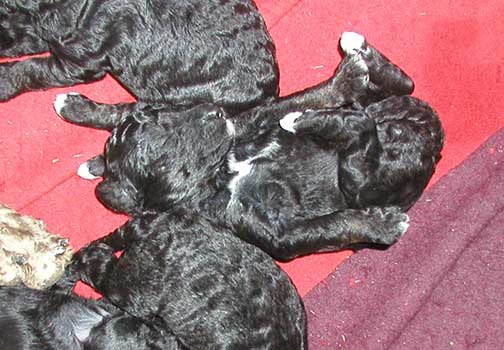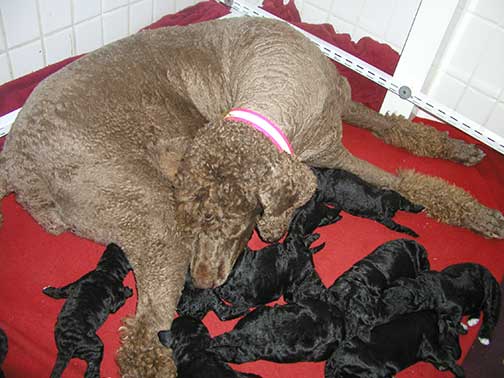 Lick, lick, momma keeps licking to get us to potty until we can do it on our own.
*
On the left side below, we're 1 wk old. On the right side we're 3 wks old. We sure have to work ourselves in to get a nipple now!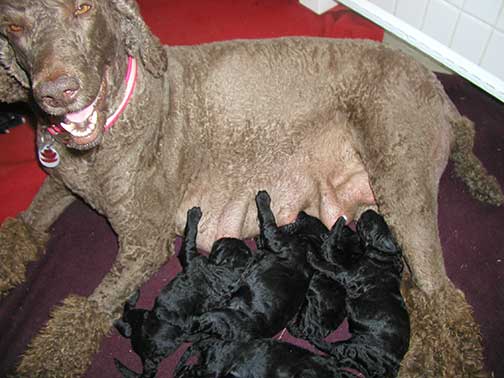 Here's how it works, some of us nurse, some of us zzzzzz.... We're FULL of milk as momma has SO MUCH, Thanks momma, and Magic's still smiling, tired, yet smiling :o)))
 *Royal Standard Poodles MxE*

We'll get it any way we can ;o)))
And you think your busy? Momma, you don't have enough teats for us! Where is one? Where is one? Where is one???!!!>>!?!?! Okay, after a bit Tes pulls a large away and let's us smaller ones in :o) Thank You ;o)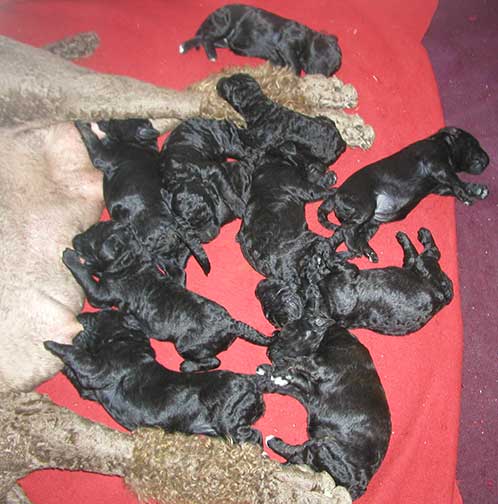 ---
The next 3 wk picture update above for our web page Royal Standard Poodles MxE will show our eyes opening and starting to stand and move around...making a lot more music for Tes. Definitely getting ready to move into the Wing with 11 of us by 3 wks old :o) Stay tuned...
There are definitely going to be Royals & Standards in the litter...you can see by the two above side by side...never a guarantee on size...the HUGE girl will have the story board name of Venus and the little boy above her is Cupid :o)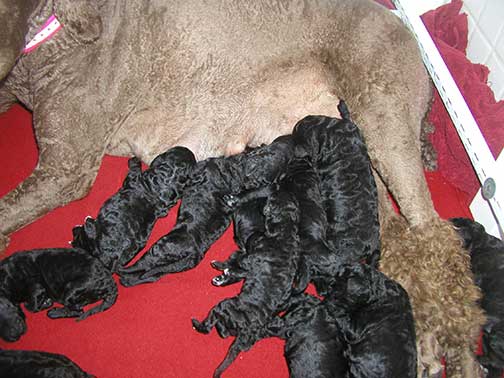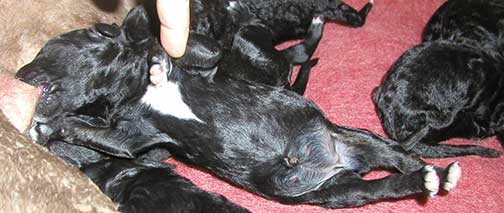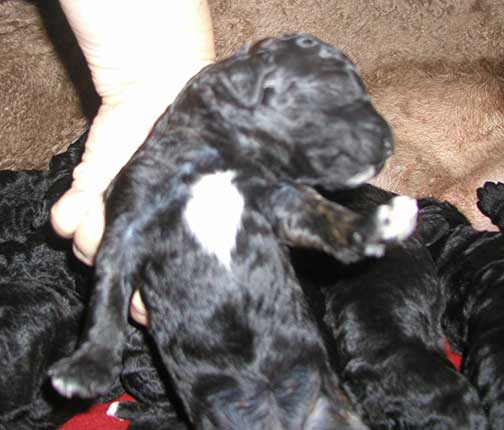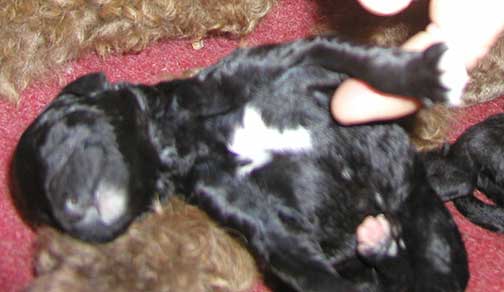 A litter of ALL Black or Blue puppies (turning to a steel gray as adult) with some having white mismarks on toes, chest, or chins...and one white tipped tail from Royal to Standard Poodles MxE.
* Royal Standard Poodles MxE *
Check out this website page on discussing Black vss Blue Standard Poodles...I USUALLY will never be able to share definitely if it's a black or blue at such a young age, ALTHOUGH  because the Father Eli was a Blue, I'm definitely positive MOST if not all will be Blues in this litter.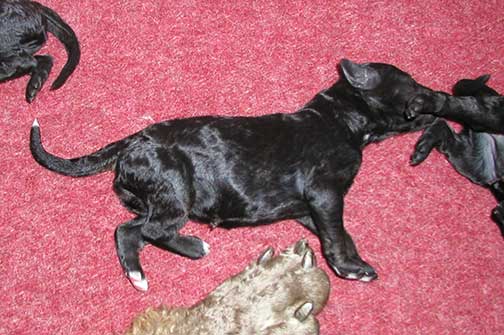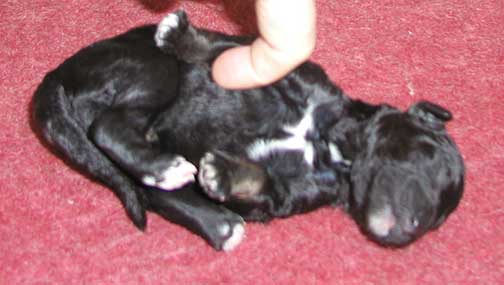 This one pup I now observe definite brown around the front leggings.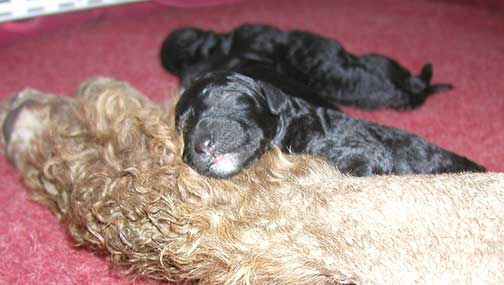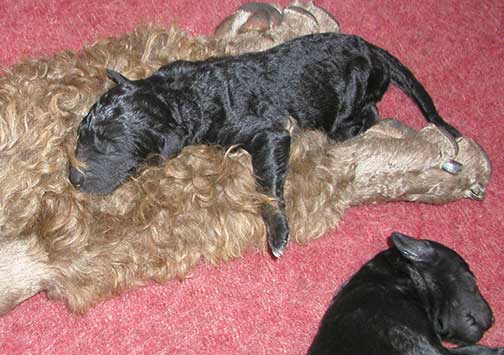 Every litter has us doing the leg thing...momma cradling me is a rare picture catch for you :o)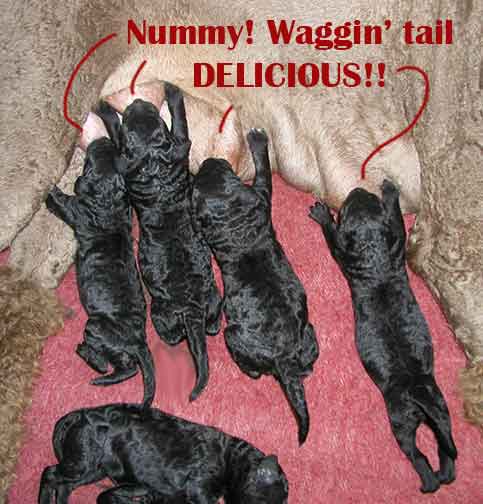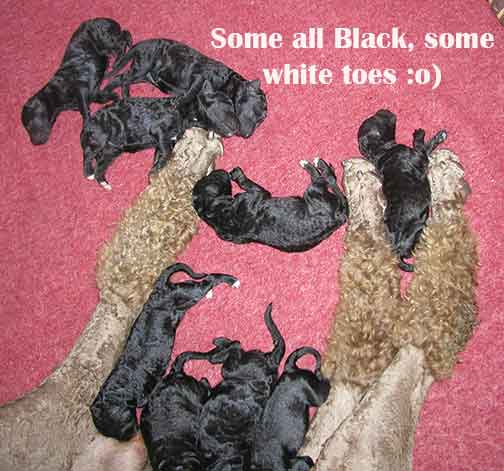 Is this a mirror? No. The one Blue puppy keeps wanting to climb up onto the buffer towel ;o)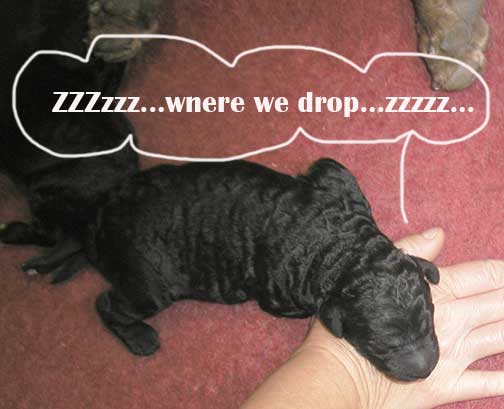 We're already starting to crawl...then drop and zzzz any way we can ;o)
* Royal Standard Poodles MxE *

A variety of size, we'll watch that shift and change as they grow :o)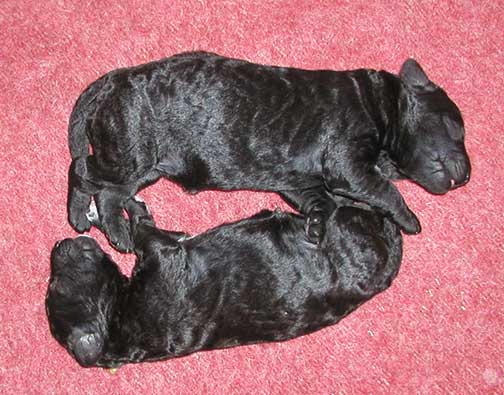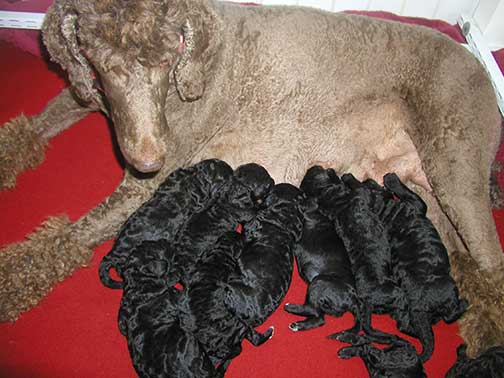 Having lots of room for momma to circle around us is important. Some of us nurse, some of us zzzzz....this picture tells Tes she can turn the heat down now to 82 degrees...cooling the room off more to keep us closer together, as you'll see in the next picture above once the room cooled down to a lower temp...and each week it will come down in temp for puppies.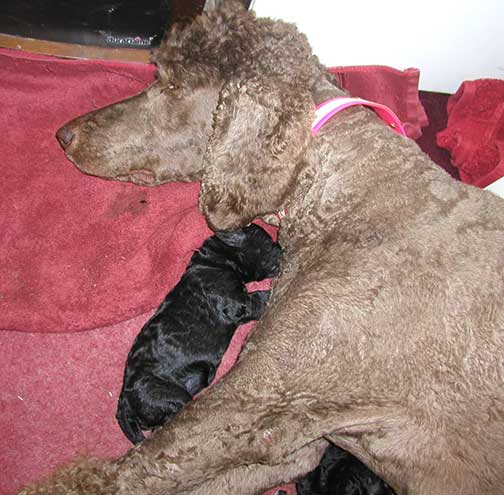 Wool blankets are used to wick away moisture and keep them dry and warm. Tes has a variety of colors, to make a  more colorful page for you ;o) An electric pet heater is under the upper back right corner to keep us pups in an even warmer area for the first several days. Such scooters we are.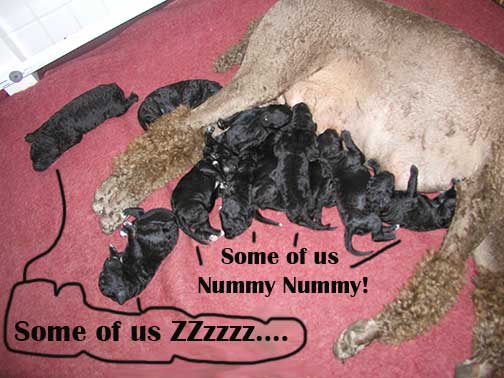 Here we keep coming, and coming, and keep coming!!! Tes has to be right here pulling the sack off to get us breathing, rubbing us dry and momma licking us to get us breathing and moving around. We can't excrete on our own right away, so momma warms our groins by licking us and away we goooo.....

* Royal Standard Poodles MxE *

Here we come! Already trying to sniff out that nipple to start suckling. Tes is always amazed how fast we go to find a teet and start suckling.
In raising Royal Standard Poodles MxE Puppies For Sale, I hope to share a bit of what I do to bring you your next pet :o) My bedroom must be heated to 80-90 degrees as pups just come from the womb and they have no way to monitor their bodies being just born, especially the first week Through the Woods of Mother Nature. 
Start here and watch us grow up onto the page :o)
* Royal Standard Poodles MxE *