Royal Standard Poodles Cleopatra Puppies For Sale

SOLD OUT

This is an example of past puppies and how I set up their web page to show customers of their pups growing. Always start at the bottom of a page and watch them grow up :o)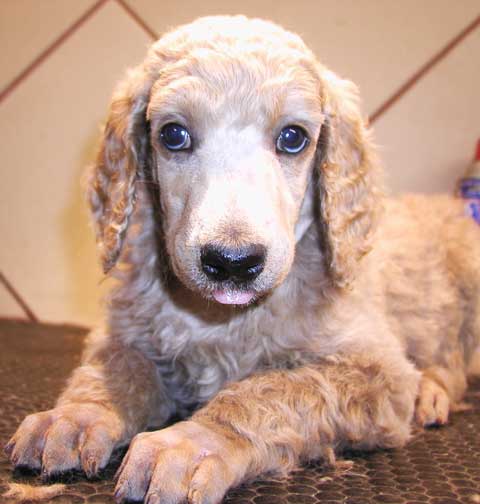 Grooming!!!!
*
2013 Spring Cleopatra x Daniel Litter - 9 puppies born, 2 Black/Blue Females; 7 Males - 2 Red Males, 2 Brown Males, 3 Black/Blue Males
Start at the bottom of this page and watch them grow as pictures added to the top with each update.
MN customer pups may go home weekend of 6/1/13, Flying pups 6/4/13
Tracking 2013 Spring Cleopatra puppies:
7 wks old received third deworming, toenails clipped and first haircuts, ears cleaned with hairs pulled for the first time, and another bath with cedar sprayed on afterwards.
5 wks old received first eucalyptus shampoo and cedar spray to protect against bugs, includes toe clipping, hair clipping around toes, eyes and anal area for cleanliness...with renal excretion done. Second deworming done.
4/30/13 first deworming
Tes will start to feed us our first meal at 3 wks old...oooh that'll be delightfully messy :0)
3 wks old now and our eyes are open and starting to play with our buds
Customers may come and pick out their pup on Sunday 5/19/13
3 pups had very small white mismarks on their chest
Tails and dew claws done 
Born 4/9/13
Our 7 week individual pictures
We're the two black girls...your puppy names help Tes start them to know the sound...
SOLD "Dany (Danny)" Black/Blue, 7 wks mc 4119, 5# 6oz HN > Minnetonka, MN - playful and ready for my new home :0)
both girls have a tiny white patch of hairs on their chest.
The picture flash causes them to look slightly brown here, sorry.
SOLD "Stella" Black/Blue 7 wks mc 7562, 6# 8oz SS > Woodbridge, CT -  I know I'm going to work magic in loving my new Pack Leaders :0)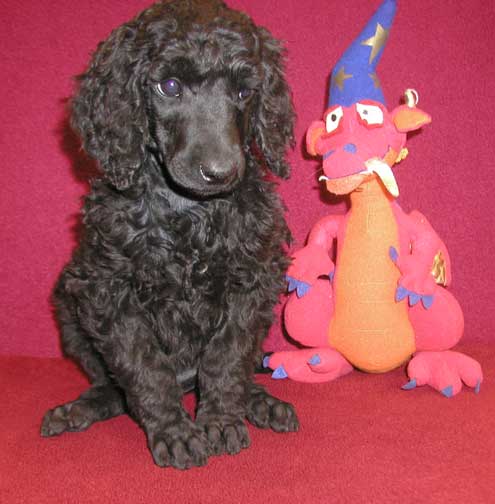 Below are the 7 Males
SOLD "Buck" Brown, 7 wks mc 2577, 8# 8oz SQ > Skillman, NJ - Uh huh, check me out! I'm growing fast :0)
*
SOLD "Fritz" Brown, 7 wks mc 8483, 6# 6oz MM Chisholm, MN - Check out these paws ;0) Ready to grow bigger than ever!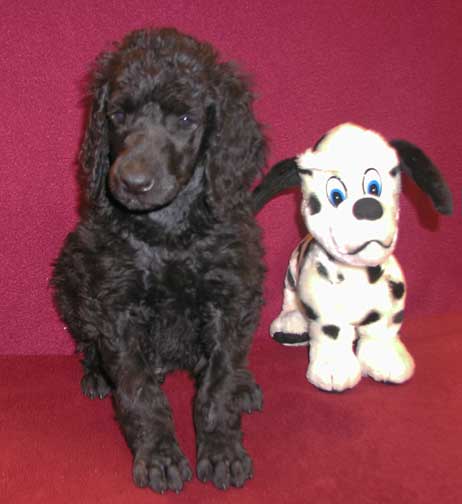 SOLD "Spot" Black/Blue 7 wks mc 5998, 8# 2oz DR > Eleva, WI - Got a spot in my heart for you ;0)
*
SOLD "Apple Jax" Black/Blue 5 wks mc 8904, 8# 8oz MJ > St. Paul, MN - I'm a big boy, get ready for lots of love!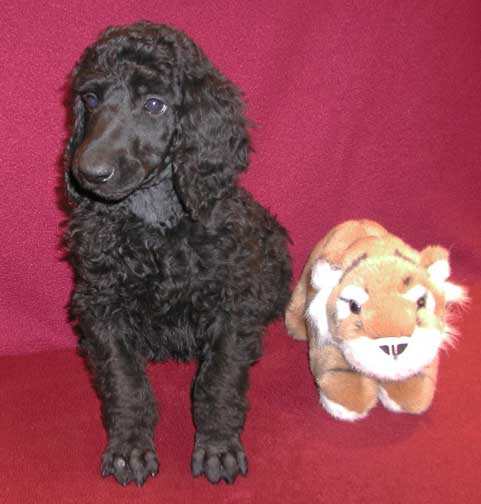 SOLD "Floyd" Black/Blue 7 wks mc 4195, 9# KN > Gonvich, MN - I've traveled the universe and here I am...my pack leader wants my face unshaven...I like face hair ;0)
*
SOLD "Jinn" Red/Apricot 5 wks mc 4258, 8# 2oz, JK > Brainerd, MN - I'm ready to meet a half sister who my pack leader purchased from Tes several yrs ago...here I come :0))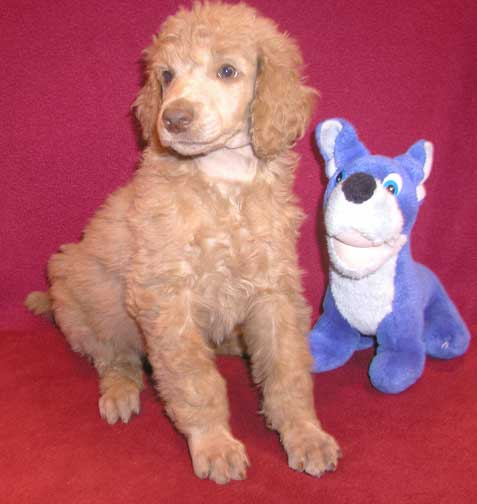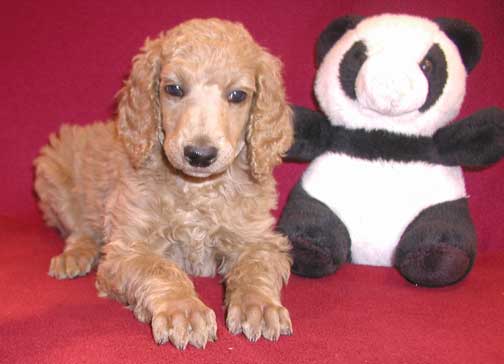 SOLD "Zane" Red/Apricot 7 wks mc 4017, 8#, LTJ > Park Rapids, MN - I'm as loving and ready for my new home - come and get me :0))))
*
Litter SOLD OUT!
1. Final Payment Open to size M - Zane Red/Apricot - TLJ > Park Rapids, MN
2. Final Payment - Royal/Standard M - Jinn Red/Apricot - JK > Brainerd, MN
3. Final Payment - Royal F – Stella Black/Blue - SS > Woodbridge, CT
4. Final Payment - Open M - Apple Jax Black/Blue - MJ > St. Paul, MN
5. Final Payment - Royal M - Buck Brown - SQ > Skillman, NJ
6. Final Payment - Open to size, M - Fritz Brown - MM > Chisholm, MN 
7. 

Final Payment M - Royal Black/Blue "Floyd" mc4195 - KN > Gonvick, MN
8. Final Payment F - Black/Blue "Dany (Danny)" mc4119 - HN > Minnetonka, MN
9. Final Payment M - Black/Blue - "Spot" mc5998 - DR > Eleva, WI
Blankies are now added too for smells to take home, great security blanket in transitioning to our new home :0)))
Crates have been placed in the family room to get smells on them for traveling and that we can get use to them if we're the ones flying...not so bad :0)
*
Tes has opened up the gate to the youth park for us...we're outgrowing the puppy park now and it's time to explore...weeeee!!!!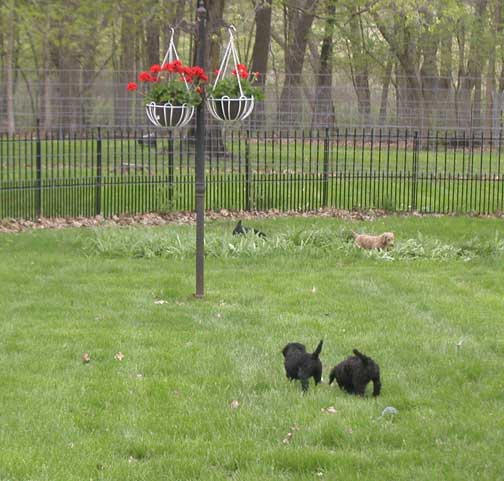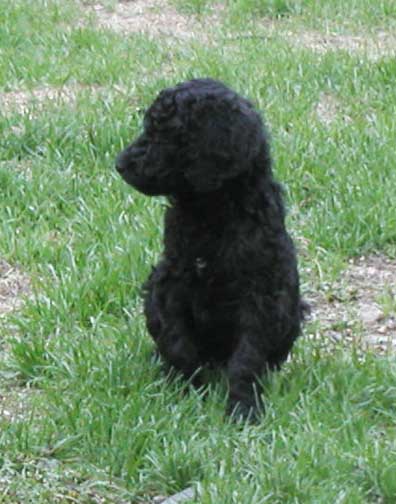 Where...I don't see the mosquitoes...I, Stella, will be safe :0)
*
We're helping Tes build a new cart to take electric chord to spray with cedar to keep mosquitoes and ticks away...been working great now for 5 yrs! Hurry up - they're coming!!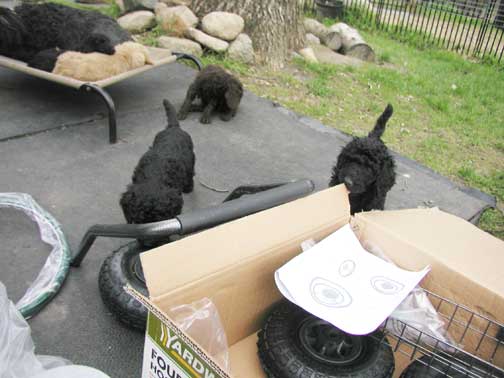 We have lots of toys and a tunnel to play with.
*
...and after awhile, I Zane, just hang in here...zzz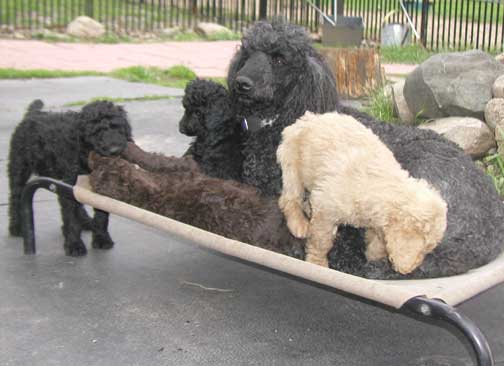 Outside Momma's making us feel right at home. Hi :0)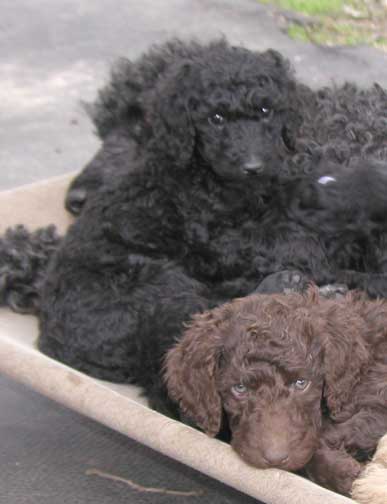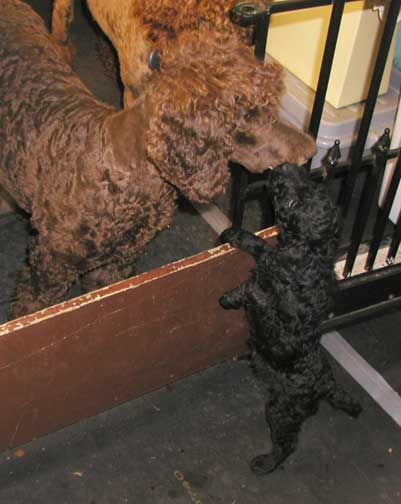 Hi Spirit! Time to head outside - right?
*
That was a long sleep...what's next?
And this'll be the last week of nursing, no more after 7 wks old. Oh well, we'll have some nice beef bones to chew on :0))
*
Zane here...ahhh...the place to be...zzzz
Momma, you're the best momma ever. You don't run off, you stay and sleep with us...love us...
*
Steps, we're figuring these out...hmmm, chewy besides...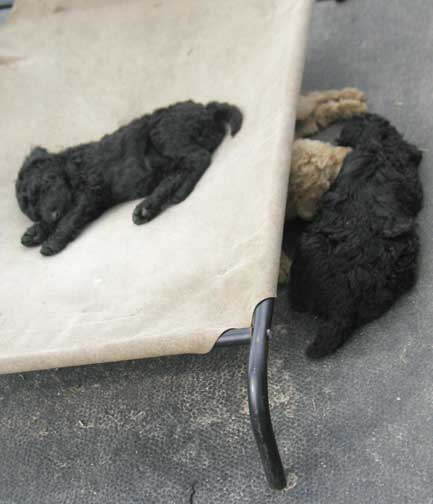 Playing outside, ah, and a place to sleep as well.
*
Sleeping in baskets, my toys, my toys...zzzz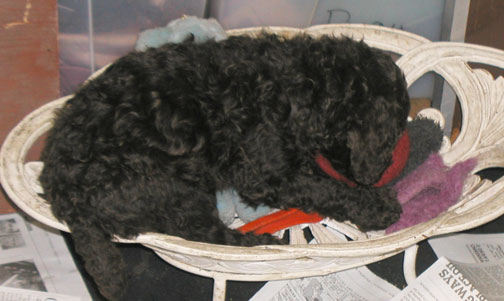 We're going on 6 wks old and playing to beat the band...or at least to get on top of the band ;0)
*
The Pied Piper...Momma wait!!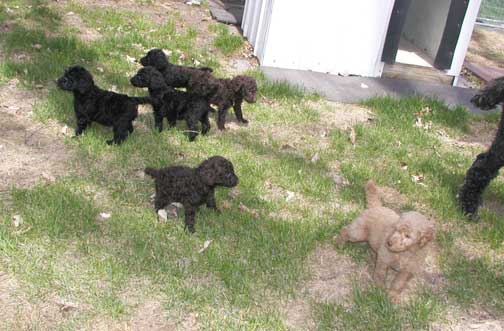 We have SPRING!!! The grass is growing, leaves are raked up, check this all out!
*
After a good play outside and meal...time for a zzzzz....
Here's our circle of life :0) How we learn to Potty outside...Tes gets the food ready, walks outside and calls "Potty Outside!" We come a dashing for the food ;0)))
*
We are enticed outside with the smells from inside on the blanket :0)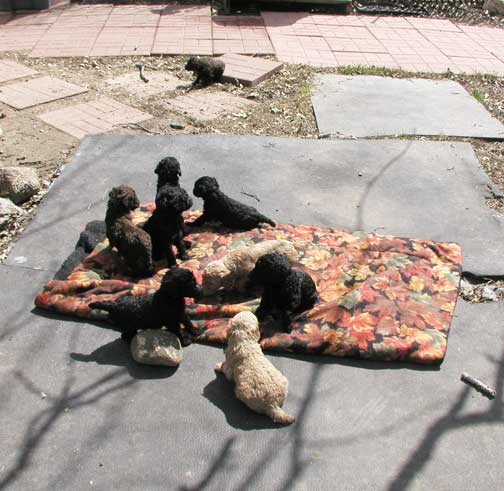 NUMMY - a fresh bone to chew with our teeth coming in - Thanks Tes!
*
Tes now adds canned dog food to our rice mix...we hate waiting...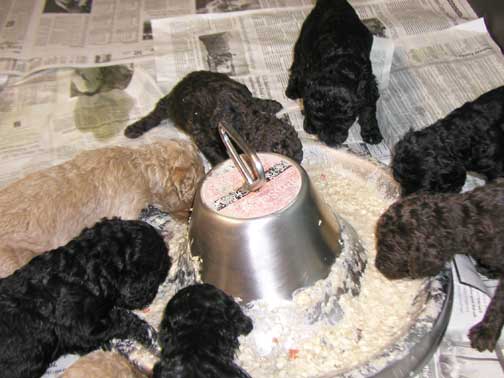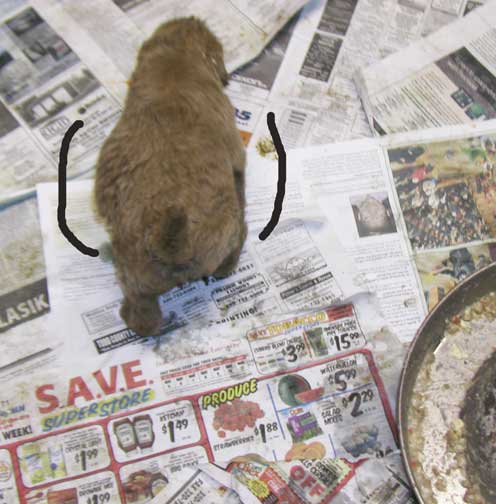 This is why it is a must to get our bath at 5 wks old!!! We get to be little tubbies...our tummies can hold so much as we grow soooo fast :0)
*
Here is our very first meal with baby rice and buttermilk.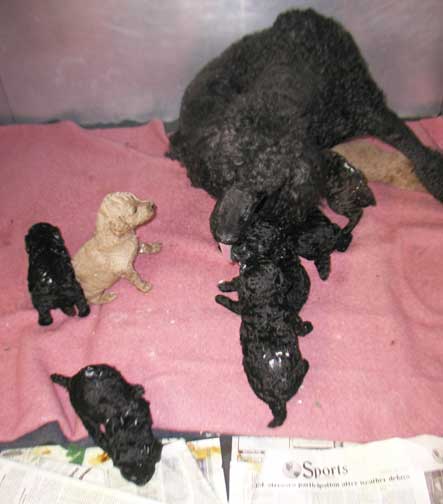 Mommy loves licking the rice slurry off of us - NUMMY for her ;0)
*
Hi - Tes is holding us again :0))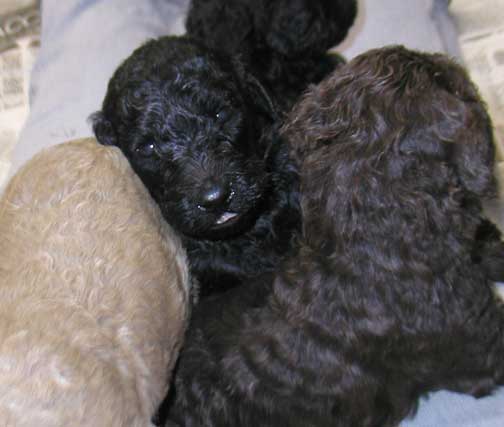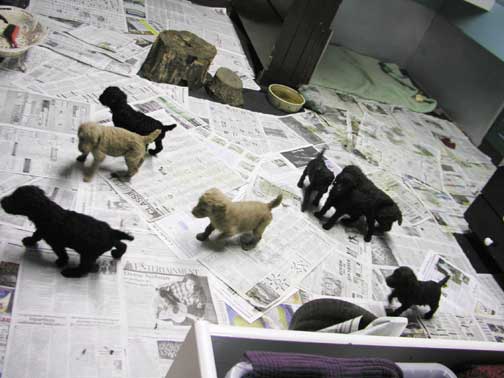 Tes has opened up the family room for our growing little bodies...soon we'll find the doggy door to potty outside - YEAY!
*
Water is now added once we start eating food.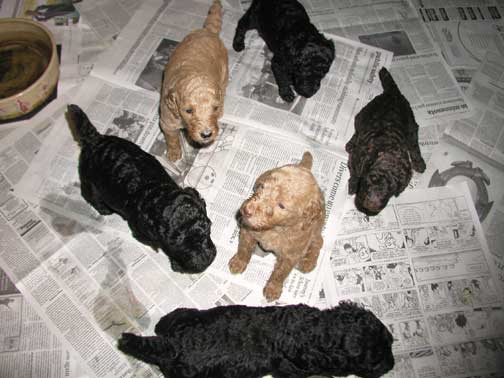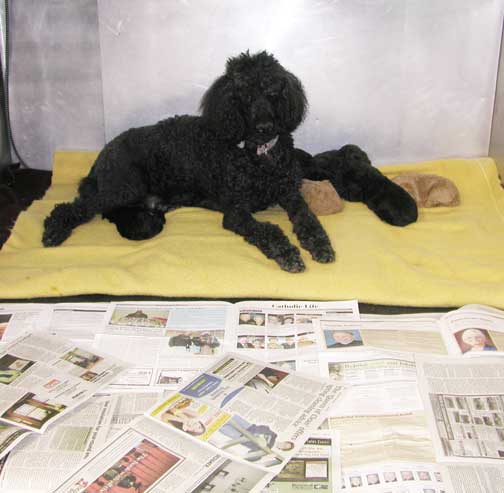 Tes has started to expand our whelping box to into the family room, potty on the paper now...
*
Tes made this puppy when she was young...only let's us see it for this picture :0)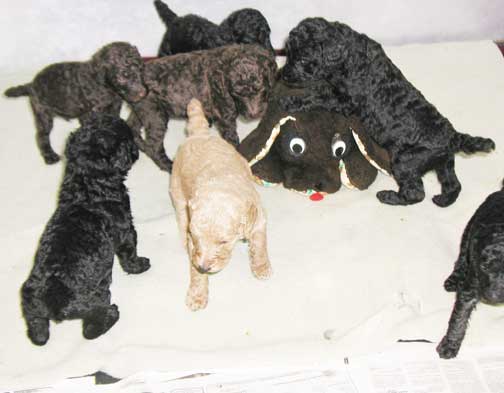 With our eyes now open we're playing a lot more :0) ...
*
until I get sent to the corner :0(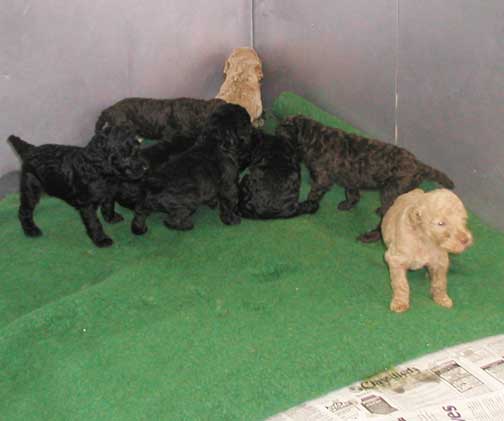 What's up?
*
Bones for us to chew on for teething...nummy!
Momma Cleopatra is SUCH a GOOD Momma! She's so patient in coming and staying with us to play with :0))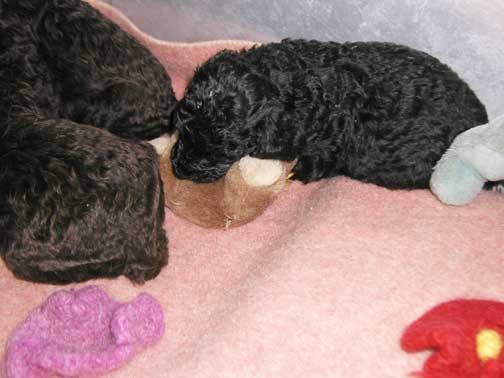 ....more zzzz.....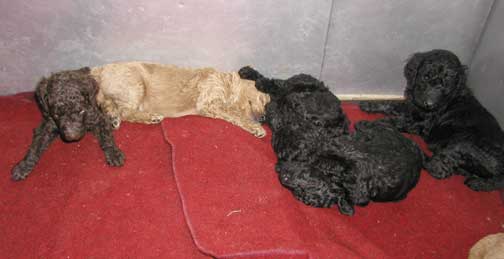 ...and zzz time...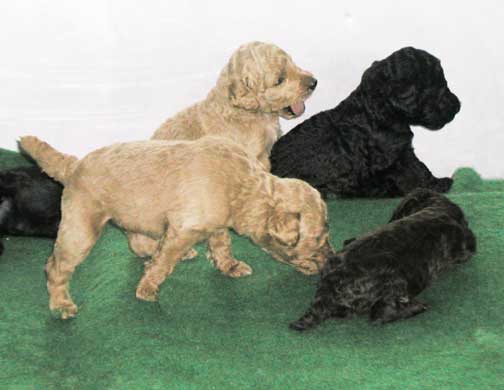 It's play time :0)))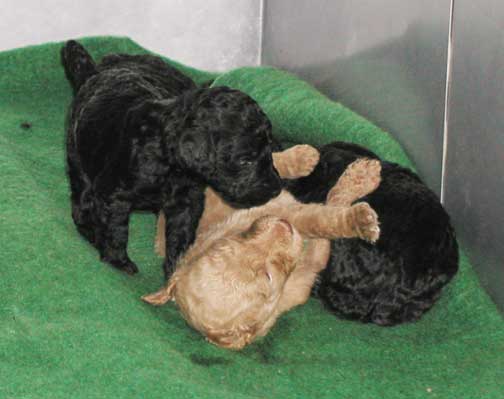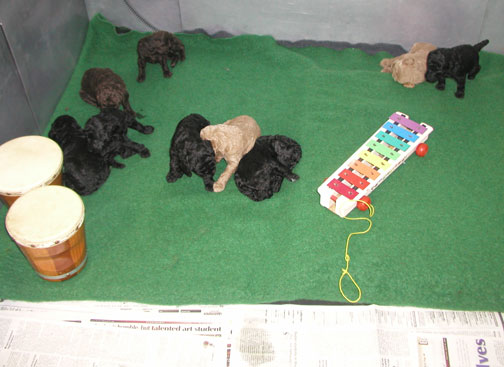 ...and in seeing what's going on we start to make lots of noise - where are you Momma? Oh, and with our eyes open we now instinctively want to pee off our blanket so Tes has expanded our space and started adding newspaper for us to potty on.
*
Check this out, we can really get around and see what we're doin'.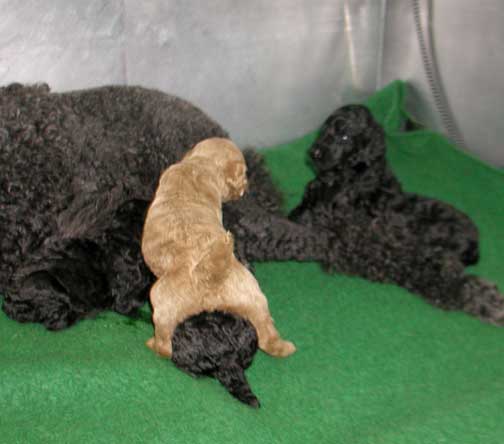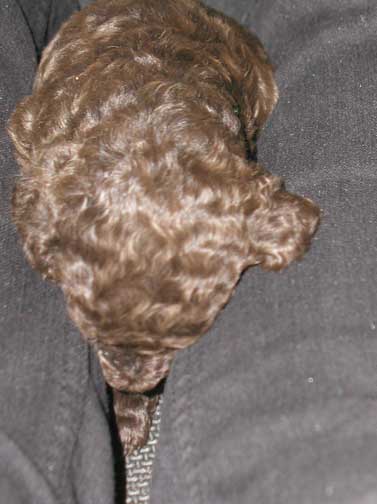 ...and then we just fall asleep when we figure it out...zzz...
*
Tes climbs in now to hold us and let us climb on her to get use to her smell...we're all about learning smells and what to become familiar with.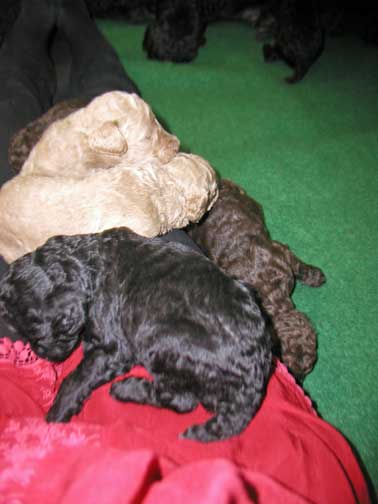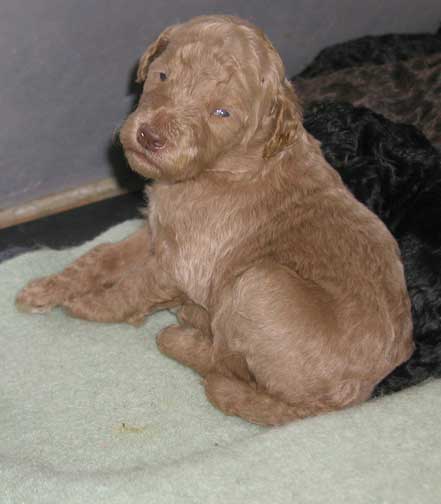 Yeah, that was GOOD ;0)
*
GET OVER - LET ME IN - SCOOT - MINE!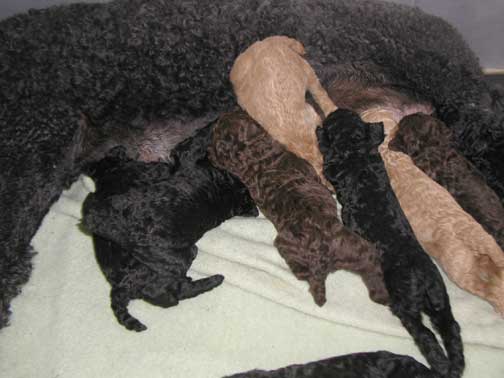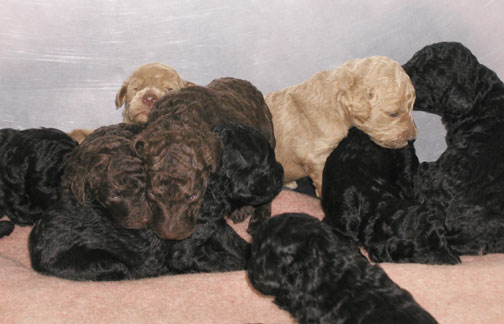 We're really starting to scoot around and see our surroundings > HEY other puppies!
*
Are ya gettin' ready to Snuggle with us?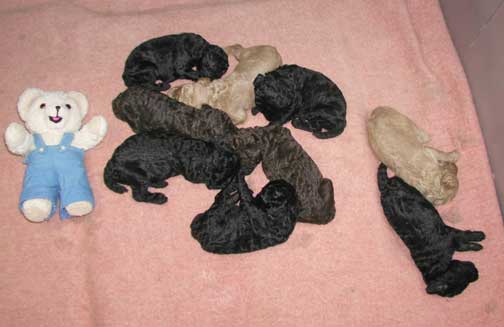 Definitely starting to see what's out in the world now - Hiiii!!!
*
MacGyver and big brothers here :0))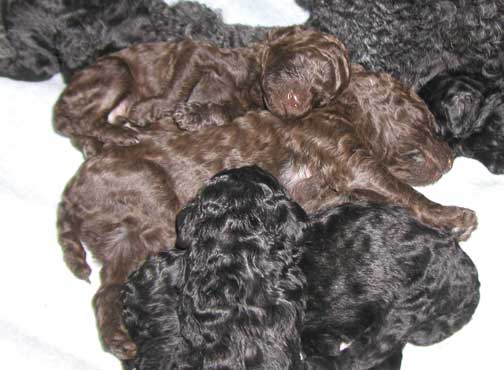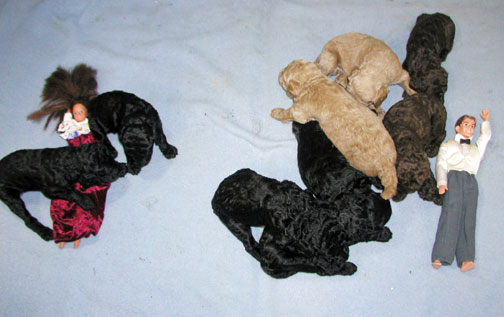 2 girls on the left with Barbie and 7 boys on the right with Ken - HI!
*
How many times does it take to get the correct pic now that our eyes are starting to open and we're finding our legs? A LOT!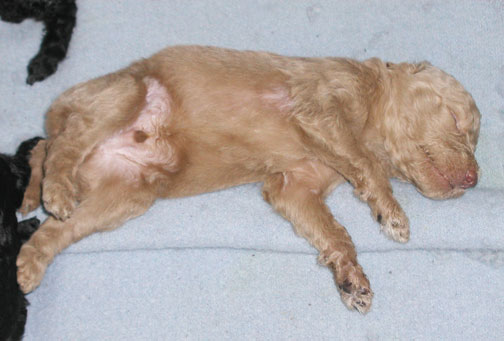 US red boys are growing fast...I'm the dark nosed boy below with a little white on my chest.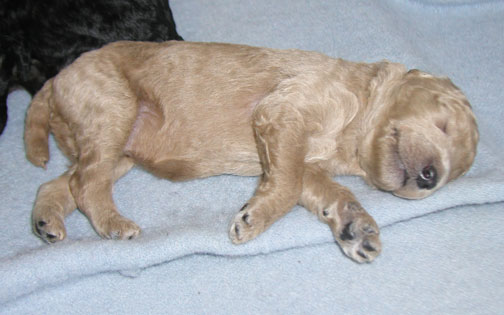 MMmmm, more of the good stuff!!!!!
*
MacGyver's got a 4 legs up pic ;0)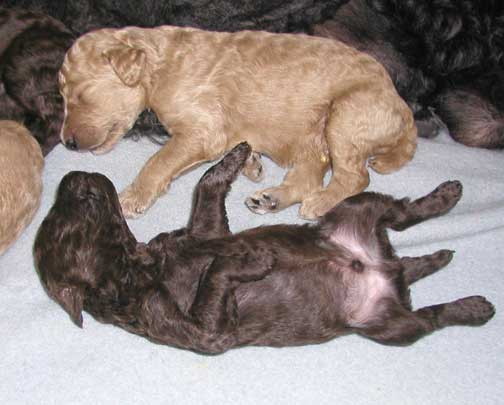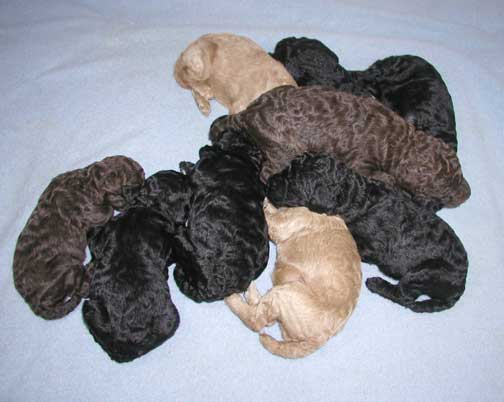 Here's our 3 wk old dog pile ;0)
*
Our eyes are just starting to squeak open...doin' the leg thing...zzz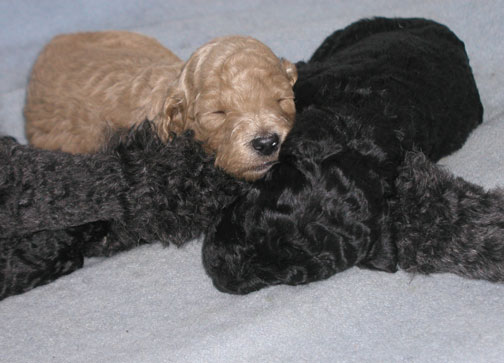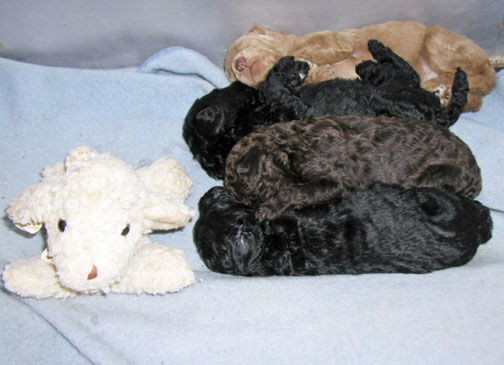 Everyone counts sheep when we're sleepin'.
*
...and Mommy has to sleep to...loving us all the time ;0)
Uhuh...this is as good as any place to sleep ;0)
*
Here we are growing fast getting lots of milk...while some sleep...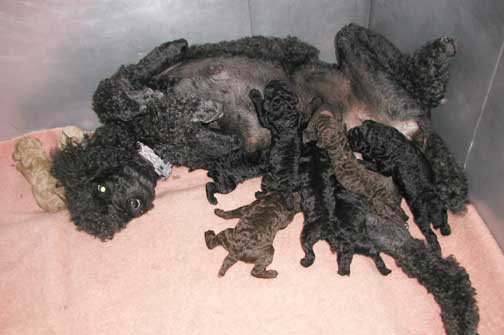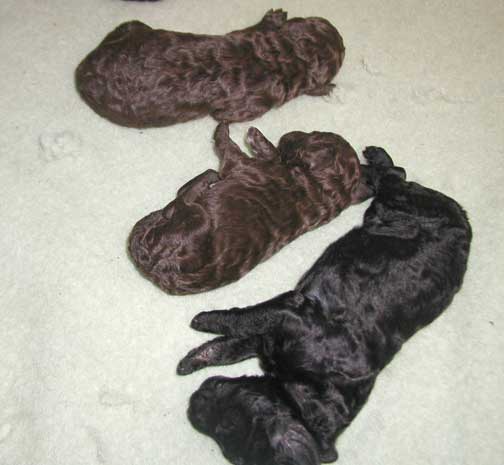 Two brown boys were born, one small male I'll call "MacGyver the Survivor" as that is what I name the smallest males when born. The last MacGyver grew to 75 lbs :0)
*
Two red males born, one will have dark points (nose and paws), the other has a light nose. One of them has a small white mismark.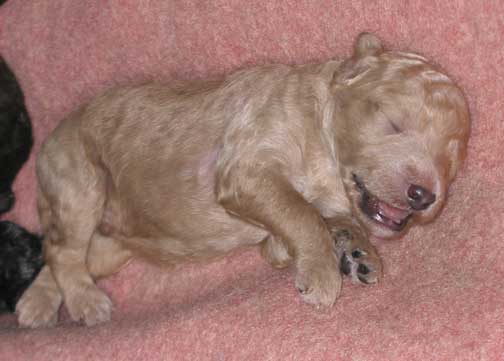 There are large doggy heating pads underneath several layers of wool to add to our warmth...helps us zzzzz...more...
*
Here is what puppies do best at this age...sleep...zzzzz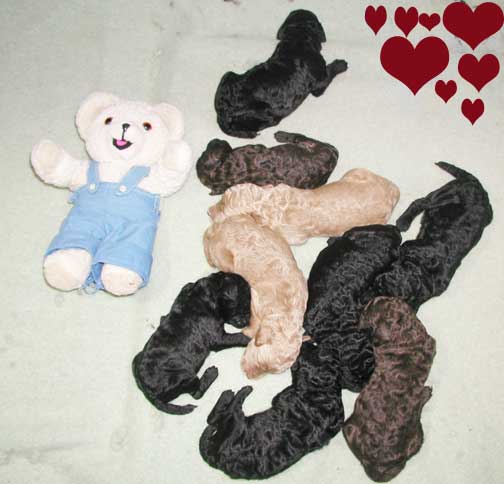 Can hardly wait for you to Snuggle us...until then it's time for sleeping...zzzz
*
Always time for eating...LOTS of MILK!!! Some of us sleep while some of us drink - NUMMY ;0))))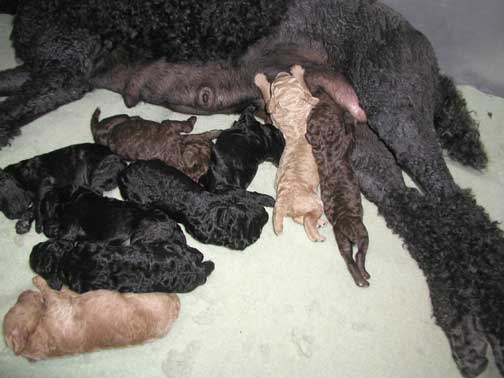 This is what we call "A leg thing."
Mommy Cleopatra LOVES us :0))) Such a GOOOOOD Momma!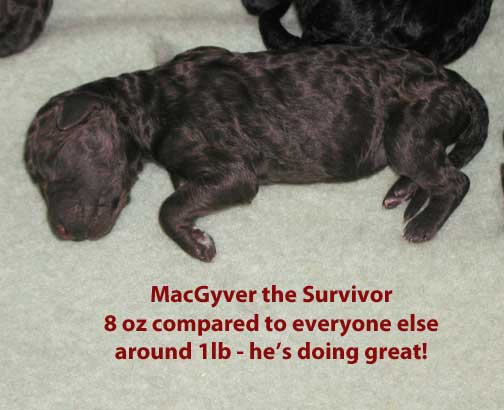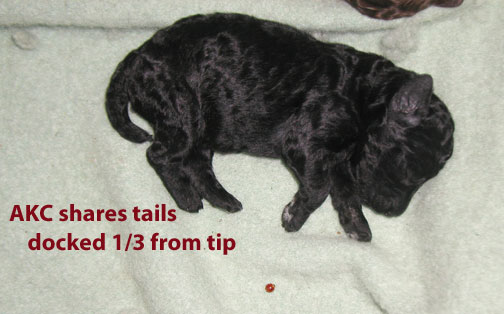 Here we are - Watch as we grow...Enjoy! 1 day old