Royal Standard Poodles Puppies For Sale Jaxxi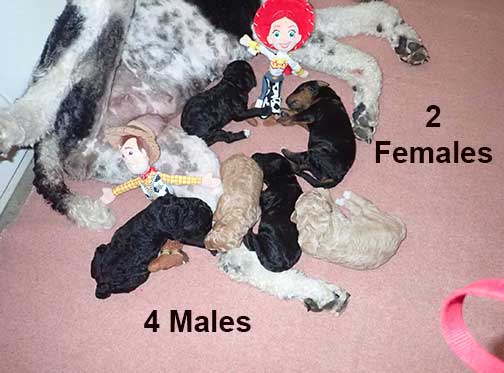 Royal Standard Poodles Puppies For Sale Jaxxi x Red Daniel had their litter. DOB 9/11/23. 4 Males + 2 Females = 6 puppies. This is Jaxxi's first litter with Daniel pups. TI is excited to see the variety of colors, and the phantom she was working to bring in. Everyone was of good weight, although the red male is struggling, half the weight of the others that's why 1 week through the Woods of Mother Nature. Still not sure how he's going to progress as I work with chiropractic care for him.
* Royal Standard Poodles Puppies For Sale Jaxxi*
Each litter TI chooses a theme to celebrate in creating their names until chosen by customers. The names this time are after Famous Diamonds. Each puppy TI does her best to cultivate for you to develop that perfect diamond to treasure.
Tracking Royal Standard Poodles For Sale Jaxxi stats: 



Toenails clipped 7 days old
Full Tails and due claws :o)
Born 9/11/23
Next picture update: 3 wks 10/2/23; 5 wks 10/16/23; 7 wks 10/30/23. 
Ready for homes 11/6/23.
Several Puppies still For Sale!
The storyboard theme for Jaxxi's litter will be Famous Diamond names.
Remember, start at the bottom and scroll up as they grow up onto the page in the coming weeks :o)
---
Royal Standard Poodles Puppies For Sale Jaxxi x Daniel next 3 week picture update Monday October 2, 2023 will be seeing their eyes open, starting to walk on all fours, ears open and making music :o) They'll have their storyboard individual pictures with weight, above, "Diamond" name and microchip last four numbers for you to know who's who.
*
Different sizes from Standards to BIG Royals!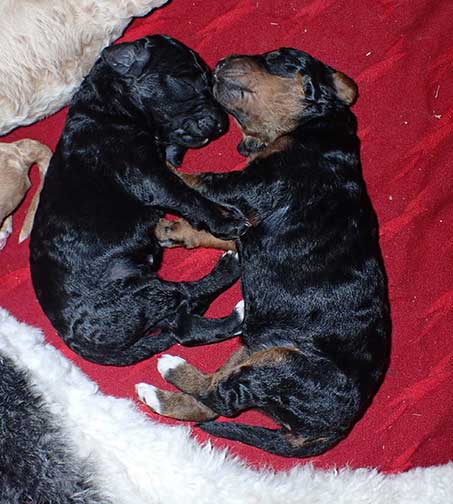 Suckle and scoot, scooting right onto the top of Momma Jaxxi ;o)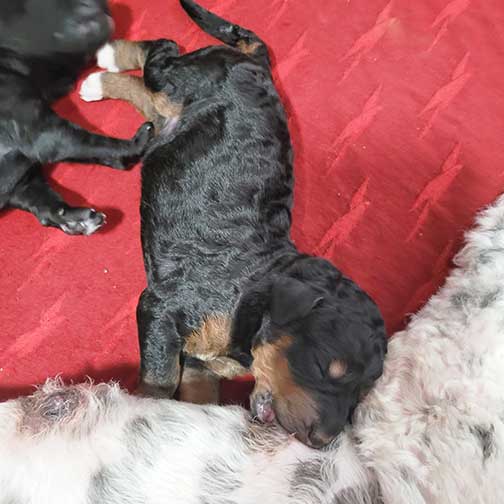 One wants to keep the temps just right that they aren't too hot spreading all over that momma Jaxxi can circle around them to lay down and let them nurse :o) With the warmth here in TX, even in the winter, it's nothing like my concern in MN where I thought 80 degrees was hot, how my life has changed ;o) The #4 phantom pup is hidden underneath the pile of pups nursing.
*
TI climbs in and sits with Momma for her petting, Jaxxi misses that :o) Puppies snuggle in between her legs as she clips all their toenails as they now start to become sharp like cat claws shredding a momma's tummy, so every two weeks now they'll get clipped.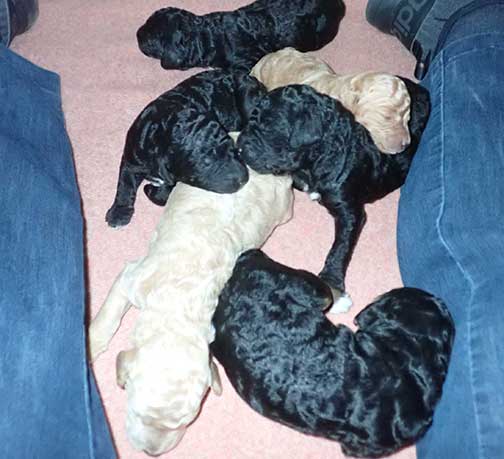 LOVE!
As pups cannot pass their own bodily fluids yet, it's momma Jaxxi's responsibility to lick them, warming them, creating their passing of fluids until it becomes a pup's natural excretion.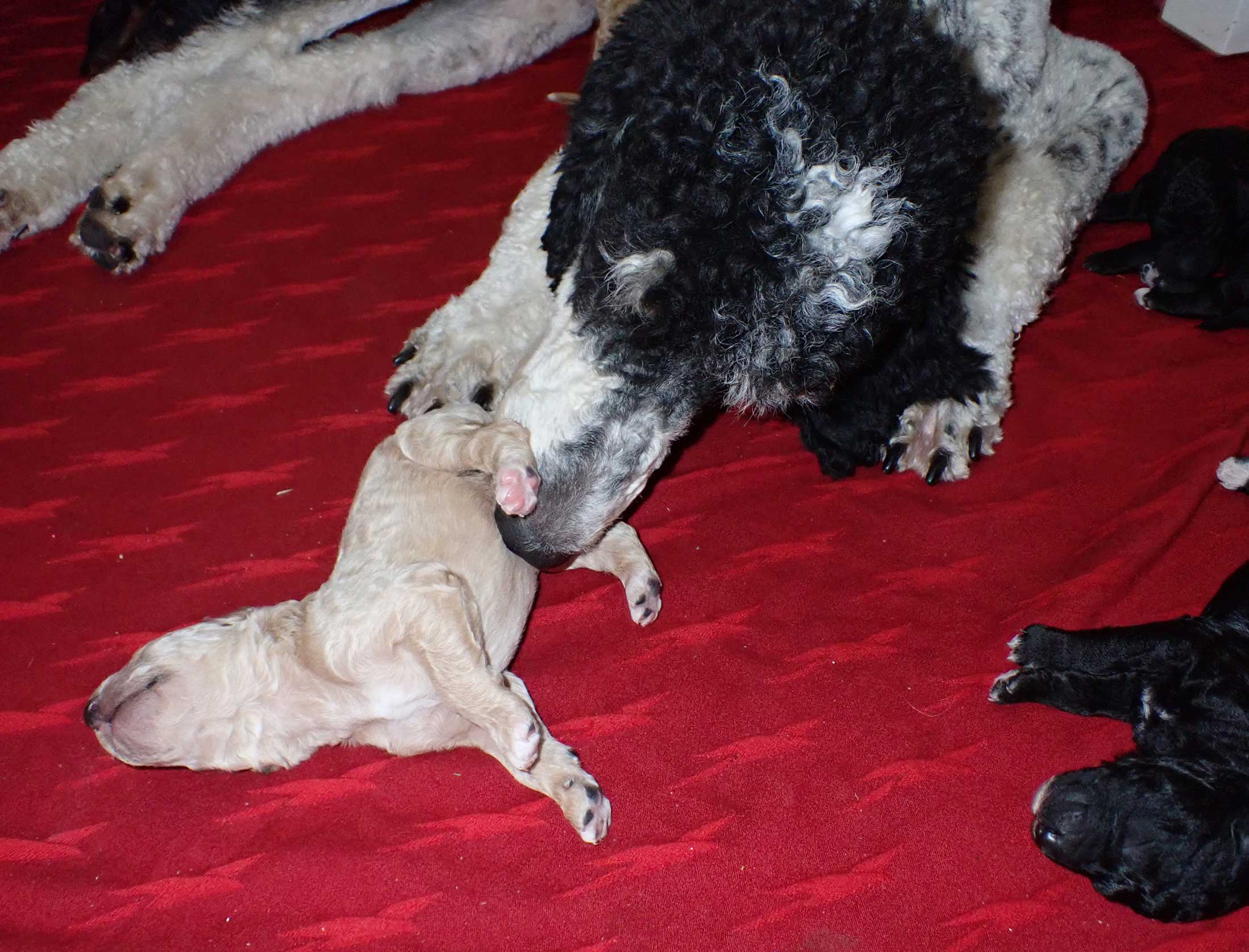 Pups sure bring a smile to TI with some of the pictures she can catch and share with you :o)
She's soooo happy she doesn't dock tails or remove dew claws, usually done at 2-3 days old. Why? In the past years, it was not uncommon that TI would lose a pup from the stress on having it done (and other variables)...that's why TI always wait one Week Through The woods of Mother Nature to let people know numbers. This gave pups the opportunity to not have stress and keep focused on their nourishing milk to help them recoup from birth :o)
*
Take a look at some of the pictures with their ear leathers back, one can see they're closed down tight.
This male has LOTS of white on chest, paws, and even his chinny, chin chin :o)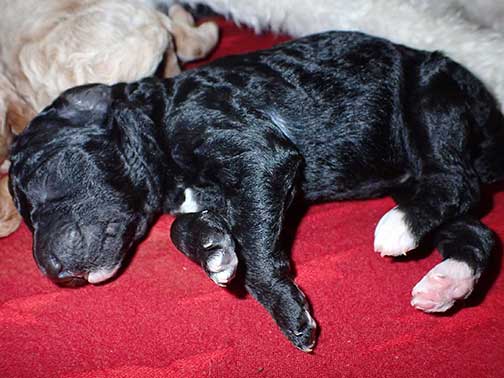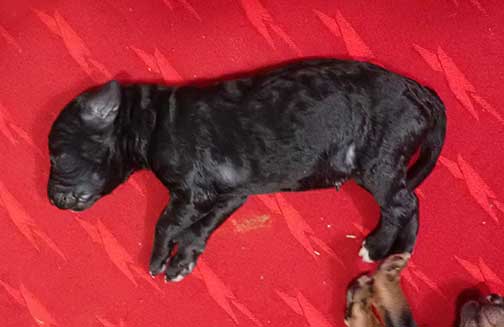 This male has a tiny white on his chest with small white on his back toes.
What they do sense, are vibrations, thus I do everything I can to keep life relaxed and calm for them :o))
*Royal Standard Poodles Puppies For Sale Jaxxi *
Here is the Phantom Female Kate Bauer is potentially going to get for a future breeding dam to bring some wonderful phantoms to you. We're doing Embark DNA on her now to assure everything is good to start her testing protocol.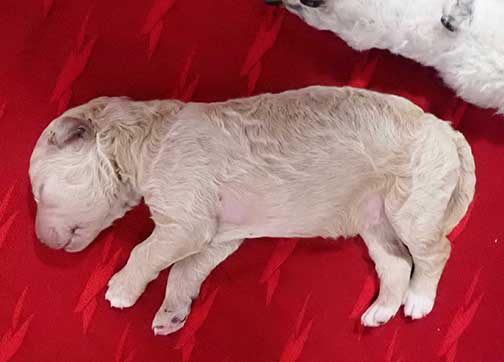 What we do a LOT of,. "Nummy nummy...Zzzzzzzzz..." This HUGE cream male puppy was born the largest in the litter with white paws and a tiny bit on his chest.
ALWAYS time to snuggle in and zzzzz....what puppies do best...zzzzz...and nummy nummy nurse ;o) Their first sense is smell. They come out ready to smell for the nipple and start nursing. In 11-14 days the next sense is the opening of their eyes, then around 3 wks old their ears open up to start hearing sounds...at which THEY start VOICING sounds to let me know things aren't as they use to be...Quiet...
There's ALWAYS in every litter "The Arm Thing".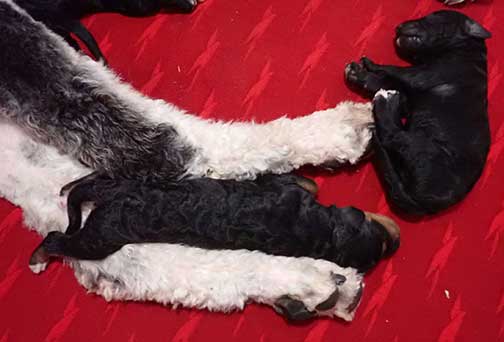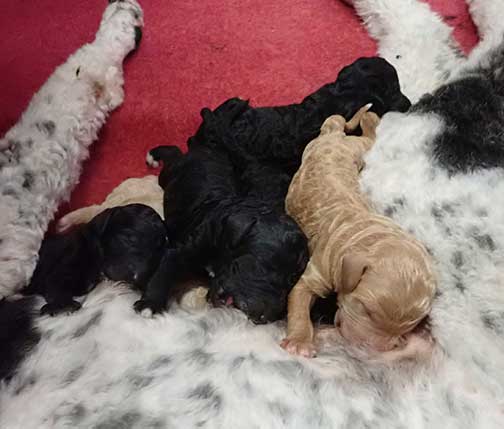 GOT IT! NUMMY!!!
*
Let's see, NOTHING up here!!!!
Their umbilical chords are drying up and shortly falling off. Look at them going at it immediately! That shows some healthy born pups ;o)
Momma Jaxxi is doing great and has lots of milk for them. She actually has 10 teats for them compared to the normal 8 teats TI has always seen. I am always checking teats to assure they're all being taken down so mastitis doesn't occur. 
*
It's vital that pups begin nursing within the first hour to get their colostrum to help their immune system. The motion and nuzzling of the pups starting to nurse help bring the other pups forward to be born...and, I of course, can see their doing well in just having been born :o)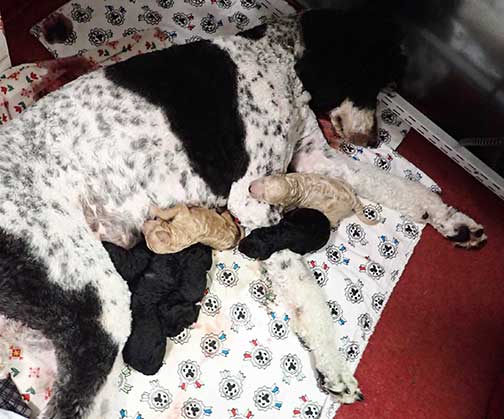 A variety of colored puppies just coming into the world as TI helps Momma Jaxxi along the way. They instinctively head immediately to the smell of a teat and start nursing. Momma has milk coming in for her 6 pups.
In raising Royal & Standard Poodles, I hope to share a bit of what I do to bring you your next pet :o) My bedroom must be heated to 80+ degrees as pups just come from the womb and they have no way to monitor their bodies being just born, especially the first week Through the Woods of Mother Nature. Humidity is essential too keeping it around 55+ in moisture. Too little dries their body out. Wool blankets are used to wick away moisture and keep them dry and warm. I have a variety of colors, to make a  more colorful page for you in the coming weeks ;o)
If you're interested in one of TI's pups, please fill in the form on the side tab. She would look forward to hearing from you :o) See my Customer page to observe how many have grown with their loving families.
Bruno Royal Standard Poodle Puppies For Sale 
Interested in purchasing a puppy? The side tab "Contact Form" will get you in touch with TI for an interview :o)
Thank You for wanting to love a Standard Poodle!
Your second block of text...
Royal Standard Poodles Puppies For Sale Jaxxi