Red Standard Poodle
Ruby Tuesday Manitoba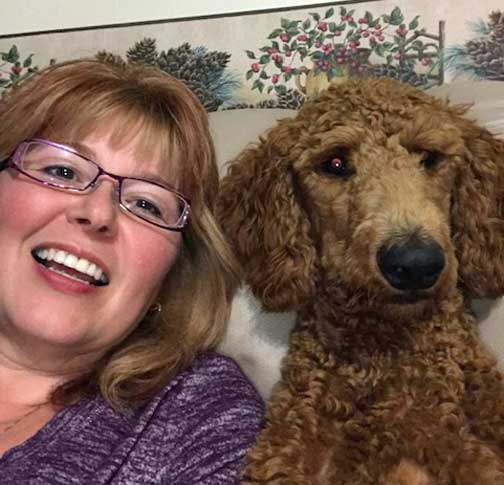 Last updated 4/29/20 Red Standard Poodle Ruby Tuesday Manitoba - I know, I know, my eye looks a little red... cameras....and maybe I have been celebrating a bit more than I admit, and that is not a confession.
I have a most wonderful human couple, RG & JG.  I enjoy our walks in nature, chasing chipmunks and squirrels, and much to the chagrin of my people, catching and eating grasshoppers....
I love cuddling, sprawling out over the furniture and hogging space. My humans tell Everyone I am really sweet and beautiful. Which I am. :-)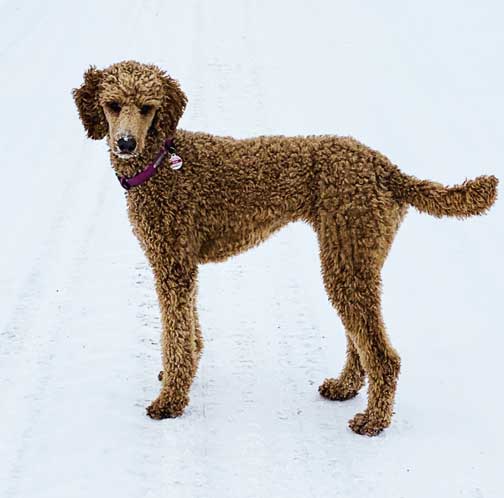 Ruby's just over 2 years old now, and just the best little lady. We absolutely love her! She's a such a good girl. She not quite as fond of the cold this year, but she still loves fluffy fresh snow just as much as last year.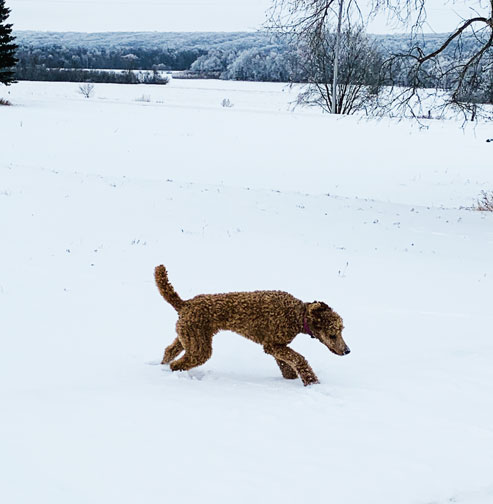 No, it's not a puppy...it's Copper a toy poodle :o)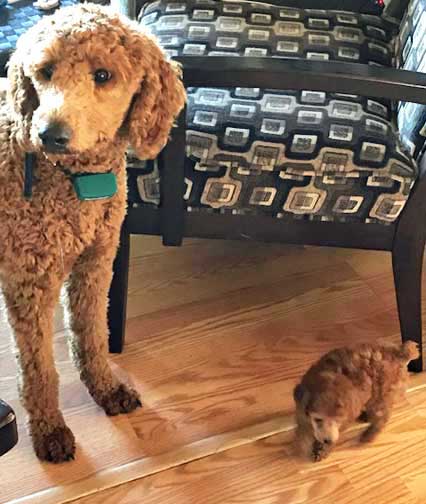 Come on, Igor, let's play!!  All you want to do is smooze.  Let's Do something for a change.
*
Cats...I believe Igor is attempting to use my chin as a petting tool. I could just chew on his ear or lick him and get him wet...felines - Think they rule, little do they know.  ;0)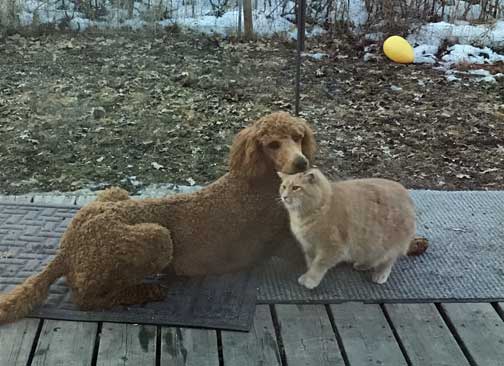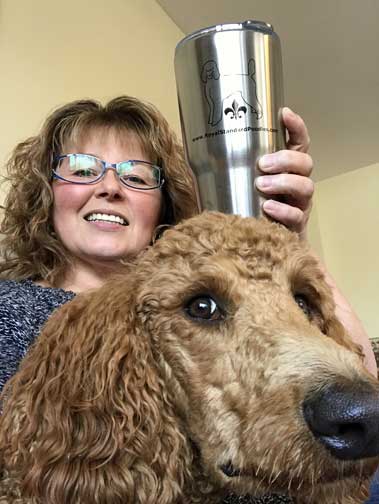 Congrats to us ;0)   We WON and my mom says this mug is the perfect size for her to bring along on our walks; and here I was thinking the mug was for me....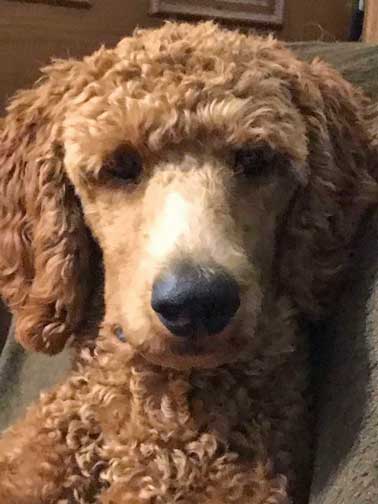 Here are my four winning photos for the stainless steel mug for my humans.    MUG SHOT ;0)
*
Ears back and flying \/
| | |
| --- | --- |
| My life is ultra good: I smile in my sleep ;-) | Here is my 4 legs up shot... |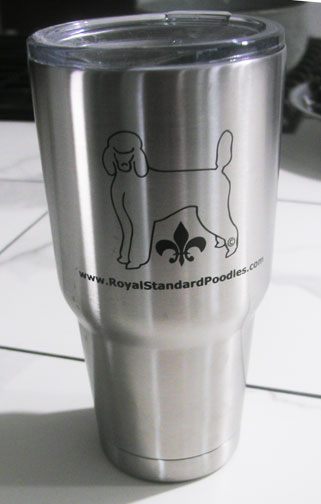 I have the perfect title for this picture:  "All Feet" ;0)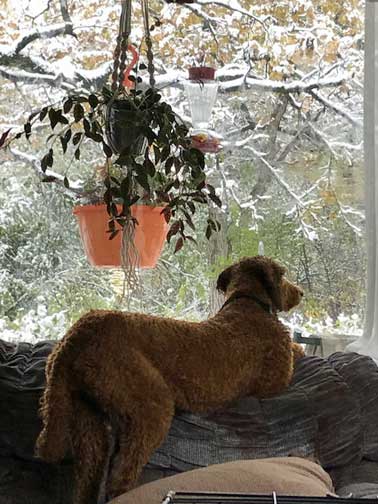 Early October = Early snow!
All wet....
My sister in law has 4 dogs. 2 little ones and two big dogs. I take Ruby over for play days. Heide, Scarlet, & Ruby race like lunatics around their yard. The little ones stay out of the crazy girls' way. Ruby can out race all of the other dogs she plays with. She goes full out like greased lightning.


*
Out in the backyard with my large white friend
Yes, I still sleep sitting up on the sofa
It is now late September 2018.  I just turned 9 months old.  The season is changing again.  Autumn approaches...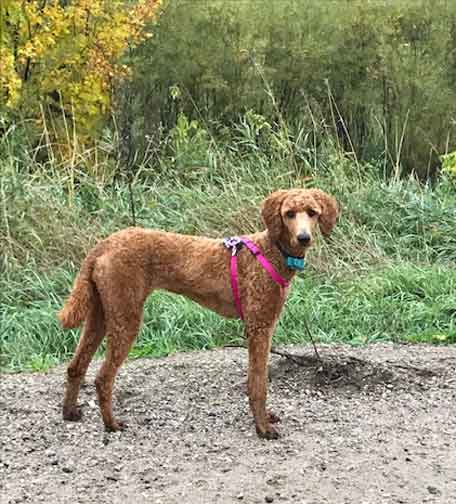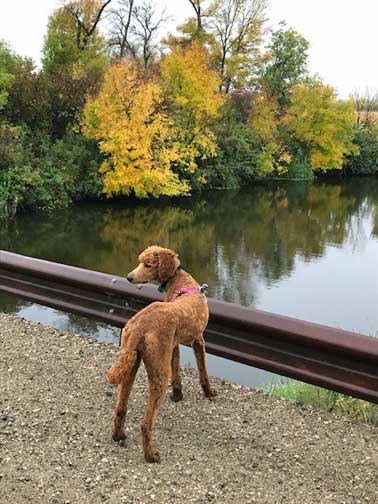 How's my time?  Better than the previous record?
*
And here are the legs and body of a very fast dog!!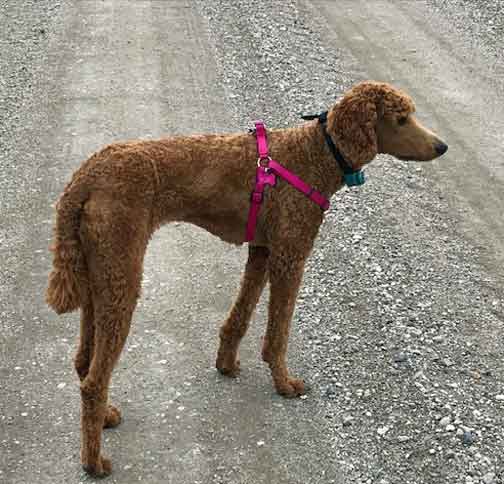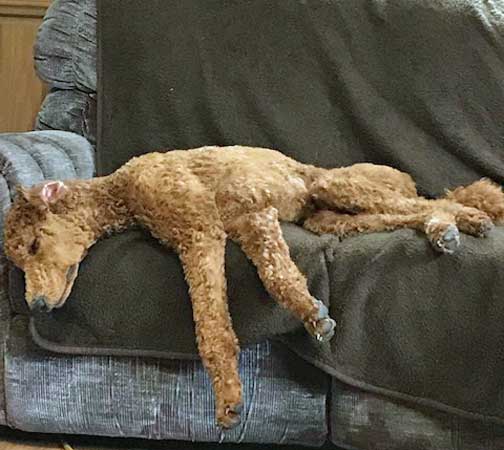 Can't decide the title for this picture:  a) sleeper sofa  b) couch hog  c) ready, set....
*
I am so good at these picture-perfect play stances!  This one could be next to the description in the dictionary it's so good ;o)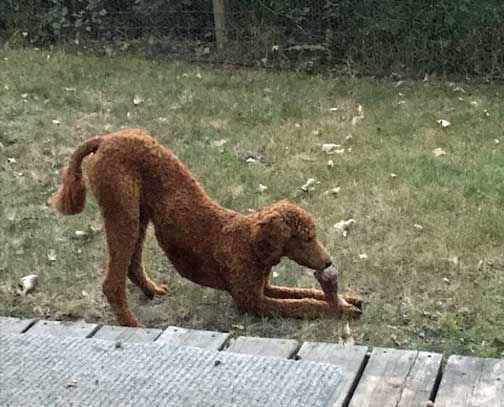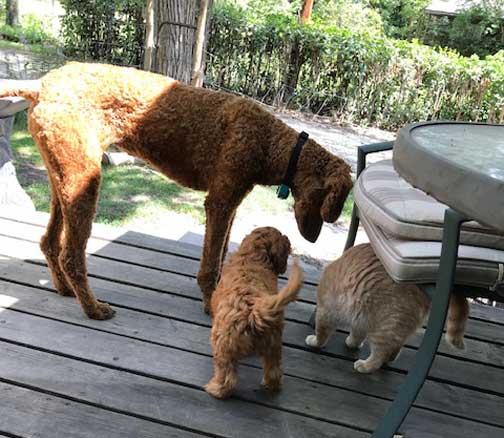 All three of us match.  We are all red.  Did I mention everyone loves redheads, especially Red Standard Poodles?
*
Waiting for my ride.  Should be here any minute now.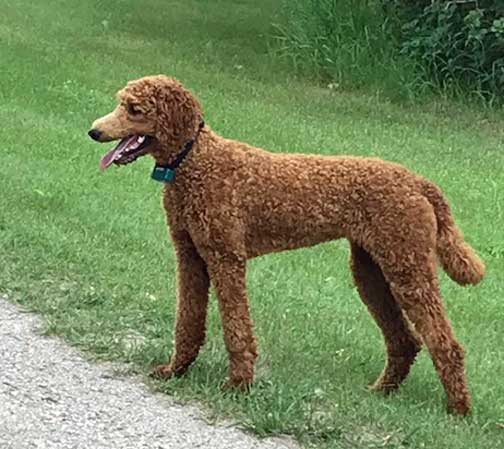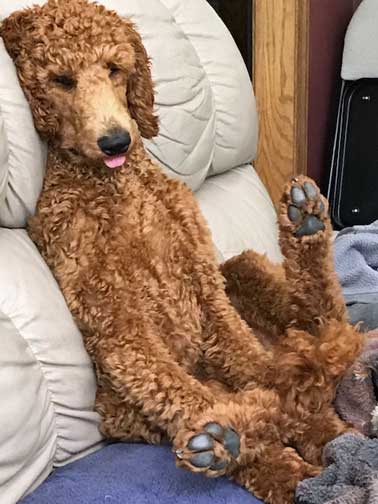 You cannot blackmail me.  I do not care where you threaten to post this picture. I will not pay you.  Rather, how about we submit it to one of those tv shows where they pay us for funny pictures.  This has got to be worth thousands of dog treats!        Sitting up sleeping, gotta love it!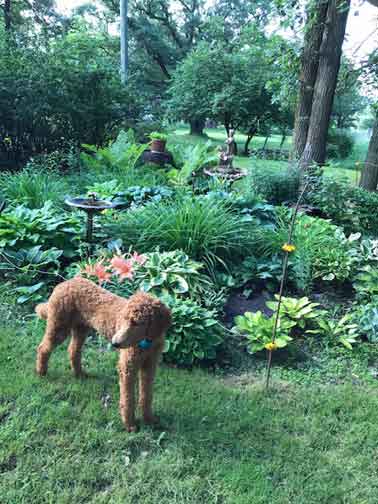 What a wondrous garden; and look at this super green grass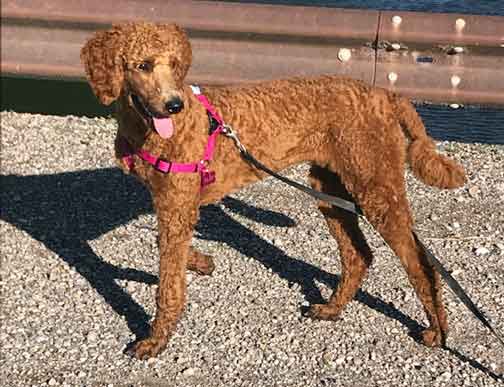 My profile picture.  hmmmm..is that a natural pointer position...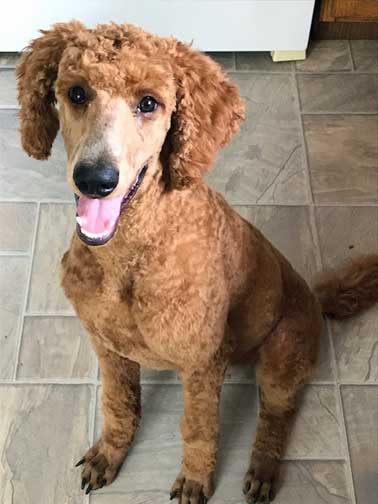 Kindly note the clean feet....
My first hair cut.  Wow, I feel so much, I don't know, - lighter? 
It is my 6 month birthday party and my friends are here to help me celebrate. After a day of activities we have settled in the house.  This tail makes a good chin rest, (and it was the only way I could keep it still).
*
What did I say?  You can't just turn your back and walk away.  We really should talk.  It's not my fault there were no gifts specifically for you...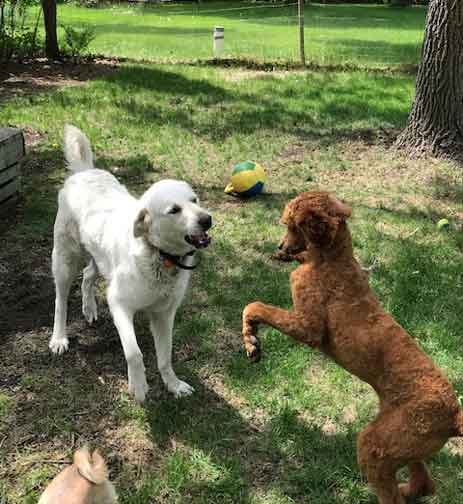 Now, that is simply 'trash talk'.  
*
I asked if you heard what I whispered to you?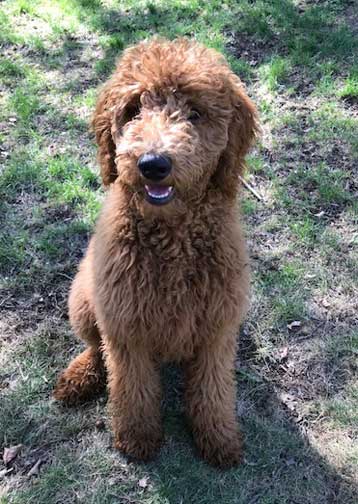 Say 'cheese'.  Ok, let's try another one with teeth showing in your smile.
*
And give me a shot that reflects how delicious that treat was...good! yes!
Still in my winter coat I enjoy my new purple toy while demonstrating a perfect play stance.  I believe practice is advantageous when pursuing a goal - that modeling future is still on my mind...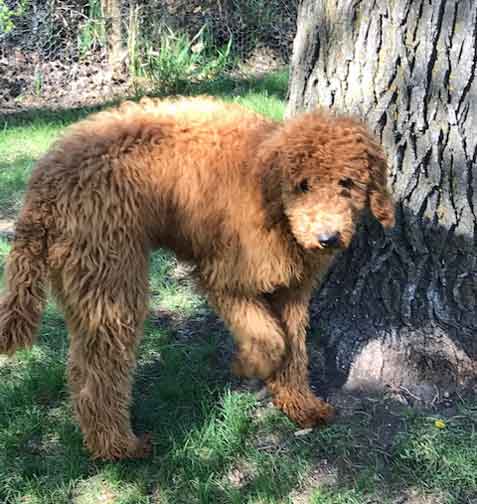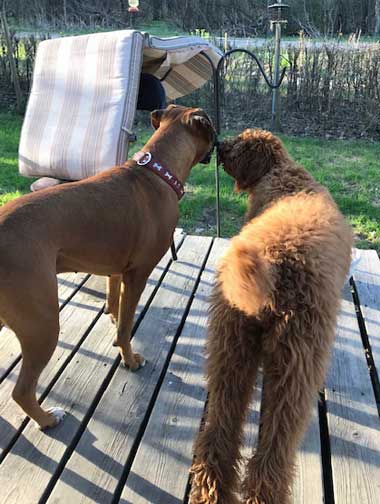 Friends, I have friends.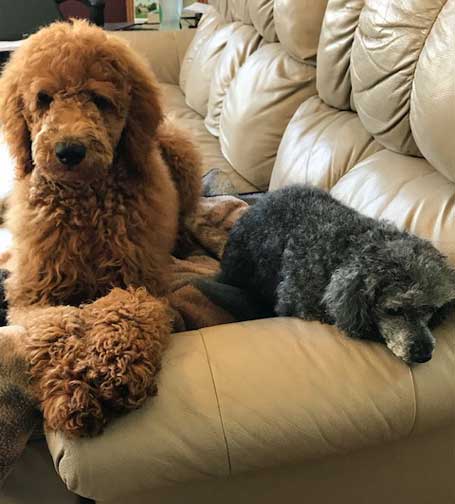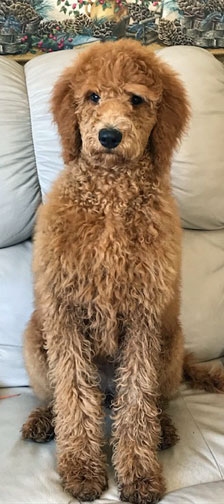 I am coming up on 4 months and look at me!  I am tall and slender.  I should actively research modeling careers for Red Standard Poodles.  I hear everyone loves redheads. 
*
Remember I mentioned little creatures scampering about in the woods earlier?  Well, I am pretty sure I have one right under my nose, now if I can just put my foot on it I can say hello!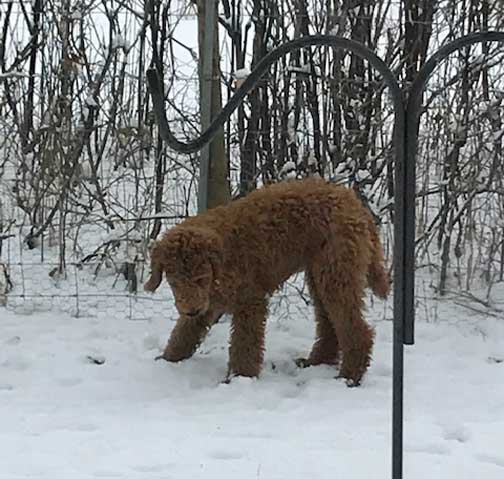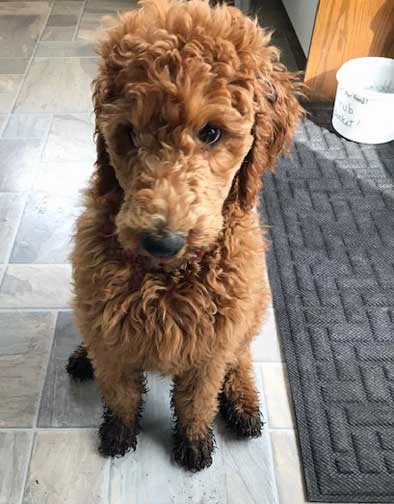 No, Mom! I did not track all that mud over your newly washed and waxed floors.  It certainly wasn't me, it must have been Dad....how come you always jump to the conclusion I did it?  jeez...  and no, that is Not a guilty look on my face....What? whose feet?
*
I am about 3 months and 2 weeks old now.  You thought I was puppy size...look at this tiny little gray poodle next to me.  How can I play with such a petite friend? Ah, gently, very gently.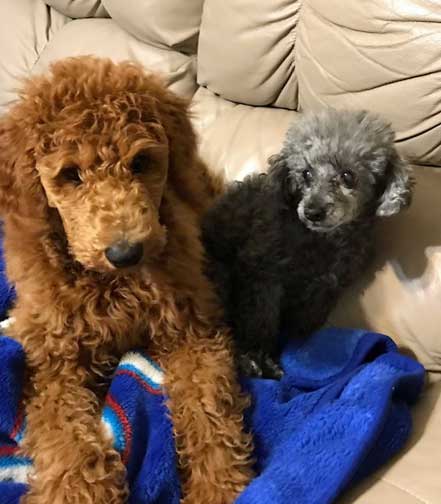 That Must be the dinner bell!   I'm running as fast as I can, Mom.  Now look who's scampering ;o)
*
I am quite taken with the winter wonderland I live in.  Everything is so peaceful and serene out here in the woods.  All I hear are the birds and little creatures scampering around...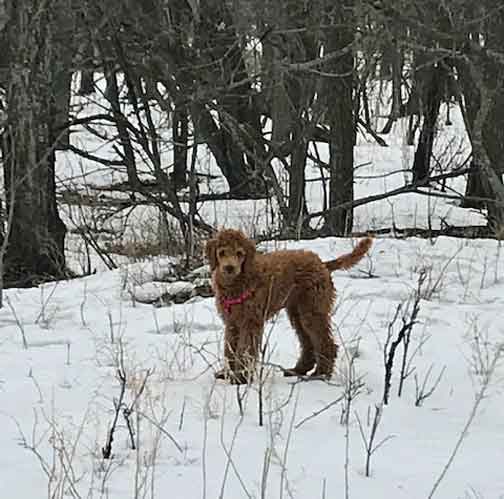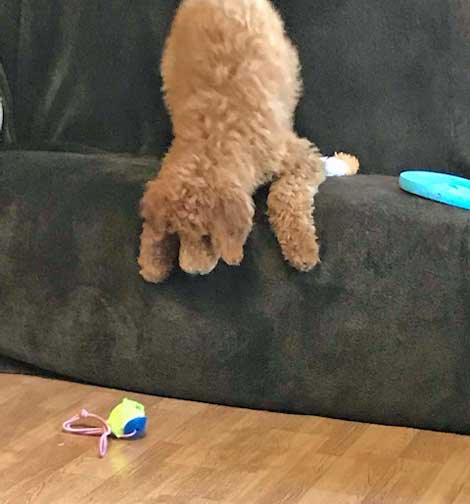 Oh, how thou dost implore me to move and capture you tennis-ball toy.                       Your inaction compels me to create action.                        Hey, this isn't some kind of psychological test is it?
*
No, that tennis ball on a rope is not the least bit distracting or tempting.  I have the discipline and fortitude to ignore it completely.  Out of sight, out of mind.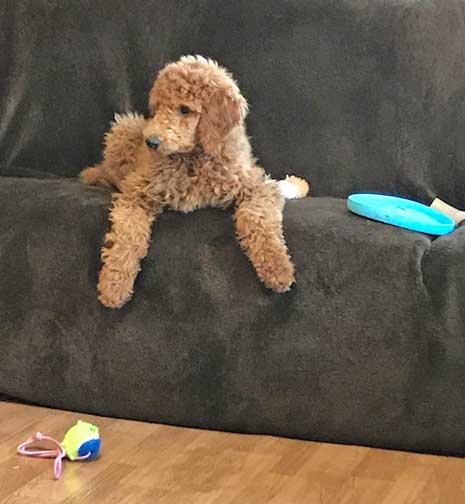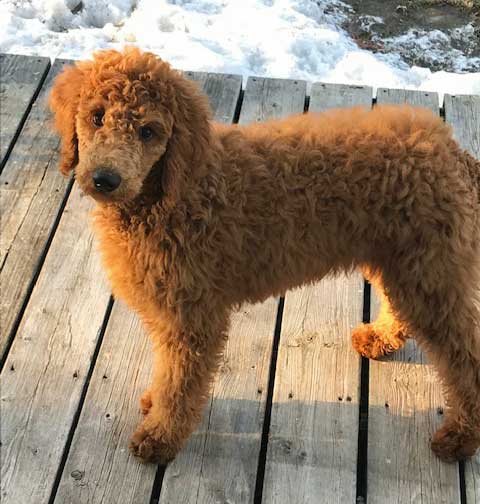 3 months and 1 week of age.  I am warm in my winter coat and it's a nice sunny day out; you can see the snow has melted a bit.
  *
  Enjoying April 1st on this pretty red patterned blanket.  Letting you know I have reached my full size and weight.  You are finished purchasing collars and sweaters and other apparel - won't be needing any more toys or chew bones, just saying.....APRIL FOOLs 
I am 2 months and 3 weeks old in these photos.  How different the ground can look from day to day where I live.  It is March 2018; one day I'm playing in the fallen leaves which reappeared, and it seems the next, I am leaving my paw prints in the fresh snow.
Red Standard Poodle 
Ruby Tuesday Manitoba