Phantom Extra Large Standard Poodle Wolf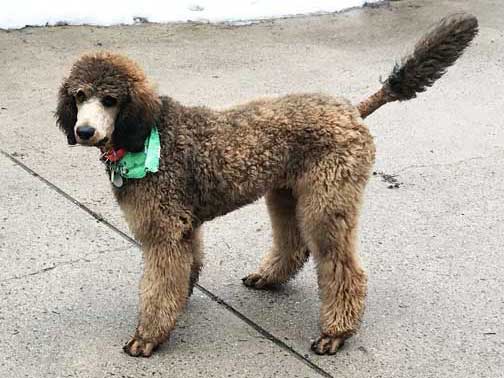 Last updated 8/6/20

Hello! Let me introduce myself: I am Phantom Extra Large Standard Poodle Wolf!! My full name is Wolfgang Frederick Of A Perfect World; my family and friends call me Wolfy ;o).  
I have unique coloring which in the professional poodle world is known as Phantom and I'm agouti which means I have black tips on my coloring.  Thank you, I appreciate your appreciation of my special appearance.  ;o)
This feature photo is my profile at 5 months.  I weigh just over 50 lbs and stand 22" at the withers.  As you'll see from my early puppy pictures, my coloring has definitely become more pronounced and distinctive.  Please continue to follow me as I grow into that Phantom Extra Large Standard Poodle Wolfy!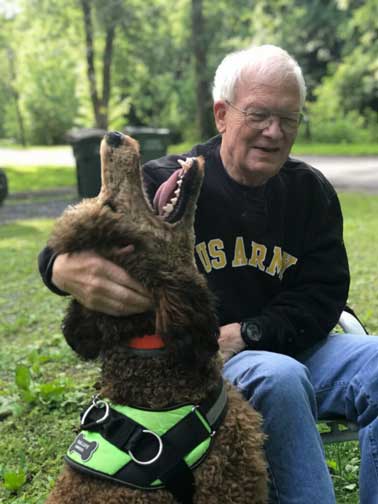 Tracking Wolf with Red headed friend Ginger:
1 yr 76 lbs

8 months 28" at whithers :o)))

at 7 months 27" tall

at 5 months 51# and 22" tall

at 15 weeks 37# and 20" tall
at 11 weeks 27#
at 10 weeks 25#

DOB 10/12/2018
| | |
| --- | --- |
| Winner! | Here's my mug shot for 1 of the 4 required pics :o) |
I hear there is a very-useful-for-my-humans stainless steel mug available from Tes - YAY! We WON!! 
On the right is my 4 LEGS UP picture. And now I understand this position after Ginger expounded on its many benefits.
On the left is my SMILE photo with ears back, and to be sure there was a guarantee I contribute to the mug acquisition, I put my four legs up for this pic too.
MY Couch ;o)
Sitting pretty, just like grandpa Bruno...uhhh, should I get up and do something or zzzzz.... ;o)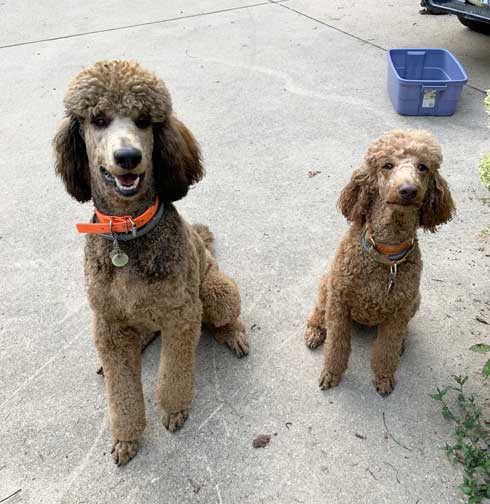 Royal Wolf vss Standard Ginger.
*
Blending in.
Happy Birthday Wolfy :o)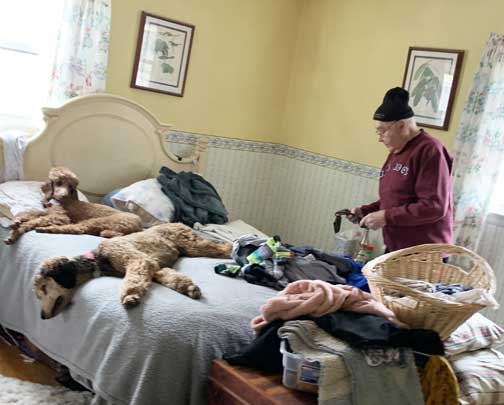 It's time you guys helped out!
*
Much better....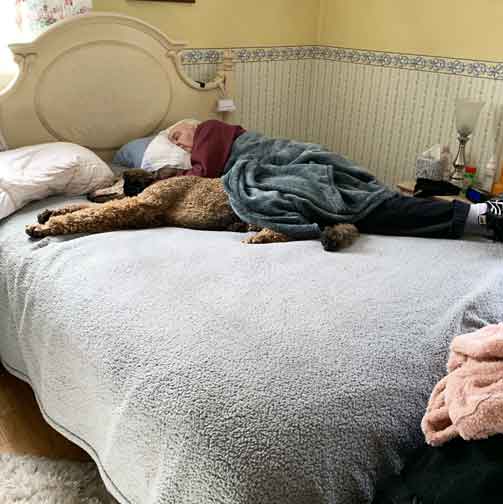 Oh NO...I leave the room and look what kids do!!!
...my husband just gave me the background on yesterdays picture.  He was taking a nap with Ginger at his feet when Woolfe came up to him and began barking and whining at him (wolf is quite the talker).  So Adrian got out of bed to see what Woolfe needed........once the bed was vacated with a nice warm spot, Woolfe jumped in and curled up and went to sleep. Thought you would enjoy this Spoo Story Enjoy your day...Holly
Come on Ginger, let's see what we can get into ;o)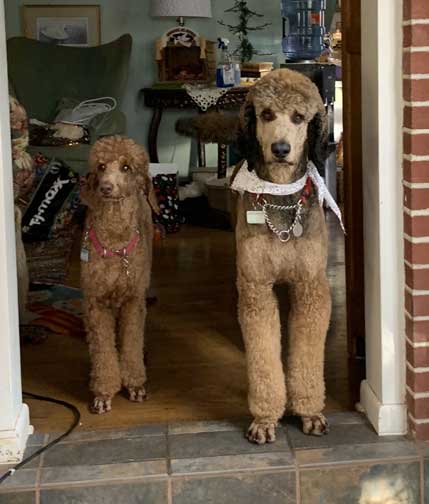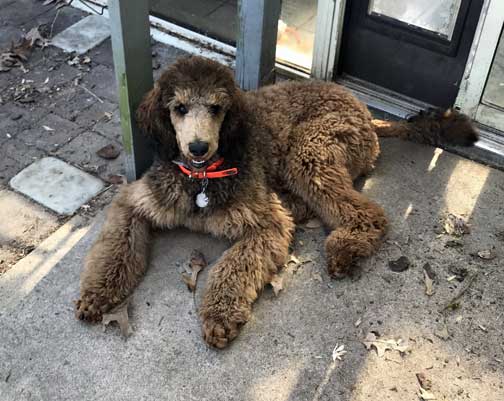 My wonderful phantom colors really shine in the below picture.  Enjoying a nice day out on the patio; I want to thank my people for this doggy door!! See my smile :o)))
*
I've certainly over-grown my standard poodle roomy Ginger ;o)
*
I'm 11 months old and still growing!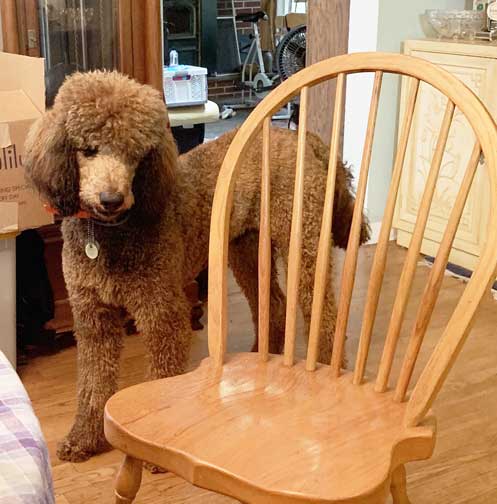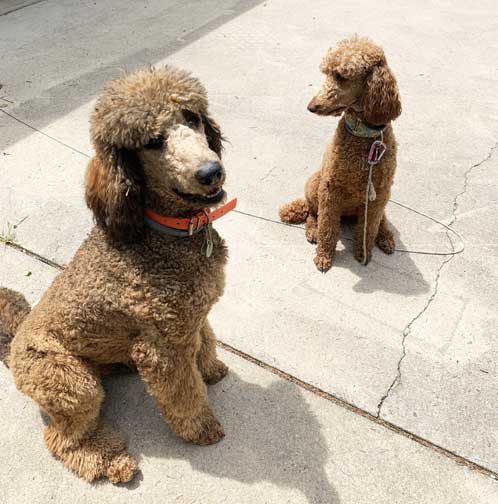 A Phantom Extra Large Standard Poodle Wolf I am, compared to a red standard poodle Ginger...and see my back coat :o)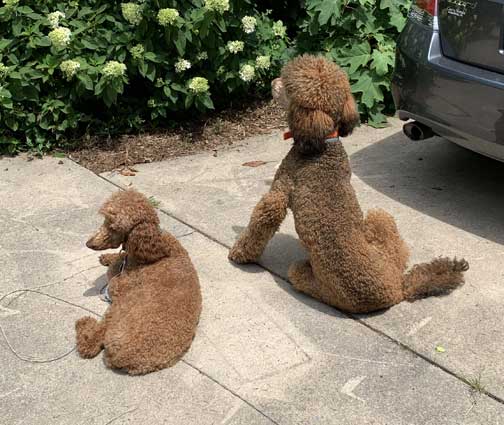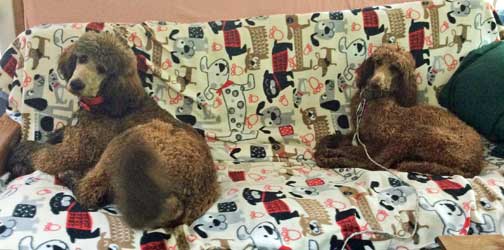 Do I really look like a couch hog?  Ginger automatically heads for the opposite side of the couch cause once I stretch out that's all the room she gets.  I love my red friend, she's a trooper!
*
We're resting after our regular one hour outing around the neighborhood.  Ginger keeps telling me my butt is going to fall off the couch one of these days...hey, I keep growing, what can I do?
[Viewing this photo, it looks like trick photography because of our size difference, lol ]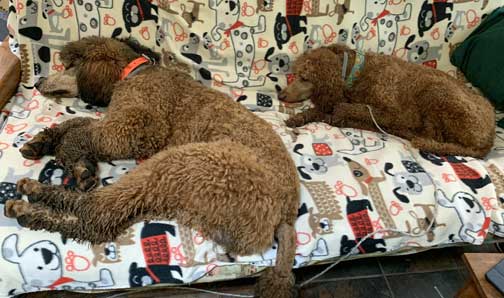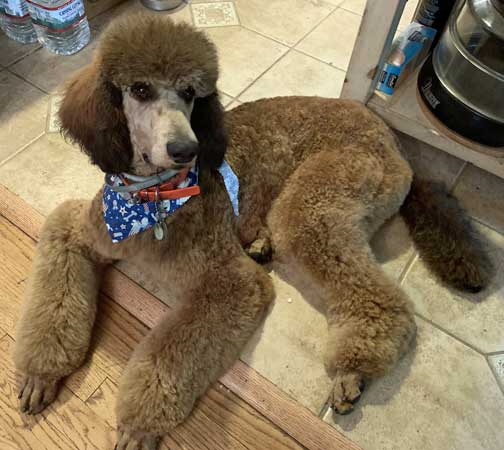 Wanted to show you another example of my agouti points, this head and tail shot really does me justice :-)
*
Here Ginger is trying her paw with human generosity - does that feminine face say "treat us please?"  I couldn't have done better myself. [kindly ignore those fanciful colorful things sticking out of her head] 
Phantom Extra Large Standard Poodle Wolf, I am hanging out in the kitchen ;-) where I can usually talk my humans into handing out a few treats. See my tail wag, wag, wag...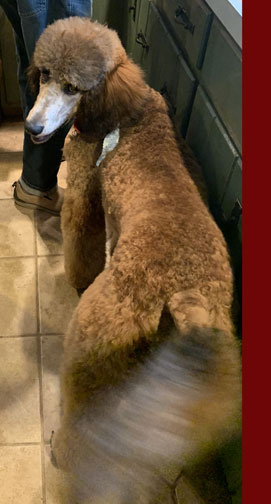 Can we say, "Happy Easter" everyone!  This is my audition photo for the next Cadbury bunny TV ad.  I mean, is this the cutest pic ever!  My publicist thought it a good idea to include the little human to enhance the appeal.  And someone mentioned dog treats at the same time - we are definitely getting a call back for the TV spot ;-)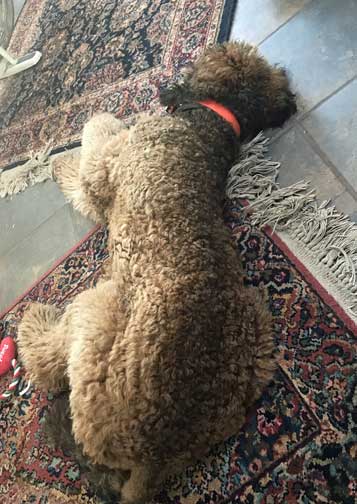 Here are a couple more examples of my coloring which are highlighted by my first poodle cut.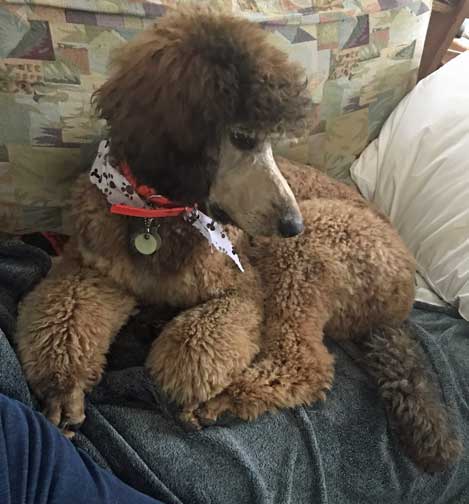 Loving my sofa. All mine....well, until my humans come to join me for quality time which I revel in, Phantom Extra Large Standard Poodle Wolf.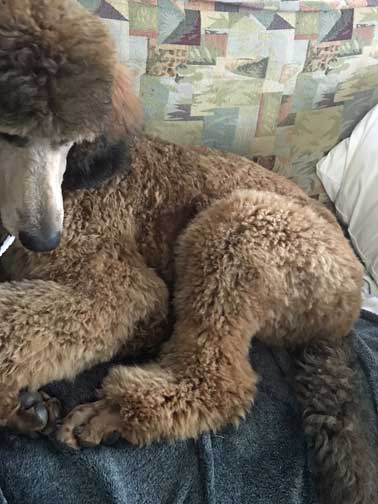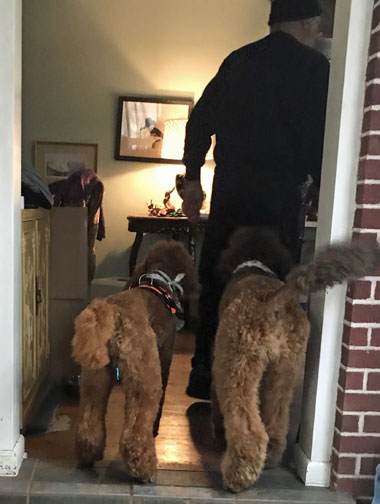 Check us out!  As a Phantom Extra Large Standard Poodle Wolf I have grown larger than my housemate Ginger even though I am younger.  And, "tails we win!" ;0)
*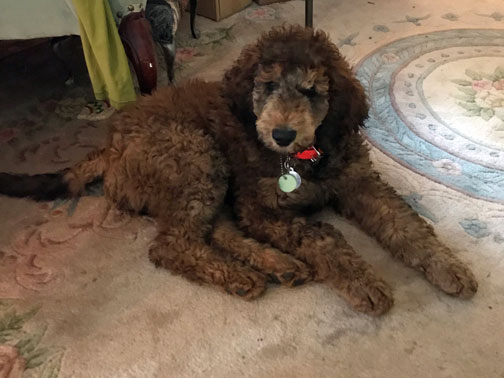 Wolf is an Extra large phantom standard poodle. Personable, and great with all the other members of his human and animal family, he makes himself easy to love:  "Wolf brings his toys outside, then back in again to sleep".  We are delighted to watch his colors as he matures.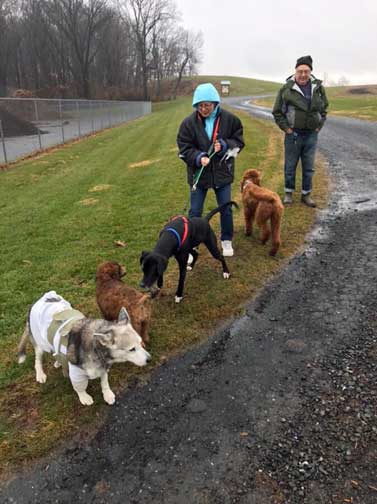 Time to go for a walk with all my friends.  Ginger and I are off-leash because we listen and observe the rules of safety - like not running off chasing a rabbit .  We love being outside and along with our daily outings, we often play together for hours!.. Extra large poodle Wolf stamina.
I have turned 15 weeks and am getting taller and stouter. Growing into my legs some more as well.  I weigh in at 36.5 lbs and am standing 20" tall.

*
Christmas 2018 Extra Large Standard Poodle Wolf pup, 10.5 weeks old.  Merry Christmas everyone!   My HD thought it a great idea to hold me on her lap - and then my 25 lbs became a real thing.  Kind of like when you pick up a child and then realize they suddenly got quite heavy ;o).  Me, I am thrilled.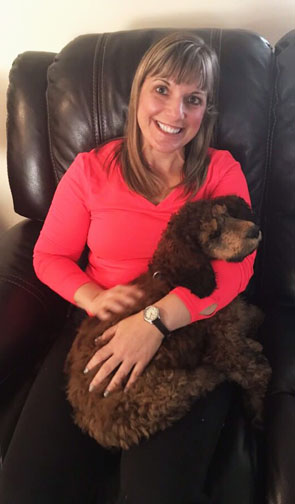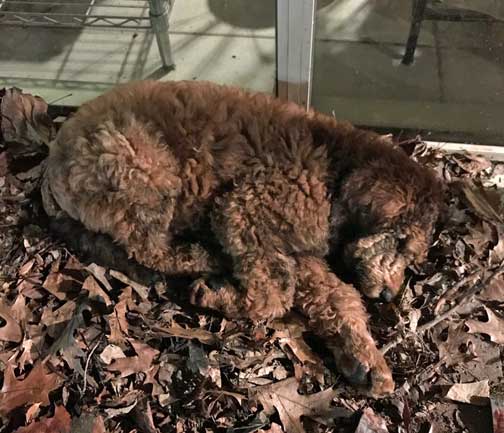 While we are the subject of bedtime....this is the perfect visual of how my phantom agouti coloring serves me!  It is 40* outside and I'm having a New Years nap on the porch leaves.  Now, if a squirrel would just wander up it would be such fun to surprise it!
*
Ah, well I discovered the comfort of the tall, wide bed.  Sure has lots of room for everyone.  My friend, a mini-brown, shares space with Ginger while I get the closest spot next to Granddad. They need to see what happens when I get to be that full size Extra Large Standard Poodle Wolf!!!
Ok, ok, I'll give it a try already!  Half on, half-off, I'm getting the general idea and hang of it.  I'll keep working on it and soon you will call me "The Upside Down Master"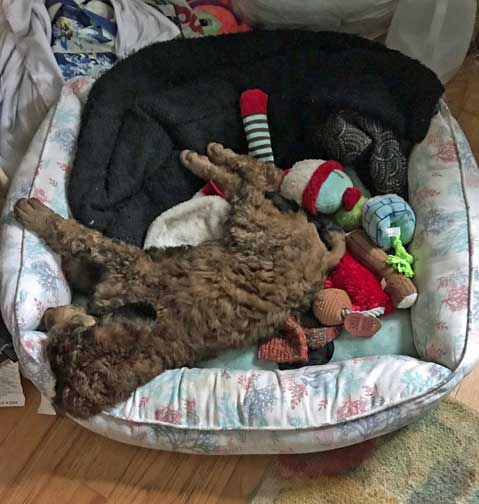 Me, I prefer sleeping in my own bed, head hanging off the soft rolled edge with all my toys as company.  Well, I will admit perhaps some of my thinking is to keep the cat from absconding with my small stuffed friends....
*
Ginger is showing me how it's done, the "4 legs up" position.  From the blanket on the bed, it is not summer so I don't quite yet understand this whole sleeping on your back thing - not like the ceiling fan is spinning and Ginger isn't old enough for hot flashes.  Guess I'll have to ask her... And perhaps move her lavender neck accessory to create a more modest 'exposure'.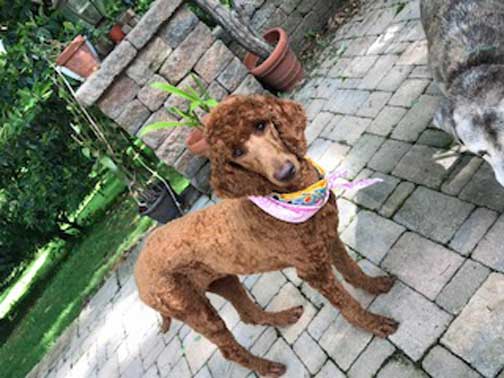 This is Ginger at around 1 year old.  She looks very feminine in her pink bandana.  She is an excellent role model!
*
More of my family!  This is Ginger, the red poodle with whom I live and our mackerel patterned brown tabby cat.  Now all I have to do is try and let the cat sleep with me....

I have a larger family than some poodles I know.  Here is a picture of a friend who now resides in dog heaven, his name is Blue Shadow.  I think this is a great photo of him showing his soft, kind eyes and great legs.
*
In the loving arms of one of my human family is one of my most favorite places.  I am really relaxed all warm and happy. I look pretty executive with my crossed arms.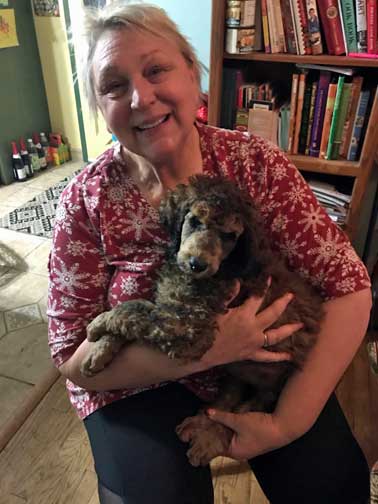 You're thinking this overhead shot is to show off my beautiful colors, and did you happen to notice my really long legs??  I predict I will be tall...
*
Here I am newly at home in PA with my people.  At 9 weeks old, I am a literally a mass of soft, luxurious fur.
Extra Large Standard Poodle Wolf