N x B Royal Standard Poodles 2016 Summer

SOLD OUT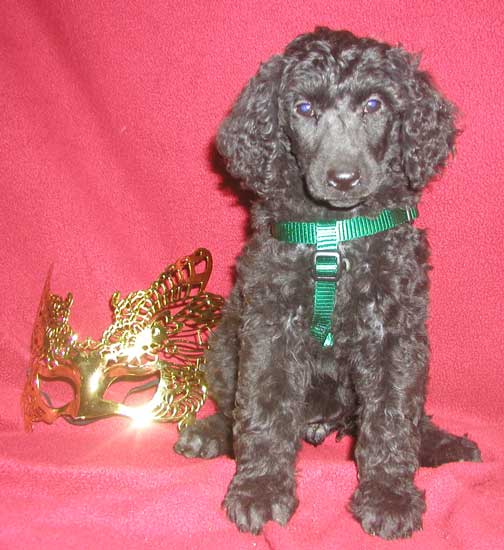 SOLD "Beauty"- Black Female - 10 wks old 12# > mc 2965, she has a small umbilical hernia, no health issue by vet. Can-Do-Canines to become a service dog for a long waiting person.
*
SOLD "Warrior - Black Male - 10 wks old 16# > mc 4247, these white chins ARE coming from daddy Bruno! I'm going home to a returning customer - Woo Hoo! I get to be with a young relative my age :o))) LB > Lubbock, TX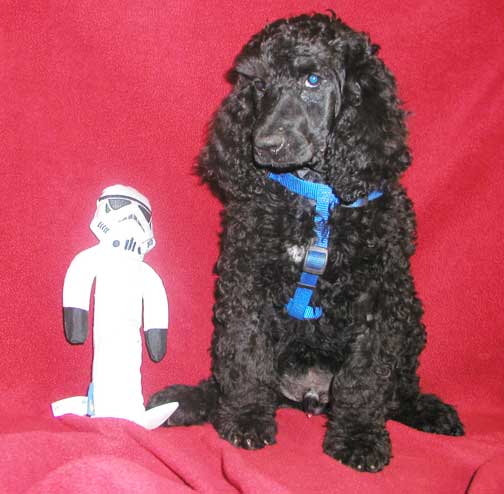 Niki x Bruno Royal Standard Poodles 2017 Summer litter is here! Bruno did it again with a HUGE litter of 10!! 6 BL Males and 4 Females 
Enjoy, Enjoy the pictures here :o)))
Enjoy the new picture updates below...remember start at the bottom and work upward as they grow upon the page...
Niki and Bruno - Puppies born June 29, 2016, 
Apricot Niki x Brown Bruno
Black standard sizes, potential Royals
1.  4/25/16 Paid F "Bella" - Royal BL - BS > Duluth, MN
2. 7/9/16 PAID F "Lissou" - GK > Eagan, MN
3.  8/11/16 PAID F "Ruby" - Standard BL - NR > Minnetonka, MN
4. 8/21/16 PAID M "Kirk" - Standard BL - JS > Fargo, ND
5. Can-Do-Canine Pup Donation (Service Assistant trainers)"Buzz" > Mpls, MN
6. 9/3/16 PAID M "Luke (TBD)" Standard BL - BS > Stillwater, MN
7. 9/13/16 PAID M "Teddy" - DV > Satellite Beach, FL
8. 9/13/16 PAID M "Yoda" - SD > Flantonia, TX
9. 9/16/16 PAID M "Warrior" - LB > Lubbock, TX
10.  Can-Do-Canine Pup Donation (Service Assistant trainers)"Beauty" > Mpls, MN
*
Tracking Niki's Summer litter 2016 stats:
8/24/16 puppies sold went home at 8 wks old

8/16/16 second bath, nails clipped, anal glands expressed

8/2/16 first bath, nails clipped, anal glands expressed

7/26/16 - 4 wk deworming with pyrantel

7/17/16 toenails clipped
7/12/16 - 2 wks old first deworming with pyrantel
7/5/16 toenails clipped
6/30/16 Tails docked 1/3 from tip per AKC protocol, due claws removed
DOB 6/29/16
SOLD "Teddy" - Black Male - 7 wks old 8# > mc3093
*
SOLD "Yoda" - Black Male - 7 wks old 4.6# >  mc 8925
*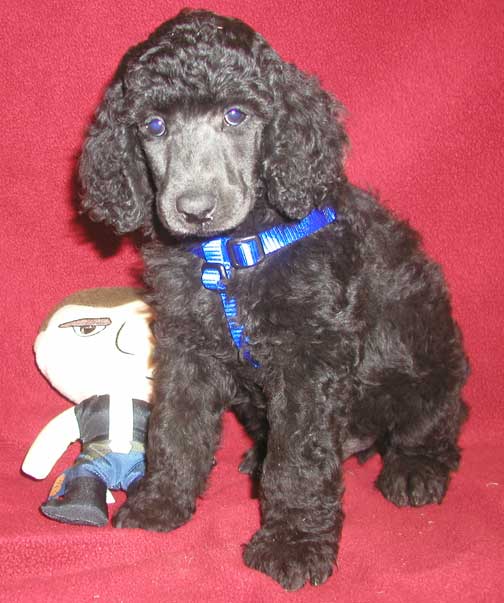 SOLD "Luke"- Black Male - 7 wks old 7.6# > mc 2798, I have a tiny white on my chin...went home to BS > Stillwater, MN
*
SOLD "Kirk" - Black Male - 7 wks old 7.2# >mc 2935...I went home to JS > Fargo, ND
SOLD "Buzz" - Black Male - 7 wks old 5.8# > mc 8890...Donation to Can Do Canines
*
---
Females SOLD below
SOLD "Bella" - Black Female - 7 wks old 7.2# > mc 1400 I have a very white chin :o) I'm going home to BS > Duluth, MN*
*
SOLD "Lissou"- Black Female - 7 wks old 7.4# > mc 7646, I have a tiny white on my chin :o) I'll be going home and loved by GK > Eagan, MN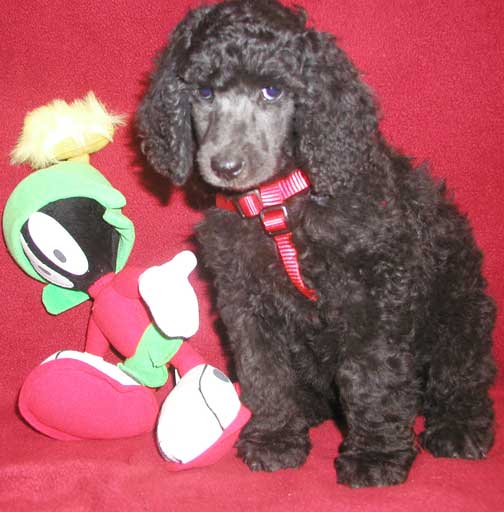 SOLD "Princess"- Black Female - 7 wks old 5# > mc 4172...going home to NR > Minnetonka, MN
*
Won't you come play with us?
*
I am such a little princess! ;0)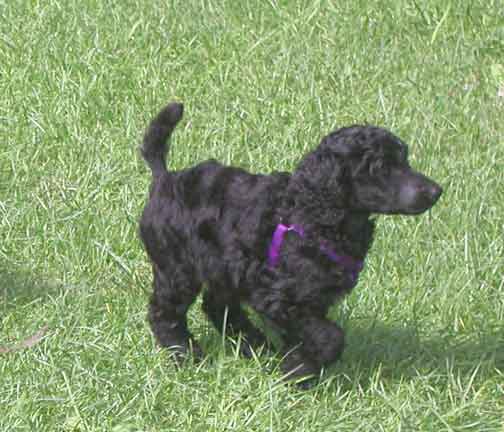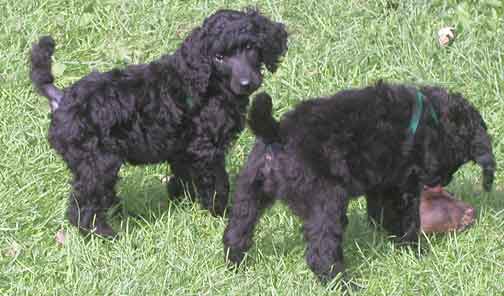 Bones, pools, and running outside, Woo Hoo!!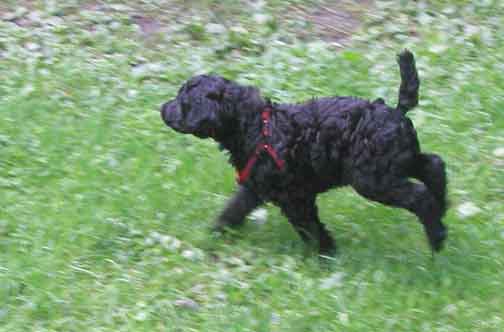 I wonder if I should go for a swim on this hot day :0)
*
Don't you want to take one of us home? :0)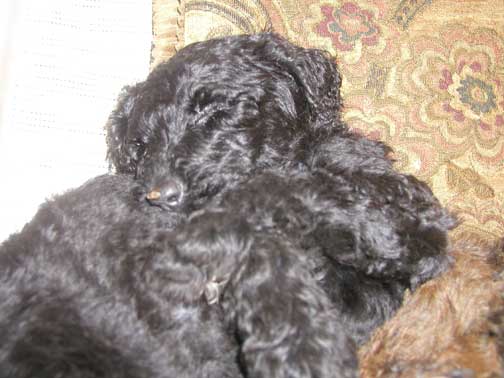 A little food on the nose will be good after I awake ;o)
*
What a size difference for sure...research, will show what comes our way :o)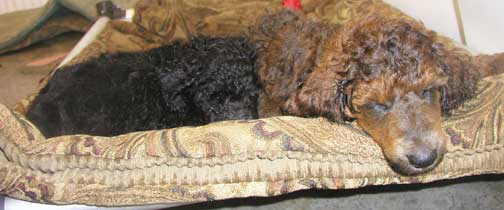 Niki sure enjoys the Kuranda beds...we like to pile on her and play.
*
We do give mom a break...until we get hungry ;o) Pet beds are being purchased...did you want one to send home with your puppy for smells from home?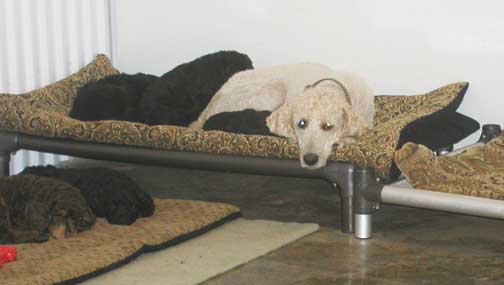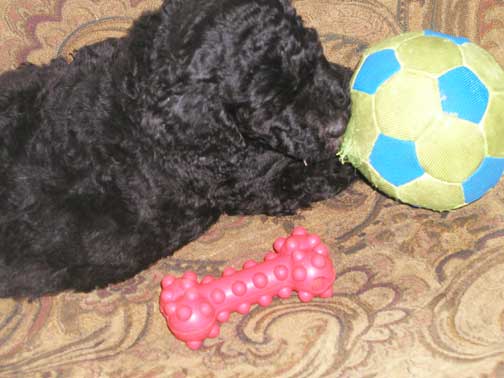 Toys, toys, toys, lots of stimulation for our growing curiosity...
*
Weeee, climb on in!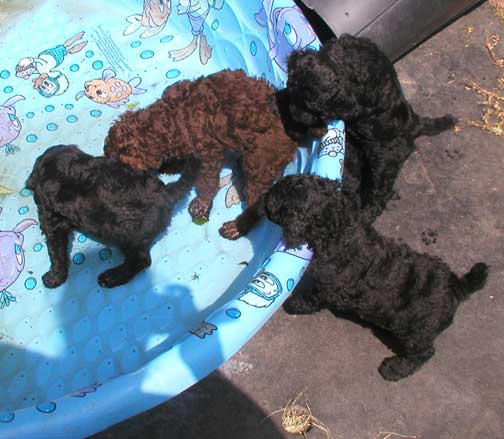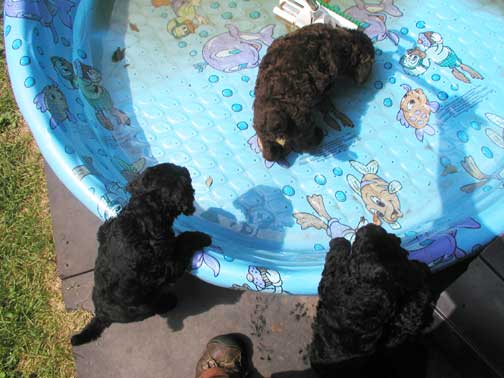 We can get in here! This hot weather needs a cool down...
*
Sure looks like a GREAT BLACK AND WHITE picture to me :o)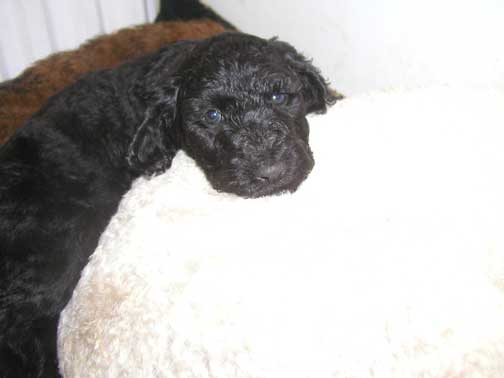 Play play play is what we're good at now ;o))
*
Ahhh, a good zzzz gets me ready to play play play :o)
We all like snuggling up together...we sneak a suckle where ever possible ;o)
*
It's a puppy pile sleep over :o) We're going on 
6 and 7 wks old in the above pictures...enjoy enjoy :o)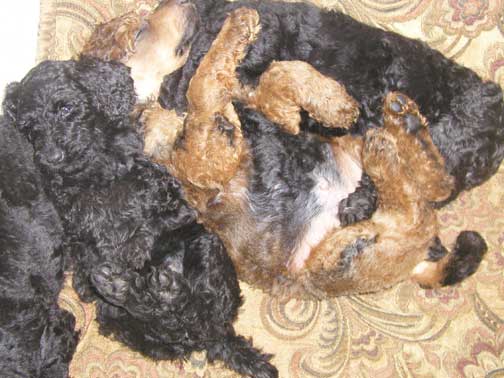 It's my turn to eat, get out of the way!!
*
Circle of Life slurry food is ending. Tes softens that dry dog food with water, adding canned dog food and buttermilk with it will be our transition to eating the all dry Vets Choice Health Extension organic dog food she feeds the adults. Her seminars with vets and professors share to feed "Adult dog food" Not puppy, remember that when you buy our food please :o)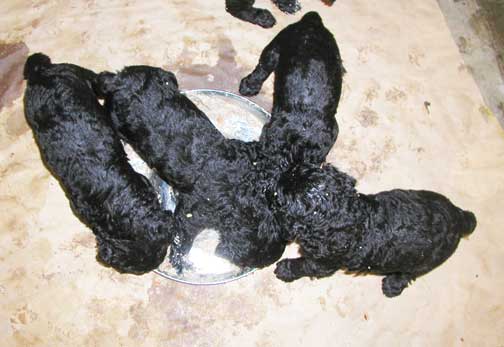 Hey guys let's go find that hole mommas have dug in there! We LOVE the spirea bushes to run and play in...tag, hiding from Dani and Tes and each other ;o)
*
Toys, we love all the toy stimulation to learn from!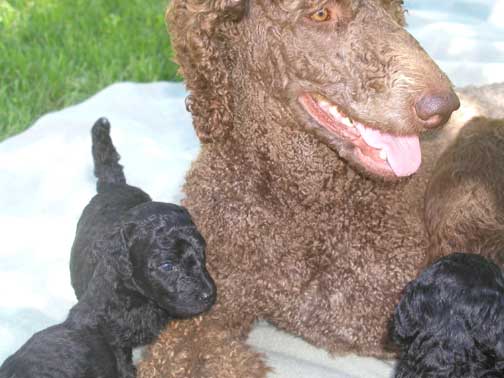 Momma Angel?! will even let us sometimes get a drink of milk...she's FULL of LOTS of milk!!! ;0)
*
We are learning steps and doggy doors.....I can do this! 
There are two litters now socializing together...Niki and Angel's pups are 1 day apart and finding lots of joy in playing and interacting with each other...Tes creates short steps for us to learn on...it's cute as can be to eventually watch us learn to jump over them in time.
*
Hey I am sleeping here! :0)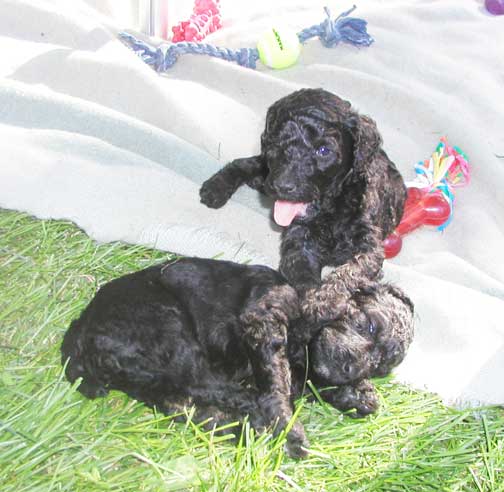 Nothing beats a nap in the grass!
*
Momma Niki likes to come out with us too, she's fun to climb on!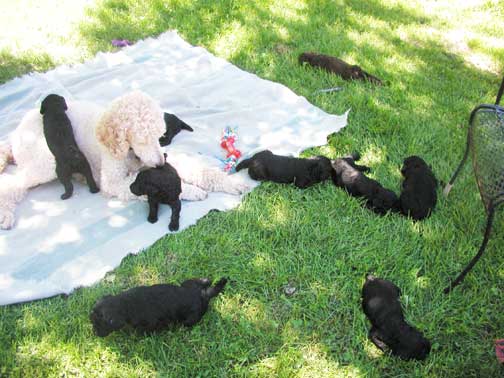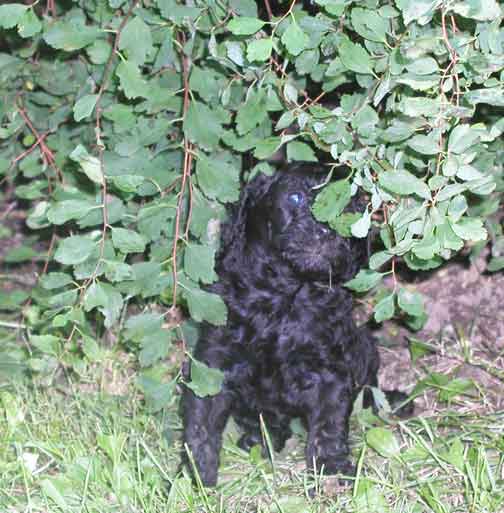 Momma Niki and Momma Angel dug a big hole under the bush, it is the perfect spot for us, we love to go in there.....I see you! 
*
a...and I have a tiny white on my chest...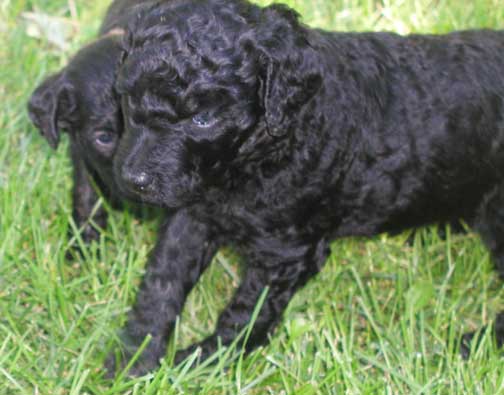 We are learning "potty outside" and going in and out of the doggy door.  We love to go outside and check out all the new smells.
*
Puppy pile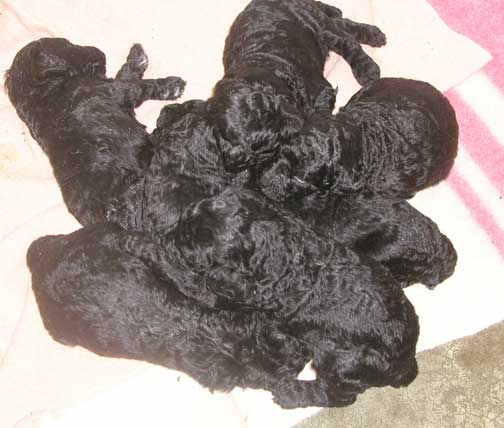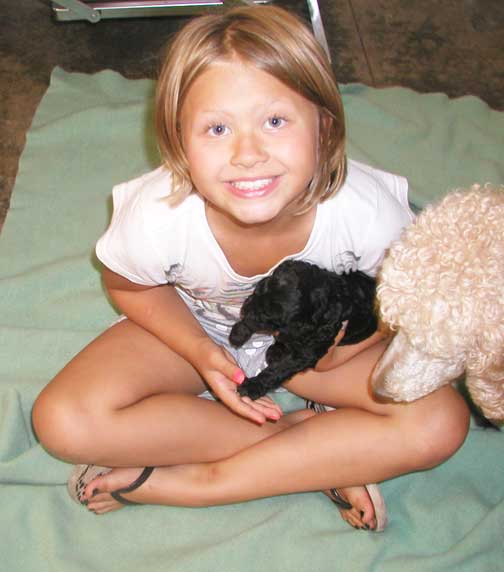 Now we are being socialized with Dani's kids, Can we play yet! Tes waits until our eyes are open, then by 3 wks old our ears start hearing and that's when she starts socializing us...we can get most of the new senses under our belt with gentle learners :o)
*
We are still small and need our sleep...zzzz....zzzz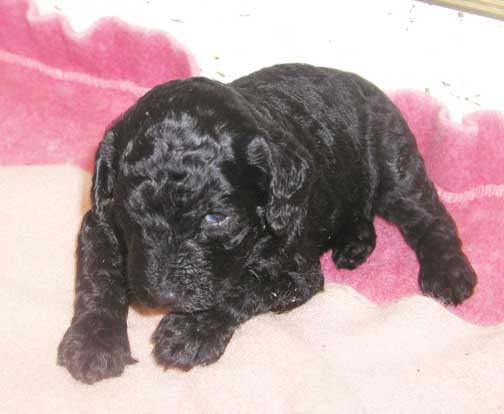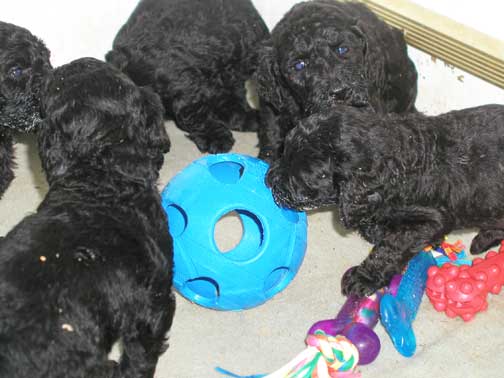 We are playing a lot now so Tes has introduced us to some toys....what is this blue thing??
*
That is a lot of babies to feed, good thing momma Niki gets her rest! :0)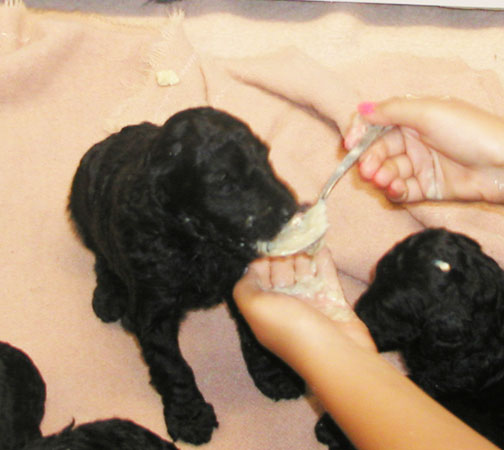 Dani's daughter is helping us learn how good the slurry really is! Yummy!! She'll need a bath sooner then we will ;o)
*
We've started to eat slurry, it's a blend of baby rice cereal, buttermilk to prevent diarrhea, a special canned dog food called mousse to help puppies transition and eventually canned dog food will replace the mousse :o) What I call our circle of life :o))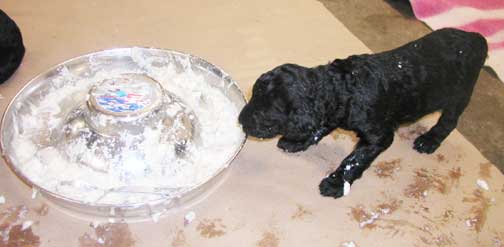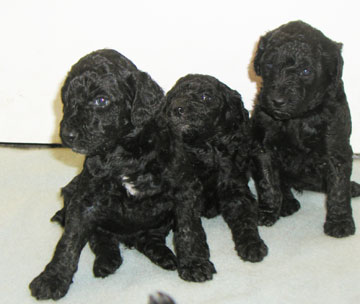 Tes has determined to teach us our next gradient of learning...learning to move from the nursery out to what she calls the "Family Room," (the in floor heated garage :o) where there's a lot more learning to go on..
*
See - Our eyes are opening, our legs are strengthening, and we're definitely making music now as we find our voice when momma isn't here to feed us ;o)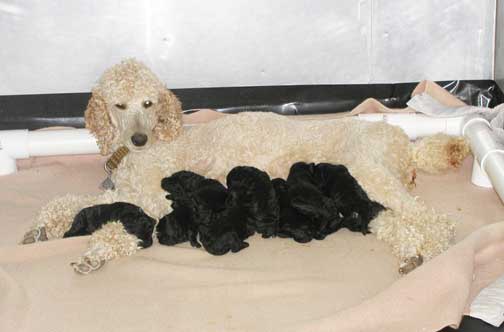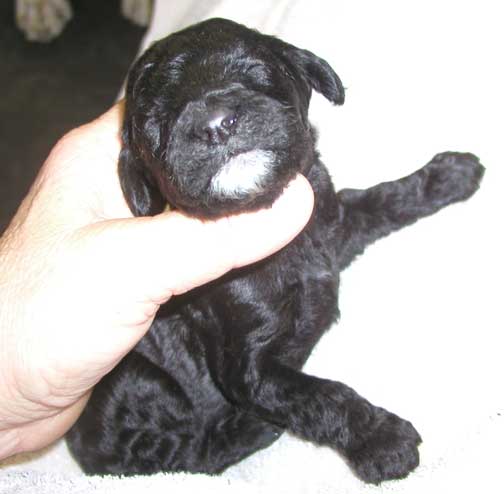 As you can see some of us have a white chin.  Some are bigger than the others.  Tes believes this comes from Bruno, since everyone that mates with him tend to have white spots on their chin!  
We love to snuggle with Momma Niki, she helps keep us warm.
*
Tes rubs our ears and we go into a yawn...it's amazing...but it's hard for her to catch with one hand/one person ;o)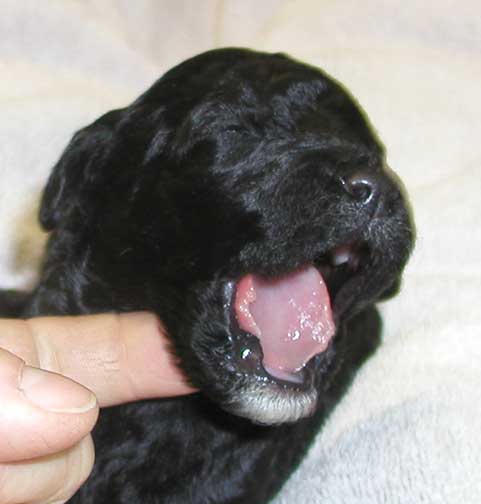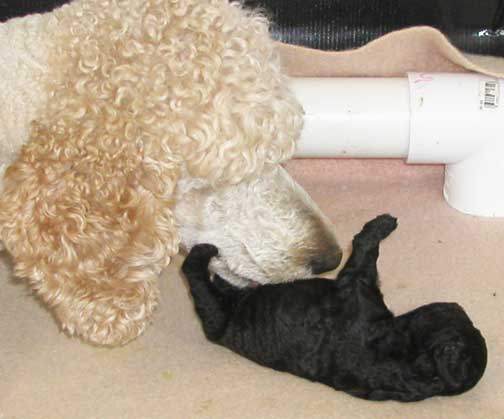 momma's still licking us to go potty
*
Hey momma down here!!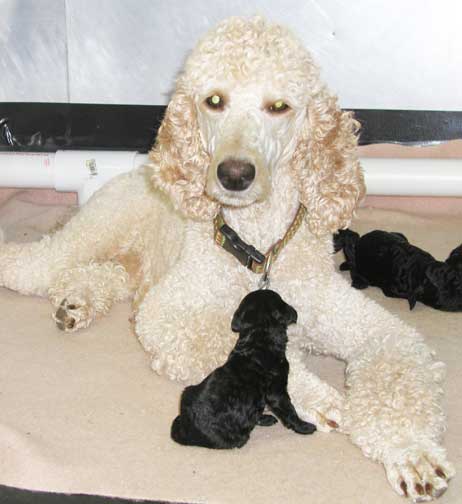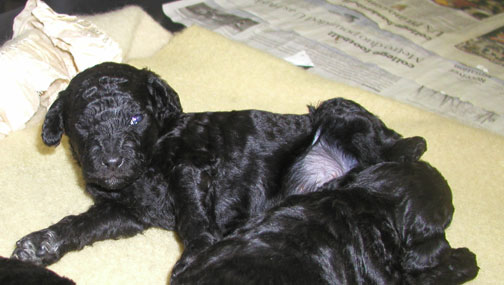 LOOK! I see you  now!!! We instinctively want to go off the blanket now so Tes has placed newspaper down for us to learn on.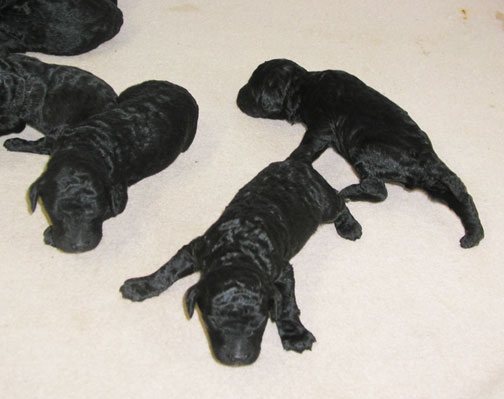 Slowly dropping the temps as we begin to create our own. Adding space as we learn to instinctively move around, eyes soon to open during our 2 wks of growing. Momma's doing great!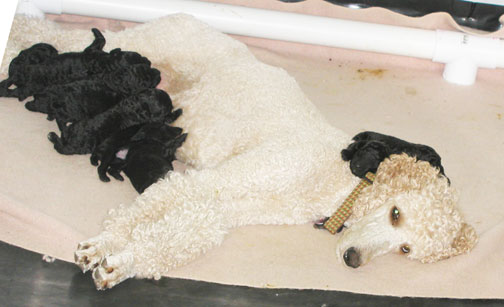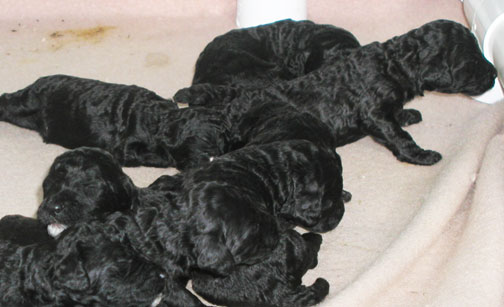 We're growing into our 2nd and 3rd week....enjoy enjoy..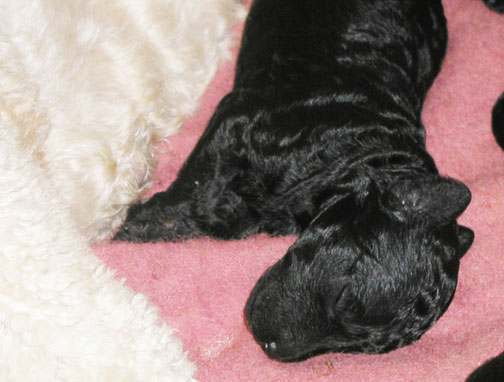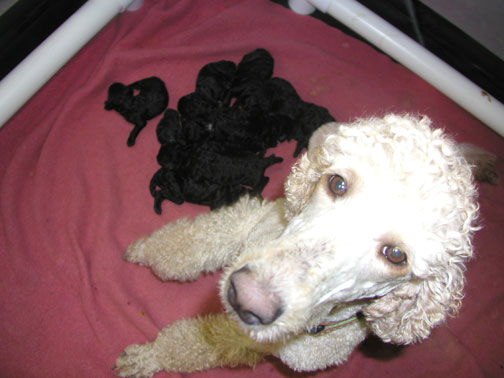 Thank You for wanting to bring one of my puppies into your loving home :o) There are openings available for one of my Males or Females with Bruno at this time :o))
*
With so many, I rotate in the middle of them, rotating myself...Tes has never seen this routine before..so i'm mostly in the middle of them...at least until they get really big ;o)
It's a PUPPY PILE :o)) As Tes slowly turns the temps down in the room, we don't want to be so spread out and thus curl for warmth with each other, which is NEEDED for momma Niki to lay down around us :o))
Tes keeps saying how we look like little tubbies now ;o) They are close in weights with 10 puppies...they'll be TALL Royal Standard Poodles compared to "Standards" :o)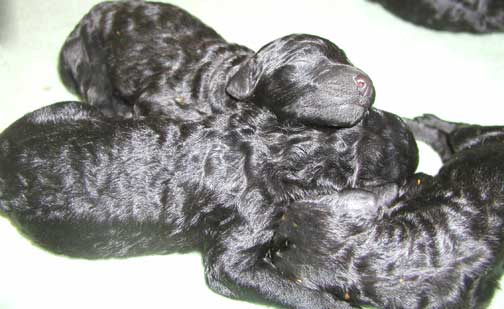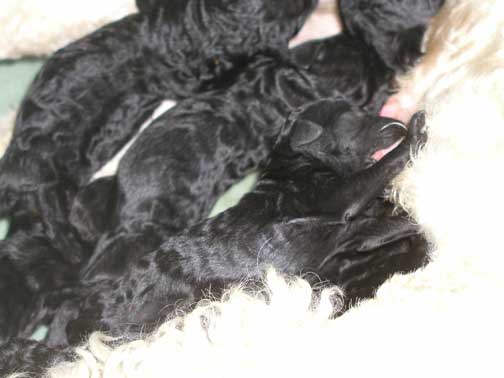 You can see we're looking gooood ;o) Smell is the first sense we have so we can find mommy's teets to nurse from...Big tummies getting filled with goood milk :o))) zzzz afterwards...and a snuggle always works for warmth...
*
LOOK! We're starting to scoot around as we get strength under our weight. This is why Tes sleeps little some nights...we climb up and fall behind momma crying to get out!!! HELP - WAKE UP TES!!!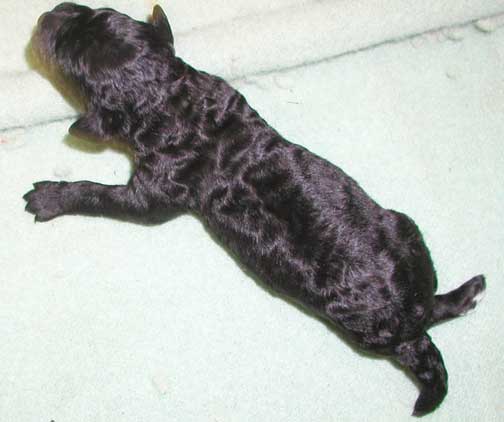 MMMMmmmm, what we do best as we grow...NUMMY...Zzzz! We're a VERY Black bunch ;o) The wool blankets gives our toenails something to grip and allows us to push into nursing :o)
Our tails are docked and due claws done now. Tes waits until we're doing well with some ounces gained...usually 2-3 days old they get done. Our bones start to get harder each hour and day that goes by...when done early there is VERY little pain initially...each day that goes by, Tes can tell with the different litters at different days as we cry more at 3 days then those at 2 days...1 day is done if of good weight and it's just the way it has to be to get into a placement at the vet's.
*
Mommy Niki is doing well, taking care of us so lovingly. Tes uses colorful wool blankets to absorb moisture over the coming weeks. It wicks moisture away, yet keeps us warm...and a colorful viewing hopefully for you ;o)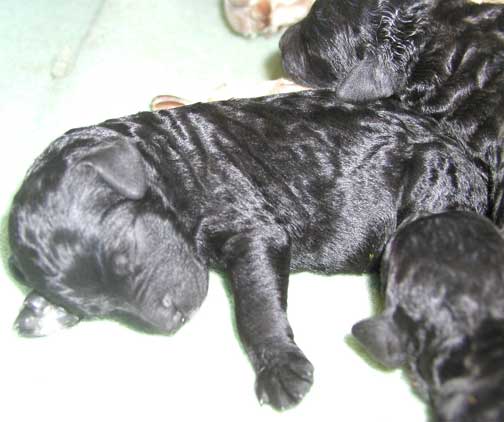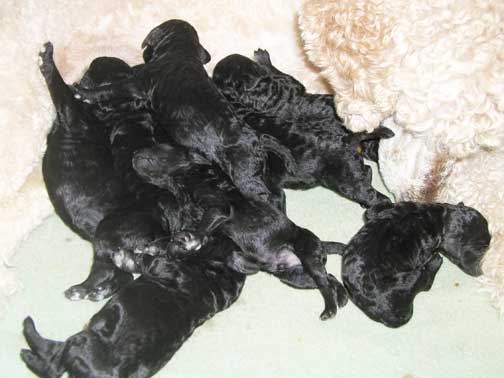 Mommy Niki, aren't you loving :o)) Licking us all the time to go to the bathroom as we can't do it on our own for awhile. Licking stimulates us to go until we get old enough to control ourselves. UMPHH!
*
A 4 legs up picture :0) I'm a black large female born with a whole lot of white on my chin! Tes has finally come to the research conclusion with so many different dams, this white chin comes from BRUNO!  He seems to be the gene instigator for these...who would've thought that?!?!
Look at how cute we are so little...sorry you have to miss out on this part, yet we hope the pictures help you enjoy us ;o)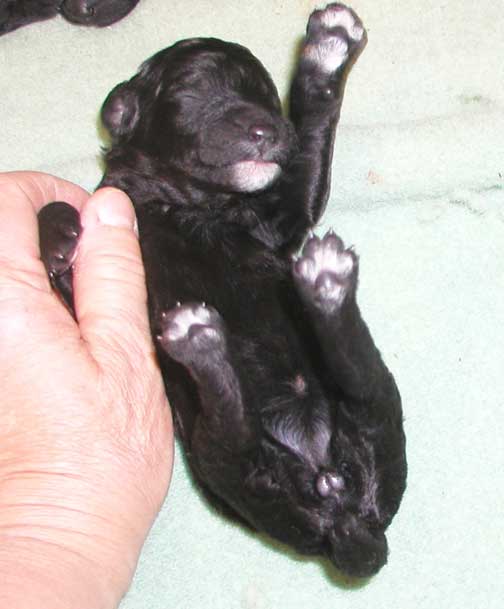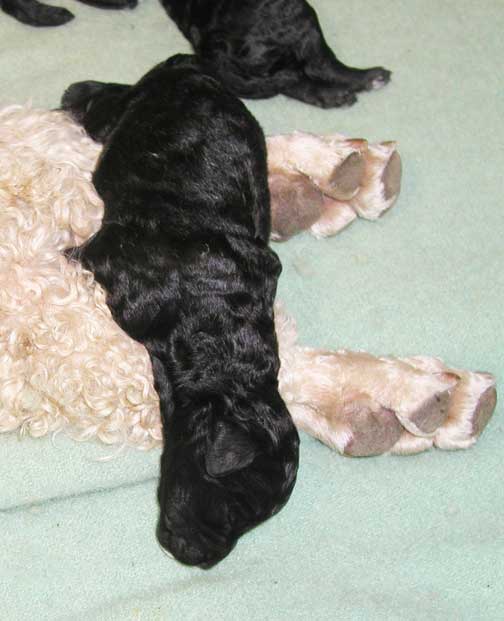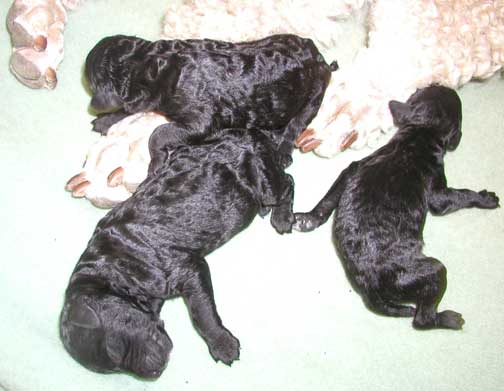 It's an arm thing...we all like to crawl up on the arms for snuggling. We're definite different weights yet oh so close with oh so many of us.
*
At 2 days old I'm still curling in the fetal position staying warm in the temperature controlled room 78-80 degrees and heating pad underneath to keep me comfortable. We are not able to regulate our body temperature yet. The humidity must be kept around 55-60 percent so our skin doesn't dry out, as that isn't developed either.
I fit snuggly in the palm of Tes's hand :0)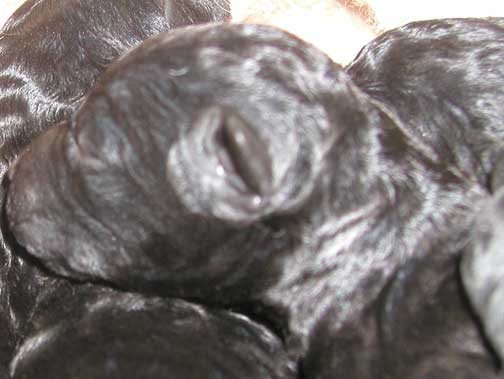 Above, puppies are 1 day old. Niki is tired yet loving her pups. We all 10 came from her tummy just yesterday!!! We're excited to come home to you :o) Ahhh, yes, snuggle, cuddle, look at us little tubbies at just a day old...ALREADY climbing and searching for those teets!
*
Niki had 10 puppies! Woo Hoo!!! Born 6/29/16 Below they are JUST arriving where I took their first picture to send off to you :o)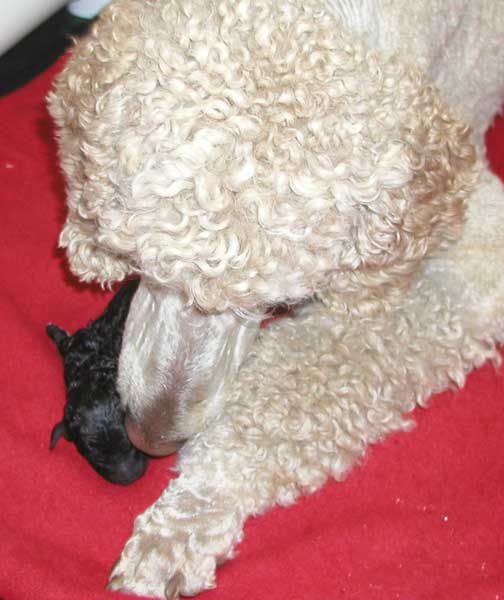 N x B Royal Standard Poodles 2016 Summer - see poodle coats