Large Standard Poodle Blue Eli
Large Standard Poodle Blue Eli, Update 10/20/20 ... Eli and Cairo got out of Bruno Park with the very strong winds blowing open the 16 foot gate the week of 10/4/20. Cairo was located 3 days later, not Eli. I rented a helicopter service to grid the central TX wooded mesquite country where I live, to no avail. I had placed fliers out over two counties, to the neighbors, vets, groomers and everyone possible. Two weeks later I received a call from someone who saw his flier and had found his remains with his double collars. 
Although he is deceased, he will have puppies coming our way with Magic, to truly be delightful personalities as both parents exude. You see how shaved down in the 100 degree summer TX temps, Eli looks very light silver black. That is considered a blue, when his hair is longer, it is very peppered silver black in color which you'll see in more pictures below. Eli came to me at 2.5 yrs old from MO June 2020. The breeder shared he was too big for her 45 lb poodles. He may not be a Bruno yet his health testing is proven STRONG to grow up my line again with the upcoming Bruno Brown daughters, and an absolutely wonderful personality wanting to be loved.
Tracking Large Standard Poodle Blue Eli stats:
10/4/20 week passed away, yet wonderful puppies where I will keep one for breeding

8/28/20 - PennHip results Mild Risk, see results below

2020 - 3 yrs old, 65 lbs, 25" at whithers

Reason I purchased Eli is he is big and carries Coat Colors & Traits test completed - Carries Black, Silver, White, Agouti, Brown, yellow/Red, Phantom, Parti. This will allow a variety of colors to come forth with my line of current colors.

4/3/18 VW - Von Willebrand Disease I Clear

4/3/18 PRA - Progressive Retinal Atrophy, Progressive Rod-Cone  Clear 

4/3/18 NewS - Neonatal Encephalopathy with Seizures Clear 

4/3/18 DM - Degenerative Myelopathy Clear 

DOB 9/13/17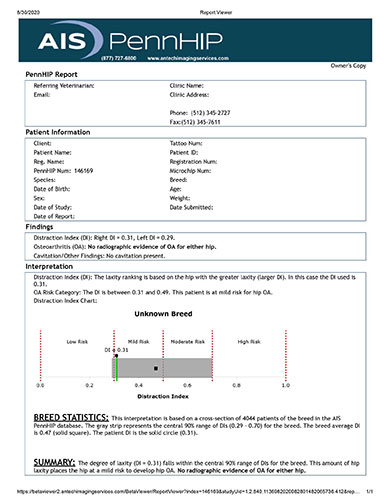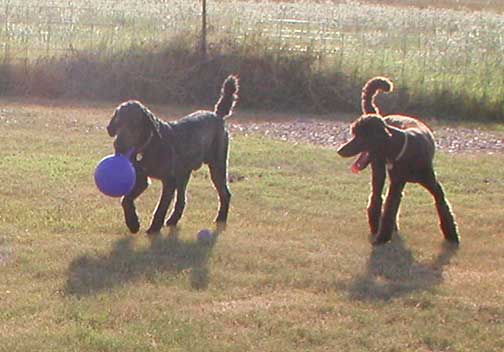 Up and coming Brown Cairo at 8 months old 65 lbs, a bit taller then Eli. The two enjoying the play :o)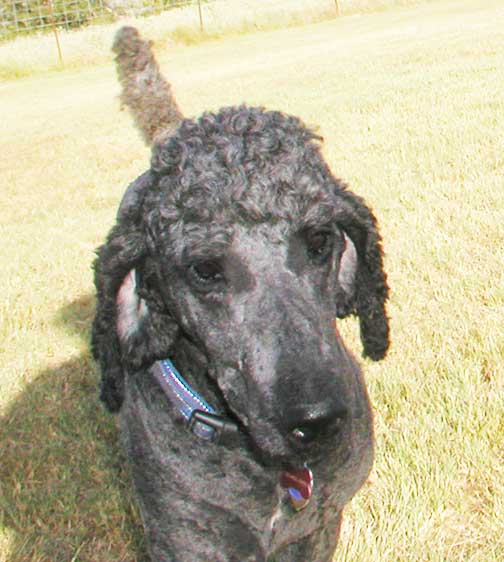 Eli mug shot.
Square full body.
Eli rear angulation Good!
Having fun in Bruno park.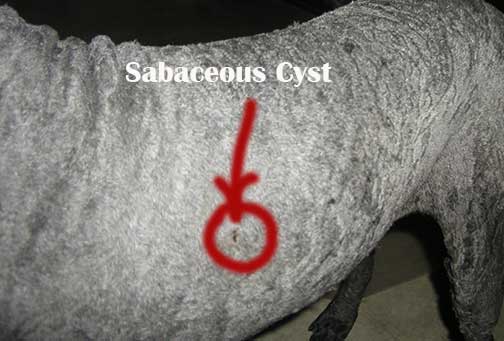 When Eli arrived, I felt a very hard rock like lump on his side, indicative of a sebaceous cyst. The wonderful thing about canines is MOST have a high tolerance to pain, thus I began to open up the head of the rock like lump. Finally open, I dug out the black very hardened cyst matter you see below. I do my best to keep them shaved down in order to find such lumps and handle immediately. The vet told me not to, at which once I didn't they had to take a 3" long football like incision to remove one. From then on I said to myself I would squeeze them out or remove as I did here. It didn't cost me $300 of surgery and a pet under anesthesia. Only a relaxed boy laying calm for me to remove it.
Large Standard Poodle Blue Eli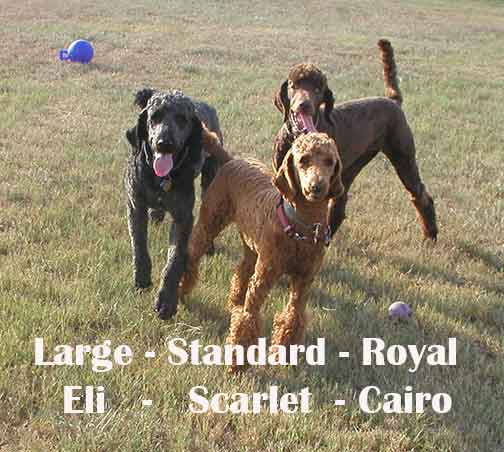 I breed for healthy larger then usual standard poodles. It is my focus, yet standards in every litter.