Large Cream Standard Poodle Hadley & Black Helmut
Last updated 5/1/20  Helmut here, life is good, life is great...What was right in Your Day? I've got a new white buddy, not from Tes though. Hadley sooo loved by another she went to live with them.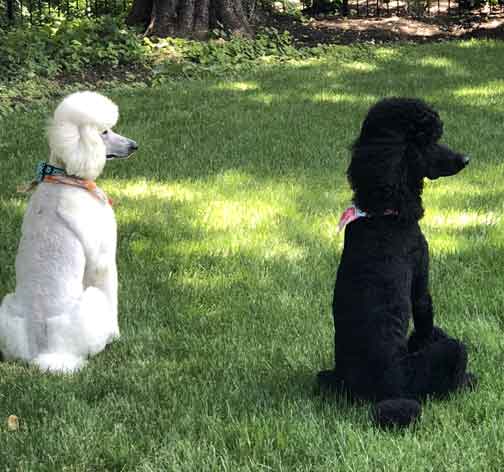 Large Apricot Standard Poodle Hadley at home in Chattahoochee Hills, GA. Parents Blue Cleopatra x Red Daniel born 03/28/15
-Her owners share: "She's so tractable & obedient, so gentle and wise for her "months" ( with the bunny!) she's such a princess, drama, planning and manipulation! She's a wonderful, wonderful joy! I love her so much!"
Tracking Hadley:
3 yrs old 50 lbs
16 mos 49 lbs

8 mo 45 lbs

5mo 29.6lbs 
4mo 25lbs 8oz
7wks 6lbs 4oz
Tracking Helmut:
5 yrs old 85 lbs...that's a Bruno boy ;o)
2 yrs old 80 lbs
10 mos, 71lbs.
4 mo 45 lbs
3 mo 32 lbs
11 wks 22 lbs
9 wks 14 lbs 7 oz
7 wks 11 lbs 2 oz
We're such a joy to our owners, absolutely loved!
Hadley, OH SO PRETTY!
*
Oh soooooo Black and holding it at 2 yrs old!!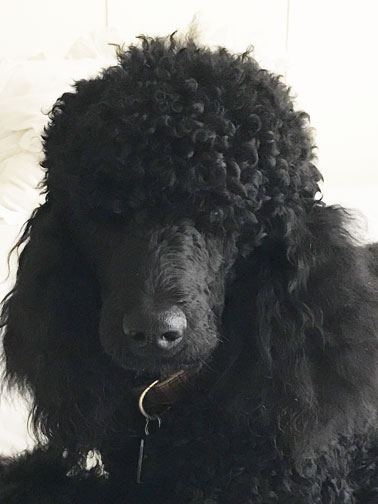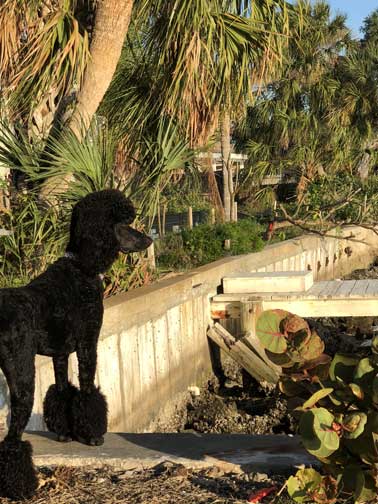 If we look over the gulf from here in Georgia, we can see Tes in Texas ;o) I'll take her a bone :o)))
I'm 3 years old, and sometimes a stinker ;o)
Princess Hadley and her Princess car! :0)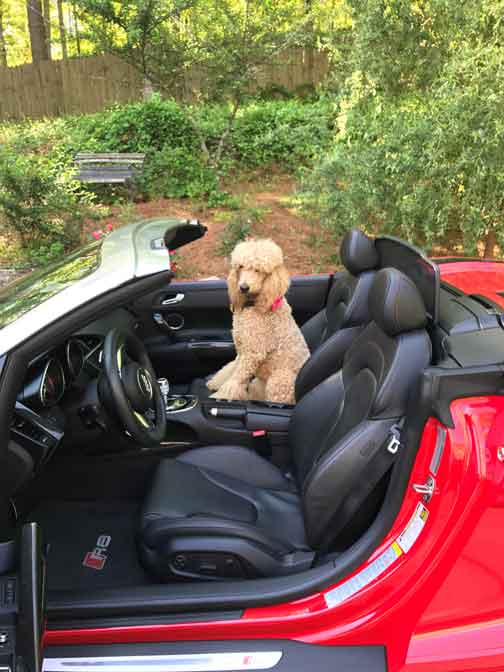 "Come on Helmut, get in!"
*
"Daddy got us a new ride!! Helmut still gets tummy upset, but not me!!! I can even hop in with the tailgate up!"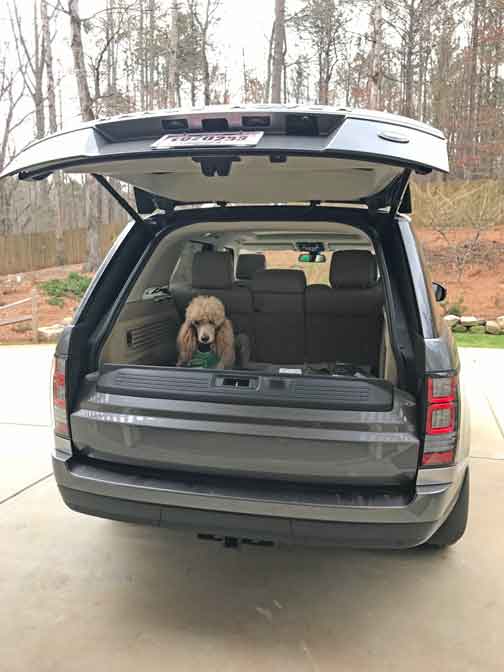 Our owner shares: "I have the most gorgeous poodles ever!"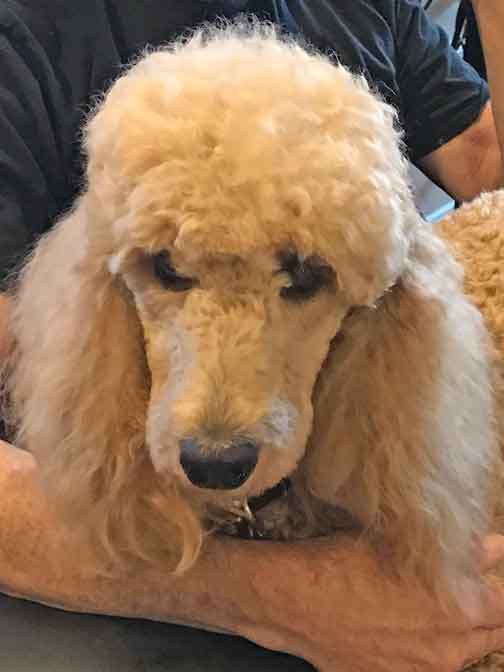 Pretty girl!  Up on Daddy lap as usual

*
My owners say I am a magnificent spoo.....I agree! :0)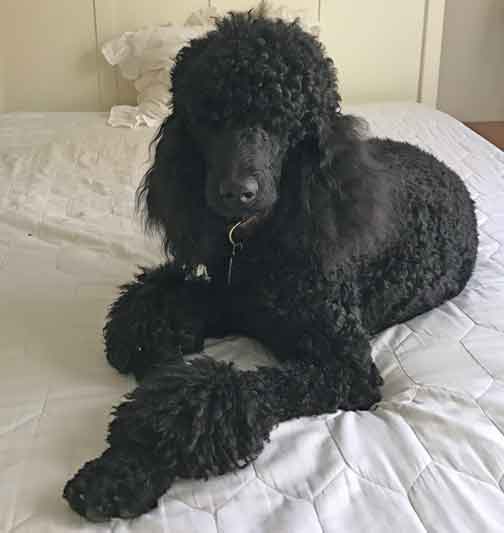 "Hey - Helmut! Why are you in the back seat with that funny thing around your neck?"
Helmut still fits in Dad's lap, but it really is Hadley's spot! :0)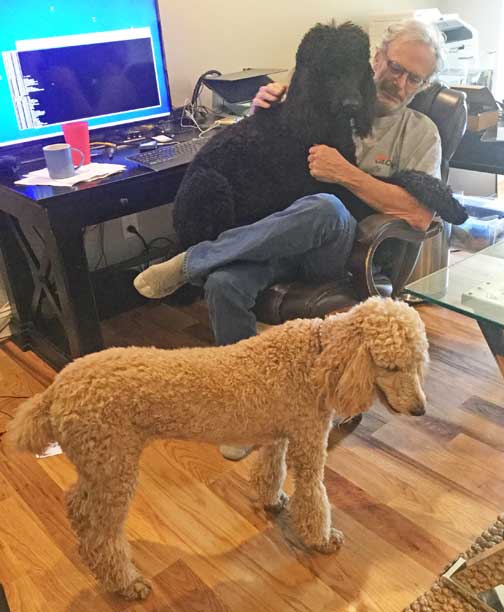 They were back to back in the kitchen tonight so Helmut could "scan out the back door for deer," whilst Hadley made certain I didn't pick up my keys & make for the kitchen door! They make me laugh so much!!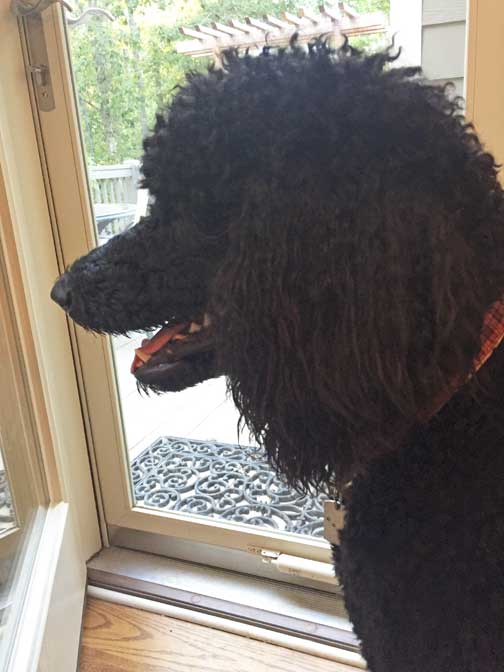 *
Oh my goodness these pups!  I wanted to send you all 12 facial expressions Hadley made at me trying to get her out of the truck (dear Helmut would come, but then right back to "truck side"... ps: we'd I already been on one hike this morning!) they totally have us "WRAPPED"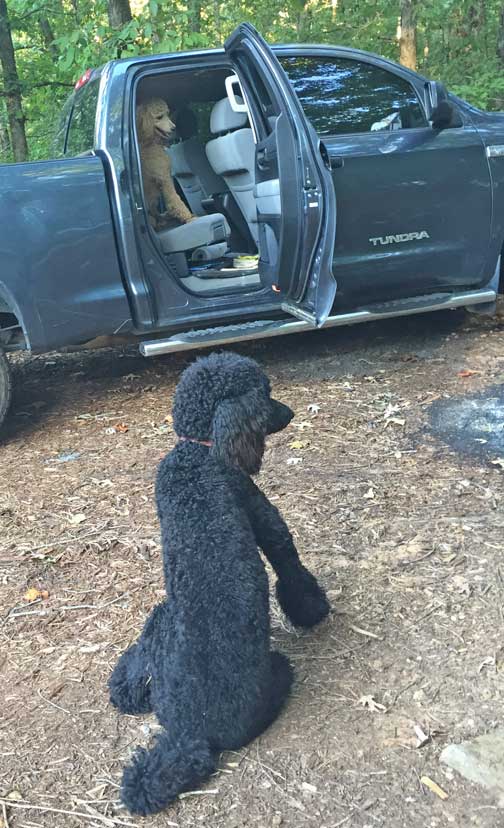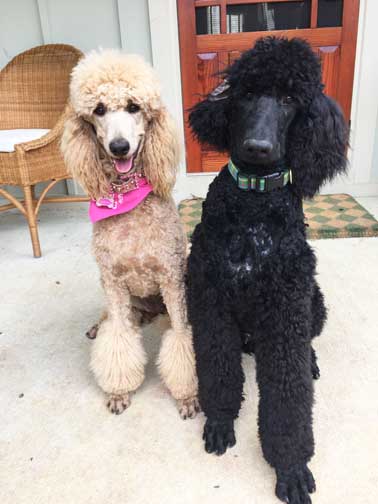 Hadley 1 yr old and Helmut 6 mo old 2016
*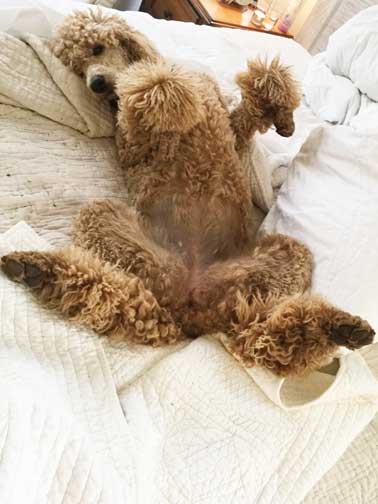 Yup, she's still my doll-baby; I want to share a bit what we've been thru recently, in case it may help someone else!
In Hadley's "baby book"... it shall be recorded that from approximately 8 months to almost her 1st b'day, she turned into a BAD BAD BABY!
Now that we're thru the worst of the storm, I can tell you about it.
I may never know if due to her age, or us spoiling her or combo why it seemed almost overnight we "lost her".... ie, she totally began ignoring me, she began nuisance barking (incessant for extended periods until I'd physically carry, bribe, or clown to get her attention. This would be indoors AND out. I adjusted all MY behaviors, tried harder to keep her busy & going places with me, but I literally could not leave her be for more than 2-3 min & it'd start up.  (Dear Helmut finally started completely ignoring her, and hanging with me or H.  Then it got worse.
She decided her 3 acres were way to confining and proceeded to investigate AND succeed in finding ways to escape her "confinement"...(and her beloved family including her puppy!) (she squeezed herself thru a 6.5" space between slats on the gate. When we discovered that, she began digging under the wildlife wires we buried to protect my little hens.
I was preparing myself to call you to ask your help in finding her a "better family", when H. suggested a last resort.
We invested in a very expensive E. Collar
I felt like a complete failure, and it seemed OBSCENE to use a training tool on such an intelligent creature. (Try to imagine almost dry-heaving with guilt)
So I played like it was "her "Radio"!!! so Mommy can talk to you Hads"... She's so precious, she totally complied with me putting it on her every time...
We used it for  a few minutes each day, at the peak about 20 minutes.  I signaled her only when she ignored my call 3 X's (to be certain she heard my voice in between her barking at ????)...
(Ps she didn't respond at all to the vibrations nor the pinch, until I turned it up one digit at a time, to beyond what was comfortable to my hand. )
I felt awful we weren't using a "professional trainer", I thought we were hurting her & she wouldn't understand...
It took one strong pinch, she turned to me, &  heard me...
I pinched her with it 2 more times while she was "zoning out", that was it.  She sat sweetly to have her "radio" strapped on for total of 5 days, even tho I never had to use it again.  After 5th day, I experimented; no Ecollar.  She's "come back to me".... She still barks, more than most, but she stops herself now, before I even tell her.  She "comes" again when I call, and there seem to be no more escape attempts...whether she "outgrew it, or the training collar got her refocused, we may never truly know, but I wanted to share this with you in case you have anyone call you at wits end... (I might not have had the guts to try that collar if you hadn't given me Pukka's Promise")...
Helmut continues to be a gentle giant, more loving and attentive to me than any dog I've ever loved... And man is he smart, but that's another day!  Pictures after his next haircut! 
*
A visit to the vet for a sprained toe on Helmut - OOPS and OWEEE ;o)
Picture PERFECT ;o)
I'm going to grow into these paws soon...
*
Ready for summer ;o)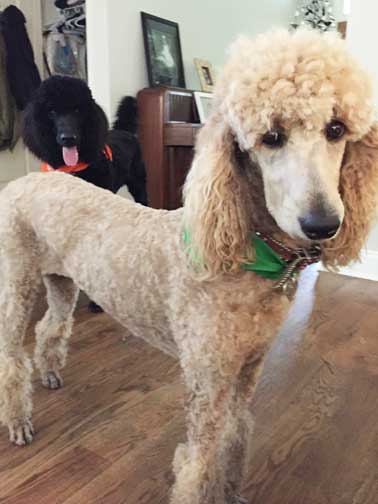 Spa day arrived:o) And LOOK at those PAWS!!!
*
Spa day is coming...stay tuned...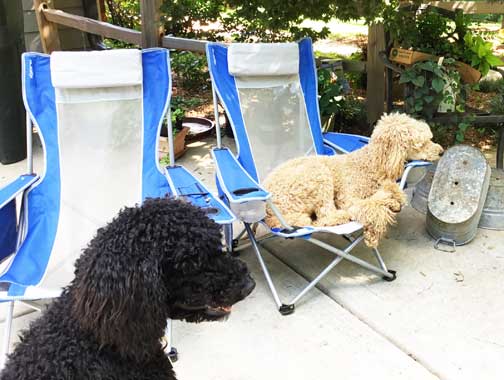 What's this? We won a water bottle and pen with the 4 pictures of 4 legs up, mug shots, ears back, and smiling :o))




*




The water bottle arrived from Tes and it DEFINITELY SMELLS like her spoos!! Open it - QUICK :o)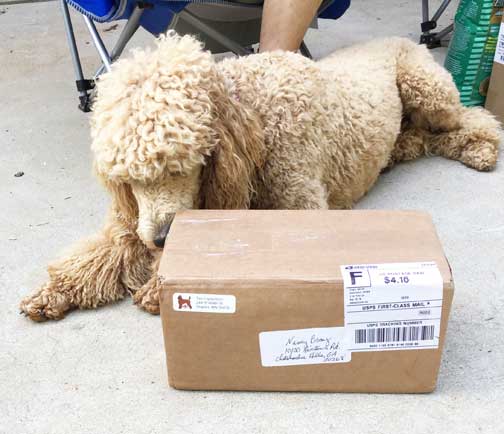 I'm waaaaaiting! I'M WAAAAAITING!!!!  The car door opens and there's no way I'm not going with ;o))
*
Daddy house wren sitting on eggs in a pot on the front porch... He zoomed when she put her nose in, but she left the nest with eggs alone!!!  She's been "talking" more & more Tes, hilarious, does her daddy express himself in words too???? Helmut is picking it up from Hadley, we are dying laughing, the intonations are spot on!!! Tes, "Great grandma Zain was a talker, Momma Cleopatra was somewhat, so I can easily see Hadley picking it up."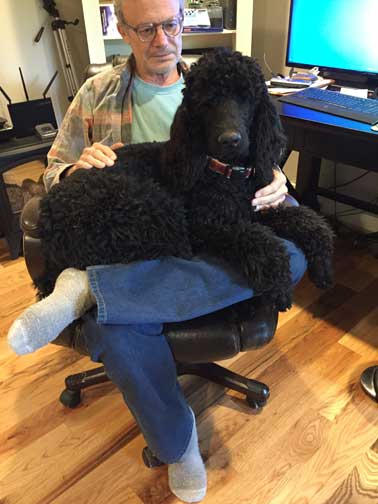 Still a lap spoo at 6 months old ;o)
*
a...and now for spring flowers to add to all the beauty of life :o)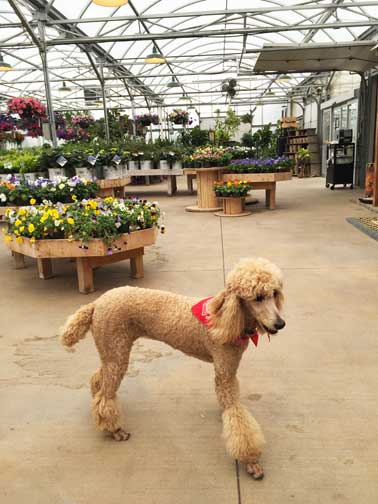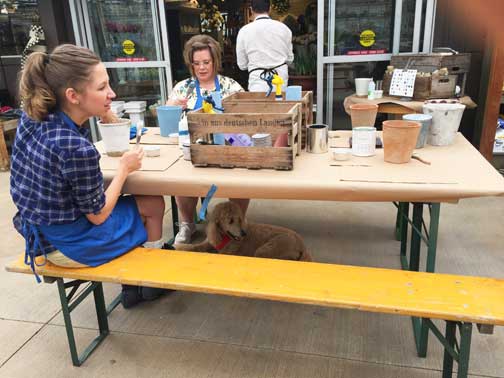 Now we're at painting class, making life booo-tee-fulllll ;o))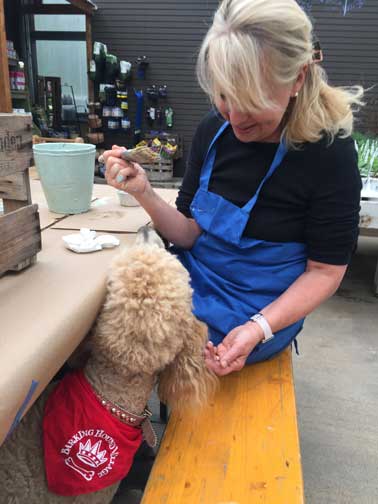 Nummy, what a treat ;o)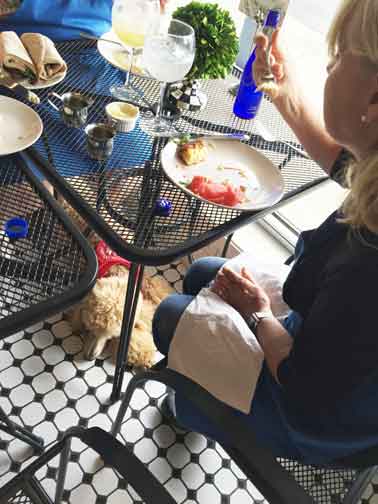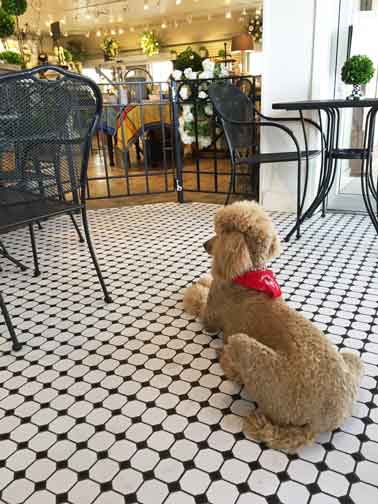 "Hadley here...I get to go to the restaurants with mom...I bring in more customers for them I'm so well behaved :o))"
*
Happy - HAPPY!
HUH? a pony in the van?!?! I'm not so sure of this...
*
We're some special girls ;o)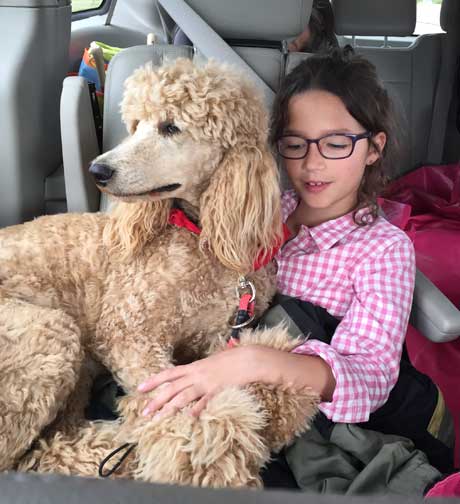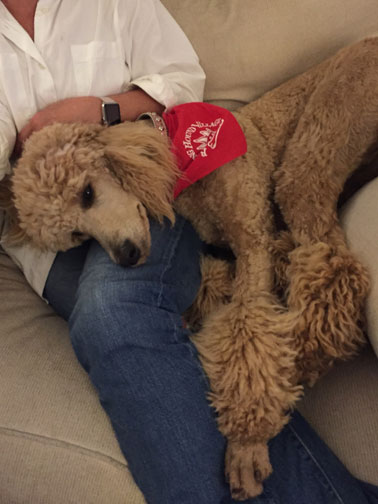 I'll take a lap any day!
*
"Hadley here. I like listening to the reading of stories too...but it doesn't put me to sleep ;o)"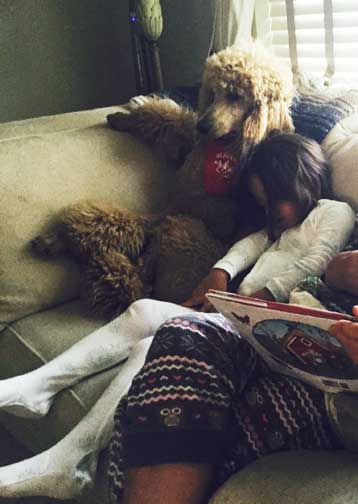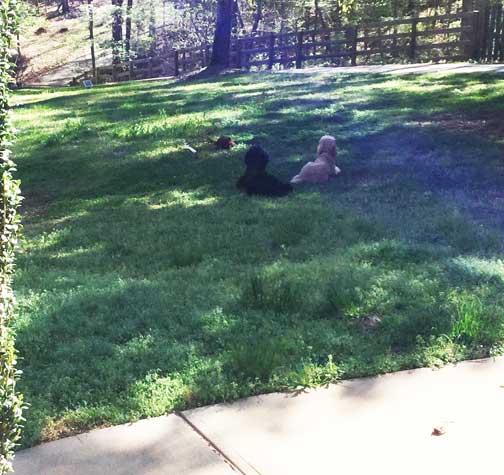 We LOVE the hill to Royally stand guard for our masters :o)
*
What's up? Oh so beautiful flowering bushes!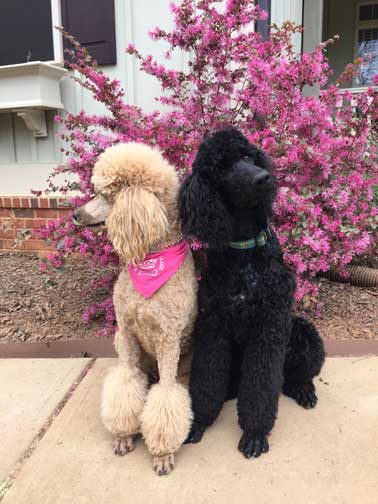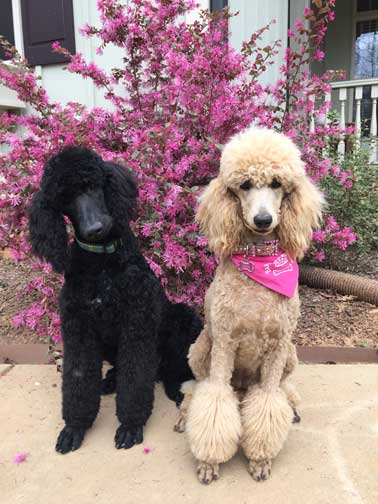 Oh Yeah - LIFE IS What was right in my day :o))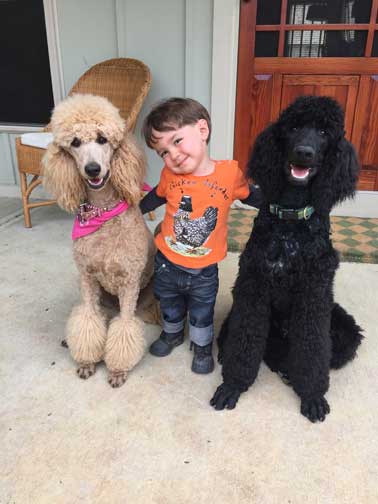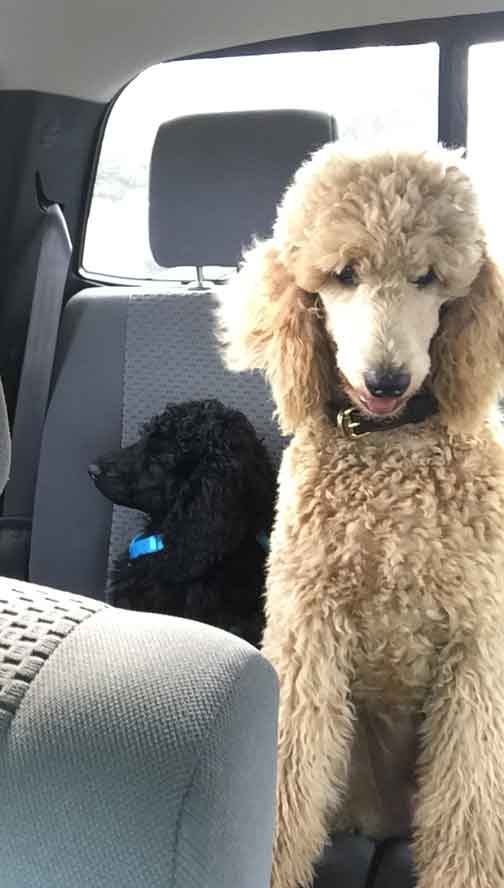 Large Black Standard Poodle Helmut at home in Chattahoochee Hills, GA. Parents Black Zeddy x Brown Bruno born 09/22/15.
His owners share: "He eats her(Hadley) food he steals her bones...when was that "fear-period" again??? LOL!! 
He's doing great w potty outside
Angel Hadley? :0)
*
Silly Hadley! 
She tries soooo hard to entice Helmut to stay outside and be a coyote with her but.............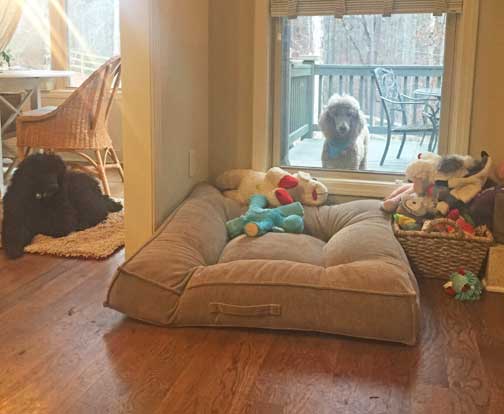 .........he's my lap-puppy!!
*
Waiting politely for supper..."we learned this from Tes & Dani"...
Hadley got tired waiting for supper... But not Uncle Helmut!!
*
Look how much I have grown!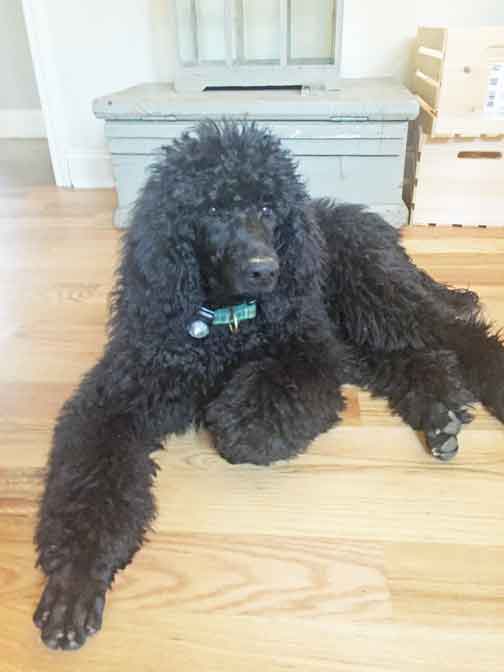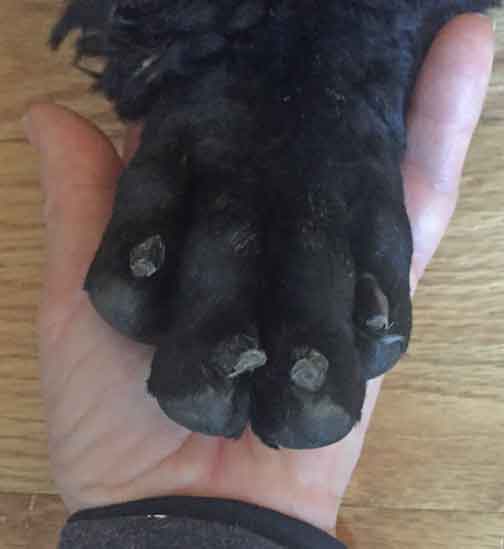 Look at Helmut's huge paw! :0)
*
 "Look at our cool dog house, it's a tent for SPOOS!"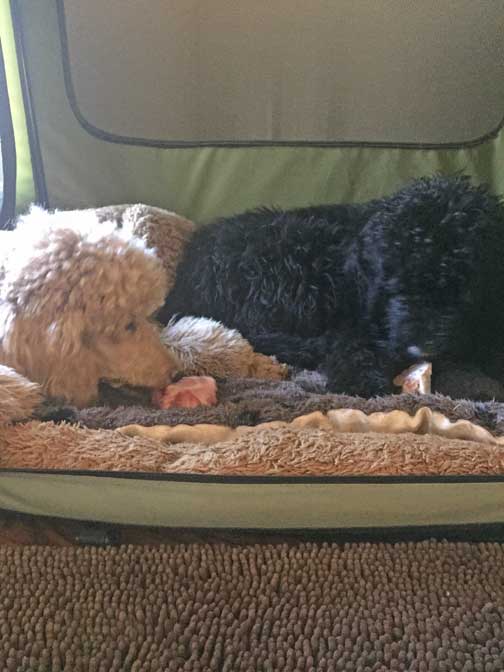 "Nummy fresh bones!"
*
Helmut says: "I am still hungry, I think I will help myself...."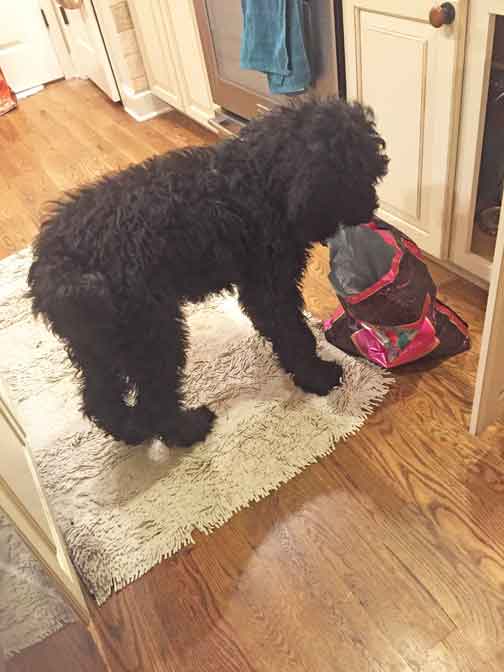 Helmut says: "Now this is what I call open feeding!"
*
Hadley says: "You are not supposed to eat out of the bag Helmut!"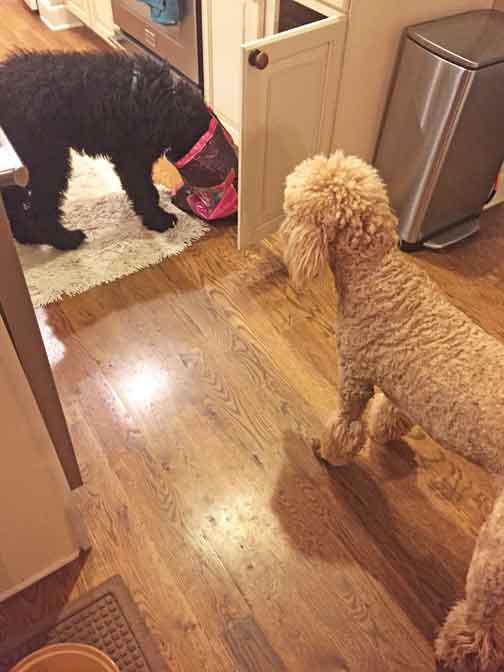 Hadley says: "You aren't eating all of it are you?!"
*
Hadley says: "Can you believe it mom, he already stole some of mine too!"
Helmut says: "But I was hungry..." :0)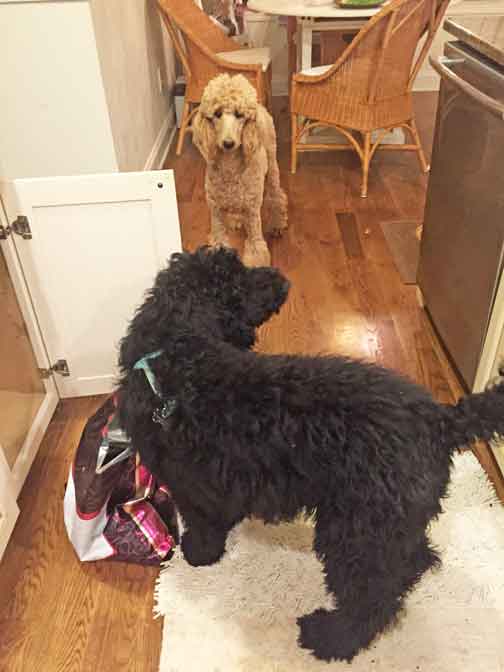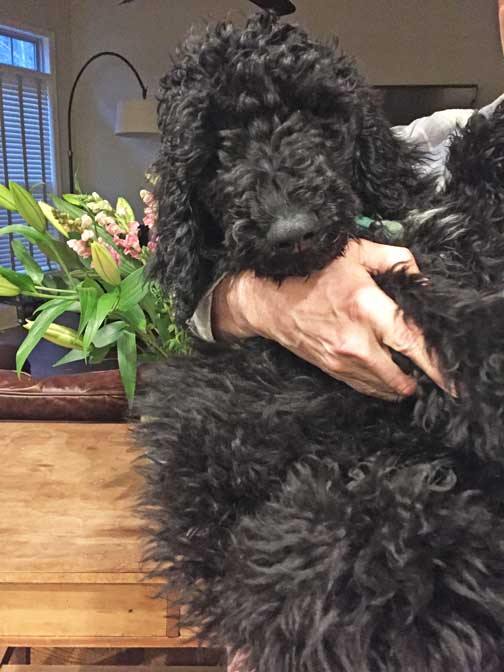 I wonder how long they will be able to carry me like this......:0)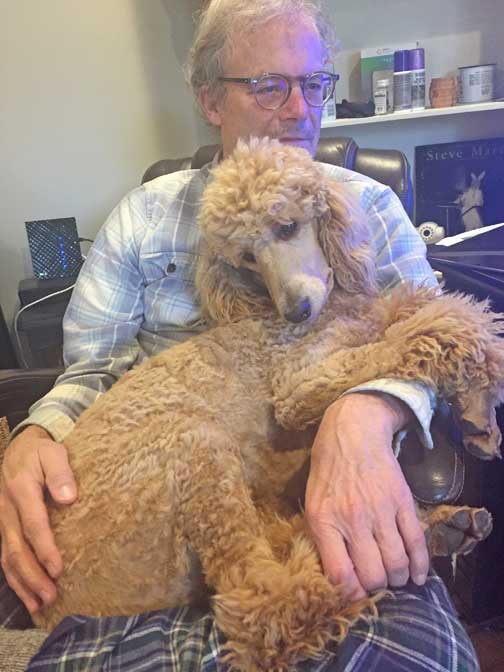 "No Helmut this is MY spot!"
*
"This is the perfect spot for me!"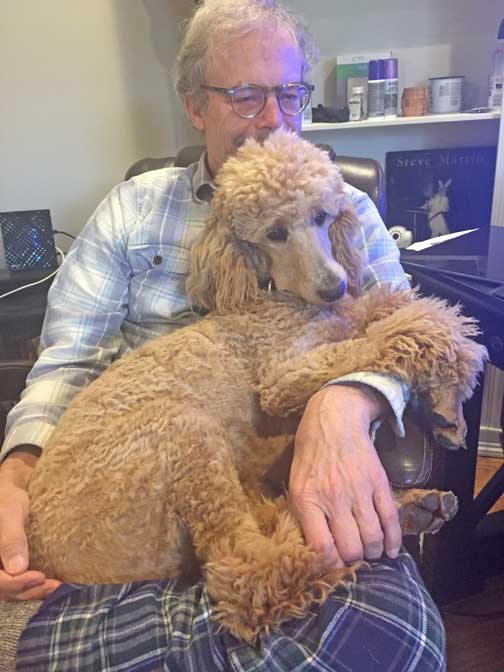 "I am Princess Hadley!"
*
"It's snowing in Atlanta!"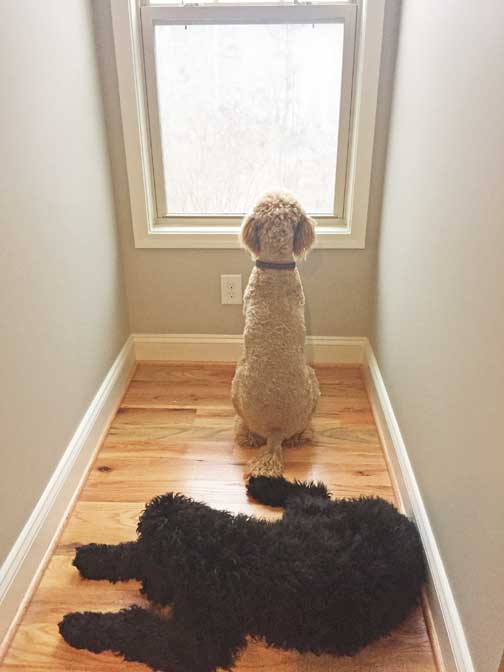 owners share: "Isn't Helmut such a "cowboy"!?! He always keeps a little mud on his nose!!!!"
*
"Game time, on your mark, get set......."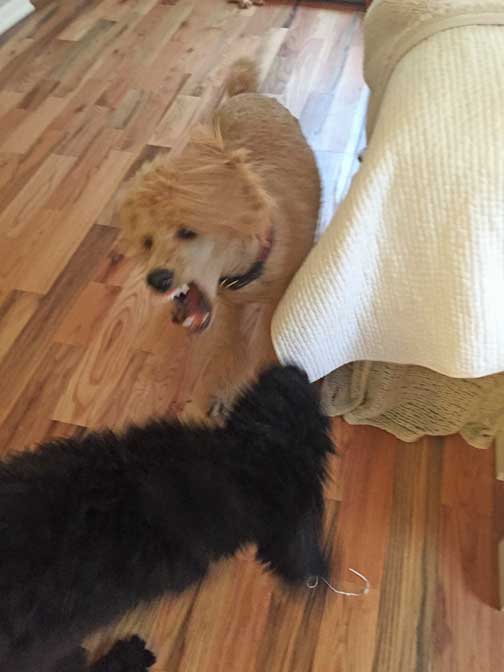 "GO!" :0)
*
"I really have my daddy Daniel's eyes in this picture!" :0)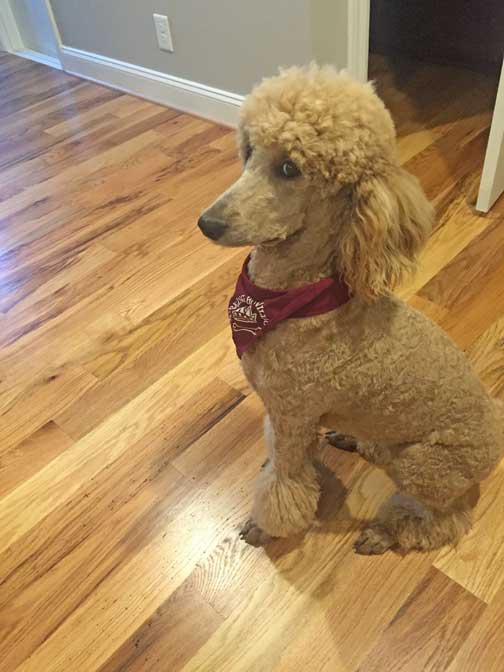 Hadley says: "Look at me I am so pretty with my new hair cut!"
*
"We love our pet bed that Tes made, it is perfect for us to take naps on and chew our bones!"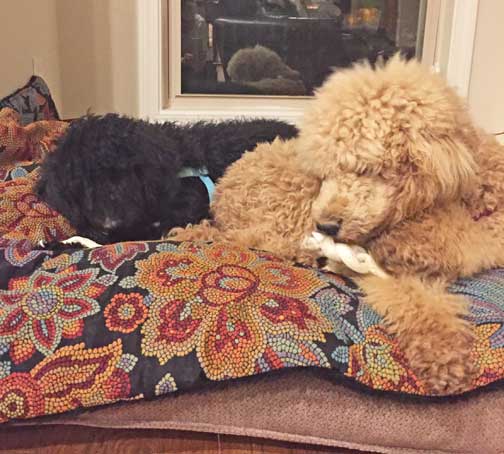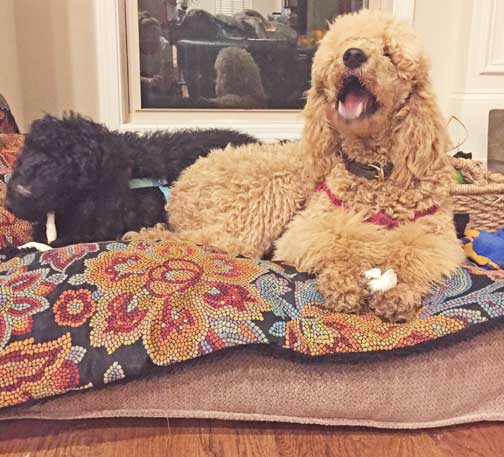 "SMILE" :0)
*
1st sleeping position......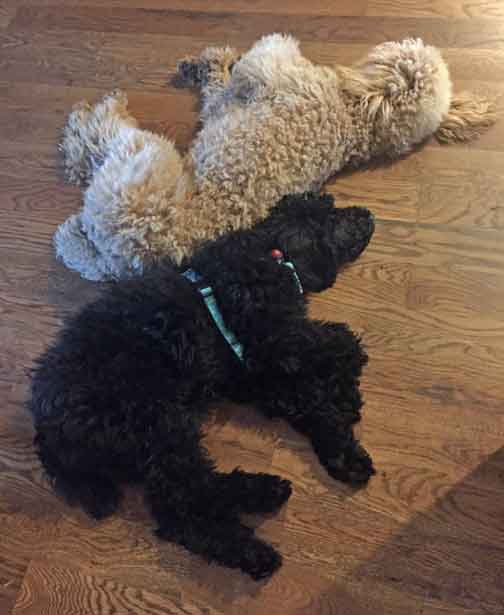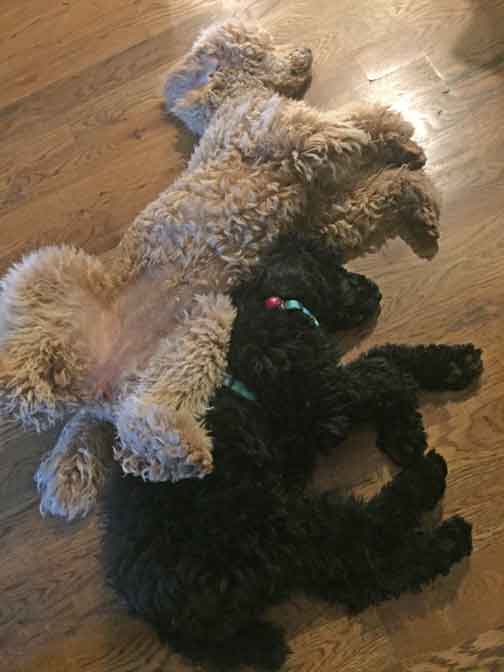 2nd sleeping position......
*
"Perfect!"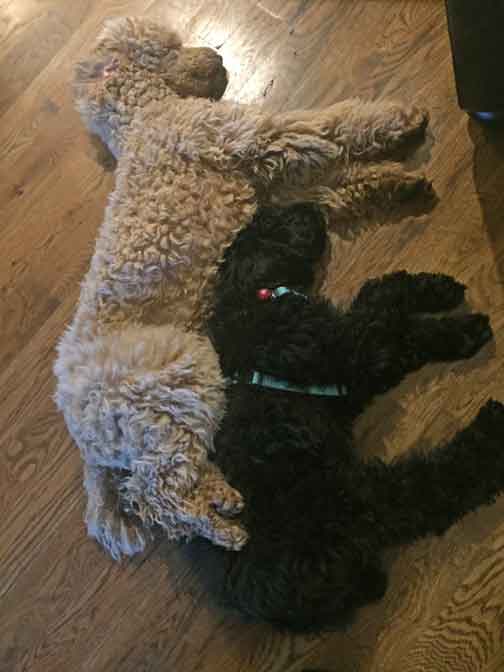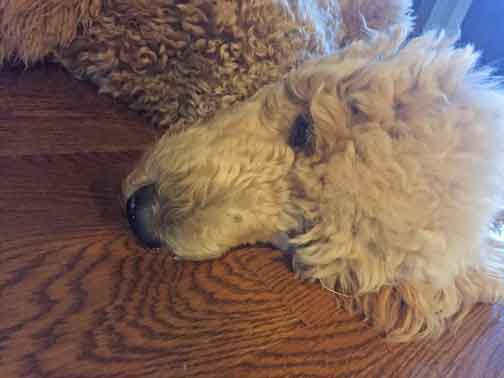 "Finally I am comfortable that I can sleep!"
*
Hadley is 6 months older than Helmut, Look how big he is! :0)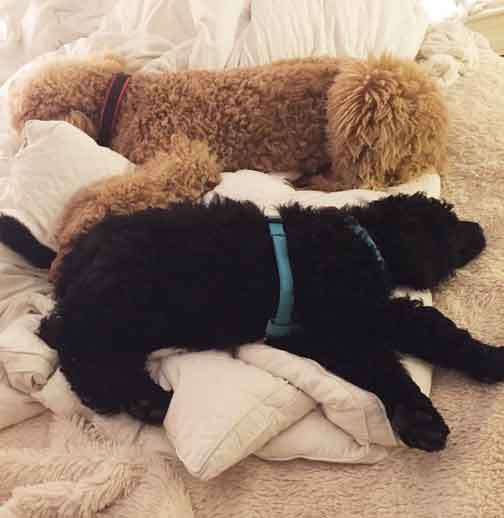 "How can you say no to this face?" :0)
*
Thank goodness! "Himself" is finally asleep!!
Love
Hadley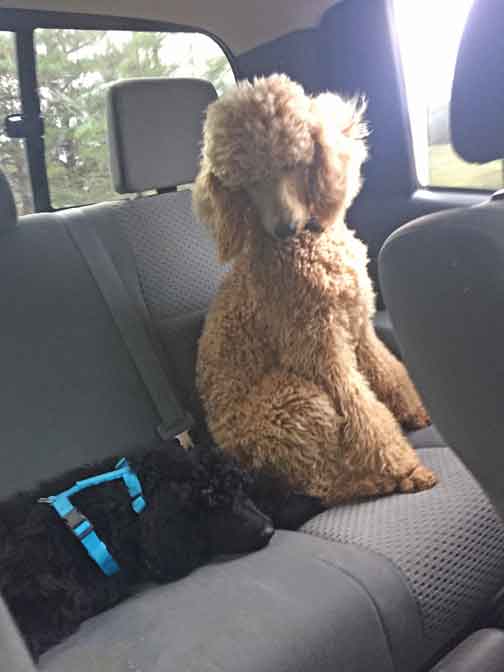 Hadley says: "Are you Ok Helmut, your not getting sick are you?" :0)
*
"Woo Hoo our weekly trip to Home Depot!!"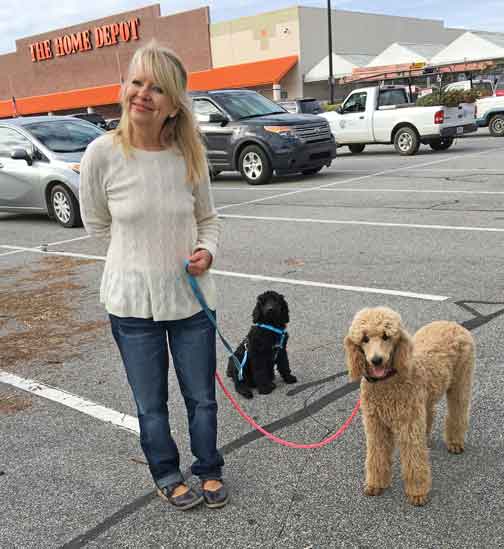 We are getting our people training in, look at all those people over there!! :0)
*
"After a busy day we like to snuggle up and take a nap!"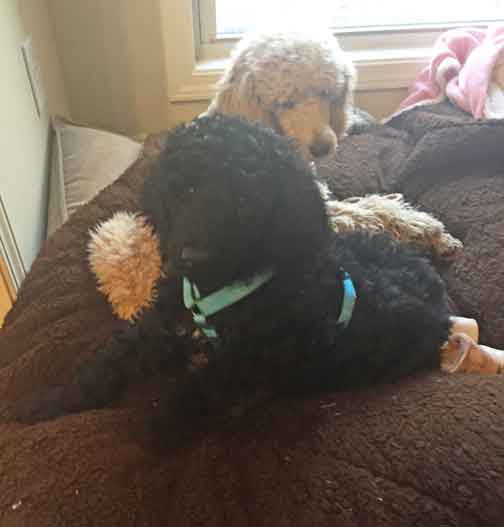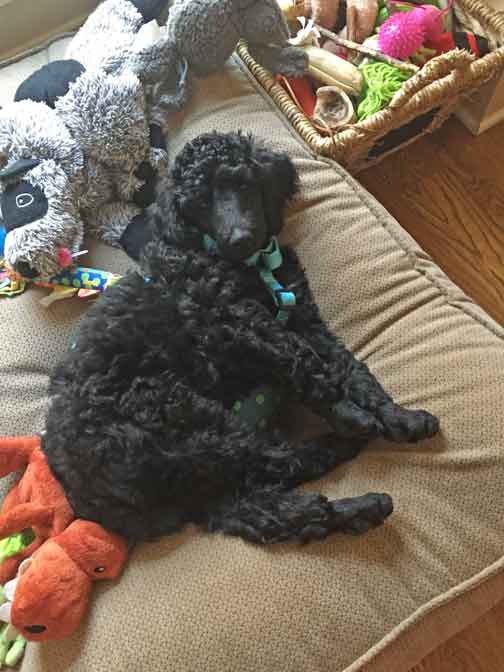 "Nothing beats toys and a nap, life is great!"
*
"Mom I think something is in my crate...."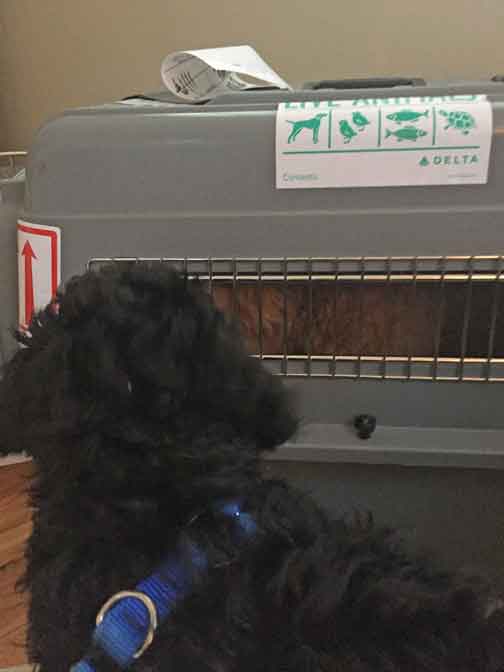 "It's my big sister Hadley!"
*
"Move over Hadley I"m coming in!" :0)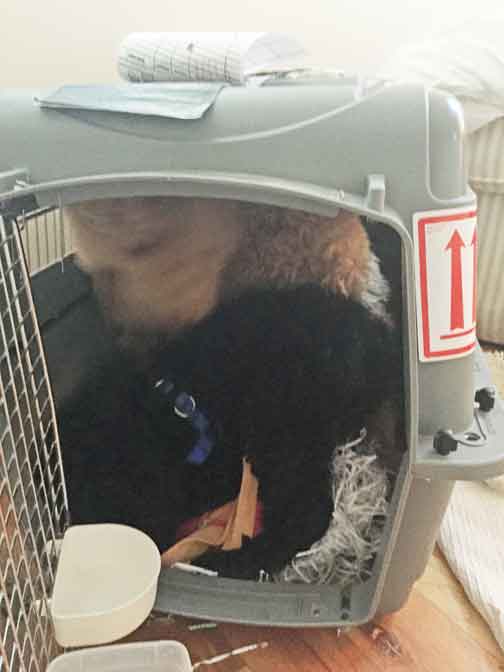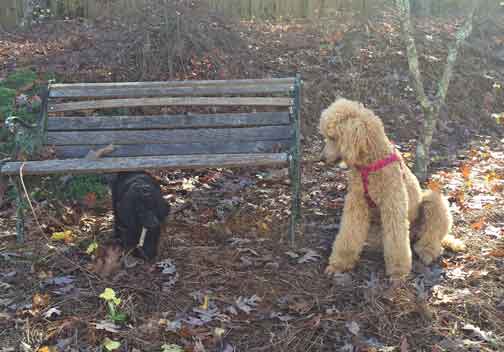 Hadley says: "Don't worry Helmut, I will take care of you!" :0)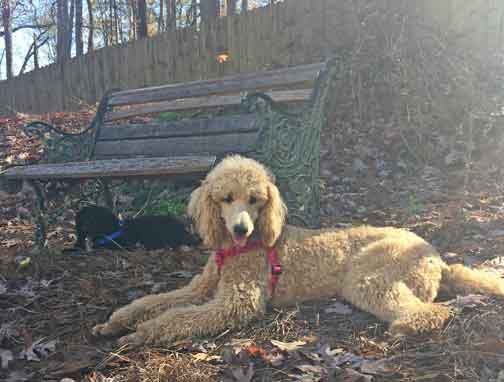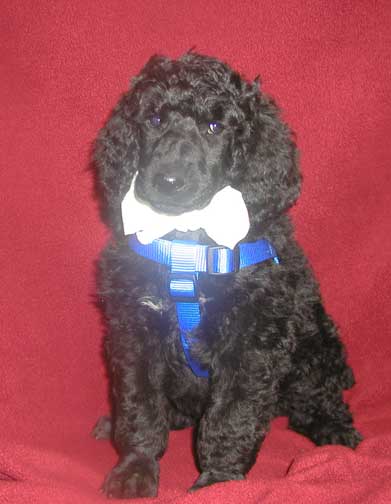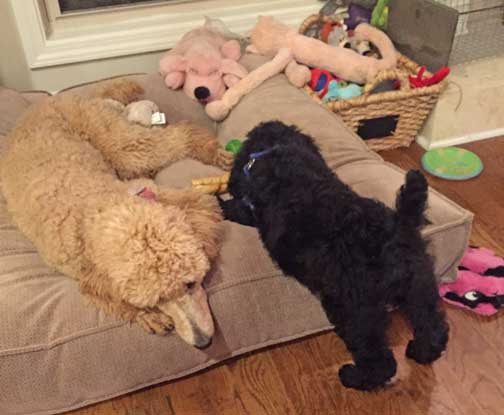 "Mom, he is taking all of my stuff, did you really need another one??" :0)
*
"Some folks call it "Cochran Mill Park, what a beautiful place!" :0)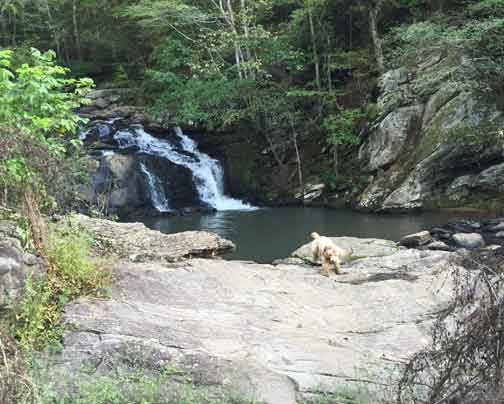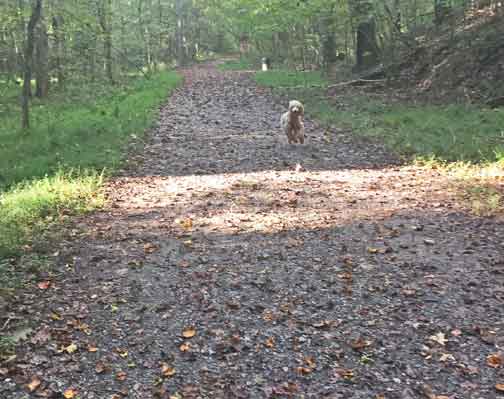 "On our way to a new spot Woo Hoo!"
*
"Ok I am done, time to get out of here!" :0)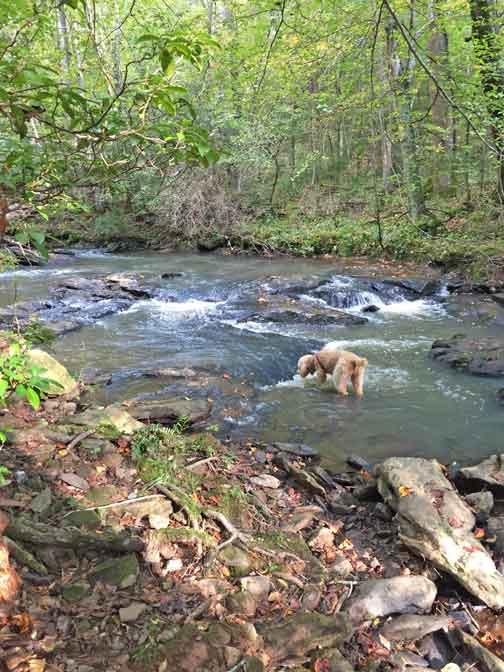 "This looks like a good spot to get a refreshing drink!"
*
"I think I will try to get a drink...."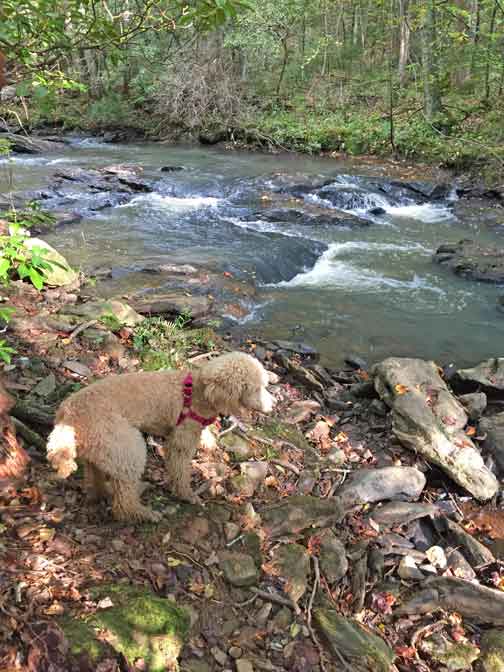 "I wonder if I can swim in there..." :0)
*
"We are on a hike Woo Hoo!"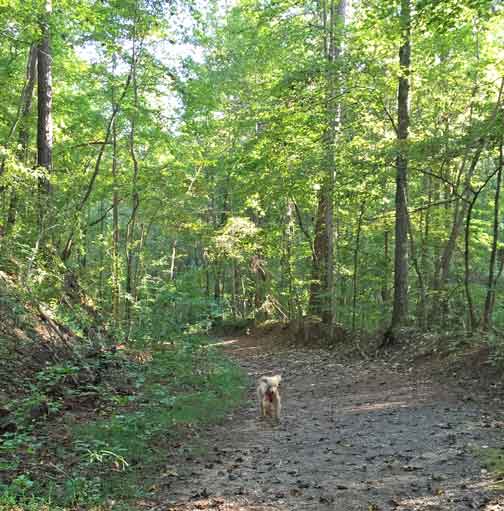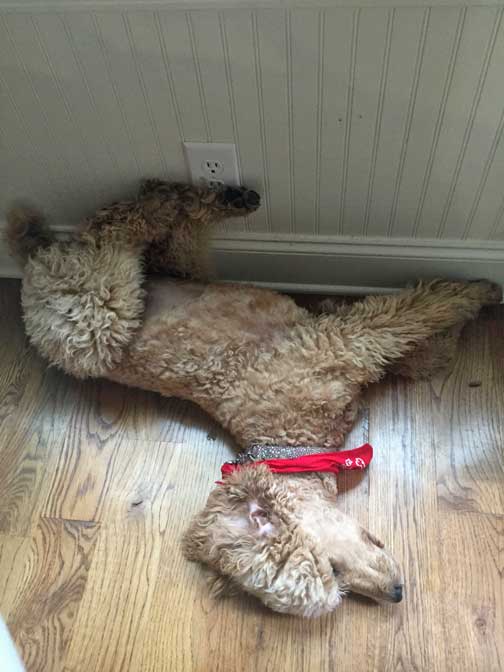 "Hardwood is sooooo much more comfy than those pricey dog beds Mommie puts in every room" :0)
*
"I am such a beautiful girl!"
"who says a "strawberry blonde" can't wear red?!" :0)
*
"Rolling and Playing!"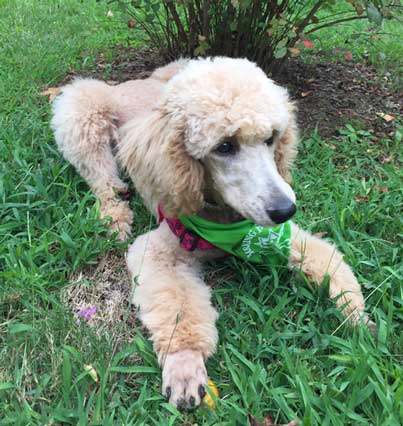 "Such a beautiful girl with my new haircut!"
*
"I look so soft and fluffy now!" :0)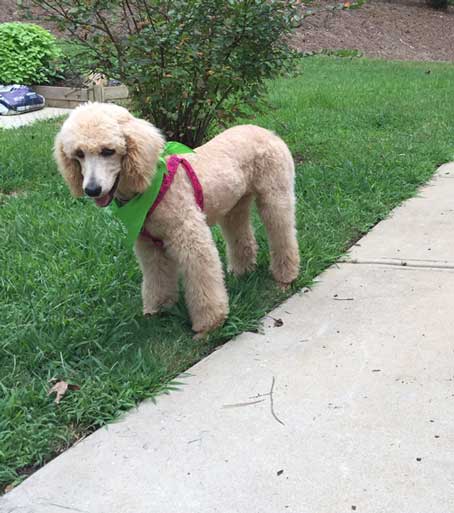 "I'm IN Woo Hoo!!" :0)
*
"Set......."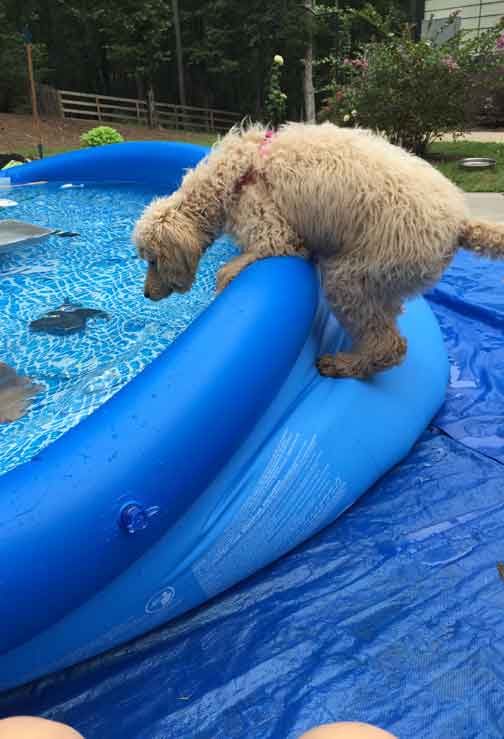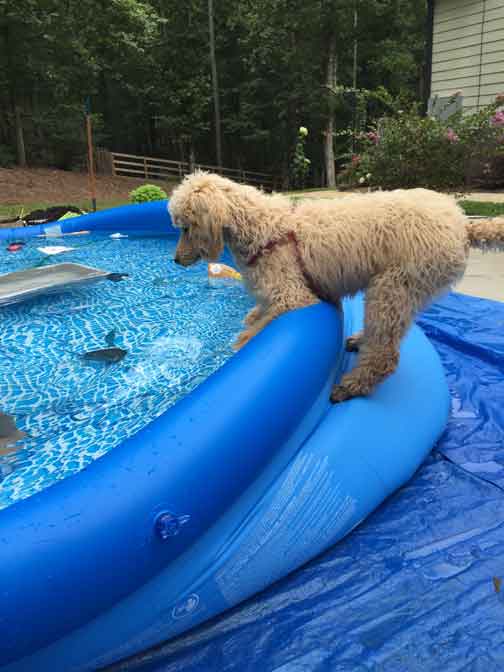 "Woo Hoo a pool, I'm going to jump in, ready......."
*
"True Love" :0)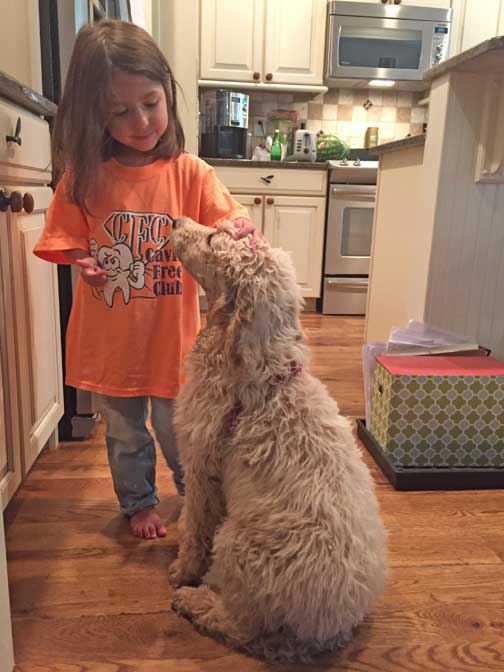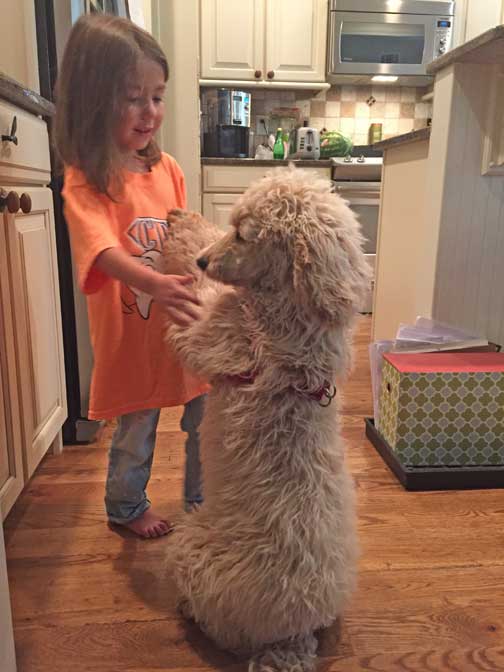 "Look I can sit like such a pretty girl!" :0)
*
"Now that we are both clean it's time to relax."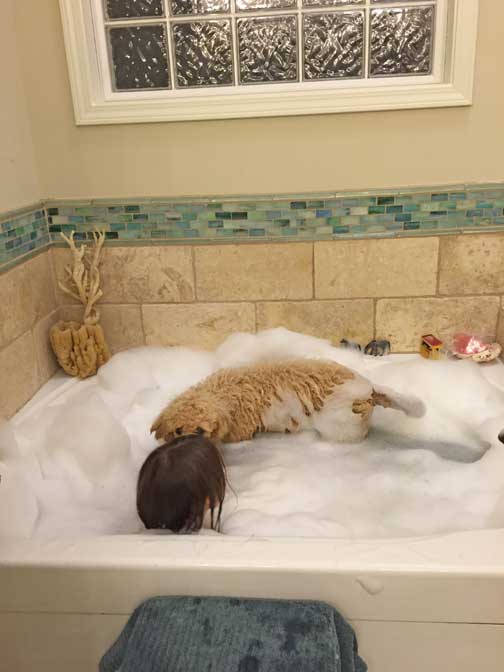 "Woo Hoo, this is the best bath ever I love BUBBLES!!!!" :0)
*
"Do I dare get in......"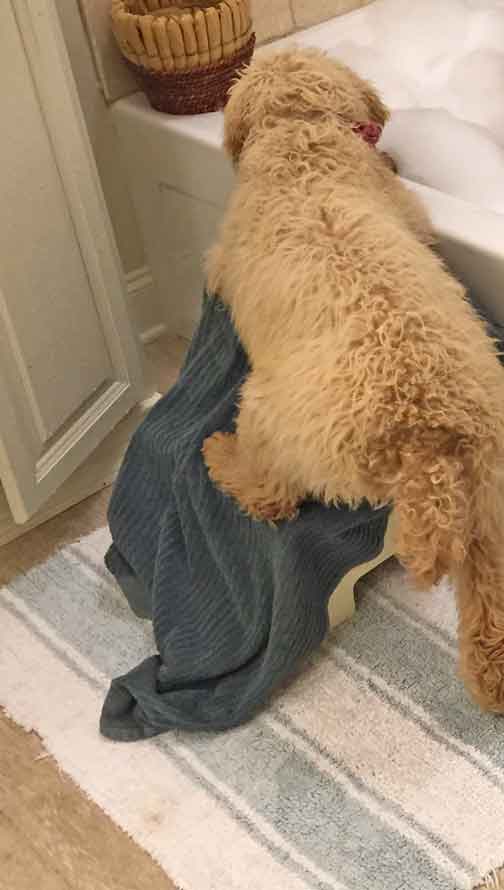 "Hmm....this looks like fun......" :0)
*
"Mom bought this cool basket for my toys.....she says it's time to put the toys away, but........"
"I don't want to put my toys away yet." :0)
*
"After playing in the rain it is nap time, I wore myself out!"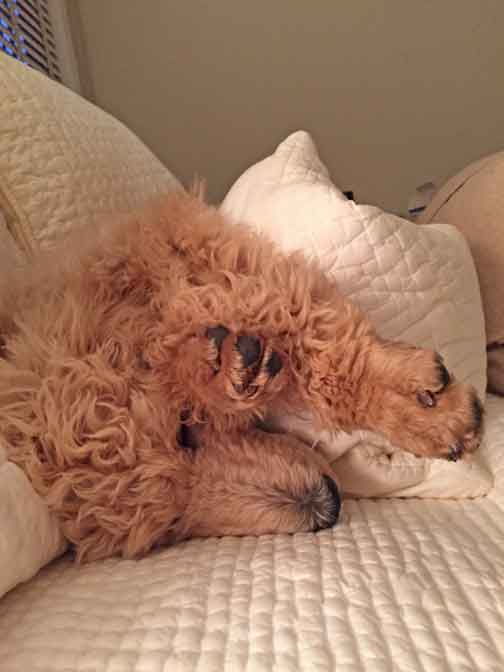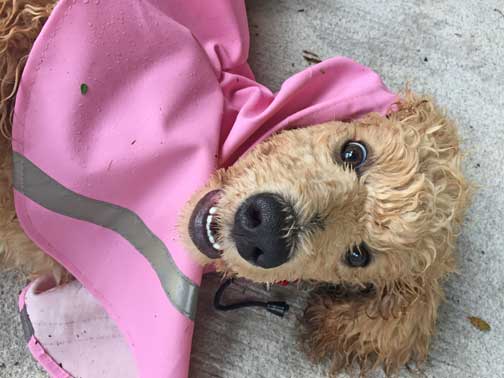 "Looks like I inherited the smile gene from both Momma Cleopatra and Daddy Daniel........SMILE!"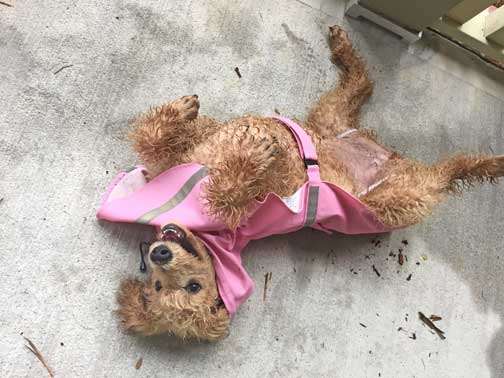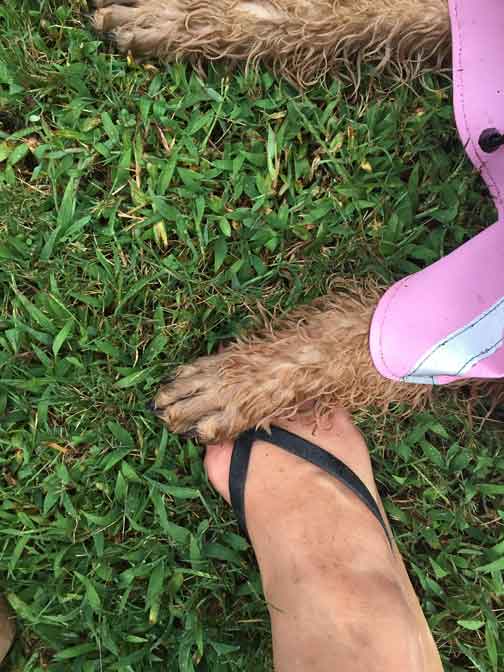 "Holding Paws" :0)
*
"Come on mom....come play with me!" :0)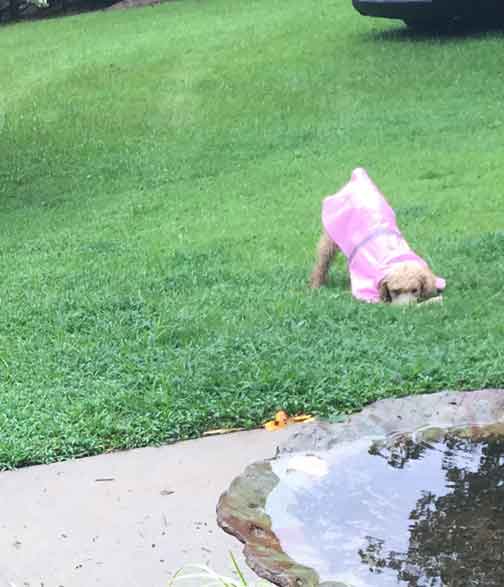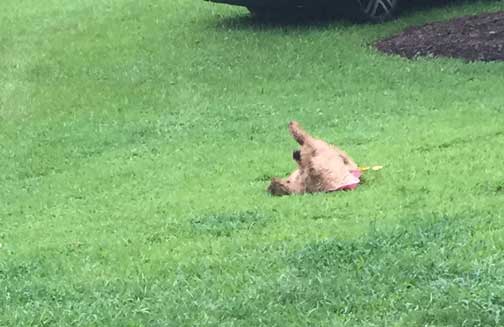 "Wet grass is the best to roll and lay in.....WOO HOO!!"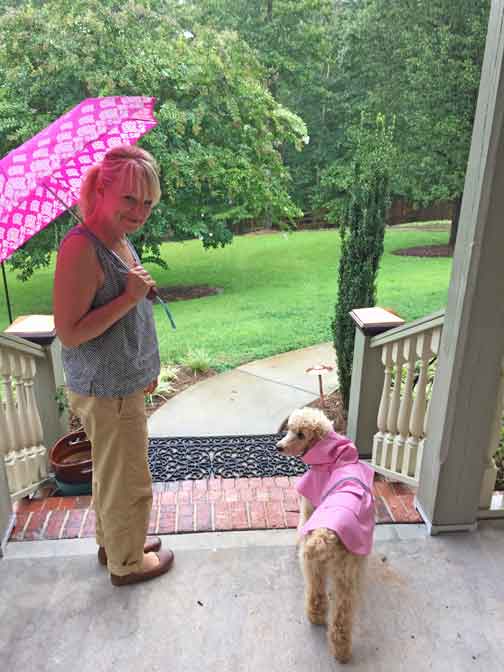 "Ready.....Set.....GO!!" :0)
*
"Were taking a nice picture, before I head out into the rain to play!"
"I am such a cute girl how could you not fall in love with me!" :0)
*
"Look how long my legs have gotten!"
"Look I even set it down....you can't say no to a face like this!" :0)
*
"Look mom I have my bone...lets play...."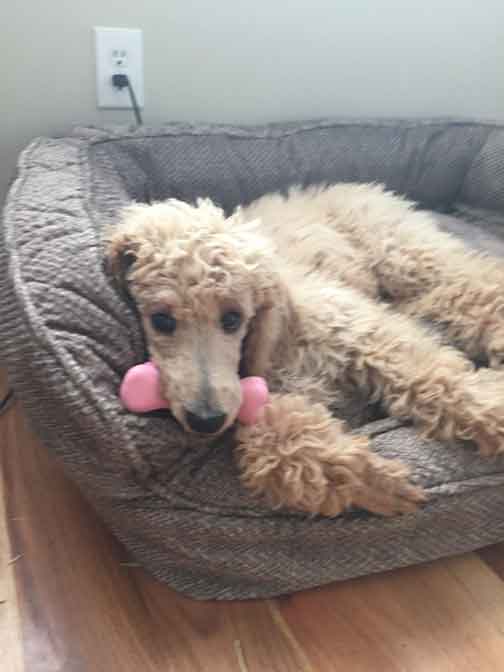 "Here comes mom, maybe she will want to play with me....."
*
"I do have my own doggy beds but I think this is my favorite napping spot!"
"Sometimes it's just to much work to stand and eat! :0)
*
"My new haircut, I am such a cutie!"
"I love to go for car rides.....where to next?" :0)
*
"Waiting for the rain so I can test out my new rain gear!" :0)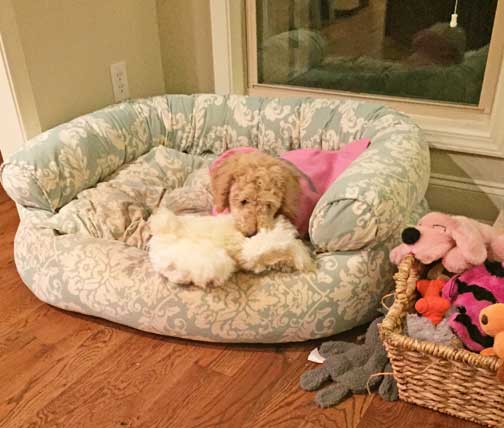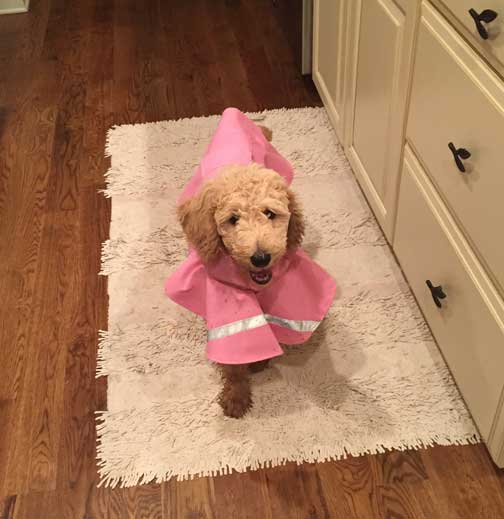 "I could be a spoo model showing off the newest design in rain gear!"
"Look it even has reflectors so I can be seen in the dark, safety first!" :0)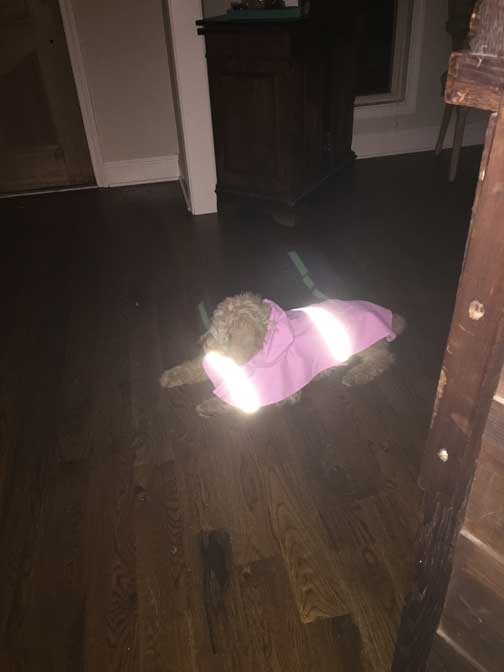 "I love my new rain coat so much I wear it all the time!"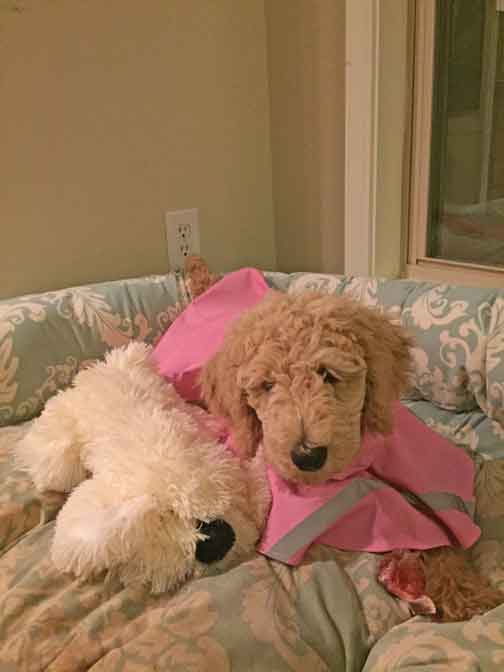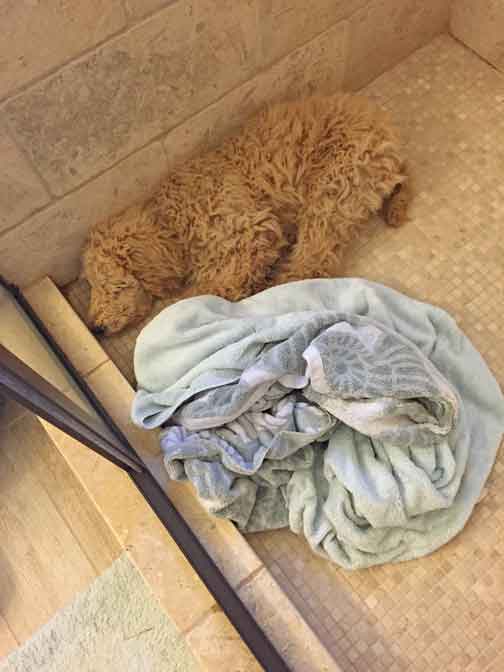 "My new favorite spot to sleep is in the shower, it doesn't matter to me if the water is on or not!" :0)
*
"All done with my class now I am one tired girl.....zzzz.....zzz" :0)
"Ok mom I am ready to go!" :0)
*
"Do we have to go to socialization classes...." :0)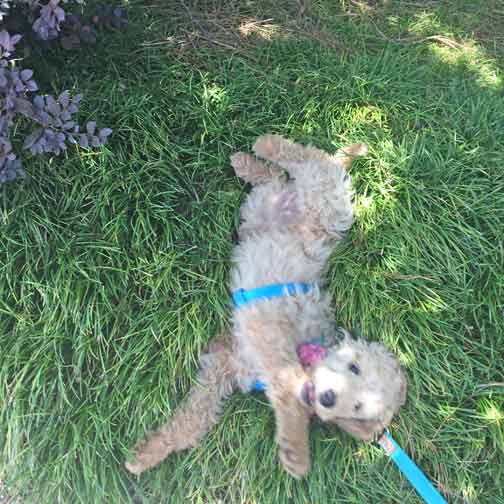 "Come on let's PLAY!!!" :0)
*
"My first vacation and I am having so much FUN!"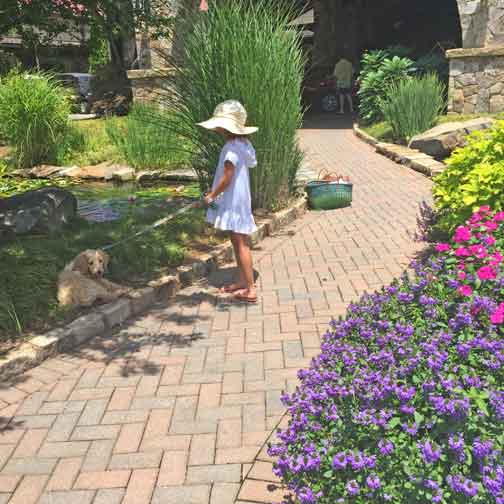 "This looks like a great spot to stop and take a rest, so relaxing!" 
*
"Buddies enjoying the lily pads!" :0)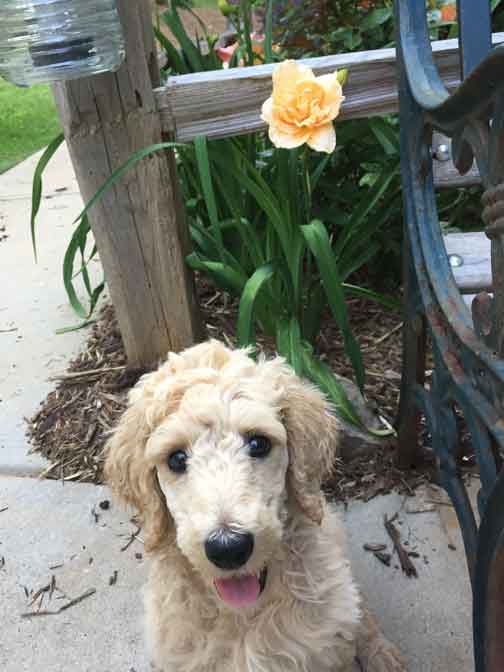 "Smile!" :0)
*
"I wonder if I should roll in some of that dirt, hmmm....." :0)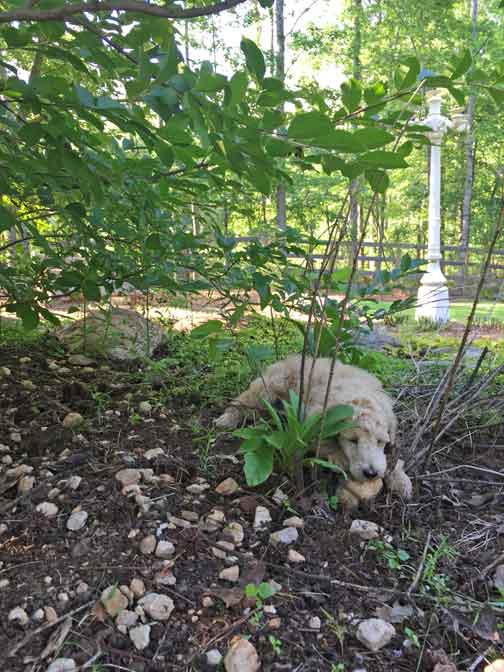 "I love to play with my toys outside, so much fun!"
*
"Just trying to find the perfect napping place, I don't think this spot will fit me for too much longer." :0)
"This is my bed, right?" :0)
*
"All snuggled in the pillows ready for a nap!" :0)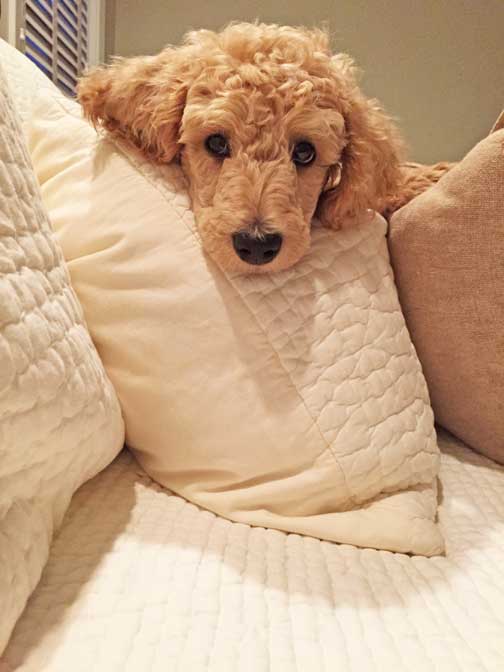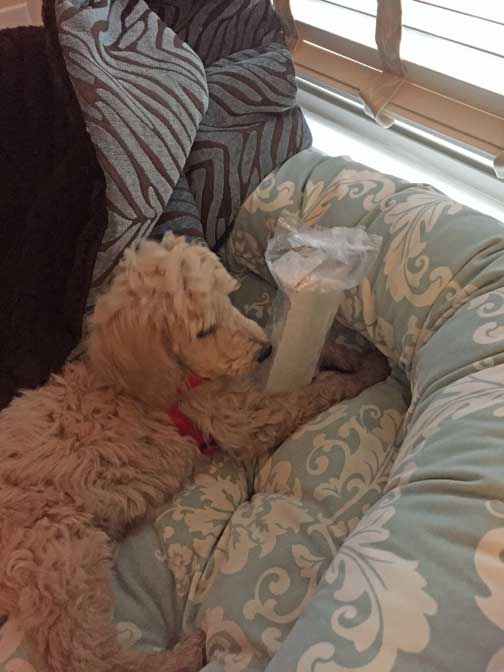 "At home and I have my pet bed that Tes made special for me!  We love those because they are filled with great smells from momma and siblings!"
*
"I bet I will get tons of snuggles when i get to my new home, I can't wait!! :0)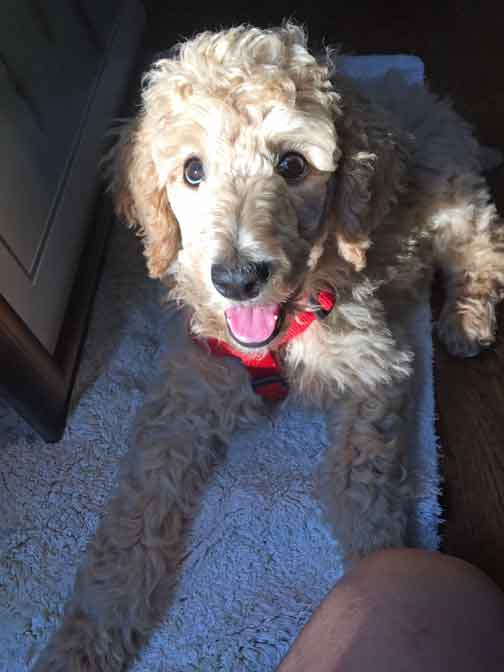 "I am a Happy, Happy, Happy girl!"
*
"Here is my 7 week old mug shot, I am such a cutie!"