Royal Standard Poodles Black Luna
Updated 10/15/16 (TI)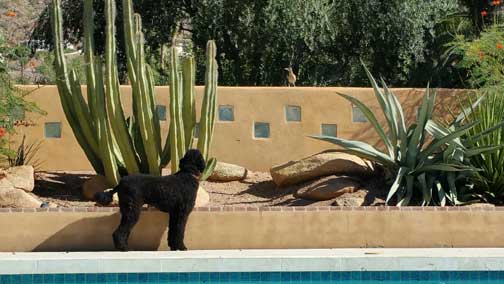 Wile E. Poodle Luna vss Road Runner!
Large Black Standard Poodle Luna at home in Phoenix, AZ. Parents Brown Jasper x Red Daniel born 04/27/15.
Luna has a unique story, this is currently her second home.  Her first home the owners had "life happen" and could no longer keep her.  So they asked that Tes help find someone interested in taking her.  Within seconds this family emailed that they were interested in a poodle and within a very short time Luna again had a forever home.  
Her new owners share: "We are keeping her name as Luna.She already answered to it before she came to us.We also like the name Luna.It is Greek. Luna is the Greek Goddess of the Moon.My husband is part Greek. My oldest daughter's name isMelissa and in Greek, it means Honey Bee.  So we are good with keeping her name as Luna.She is a pure joy!"
Tracking Luna:
15 mo 59.4 lbs. & is 26" tall. 

1 yr old 56.2 lbs. & is 26" tall

10 mo 51.6 lbs, 25"

9 mo 47.6 lbs, 24 1/2" at the shoulder

7 mo 43.4 lbs, 23" at the front should across the top of her back

6 mo 38.7 lbs

5 mo 36.5 lbs

4 mo 31.7 lbs
7 wks 12 lbs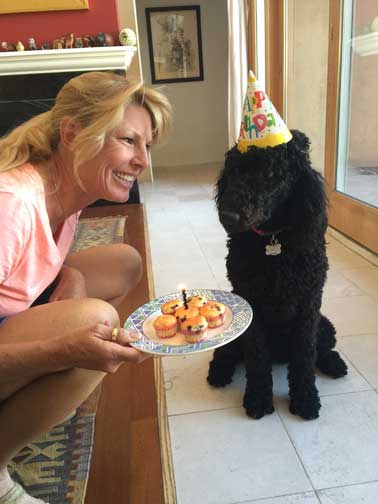 Happy Happy 1 yr old Luna!
*
Our co-worker spends a lot of time staring out the window! :0)
One year ago today, Aug. 14, 2015, Luna came to us at 3 1/2 months old. She is now almost 15 months old, weighs 59.4 lbs. & is 26" tall. We think that she is quite the beauty! She is very loving and likes to give hugs!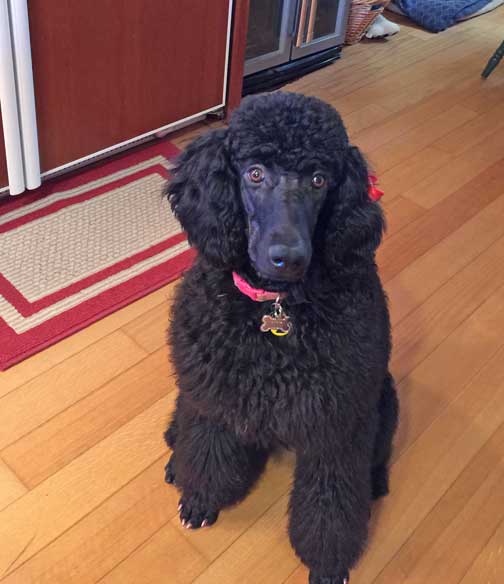 Luna being a lap dog with our friend Tom. "Sure Tom, you don't like poodles."
*
"Look how beautiful I am at 10 months old!"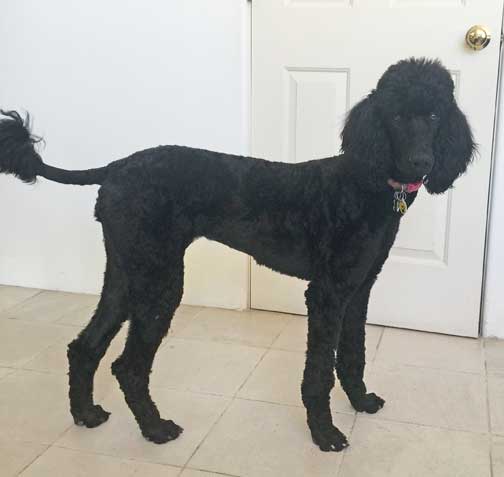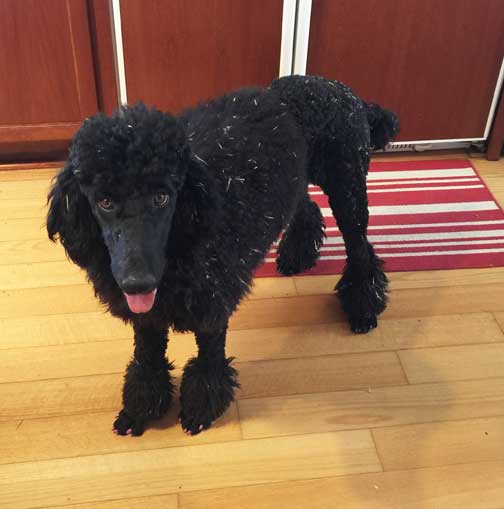 The after effects of a good roll in the dry grass.

*
"My 9 month old mug shot, I am such a beautiful girl!" :0)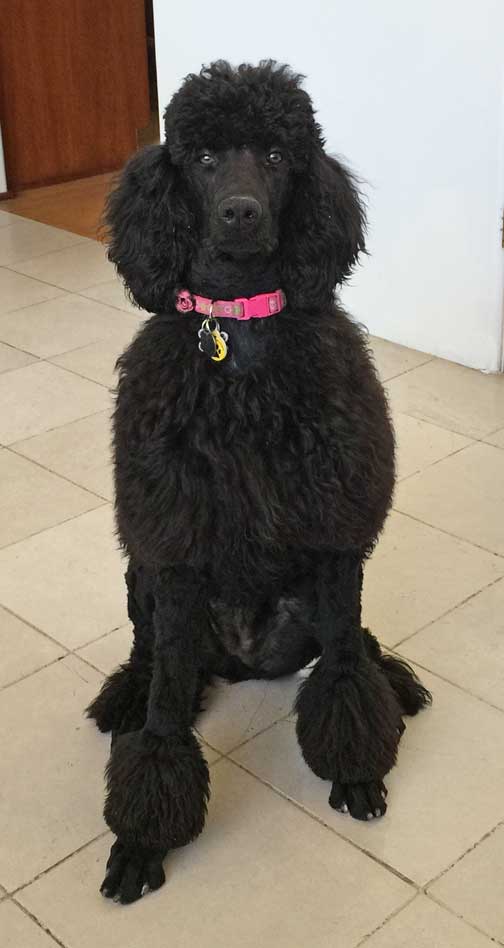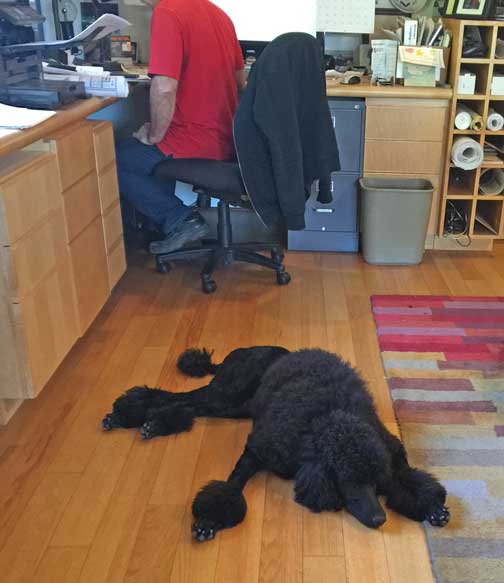 "Nothing beats a good nap in the office!"
*
"We are totally relaxed!" ;0)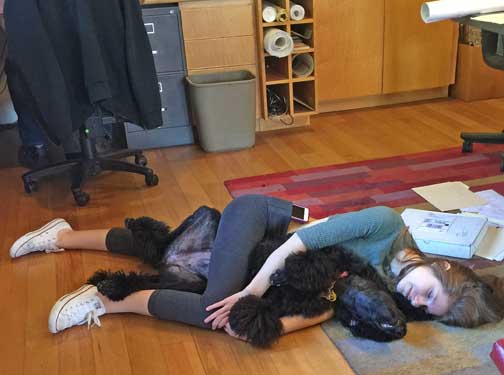 Before....
*
After....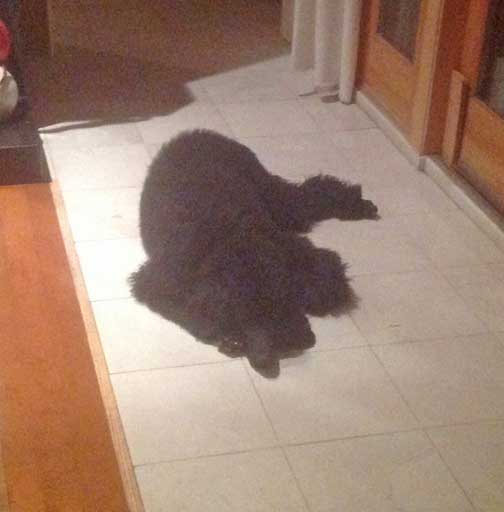 Luna is a "pooped poodle" from her first Christmas! :0)

*
"Carrots are the greatest treat, I just love them!" :0)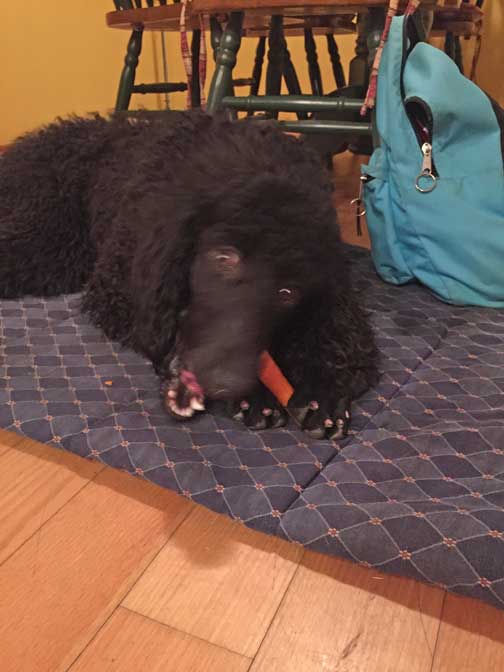 "I am one ROYAL spoo for sure!" :0)
*
"Poodle selfie!"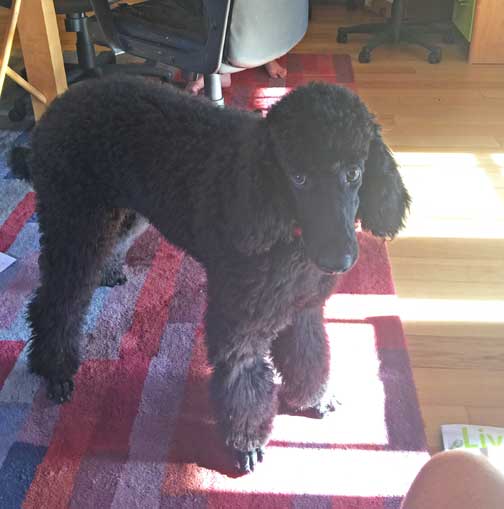 "Look how much I have grown!" :0)
*
"It's the 4 paws up pose!" :0)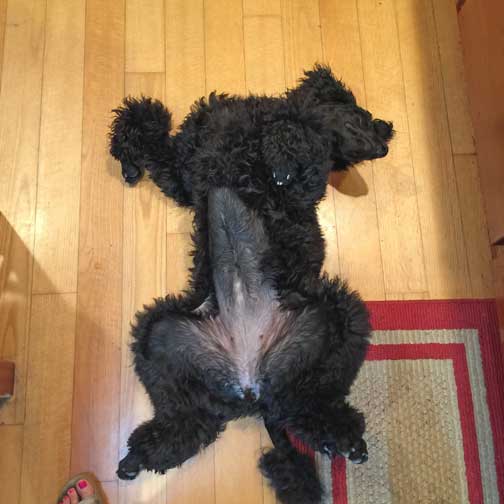 "Maybe if I point to it she will get the hint!" :0)
*
"Maybe if i try a different position she will fill it..."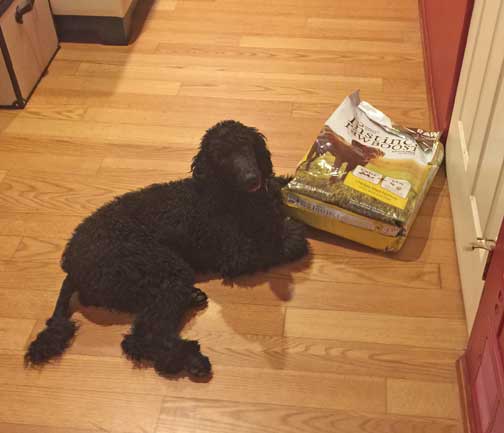 "Hey Mom, will you fill my food dish please??" :0)
*
"A shirt is much better than the "cone of shame". And more stylish too!" :0)

"The Cone of Shame"
*
"This looks like a good spot to rest after being at the vet!" :0)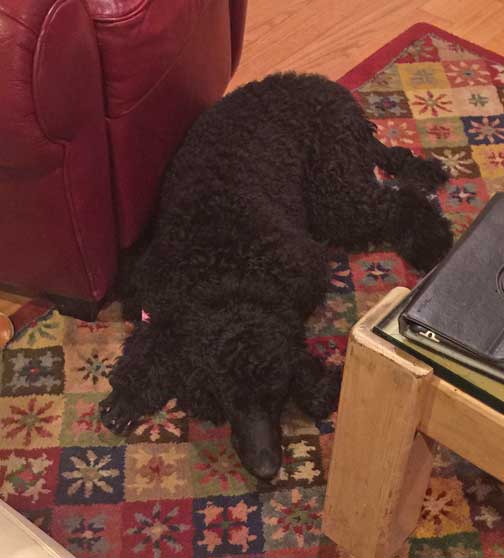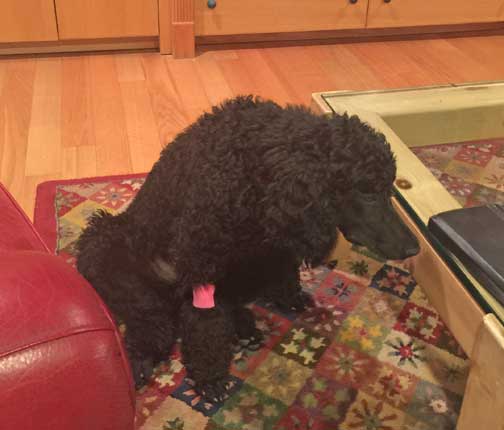 "I am soooo sleepy after my spay surgery!" 
*
"Time to wake up, here let me help!" :0)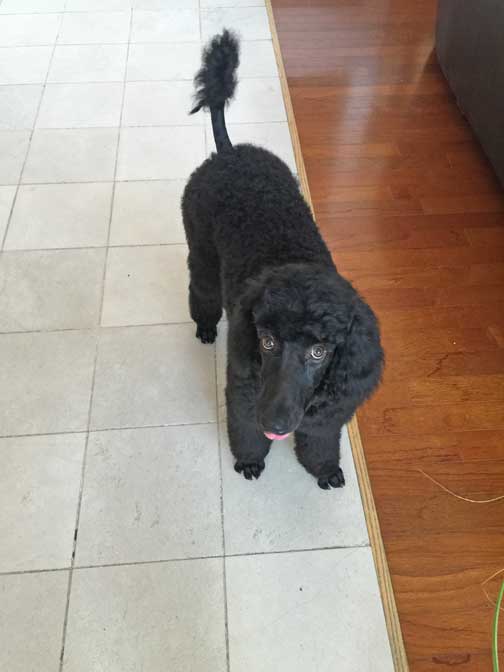 "Home from my afternoon at the Spaw! My toenails are magenta pink! I look and feel fabulous." :0)
*
"The toy I wanted was at the very bottom!" :0)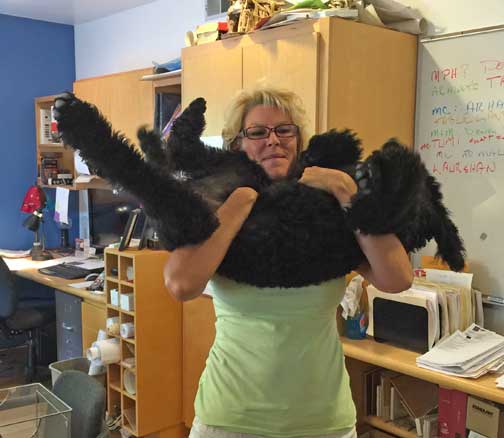 "Lifting Weights" :0)
*
"Uh oh I think mom might be mad at me since I went out in the rain, better give her the look.......:0)"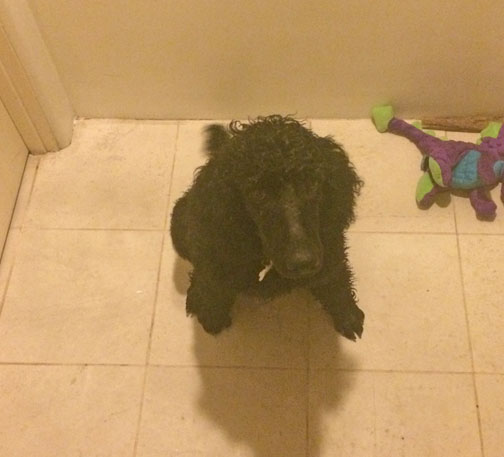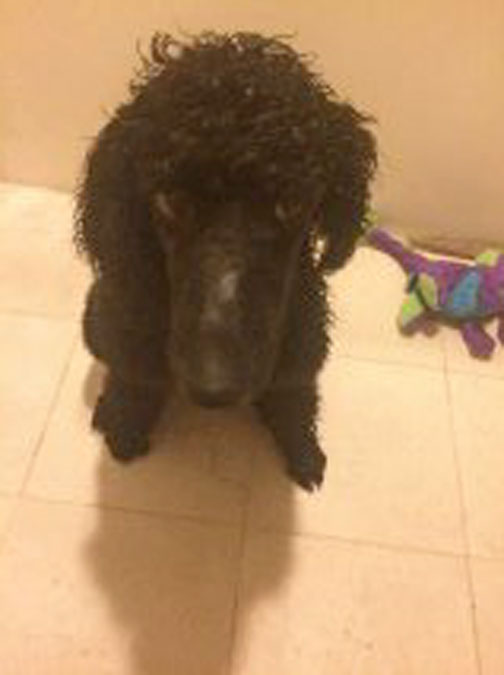 "Who can resist this look!" :0)
*
"I wore myself out at the lake, but it was a BLAST!"
"Woo Hoo this is so much FUN!!" :0)
*
"Here mom let me help you with that."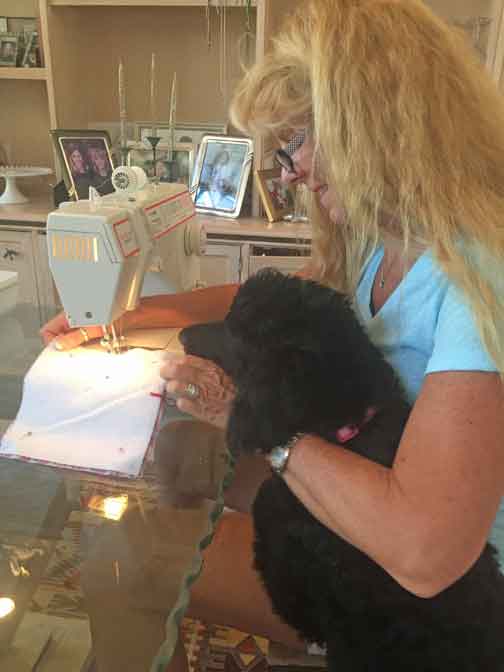 "I run so fast that my ears flip back!" (That's one picture down!):0)
*
"We are getting a bedtime snack.....I'll take an apple please!" :0)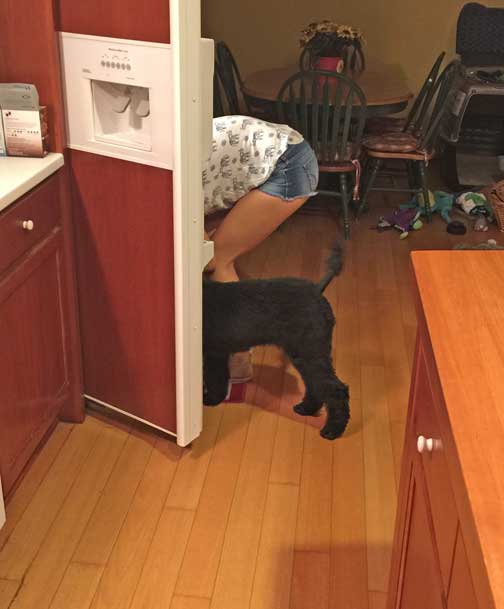 "Cuddle time!"
*
"Trip out on the water, I think I like boat rides!" :0)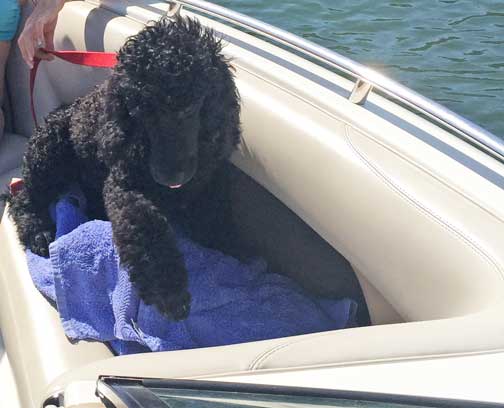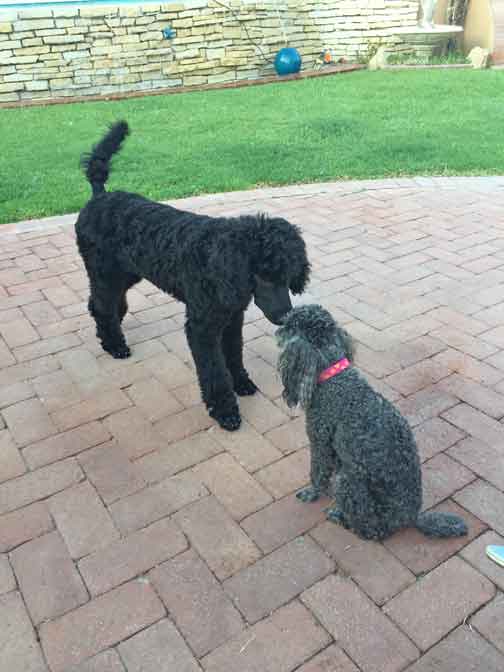 "Come on Coco let's play!" :0)
*
"I think I may have wore out my little friend!" :0)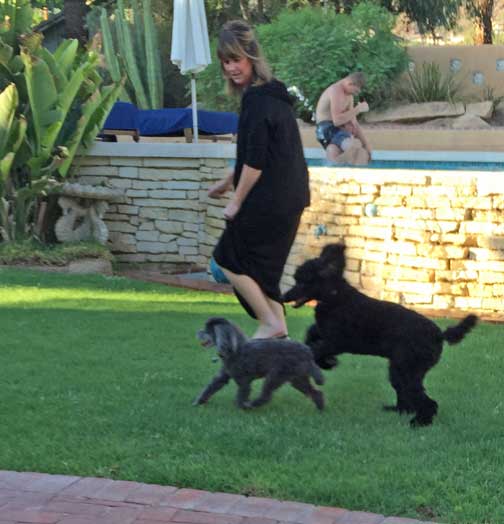 "Playing with my new friend coco, she's smaller than me but that's okay!" :0)
*
"What is that in the water???" :0)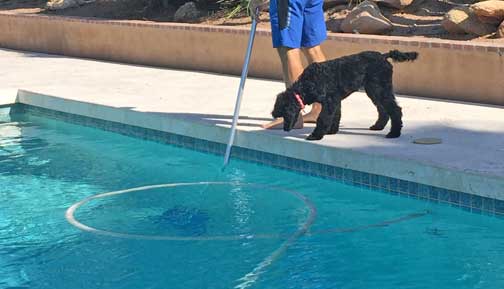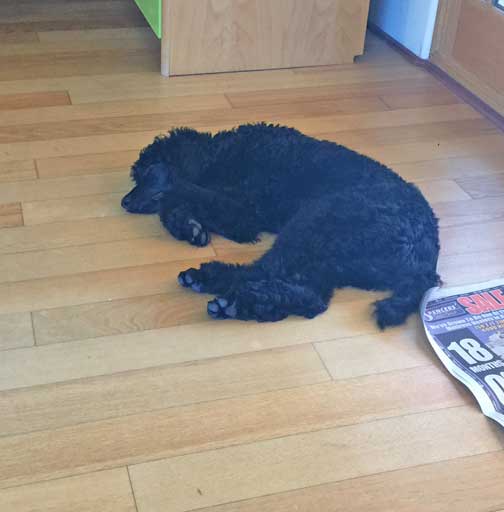 "I am adjusting nicely to my new home....hmmm.....I think I may want to move my bed to this spot instead!"
*
"Love at First Sight!" :0)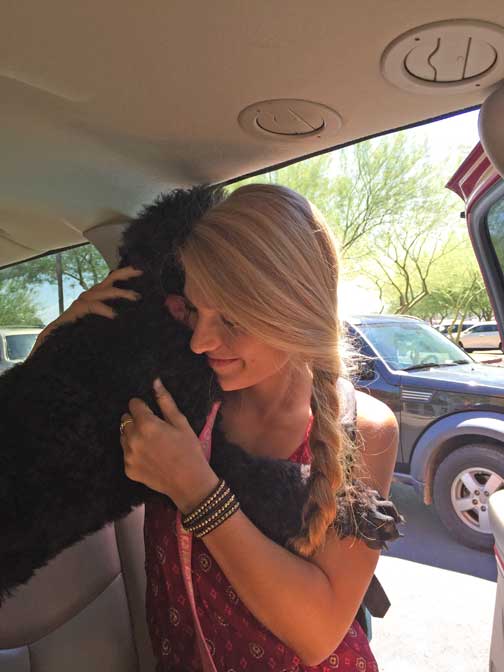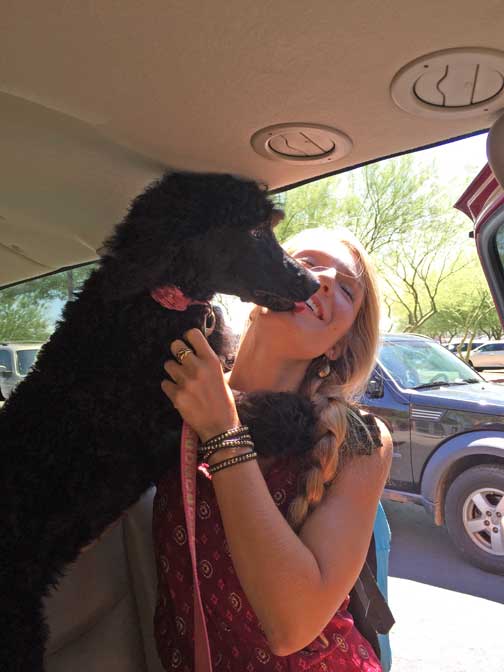 "Puppy Kisses"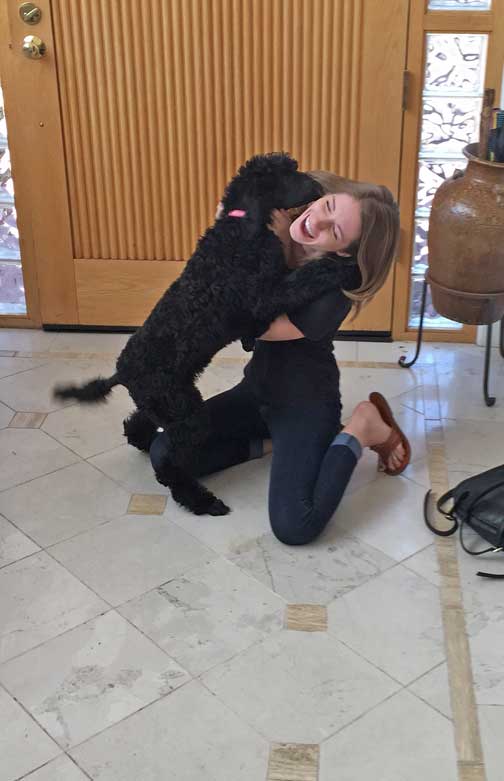 "Meeting my new family and I think they all love me just as much as I love them" :0)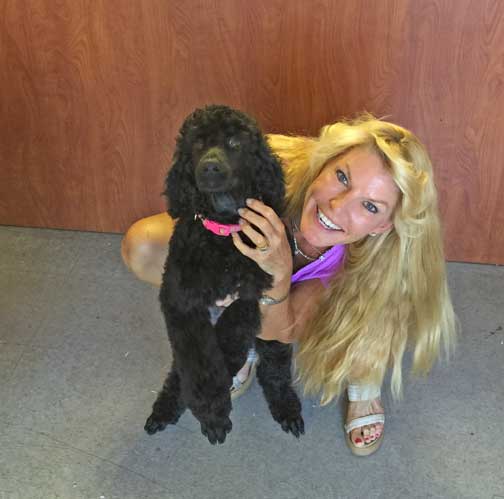 "Such a happy happy girl!"
*
My 7 week old mug shot that was taken at Tes's house, I am so cute!" :0)