Large Apricot Standard Poodles Nico Black Dino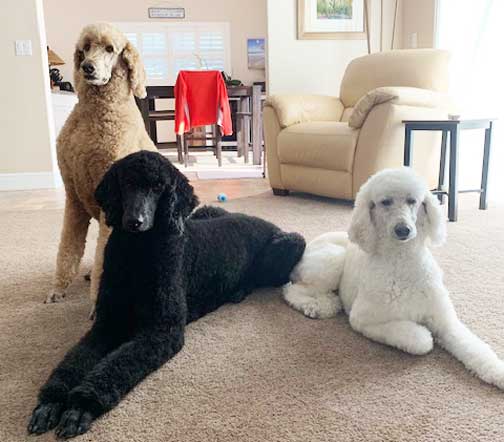 Last Updated 11/26/20 Large Apricot Standard Poodles Nico Black Dino and White Kara are very handsome boys and happy, loved very much by their family. They share Nico loves:  "Swimming, hiking, truck rides, playing at the beach, playing with brother & sister, meeting new friends, chewing up the wall, boat rides & more I don't even know about yet!"
***8/14/14 I must share - his personality is incredible!  Mike & I were a little apprehensive in what to expect from him, as our Zeus was nearly human to us and we loved that and so dearly hoped Nico would be a little that way too.  Well...happily Nico has exceeded our expectations! It's gotta be " big poodle " DNA, we just do not see the same behavior and personalities in our other "standard" standards.  
I do recall in our very first emails with you last year when we asked if "Touche" had personality...and your reply was ... " oh Yes..".  Little did we know how wonderfully his personality would develop.  And we must give a fair share of credit to You and your breeding style, because you offer these pups a  solid foundation of good genes and health, an environment to explore as young puppies and the confidence to grow on.  Thank You.
Tracking Nico Stats: 
The joy in Nico's life permeates the universe with his smile and joy he has for the beauty of love and life around him...as all his family :o) Tes knows these pictures capture that love, beauty and is so grateful to customers who share their spoo lives with her. Thank You from the bottom of her heart!
"The Chair" Ahhhh life is good!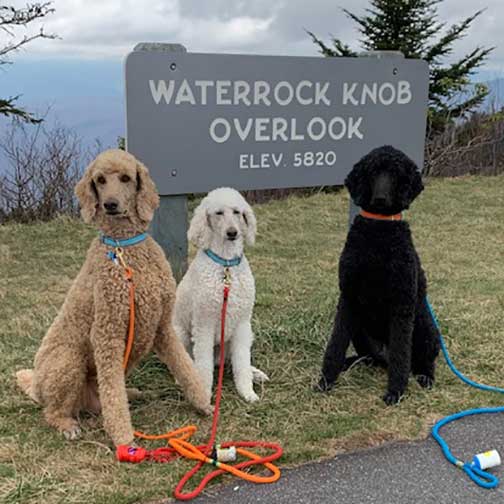 The three Musketeers living to love life with our owners.
Nico, Kara, and Dino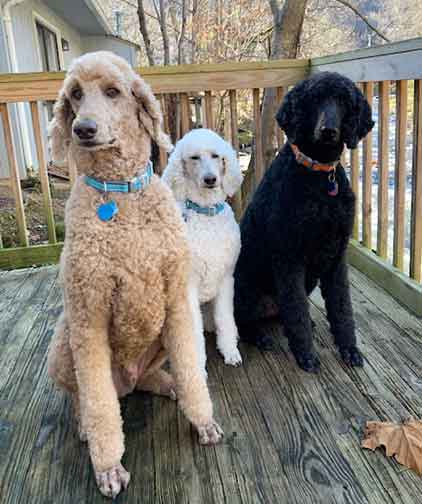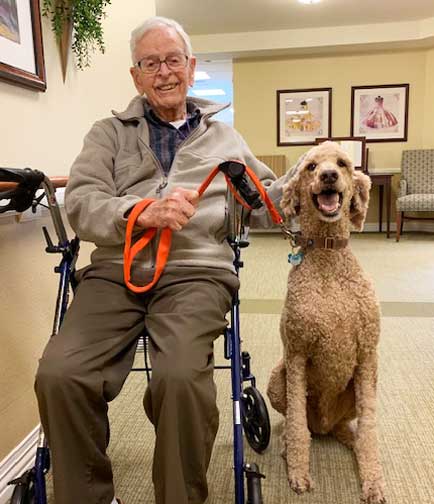 Nico visiting my 93 yr young parents Dad - sooo Love him ;o)
*
Dino, Kara, and Nico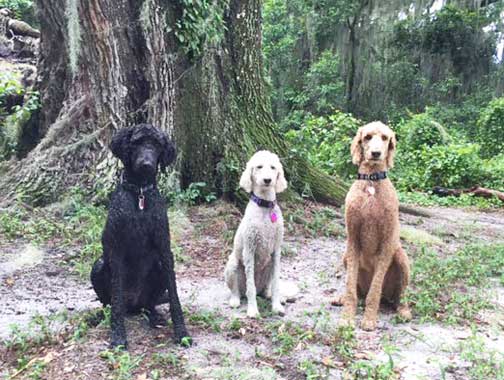 Dino and Nico here field testing if squirrels are color blind.....our humans could have helped us a bit in our tactical hunting technique with 'tree camo' jackets rather than BRIGHT red! ;0)    
* 
And we both are most appreciative of their love by providing warm outerwear!  We live in Florida, it's supposed to be warm here year-round.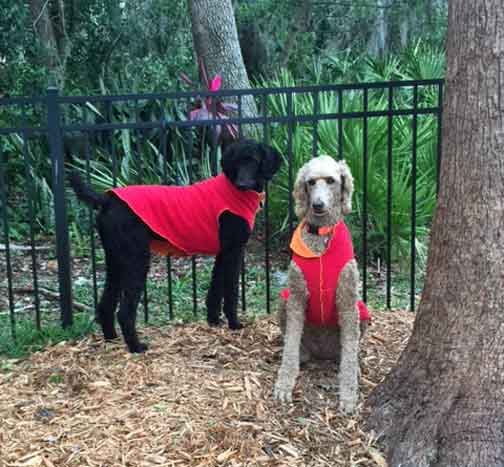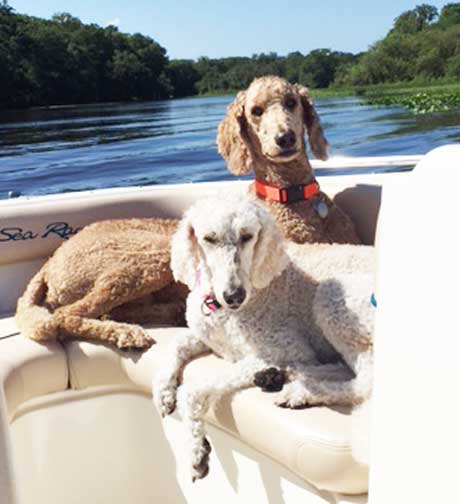 Happy 4th of July 2017! Nico (red/apricot) & Kara (cream)
Large Black Standard Poodle Dino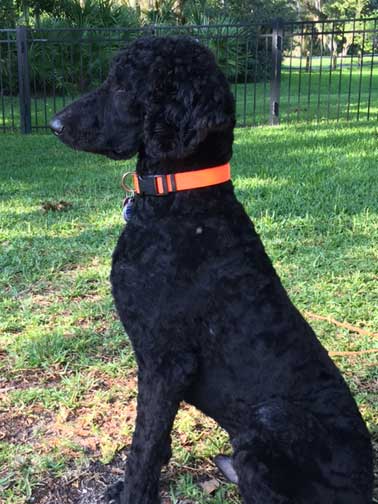 His owners share:  "Dino is amazing!!  It's confirmed- Dino is a water poodle!!  He was perfect on the whole flight home - so far bonding with Nico & Kara is going well. I think Dino's smells are neutral to Nico from his memories of home & Kara is neutral cuz Dino smells like Nico did as a puppy!" Two white hair spots have showed up on my side!! Aren't I proud looking?!?!
Dino will definitely exceed Nicos weight, but we doubt he'll be as tall. He's the best ball player in the whole group. 
Tracking Dino Stats:
1 yr 65.6 lbs, 27" Tall

9 mo 

61.6 lbs, 

26.5" Tall

8 mo 58.5 lbs, 26" Tall

7 mo 53 lbs, 25" Tall

6 mo 48 lbs, 24" Tall

5 mo 38 lbs, 22" Tall

4 mo 31 lbs 8 oz, 19" Tall

3 mo 20 lbs 8 oz, 16" Tall

11 wks 18 lbs

8 wks 11.2 lbs

7 wks 7.8 lbs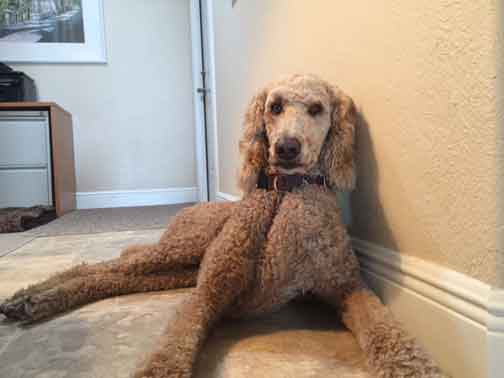 Such a good looking boy!

*
I'm a happy, happy boy with my bone!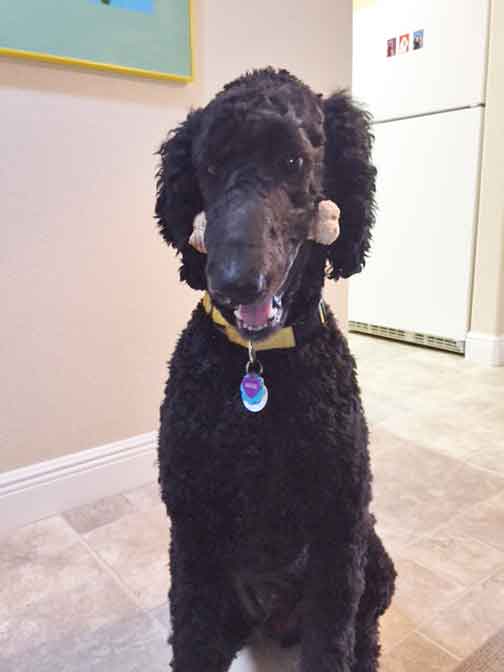 Helping Mom in the office :0)
*
After our boat ride we take a break to enjoy nature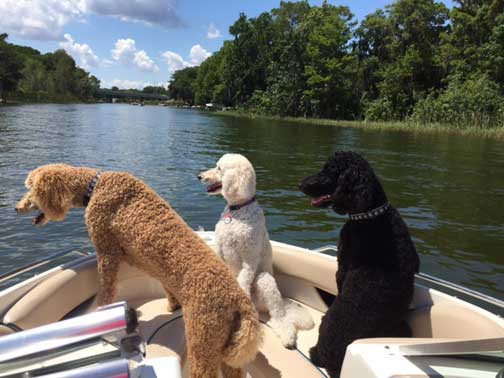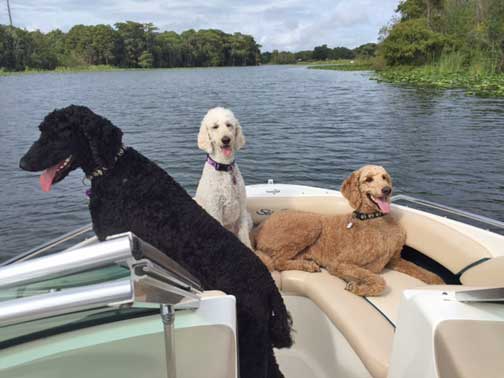 This is how we enjoy our Labor Day, Out on the Boat woo hoo!!
*
Sure is tough to catch good pictures of black dogs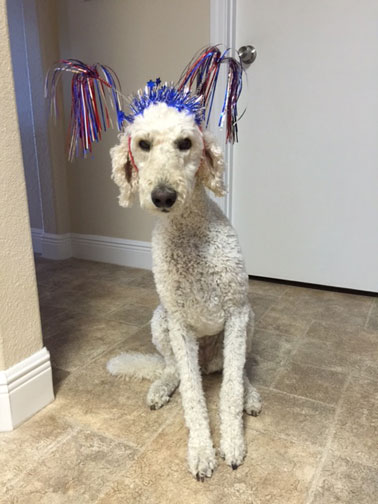 It's the 4th of July, we're celebrating...I think!? Mom, Dad?!
*
Summer 2016 is here - Woo Hoo! Let's go boating!!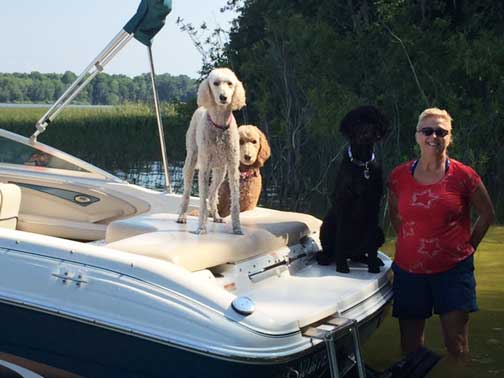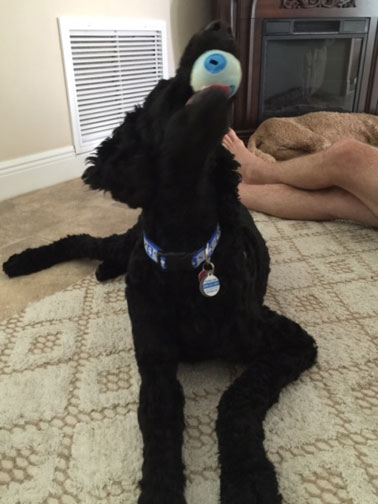 Dino here, and just like my momma Fire, I'm a ball fanatic! I've turned 9 months old and have my "eye ball" on you ;o) 9 Month Stats:      61.6 #'s  26.5 " Tall
We "re-found" his favorite Ball from early puppy days - he's barely let it out of his sight since, hence his b-days pics are " ball boy" pics.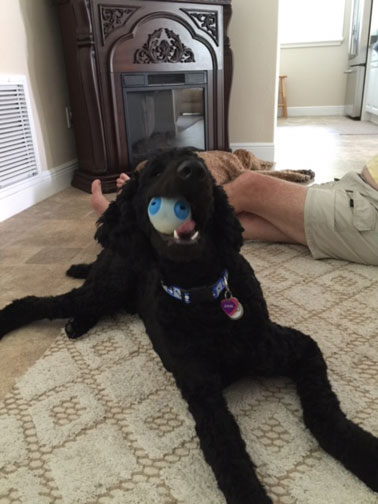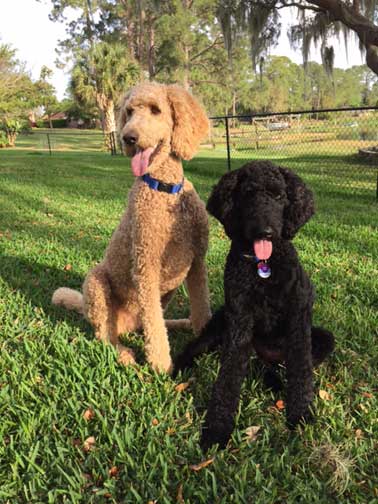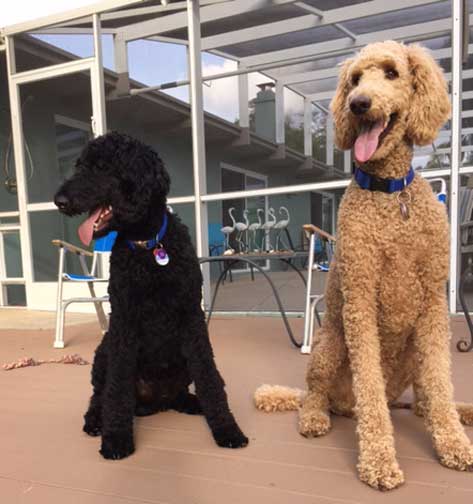 Dino is catching up to me in size here...pups sure grow fast! Hey, come and give me a hug ;o)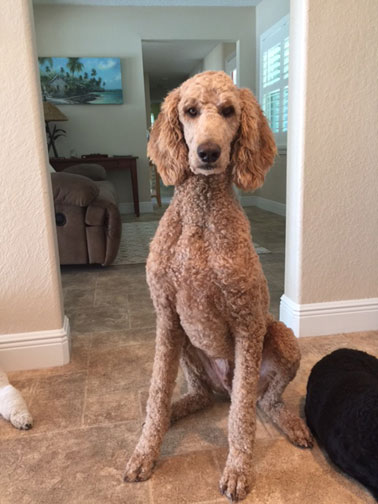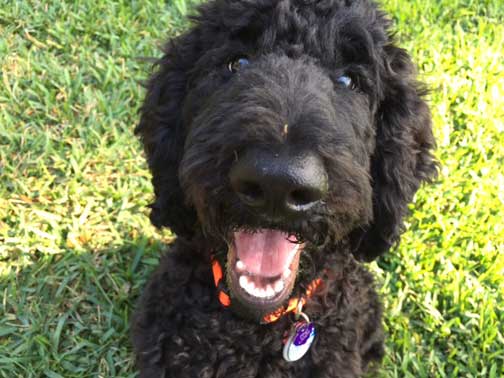 Smile, Happy - Happy!!
*
"I am catching up to Nico!"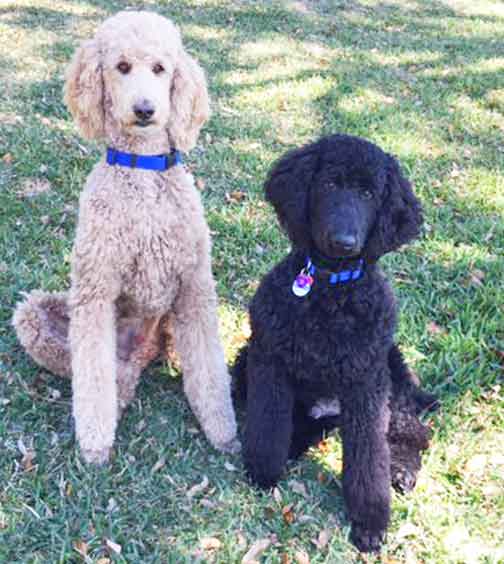 "Sad spoo face" - My eye has red from spring allergies :o(
*
"My graduation picture!"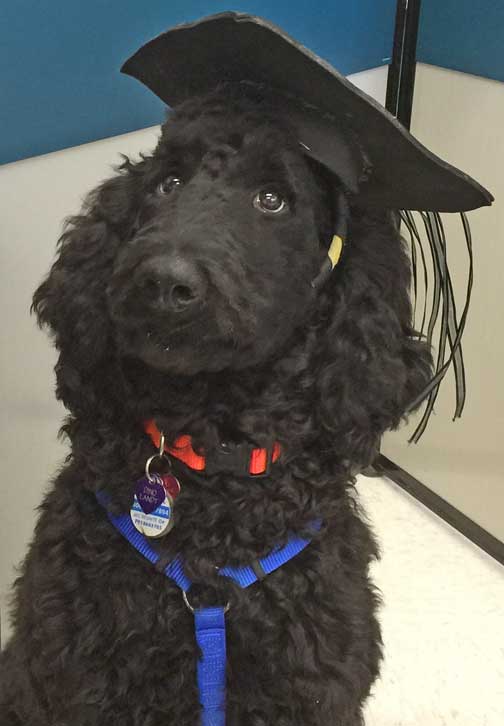 Dino: "I graduated Puppy Level 1, now onto Puppy level 2!" :0)
*
Below: Dino (5 months) and Nico.  
Dino says: "Watch out Nico I am catching up to you!"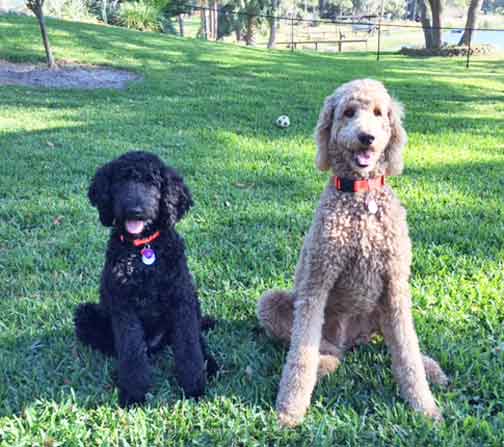 "No one can resist puppy cuddles!" :0)
*
"Smile!"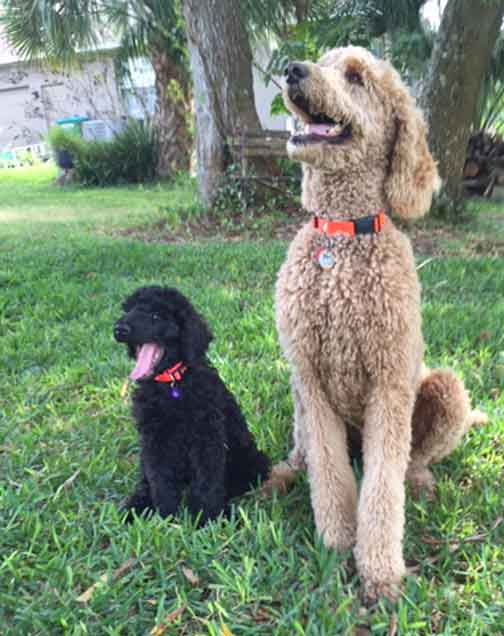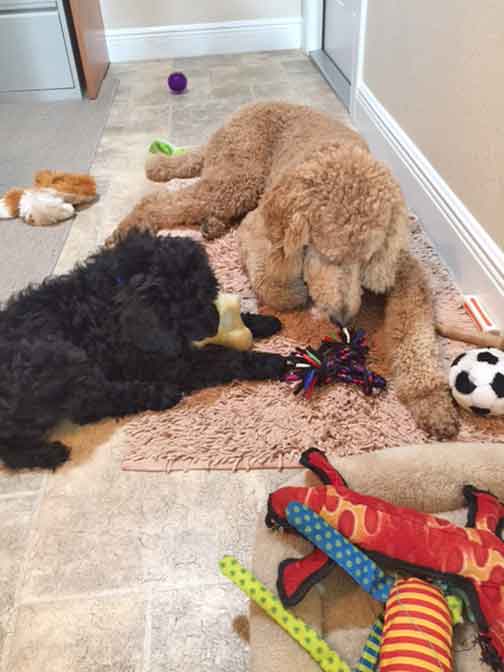 "Look mom Nico is sharing his toys with me!"
*
"Mom says I have to wear an orange collar cuz it's Halloween…what ever that is….WhoooHoooo…..!!"
"I wonder if Nico will let me cuddle with him?  I better sleep over here for now!" :0)
*
Once home, the good smelling pet bed from Tes while I was there SURE is comforting! Four paws up!
*
Dino coming home as carry-on with his owners :o)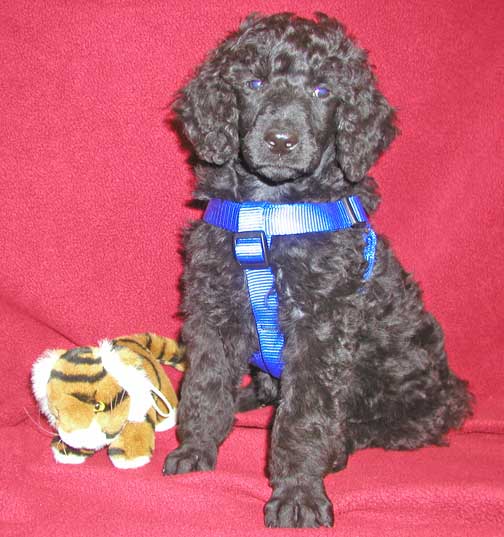 "Hello my name is Dino, and I can't wait to meet my new family stay tuned to see me bond with my new spoo family!" :0)
*
"Mug Shot!" :0)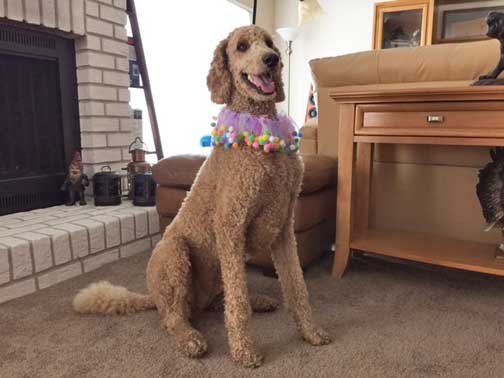 "Happy Birthday to me, I am 2 and wearing my special birthday collar!"
*
"Alright Mom I am done with this collar take it off!" :0)
"Hey Mom is that a gator over there?" :0)
*
"Just out enjoying the view, this is the life!"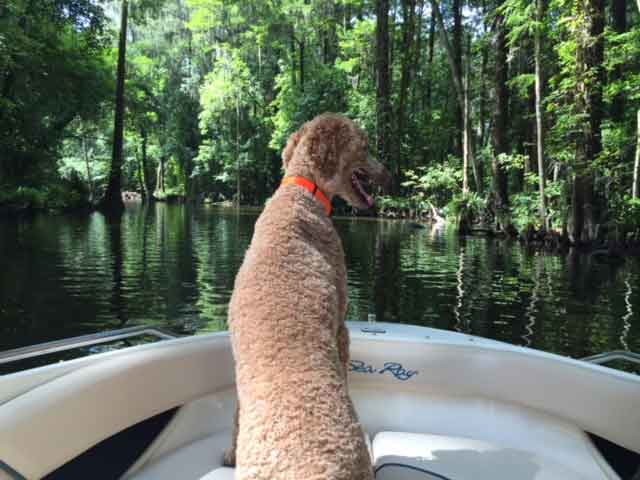 "I love to go for boat rides with my dad, WOO HOO!" :0)
*
"Oh Please…. may I have a cookie….please...???" :0)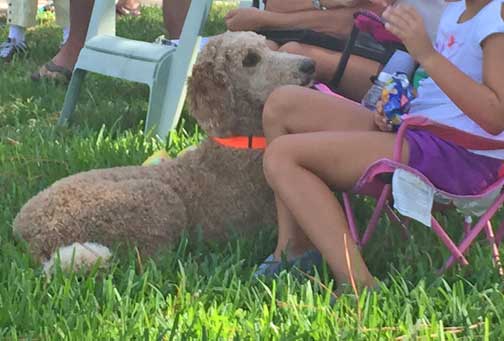 His owners share:  "If you look close in this picture of Nico in the water you can see 3 turtles just under the water, the more movement the turtles saw in the water….more of them came closer to check things out."
*
"Happy Easter!" :0)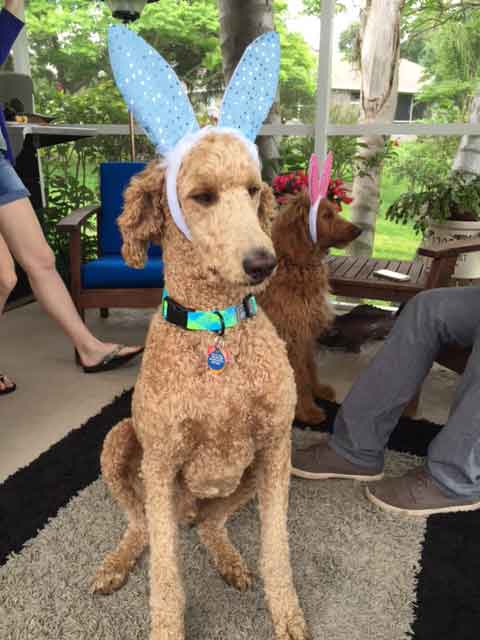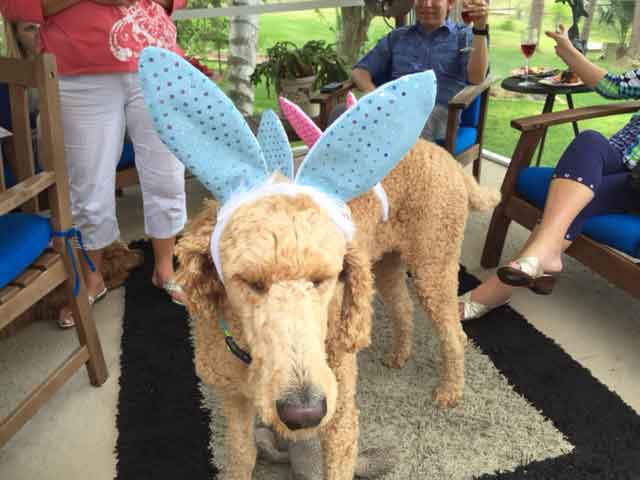 "Bunny ears, really mom...."
*
"Such a handsome boy!" :0)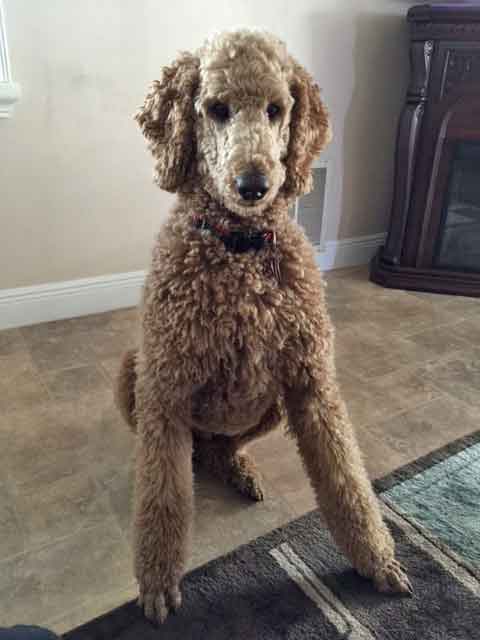 "I am meeting my cousin, her name is "Sophie"!  Don't worry Sophie I will protect you!" :0)
*
"She is pretty fun to play with, I am truly the gentle giant!" :0)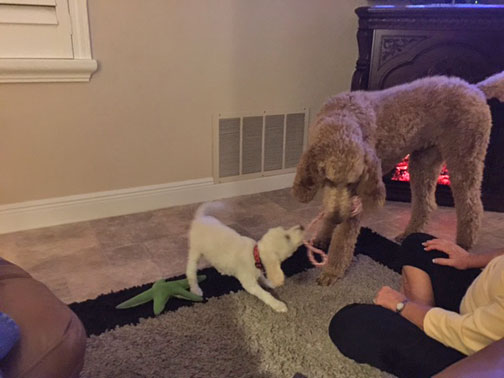 "It says naughty but I think it should say handsome"! :0)
*
"Get ready guys, its time for a picture."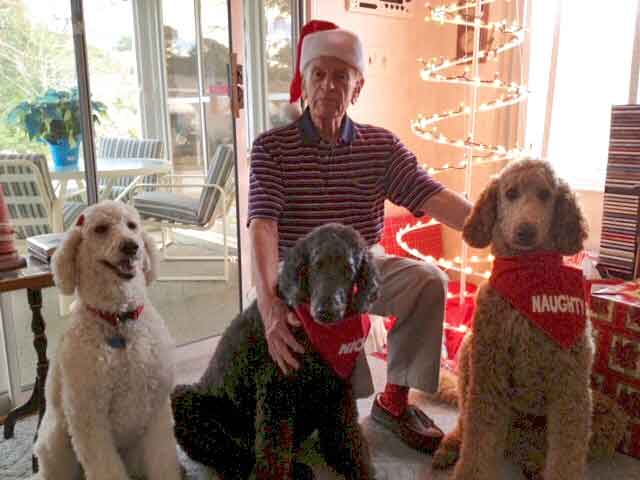 "Say Cheese!" :0)
*
"Here is a beautiful picture of my family and I!" :0) I am one happy boy!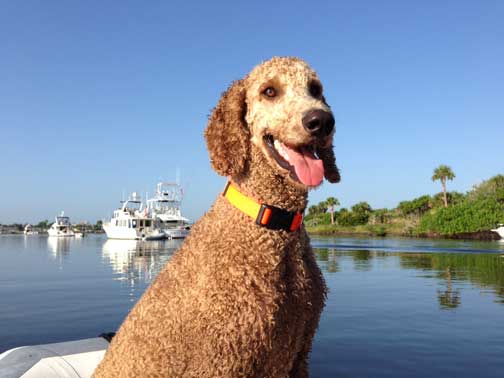 "My adventure on my families big boat, and I am learning all the boating moves quick!"
*
"I think that we have found the best spot on the boat!" ;0)
"This is so much fun hanging out on the boat!" 
*
"Happy Birthday!! I am 1 year old in this picture and ready for my party Woo Hoo!!! :0)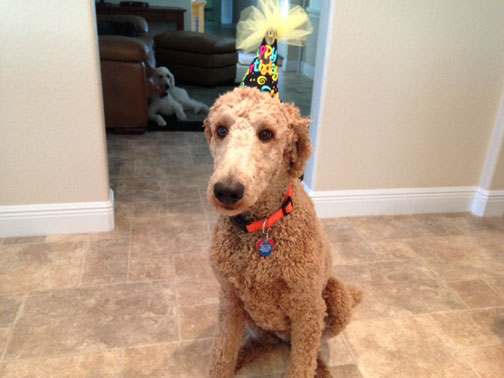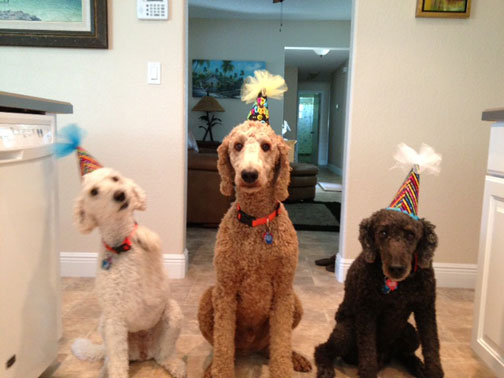 "Our puppy is growing up 1 year old today!" :0)
*
"What smart poodles do on a hot summers day in Florida!" :0)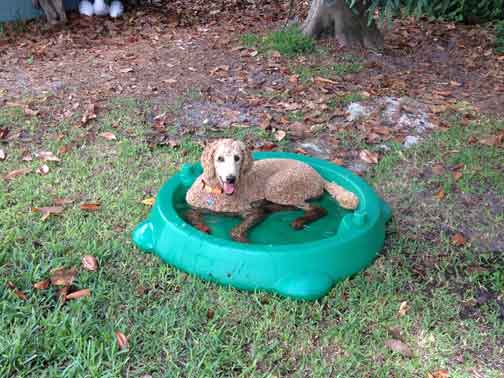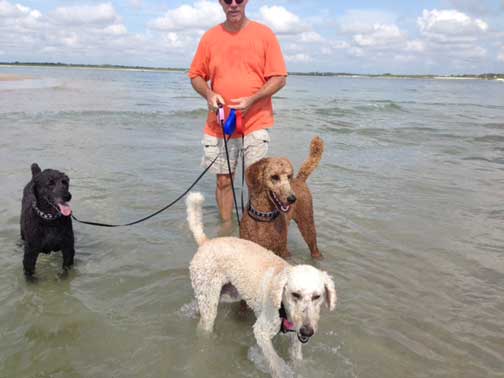 "Fun at the beach!!!  Look how much taller I have gotten compared to my siblings Apollo and Kara-who are only 24-25" tall!!"
*
"I am one handsome boy!" :0)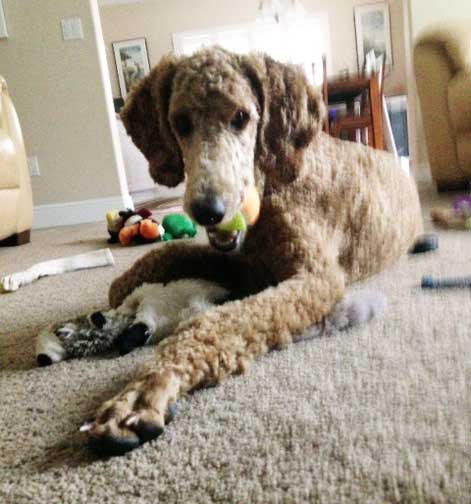 "Other than having 4 legs up, I love playing with my toys. As you see, they are everywhere. Mom cleans up after me, but I bring them back out as quick as she picks them up. "
*
"Here are my 4 long legs up in the air. Ohhhh the life of being a poodle. Nothing better than this!  :)"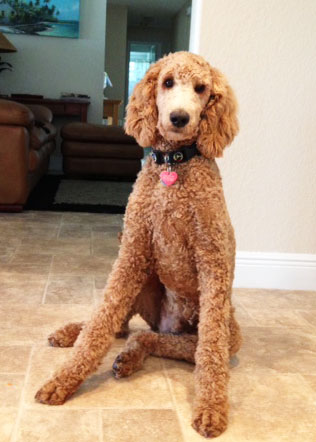 "Now that I am groomed you can see my loooong legs."
* 
"My first hair cut at home"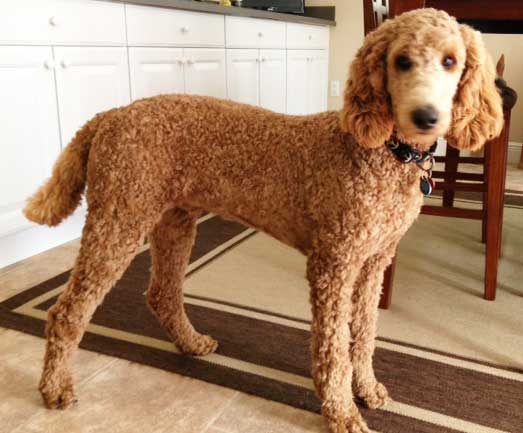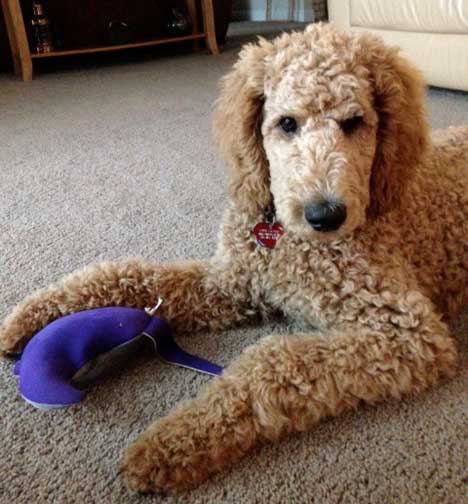 "I am the most handsome boy ever! ;0)"
*
"My parents got a new couch and moved it into the "poodle room", as you can see we've taken it over. They can't even join us for coffee in the morning."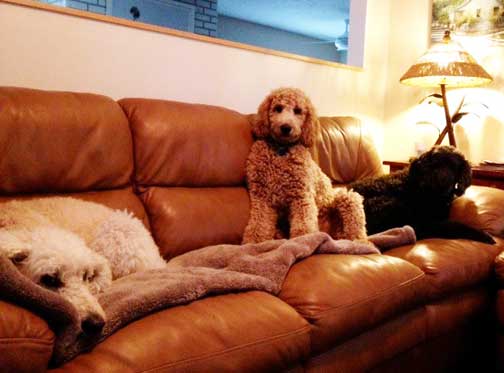 "I'm in a playful mood, see I've got two different toys I'm playing with."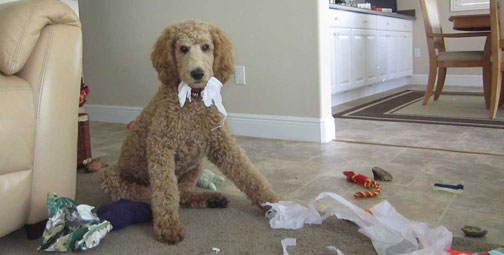 I wanted to open a gift too ;0)
*
Here's our family photo, only missing the parents :0)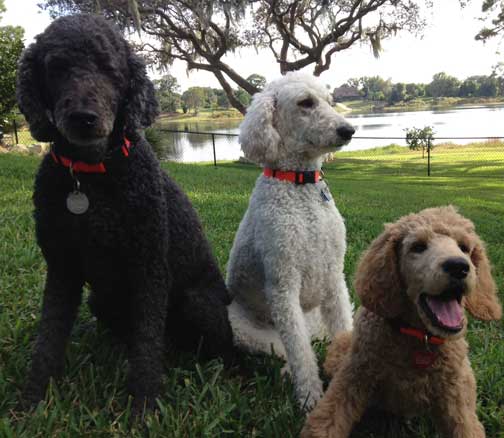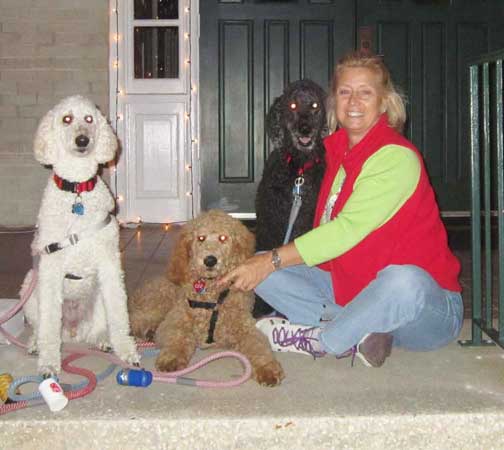 Time for a photo with mom too :0) 
*
I wanted to be dressed up for the holiday's too :0)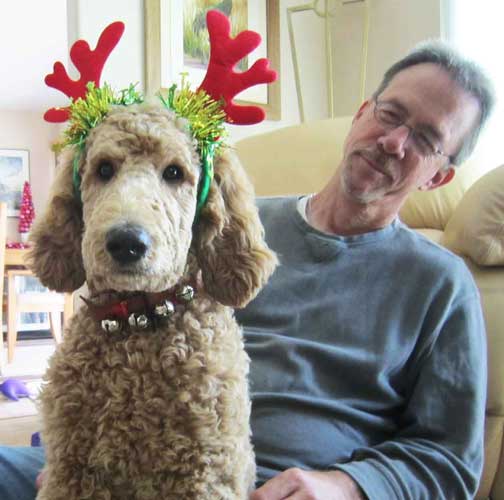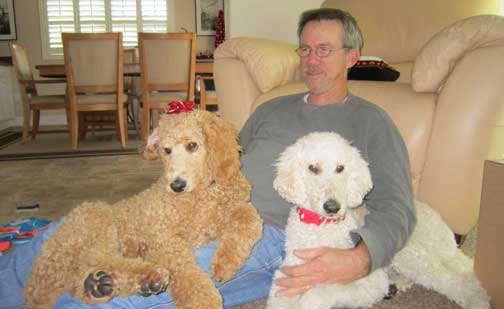 I love being Daddy's lap dog...ahem spoo ;0)
*
Swimming while whether is warm :0)
"My parents love how my ears are getting darker in color! How much more handsome can I get?"
*
Nico having some playtime with his buddy.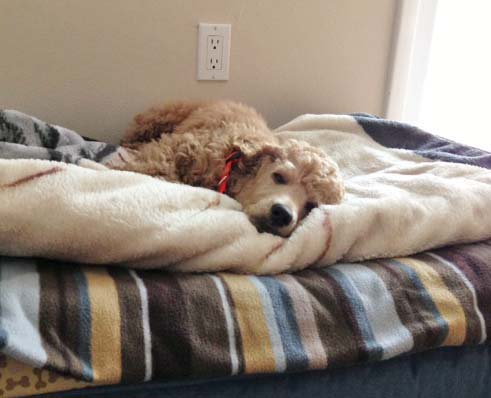 All that playing can really tucker a guy out! :0)
*
Look at those long legs of his, and still growing!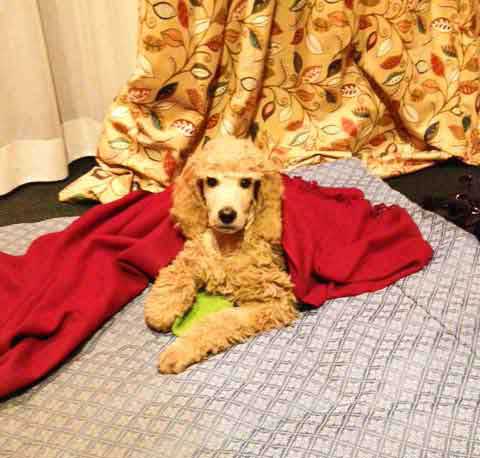 And finally in my new home on my pet bed Tes shipped to me with lots of home smells with my play mates! Ohhhh, it makes me so at home :0))))
*
Snuggling on the airplane heading to my new home :0)
"Before I left Tes's for my new home, I got some love from an old staff member's adorable little girl." :0)
*
Doesn't get much cuter than that! Puppy love at it's finest.