Kodi - Retired Royal Standard Poodles
Retired Royal Standard Poodles - brown "Kodi" 6 yrs old in above picture is now retired :-)
The books were right when they said they come with as varied a personality as people! That is why I name our poodles after personalities from my Fantasy Novel "A Perfect World-Tatriel" www.fantasybookaperfectworld.com AKC, he received his name from a strong female falcon being character in the novel.
Profile:
Retired January 2010
9/25/08; 75 pounds, 27" at whithers
12/20/08; Baseline tests done, everything normal
Sabaceous Adenitous biopsy done - Nothing found
Lineage includes champion AKCs from England and Denmark
AKC #PR02318501
OFA (Orthopedic Foundation for Animals) rated "Excellent" #PO-13977E24M-PI
AKC DNA registration #PR023185/01
VWD clear
Golden eyes, brown nose and paws
Every new person met is a new friend to him
Confident, not arrogant
An eye for playing as if he were still a few months old, see the glimmer in his eye
House raised and enjoys the snow, cows, and female poodles :-)
Pet contracts only
Above - 5 yrs old.
*
Below 14 months old.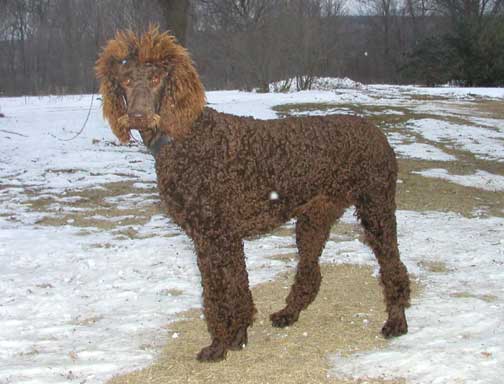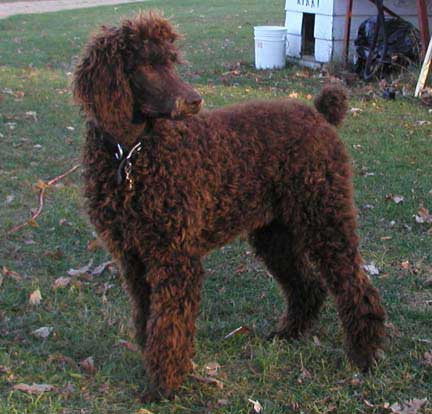 12 months old
*
Here he is with Zain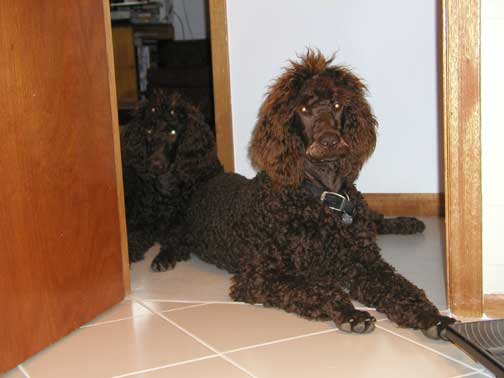 Royal Standard Poodles like Kodi - puppies for sale
---
Do not even think of filling out this form if you are a puppy mill or large kennel!