FxD Royal Standard Poodles Summer litter 2017
4 Males + 3 Females = 7 Falcon x Daniel pups!
2 Male Brown, 2 Female Brown/Red Phantom/Agouti, 1 Female & 1 Male Black/Red Phantom, 1 Male Brown Phantom
Born 5/7/17 - these will be some beautiful Royals with nice structure and size! That allows puppies to fly out  Monday July 3, 2017 (yes 4th of July weekend)
Please scroll down to the bottom to watch puppies grow up onto the page as they are added for your enjoyment. 

Tracking F x D puppies:
7 wks old 2nd bath, nails clipped, anal glands expressed
6 wks old vet Parvo vaccination, Pyrantel deworming
5 wks old first bath, nails clipped
4 wks old Pyrantel deworming
3 wks old nails clipped
2 wks old Pyrantel deworming (every 2 wks now with Momma)
1 wk old nails clipped
3 days old tails and due claws done. We have our due claws done and tails 1/3 from the tip per AKC breed standards.
born 5/7/17
*
To view our "TRY of videoing pups" on Youtube do this: 
Click on the youtube link below:
Type or copy and paste in:
Aperfectworldfd2017summer7wk

*
Aperfectworldfd2017summer5wk

*
Aperfectworldfd2017summer3wk02

Aperfectworldfd2017summer3wk01

*
Aperfectworldfd2017summer1wk

Below - We're the 4 Males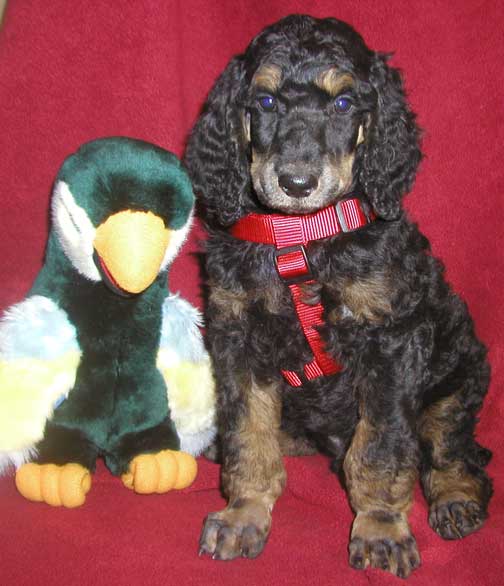 SOLD - "Bowie" Black Phantom Male - 7 wks old 11.4# > microchip (mc) 7680. I will steal your hearts AK > Whittier, CA!
*
SOLD - "King" Brown Phantom Male - 7 wks old 12.8# > microchip (mc) 8143. FP > Greensboro, NC gets me and I will be the ruler of your household (besides you of course) :0)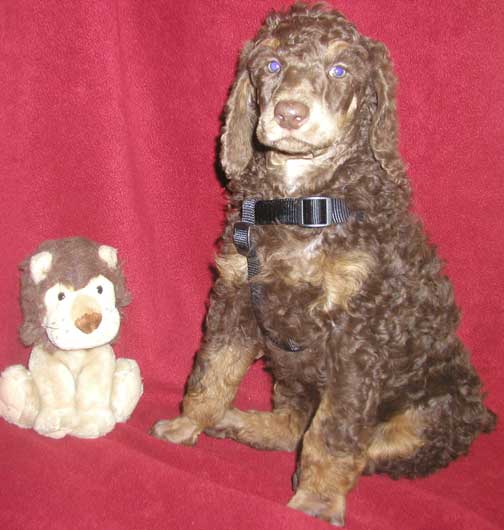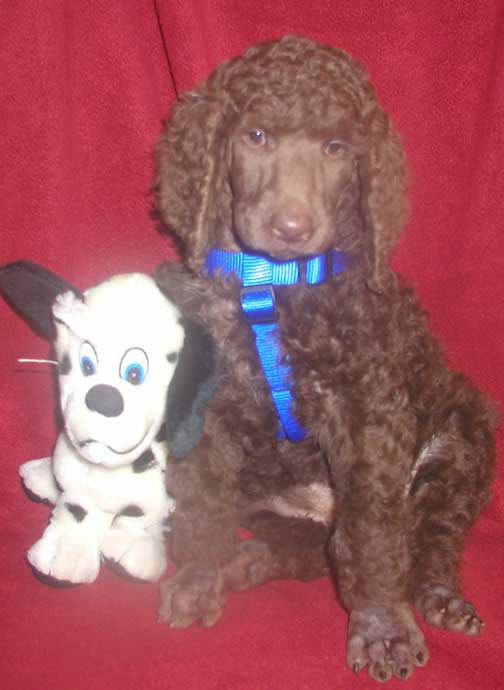 SOLD - "Pickle Dill" Solid Brown Male - 7 wks old 13.4# > microchip (mc) 7018. My new owners CT > St. Augustine, FL were spot on in choosing me ;o)
*
SOLD - "Monster Mash" Solid Brown Male - 7 wks old 12.2# > microchip (mc) 4385. I am one cool dude for TM > BC, Canada!
*
Below - We're the 3 Females

SOLD - "Magic" Black Phantom Agouti Female - 7 wks old 11.8# > microchip (mc) 2749. I will magically make you fall in love with me SG > Winter Haven, FL!
*
SOLD - "Denali" Brown Phantom Agouti Female - 7 wks old 12.4# > microchip (mc) 9525. BE > Bremerton, WA - we'll go on nice long walks and play fetch!
SOLD - "Lammy" Brown Phantom Agouti Female - 7 wks old 11.2# > microchip (mc) 6959. SS > Normandy Park, WA - I will snuggle with you forever!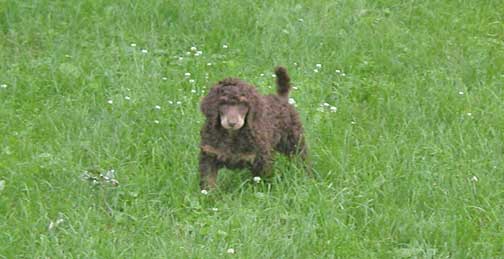 What a handsome boy King is!
*
How did she get up there? :0)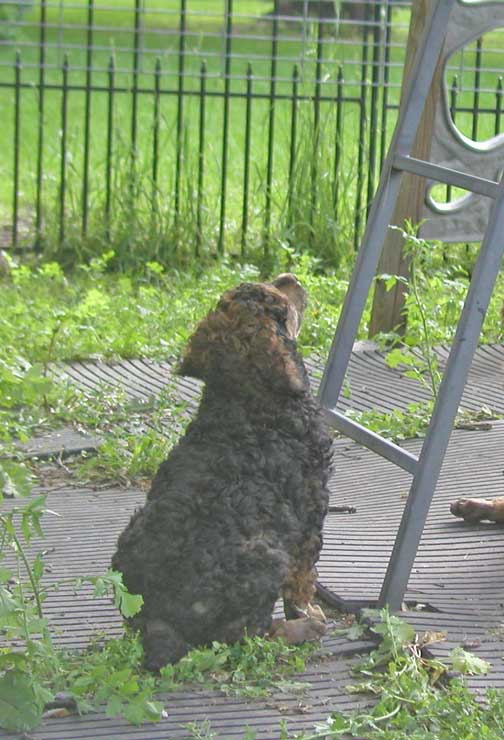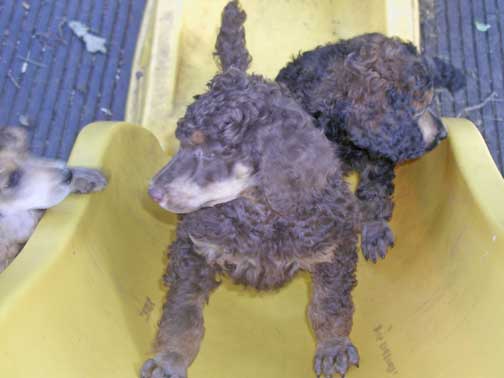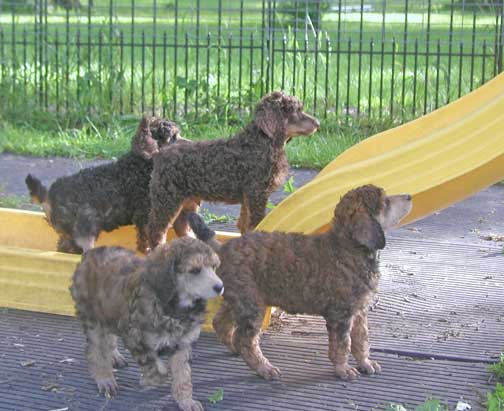 Waiting for someone to come down the slide, this is just so much fun having discovered the back of the park now...or did we just get curiouser and curiouser to finally make it back here?
*
Puppy Kisses :0)))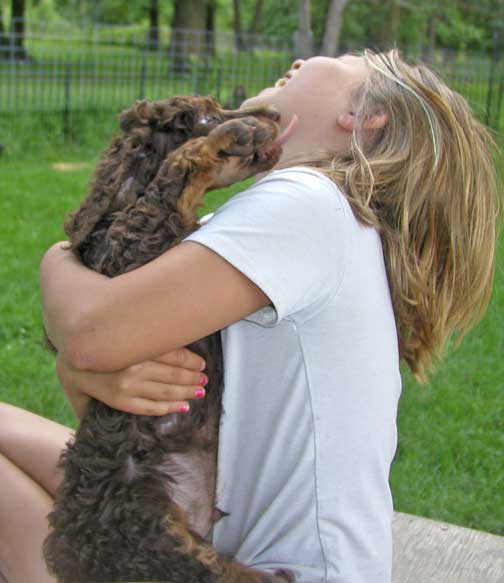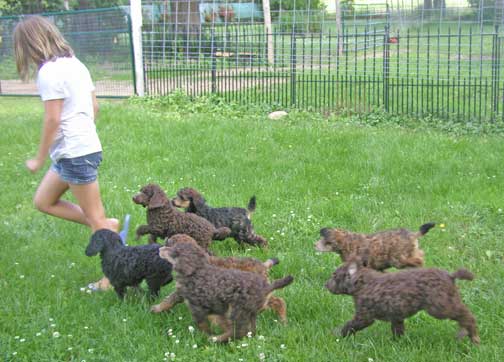 Playing follow the leader with Madison...Woo Hoo! :0)
*
The "Twin Agouti Sisters" and King :0)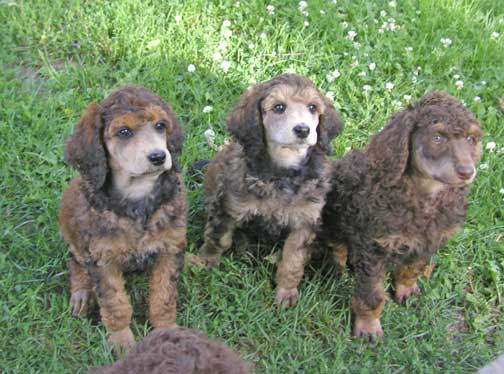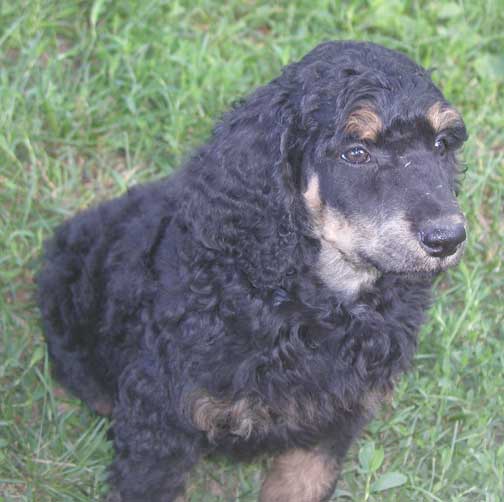 I am Bowie, look how handsome I am with my 7 week old hair cut.
*
I'm going to fly away, look at my ears go!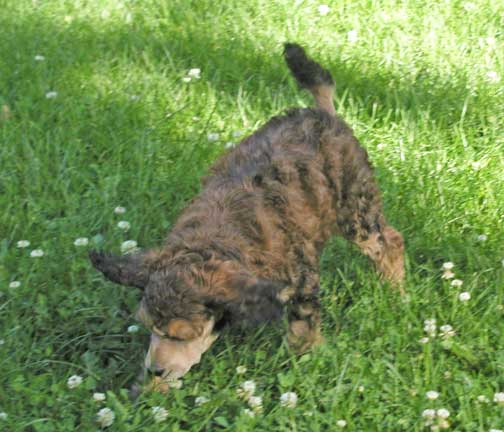 Look how we patiently wait for our turn!
*
Is that a big dog barking that I hear? :0)
Butt in the air ready to pounce :0)
*
Hey You Play With Me!!!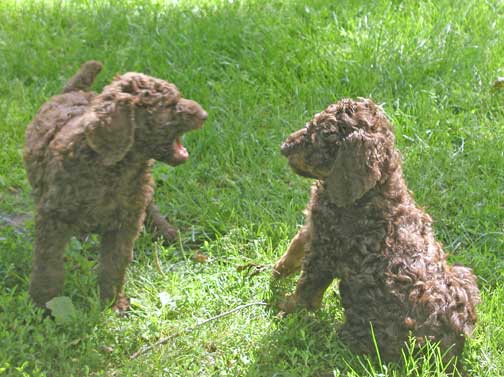 I'm going to get you!! :0)
*
Look close you can see Madison in the corner calling them all!  Hurry up guys!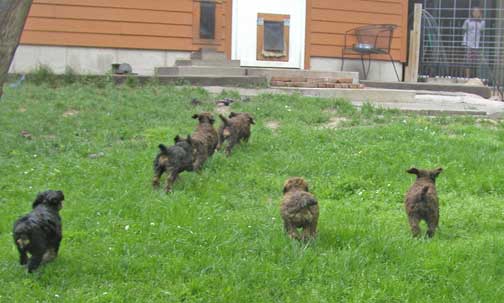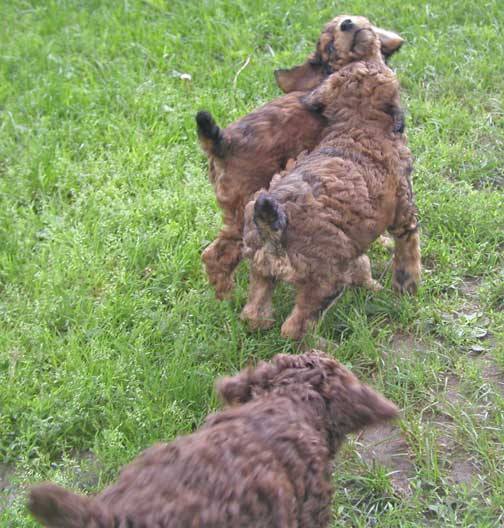 Play time! I'm coming to join the fun!
*
We now explore the back of the park were the slide is.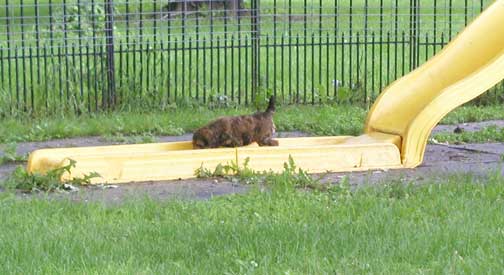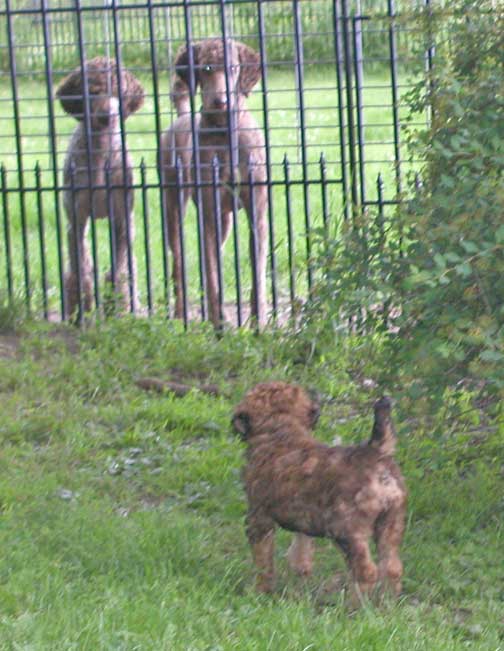 Wow look at those big spoos....will I get that big? :0)
*
Magic and her beautiful coloring.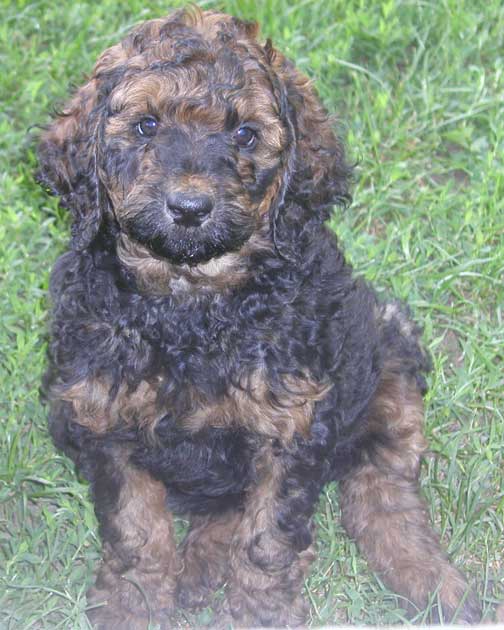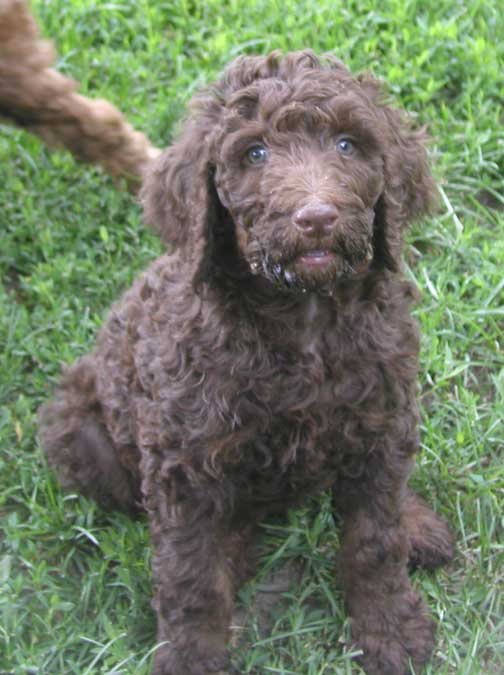 Is there anything on my face? :0)
*
Lammy and King are patiently waiting for their turn for puppy snuggles!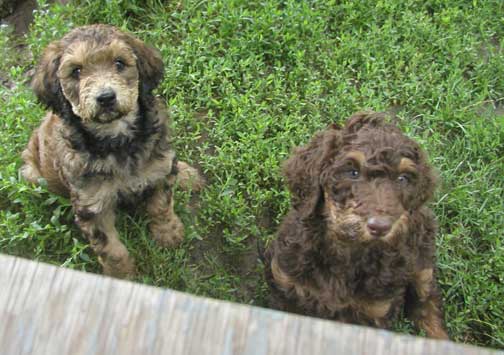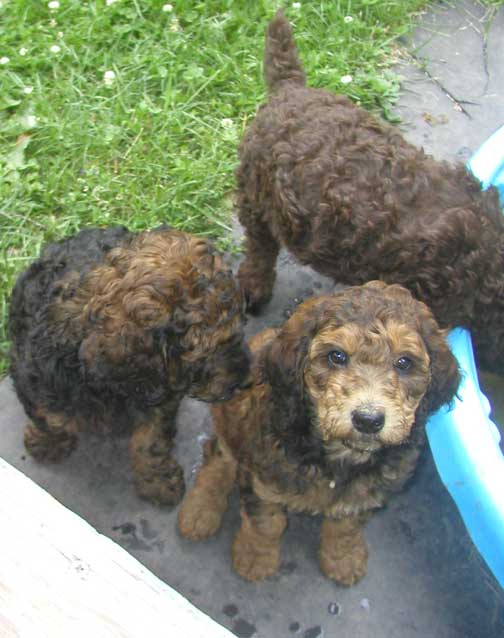 Hi, my name is Denali!
*
So very soon we will be eating only solid dog food....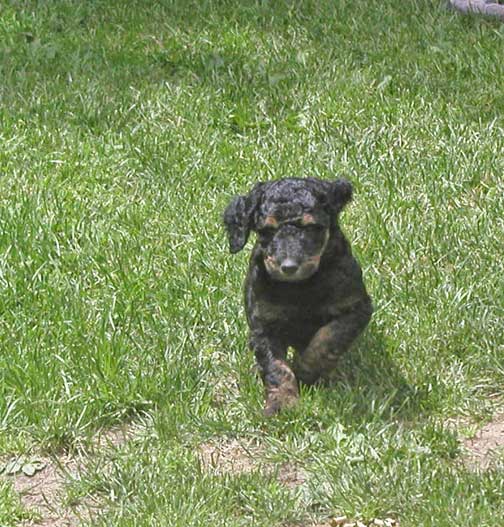 I'm coming, I'm coming!
*
The 2 solid brown boys taking a nap.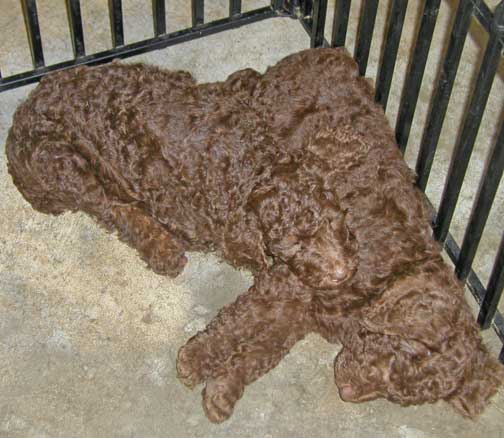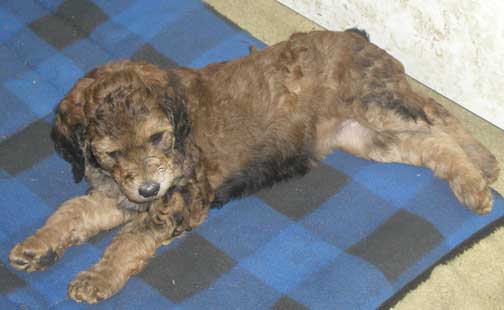 Dani has put the pet beds that customers have ordered into the puppy room.  We are getting them full of smells for us at our new homes.  We just love our pet beds!!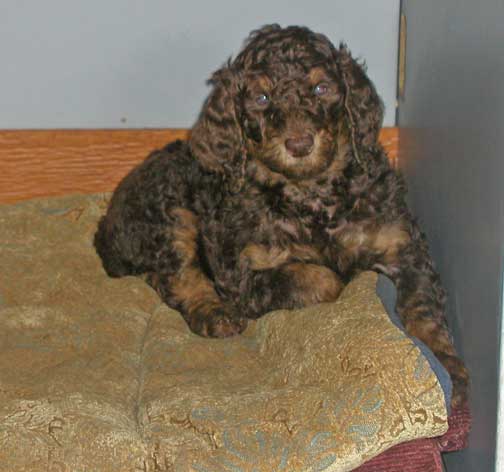 In the above pictures we are 6 weeks going on 7.  We have grown so much and love to play!  We go in and out the doggy door when we want and Dani watches us play from the office window.
*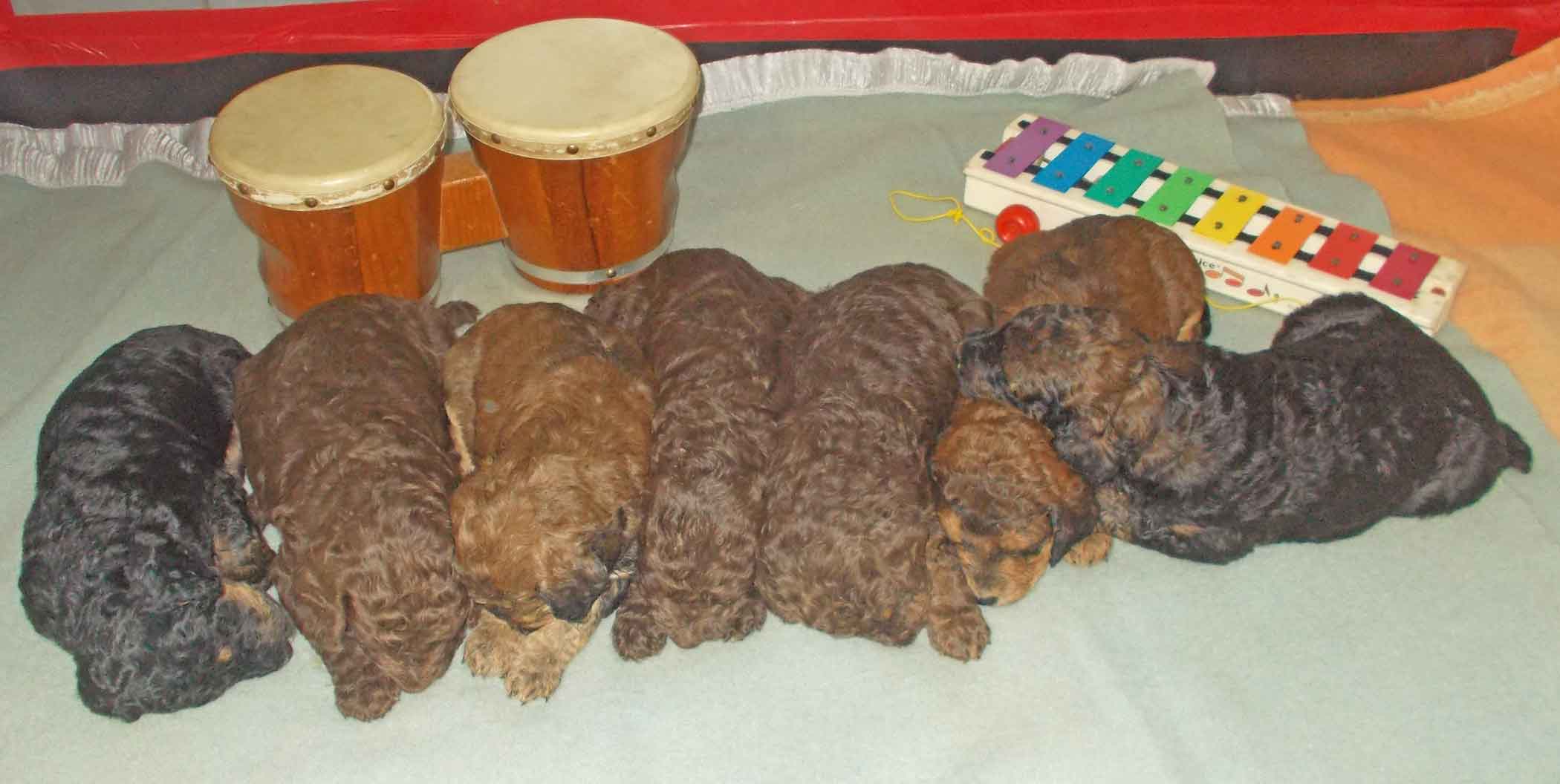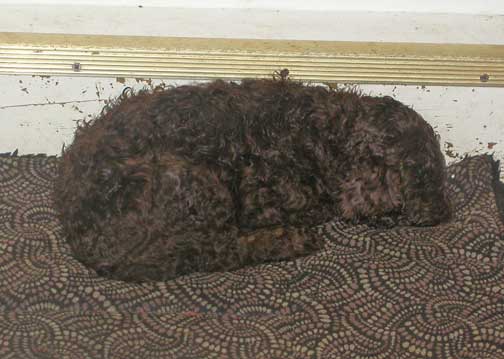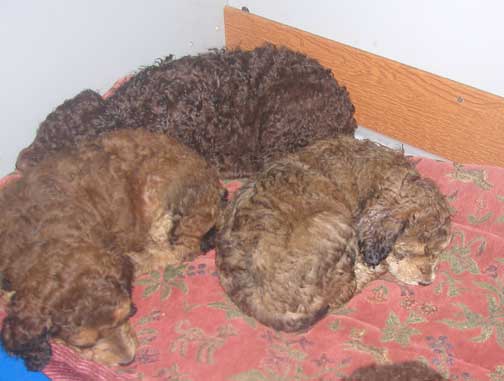 After so much play and exploring it is nice to curl up on our pet beds.  Would you be interested in buying one?  They really are the best thing ever!  Click here to see what is available
*
Paper shredders!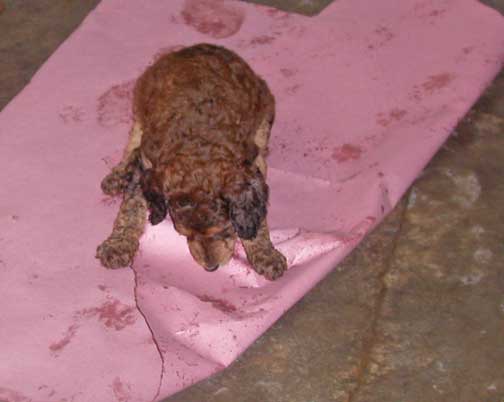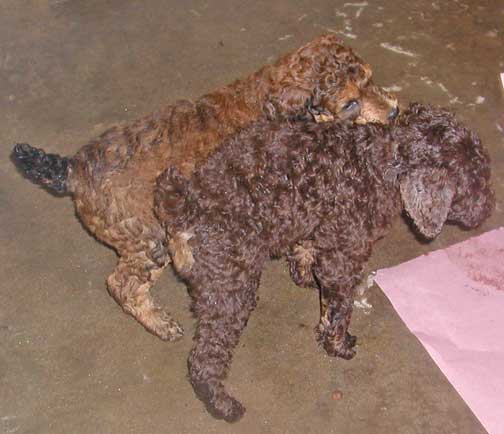 More play time....we do get tired and sleep too!
*
Attack the Mop!!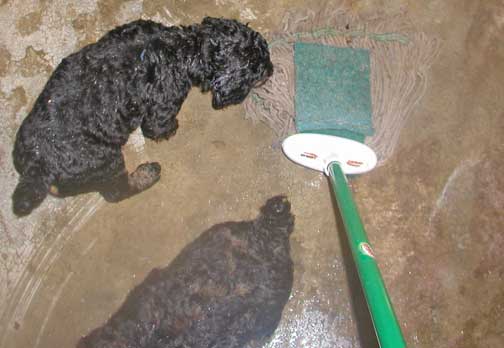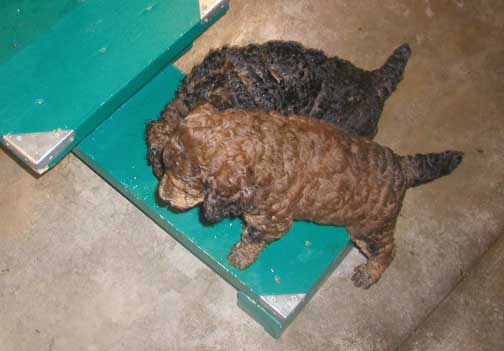 Are you ready.....Get Set....
*
Exploring in the rain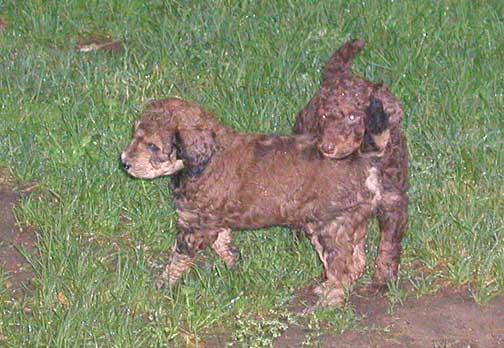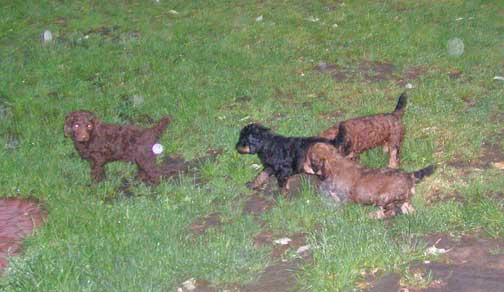 Rain or shine we go outside!  Today it is raining and thundering but that doesn't stop us!
*
I am one of the female brown phantom agouti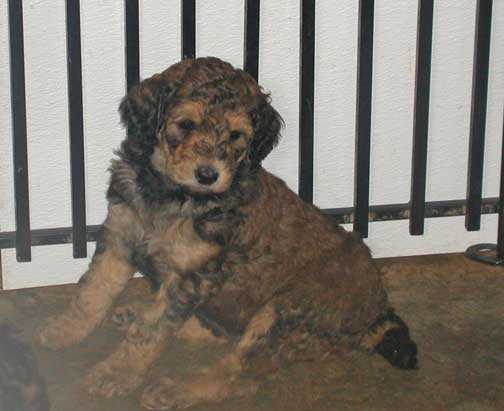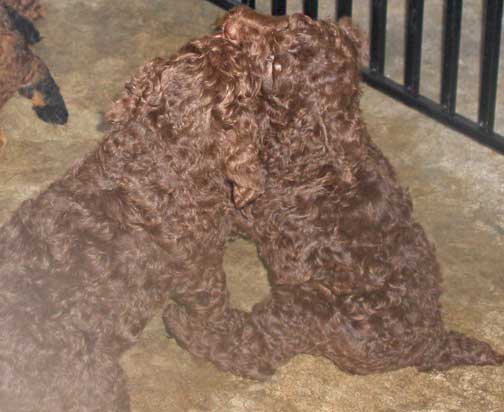 Grrr, I'm going to get you!
*
This is so much fun Woo Hoo!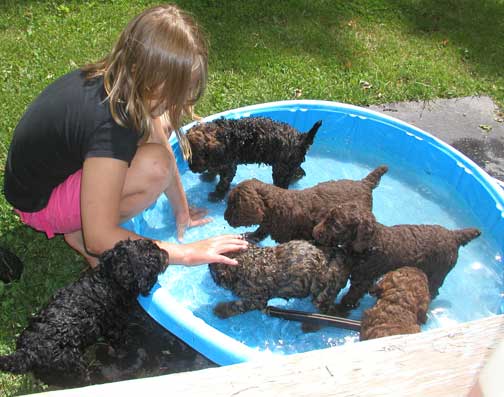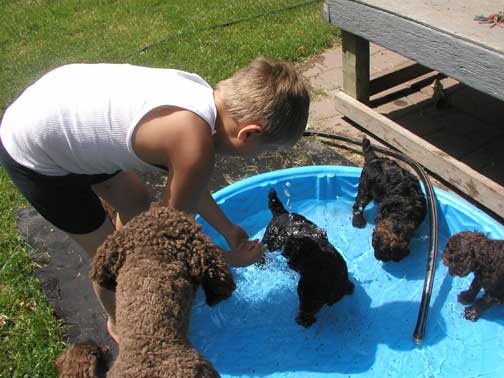 This is so much fun!  Come on in Momma and Talan the water is great!
*
Let me just climb on in!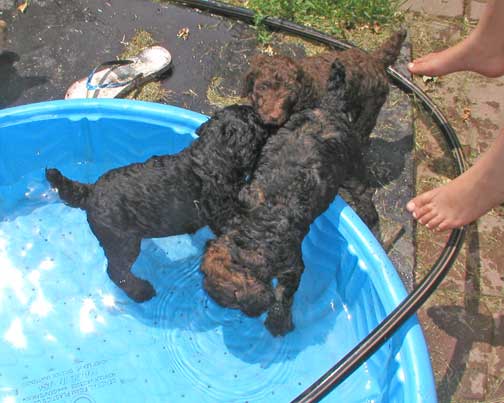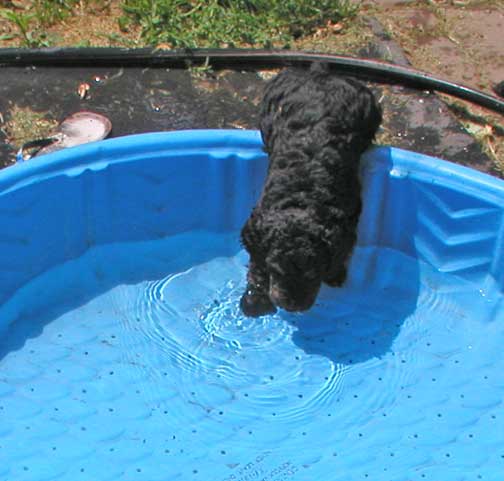 What do we do when it is in the 80's.......We have a Puppy Poodle Pool Party!  
*
Dani is teaching us to potty outside, she uses the slurry to entice us.  She says we are doing great and are really brave.  Is it time to go out yet?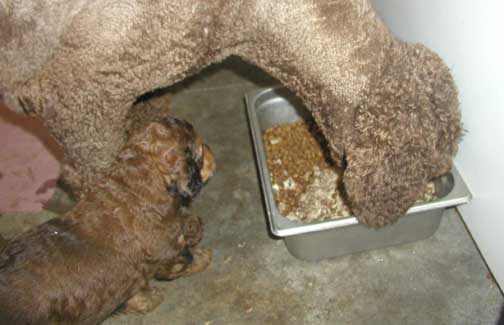 What's that you're eating Momma, is it good? :0)
*
We love to play with one another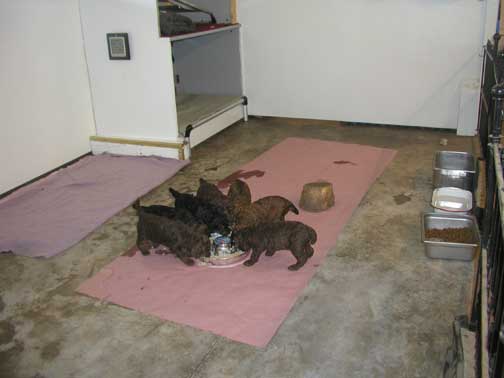 We are now moving to the "family room" which is the heated garage.  Dani uses the slurry to get us to follow.  We did it!!
*
Hi Momma Falcon, I love you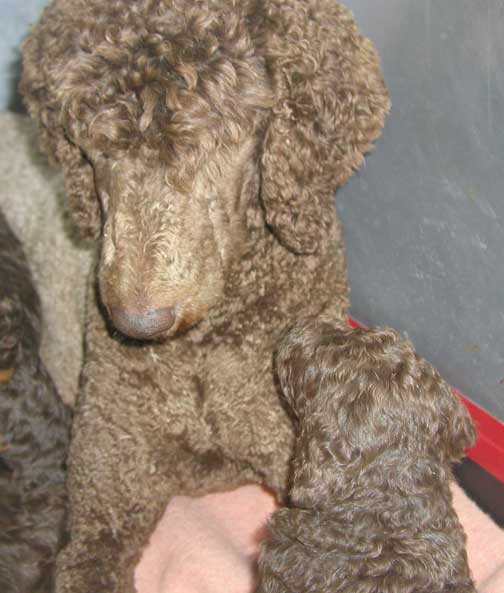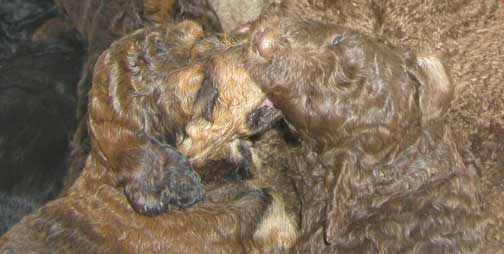 Play time!
*
I'm going to put my 4 paws up and take a nap! :0)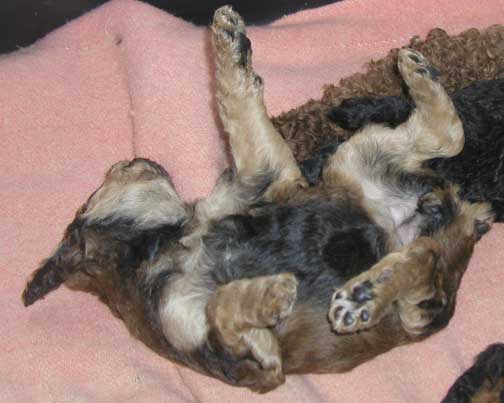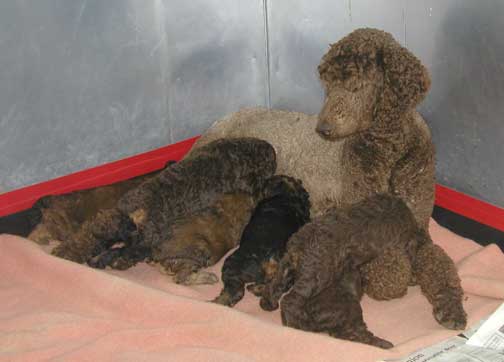 In the above pictures we are 4 weeks old going on 5.  Momma Falcon is still providing us with that nummy milk. Soon we will be moving out to the "Family Room".
*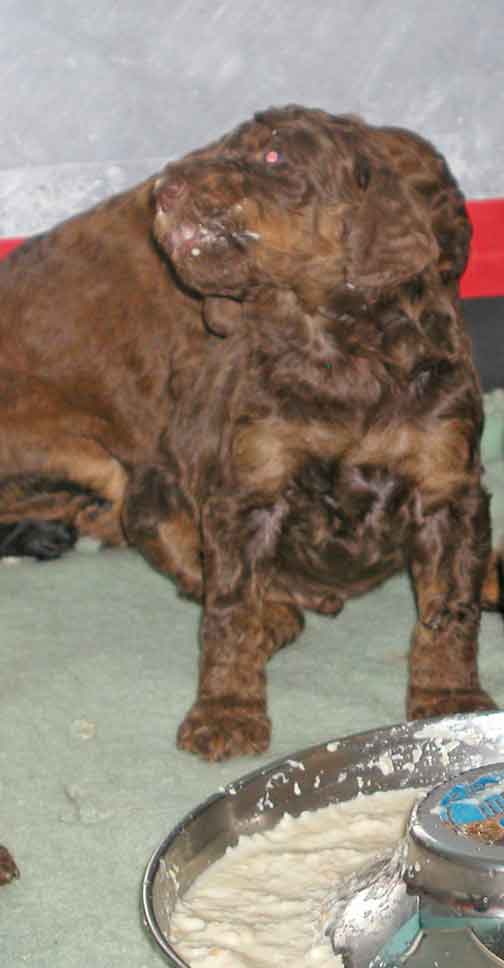 Hey guys this is GREAT stuff!
*
It's lick your lips good :0)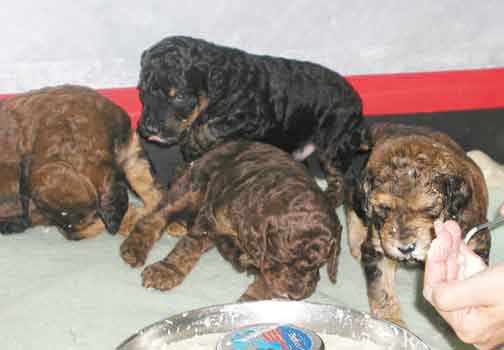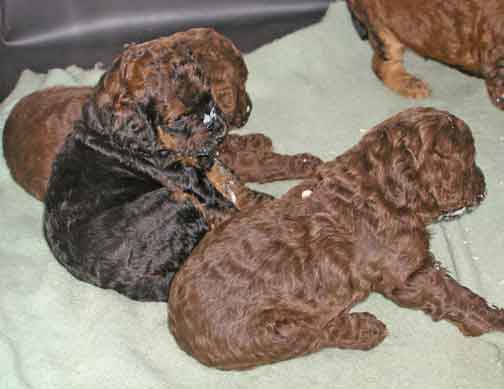 Do I have something on my nose? :0)
*
We learn to eat out of the bowl pretty quick, by our next feeding we will have it down!!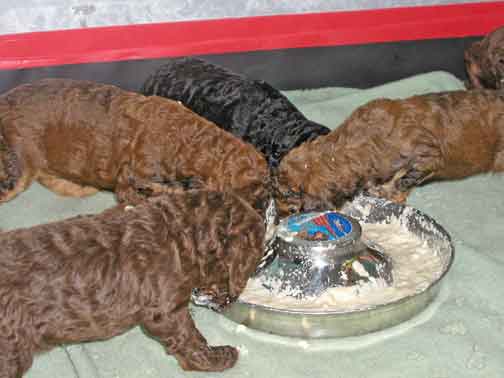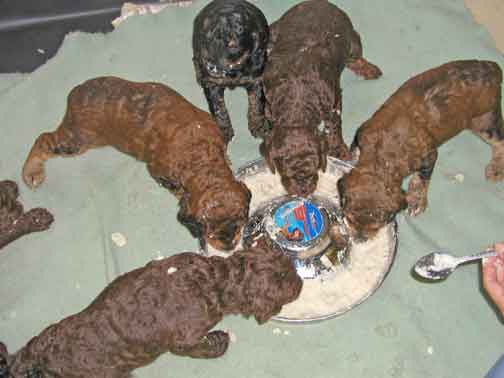 We found the bowl!
*
This is why we need a bath at 5 weeks, very messy!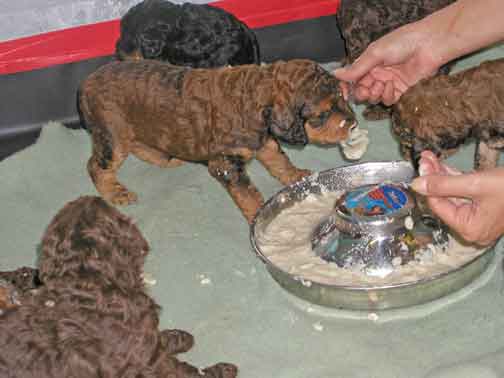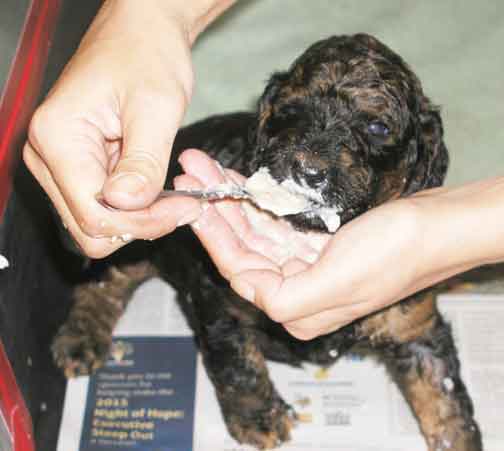 Check out our 3 week video and you can see us in action eating our slurry...YUMMY!
*
We've started to eat slurry, it's a blend of baby rice cereal, buttermilk to prevent diarrhea, a special canned dog food called mousse to help puppies transition and eventually canned dog food will replace the mousse :o) What I call our circle of life :o))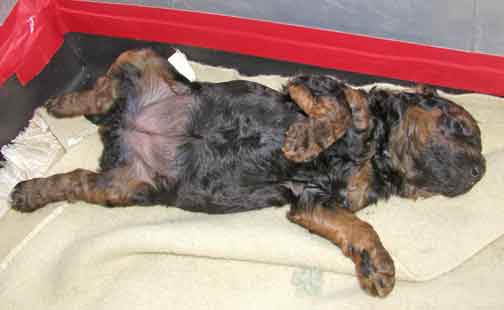 I am the phantom female doing the 4 paws up pose! :0)
*
Tes gives a tickle on the tummy for this brown phantom agouti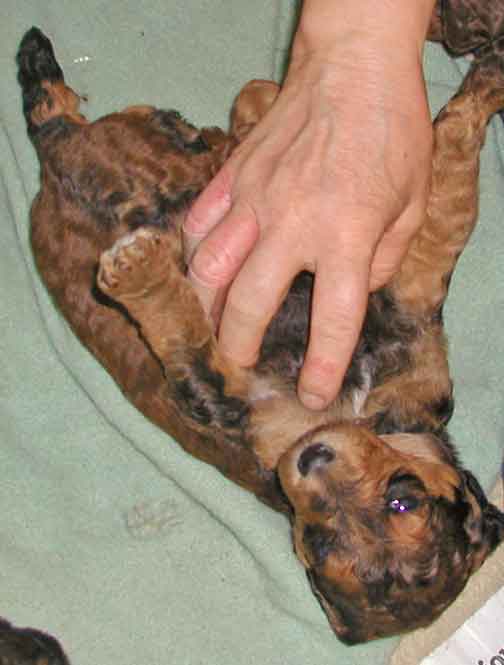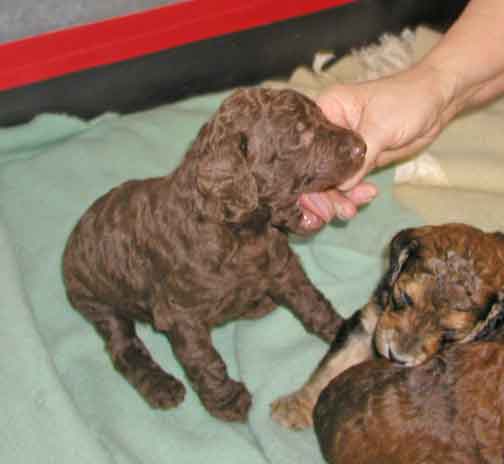 Tes giving the solid brown boy a little tickle on the cheek for a big yawn!
*
Tes is home from Texas helping Dani with the puppies and getting another load to head back to Texas with.  While she is here she gets to help socialize us, how many puppies can she fit on her lap? :0)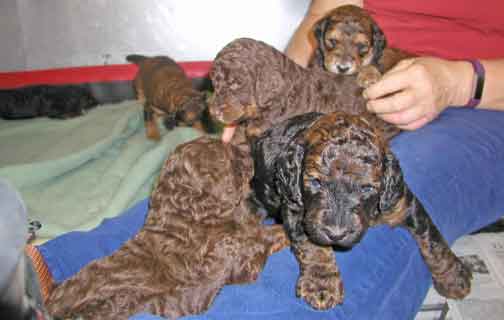 Sniff...Sniff...What is that smell? :0)
*
Ahhh so relaxing....zzz...ZZZ...zzz
Momma Falcon has plenty of milk for us giving us those tubby bellies!
*
Puppy Smooches :0)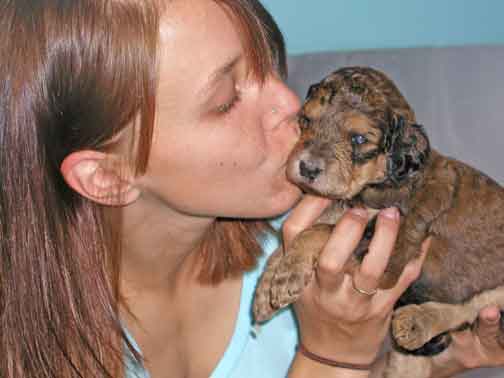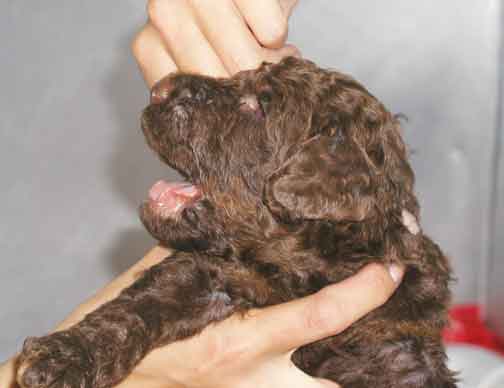 and a yawn....
*
A little tickle.....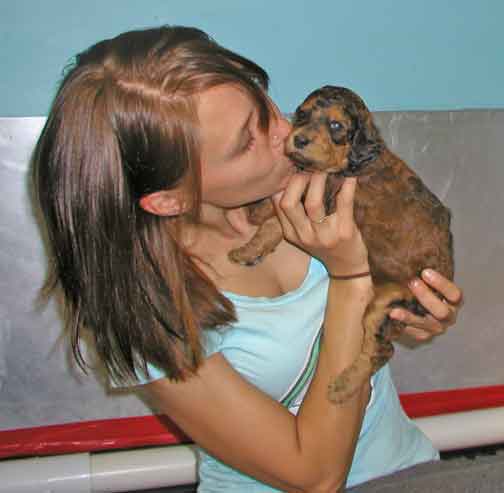 We get tons of socializing and tons of puppy kisses!
*
More space is added along with newspaper for us to potty on.  We are so smart that as soon as it was added we started to potty on it! :0)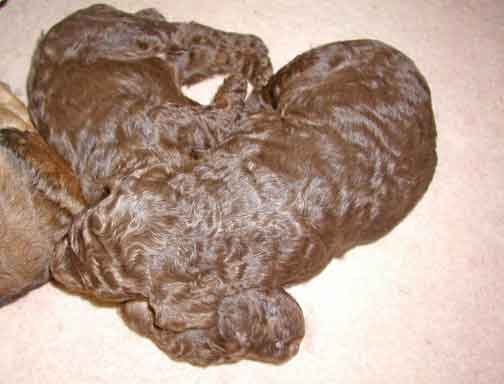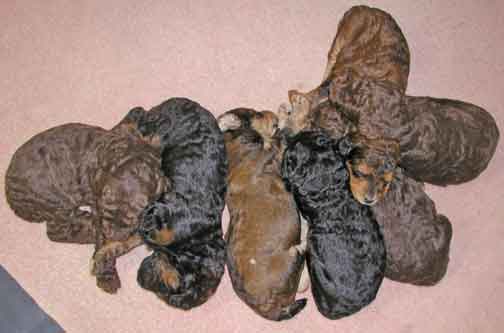 Seven puppies in a row
*
Solid Brown Male, Black Phantom Agouti Female, and Black Phantom Male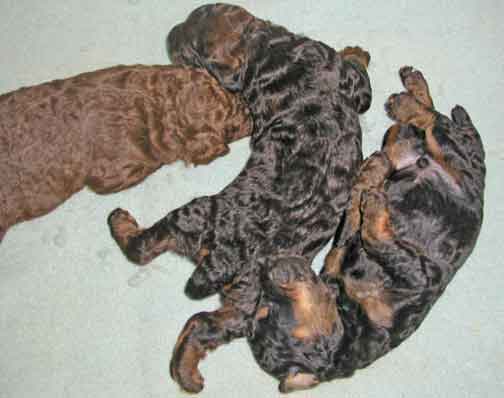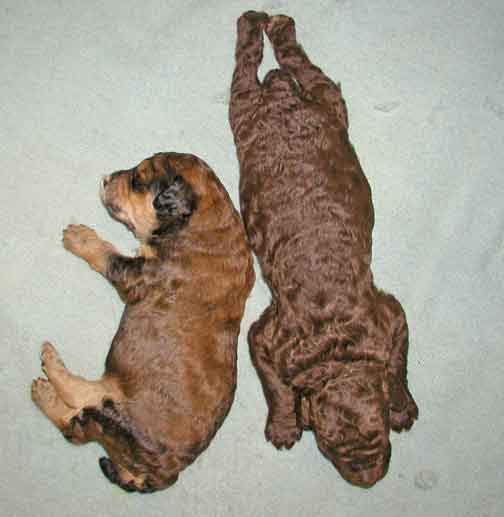 We are getting tubby bellies!
*
Puppy snuggles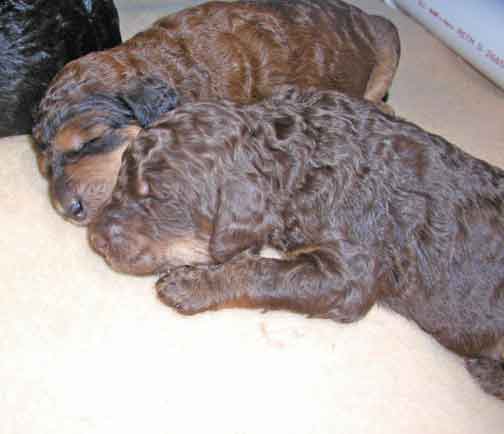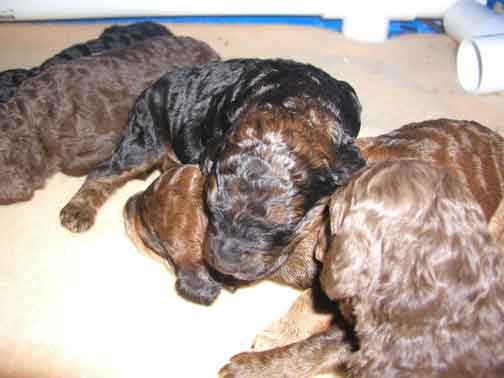 Dani loves the coloring on my head!
*
I am a solid brown boy, look how much I have grown!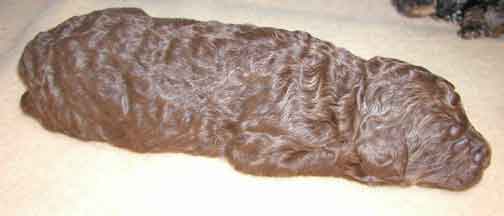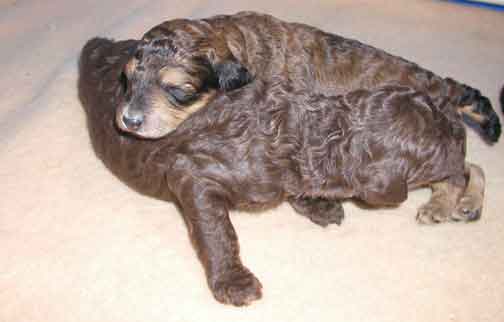 We sleep where we fall...zzz...ZZZ...zzz
*
Solid brown male and Black phantom male taking a nap :0)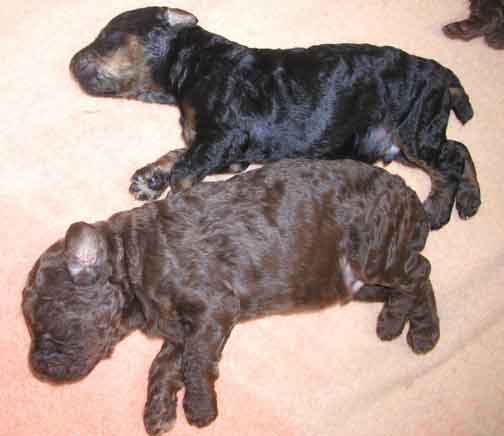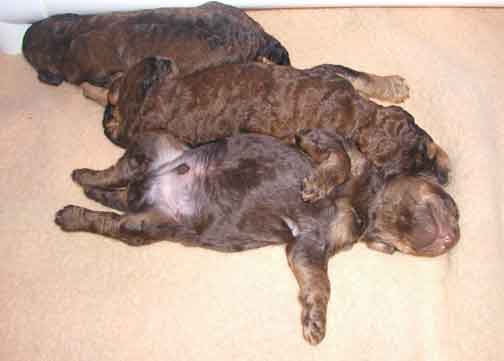 Above pictures we're going on 2 wks then 3 wks as our eyes open and we start to get our legs underneath us...it's the 4 paws up! :o) Temps are being dialed down...
*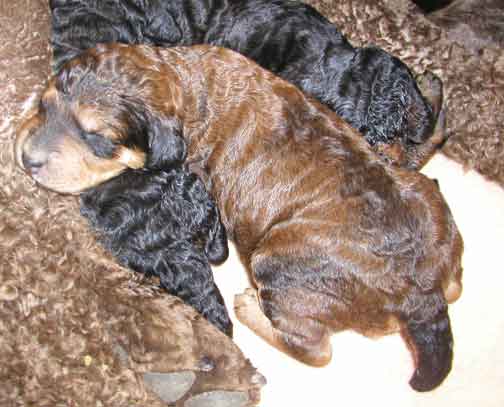 Above > Here you can see the back of the Agouti and below shows a picture of the face.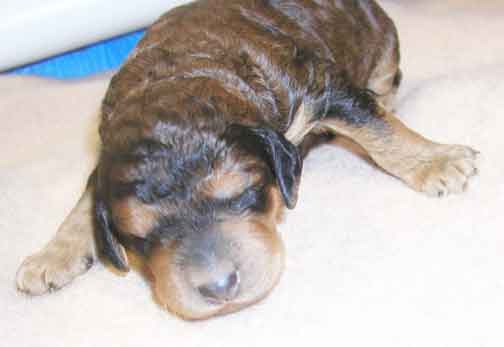 I am the female Phantom/Agouti, look at my beautiful multi coloring!
*
I am the only male brown phantom! :0)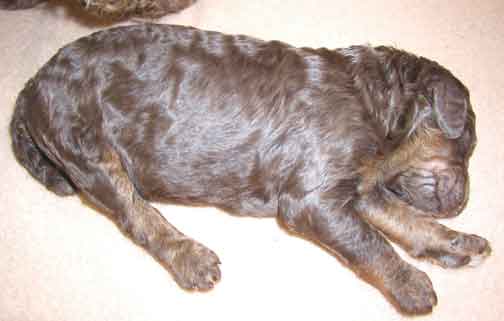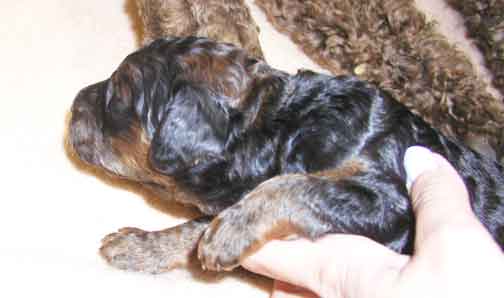 I am a black phantom, but if you look close you can see I have red tints on the back of my head!
*
Look at those bellies!!! Growing FAST!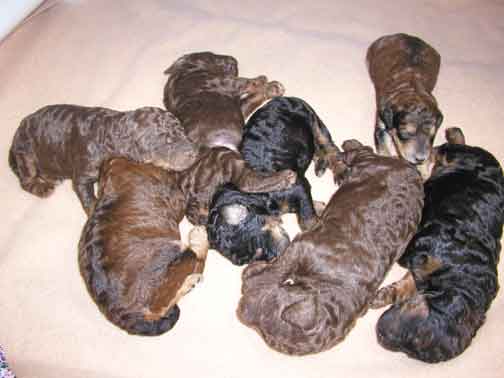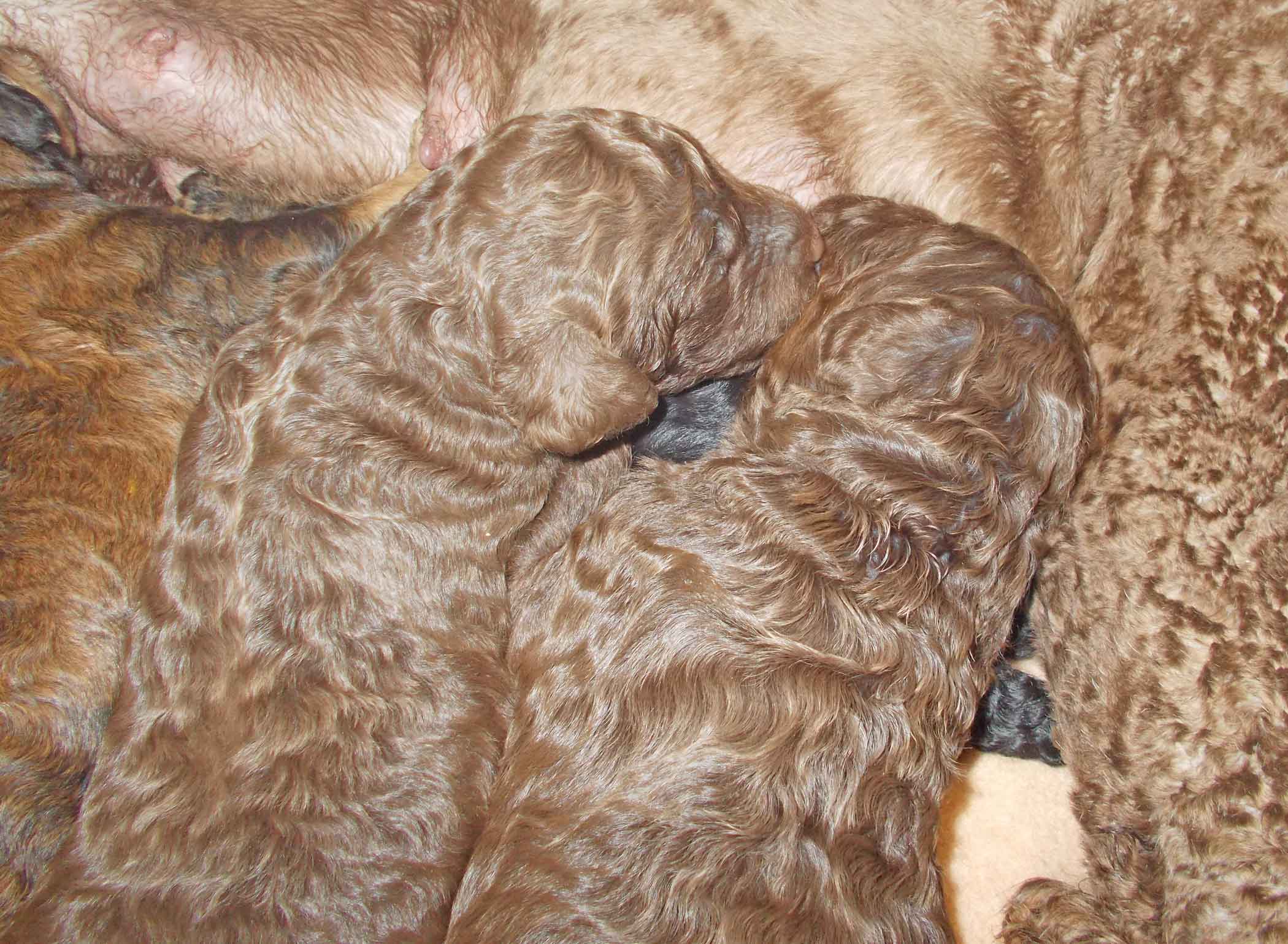 Hey that was my spot!
*
Look at our tubby tummies!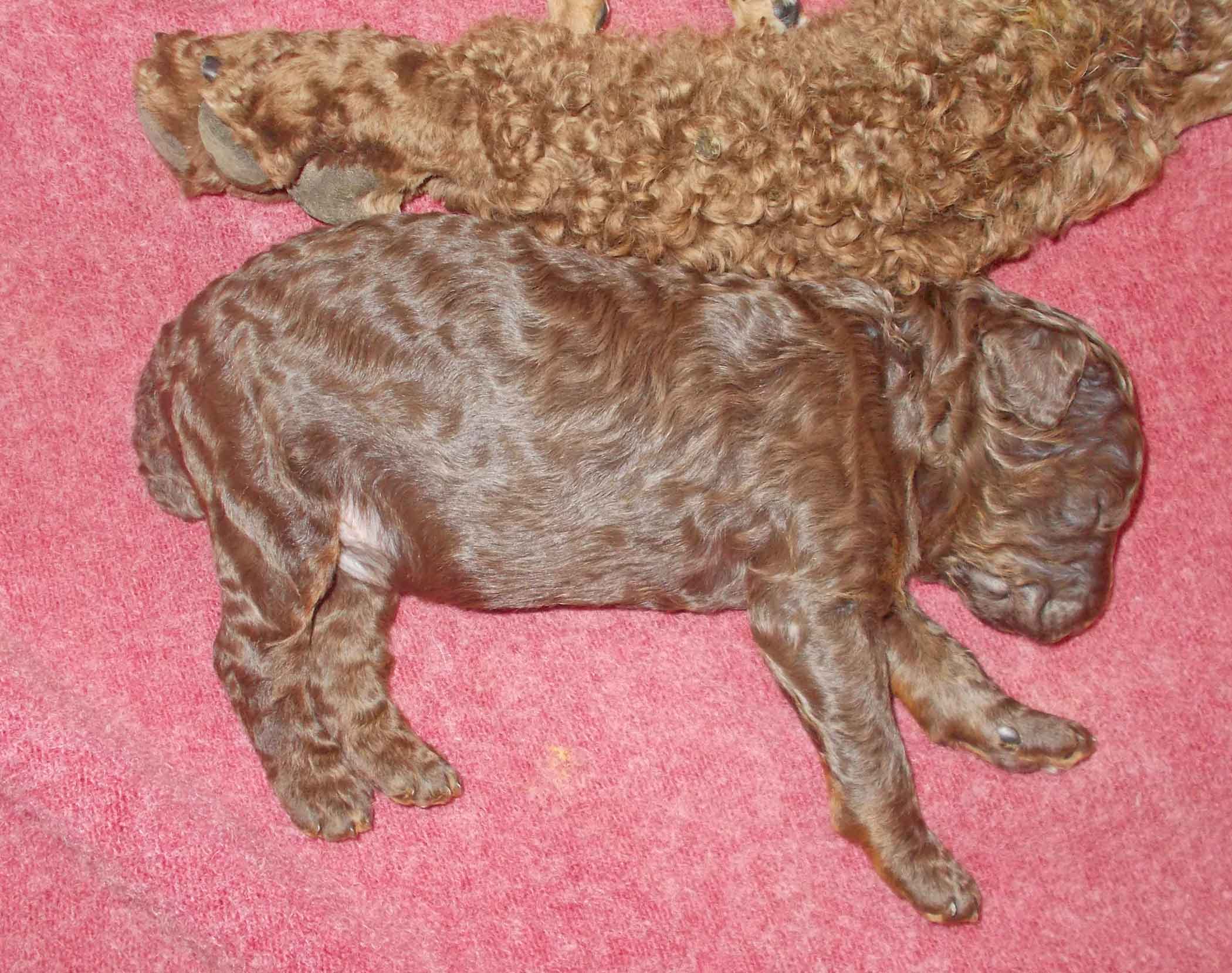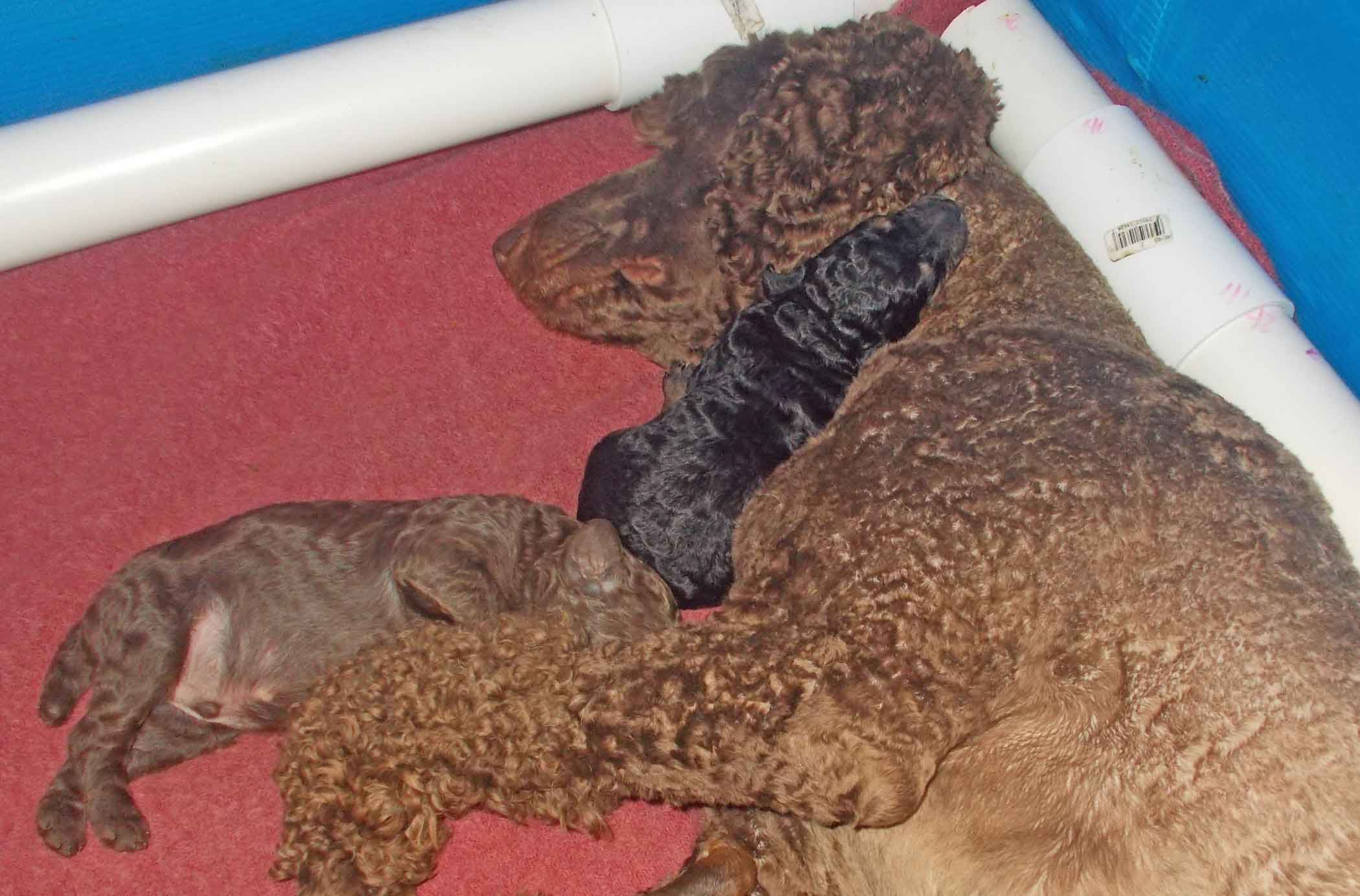 Solid Brown Male dreaming of that nummy milk :0)
*
Puppy pile! Temps are slowly being dropped where Dani needs to keep them coming together for warmth that Falcon can lay around them :o)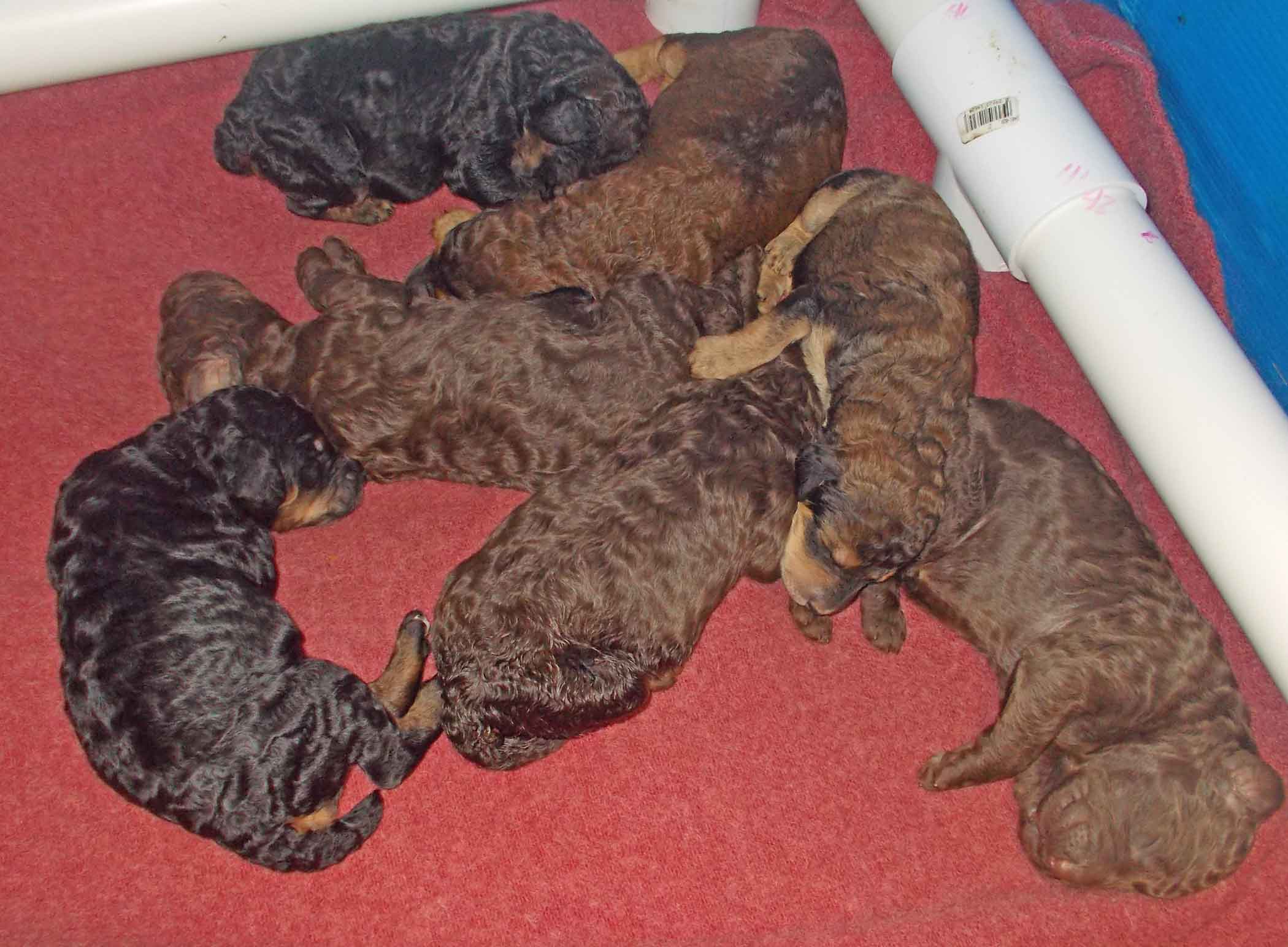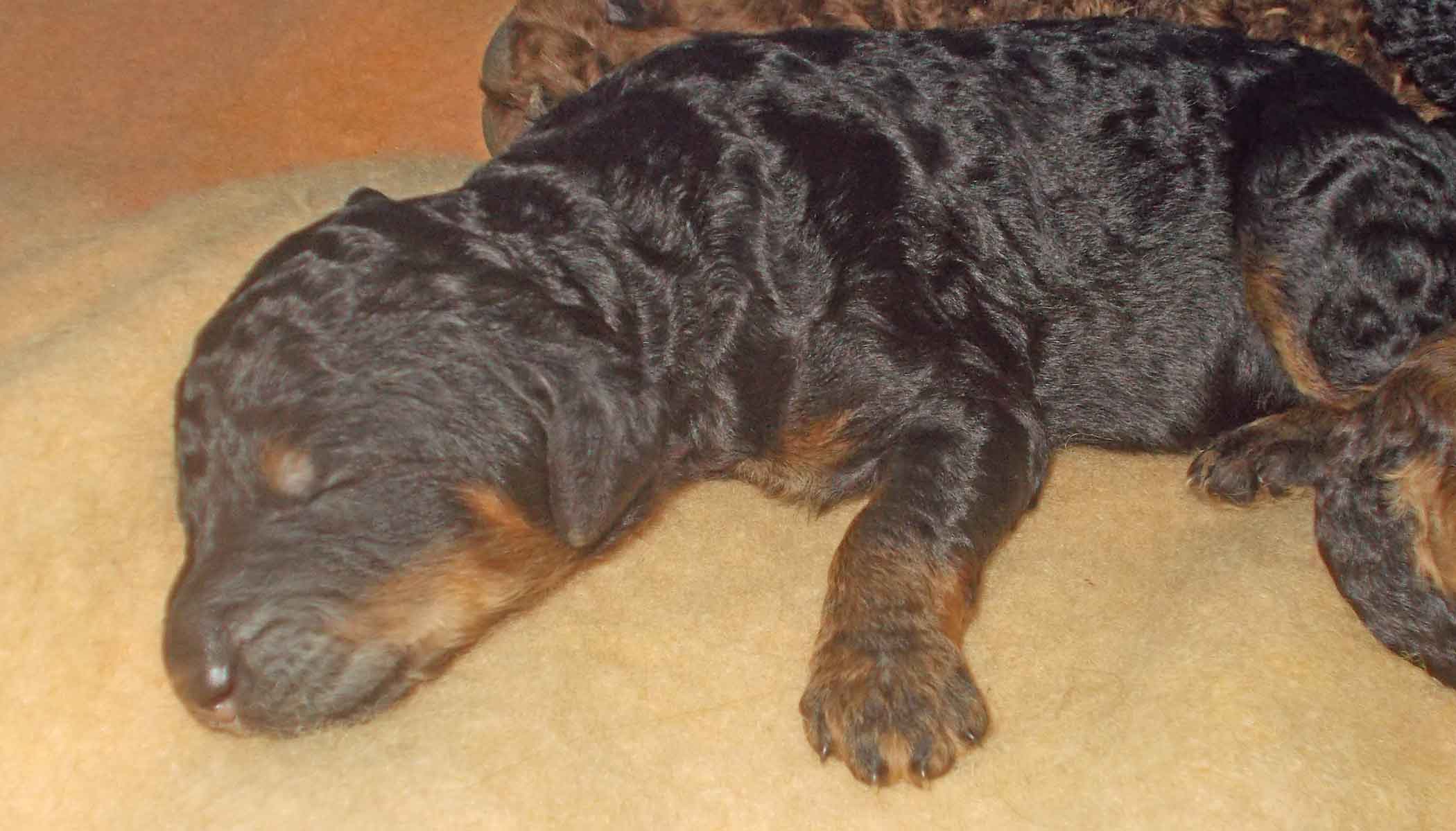 1 Female Black/Red Phantom and 1 Male Black/Red Phantom 
*
There are 2 Brown Males.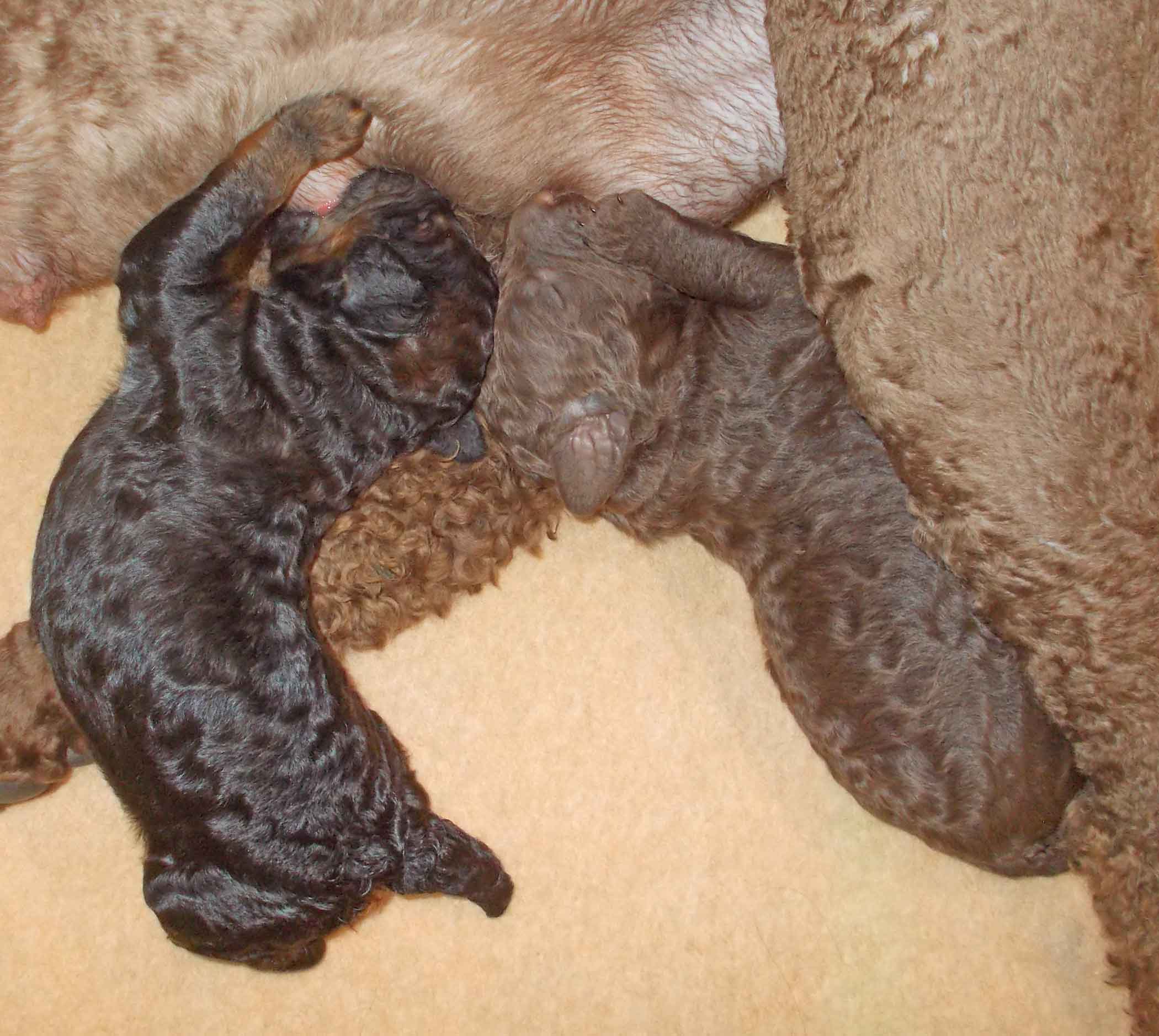 Suckle, suckle...the many ways to suckle...and sleep to look like it ;o)
*
The 2 female Phantom/Agouti pups.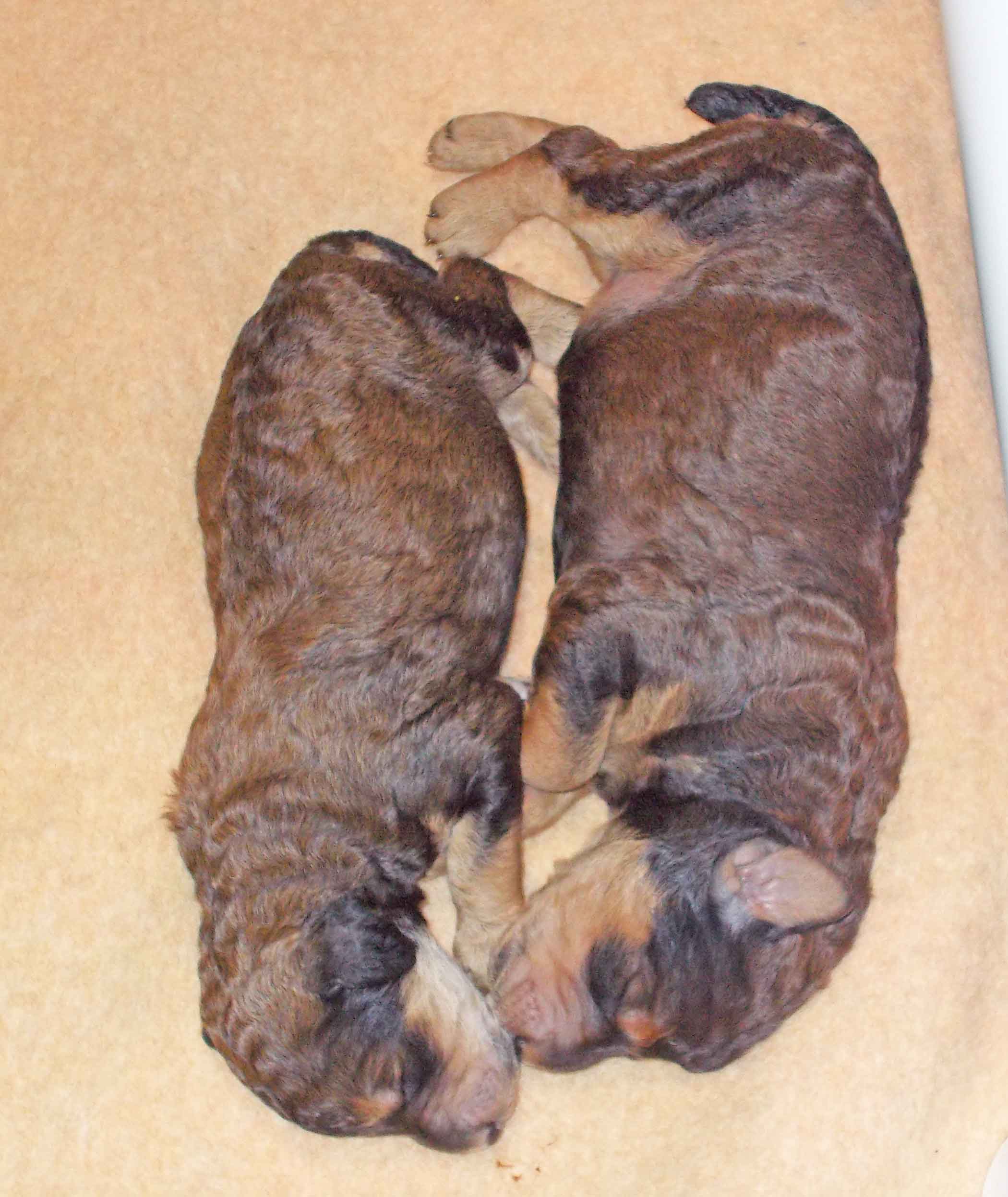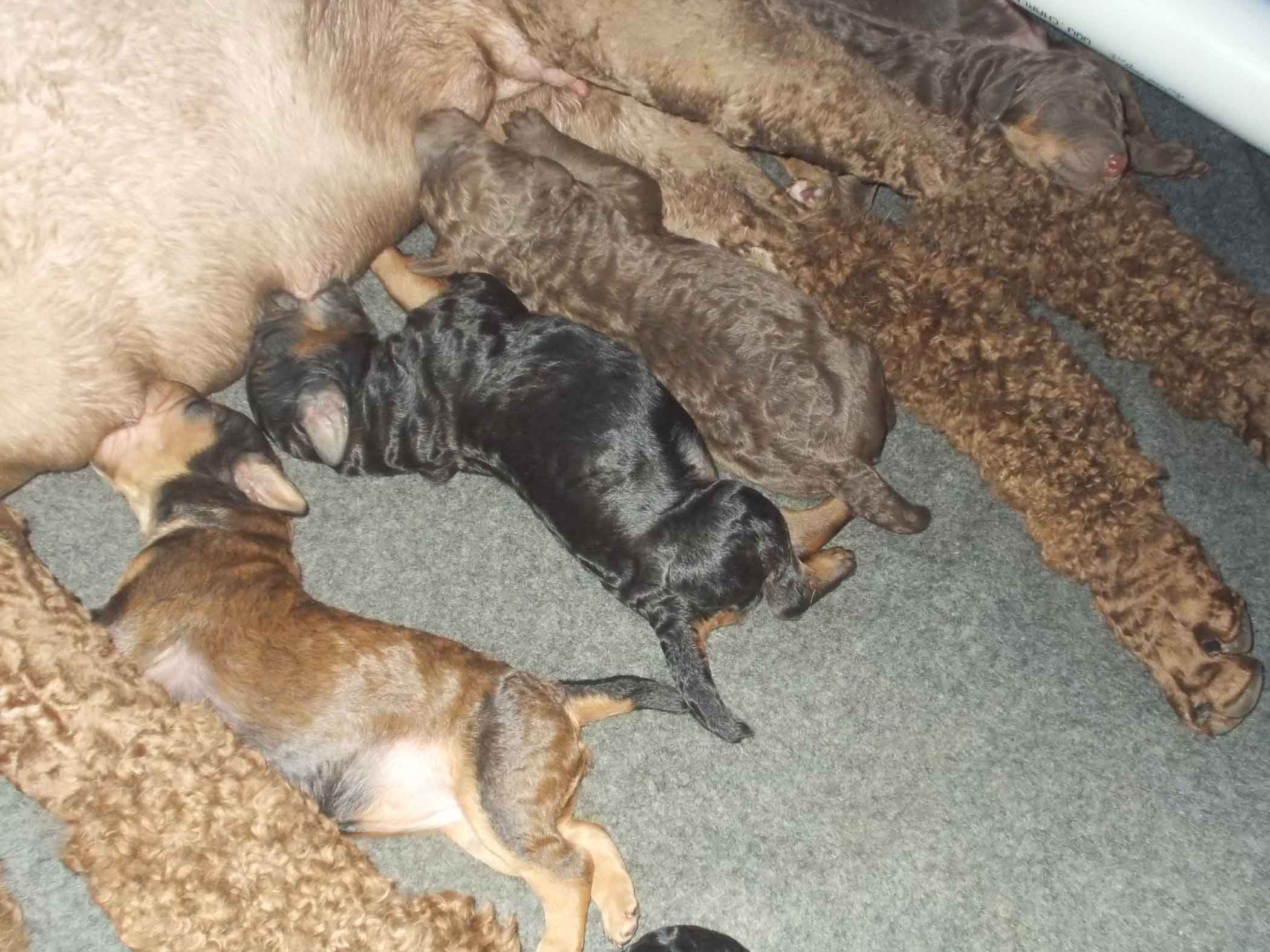 Working that nummy nummy milk out!
*
Puppy Love :0)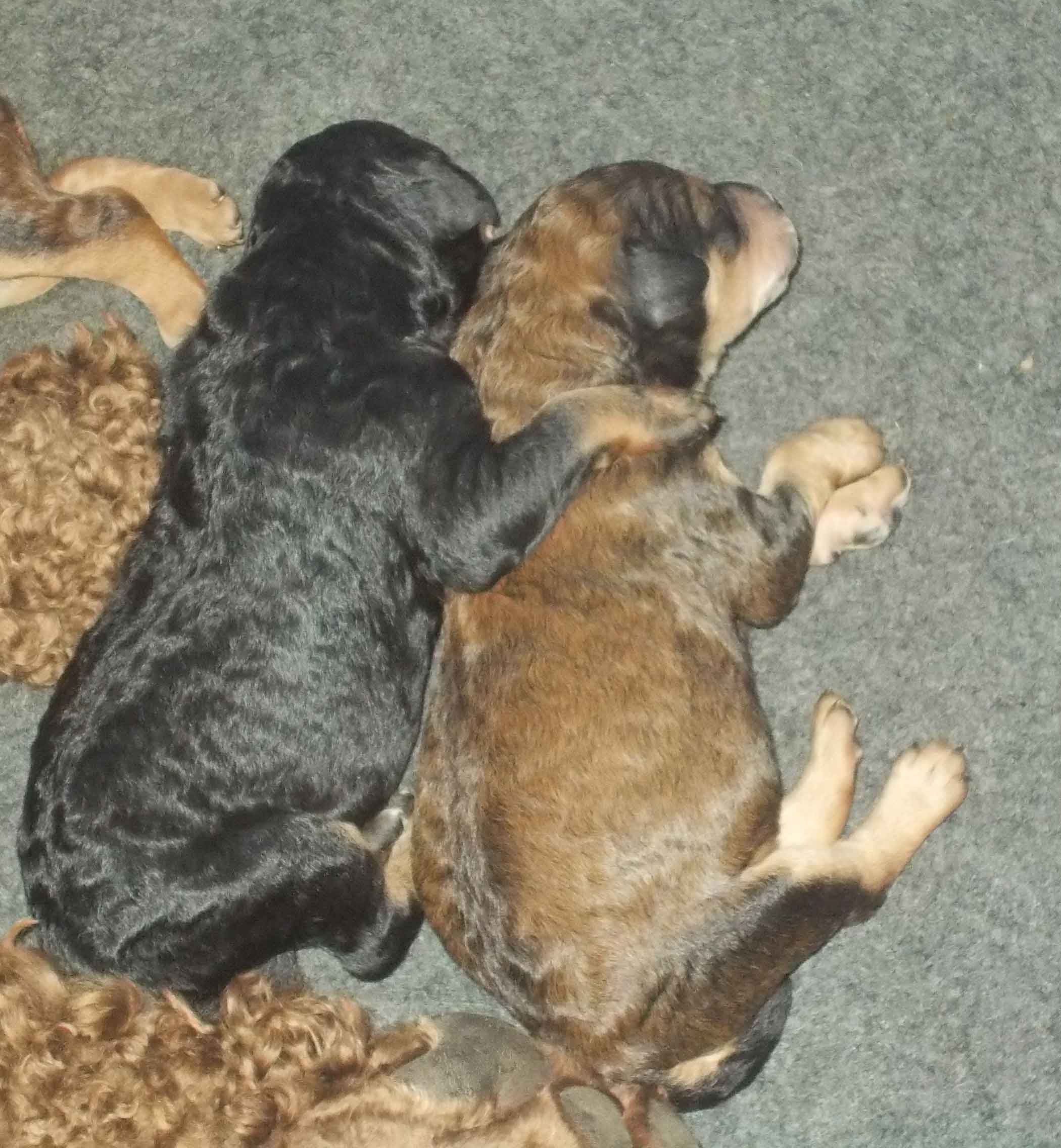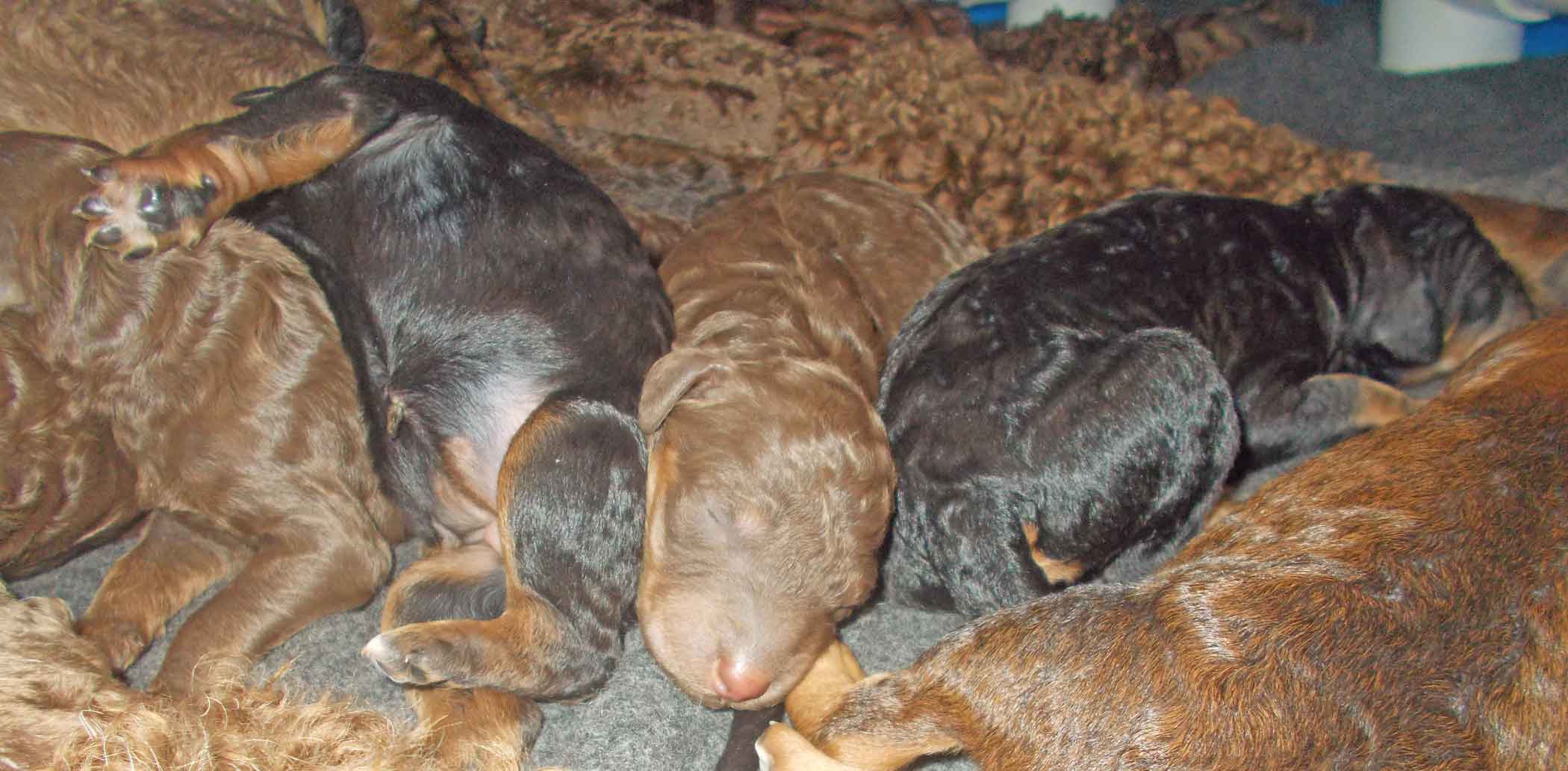 Two butts and a head...hmm ;0)
*
At 3 days old we're keeping warm in Dani's bedroom she has warmed up to 76 degrees as we don't have any body regulation yet, a temperature controlled heating pad is underneath a wool blanket. Wool blankets wick away any moisture that come from us, keeping us dry and warm. Dani will change them to show different colors in viewing your colorful pups in the coming weeks :o)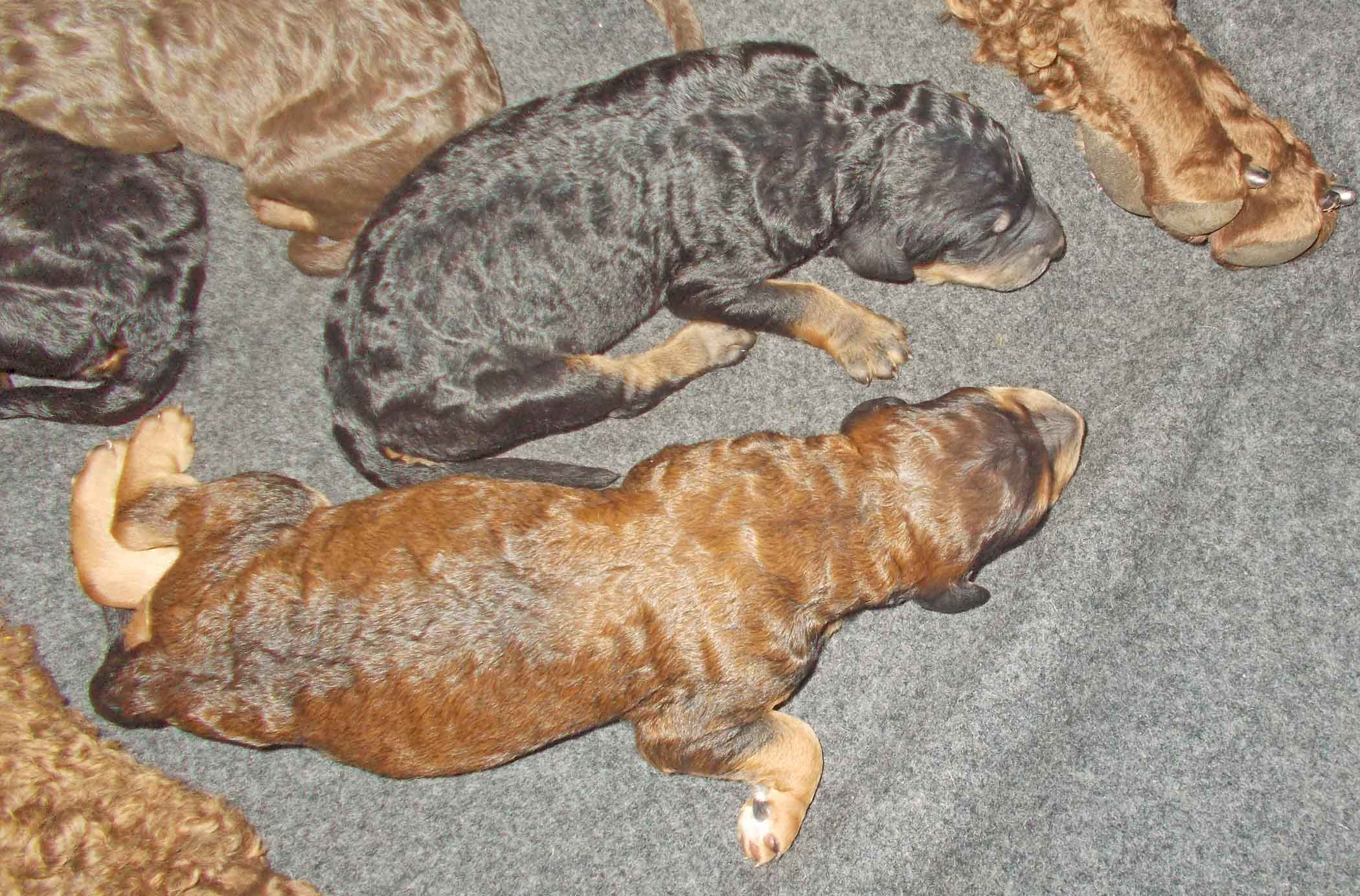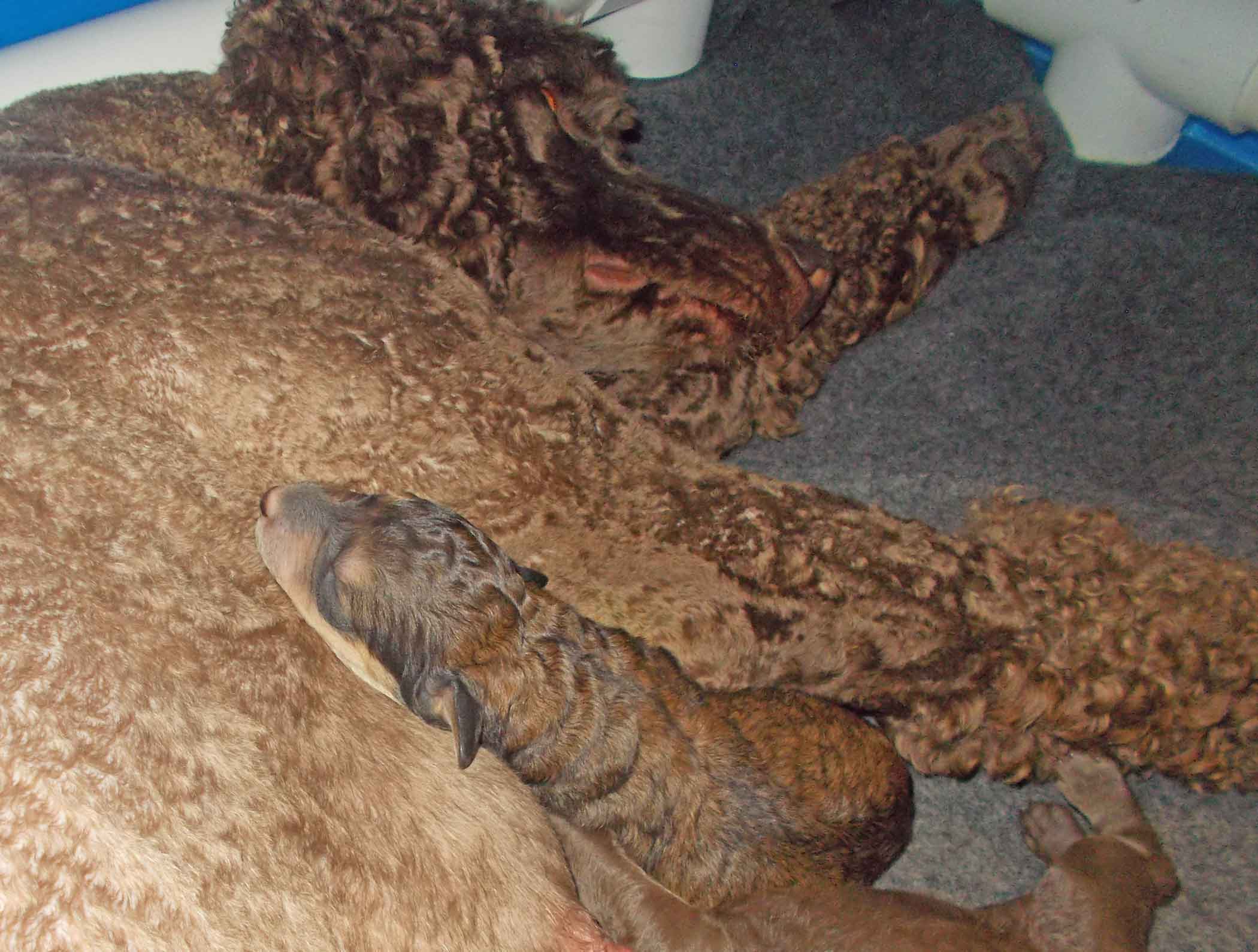 Momma Falcon is so comfy! She's sure resting up ;o) 1 of the 2 female Brown/Red Phantom/Agouti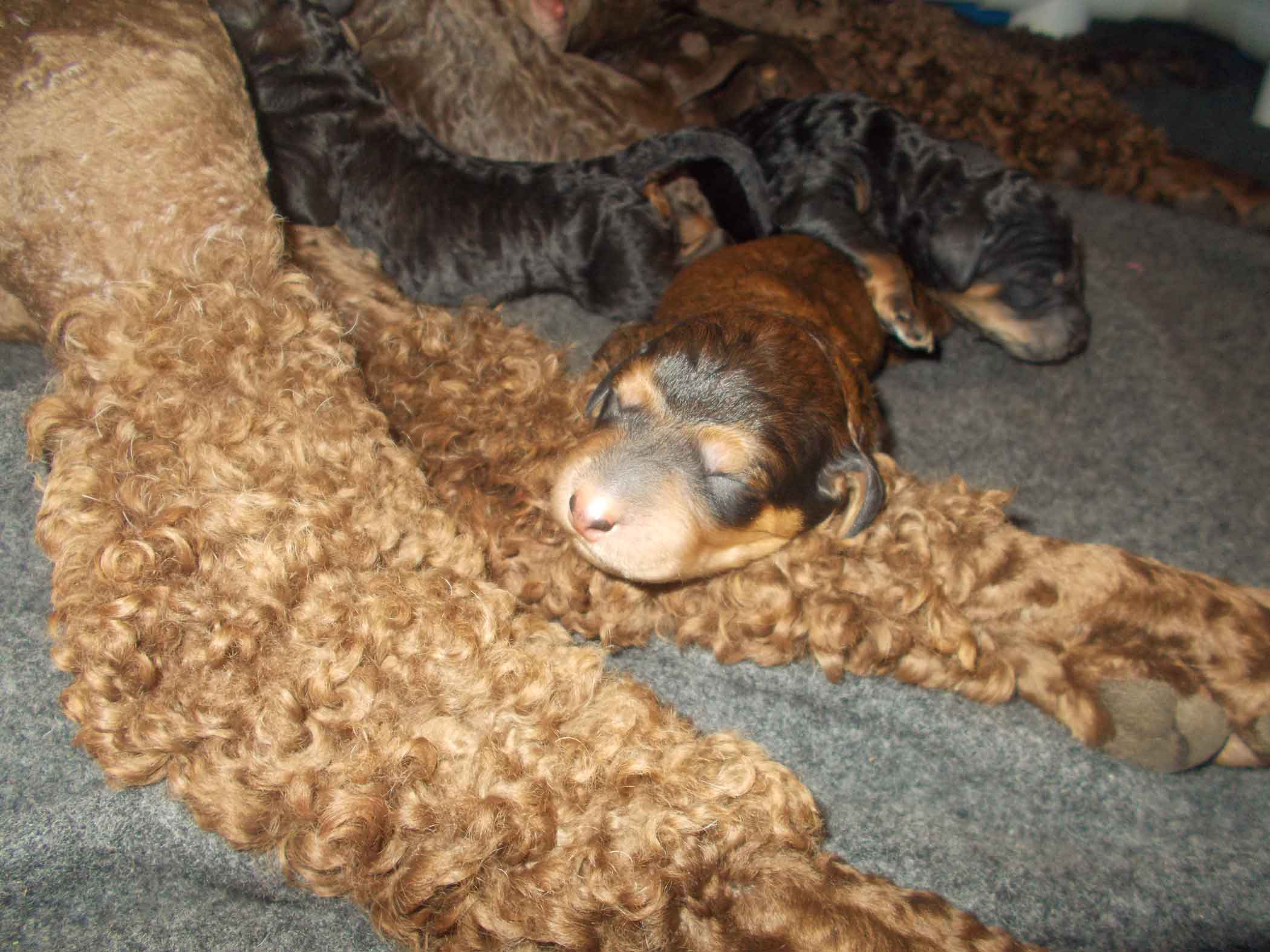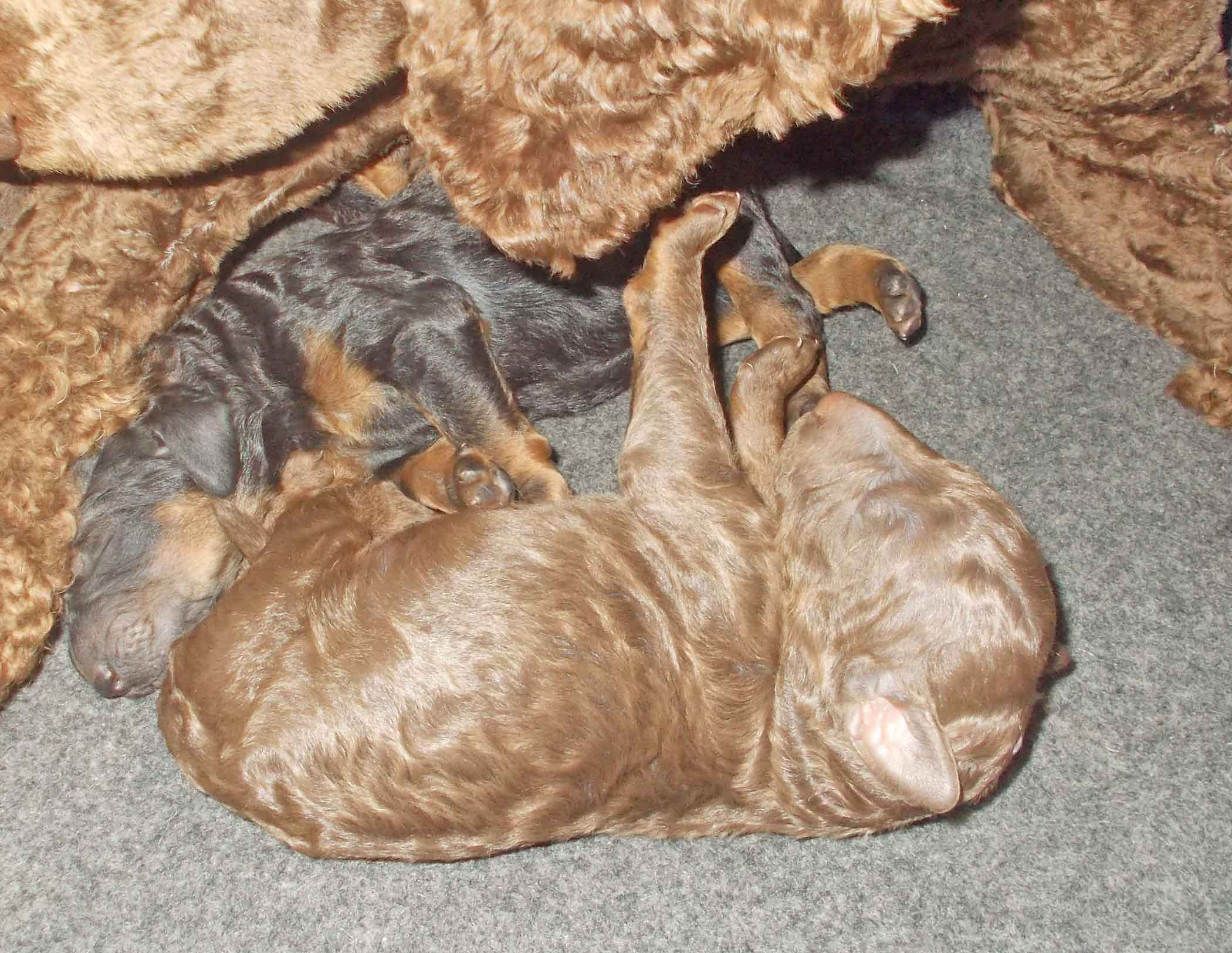 Big stretch, Oohhhhh, Aahhhh, 1 Male Brown/Red Phantom ;o)
*
Found the perfect spot, between Momma Falcon's legs....zzz...ZZZ...zzz...2 Females are Brown/Red Phantom/Agouti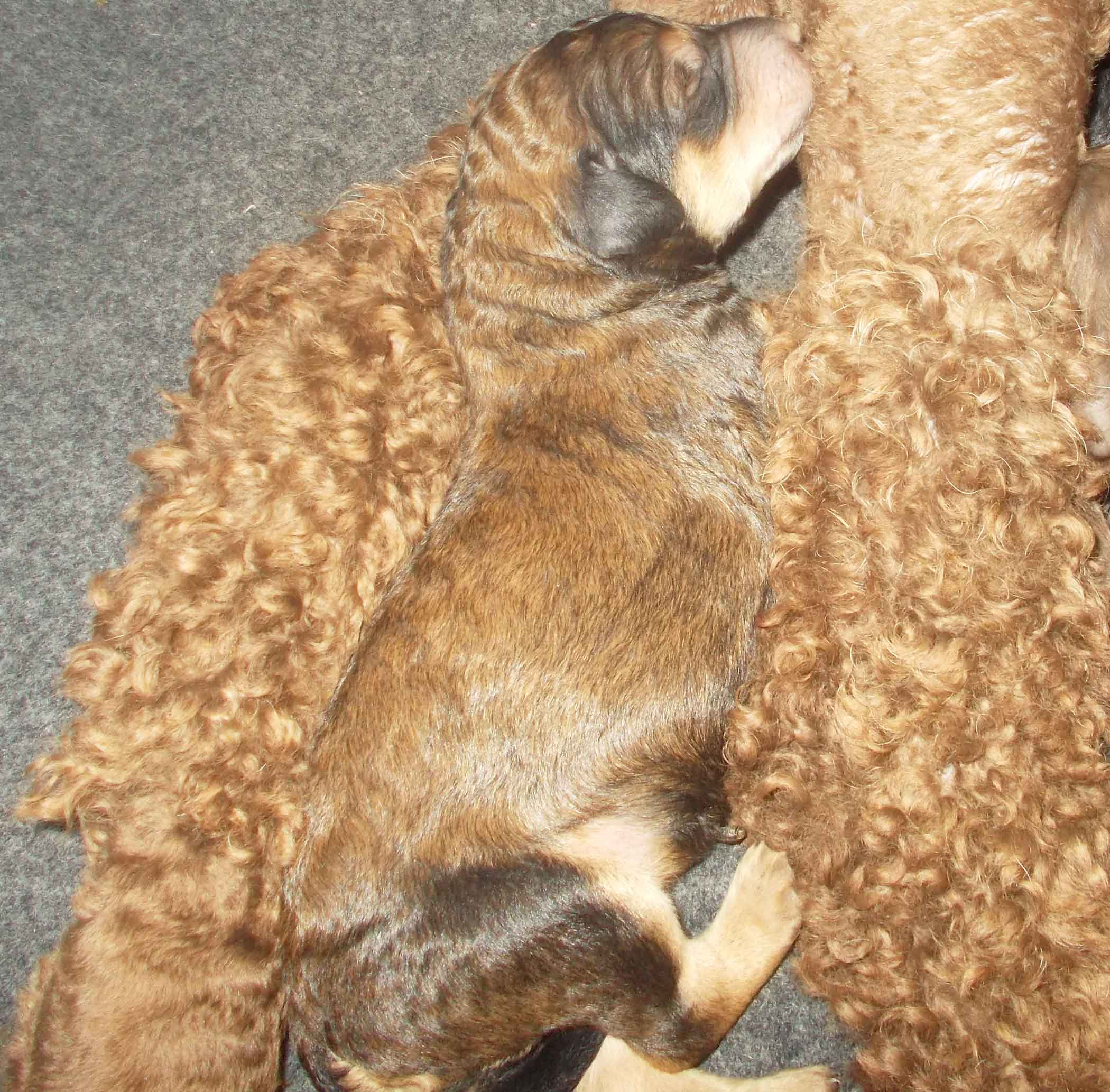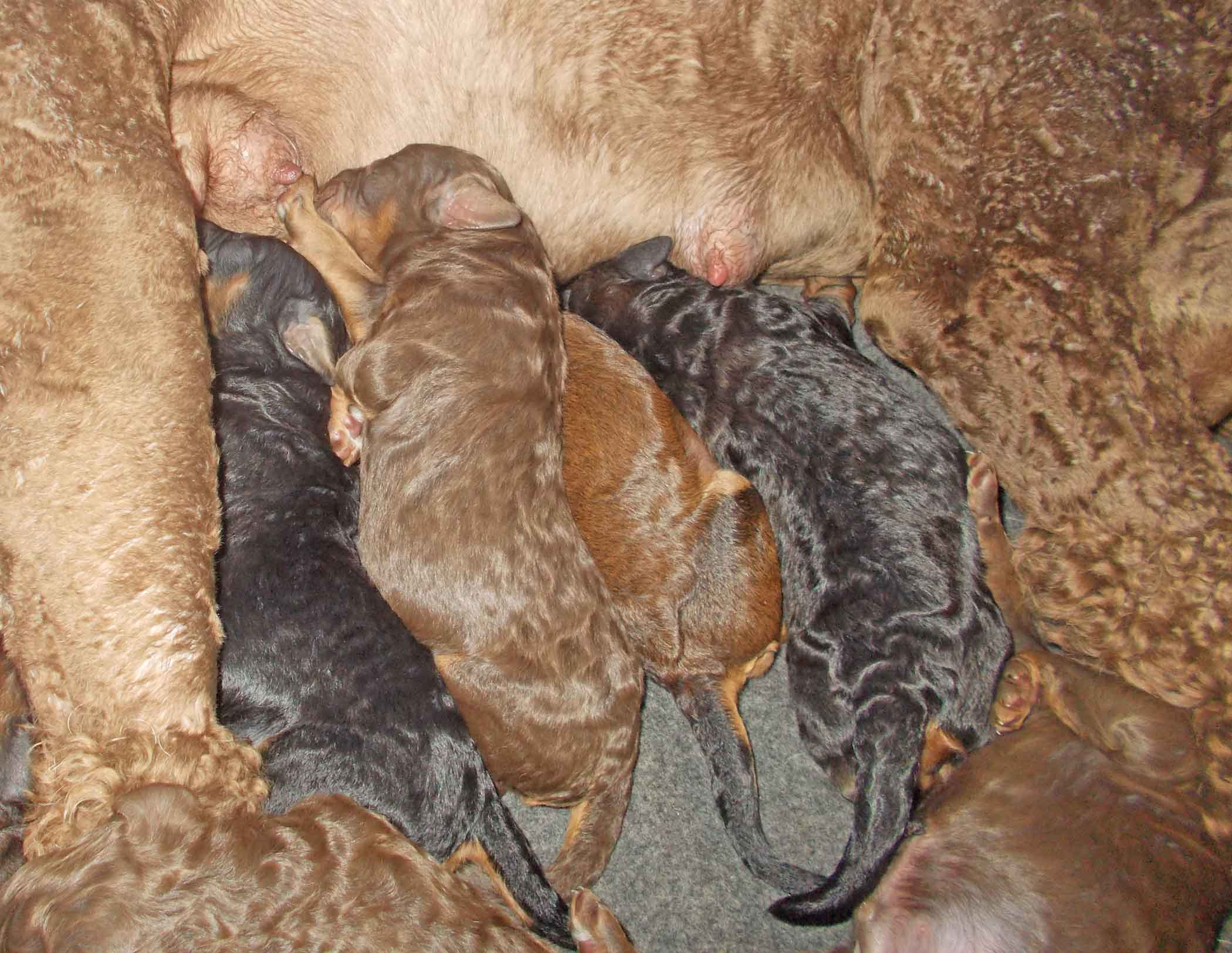 Here's what we do best...zzzzz...zzzzz...nummy nummy...zzzz...left to right there's 1. Black/Red Phantom, 2. Brown/Red Phantom, 3. Brown/Red Phantom/Agouti (black tips on brown), 4. Black/Red Phantom
*
Happy, happy :o) A Black/Red Phantom puppy...1 male, 1 female in this color.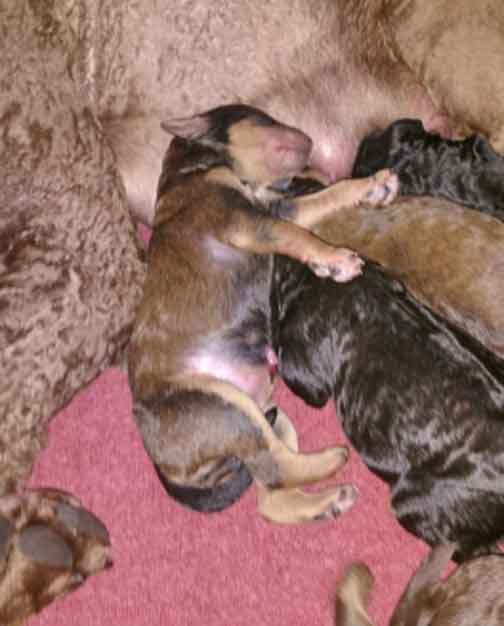 1 day old puppies still have their tails, and she is being very loving by being the instinctive Momma by licking them as they can't potty normally on their own without licking to stimulate the function.

*
Falcon's first puppy was born! What the customers miss out on, we hope to bring to you in pictures and story boards...our protocol up to 3 wks of age is to provide a quiet atmosphere bringing a calmer pet for you :0) They do not hear, or have sight yet...only feeling vibrations from around them...keeping all calm and relaxed for Momma Falcon is ESSENTIAL to the vibrations felt by the puppies.
* Puppy JUST born!*