Brown Ole-Black Lena Standard Poodles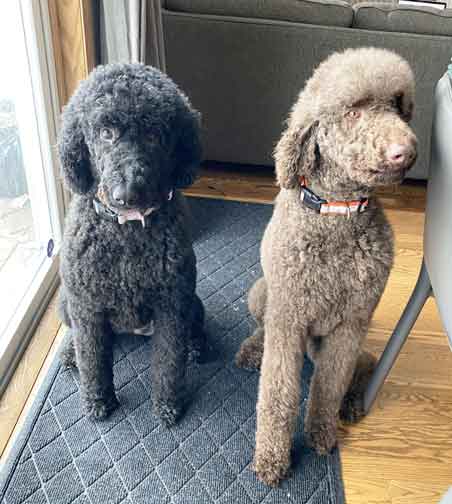 Last updated 4/22/20 
Brown Ole-Black Lena Standard Poodles at home in Eagan, MN. Parents to Black Lena are Red Fire x Brown Bruno born 08/25/15. Parents to Brown Ole are Black Pickles x Red Daniel DOB 06/02/17.
Tracking Ole & Lena:
Ole averages 52 lbs yet taller then Lena
Lena averages 58 lbs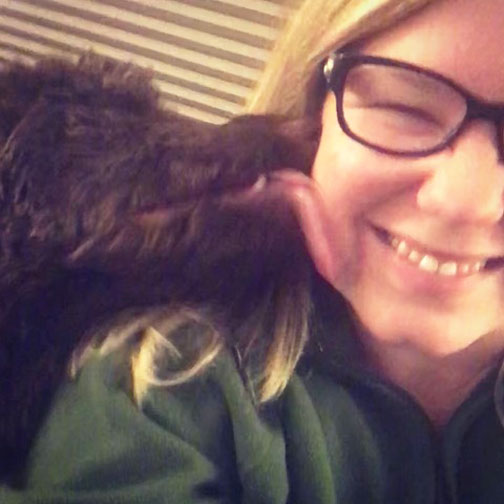 Ole & Lena know when the kids are arriving home and start watching for them to get off the bus, they wake the kids up with kisses every morning & the kids always find them to give them goodnight snuggles before bed. Watching our kids enjoy our dogs has been the most incredible experience-especially since we thought that would never be possible with our son's allergies.
* Brown Ole-Black Lena Standard Poodles *
I have said it before, but having two dogs has been the best decision. They are so connected to one another.
Both dogs are best when they have plenty of exercise-they get about a mile a day rain or shine & they also love playing in our  fenced yard (except for that one time Ole jumped it, a story for another day). We meet up with another dog from you, Lissou, about once a week to walk at a local park. The dogs love seeing each other at our meet-ups.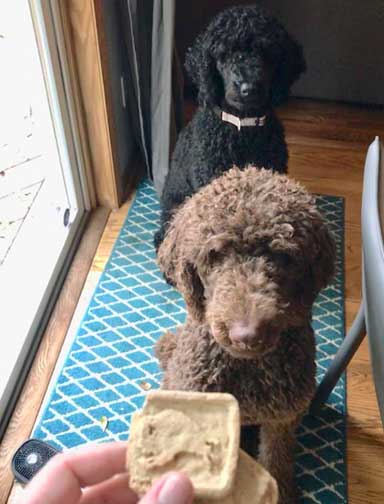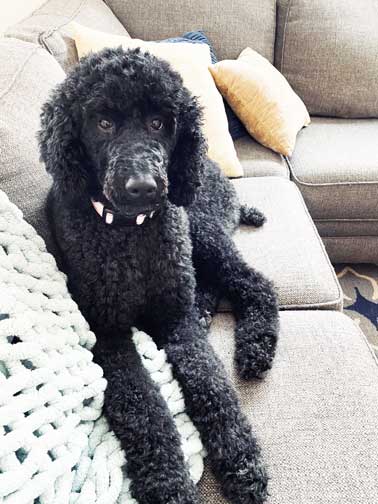 Lena (Pickle's sister) is so independent & quite serious. She adores her family, but on her terms. She is a strong healthy girl and weighs typically around 58 pounds. She likes to be worked with and enjoys a challenge-whether mental or physical. She is dominant when it comes to her and Ole. Her absolute favorite activity is playing catch with a tennis ball. We are convinced, she literally would never stop bringing you the ball.
* Brown Ole-Black Lena Standard Poodles *

Ole (Pickles' puppy) is always happy and LOVES us so much, especially me. ;-) He's a mama's boy. Ole is a bit lazy when it comes to training, he's not stimulated by training and a bit aloof. Yet, he's a great listener in practice…very loyal & knows all of the commands readily. He's on the smaller side, well I should say tall and slender. He's taller than Lena, but skinny!!! He averages around 52 pounds. Ole's favorite activity is being by our side and messing around in the backyard. He's a bit submissive and intimidated by new people and situations.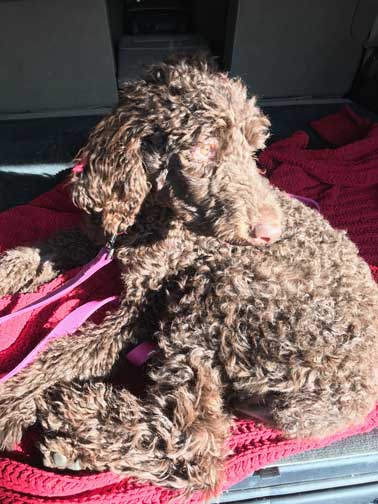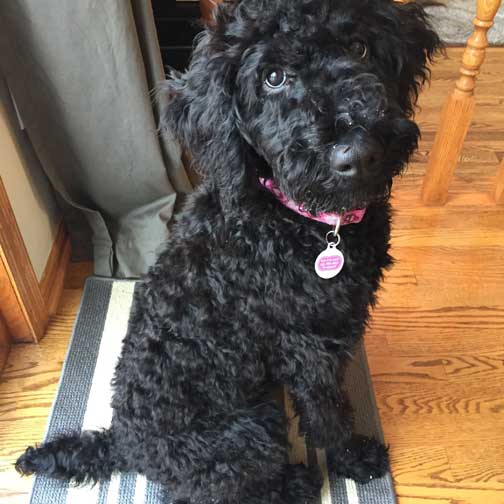 Her owners share: "We are surprised at how connected she is to all four of us, she's not really partial to any one of us in particular. She wants to be in whatever room the family is in, she rarely will go off to nap in another room. She will also go find a family member if you ask her to "Go check on _____." She's so affectionate-my daughter gives me a kiss before leaving for school and Lena, after watching us, goes to give my daughter a kiss too-completely on her own. It took us a bit to catch on that she was doing this, but after she gave me a kiss and turned to head for the door, Lena would go towards Harper's face and throw her tongue out."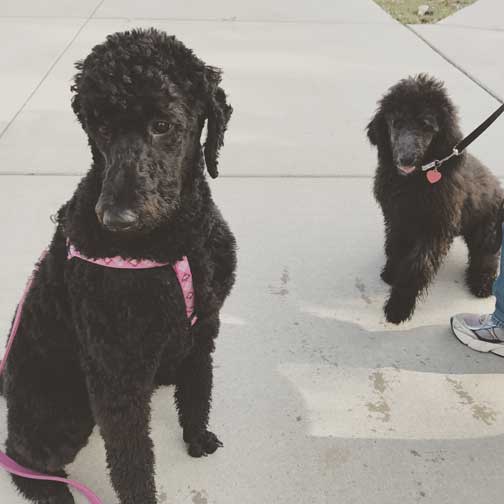 My poodle friend who lives close by me.  She came from Tes too but has different parents.  We love to go for our walks!
*
Can I have a yummy bone please mom, please? :0)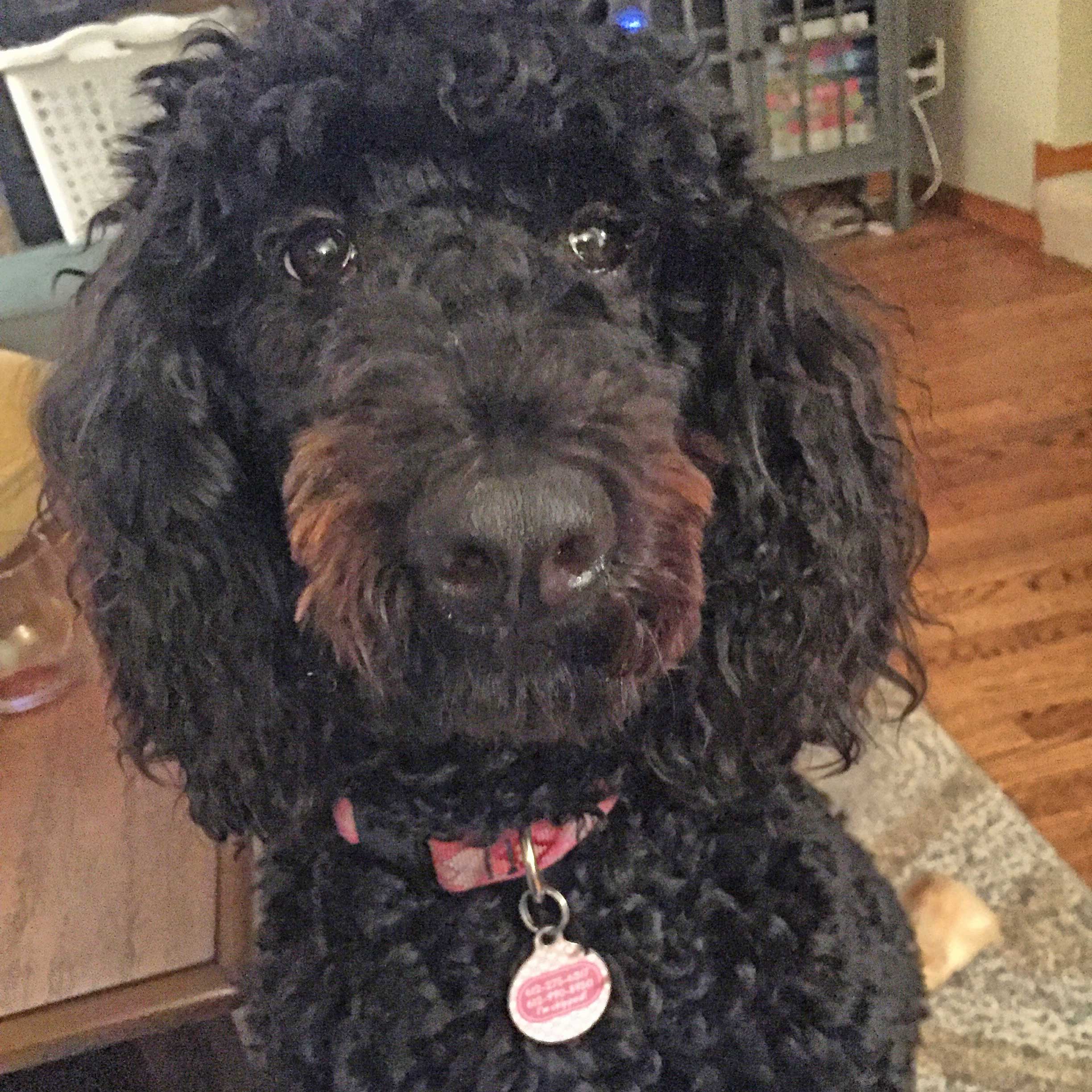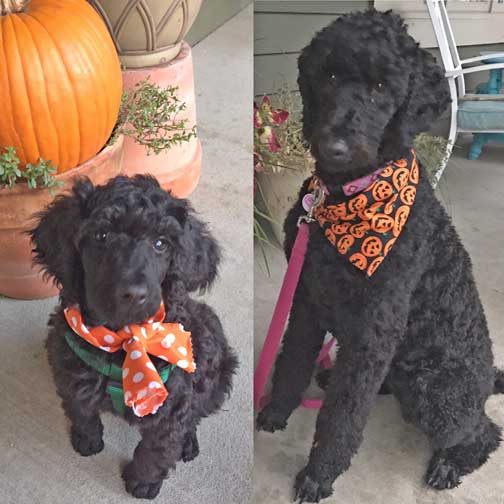 Look how much I have grown!
* Brown Ole-Black Lena Standard Poodles *

Spending the day at the lake is the best, I love to swim!
Snuggles on the couch with my family are the best!
*
Hey is that my toy, can we play? :0)
Nose kisses! :0)
*
Is it movie time yet?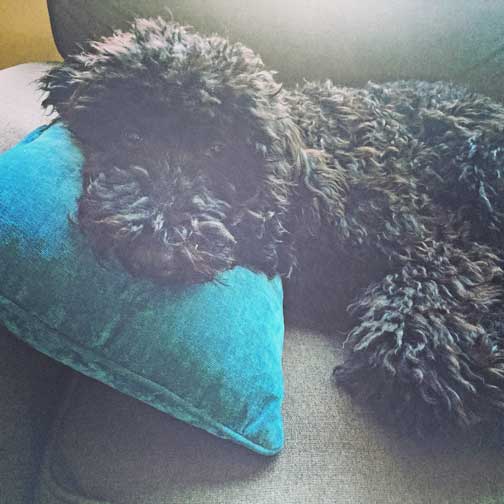 Poodle Selfie!
*
Check out the coloring on near my mouth, I am one pretty girl!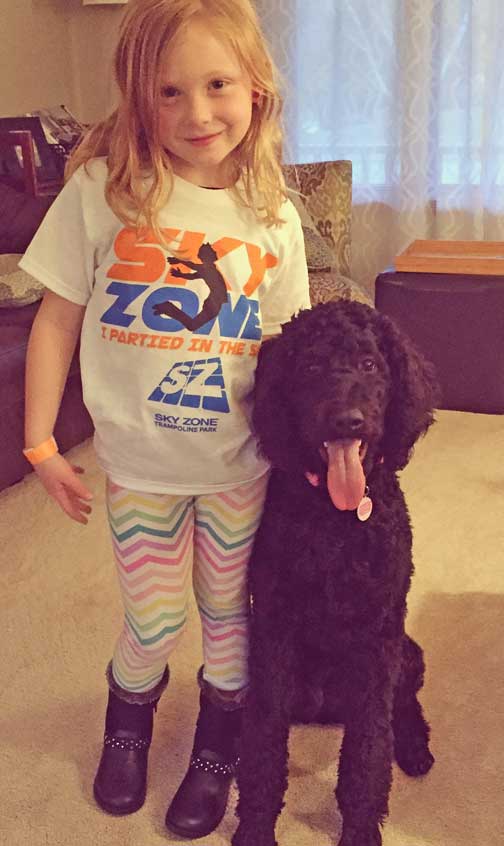 These are my kids, I love them to pieces! :0)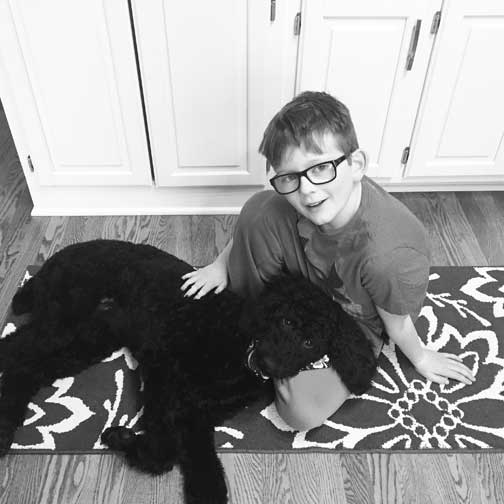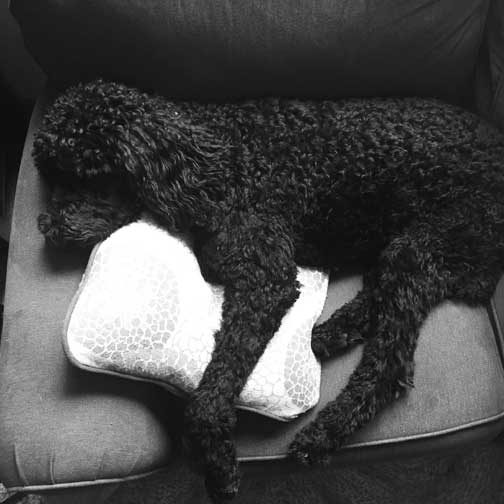 When my family can't snuggle I use a pillow :0)
*
Beautiful day for a walk, don't you think?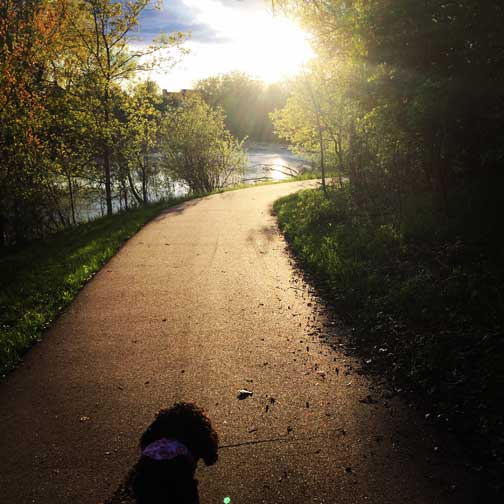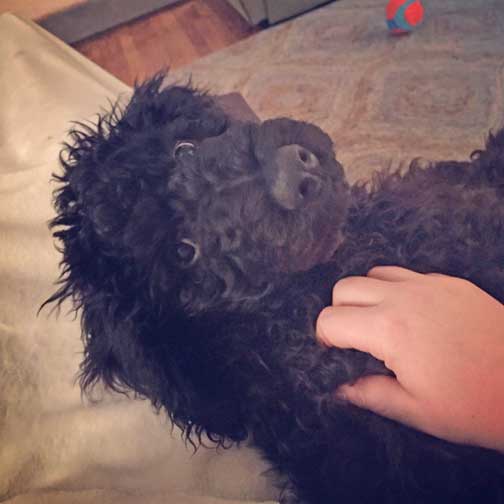 Lots of snuggles and scratches going on here, I love my home!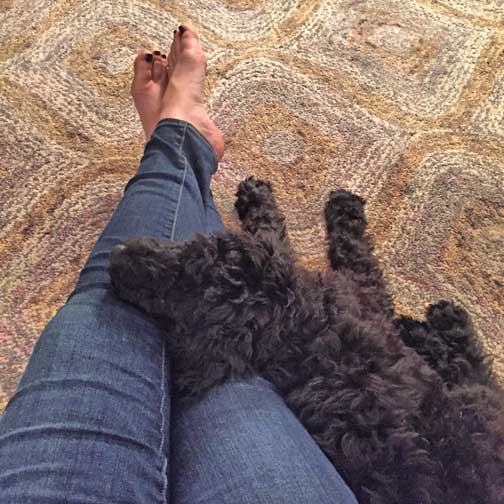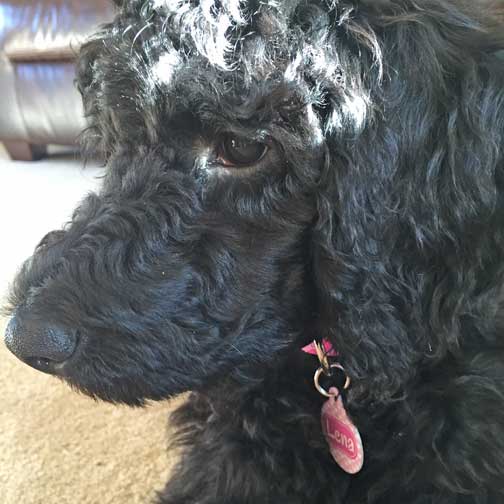 hmm....I wonder how big of a spoo I will be....:0)
*
Fresh snow Woo Hoo!!
I am a sweet girl with a very sweet face, who is loved by my family so much!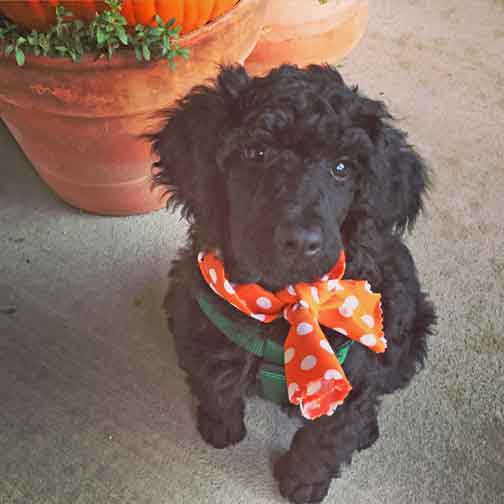 * Brown Ole-Black Lena Standard Poodles *