C x D Fall 2013 Puppies for Sale
We've got to sleep together one last time :0)
C x D Fall 2013 Puppies for Sale - 8 of us! 4 Females & 4 Males :0)
Hi!! Don't forget to start at the bottom and scroll up to see us grow.
Ahhh, the joy of raising Large Standard Poodle Puppies Fall 2013 of Cleopatra and Daniel.
Picture updates every 2 weeks - pictures updated next at 7 wks Dec. 7th. When they turn 7 wks old they have their first clipper grooming. Enjoy the pictures as they grow :0) Always more recent will be added to the top with some pictures dropping off.
Flying date set for pups is Thursday December 12, 2013 - 8 wks old...see the Traveling Pets tab for your pets trip home.
*
Tracking Cleopatra x Daniel's Fall litter 2013 stats:
12/4-12/6 dewormed with Panacur
6 wk vaccination
11/21/13 dewormed with Pyrantel, nails clipped
11/11/13 toenails clipped
11/2/13 2 wks old dewormed first time with Pyrantel, nails clipped
Day 1, due claws removed and tails docked 1/3 from tip - AKC regulation
8 puppies born Oct. 17, 2013: 4 males, 4 females - Colors: 1 Black/Blue female, 3 Red/Apricot/Cream females, & 4 Red/Apricot/Cream males. These pups will be larger than average standard poodles.
Remember - start at the bottom and watch upward.
*
4 Females, 4 Males
Females - 5 wk individual pictures just after our bath :0)
Tes clips around our eyes so we don't get hairs irritating them, she clips our behind so we don't get danglies, and tummy to keep us clean.
*
SOLD - Red Female -  "Ginger" I've actually turned out to be the largest pup in the entire litter for now > mc # 6486 - 8.6# 7 wks old, SB > St. Paul, MN - I'll be your Cameo ;0)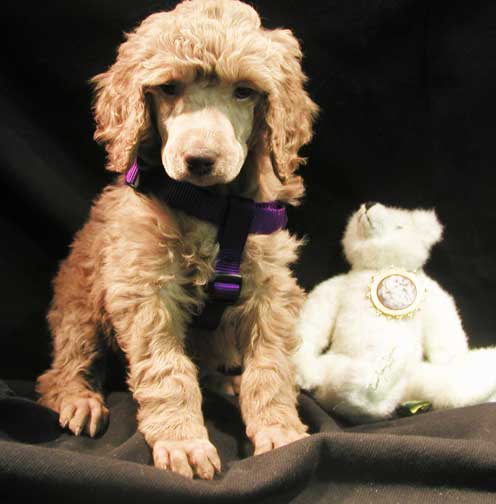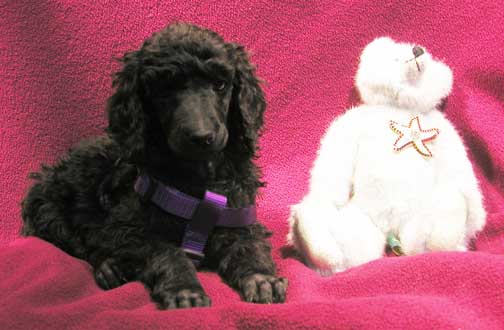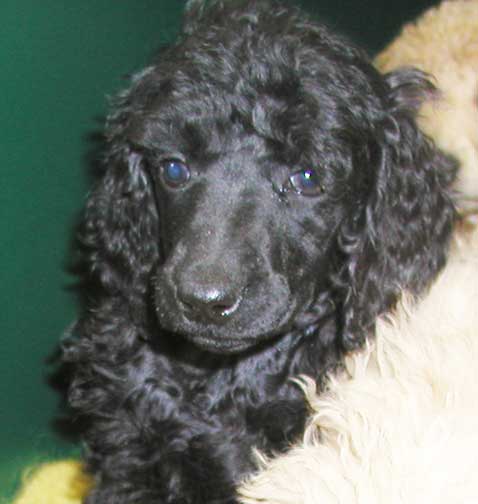 SOLD - Black Female - "Ester" > mc 8196 - 6.4# 7 wks old, BD > MB Wellington, FL - I'm your Star - great mug shot huh ;0)
*
SOLD - Apricot Female - my new owners are naming me "Tess" from their grandma in Ireland and Tes I... :0) > mc 90864 - 7.8# 7 wks old - RR > Bay Shore, NY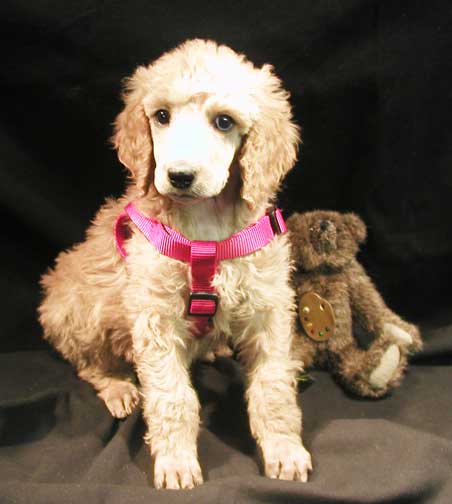 Males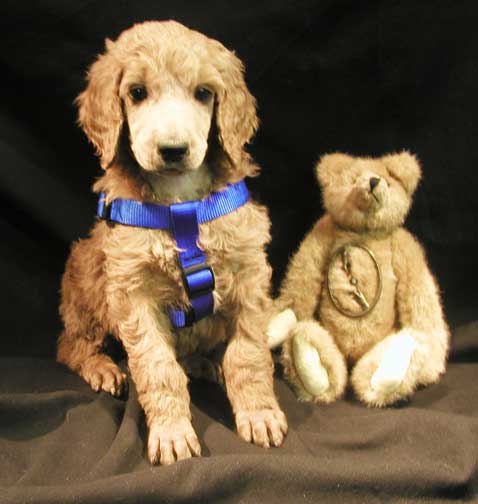 SOLD - "Teddy" Apricot Male > mc 5148 - 7.6# 7 wks old, JA > Fountain Hills, AZ- I'll touch your life ;0)
*
SOLD - "Dallas " Apricot Male > mc 7132 - 7.2# 7 wks old, JW > Tavares, FL  - Pirate was my first name, I stole my new owners heart ;0)
SOLD - "Jack" Red Male > mc 5092- 5.8# 7 wks old,  JN - S. Plainfield, NJ Can't wait to be in your cuddling arms :0)
*
SOLD  - "Spock"  Cream Male - My new owners kept my name Spock :0) > mc 9320  -  7.6# 7 wks old,  SS > Stillwater, MN Beam me into your arms ;0)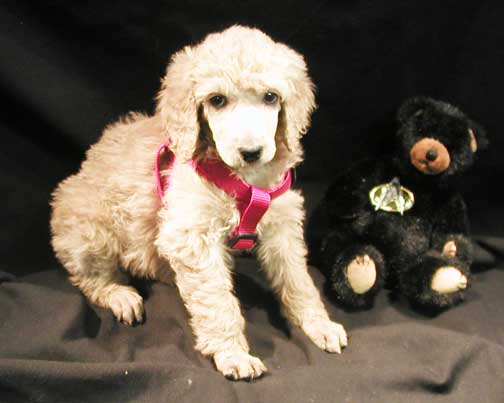 Dr. Mark LaVallie is chiropractically adjusting us all before we go to our forever homes - Thank You!
*
This is what Tes has been moving for 2 days now!! She's keeping us in a lot as it's -10 outside sometimes...we'll go out for a couple of minutes but dash back in shortly. Ester cries a lot to go potty outside...good girl Ester ;0)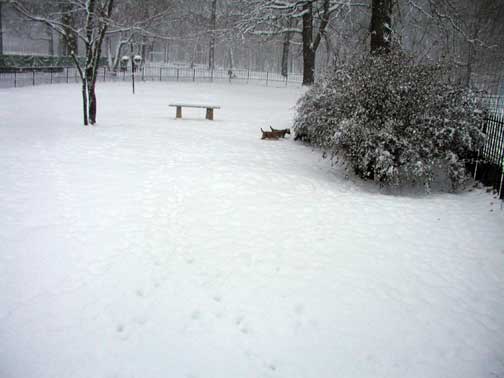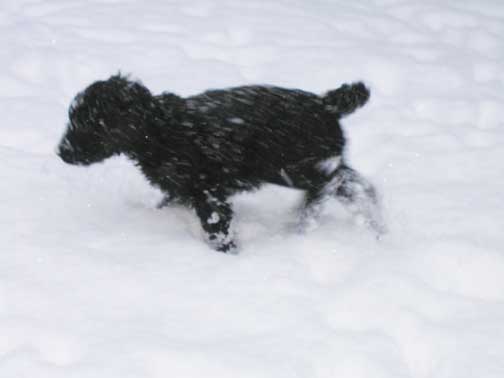 "You can't catch me," Ester says!
*
Tag you're it!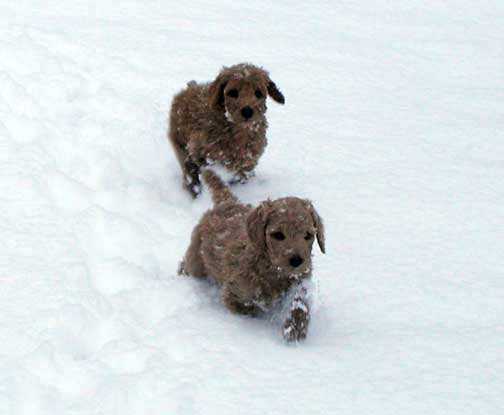 OMG - this is so much fun!! What? It's still coming down...2 days of snow? All right!
*
Good girl Ester! Potty Outside :0)))))))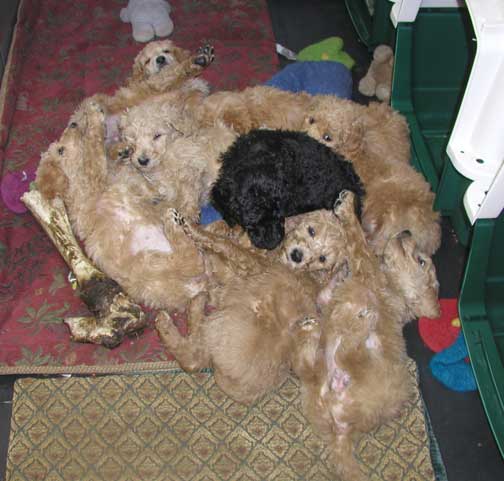 It's a doggy pile!!!! NO - a spoo pile :0)))
*
Love you Momma...
She's really good at figuring what's best...
*
This is why TI thinks Cleopatra is the best of moms..she just lays with us and doesn't run away much...but soon she will with our sharp teeth coming in and she'll say - THAT'S ENOUGH :0(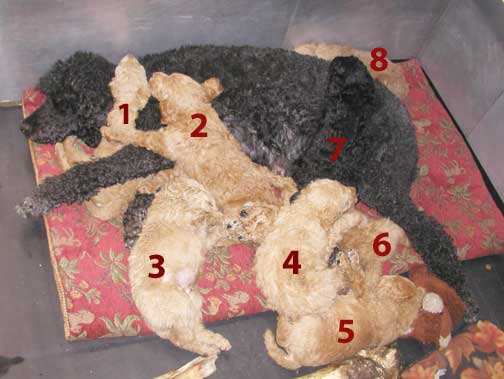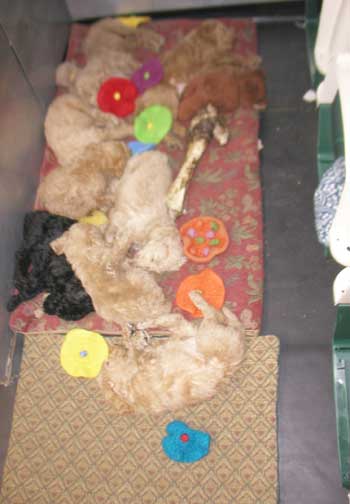 Ahh, wool spinners to play with, get smelly to come home with us...
*
Oh wow, look at this big one she added with the pet bed "Green Regality" - so thick and cozy to get nice and smelly!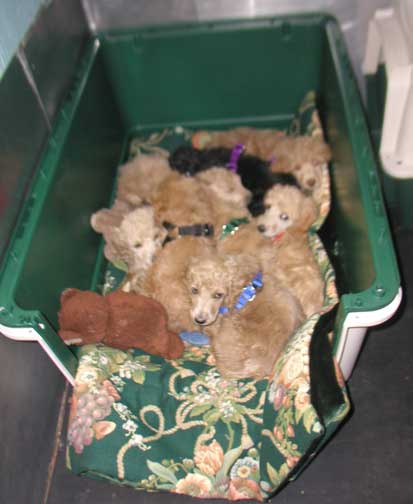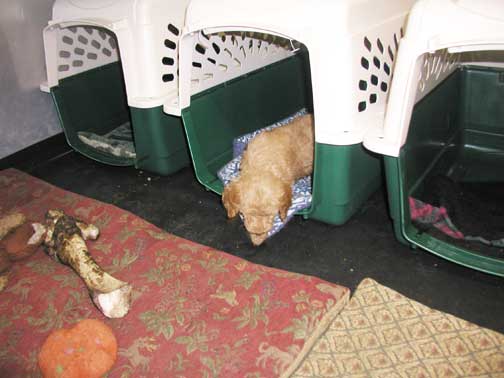 Hangin' in there...zzz...
*
Look - the crates are added for lots of smells to go home with us on our flight, Thank You TI!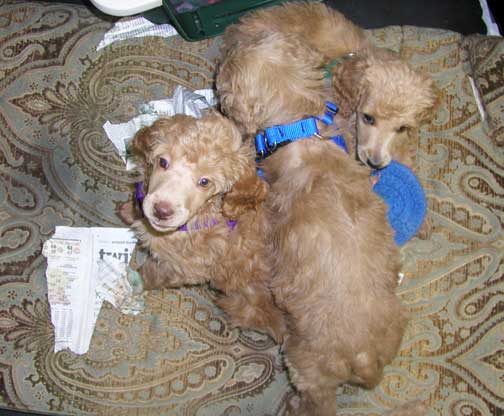 Huh, that's not enough Ginger asks??
*
Here something Tes wants us to do - paper shredding for the crates!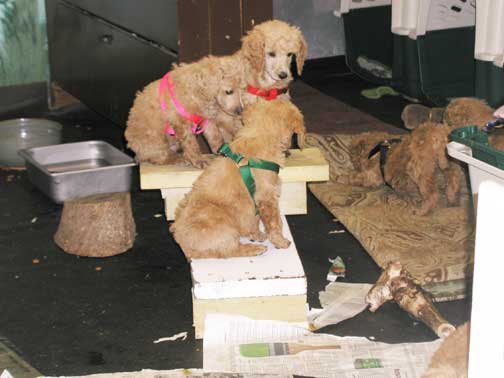 We have our haircuts at 7 wks old...and look at us havin fun on the stepper :0))) IT's -5 degrees outside so we have to stay entertained inside with lots of bones, toys and activity.
*
Uh huh, uh huh, that's the way I like it, uh huh, uh huh ;0)
Hey, looky here! The weathers getting REALLY cold here in MN so Tes made us a climbing step ladder to play on...she put peanut butter on the top step to entice us...it's working :0)))
*
Morning - our new staff member came up with a great line - LOOK OUT FOR THE PUPPY MINES!!!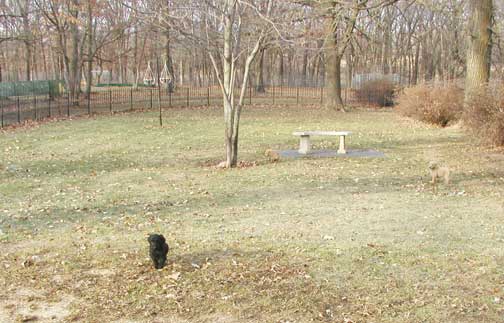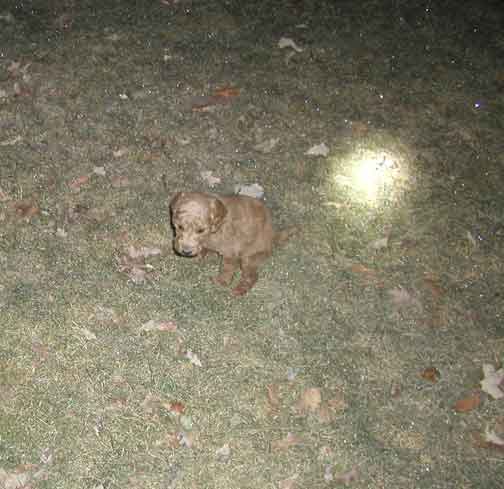 5 am out she takes us again...good potty outside!!
*
1 am in the morning Tes says "Potty outside" and away we go...that's how committed she is in teaching us for you :0)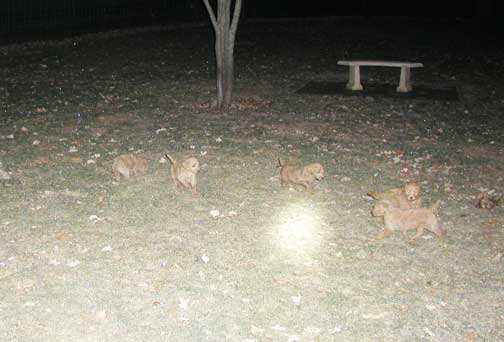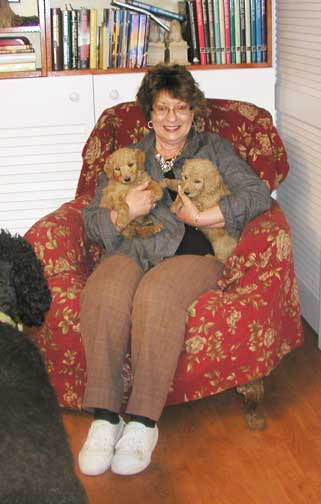 It's so hard to decide between the apricot males...only one honey? Really?? We flew from FL to only get one???
*
At 6 weeks old customers are coming to pick us out and meet their new pup - WooHoo!!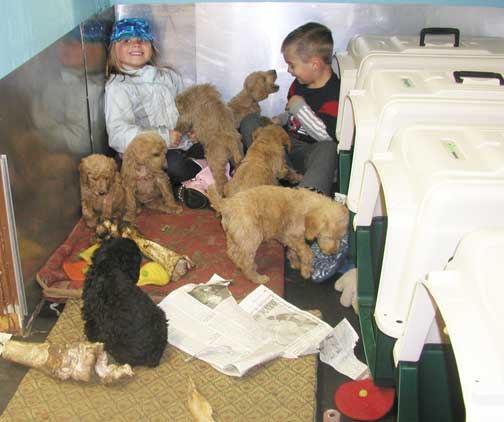 Oh yeah...a big dish is easy to fall asleep in as well...zzz...they love going in and digging it out to spread everywhere!
*
Ahhh, a bigger dish for us to eat from!
Lots of water, lots of DVP...spread all around ;0) Mice?
*
I'm the red girl...enjoying this pet bed placed in here for us to get lots of smells for going home...did you want to purchase a Royal Pet Bed for smells to go home with your puppy?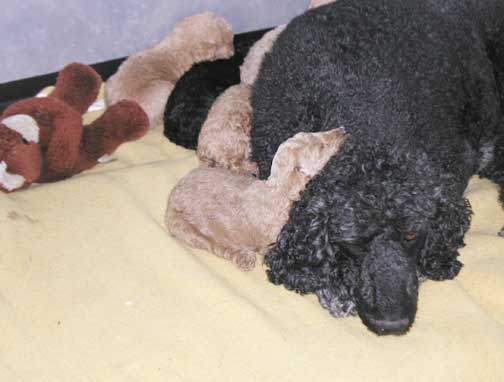 Okay, as long as you let us snuggle, we know Tes will bring them back :0))
*
COOOOL - BONES!!! But Momma wants to take them away from us :0(
Well we had our baths...let's learn this puppy door to get outta' there!
*
Huh? It's getting close to bath time?? Huh? You mean with slurry being stopped we have to get our first bath!!!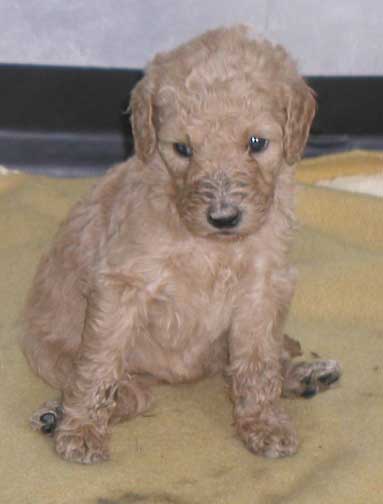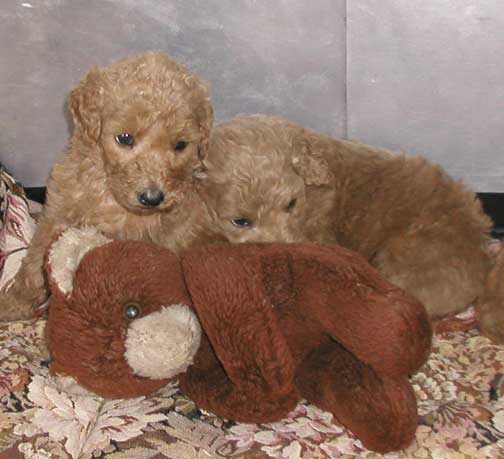 And when our tummies are full it's Teddy Bear time...zzz...
*
Oh wow, this is different stuff...nummy...Dick Van Pattens Ultra Premium dog food...mmmm, sure satisfies my chewing with teeth coming through...lots of balanced nutrients, and of course lots of water now as Momma slowly weans us.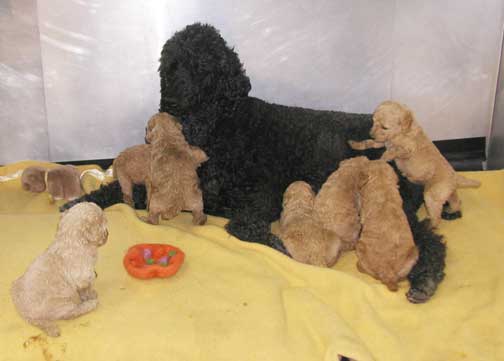 And play on Momma...she's such a good Momma ;0)
*
Getting around to chew on Tes's pant leg when we get the opportunity ;0)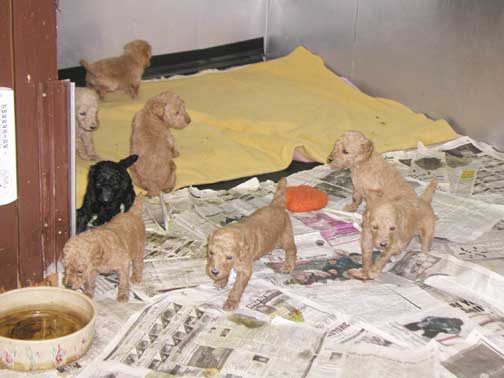 We now have water to learn to drink with food coming our way...you can see how we're really getting around!
*
And Tes has opened up the whole family room now for us...talking about paper pushing...that's why Winter litters aren't too fun...yet we're staying clean and warm for you :0))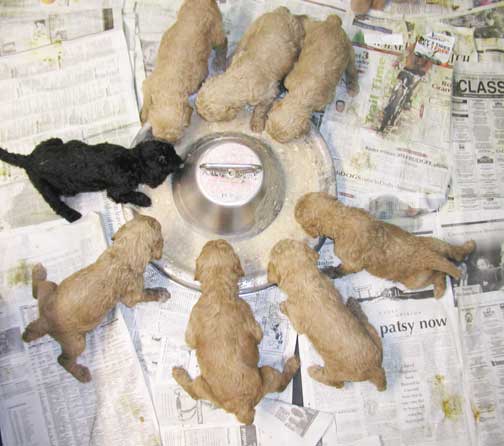 It's called the "Circle of Life."
*
Staff member Jessica is socializing with us, and feeding us the good stuff :0))
We're going on 5 wks old now...always time to come in from the cold and snuggle into Momma's arms for warmth :0))
*
And now we're being called outside to potty more often without the food :0( Yet there's a lot of interesting stuff out here...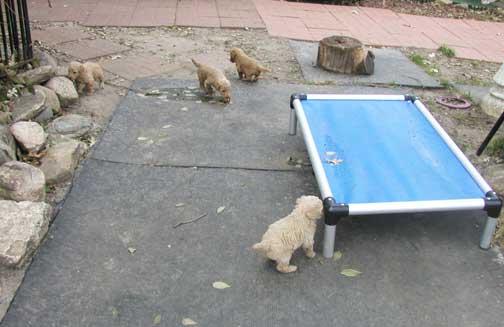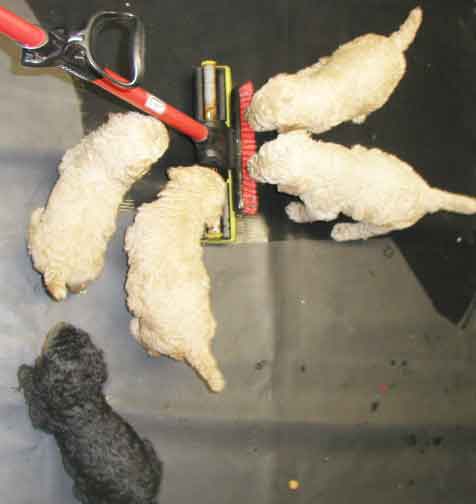 Oh, oh, attack...attack that thing...such good sport ;0)
*
Hey looky here, rocks to climb on...
And then she slowly acclimates us to the temperatures 5 minutes more each day...but not much if it's too cold...of course bringing a pet bed out with lots of smells helps us feel home out here...with the slurry ;0)
*
And this is from the outside looking into the door of the family room :0) Mommy Cleopatra helps get us outside in the cold weather too ;0)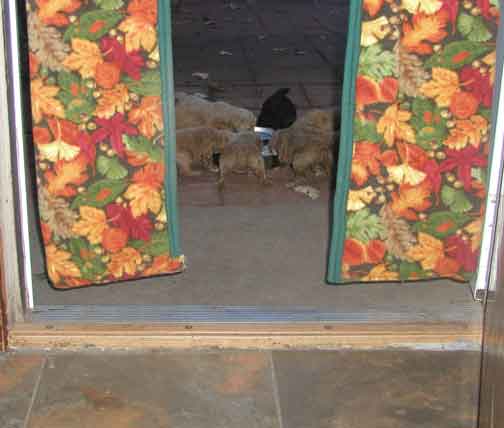 The next trick on Tes's agenda is teaching us to "potty outside." Well here's how she does it...we just started eating and like that slurry stuff, which she now adds a can of DVP dog food to - NUMMY! Well what does she do, mixes it and says "POTTY OUTSIDE!" Out we go to get what we really like!!! You ask - "What is that in the door?" Well it's getting really below 30 degrees in MN now, so she use to own a fabric store and sews pretty good, and makes these insulated fabric things to hang while the door is open to keep all the cold from rushing in...works pretty good!
*
 ...and in between playing we'll nap...zzz...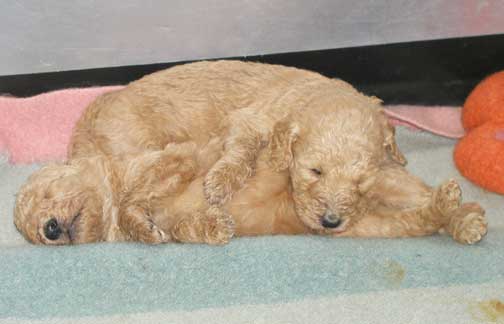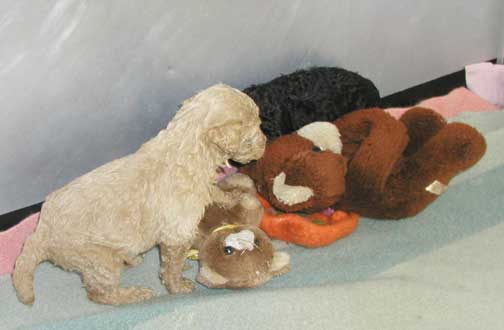 Oh, and toys are added for us to play with...
*
Oh, oh, and now she sits in here with us to get socialized...that works for us...we like to climb all over her, like the log was practice :0)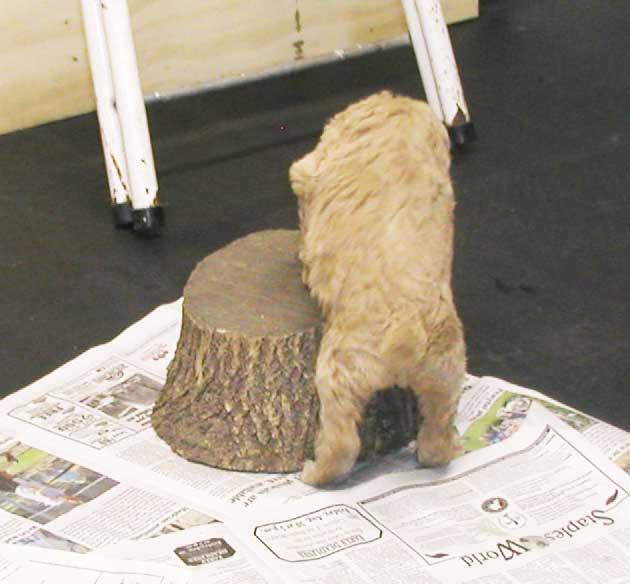 Oh, Oh - a log to try to climb on...I can do this...
*
Tes now has opened up our sleeping area, placed pool lining to cover the family room floor and now newspaper for the VERY busy "paper pushing work." Oh how she's gotta love us to do this for you ;0) We honestly don't want to potty on the wool blankets anymore...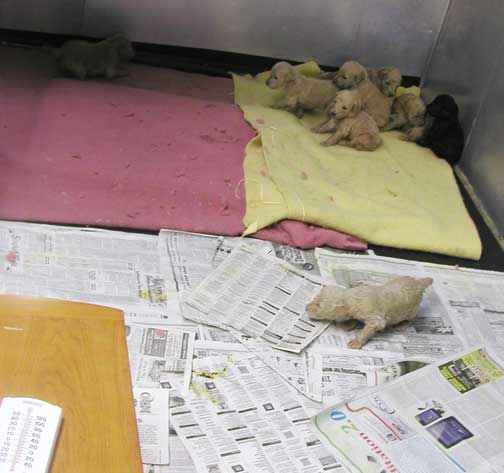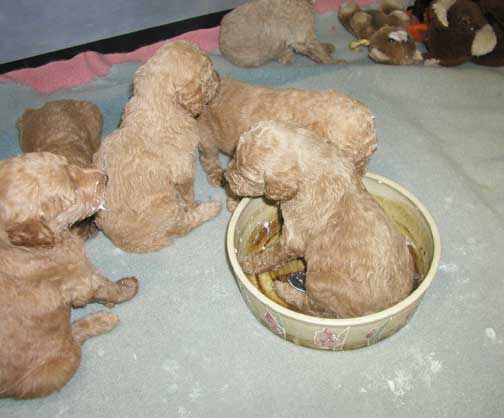 I'm ready for the next batch! MORE!!
*
Mmmm, not bad...you taste pretty good too ;0)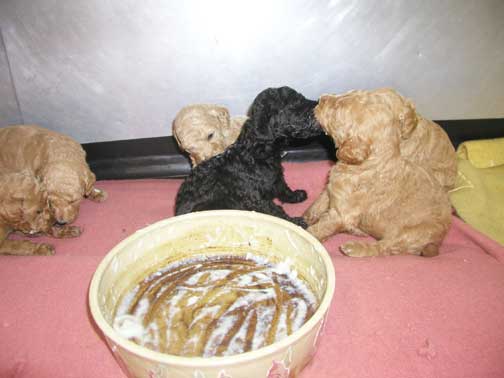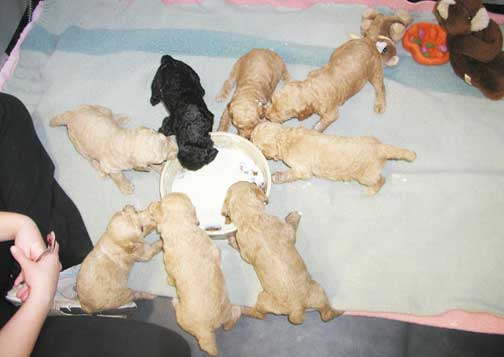 Hmm, we're getting the hang of it...pretty messy for everyone involved :0)
*
We're going on 4 wks old now...Tes is giving us our first meal of slurry, that is baby rice cereal mixed with water and some buttermilk that we don't get diarrhea.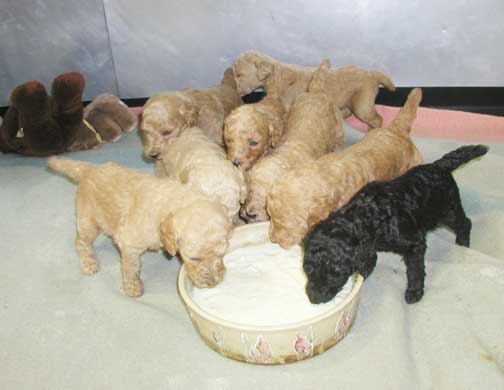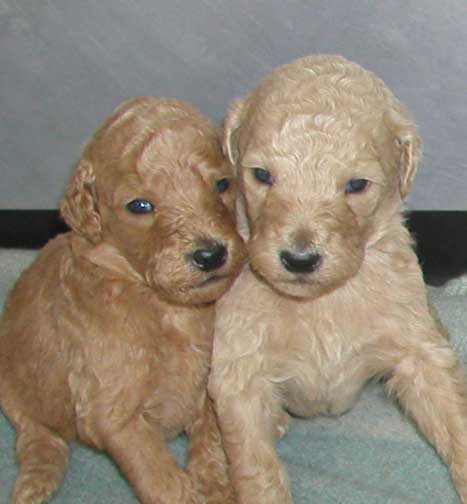 Hi!
*
This is the toy puppy Tes made when she was first married over 40 yrs ago...she's always loved them puppies ;0)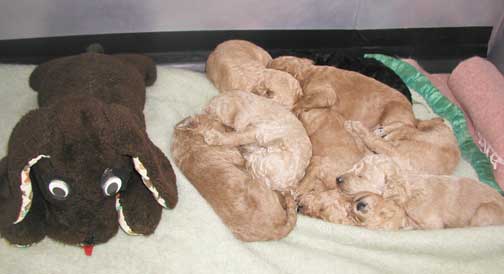 It's over the top I go - I'll get in there yet!!
*
Hey, let's plan to tackle mommy for some nursing...you corner her on the left and i'll take her on the right...you go down the middle...nummy...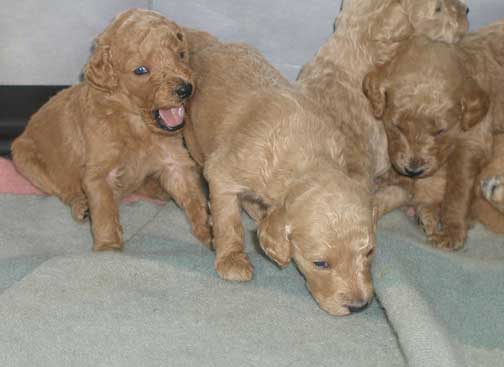 Play time again :0))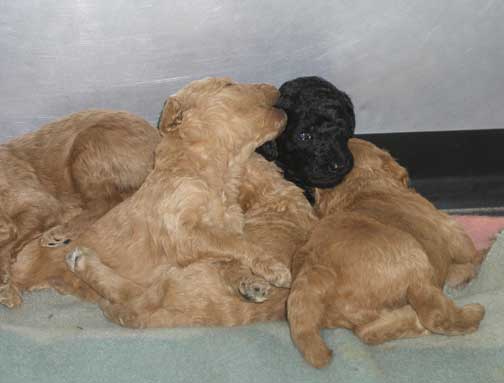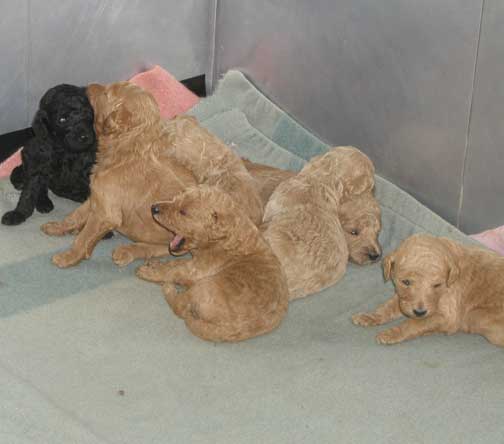 With our eyes opened, we're starting to play too, let's knaw at each other :0)
*
I've gotta get in here, push legs...push!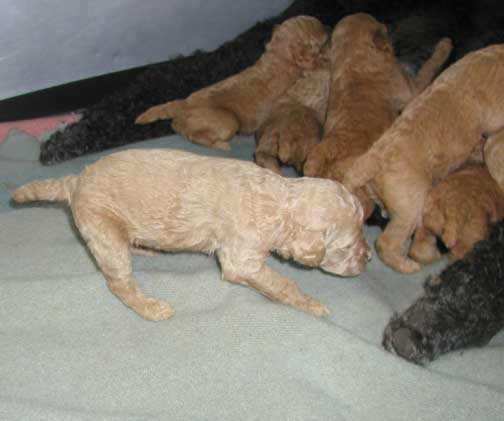 Hmmm, Tes has added newspaper for us to potty on...hmmm I can figure this out...
*
...and starting to play and check out who else is in here with me...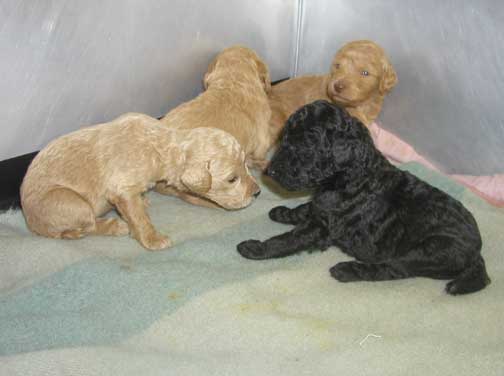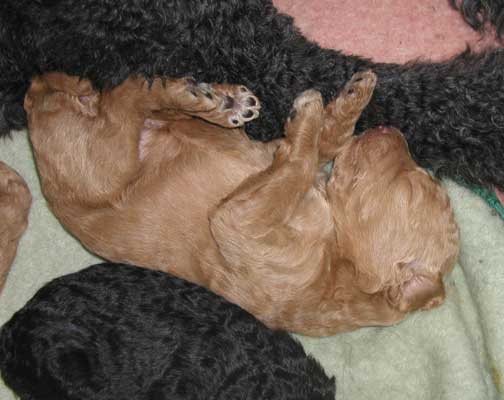 Zzzz, the little red girl likes to sleep...it's what I do best as a puppy...into our 3rd week of age...zzz...
*
Definitely getting the strength in our legs...why is your leg in my way Momma?
Mmmmm...momma you're so good to us...lots of milk :0)
*
With our eyes open, and starting to scoot around, we are also finding our voice...getting noisy to hear what we sound like.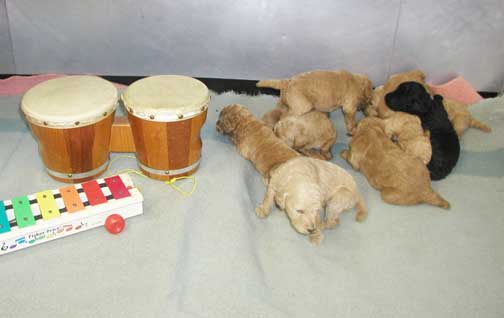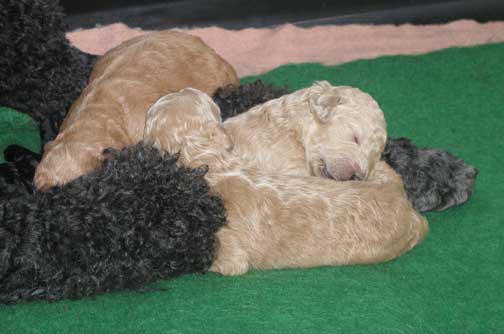 It's still warm in here...this cools me down shares Cleopatra.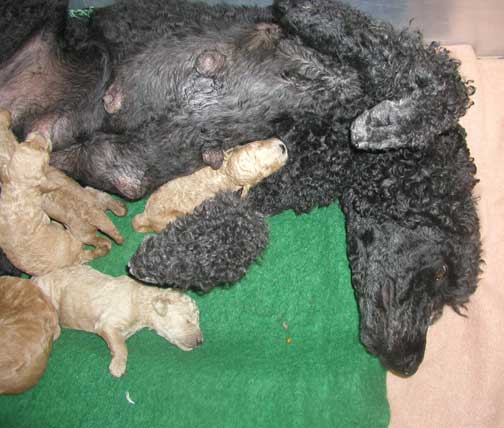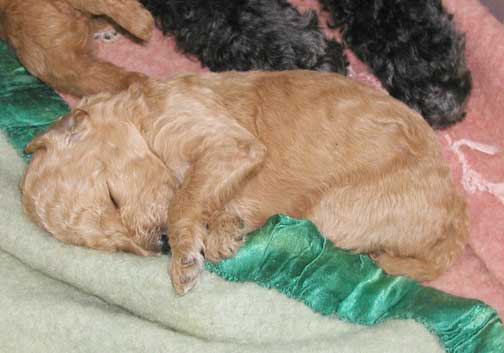 I'm an apricot puppy...zzz...is good for all of us...zzz...
*
Hi! I'm the female cream :0))
Ours eyes are opening, which we also are becoming scooters, getting strength into our legs. This is a chain reaction in starting to crawl :0))
*
We're the 4 females on the left and the 4 males on the right.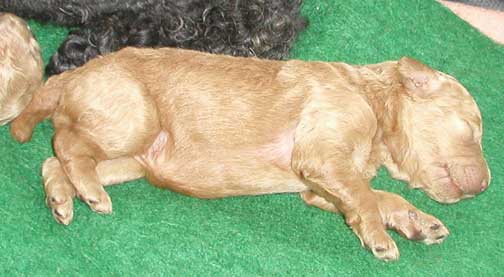 Our colors are becoming more defined, I'm the red girl...bigger then any of the pups in my litter right now.
*
Tes is slowly turning the heat down as our body temperatures develop. This way we snuggle together that mom can curl around us and we're not all spread out.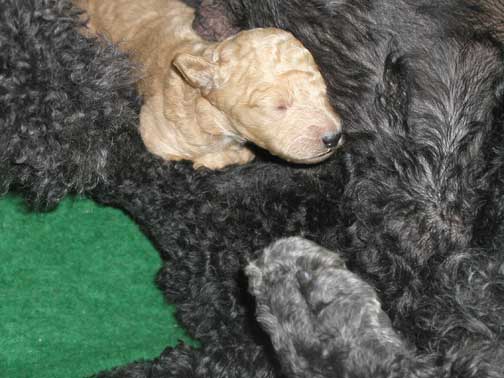 Mommy keeps me warm :0)))
*
Cleopatra says HI! I'm watching over my puppies lovingly for you :0)
Our eyes are just squeaking open...zzz...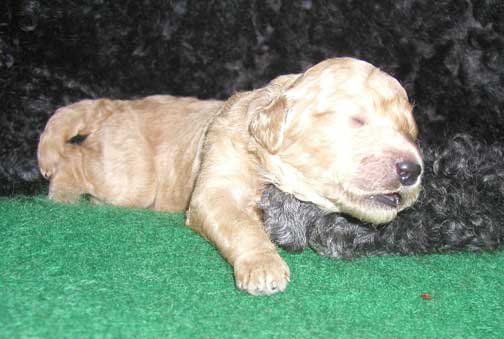 zzzz....a lot of zzz's for now...
*
We're into our second week of pictures now and upward...what we do best - NURSING - aren't we getting big ;0)))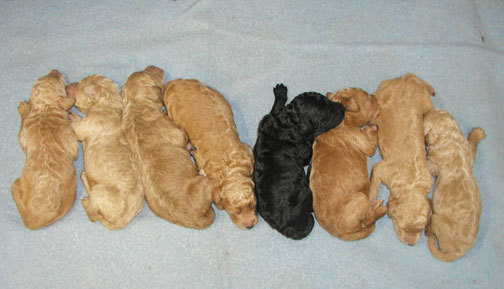 Ahhh, so much love all in a row...from left to right, 4 boys and 4 girls, a definite color range wouldn't you say?
*
Us girls here have dark colored noses. Smaller girl on the far right.
The reddest girl has a light colored nose.
*
All of us boys have dark colored noses.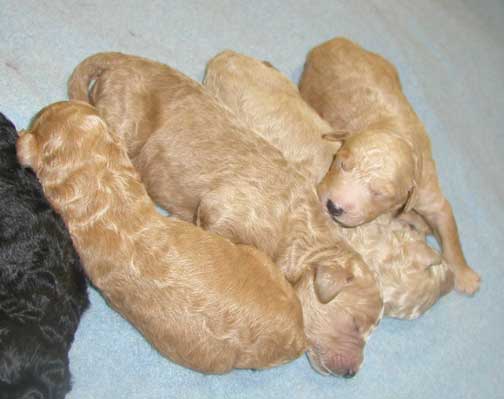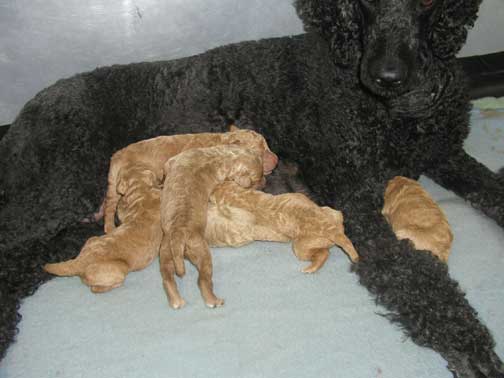 We don't always eat...we zzz a lot too...right where we fall ;0)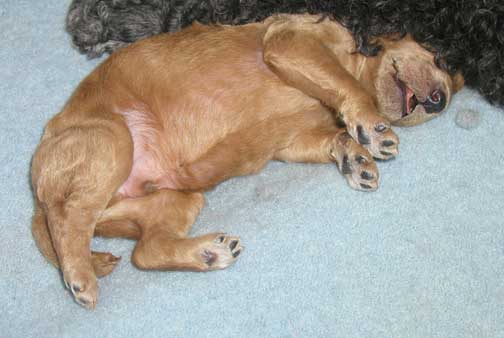 I'm the nice Red male with a dark black nose :0) Staying warm in Momma Cleopatra's arms...
*
You can see one of us is a Cream and another to be an Apricot color
Our tails are docked 1/3 from the tip per AKC breed standard. Our due claws are removed down to the double knuckle to prevent future clippers from nicking them or growing back which Tes has had happen to some of her spoos coming to her. This prevents fence snagging, ice or snow tears. Spoos usually only have due claws on the front paws.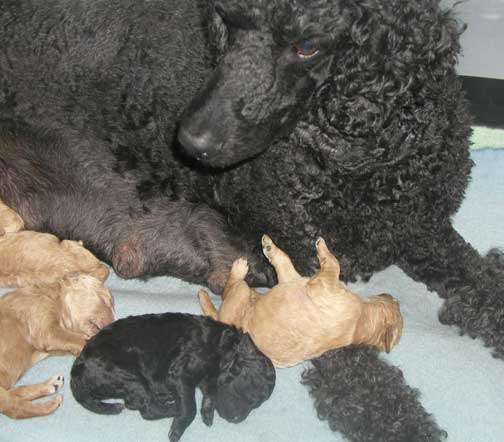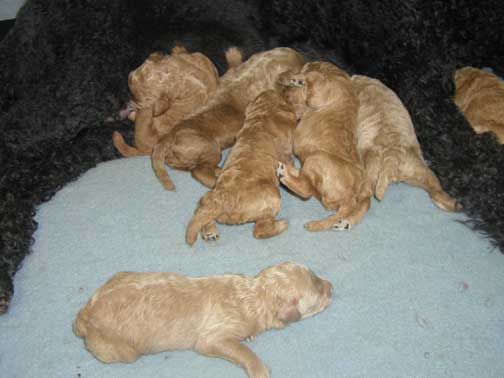 PUSH, me, I'm going to get it first! ME!! ZZZzzzz...
*
Momma Cleopatra is clipped to stay cool while we stay warm :0)) Wool blankets are easily washed...Tes buys colorful ones to help you see the colorful life we will give you ;0)))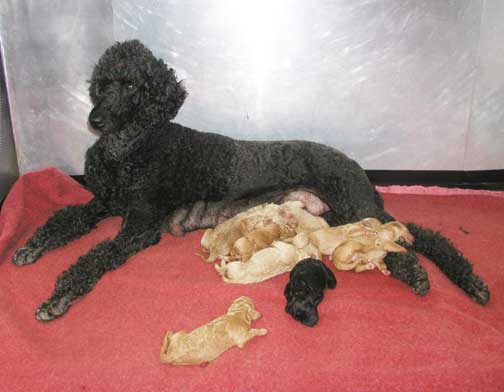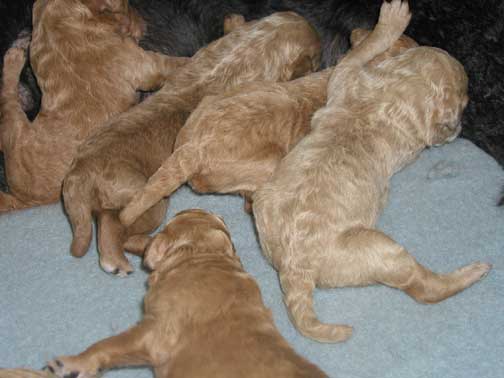 What we do best as puppies...zzz...and nurse...zzz...and nurse...zzz...
*
1 black female, 3 are red, apricot and cream and we have 4 red, apricot, cream brothers. VERY unique as black is USUALLY dominant!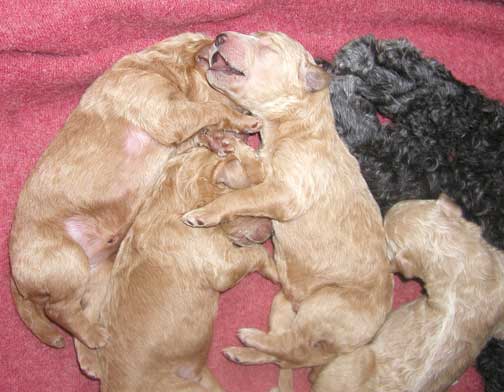 Zzzzz...Some of us are a nice Red, Apricot and Cream...zzzz...the room is kept at a nice toasty 75+ degrees with a good 65% humidity as we can't control body temps or moisture.
*
I told you it was a leg thing...Tes uses wool blankets to wick away moisture and help keep us dry and warm. A large doggy heating pad is underneath to keep us warm as we can't create our own body heat for awhile.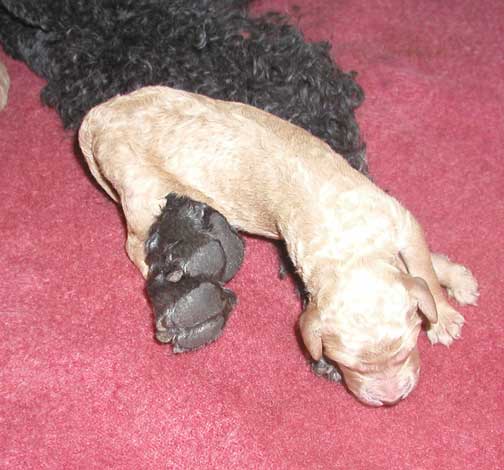 We start pushing with our back legs to get around, and find crawling on Momma's arms so warming...it's a leg thing :0))
*
Momma has LOTS of milk for us to drink. Our suckling and rhythmic paws tell the glands to produce more...sometimes Tes has to milk her so she stays not so full and tight.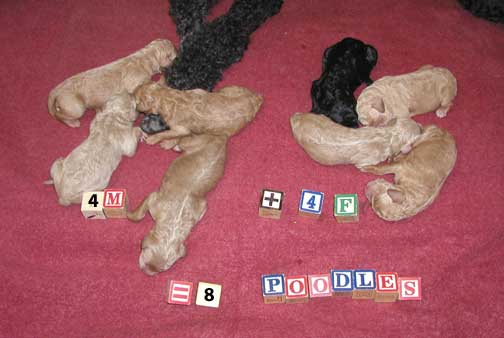 We're here! WooHoo!! Tes felt us kicking to get out a good week ahead of this...isn't it interesting how Mother Nature has the last say in color and gender :0)