Parti Phantom Standard Poodle Jaxxi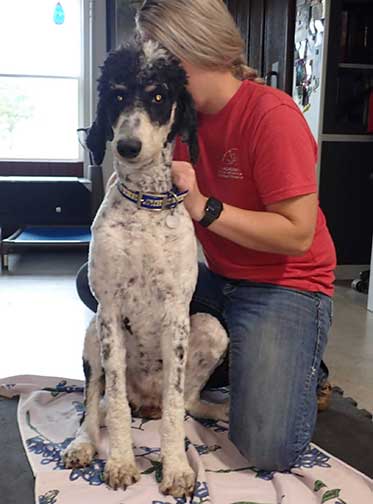 Parti Phantom Standard Poodle Jaxxi, see my phantom eyebrows ;o) Dr Angela is keeping me chiropractically adjusted to stay in tip top shape with all the playing I do with the others :o)
under construction 02/16/23 ... stay tuned... last updated 7/20/23
Parti Phantom Standard Poodle - Jaxxi stats:
10/31/22 Thyroid Normal
04/26/22 PennHip Mild Risk
01/27/22 Embark DNA Clear of all hereditary diseases tested by them...DM Clear, News Clear, VW Clear, Progressive Retinal
01/27/22 Embark DNA Body Size: All indicators show inherited Large body size, no Intermediate alleles. This indicates the offspring characteristics will be Royal size puppies in mating to another similar stud. 
01/27/22 Embark DNA coat color: Jaxxi has phantom markings and will throw phantom pups with a stud that carries phantom genes. She will NOT throw parti pups as none of my studs carry parti genes that she will mate with. Reds will come our way with Red Daniel Frozen Semen to be used with Jaxxi.
Your second block of text...