Royal Standard Poodle Puppies For Sale MN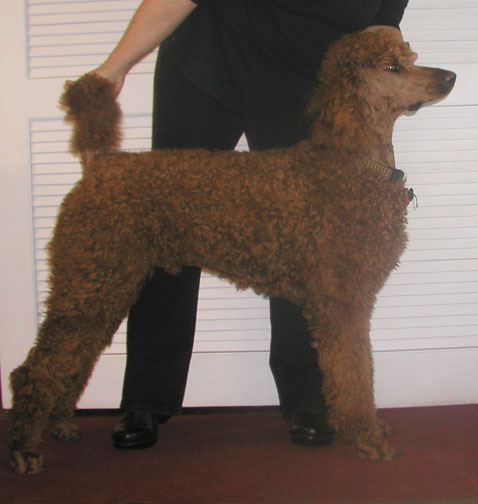 Royal Standard Poodle Puppies For Sale MN
"Daniel of A Perfect World" is the key stud mating to the dams in MN. With his matings to the dams there, puppies born are Brown, Black, Phantom, Agouti, Red and Apricot. you can see all of Daniel's completed tests by clicking on his link here: Mythril's Daniel of A Perfect World
$2,000 Male or Female
*
The following are down payment lists for litters and planned litters in MN
MN going home date 2/16/18 (8 wks old)

Black Pickles x Red Daniel
- MN $2,000 -
Pickles puppies born 12/23/17 this leaves Fly out date to be Friday 2/16/18. With MN cold temps, be prepared to check out United Airlines or take puppy as carry on please if not driving. 
Picture updates to be:  3 wks 1/13/18; 5 wks 1/27/18; 7 wks old 2/14/18 ... stay tuned ...
3 Red Males, 1 Black & 1 Brown Male + 2 Red Females & 1 Apricot = 8 spoo puppies :o)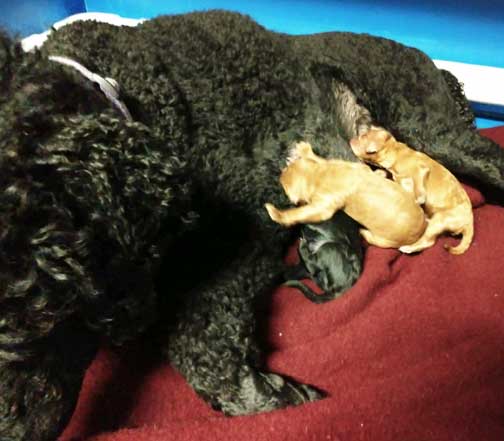 CLICK HERE TO WATCH PUPPIES GROW
(Red Fire x Bruno daughter)

Pickles has mated to Daniel! Woo Hoo! This brings the puppy due date Christmas Eve 12/24/17! Ready for homes end of February 2018? They bring forth Black, Reds, and Apri/Cream. We stay tuned...

1. 3/27/17 down pymt 1. M "Eddy" - Royal 1 Black & 1 Red/Apr - JP > Santa Rosa, CA (flying in to pick pups at 6 wks old)