Royal Standard Poodles Canada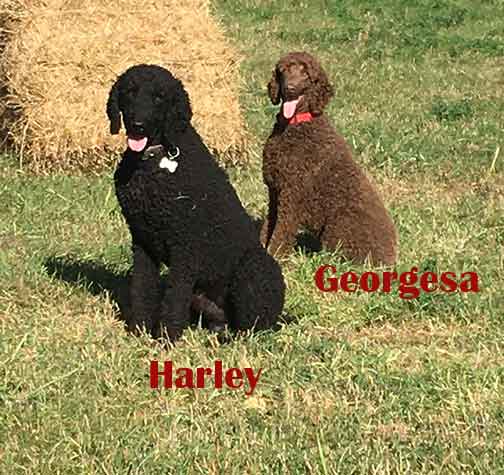 last updated 12/27/20
Royal Standard Poodles Canada will soon be ready to provide Royal Brown and Black standard Poodles for your joy and love from "A Perfect World" line. These will be truly Royal in size from 65 - 90 + lbs. Never a guarantee on size, yet larger standards is the focus.
I have known Darlene Michaud, located outside of St. Paul, Alberta Canada, since 2016 when she came on board purchasing a Zeddy x Bruno Black boy named "Harley" to start her Royal breeding program. 
Darlene is building her website where you'll be seeing similar/same language, formats from TI's website, as well as  using TI's protocol in working with you the customer (interview, checklists, etc), all given with TI's full permission as TI plans to cut back in the upcoming years and mentoring Darlene as a new Royal Standard Poodles Canada breeder, doing her best for you and the future of the spoos.
Darlene's background and why TI sees her ready and able to grow A Perfect World line to a high professional standard for you. She started out by first learning:
Office management-maintenance of records and accounting skills for oilfield equipment companies

Input data for future records into organized computer filing system for them

Ran a

children's

 daycare home for 7 years enabling the desire to nurture the young and become resourceful...so needed in being a successful breeder ;o)
Then inspired by her husband Gerald of 40+ yrs they:
Created their successful "Critter Corral Farm" with cattle management program to include recording all data of cows/calves birth, weight, vaccinations etc
Cleaning care and maintenance of cattle
Then: 
Creating her first Canine Kennel "Smiling CC Kennels" with Yorkshire terriers in 2000, transitioning to Standard Poodles in 2009 which were more adaptable to farm life. 
That kennel name is now going to be "Royal Standard Poodle Palace" in working with Royal Standard Poodles (Gotta love it :o)
Darlene's goals:
Ensure Royal Standard Poodles Canada are health tested BEFORE breeding any, mating healthy spoos for their future and yours!
Educate herself where ever/when ever possible to be informed of being a good breeder
Be mentored by TI to pull it all together in a professional manner to best communicate to the customer through an informative website for Royal Standard Poodles Canada with knowledge and education gained over time
* Royal Standard Poodles Canada *