Large Standard poodles 
Leo - Lucy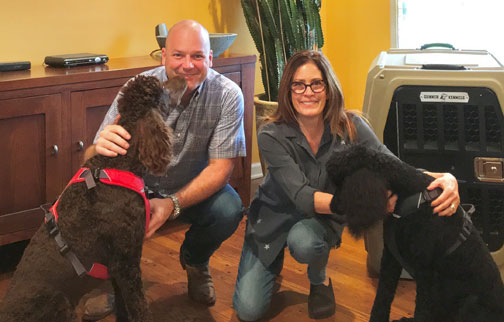 last updated 7/21/18

7/1/18 Large Standard Poodles Leo - Lucy arrived and staying with me here in TX while their owners are stationed in Saudi Arabia for 4 months. I board only my offspring on occasion as long as my schedule allows...so keep me in mind (although not cheap) if you need to leave for a month or more.
Pictures are added and posted to the top here as time goes by for customer viewing. If one has Face Time, we can show weekly, if not every other week for everyone to hear voices and see each other on a tablet :o)

Play and zzzz....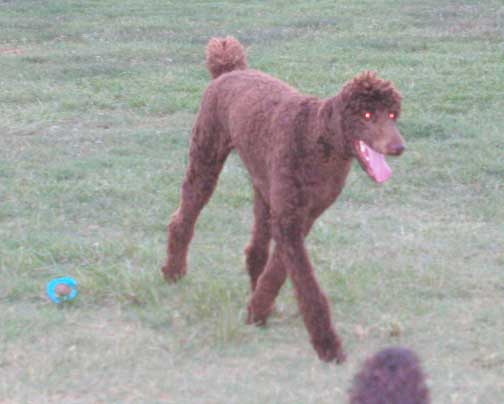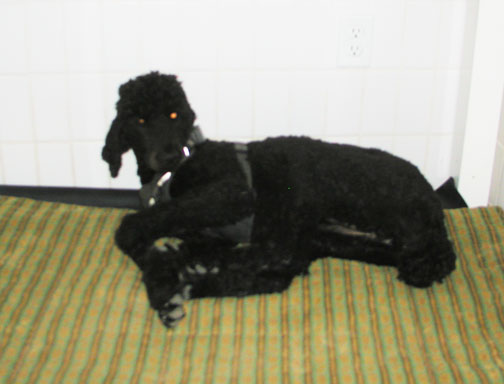 Time to zzz...
*
We can play for hours...especially when Tes is watching :o) They are just playing ;o)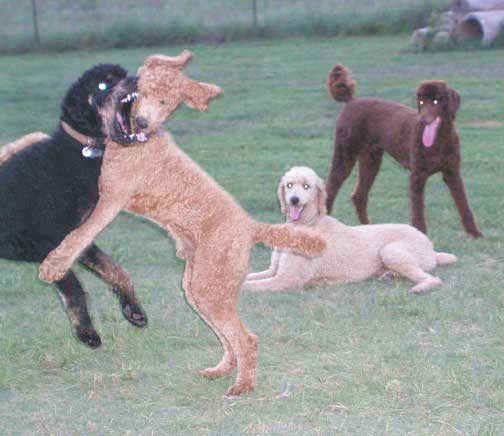 Time to play again...
*
When the cows come to graze by the fences Lucy goes, sits and 
"Woof...Woof...Woof woof...woof" until I come and call her in :o)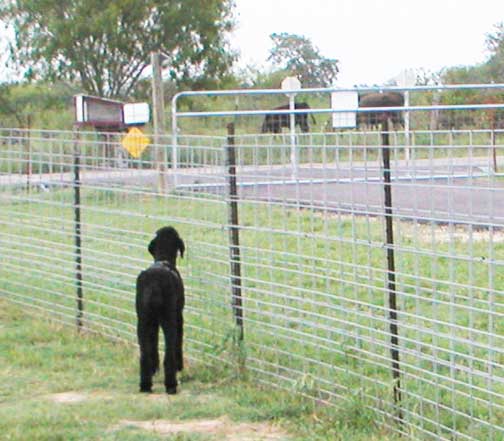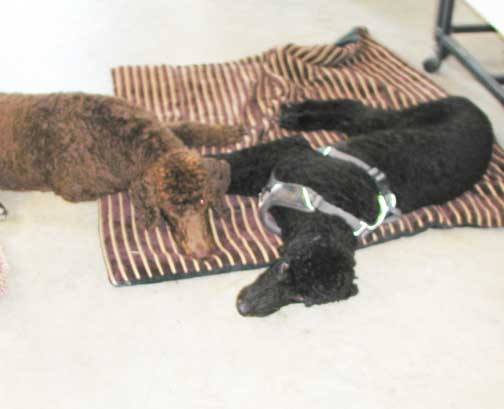 and...zzzz....where we drop...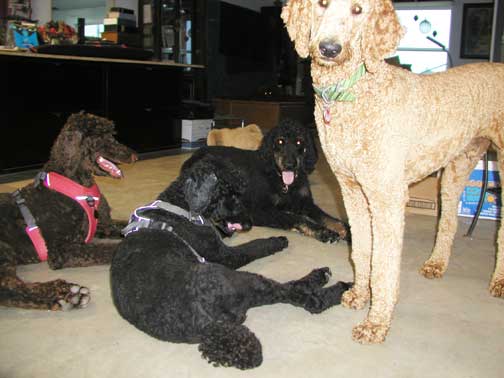 It's getting hot outside, let's come in and visit Tes.
*
Hey, this is like the swimming pool?!?! Little small but it cools me down :o)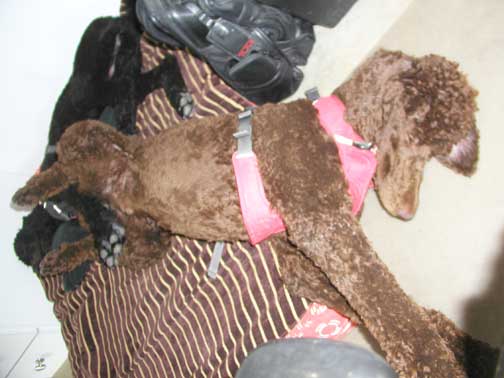 After play, there's always zzzzz time...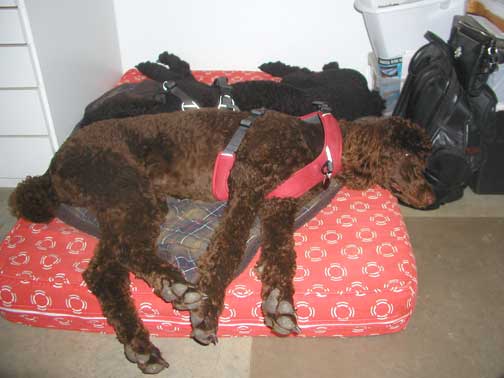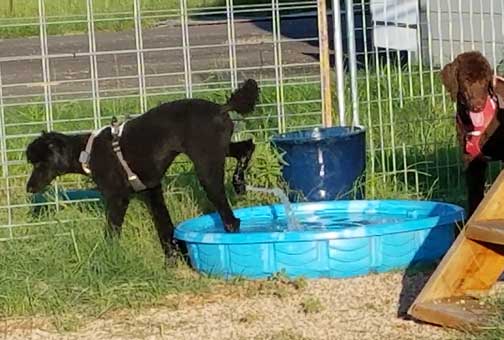 Woah! fresh cold water!!!
*
Ahhh, this is fun...water sprinkler? Get IT!
DRINK IT LEO DRINK it!!!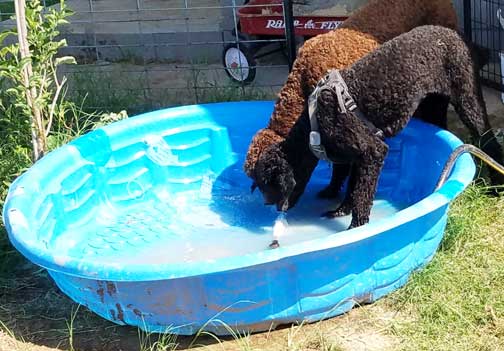 Wellll, what's going on here...
*
Hey Leo - Lucy, come on in...this is how you cool down here in TX :o)
Mom and Dad left us their blankey - woowee - we are sure getting into this play date ;o)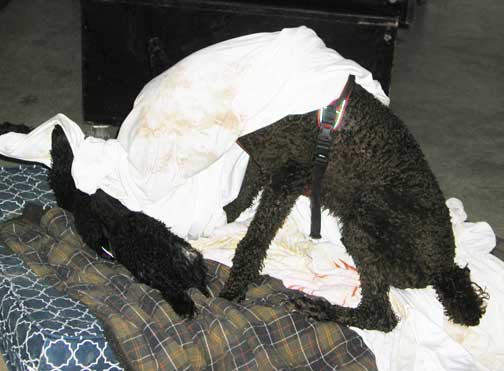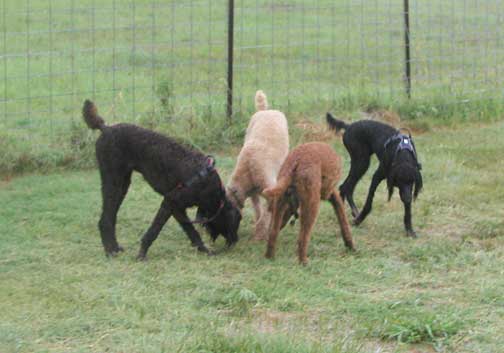 Day 3 is the 4th of July! This afternoon it started to rain and rain and rain for hours...we played in the rain and played and played and played! Tes enjoyed watching us taking as many pictures as she could. They REALLY needed the rain here after weeks of nothing and 100 degrees.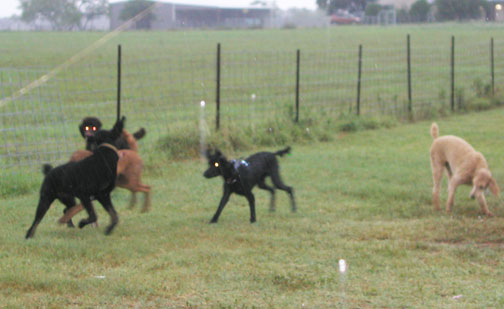 We are all soaking wet and having a great time in Bruno park...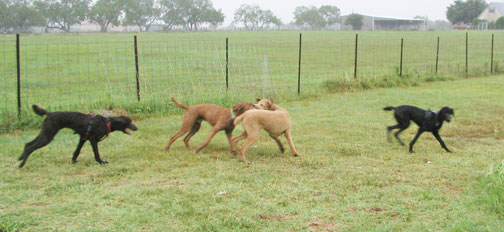 I see you mom & dad, you gonna let us do this at home? ...for hours?
Day 2: Leo (below) & Lucy (black to left) sitting for their treats with my spoos :o)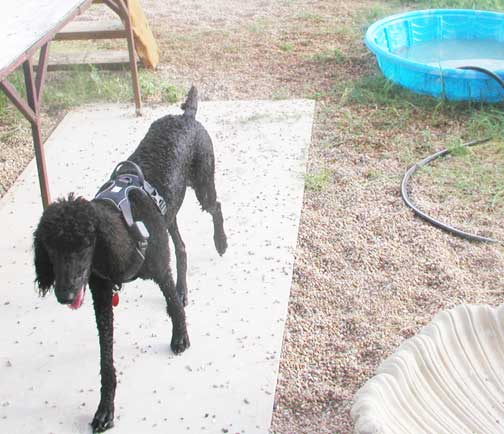 Lucy enjoying the swimming pool in the hot TX weather.
*
The good and the bad ... I write about them all as a journal on their web page...the one thing I live in my life with is the sign below, posted outside my house and one inside...so when one works with me or comes to the house, it is VERY IMPORTANT TO HAVE: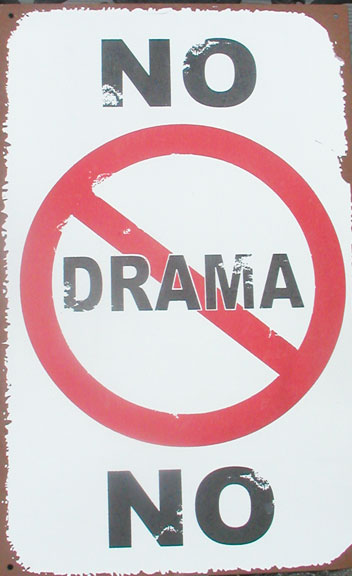 One needs to be calm and relaxed the best we can be with whatever happens in life, good or bad, it's so healthy for us. So this is what I remind my customers.
So, we take a deep breath, the first situation to arise on day 2:
Fresh beef bones were given to everyone to enjoy on Monday...customers left two new stuffed toys for Leo and Lucy to play with...and of course the rest of the spoos do too...BUT...I'm pretty sure it is Lucy...her stools are smaller...they're figuring out the doggy doors but she hasn't quite got them yet on day two...so this is the second stool I've found inside...which LOL - I'm happy about :o) Why? Because I can observe what may/may not be going on with them if so...today I found her stool and dissected it below for everyone to learn from...Yes, why NOT to provide stuffed toys for them to play with. I've placed this information on the Health & Welfare tab # 13. 6. update...I provide hefty ropes and Kong type heavy balls/toys. They do eventually destroy them, but not as fast. It's all a part of my job ;o)
This page will help lookers understand all that can transpire in their home or elsewhere in life, no matter how vigilant we may watch over them...at night as we sleep, run an error, stay with a friend, etc etc etc...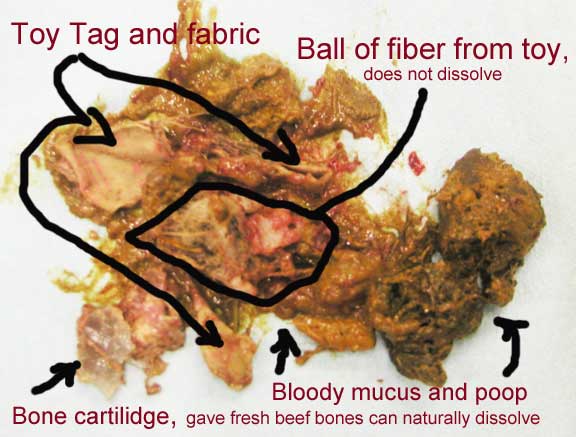 ---
Above is the chicken de-legged and eaten by Lucy.
While pups it's not so bad, and some parents are able to teach their pets to not destroy their toys...yet here are what can and does transpire with pet toys...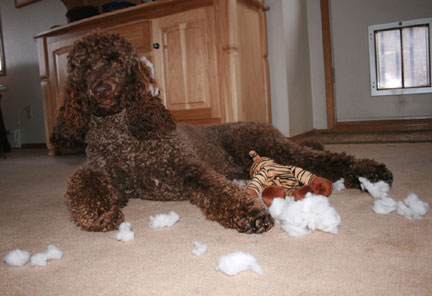 Pets LOVE to kill their stuffed toys!
*
Toys I find extremely durable below...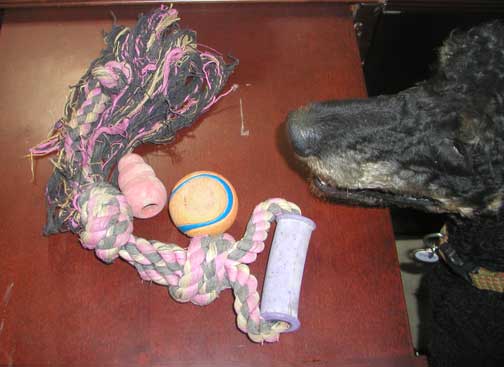 ---
*
Contact me if you're interested in one of my pups :o)
Your first paragraph ...