2015 Spring 
Royal Standard Poodles
SOLD OUT
This is an example of past puppies and how I set up their web page to show customers of their pups growing. Always start at the bottom of a page and watch them grow up :o)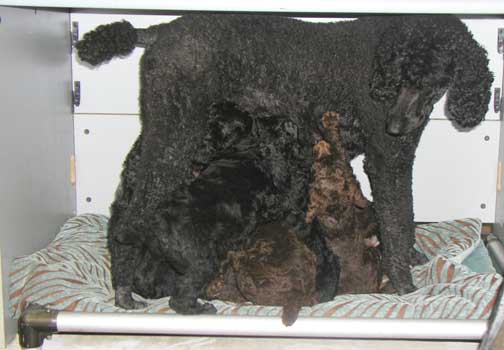 Tes is letting us take our last sip from Momma, she's weaning us :o(
AKC Zeddy x Bruno pups born Thursday 4/9/15
4 Females + 6 Males = 10 colorful puppies! 
Pictures shown are now up to their 5 wks of age  
Start at the bottom and watch them grow up-wards onto the page as pictures are added for your enjoyment.
8 wks old ready for homes Thursday 6/4/15 - That allows puppies to fly out on Thursday June 4th - please mark your calendars and plan accordingly.
These will be Royal Standard Poodle Puppies! Females 60-75? lbs, male 65-100? lbs at adulthood, never a guarantee on size, yet this is what I breed for...for you who desire the larger standard poodles :o)
Tracking Z x B puppies:
*
Start at the bottom and watch us grow up :o)
5 Females
*


Below we've had our first bath and individual pictures taken for you.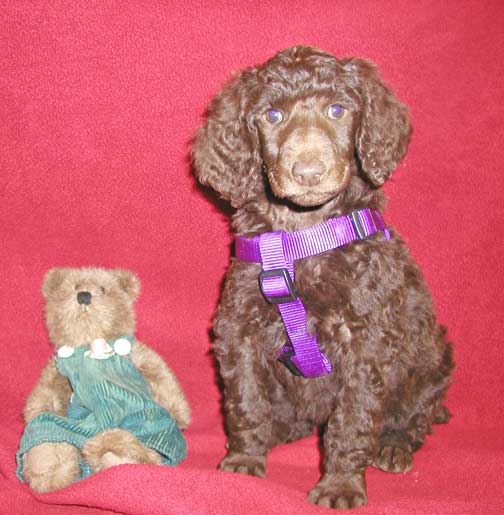 SOLD I'm called "Eleanor" for now...ready to fill SAA > Woodbury, MN home with puppy fragrance ;o) I'm a Brown female weighing in 7 wks old at 7.8 lbs > mc 1583. Eleanor's warmth is ready to warm you.
*
SOLD "Diva" here ready to dot MC > Staples, MN's life with love :o) I'm a Brown female weighing in 7 wks old at 7.0 lbs > mc #6924. Diva wants to dot her life with puppy paws EVERYWHERE!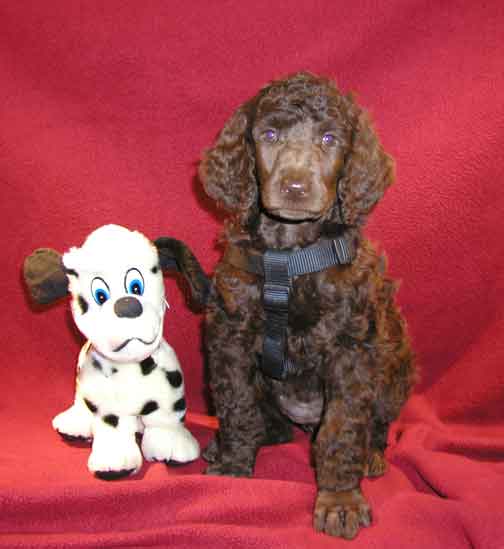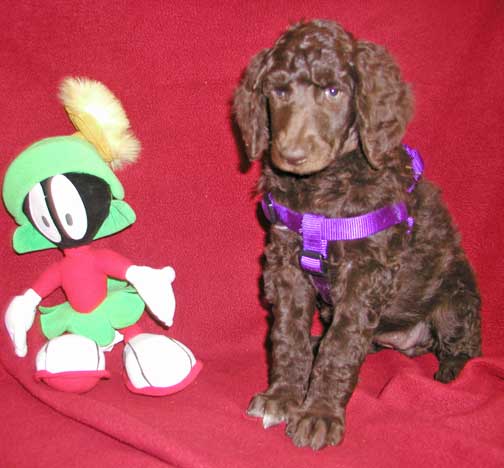 SOLD - Here's "Bella" saying CUDDLE ME! Going home to CCuster > Telluride, CO   (We know this famous cartoon character needs lots of cuddles ;o) I'm a Brown female weighing in 7 wks old at 9.6 lbs > mc #2500. I'm a VERY BIG girl! Cuddles has a small bit of white on her paw. She says "Hi, cuddle me?"
*
SOLD - I'm "Mina (Mee-na)" going home to KM > Renner, SD - Tes wears her hair like this sometimes...Well I'm the only BL female weighing in 7 wks old at 7.2 lbs > mc #7779. I'm ready to make you smile with lots of love.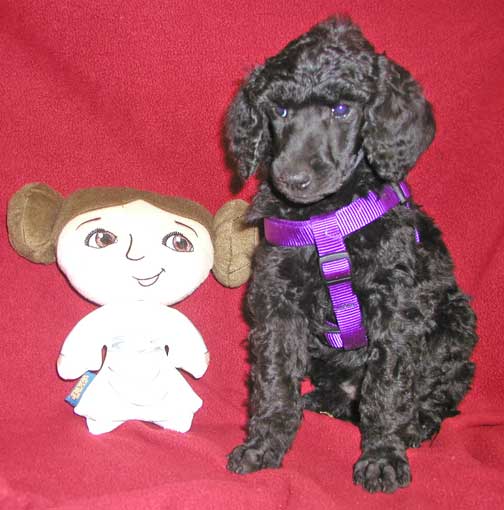 ---
6 Males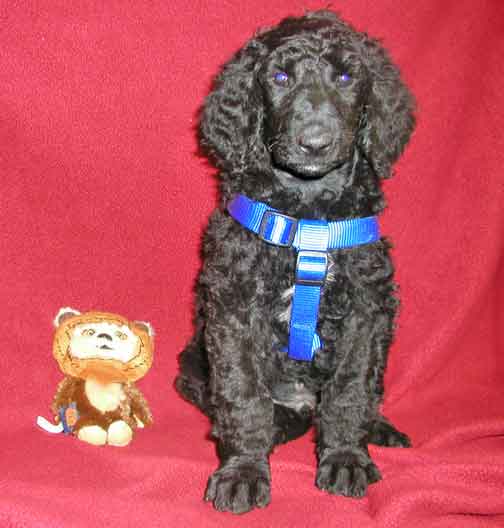 SOLD Here's "Ollie" landing with KB > Penncock, MN. Tes is also calling me "Go Tee" because I have a bit of tiny white on my chin, white on my chest and back paw. I'm a male weighing in 7 wks old at 10.4 lbs > mc #0319. Ollie here is ready for his cuddling...so irresistable!
*
SOLD Here's "Dante" ready to blow you away MC > Staples, MN ;o) I'm a BL male weighing in 7 wks old at 9.8 lbs > mc #9103. Dante is ready to make magic with your love...a small bit of white on his chest.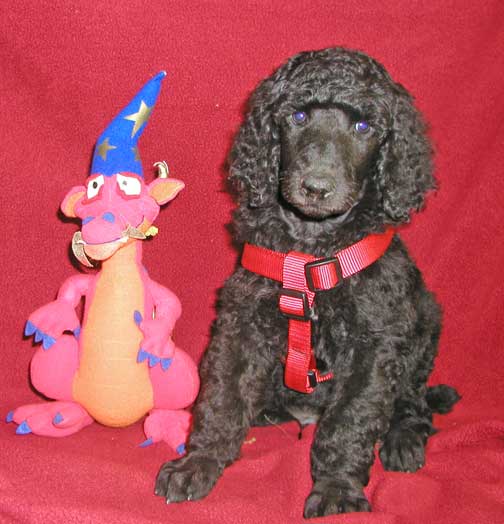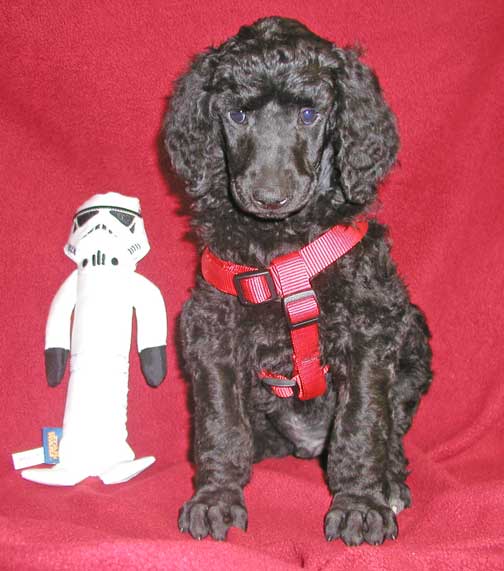 SOLD I'm "Bogart" going to be SUPER loved by GE > Mahtomedi, MN  I'm on the dark side ;o) A BL male weighing in 7 wks old at 10.2 lbs > mc #6082. Bogart definitely needs to have your lovin'! I have a little white spot on my back left paw.
*
SOLD "Max" from Star Wars here (for now ;o) - I'll be heading down under to FK > Vaucluse, Australia. I'm a brown male weighing in 7 wks old at 6.8 lbs > mc #3728. Chewy here may be 4 lbs, yet wait until I'm done growing!! I'm looking to be a good 75+...you see I just didn't get to momma as often as some of the bigger guys ;o) I'll catch up...what can I do when there are soooo many of us?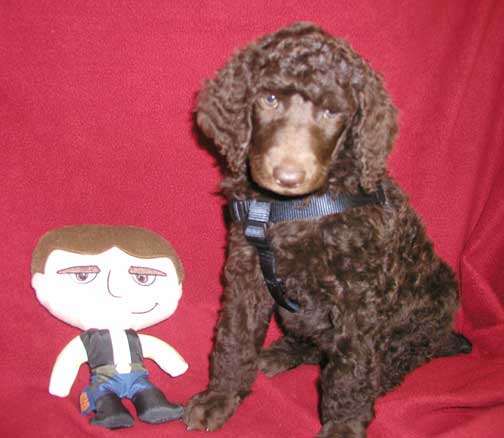 SOLD Here's "Lakota" from Star Wars landing at JHouse > Greenacres, WA. I'm a brown male weighing in 7 wks old at 12.4 lbs > mc #6190. A BIG BOY! Luke here is ready for his new home adventure...bring it on!
*
SOLD My name is "Duke" going home to SK > Coon Rapids, MN. I'm a brown male weighing in 7 wks old at 8.8 lbs > mc #0886. Star Wars was a great series of movies for Tes, allowing her to write and market the futuristic side of us ;o)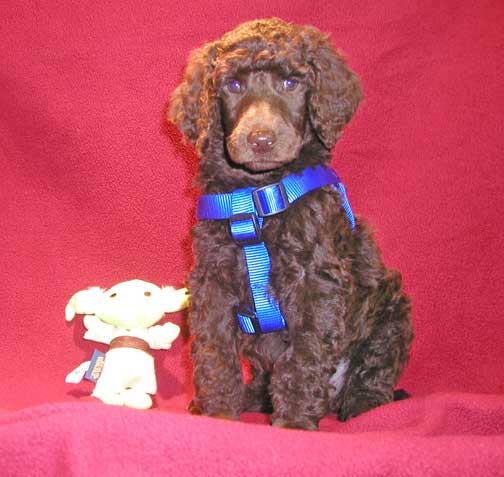 Do watch us grow-up by starting at the bottom of this web page...
*
Here's Tes looking out to the Youth Park to watch over us. Just out her office door, it's called "Central Park". Us puppies are out there, you just have to look hard through the fence :o) LOL - she turns the sprinkler on to keep the adult spoos away from the fence ;o))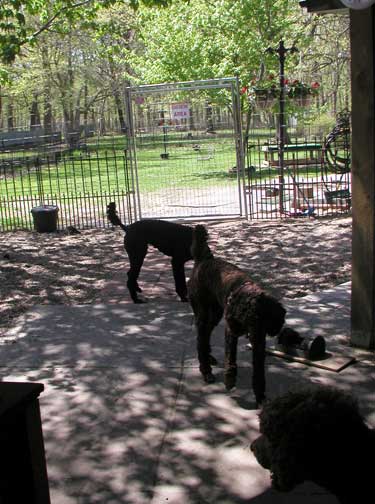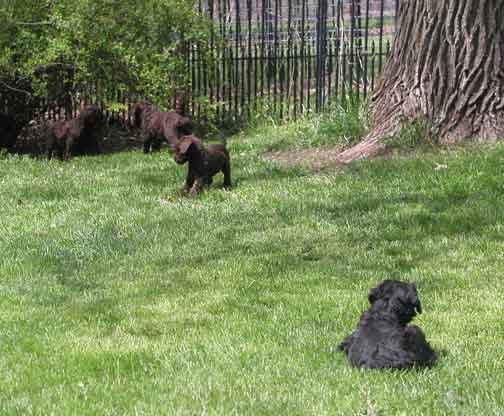 Okay, time to watch you guys enjoy life...
*
Peek-a-boo :o)) We're comin' to you ;o))
All Mine :o)
*
c...come on! This way!!!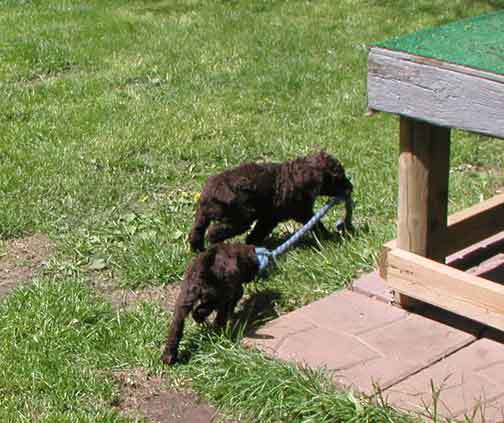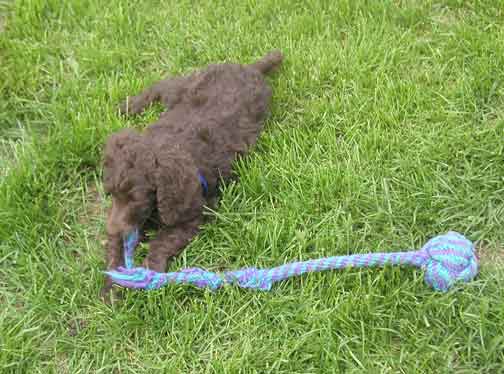 An now it's back outside to play! We sure like these rope balls, they're great for us. Squeaky toys are made by Tes for us to play with too :o) Bones really help our teething, and Kong chewies really help keep us busy :o))
*
Ahhh, it's time to come in and get some zzzz's on this soooo comfy pet bed Tes made for one of us :o) More hangin' around...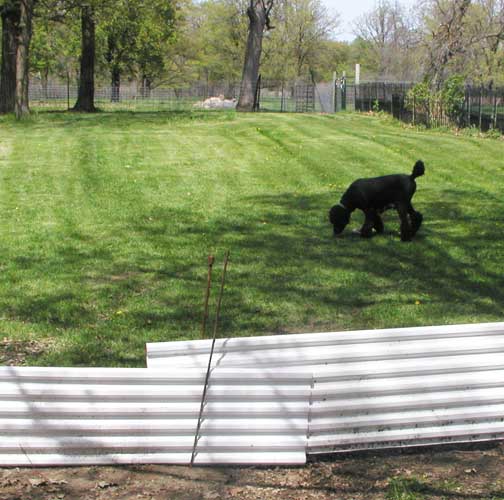 Ohhh, to the "Momma Park"! She just jumps over to get away from us? I guess soooo!
*
Where'd she go?!?!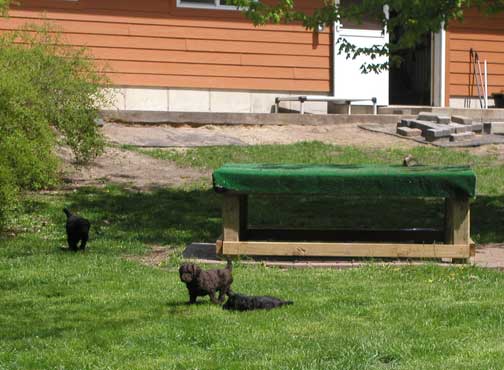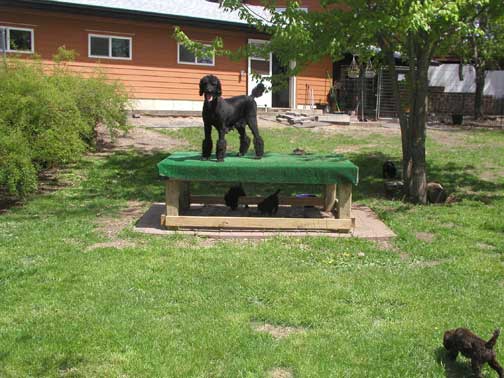 Here's where Momma Zeddy jumps to get away from us in "The Puppy Park" :o)
*
Welll, we tried to dig some holes under the new sidewalk to find a bone but Tes stuck blocks in to stop us...she said THERE ARE NO BONES THERE :o((( 
hmmmm, are there more bones over here for us to chew on to help our teeth to come in?
*
Boy this is sure a pretty spring, rain to green everything around us...ahhh, a bone buried under the tree :o)))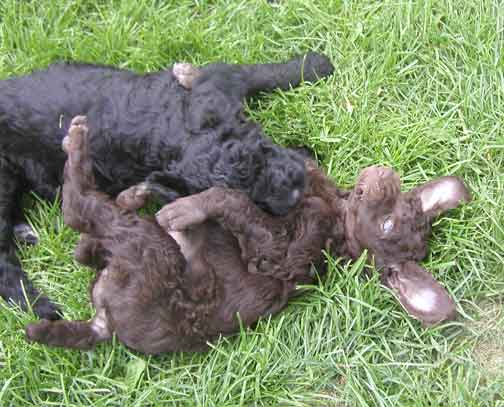 Woo Hoo! We're starting to get our first haircuts!! You're gonna' be next!!!
*
Hmmmm, a toothpick to chew on for these puppy teeth to come in.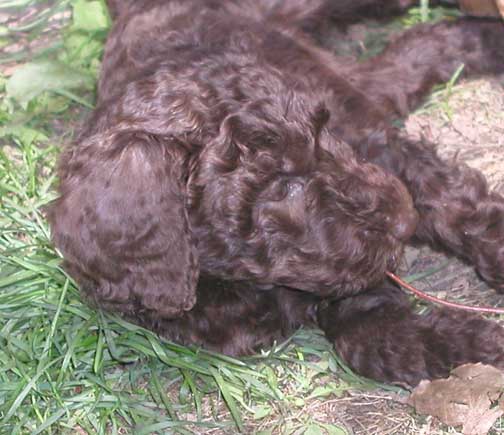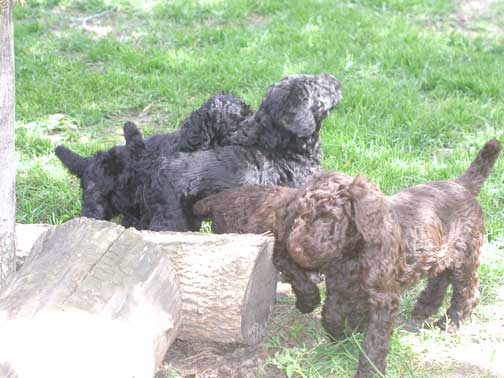 Water to keep us going, play, play, play :o)
*
Ahhh, water for us to quench our thirst with.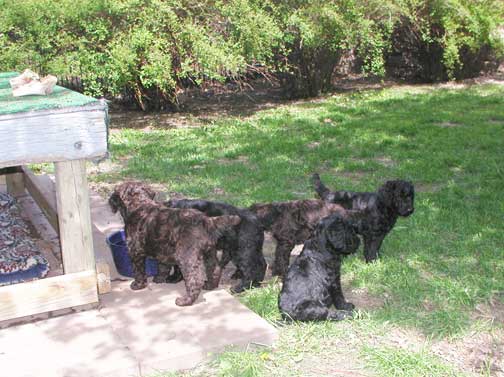 Definitely getting around and checking life out!
*
Now we're going on 6 wks old, AND REALLY wanting to be outside soooo much more! Yeah that's Cleopatra's pup playing with us :o)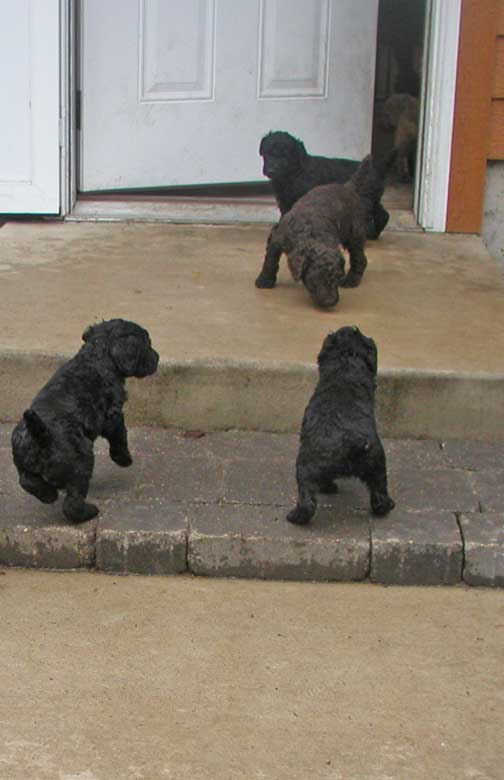 It's time to go in to get our individual pictures taken for you :o)) Tes calls "Come in, Come in!" (so then who's taking the picture ;o)
*
a...and there's momma...we'll go get her!! SHOOT! Steps!!!!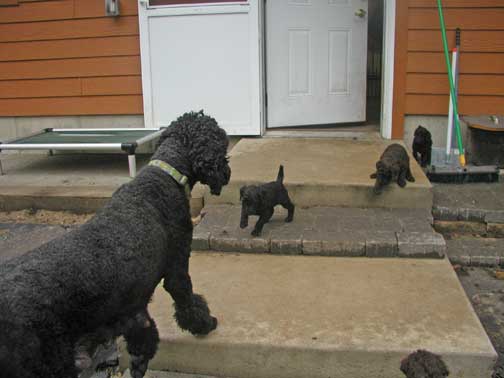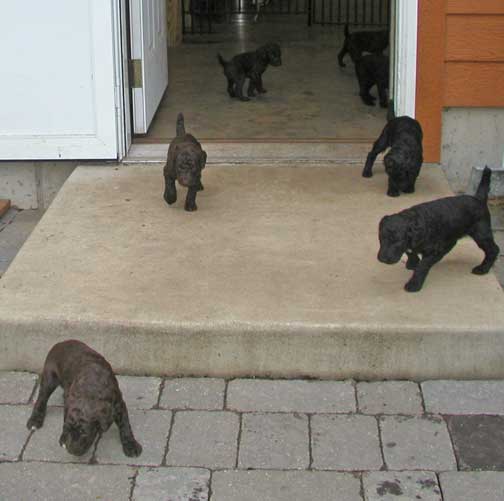 NEXT - the real thing to learn potty outside...
*
hh...hmmm, this is called the stepper Tes puts in here for us to start to learn to step and climb...
Can we get up there? here...no, over here?
*
a...and when she's tired of us, up she goes to her bunk...Cleopatra never did like to get away from her pups...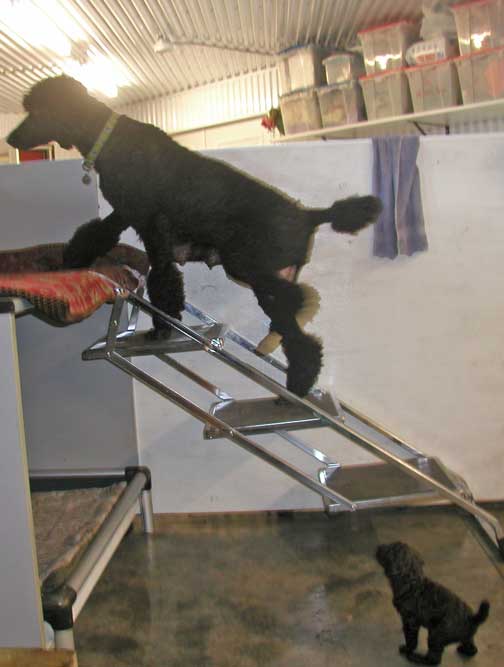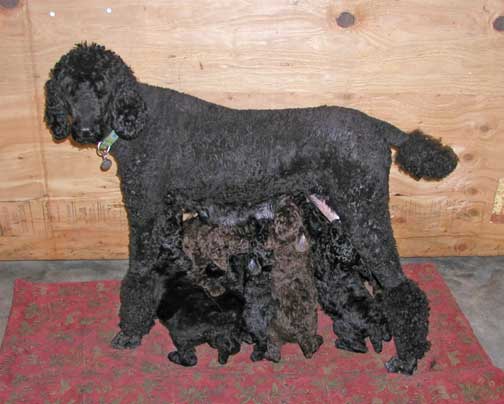 More room for mom to stand and let us nurse - with all of us she needs it!
*
Tes has now given us more space again...we're now in the nursery, the new heated garage where we have a LOT more room and can learn to go potty outside...more easily...still work to be done in here, yet it's coming together :o)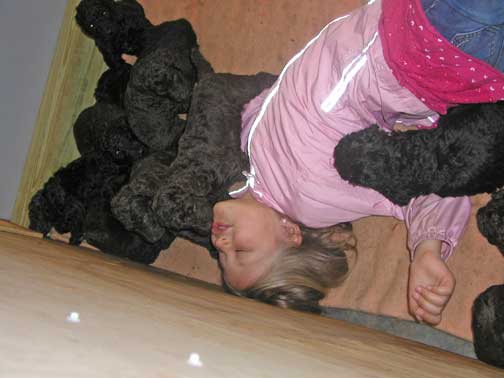 And then it's time to....play...then zzzz...oh, yeah, that's Dani's little girl...zzz...we love this time together...zzz...
s...sniff...play...sniff...play...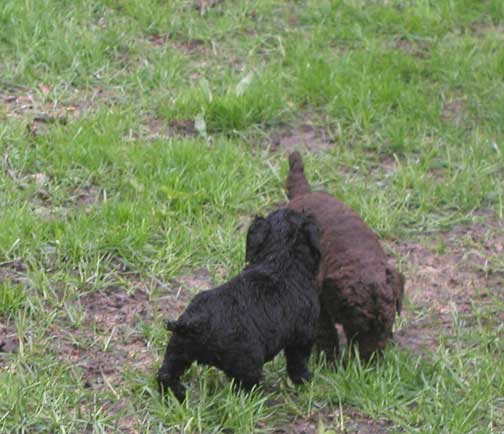 Woo Hoo - this is GREAT!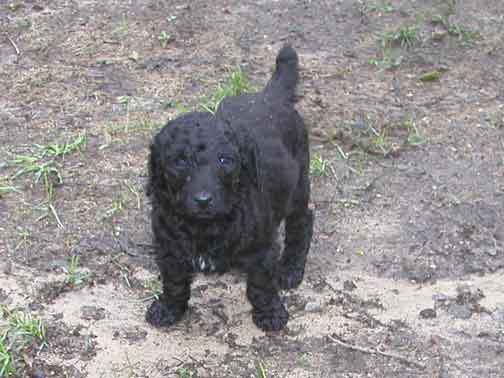 a...and after the food...let's check this outdoors stuff out...are we suppose to actually potty out here?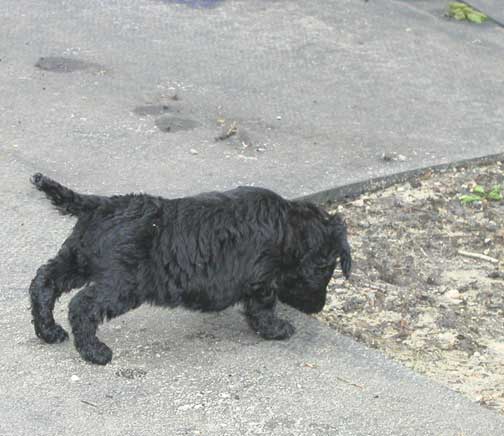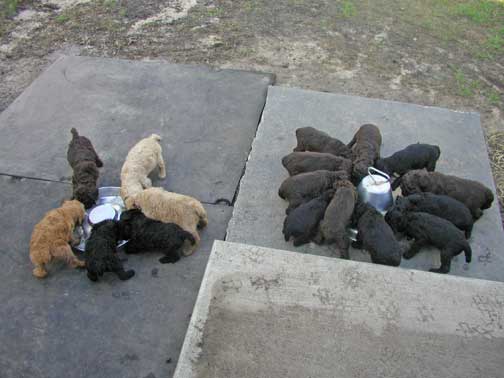 And here's how Tes teaches us how to Potty Outside...we've the smell to the food down now and when she calls "Potty Outside" we come a runnin' to follow her for the good stuff! Yeah, that's Cleopatra's pups next to us ;o)
*
Puppy pile!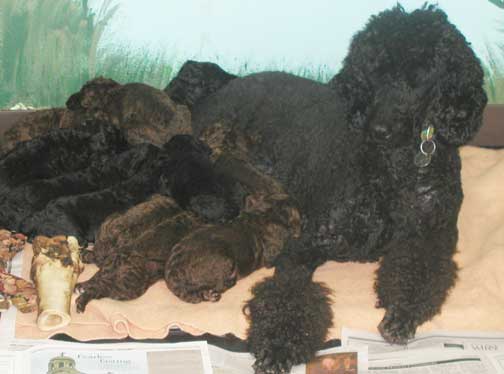 s...sooo, now it's time to zzzz...and mmmmm...zzz...mmm...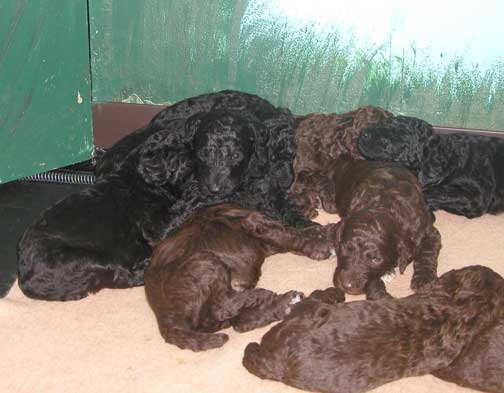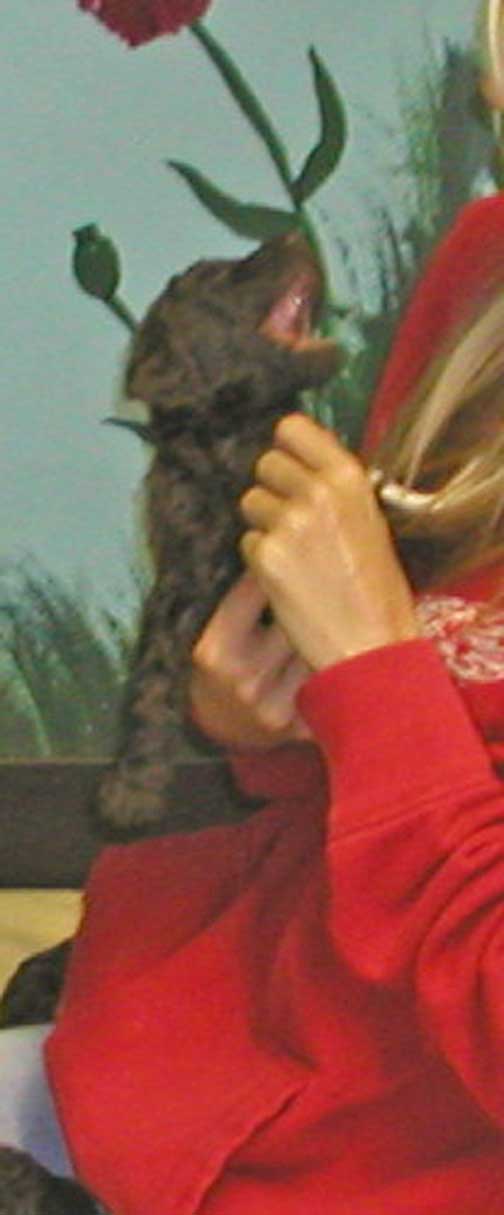 We get to learn to smile and laugh :o))) Sorry these didn't come out great yet too cute to not put on...
Dani comes and snuggles us, like Tes, so we can learn to be social and not afraid...
*
This is what Tes calls the circle of life :o) Here we go...nummmmyyyyy! Let's get filled up!! Tes has added more space for us to feel our oats ;o)
...and now there's some canned food in this slurry
*
mmmmm...tasty! Time to learn to eat some slurry! Slurry is a mix of baby rice cereal, water, and buttermilk to keep them from getting too loose of stools in shifting from Momma to more solids. It gets pretty messy at first, until we learn to eat from the bowl ourselves :o)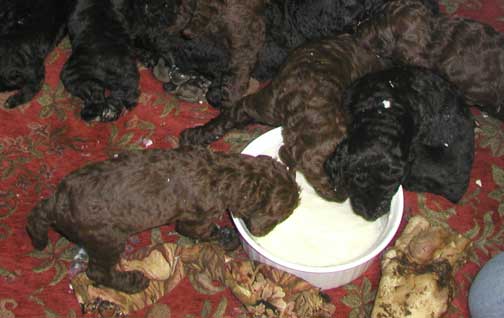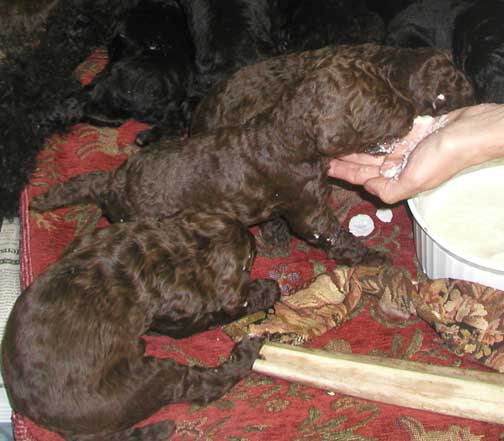 We're going on 4 wks old...and getting hungrier by the minute! Time to learn how food can fill me :o)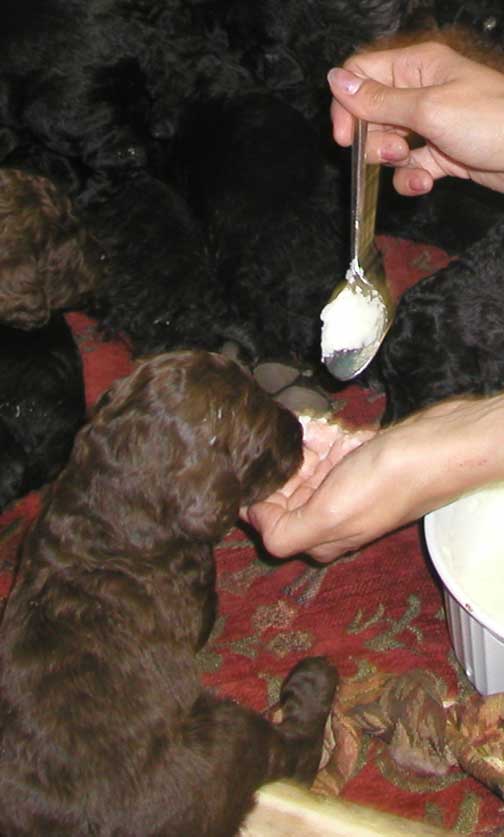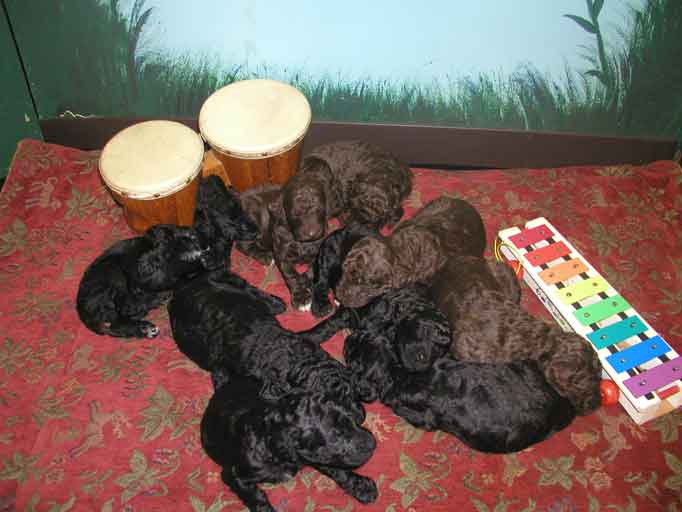 a...and learning to sing for Tes ;o)
Hey look! We're so smart we can spell for you at 3 wks old ;o)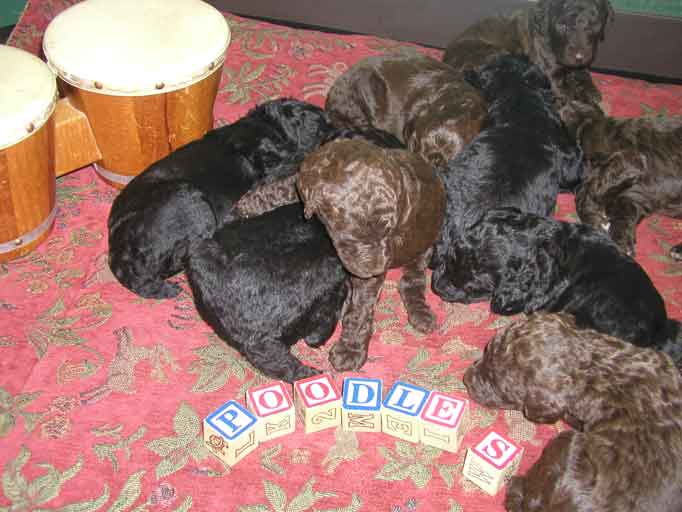 Oh yeah, nummy nummy...move! move!! nummy ;o)
*
It's Tes's knee...she's always got to get down with us and snuggle, hug, and cuddle us all she can...cause she knows you can't ;o)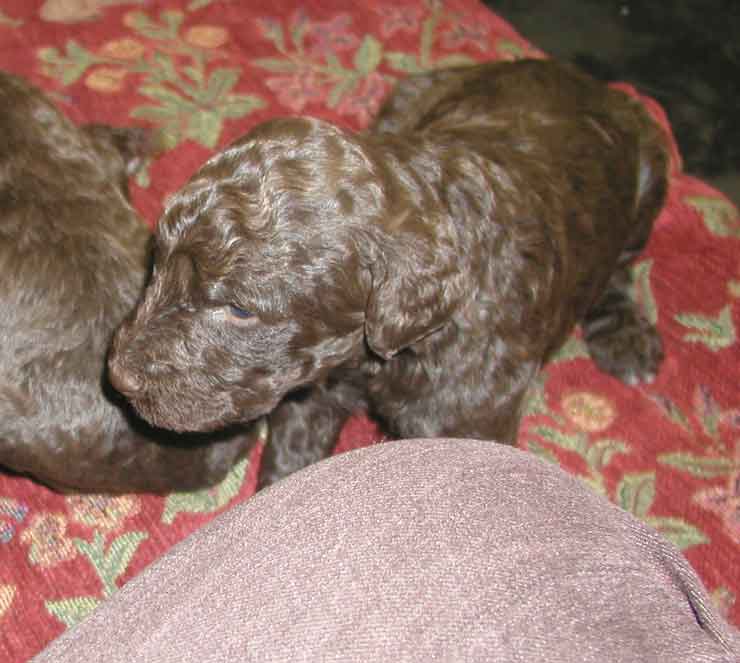 Follow the leader, sniff, sniff, a PET BED!
*
HUH? You want me to vocalize?
Pile ON - let's see if they can count 11 of us again!
*
Okay, okay, I'll move...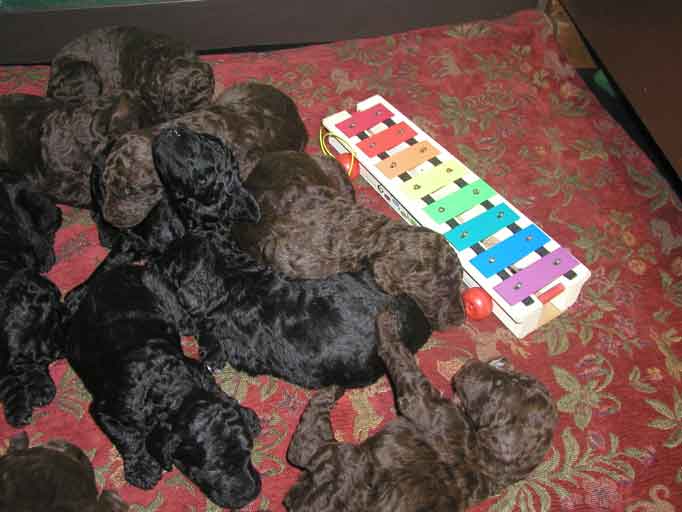 Aren't we suppose to be making noise? Am I the only one hollerin'?
*
Oh yeah, PooOOOooDLES!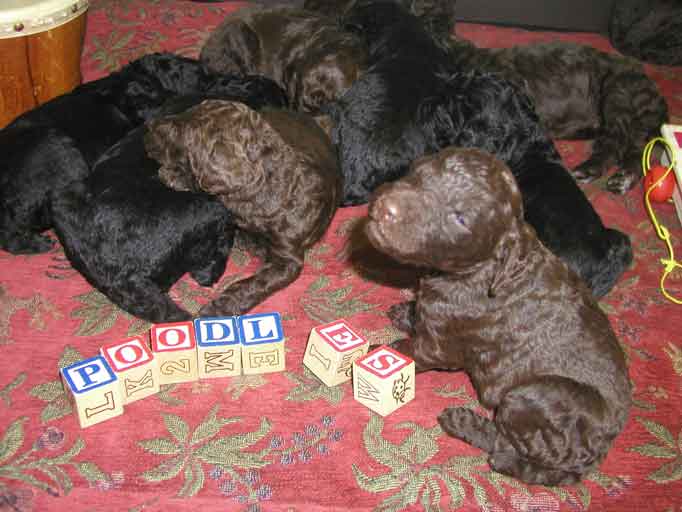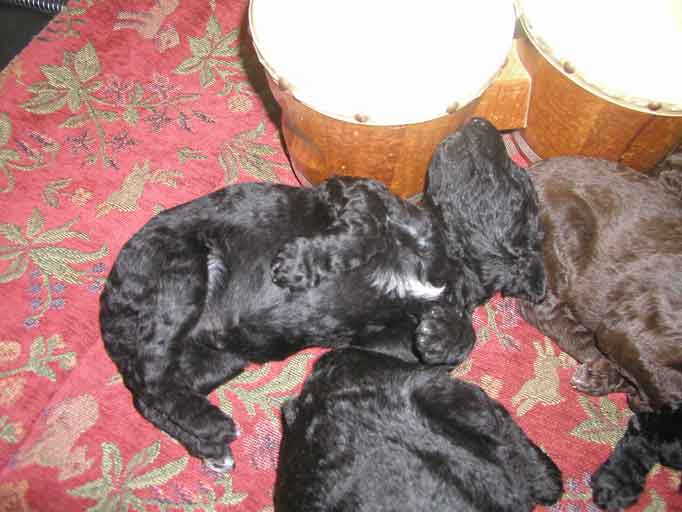 What's this, a drum? And a white abstract on the chest.
*
It's a smile moment :o)
Oh yeah, give me a smile :o))
*
Oh yeah, a whole lot more room for 11 of us until we mature to cooler temps.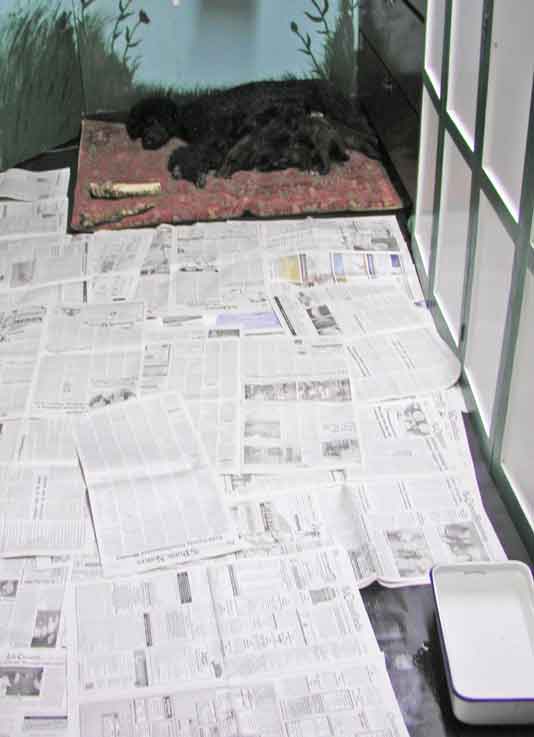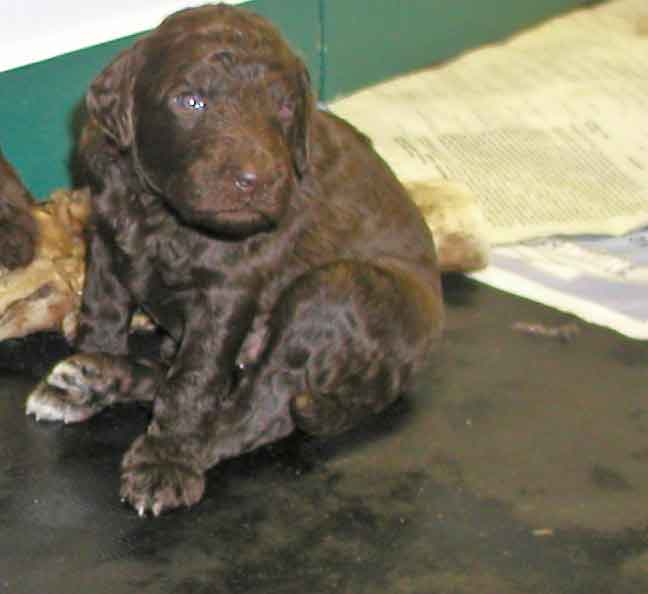 Hey, I can see the papers gone...get it over here!
*
We're moved to an area of the family room that we can move around and work on piddling on the paper as we become more agile to get around.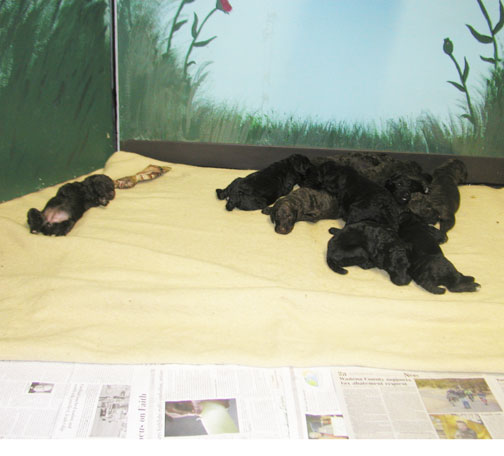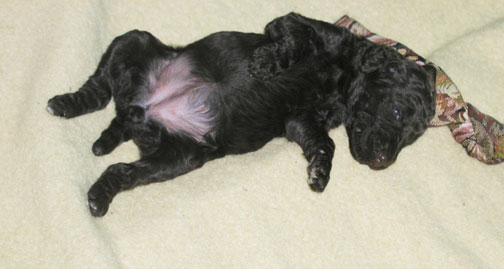 Ah yes, nice and cozy here...toys, warmth, and lots of nummy Momma.
*
...and in this corner...Brown :o))))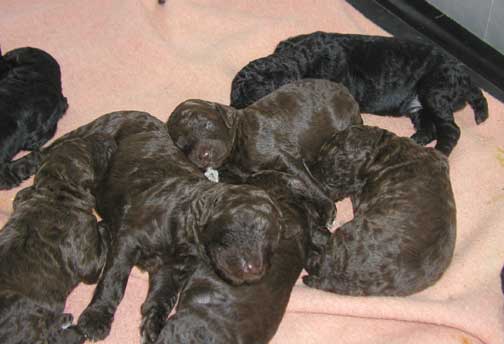 It's us black puppies snoozin in this corner...zzzzz...zzzzz
*
Yeah, they're definitely opening...here's a bro to chew on! Tes is kissing us all the time, she thinks we're sooo cute ;o) And, Dani loves coming to work to bring her her daily smile and cuddles :o))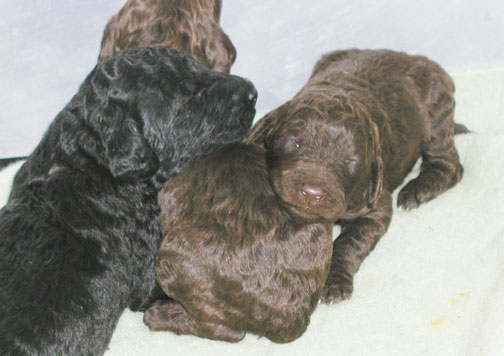 Oh, oh! LOOK!! Our eyes are squeaking open!!! HIII :o)))
*
Definitely feeling my oats - uuuuup I goooo. Good thing the wool blanket gives me gripping power.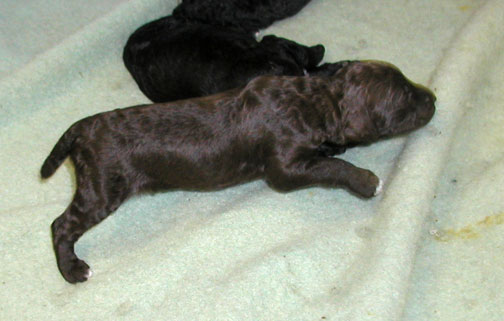 A tiny amount of white here too...
*
Yeahhhh, stre-e-e-etch...I've got a white mark on my chest - seeee :o)
Stre-e-e-etch, we're already trying to pull ourselves up to smell and find Momma Zeddy, sniff, sniff...no eyes open yet.
*
Let's see if you can count 11 puppies in the pile below :o) Tes tries to keep the temps just right that we can bundle up and momma Zeddy and curl around us...otherwise too spread out is frustrating for her.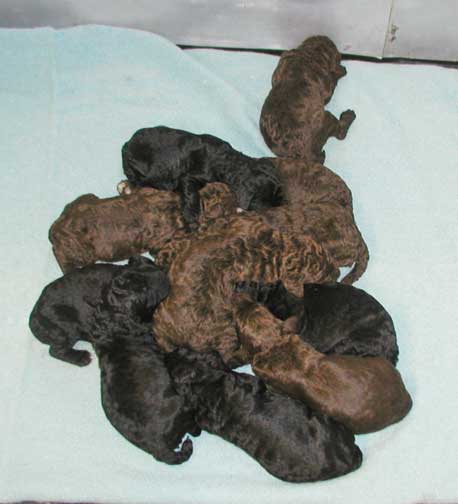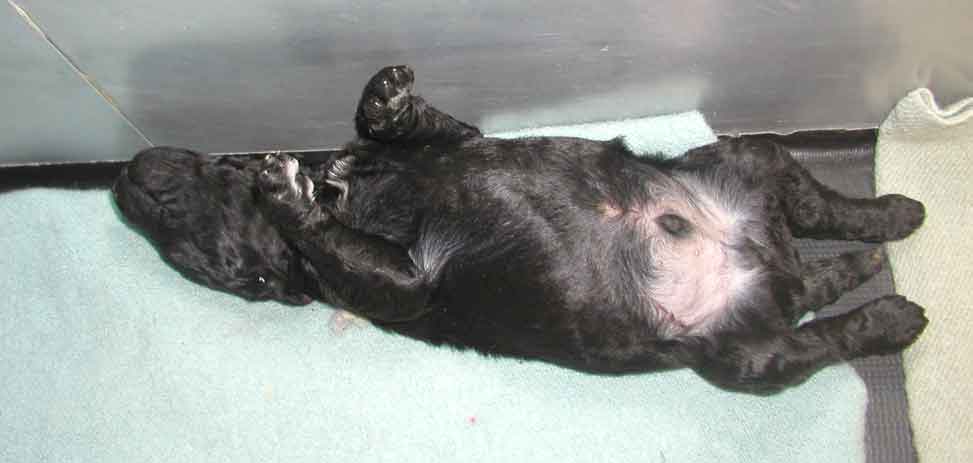 This little boy thinks life is oh so good - 4 legs up and you can see the white mismark/abstract on his chest...like an upside v. The temps are warm, yet slowly being dropped as we grow and our bodies acclimate to life.
*
There first week of life below, brought lots of smiles...let's see what the 2nd and 3rd weeks above can do for you ;o)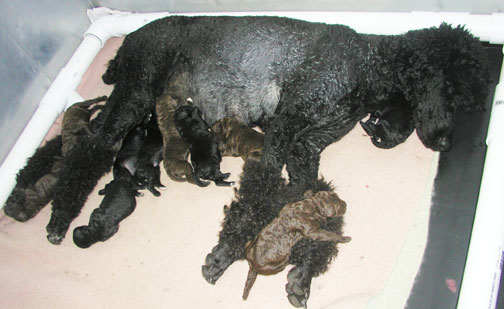 What puppies do best as they grow...zzz...and stretttcchh when we awake...smile, happy happy :o)
 *
We're growing for you! Never fast enough...zzzz where we drop...zzzz .... ;o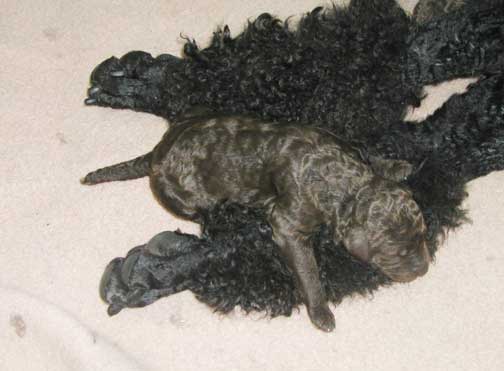 "sniff, sniff, sniff...I found you Momma!"
*
Snuggling, snuggling warmth brings us growth :o)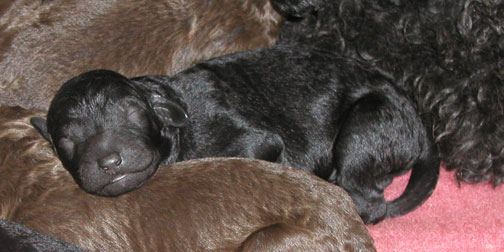 lick, lick...To help you learn some more as we grow, the first sense we have is smell. We need to smell momma's teets to get to the milk we need. In the next several weeks our eyes will open to see a bit more of this wonderful world. THEN our ears open to hear all around us :o)) I have a white abstract on my chest...and yes am a twinkle toes ;o)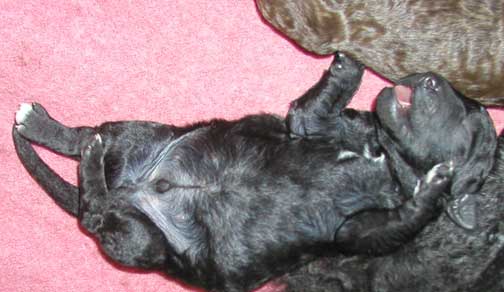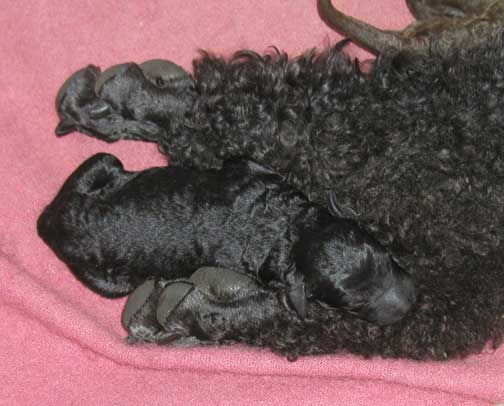 Momma's milk is flowing for us to grow...we're getting to be little tubbies :0))) Snuggling up into each other for body warmth allows us to stay together so mommy can curl around us to allow us to not get laid on, so we can squirm to her for nummy nummies :o)
*
Momma licks and licks us to make us urinate and defecate as we can't do that on our own either yet, until we're older and more developed.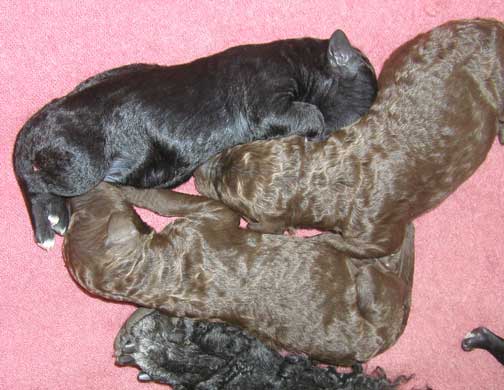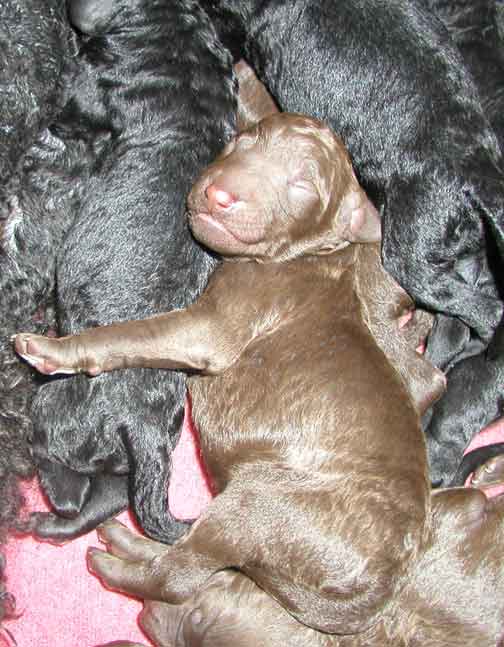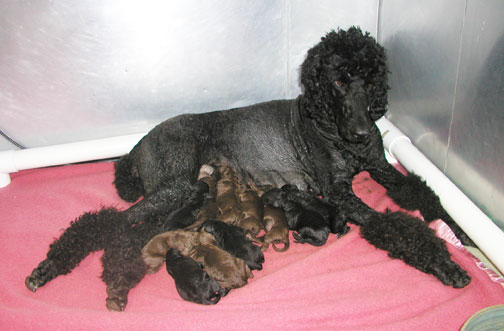 Our tails are docked 1/3 from the tip to AKC poodle standards and due claws removed at 2-3 days of age. Tes use to do the double knuckle removal but felt it caused too much stress on us, sometimes losing one of us :o( - so no more, just the quick removal. We're all doing great! IT seems as organized as Tes tries to be...it seems to be following suit with Momma Zeddy while some of nurse, the rest of us zzzz....
*
The wool blankets gives our toenails something to grip and allows us to push into nursing :o) We've already had them clipped for the first time to not scratch our mommy's tummy like cats claws as that's how sharp they get. I love you momma Zeddy! ;o)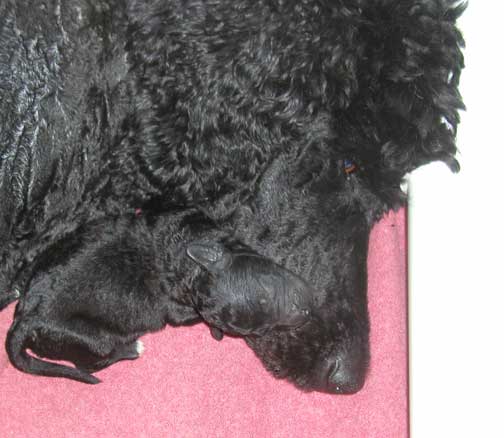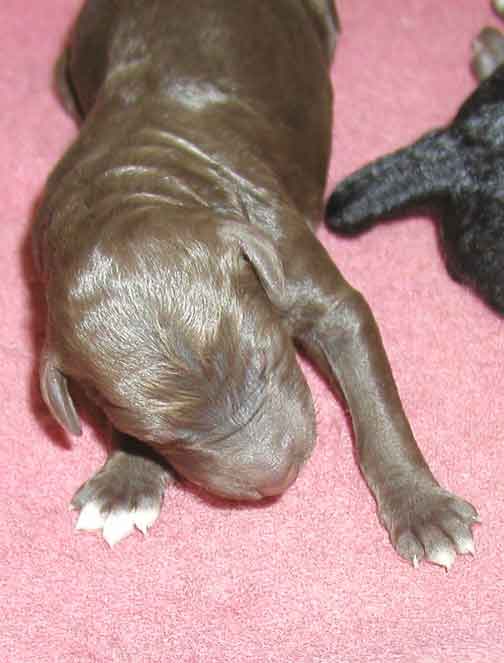 What the customers miss out on, I hope to bring to you in pictures and story boards...the quiet atmosphere I try to provide provides a hopeful more loving and calm pet for you during the first several weeks :0) They actually can't hear until around 3 wks of age, yet the vibrations and energy level around them CAN be felt and sensed with those other unique senses we/they have.
*
Mommy is doing well, below her head is bobbing trying to stay awake...taking care of us so lovingly. Tes uses the colorful wool blankets to absorb moisture and a colorful viewing hopefully for you to see the difference between ages in weeks to come as we grow...I'm a definite twinkle toes ;o)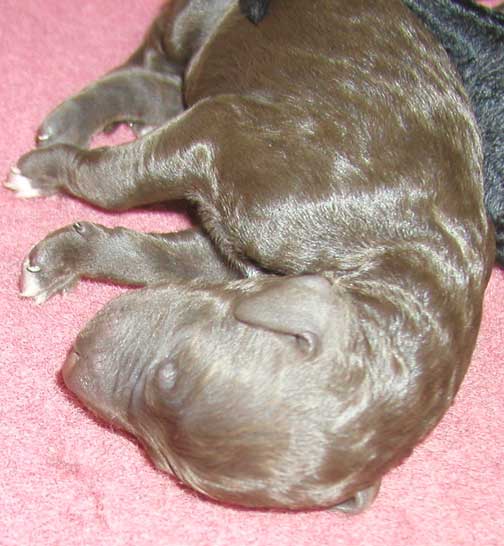 Mm hmm...Nummy Zzzz, Nummy Zzzz, all as we grow to get big and strong to come home to you :o) Our first sense is that of smell...to smell where we can get our milk...nummy zzzzzzz...Many of us Tes is calling Twinkle toes because we ended up with white on our toes...and some of us have white abstracts or also called mismarks on our chests.
*We're excited to be coming home to you! :o)*
Wool blankets are used to absorb liquids and hold heat wonderfully. Heating pads underneath help keep everyone warm besides the 78 degree temps maintained in the room until they can develop their own body heat. Sorry Zeddy, that's why we shaved you down - to stay cool :o) We need lots of rest as we gain our strength...zzzz...zzzzz...4 legs up...
Tes keeps the special family room humidity at an average 55% because we don't develop our own body moisture balance for a good week. Tes sleeps by us the first 3-4 days so momma doesn't zzzz on us...she's so tired...
*
Welcome to 11 growing puppies born to parents Zeddy and Bruno! Watch their growth up-wards as I add them to the top of each week. I add story board writing between pictures to hopefully bring you a smile and Happy Happy days :o) Momma certainly needs her rest!!!
Zeddy x Bruno puppies born 4/9/2015
11 growing spoos 1 BL Female, 3 Brown Females, 4 BL Males, 3 Brown Males 
Ready for homes 8 wks later - June 4th, Flying out Thursday June 4th