Zeddy 2013 Royal Standard Poodles For Sale
 2 Apricot Males for Sale 7 wks old 9/26/13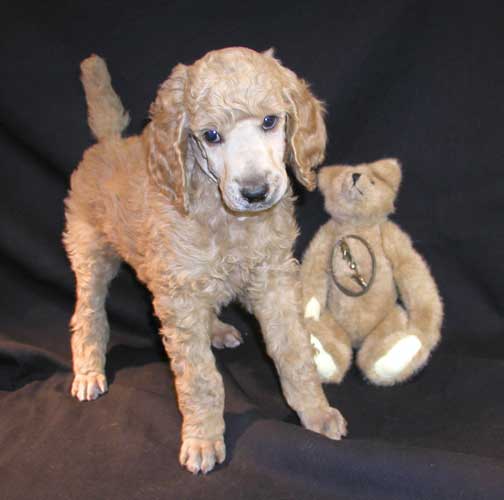 FOR SALE Apricot Male - 
mc 8523 -  7 wks 7.6#...I'm so ready to be touched into your life! Please pick me :0))
*
FOR SALE Dk Apricot Male -
mc 9319 - 7 wks 7.2#...I'll pirate your love for sure! Hidee HO!! Pick ME!!!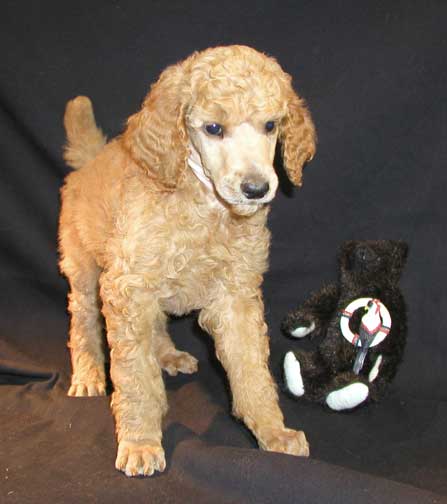 Zeddy 2013 Royal Standard Poodles For Sale 
2 Apricot Males Still looking for a loving owner!
Born August 15, 2013, Fly date Thursday October 3, 2013 - may come and pick up your pup any time that week/end.
Enjoy the picture updates below...remember start at the bottom and work upward...pictures do drop off as new will be added in the coming wks...
Pups may be picked up week/end of October 3, flight date is Thursday October 3 so I will be in St. Paul that day. Mark your checklist with the above dates and check off as we move forward together :0)
Tracking Zeddy's Fall litter 2013 stats:
9/24/13 - first hair cut

9/19/13 - 6 wks first shot, Parvo & Corona virus, dewormed 

5 wks shampoo, cedar spray, nails trimmed

4 wks old dewormed nails trimmed

2 wks old dewormed nails trimmed

Day 4: dew claws removed and tails docked 1/3 from tip at the vet's - the AKC breed standard

8 puppies born August 8, 2013: 6 males, 2 females - 5 males Red, Apricot, and Cream, some have white on their toes (Twinkle Toes ;0) 1 black male. 2 females, 1 red and 1 cream.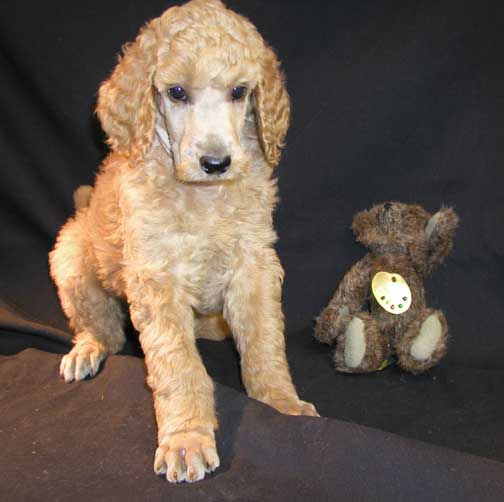 SOLD "Dutch" Apricot Male - 7 wks old 9/12/13
mc 5598 - 9#...Paint me into your life BB > Pembroke, VA:0)
*
SOLD "Baloo" Black Male...I'm absolutely a survivor 7 wks old mc 2440 - 7.4# going home to MS > Bellingham, WA - MS doesn't like the shaved face and paw look, so I'm trimmed around the eyes and flat under the paws...and of course the buttsy area ;0)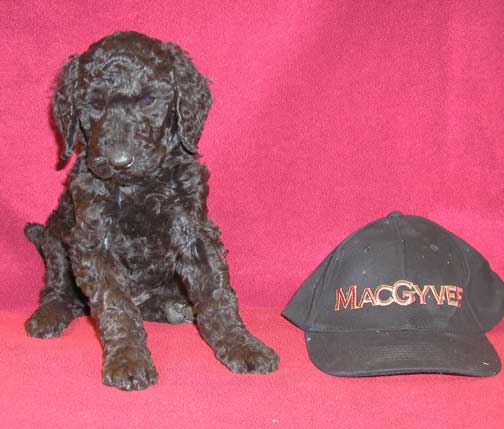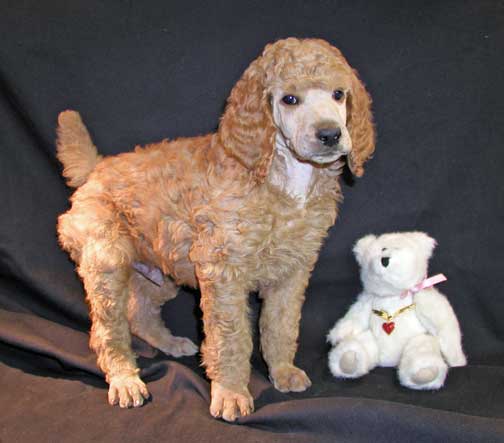 SOLD "Bailey" Red Male mc 7231 - 7 wks 10.4#...I'm going to fly into your heart KW > Park Rapids, MN - I'm getting BIG!
*
SOLD "____" Cream Male mc 9524 - 7 wks 11.6#...Spock me home to AS > Bettendorf, IA - I'm going to be one giant boy!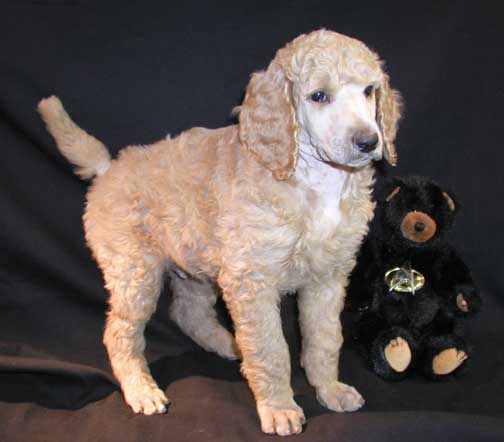 *
We're the 2 Females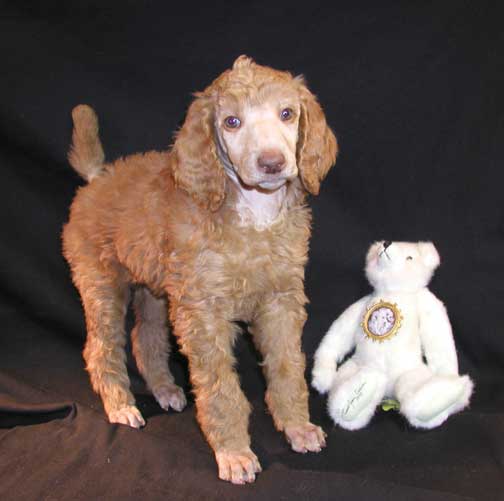 SOLD "Zoey" Red Female mc 8151 - 7 wks 7.8#...I'm the cameo for MG > Hugo, MN
*
SOLD "Zada" Cream Female mc 8993 - 7 wks 8.2#...for sure the star in my owners eyes - LS > Minneapolis, MN - I'll be one VERY Royal girl :0))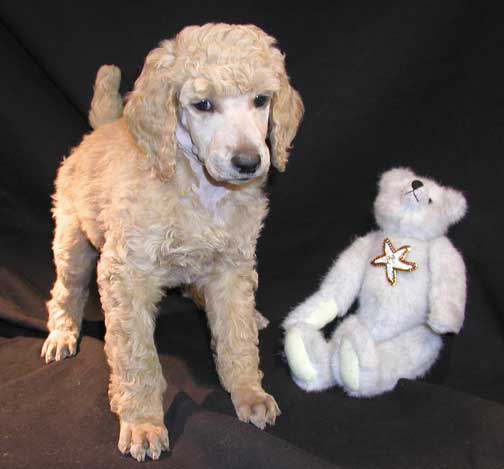 Remember, start at the bottom and watch upward...Enjoy :0)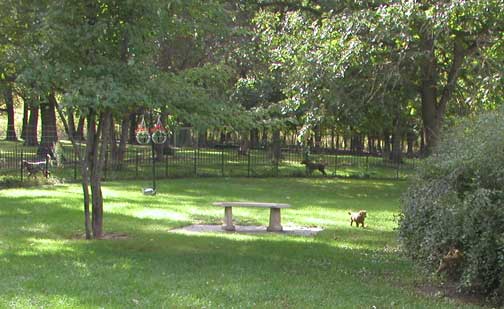 The grass always seems greener on the other side ;0) The recent rains have truly created a lush Summer green to play in the Youth Park :0)) Momma, come in here so we can nurse!!!!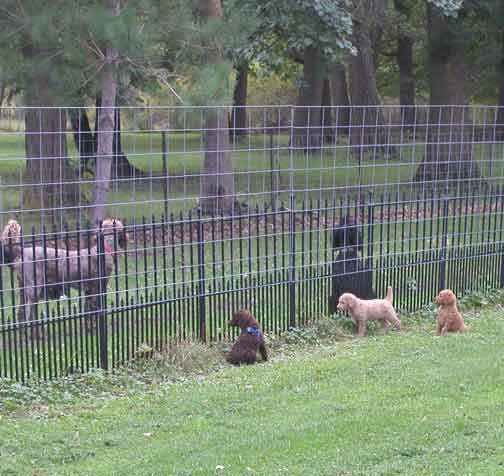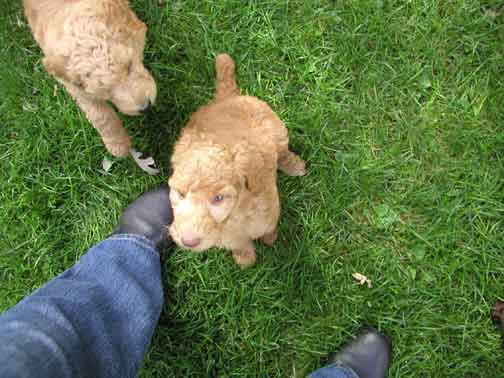 Zoey - Why are you looking at me like that? Oh, okay, I'll pick you up for a hug and kiss ;0)
*
Look! Look!! We want to Potty Outside the Puppy Park now, into the Youth Park that has so much room for us to play in and explore with our growing curiosity :0)) Tes has been watering the park to keep cleansed for us the natural way ;0)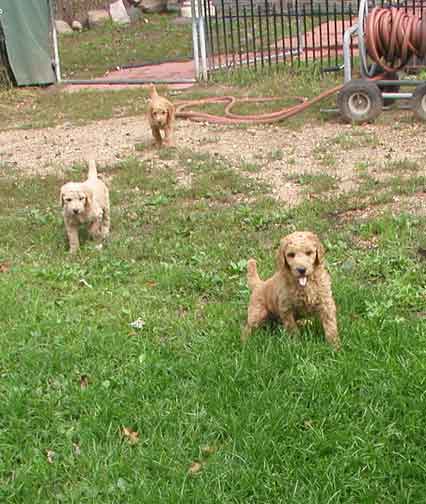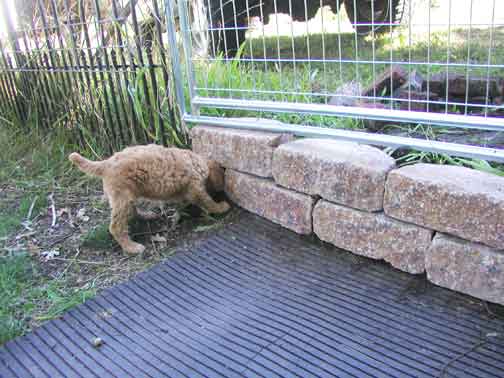 We're helping Tes put in a new gate with retaining wall blocks. Look! Here we can add a hole for her!!!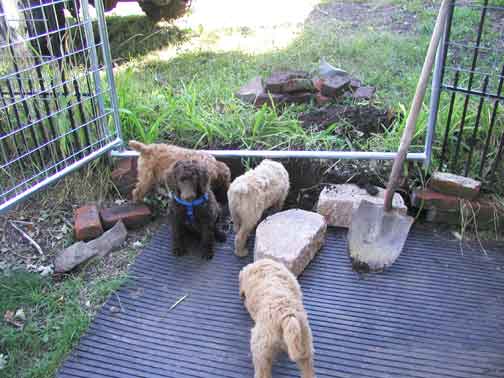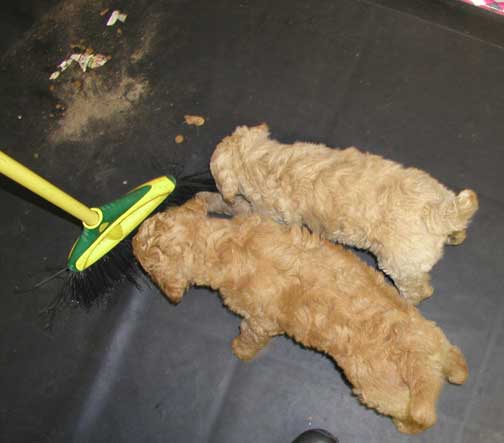 Get the broom - No, you get the broom! I'll get the broom, look out! That got me...get it back!!! Woo Hoo - instincts to chase are SOOOoo FUN :0)))) Tes is sweeping up on the pool liner in the family room while we grow.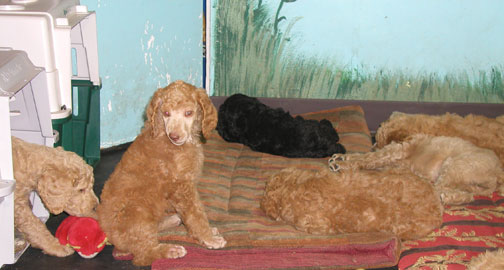 Look at our after picture of hair cuts coming! And, crates are added for smells for when we fly :0)) New pet beds are added, half is up, the other stays cleaner on the bottom when shipped. Remember to keep us in the plastic bag until we arrive :0))
*
Hi! Lots of toys for us to chew on and play with. Spinners for our toys to go home with us are getting lots of smells.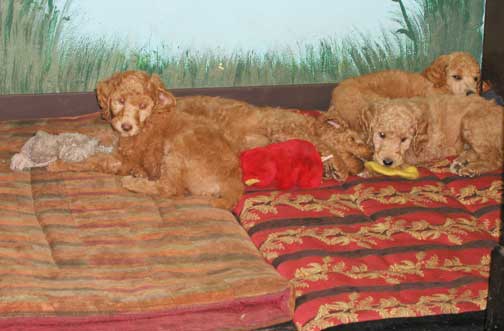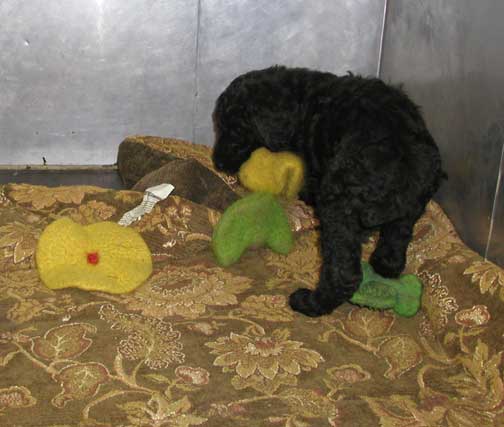 I'm Baloo - gee - which spinner should I play with?
We're going on 7 wks old now...
*
And here's how we nurse getting too big for her to lay down :0) Momma is already starting to wean us by not coming in so often :0(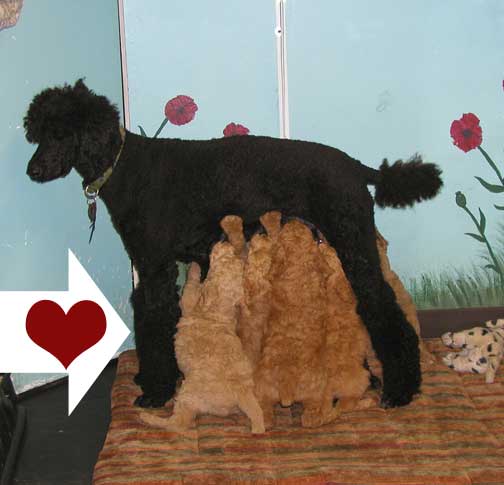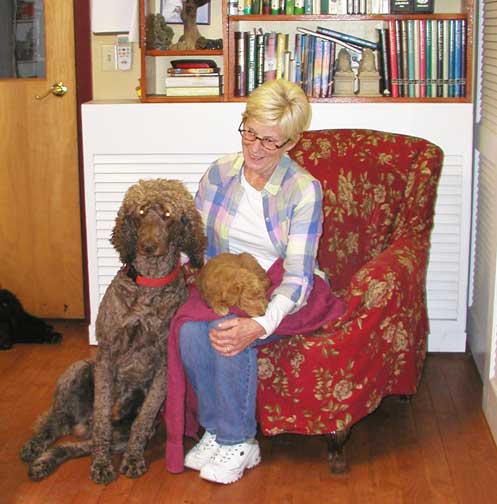 Zoey's owner has come to see her pup at 6wks old...and of course Bruno ALWAYS has to sit in on it :0))
*
...and we get to play afterwards - YEAY!!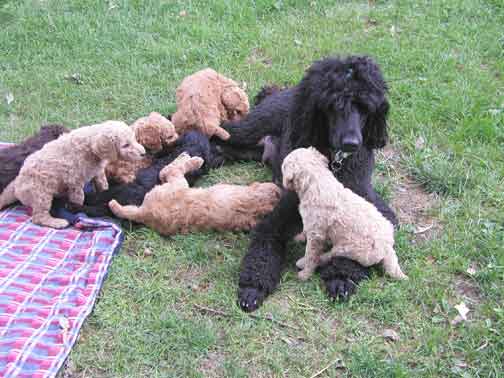 We're growing...able to get outside and enjoy the weather...and of course Momma!
*
The new pet bed - look at us blend in :0) Come on Monkey! Time to go Potty Outside!!!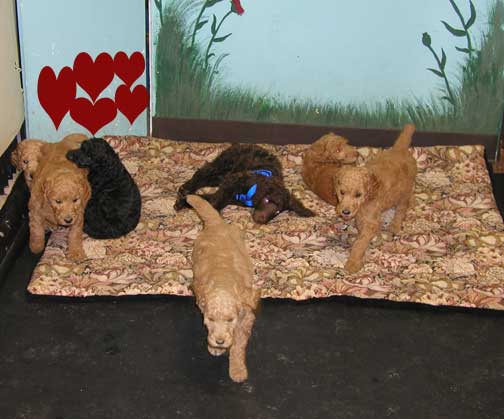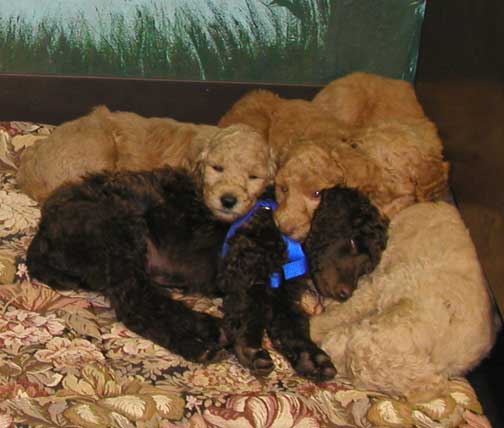 Monkey is 2.5 wks older then us from Falcon x Bruno's litter. He's staying with Tes under quarantine to go to Hong Kong for a Christmas present :0) He's great to love with us :0) We'll keep him company for awhile :0))
*
We're turning 6 wks old, Black Baloo and and Red Bailey, snuggling is a part of who we are...on a great new pet bed added for smells.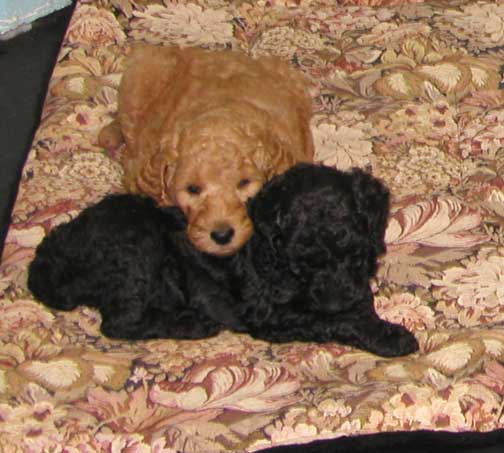 I'm helping Tes read the mail while she's outside watching over us :0)
THANK GOODNESS Momma heard me crying for her :0))) Aren't I spoiled ;0)
*
More fun - AOOOooooo!!!!!!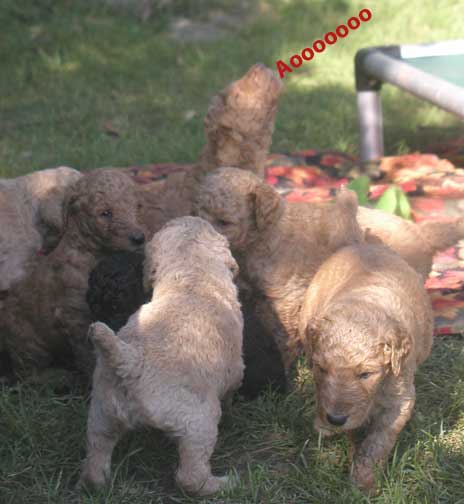 This is fun...what's on the other side?
*
We're acclimating to the outdoors now...and learning to "Potty Outside" - whew sure makes Tes happy ;0)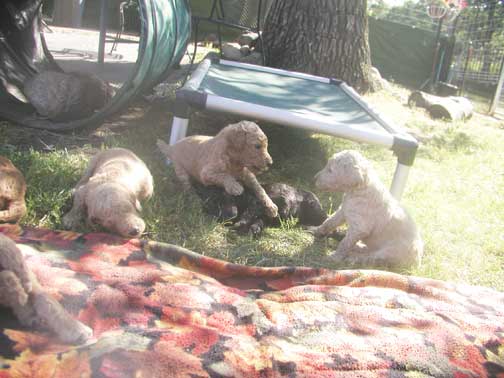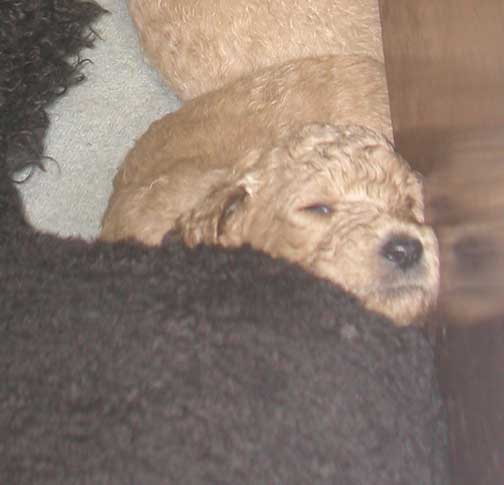 Annnddd, we wear out fast for some more zzzz's...
*
We bite each other a lot while playing ;0)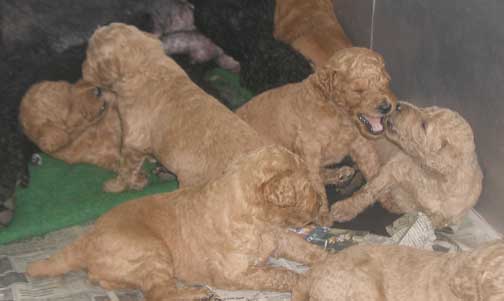 Then...it's time to play....
*
Oh - time to wake up - OH - it's Momma - time for milk - OH!!
6. You can't see this, yet I'm running in my sleep...zzz...get you...woof...zzz...
*
5. Snuggles...zzz...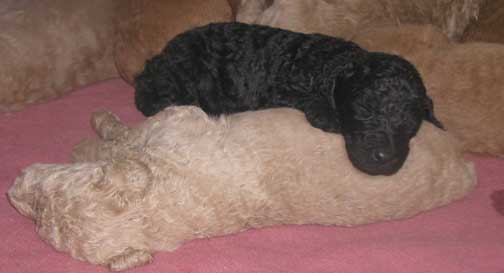 3. dog pile...zzz...
*
2. 4-legs up...zzz...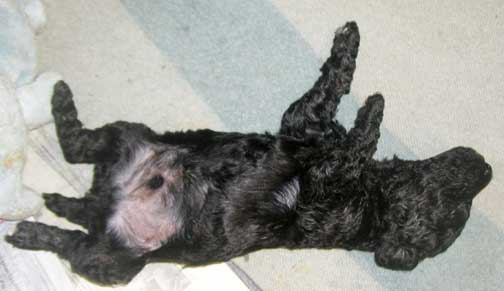 Let us count the ways of how to sleep...1. chain reaction...
*
We're growing so fast, Tes adds new space every week, to learn to potty on paper isn't too hard as we instinctively don't want to mess on our current wool beds.
Here's another great food Mmmm - mm GOOD! See our size difference already?
*
4 wks old Tes has started feeding us our first food, a slurry mix of baby rice cereal, buttermilk (keeps from diarrhea) and a canned dog mousse :0) Ooooh so messy!!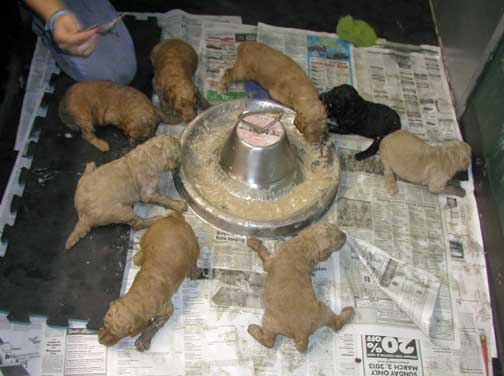 We're ending off below at 3 wks old and now going on 4ks old above.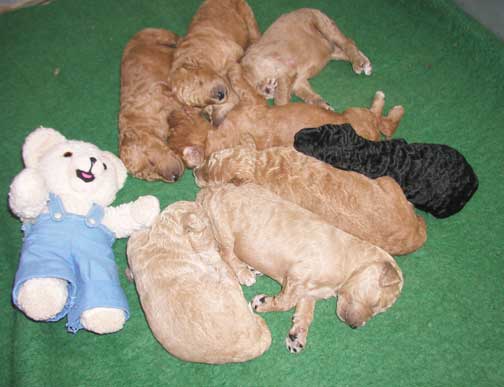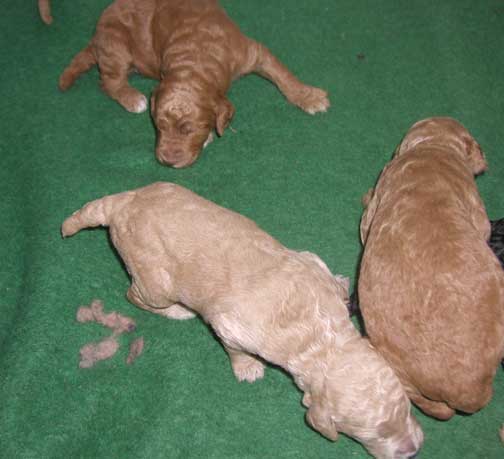 I'm a very big Royal Cream Male just starting to scoot around :0)
*
HEY! Look out! You just kicked me!!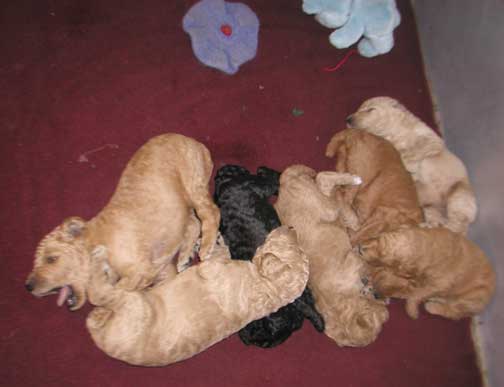 We can sleep almost anywhere, anyway, anyhow...zzzz....
*
Mom gets a 4 legs up shot too ;0) Hey I can't reach it!!!!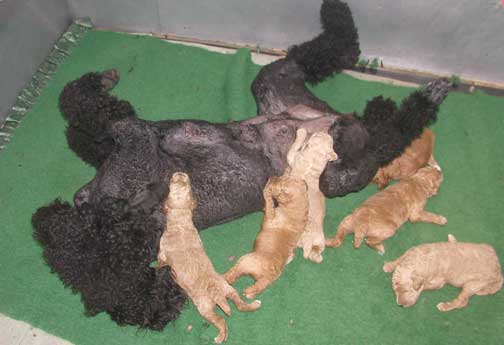 We're the two females at 2 wks old...our eyes are just starting to open to scoot around and see a tiny bit.
*
We're the red female and male next to the cream female...We're all sold :0) Thank You!!!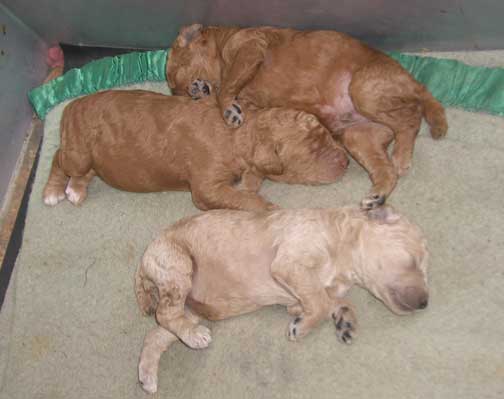 We're a definite 4 legs up kinda group ;0) Doing what we do best...zzz...
*
Hey, it's Mr Snuggles...We can hardly wait until you snuggle with us ;0)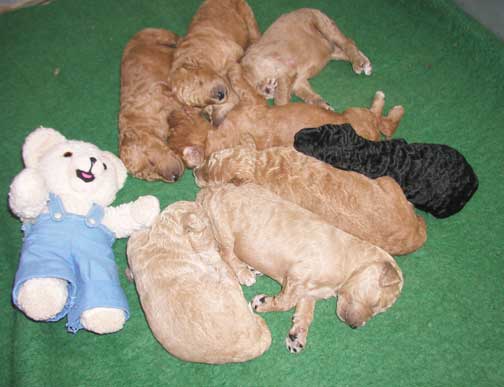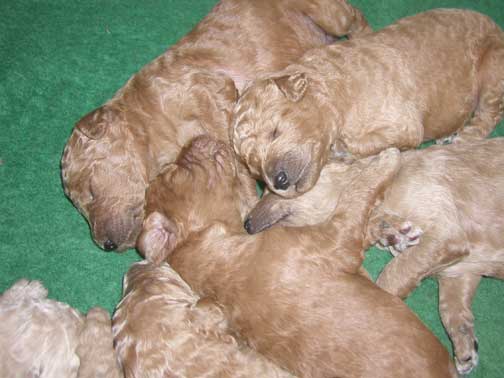 zzz...what more can we say...zzz...can hardly wait to be in your arms...
*
Momma - Wake Up!!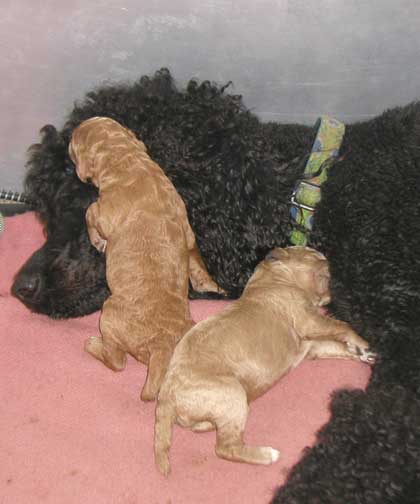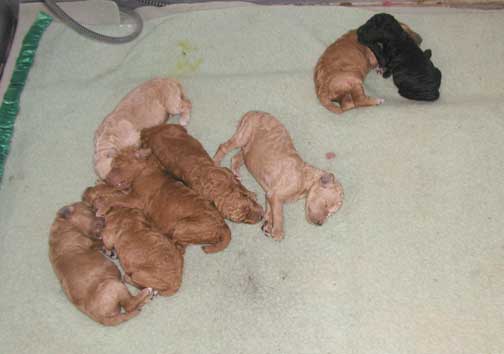 Here we are going on 2 wks old. Growing fast!
*
Hey - why do you always have to climb on top of me?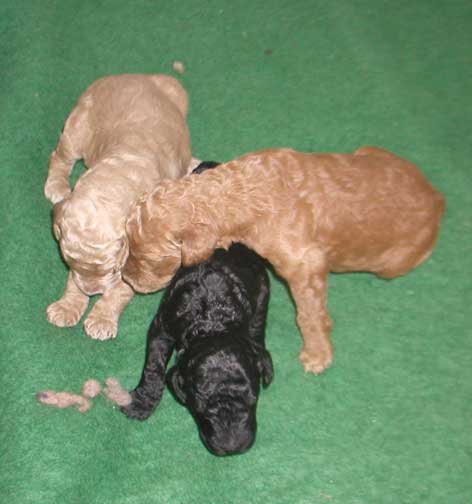 I'm the black boy in the middle - do I stand out or what!?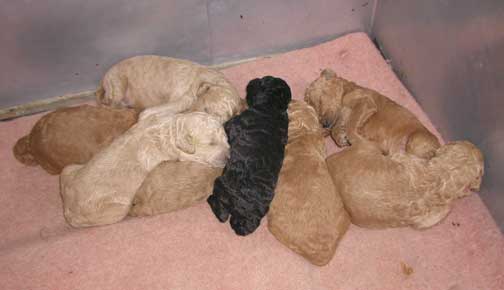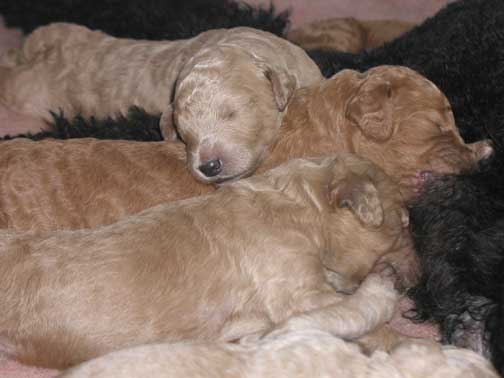 Our eyes are just starting to squeak open...in the mean time we'll continue to sleep and climb on top of each other for warmth.
*
We're hangin' in there Mom...how about you?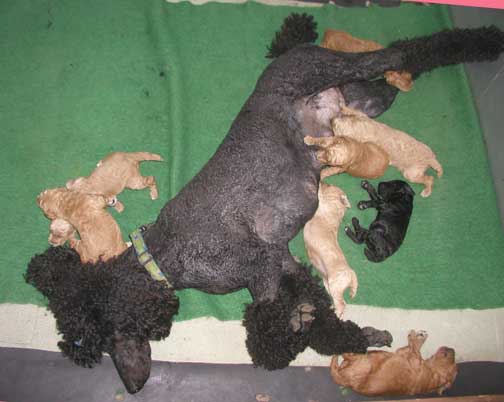 There she goes, making it all difficult for us...zzz...oh well ;0)
*
We're just getting the hang of our legs, and with that we really like to bark with excitement and make lots of noise letting Tes know we're here :0)) We instinctively want to go off the wool blanket to potty now, so Tes has added newspaper and more room for us.
*
zzzz....what we do best at such a young age...zzz...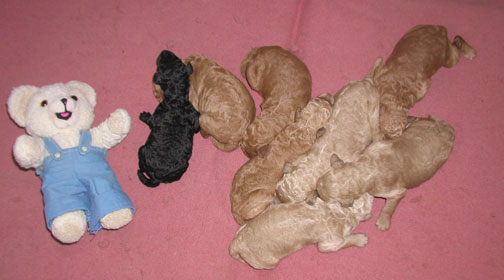 Another 4 legs up picture...I'm a boy if you didn't know...see my twinkle toes :0)
*
1 Black male - UNBELIEVABLE!!! The rest are nice size Red, Apricots, and Creams.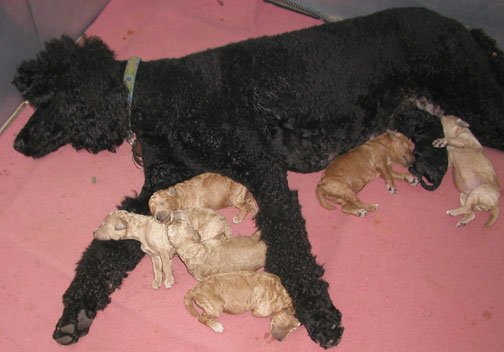 Momma - her first litter, she's being a great Mom :0))
*
Cuddle - we're great at cuddling to stay warm. We don't develop our own body heat for at least a wk yet...slowly develops...so Tes has the room at 78 degrees with heating pads underneath the wool blankets that wick away moisture and keep us dry.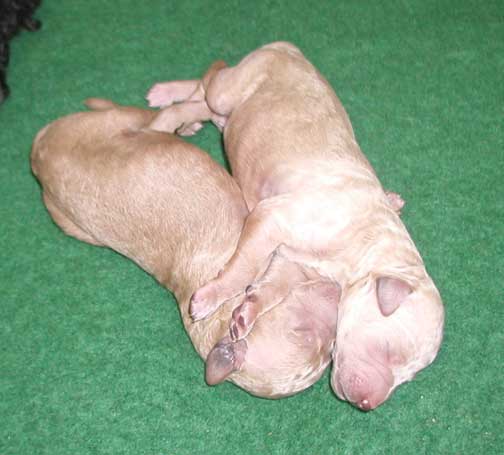 zzzz...it's a 4 legs up picture...and I'm a girl :0))
*
...one of the things we do best at this age...suckle and nurse :0))))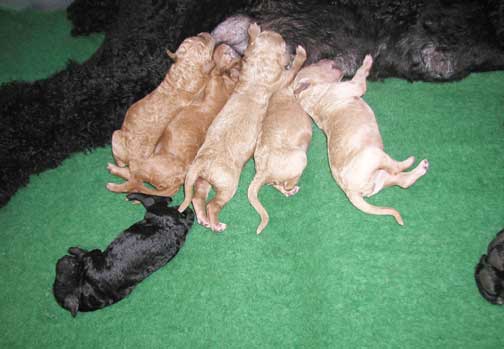 zzzz...nummy....milk is so goooood....zzzz....nummy...
*
...mmmm...stretchhhh...time for more milk?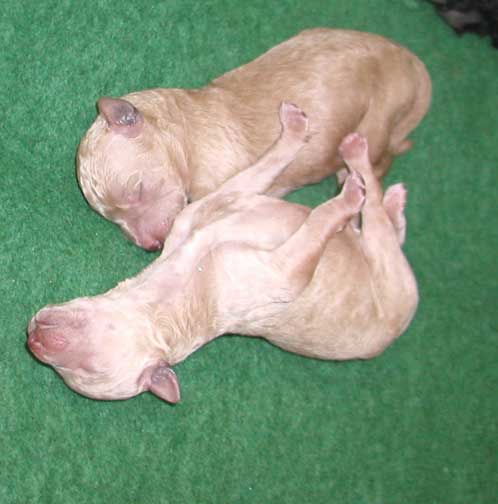 And then we love to snuggle into Momma's hair and smells, a leg picture is very popular...zzz...her muzzle is just as snuggly...zzz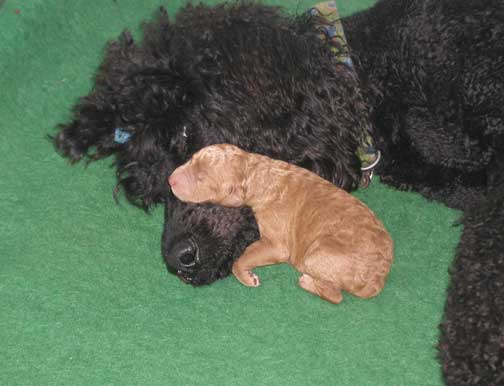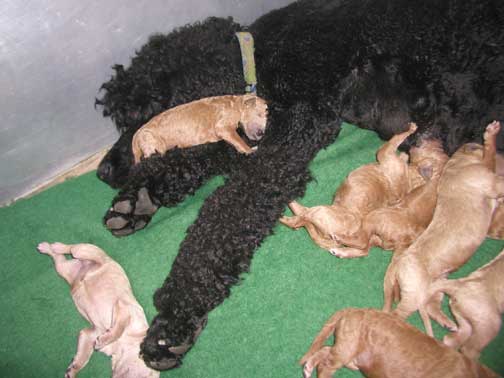 Nurse and sleep, nurse and sleep...those are the best things we do at this age.
*
5 Red, Apricot, and Cream Males! We have some white toes ;0) Twinkle Toes Tes is starting to call us.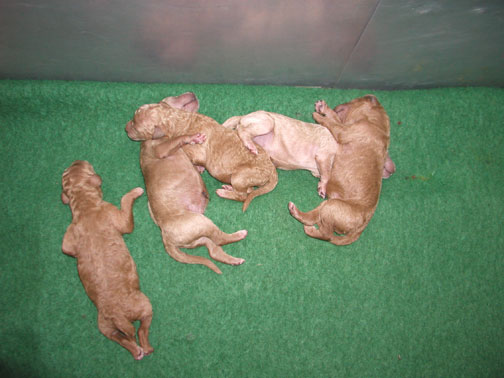 zzzz....we're all resting...Thanks for giving us life :0)))
*
WOW - only 1 black male!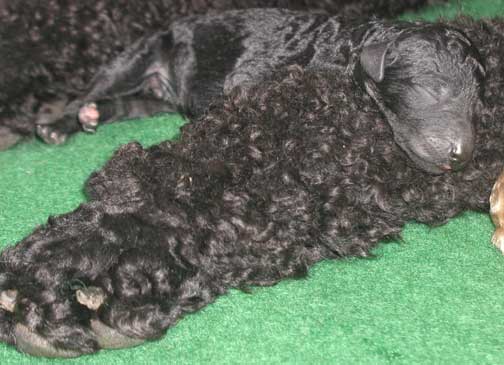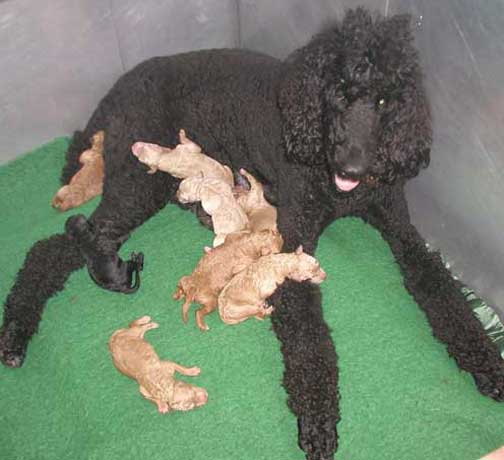 Zeddy 2013 Royal Standard Poodles For Sale 
3 Red and Apricot Males still For Sale!
2 Red/Apricot Females, 1 Black Male, and 5 Red, Apricot, and Cream Males 
Being Zeddy's first litter with Dan~el, these pups should be tall spoos of large Royal size...your future sharing will show the research in their growth.
Born August 15, 2013, Fly date October 3, 2013 - may come and pick up your pup any time that week/end