Zeddy - Royal Standard Poodle Puppies

SOLD OUT
This is an example of past puppies and how I set up their web page to show customers of their pups growing. Always start at the bottom of a page and watch them grow up :o)
We're the 5 Males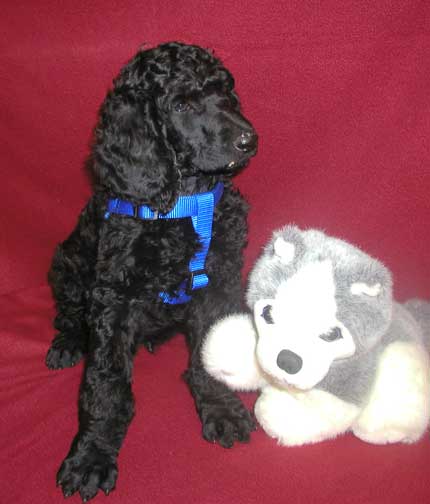 SOLD "Royal Spartacus" ...the biggest boy of them all - Look at those paws ;0) mc-6503 > 7 wks old 12# owner - CW > Richmond, TX
NOTE: these are the largest weights at 7 wks I have ever had over all my breeding years...this is usually what they are at 8 wks old :0)
Zeddy x Bruno puppies arrived 3/9/14! SOLD OUT!! - here you'll watch them grow in the coming weeks. 
This places them to fly on Monday 5/5/14; in state customers can come the weekend of 5/3 & 5/4.
Watch their story and stats here as they grow in our home awaiting your loving arms. Youngest puppy pictures start at the bottom with new puppy ages added to the taught. Do start at the bottom and watch them grow upward...Enjoy :0))
Tracking Zeddy's puppy stats:
7 wks, we received a second bath and haircut with cedar spray
5 wks, we received our first bath and eating dry dog food now
4 wks dewormed, nails clipped
3 wks we've gained some footing...stumbling, lifting ourselves up to get to the newspaper to try to potty there
2 wks old first deworming, everyone's gaining weight FAST! Our eyes are opening
5 days toenails clipped, starting to try to crawl
2 days Due claws and Tails done
Born Sunday 3/9/14
Customer List
1. Paid M "Royal Spartacus" Black/Blue - CW > Richmond, TX
2. Paid M "Trey" - Royal Brown - AP > Wanamingo, MN 
3. Paid F "Molly"- Royal Brown - NB > St. Paul, MN
4. Paid M "Warren" - Standard Black/Blue - CB > Ellendale, MN
5. Paid F "Süds" - Royal Black/Blue - IH > Suamico, WI 
6. Paid F "Tessa" - Royal Brown - TK > Beavercreek, OH 
7. Down Payment M "Francis" - Royal/Standard Brown - SJ > Roseville, MN 
8. Paid M "Surly" - Royal Brown - CG > Eagen, MN 
9. Paid F "Izzy" - Royal Brown - AM > Wadena, MN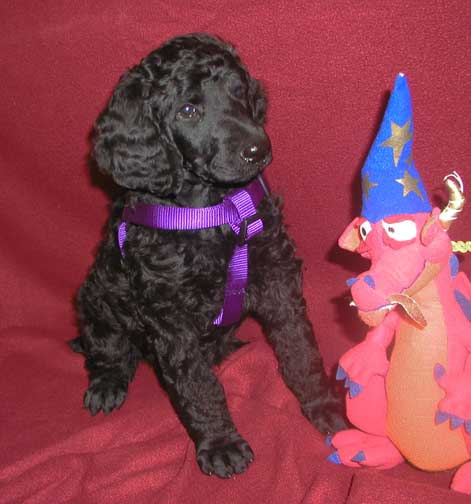 SOLD "Warren" mc-7577 > 7 wks old 8# owner - CB > Ellendale, MN
*
SOLD "Francis" mc-5826 > 7 wks old 9# owner - SJ > Roseville, MN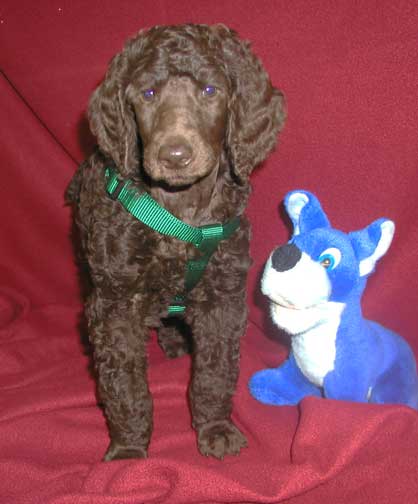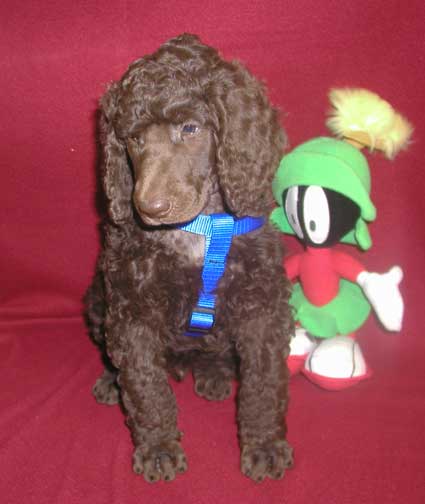 SOLD "Trey" mc-9592 > 7 wks old 11# owner - AP > Wanamingo, MN
*
SOLD "Surly" mc-9600 > 7 wks old 9.4# - CG > Eagan, MN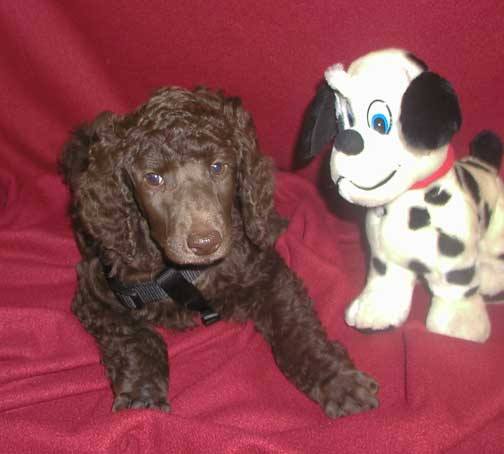 We're the 4 Females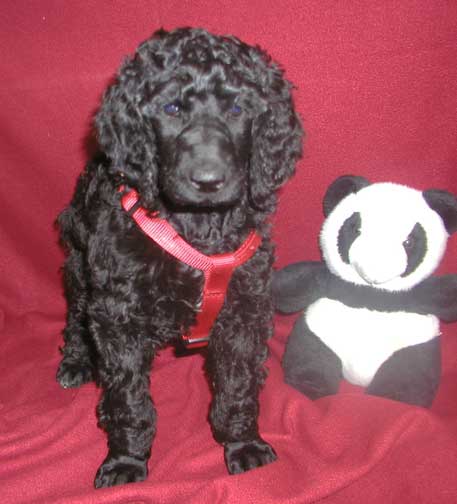 SOLD "Suds" mc-4871 > 7 wks old 12# owner - IH > Suamico, WI
*
SOLD "Tessa" mc-8957 > 7 wks old 9# owner - TK > Beavercreek, OH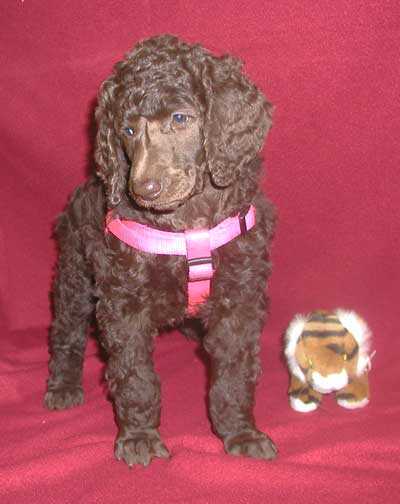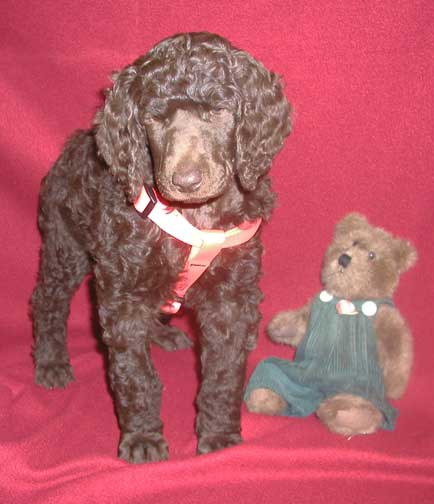 SOLD "Izzy" > mc-5829 > 7 wks old 10# owner - AM > Wadena, MN
*
SOLD "Molly" mc-9084> 7 wks old 12# owner - NB > St. Paul, MN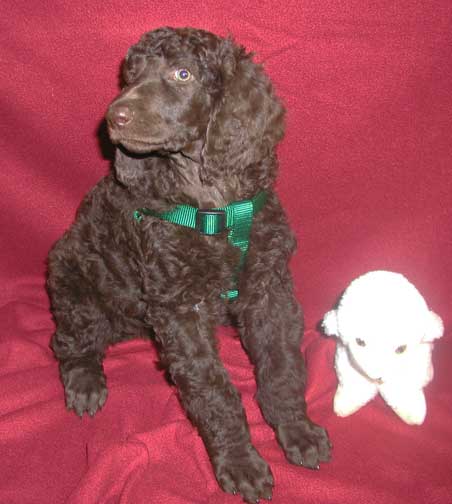 Decisions, decisions!!!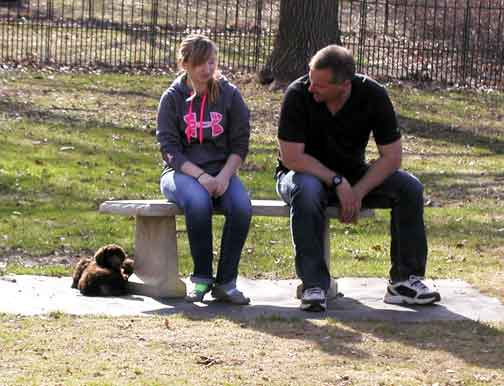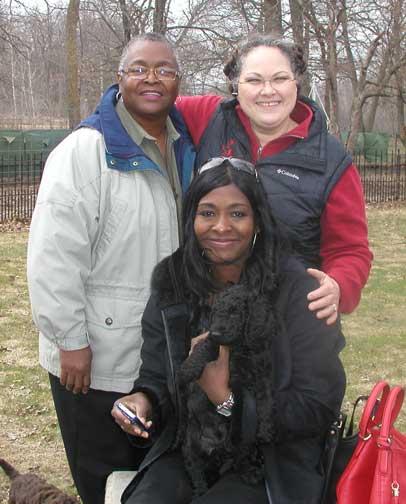 Customers have come to pick us out, Mom and Daughter from Texas, Wisconsin, and lots from MN!
*
HI! Oh so soon ;0)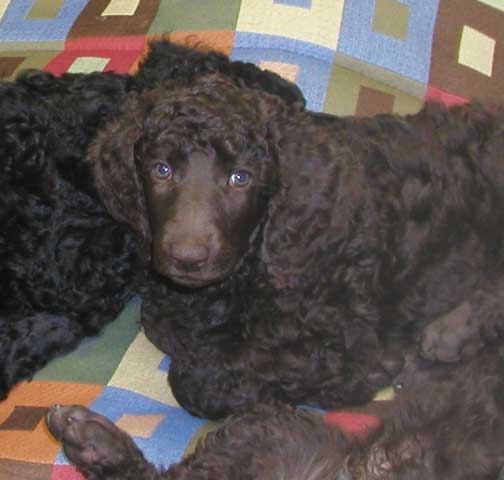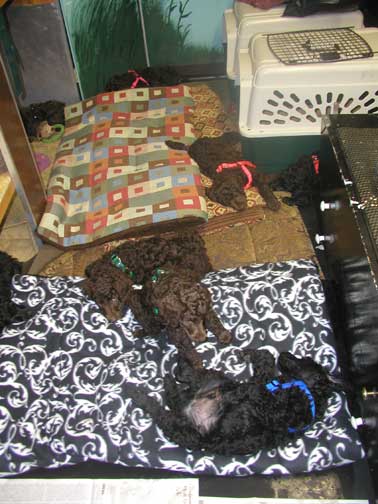 7 wks now, pet beds are piling on for lots of smells...Thank You for your purchasing us a cuddly Royal Pet Bed to come home to. Customers are also bringing their own crate, sending toys, and pads for lots of smells for us.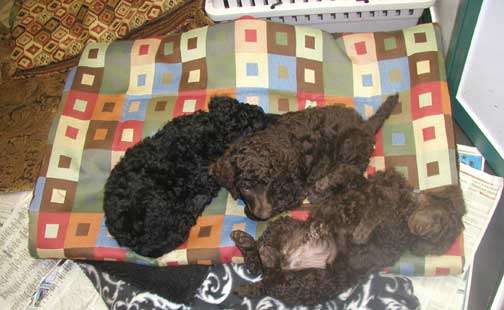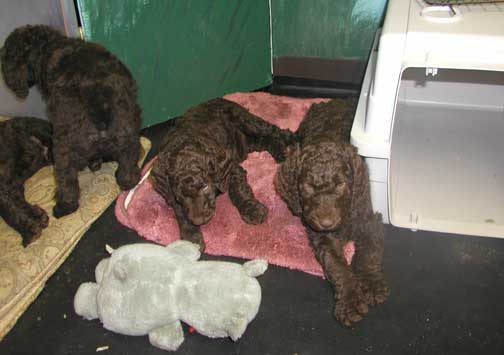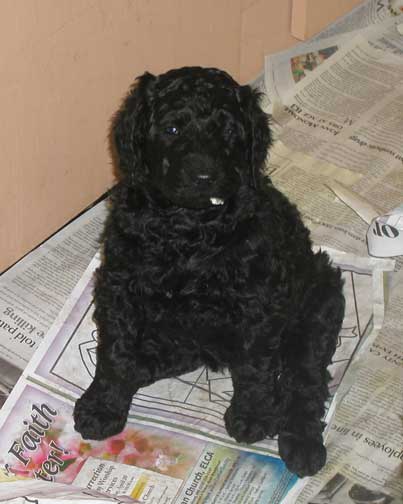 We are paper shredders!!!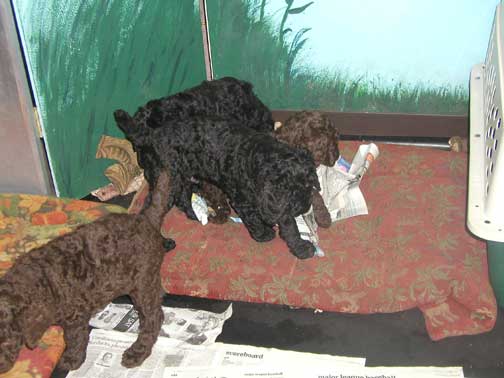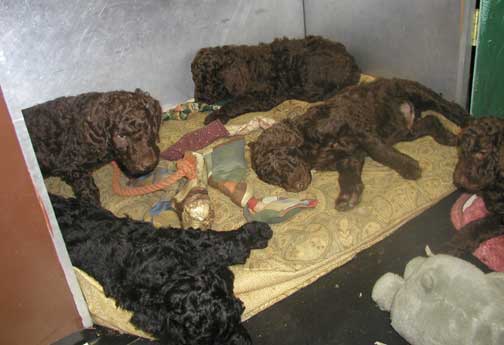 Lot's of home made squeaky toys are added to get smells to go home with. Tes makes them from left over pet bed scraps.
*
We're drinking lots of water as we wean off of momma...with dry dog food...remember - Merrick grain free dog food is being used, yet it is only under research...my recommendation is for your research as well > at http://www.dogfoodadvisor.com/dog-food-reviews/dry/5-star/ using grain free...it's good enough to fall asleep in ;0)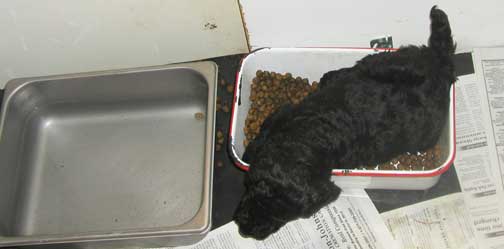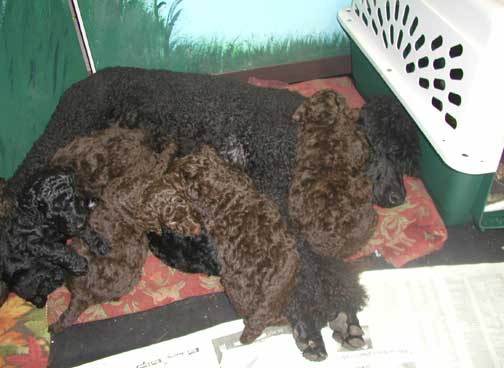 Dog crates are added to get lots of smells now of momma and us.
*
We have pet beds being added, pile on!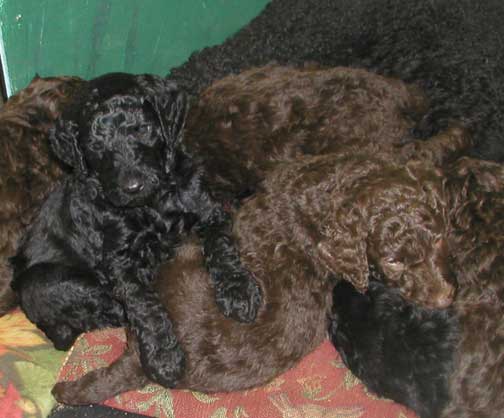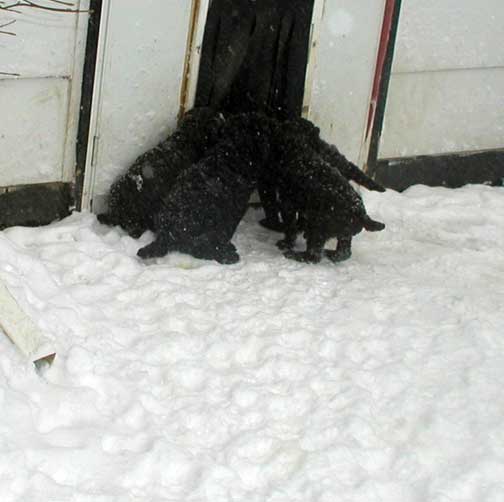 ...but after awhile it's time to pile inside to the warmth :0))
*
...and we still want to potty outside in all of this cold snow...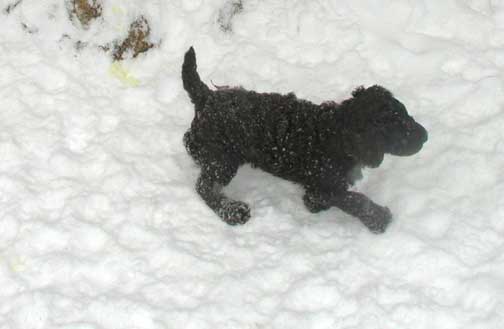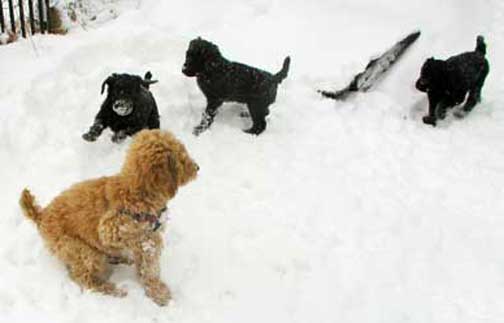 We're now going on 6 wks old. We had a 7" snow storm in April - weeeee...Niki has arrived from FL to be Daniel's up and coming girl...she's a couple wks older then us and great to play with :0)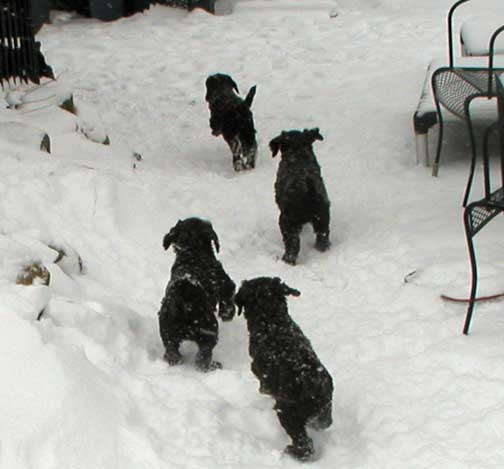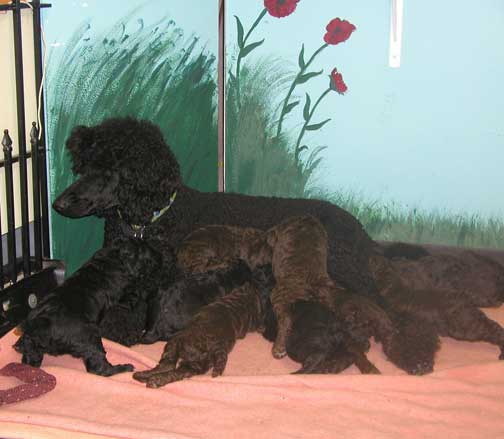 MOMMA - DOG PILE!!!!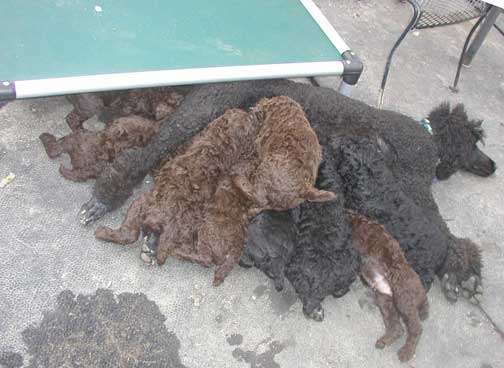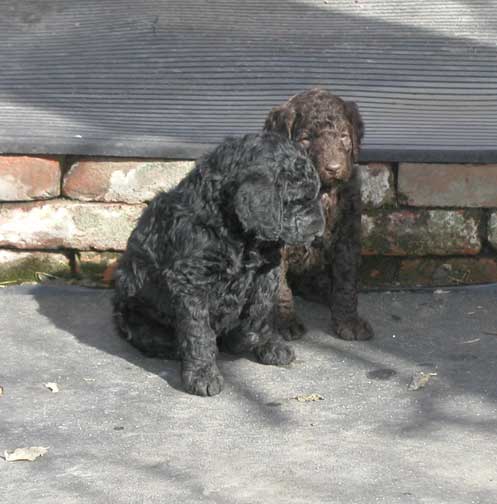 Hey, this weather is so nice right now...grass is turning green...bugs are crawling around...rain is coming...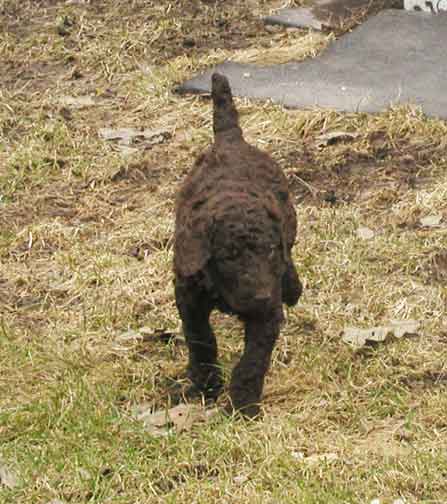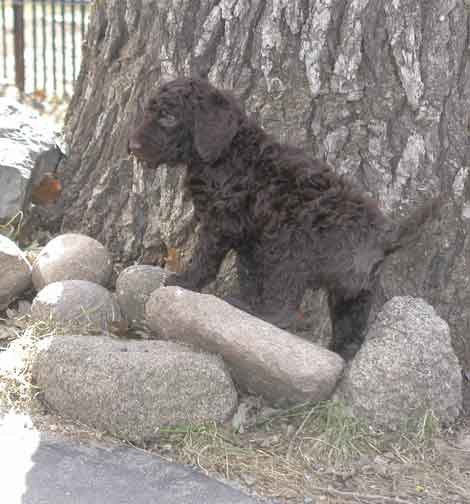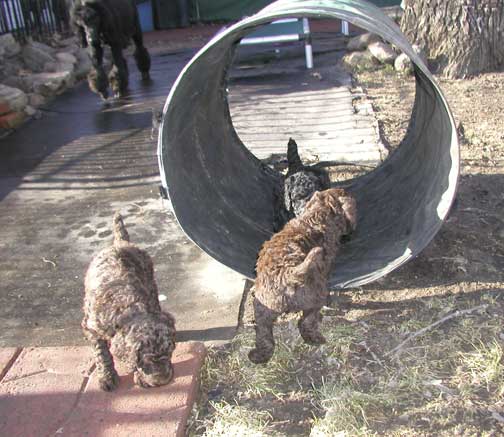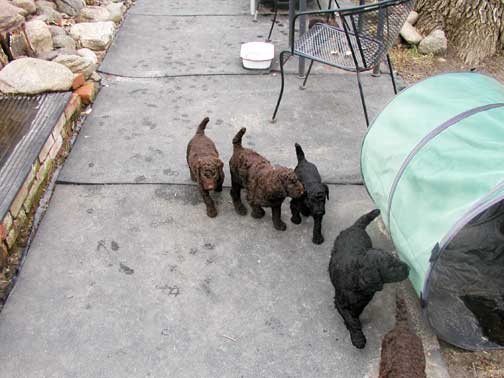 Time to play!
*
Got water?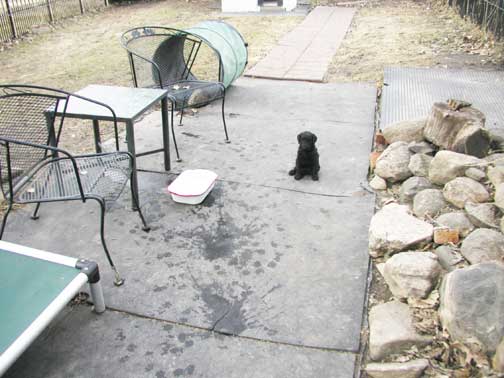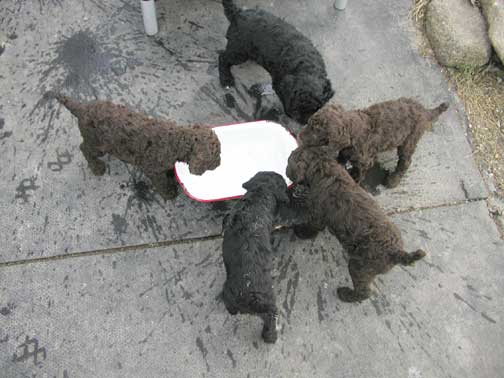 And Tes has put water outside for us too.
*
Done!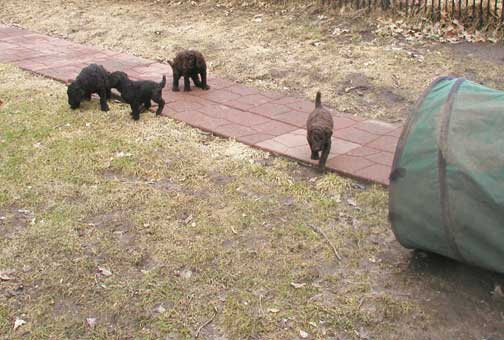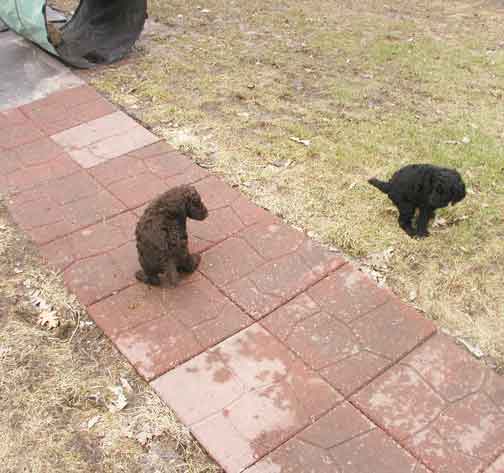 ahhh, potty outside...
*
Okay, now that we're out here...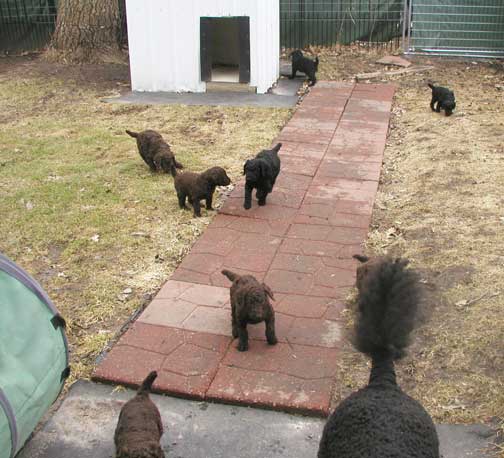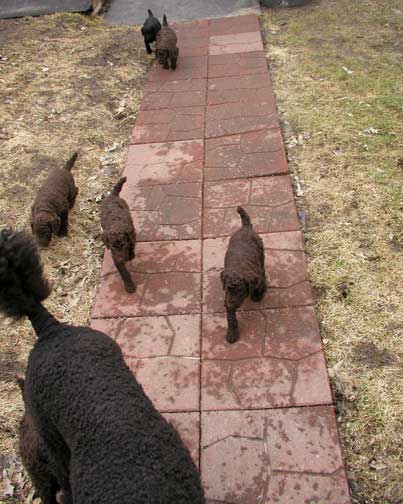 Tes is teaching us how to go potty outside by using mommy as Pied Piper...Tes says Potty outside, come on Zeddy! And we sure want her so away we come!!
*
It's me, melt, melt, kiss, hug :0))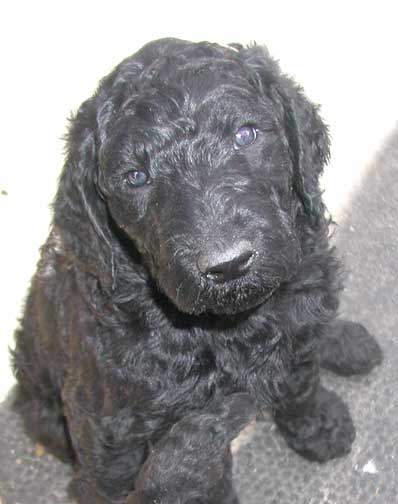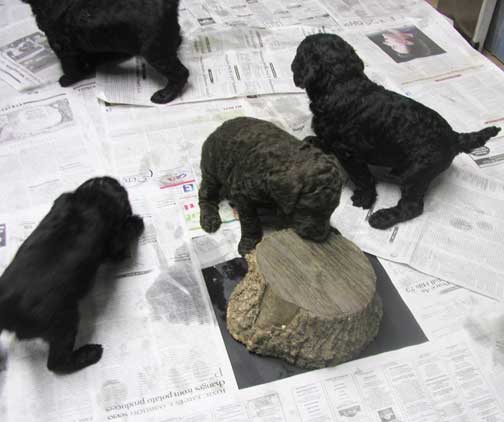 Tes has put a log in here for us to practice climbing on...chewing  practice too!
*
It's a dog pile :0)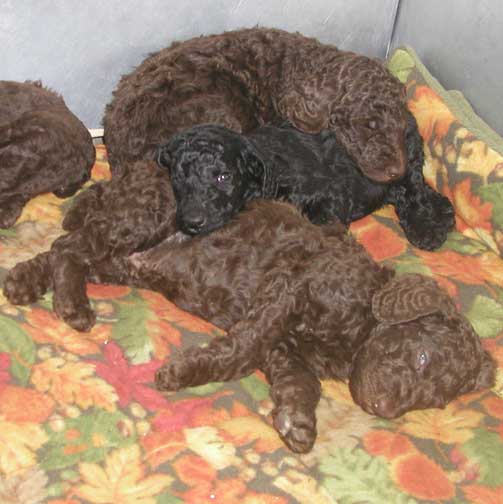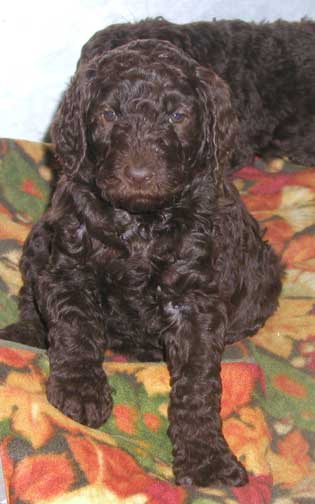 Hi, we're enjoying our pet beds our owners are purchasing to get smells on, washable, warm and soon to come your way :0)
*
IT'S CHEW TIME as these teeth come in, mmmm.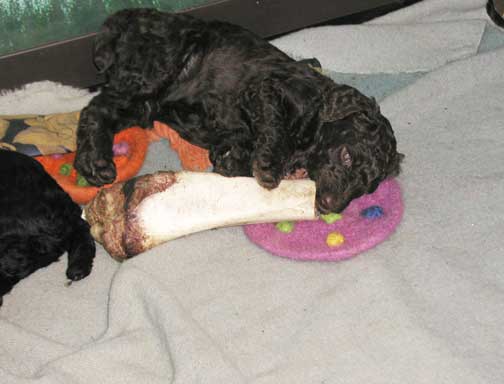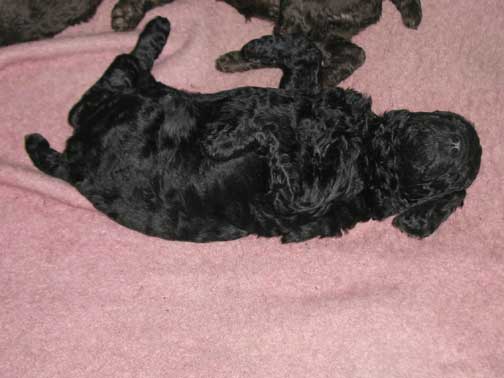 It's a 4 legs up shot :0))))
*
Yawwwnnnn...it's hard for Tes to catch these ;0)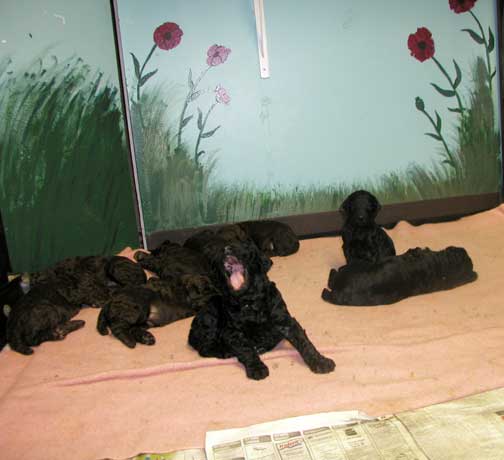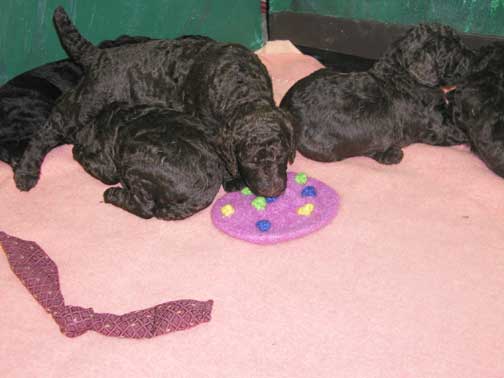 I get to take the long squeaky toy home with me and my new owner, it will have lots of smells from Tes's.
*
We've got toys!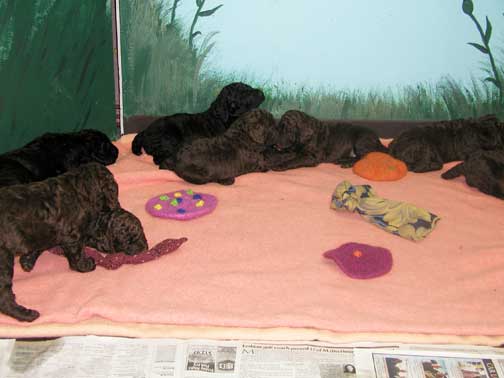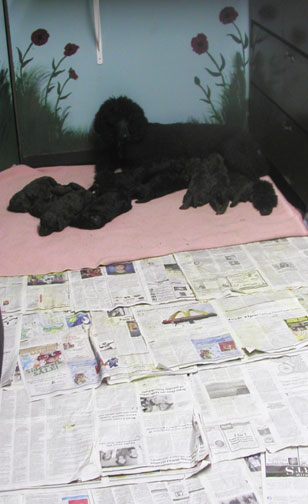 Tes has added lots of space, the more we grow, the more we want to potty on the newspapers, easy to clean up.
*
Mom left us so fast...I think she's getting tired of us nursing so much :0(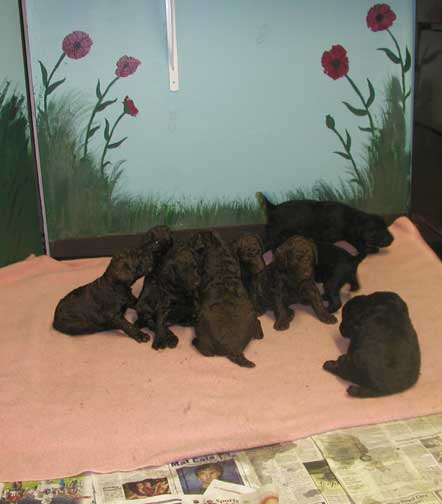 Ah the view is good from down here!
*
Look, after we eat it's time to lay back and watch Tes clean up ;0)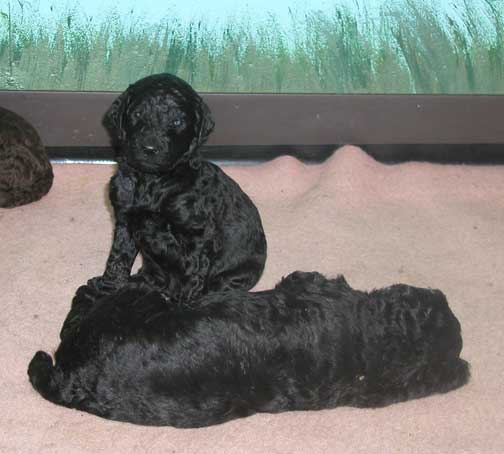 Now it's time to change over to dry Merrick grain free dog food...Tes changes the flavors all the time for us to enjoy.
*
And this is our circle of life picture :0)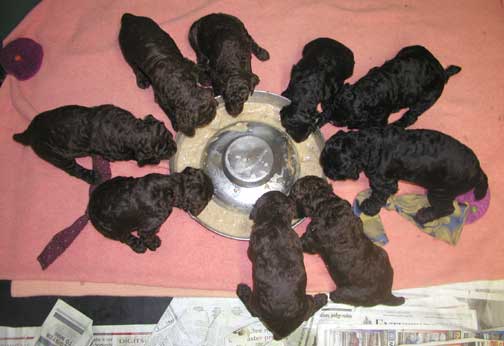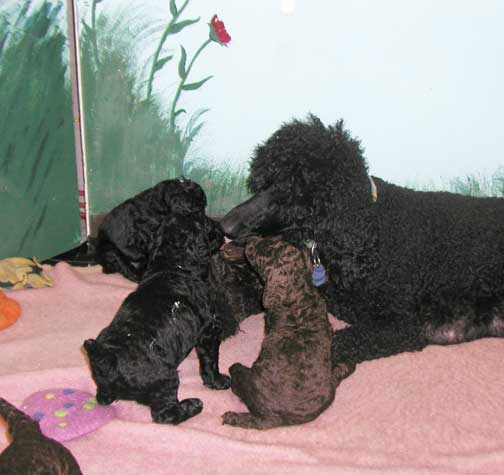 Mom thinks it tastes good too...lick, lick...
*
Hi...mmm...slurry...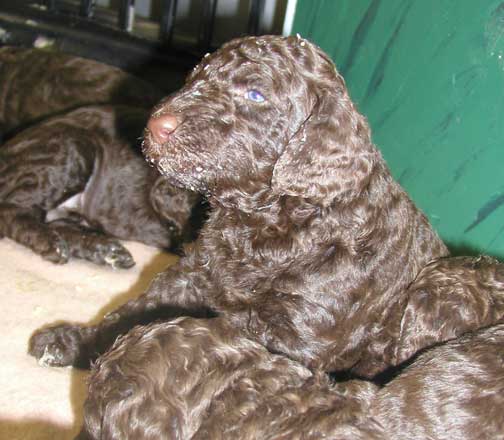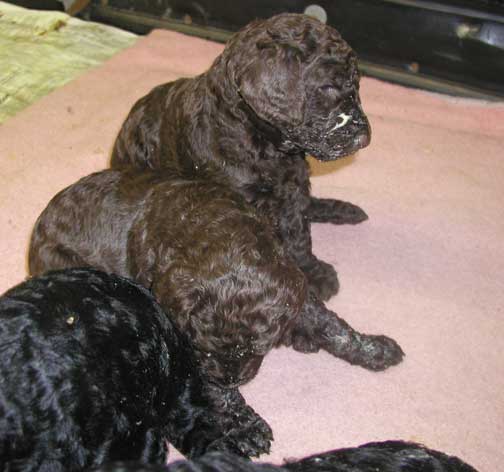 Look at us...the food is everywhere...lick, lick...
*
mmmm...more...day by day it gets thicker, more canned dog food is added...mmmm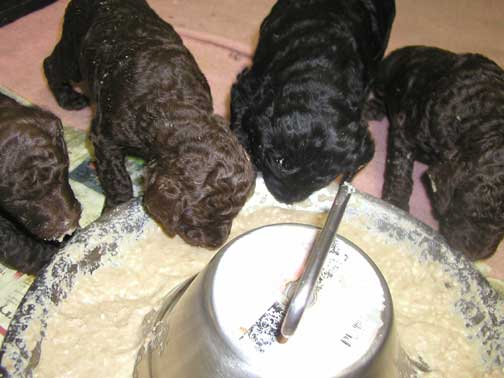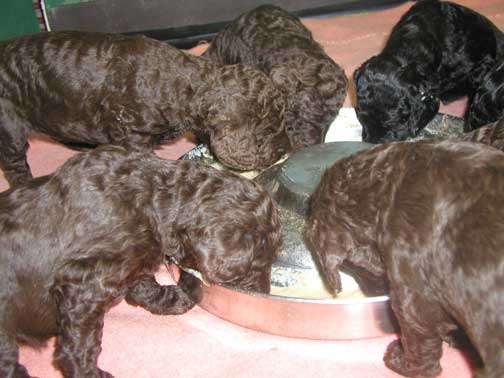 Here we go - so this really does fill our tummies up...mmmmm...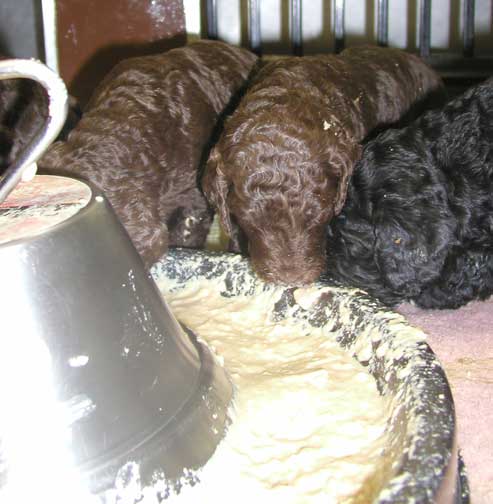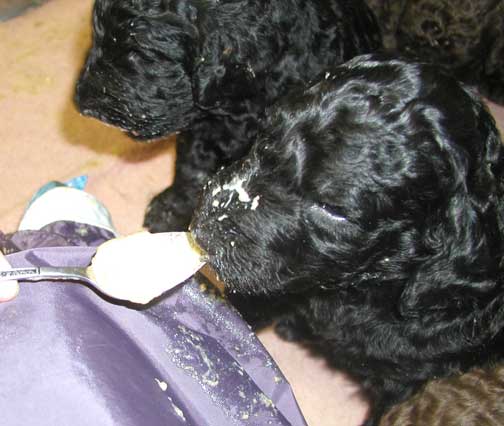 Okay, we have to try this slurry stuff of rice cereal, pet food, and buttermilk? We're going to grow more from it...okay :0))
*
...meal time...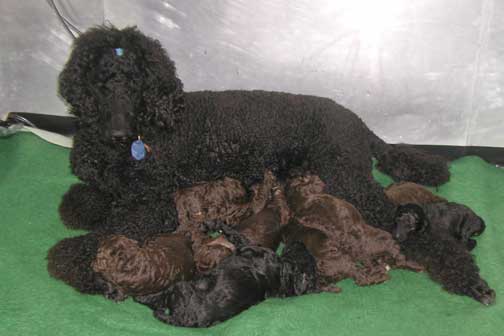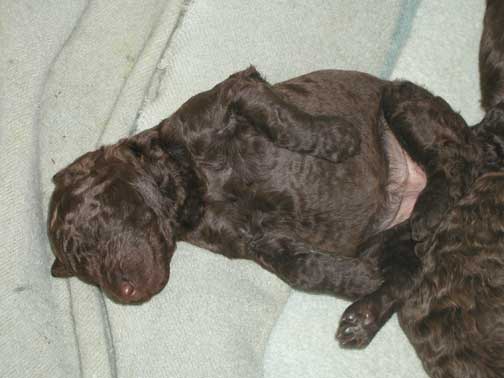 Ah, here we go, 4 legs up...remember to start at the bottom and work up as we grow older and pictures added to the top...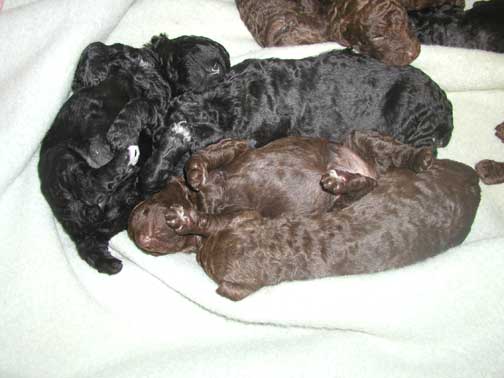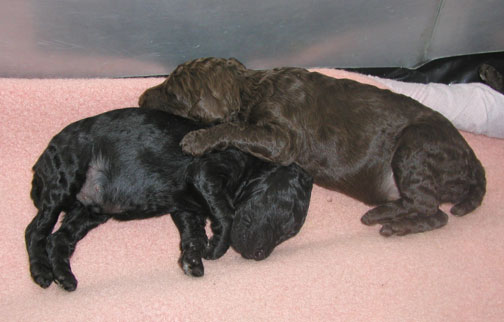 And wouldn't you know it, a great brother to snuggle with can make life oh so goooood!!!
*
With our eyes open, our feet beneath us, our mouths have have opened up too...we're definitely starting to make lots of noise :0))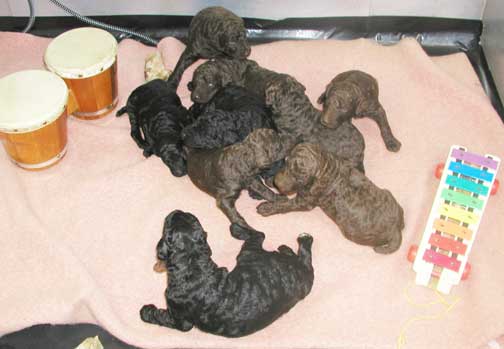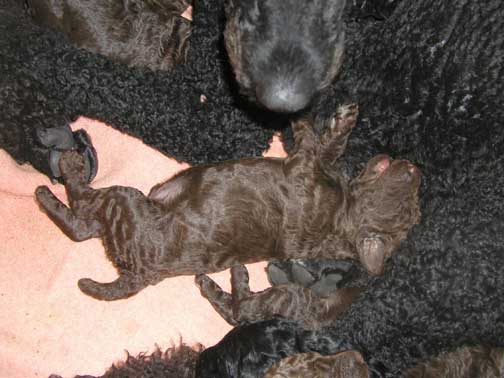 Lots of licking keeps us clean and loved.
*
Oh Yeah - Legs...that's what we're going to get.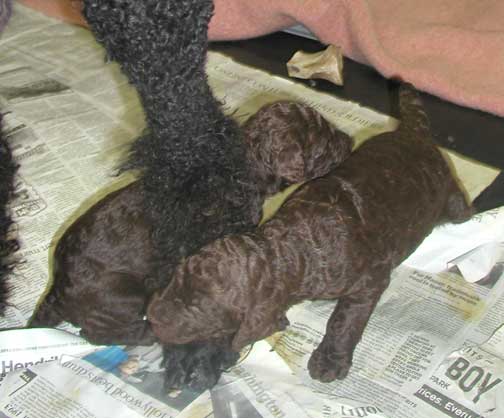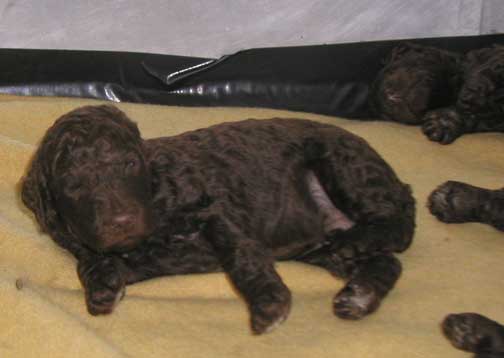 All that food, it's nap time, I'm going to zonk out here any second...zzzz...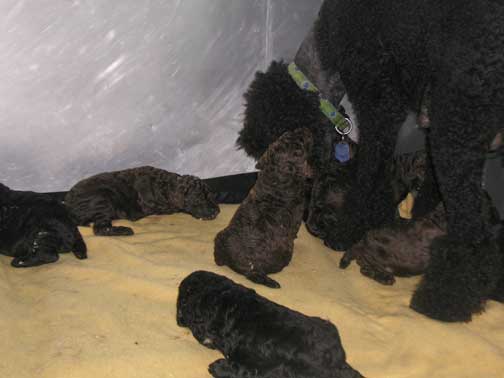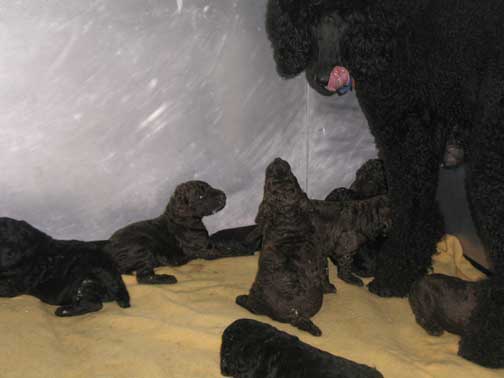 Mommy gets to lick us clean...then she gets to lick the bowl ;0)
*
We're learning to eat our first slurry, that is rice cereal mixed with some buttermilk to keep from too loose stools and a delicious canine mousse for our gentle tummies.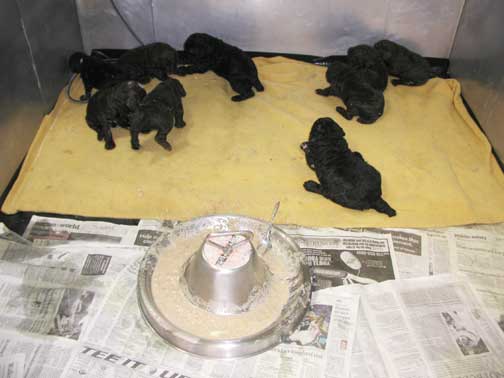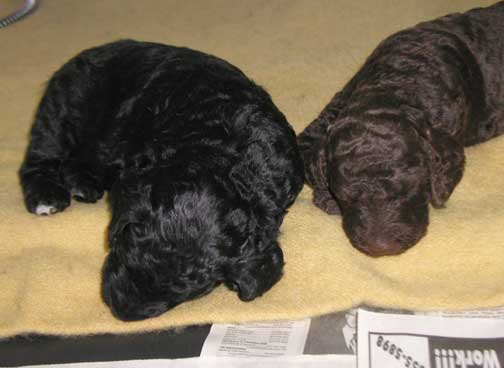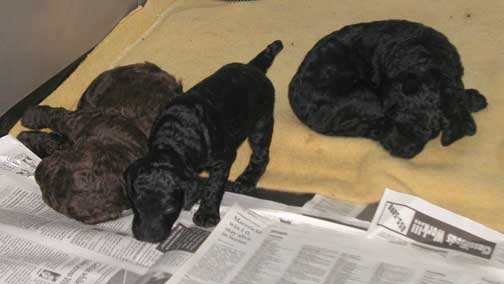 I'm the littlest boy, and my legs have gotten me more places then any of them big brothers and sisters that are pretty slow yet...
*
OH YEAH! Get that tail!!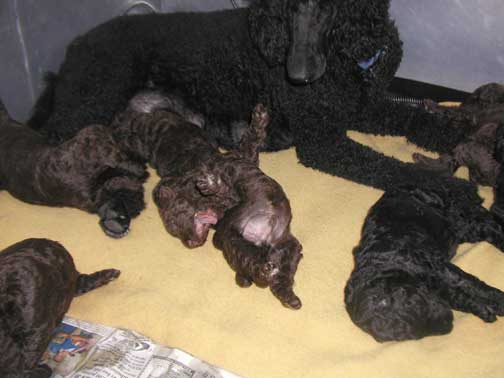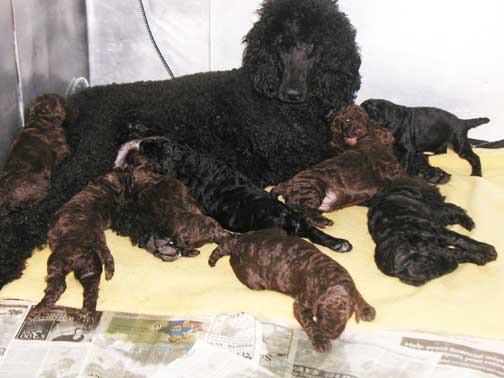 Definitely interesting world here with our eyes open now. Momma got a haircut...ahhh.
*
Wow, Tes is amazed how some of these pictures come out...truly nice, she REALLY took a lot of pics this time...remember next time a lot will drop off as more are added...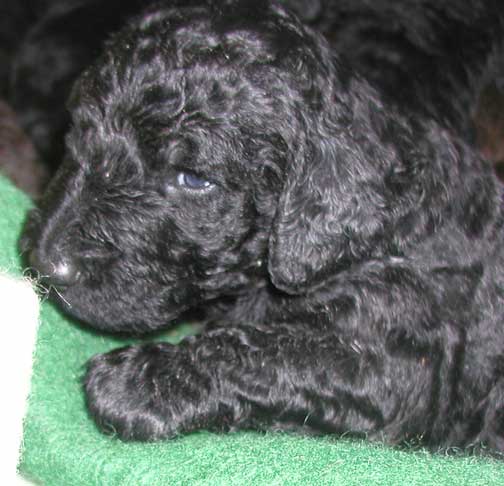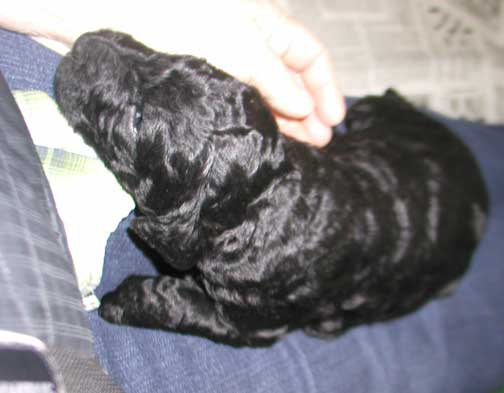 Tes is starting to make sure we get lots of holding, snuggling, and touching...Jessica comes in and makes sure she gives us lots of attention too :0)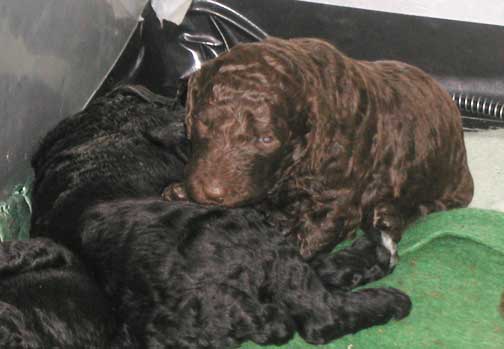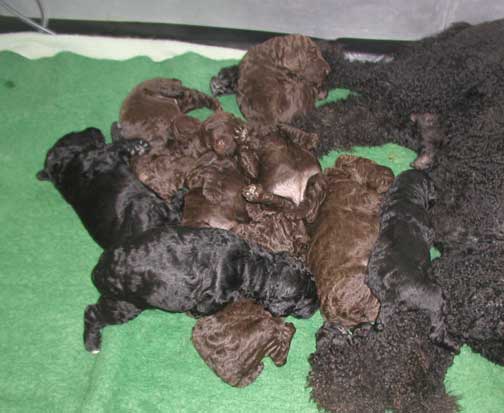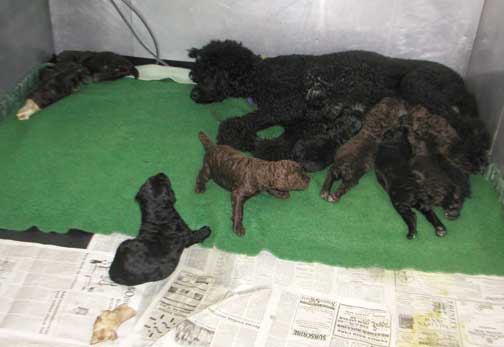 What do you think...are we growing?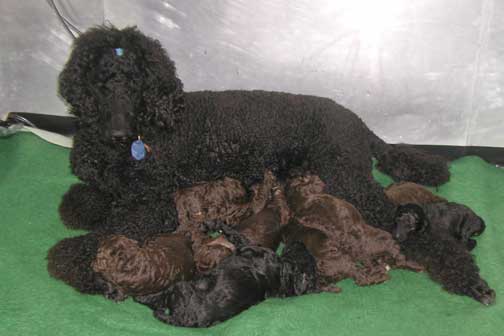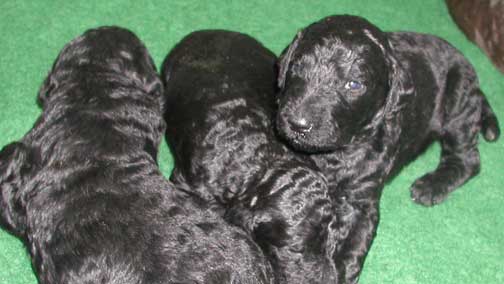 Tes! It's time to change the blanket...we're growing so fast, starting to play with each other...ride each other...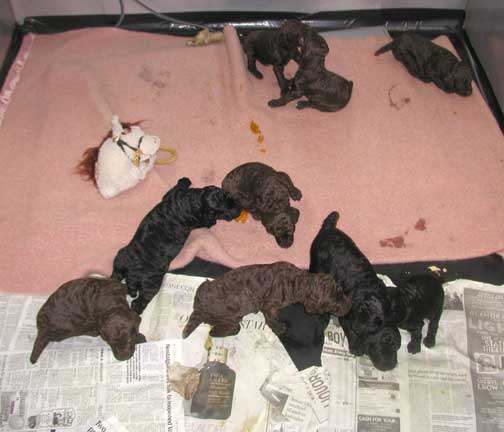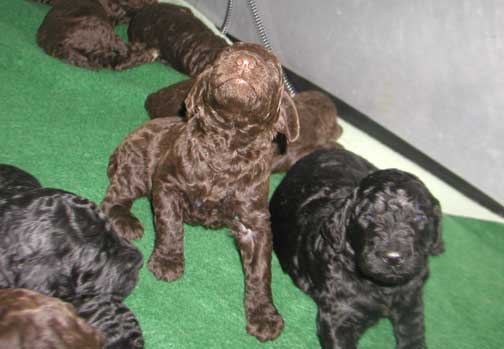 Stretching those legs more and more...smelling Tes...hmmm...mmmm...mmm....gooood!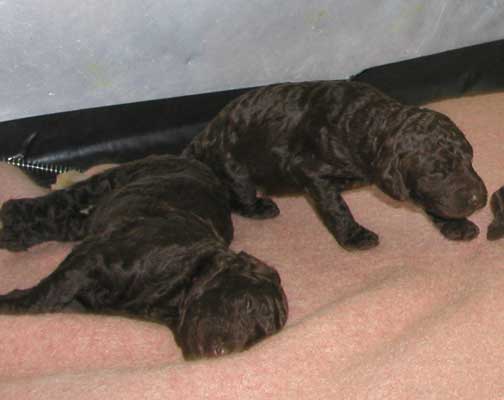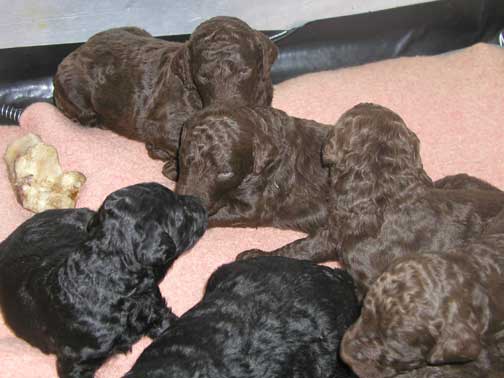 Kiss, kiss, kiss, I know you've got those kisses waiting for us ;0)
*
I WANT THAT ONE!!!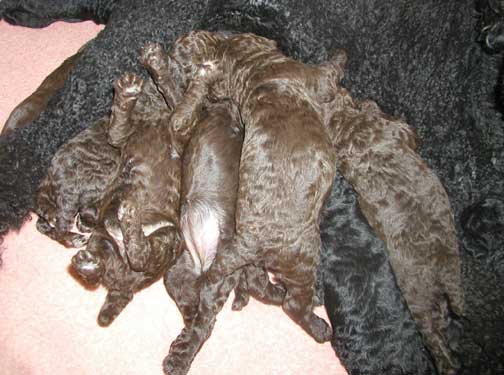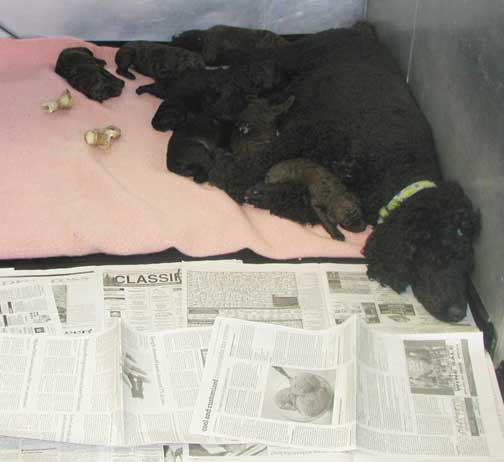 We're now onto rolling over...and now instinctively we want to scoot off the paper and potty onto the newspaper...definitely miss a lot and go on the wool...new wool blankets a lot more often now...we can smell them bones ;0)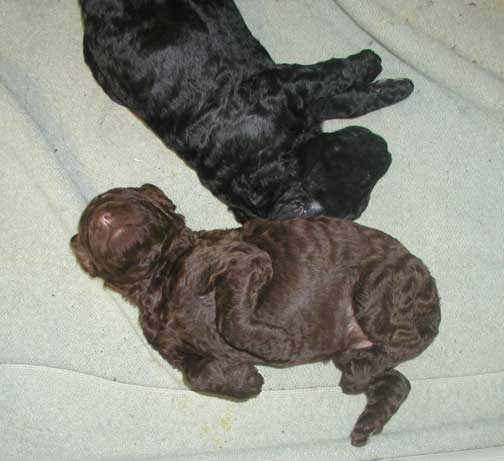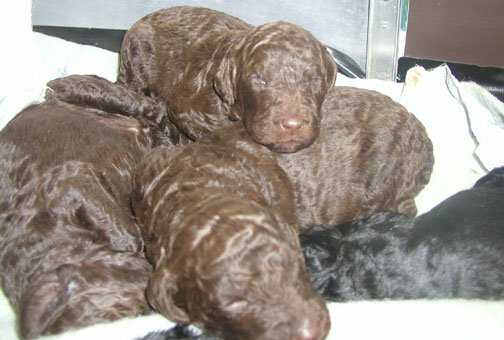 As we move into 2 wks old our eyes are starting to open, our legs definitely get their place, hee hee, in the air and on the wool to give us lift!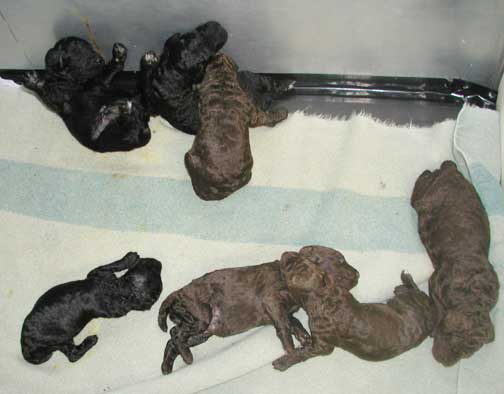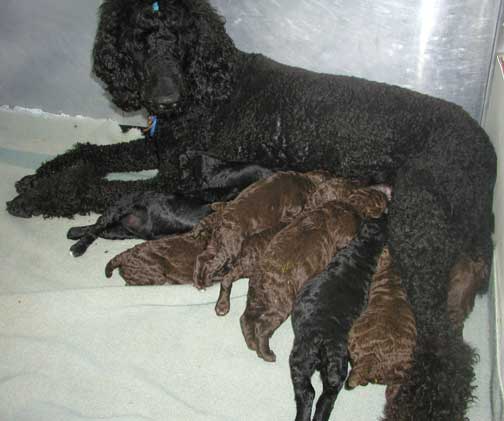 What did we do on St. Patty's day? DOG PILE!!!!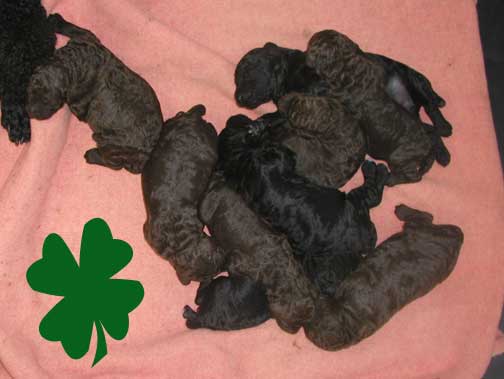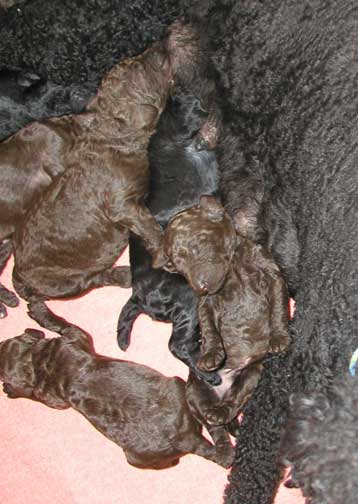 Oh yeah, what we're doing for the next several weeks is sleeping, nursing, and growing, sleeping, nursing, growing...ohhh, stretchingggg, snuggling, and buddying, stretchingggg, snugglinggg, buddyinggg :0)))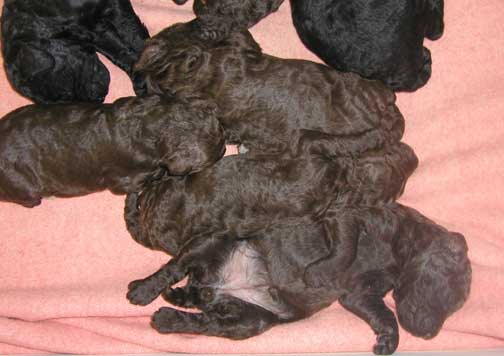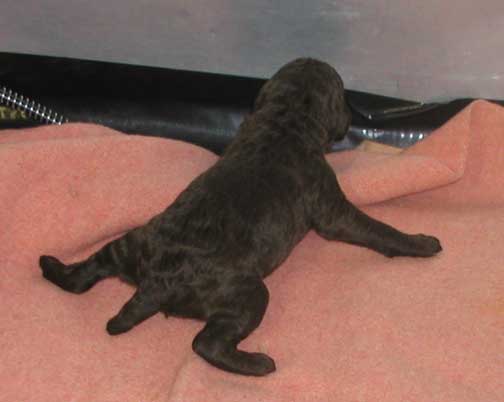 9 little pitter pats to come your way...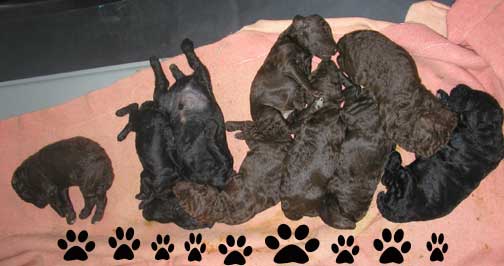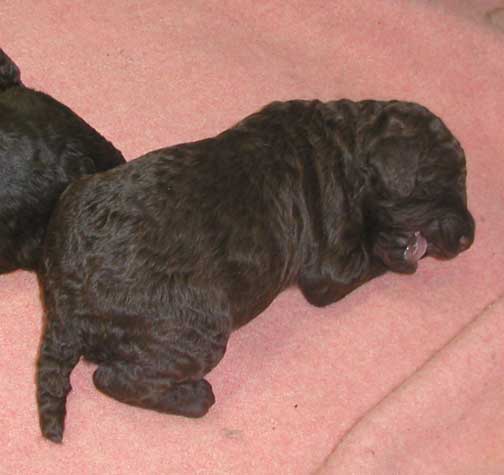 I'm dreaming of the good stuff...how about you??
*
Love, love, love, can you give me your love?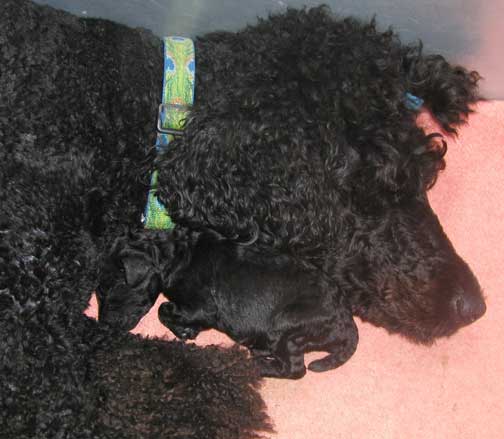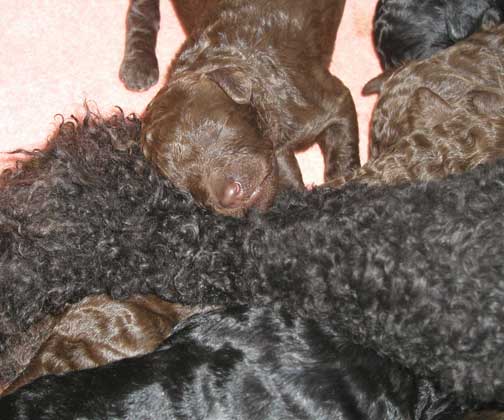 Rest and stretch...it's so hard for you to see my running legs while I sleep...or my strettcchhing movements...hopefully, this helps you see us doing it to the best you can imagine ;0)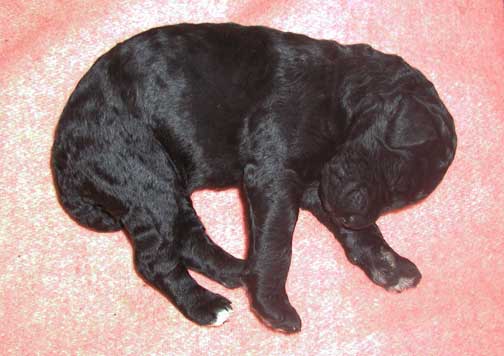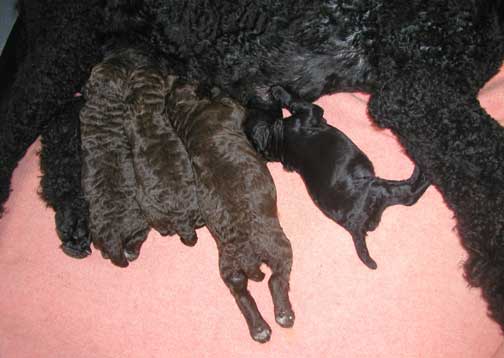 Nummmmy, mummmmy, tummmmy, yummmmy :0)))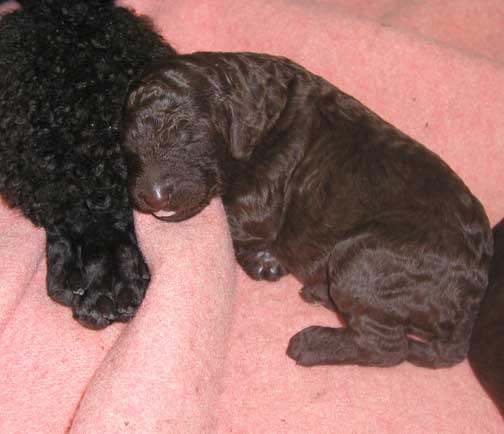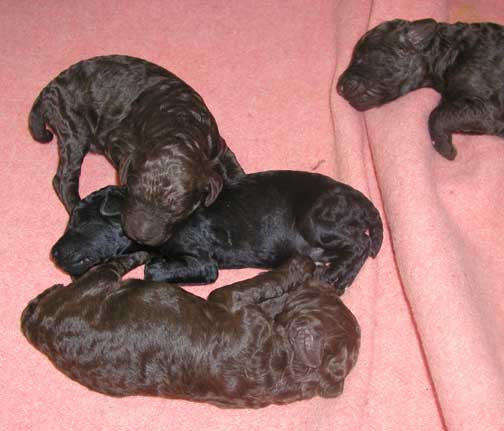 Snuggling and staying cozy warm with my bro ;0) 
*
Our legs are definitely trying to work us off the ground :0)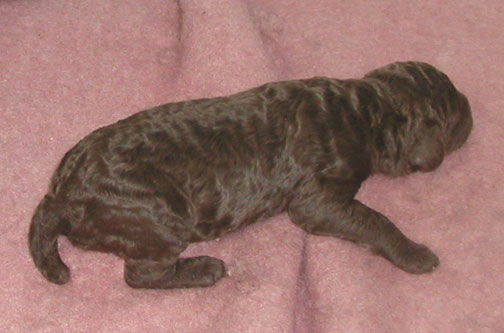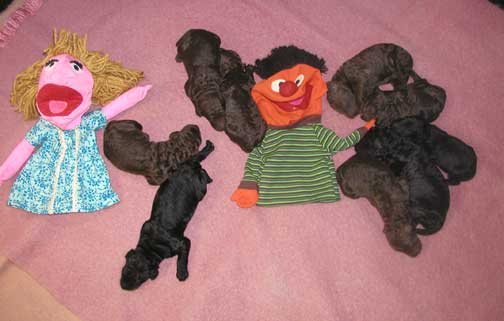 We're the growing 4 girls on the left, and we're the 5 boys on the right.
*
Here's the BL female I'm calling Twinkle Toes :0) We live our first week on smell alone...smelling for Mommy and her milk, learning to crawl wherever we can smell her, cuddling here to stay warm. You can see the size difference as we grow, a smaller brown male to the bigger boys and girls and the smaller BL boy to the others.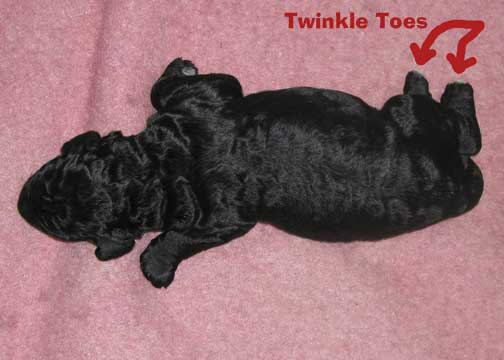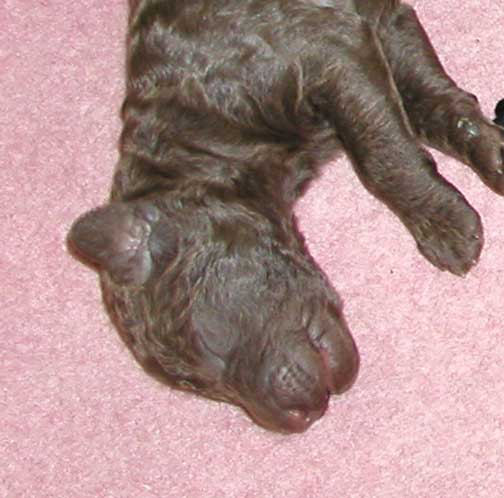 Mmmm, resting, growing...at around 5 days our toenails get clipped as our bones are definitely hardening and our nails become like cat claws and can tear away at Mommy's tummy if they're not clipped and kept down...besides they help to start keep them shortened for us to not have overly long nails as adults. Every two wks Tes will clip them now at which this should be done every wk to 2 wks as long as we live :0)
*
And looky here! With all that nursing, sleeping, growing...we're starting to find our legs!!! This is now around 4 and 5 days old.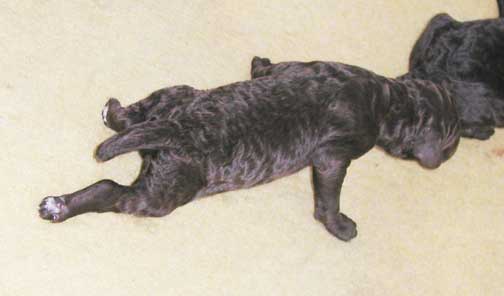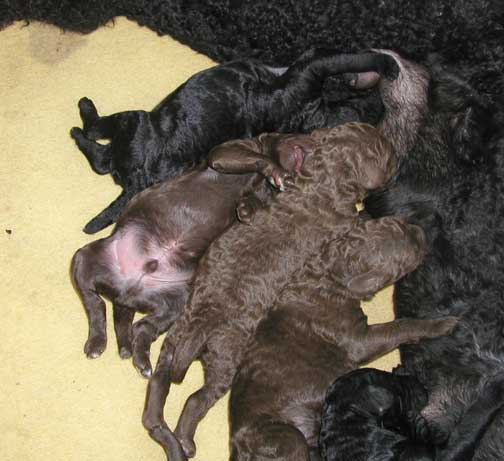 4 legs up are a popular picture shot, it shows we're staying comfy warm...how do we all nurse...some of us sleep...some of us nurse...
*
Ahhh, yes...Thank You Mommy for giving us life :0)))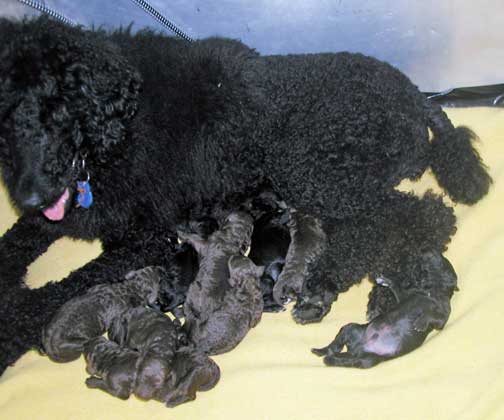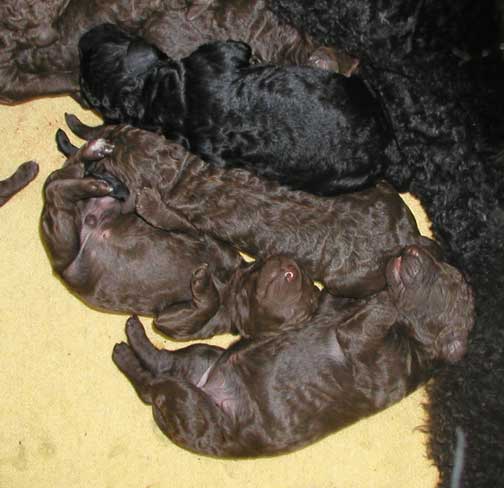 ...suckle...sleep...grow...look at those starting Buddha bellies :0) Mommy has lots of milk for us to grow from!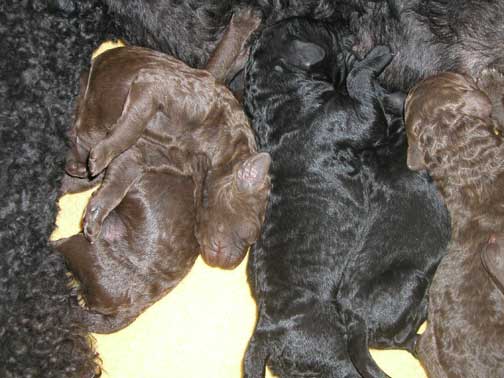 What do we do a lot of?...suckle...sleep...
*
We're the 4 females, 1 BL and 3 browns.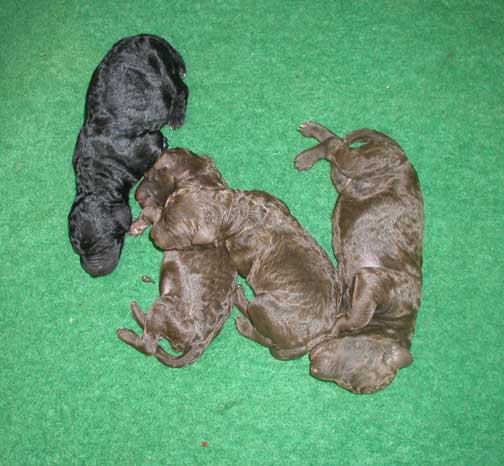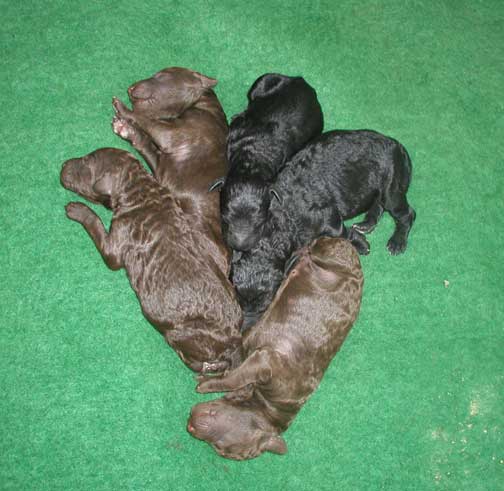 Here are the 5 Males now around 3 days old...3 brown males and 2 BL...
*
At 2 days old, Tes took us into the vet to have our tails docked 1/3 from tip per AKC pedigree standards and our due claw toes removed that are only on the front feet on MOST standard poodles. Rarely found on the back.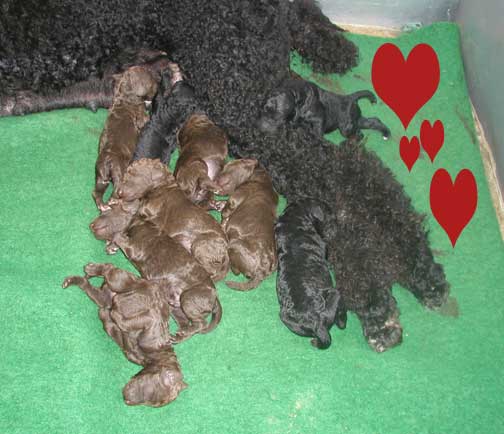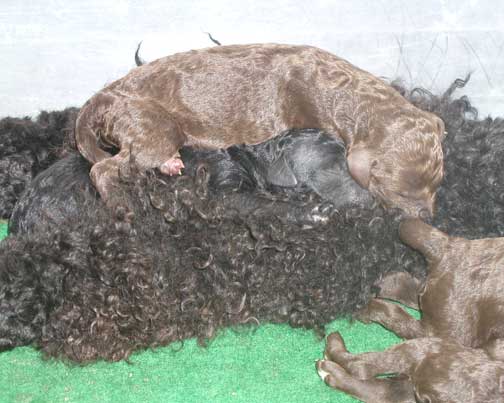 We're already figuring out how to climb...I've climbed onto a BL puppy on top of mom's leg :0))
*
This is the only BL female who I'm calling Twinkle Toes...her back toes have some white on the tips and her chest has some white angel wings :0) She was among the 1 lb puppies born at birth, going to be one big girl! Strrretcchhinnng....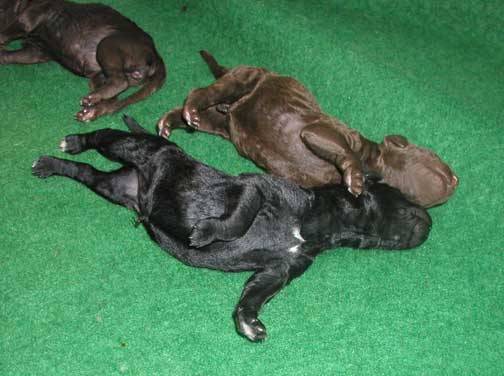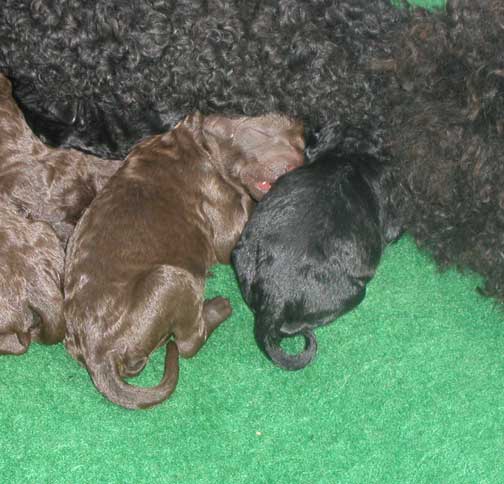 The doors and large observing window are shut to the family room and the unique infrared heaters get the room up to around 78-80 degrees as we cannot create our own heat yet. Infrared is a warming heat, not dry for us. We'll snuggle into mom to keep our body warmth for sure ;0)
*
Tes uses colorful wool blankets for fun and mostly to wick away any pottying we might do...underneath pet heating pads keep us warm. These are the two black/blue (BL) males born and two of the brown puppies. The one BL male Tes is testing for potential breeding - a Big male 1 lb at birth, the other BL is the smallest in the litter 9 oz at birth.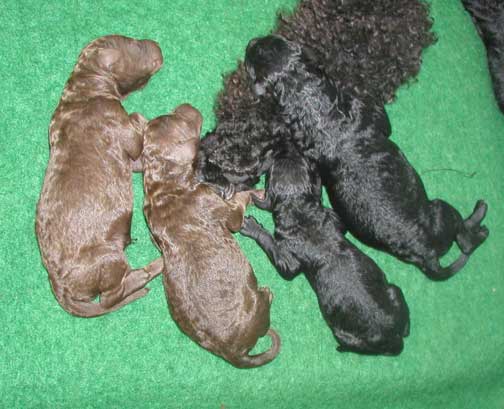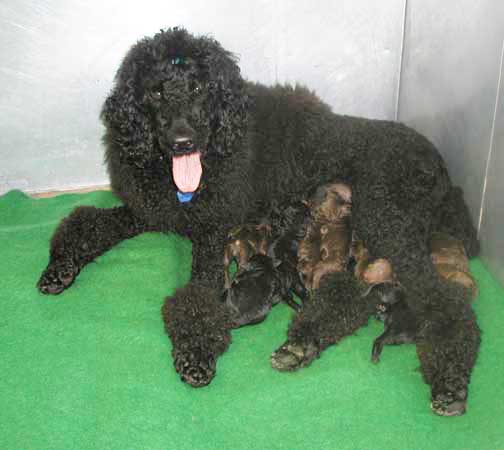 Mom says HI! But let me rest...Tes sleeps in the family room for around 3 days assuring she doesn't fall asleep on us being so wiped out...
*
Here we are having just been born last night :0) Our tails are still long. It's important we start nursing right away that we can get mom's cholesterol in us...she's pretty wiped out...